It's 2023, and it's all about automation. So, naturally, the same goes for eCommerce businesses. Today, the key to any successful dropshipping store is adopting the right dropshipping tools to simplify different dropshipping processes.  
With the help of some great tools for product import, order fulfillment, and inventory management, you can let technology do the heavy lifting and finally get some free time to do what really matters – sales and marketing!
So, how can you find dropshipping tools that are useful? You're in luck! This ultimate list of dropshipping tools in 2023 will cover every single tool you'll need to succeed in eCommerce. 
Let's get going!
Best Dropshipping Tools in 2023 
The list we're presenting you with will contain some of the best and most useful dropshipping tools in 2023, divided into several categories crucial for any dropshipping store: 
eCommerce store builders
Suppliers & fulfillment automation
Product research & SEO
Project management
Tracking & analytics
Marketing & social media
Other useful tools
eCommerce Store Builders
Let's start this list off with eCommerce store solutions since this is always the first step in any dropshipping business.
Shopify
One of the best and most well-known names in the eCommerce industry, Shopify is one of the best all-in-one solutions for online stores.

With a 14-day free trial and a basic monthly package of $29 only, Shopify is a fantastic dropshipping tool, especially for new drop shippers.
Shopify has a highly intuitive interface, with a simple drag-and-drop website builder, as well as their own hosting. So, if tech is not your forte, Shopify will be a lifesaver!
WooCommerce + WordPress
If you're confident in your tech skills and don't want to pay a lot for an eCommerce shop, your next best option is WooCommerce.
WooCommerce is a free dropshipping plugin that you can install on your WordPress website, and voila – you have the functions of an eCommerce store!
However, you will need to be a bit tech-savvy and know how to build a WordPress website, get a domain, and choose a hosting.
Although WordPress and WooCommerce are both free, you will need to pay for a domain and hosting. We recommend checking out Bluehost since it comes with an automatic WordPress installation that lets you start building your website right away.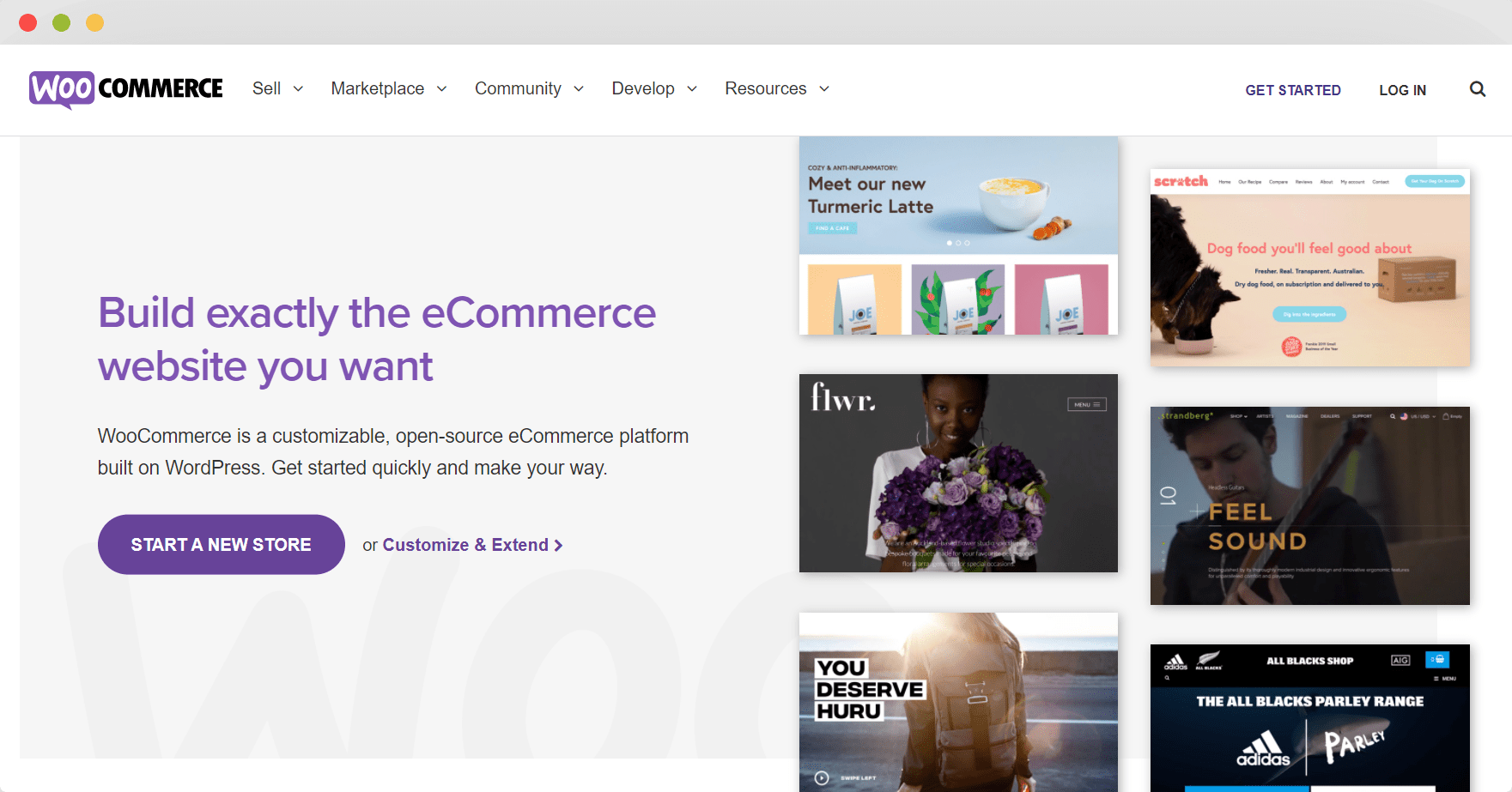 As you start with WordPress, you'll get to choose between many unique themes which you can customize to fit your store's branding.
And finally, once you have a website, you can install the plugin and start WooCommerce dropshipping.
Wix eCommerce
Wix is another dropshipping tool you can use to build an eCommerce store. Initially a website builder, Wix has its own free hosting, but you'll have to upgrade to have a custom domain.
Wix is incredibly user-friendly and easy to navigate, even if you're a beginner in the industry.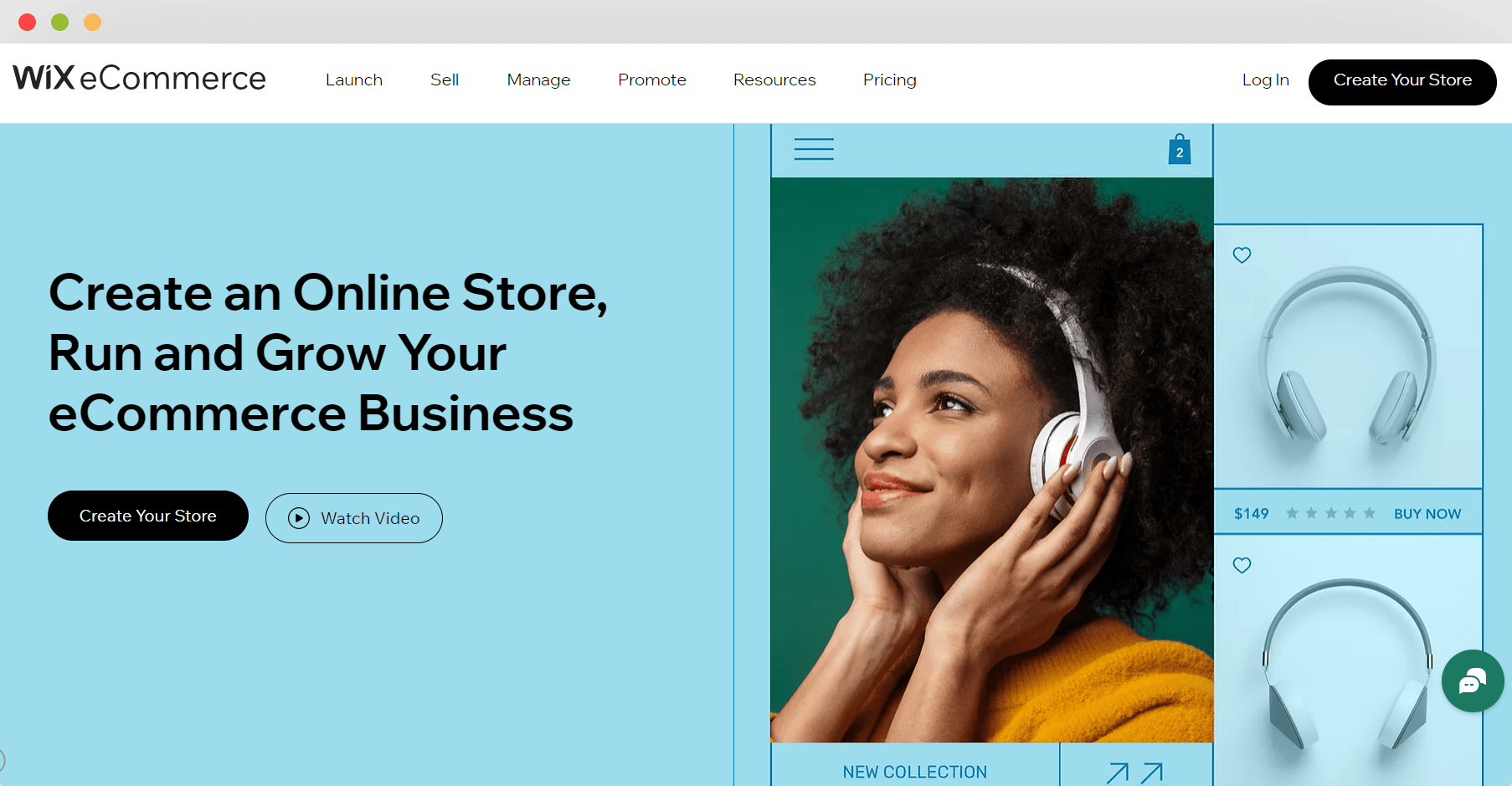 Wix eCommerce plans start from $17/month, and they collaborate with Modalyst for product sourcing.
For those of you that are in the PoD business (print-on-demand), Wix also integrates with the Printify and Printful apps!
BigCommerce
BigCommerce is another well-known eCommerce store builder which allows you to sell on Amazon and eBay as well.
When it comes to product sourcing, BigCommerce offers various integrations such as Spocket, Modalyst, Printify, Dropified, etc.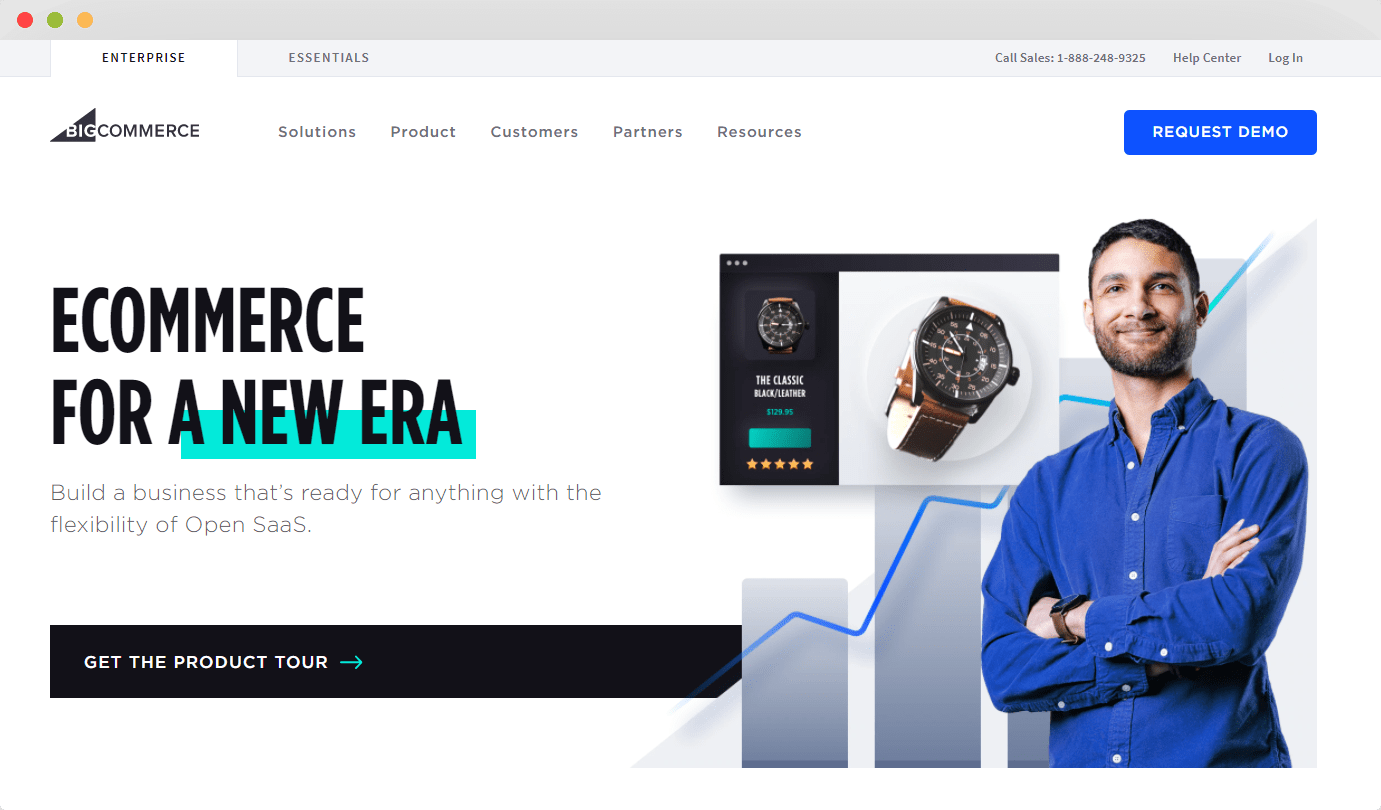 You can choose between tons of different templates for your eCommerce store, but you will need some technical or coding knowledge to make changes.
Amazon
Amazon is not a store builder but rather a marketplace of private label sellers, wholesalers, and dropshippers. However, some drop shippers who don't want to bother with eCommerce stores simply decide to dropship on Amazon.
To use Amazon for dropshipping, you need to set up a seller account, import your product, edit the listing and description, and start promoting. It's as easy as that!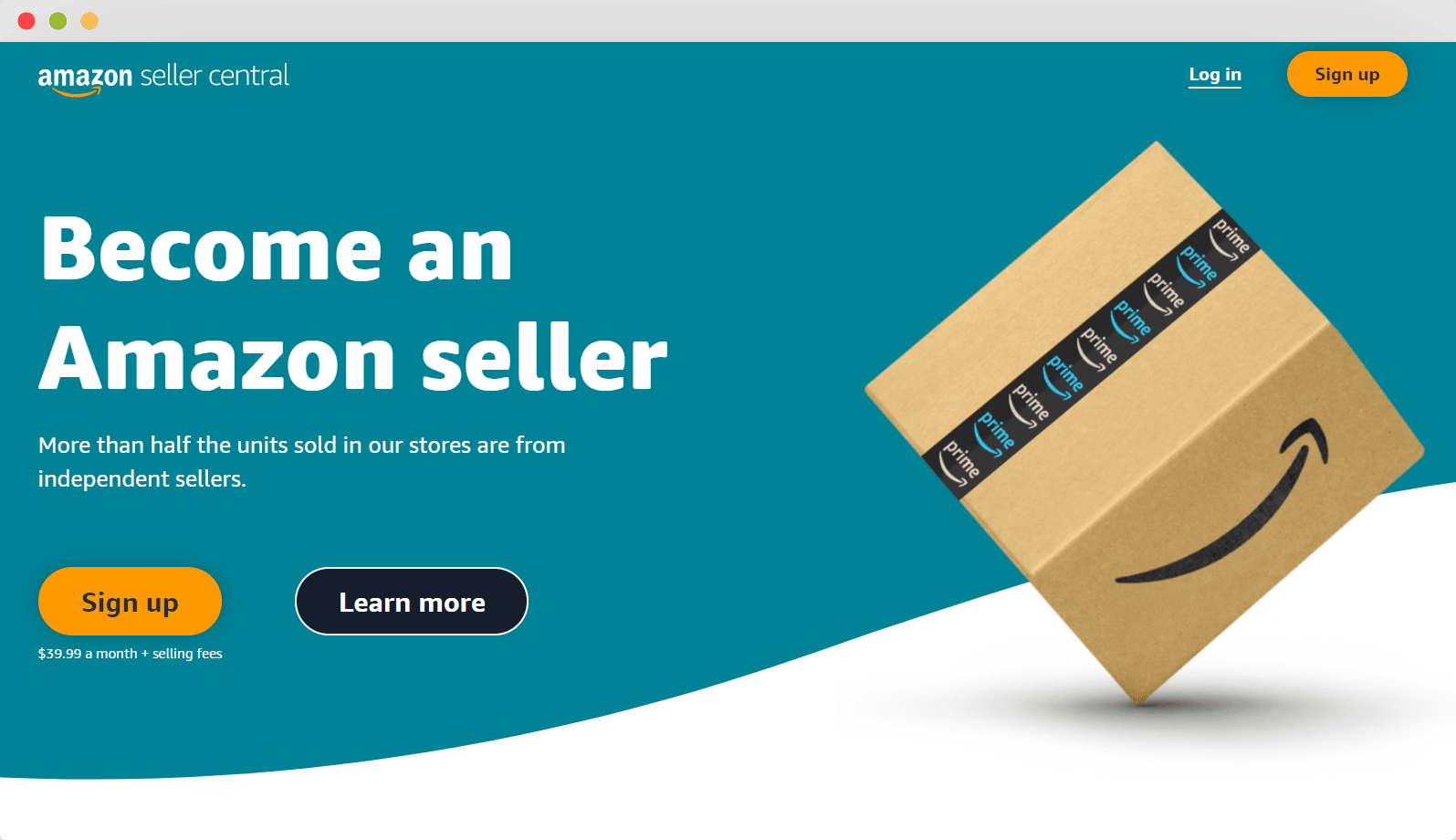 Having only an Amazon account without an eCommerce store could be tricky since you might struggle convincing people to buy from you if you don't exist as a brand. However, as a side sales channel, Amazon is worth a shot.
eBay
Like Amazon, eBay is also not a store or website builder, but merely a marketplace you can use to dropship products.
According to drop shippers, eBay is good for getting your product in front of many buyers without spending money on paid ads.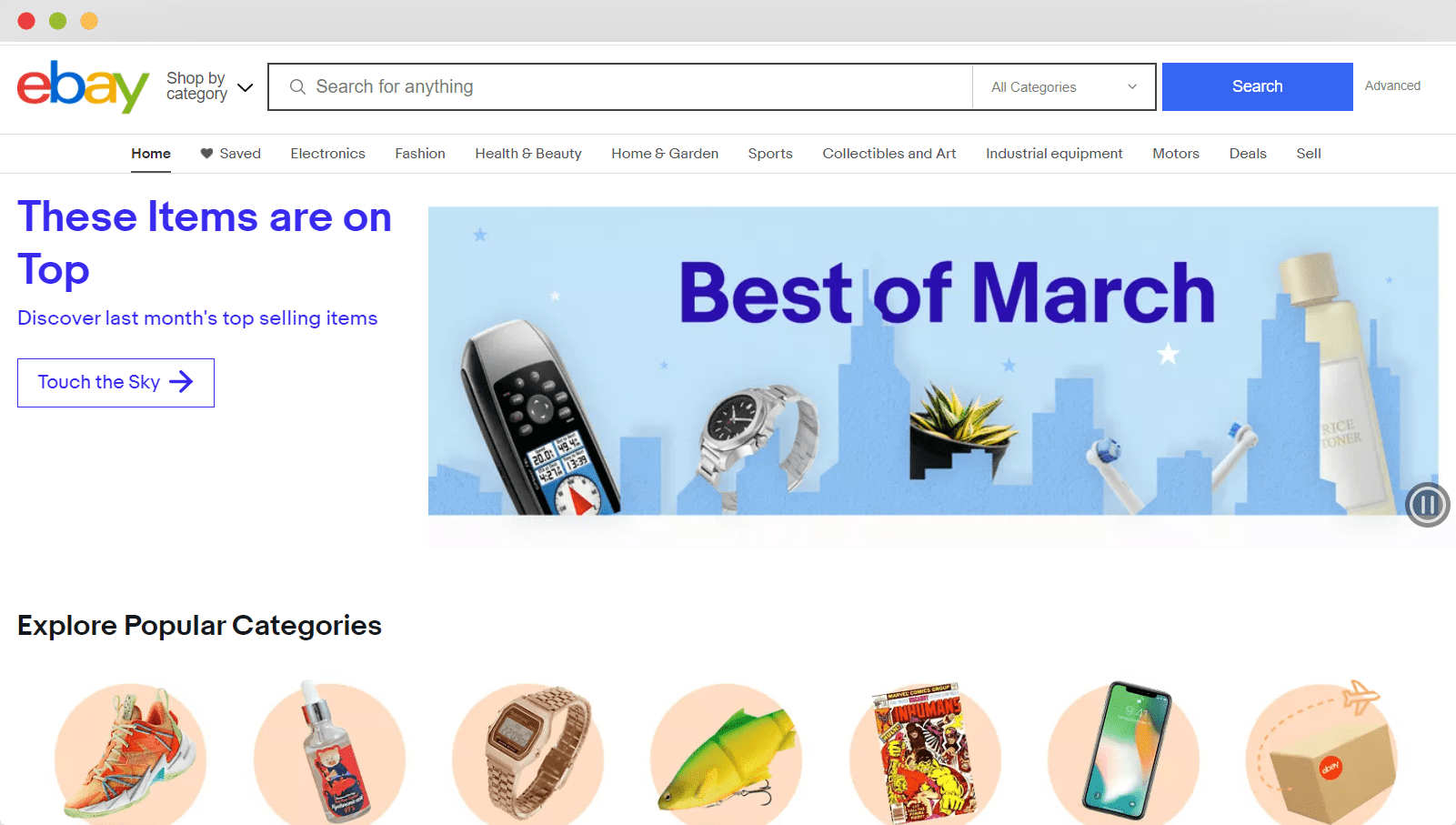 However, the terms and costs associated and the fact that eBay takes about 10% of your product's sales price makes it less profitable than other dropshipping solutions.
Suppliers & Fulfillment Automation Tools
Now that we've explained the best eCommerce store builders let's move on to order fulfillment and product sourcing.
Some of these dropshipping tools serve only to connect your store to marketplaces like AliExpress, while others feature a full dropship automation software and integrated supplier network.
CJDropshipping
We're starting this list with CJDropshipping since their app enjoys a 4.9 rating on the Shopify App Store, which means it's a favorite amongst Shopify store owners.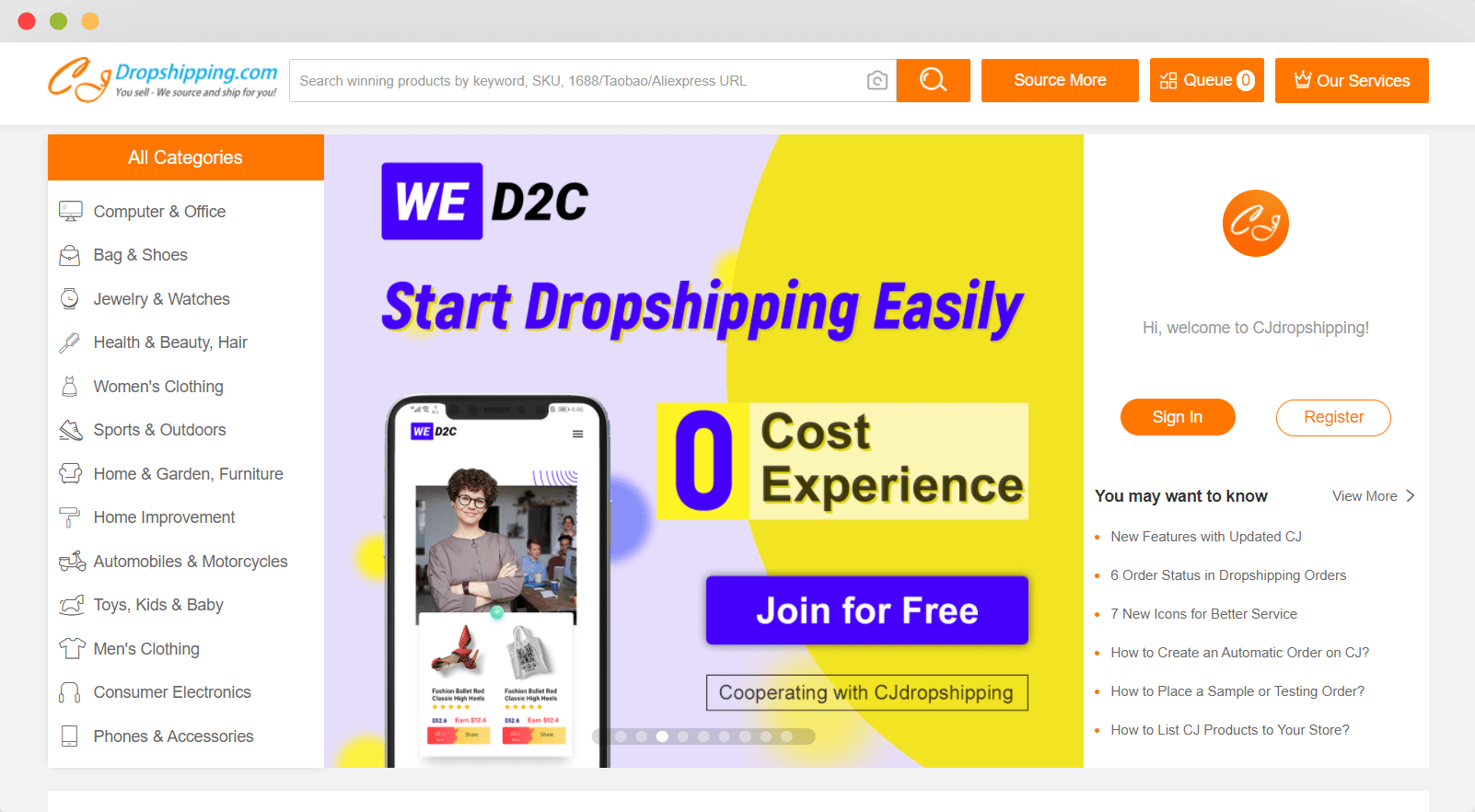 CJDropshipping integrates seamlessly with your Shopify, WooCommerce, or eBay store and features services such as product sourcing, automated order fulfillment, branding, quality inspection, custom packaging, and more.
On top of that, CJDropshipping can source and ship worldwide. They have warehouses in over 30 different locations, including China, the USA, and many European countries.
Oberlo
For Shopify dropshippers who source their products from AliExpress, Oberlo is a dropshipping tool that can help you import any AliExpress product listing to your shop.
Oberlo's free plan is more than enough to start. Although it has a limit of 500 product imports, Oberlo offers unlimited monthly orders and a free Chrome extension.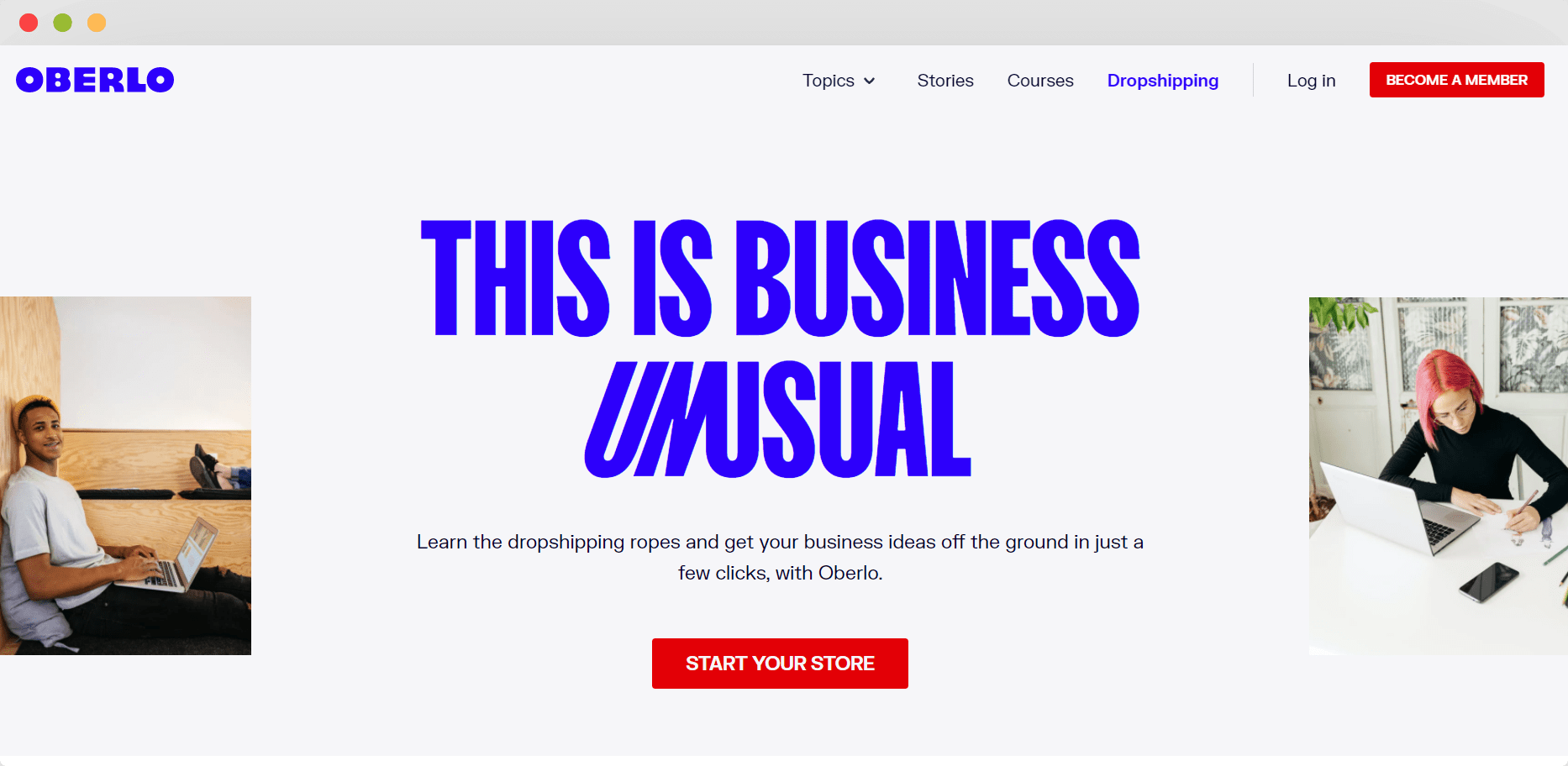 For $7.90/month, you'll gain additional access to Oberlo's coaching and report features, while for $29.30, you get access to features such as bulk orders, shipment tracking, multiple staff accounts, and much more!
Spocket
Spocket is another dropshipping tool with its own integrated supplier network. The suppliers on Spocket are from the USA and Europe, which means your customers can enjoy much shorter shipping times.
Spocket integrates seamlessly with Shopify, Wix, WooCommerce, and BigCommerce dropshipping stores.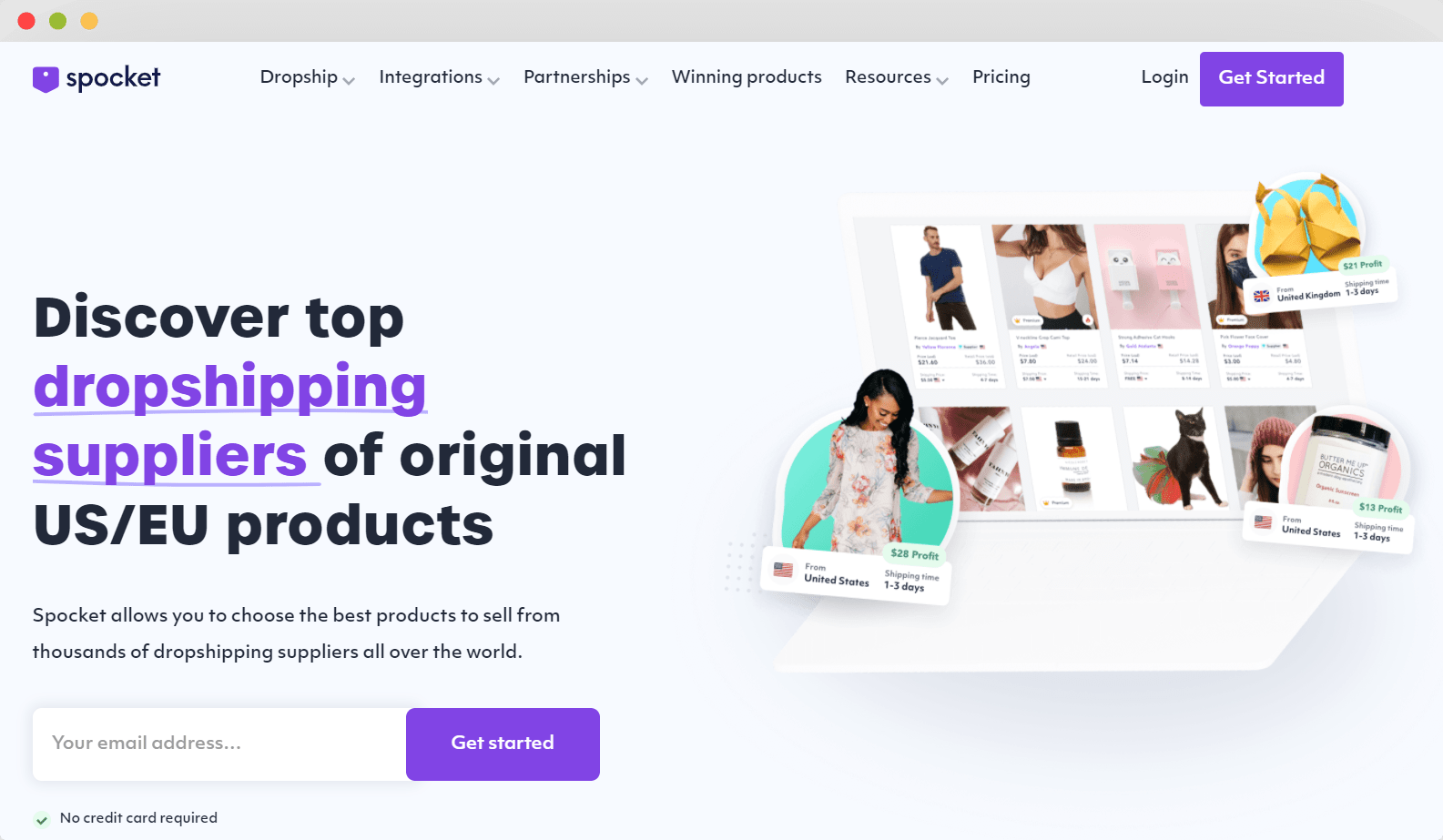 Until recently, to use Spocket, you had to order from their integrated supplier network. However, with their new AliScraper and Alibaba integrations, you can now import AliExpress and Alibaba products, respectively.
The starting plan of Spocket starts from $24/month, and it includes dropshipping of 25 products.
WooDropship
If you own a WordPress + WooCommerce store and sell mostly AliExpress products, WooDropship is the perfect plugin for you.
The WooDropship Chrome extension will help you import and edit any AliExpress product. Of course, you have complete control over the end product pricing and the profit you make.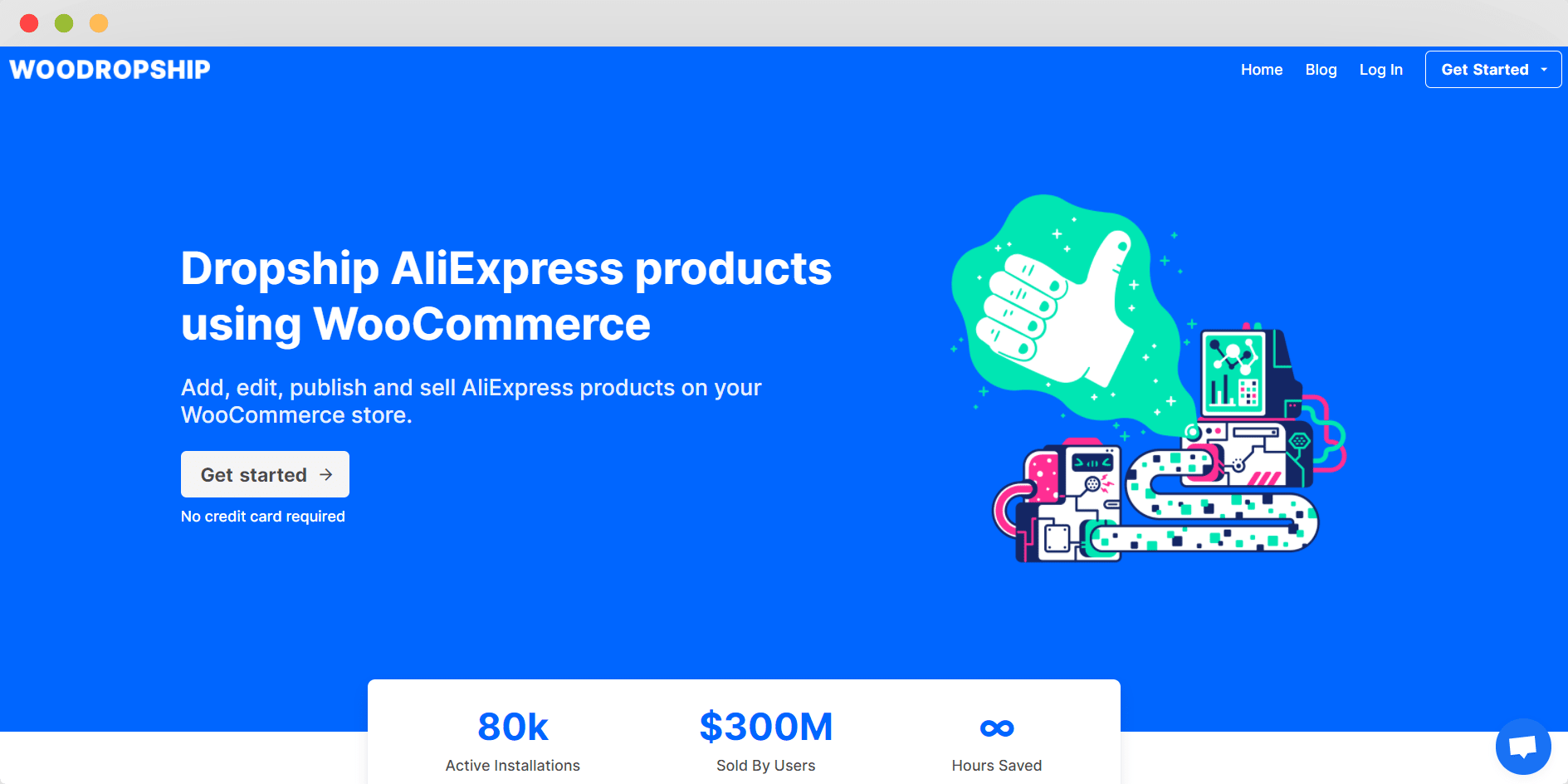 WooDropship costs $49 for lifetime access and support, which is worth it if this is your business model. However, you don't need a credit card to sign up so you can test all the features before you commit.
AliDropship
Another excellent plugin for eCommerce stores built with WordPress and WooCommerce is AliDropship.
One of the best AliDropship features is their one-click import from AliExpress and their free built-in themes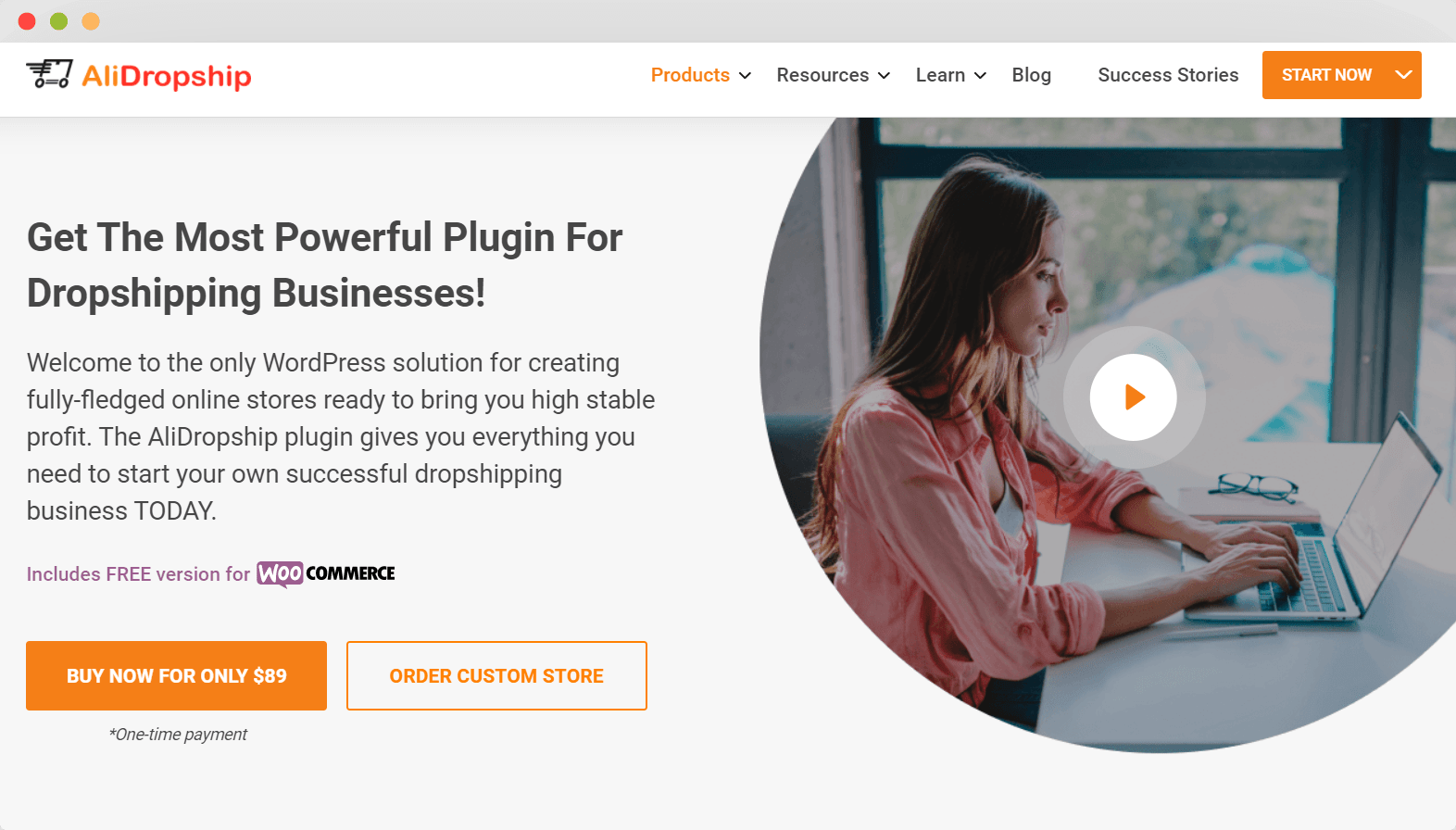 This dropshipping tool is unfortunately not free to use. Still, with a one-time payment of $89, you can get lifetime access to AliDropship, the latest version of the WooCommerce plugin, as well as access to a database of 50,000+ winning products to dropship!
For dropshippers that are in a rush to get started and have some extra budget aside, you can even let AliDropship build you a custom eCommerce store for $299. After this one-time payment, the only cost you'll have is the monthly hosting.
AutoDS
Our next all-in-one dropshipping tool is AutoDS. Compatible with eBay and Shopify stores, AutoDS can help you import products from marketplaces like AliExpress, Walmart, Amazon, etc.
Some of the best features of AutoDS are pricing optimization, stock monitoring, product variation support, orders management, and bulk edits.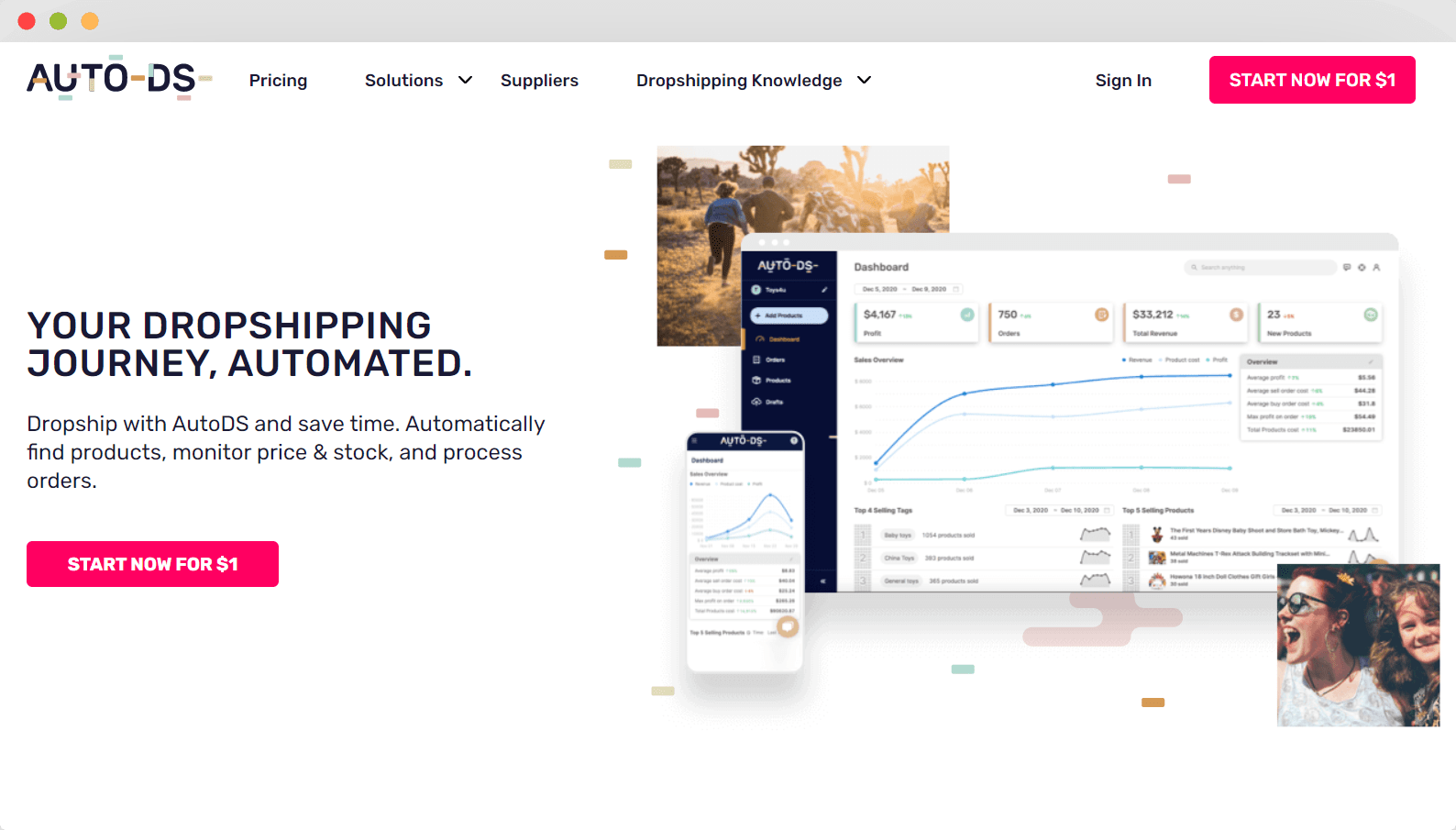 AutoDS has a very well-developed pricing system that adjusts to different dropshipping needs. If you're an eBay drop shipper, you're in luck since their eBay starter plan starts at only $7 a month!
Dropified
Dropified is one of those great tools you have to check out if you're an eCommerce entrepreneur.
You can plug Dropified into a Shopify, WooCommerce, GrooveKart, or CommerceHQ dropshipping store. For product sourcing, you can use Dropified to import from AliExpress, eBay, Etsy, Wayfair, Wish, etc.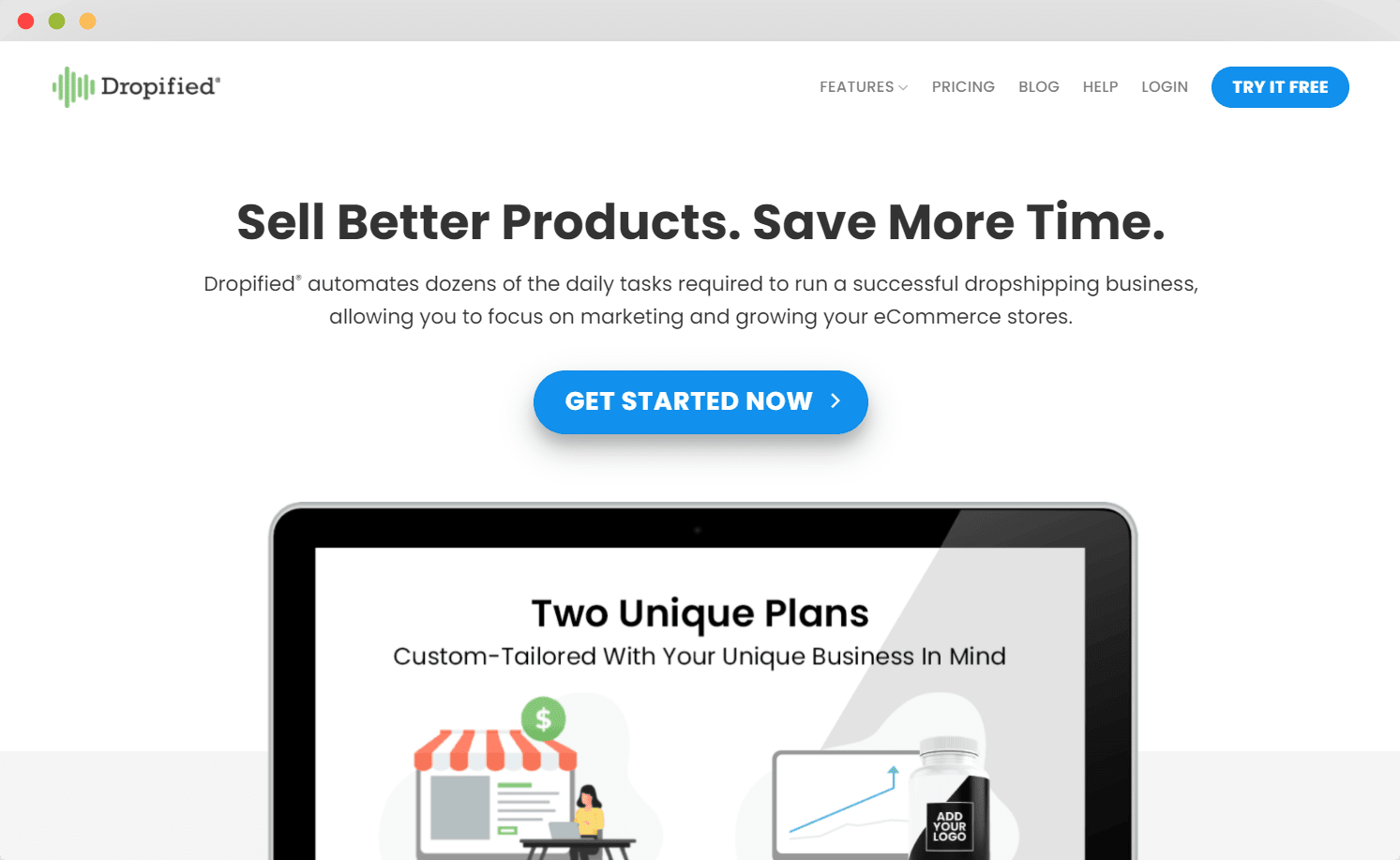 The most incredible feature about Dropified is its pricing plan. Aside from having a $17/month starter package for drop shippers interested in product sourcing, it also offers custom-tailored packages for private label dropshipping.
For $97/month, you can subscribe to their Private Label On Demand plan and enjoy branded products built specifically for you!
SaleHoo
SaleHoo is a dropshipping tool divided into three ps: 'directory,' 'dropship,' and 'educate.'
The SaleHoo Directory category will give you access to 8000+ trustworthy suppliers and access to Market Research Labs for product research.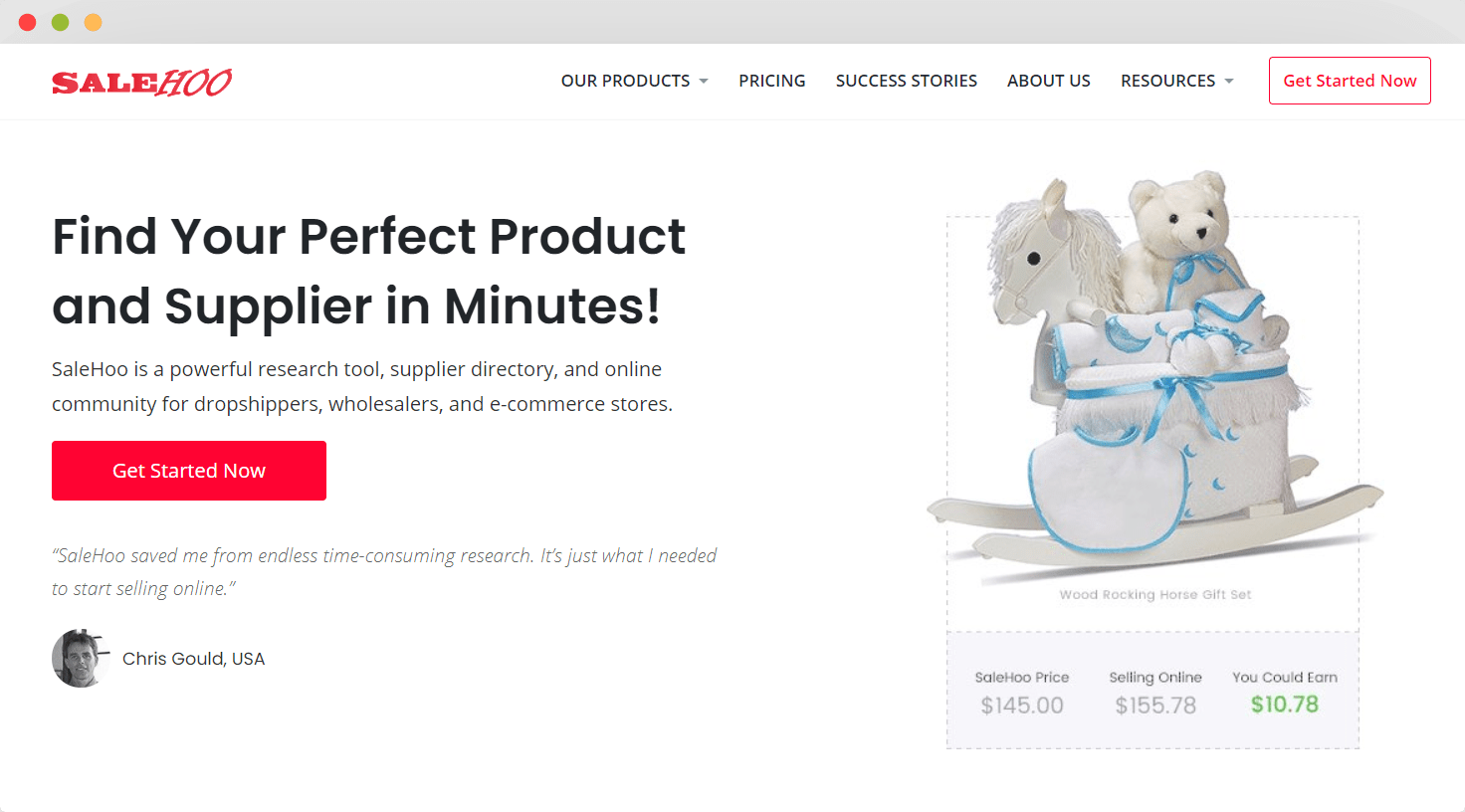 Next is the SaleHoo Dropship solution, which can automate your Shopify store and order fulfillment process. SaleHoo Dropship comes in two plans, basic and premium, which feature a single click import from AliExpress to Shopify.
Finally, for those who want to learn Shopify or Amazon dropshipping, SaleHoo Education is the third plan you can purchase.
Dropship.me
Are you dropshipping AliExpress products on your WooCommerce store? If yes, then Dropship.me is the perfect plugin for you.
Dropship.me is an entirely free plugin that you can download and install on your WordPress + WooCommerce dropshipping store. With this tool, you can enjoy a one-click product import from a list of over 50,000+ AliExpress products!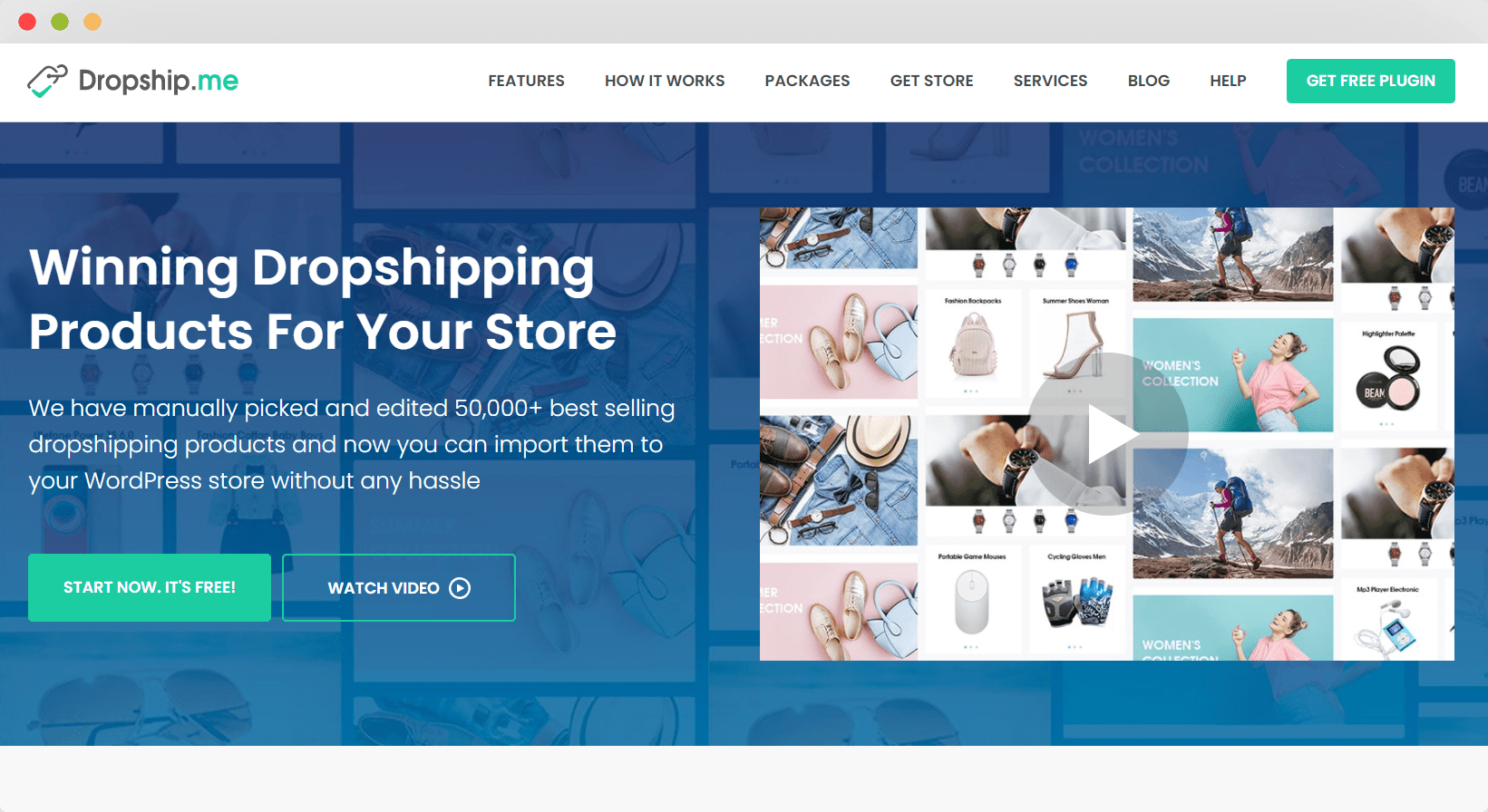 So, what's so different in Dropship.me that it deserved a spot on this list? Well, all products imported with the help of Dropship.me will have SEO titles and optimized product descriptions.
As you probably already know, search engine optimization is crucial for Google to index and list your product pages in the search results. So, if you're unfamiliar with the best SEO practices, Dropship.me could be of real help.
DSM Tool
Developed from and for dropshippers, DSM Tool will let you import products from 50+ supplier networks or websites into your Shopify or eBay store.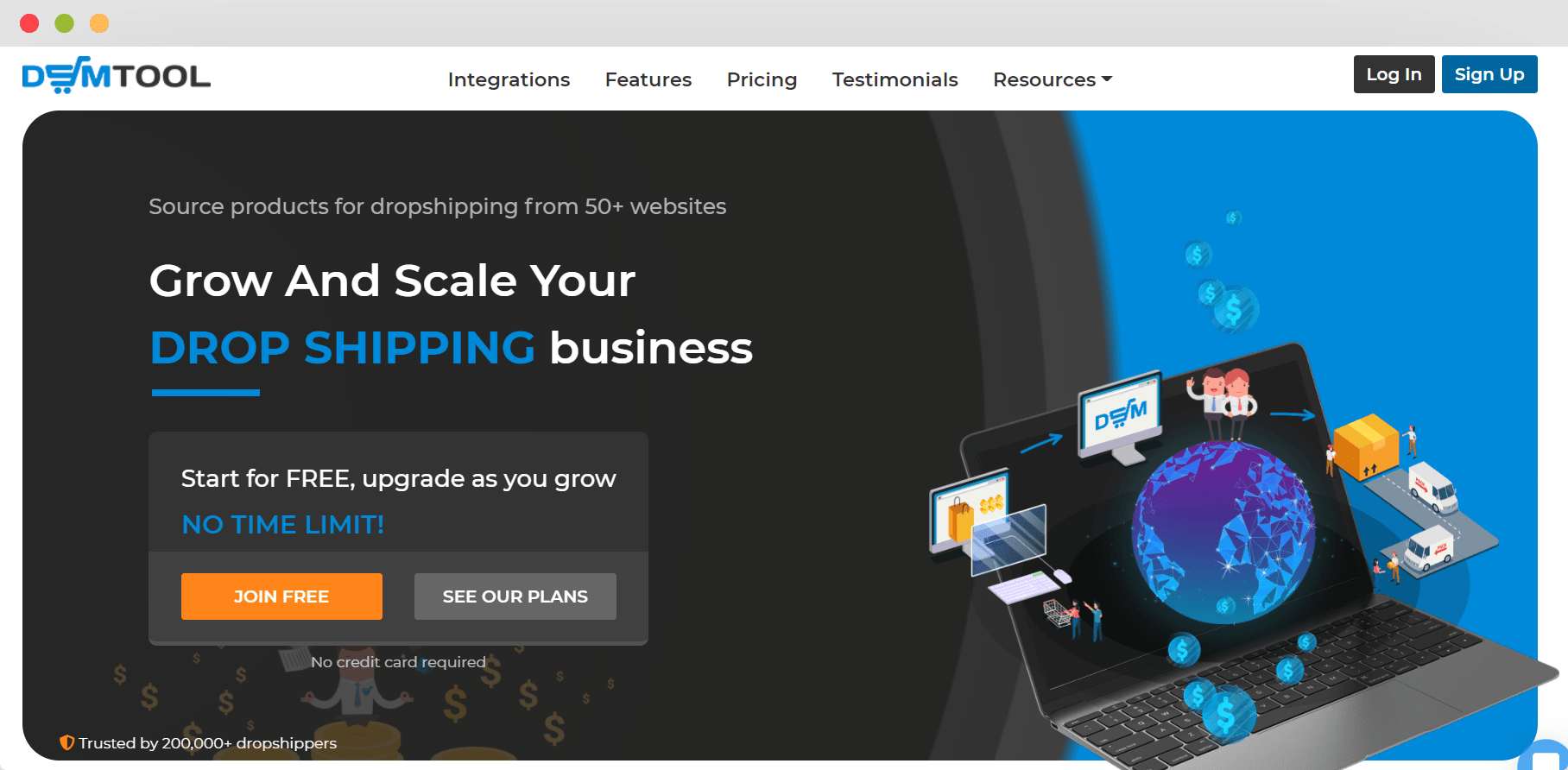 This tool is free for up to 25 active product listings and one supplier network. If you need to list more products, their basic plan is $19.97/month, and with it, you can have up to 600 active listings.
Product Research & SEO Tools
Although not specific to dropshipping, product research and SEO tools are crucial for finding trending products. Let's see which are the best tools for this purpose.
Google Trends
Who can tell you better what works and what doesn't than Google themselves?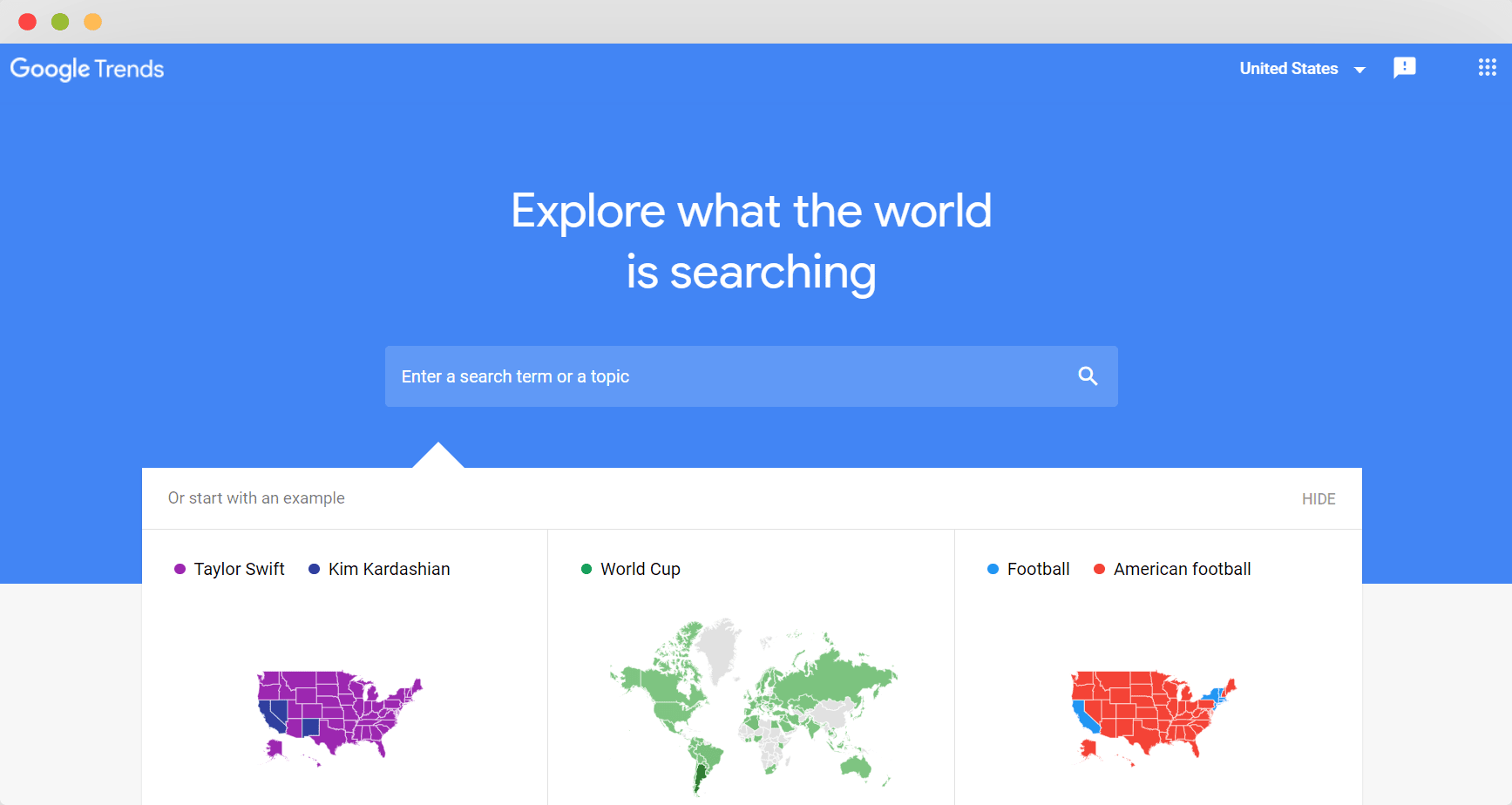 Google Trends is a free tool allowing you to choose a date range and location and see the trending searches. Or, you can compare two or more keywords (read: products) and see which one is stable or which one is trending in the last 12 months.
SellTheTrend
Have you ever dreamed about a tool that will just intelligently spit out good products to dropship? Well, then SellTheTrend will be the perfect dropshipping tool for you.
SellTheTrend is an AI-powered product and market research tool that explores AliExpress and Amazon to find the most profitable niches and products.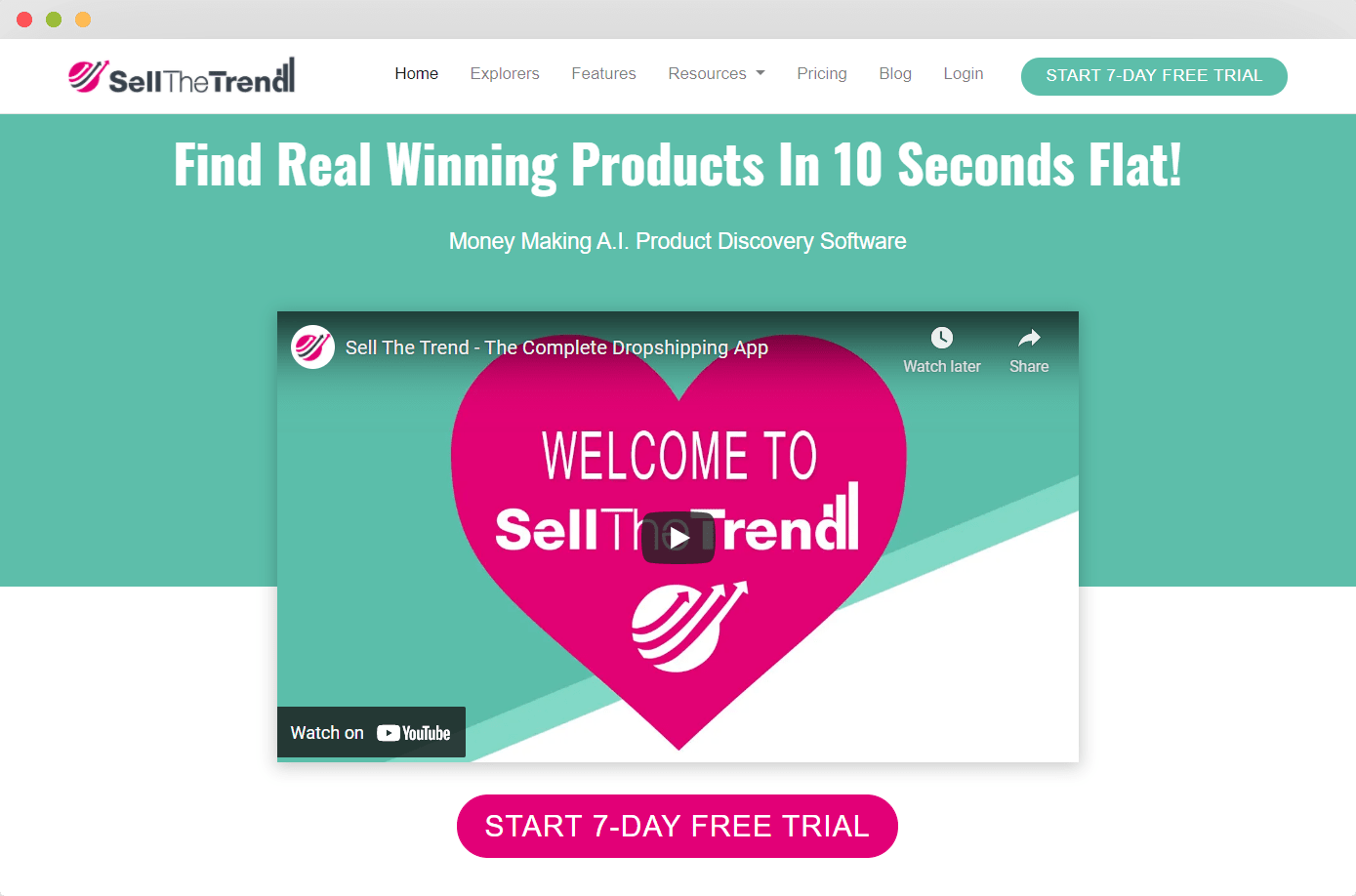 Additionally, SellTheTrend will also help you target your Facebook audience with laser precision!
Unfortunately, you only get a 7-day free trial to test this tool. After that, the monthly subscription will cost you $39.97.
Google Keyword Planner
Another great free tool from Google you can use for your product research is their Keyword Planner.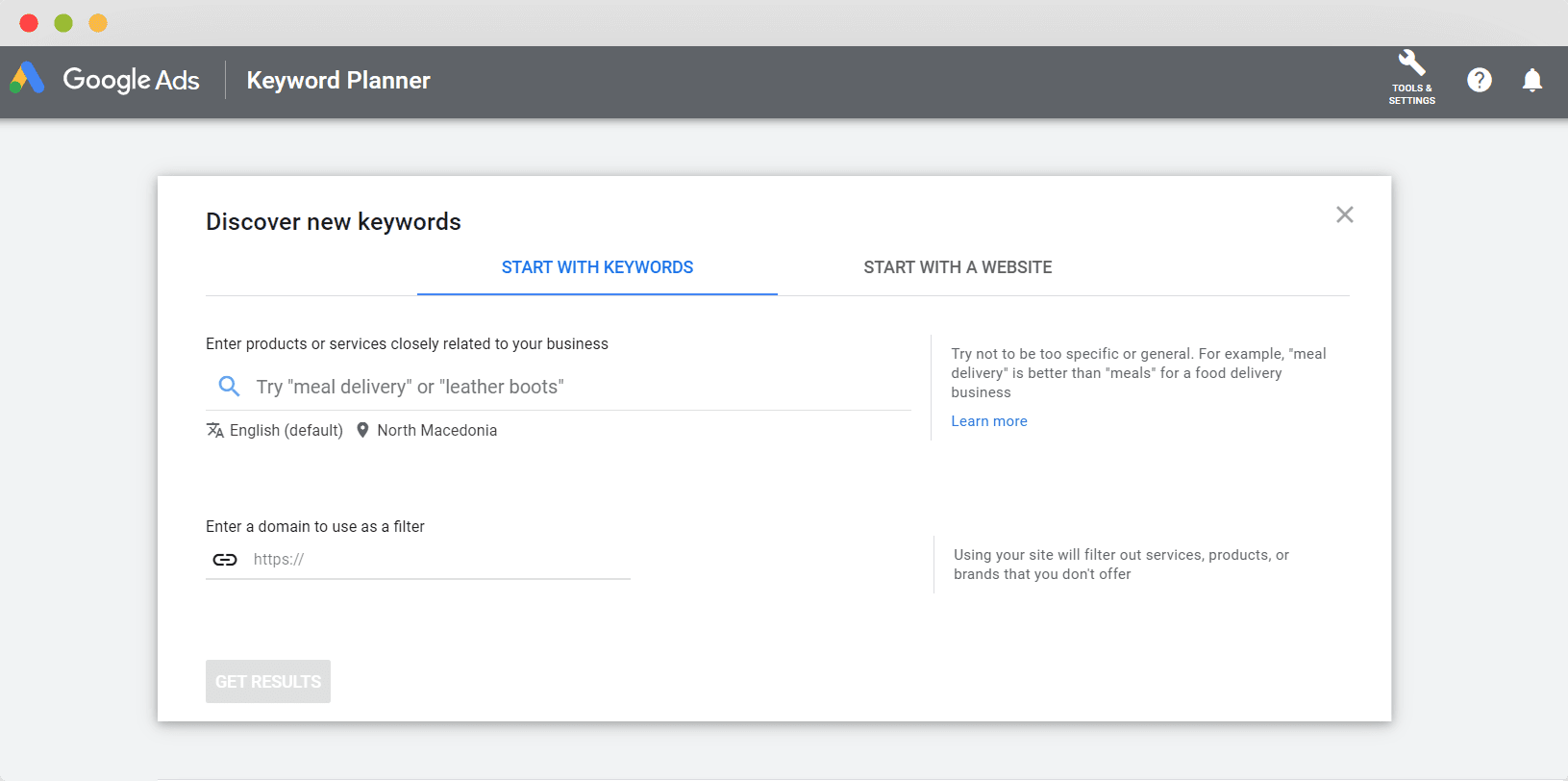 The Google Keyword Planner is a part of their Google Ads Manager, but you don't need to place any billing details or launch an ad to use it.
With the Google Keyword Planner, you can do two main actions – discover new keywords, and get search volume and forecasts.
Exploding Topics
Exploding Topics is a handy tool for your dropshipping business since it spits out skyrocketing topics, keywords, or niches before they become mainstream.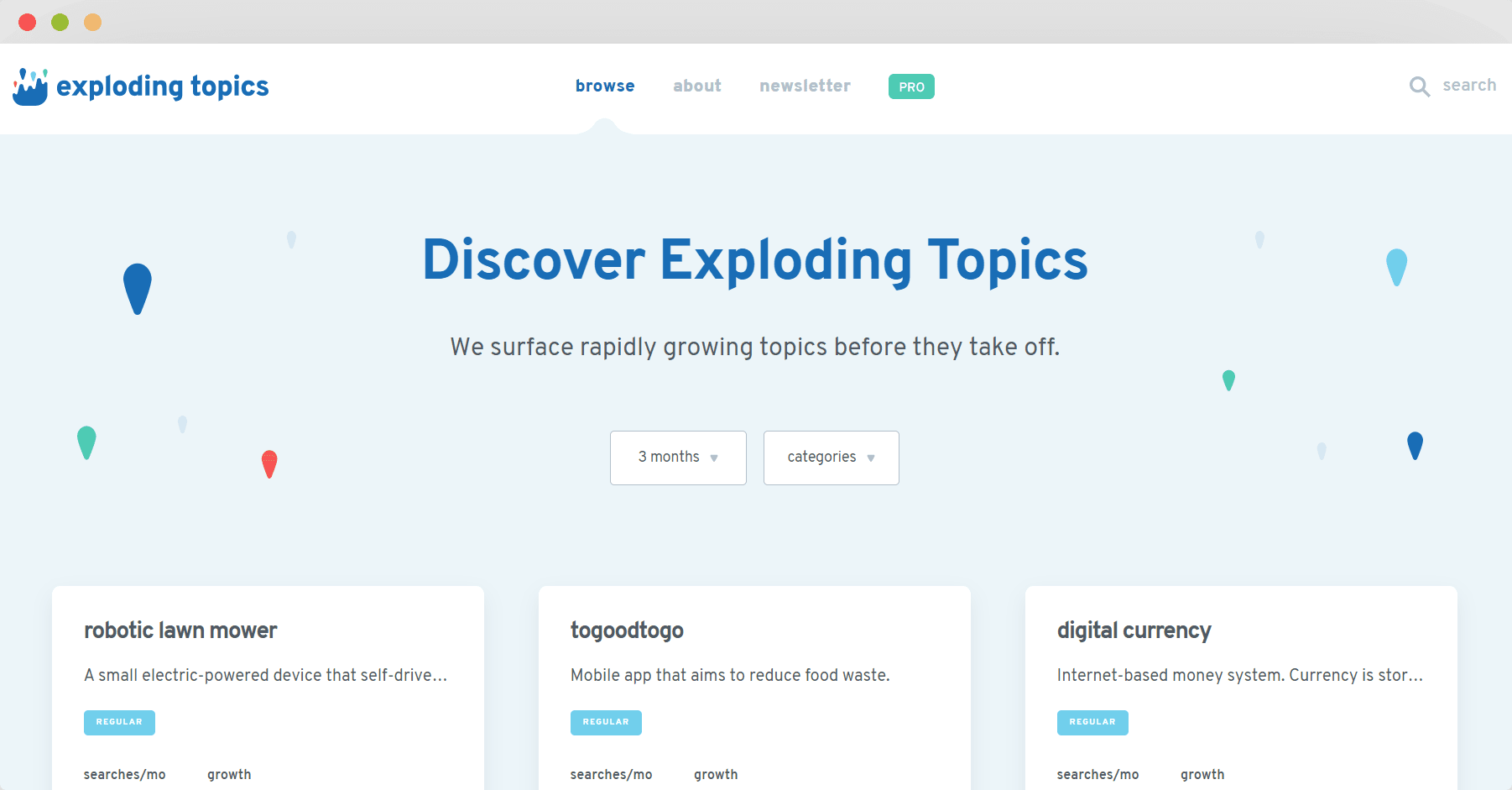 This great tool comes with a free and pro version, so check it out. The free plan might be enough to give you the results you need.
Ubersuggest
Neil Patel's Ubersuggest is probably among the top free SEO tools you can find.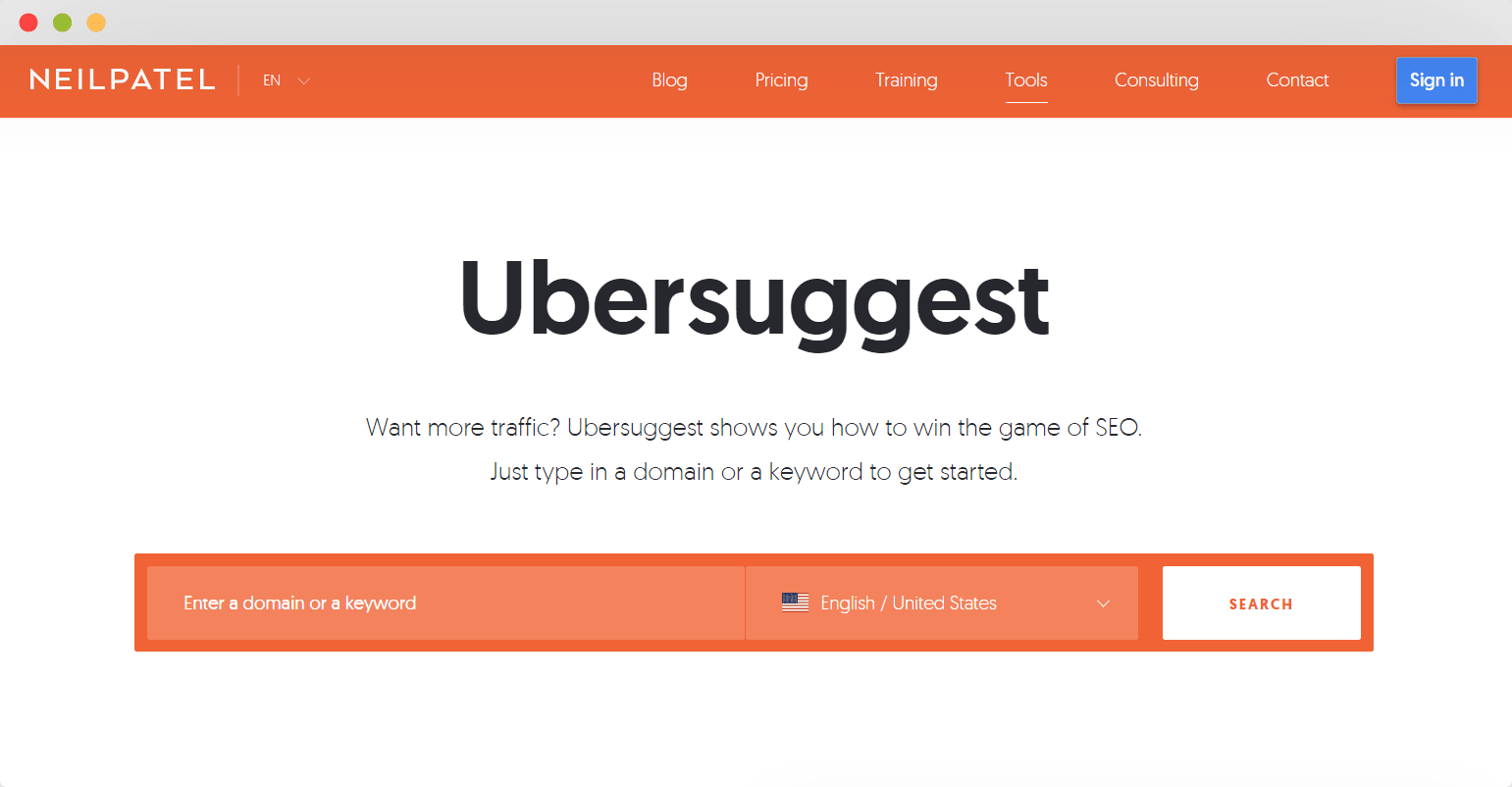 From reverse engineering your competitor's SEO practices to checking your domain and doing in-depth keyword research, Ubersuggest can do it all.
Yoast SEO Plugin
Those of you with a WooCommerce store built on WordPress have a fantastic chance to download and install one of the best free SEO plugins for WordPress websites – Yoast SEO.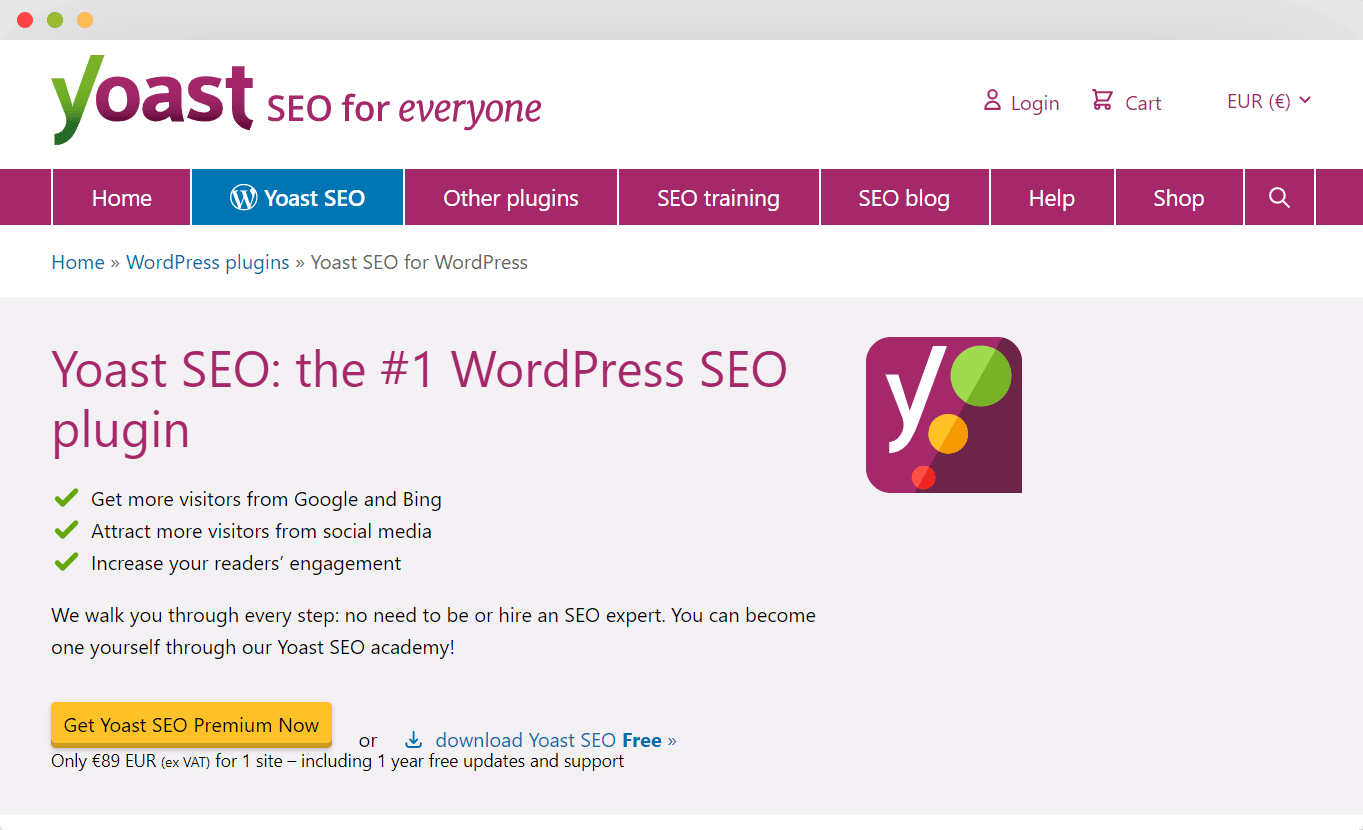 This plugin has a free version that can be perfect for you if you're just a bit familiar with SEO practices.
Project Management Tools
You might think you don't need a project management tool if you're a one-man show, but we're here to tell you that you do. As your business grows and scales, your order number will increase, and you'll probably have to juggle multiple suppliers.
Unless you find a way to structure your workflow, managing a dropshipping store can quickly become overwhelming. So, let's see some great tools that can help you get organized.
Asana
One of the best project management tools that will help you streamline your workload is Asana. We love Asana because they have a web and a mobile app, which means you can access all your files on the go.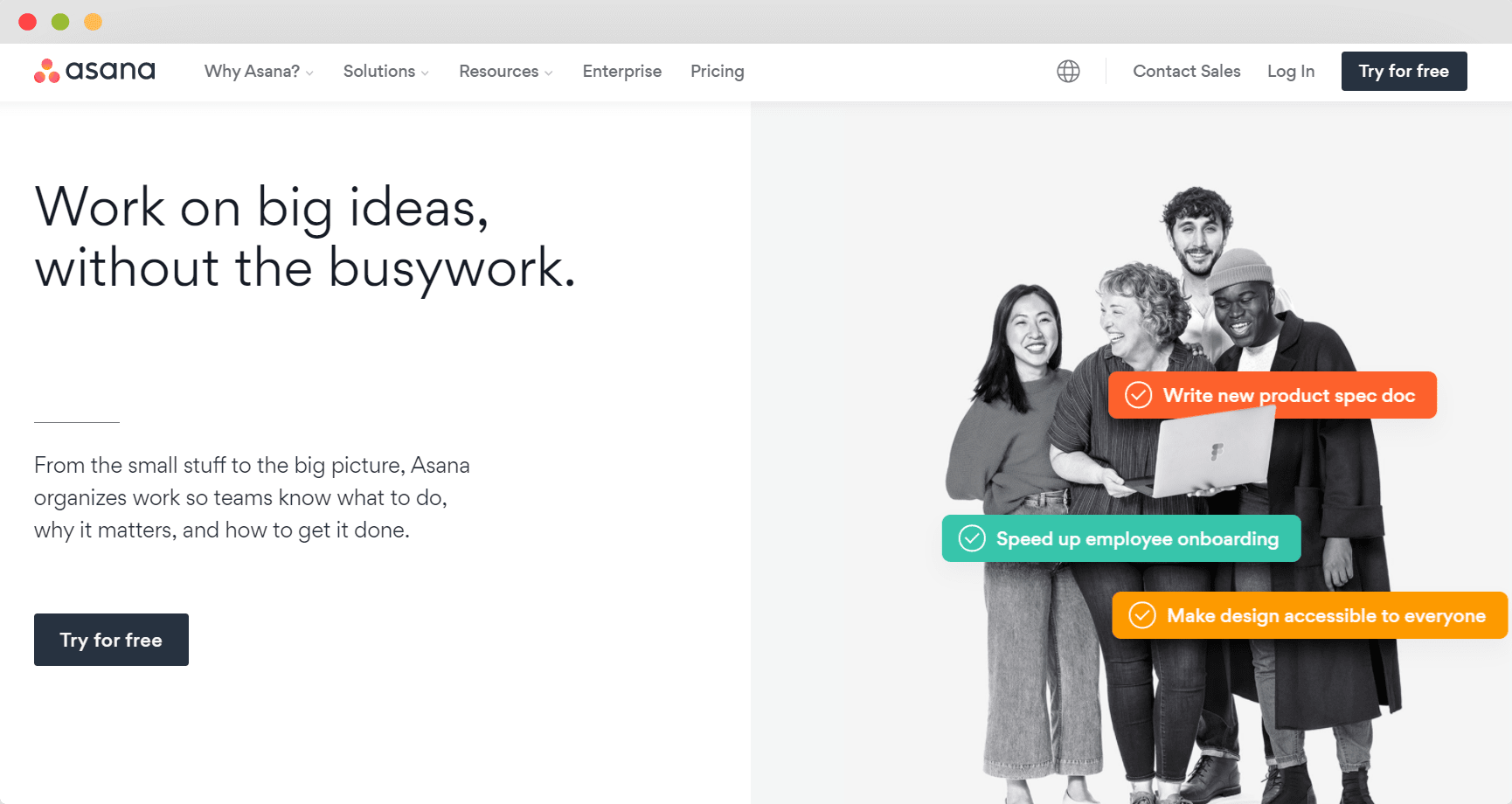 And of course, let's not forget that Asana has a free plan which is more than enough to get you started. With the free plan, you have unlimited tasks, messages, and collaboration with up to 15 people.
With Asana's free plan, you can access your projects in a list, board, and calendar view, convenient for visualizing and prioritizing your tasks.
Trello
Although it has fewer functions than Asana, Trello is a great project management tool that lets you create different cards and organize them into various lists.
You can decide how you want to use Trello in a way that fits your business model the best. Each card can be a to-do task, a supplier, or a product, depending on your needs.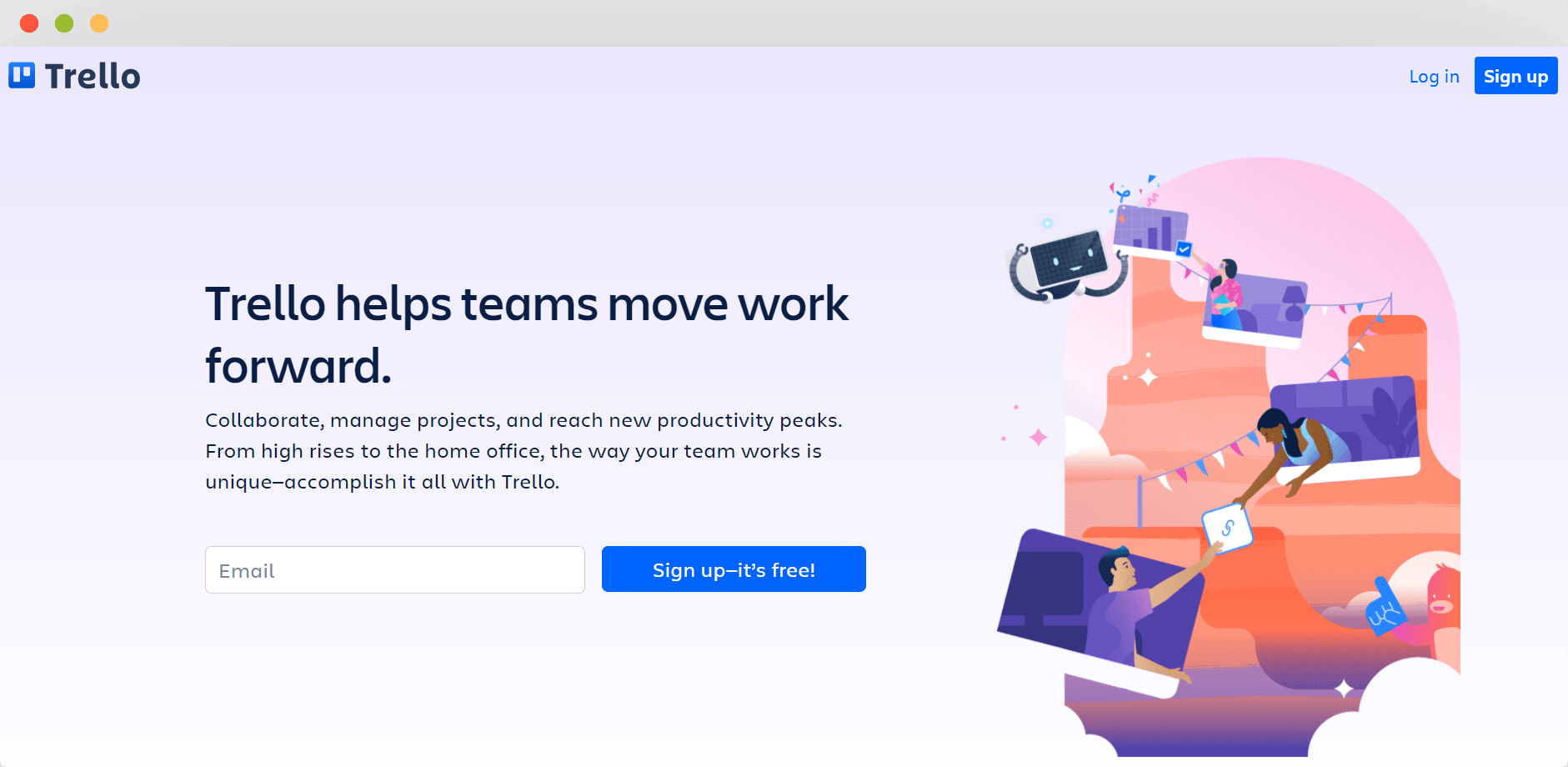 You can drag and drop Trello's cards through the different stages/columns of the pipeline and add colored labels to each card.
Trello has a free version which we believe is more than enough to get you started. You can create up to 10 boards, collaborate with unlimited members, and have unlimited cards.
Todoist
Our last project management tool worth mentioning is Todoist. With this tool, you can organize your entire life.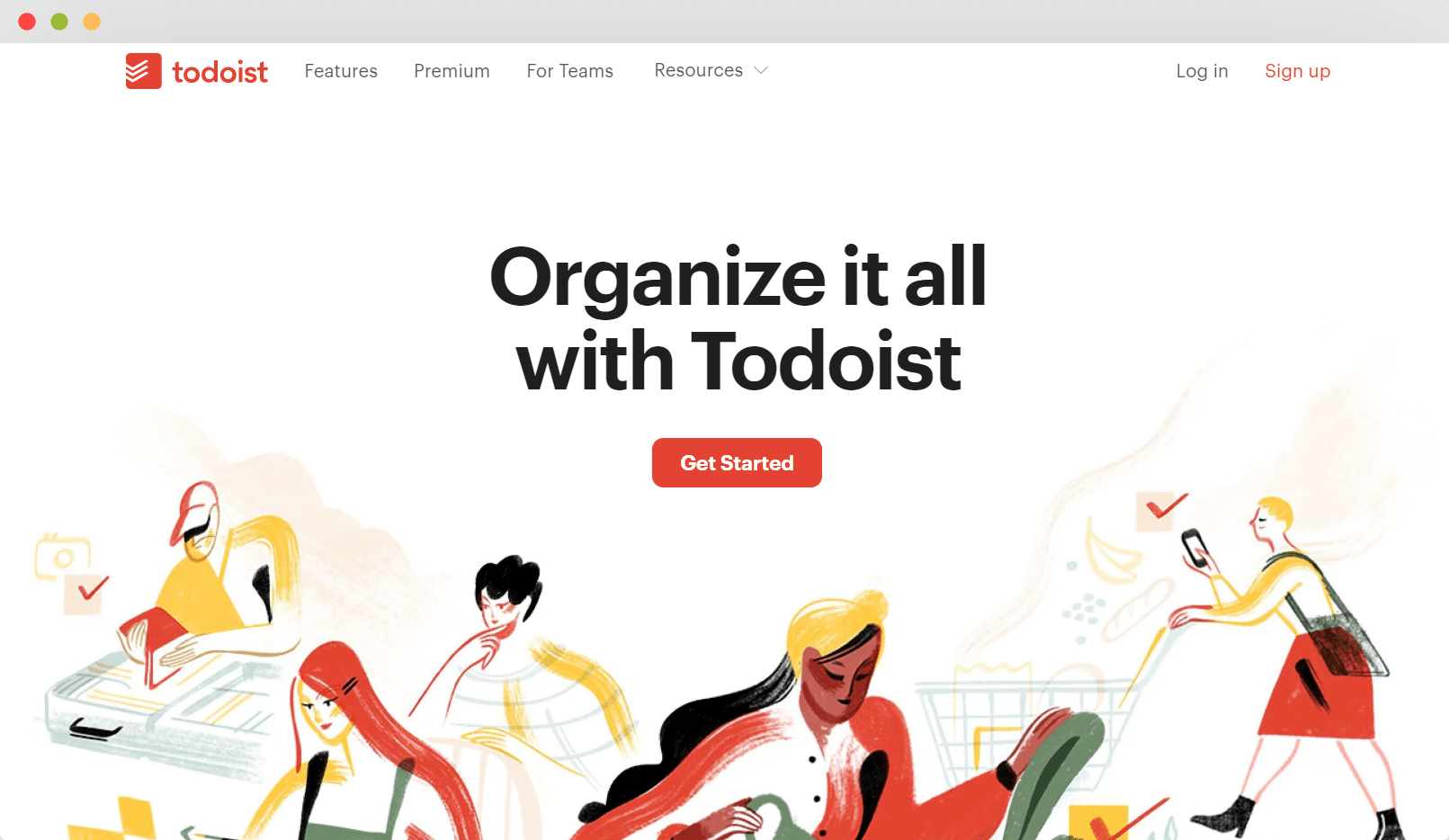 We loved Todoist primarily because of their different project methodologies that you can quickly implement, such as Agile, Kanban, and GTD.
Tracking & Analytics Tools
Why shoot blind in the dark and try to guess what people might want when you can see it. Data is everything. Repeat – data is everything!
With a little bit of logic and a desire for learning, your website visitors can show you the strongest and weakest points of your store, allowing you to make informed decisions.
Google Analytics
If crunching numbers and looking at data doesn't scare you, then Google Analytics is a free tool that will help you track and analyze your sales and marketing efforts.
When connected, Google Analytics will gather all the data from your dropshipping store. All you need is to know how to read it.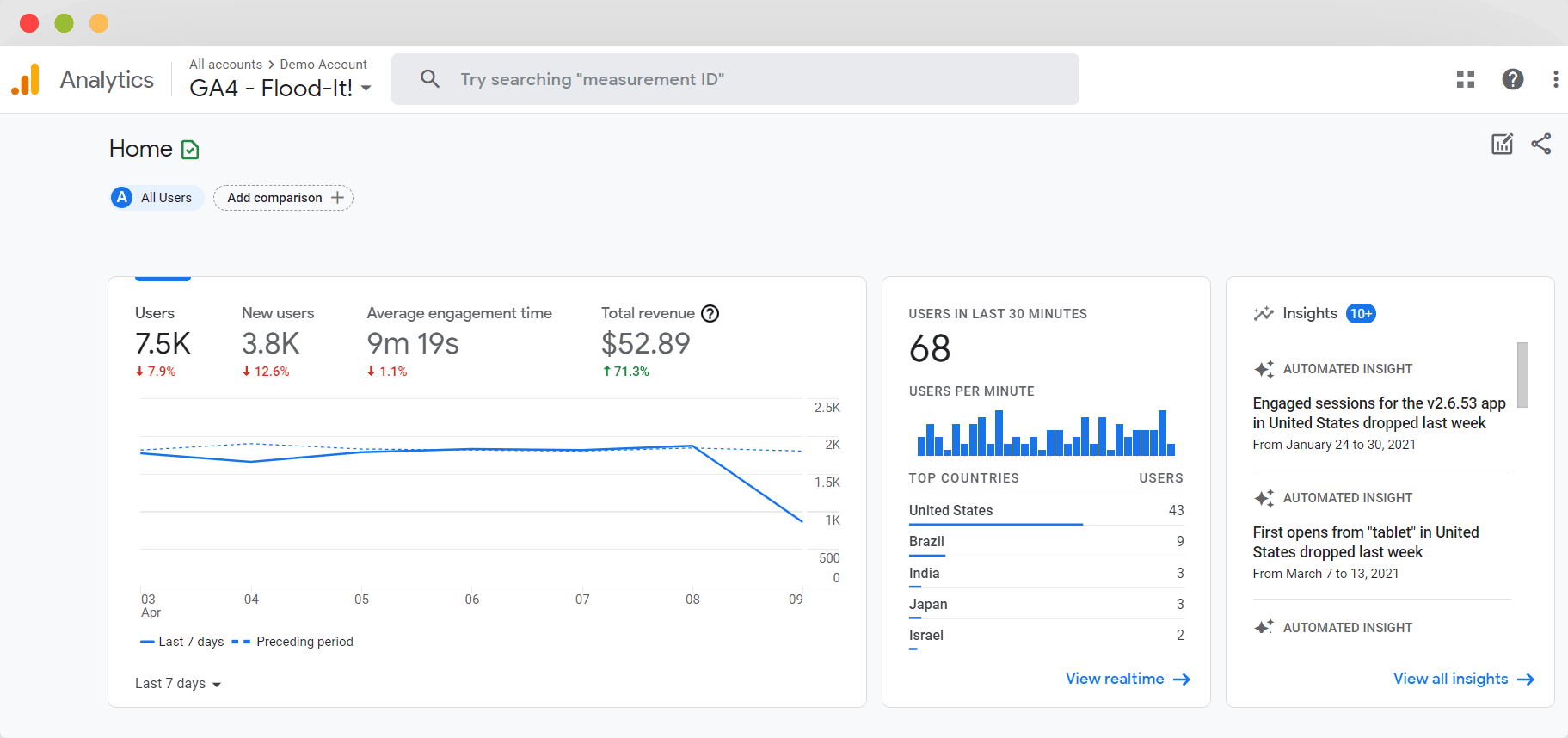 With Google Analytics, you can track your store visitors, see which product pages are visited most often, check the source of your traffic, and so much more!
Hotjar
Hotjar is a fantastic tool that will show you the behavior of your store visitors. With Hotjar, you'll be able to see which of your product pages perform the best, on which pages you lose visitors, and how far people scroll from mobile or desktop.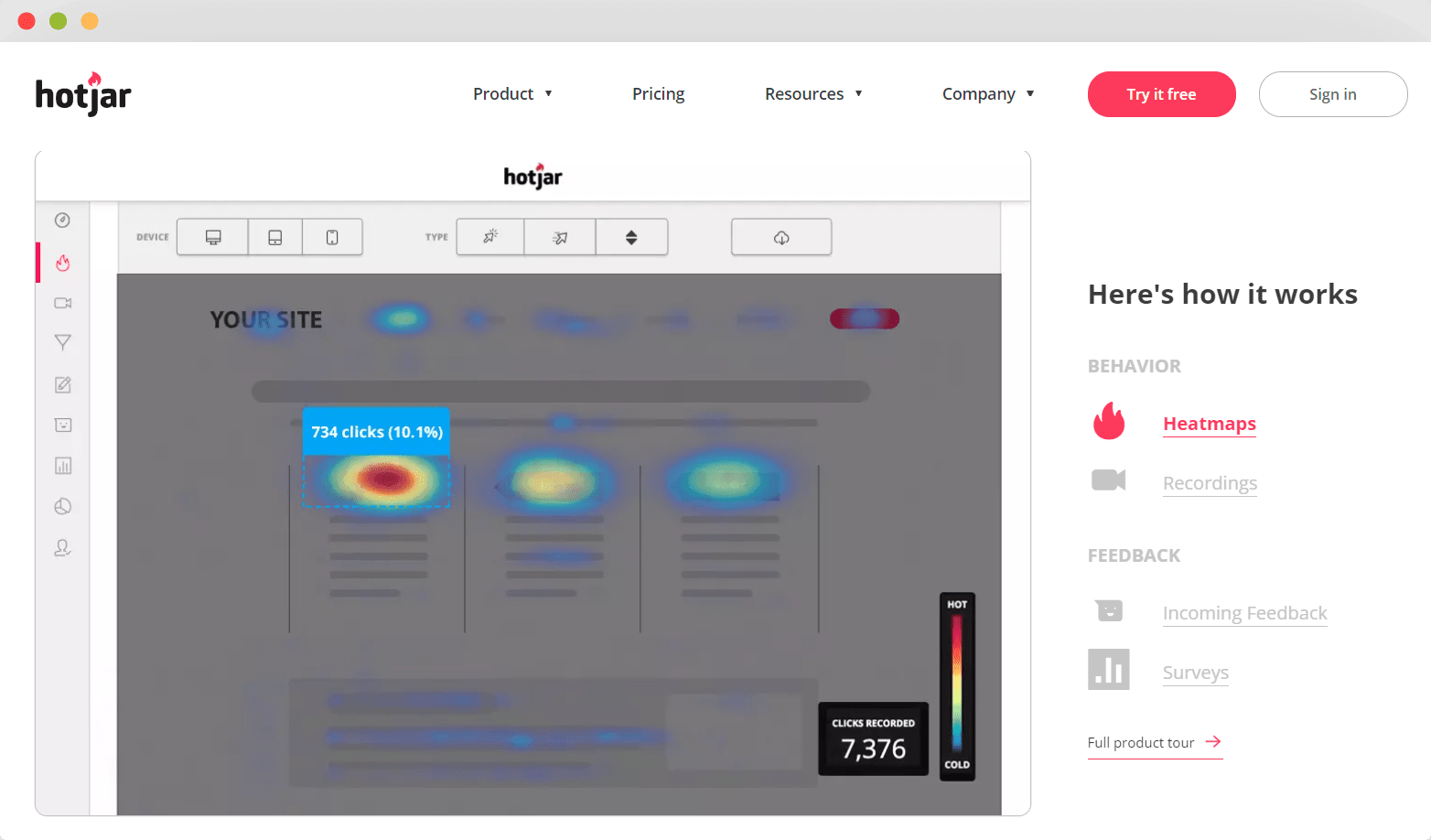 Hotjar uses heatmaps to show you the user experience on your website, records page views, lets you spy on entire user sessions, and much more.
All in all, we recommend that you connect your store to Hotjar if you want to understand better what your customers want and need.
Now that we've shown you how to automate your dropshipping business with different tools, you'll have the free time on your hands to do sales and marketing. Here are some great tools that can help with your promotion efforts:
Buffer
Buffer is one of the most well-known social media scheduling tools which allows you to post on Instagram, Facebook, Twitter, LinkedIn, and Pinterest.
With the help of Buffer, you can tailor social media posts to each platform and create a posting schedule.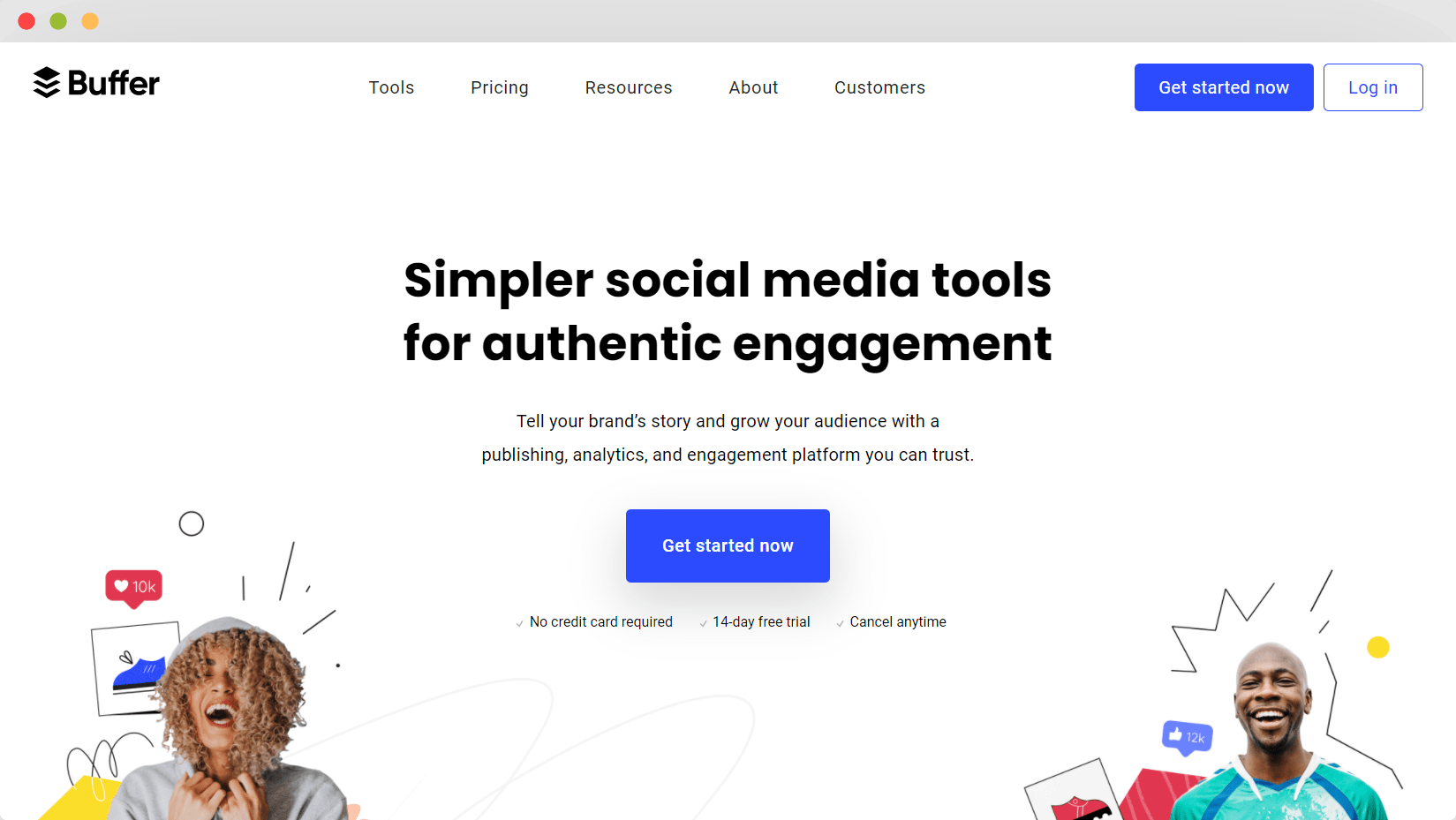 Buffer has a free version that allows for one user, three connected social channels, and ten scheduled posts per channel. However, the free version will not let you schedule Pinterest posts.
The paid Buffer plans start from $15/month, and with this, you can connect eight social accounts and schedule 100 posts per account. Worth a try!
Later
Have you ever wanted to make your Instagram posts clickable and create a dynamic link in bio? Well, Later is precisely the tool for that!
With Later's free plan, you can connect one social set (one Facebook, one Instagram, Twitter, and one Pinterest account) and schedule up to 30 posts per platform/month.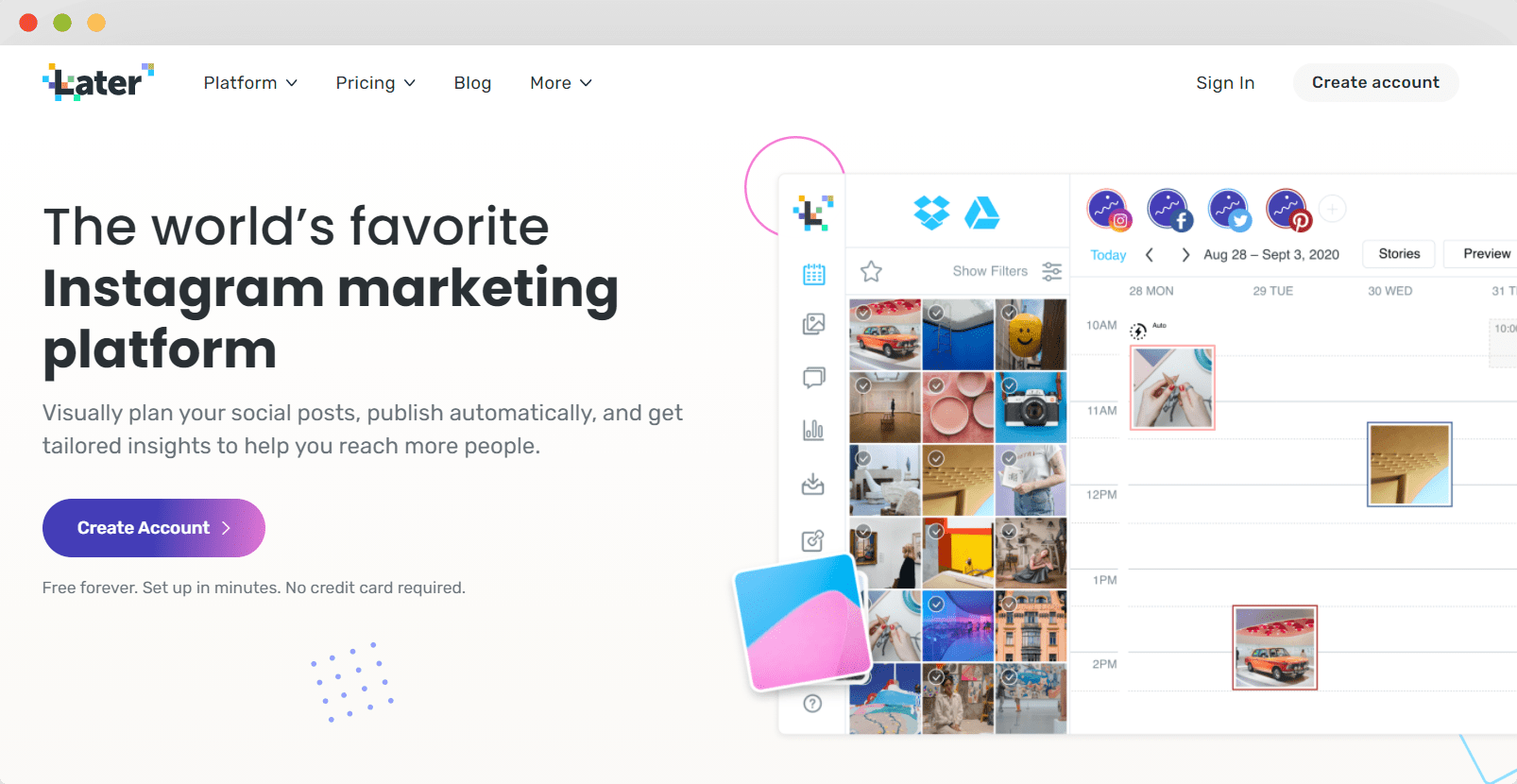 Additionally, you can create your own 'link in bio' page, which automatically synchronizes with your Instagram feed. Like this, visitors can click each post and land on each page individually.
Later's paid plans start from $15/month, which allows you to schedule 60 posts per platform/month.
Omnisend
One of the best ways to capture and nurture leads is through email marketing. On this subject, one of the best free email marketing tools we could find was Omnisend.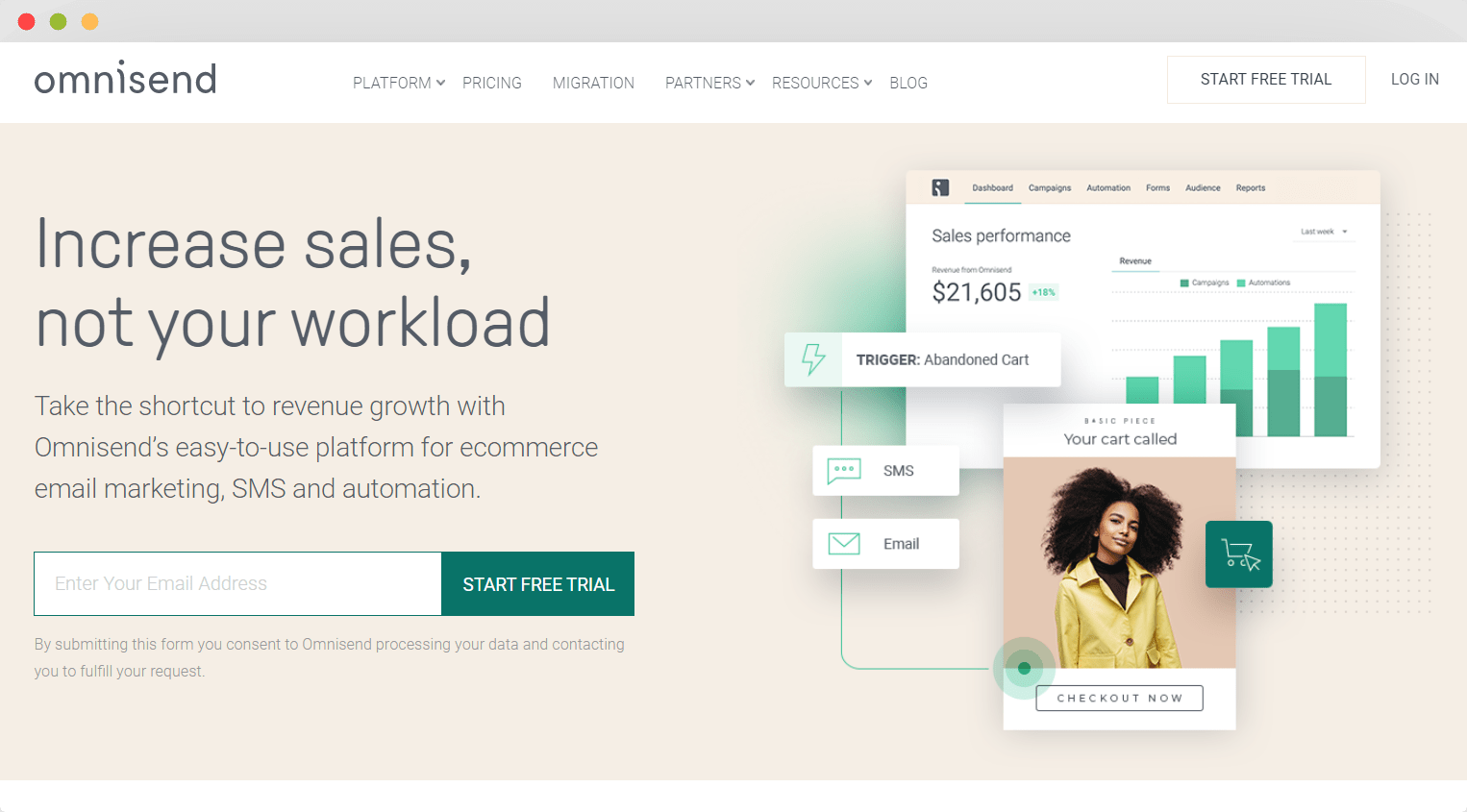 Although you'll need a paid plan to unlock certain features such as automation, Omnisend has an excellent free plan that lets you send up to 15,000 emails a month.
MailerLite
Another great email marketing tool that has an excellent free plan is MailerLite.
With MailerLite's free version, you can send up to 12,000 emails per month to 1,000 subscribers. Additionally, the free plan allows you to send mobile-friendly newsletters and build your landing pages.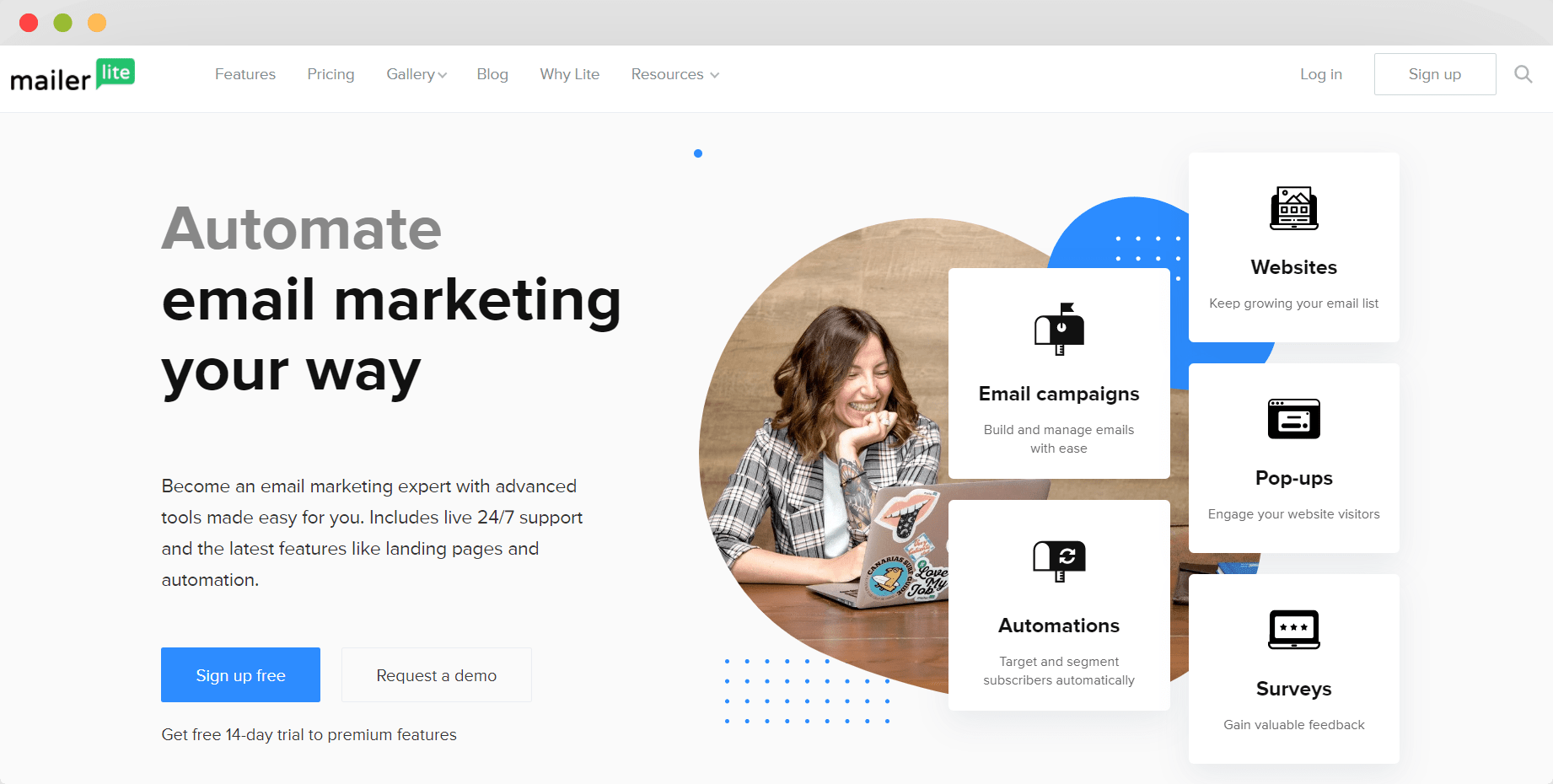 All in all, we think MailerLite is a convenient tool if you have subscriptions or popup boxes for lead generation on your storefront.
Other Useful Tools
Although not strictly related to dropshipping, we couldn't omit some other great tools that can help you stand out and become a better drop shipper.
Canva
A favorite among dropshippers and online entrepreneurs, Canva is a simple, drag-and-drop design tool that's a total lifesaver!
Canva has a free version that allows you to use almost all of its functionalities, except different PRO elements and photos.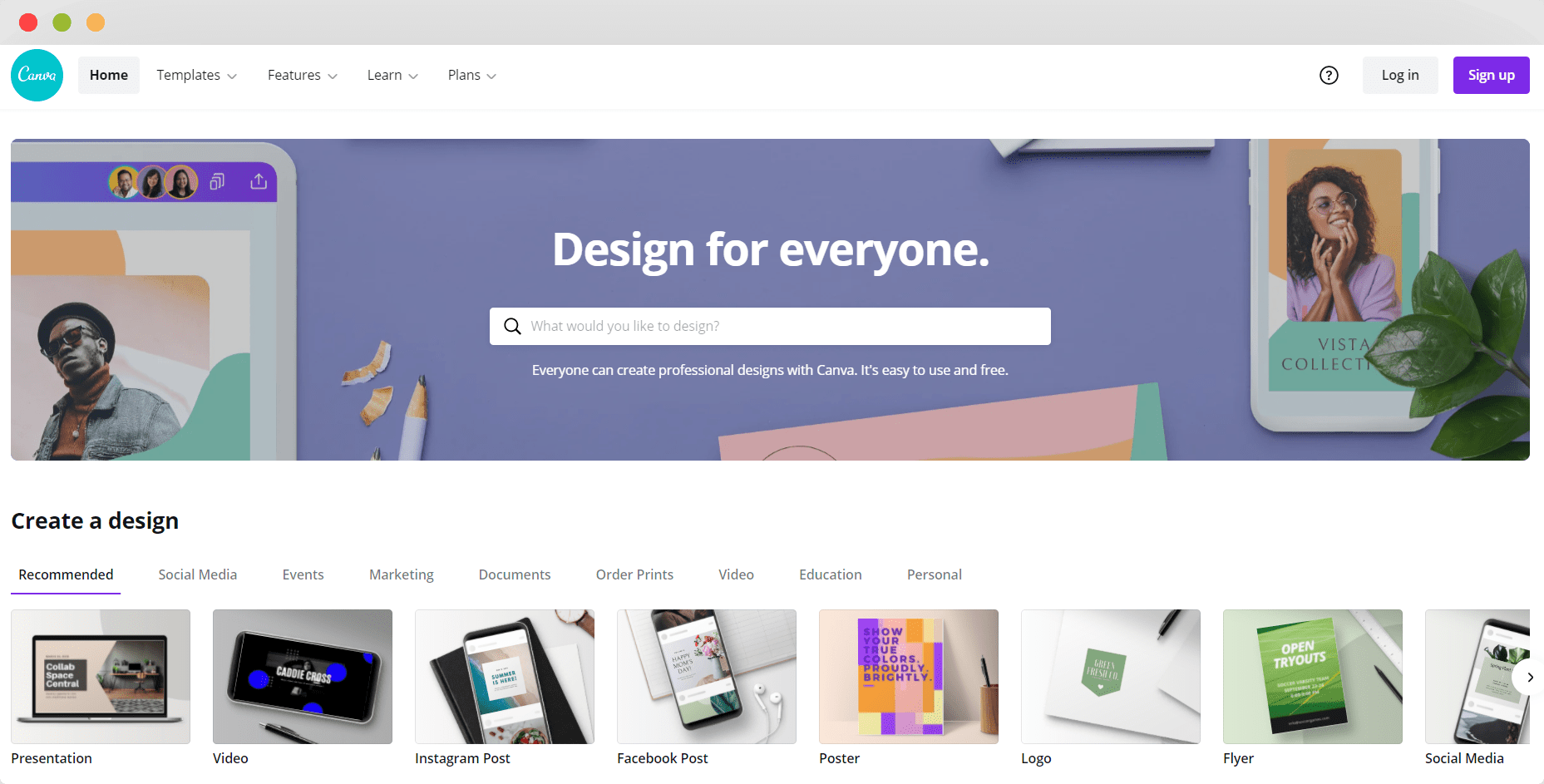 One of the most useful Canva features is their easy resizing of designs. With this feature, you can easily create a Facebook, Instagram, or Pinterest post with the correct dimensions.
Zapier
We cannot talk about automation and integration and fail to mention Zapier. Have you noticed that lately, 'automation' seems to be the buzzword in every industry? Well, it's for a good reason.
Businesses are trying to automate as many processes as possible, particularly those mundane and repetitive tasks. And, at the heart of every automation is a connection or an integration. Enter – Zapier!
Zapier is the kind of integration – its primary function is literally to connect different apps and services.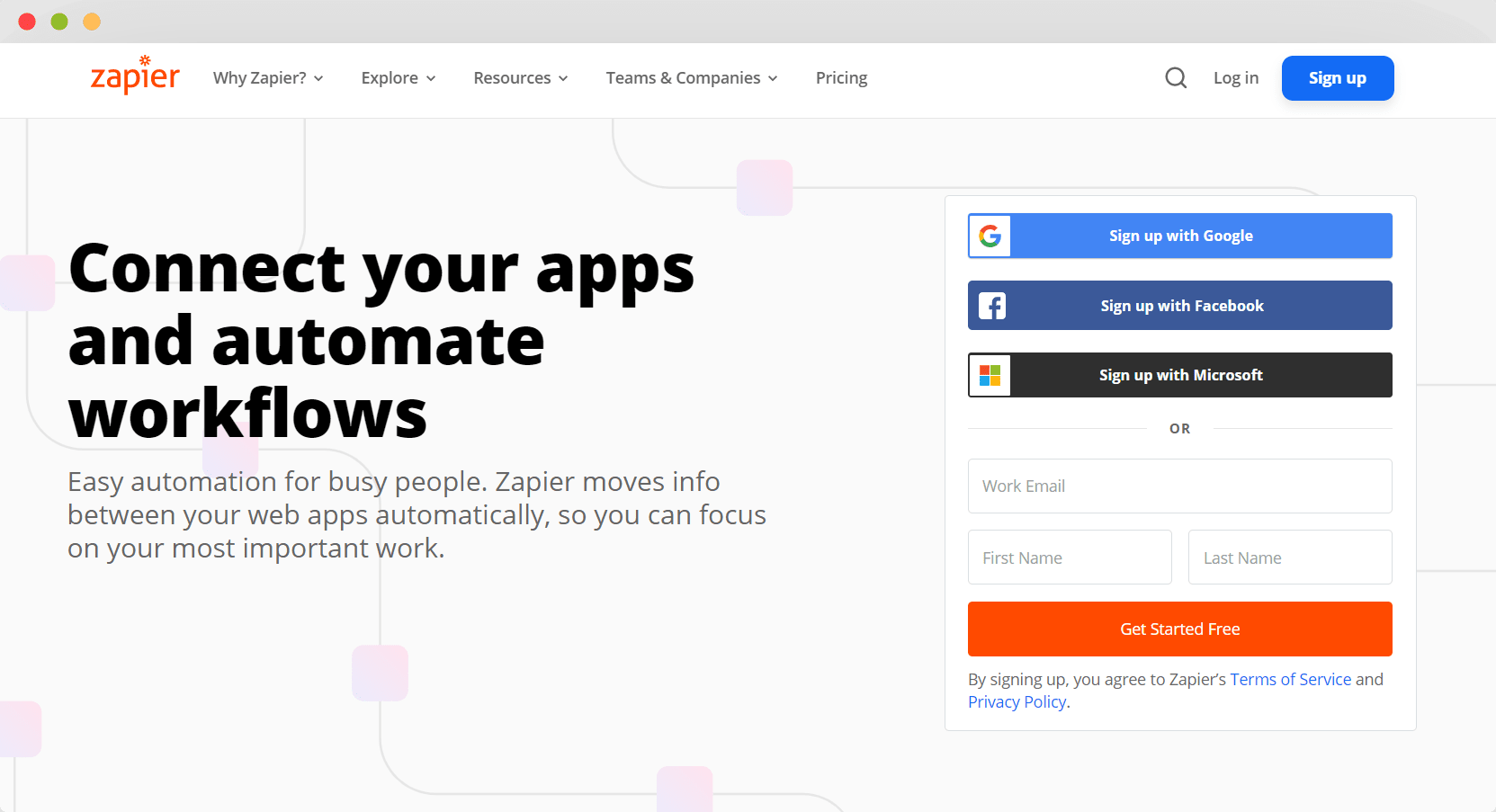 With the help of Zapier, you can integrate and connect two or more tools or apps, make them receive data from each other, and work synchronized.
Glorify
If you're looking for a tool to beautify your product images, look no further. Glorify is an app designed specifically for eCommerce businesses in search of professionally designed product photos.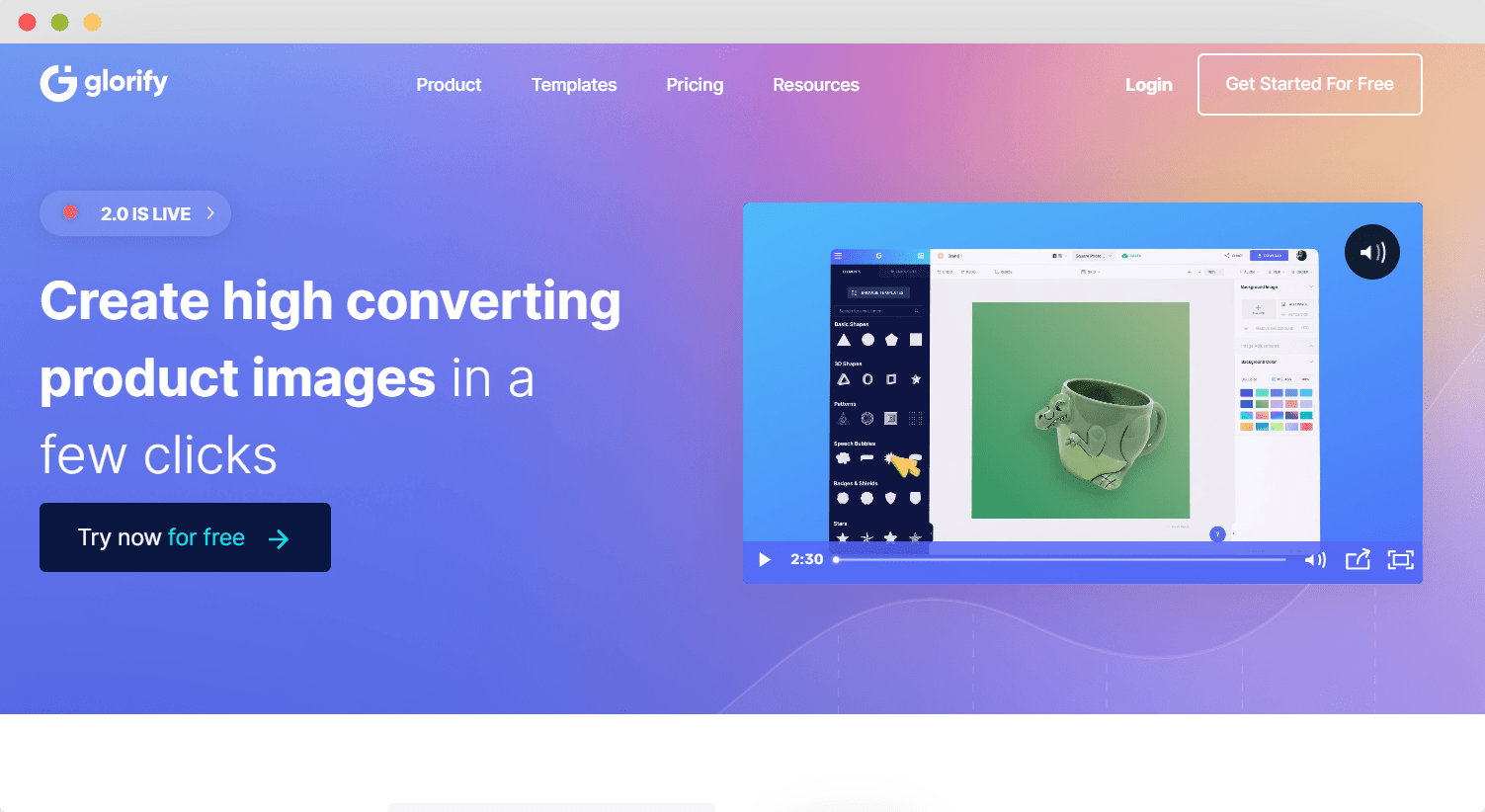 With the Glorify app, you can create stunning product images and make your dropshipping store stand out and convert better.
Dropshipping Tools FAQs
What Are the Best Dropshipping Tools?
Given the above points, you can notice that there is more than one category for dropshipping tools.
But, if we had to choose some of the best dropshipping software and tools out there, these would be our top choices by category:
eCommerce store builders: Shopify, WooCommerce + WordPress
Suppliers & fulfillment automation tools: CJDropshipping, Spocket, Modalyst, Oberlo
Product research & SEO: Google Trends, Ubersuggest, SellTheTrend, Yoast SEO
Project management tools: Asana
Tracking & analytics: Google Analytics
Email marketing: Omnisend
Design & social media: Canva, Buffer
What Are the Best Free Dropshipping Tools?
Some of the best free dropshipping tools are Oberlo, CJDropshipping, WooCommerce, Dropship.me, and DSM Tool.
Aside from the tools mentioned above, which are strictly related to eCommerce, many other free tools can help you step up your dropshipping game.
For example, you can use Google Trends and Google Keyword Planner to do free product and market research. Next, you can use Canva to create free social media visuals and then use Later to schedule your posts. Get the gist?
What Are the Best Automated Dropshipping Tools?
Many dropshipping automation software solutions can connect your store to supplier networks and streamline your order fulfillment and shipping processes.
Above, we've mentioned some of the best ones, such as CJDropshipping, Oberlo, Spocket, SaleHoo, Dropified, and others. These are all tools that can automate your dropshipping business.
Another option to automate your dropshipping business is to collaborate with a dropshipping agent in China who'll take care of sourcing, inventory storage, packaging, order fulfillment, shipping, etc.
What Are the Best Dropshipping Tools for Shopify?
As you saw above, there are different categories of dropshipping tools out there.
However, generally speaking, some of the best dropshipping tools for Shopify are CJDropshipping (4.9 on the Shopify app store), Oberlo (rated 4.2), Spocket (rated 4.6), DSers (rated 5.0), Dropified, AutoDS, etc.
Are There Any Good Dropshipping Tools for eBay?
Although dropshippers who sell on eBay might have fewer tools to choose from than Shopify drop shippers, we've got your back!
Some of the best dropshipping tools for eBay are DSM Tool, AutoDS, ShopMaster, Pricefox dropshipping software, etc.
When it comes to eBay product research, Chili-Hunter is among the best dropshipping tools to help you find hot products (pun intended).
Are There Any Good Dropshipping Tools for Amazon?
Since dropshippers usually use Amazon as a side sales channel, in addition to a dropshipping store, there aren't a lot of tools specifically for Amazon dropshipping.
But, we managed to gather some that are useful. Some of the best Amazon dropshipping software solutions or tools are Ecomdash, Pirahas, Merchant Words, Chili-Hunter, etc.
Take into consideration that you can find one of the best Amazon dropshipping tools directly within Amazon. The Amazon Best Sellers p will tell you what products are popular and in-demand at the moment.
What Are the Best Dropshipping Tools for WooCommerce Stores?
WooCommerce stores have a broad selection of dropshipping tools to choose from – Spocket, DSers, WooDropship, AliDropship, Dropship.me, Spreadr, CJDropshipping, Dropified, etc.
What Are the Best Print on Demand Dropshipping Tools?
Some of the best print-on-demand tools and platforms include Printful, Printify, Redbubble, Society6, TeePublic, Bonfire, Spreadshirt, Spring, Threadless, CustomCat, and others.
What Are Some Good Private Label Dropshipping Tools?
Suppose you're interested in a branded dropshipping store and want to sell private label products. In that case, you have to ensure that you're collaborating with a trustworthy supplier who'll keep up quality on a consistently high level.
Although there are a few tools that can help you dropship private label products (such as the Private Label On Demand Dropified plan), due to the costs and risks of this business model, it's always better to collaborate with an agent in China.
The geographical distance between you and your supplier is a real issue in private labeling since you'll need someone to control the production process and perform a quality inspection on your products.
Additionally, you'll need local warehouses to store your bulk order. To aid you with all of these processes, a drop shipping agent in China is always the best choice.
On a Final Note
Like any other business, eCommerce is also constantly changing and evolving. If you wish to be a successful drop shipper in 2023, you have to take advantage of the latest dropshipping tools out there to simplify your job. 
And lastly, we'd like to emphasize the importance of automation once again, as one of the main success factors in dropshipping stores today. With that said, we hope our list of ultimate dropshipping tools will help you grow and scale.
If all of these dropshipping tools seem confusing and you still have questions, we're at your disposal. Register for free and let's automate your order fulfillment process.