Best Dropshipping Agent
Dropshipping from China Made Easy.
Our mission is to help Shopify sellers & small businesses source products from China and make dropshipping easy. As the best one-stop dropshipping supplier in China, we can help you not only buy and ship but help build your branded dropshipping business by offering tailored dropshipping services. Tell us what products you need, and you will receive a free quote within 2 days.
How Are We the Best Dropshipping Supplier in China?
There are tens of thousands of China dropshipping suppliers and AliExpress dropshipping sellers in the world, but why is NicheDropshipping absolutely the leading one for your business?
Free Sourcing Service
According to your sourcing requests, your personal sourcing agent from NicheDropshipping will find manufacturers in China, help you buy from 1688 & Taobao.com as well as Chinese local market to get the best price products while maintaining the same quality.
1 on 1 Support
You will have an experienced sourcing agent with a 1 on 1 support service in our company to help you find manufacturers, sample mockups, find good quality products, follow up the production, support you with the order process, private label & order fulfillment, and more.
Quality Inspection
Quality check & quality inspection is one of the most important processes. All products from factories will be re-checked and inspected to make sure they are of good quality, and we remove all the tags from the factory, repack goods with nice packages, all quality issues will be fixed in China before product shipping out.
Small Business Friendly
Most of the Dropshipping companies in China usually serve experienced Shopify drop shipper sellers, we are dedicated to helping small & medium-sized businesses. If you have a winner product in your niche store with a daily order of 30+, we can support your dropshipping business to the next level.
Shopify Full Integration
CSV file or Excel file order supported for the order fulfillment, and full integration with Shopify for super-fast, full automation. Our App currently supports eBay, WooCommerce, ShipStation integration & accepts PayPal, Stripe, credit card, and wire transfer payment.
Dropship Knives Wholesale Supplier
We have many different but flexible shipping options to meet your product's attributes. We dropship products with batteries, electronic products, liquid contain products like cosmetics, powder, cream products dropshipping, magnetic products, knives, etc.
Flexible Plans to Grow Your Business Step by Step
Quality issues, out of inventory, long processing & delivery time, multiple orders from different suppliers, and lack of brand identity are some of the main dropshipping issues that affect your customer's experiences when dropshipping from AliExpress. We aim to make it different by offering creative solutions for beginners, startups, and all small & medium-sized dropshipping businesses. We have 4 different plans designed for the growth of your dropshipping business.
What Do Customers Say about NicheDropshipping?
Having a reliable dropshipping supplier or fulfillment center is important to your success in dropshipping business because your reputation among your customers is totally based on how your supplier behaves. We are honored to be one of the best China dropshipping companies & highly recommended in E-com FB groups with 70K+ members.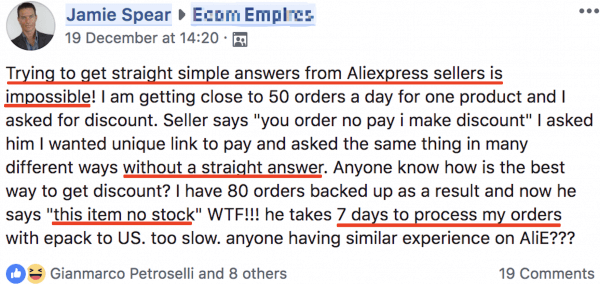 After using our dropshipping services:

In the past few years, Stanley and his NicheDropshipping team have supported more than 3000+ Shopify dropshippers and Amazon sellers to start their Amazon FBA & Shopify dropshipping businesses and scale their daily orders to a new level. We believe in working with honesty, transparency, good communication, and creating values for dropshippers and Ecom Community. We believe the best way to grow our business is to help our customers grow their businesses.
Customer Reviews from
Why Choose NicheDropshipping?
Free Sourcing
Experience our service at 0 cost
US Warehouses
Fast delivery to your US-based customers
Private Label
Sell your unique branded products
Full Integration
Unlock your productivity
Sourcing & Dropshipping from China Made Easy
No matter Amazon FBA or Shopify dropshipping, sourcing products from China could be easy for you. We help you find the right supplier with good quality at a reasonable price, We buy products from 1688.com or buy from taobao.com. Most of them are factory direct suppliers and inventory available. We keep inventory in our warehouse, and we will dropship to your worldwide customers.
Check this video to understand how we can help you with product sourcing, on-demand dropshipping service, order fulfillment in detail.
Fed Up with AliExpress Dropshipping?
Try the Best AliExpress + Oberlo Alternative for Dropshipping from China
We are the leading dropshipping agent and dropshipping supplier in China. We supply top 100 Amazon, Shopify, WooCommerce, Magento, eBay, Etsy Stores.
Best Dropshipping Solution
Designed to Boost Your Business Growth
We raise the bar on dropshipping suppliers and sourcing agents.
NicheDropshipping is a professional dropshipping agent in China. We are the ultimate one-stop dropshipping solution designed for your growth. With us, you have everything you need to start and grow your e-commerce business. We don't just help you buy and ship, we optimize your supply chain and work with you to build your own brand.
Frequently Asked Questions
Dropshipping is a method in which you as the seller do not need to keep products in your inventory, instead you work with NicheDropShipping, who will help you source products from China, take care of quality control, branding package and send the products directly to your buyers.

For Example:

You sell school bags on eBay or Shopify dropshipping for $60
A customer from the United States (Tom) buys a school bag from your dropshipping store.
You contact Niche DropShipping and provide us the shipping details of Tom.
You pay Niche DropShpping $15 for the product & shipping, and we ship the school bag to Tom.
Your gross margin is $60–15=$45
Dropshipping with us is a risk-free and easiest way to start your business, in this case, dropshipping is more likely a specific period of E-com business, check dropshipping stages to understand where you are and where you will be.
A dropshipping agent or dropshipping supplier is someone like nichedropshipping.com who helps you take care of product sourcing, price negotiation, quality inspection, branded packaging, private label & white-label service, free warehousing, and order fulfillment with fully integrated API or ERP to your Shopify store to fulfill your orders automatically to your worldwide customers. (No CSV required)
POD is the short for Print on Demand. Print on Demand fulfillment is when your product is printed when orders are placed. Items are then shipped to your buyers, you pay us as the POD supplier and take your profit. We are in China to offer a full range of POD services for all Shopify POD dropshipping business owners.
Yes, we are currently developing our POD application to make POD easier for you.
NicheDropShipping.com is a sourcing agent and dropshipping fulfillment company in China. We can help you source products from China at the best possible price while maintaining the best possible quality. To start a business with dropshipping, you can simply submit your sourcing request here. You can send us the Aliexpress link, Amazon Link, 1688 product link or any product URL, product pictures with your target price and your shipping destination. We will buy it from 1688.com for you.
Since there is time differences from New York to Beijing, it usually takes about 24-48 hours for us to process the order.
Yes, we can put your thank you cards or branding cards into the parcel, and we also work with packing bag factories to help you customize your branding bag.
It usually takes about 20 days from China to USA by ePacket. If you want your customers to have better shopping experience, we have faster shipping options such as DHL, USPS, YunExpress, Yanwen and the like for you to choose.
Yes, we can. We offer value for money services for dropshipping photography and product videos. You can contact our agent for pricing.
Yes, we can. We can help you buy from 1688.com and Taobao. We will collect all the goods together and ship them to the destination.
Yes, we would recommend our partner in Amazon FBA, the best sourcing agent in China, NicheSources.com to help you handle everything related to Amazon FBA products and inquries.
Well, this is a very good question. NicheDropshipping is because most Shopify sellers focus on a generic or specific niche, this is how we understand our customers, and we are aiming to help our customers to be their niche unicorn. We are the AliExpress dropshipping alternative. We offer full drop shipping services and we are aiming to make dropshipping simple and easier for all dropshippers.
Source Your Products and Start Dropshipping
We offer the best price and dropshipping services to help you improve your dropshipping business