Shein dropshipping is becoming a very lucrative eCommerce opportunity for any dropshipping store lately. So, naturally, we had to check out this clothing store and see why it got so popular in the first place.
Dropshippers are interested to know if dropshipping with Shein or AliExpress is the better option. And, also is Shein a dropshipping site at all?
Let's dive in and see what this online retail store can do for your dropshipping business!
What Is Shein?
Shein is a Chinese online retail store that operates only online but throughout more than 220 countries worldwide.
In 2020 when the pandemic hit, the Shein app surpassed Amazon and became the most downloaded app for clothing and online shopping in the USA.
On the Shein platform, you can find all types of fashion and accessories, but it's primarily focused on affordable women's clothing and the latest trends in women's fashion.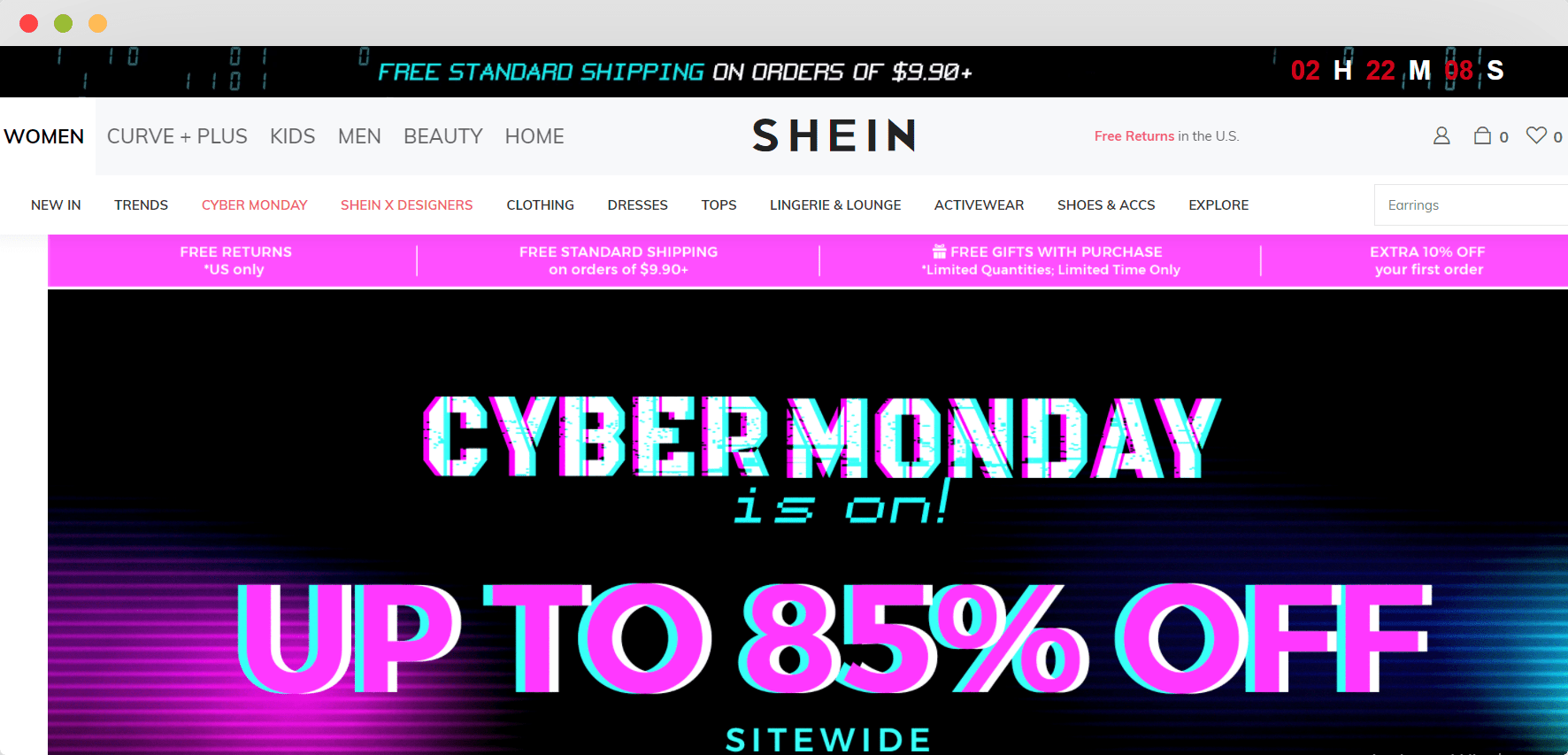 Does Shein Do Dropshipping?
In the past, Shein started out as a dropshipping company. But, since then, they've changed their model, and now they collaborate with different manufacturing partners.
As of now, officially, Shein doesn't do or allow drop shipping or reselling of their products commercially. However, they haven't explicitly forbidden it on their website.
What you definitely shouldn't do, according to Shein, is use their model product photos since they're copyrighted and protected by law.
So, if you decide to dropship with Shein, we recommend taking your own product photos and speaking to the supplier in advance.
Can You Dropship from Shein?
Technically, as long as you take your own product photos, you won't violate any of Shein's rules and regulations.
However, before you decide to dropship with Shein, you should be aware of several things:
Product photos
Shein uses people that model their clothes, and according to their terms and conditions, you aren't allowed to reuse these photos in any way, commercial or otherwise.
So, as we mentioned above, you should take your own photos of the products you plan to resell.
Branded packaging
Another problem you'll probably encounter when dropshipping Shein products is that they all arrive in packages labeled with their brand. So, white labeling or private labeling of the product or the package is not an option.
As long as you're transparent with your customers and they know that they're buying a Shein product, this won't be an issue.
However, if you're trying to build a brand or send the products in your company's name, we don't recommend that you dropship with Shein.
Supplier contact
If you decide to drop ship from Shein, you should always get in touch with the supplier. In that way, you'll know exactly what you should and shouldn't do.
Different dropshipping suppliers on the Shein platform might have different policies. So, sending a quick message before you order your product is a good idea.
Can I Use Shein for Shopify?
Shein doesn't have a direct API or connection to Shopify. In the past, it was possible to use Shein for Shopify through the Modalyst app. However, that's not an option anymore.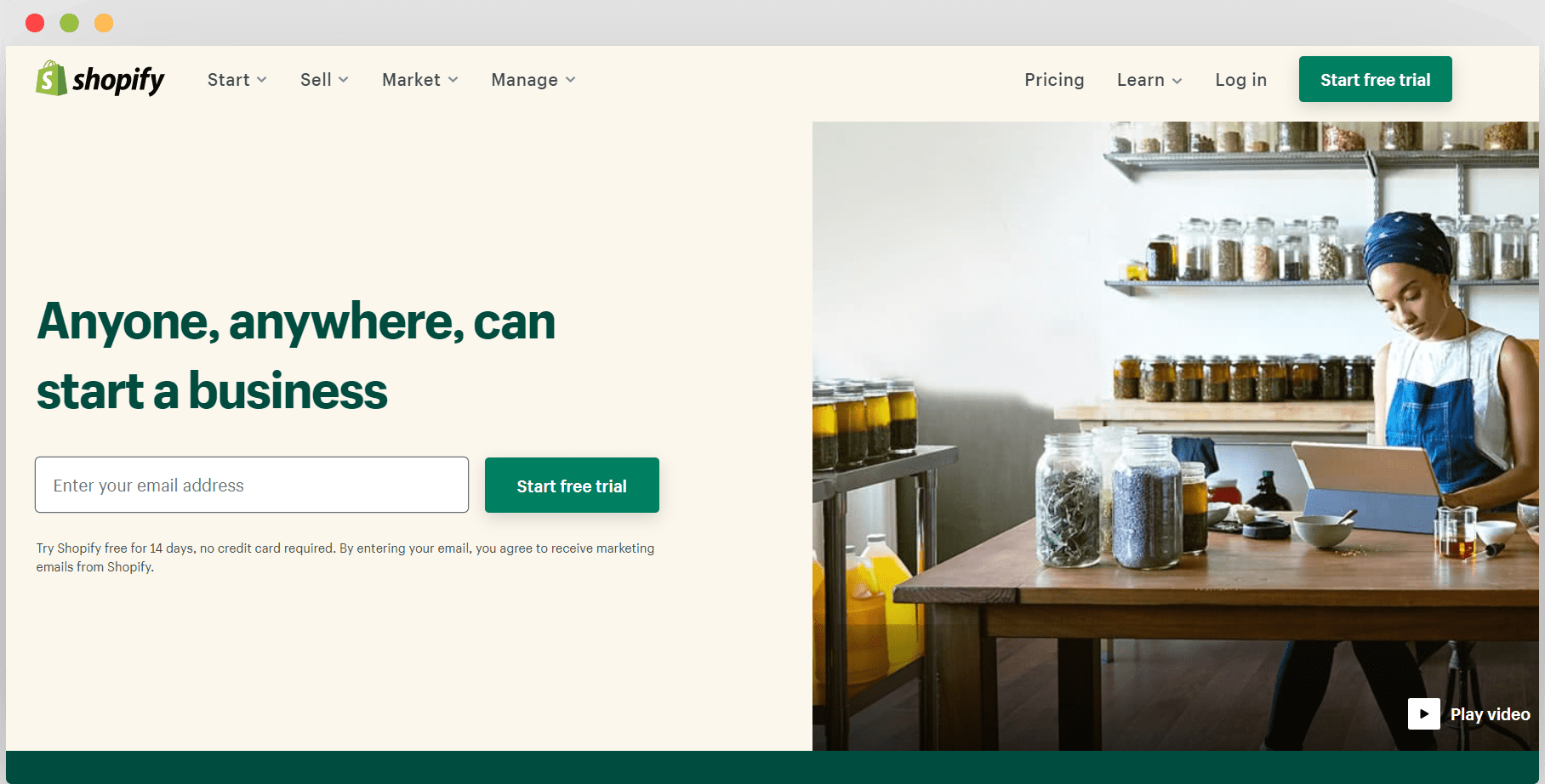 Now, you can use SheinImporter, Importify, or simply look for the same item on AliExpress. Once you find the item, you can use Oberlo or CJDropshipping to connect your shop and list the AliExpress product.
How Do I Import Shein Products to Shopify?
As we've mentioned above, you have two options to import your Shein listings or products to your Shopify store:
Buy in bulk
The first, easiest, and most legit option is to buy Shein products in bulk and then resell them.
With this, you'll be able to white-label your products and ship them with your branded packaging.
Plus, Shein offers a lot of discounts for bulk purchases. So, that means you'll enjoy discounts and a greater dropshipping profit margin when you resell products.
Use a third-party app
If you can't afford or don't want to buy in bulk, you can use third-party app integrations such as SheinImporter or Importify to list the Shein product to your Shopify store.
However, beware that in this case, Shein products will arrive with their branding, which might be a problem since your customers will feel betrayed.
Plus, they'll be able to see the original pricing, which isn't a great option for most dropshippers.
If none of these two things are a valid option for you, get in touch with a full-service dropshipping agent in China who can help you source the products you need at the most affordable prices.
Can You Resell Shein Products?
In theory, yes. However, Shein has strict policies in place when it comes to using their copyrighted model-based product photos.
So, if you wish to legally resell Shein products and stay on the safe side of the law, we recommend ordering the product and taking your own photos.
Then, when you're importing products from Shein to your online store or creating a listing, use your own photos instead of the original Shein ones.
Furthermore, note that Shein isn't necessarily dropship-friendly in a way that all of their packages arrive with their branding on them.
So, to avoid losing customers and mistrust, we recommend one of these two options:
Inform your customers in advance that their products are from Shein;
Buy in bulk orders and take care of branding your own products by yourself;
If you choose the second option, note that you're the one that has to take care of inventory storage and shipping. So, don't forget to add warehousing and delivery costs when you calculate your profit margins.
Is Shein South African?
No. Shein is a Chinese company based in Nanjing. However, you should know that Shein is available to use and ship in South Africa.
In fact, together with Wish, Shein is perhaps the most famous B2C online marketplace in South Africa.
Is Shein expensive?
Not at all. On the contrary, Shein has one of the most affordable prices for women's clothing dropshippers and apparel on the market.
Additionally, Shein always has tons of active coupons that you can use for discounts.
And finally, to get even better prices, you can take advantage of their bulk discounts.
What Is the Shein VIP System?
The Shein VIP program is entirely free to join. It's divided into three tiers, S1, S2, and S3. You move up to the next tier according to your purchase values.
For instance, S1 is right after placing your first order or spending just 1 cent. Then, you reach S2 after spending $90 on the platform. And, finally, you get to S3 once you've placed at least five orders or reached over $300 in value.
The S3 tier is the top tier, and once you belong in it, you can enjoy benefits such as promotions and faster refunds.
Another way Shein has found to attract and keep customers is by gathering points and then using these points in exchange for discounts or future orders.
On Shein, you can get points for leaving reviews and for every purchase that you make.
Is Shein a Dropshipping Site?
No. Shein is not a dropshipping site. It's a B2C online retail marketplace that outsources its manufacturing from several different wholesalers.
However, dropshipping with Shein is possible as long as you follow their product photos and content guidelines.
How Are the Shein Reviews?
We've encountered mixed feelings when it comes to Shein products. So, we've decided that the best way to be sure of the quality of Shein products is to check their actual reviews on the website.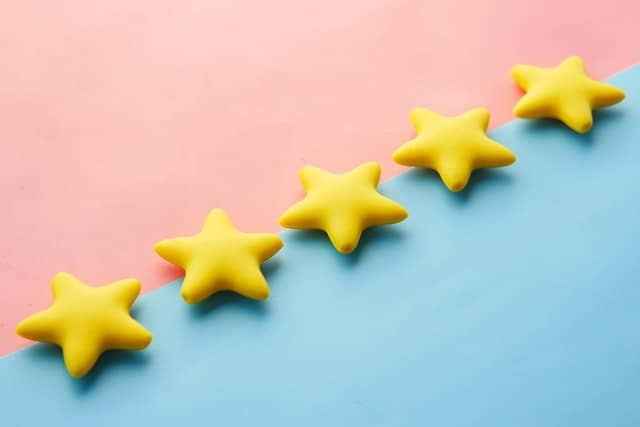 Just like AliExpress, Shein products have reviews from actual buyers that you can check out and read.
Based on these reviews, you'll be able to see a star rating from one to five.
So, before importing products, make sure they have good reviews and buyer feedback.
What Is the Best Shein Alternative?
If you decide that dropshipping with Shein isn't precisely what you need, you have many other options to choose from. Some great Shein alternatives you can use are:
AliExpress
With AliExpress dropshipping, you can gain access to a much broader niche category than Shein.
Additionally, on AliExpress is much more possible to find suppliers that agree to drop ship for you and white label their products.
Although AliExpress is primarily a B2C marketplace, you can still find manufacturers to negotiate a lower price for bulk orders.
In any case, AliExpress is much more dropship-friendly than Shein. The only issue is the longer delivery times.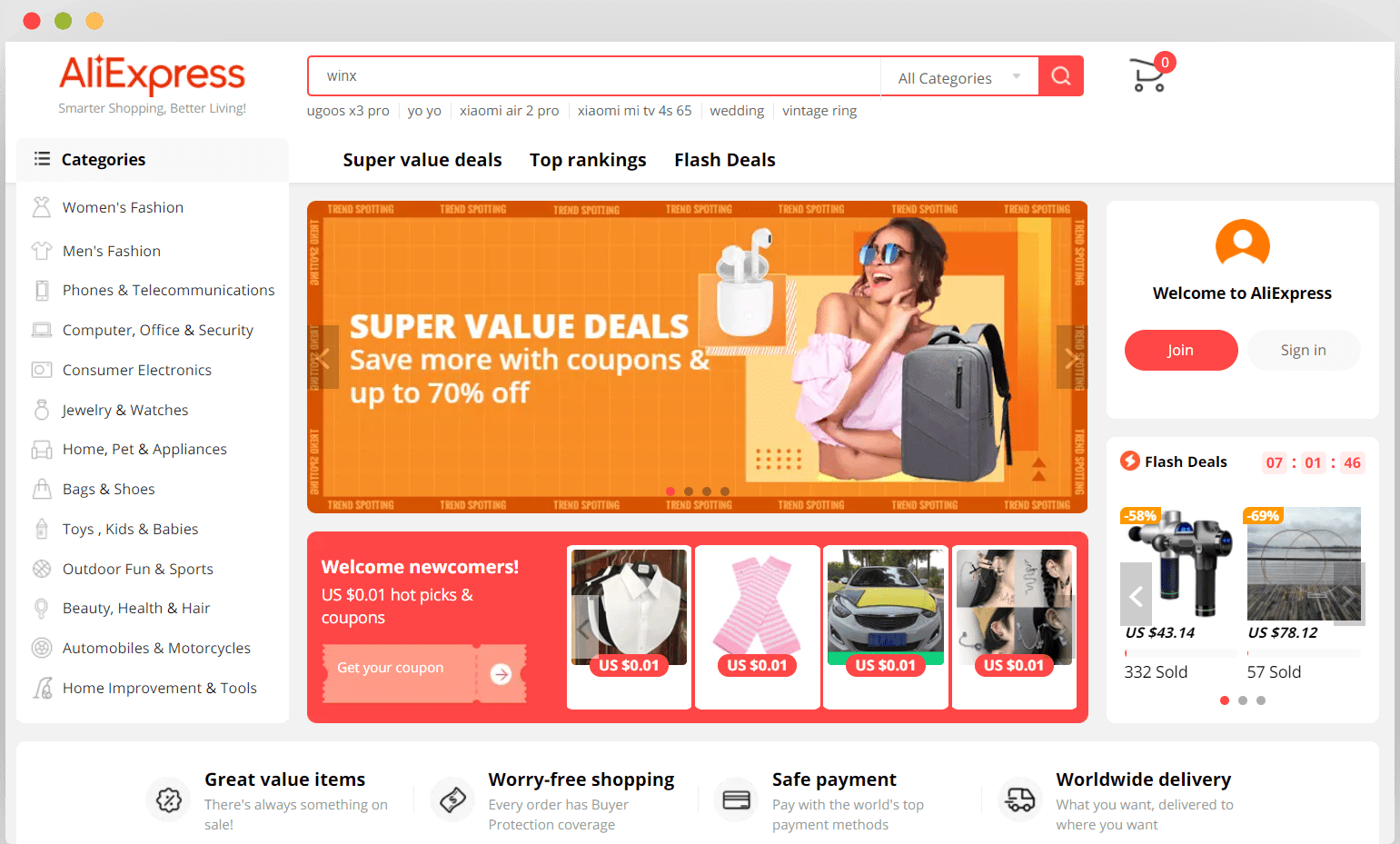 Alibaba
Another site like Shein that you can use if you want to buy in bulk is Alibaba.
The Alibaba marketplace targets B2B bulk clients, but there are also suppliers with low or even zero MOQs. So, don't hesitate to give it a try.
Wish
Wish is another great Shein alternative with worldwide shipping. It's totally dropship-friendly, but you have to be careful of dropshipping branded products.
If you want to do product sourcing from Wish, go right ahead. But, if you're going to sell products on the platform instead of buying, ensure you don't sell a brand without getting permission first.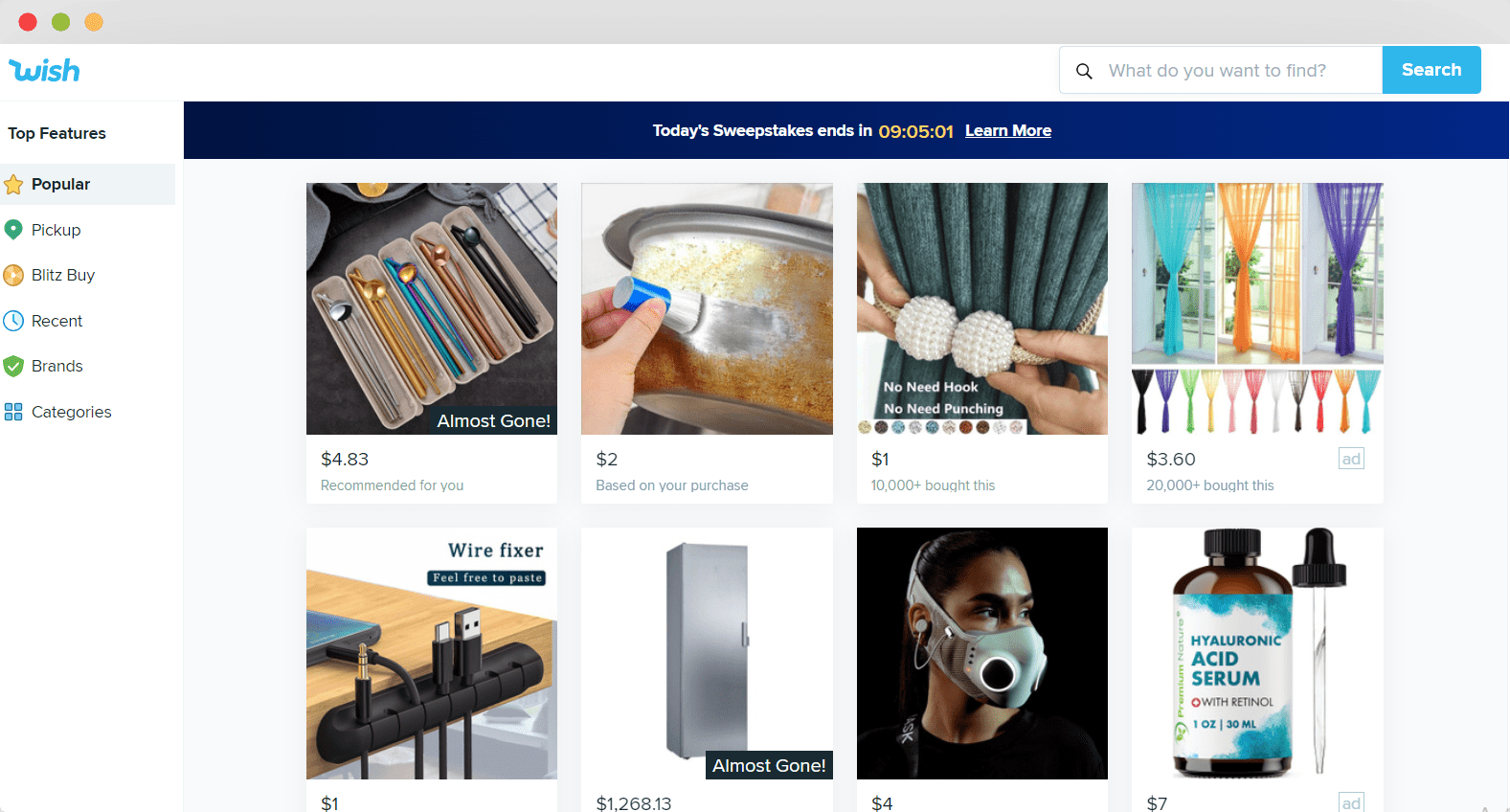 Zaful
The next great Shein alternative is Zaful. Although Zaful also doesn't have an official drop ship program, it has excellent product prices.
That means that you can order bulk products at wholesale prices that you will store in a warehouse (or your home) and resell in your dropshipping store.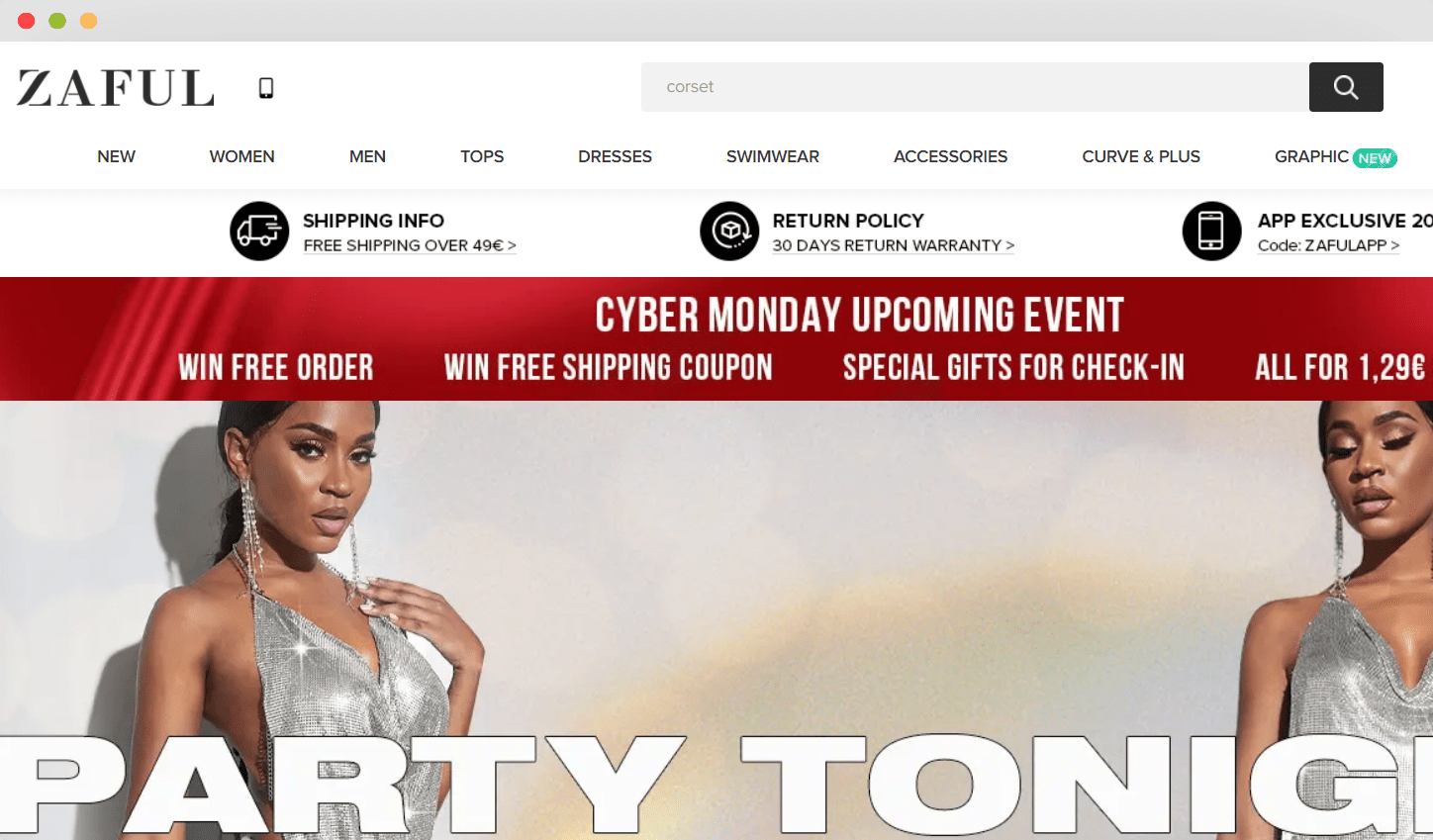 Emmacloth
Another online retail store similar to Shein is Emmacloth. According to our research, Emmacloth has a very similar product selection to Shein, with equally fast shipping times.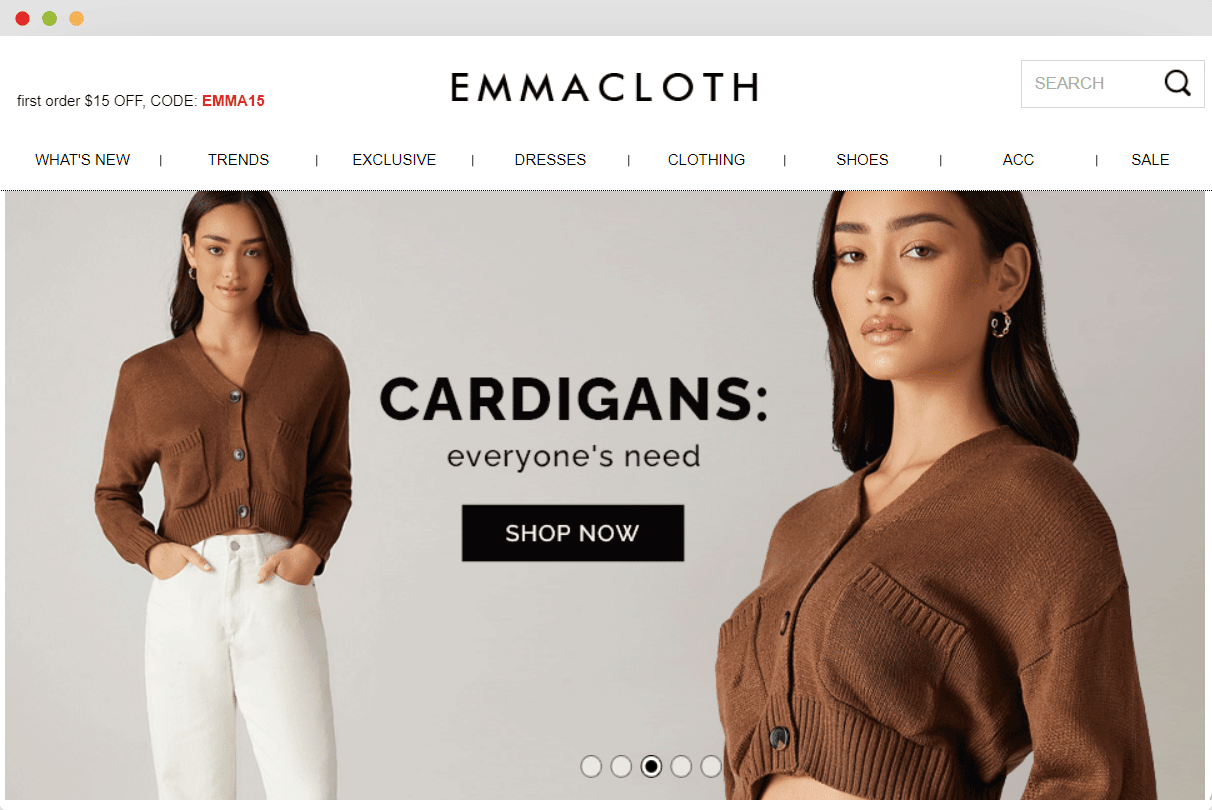 CJDropshipping
If you're searching for dropshipping suppliers in China that offer unbeatable prices and are highly dropship-friendly, then we urge you to check out CJDropshipping.
They integrate flawlessly with several dropshipping store builders, including Shopify, WooCommerce, and many more.
Additionally, they can do product sourcing from lucrative yet entirely Chinese websites such as 1688 or Taobao.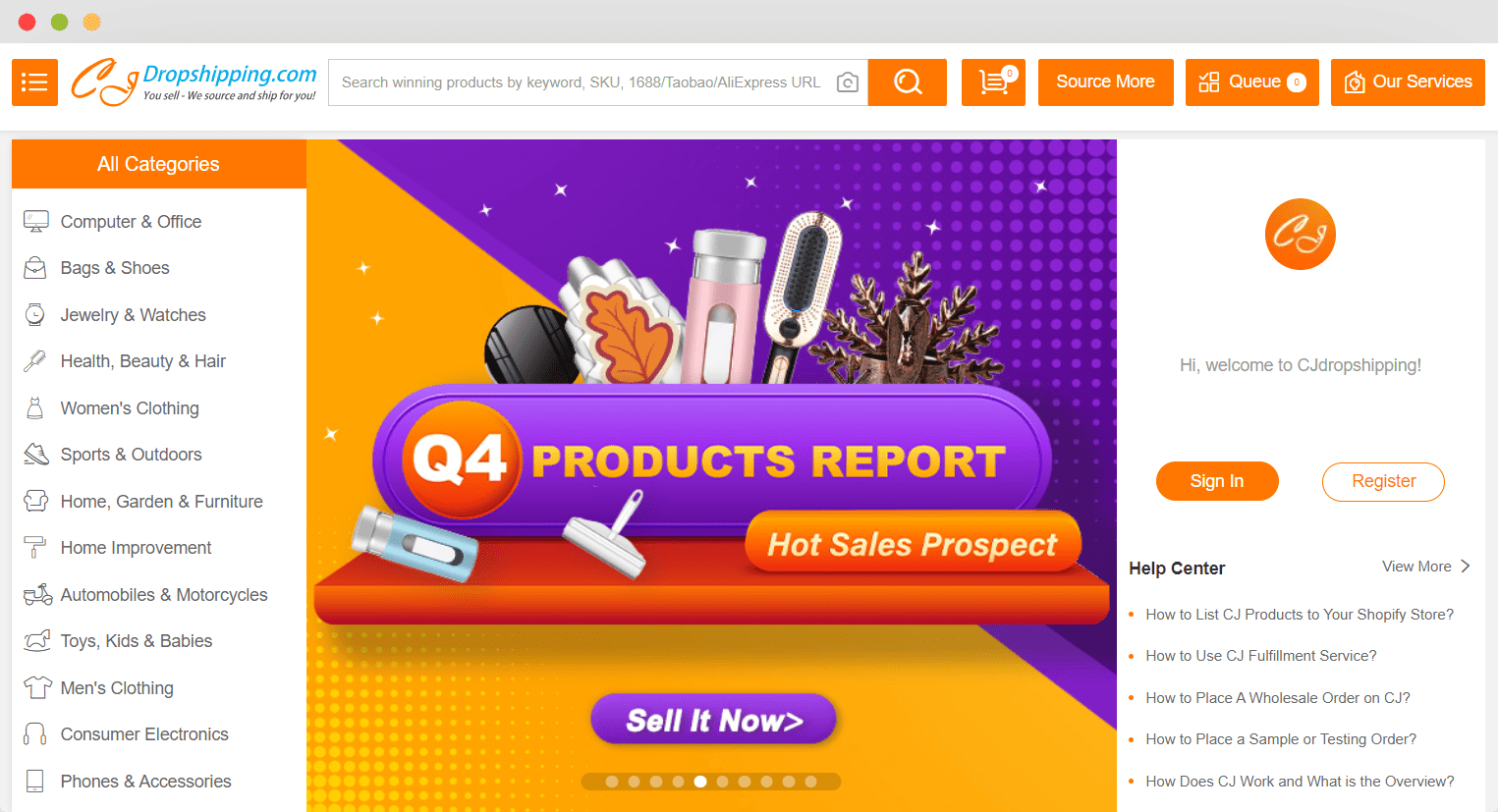 What Are the Advantages of Shein for Dropshipping?
Here are the pros when dropshipping Shein products:
A clothing store with a great product selection
Affordable product pricing
Fast shipping times
Discounts on bulk purchases
Operates internationally, in over 220 countries
What Are the Disadvantages of Shein for Dropshipping?
Although Shein is one of the most popular online clothing stores at the moment, it doesn't come without its drawbacks. Here are the main cons you can expect if you dropship with Shein:
Branded Shein packaging
Cannot use their product photos
Impossible to white label or private label products
Unstable product quality
Sizing is often an issue
Questionable ethics and morality
How to Choose between Shein or AliExpress?
Generally speaking, both Shein and AliExpress offer clothing at affordable prices. But, let's list their differences and help you decide if to use Shein or AliExpress:
Product selection
AliExpress is the clear winner in this category. Although Shein also offers products from different categories, they're still oriented mainly to women's fashion and apparel.
On the other hand, AliExpress offers literally everything under the sky. From tech gadgets to pet supplies, cosmetics, clothes, and anything else you can imagine.
Product pricing
In this category, it's almost a match! Both Shein and AliExpress have really affordable product prices. However, as we mentioned before, Shein outsources their manufacturing.
On the other hand, on AliExpress, you can establish direct contact with manufacturers, wholesalers, and retailers. So, for bulk orders, AliExpress could still be better to use.
Product quality
The product quality of AliExpress items depends entirely on the supplier you choose. Some products will have surprisingly high quality while others could be less than ideal.
That's why we always recommend checking out the supplier and product reviews, as well as user photos when ordering from AliExress.
When it comes to Shein products, we've seen users having mixed feelings and opinions. Certain items were of excellent quality, but some had complaints regarding the materials of their clothing being too sheer or transparent.
Shipping and delivery
The delivery time and costs always depend on your country of living (or your customer's county). However, generally speaking, Shein delivery times are much shorter than AliExpress.
When it comes to the shipping price, the AliExpress shipping will depend on the different suppliers, locations, or warehouses that the product is shipped from.
To check the shipping for different products, you can add them to your cart and set your delivery address. Then, you'll be able to see the approximate shipping time.
Unless you find an AliExpress supplier with warehouses close to your customers, the delivery time can be lengthy – anywhere from 15 to over 45 days.
On the other hand, Shein sells its own merchandise and has fixed shipping costs. Below $9.90, the shipping costs $3.99. But, above that amount, you get free shipping within the US.
White labeling
When it comes to white labeling a product or branded dropshipping, AliExpress is definitely more dropship-friendly.
On AliExpress, most suppliers are familiar and agree to drop ship the product to your end customer and remove any invoices or brands. Some suppliers will even agree to private label the product, place a slip with your brand in the package, or at least remove their invoice.
However, when dropshipping with Shein, whether you buy in bulk or ship to customers, all packages come with their branding.
What Categories Are Shein Products?
On the Shein platform, you can find many different product categories such as women's and men's apparel, kids, beauty, home, and more.
However, the majority of Shein products are women's clothing and fashion. Since its beginnings in 2008, Shein has been famous for selling women's fashion items like tops, dresses, pants, etc.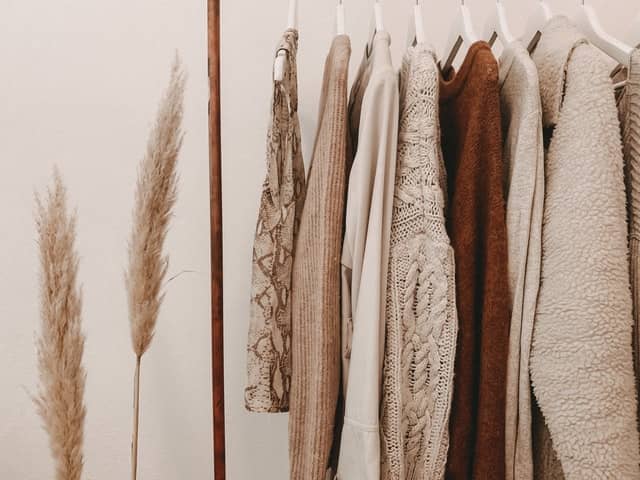 Who Is Shein Owned By?
Shein is a Chinese fast fashion and online-only fashion retailer founded and owned by Chris Xu in 2008.
Currently, Shein trades in over 220 countries, and it's among the most popular online retail shopping apps in the USA.
Is Romwe or Shein Better?
Romwe and Shein are registered under the same parent company in the USA. As such, they typically have similar (if not the same) merchandise.
However, Romwe isn't focused only on women's apparel but offers all types of clothing, accessories, and home products.
Another difference between Romwe and Shein is that you can also find Romwe merchandise on Amazon. So, if you have an Amazon Prime account, you can get your hands on Romwe products within two to three days.
How Long Does It Take Shein to Ship?
After you've paid your order, Shein takes 1-3 business days to ship out your product. Naturally, they will notify you as soon as they process and ship your order.
Once your order is shipped, the delivery time depends on the type of shipping method you choose – standard or express shipping.
If you choose standard shipping within the US, it will take 6 to 8 working days for your order to arrive.
On the other hand, if you choose the express shipping method, it typically takes 2 to 4 working days.
Does Shein Manufacture Their Own Products?
In the beginning, Shein didn't design or manufacture any products. Instead, they sourced their items from the wholesale market in the province of Guangzhou.
However, in 2014, Shein secured its own supply chain. They still didn't manufacture their products, but now they established a network of manufacturing partners and suppliers that produced on-demand.
So, in short, although Shein still doesn't have its in-house manufacturing, they do have a supply chain of partners that produce on-demand for them.
Should I Have Privacy Concerns about Data Breach Dropshipping from Shein?
In 2018, Shein, unfortunately, experienced a data breach when the emails and encrypted passwords of 6.42 million users were compromised.
Since then, Shein has placed documentation on their website assuring users that their sensitive information is safe.
Although nobody can guarantee that the same won't happen again, that was a single isolated case, and since then, they haven't had other data breach incidents.
Is Shein Safe to Order from in 2023?
Yes. As we mentioned above, Shein has experienced a data breach as an isolated incident in 2018. Since then, there haven't been any other data breach concerns reported.
What Is Wrong with Shein?
As a company, Shein went through several controversial issues that posed a concern to their customers:
Data breach
In 2018, a data breach compromised the email addresses and encrypted passwords of about 6.42 million users. This inability to protect themselves and their customers from cyberattacks caused mistrust in many buyers.
Trademark problems
Shein has had legal issues with several different companies, smaller ones, as well as large players.
Multiple local companies have called out Shein on stealing their designs, including Levi's, Ralph Lauren, and Dr. Martens.
Discriminatory and offensive designs
Shein has been accused of posting a design with a swastika and a stolen design of a handcuffed Afro-American. Although the company apologized to the public, it cost them a lot of followers.
Health and human rights
Last but not least, two Shein products were withdrawn from the market due to containing abnormal amounts of lead that can be detrimental to a person's health.
Furthermore, the company was found to work against human rights after several staff members in Guangzhou were working 75-hour weeks.
Aside from all of these issues, the Shein app actually enjoys a high 4.7 rating on the Google App Store and has surpassed Amazon in the number of downloads in the USA.
Is Shein Low Quality?
Not necessarily. Similar to other marketplaces, on Shein, you can find both high and low-quality items.
The majority of buyer complaints we've read online are related to either the sizing or the transparency of certain materials.
However, as with any other product when drop shipping, we recommend ordering a sample first. Like that, you can check out the product quality and the shipping time before you start dropshipping that product.
Does Shein Ship to PO Boxes?
Yes. Shein ships to PO boxes with its standard shipping. However, PO boxes and APO/FPO addresses won't work with its express shipping method.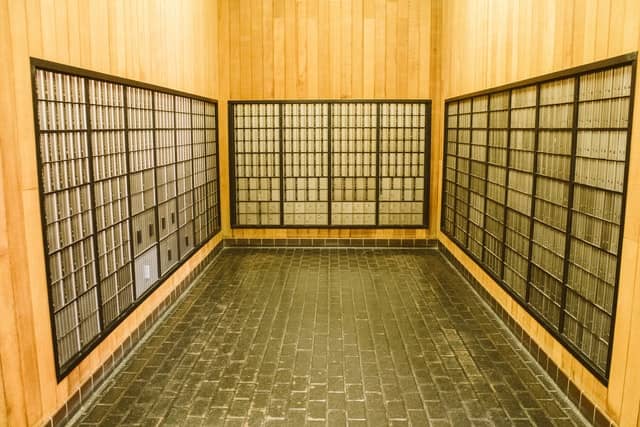 Where Are Shein Products Shipped From?
All Shein products are manufactured and shipped from several of their Chinese warehouses.
However, the company does have warehouses in the USA to serve its American customers and shorten the delivery times.
Does Shein Have Any Physical Stores?
No. Shein operates online-only. They're an online retail store offering all types of clothing and apparel, especially women's.
In the past, before they skyrocketed in popularity due to TikTok, YouTube, and Instagram in 2020, they did have several pop-up shops to attract the public's attention.
Where Is the Shein Warehouse in the USA?
For their US customers, Shein ships their products from a warehouse in Foshan, Guangdong province, to their USA warehouse in Los Angeles, California (CA).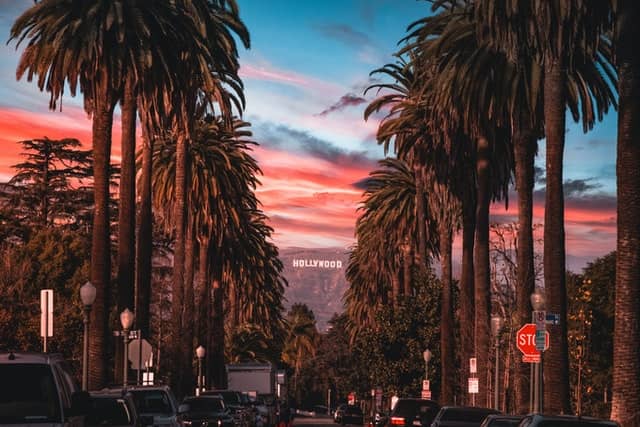 Do You Have to Be a Member to Shop at Shein?
No. Shopping on Shein doesn't require any fees. They do have a Shein VIP program, but also that's free to join and related to your purchases, not to a payment.
Why Was Shein Banned in India?
In 2020, India banned the Shein platform due to different privacy and data breach concerns.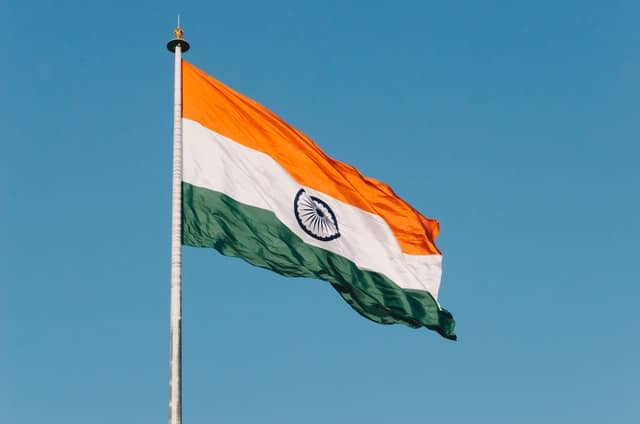 According to the Ministry of Electronics and Information Technology of India:
"[u]pon receiving recent credible inputs that such apps pose threat to sovereignty and integrity of India, the Government of India has decided to disallow the usage … both [on] mobile and non-mobile Internet-enabled devices".
However, although people in India cannot buy directly from the Shein platform or app, they can still buy Shein products listed on other allowed marketplaces.
Why Is Shein So Popular?
In 2021, Shein made a boom with their TikTok marketing, and their Shein online app overtook Amazon and positioned itself as the number one most downloaded shopping app in the USA.
Additionally, according to Euromonitor, Shein is the largest online-only fashion company in the world at the moment. It valued at $100 billion in April last year's funding round, which was worth more than H&M and Zara combined.
The reason for this popularity of Shein is its fast-fashion business model.
Namely, instead of manufacturing vast quantities of a single piece and creating waste by being unable to sell it, Shein took a different approach.
They started using algorithms and data to predict trends and partnered with nearby suppliers that produced small batches of approximately 100 pieces.
Then, they tracked the items' popularity and manufactured in bulk the products that were in demand.
This on-demand business model and the fast catching up on the latest trends, combined with their affordable prices, are the things that made Shein so popular among young people today.
We also can't forget that they catch up on the latest trends incredibly fast, on average, within three days from a trend emerging. Plus, they have an extensive collection of over 600,000 SKUs.
Just imagine – they add about 6,000 new pieces a day!
Of course, the other inevitable reasons for Shein's immense popularity are their low prices and fantastic marketing strategies, which brought them over 250 million followers throughout social media channels!
To Wrap Up
We honestly hope that this guide on Shein dropshipping will help you learn how to start dropshipping Shein products and if it's even the right choice for your needs.
If you decide Shein dropshipping isn't for you, feel free to get in touch with us. We here at NicheDropshipping have helped tons of dropshippers source their products from the best suppliers in China.
Do you have any other tips on Shein dropshipping? We'd love to hear them!