Clothing is an evergreen niche and an essential part of the e-commerce business. It is very much related to the fashion niche as well. As fashion keeps on changing, buyers will never stop buying clothes of different kinds.
For the very same reason, clothing remains a hot niche in dropshipping business. That is why every other dropshipper tries selling unique, cheap, and trendy clothes.
This detailed guide will help you find the best dropshipping clothing suppliers from all around the world.
In addition to the dropshipping platforms like AliExpress, you will also find individual suppliers who can provide you with cheap clothing products that you can sell via your dropshipping clothing stores.
So, stay connected throughout the article as you will be exploring the exciting information about clothing suppliers. This will also give you a chance to take your share in the half a trillion-dollar industry of fashion eCommerce.
Let's start.
Platforms to Find Dropshipping Clothing Suppliers
First of all, let's learn about the best dropshipping platforms that you can consider for finding out the dropshipping clothing suppliers. The following list contains the top free dropshipping platforms that are best suited for clothing products.
The most anticipated entry in this list, right? That's why we have put it on top to save the wait. There would be no dropshipper in the world who would be unaware of AliExpress.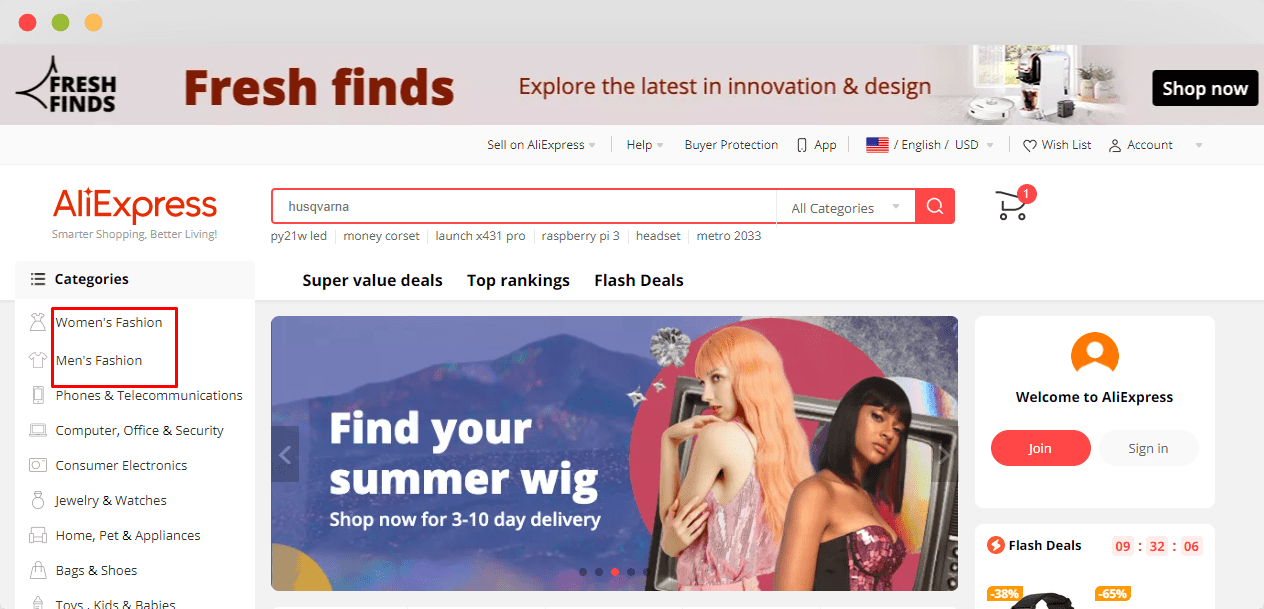 Most dropshippers always try outsourcing their products from this dropshipping company.
AliExpress has a huge range of clothing and apparel for almost all genders and age groups.
AliExpress has the following dedicated categories for clothing:
Apparel for Men
Apparel for Women
Apparel Accessories
They also have a category for "Mother & Kids". You can find baby clothes under this p. They have divided the subcategories for boys' and girls' clothing separately.
Wholesale Central is a directory of suppliers that includes wholesalers, distributors, and dropshipping companies. You can find multiple dropshipping suppliers from this platform.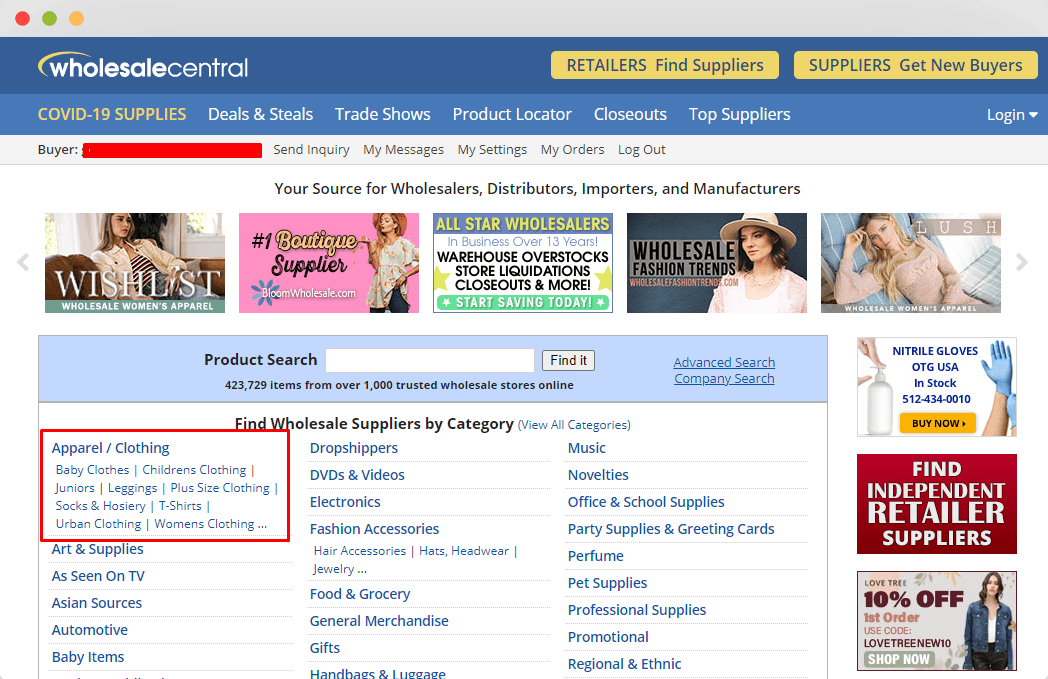 When you see the categories on this website, you will find apparel and clothing as the first category.
When you click this option, you will have a lot of suppliers that provide clothing. These also include the suppliers who provide dropshipping services.
This website is similar to AliExpress. It works on a B2C model. It is a Chinese website and you can find multiple products here. That is why you will be able to find cheaper clothing products here.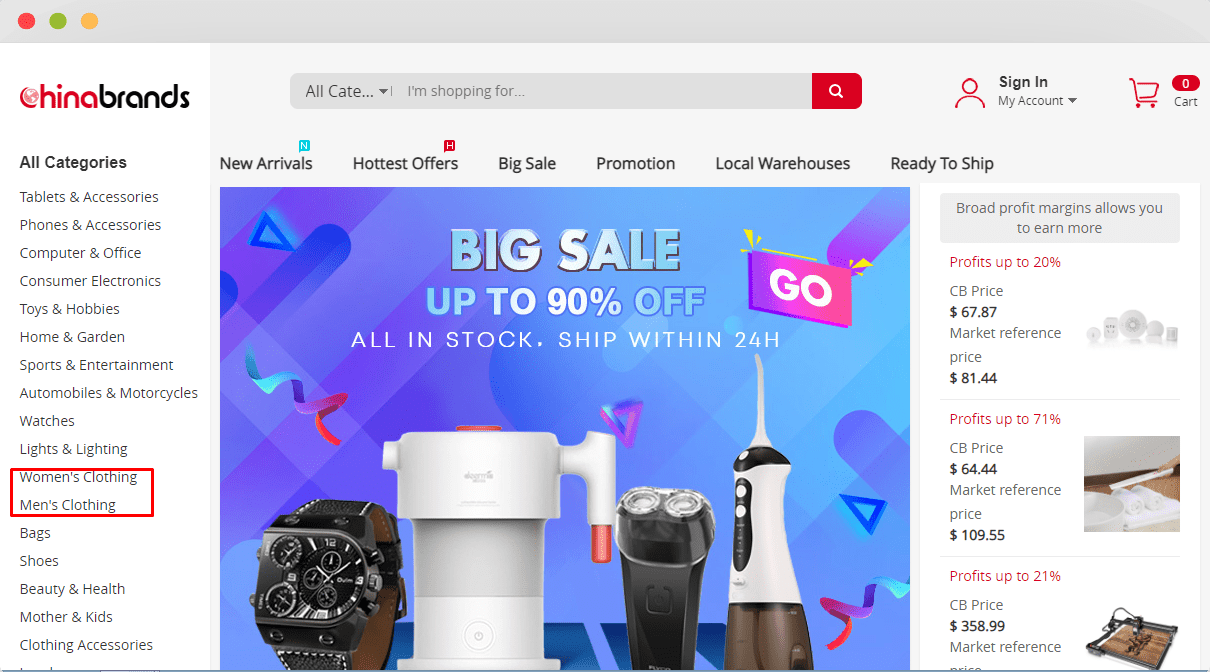 There is a huge variety of apparel and clothing products on this platform. As you hop on to its categories, you will see the following subcategories for clothing.
Women's Clothing
Men's Clothing
Clothing Accessories
Mother & Kids
DHgate is yet another great Chinese dropshipping platform. It is not as huge as other gigantic Chinese platforms like AliExpress but you can surely find a variety of clothing items at competitive rates here.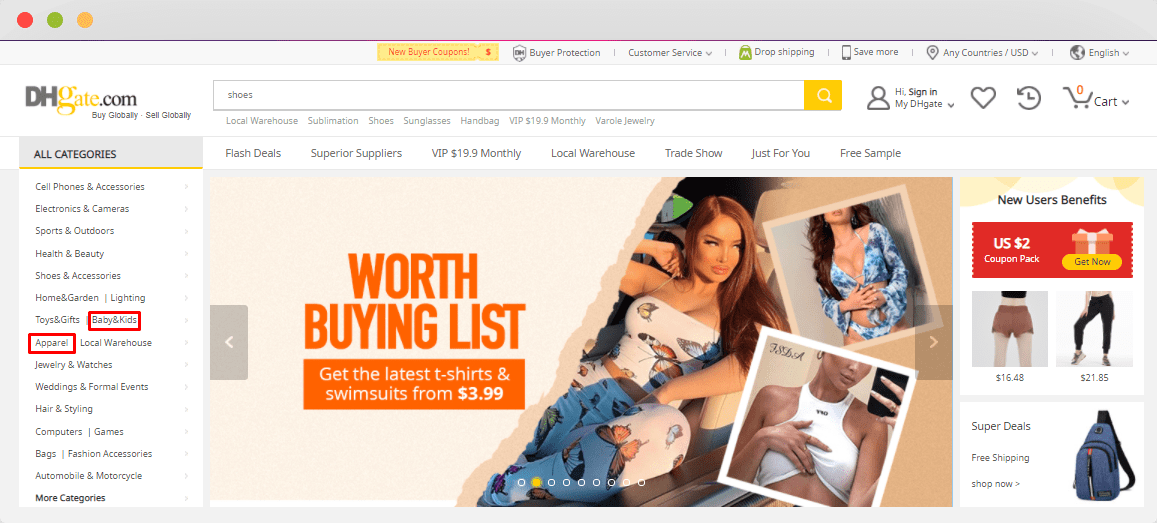 To find out the clothing items, just go to the website's categories, and viola! You will have access to tons of clothing and fashionable products.
DHgate has been serving the Chinese and international community since 2004. It has increased the number of suppliers and has gained customers' trust.
To find out the clothing-related products on this website, just click on the "apparel" option from the categories. You will find the following subcategories that will help you find products of choice easily.
Men's Clothing
Women's Clothing
Costumes & Cosplay
Trendy Clothing
You might be wondering if they offer children's clothing or not. The answer is yes. They are also offering products related to children's clothing in a separate category named "Baby & Kids".
Banggood is considered one of the best apparel dropshippers in China. Once you log onto this website, you will also have access to a huge collection of unique, trendy, and fashionable clothing.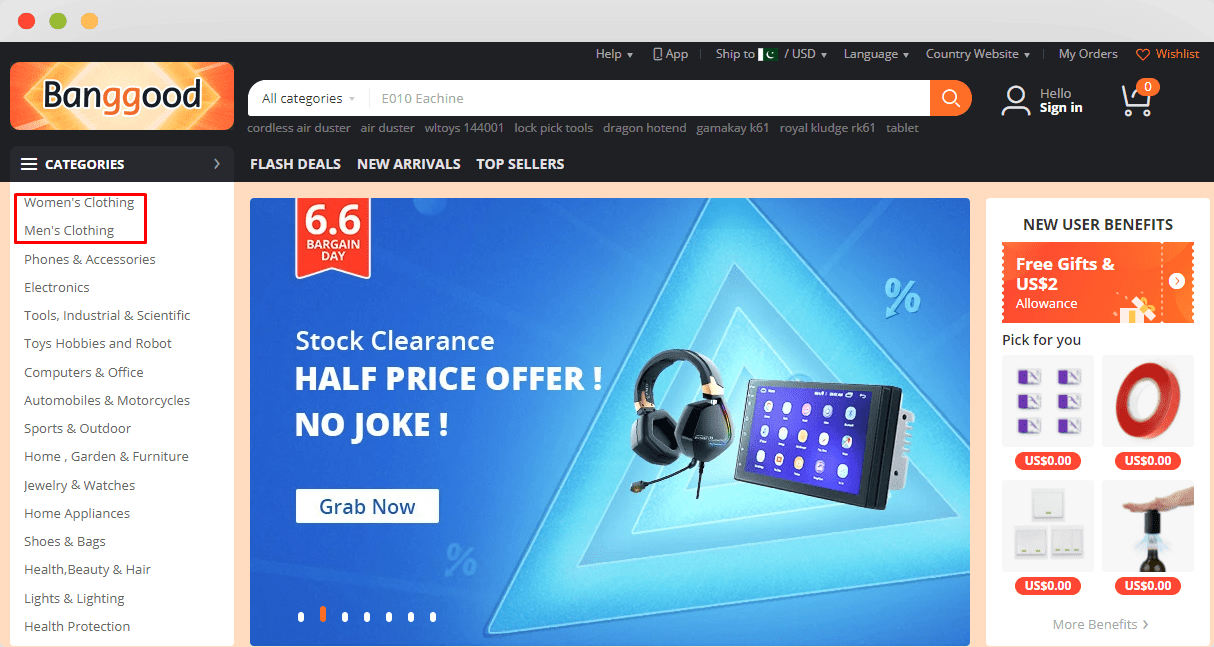 If you ever had an interest in the Chinese market, you would most probably know about the Guangzhou market. It is a huge Chinese market for wholesale suppliers, especially for clothing. Banggood is headquartered in Guangzhou.
This surely gives Bangood an edge over its competitors. It includes a variety of dropshipping clothing suppliers who are based in Guangzhou. That is why this website is able to offer high quality clothing products at the cheapest possible prices.
Once you log on to its homepage, you will notice that the product categories on this website start from "Women's Clothing" and "Men's clothing" right away.
This is one of the best Chinese dropshipping websites that offers you segregated subcategories. This helps you find the product of your choice easily.
For example, you will find women's clothing on this website, finely segregated as follows.
Dresses
Tops
Bottoms
Outwear
Sleepwear
Swimwear
Activewear
Plus Size
Two-Piece Sets
Trending
The only drawback of this website is that it does not offer children's clothing.
Most new dropshippers may not be aware of this platform as they normally rely heavily on huge sites like AliExpress. But this may be the right platform, especially for sourcing clothing items.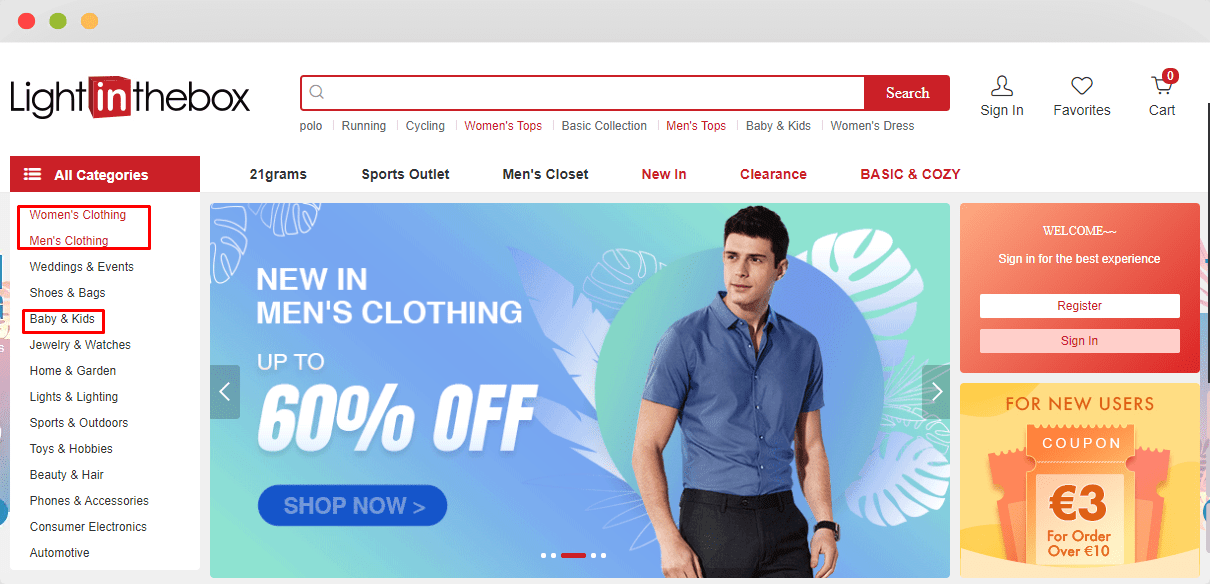 It is also a China-based dropshipping supplier and offers multiple other products in addition to clothes.
It is probably one of the top Chinese websites that offers a huge variety of clothing for your dropshipping business. You can find the following clothing categories on this website.
Women's Clothing
Men's Clothing
Baby & Kids
The main categories are always simple. But when you click on any of these categories, you will see tons of subcategories that will make your clothing research easier.
Do consider exploring this platform as this is most popular for clothing items in the dropshipping field.
Do you want to include dropshipping clothing suppliers from the US and Europe? Spocket is the place for you. It is always better to have Western dropshipping options on your website.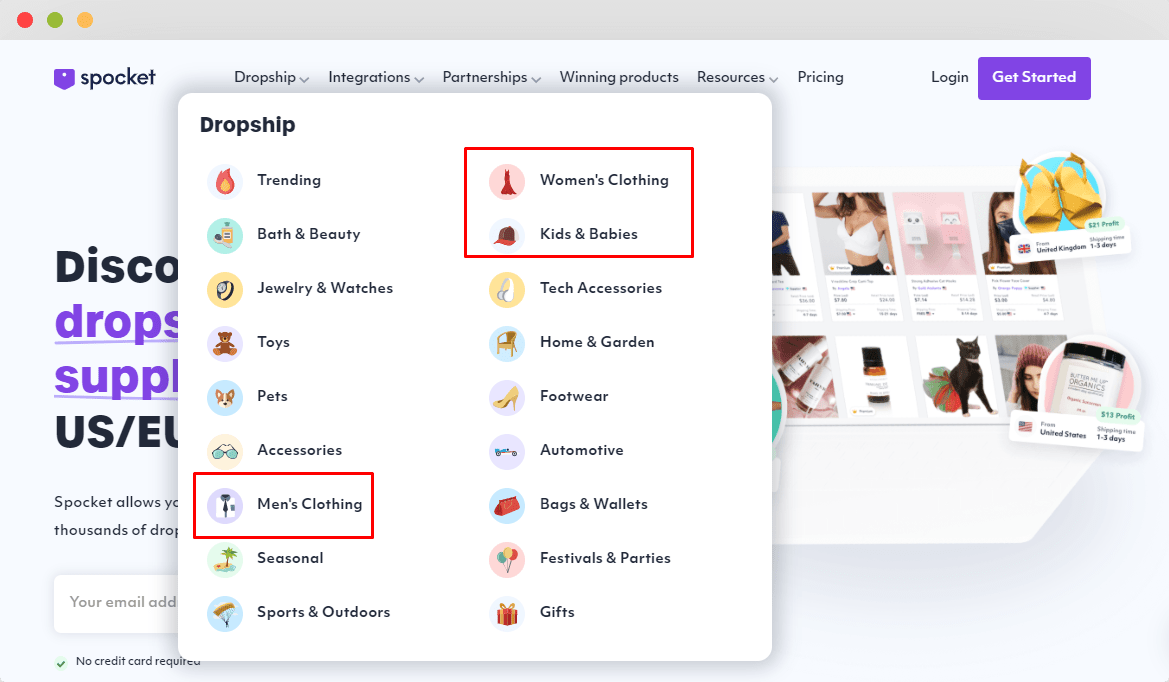 This would give you a chance to hit on a trillion-dollar market in North America.
Spocket is a platform to collaborate with dropshipping suppliers. If you know about Oberlo, it would be easier for you to understand Spocket. It integrates with platforms like Shopify and you can find dropshipping suppliers right on this platform.
In other words, you can term Spocket as the US and EU alternate of Oberlo. Although it deals in providing suppliers in a wide range of categories, you can find clothing items in the following options on this website.
Women's Clothing
Men's Clothing
Kids & Babies
You will require a sign-up to explore the supplier directory on this platform. The advanced and full version of Spocket is paid, but you can still explore the dropshipping suppliers for free in a starter package.
So, you have learned about the Chinese platforms and the platform that provides suppliers from the EU and the United States. What if you want a single dropshipping company that includes suppliers from both? Modalyst is here to do that for you.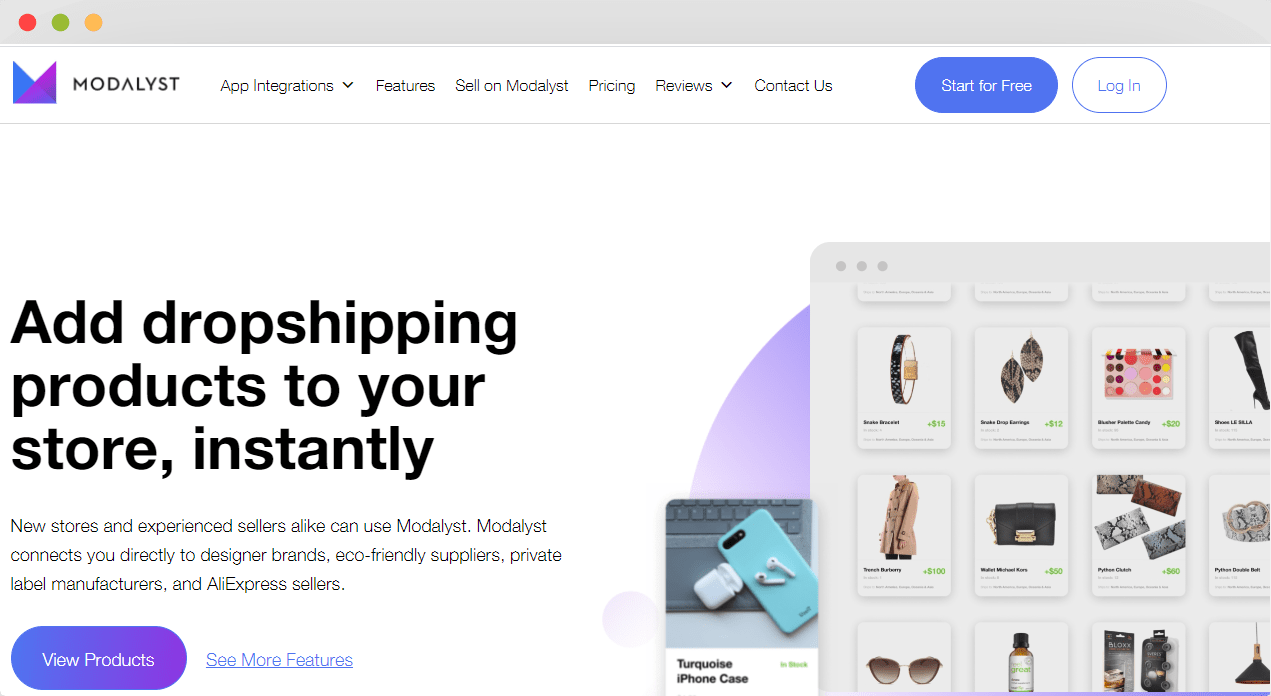 This platform works in the same way as platforms like Spocket and Oberlo. It has a Shopify app to integrate with your store and it also has an independent website.
You can explore the dropshipping clothing suppliers in the following categories from Modalyst.
Women's Fashion
Men's Fashion
Kids & Babies
The full version of this platform is also paid but there is a free plan available for new and aspiring dropshippers. Once you kickstart your business and start earning profits, you can switch to the paid version to scale your business.
The best dropship clothing companies also include platforms like Worldwide Brands and Salehoo, but these are paid platforms. That is why we have not included them in the list.
Although they offer a free trial, the services are paid at the end.
Independent Dropshipping Clothing Suppliers
You have explored the top dropshipping platforms for clothing products in the p described above. Let's find out the independent suppliers that deal in providing dropshipping services in the clothing niche.
The following list is a mix of clothing suppliers from different regions in the world.
As the name of this website suggests, it deals in providing clothing items at wholesale prices. The website also deals in custom clothing to some extent. You will find the tagline of this website saying, "You choose quantity and size".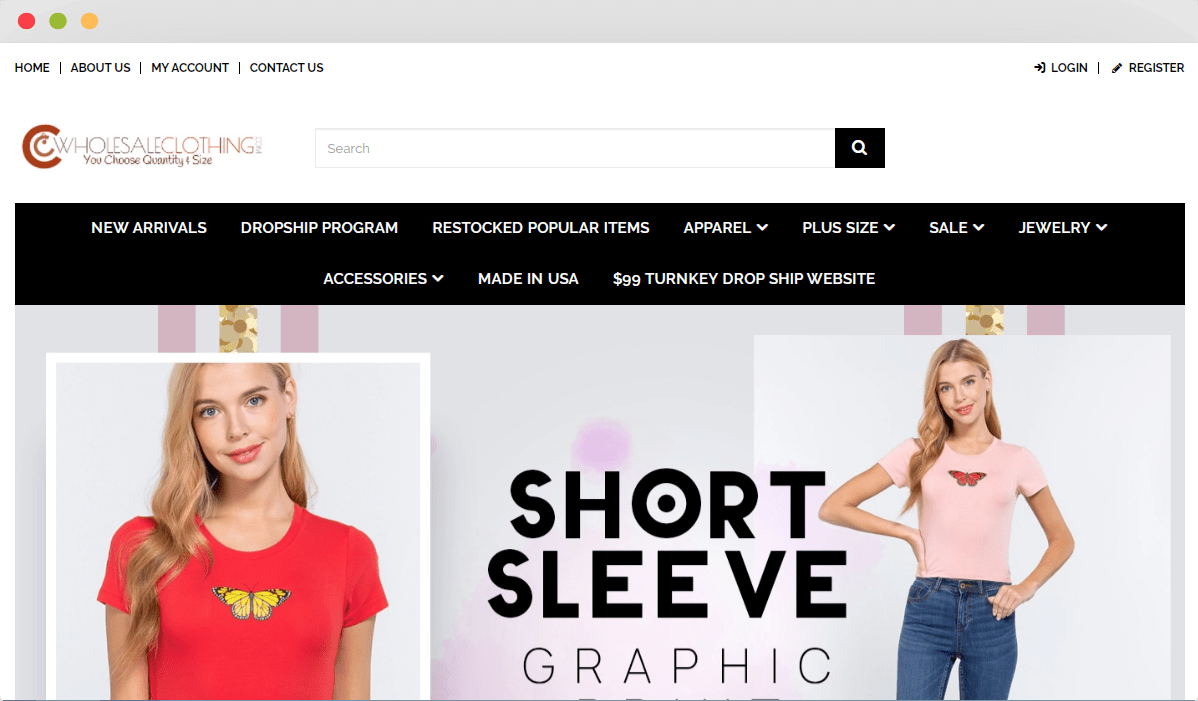 This website has a dedicated p for the dropshipping program. So, you can get your dropshipping wings out and play as much as you can to maximize your profit margins with the latest clothing styles that this website offers.
There are dedicated ps of popular items, apparel, and plus size. Just to let you know, you can find the following apparel subcategories on this website.
Tops
Dresses
Bottoms
Jumpsuits & Rompers
Sets
Outwear
Sleepwear
Basics
Activewear
Quite a list to choose from, right? All the clothing items are made in the USA as this website claims. But there is one major drawback that we noticed about this website. This website does not categorize clothing for men, women, and children separately.
By the way, this website sells products related to jewelry and accessories in addition to clothing items. This website also has a special offer to build your clothing website with its program called turnkey for $99.
Bloom Wholesale is a website that provides women's fashionable clothing at wholesale prices. It specializes in providing boutique fashion. That's why they call themselves a "Boutique Shopping Mart".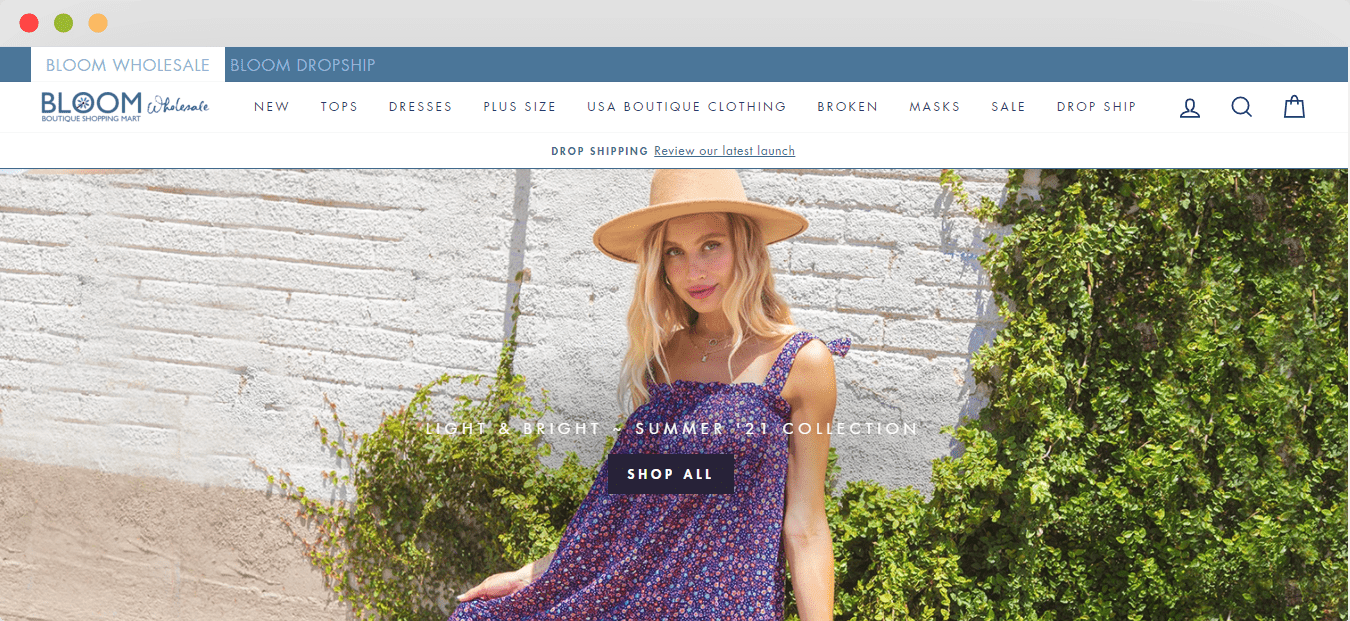 It is a US-based wholesale website and provides the following main categories of clothing for women.
Don't get distracted by the limited categories you see here. The website updates their fashionable clothing on a weekly basis. You will find tons of new styles and valuable clothing under their "New" p.
It offers a clear dropshipping program called Bloom Dropship. You can easily integrate your Shopify dropshipping store with their website and start selling products with the latest clothing for women.
The only drawback of this website is that it does not offer clothing options for men and children.
YNS is a Poland-based dropshipping website and can be one of your top dropshipping clothing suppliers. It clearly offers a dropshipping model on its website.
They have a simple and easy-to-use website interface. On the homepage, you will find collections of dresses. When you hit the collection tab, you will find collections for males and collections for females separately.
You are required to login to view the prices and offers on this website. Although there are many options for dressing on this website, you will hardly see clothing for children. It seems that they are only focusing on fashion for men and women at the moment.
Matterhorn is a wholesaler of clothing items. It offers products in lingerie, clothing, and shoes for women at wholesale prices. They also offer accessories such as bags, purses, caps, and scarves.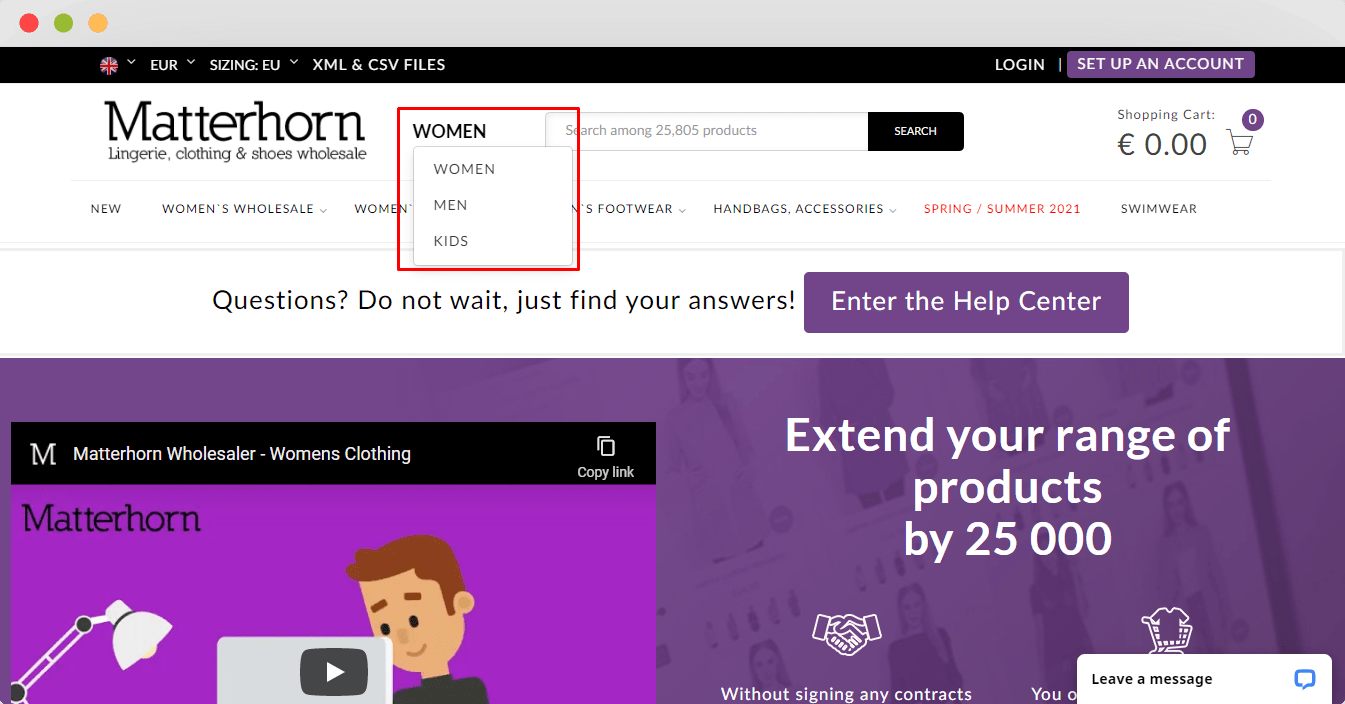 Although they have not used the word "dropshipping" on their website, you can use their services for the very same purpose.
They only require you to sign up for using their products and services. They have a priority to work with the large online stores but we are sure you can play with that.
After all, every business needs sales and you will be selling their products on your online store.
They have a huge variety of women's clothing and you will feel that they regularly update their articles.
You can filter clothing by men, women, or kids right on their homepage. A new extension of their website will open to facilitate you in finding products of your choice.
J5 Fashion is a UK-based clothing supplier. It has been in this field for years and has gained a good reputation in providing clothing at wholesale prices.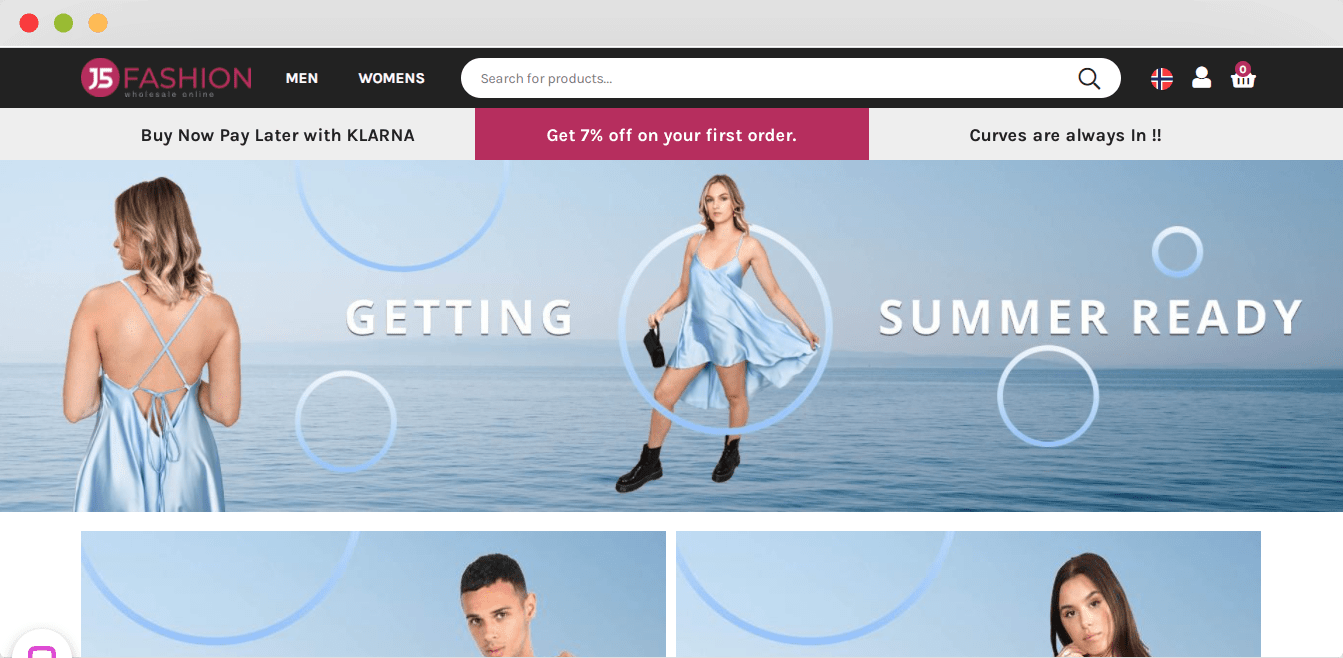 They have simpler options to choose clothing products for men, women, and children. You can do that from their homepage and you are good to go. In addition to these options, they have a dedicated p on their website named "clothing".
When you hover your mouse over clothing or click that option from your mobile phone, you see a lot of different clothing options. Some of them are mentioned below.
Tops & Bodysuits
Dresses
Skirts & Shorts
Playsuits & Jumpsuits
Jeans & Trousers
Leggings
Basics
Denim
This is another exciting entry from the UK to source your clothing products. As the name suggests, you can use this website to order clothes of your own choice.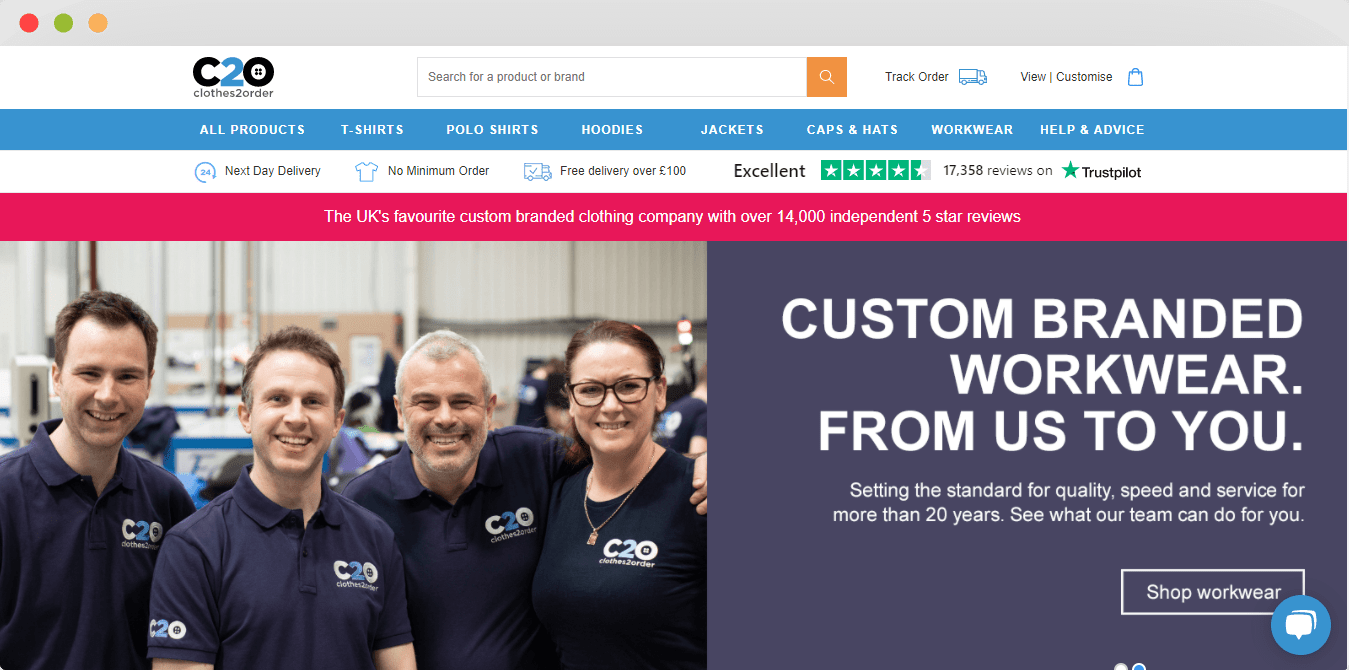 The best part about this website is that it offers you with custom-made clothing. So, you can bag on this opportunity to start your own private label dropshipping in the clothing niche. They also offer your custom logo to be printed on clothes.
Don't worry about things like minimum order and delayed deliveries. They have you covered as they are in this business for years.
The website requires a login. You can consider this website for any type of clothes but most dresses here seem to be men-focused.
Wholesale 7 can be your ultimate choice for sourcing your clothing supplies. It is a China-based wholesale company that deals in selling multiple types of clothes. The website looks professional and into the business for years.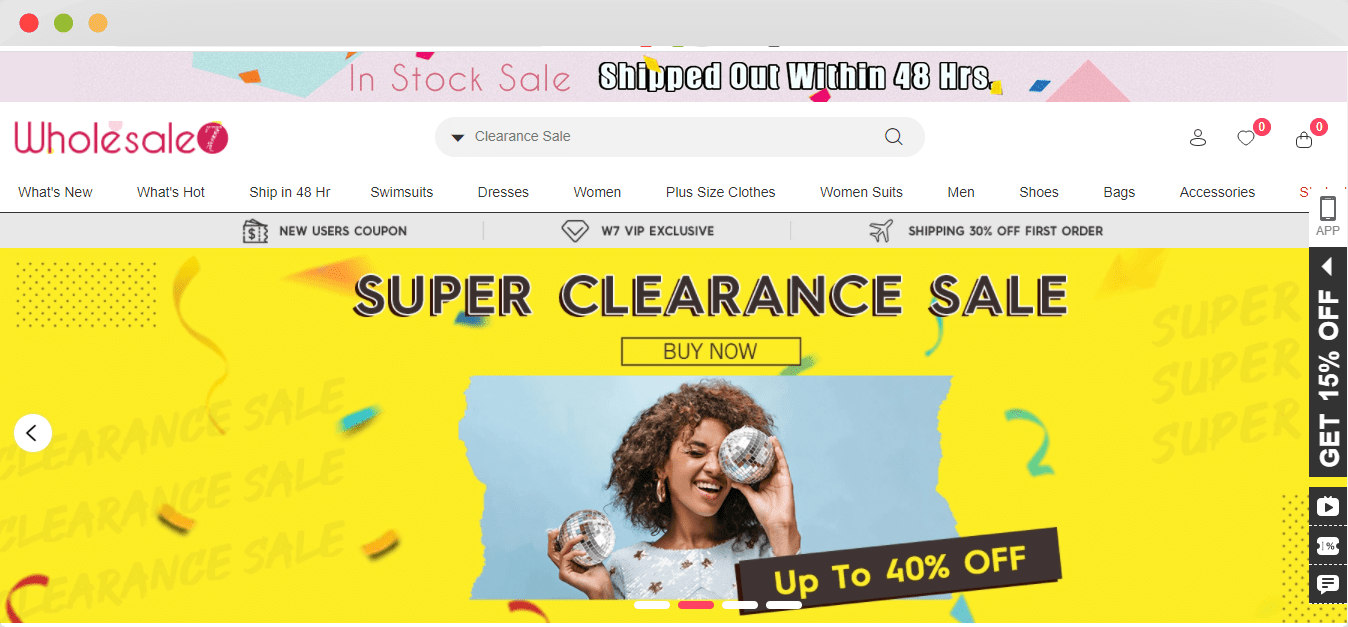 You will have a feeling that you are browsing a dedicated website that only means business with clothing. It offers dropshipping solutions too. You can talk to their representatives and discuss your business model with better cooperation.
They offer clothing for men, women, and children. They have a huge list of subcategories that will surely help you look for the right products to sell online.
The best part about this website is its lightning-fast shipping. It mostly delivers within 7 days which can be a deal maker for your dropshipping store. It also provides other related items like shoes, bags, and accessories.
How about Korean clothing options in your dropshipping store? Maxuce is a Korean-based company that operates in China. It has been up and running for many years and provides a variety of clothing and fashion items on its website.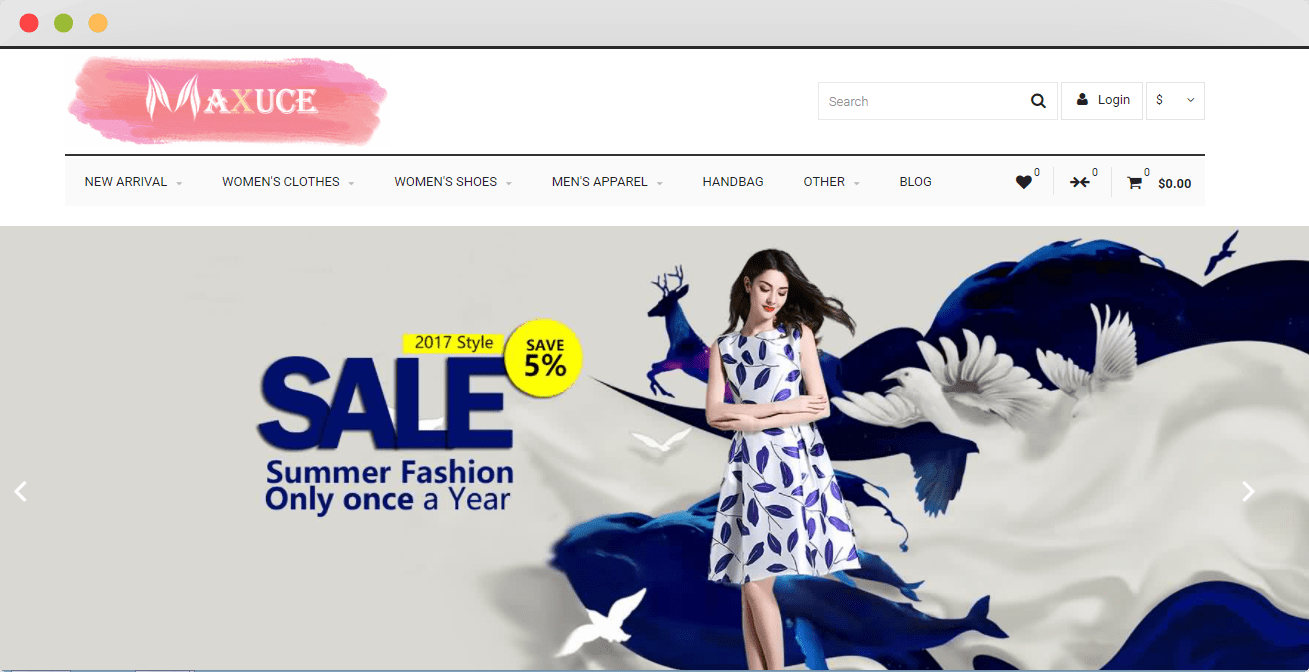 You can easily find clothing options for men and women on this website. You will see a lot of options once you click on the main categories. So, you will be able to find the best clothing products at cheaper prices.
They also offer clothing for children. You can see these options in "new arrivals" too. It also provides products related to clothing like handbags and clothing accessories.
The website has a special focus on expanding its dropshipping program. That is why it made its way to this article.
Modeshe is a popular name in clothing products. They provide fashionable clothing mostly to the young generation. They have a special focus on women's clothing. So, you can trust this website to source the latest and trendy clothes for women.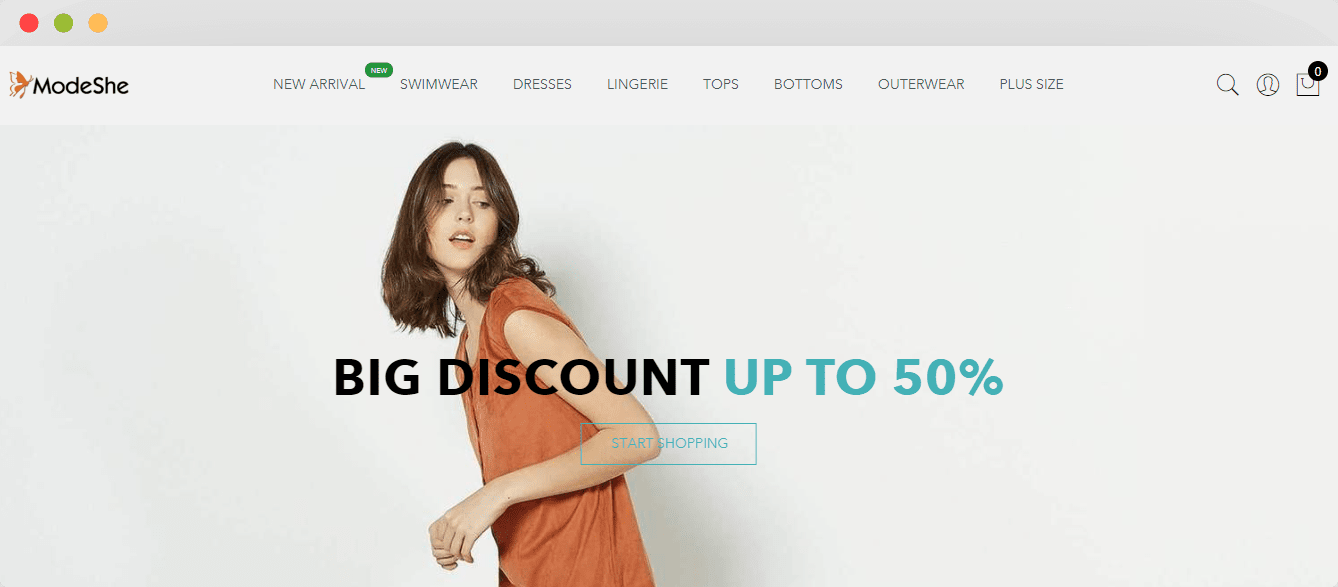 They have a dedicated p of "Drop Shipping" and they openly support this business model. So, don't worry about doing anything that they are not aware of.
They have the following categories on their website.
Swimwear
Dresses
Lingerie
Tops
Bottoms
Outerwear
Plus Size
They also support you in making custom products for your business. So, you have a good chance for white label dropshipping as they even offer to put your own custom logo on the dresses you order.
TB Dress is another great Chinese wholesaler and dropshipper. It provides clothing options for men and women only. But it has a huge range of trending and fashionable clothes. It does not provide children dresses at the moment.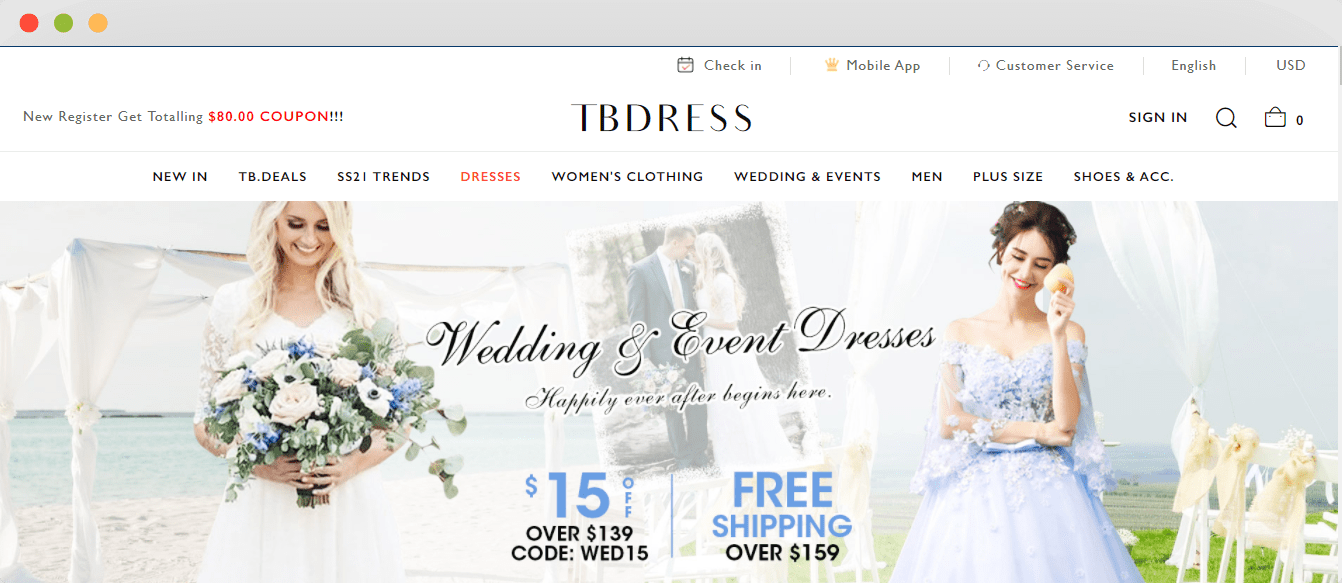 You will find out a variety of clothing options once you log on to this website. The main categories you will see on this website include the following.
Trends
Dresses
Women Clothing
Men
Plus Size
We understand that the main categories are not well-described but who cares about the category names when you can source quality dresses at the cheapest possible prices?
They also offer related items including shoes and accessories. They offer dropshipping and wholesale programs.
It is advised that you discuss your dropshipping pursuits with them in detail so that you can get a discount or special treatment for your business pursuits.
Seems like the list of independent Chinese suppliers is huge enough to give you a variety of options. This is another great supplier from the Guangzhou market in China.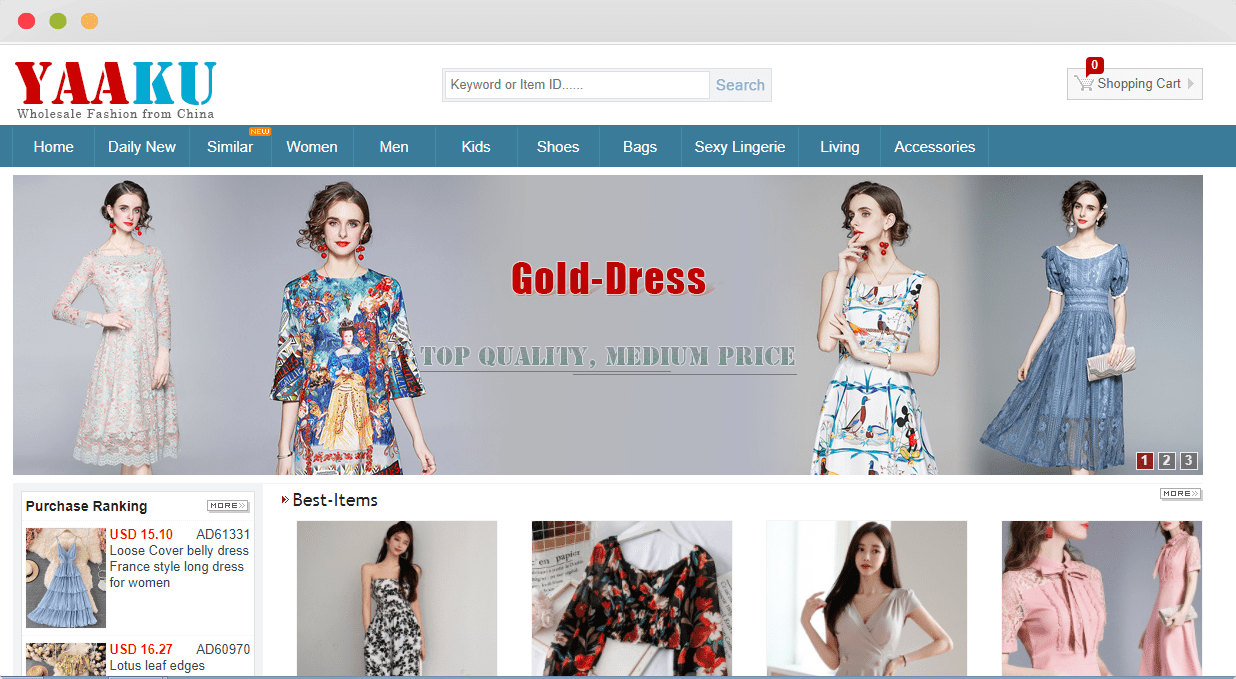 They have a large variety of trending clothes and dresses. Hailing from the Guangzhou market, the prices will surely be competitive.
You will find simpler options of clothing in the main categories that include men, women, and kids. They also provide related items like bags, shoes, and accessories.
The only drawback of this website is that it offers to ship from the costlier shipping companies like DHL. So, it may incur extra costs to the overall pricing of your clothing items.
You can use these options for a speedy delivery. Otherwise, you can always ask Chinese suppliers for alternate options.
It is a neat and clean website that offers a good variety of clothing for all. It is a US-based website dealing with wholesale and dropshipping businesses. The website has a special p about the dropshipping program that helps facilitate dropshippers.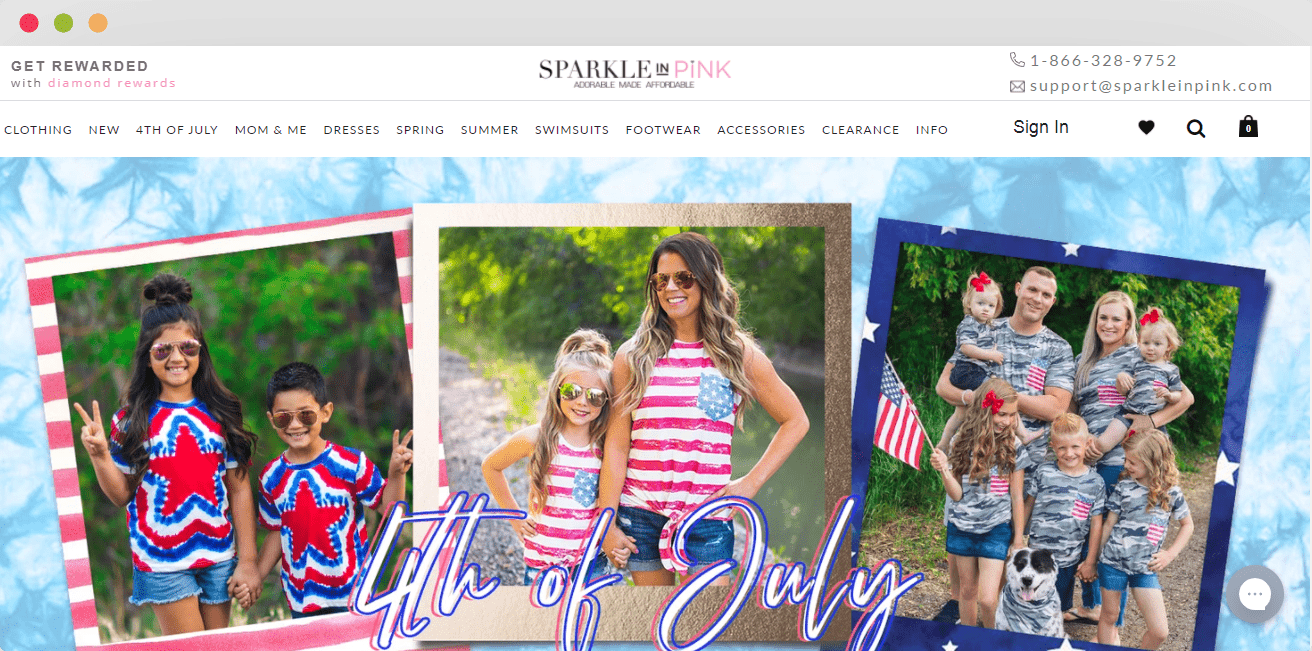 You will find the following options under the clothing category on this website.
Dresses
Mom & Me
Swimsuits
Tops
Rompers & Jumpsuits
Jackets & Vests
Baby Collection
Boys
In addition to these, they also sell seasonal clothing and special offers on special events.
Tasha Apparel is a US-based wholesale clothing website that offers clothing items for girls and women. You can also find plus sizes and clothing accessories on this website.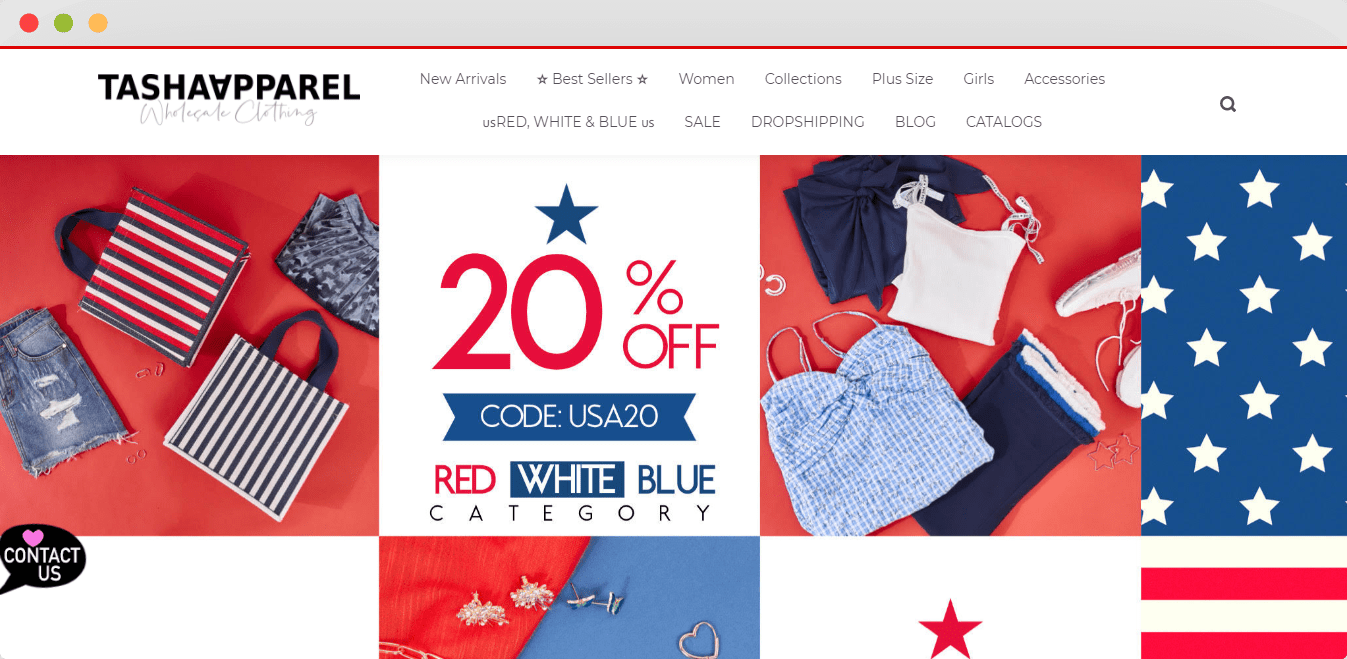 It has a dedicated p on its website that clearly mentions its "dropshipping program". So, you would have to explore your options of dropshipping their trending fashionable items via your online store.
The main drawback of this website is that it does not offer clothing products for men and children. But still, it is a great option to go for selected clothing.
FAQs about Dropshipping Clothing Suppliers
Lastly, we have included the top 5 most asked questions regarding the topic. Go through them for better clarity.
Where Can I Get Clothes for Dropshipping?
There are many online and physical places where you can get clothes for dropshipping. We have discussed the best dropshipping sites for clothes in this article to get you started.
If you want, you can also physically visit places like Guangzhou and the Yiwu market in China to make a deal with suppliers for dropshipping clothes.
Is Dropship Clothing Legit?
Yes. There is nothing illegal about dropshipping clothes. In fact, there are many dropshippers in the world who are into this business.
Clothing is a regular item that needs to be changed with time. It is a great niche and you can make a lot of money if you find unique and quality clothes at cheap rates.
How Do I Start a Dropship Boutique?
If you want to turn your dropshipping business into a boutique business, you have to play very carefully. You have to contact the famous boutiques and talk to them if they dropship their clothes.
You can agree on mutual terms and start selling their boutique items via your store. As you get more orders, boutiques would be willing to collaborate with you for the long term. By doing so, you can earn big time by incorporating designer clothing too.
Is Fashion Good for Dropshipping?
Yes. Fashion is a niche that may never see a decline. There will always be a demand in the market for every kind of fashion. That is why China fashion dropship is a popular business in the online world.
So, dropshipping fashionable items can always be fruitful for your business. Just make sure that you keep your store updated with the latest fashion. Otherwise, your store will start losing credibility.
Is It Bad to Dropship Clothes?
No. It is not always bad to dropship clothes. It is as good as dropshipping home decor, outdoor, or beauty products. You just need a good collaboration and understanding with your dropshipping clothing vendors to make it successful.
But here's a point. Most new dropshipper get scared when it comes to dropship clothing items.
That is because they are unable to cope up with the varying demands of clothing items. Additionally, there is a big chance of sending the wrong size, color, or style, etc. Hence, more returns and chargebacks.
You can take help from the following video and know some tips regarding dropshipping clothes.
In a Nutshell
We have tried our best to bring the top dropshipping clothing suppliers for you in this article. We have made sure that the suppliers and the dropshipping platforms that we have mentioned in this article are free to use.
There are paid options as well but we want our readers to save costs and make profits as much as they can.
We really hope that this article would have delivered value to you. If you think so, do let us know in the comments. This drives us to bring more quality content for you in the future.
You can also tell us to update any of the aspects in this article that you think may help you.
Try to make use of this list of clothing suppliers and boost your drop shipping business with quick online sales.
You can also hire our services for smooth order fulfillment if you think you have found your winning product and want us to source that product for you.