There's no denying that dropshipping businesses are now taking up a big chunk of the ecommerce space. The latest figures show that the global dropshipping market is expected to reach $196.78 billion in 2022, a tremendous 24% increase from 2021.
With no signs of slowing down, everyone wants a piece of this cake. If you're one of those people, you might want to consider working with a dropshipping agent.
These dropshipping agents offer services that are designed to make your life easier. From product sourcing to order fulfillment, you'll get all the help you need to guarantee your business is a step closer to success.
If you're interested to know more about dropshipping agents, definitely read through the entire article to get valuable information about them.
We'll also list down the top dropshipping agents you can work with for a successful business.
Let's get started.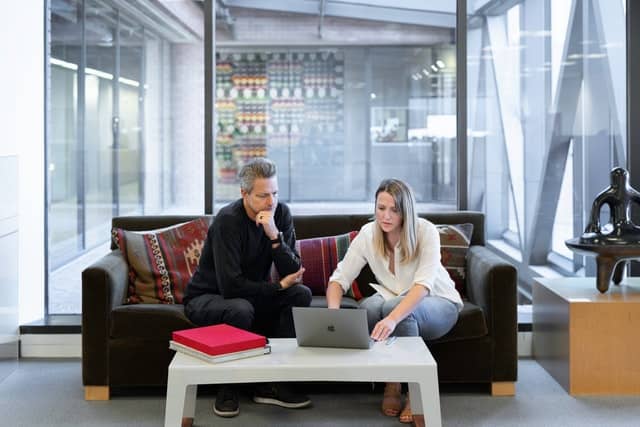 What Is a Dropshipping Agent?
A dropshipping agent is a person—more often, a company—who sources, stores, packs, and ships products on behalf of online store owners. Basically, these agents will help manage your entire supply chain.
Many think that agents are mere suppliers, but there's a key difference. Agents are middlemen, therefore, they offer more services than your average dropshipping supplier.
With agents, you don't have to look for suppliers on your own. They will lead you to the right sources and help you negotiate prices to maximize profit margins.
Some agents will also offer customized packaging and private labeling to make sure your products will carry your business' character.
Their experience and expertise will also prove useful once you start to ship your products, handle customer feedback, and work through the latest trends in your chosen niche or industry.
Top 14 DropshippingAgents and Companies
At this point, you now have a good understanding of what dropshipping agents are and what they do for clients.
In this section, we'll enumerate the top dropshipping agents you can work with to grow your business.
NicheDropshipping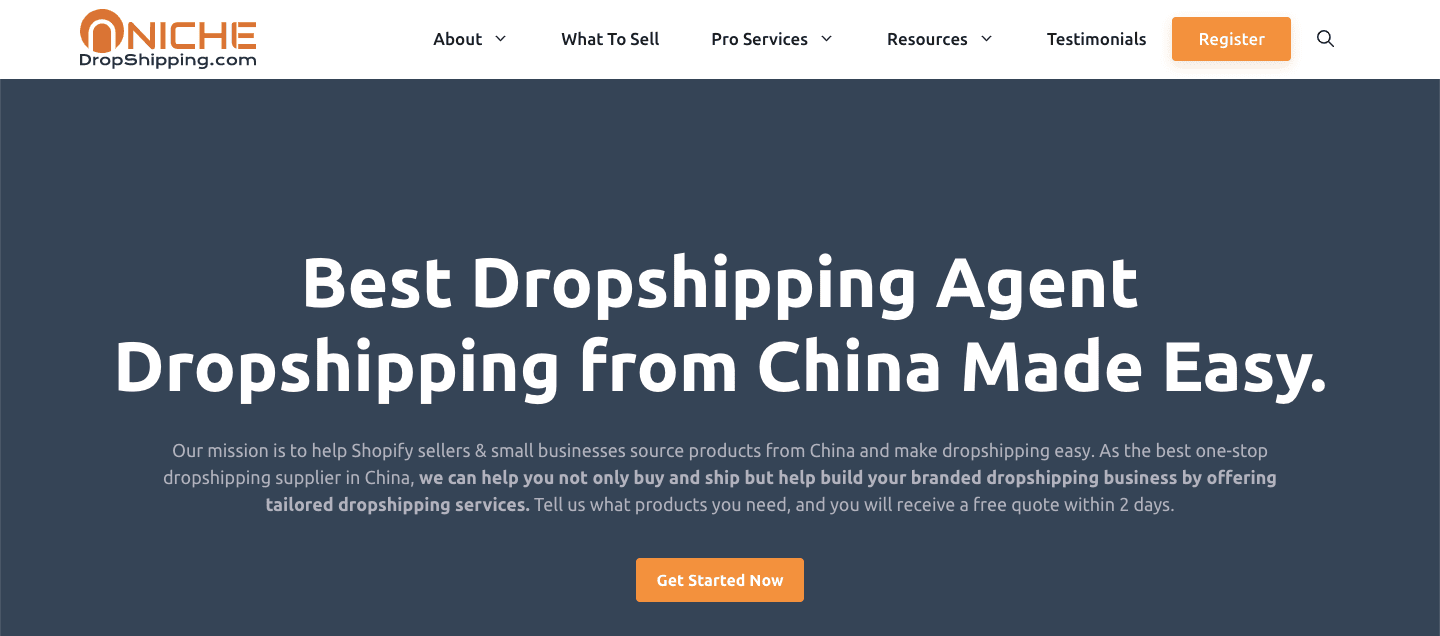 NicheDropshipping has a team of experts who provide one-stop dropshipping solutions at every stage of your business.
NicheDropshipping sources products from China and takes care of everything you need—from sourcing to order fulfillment.
Key Features
Product Sourcing – What sets NicheDropshipping apart is the free sourcing service. Through the free sourcing service, you can buy the same products listed on AliExpress or your competitor's store for better prices and the same quality.
Product Development – Develop products with NicheDropshipping through their product development service. NicheDropshipping will look for the best original equipment manufacturer and original design manufacturer solutions so your product reaches the market.
US Warehouses – Apart from warehouses in China, NicheDropshipping has 2 warehouses in the USA, which allow you to pre-stock your inventory and deliver products via USPS in 3-5 days.
White & Private Labeling – NicheDropshipping provides a full solution with customized packages, hangtags, insert cards, and logo printing for your unique brand identity.
Full Integration – NicheDropshipping has fully automatic integrations with Shopify, WooCommerce, and other popular platforms. The Shopify integration works seamlessly, just like a combination of AliExpress and Oberlo. All the services related to the dropshipping business are at your fingertips.
Pros
Quality Control – Before products leave warehouses, the team thoroughly inspects all the items they plan to ship out and removes all the tags from the factory. Issues will be fixed even before parcels leave warehouses.
Small Business Friendly – There's no MOQ or upfront fee. So, you can easily get a business up and running.
Dedicated Agent – You will have an experienced agent with 1-on-1 support who always understands what you are going through and works with you throughout the journey.
Cons
Better for Ready-to-Scale Sellers – Although NicheDropshipping is open to dropshippers with any level of experience, some advanced services like US warehousing are more friendly to sellers who have proven best sellers and are getting consistent sales. That's because you need to cover the cost and risk of holding some inventory in advance.
Summary
Considering the features, and the pros and cons, NicheDropshipping should be at the top of your list, given the ultimate one-stop dropshipping solution and personalized customer service.
Eprolo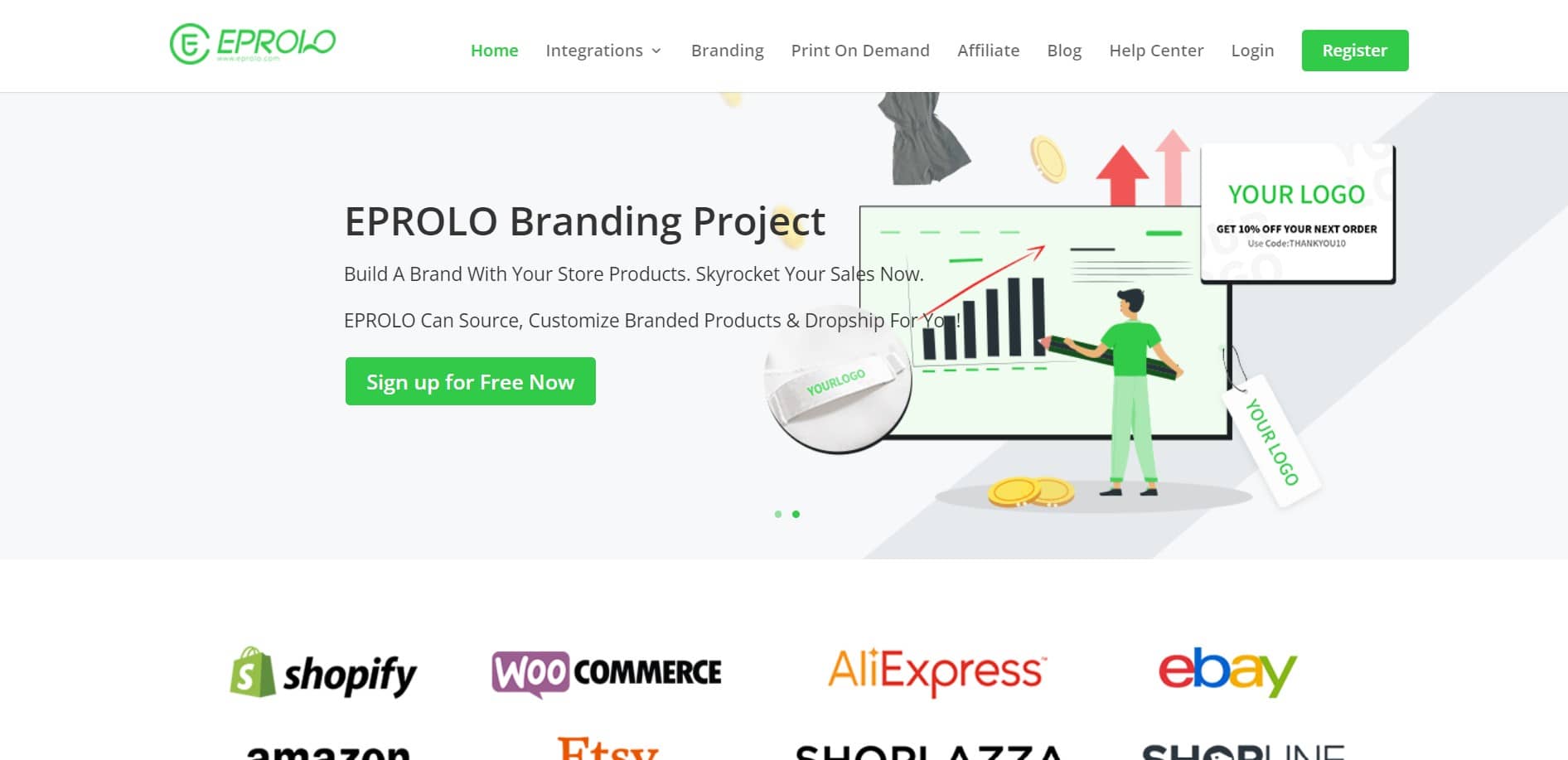 Eprolo brands itself as a "forever free" dropshipping platform. No charges will be made until you place your first order.
Since 2015, the platform has gained more than 300,000 users and fulfilled around 30 million orders. It shouldn't come as a surprise that you can find millions of products on the platform.
Key Features
Product Sourcing – A sourcing request can be submitted by simply pasting a link or importing products from AliExpress. This dropshipping agent also connects you to ecommerce marketplaces and conduct the product sourcing for you.
Order Fulfillment – Eprolo automates order fulfillment, ensuring it's a hassle-free solution for dropshippers. During the process, orders will be double-checked by the quality control team before they pack and send out the products.
Product Branding – Eprolo takes pride in its branding service where dropshippers can build their own brand on the platform. Their private label dropshipping allows you to create custom labels, gift cards, and hangtags for all your products. No minimum order quantity!
Inventory Management – As a dropshipping agent, Eprolo runs its own warehouses in China, the US, and the UK. if you have inventory, you can opt to store your items here for testing.
Print on Demand – Through the platform, you can source white label products and add your custom design. These orders will be auto-synced, with no minimum order quantity.
Pros
Abundant Products – Eprolo gives you access to 300 thousand dropshipping products in 107 different niches. The products are classified into 10 categories like clothing, electronics, jewelry, home decor, beauty, etc.
Guaranteed Shipping Time – They offer a money-back guarantee if they miss the delivery date (usually 30-40 days).
User-Friendly Interface – Their apps designed for the services receive fairly high ratings in the Shopify app store. Some people say they are even better than Oberlo's. The importing function is easy to use and the ordering system is really smart.
Cons
Customer Service – Eprolo currently does not provide a sole agent to cater to your needs. It only has a help center and LiveChat for your concerns.
Summary
Regardless, Eprolo is still a great platform considering all the features that come for free. Just take note of product and shipping costs, and you're good to go.
EcommOps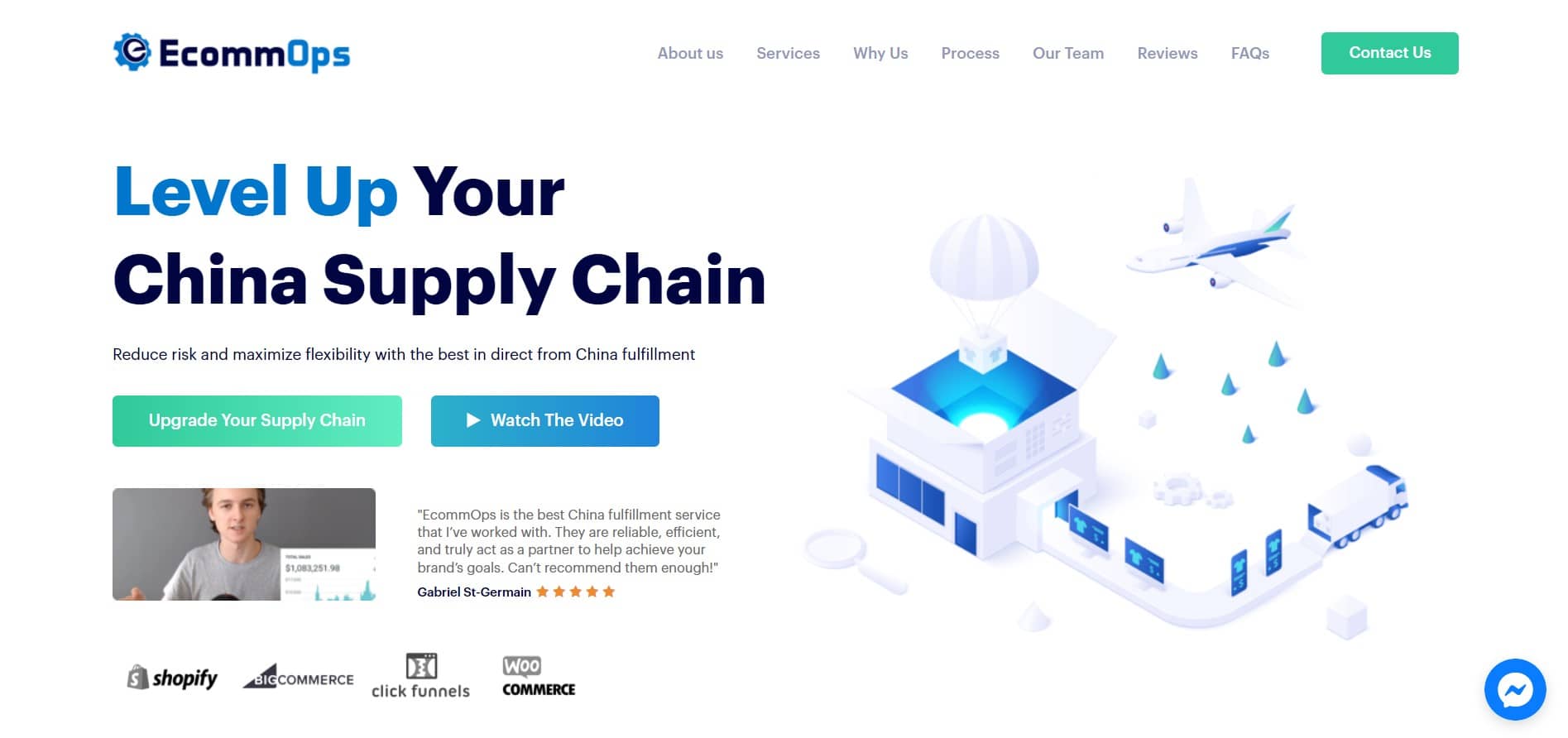 For those willing to pay a bit more for premium services, EcommOps might be a great option.
The company's location in Shenzhen makes it strategic for dropshippers interested in electronics and apparel niches.
EcommOps promises to be more than just a sourcing agent or a third-party logistics provider. The company will be your supply chain's primary partner, ensuring quality and success every step of the way.
Key Features
Fast Shipping – One of EcommOps' best features is their fast shipping. Customers in the US and other major countries can receive their orders in just about 5-10 calendar days.
China Fulfillment – Expert teams ensure orders are fulfilled within 24 hours. The process is streamlined to cater to thousands of orders per day. They even did the math to prove their fulfillment solution was faster and cheaper than local fulfillment.
Warehousing – Given the proximity to Chinese factories, EcommOps can receive inventory within a few days.
Sourcing – Direct relationships with suppliers allow EcommOps to source high-quality products as soon as possible. Old and new product lines are readily available for you to explore.
Branding and Customizations – You can establish your branding with EcommOps product customizations. They offer deep production expertise to help your products stand out.
Pros
Processing Time – One of the company's best features is its processing and shipping times. Orders are processed within 24 hours.
Custom Solutions – EcommOps offers custom solutions for dropshippers. They study your business case, propose customized solutions, and act as a supply chain partner to help you scale your business.
Integrations – EcommOps also integrates with Shopify through an app. They even have a development team to develop custom APIs for any platform or custom funnel.
Cons
High Criterion – You need to have at least 50 orders per day per product or commit to a minimum of 500 orders to get started.
Summary
EcommOps' features make it an overall reliable dropshipping agent. If you're willing to wait for your turn, you can maximize these and grow your business in no time.
Sourcingbro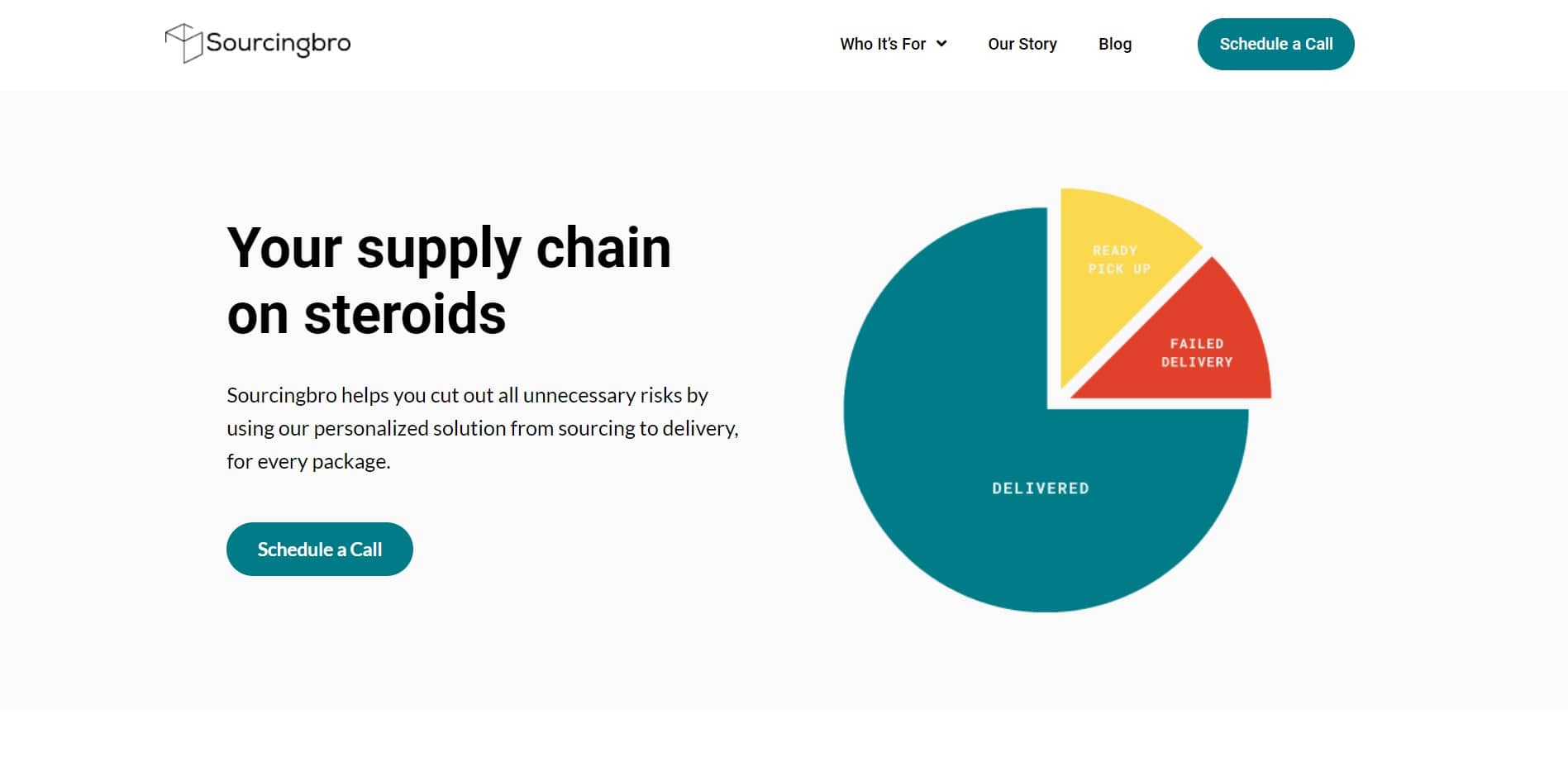 Next on our list is Sourcingbro—another suitable dropshipping agent from China.
One of Sourcingbro's aims is to provide dropshippers with a personalized experience. They wish to move beyond the transactional relationships with clients and offer a more "caring" approach.
They aim to provide accountability and reliability for the best and worst-case scenarios during the entire supply chain process.
Key Features
Sourcing – SourcingBro will connect you to the right supplier for your business. The company's connection will help you gain an advantage in price negotiations and production times.
Personalized Customer Support – Sourcingbro will track your shipments and guarantee no anomalies happen in between. In case of issues, customer support will reach out to customers for assistance and awareness.
Automated Fulfillment – Your online store will be integrated with their automated product fulfillment. Sourcingbro can also guide you in choosing ideal packaging choices for your products.
Shipping – In terms of shipping, the company has a solid logistics network with 44 countries all over the world. Customers in the United States and Europe can expect their items to arrive within 10 days.
Pros
Dashboard – You will have access to a custom dashboard that provides an overview of your current business standing. Key items you can see include delays, transition times, fulfillment costs, and total orders throughout a period.
Automated tracking – Tracking numbers will automatically be updated until they are delivered.
Customer Support – Hands-on support in case of issues is beneficial, especially in managing customer expectations.
Cons
Minimum Requirement – The minimum starting inventory is $1,000 for those who have no suppliers yet. You also need to have at least 5 orders a day in your Shopify or Woocommerce store to work with them.
Summary
Although the minimum requirements are steep, Sourcingbro ensures their services are worth the investment.
HyperSKU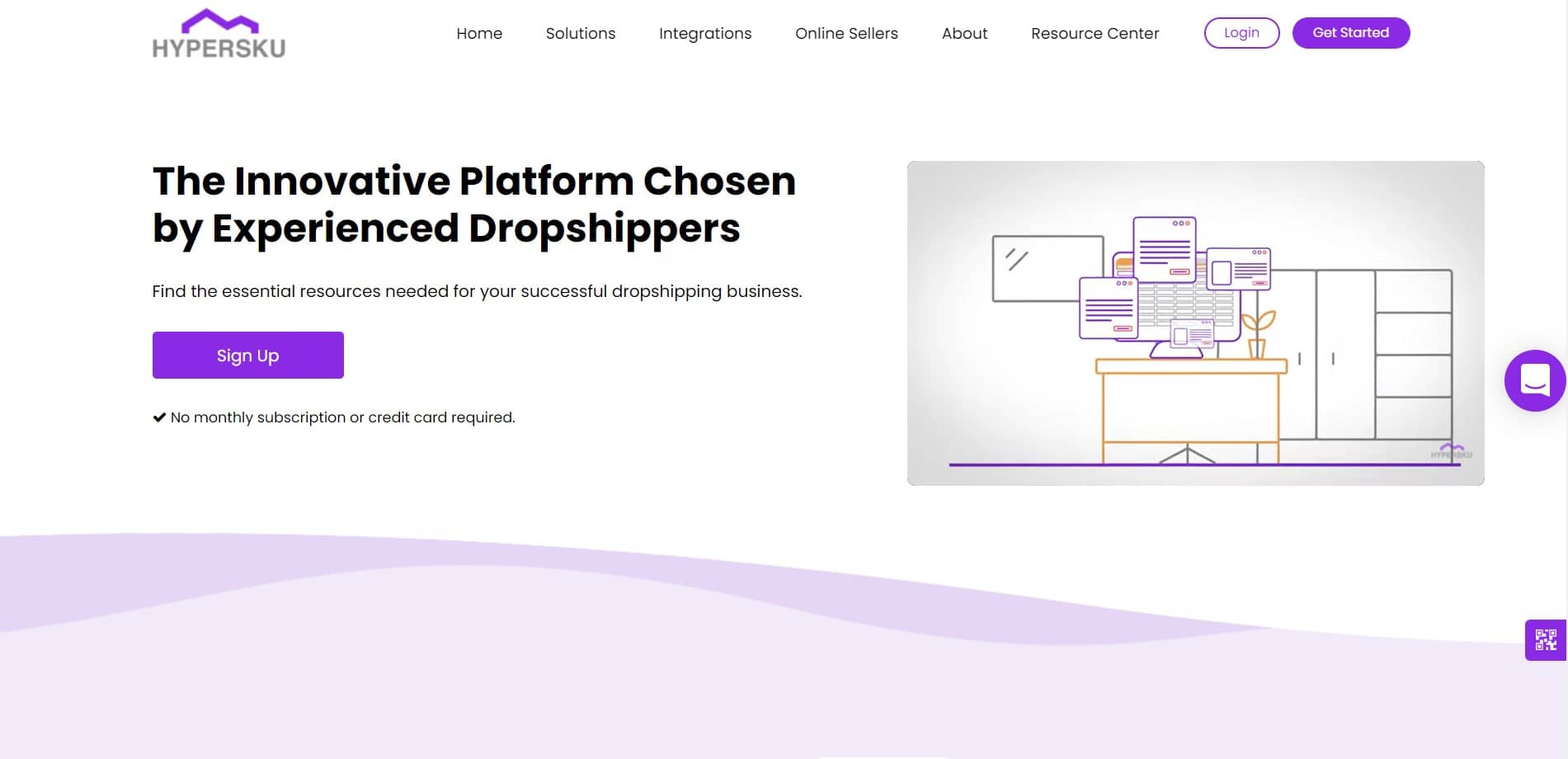 HyperSKU was founded in 2018 with the mission to help ecommerce store owners fulfill their dreams and establish their brands.
Since then, the company has grown and helped more than 1,000 six-figure dropshipping companies across the globe.
Key Features
Sourcing – On the HyperSKU website, more than vetted 2,000 suppliers offer products in at least 15 lucrative categories and niches—including liquids and battery-required items.
Branding – HyperSKU can package customers' items with private label service to create a bespoke offering. The customization includes thank you cards, inserts, stickers, logo embedding, customized packaging, etc.
Express Shipping – In addition to a California-based warehouse for local shipping, they also offer Chinese warehouses and partners with third-party logistics to provide 7-12 days express shipping.
After-Sales Service – Their after-sales service has proven to satisfy customers with dedicated account managers and overall customer handling. They also offer a full refund in case of defective products or lost parcels.
Pros
Inventory and Sourcing – The perk of using HyperSKU is that the products are sourced directly from factories. You won't have to worry about stockouts.
Integrations – You can integrate HyperSKU with Shopify, WooCommerce, and BigCommerce seamlessly and all the order details will be synced to your account and prepared for payment and process.
Minimal Fees – You only have to pay order fulfillment fees and additional services you might need as your company grows. The company doesn't charge subscription fees and won't require a credit card when you sign up.
Cons
Limited Free Service – HyperSKU's app is free to install but is limited to connecting up to 10 stores for free, and more stores will be charged $10 per store. To use their US warehouse, you need to reach 500 MOQ and are able to enjoy free storage for only 30 days.
Summary
Nevertheless, you should still check out the company's service in case you want to dropship liquids and battery-required items.
Wiio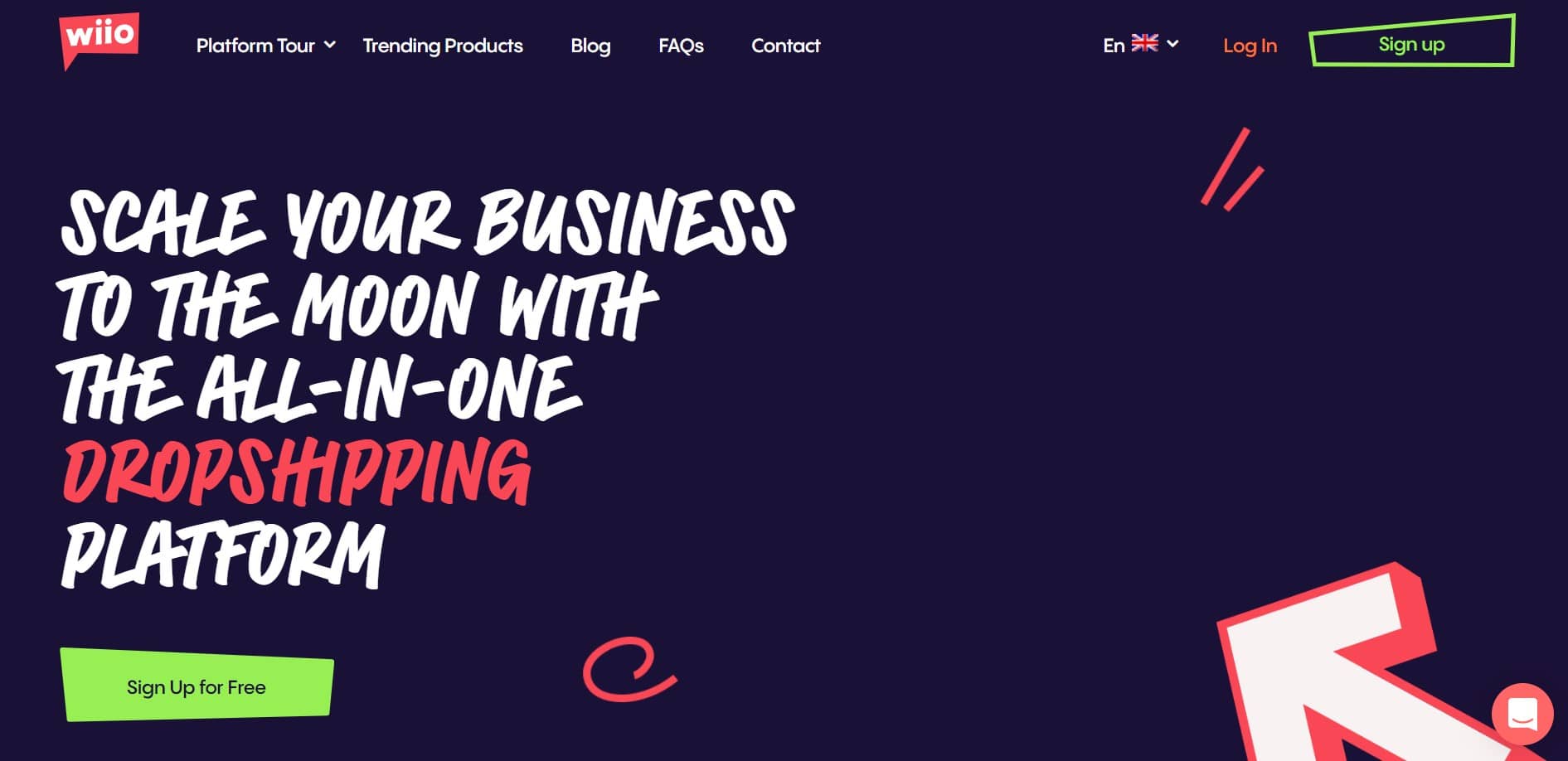 First-time visitors of Wiio's website might be surprised at how unconventional it might look. Compared to its competitors, Wiio uses playful colors and fonts to entice its customers.
Don't let that fool you into thinking they don't mean serious business.
In 2015, Wiio was initially established to solve fulfillment-related problems. But seeing the demand for other services, the company has further expanded to product development, procurement, customization, and overseas fulfillment.
Key Features
Trending Products – You can discover trending products through Wiio's service. Dropshippers are provided weekly updates on trending products to hasten the product research.
Product Sourcing – Product sourcing is made easy since Wiio already has a network of trustworthy suppliers and products within your budget range.
Free Warehousing – Wiio has 3 warehouses — 2 China warehouses and 1 US warehouse — that are free to use for 90 days.
Custom Videos – Just like CJdropshipping, WIIO has a service where you can customize product photography and videos. This add-on is great because it provides a more personable way to engage with your audience.
Pros
Affordable Prices – They guarantee their pricing is the cheapest in the market.
No membership fee – There's no monthly membership fee which makes them similar to other free suppliers such as CJDropshipping and Eprolo, so your expenses will only be limited to the total product prices.
Cons
Shipping rates – While many products on Wiio are slightly cheaper, their shipping costs might be higher. Do make a comparison to other platforms like CJdropshipping before making your decision.
Summary
If you prefer the convenience of receiving the latest trending products, Wiio should be a great option. You just need to find a way around the shipping fees.
Yakkyofy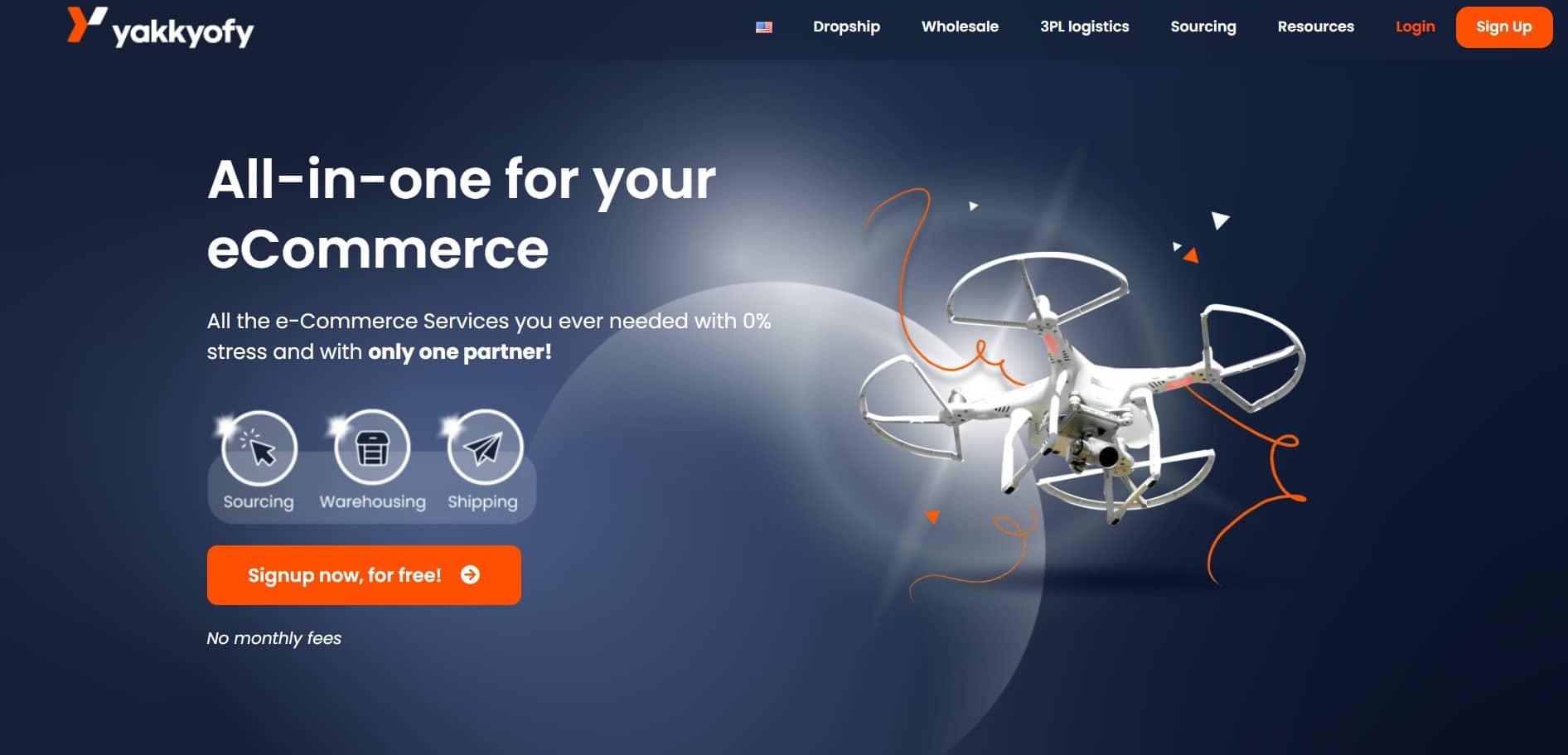 Yakkyofy is more known as an innovative all-Italian start-up. Technically, they're not a dropshipping agent, but they offer similar services you might be interested in.
But compared to competitors, Yakkyofy utilizes modern solutions like augmented reality (AR).
Key Features
B2B Price – The company only sources high-quality products from manufacturers at wholesale prices. In general, the price is at least 15% lower than many other platforms. For large quantities, you can get additional discounts.
Product Evaluation – Yakkyofy does product sample evaluations to ensure the products you source meet the minimum requirements. These evaluations are given as real product pictures and a professional report containing key product details.
Custom Packaging – Establish brand awareness easily by using Yakkyofy's custom packaging service. Through the packaging function in the platform, you can create your brand in just a matter of minutes.
Italian Warehouse – What separates Yakkyofy from the herd is their warehousing service in Italy. This is advantageous for EU sellers to pre-stock their inventory and shorten processing and shipping time. But their custom package is only available in the Shenzhen warehouse.
Fast Delivery – In terms of shipping, their default services are the fastest shipping methods available. US customers can expect orders to arrive in 3-8 days, while European customers' orders can be delivered in 12 days.
Pros
Image Recognition Technology – Through Image Recognition Technology, you can simply upload pictures or links of products you like and get instant quotations from a marketplace or a website.
Augmented Reality Feature – What's unique about Yakkyofy is its Augmented Reality feature. You can show products to customers through Augmented Reality, where they can see 3D and 360-degree views.
Cons
Product descriptions – Products on the application aren't always in English and not all products have great product descriptions.
Summary
Yakkyofy's pretty similar to other dropshipping agents. But if you're interested in using Augmented Reality and Image Recognition Technology, definitely opt for this option.
FillSell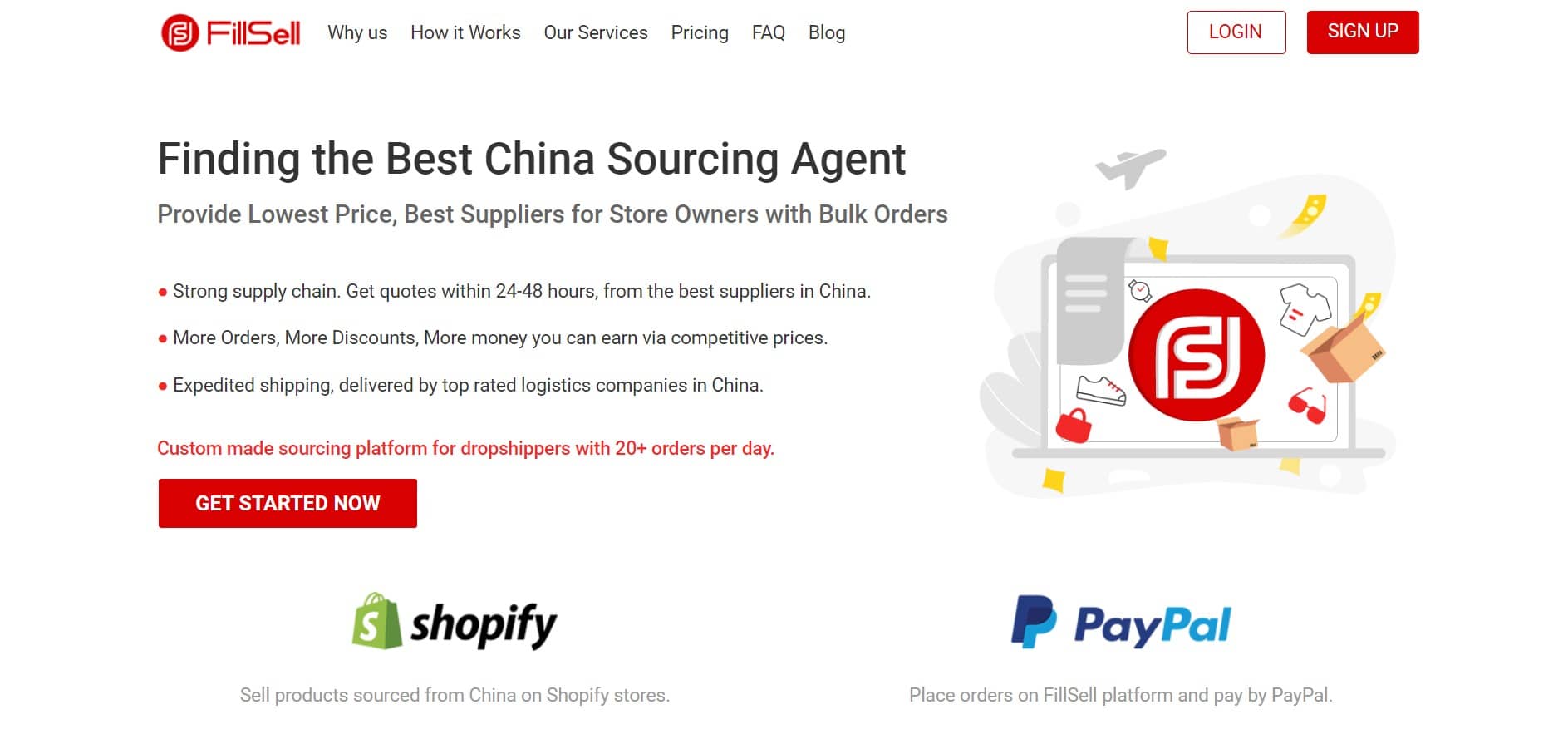 FillSell is a dropshipping agent in China that highlights its optimized sourcing services.
This agent follows a specific process which is as follows:
Submit a product sourcing request to FillSell.
After 24 to 48 hours, receive quotes from the best Chinese suppliers.
Choose your preferred suppliers from the list.
Sync orders from your Shopify store to the FillSell platform.
FillSell will process the orders and deliver them to your customers.
The process is straightforward, making this a good starting platform for those who want to explore dropshipping agents.
Key Features
Sourcing Service – FillSell connects dropshippers to suppliers and provides the lowest prices, especially for bulk orders. The more orders you place, the more discounts you can enjoy.
Supplier Evaluation – Dropshippers are assured that suppliers on the platform are reliable. These suppliers are subjected to strict standards, where they're required to conduct quality inspections before shipping out items.
Customization Service – FillSell will let you customize your products by adding logos, stickers, and gift cards to packages.
Pros
Exclusive account manager – Paid customers will have an exclusive account manager to solve issues as soon as they arise.
Shopify Integration – You can manage multiple Shopify stores through one FillSell account after authorization.
Pricing Plans – Each plan's benefits offer competitive features that are within a beginner's budget. The Free plan, for example, already includes a quotation request, 1 product to import, and unlimited order fulfillment.
Cons
Minimum Order Quantity – Currently, FillSell only works with Shopify dropshippers who receive at least 20 orders per day.
Summary
FillSell is suitable for dropshippers who want to connect with reliable suppliers and have an exclusive account manager within reach.
Fulfillbot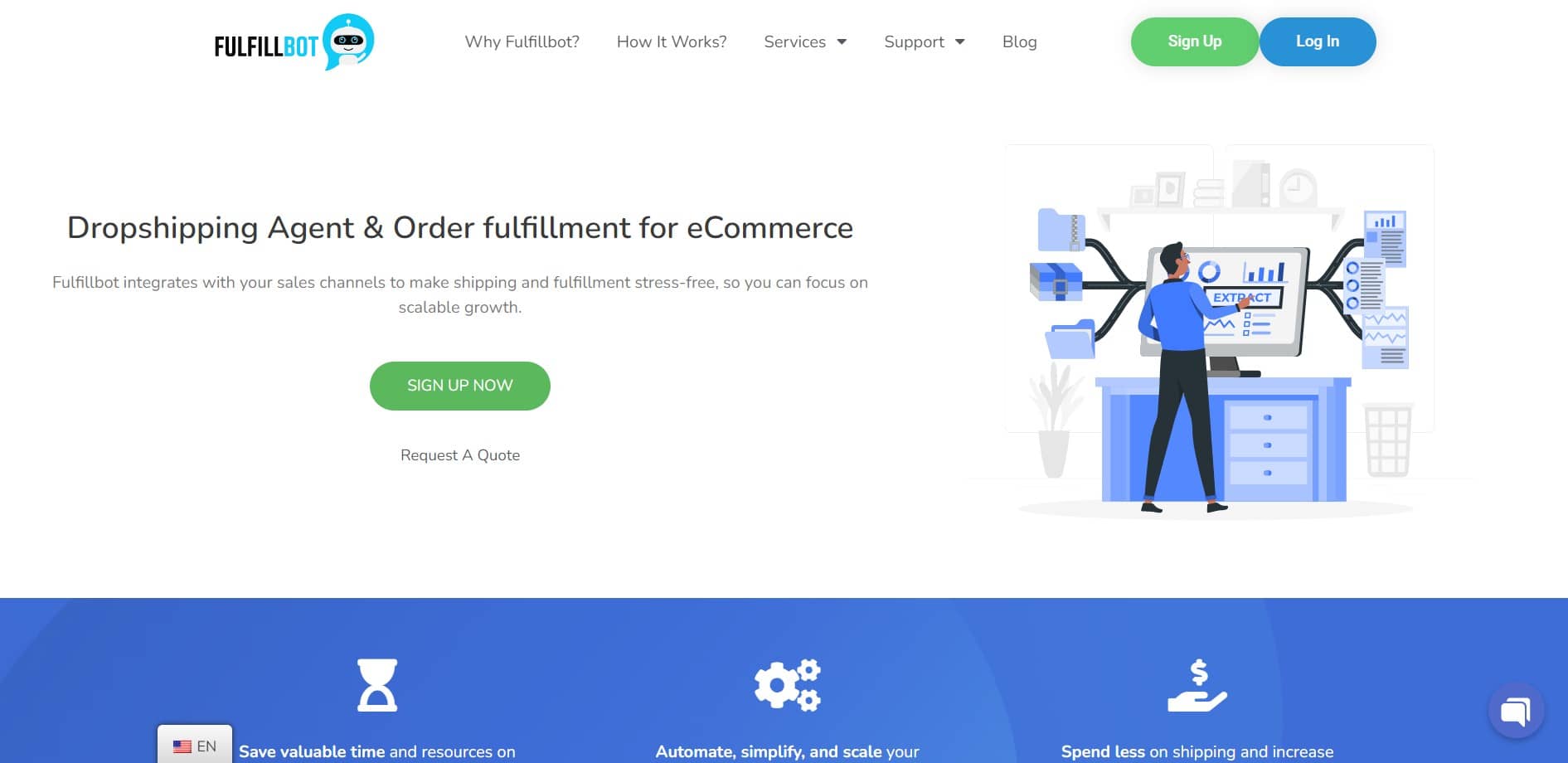 Again hailing from the East, Fulfillbot is a Chinese dropshipping agent that specializes in product procurement and fulfillment.
Fulfillbot is popular among dropshippers who prefer AliExpress because the company takes care of the entire process—from sourcing to worldwide fulfillment.
They even have the feature to merge orders into one for faster processing and shipping times.
Key Features
Product Sourcing – You can receive B2B quotations for products along with shipping prices for more than 100 countries and territories.
Order Fulfillment – Fulfillbot has warehouses in China, Europe, the USA, and Australia. As a client, you can opt to store your products in these locations for faster delivery times.
Amazon FBA Prep – If you dropship on Amazon, you'll enjoy a specific set of services that adhere to Amazon's strict FBA requirements. These include repackaging, photo documentation, and quality control.
Private Labeling – Opt for Fulfillbot's private labeling to establish your brand to your customers. That way, you can increase brand awareness easily.
Pros
Exclusive Account Manager – A dedicated account manager will help you throughout the process. Eventually, your expenses will go down once your sales volume increases.
Personal Dashboard – You will have your own dashboard to check the progress of your business. You can maximize and analyze graphs and visual depictions of current orders.
Product Photography – Fulfillbot offers product photography and video shooting to help you market your products.
Cons
Limited Reviews – Fulfillbot's reviews on the Shopify store are far less than other competitors. Still, you can take a leap of faith after probing their performance.
Summary
Fulfillbot is one of the few dropshipping agents that offer a service for Amazon fulfillment. Send them a message if this is your preferred sales channel.
SourcinBox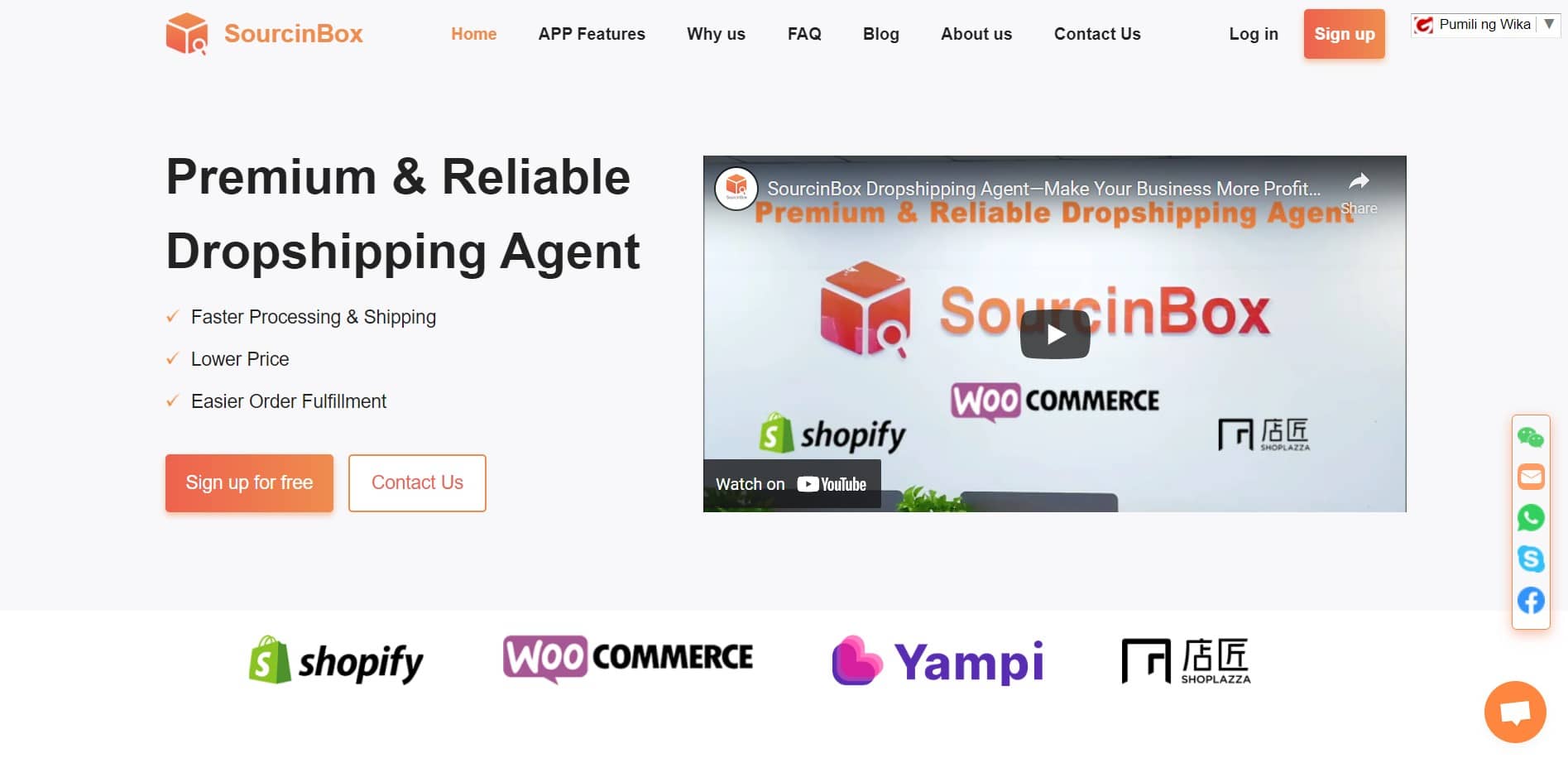 SourcinBox is a China-based dropshipping agent with a team of experts in IT, ecommerce, and traditional international trade.
Formed in 2015, the company was only established in 2018 and has since been a big player in the Chinese ecommerce space.
SourcinBox's main selling point is its efficient and cost-effective dropshipping fulfillment service. However, it still has a couple of features.
Key Features
End-to-End Service – Provide SourcinBox a list of your preferred products and just watch them do all the work for you. From sourcing to order fulfillment, everything will be taken care of.
Analyses and Reports – Get detailed analyses and reports about your business performance to make better decisions. SourcinBox provides smart analysis for your sales records.
After-Sale Tracking – Easily track your shipments through SourcinBox's after-sale tracking services. You can just open a ticket and see details about your orders.
Dedicated Agent – After signing up, SourcinBox will assign you a customer manager to help you with a quick response.
Pros
Cashback – When you recharge more than $2,000, you will receive a certain amount back into your account balance. You can use this amount to place orders on the platform again.
Reasonable Prices – Because of the platform's relationship with suppliers, you can maximize profit margins by taking advantage of competitive prices.
Low PayPal Fee – Their Paypal handling fee is 2.9% because of excellent performance and low distribution rates.
Cons
MOQ Requirement – About 1000 MOQ for packaging box customization and 1000+ MOQ for private label products.
Summary
Despite the limited number of reviews, SourcinBox offers a cashback service that's worth trying out. After all, the platform is free, you only need to pay for product and shipping costs.
DropHippo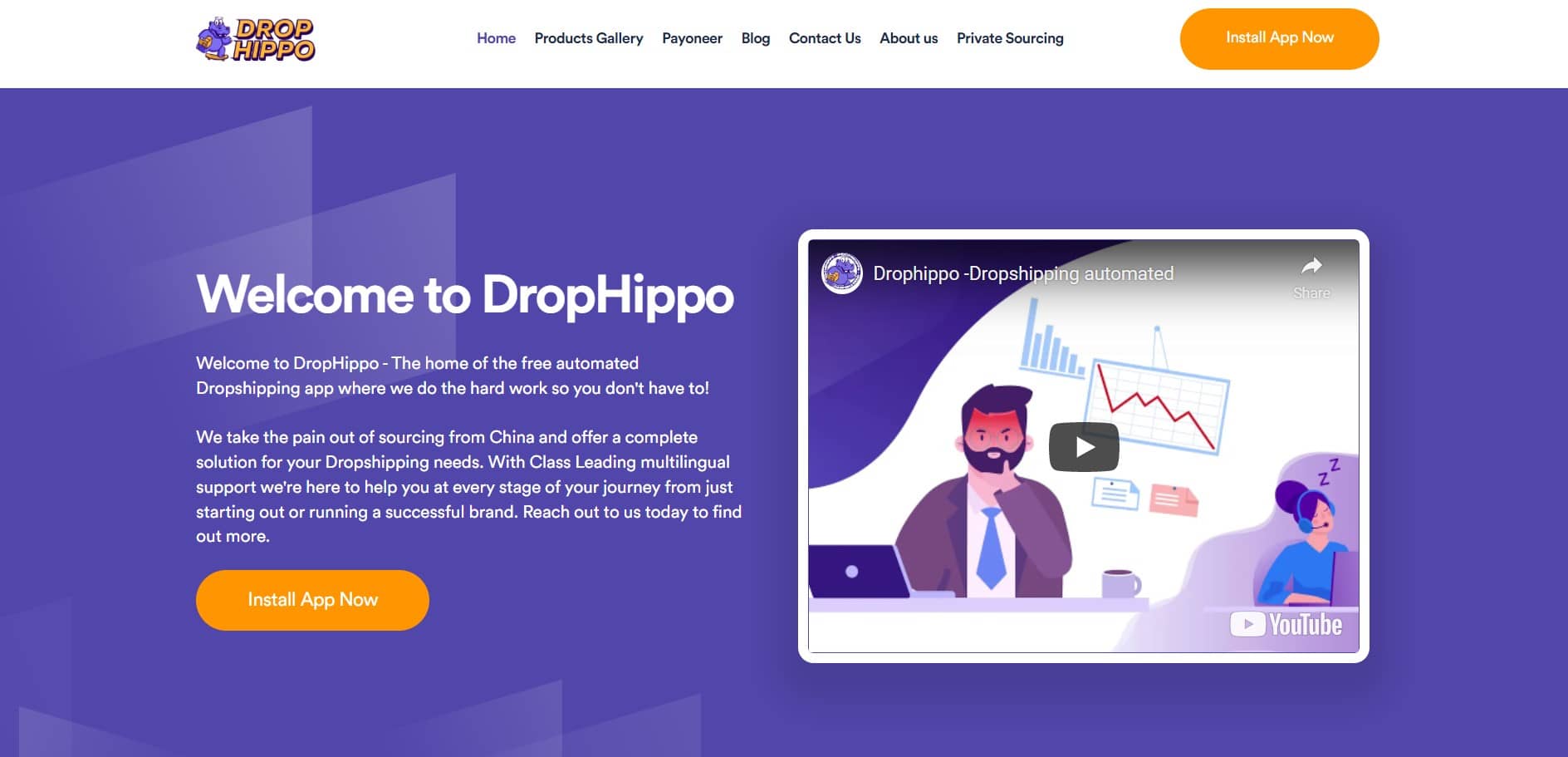 Another playful website on our list is DropHippo. The company's logos and fonts bring a cheery vibe you don't usually get from dropshipping agents.
This doesn't mean they don't offer quality services.
DropHippo is an automated dropshipping sourcing agent based in China. You have to first download the app before taking advantage of their services.
Key Features
All-In-One Service – DropHippo takes charge of the entire process, from sourcing to fulfillment. The only aspect you need to worry about is knowing which products to add to your store.
AI Order Tracking – An in-house AI system seamlessly track all orders. No need for manual processes when a bot can do it for you.
Business Dashboard – A dashboard will be accessible for you to see all orders, prices, profits, and other details you need to make business decisions.
Pros
Multi-Lingual Support – You can get support in various languages including Arabic and French.
Strategic Warehouse Locations – You can also store your products in UK and US warehouses when you start to scale your business.
Payment Options – DropHippo also accepts payments through Payoneer, Card, or Bank Wire.
Cons
Shopify Integration Only – Their app can only be integrated into Shopify. Automation is limited to order syncing and tracking information uploading.
Summary
The platform's major challenge is the limited number of products. But if DropHippo carries the majority of the products you want to sell, don't hesitate to maximize the app for your benefit.
uDroppy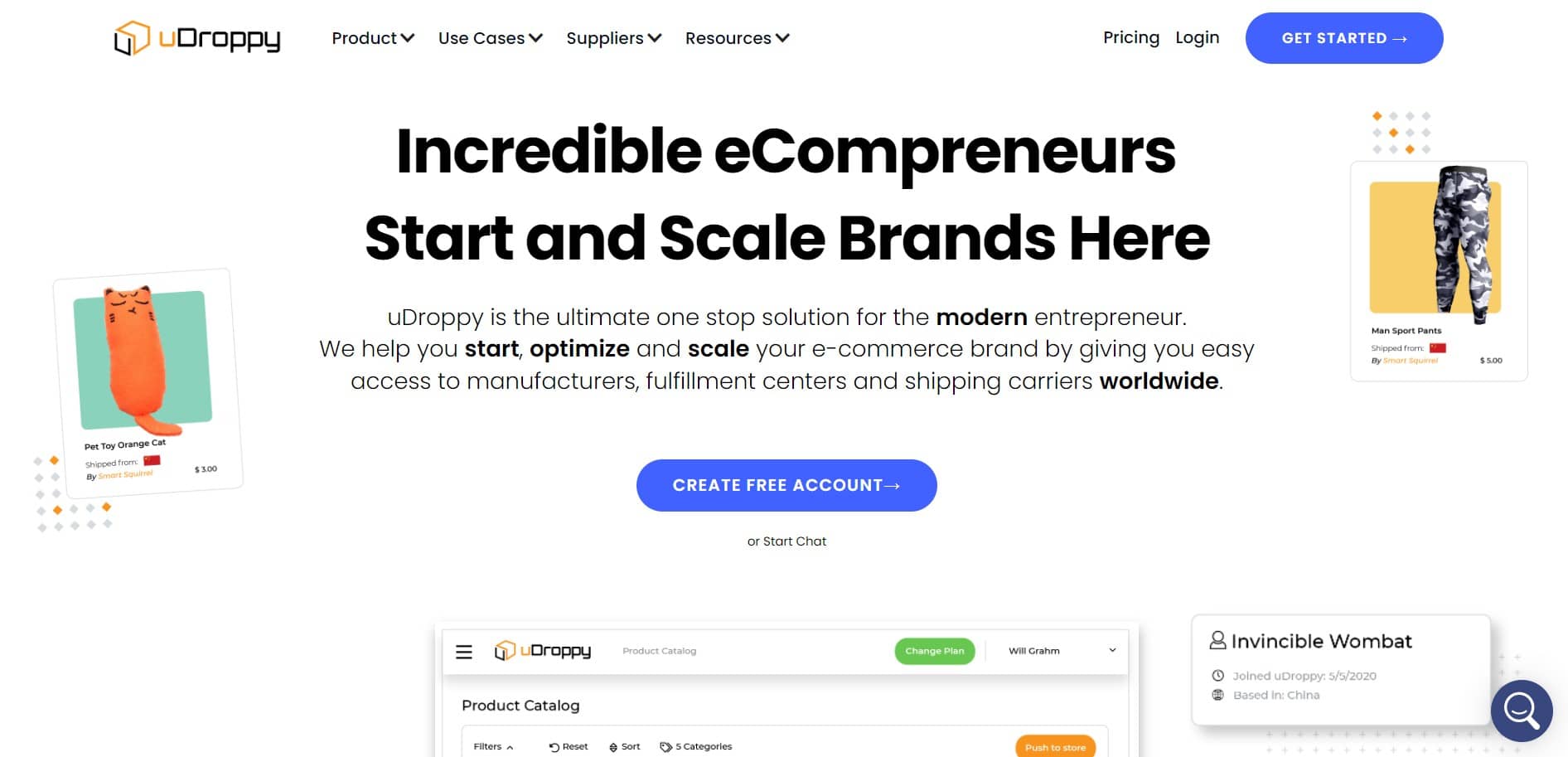 Do you identify as a modern entrepreneur? Well, uDroppy should be a great option for you.
Although, uDroppy is more known as a dropshipping supplier than a dropshipping agent. Still, the platform offers similar services as dropshipping agents.
uDroppy advertises itself as a one-stop solution for ecommerce. It's an ecosystem that's self-sustaining so that you won't have to nitpick every single process in your supply chain.
Key Features
Strategic Supplier Network – Unline previous dropshipping agents, uDroppy also has suppliers for paid customers in the EU and the USA—not just Asia. These strategic locations hasten delivery times in key parts of the world.
Pay Later Option – uDroppy doesn't ask for payments outright. Therefore, both beginners and veterans can focus on generating sales before they pay and fulfill products later.
Virtual Warehouse – They have four different warehouses in China, Italy, Spain, and Romania. Pro-plan members can stock their inventory and deliver to customers on an as-needed basis.
Orders Management Platform (OMP) – This is a tool where users can see and manage their orders through a single dashboard. The dashboard lets you sync, fulfill, and track multiple orders in just one place.
Pros
Unified Invoicing Feature – You can manage multiple invoices, even when they're from different stores.
Merchant Success Manager – This manager is a highly-trained expert in the ecommerce space that will help you throughout your business journey.
Pricing Plans – uDroppy has a couple of different pricing plans users can choose from. The free plan is already worth exploring, but advanced plans are well within the budget of many dropshippers.
Cons
Pricing – Some features like private label console are free on other platforms but are pricey in uDroppy.
Summary
With a "pay later" option and a strategic supplier network, you can maximize time and effort when you partner with uDroppy.
Zendrop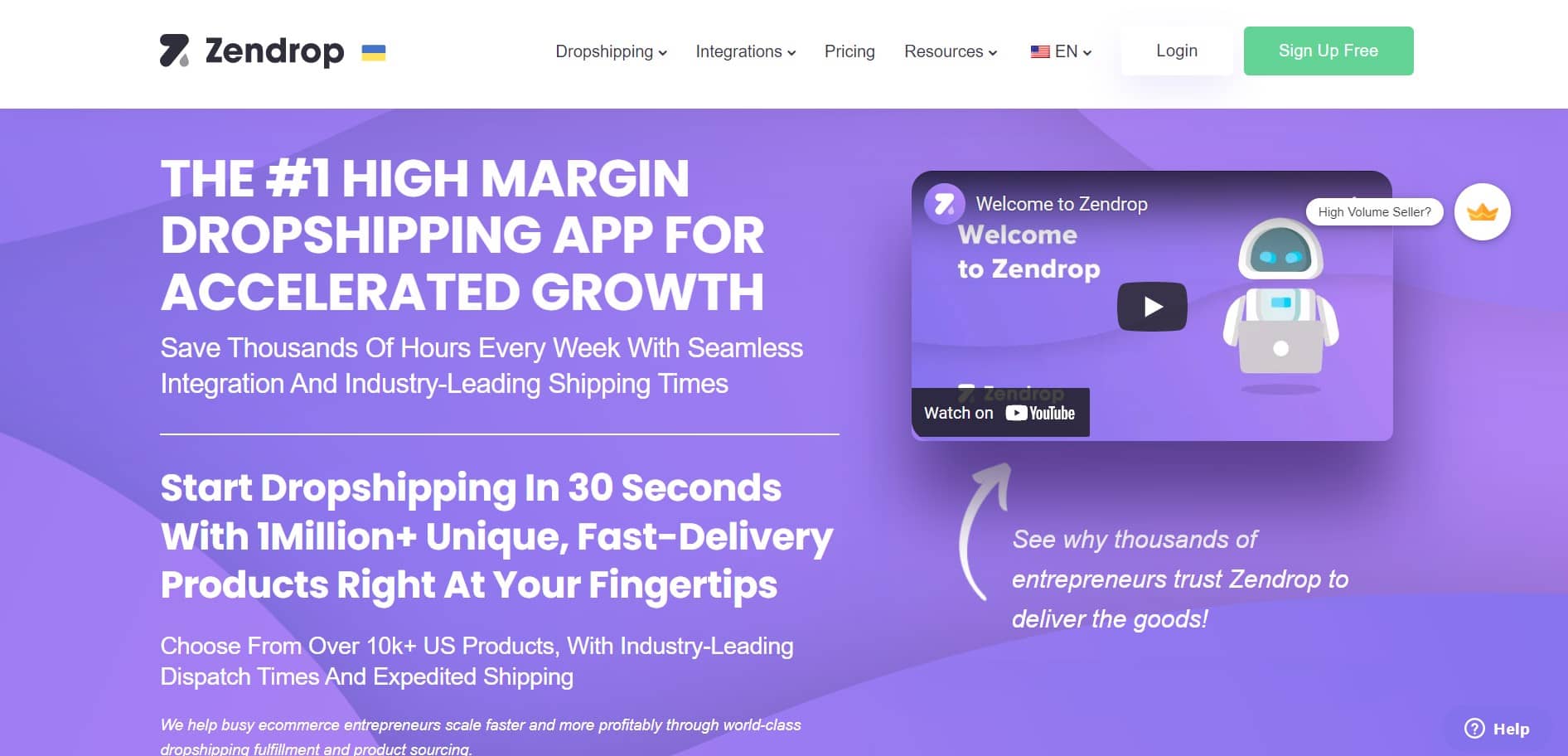 Zendrop is an ecommerce marketplace that promises to remove language barriers between suppliers and dropshippers.
This marketplace also strives to avoid mishaps like slow shipping times and misbranded packaging, which is why it's slowly becoming a crowd favorite.
Compared to other marketplaces, this is more friendly towards startups and small brands because products can be sourced directly from suppliers.
Key Features
Massive Products – With more than 1 million unique products, you should definitely take your time in finding the best items to sell. In case you can't find a specific product, you can simply import it from AliExpress with one click.
Auto-Fulfillment – You can scale and grow your business easily because ZenDrop has superb auto-fulfillment service. You can manage your business all in one place.
Real-Time Analytics – You can use their dashboard to easily view your orders, costs, and profits at any time.
Custom Packaging – Custom packaging options come for free so you can easily make elevate your brand without spending a dime.
In-App Product Page Customization – Through its app, you can quickly make changes to your store and products. Add images and descriptions all through the app in just a few clicks.
Pros
US Product – They have stored more than 10K products in US warehouse. You can cut shipping time to 2-5 days if you pay $49 monthly.
Subscription boxes – You can offer subscription boxes to your customers to urge them to come back for more. This is one of the platforms that offer such a feature.
Instant Support – You can get a prompt response through 24/7 email support and live chat.
Cons
Pricing – $79 is a little steep for some basic features like the "trending product finder".
Summary
Shipping rates are sometimes non-negotiables to customers. But if you know your way around it, ZenDrop's features can make this compromise worth it.
CJDropshipping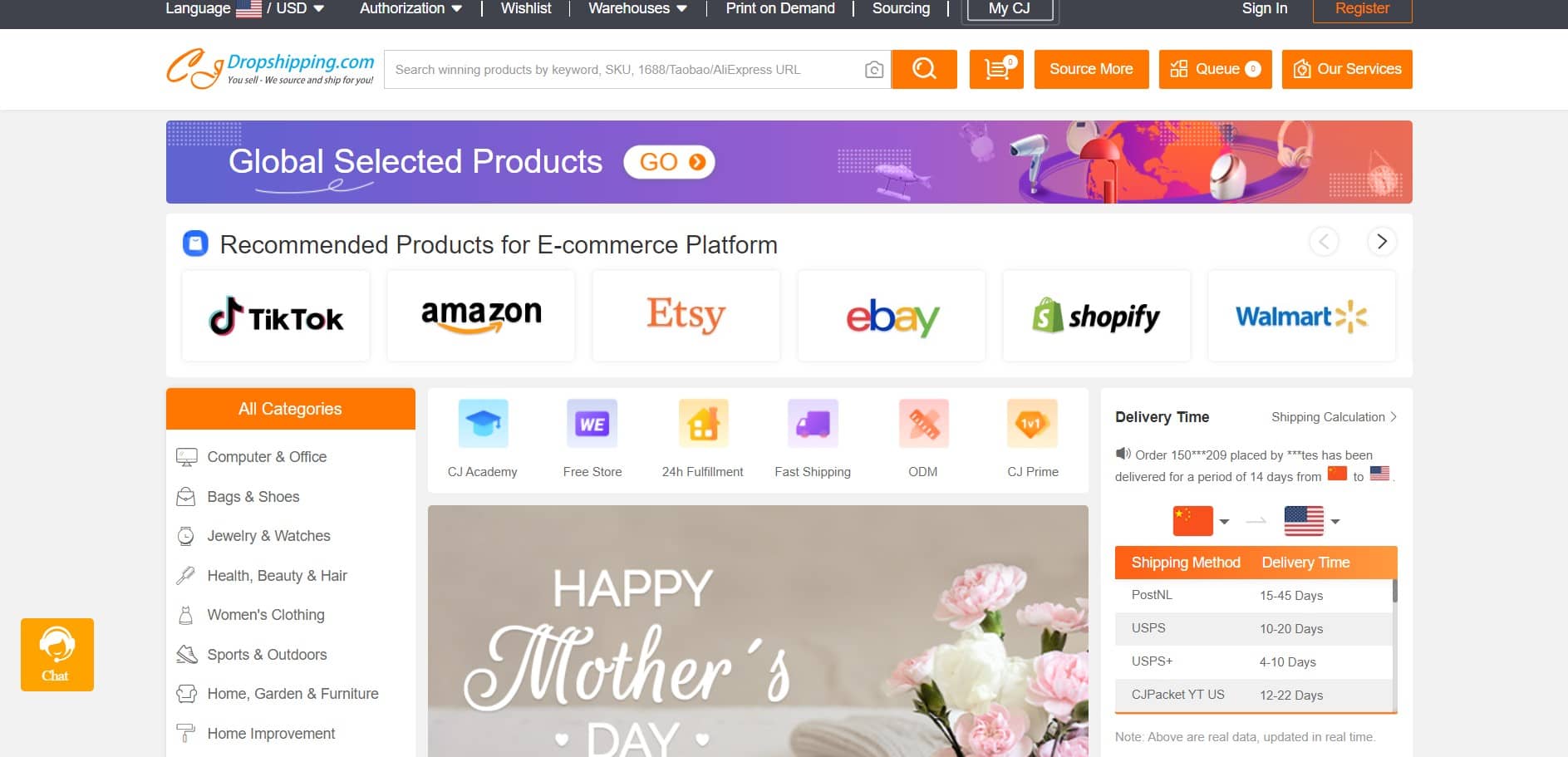 CJDropshipping is a one-stop platform integrated with product sourcing, order processing, and shipping fulfillment. It was established in 2014 by Andy Chou. Initially, the company was focused on selling jewelry. However, when only one product became popular, the founder had to look for ways to increase profit.
Hence, the birth of CJDropshipping.
Key Features
Huge Inventory – There are more than 400,000 items to choose from in their supply chain. The products are well organized into different sections for easy navigation.
Video Production – They make product videos in their own studio. The videos are free to use which are great for Facebook or Tiktok advertisers. You can even request a customized photo or video.
Print on Demand – The print-on-demand function is one of CJdropshipping's lesser-known but significant features. No MOQ and upfront cost. Even better, it allows your customers to design the products.
Warehousing – The company has warehouses in USA, Germany, Thailand, and Indonesia. They've also partnered with local warehouses in Europe and Australia.
Shipping – Moving on to shipping, CJDropshipping has CJPacket—the company shipping service. They offer tons of excellent shipping options. Many products are available in their US warehouses. So you can use local shipping to minimize delivery time.
Pros
Better price – Products on CJ are usually cheaper than on Aliexpress for the same item. Cjdropshipping sources directly from manufacturers and negotiates for lower prices.
Inventory Management – Managing your private inventory will also be a breeze with CJDropshipping as they offer this particular service, too.
Integration – The platform integrates with Shopify. However, don't be surprised to see steep prices in product and shipping costs as these already include CJDropshipping's service fee.
Cons
Beginner Limits – As a new joiner, you're only limited to five requests per day.
Summary
Given the number of products to choose from, CJDropshipping is great for beginners and veterans looking to sell a myriad of products.
FAQs about Dropshipping Agents
Why Do You Need a Dropshipping Agent?
Generally, there are five reasons why you need a dropshipping agent.
Reliable Sourcing
Price Stability
Business Coaching
Shipping Times
Support Team
Agents already have established connections with suppliers, letting you enjoy reliable sourcing all throughout your business journey.
You no longer have to sift through thousands of suppliers because they will simply provide you with a list of the ones you should check out.
Price stability is also a reason why you need an agent. These agents will negotiate terms and create contracts to protect you and your business. You don't have to deal with fluctuating prices typically experienced in marketplaces.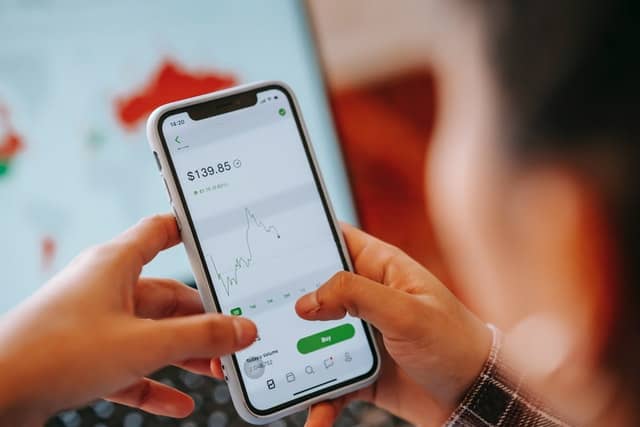 As a business, you will definitely appreciate business coaching in the form of insights into market trends. These people will use their knowledge and expertise to make sure you make the right business decisions.
Their strategic locations will also contribute to faster shipping times. That way, your customers can get their orders as soon as possible, making them happy customers.
Finally, it's always ideal to have a support team, regardless of how your business is doing. Surely, you'd work better knowing you have a team that will help you through critical business issues.
What Are the Factors to Consider when Choosing a Dropshipping Agent?
When choosing a dropshipping agent, you should consider the following factors:
Location
Processing Time
Delivery and Shipping Times
Services
Minimum Order Quantity
The location of the dropshipping agent has to be strategic. We all know that location affects delivery times, especially for overseas shipping.
So, choose a dropshipping agent that's closer to your target suppliers and has access to ideal shipping services or routes.
Second, take note of the agent's processing time. This period of time directly affects how long orders will reach your customers. The shorter the processing time, the better.
Of course, delivery and shipping times are also important factors to consider. Ever since commerce giants like Amazon pioneered same-day and next-day shipping, customers are now expecting the same from other retailers.
This is why it's essential to find dropshipping agents that offer the fastest delivery and shipping times without compromising the quality.
Finding an agent with great services is also a wise move. You'll soon see how helpful it is to work with an agent with services that make your life easier.
Lastly, consider the minimum order quantity (MOQ). Some agents require a minimum order quantity before dropshippers can work with them. While this is generally okay for some, not all dropshippers can meet this requirement.
Sales might fluctuate, proving to be a risk when you have a minimum number of orders. Therefore, decide on whether you can handle this risk.
Do All Dropshipping Agents Require MOQ?
No, not all dropshipping agents require a Minimum Order Quantity (MOQ).
If you're not familiar with the term, MOQsimply means the minimum number of items you can buy from a supplier.
Going back, for those who are not yet getting a huge number of orders, rest assured that you can still find dropshipping agents with no MOQ.
These agents also know that many dropshippers have yet to gain traction for their business.
But don't be surprised if it's a common requirement since these agents also need to guarantee long-term partnership in terms of the quantity and frequency of orders.
Closing Words
As you can see, you have plenty of options when it comes to dropshipping agents. They generally offer the basics such as product sourcing, warehousing, and order fulfillment.
But each agent has their own ace against others.
It now depends on what ace you need to make sure your dropshipping business becomes successful.
At NicheDropshipping, we make sure your entire supply chain is smooth-flowing and issue-free. A dedicated agent will address your concerns and fix them as soon as they arise.
If you're interested to know more about our services, feel free to send us a message and we'll walk you through our dropshipping services.