Digital entrepreneurs often claim that dropshipping is a saturated business model.
That may be true if it's just another copy-pasted dropshipping store.
But if you're focusing on building a brand through private labeling, then your future is bright!
We know, launching a brand can often feel overwhelming, mainly because it's challenging to find trustworthy suppliers.
Thankfully, you don't have to worry about that as we've already done the hard work by preparing a list of the best private label dropshipping suppliers.
To make things even simpler, we'll go over the pros, cons, and key features of each supplier to help you narrow your options.
So without further ado, let's dive straight into it!
1) NicheDropshipping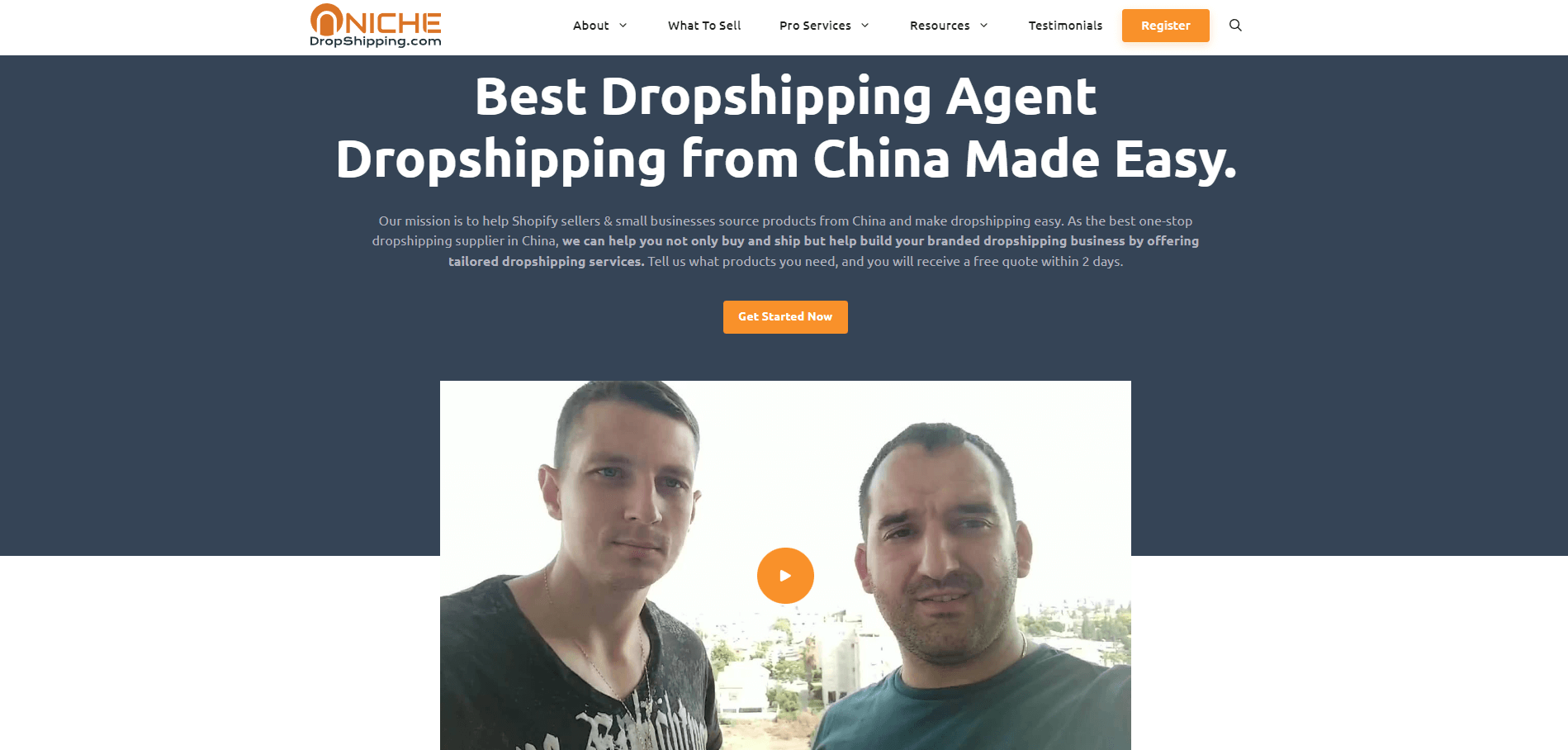 NicheDropshipping is a China-based company that provides a comprehensive dropshipping solution.
Their core services include product sourcing, warehousing, and of course, private labeling.
Aside from that, NicheDropshipping can also help with mock-up samples so you know what to expect from the product.
Quality control will also be the least of your concerns since they follow up on the production to ensure it meets the set standards.
Pros
Automated dropshipping solutions to reduce effort.
Each product goes under strict quality inspection.
Worldwide shipping to expand your business.
Cons
Must meet the daily order quantity to private label products.
Key Features
Warehouses across the U.S to reduce delivery time.
Real-time inventory tracking in our warehouses.
Highly responsive and supportive customer service.
2) AliExpress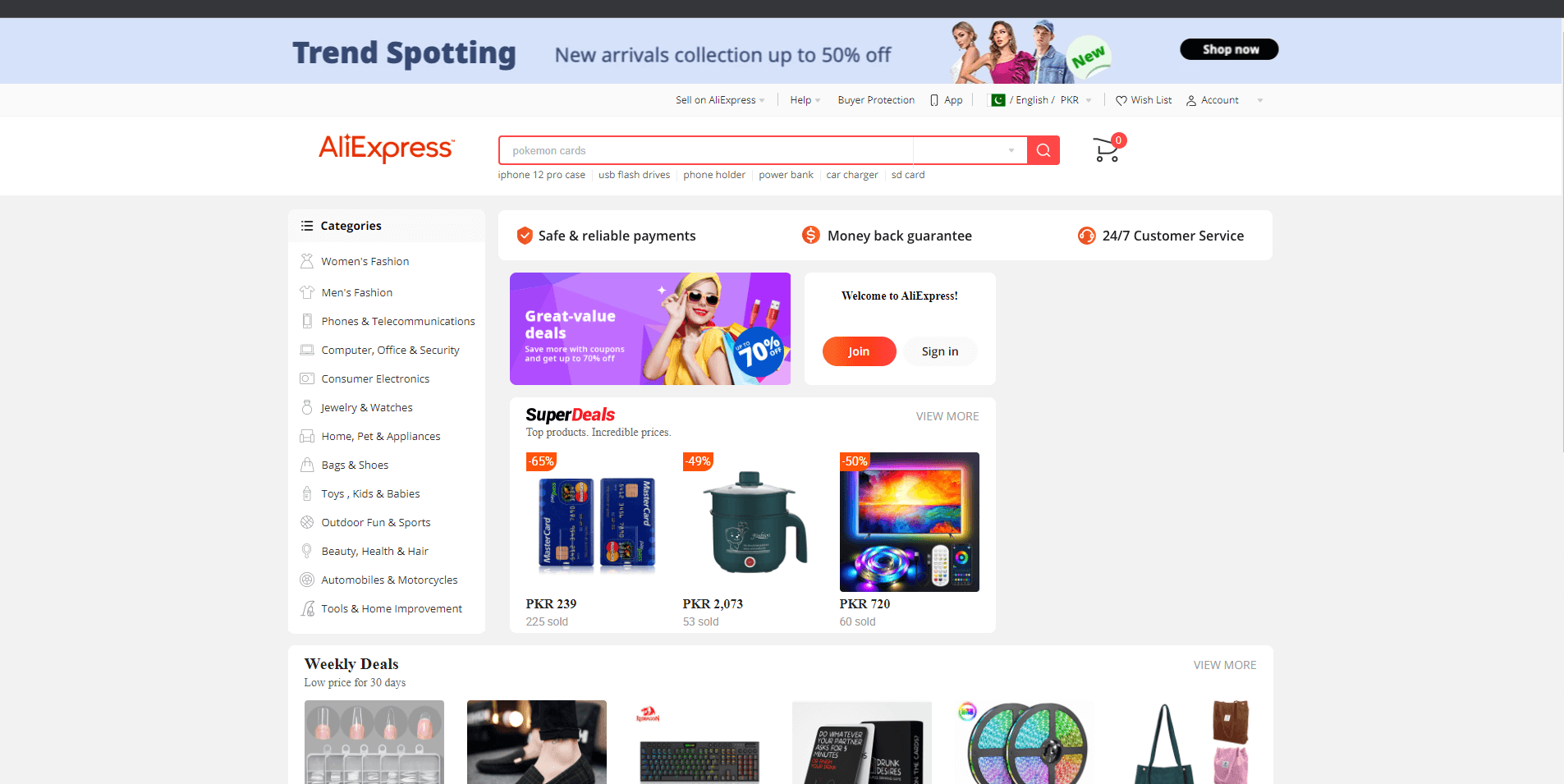 Most of you have probably heard about AliExpress. It's one of the largest B2C eCommerce marketplaces in the world.
There are thousands of suppliers on the site selling cheap products; some also allow private labeling.
From toys to furniture, you can find pretty much every product on the site.
However, the downside of AliExpress is that the shipping times can often be long.
That's especially the case if your products are manufactured in China.
In addition, there are also a growing number of dishonest suppliers on the site.
The best way to stay safe is by following our tips for avoiding dropshipping scams.
Pros
Huge selection of products at cheap prices.
A vast pool of suppliers to choose from.
Frequent discounts and cashback opportunities.
Cons
Shipping can often take a very long time.
Growing number of dishonest suppliers.
Key Features
Trade assurance to help buyers avoid scams.
Users can select from multiple languages and currencies.
All major payment methods including cards and PayPal
3) HyperSKU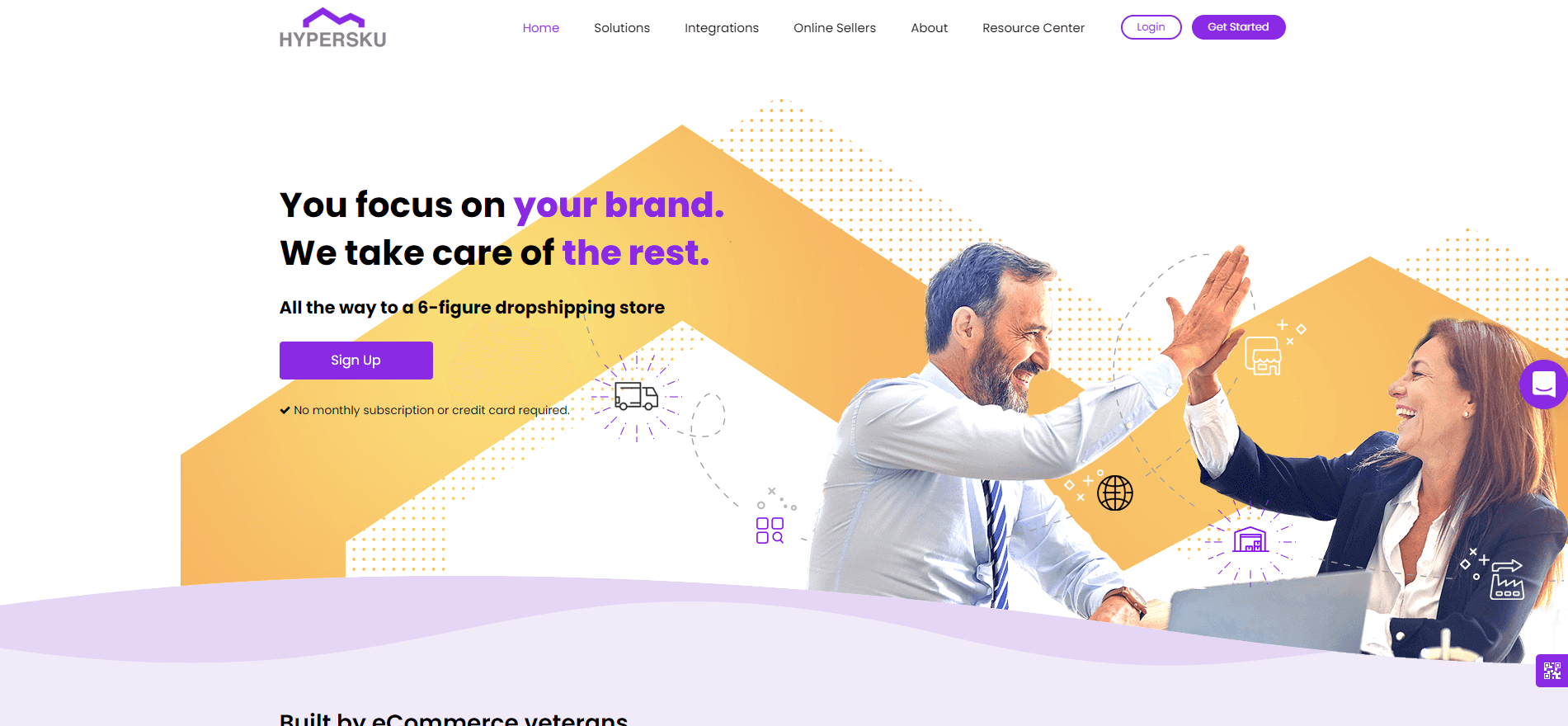 HyperSKU is a dropshipping company that basically acts as a middleman.
They can help you source and private label products directly from Chinese suppliers at cheap prices.
HyperSKU performs quality control during the production process.
But if the product is still defective then refund services are also provided.
Lastly, all shipments from China to the EU and U.S are fulfilled in as little as 7 days.
Pros
Cons
The products may be more expensive than AliExpress.
Key Features
Sync and fulfill your orders automatically.
Seamless integration to track order status.
Custom packaging, branding, and invoicing.
4) Wiio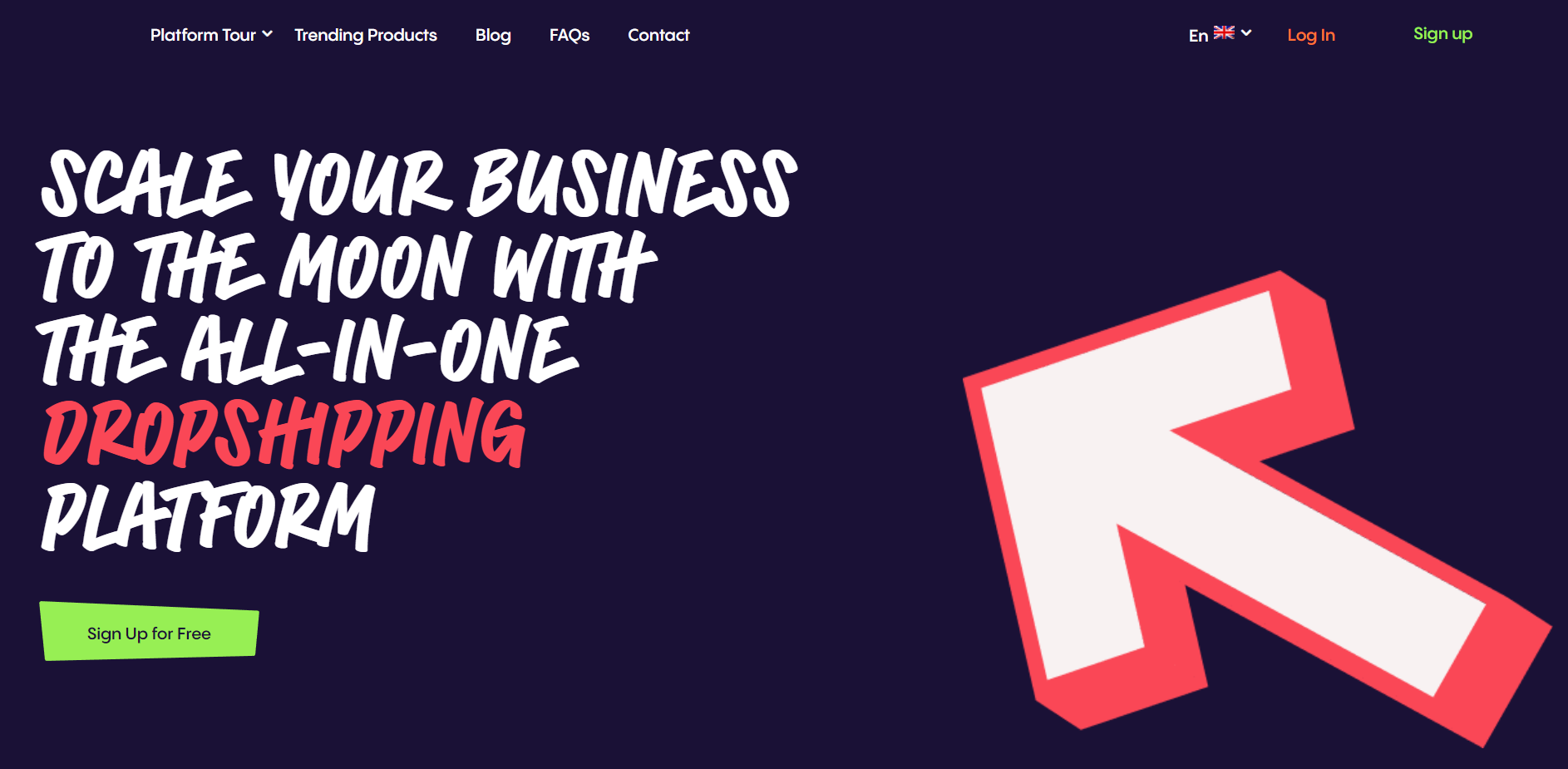 Wiio is another great dropshipping company that is quite similar to HyperSKU.
They also aim to provide a one-stop dropshipping solution, by acting as your dropshipping agent.
Wiio eliminates all the hassle of sourcing, purchasing and stocking products.
Like other companies on this list, they offer branded packaging and invoicing.
But what's truly interesting is that Wiio provides a guarantee to be cheaper than AliExpress.
The only downside is that their customer support and agents aren't fluent in English and often use a translator.
That can make communication difficult and more time-consuming.
Pros
A complete dropshipping solution that includes purchasing and stocking.
Prioritizes quick delivery by finding the best shipping routes.
Claims to be cheaper than AliExpress.
Cons
Customer support isn't fluent in English.
Low volume clients need to pay a higher price for products.
Key Features
The site can be translated into multiple languages.
Integrates with Shopify and other major eCommerce platforms.
No minimum order quantity (MOQ).
5) Dropified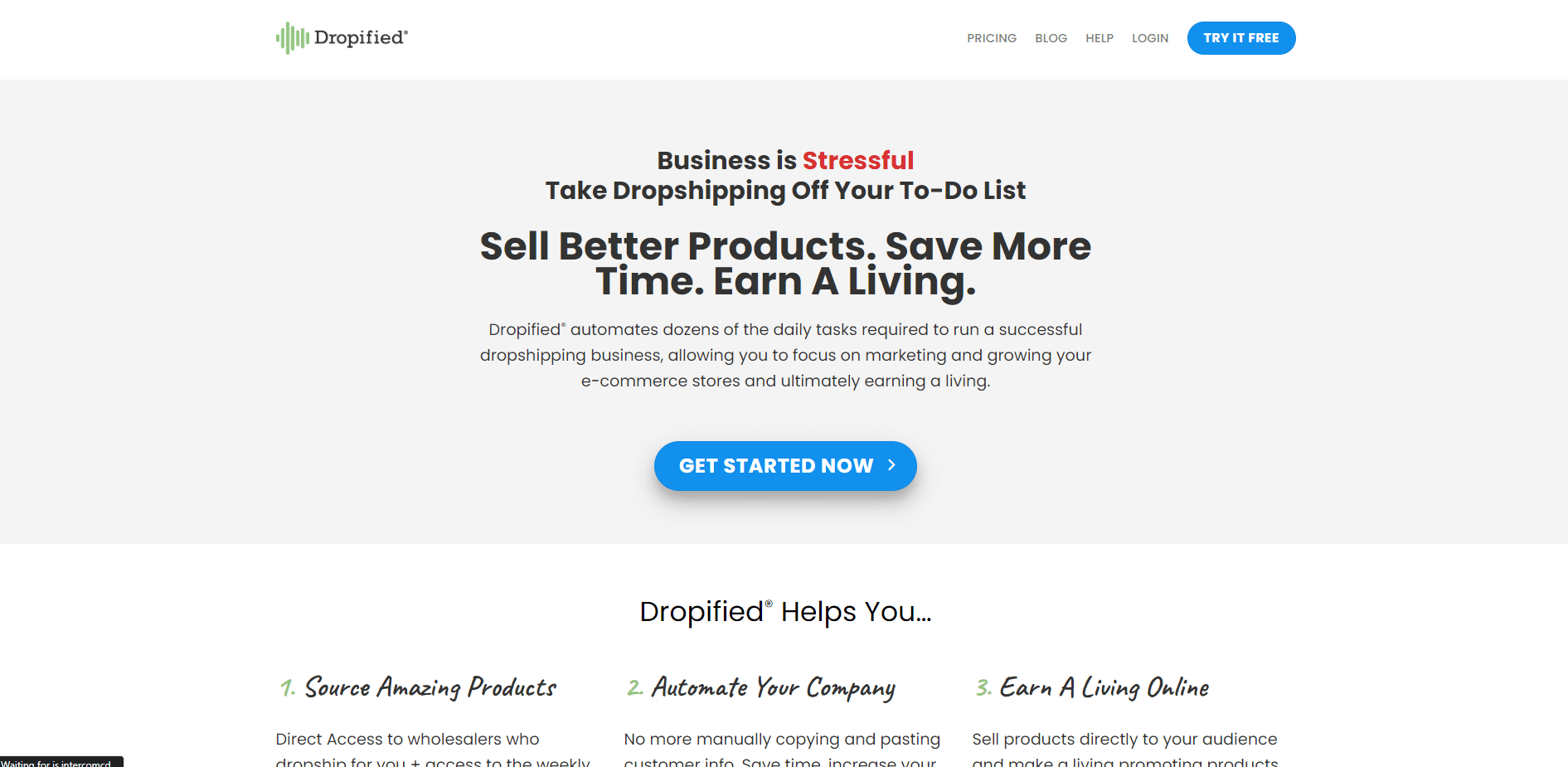 Dropified is another dropshipping service that acts as an intermediary to help its clients source products from AliExpress and many other websites.
They offer a variety of services including private labeling, automated order fulfillment, order tracking, and more.
The only problem with Dropified, however, is that they charge a ton of money for their services.
Pros
Automated order tracking and inventory management.
Focus on ePacket to reduce delivery time and cost.
Quick customer support with live chat.
Cons
Expensive than most dropshipping services on this list.
Key Features
Easily integrates with most major eCommerce platforms.
Product availability is automatically updated to your store.
Product research tool to easily find trending products.
6) Printful
Printful is one of the most popular names in the Print on Demand industry.
They provide private label POD dropshipping services and have warehouses spread all across the world.
And we know, in a POD business, design is one of the biggest concerns.
But Printful also makes that easy with their custom design services.
If you have a design idea that you would like to turn into a reality then you can submit a request.
Lastly, the cherry on top is that Printful can be connected with multiple eCommerce platforms and marketplaces.
Pros
One of the most reputable POD companies.
Fulfillment centers all over the world ensure quick delivery.
Custom invoicing and branding to make the product fully yours.
Cons
Product selection mainly includes homeware, apparel, and accessories.
Key Features
Clients can submit requests for custom designs.
No monthly fee or MOQ.
Premium print and product quality.
7) BigBuy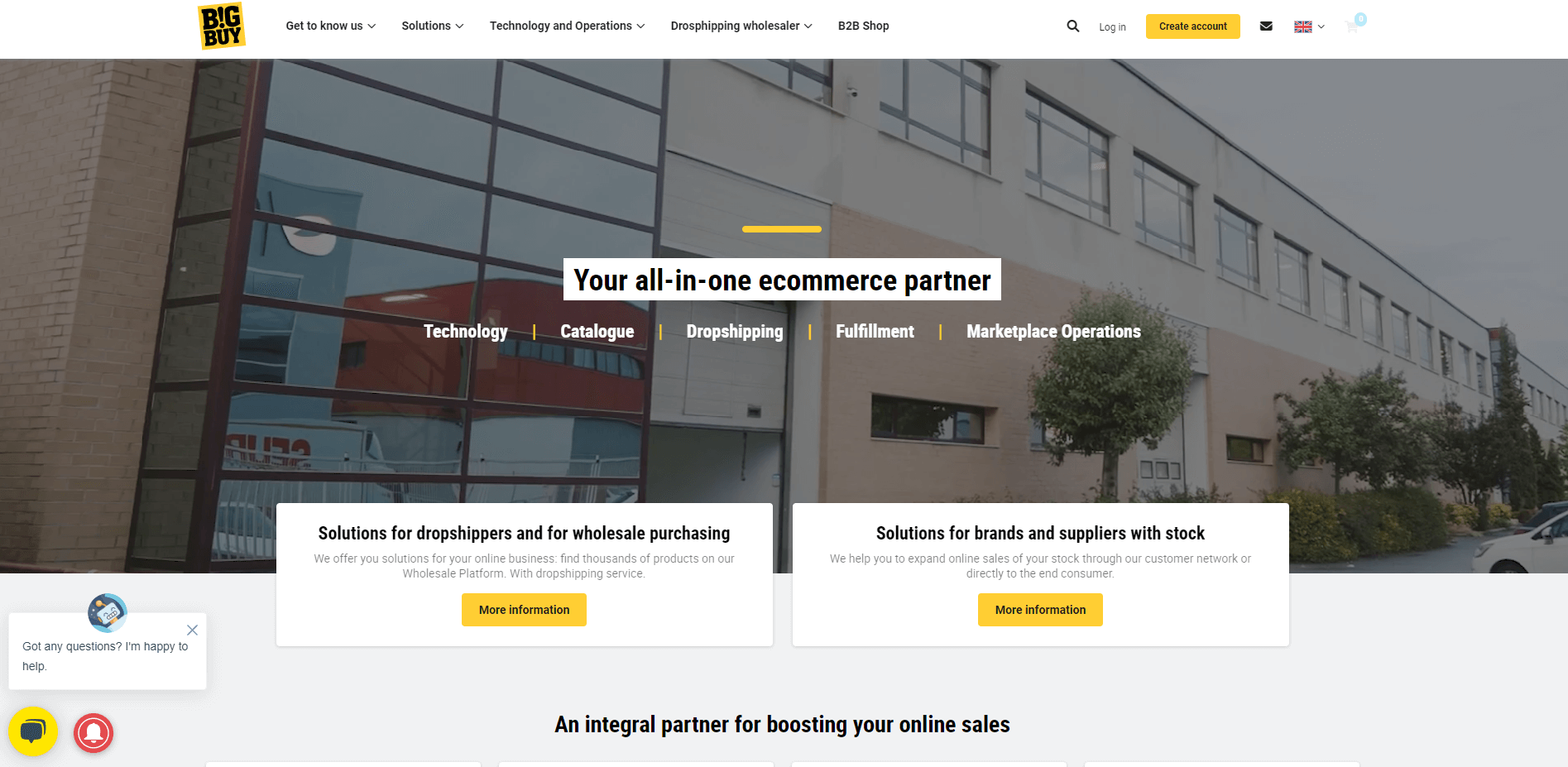 BigBuy is one of the most popular wholesale and dropshipping suppliers in Europe.
But what differentiates them from other suppliers is that they dropship with their own stock.
All their products are stored and distributed directly from their warehouses. This eliminates the hassle of dealing with middlemen.
BigBuy also offers custom packaging and invoicing to help its customers build a brand.
In addition, BigBuy's inventory is translated into over 20 languages to make the life of its dropshippers easier.
Pros
Dropshippers get wholesale prices with no MOQ.
Inventory is translated into over 20 languages.
Frequent discounts and flash deals to further slash the prices.
Cons
The monthly subscription fee is relatively expensive but a must for dropshipping.
Customers often complain about late shipping times.
Key Features
Multiple payment methods include wire transfers, cards, and PayPal.
Easily integrates with most eCommerce marketplaces and platforms.
Products are directly shipped from BigBuy warehouses rather than a third-party supplier.
8) Power Body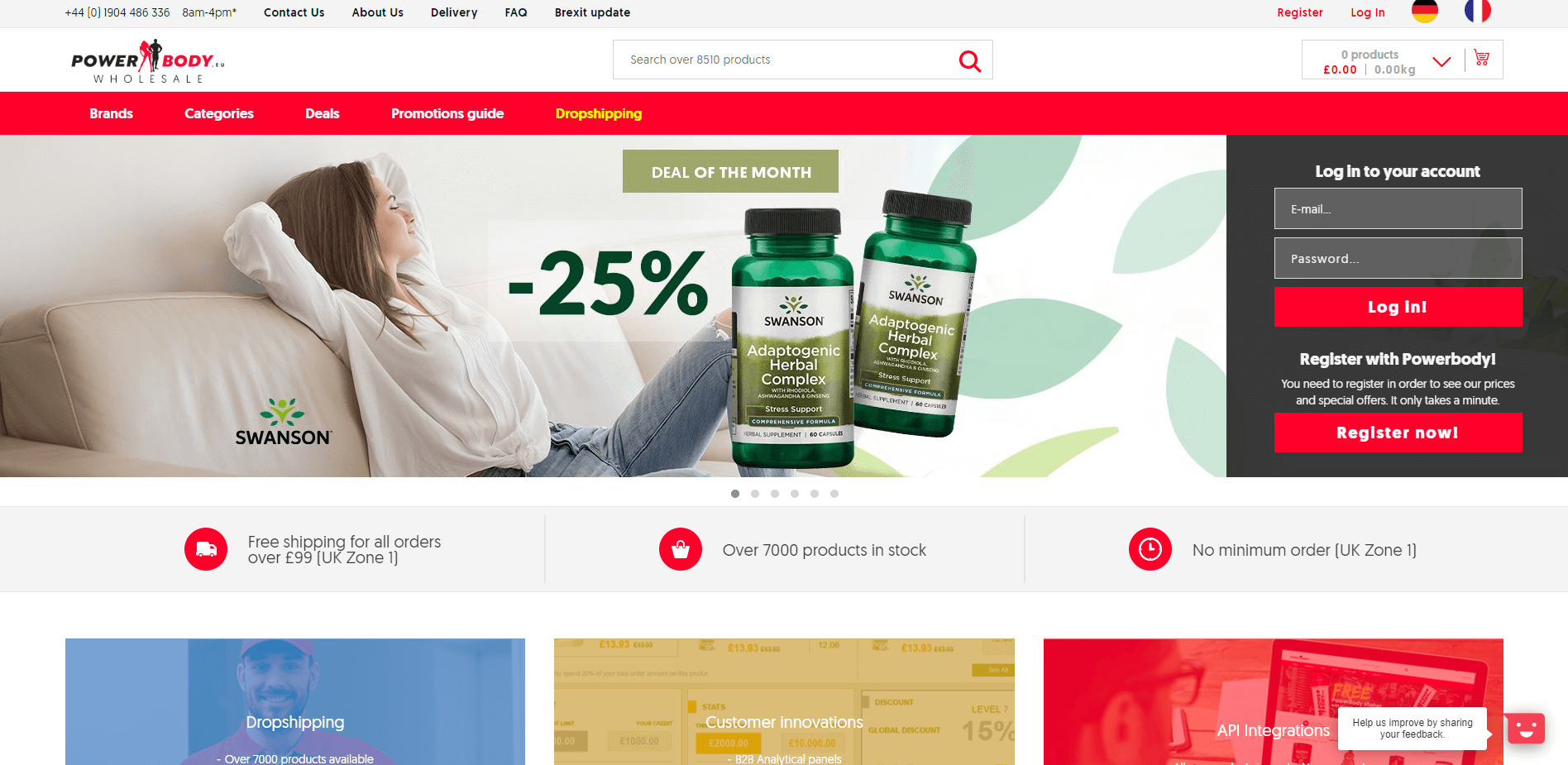 Fitness has always been a lucrative dropshipping niche.
If you too are trying to leverage the growing fitness trends then Power Body can make things easier.
Power Body is a UK-based wholesaler that helps businesses launch a fitness and nutrition brand.
They have a free dropshipping program that you can join to access their private labeling services.
We know quality is often a big concern while dropshipping supplements.
However, rest assured because the supplements sold by Power Body are made using the highest-quality ingredients.
The only downside is that they only ship to the U.K and selected EU countries.
Pros
All consumables contain the highest quality ingredients.
Wholesale prices to increase profit margins.
Over 7,000 products are ready to dropship.
Cons
Only dropships to the U.K and selected EU countries.
Key Features
Dropshipping panel to upload logo, customize orders and much more.
Free dropshipping program.
Responsive customer service with phone support.
9) Steve Apparel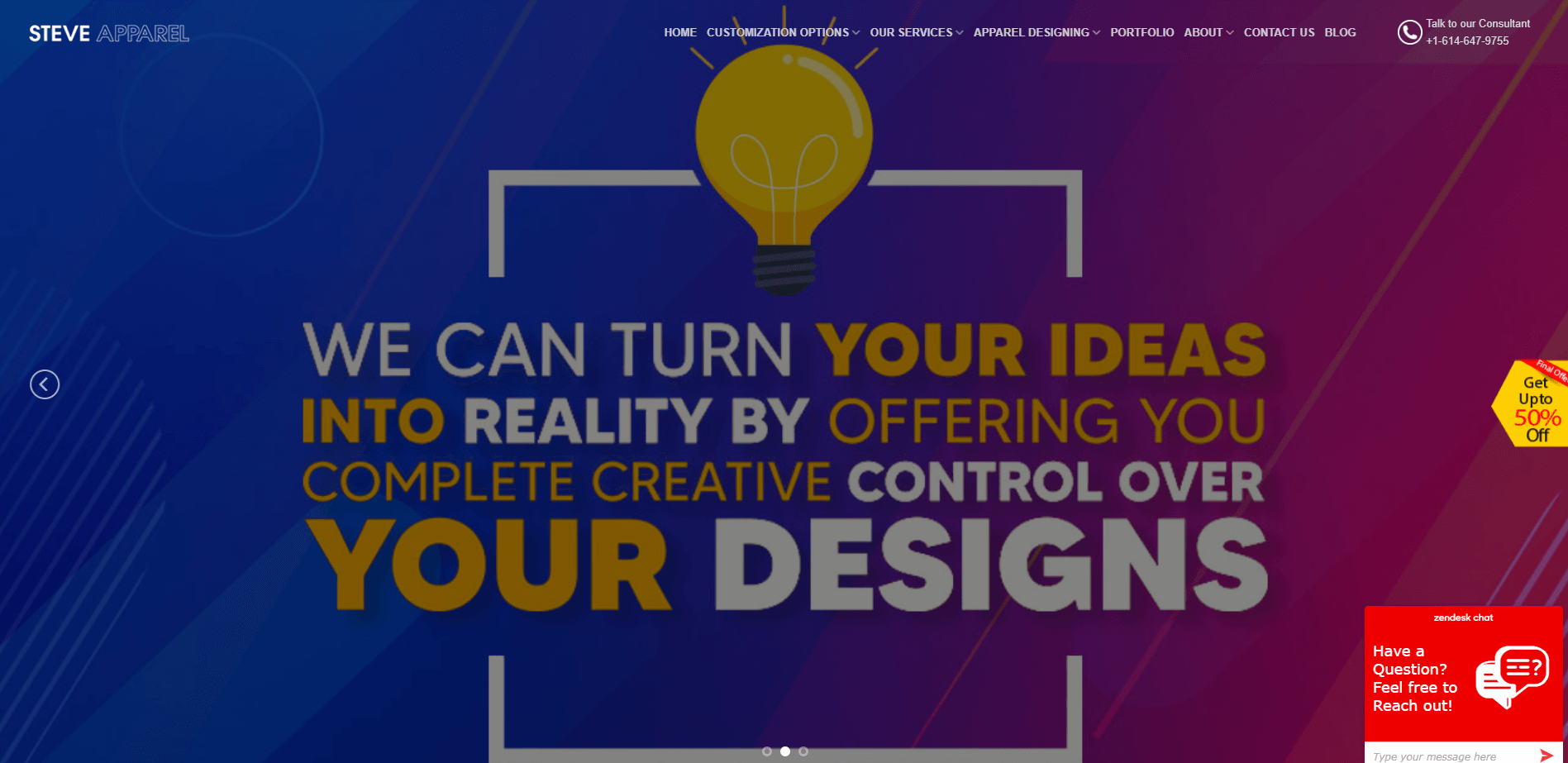 Steve Apparel is a private label dropshipping supplier of clothing.
They've been manufacturing clothes in the U.S since 2004 and cater to customers of all ages.
You can join their dropshipping program by directly messaging them on their site.
Steve Apparel provides lucrative discounts for larger orders and their high product quality makes them a perfect business partner.
But the only problem is that they have a MOQ of 50 designs per piece – which may not be feasible for beginners.
Pros
Years of experience in the clothing and apparel niche.
Caters to people of all ages.
Great discounts for bulk orders to improve profit.
Cons
Minimum order quantity is 50 designs per piece.
Key Features
Advanced machines and techniques to produce high-quality fabrics.
Premium print quality using the sublimation printing technique.
10) DropCommerce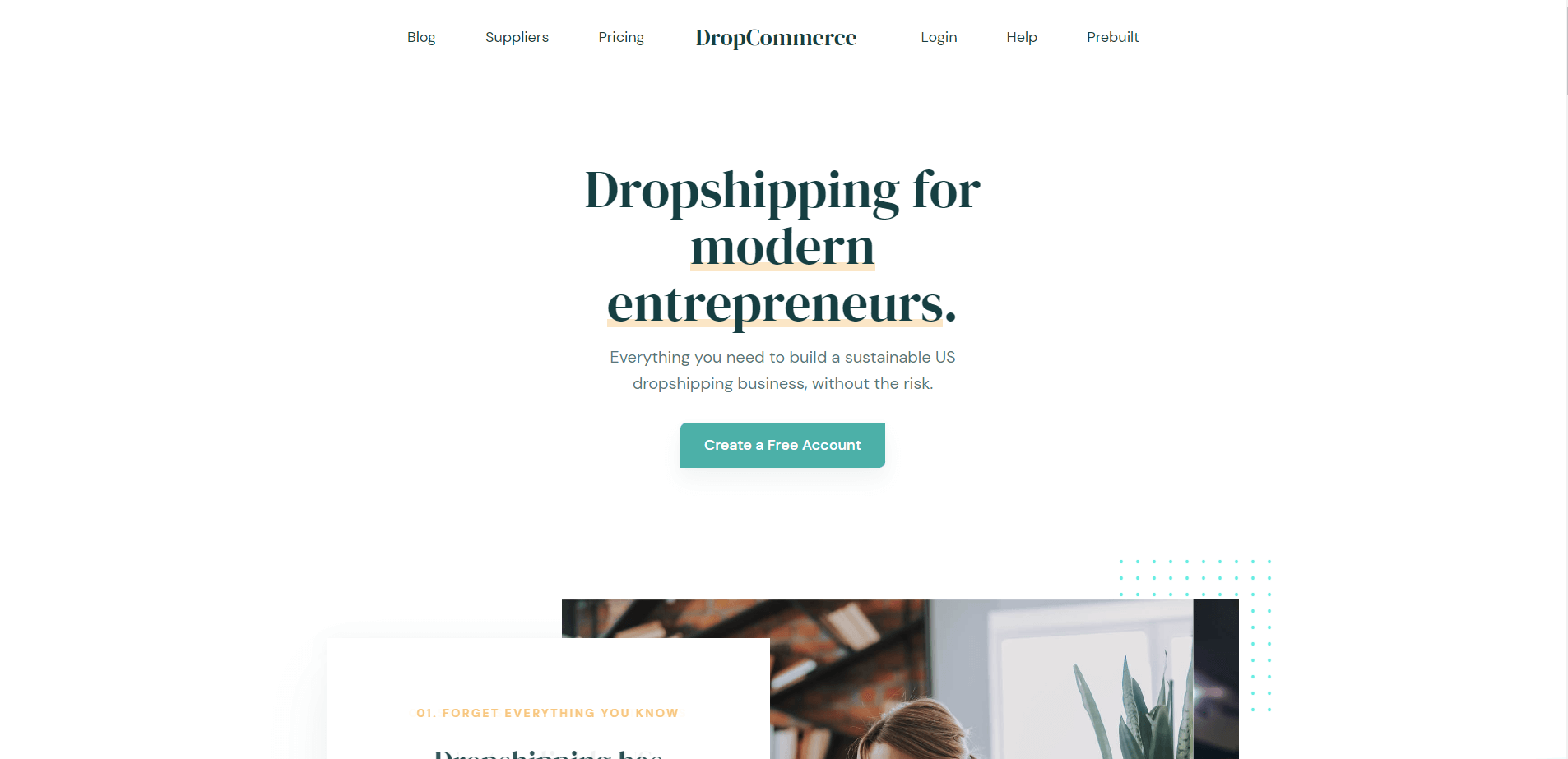 Tired of dealing with quality issues while dropshipping?
DropCommerce is a supplier directory with over 300 suppliers from North America.
After selecting the supplier of your choice, DropCommerce will also help you with private labeling.
And since most suppliers are from Canada and the U.S, the shipping time is less than 5 days!
But the problem is that DropCommerce only offers branded invoices and not packaging.
While DropCommerce charges a monthly fee, they also have a free trial period.
So if you aren't satisfied, then you won't lose a dime!
Pros
Quick order fulfilments across the U.S and Canada.
Over 300 suppliers to choose from with most based in NA.
Branded invoicing to make the product look as if it's sent from your warehouse.
Cons
Doesn't offer branded packaging services.
Key Features
Free trial period for you to assess if a subscription is worth it.
Integrates with top eCommerce platforms like BigCommerce, Shopify and more.
11) Art of Where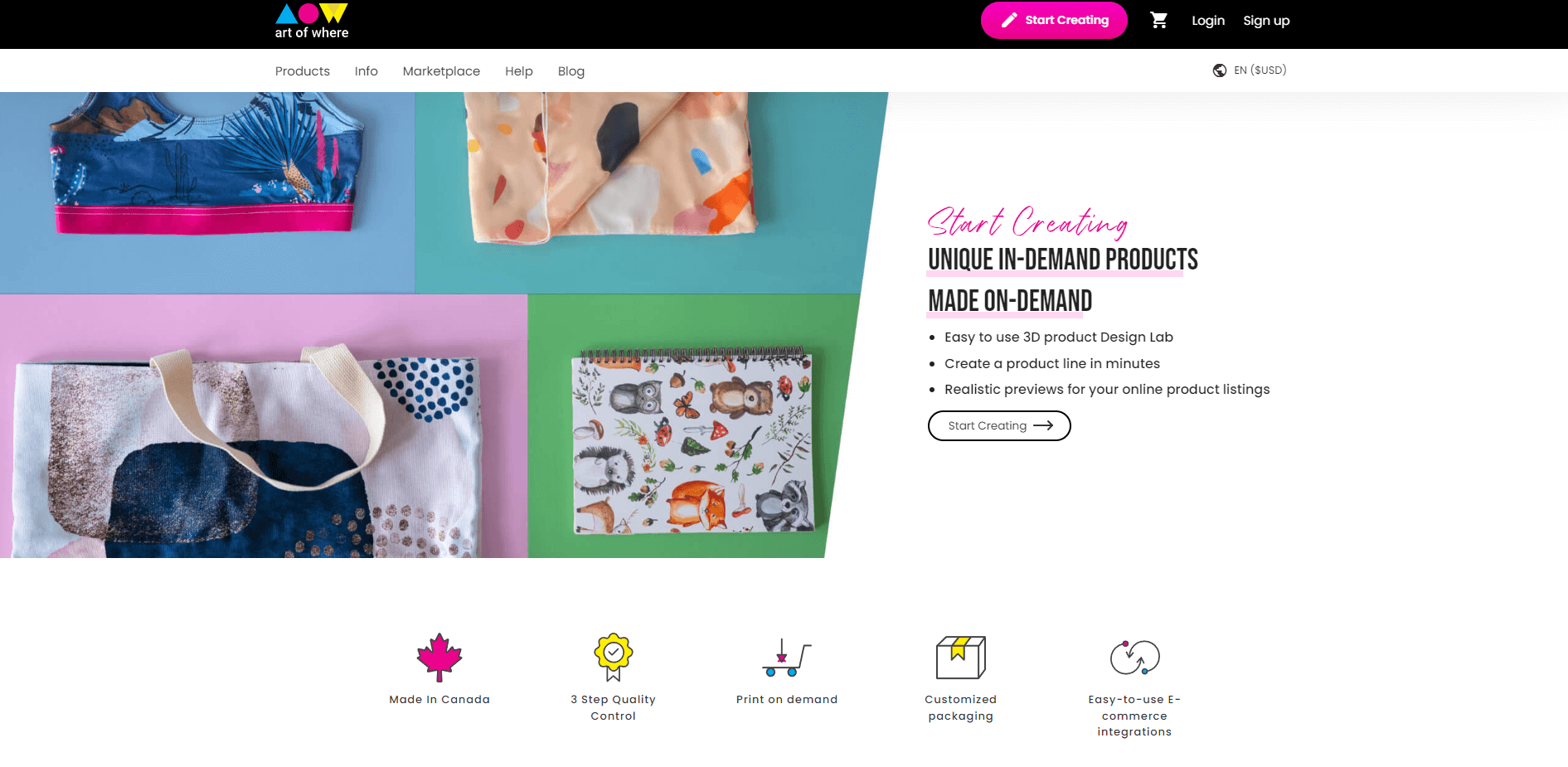 Art of Where is another POD dropshipping company that deals in tote bags, notebooks, apparel, and more.
This is a Canadian company with all products being printed, sewn, and packaged in Montreal.
Art of Where can help you private label your products without charging a monthly fee.
In addition, they also offer easy integration with WooCommerce and Shopify and most major platforms.
Pros
Quick deliveries for orders in Canada and the U.S.
Vibrant and long-lasting prints.
All products are made in Canada.
Cons
Limited product selection since it's a POD company.
Key Features
Choose from multiple fabrics and printing techniques.
Integrates with Shopify and WooCommerce and other platforms.
12) TeaSwan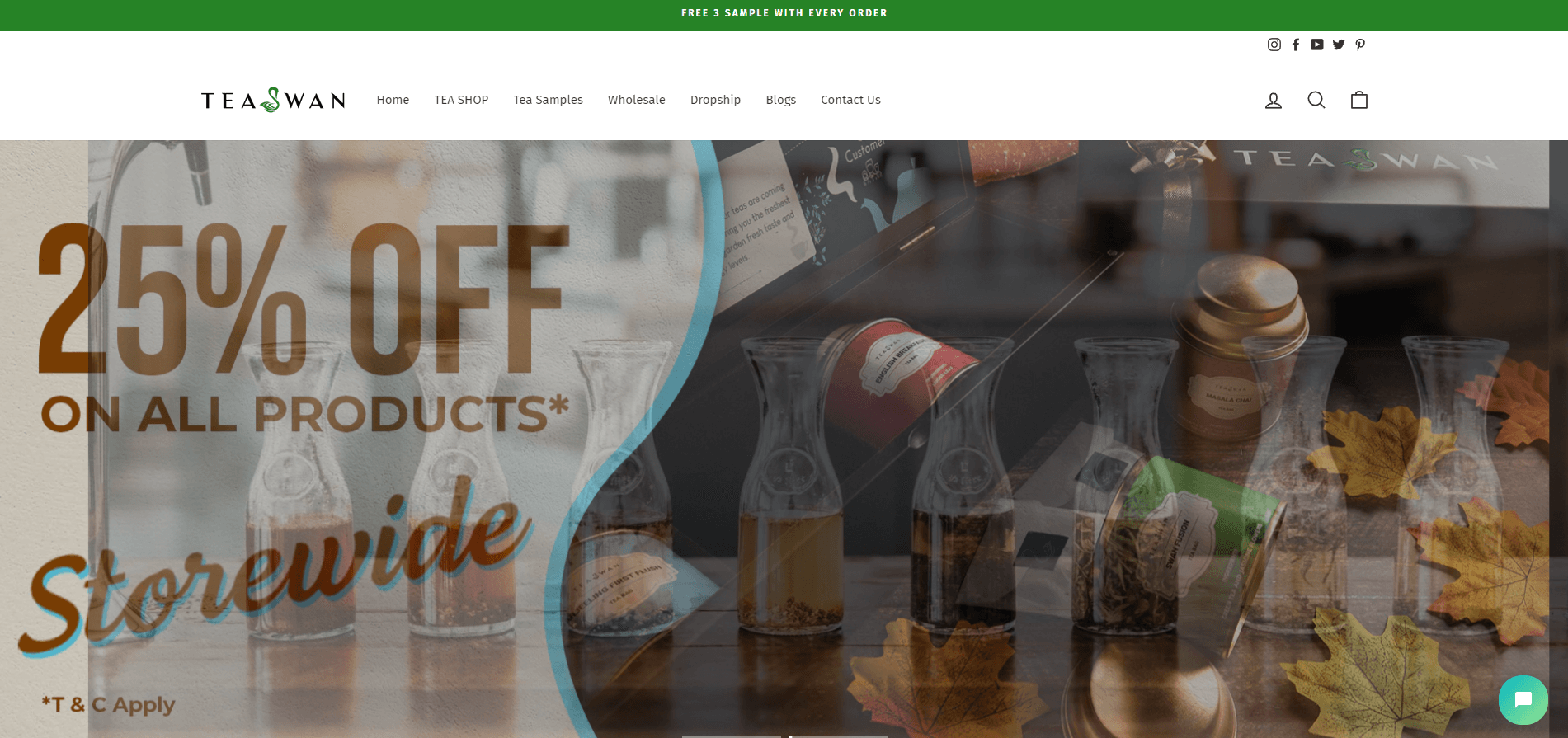 Did you know that after water, tea is the second most consumed drink in the world?
The global tea consumption is projected to reach 7.4 billion kg by 2025.
Given the high demand, launching your own tea dropshipping brand seems like a great idea.
This is where TeaSwan comes in. They're an Indian company and one of the fastest growing B2B tea brands in the world.
They offer a private label dropshipping program that allows you to dropship tea all over the world.
Unfortunately, TeaSwan cannot be integrated with an eCommerce store.
Maybe they'll have this functionality in the future, but for now, you have to manually work with them by forwarding the order info.
Pros
One of the fastest growing B2B tea brands in the world.
Fulfills orders from all over the world.
Responsive customer support for setup assistance.
Cons
Cannot be connected with any eCommerce store.
Key Features
Freshest tea is directly shipped from the warehouse.
13) Dripshipper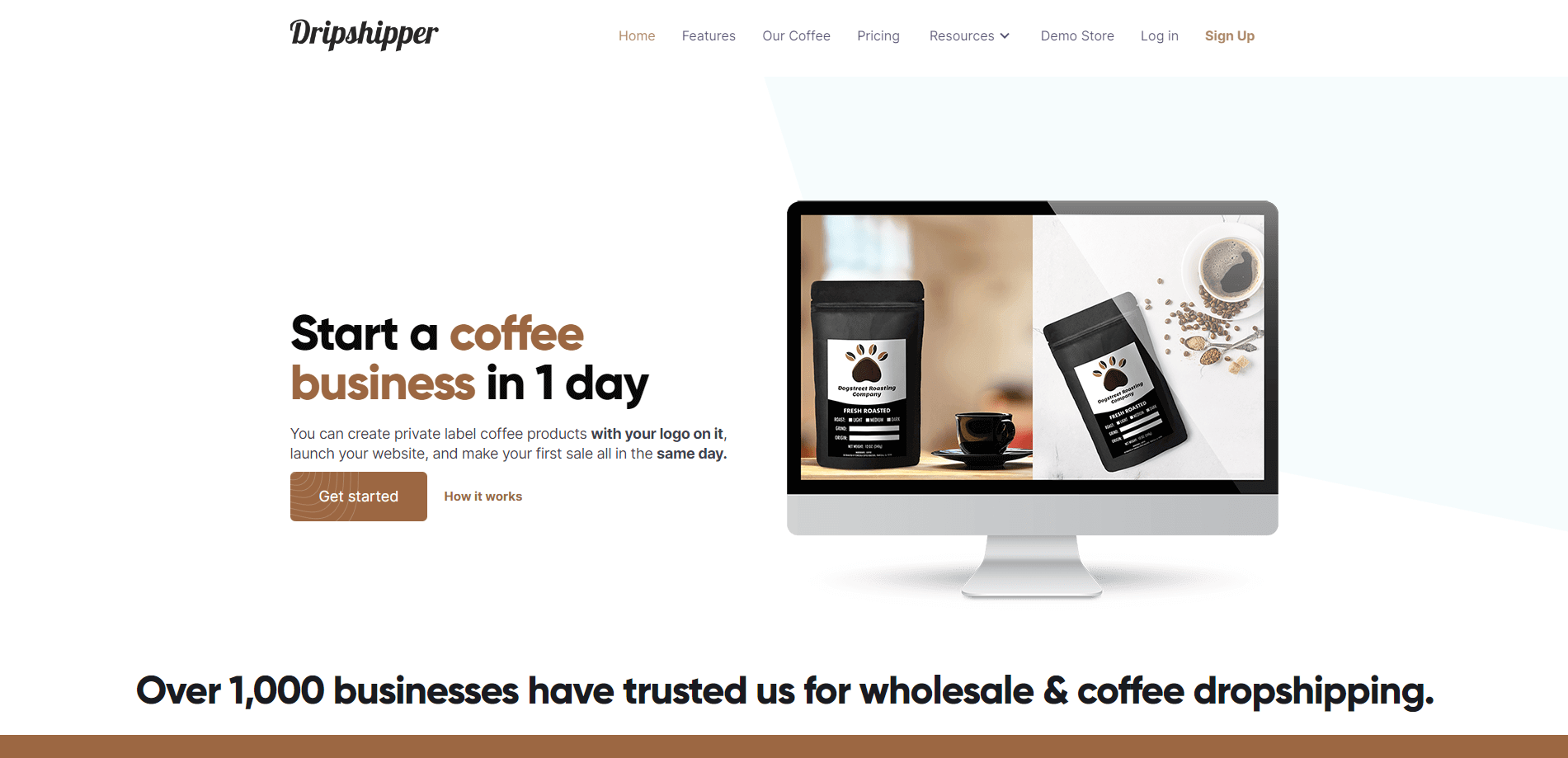 If tea doesn't cut it for you, then you can go for coffee instead!
Dripshipper focuses on the coffee niche and offers custom branding and packaging.
The process to get started is so simple that you can launch a coffee brand in a single day!
Their coffee products are prepared in the U.S and the shipment takes as little as 3 days.
The customer service of Dripshipper is also quite responsive and offers a 14-day money-back guarantee.
As for the pricing, their Starter Package costs $30/month – which isn't too bad either.
Pros
Quick and easy to start a coffee brand.
Orders are shipped out within 3 days.
All coffee products are roasted in the U.S.
Cons
You need to pay a monthly subscription fee.
Key Features
Sync orders to automate your store.
14-day money-back guarantee.
14) BTS Wholesaler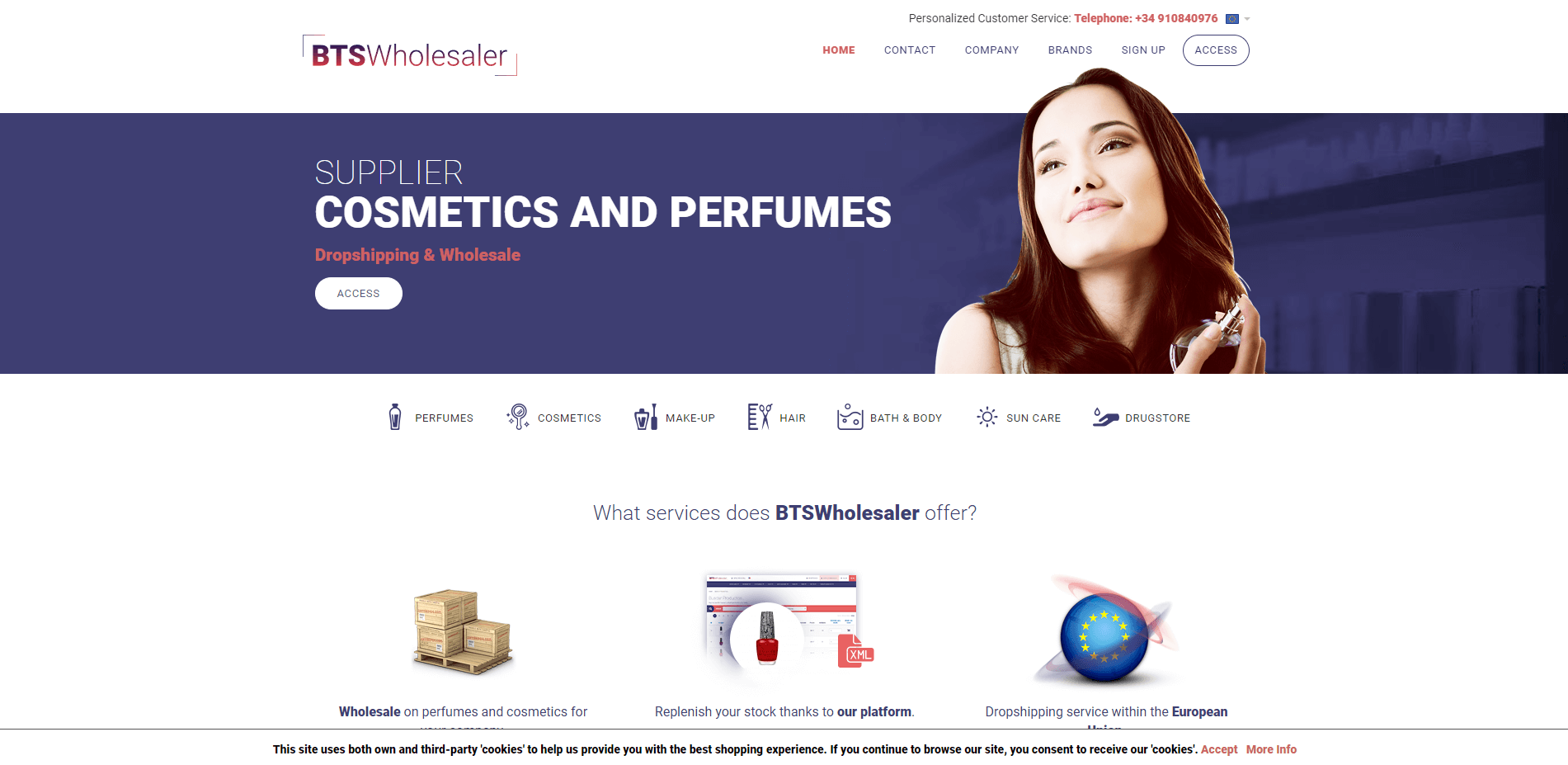 Beauty is an evergreen dropshipping niche and one that you cannot ever go wrong with.
The only condition, however, is that you need to find a trustworthy supplier.
Fortunately, BTS Wholesaler meets the criteria and can help you launch a private label dropshipping business in the beauty niche.
They have a free dropshipping program but only work with customers in the EU.
Joining the dropshipping program is essential if you want to use its branded packaging service.
Pros
Dropshipping program that allows branded packaging.
Purchase products at wholesale prices to increase profit.
Over 17,000 references are in stock.
Cons
Only works with customers in the European Union.
Key Features
Product catalog is available in 5 different languages.
Integrates with eCommerce marketplaces like Amazon, Rakuten, etc.
15) CJDropshipping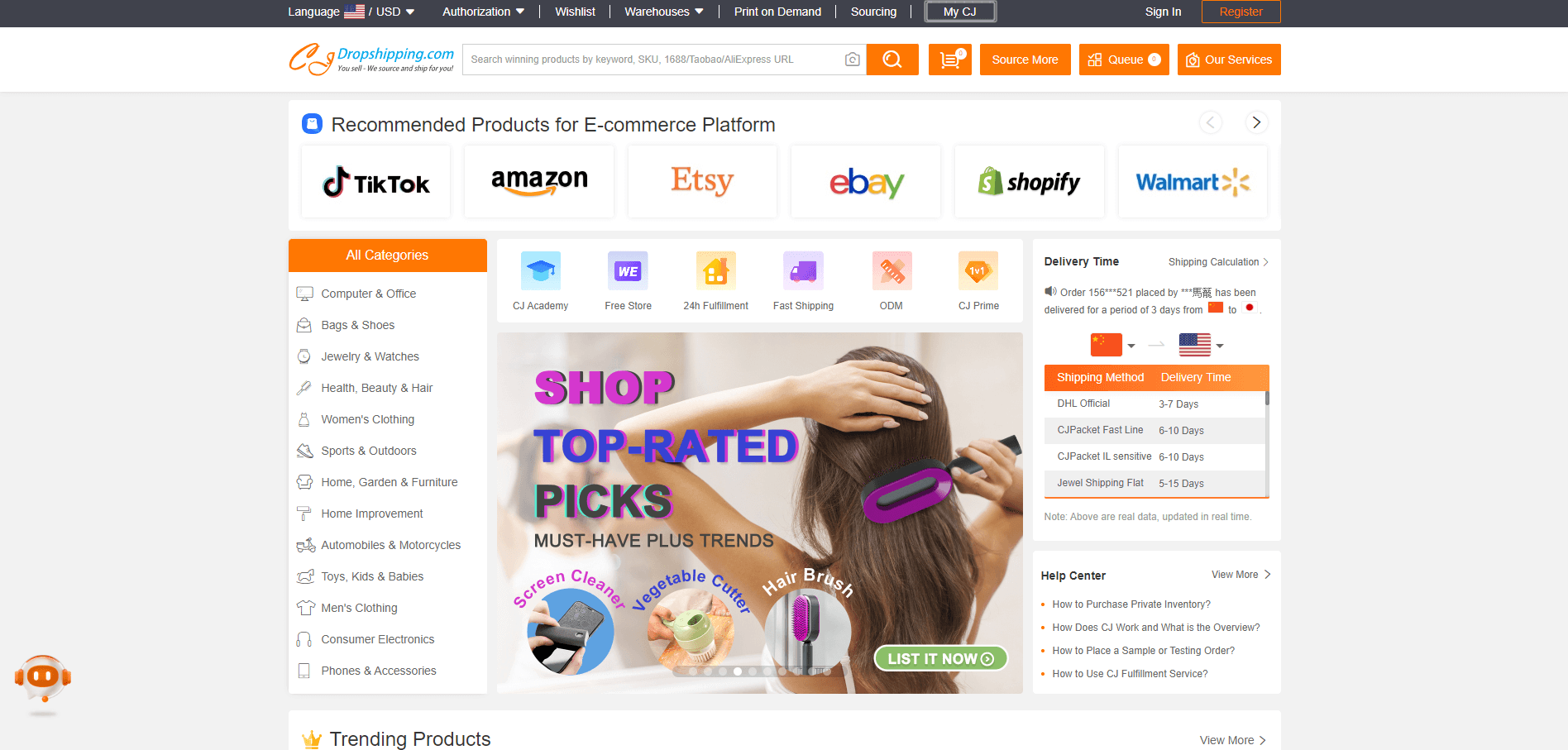 CJDropshipping is a renowned China-based dropshipping supplier.
They have over 200 warehouses spread across Britain, France, U.S, Asia, and Germany.
CJDropshipping offers custom packaging solutions at the lowest prices since they directly work with the manufacturers.
CJDropshipping fulfills orders within 2—25 days and also offers a POD service.
Pros
Products are often cheaper than AliExpress.
Warehouses all over the world to reduce shipping time.
After-sales service for damaged or lost products.
Cons
Shipping fee is calculated depending on the item's weight.
Key Features
Provides Print on Demand solutions.
Things to Consider When Choosing Private Label Suppliers
Picking a private label supplier can be tricky, especially with multiple options to choose from. Let's help you simplify the process by going over a couple of tips:
1) Level of Experience and Expertise
You can often get away by working with an inexperienced manufacturer if you're running a general dropshipping store.
However, if you're moving towards private labeling, then it's essential to consider the level of experience and expertise of your supplier.
After all, the goal of private labeling is to build a brand. And for your brand to grow, you need to be consistent with product quality.
That's why we recommend prioritizing suppliers that specialize in the niche you're planning to build a brand.
2) Minimum Order Requirements
Most companies have a minimum order quantity for private labeling products.
If you're inexperienced, then try finding a service with the lowest MOQ.
Keep in mind some companies are also open to negotiations if your business shows potential.
3) Product Quality and Turnaround Time
Designing private label products can take time, especially if there are plenty of customizations to do.
So your top priority is to look for suppliers that can meet your daily product criteria, without compromising the quality.
If the supplier consistently fails to meet these criteria then you might have to look for a better business partner.
4) Level of Control Over Product Design
People often confuse private labeling with white labeling.
Private labeling allows you to fully control your brand through customizations and your product cannot be copied.
You need to ask your supplier the extent of control you get over design.
This is to ensure that they can meet the growing requirements of your business.
5) After-Sales Service
Efficient after-sales service is a must for eCommerce businesses nowadays.
It's even more important if you're trying to build a brand by promoting yourself as an authority in a particular niche.
You don't want to scratch your head when a customer asks questions about the product.
This is the reason you must find a supplier who's quick to resolve all customer queries and complaints.
FAQs about Private Label Dropshipping Suppliers
How to Find Private Label Dropshipping Suppliers?
There are multiple ways to find private label dropshipping suppliers. You could search on dropshipping directories, or go for the easiest approach, which is to find suppliers on AliExpress.
Is Private Label Dropshipping Profitable?
Private label dropshipping is highly profitable because it allows you to build a brand – which in turn, enables you to sell products at a higher price thus increasing your profit margins.
Final Thoughts
If you want to grow your eCommerce business, then at some point you need to consider private labeling.
Launching a brand not only improves customer loyalty but also increases the perceived value of your products.
Besides, if you want to stay ahead of the competition then having a unique selling point is essential.
So if you have a brand idea in mind, then now is the perfect time to execute your plan!
No matter the product or specifications, NicheDropshipping can easily help you with sourcing.
All you have to do is contact us and let us know your requirements!