Research shows that coffee is a go-to beverage for more than 150 million Americans each day. It is also a staple customary drink in Arab countries and remains highly popular in other parts of the world too.
For any dropshipper, these are the tell-tale signs of a product niche that has high and consistent demand. Still, to cash in on it, you need to stand out from the rest by offering flavorful high-quality coffee.
Read on as we evaluate 15 top-notch coffee dropshippers that can make your coffee dropship store the next great sensation.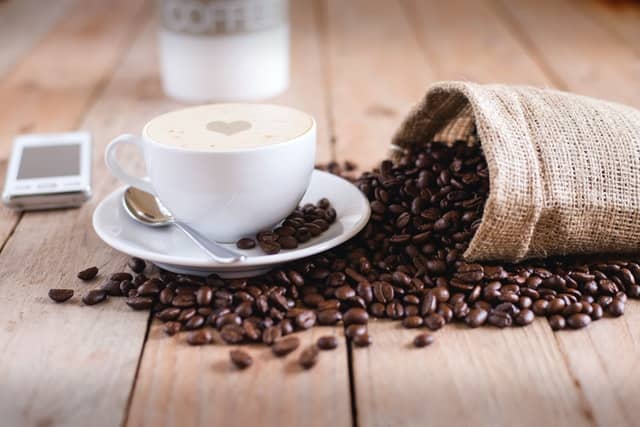 Rumble Coffee Roasters
Rumble Coffee Roasters is based in Australia. It specializes in creating unique coffee blends which it supplies alongside other coffee-related merchandise. It transparently sources coffee from prominent coffee-growing regions such as Columbia.
To sign up as a dropshipping partner, all you have to do is fill in a signup form and await your confirmation credentials. The Rumble Coffee Roasters dropshipping platform automatically syncs with Shopify.
The dropshipping program is, however, only available to dropship stores in Australia.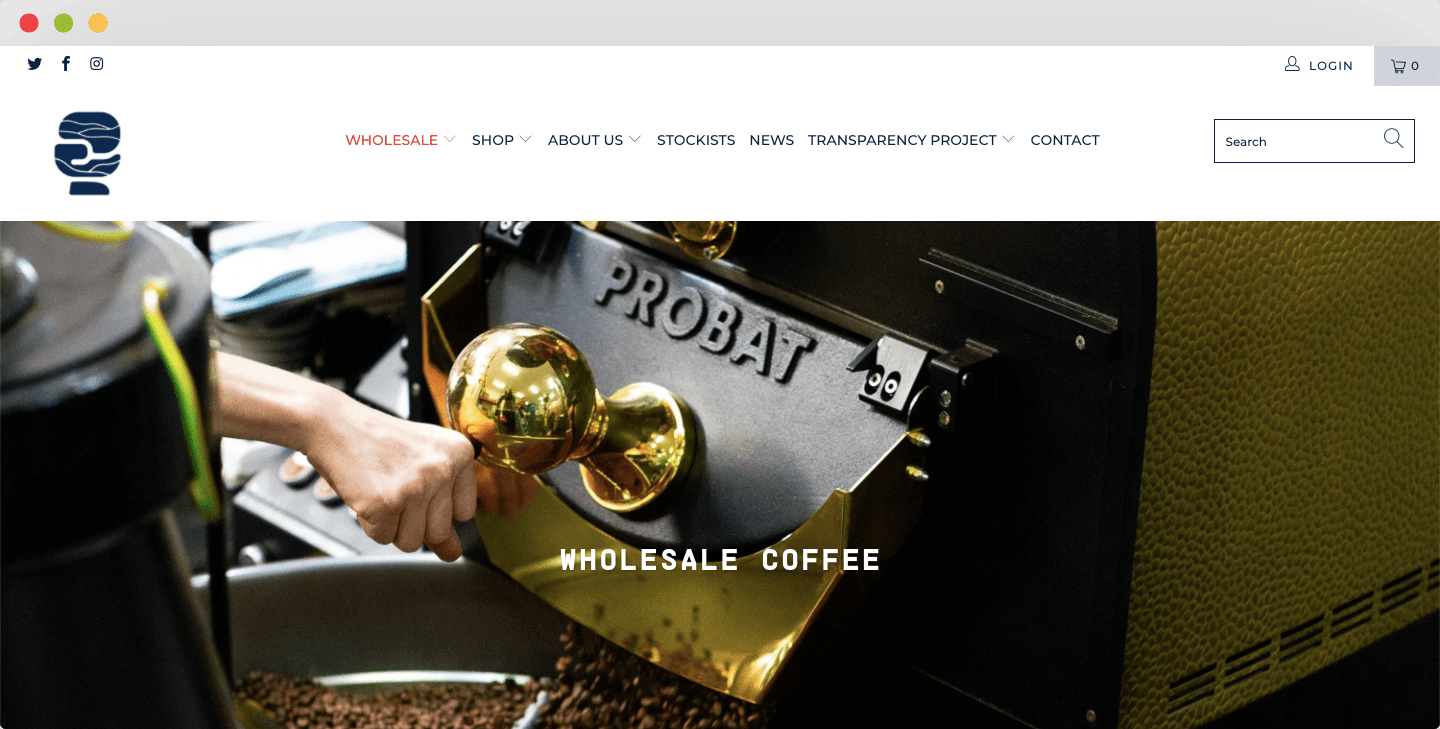 Once you sign up, you will incur a one-off $200 fee. It covers label/invoice printing costs for your orders and coffee product samples that will be delivered to you. You will not be billed for any other fulfillment charges.
The samples provided will come in handy as Rumble Coffee Roasters does not offer access to product images. You can, therefore, use them to create a product image catalog to add to your online coffee dropship store.
Rumble Coffee Roasters offers white label coffee dropshipping of its one-of-a-kind coffee blends. Nevertheless, you could also opt for a private label arrangement by contracting the firm to create your own roasts.
Pollards
Pollards is a wholesale coffee supplier based in the United Kingdom. The company sources, roasts, and packs coffee beans and grounds for restaurants, bars, as well as wholesalers, and dropship stores.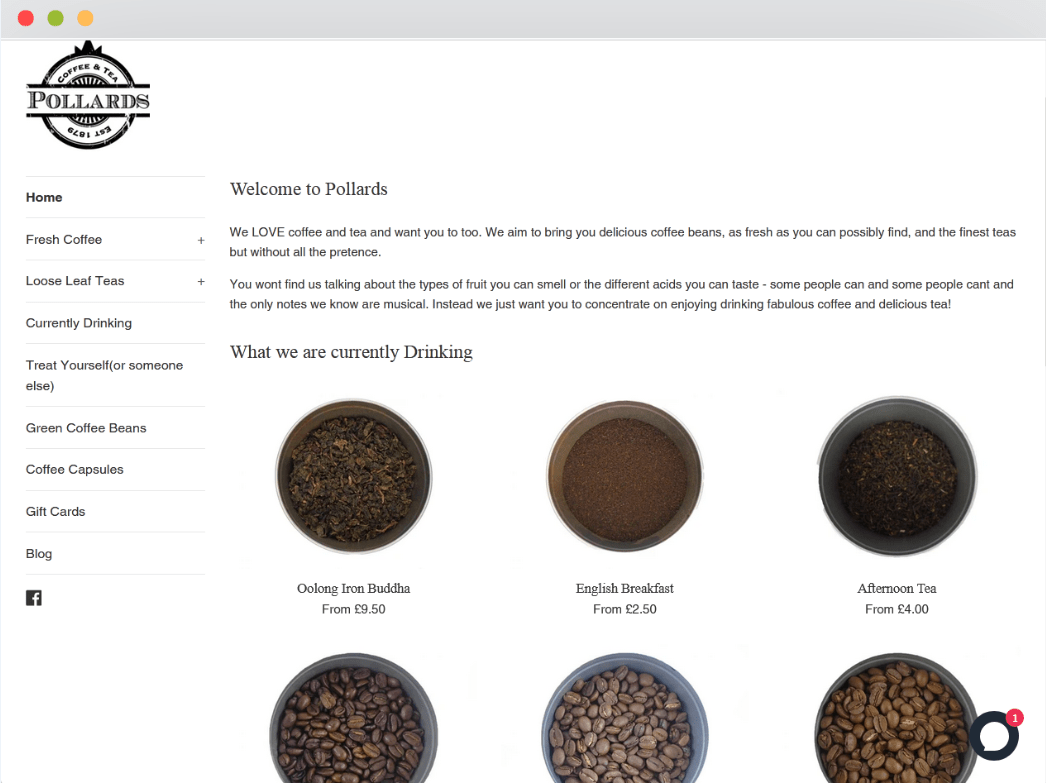 The dropshipping service offered by this supplier allows you to either resell their blends as your own or create custom coffee roasts. They also take their service a notch higher by offering elegant packaging and custom labels of your preference.
To partner with Pollards, you would need to contact them directly. Once you establish a dropshipping agreement you can begin sharing orders with them for fulfillment. Other Pollards services you may enjoy include:
A standing order service for client's that would like their coffee delivered regularly
No minimum order restrictions
The emergency roast service that caters to urgent last-minute orders
Training on coffee products
Dripshipper
Dripshipper is a coffee dropshipping app affiliated to Shopify. The company offers over 40 different coffee blends and flavors. However, its main advantage is that it makes dropshipping coffee an absolute walk in the park.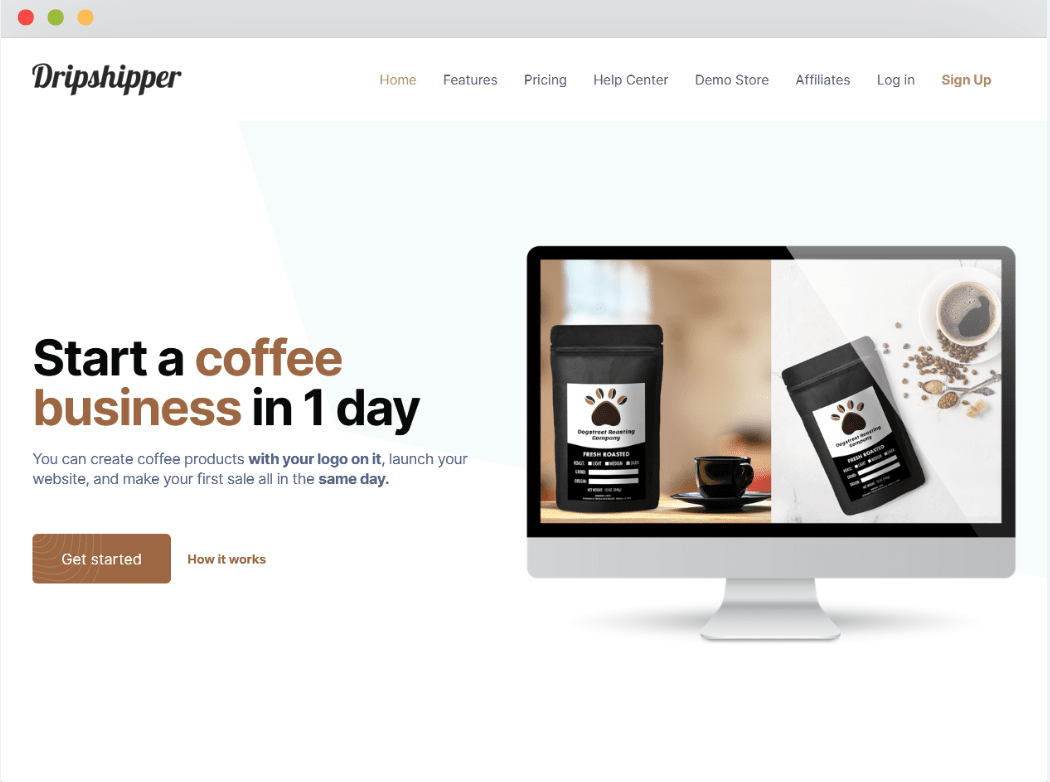 So, how does Dripshipper work? Here you go:
Sign up for the 14-day free trial (for Shopify store owners)
Install the Dripshipper app
Doing this will give you a chance to see what you can do with the app. You will notice that you can choose your preferred coffee roast, as well as the size, color, type, and labeling of your store's coffee bags.
After the trial period, Dripshipper charges $30 per month. This will cover unlimited orders and full access to products. You will also enjoy automated Shopify app integration and worldwide fulfillment.
Limini Coffee
Located in Yorkshire, UK, Limini Coffee is also a wholesale coffee beans supplier that offers dropshipping services. Its coffee product varieties include:
Decaffeinated coffee
Espresso blends
Single-origin coffees
Limited edition coffees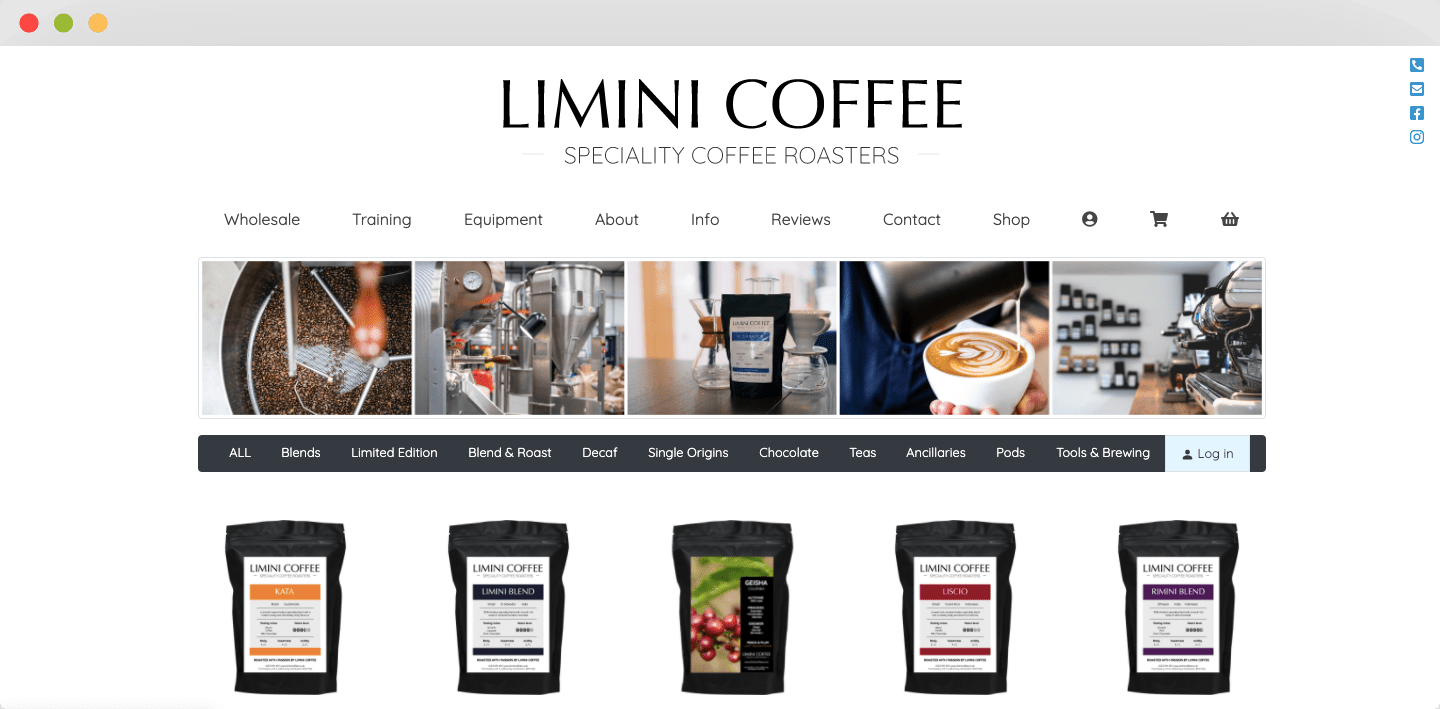 Only UK businesses are eligible for the Limini Coffee dropshipping program. On the upside, it is quite easy to join. Simply create a dropshipping account on the Limini website and follow the instructions to create your custom labels.
Once your account is fully set up, you will complete access and permission to sell Limini Coffee products under your brand name.
Temecula Coffee Roasters
Temecula Coffee Roasters promises full-scale coffee dropshipping services. The services comprise:
Providing FDA-compliant product labels with your logo
Helping you set up your coffee dropshipping store (optional)
Providing you with product images bearing your logo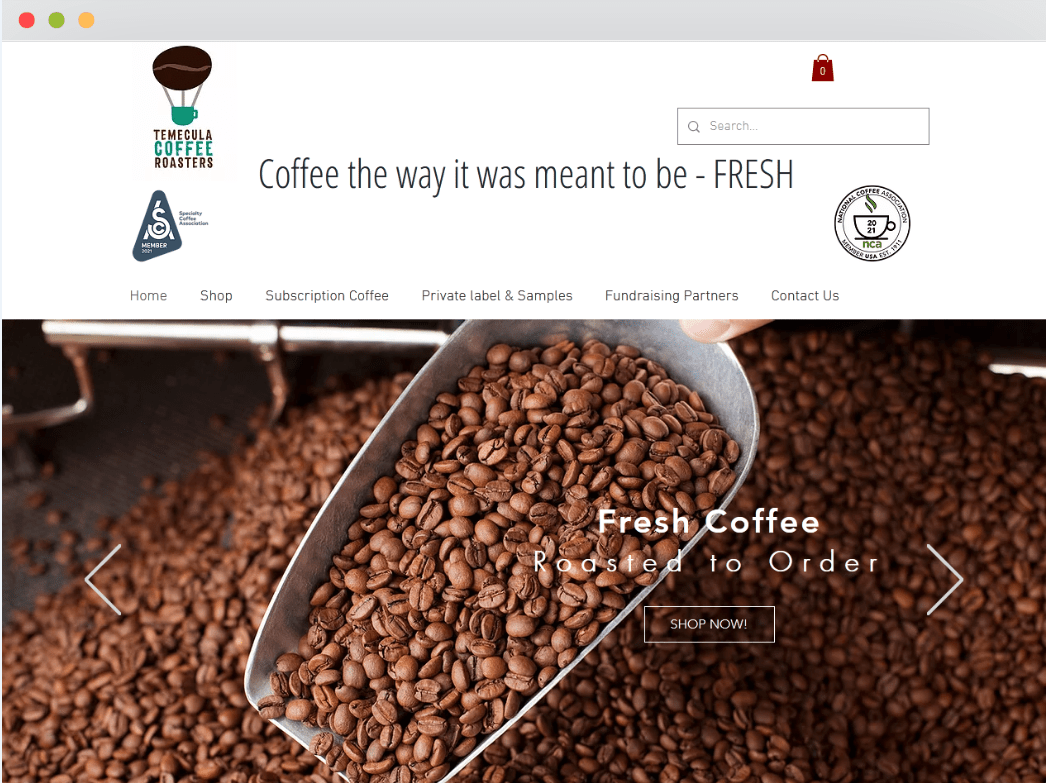 All orders fulfilled through Temecula coffee are made on order. This means that there will be a brief wait time but your customers will receive super fresh coffee.
Once you set up an account on the Temecula platform, you will need to create custom labels for your store. Proceed to select your preferred coffees and you will be ready to start making fulfillment orders.
You will not be required to pay any signup or dropshipping fees. There are also no minimum order restrictions. However, only Shopify store owners are eligible for the Temecula Coffee Roasters dropship program.
Aroma Ridge
If you are looking for an interesting variety of coffee flavors and blends, Aroma Ridge is a supplier worth keeping an eye on. Some of its notable coffees include:
Jamaica Blue Mountain Coffee
Georgia Peach Flavored Coffee
Peru Organically-Grown Coffee
Amaretto Flavored Coffee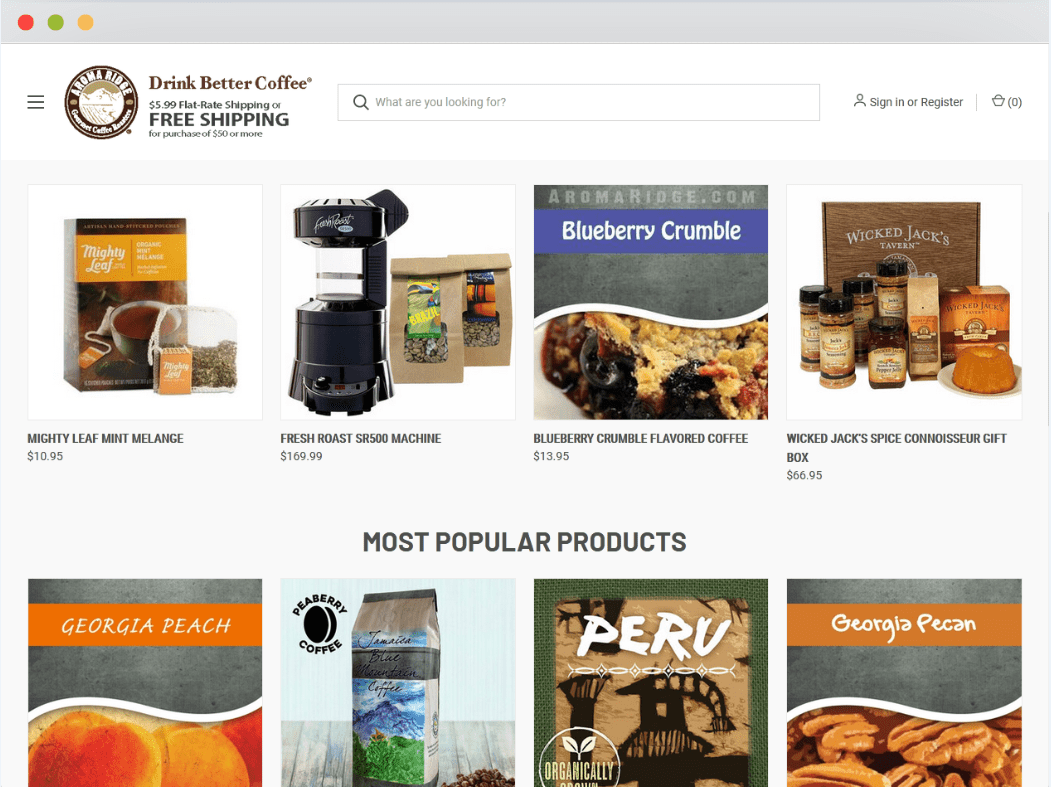 You will incur a $100 non-refundable signup fee to register as an Aroma Ridge dropshipping partner. Once your account is set up, you can begin sharing orders for fulfillment but each order will also attract a $3.25 fee.
These fees give you access to wholesale product pricing, customer support, logistics, and warehousing support. You would also have your pick of different bag colors, sizes, label designs.
Unfortunately, you will not be able to sell some of the Aroma Ridge signature blends. Using the firm's product images or descriptions is also forbidden.
Cafe Hormozi
Cafe Hormozi is based in the UK but sources coffee from as far as Burundi, Colombia, Brazil, and Peru. It is a family-owned business that fulfills both bulk and individual home orders.
Due to its vast range of wholesale, dropshipping, and individual customers, Cafe Hormozi does not provide a registration form/portal. It recommends that you contact the firm directly to arrange a partnership.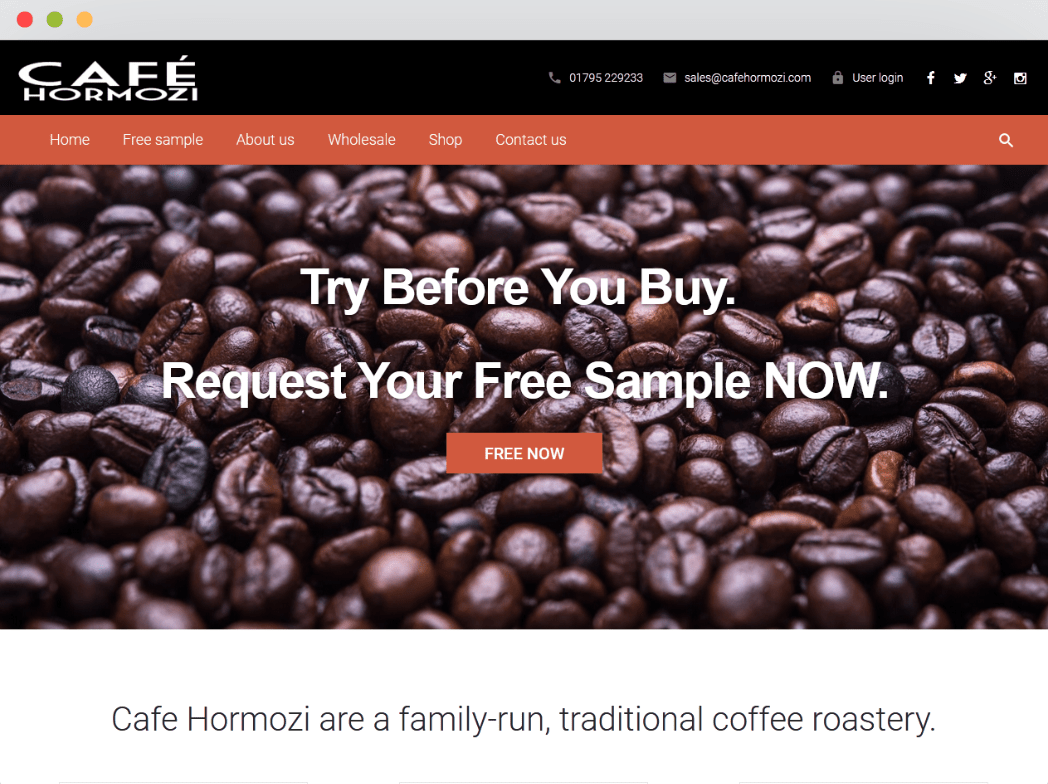 When your registration is complete, you will receive login credentials. Each time you receive an order, you can log in and place the order on your customers' behalf.
If you prefer custom packaging, you will need to have it made (including labels) and ship it to the Cafe Hormozi warehouse. Alternatively, you could settle for plain generic labels.
Cafe Hormozi only ships within the United Kingdom.
Liberty Coffee Roasters
From the Congo to Ethiopia and Colombia, Liberty Coffee ventures far and wide to find the right coffee beans. This North London-based company further promises its clients a consistent supply of quality hand-roasted coffee blends.
Besides coffee, you can also look to Liberty Coffee for:
Coffee equipment; grinders, espresso machines, bean-to-cup machines
Machine maintenance
Training on all matters coffee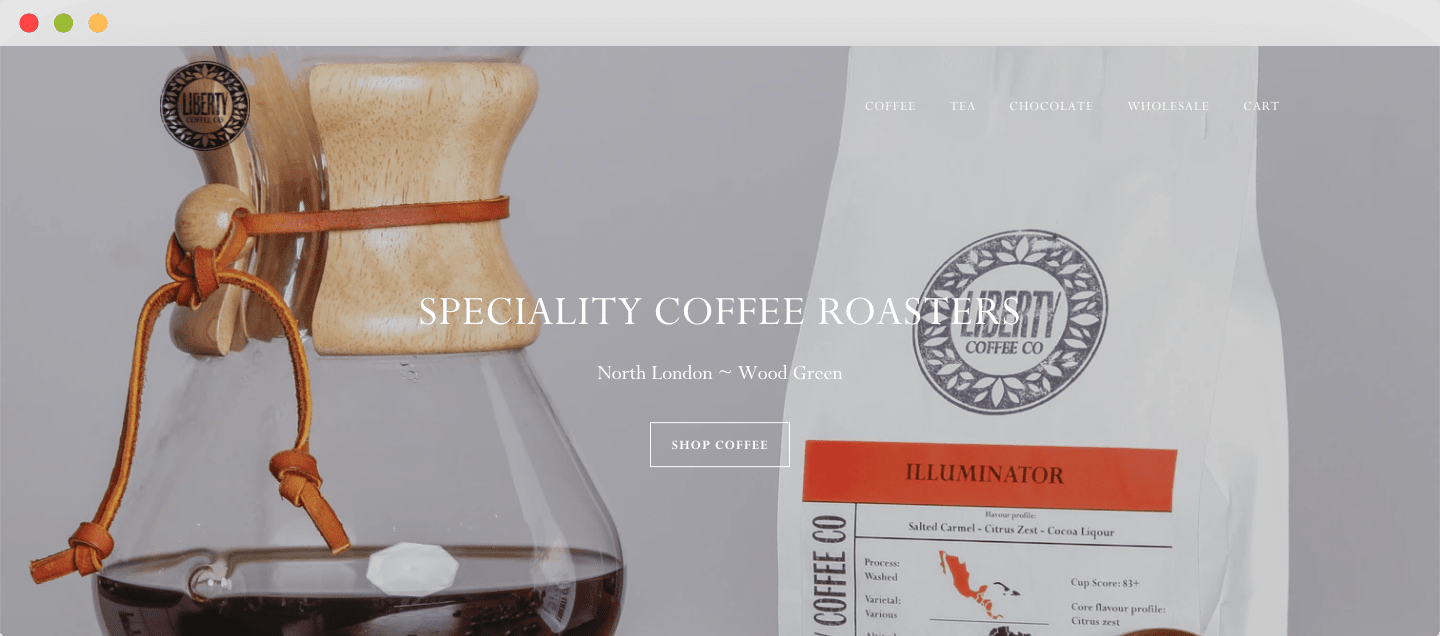 Dropshipping services fall under the 'bespoke' category of services provided by this supplier. You would, therefore, have to contact them directly to discuss dropshipping arrangements.
Coffee Dropship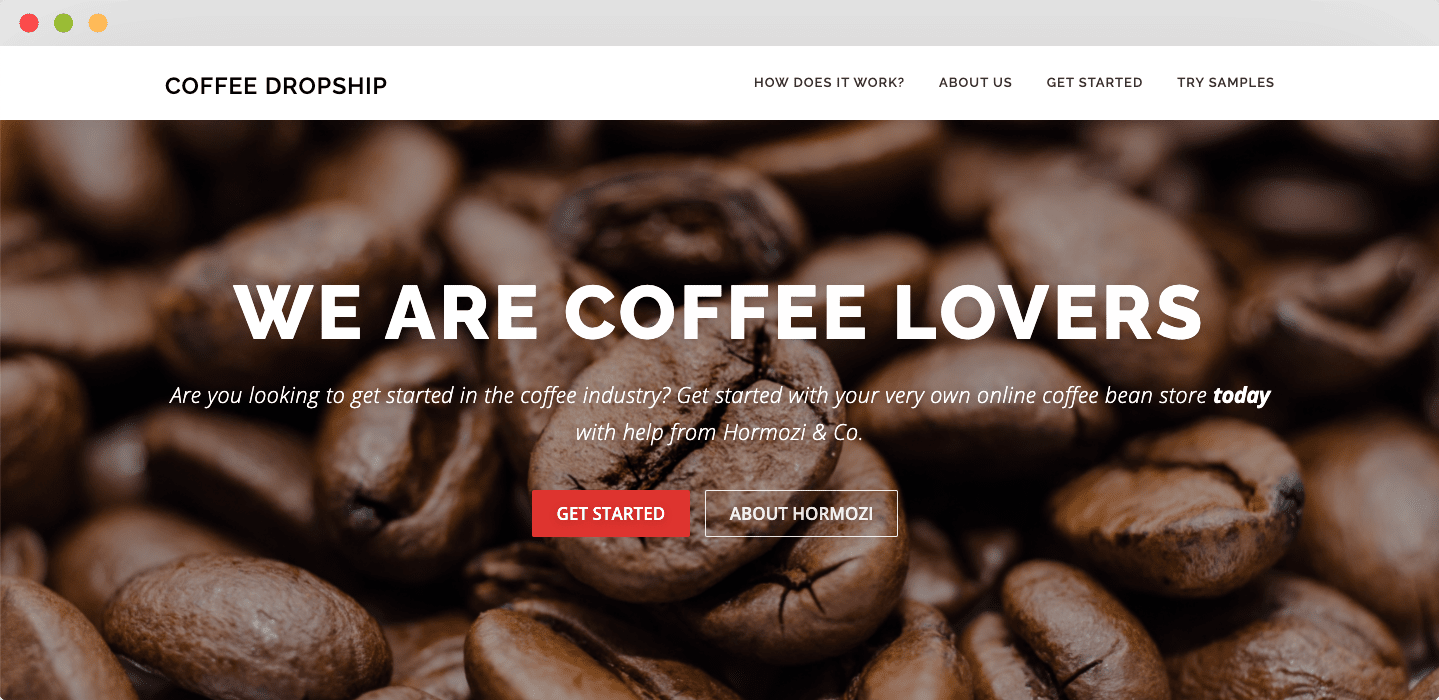 Coffee Dropship is a UK firm that is affiliated with Hormozi. It is a household name in the country's coffee scene and supplies to wholesalers, retailers, and resellers.
The dropship program is limited to dropship store owners located in the UK. Nonetheless, while there are no dropshipping fees you will need to demonstrate what value you would add to the Coffee Dropship brand.
Pine Tea & Coffee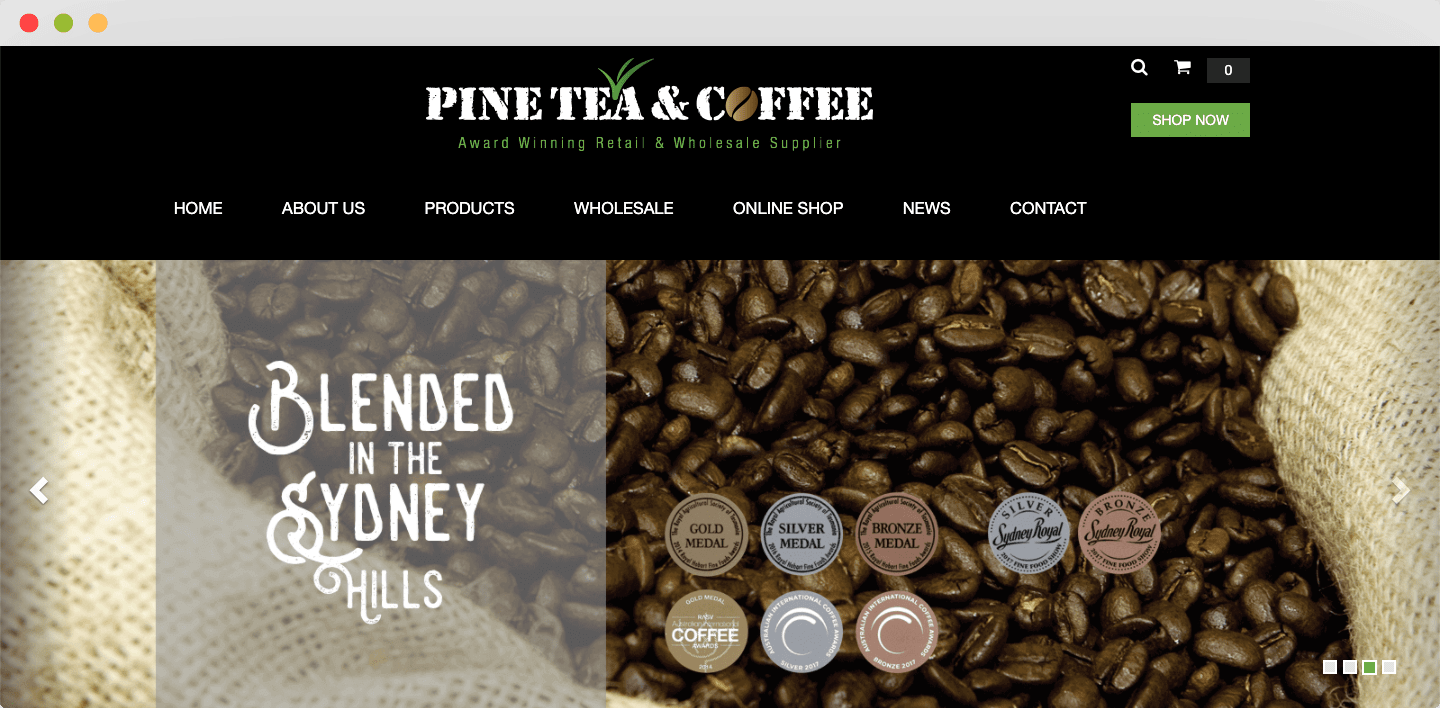 True to its name, this company supplies both tea and coffee. It is a longstanding family-run business that operates out of, Sydney, Australia.
Pine Tea & Coffee's main coffee product is known as Bella Italia®. It is a Gourmet coffee that is blended and then roasted in an artisan drum. However, while this is the belle of the ball, there are many other coffee blends that you can choose from.
This supplier only offers wholesale supply but sweetens the deal with wholesale prices. The company approves resellers on a case-by-case basis. Consequently, you would have to reach out to them directly to gain approval.
Old Chicago Coffee
Old Chicago Coffee is another great supplier to consider if you would like a wide variety of coffee products. It does not only offer variety in blends and flavors, it also pays attention to details such as how coarse or fine you want your grinds to be.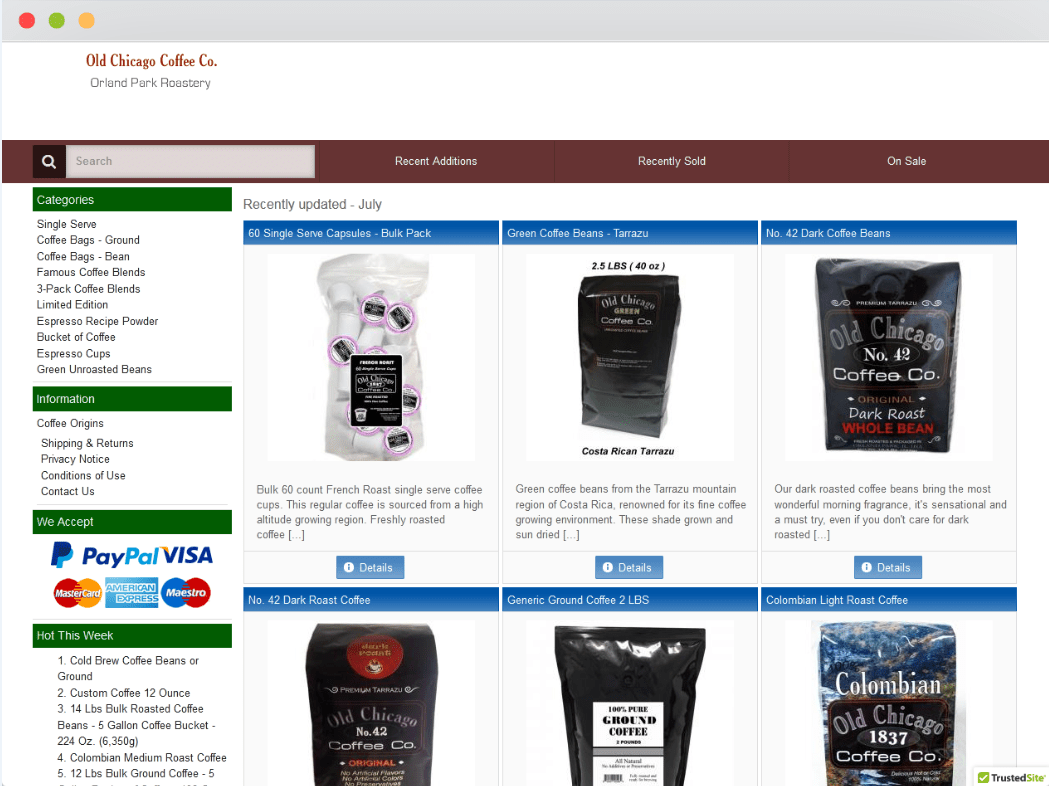 It costs $35 upfront to join this company's dropship program. Thereafter, you will incur a monthly $10 fee to cater for the fulfillment services you receive and:
Private label dropshipping (optional)
Worldwide shipping
A broad selection of coffee bags size options
On the downside, all drop shipping processes on the Old Chicago Coffee platform are manual. You would have to manually list products in your store, in addition to placing and tracking orders the old-school way.
Blessed Bean Coffee
Blessed Bean Coffee is situated in Longwood, Florida but ships to the world. If you are looking to cater to a broad market of coffee lovers, it might be able to help you get the job done.
Besides its vast supply network, this company also offers numerous coffee flavors like Amaretto and other signature blends.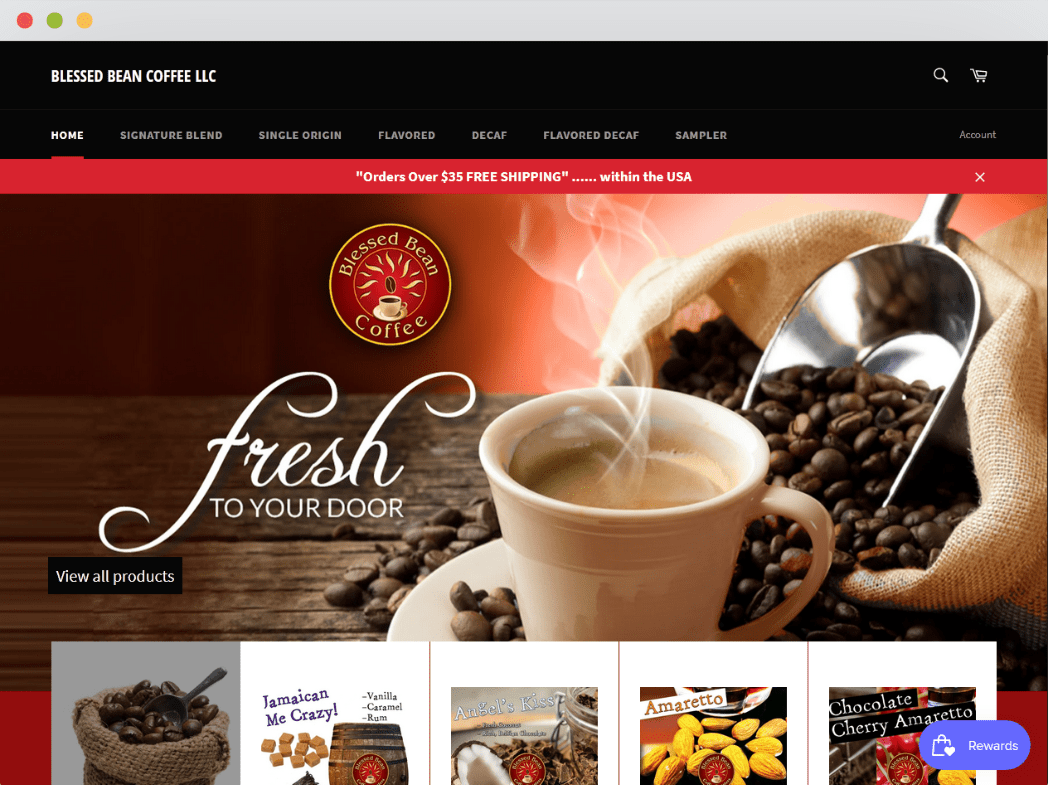 Blessed Bean Coffee offers private labeling with multiple custom packaging options. You get to choose:
The type of coffee
Whole or ground beans
Your custom label design
Your coffee bag sizes
The company has an established dropshipping program but requires resellers to make direct contact for more details.
Francesco's Coffee
Francesco's Coffee makes an effort to be a one-stop supplier when it comes to coffee and everything that goes with it. It supplies Arabica coffees, coffee machines, and coffee merchandise to its local Canadian market and other regions.
Would you like to establish a private label coffee brand and dropship it? Then you might want to consider partnering with Francesco's Coffee. It offers made-to-order coffee at affordable rates and has no minimum order restrictions.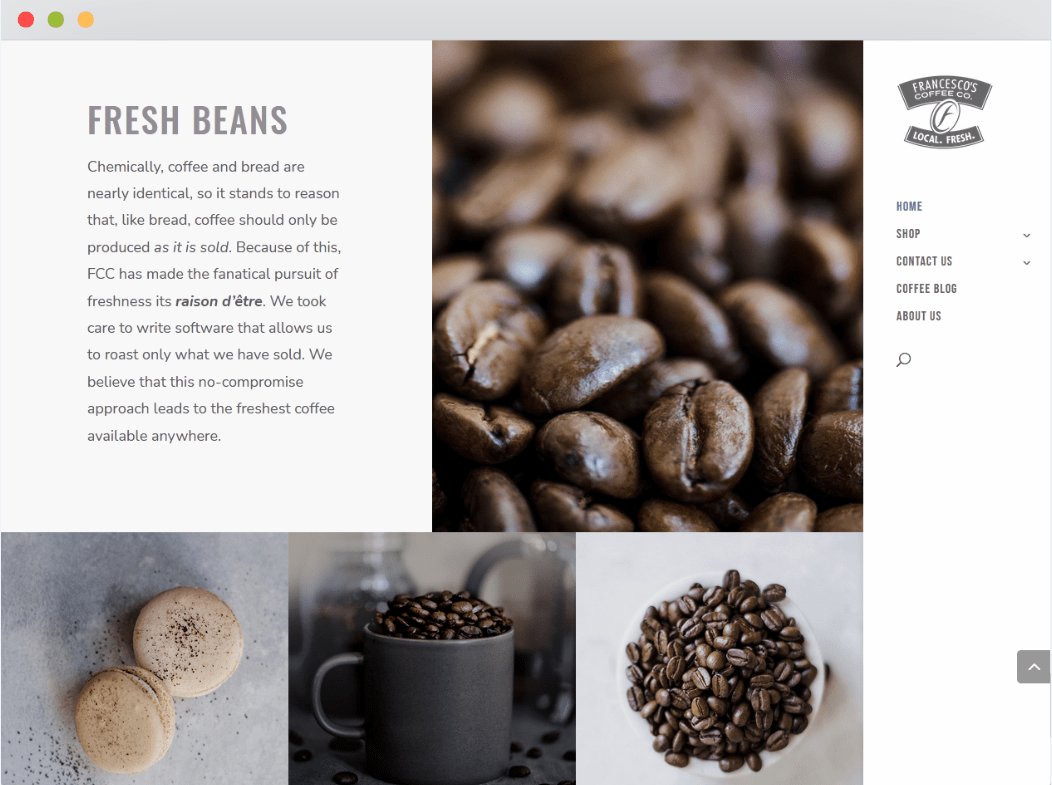 Most of Francesco's Coffee's private labeling clients are online store owners and dropshippers in Canada. The company does, however, make allowances for international partners that meet their requirements.
On shipping, this supplier provides a flat rate for Canada, Ontario, and the USA.
Seattle Gourmet Coffee
Seattle Gourmet Coffee is a wholesale coffee supplier. It fulfills both one-off and subscription coffee orders. Its coffee product catalog includes:
Fairtrade/organic coffee
Decaffeinated coffees
Special blends
Single origins
K-cups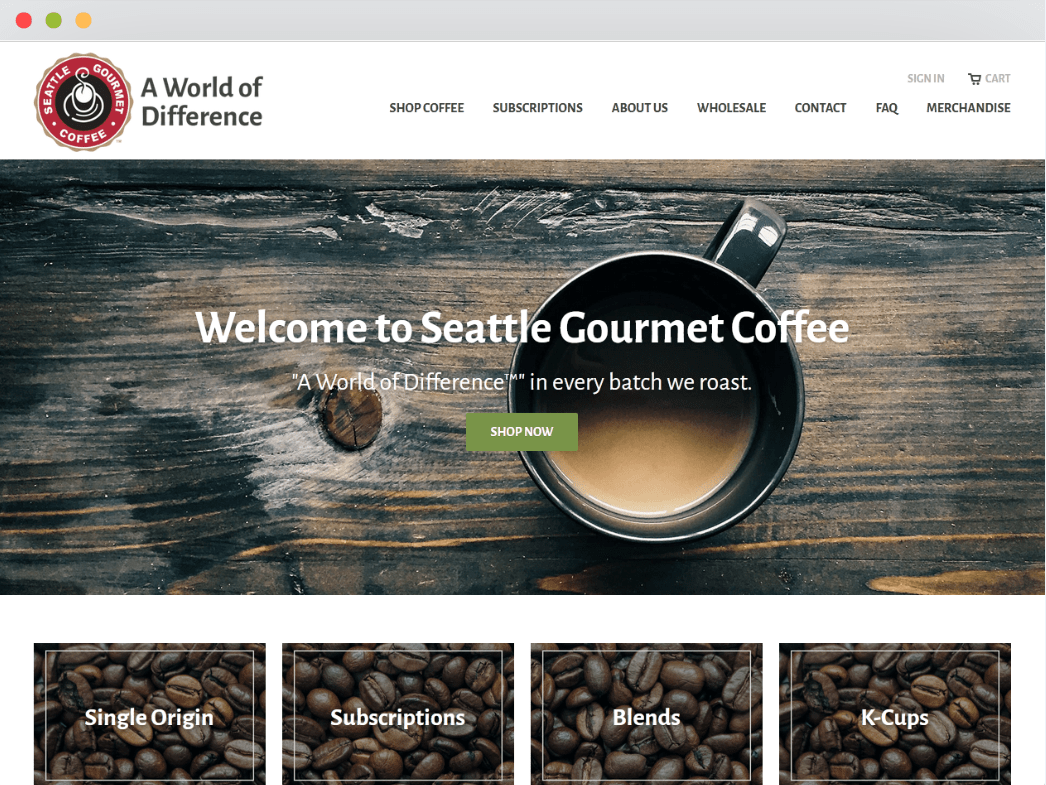 If you would like to offer your customers a wholesome coffee culture experience, you can also list the Seattle Coffee Gourmet engraved coffee mugs and printed t-shirts in your online store.
Seattle Gourmet Coffee provides a dropshipper's application form on its website. Your application has to be reviewed and approved before you can begin processing orders through this firm.
NicheDropshipping
At face value, dropshipping is a simple business model but the truth is, it is not that simple. More so when your business begins to take off and orders start raining in. It can all get very overwhelming.
This is where NicheDropshipping comes in. As one of the best dropshipping agents who offer all-inclusive services, we do all the hard work so that you do not have to. Granted, we do not fulfill food-related orders such as coffee but we offer:
Free product sourcing for all coffee products from grinders, printed merchandise to espresso machines, and a lot more.
A dedicated dropshipping agent to handle all your inquiries and dropshipping service requests
Private label or white label non-food coffee products and merchandise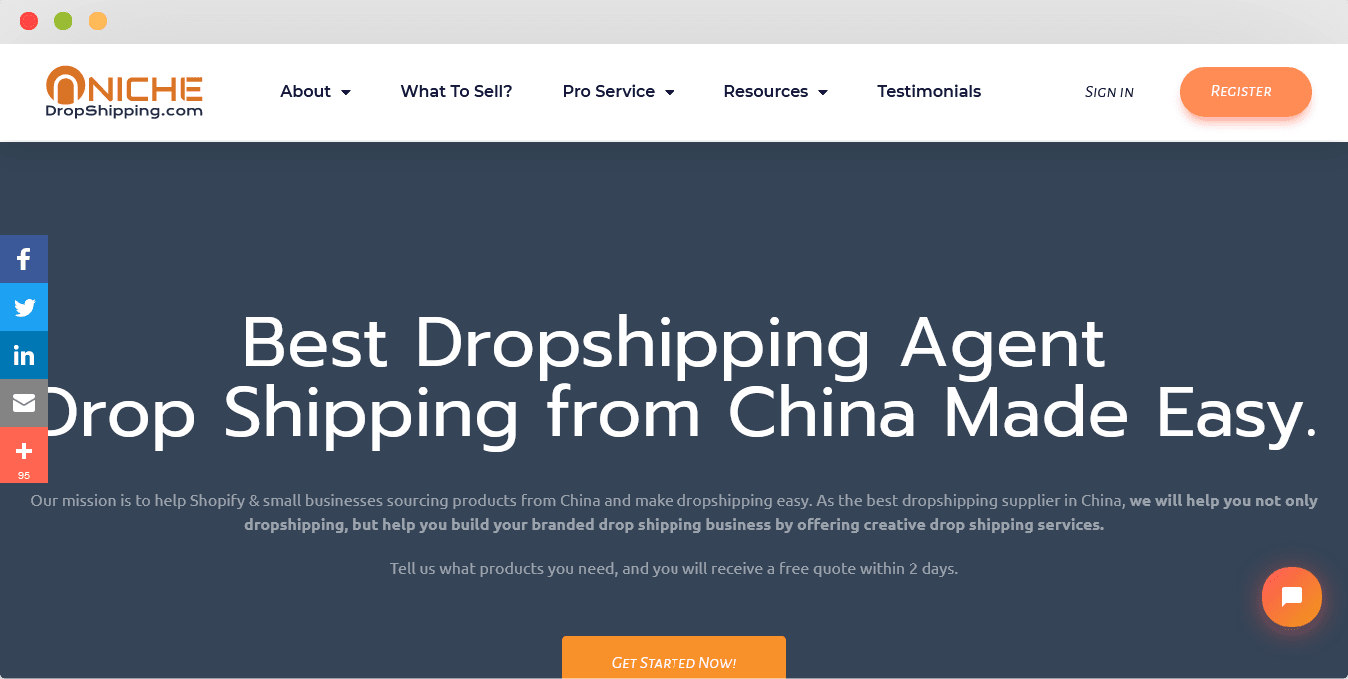 Registering your account on the NicheDropshipping platform is free. You can then authorize and sync your online dropshipping store with NicheDropshipping. Shopify dropshipping stores enjoy automated integration.
Anytime you request a product you will receive a quote within 2 business days. Your dropshipping agent can negotiate fair prices on your behalf, make bulk purchases, and handle the logistics thereafter.
All products are inspected before packing to ensure they reach your customers in pristine condition. We offer 18 shipping options depending on the destination, cost-efficiency, and similar factors.
FAQs on Coffee Dropshipping and Coffee Dropshipping Suppliers
What Is the Difference Between Whole Bean and Pre-ground Coffee?
Coffee is harvested in bean-shaped seeds.
If the coffee beans are roasted and packaged for sale, that is what is known as whole bean coffee. This type of coffee is ground right before brewing and preferred as it offers a fresher taste than pre-ground coffee.
If the bean is ground/minced to a coarse or fine granule form, then it is referred to as pre-ground coffee.
What Are Coffee Blends?
Every coffee-growing region produces a harvest with a distinct taste and aroma. Coffee blends are coffees made by mixing coffee beans from different regions to create an even more unique flavor.
On the other hand, if the coffee beans used are all from one region, that type of coffee is known as single-origin coffee.
Which Are the Most Popular Coffee Regions?
Ethiopian, Peruvian, Kenyan, and Colombian coffee beans rank quite highly in popularity. That said, it is not so much the region but the taste that is preferred by coffee lovers.
It is difficult to cater to everyone's tastes. Therefore, it may be best to just offer as wide a coffee variety as you can in the beginning then narrow it down as you learn your clientele.
Which Is better Private Label or White Label Coffee Dropshipping?
In private label coffee dropshipping your supplier should allow you to choose the coffee and have provisions for custom packaging.
It is a good option if you understand coffee blends and would like to create a coffee brand with particular attributes.
In white labeling the supplier offers you particular types of coffee. You only get to add your branding to it. This may be a safer choice if you are a novice on coffee matters. It may also be cheaper.
Customers value convenience. Finding great-tasting coffee beans and a coffee grinder in one store saves them time and improves their shopping experience.
Quirky cups and printed coffee mats or t-shirts also add a touch of fun and diversify your coffee dropshipping niche.
In a nutshell, the answer is yes. Coffee-related products and machines are worth listing.
What Does It Mean to 'Create Your Own Roast'?
Creating your own roast involves choosing coffee beans from different regions for them to be roasted together and create a unique coffee blend.
It is a great way to differentiate your brand as the unique roast would be your own secret recipe. Still, it requires some coffee knowledge as not all coffee beans are compatible and their flavors vary based on how much they are roasted.
Final Word
Like wine or whiskey, coffee is not just a beverage. For most people, it is a culture and perhaps a bit of an addiction. Either way, it is an extremely vast market niche that is easy to excel in with some effort.
Nevertheless, what is a culture without merchandise, and what good is an espresso blend without a good espresso machine?
Contact us and let us help you deliver the coffee products that your clients need for a full-circle coffee experience.