This is a detailed guide on one of the most intrigued thoughts of professional dropshippers: AliExpress alternatives.
In this article, we will discuss the best possible alternatives to AliExpress along with the pros and cons of every alternative. The top 3 FAQs of every alternative to AliExpress will also be discussed for your convenience.
The list of these alternatives is shown in the order of ranking from the bottom to top recommended websites as we inch towards the best alternative. But you can prioritize yourself according to your demands and preferences.
Let's start right away.
11. Geekbuying
Gadgets and dropshipping are inseparable. The recent trend observed in e-commerce recorded a boost in the demand for different gadgets. Geekbuying claims to specialize in providing electronic gadgets for different purposes.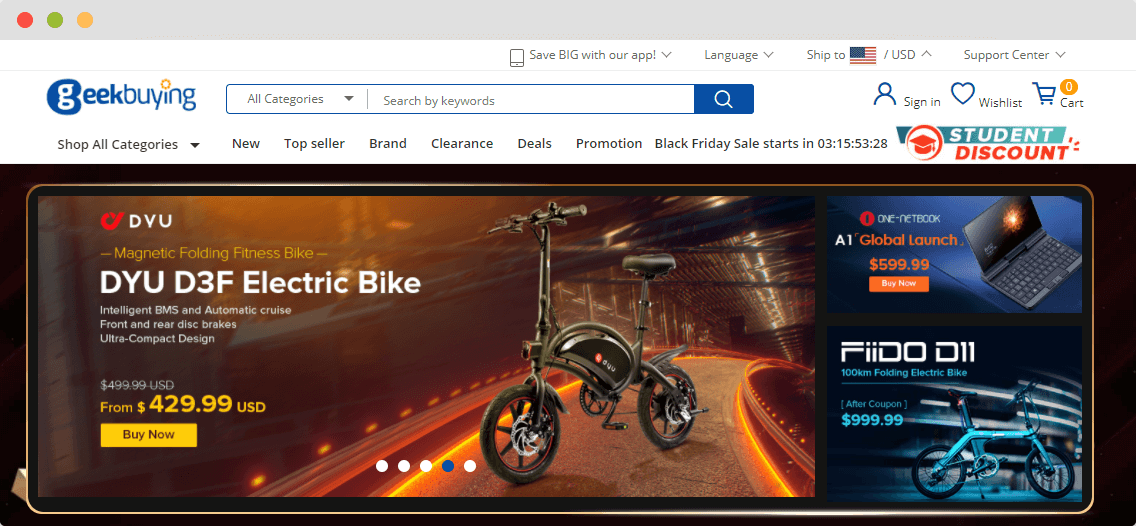 Geekbuying is also a China-based platform like AliExpress that focuses solely on electronic items such as mobile phones, laptops, wearables, and drones, etc.
In contrast to AliExpress, it is a smaller platform that promotes electronic items but still, it is host to thousands of products at competitive prices.
Pros of Geekbuying
Decent Mobile app for ease of product surfing.
Cost competitive.
Multiple payment methods including PayPal and Visa.
Warehouses in different parts of the world for faster delivery.
Cons of Geekbuying
A limited number of products compared to AliExpress.
Meant for the electronic category.
No direct integration apps at dropshipping platforms like Shopify and Woocommerce, etc.
FAQs about Geekbuying
1) Can You Trust Geekbuying?
Yes. Geekbuying is a legit website. You can safely trust this website with the sensitive information of your credit card and other personal details.
2) How Long Does Geekbuying Take to Ship?
Shipping times on Geekbuying come with different options as they are seen on other websites like AliExpress. Orders at Geekbuying typically take 24-48 hours to ship but may take longer times depending upon the origin of the product.
3) How Do I Track My Order at Geekbuying?
Orders at Geekbuying can be tracked in two ways. One of which is the options of "Order Status" at this website and the other one is through "Personal Center" which is only available with PayPal Express Checkout.
10. Banggood
Another great alternative to AliExpress is Banggood. This is also a Chinese based website and offers a variety of products that most drop shippers would be interested in selling.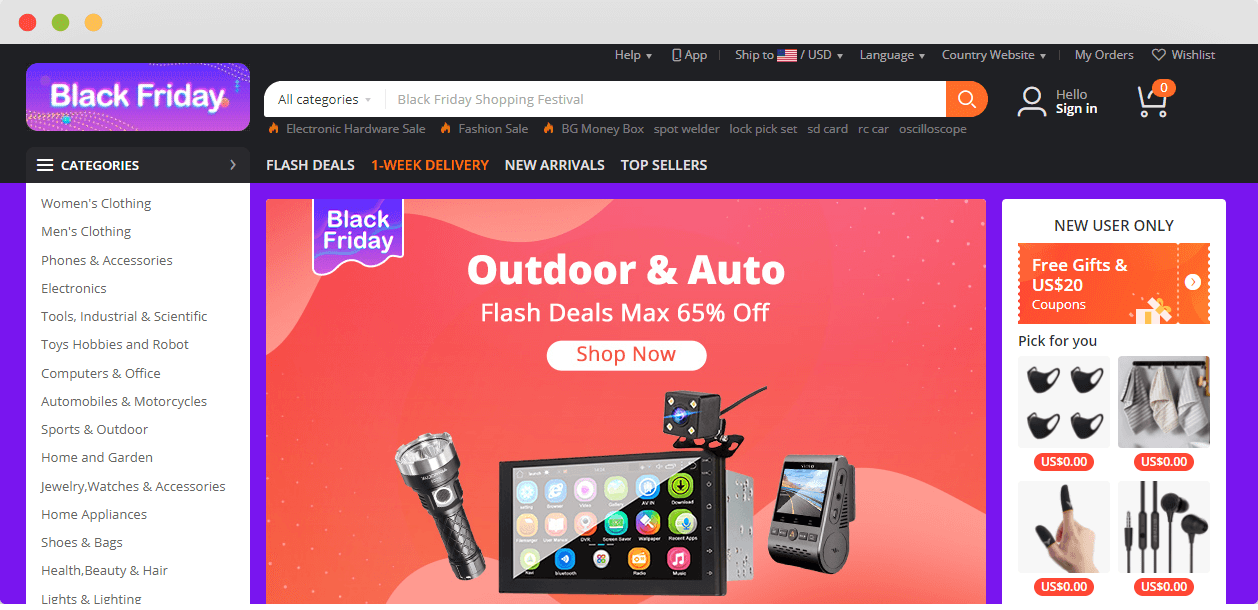 From clothing to accessories, tools, and fashion, almost everything is available on this website.
With Banggood, you can dropship your favorite items with ease of website filters like sorting your search results with most reviews, popularity, and price points, etc.
One of the greatest advantages of using Banggood is that it sometimes offers prices that are even lower than the prices offered at AliExpress for the same products.
As price is the key player in increasing your profit margins, you must check out the availability of the product at Banggood to compare its prices with AliExpress.
Pros of Banggood
Neat and clean website design.
Cheaper prices for the same quality.
Faster deliveries of certain products as compared to AliExpress.
Multiple categories are offered to find products of your choice.
Relevant apps to support your Shopify store.
Multiple payment methods including PayPal and Visa.
Multiple warehouses all over the world for optimized shipping.
Cons of Banggood
Not as many products as offered by AliExpress.
Limited suppliers availability.
FAQs about Banggood Dropshipping
1) Is Banggood Website Trustworthy?
Yes. Banggood website started its operations in 2006. Since then, it has been gaining popularity with thousands of items sold every year. So, you can trust this website with everything like you do with other e-commerce websites.
2) Which Is Better: AliExpress or Banggood?
It would depend on your choices of what you want from both of these websites. All that you need to care about is finding the product with the cheapest rates and fine quality on both websites.
3) Does Banggood Sell Fake Products?
No. Banggood does not sell fake products. You can satisfy yourself with the fact that they offer a full refund within 30 days of product delivery if you are not satisfied with their product.
9. DX
Dealextreme, popularly known as DX is another great entry in the list of best alternatives to AliExpress. The list of categories and subcategories at DX looks almost the same as it is seen on AliExpress.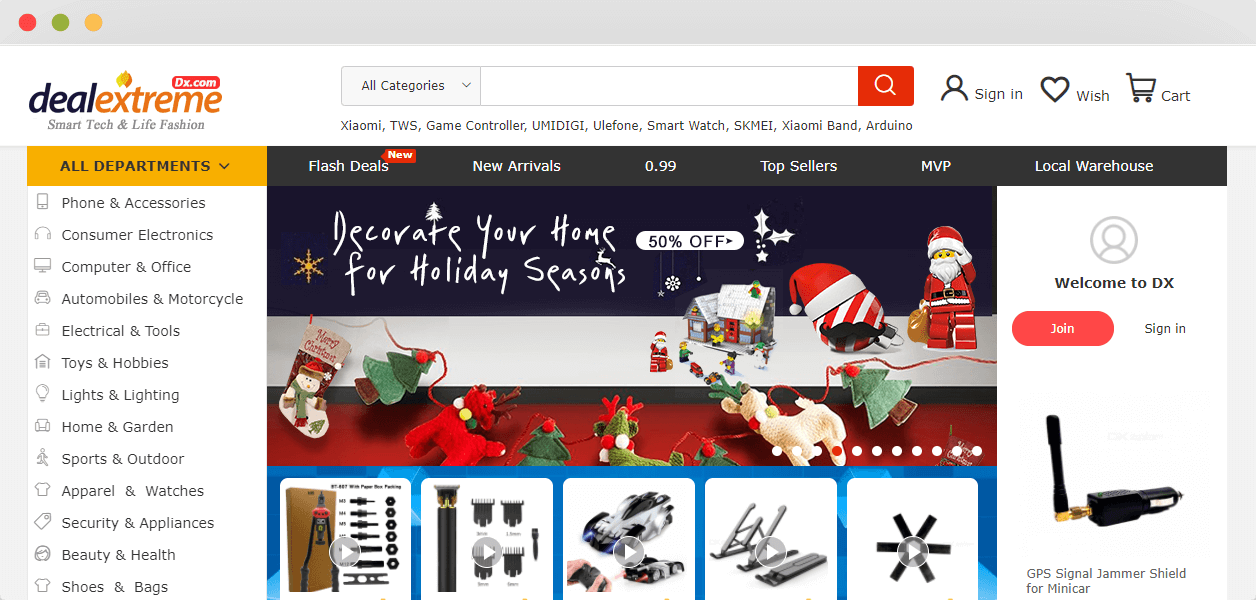 You can safely rely on the pricing of the products offered at this platform because this is also a Chinese based website with certified suppliers.
One of the greatest advantages for dropshippers with DX is that it offers to filter products that have videos. Amazing, right? You can get help from these product videos to market those products via your website.
Pros of DX
Almost the same website preface and design as that of AliExpress.
Top sellers and $0.99 items can be easily filtered.
Multiple payment options like MasterCard, American Express, Visa, and PayPal.
Mobile app for easy access.
Cons of DX
The number of orders not mentioned against each product on the main page of DX.
Not many orders to decide whether the product is a winning product for you.
Limited keywords to be used to search for your desired items.
Not many apps to support platforms like Shopify and Woocommerce.
FAQs about DX Dropshipping
1) Is DX the Same Like AliExpress?
There are many similarities between Dx and AliExpress. Both run on B2C models and provide online platforms for consumers and dropshippers.
2) Is DX a Legit Website?
Yes. Dx is a legit website. It started its operation back in 1997 and still holds its relevance after so many years. You can safely order products from this website for personal or dropshipping purposes.
3) What Tracking and Shipping Methods Does DX Offer?
Dx offers shipping and tracking services depending upon the value of the order. It offers famous shipping services like Registered Air Mail, Normal Air Mail, China Post, and EMS, etc.
8. Lightinthebox
Lightinthebox is another Chinese based online retail platform that is all set to replace AliExpress due to its exciting features and benefits.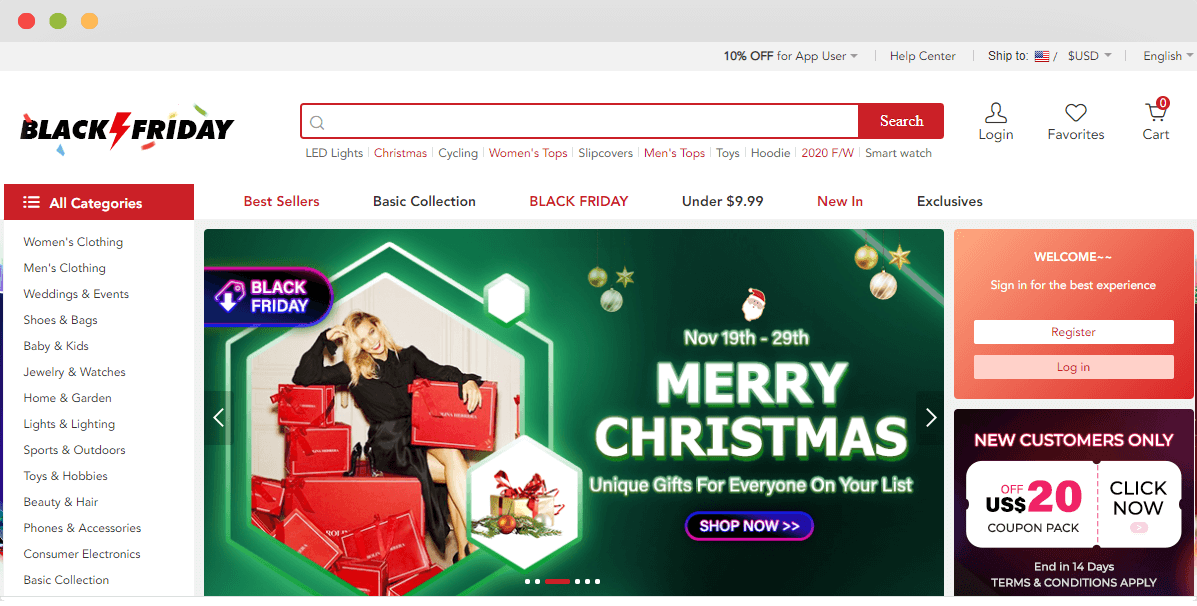 One of the major differentiators between Lightinthebox and AliExpress is its simple and clean website design that doesn't confuse buyers about the products.
Fun fact: You can find different and unique product pictures of your winners by searching the terms here on this website. But you need to be careful about the similarity of the products by comparing product details.
At Lightinthebox, you can easily find the hot selling items so that you can dropship them right away in simple steps.
The website offers clear categories of the products to choose from and heavier discounts are available here in comparison to AliExpress.
Pros of Lightinthebox
Neat and clear pictures of the products available.
Multiple warehousing facilities for fast shipping.
Easy payment options are available including PayPal, Visa, and Western Union, etc.
Mobile app for easy access.
Cons of Lightinthebox
Orders are not clearly mentioned against the products like they are shown on other websites.
No clear mechanism for filtering out the seller ratings.
A bit deceptive about showing stocks of their products to gain early sales.
Not many apps are available on platforms like Shopify to directly support Lightinthebox.
Some product pictures have tags of the website name. So, they cannot be used on your website.
FAQs about Lightinthebox Dropshipping
1) Is Light In The Box a Trustworthy Website?
Lightinthebox started its e-commerce set up in 2007 and has been serving its customers since then. Although a few customers may complain about certain mishandling of their orders, that does not make Lightinthebox a fake website.
2) Who Does Light in the Box Ship with?
Lightinthebox ships products with standard shipping methods. For tracking and fast delivery purposes, it uses famous shipping services like DHL, UPS, and FedEx, etc.
3) How Do I Track My Order from Light in the Box?
An order tracking number will be issued to you after you checkout from this website. You can track your orders with that number or a link provided to you on your registered email ID.
7. Gearbest
Gearbest has been up and running in the e-commerce field for many years. Although its name suggests that it would be meant for gears or gadgets but it is not limited to a single niche or category.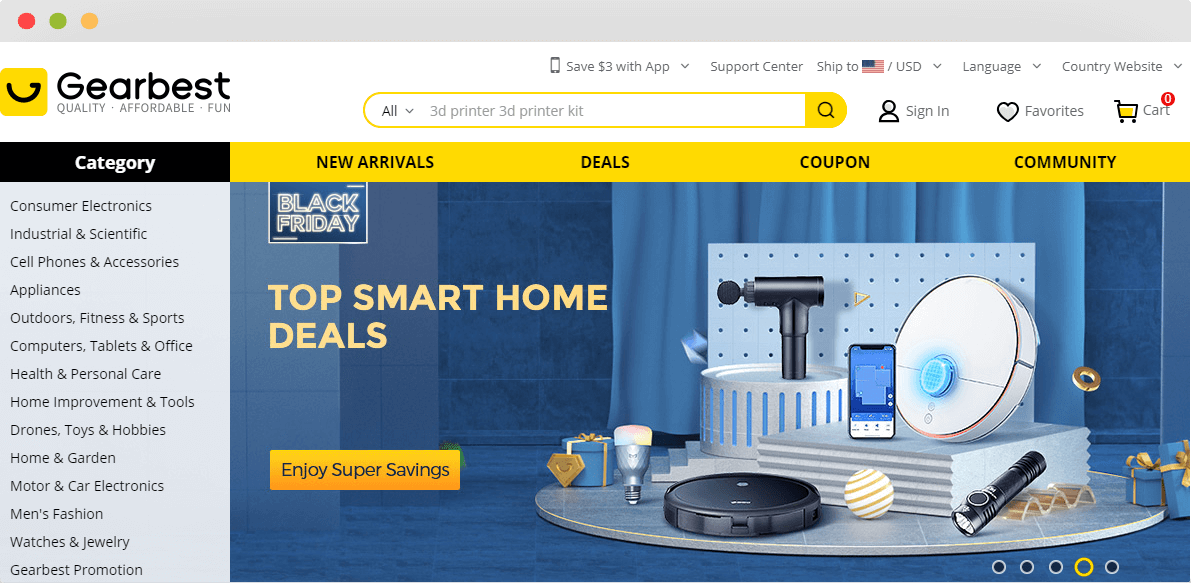 It has an extraordinary feature of "popular searches" that gives you the idea of what people have been searching for recently to have an idea of what's trending.
With all its sparkling features and customized products, Gearbest can be safely considered an alternative to AliExpress for dropshipping.
Pros of Gearbest
Competitive prices.
Wide range of products available.
Easy communication with suppliers.
Most payment methods are accepted at Gearbest i.e. PayPal, Visa, MasterCard, etc.
Mobile app for easy access.
Cons of Gearbest
Most of the product videos have a sign of Gearbest. So, they cannot be used by other dropshippers without editing.
The number of orders not mentioned on the homepage or search results.
No clear classification or ratings of sellers.
No dedicated apps on Shopify or Woocommerce to support Gearbest.
FAQs about Gearbest Dropshipping
1) What Is Gearbest Famous for?
Gearbest is famous for a variety of items including gadgets, wearables, and accessories. It deals in almost every item that a dropshipping platform offers.
2) Is Gearbest a Legit Website?
Gearbest is a legit website and it offers protection to its customers by offering a transparent return policy. In addition to the product quality and pricing, you can trust Gearbest with your personal information as well.
3) What is Gearbest Return Policy?
Gearbest has a form on its website to apply for a refund of the products due to a specific reason. A complaint ticket will be issued to you which will process your return case in due course of time.
6. Oberlo
This is the first entry into the AliExpress alternatives that is more than just a product sourcing platform. You can say that Oberlo is a kind of a middleman between dropshippers and AliExpress.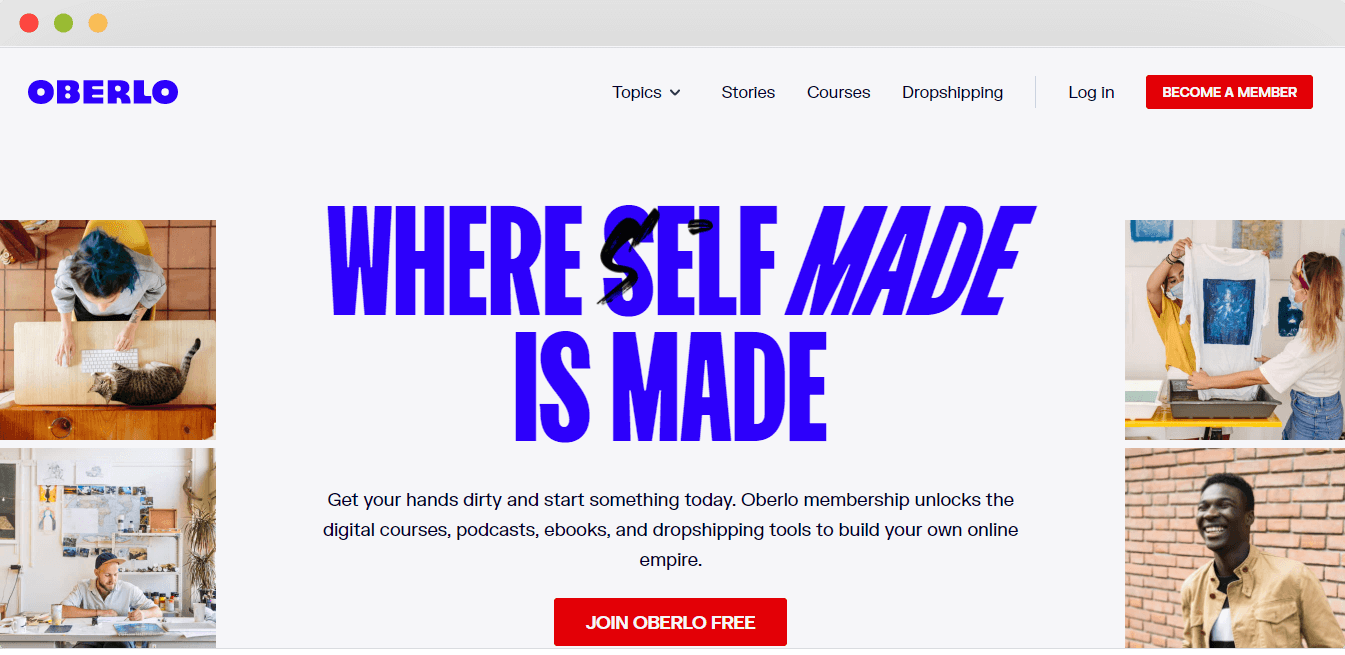 AliExpress is a general ecommerce platform that is meant for online shoppers worldwide while Oberlo is specifically meant to facilitate online stores that are built with Shopify.
Dropshippers use AliExpress in their favor to hand pick certain items that they intend to sell via their online stores.
Oberlo makes it easier for dropshippers by recommending them products from AliExpress along with facilitating them with product import, suggesting sale prices, and automatic order fulfillment services, etc.
Pros of Oberlo
Easy integration with Shopify.
Easy product imports with custom details.
Auto margins calculations with auto price updates in the future.
Easy payment options and orders with auto-filling options.
Cons of Oberlo
Only works with Shopify.
Some plans on Oberlo are paid.
FAQs about Oberlo Dropshipping
1) Is Oberlo Only for AliExpress?
Yes. Oberlo only works with AliExpress to import products to your store along with their details. Oberlo also only works with AliExpress suppliers by offering their products on its own marketplace.
2) Who Are Oberlo Suppliers?
Oberlo works in coordination with AliExpress suppliers. The same suppliers that are present at AliExpress also maintain their presence at Oberlo.
These are high rated AliExpress suppliers who encourage store owners to dropship their items via their stores.
3) Is Oberlo Better than AliExpress?
Oberlo acts as a liaison between your Shopify online store and AliExpress. Both AliExpress and Oberlo have their own unique benefits.
As Oberlo helps and assists dropshippers increase their business with its added features, we can say that Oberlo is better than just using AliExpress to make your dropshipping journey easier.
5. DHGate
DHGate poses a serious threat to the pioneers of dropshipping platforms like AliExpress. It is also a Chinese backed e-commerce platform that offers a huge range of products at the cheapest prices.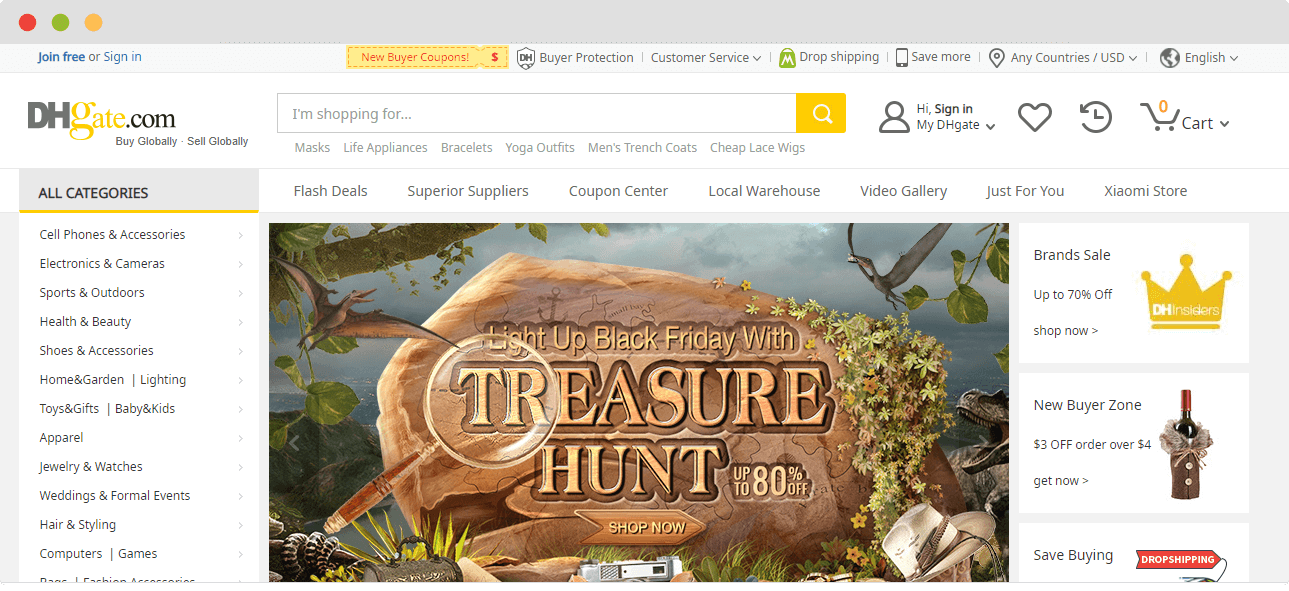 A majority of Chinese wholesalers are present on DHGate. Hence, providing products at cheaper rates with decent quality.
You can find almost every AliExpress item here to carry out a price comparison to source your winning products.
Pros of DHGate
Around a million products available in different niches.
A full refund guarantee on all purchases from DHGate.
Accepts major payment methods like PayPal, Visa, and Western Union, etc.
The mobile app is available for easy access.
Can Be used with dropshipping platforms like Shopify and Woocommerce.
Cons of DHGate
Higher chances of getting fake and counterfeit items as compared to AliExpress.
Unlike AliExpress, MOQ (Minimum Order Quantity) is to be observed at various items on this platform.
FAQs about DHGate Dropshipping
1) Is DHGate Better Than AliExpress?
AliExpress is the broader and older platform as compared to DHGate.
Although both platforms are Chinese, AliExpress enjoys the support of Alibaba Group that is the leader of e-commerce in the modern world which makes it overall better than DHGate.
2) Does DHGate Work with Shopify?
Yes. DHGate works with Shopify and there are supporting apps on Shopify that can be installed by Shopify dropshippers to integrate DHGate as a sourcing platform.
3) What Delivery Company Does DHGate Use?
Just like AliExpress, DHGate uses different delivery methods including China Post Air Mail, ePacket, UPS, FedEx, and EMS, etc.
4. Taobao
Taobao is another subsidiary of Alibaba that is mainly meant for local Chinese shopping. This platform is much like AliExpress but it is operated in the Chinese language.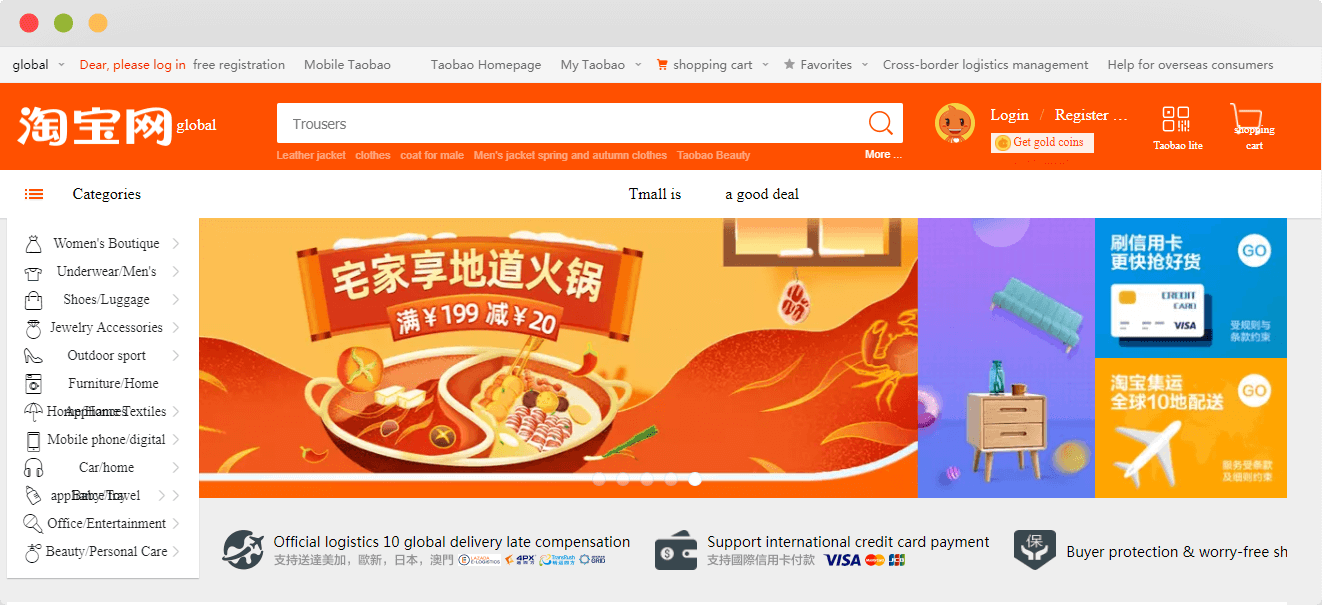 English (Google translated) Version of Taobao
Taobao runs on the C2C (Customer to Customer) model that makes it easier for dropshippers to source products from this website.
The main advantage that makes this website rank high among the list of AliExpress alternatives is the pricing of the products.
As one of the main objectives of dropshipping is to be profitable, this platform offers every opportunity to achieve your dropshipping objectives.
Another venture launched by Alibaba group is Tmall abbreviated from Taobao Mall. You can also browse this website while considering Taobao for your dropshipping purposes.
Fun fact: Some of the sellers on AliExpress are not real manufacturers or wholesalers. They resell the items sourced via sites like Taobao. You can pocket their margins by directly contacting original sellers on Taobao.
Pros of Taobao
Cheapest prices of the same products that are available on AliExpress.
A huge range of products available on this platform.
The backing of a trusted group (Alibaba) that aims to dominate the e-commerce world.
Many traditional payment options like Visa and MasterCard are available except PayPal.
Cons of Taobao
A big language barrier for those who don't understand or speak the Chinese language.
Item refunds are difficult to process.
A Chinese translator or agent is required for a full-fledged dropshipping business with Taobao.
Not all sellers provide international shipping.
No direct Shopify or Woocommerce apps available for assistance in dropshipping.
FAQs about Taobao Dropshipping
1) Is Taobao and AliExpress the Same?
Although both Taobao and AliExpress are subsidiaries of Alibaba Group, they have a major difference of being local and international e-commerce platforms respectively.
2) Does Taobao Have an English Version?
No. Taobao does not have an English version so far. Only AliExpress is meant to be in English and other languages as a face of Alibaba Group to cater to the needs of international e-commerce.
You can still use Taobao in English with the help of Google translate.
3) Is Taobao Better Than AliExpress?
If we compare the prices of the products at Taobao and AliExpress, then Taobao will be considered better. But if we talk about different factors like accessibility, communication, and ease of website use, then AliExpress will take the lead.
3. Alibaba
Alibaba is a brand known to all real dropshippers for being a parent company to AliExpress. It runs on B2B (Business to Business) model and has been providing items for online and offline sales to many retailers all around the world for years.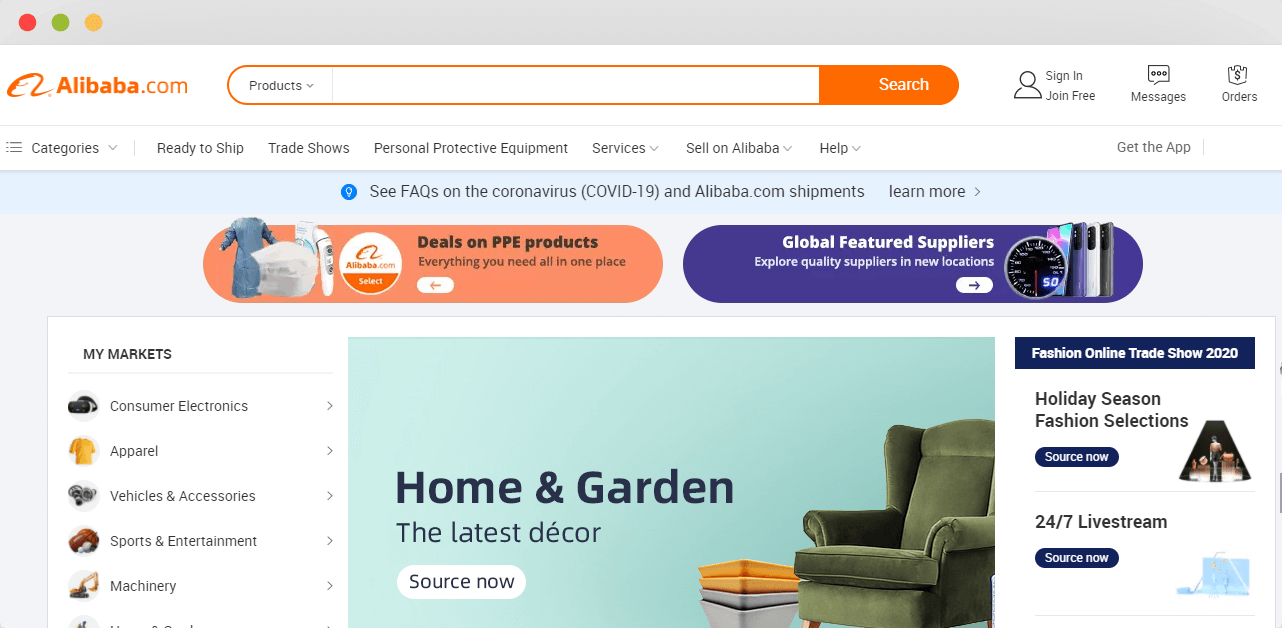 Successful dropshippers who intend to expand their ecommerce businesses to the next levels move on to Alibaba from AliExpress to source their products.
Additionally, the dropshippers who move on to product rebranding or intend to go for customization use Alibaba as their source website.
Among many other benefits of Alibaba, the cheapest cost of the products is on top.
Pros of Alibaba
One of the largest ecommerce platforms in the world.
Best possible rates of the products available.
A huge number of products with a maximum variety.
Trusted suppliers and wholesalers.
The facility of product customization with sampling.
Direct link and long-term relationship opportunities with Chinese manufacturers.
Cons of Alibaba
MOQ (Minimum Order Quantity) to be followed while ordering the products from Alibaba. MOQ may vary from product to product.
More suited for long term businesses and retailers that manage their own inventory.
You can only pay with credit cards to make purchases.
FAQs About Alibaba Dropshipping
1) Which Is Cheaper Alibaba or AliExpress?
Alibaba is cheaper in terms of the price of the product as compared to AliExpress. Both websites are owned by Alibaba Group but the major difference in prices comes because of the business model. Alibaba is B2B while AliExpress is B2C.
2) Can You Buy 1 Item from Alibaba?
Yes. You can also buy 1 item from Alibaba but that is in the rare case when the supplier agrees to ship a single product after discussing with the buyer. This also depends on the cost of a single product.
3) Do You Need a Business License to Buy on Alibaba?
No. You don't need a business license to buy on Alibaba. Alibaba promotes small and medium businesses that may or may not have registered themselves as a business.
2. 1688
If you want insane discounts on Chinese products, go for 1688. It is also a subsidiary of ecom giant Alibaba with a focus on the B2B marketplace mainly in China.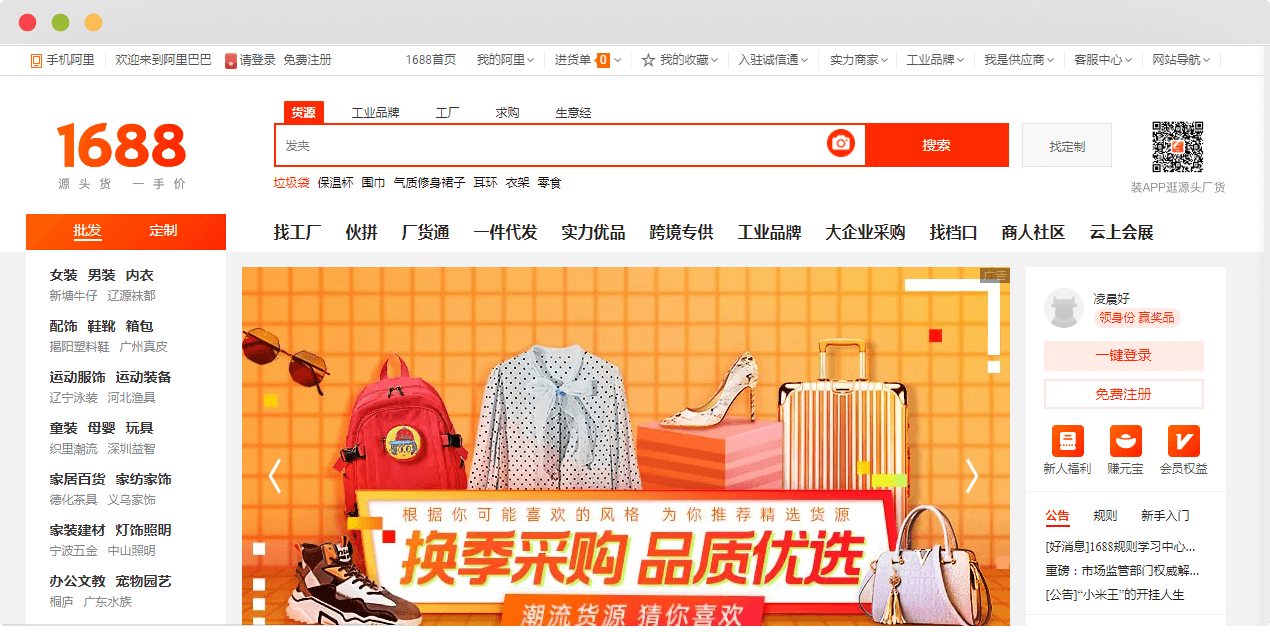 You can call 1688 the Chinese version of Alibaba because this platform is only available in the Chinese language.
It is primarily meant for local Chinese customers but international purchases are also possible by communicating with the suppliers.
1688 also offers products at the cheapest possible rates. This is where you can earn real profits from the products you choose to sell.
Fun fact: Most dropshippers tend to ignore the opportunity offered by 1688 dropshipping due to the language barrier. You can use the services of Google translate to keep the momentum going to reach your dropshipping aspirations.
Pros of 1688
Cheapest rates of the products available without compromising on the quality.
A huge range of products.
Advantage of utilizing the option of image search.
The advantage of interacting and developing relationships with direct manufacturers.
Cons of 1688
Only available in the Chinese language.
Scarcity of apps available to easily integrate 1688 with Shopify or Woocommerce.
Limited payment options.
FAQs About 1688 Dropshipping
1) What Products Can Be Purchased from 1688.Com?
1688 offers almost every kind of product that may fall under the ambit of e-commerce. From gadgets to drones and accessories, you can buy any type of product that is available on 1688.com
2) How to Dropship from 1688 Via Shopify?
You can dropship from 1688 via Shopify by installing the apps like Importify on Shopify that support 1688. You can also hire the services from a sourcing agent like NicheDropshipping for this purpose.
3) Is 1688 Same as Taobao?
While both 1688 and Taobao are owned and run by Alibaba Group, there is one major difference between both. 1688 runs on a B2B model while Taobao operates on a C2C model.
1. NicheDropshipping
You must have noticed that out of all the alternatives to AliExpress discussed above have some drawback associated with them. Either there are language barriers, quality problems, or price issues.
With NicheDropshipping, you don't have to worry about a single issue that may come across between you and your dropshipping success.
NicheDropshipping is rightly called the number 1 alternative to AliExpress for many reasons. Some of them are summarized below for your convenience.
Product Sourcing
It solves the basic problem of sourcing products at the cheapest prices from major platforms without compromising on quality.
With NicheDropshipping, you can stop worrying about investing time in searching for different platforms that offer the same or similar products for price comparison.
NicheDropshipping can work as your very own agent in China to source the products of your choice at the best possible rates. You can dropship products from China to any part of the world with our assistance.
Product Quality and Details
Another point of worry in dropshipping after the price is the product quality and product details including product pictures and videos, etc.
NicheDropshipping helps dropshippers in making custom photos and videos of the products of their choice.
With these custom photos and videos, the dropshippers not only can save their business from copyright issues but can also knock their competition out.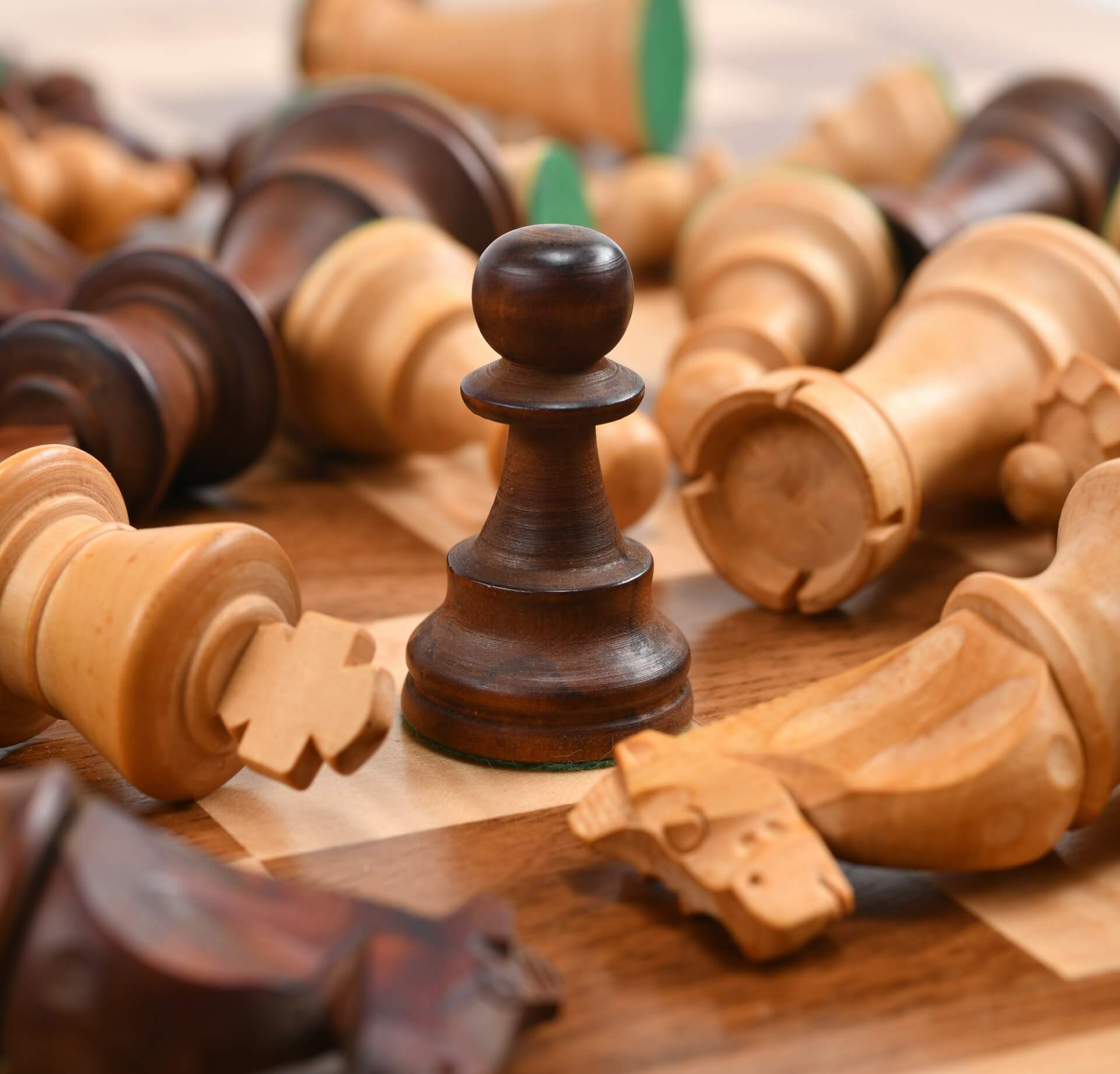 In addition to that, NicheDropshipping regularly checks for the quality of the products to make sure that the items are as described by the manufacturers and as committed to the customers.
Warehousing and Order Fulfillment
Whether you are in the business of private labeling, white labeling, or general dropshipping, you don't have to worry about warehousing your products.
NicheDropshipping takes the responsibility to keep your dropshipping products in their warehouse and immediately fulfills your orders and ships from the nearest fulfillment center for lightning-fast delivery.
Integration with Dropshipping Platforms
With NicheDropshipping, you can easily integrate your online store with our fulfillment service on the leading platforms like Shopify and Woocommerce. Adding products and getting your orders fulfilled will be just a click away.
Custom Packaging
Another important factor where NicheDropshipping takes the lead is the facility to offer custom packaging of your orders to elevate your brand image in the eyes of your customers.
You can gain recognition like other worldwide brands with our option of customized packaging as per your guidelines and also include any promotional material with your orders if required.
With all its exclusive benefits, don't you think that NicheDropshipping is the best alternative to AliExpress?
Summary
We have tried to cover all the possible factors that a good alternative to sourcing websites like AliExpress should comprise. Based on those factors, all of the best available AliExpress alternatives have been listed above.
If you think we should shed some light on any of the segments that remained unattended in this article, do let us know in the comments section and we will get back to you with the best of our knowledge and expertise to help you assist with that topic.