Banggood and AliExpress are two of the most popular eCommerce marketplaces in the world.
Both are based in China and share plenty of similarities. As a regular consumer, you may not even notice much of a difference.
However, there are a variety of aspects in which they outshine one another.
That's why if you plan to use these sites for dropshipping or any other business, then you need to learn what sets them apart.
Fortunately, you don't have to look any further as this Banggood vs. AliExpress comparison will provide you with all the info that you need.
So without further ado, let's dive straight into it!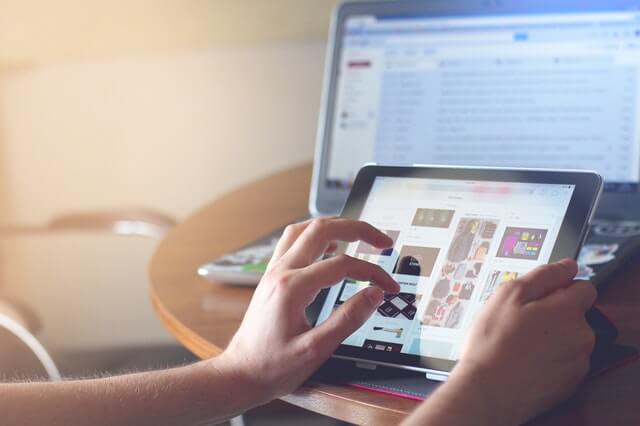 Overview of Banggood
Founded in 2006 in China, Banggood is one of the largest shopping sites in the world. What's surprising is that Banggood claims to have the most downloaded shopping mobile app in Europe.
The key difference between Banggood and AliExpress is that Banggood doesn't have any third-party sellers. All the products you see on the site are directly sold by Banggood.
This can be quite convenient for people who do not want to spend time negotiating with shady suppliers.
If your biggest concern is the legitimacy of Banggood then rest assured that it's a fully reliable and legitimate company where you can purchase a vast variety of products.
But the biggest drawback of the site is its prices. The fact that there are no third-party sellers on Banggood means there's not much choice in terms of prices.
The lack of competition causes the prices on the site to be slightly higher than on platforms like AliExpress. Nonetheless, the products you find on Banggood aren't ridiculously priced either.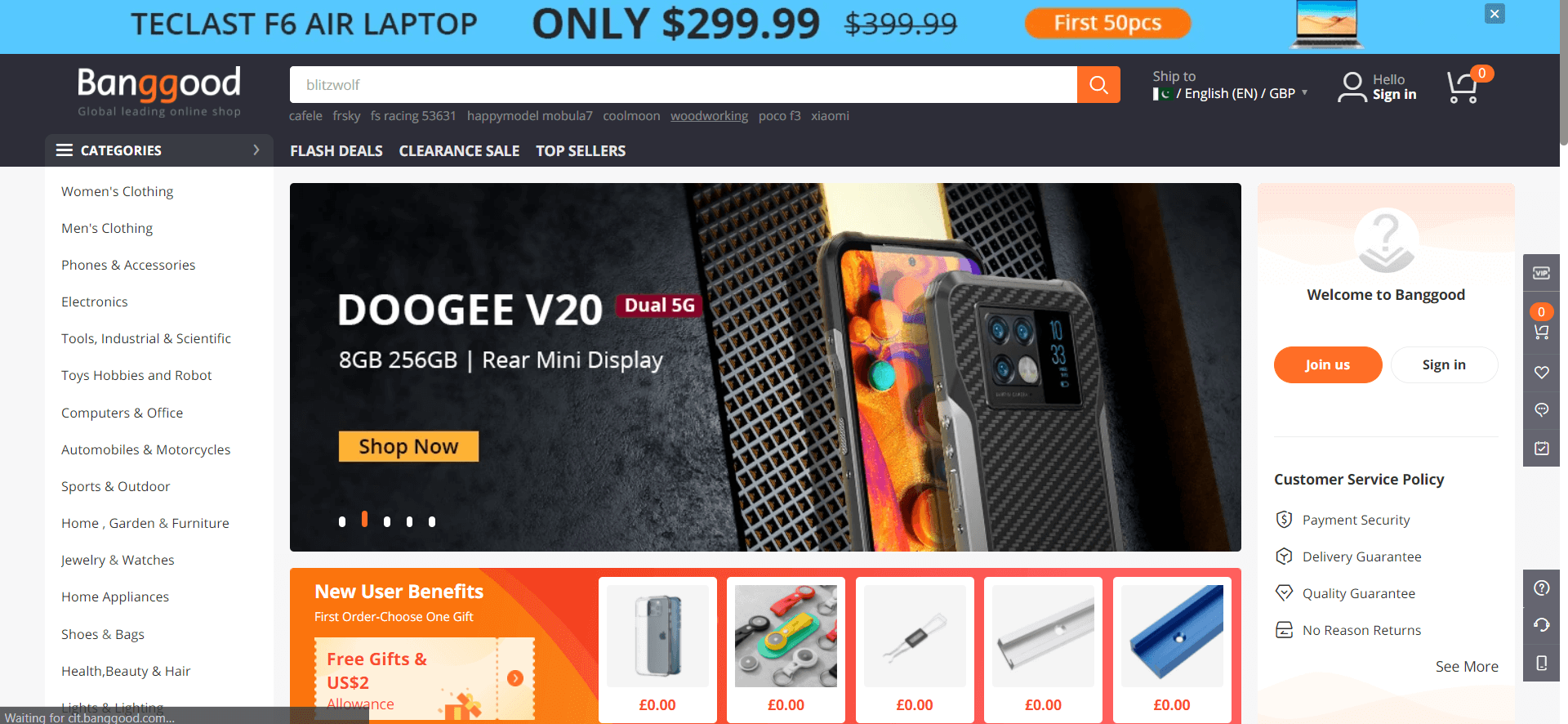 Pros of Banggood
There are no shady third-party sellers.
Customer support is usually cooperative.
A dedicated dropshipping program to avail discounts and other perks.
Almost all unused products can be returned within 30 days.
Cons of Banggood
The shipping time needs improvement.
Lacks product variety in comparison to AliExpress.
Product quality can often be questionable.
Overview of AliExpress
AliExpress was founded in 2009 in China and since then, it has gone on to become one of the largest and most renowned eCommerce marketplaces in the world.
The site is owned by the Alibaba group which also owns domestic Chinese shopping platforms like Taobao and 1688.
It wouldn't be an overstatement to say over the years, AliExpress has consistently been one of the top eCommerce sites in most major countries.
The credit for that goes to the thousands of sellers, selling an endless variety of products on the platform. And with the high competition, it's not shocking that the product pricing on AliExpress is also pretty flexible.
Plus, there's no minimum order quantity (MOQ) to worry about either. No wonder a large number of dropshippers source their products from AliExpress.
But keep in mind that all the products on AliExpress are sold by third-party sellers, due to which scams are quite common. This is why you need to make sure that you navigate the site carefully.
On the bright side, the customer service of AliExpress is proactive to find a solution if a seller isn't able to meet their commitments.
But generally, we'd advise you to avoid dealing with sellers who have bad ratings or buying products that simply look "too good to be true".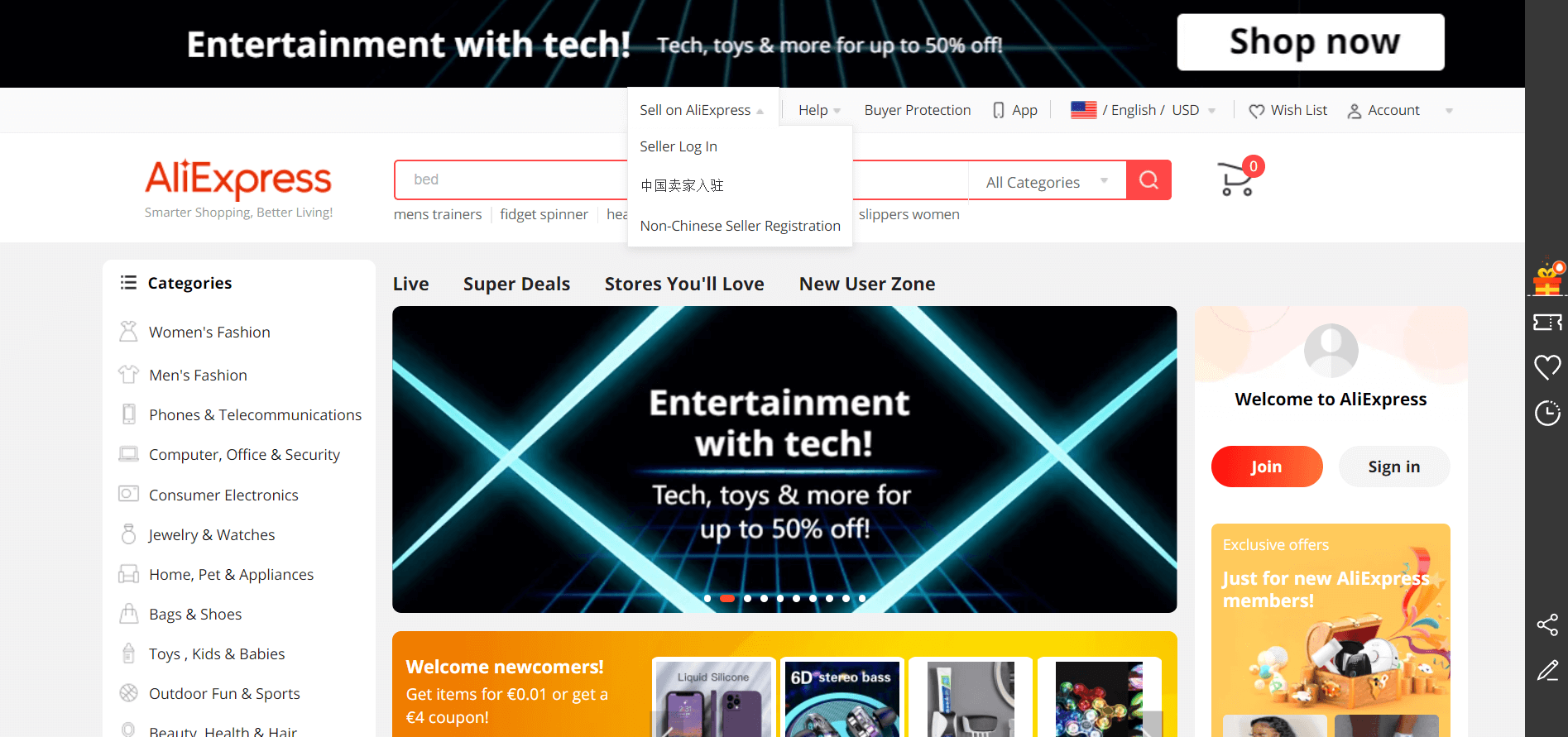 Pros of AliExpress
There are a vast variety of products.
The competition makes the pricing pretty flexible.
Easy to start dropshipping.
Review and rating system to check seller reliability.
Decent customer service along with buyers' protection.
Cons of AliExpress
Some sellers may try scamming you.
Slower shipping than Banggood.
Counterfeit and low-quality products are common.
Banggood vs. AliExpress – The Key Differences & Similarities
| Parameters | Banggood | AliExpress |
| --- | --- | --- |
| A Dedicated Program for Dropshipping | ✓ | ✓ |
| Offers an Affiliate Program | ✓ | ✓ |
| Allows Buying from Local Warehouses | ✓ | ✗ |
| You can Buy from Third-Party Sellers | ✗ | ✓ |
| You can Buy Directly from the Platform | ✓ | ✗ |
| Offers the Option for Express Shipping | ✓ | ✓ |
| Great Refund and Exchange Policies | ✓ | ✓ |
Banggood vs. AliExpress – Comparison by Features
Now that you have a general overview of both platforms and how they work, it's time we dive deep and compare their features.
Banggood vs. AliExpress: Product Variety
Product selection is the most important aspect of launching an eCommerce business. So let's see what both of these platforms offer you in terms of product variety.
Banggood
Banggood claims to have over 500,000 different types of products on their site scattered across all sorts of niches.
So although the variety isn't bad by any means, it's not even close to what AliExpress has to offer either. But of course, that's mainly because AliExpress has suppliers from all over the world.
Otherwise, if we look individually at the product variety of Banggood then it's more than what you could possibly need.
Besides, it's worth pointing out that most of the major products that you'd find on AliExpress are probably also available on Banggood.
AliExpress
As we mentioned above, AliExpress leaves Banggood far behind in terms of product variety.
There are more than 100 million products on the site and the number continues to grow with each passing day.
Basically, if you can think of a product, then you can probably find it on AliExpress.
The insanely large number of products on the site has a lot to do with the fact that you can find a ton of Chinese manufacturers there.
Many of them are just creating random products every day that you probably didn't even know existed.
This is one of the reasons why a large number of dropshippers also use the platform for product hunting.
Banggood vs. AliExpress: Shipping Options
If you're planning to launch a dropshipping business, then you carefully need to evaluate what shipping options both of these platforms offer.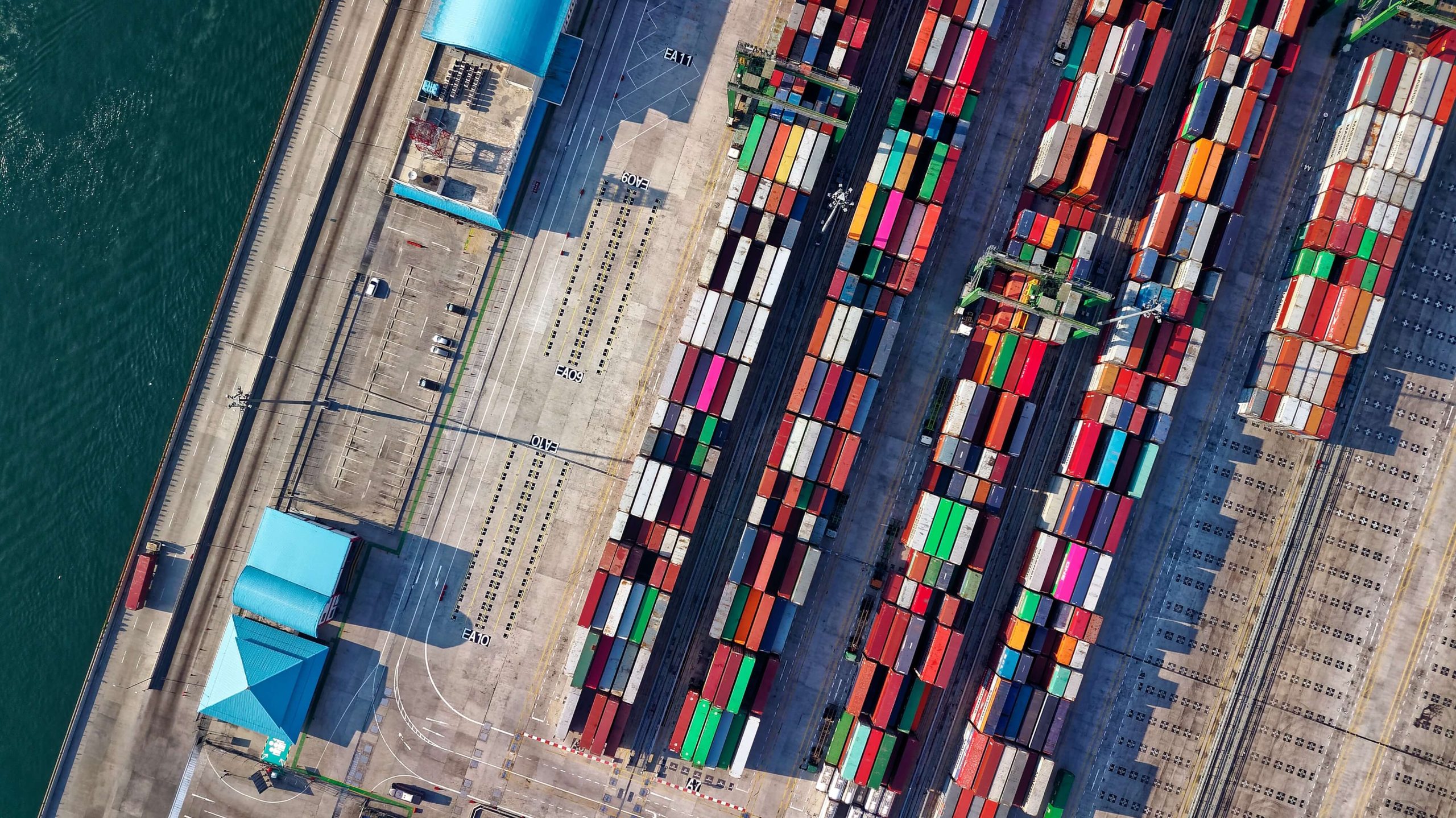 Banggood
The shipping options on Banggood mainly depend on your location.
If you're getting express shipping to the U.S or Europe then you should expect the order to be delivered within 6-10 working days.
Once the order is placed, you don't have to lift a finger as everything will be taken care of by Banggood.
There's also a section on the site where you can find faster shipping products. Those products are being shipped from local warehouses so Banggood claims that the package will be delivered within 7 business days. However, that isn't always the case.
And if you're in the U.S and are placing an order of over $50 then you can also opt for Priority Direct Mail shipping. All in all, the shipping time of Banggood is slightly quicker than AliExpress.
AliExpress
If you've ever shopped from AliExpress then you probably know that a large number of products on the site come with free shipping.
The biggest drawback, however, is that the free shipping is terribly slow and can take even more than two months!
It's more like you basically place an order and forget about it until one day, you randomly receive it at your doorstep.
So choosing the free shipping method while dropshipping is certainly out of question. Although on the bright side, depending on your location, there are also faster shipping methods available.
If you're opting for the Standard shipping service on AliExpress then you can get your order delivered within 15 and a max 45 days.
Some sellers may also offer faster shipping methods that can fulfill the delivery in 7 days, so it's worth exploring your options before placing an order.
Lastly, the ePacket shipping method has also been growing in popularity on AliExpress.
You can find a large number of sellers offering ePacket fulfillment which is usually free or inexpensive and significantly reduces the delivery time.
If you want to learn more about what ePacking delivery is then we've covered that in detail in our ePacket Guide.
Banggood vs. AliExpress: Pricing and Discounts
The pricing can be the biggest deciding factor in which platform you want to go for. So let's look at which site offers the best bang for your buck.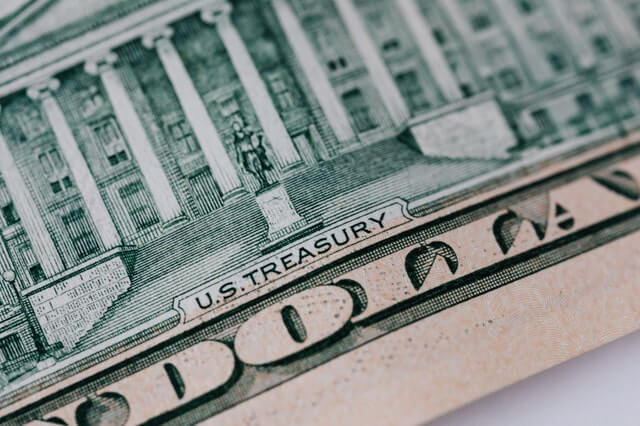 Banggood
The products on Banggood are a bit pricier than AlIExpress. The reason for that is the lack of third-party sellers on the platform. How is that linked?
Well, since all the products are sold directly by the platform, there's no competition to drive the prices down. You either buy the product for a fixed price or you don't.
But of course, if you're buying in bulk, then there's always room for negotiations.
And if you're buying a product for personal use, then there's also a $2 discount on the first purchase.
Plus, you can sign-up for their newsletter to potentially receive other deals and discounts from time to time.
AliExpress
AliExpress has some of the cheapest products you can find on any eCommerce marketplace.
This is the reason that even a large number of sellers on Amazon also source their products from AliExpress.
There's just so much competition on the site that you'll find multiple stores selling the same product at different prices. But that's why it's easy to get scammed as well.
At times, you would see some products being sold at an exceptionally low price – which is usually a scam. Basically, if you're shopping on AliExpress then you have to beware of product pricing that looks too good to be true.
In addition, always check the reviews of the seller to significantly reduce the chances of being scammed.
Lastly, just like Banggood, AlIExpress also offers a first-time discount coupon of $2.
Banggood vs. AliExpress: Refunds and Returns
Every customer wants to shop from a store that offers a hassle-free refund and return policy. So how do both of these platforms fare in this department? Let's find out.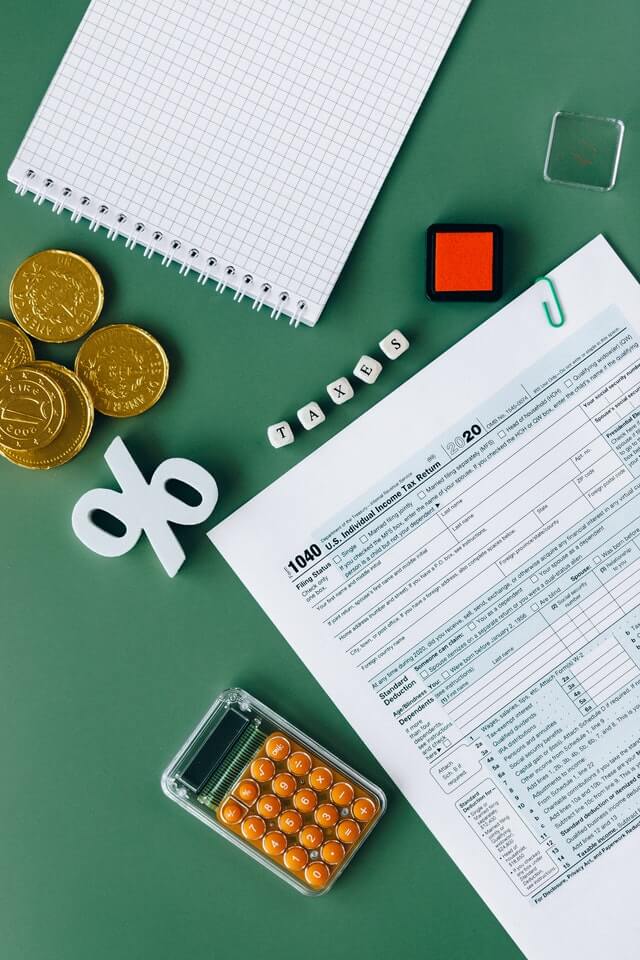 Banggood
Banggood offers decent return policies but they can also appear to be quite limited. For starters, if there's a defect in your product or it isn't as described, then you only have 7 days after the delivery to initiate a return.
However, if a product is still unused and in perfect condition, then you can return it within 30 days. Of course, hygiene-related products are an exception to this rule.
And then there's also the 180-day warranty that allows you to return products that have quality issues. Again, clothing, phone accessories, and other daily-use products do not come under the 180-day warranty.
We personally feel that Banggoods refund policies aren't bad, but could be much better if they work on the 7-day timeframe to return a defective product.
AliExpress
The return policies of AliExpress aren't as flexible as Banggood, but they do take such matters pretty seriously.
To begin with, you get all your money refunded if the product isn't delivered within 60 days or the date mentioned by the seller. And you can also file a dispute to get a refund if the product delivered isn't genuine or it's faulty.
After opening a dispute, the seller has 15 days to refund you the money, if they don't oblige, then AlIExpress steps in to help you resolve the issue.
Plus, for counterfeited products, AliExpress also promises to return 3x the amount you paid.
And then there's also a category for Domestic Returns in which products that are in perfect condition can be returned to local warehouses, no questions asked.
But keep in mind that since you're buying from third-party sellers on AliExpress, the likelihood of scams is also high. That's why you have to be extra careful before making a purchase.
It's fair to say that both Banggood and AliExpress take plenty of measures to ensure a buyer-friendly environment. So it's up to you to decide which platform does it better.
Banggood vs. AliExpress: Dropshipping
Coming to the most important comparison – which of the two platforms is better for dropshippers? Well, let's have a look at what they offer first.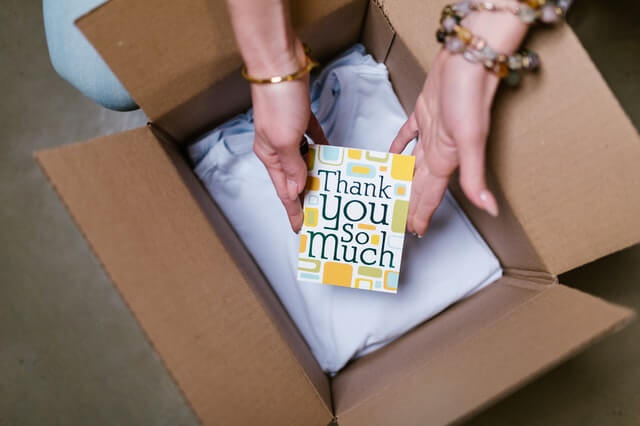 Banggood
Banggood indeed has a dropshipping program and by signing up for it you can get a discount on numerous different products. The discount can be anywhere from 5% to 25%, mainly depending on the product type.
Surprisingly, Banggood also has an API that makes store management much easier and allows you to import product images that aren't watermarked.
And there are also several different plugins that you can integrate with your Shopify or WooCommerce store.
And if you want to scale into a brand then you can also get white label services from Banggood. It's safe to say that the Banggood dropshipping program comes with plenty of perks. However, if we strictly talk about the plugins then AliExpress takes the lead.
AliExpress
AliExpress has a dedicated Dropshipping Center that can make it easier for you to find the hottest products. You can also filter out products based on certain keywords, images, shipping methods, and delivery time.
Plus, there's another filter that will show all the products that are at discounted prices for dropshipping. And if your business is displaying potential then some sellers may offer you even lower prices.
In a nutshell, AliExpress Dropshipping Center is packed with different features which are beyond the scope of this article to discuss. That's why if you want to learn more about it then you can read our detailed guide on it instead.
Moving on, there are also a ton of plugins to make AliExpress dropshipping easy for Shopify and WooCommerce store owners.
From inventory management to quick order fulfillment and scanning stock availability, these plugins can eliminate a lot of manual labor from your business.
All in all, it doesn't come as a surprise why the dropshipping program of AliExpress is so far ahead of Banggood.
Banggood vs. AliExpress: Customer Service
Lastly, both platforms have done a decent job in laying out buyer-friendly refund policies. But let's see if their customer service teams are proactive enough to act on them.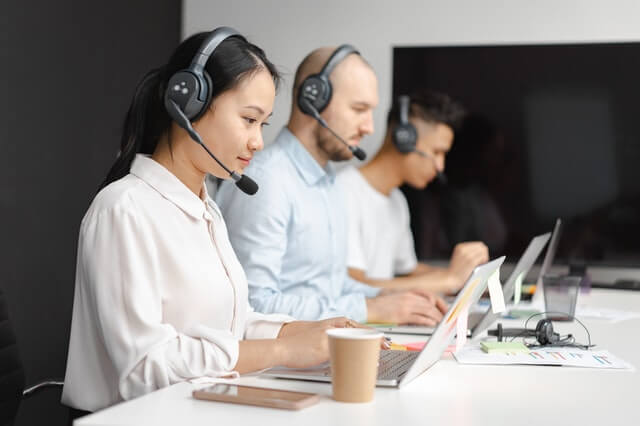 Banggood
Banggood customer service has mixed reviews. Some people have had positive encounters while others say that they never got their refunds for receiving the wrong items.
There are two ways to contact their customer service. The first is to get the contact number of Banggood from their website and directly call them.
While the other is to drop them an email. The platform recommends emailing them for any post-sales dispute and guaranteeing a response within 24 hours.
AliExpress
The customer service of AliExpress is also subject to mixed reviews.
However, the biggest complaint that most people have is that although they do get their refunds, they usually have to wait a really long time.
But that usually happens if the seller doesn't refund within a 15 days period.
Other than that, AliExpress does not only offer phone support like Banggood but also a live chat facility, so they're slightly ahead in terms of customer support than their competitor.
FAQs about Banggood vs. AliExpress
Is Banggood Better than AliExpress?
Both Banggood and AliExpress come with their respective pros and cons. However, in terms of shipping time, Banggood is indeed better than AliExpress but only by a small margin.
Is Banggood Older than AliExpress?
Banggood was founded in 2006 while AliExpress in 2009, so yes, this makes Banggood older than AliExpress.
However, as of 2022, AliExpress is significantly more popular than Banggood.
Is Banggood a Reliable Marketplace?
Banggood is a completely legitimate and reliable marketplace. In fact, it's safer than AliExpress for new online shoppers mainly because you're directly buying products from the platform.
On the other hand, when shopping from AliExpress, you have to be careful of shady third-party sellers.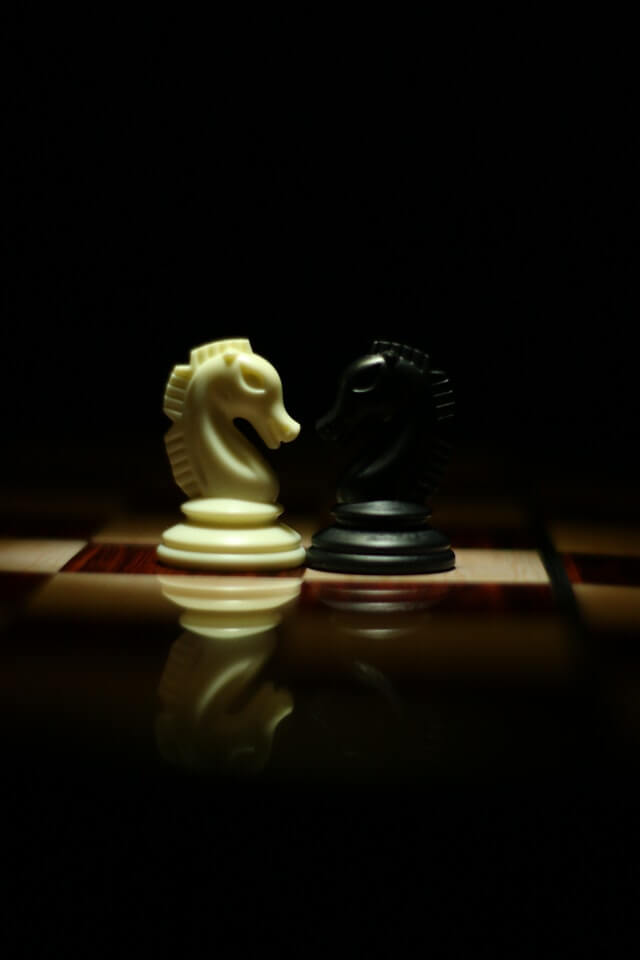 Banggood vs. AliExpress – The Final Verdict
AliExpress offers a greater product variety at cheaper prices but the biggest drawback is that you end up depending on third-party sellers.
On the other hand, although the products on Banggood are priced higher, you're directly dealing with the platform, so they're more reliable.
So if we strictly talk about dropshipping, then it depends on whether you're looking for reliability or higher profits.
In our opinion, if you can find a reliable supplier, then AliExpress is the better platform for dropshipping because you'll be able to keep a higher profit margin.
But Banggood's dropshipping program isn't bad by any means and it might even be a great idea to test it out as most people don't know about it.
Lastly, if you're still facing difficulties sourcing your desired products then NicheDropshipping can assist you.
Not only can we connect you with reputable suppliers, but also customize your products to help you launch a private label brand.
So contact us today to learn more about how you can benefit from our services.