AliExpress was launched in 2010 by Alibaba as a global marketplace where consumers can directly buy from manufacturers and distributors not just in China, but also from all over the world.
As the e-commerce website gained popularity the company designed and launched a tool that many of their users, specifically dropshippers, would find useful—the AliExpress Dropshipping Center.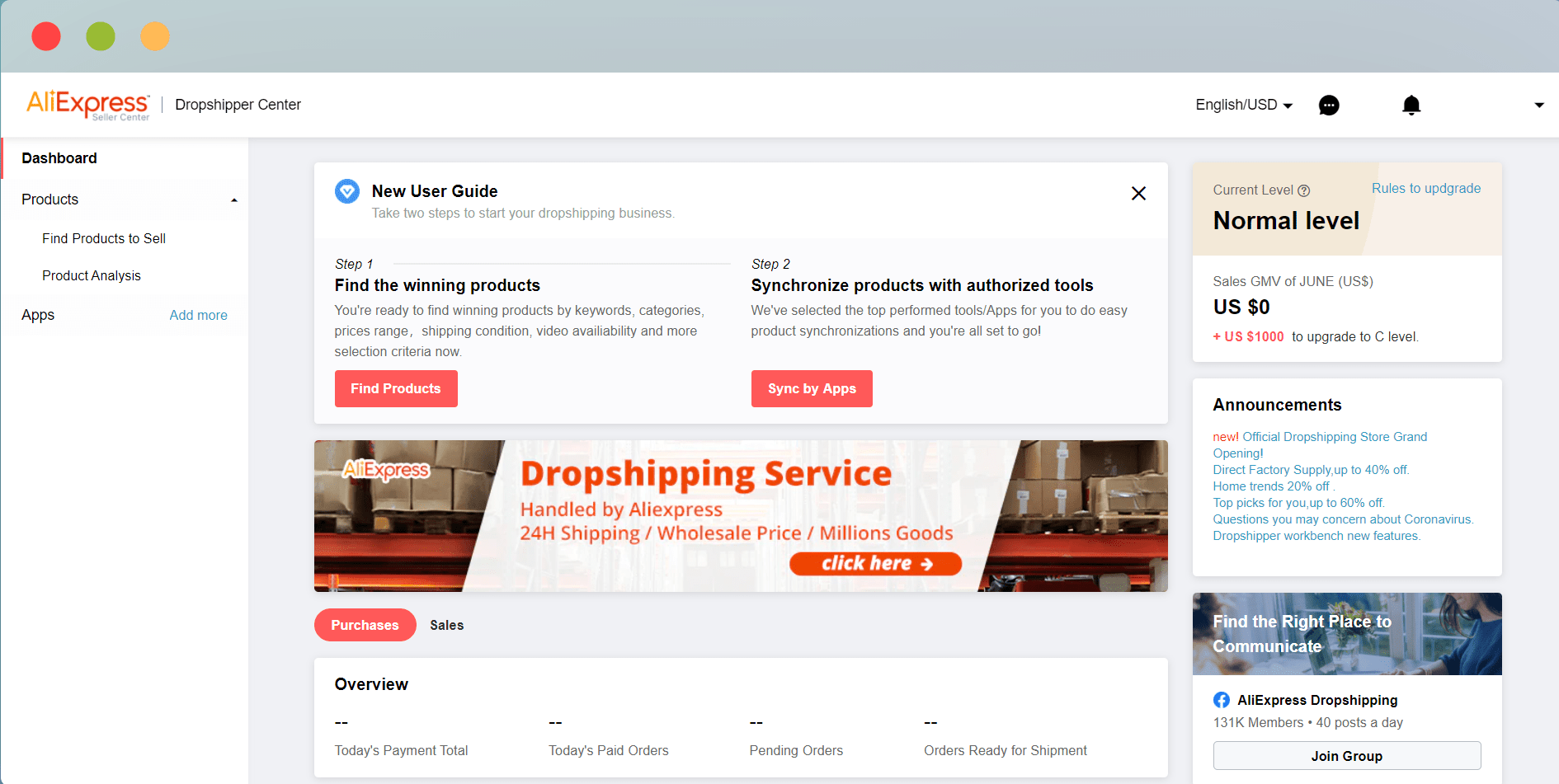 From understanding what the tool is to how you can use it for your business, this tell-all guide will give you all the information you need about the AliExpress Dropshipping Center.
With such a great platform, you'll learn how you can maximize all its features for your benefit.
Let's get into it.
What Is the AliExpress Dropshipping Center?
The AliExpress Dropshipping Center is a useful e-commerce tool designed to help dropshippers discover and study hot selling products, and find respective suppliers for these products on the platform.
Also called the AliExpress Booster Program, the tool is continuously being updated by AliExpress to suit its users' needs better and remain up-to-date.
As a dropshipper, the initial challenge is for you to find the sweet spot in running your business more efficiently. Keeping that in mind, AliExpress incorporated two key features into this platform to help you overcome this challenge with ease.
The platform contains hundreds of thousands of products which can be a challenge to sift through for your business. Luckily, one of the key features allows you to find hot selling products easily.
Once you find products you're interested in selling, you can then conduct respective product analyses that will give you relevant data, such as sales volume, to use for your benefit.
You can find an in-depth discussion of each key feature down below.
Is the AliExpress Dropshipping Center Free?
With all the features that come with this tool, it's no surprise that many think it comes at a steep price. After all, data analysis is a taxing job.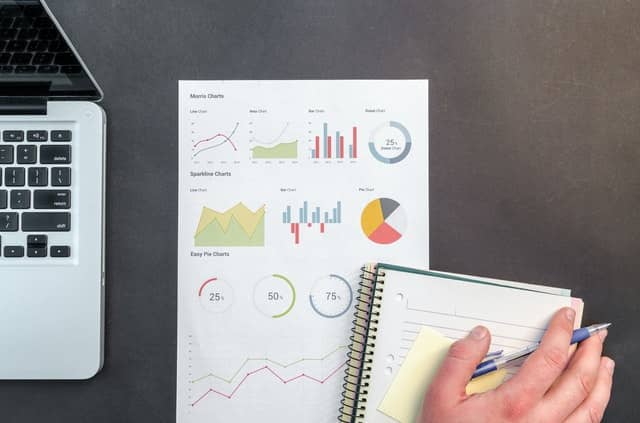 But, we're here to tell you that it's completely free—much to the benefit of dropshippers from all over the world.
Now, all you need is to gain access to this platform, and you'll discover and analyze products in no time.
Is the AliExpress Dropshipping Center Reliable?
Absolutely.
AliExpress has been a trusted marketplace since it was launched in 2010. Over the years, this leading B2C company has gained a good reputation to make it a reliable platform for dropshippers.
On top of that, it has never dropped below 390 million site visits a month, which says a lot about its appeal to customers and customer patronage. This number of users should be a reliable source of data for their booster program.
Who Can Use the AliExpress Dropshipping Center?
Anyone who has an AliExpress account can use the Dropshipping Center. So, don't worry if you don't dropship through AliExpress.
Although it's more beneficial for those who have a dropshipping business, the Dropshipping Center can also be accessed by individual shoppers—for whatever reason.
The more important question to ask is how you can get access to it. You'll find the answer in the next p.
How Do You Activate the AliExpress Dropshipping Center?
Generally, there are three ways to access the Dropship Center. If one doesn't work out for you, explore the other options.
Sign Up Manually
The easiest option is to manually sign up using your AliExpress account.
Here's a step-by-step process:
Create an AliExpress account or Log in to your AliExpress account beforehand.
Sign up for the Dropshipping Center using this link. You'll be directed to the image below.

Read and accept the terms and conditions of the General Agreement and Data Service Authorization for the AliExpress Dropshipping Project.
Provide your first and last names.
Go to the Dropshipper Center through the link provided on the confirmation page. See the picture below.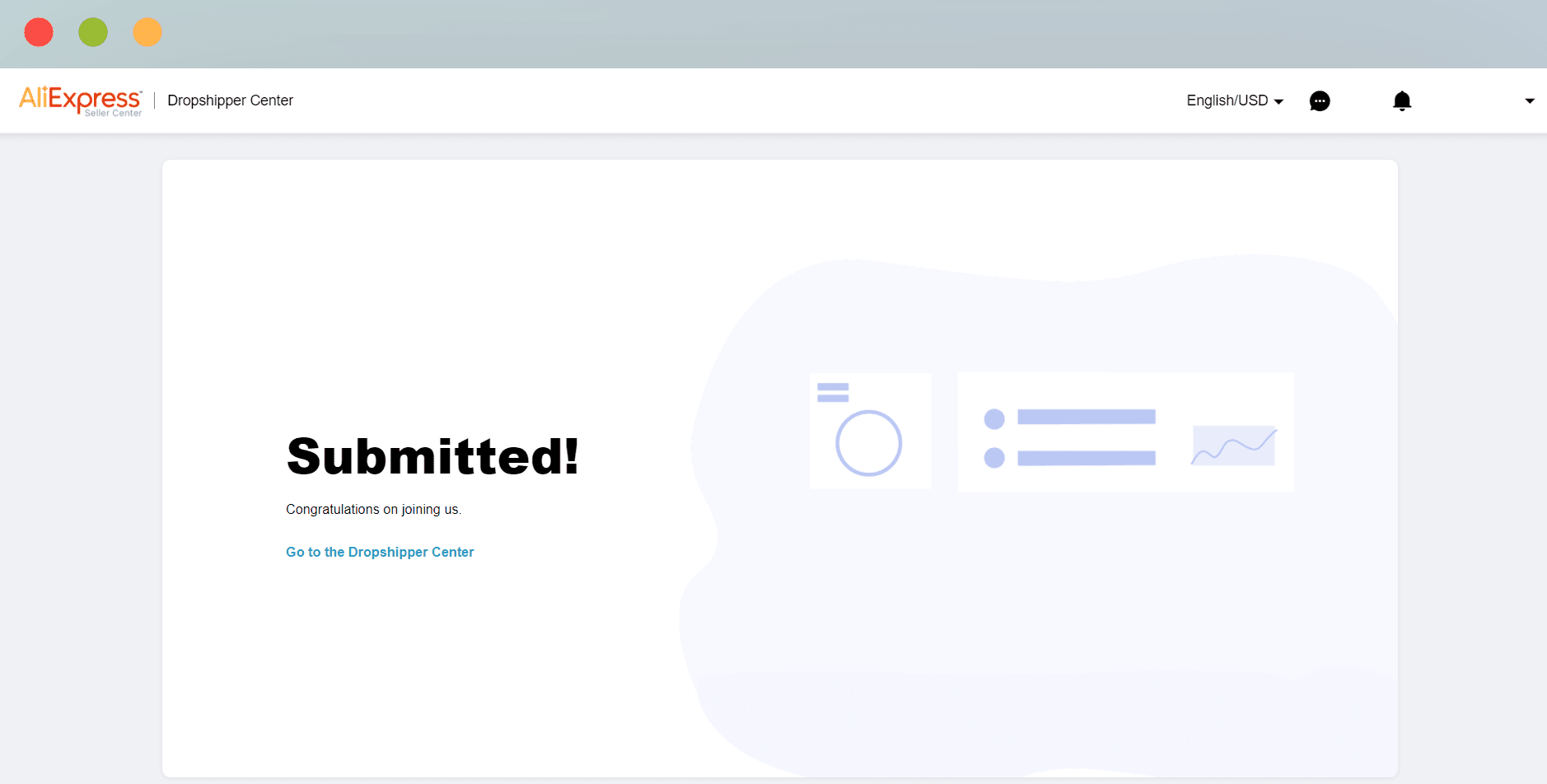 Receive an Invitation
While we did mention that anybody who has an account can access the Dropshipping Center, users who frequently place orders are sent a notification about the platform.
This notification will be an offering to use the different tools available in the center. Just simply click on the notification to know about this booster program and follow the same steps above to access it.
Use a Supported Application
Currently, three applications support and can be linked to AliExpress—Topdser, Antdiy, and DSers.
For DSers users, this is how you can access the Dropshipping Center through the app.
Install the DSers app and sign in to your account.
Link it to AliExpress.
Once your account has been linked, you'll automatically see the Dropshipping Center tab in your app.
How Do You Find the AliExpress Dropshipping Center in Your Account?
Once you've activated your account, you can now easily access the Dropshipping Center anytime you want.
Just simply go to your account and click on the Account tab. The Dropshipping Center tab will automatically pop out.
Here's what you should see:

What Features Does the AliExpress Dropshipping Center Have?
As mentioned, the Dropshipping Center has two key features that its users can benefit from—product search and product analysis.
Product Search Feature
The product search feature is further divided into three tabs which can be maximized by all users. Let's discuss each below.
Hot Selling Products
This tab was designed to help users find popular products on AliExpress, across all niches. From clothes to furniture, this tool makes it easy to find just what you're looking for.
However, it's going to be more convenient if you have an objective in mind. That is, narrowing your search to a specific niche—the one you're currently in—and using that as the basis for your search.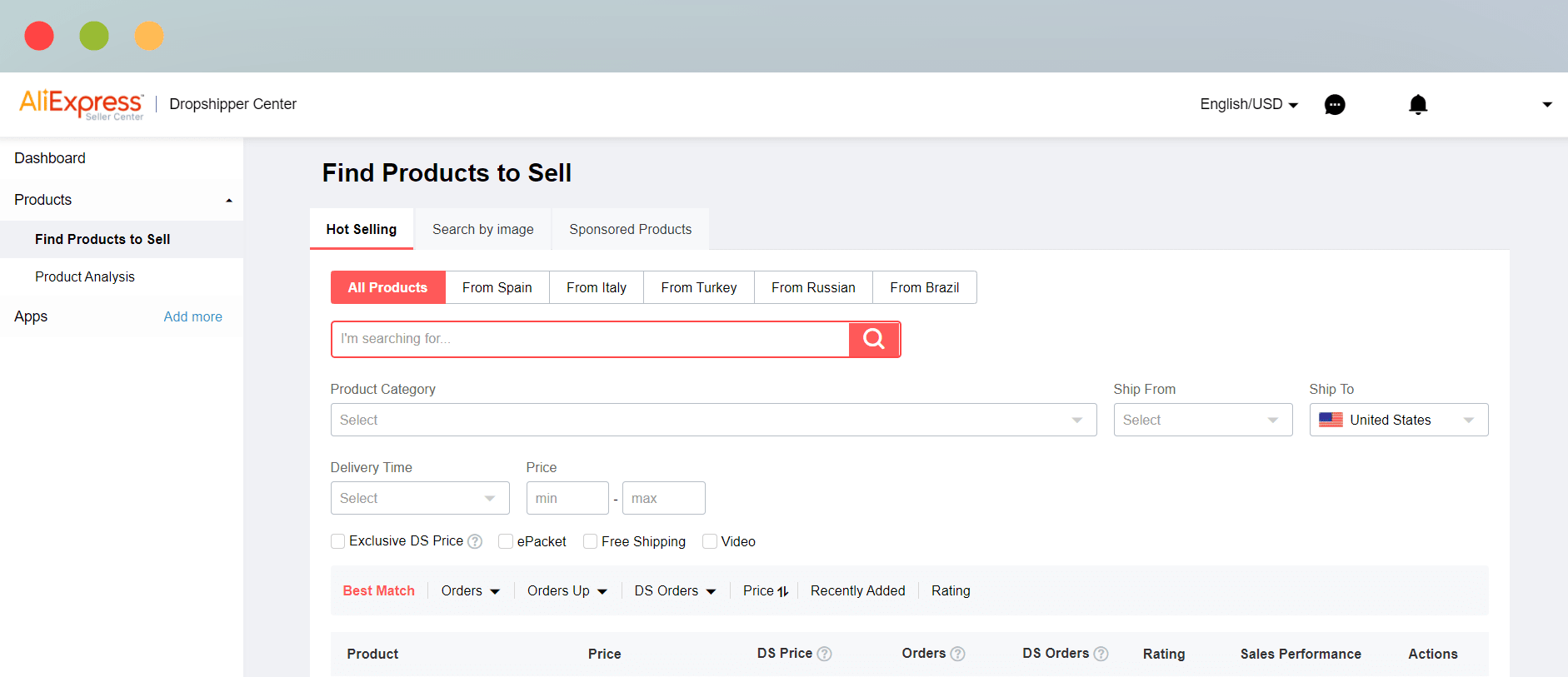 This tab has a search bar that allows you to type a product you have in mind. The product category dropdown bar has more than 25 categories that you can select from, along with more subcategories in each.
To make it even more convenient, you can also narrow the origin countries and the countries you target to ship to.
Currently, there are six countries in the Ship From option, which are China, Russia, Spain, Italy, Turkey, and France. From these countries, you can ship to 18 countries, some of which are Korea, Germany, and Australia.
You can also narrow down your search using Delivery Time since this is also a crucial consideration by several customers. The dropdown bar allows you to choose between <= 10 days, <= 20 days, <= 30 days, or <= 40 days.
Lastly, you can manually type in your minimum and maximum price to explore products within your budget range.
Don't worry though if you can't fill out all the bars. Each of these can perfectly stand on its own, allowing you to use the search bar, the product category, or the delivery time individually or in combinations.
All your search results will be shown with its price, dropshipping price with the standard discount consumer orders, dropshipping orders, rating, and sales performance. The last column is for analysis which will be discussed further down below.
Image Search
The Image Search tab was designed for users who are looking for specific or similar dropshipping products using images. This tab is highly convenient for those who only have a picture for reference and are unsure of what the product's name is.
By simply uploading a picture, you'll get results that show the exact product or similar ones.
The picture below shows an example of an image search.

Based on the picture that was uploaded, you'll see suggested product categories and similar products. You'll see the price, consumer orders, and rating for the search results.
All these products can also be analyzed further.
Sponsored Products
Apart from hot-selling products and a reverse image search, you can also enjoy the convenience of finding sponsored products. These products are from AliExpress suppliers who paid to have these advertised.

This tab may be useful for users who are looking for suppliers who can spend for advertising, which can be indicative of their motivation to sell products.
You can narrow down your search using the Category dropdown bar which allows you to choose from 25 different categories, not including their respective subcategories.
Product Analysis Feature
AliExpress designed the Dropshipping Center as a way for users to analyze the products they're interested in.
This feature can already be previewed through the different tabs in the product search feature as the "Analyze" button. You get directed to the analysis page of that product.
It's also good to note that you're not limited to your search results. This feature has a p where you can paste any product URL within the AliExpress website to generate the product analysis.

You're not just getting the numbers for orders or even the ratings of the products, but you're also getting more information about the product, specifically its supplier, logistics reliability, and an overview of sales volume through a line graph.
This information is crucial for any dropshipper who wants to know crucial information about the origin of the product and relevant dates according to its sales.
Here is an example of how the feature works for the current hot-selling product: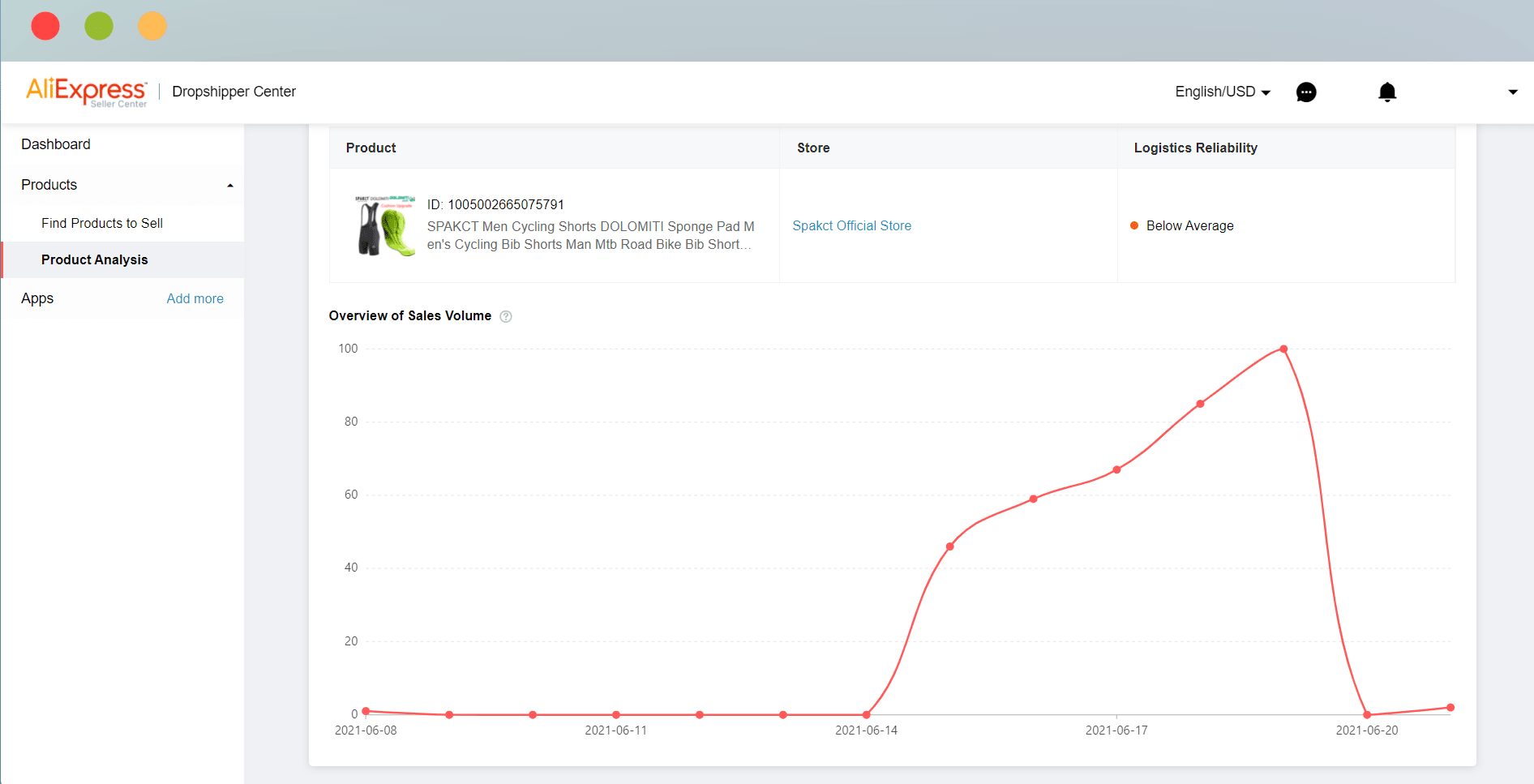 What Are the Benefits of AliExpress Dropshipping Center for Your Business?
We've now given you a rundown of the features. But if you're not yet fully convinced on why you should sign up and get your access to the platform, here are some benefits to ponder on.
Budget-Friendly
The tool is completely free to use. This reason alone should convince you to maximize it because you're virtually spending nothing but time and effort to boost your business.
Time Efficient
This is a one-stop-shop platform where you can both find products and conduct analysis in no time. It's also designed with convenient search bars and other features that easily narrow down your searches to what you want to find.
Free Analysis
No need to pay for product analysis when you can just have it here. Not only that, you can simply copy and paste the URLs of ALiExpress products for quick analysis.
Discounts
You can also avail of discounts depending on the current level you're on. Your level is determined by the amount you've spent on the website, or your Gross Merchandise Value (GMV). The more you spend, the larger the discounts you can avail.
You can avail of up to a 6% discount on your purchases.
The rules to upgrade can be seen in the picture below.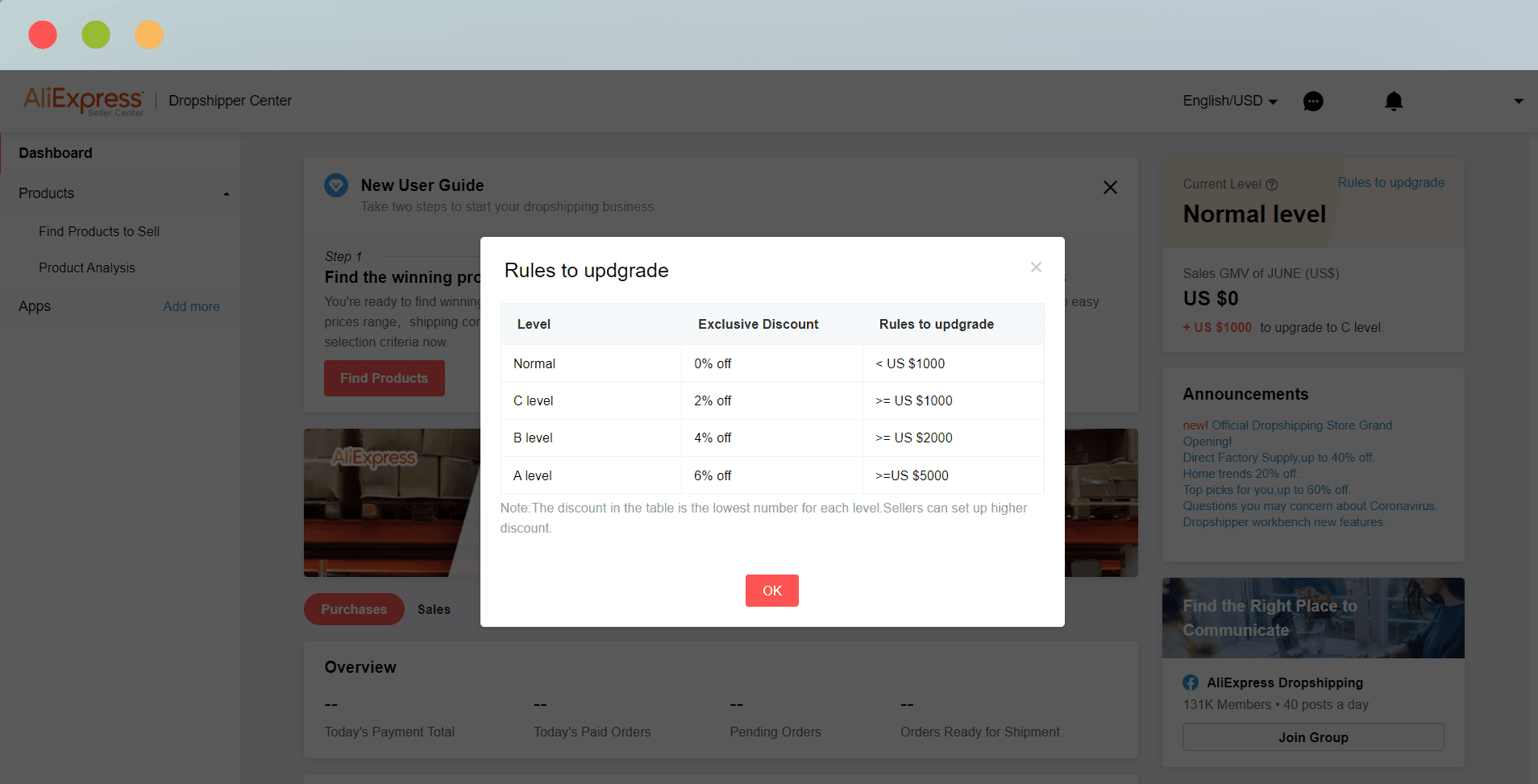 How to Use the AliExpress Dropshipping Center for Your Business?
As a dropshipper, you know that all the features discussed above come in handy, regardless if you're new to the business or have been dropshipping since time immemorial.
But the real question is, how do you maximize these tools for your dropshipping business? Here are some ways:
Find Hot Products
For those of you new to the business or just looking for products to sell or niches to explore, start with the Hot Selling tab. This can also be useful for those trying to decide if they're going for a general or specific niche store.
Browse through the primary search results so you can have an idea of which products are currently in demand.
See What's Trending and What's Not
The AliExpress Dropshipping Center can also provide you insight on what products you want to jump in, or products to avoid in general. This can be deduced from either the sales volume.
If you want to join the trend, it's convenient to go for hot selling products that have high sales. You'll see a list of products with the highest sales across all niches. If you're leaning toward uniqueness, go for low-selling ones.
Find Unique Products
Some dropshippers prefer selling products that aren't common in the market, given that there's less to zero competition. After all, if you're selling something unique, it's probable that you'll have more sales.
If you want to be unique, identify a specific niche and narrow down products that have yet to gain popularity or traction in the market.
Find Specific Products
If you dived into dropshipping because of your interest in a specific product or niche, you can use the reverse image search to narrow down your results to exact or similar products. That way, you get the product you need and avoid a long list of results.
This is also pretty useful for dropshippers who have discovered an unsaturated niche in their region.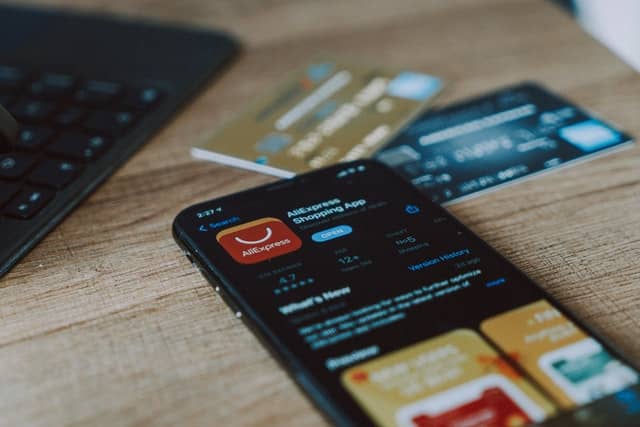 Find Reliable Suppliers
It's a reality that your dropshipping store can easily be supported or destroyed by the reliability of your supplier. Essentially, you won't really have much control over product quality and shipping as that's handled by your chosen supplier.
This means that you need to have a reliable one if you wish to succeed. The product analysis tool allows you to see the reliability of a certain supplier which is sufficient information that you can use to decide if this supplier will be a great partner for your business.
Combine with Product Analysis
All these tips can be combined with product analysis, especially the logistics reliability and the overview of sales volume.
With logistics reliability, you now have a picture of what your future customers will experience once they order the product through your dropshipping store. The overview of sales volume gives you specific dates on when the product gained traction in the market.
Both of these will give insight if the products are worth selling or if you should find a new one.
Final Thoughts
Whether you're new to dropshipping or have been in the business for several years now, the AliExpress Dropshipping Center is useful for you.
It's a free tool that you can use to find new products to sell and get reliable data from in-site analysis. It caters to countless niches and several regions all across the globe.
You don't have to do this all alone though! NicheDropshipping can be your dropshipping agent that is the best alternative to AliExpress. From sourcing to shipping, we can take care of your needs.
Send us a message to get started today.