AliExpress is the face of Chinese products that are available online. It reshaped the meaning of eCommerce and online international buying.
This Chinese platform is so huge that it has reached every corner of the world. But how does AliExpress work? This is the question that most AliExpress users often think of.
In this detailed guide, you will have insightful information about AliExpress, its processes, and everything that AliExpress is all about.
Let's start.
What Is AliExpress?
AliExpress is one of the world's largest platforms for online shopping. It is based in China and is owned by Alibaba group.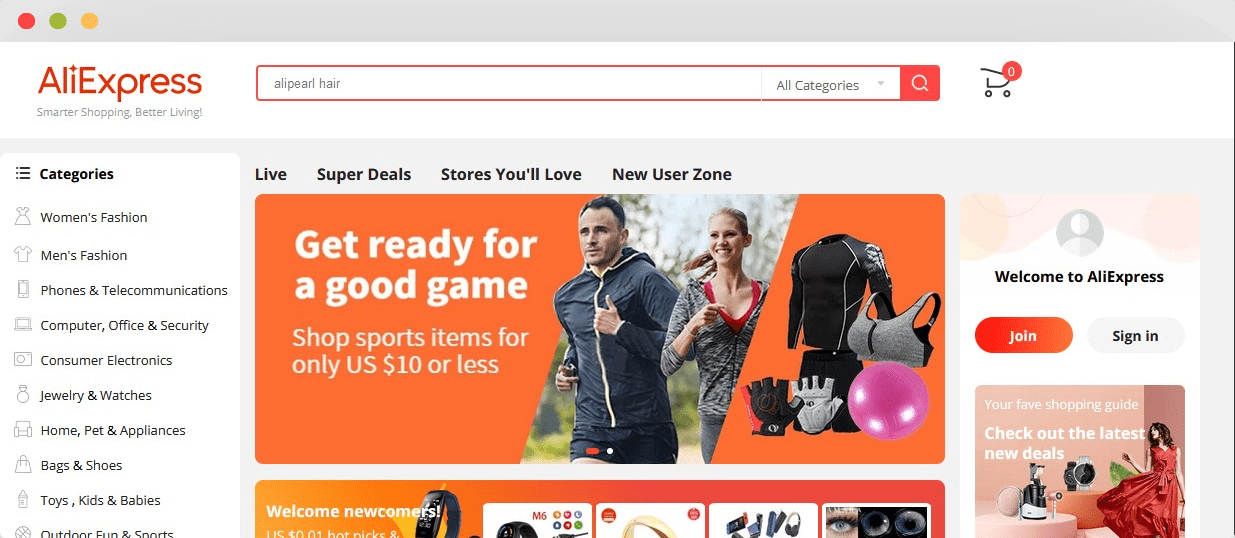 Alibaba has made it possible to send Chinese products all over the world through its platforms. AliExpress is its subsidiary that works on a business-to-consumer (B2C) model.
The suppliers on AliExpress are mainly from China. They list the pictures of their products on AliExpress along with their details.
Buyers who can pay with their credit cards can start buying from AliExpress. The suppliers then have to ship those products to the addresses that buyers provide at the checkout.
What Does AliExpress Do?
AliExpress does not have its own products. It hosts multiple suppliers who upload their products on AliExpress. So, that makes AliExpress an e-commerce platform that connects buyers with suppliers.
It handles everything to make online transactions or shopping on AliExpress successful.
AliExpress is one of the most favorite sites for buyers who need to buy cheap products. It provides physical products in almost every category.
You can think of AliExpress as the Chinese Amazon. People within China and from other countries visit this website for buying different products.
The products available on AliExpress are quite cheap in comparison to the products offered by other e-commerce companies. That's why people tend to buy more from AliExpress.
This also creates some business opportunities utilizing the low cost of these products. We will discuss these opportunities later in this article.
Who Are the Suppliers on AliExpress?
The suppliers on AliExpress can be any of the following.
Product Manufacturer or a Factory
You can find direct product manufacturers or a factory on AliExpress. This would probably be the best option for any buyer because the direct manufacturer would offer the best rates.
But finding a direct manufacturer or a factory on AliExpress is quite rare. That is because AliExpress is not the most favorite place for any factory to sell its products.
A factory or a product manufacturer is mostly interested in selling its products in bulk quantities. Most factories do not opt for a B2C model. They would rather go for a B2B (Business to Business) model.
That's why you would find most factories on Alibaba instead of AliExpress.
Wholesalers
You can find wholesalers on AliExpress as suppliers. But once again, a supplier who would want to sell wholesale products would be less interested in registering himself on a platform where there are no MOQs.
Nevertheless, you can find wholesalers on AliExpress. You would notice that there are suppliers on AliExpress who offer special discounts when you purchase a product in larger quantities. I have shown an example in the screenshot below.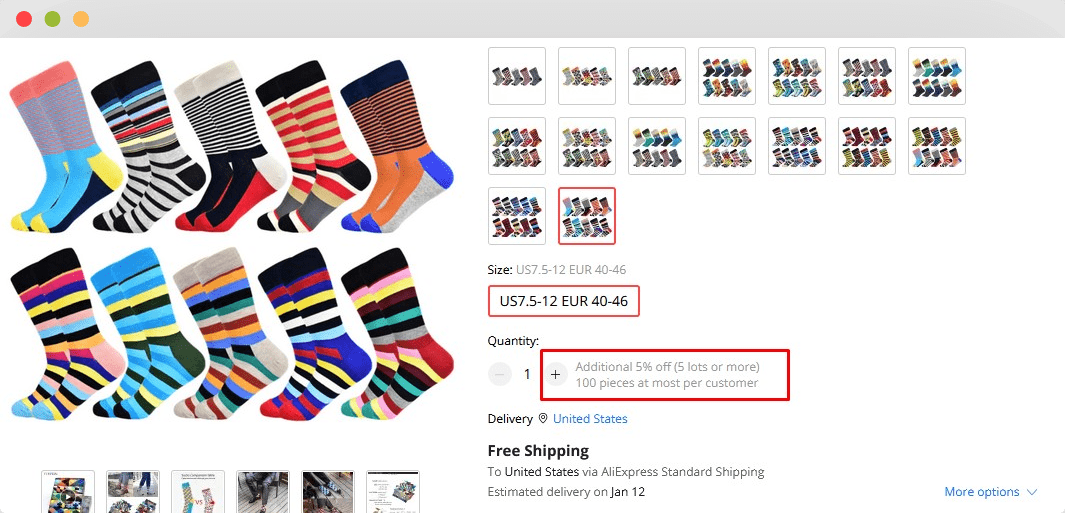 If a supplier offers special discounts for purchasing a higher quantity of a product, then it may be a wholesaler.
Online Retailers
Most AliExpress suppliers are online retailers. The retail process for an AliExpress supplier is the same as for any other retailer. They purchase the products in bulk quantities at a lower cost per product and sell them one by one at a higher price per product.
Middlemen
A supplier of AliExpress can also be a middleman. This kind of supplier can purchase a product from another supplier and list that product on AliExpress keeping his margins.
But how would you know that a supplier on AliExpress is a middleman? You won't know.
All you can do is to compare the price of a particular product with other suppliers on AliExpress. As long as you are getting your desired product at the best possible price, there is no harm in purchasing a product from a middleman too.
Chinese Dropshippers
Dropshipping business is a concept in which a supplier doesn't really have products in his possession. He only displays pictures of the products on an online store.
When he gets orders for those products, he asks original suppliers to ship those products to the customer's address.
A few Chinese dropshippers may enlist themselves as suppliers on AliExpress. Again, you can't differentiate between a retailer, a middleman, or a dropshipper on AliExpress. You just have to find your desired products at the best possible prices.
The supplier who has good products at decent prices along with good ratings and reviews is the supplier you should buy products from.
How Do I Find the Best Suppliers on AliExpress?
Fortunately, AliExpress has formulated some ways in which you can find if a supplier has a good or bad standing on AliExpress.
First of all, you have to see the upper left corner of the product page. It will show a brief about that supplier. You would see the store name and the percentage of positive feedback shown in the screenshot below.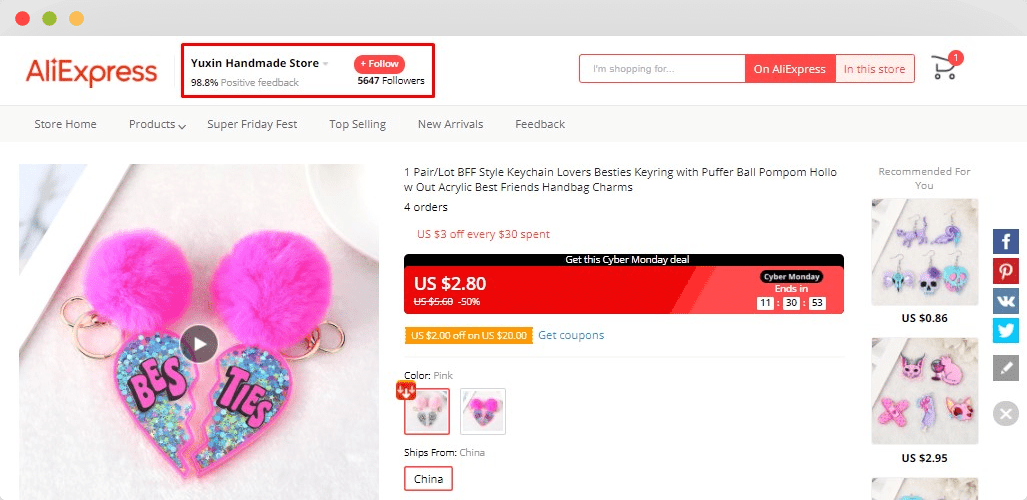 You would also see the number of followers alongside that information. The more followers, the more trustable a supplier is on AliExpress.
Then you can hover your mouse over that rating area and you will see some more details about the supplier. It will include the following information.
The date since when the supplier has been open on AliExpress.
The detailed ratings of a supplier out of 5. This includes ratings for item description, communication, and shipping speed.
You can see that in the screenshot below.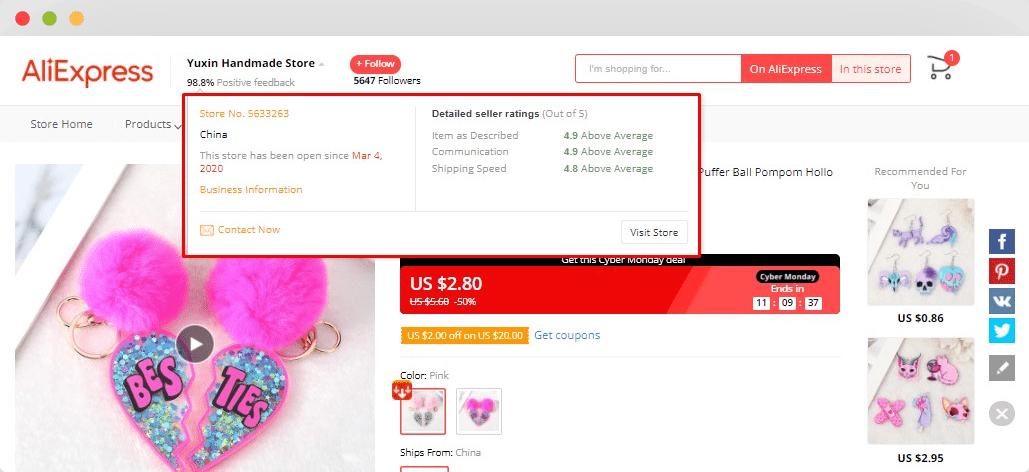 These ratings are based on the overall feedback of the supplier from multiple customers. The higher the ratings, the better the supplier is.
Who Are AliExpress Customers?
In simple words, anyone who can pay with a credit card can be an AliExpress customer. AliExpress operates in over 190 countries. So, anyone from these countries can buy anything from AliExpress.
But AliExpress customers can be differentiated into two of the following categories.
Consumers
If a person is buying a product from AliExpress for his personal use, he can be regarded as the consumer of that product.
When you see the product reviews for any product on AliExpress, you see that the buyers of those products have left their reviews after using those products.
These reviews can be in the form of text or pictures of those products. They are the consumers of those products.
Businesses
There are some kinds of large and small businesses that also use AliExpress as their indirect customers. How? Let's find out.
A very common type of business that is run using AliExpress is called dropshipping.
We will discuss dropshipping separately in the coming section of this article but just as we discussed in the previous question, it is an indirect selling technique using AliExpress as the source website.
Other kinds of businesses that use AliExpress can be a physical shop that uses AliExpress as its source website. A shop can order a sample product from AliExpress to be displayed at the shop.
If the shop gets recurring orders for that product, it can arrange those products by placing an order at AliExpress.
How Does AliExpress Dropshipping Work?
AliExpress dropshipping is a very common concept in e-commerce. The basic idea of dropshipping, as discussed earlier also, is to put the pictures of the products on your online stores and market them to get orders.
When you get the orders, you place those orders on the source website and give the shipping details of the customers. In this case, AliExpress is used as the source website for sourcing the products.
Let's understand dropshipping with an example.
The following screenshot is from a dropshipping store named Sugarandcotton. As you can see, it is selling these socks for $16.95 after a discount.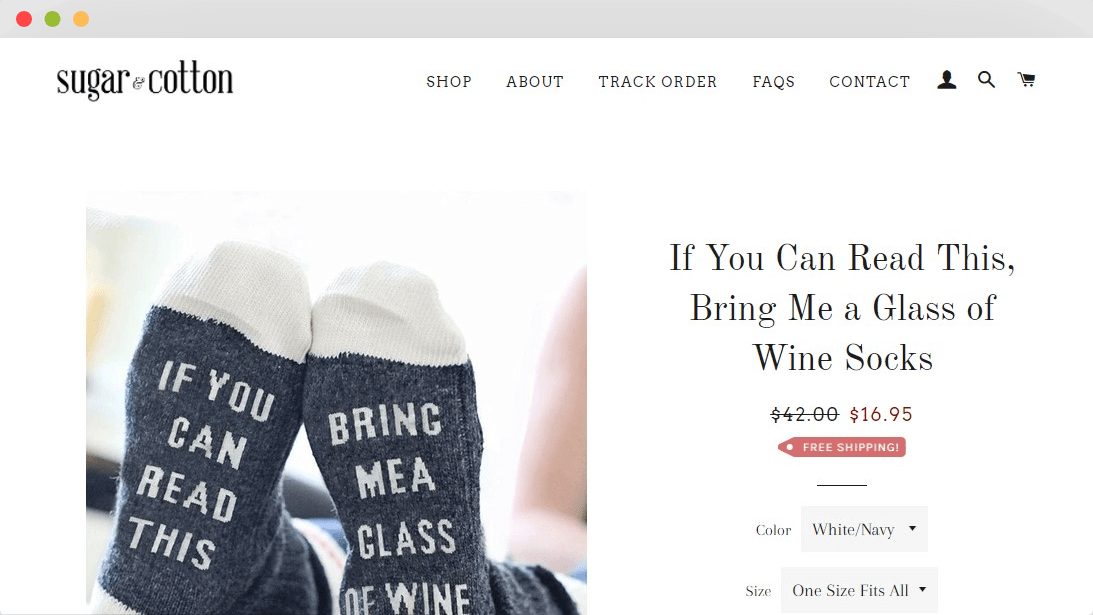 But if you search for that product on AliExpress, you can find the same product for only $1.13.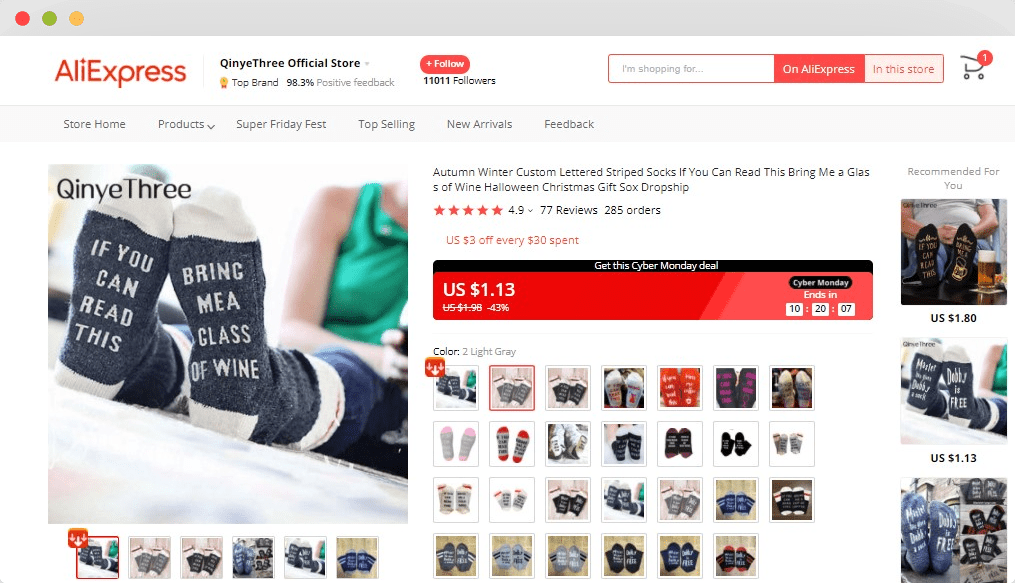 So, this online store is earning around $15 per product. But here's a catch.
There is a visible difference between the presentation of this product. The dropshipping website has presented the product in a catchy way. The product description and the pictures of the product are also well presented.
If you read other details on this website, you would notice that this website is also following the methods adopted by AliExpress. Like it says that it delivers the products in 15 to 20 days and doesn't offer something like 1 or 2-day delivery.
So, it is evident that they source products from AliExpress or a similar website.
This is the whole concept of dropshipping from AliExpress.
How Does AliExpress Search Work?
AliExpress offers its search system on its website and mobile application to find the products of your choice.
If you write anything in the search bar of AliExpress, you get the results based on the partial or exact matches of what you had written in the search bar.
The search results are mostly organic but sometimes AliExpress also shows some sponsored products in the results at the top.
You can also utilize the options or filters around the search to refine the results and reach closer to the products that you want.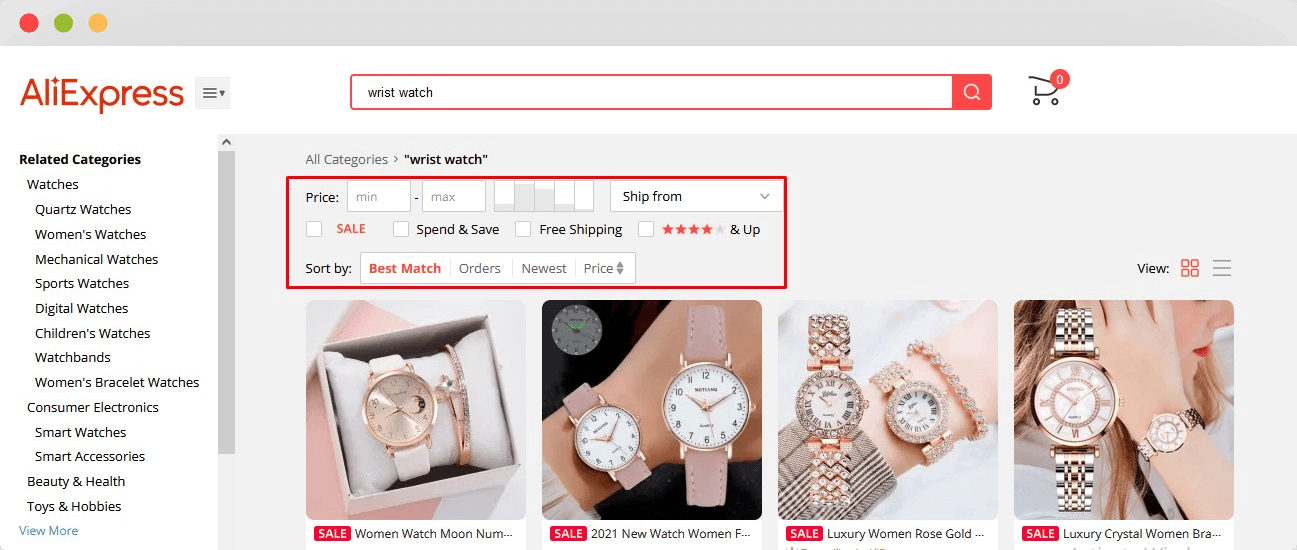 As you can see in the screenshot above, you can have multiple options while searching for a product. These options are mentioned below.
The price range of the product is from minimum to maximum price.
Price range graph showing the buying trend for that product in a certain price range.
Ship from option showing you the option from which the products can be shipped. It can include the locations of the US, Turkey, and China.
Option to show the items on sale.
Option to select the spend & save offers that show you the amount you can save when you spend a certain amount on a specific product.
Option to choose the products that are available with free shipping offer.
Option to show the products that have 4+ star ratings.
In addition to the above parameters, you can also refine your product search by sorting the results. The sorting options include the following.
Best match sorting that shows the products that best match with the search term you had written.
You can sort results with the maximum number of orders for that product.
You can sort results as per the product upload status. If you tick the newest products options, you will get the results accordingly.
Lastly, you can sort results by the price of the product. Clicking this option can show you the products at ascending or descending prices.
What Products Can You Get on AliExpress?
AliExpress has a very huge range of products that you can order. When you visit AliExpress, you see the categories of the products on the left side of the website. These categories include the following.
Women's Fashion
Men's Fashion
Phones & Telecommunications
Computer, Office & Security
Consumer Electronics
Jewelry & Watches
Home, Pet & Appliances
Bags & Shoes
Toys, Kids & Babies
Outdoor Fun & Sports
Beauty, Health & Hair
Automobiles & Motorcycles
Home Improvement & Tools
If you take the cursor over any of these categories, you would see that another window of subcategories opens up. The product catalog on AliExpress is so huge that it has divided the products into categories and subcategories.
Not only this, but the subcategories also have subdivisions to make your search easier.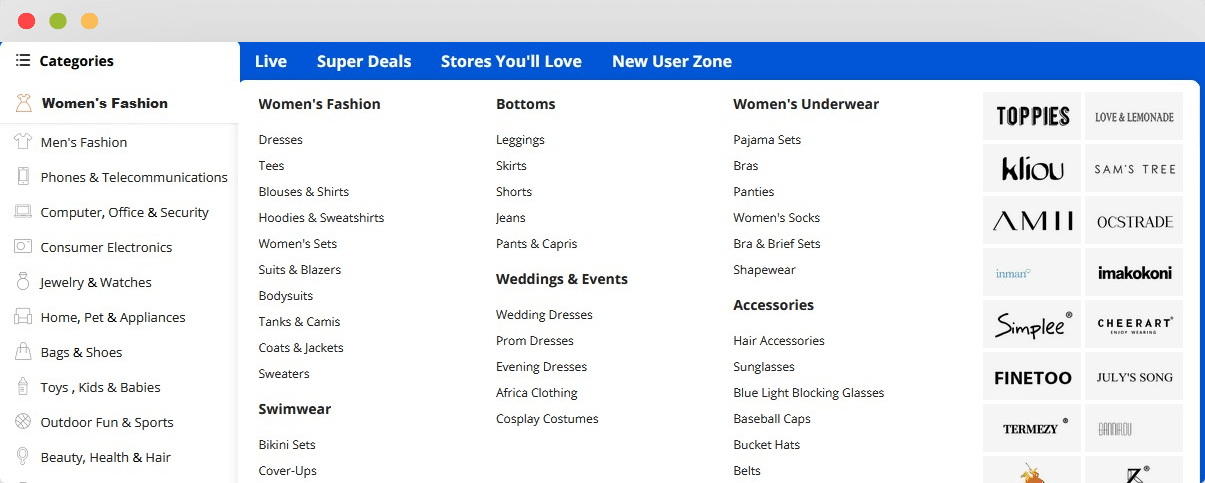 So, starting from fashion and going up towards electronics, home improvement, outdoor, and automotive tools, AliExpress offers as many products as a person can think of.
How Does AliExpress Give Discounts?
AliExpress has several ways to offer discounts for its customers. The discount may be in several forms. In addition to the discounts offered by the sellers on AliExpress, you can also get discounts from AliExpress directly.
The following are the ways you can get discounts on AliExpress.
AliExpress Coupons
A coupon is a way to give a special discount to the customer. Like most websites, AliExpress also uses a coupon system to attract more customers.
If you have just been browsing AliExpress and not buying anything, AliExpress uses this coupon system to turn a visitor into a buyer. It may suddenly offer you a coupon that can be of any value starting from $1 to $150.
You can apply that coupon code to the items you want to purchase provided that the seller accepts coupons.
New User Discount
AliExpress has a special feature to attract new customers by offering them special discounts on their first purchase.
Like you can see in the screenshot below, AliExpress offers a $3 discount to new customers. That means that a new user can avail a discount of $3 from any product on AliExpress on his first order.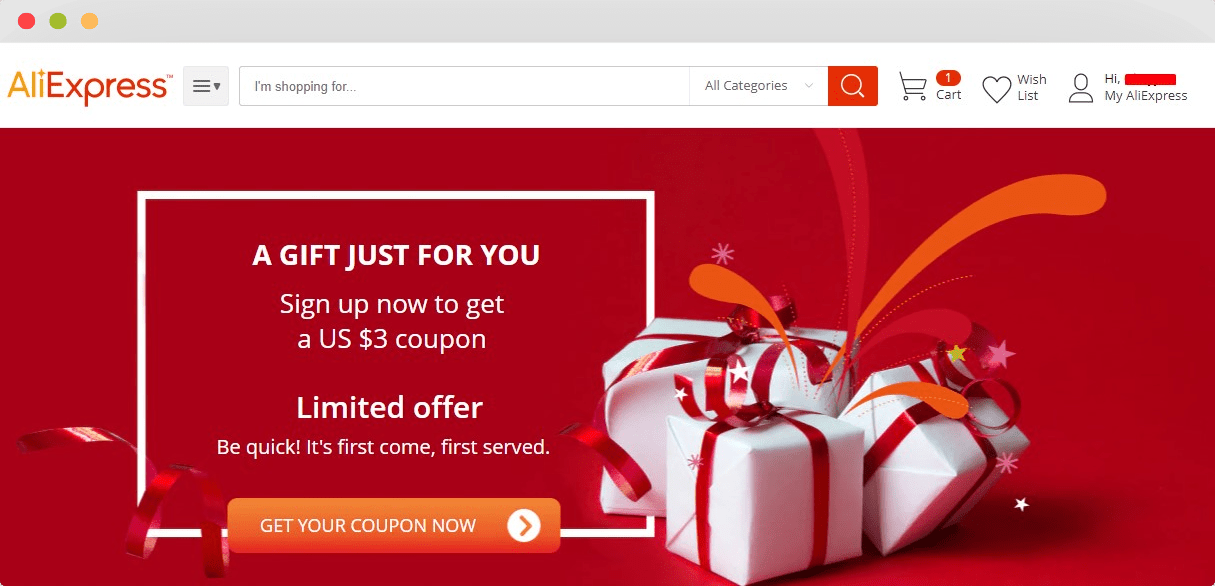 The amount for this discount can change from time to time and AliExpress can also set a certain amount of shopping for the discount to be valid.
AliExpress Freebies
AliExpress offers some products free of cost. You just have to pay $0.01 for the product. The offer is valid on mobile app only. There are specific items on which this offer is available.
If you fulfill the criteria and you win a free product, you just have to write a detailed review about that product.
That way, you get a free product and the seller gets a genuine review.
AliExpress Coins
Another exclusive feature of the AliExpress mobile app is the coins system. You can earn coins on the AliExpress app for playing simple and interesting games.
When you collect certain coins, you can redeem them with coupons and discounts.
AliExpress Bonus Buddies
Another exclusive feature of the AliExpress mobile app is Bonus Buddies. You can have a chance to win $200 just by spinning the wheel of your luck. Even if you are short of a few dollars, you can invite friends with your special link.
If they sign up for AliExpress using that link, you get more spin chances. So, you get $200 and AliExpress gets a new prospect or a potential customer.
This is a kind of free affiliate marketing tool of AliExpress.
AliExpress Coupon Pals
This is also available on the AliExpress app only. It is also a kind of a simple game to earn coupons. This game also involves earning coupons by inviting your friends to the AliExpress app.
Is Your Data Safe on AliExpress?
Yes. Your data is safe on AliExpress. As AliExpress is one of the leading global e-commerce platforms in the world, it takes special care in protecting the data of AliExpress users in every way.
It is safe to search any kind of product on AliExpress as it won't disclose your data to any of the third-party sources.
However, it seems that AliExpress saves your data with itself to refine the searches and show you the products that you are more interested in.
It does so in a way to make its processes smarter for delivering targeted services to its users. For example, if you are more interested in electronics, it will show you more and more similar products when you log on to AliExpress in the future.
Just like other websites, it can use cookies to save files on your computer. Cookies help to save your login information and site preferences so that you can be guided according to your choices when you visit that website again.
Additionally, you would also experience that you see more advertisements of the products from AliExpress as you log on to your social media accounts including Facebook and Instagram, etc.
That is because of the advertisement collaboration of Google, Facebook, and AliExpress. Google knows that you searched for AliExpress if you tried to search it on Google search engine or you logged on to AliExpress using Google Chrome browser.
Google then hints your IP address to social media sites like Facebook and Instagram and those sites show you the targeted advertisements from AliExpress so that the overall AliExpress marketing campaign can be capitalized more efficiently.
How Does AliExpress Make Money?
AliExpress makes money by charging suppliers on AliExpress a specific percentage of the transaction value.
The way AliExpress makes money is not different from that of other platforms like Amazon. However, AliExpress does not charge a fixed fee for selling products on its platform.
As per the AliExpress official page for seller information, AliExpress charges a set commission that ranges from 5% to 8% of the total transaction value.
So, the suppliers on AliExpress also have to incorporate this commission value in the prices of their products for being profitable.
The commission of 5% to 8% varies from one product category to another. Some of the product categories on which AliExpress charges 8% commission are as follows.
Clothing, apparel, and bags.
Watches and clocks.
Fashion jewelry and jewelry tools.
Makeup, skincare, and personal care.
Sex products.
Mother & kids, toys & hobbies, home & garden.
Lighting & home improvement.
Sports & automotive products.
Mobile phone accessories & parts.
Musical instruments.
Selected laptop and tablet accessories.
Office & school supplies.
Electric components & supplies.
Electronic cigarettes.
Automobiles and motorcycles.
The product categories mentioned above have detailed products mentioned against each category. You can have the idea of product category commissions by visiting their official page.
You can have access to the detailed products on which AliExpress charges 5% or 8% when you register yourself as a supplier on AliExpress.
How Does AliExpress Work with Shopify?
Shopify is a platform that you can use to launch your online store. How is AliExpress relevant in this case? You can use AliExpress to synchronize your online store with Shopify.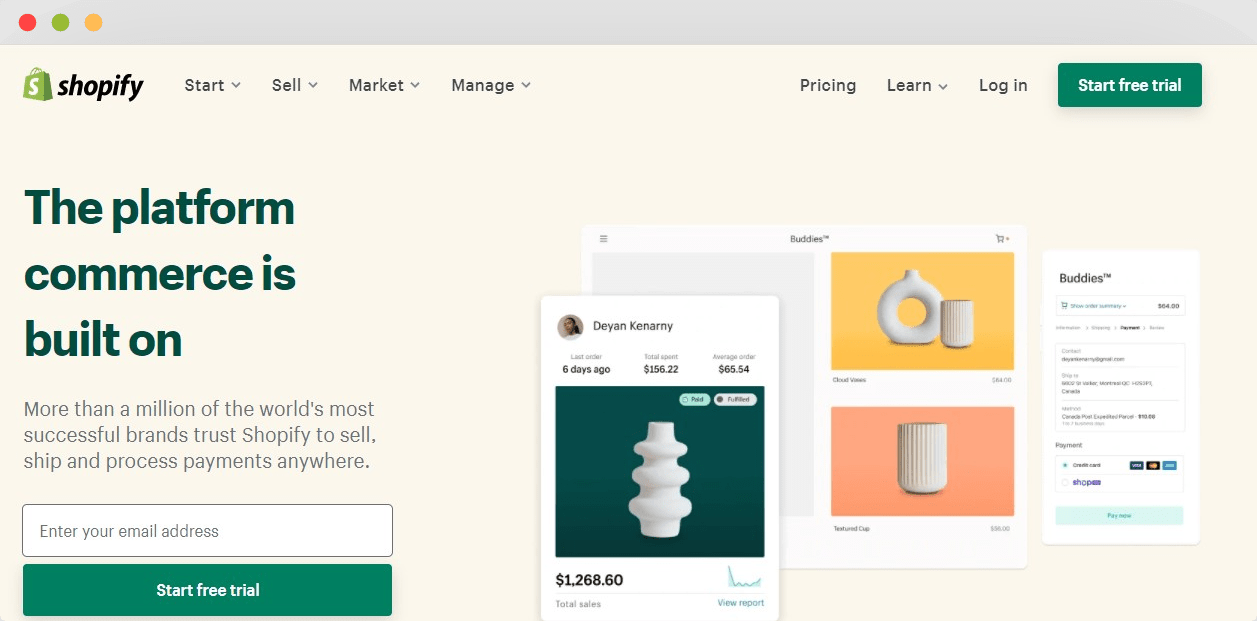 AliExpress will be especially relevant if you intend to launch your store using AliExpress as your source website to arrange your products.
Take the example of dropshipping. If you build an online store on Shopify and you want to upload products from AliExpress, you can do it more conveniently.
Rather than uploading product pictures, prices of the products along with descriptions manually, you can do it in an automated way.
Shopify has special apps that make it easy for you to import products and their details to your Shopify store in a matter of a few clicks. This is a concept of automated dropshipping.
For example, there is a special service of Shopify called Oberlo. Oberlo makes it super quick and easy to import product details from AliExpress directly to your Shopify online store.
It helps you set prices, change variants, and display selected pictures of the products that are imported from AliExpress.
It also has a dedicated service to import products from its own marketplace that also hosts AliExpress suppliers.
There are many other Shopify tools for dropshipping that you can benefit from. Many of them are related to AliExpress.
What Are the Payment Options on AliExpress?
The most common and widely used payment method for international customers is via credit card or a Mastercard. While there are other payment methods on AliExpress like a bank transfer, most shoppers prefer payment via credit card.
AliExpress does not currently support common international payment methods like PayPal and Stripe, etc.
The most common payment method for mass payments with AliExpress suppliers is by making a spreadsheet of the products and making payments daily if you have regular daily orders.
The supplier will dispatch the products to your customers after receiving the payments.
How Does AliExpress Shipping Work?
AliExpress generally offers two kinds of shipping services. They are mentioned below.
AliExpress Standard Shipping
AliExpress Premium Shipping
AliExpress Standard shipping takes 15 to 45 working days for the products to be delivered at the given address. AliExpress premium shipping takes 7 to 15 working days.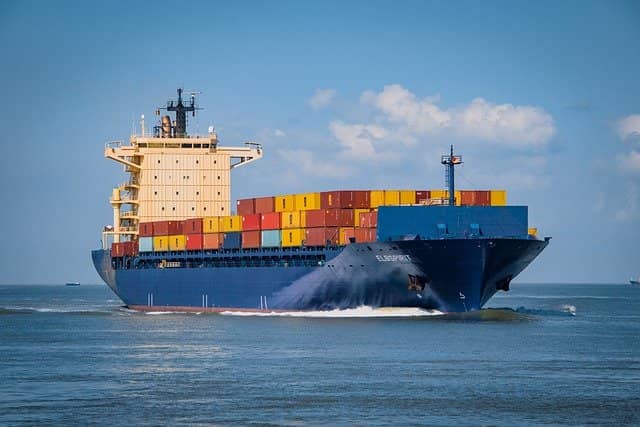 Naturally, AliExpress standard shipping is cheaper than AliExpress premium shipping. The exact cost of the shipping varies from product to product and from supplier to supplier.
Most shipping options at AliExpress offer tracking services. IT provides tracking numbers to the customers which they can use to track their shipments.
There are other shipping services offered by the suppliers on AliExpress. These shipping options include the world's renowned shipping services like DHL, FedEx, and USPS, etc.
But they sometimes cost more than the cost of the products. So, that's not worth it until you need the products really fast.
Another popular shipping service offered by merchants on AliExpress is ePacket. This is a special shipping service that enables shipments to reach destinations earlier and in a cost-effective way.
Why Is AliExpress Shipping So Cheap?
AliExpress has a very detailed and collaborative system of shipping networks around the world.
The shipping service that AliExpress offers involves multiple courier companies that collaborate to make the parcels delivered at the customers' addresses safely and promptly.
Chinese leading shipping and logistics companies like Yanwen also play their part in this process.
Let us understand a typical shipping process followed by AliExpress after it receives an order. After the order is confirmed, the supplier has to start the dispatch process within a stipulated time.
The parcels are packed and shipped from the supplier's warehouse and are received at the collection center in China.
Then, these parcels are set to leave China via sea, road, or air whatever options are available and suitable.
The parcels that reach destination countries are then handed over to their local courier services. These courier services are then responsible for the delivery of those parcels at the given addresses.
So, this kind of smart collaboration makes it possible for AliExpress shipping to be so cheap.
How Long Do AliExpress Orders Take?
The time your order takes to be delivered depends upon which shipping method you chose while ordering from AliExpress. When you place an order on AliExpress, you are asked to choose a shipping method.
The estimated date the order will reach your destination is mentioned right beside the shipping options. See the screenshot below.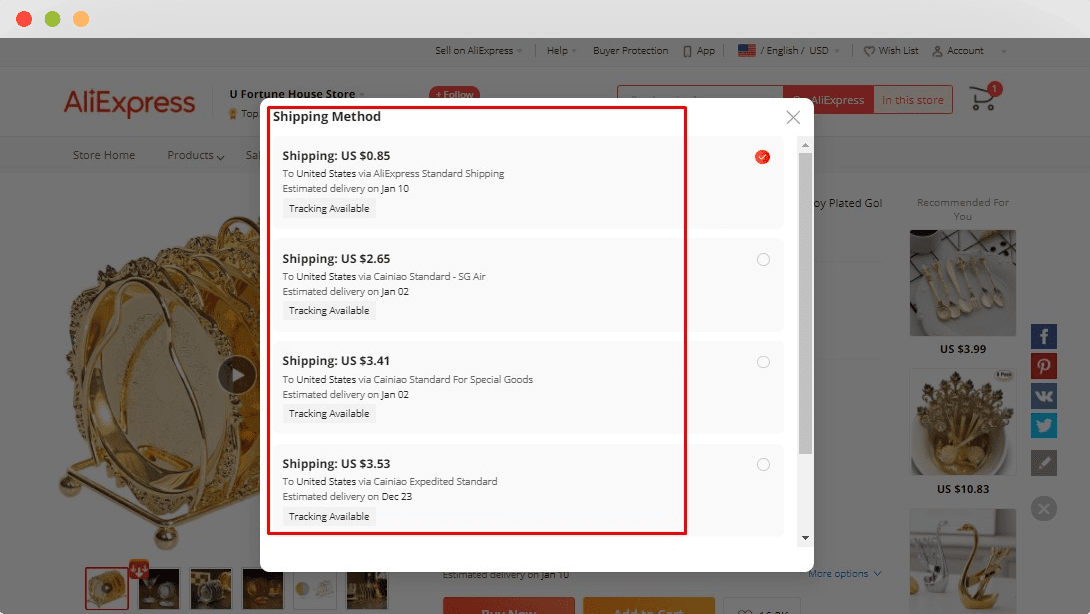 How Does AliExpress Manage Returns and Refunds?
AliExpress has a very smart and reliable way of handling the payments of its customers. When a customer makes a payment, AliExpress does not hand it over to the supplier right away. Rather, it holds the payment until the customer receives the product.
AliExpress does this to give a partial refund or a full refund to the customer in case he did not receive the product.
AliExpress offers an exclusive buyer protection policy to every customer. According to the policy, every customer has a refund and return guarantee provided by AliExpress.
When you have a problem with any of your purchases from AliExpress, you will notice that your supplier will try his best that you do not open a dispute. That is because it hurts his business on AliExpress.
He will try to negotiate with you and will try to convince you not to process the return or a refund. In that situation, you are free to settle the dispute with your supplier on mutual consent.
Can you Get Scammed on AliExpress?
No. It is not technically possible to get scammed on AliExpress. That is because AliExpress takes special care in protecting the interests of its buyers.
However, you can sometimes expect to experience some of the following situations on AliExpress.
Delayed shipments.
Products received may be different than promised.
Products may be damaged during shipment.
You can get a fake product from some sellers.
All of the above-mentioned scenarios are manageable in AliExpress buyer protections discussed above.
Final Words
AliExpress is one of the most profitable subsidiaries of Alibaba group. That is why it always tries to adopt the best possible ways to streamline the way it works.
We have tried to explain the processes that AliExpress adopts to dominate the e-commerce business. We hope that you have got value out of this article.
Do tell us what you think about this article in the comments. If there is something that you want us to cover regarding AliExpress, do let us know. We will get back to your comments and queries as soon as possible.
At NicheDropshipping, we offer services such as product sourcing, bulk inventory, white and private labeling, and order fulfillment so you can run your business more efficiently.
Contact us to get started.