The total global retail ecommerce sales were about $5 trillion in 2021. Ecommerce sales are forecasted to grow even further—by 50%—in 2025, reaching up to $7.4 trillion.
These numbers verify that customers are now more inclined to shop online. This only leaves business owners one question: are you ready to shift to an online store?
Of course, some sort of hesitation is understandable. After all, selling stuff online is no less competitive than the traditional method.
But this shouldn't stop any entrepreneur from exploring, especially with the numbers stated above.
In this article, we'll enumerate top examples of online selling sites and the benefits of selling online to help you make that leap of faith.
If you're willing to take a step forward, continue reading to know more about selling products online.
Let's get to it.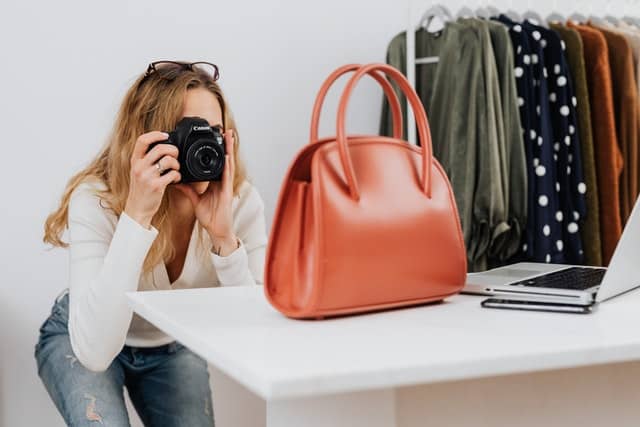 Top 18 Online Selling Sites
The following online platforms are some of the most popular ones. They're trusted by shoppers and offer some of the best fees and terms to both online sellers and buyers.
To know where you can sell your products, check out the sites below.
eBay
eBay deserves to be a popular online selling website because it's the original one. Established in 1995, eBay was then known as AuctionWeb up until the name change in 1997.
Currently, the website receives around 1.7 billion visits per month from 190 countries and territories, with a market capitalization of $47.8 billion.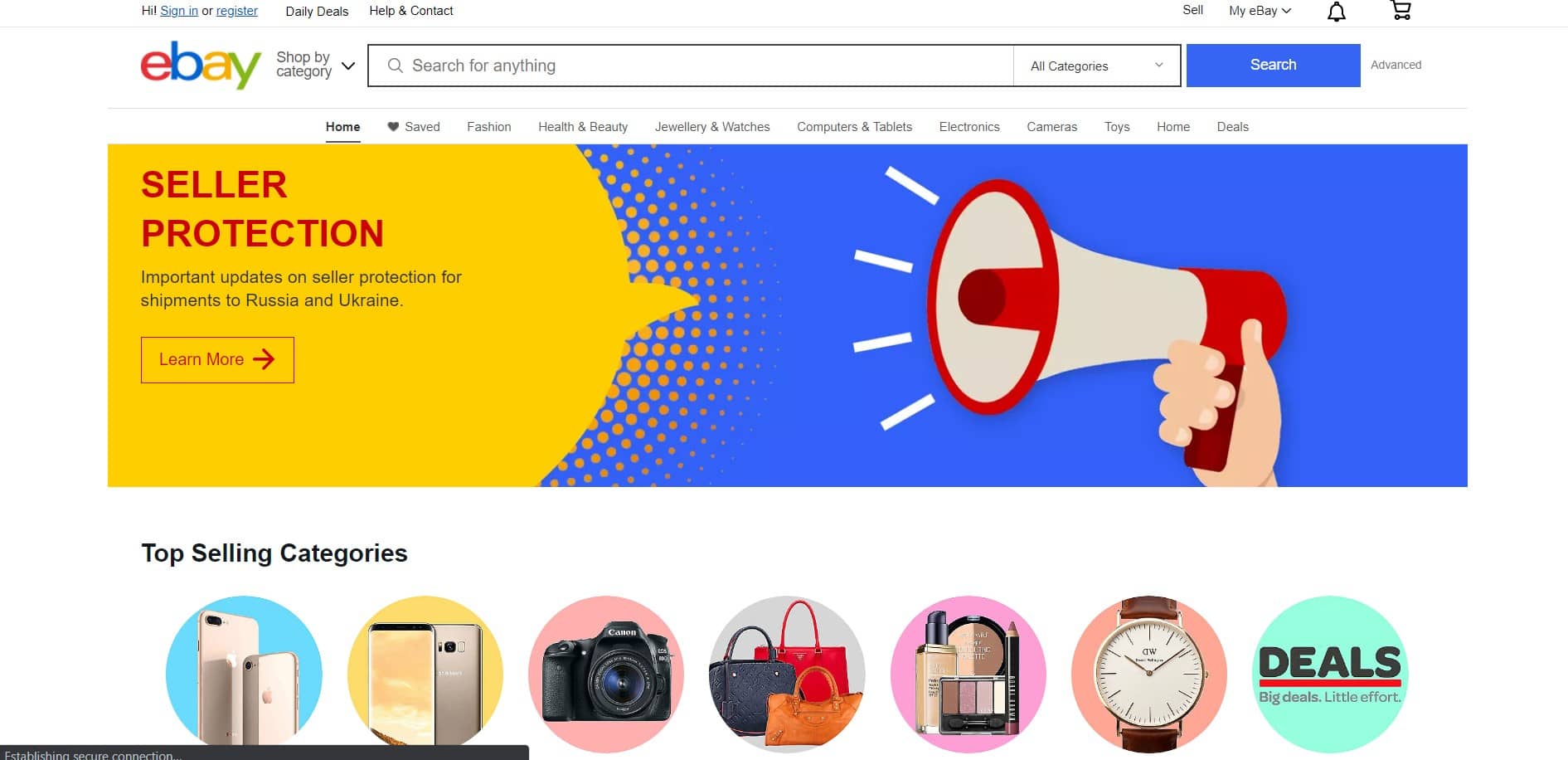 A probable reason why the website is so popular is that people can sell anything they want. From typical shoes and clothing to weird stuff, you can find everything here.
You have two listing options:
Fixed Price Listing – fixed price for every buyer
Auction Listing – different buyers bid for your product
However, as a seller, you need to consider the different fees the site charges.
For starters, you get charged a non-refundable listing fee. You also have to pay an insertion fee when you list the same item in a different category. Lastly, a final value fee is charged as a percentage of the total sale amount.
So, if you're considering selling expensive items, better calculate your profit margin ahead.
Don't worry though, eBay's audience is huge. You can sell your products to people in different parts of the world—given that you optimize and market them well.
Amazon
Amazon is a top contributor to global ecommerce sales.
Every minute, 400 products get sold which is probably why the platform garnered around $386 billion in net sales in 2020.
Since trust is an essential aspect of online selling, Amazon easily grew its customer base. People consistently order from the platform because Amazon is known to screen its sellers and their products, removing fake items.
You don't have to worry about receiving fake products. If you do, you can check out the return and refund policies, and easily leave a review.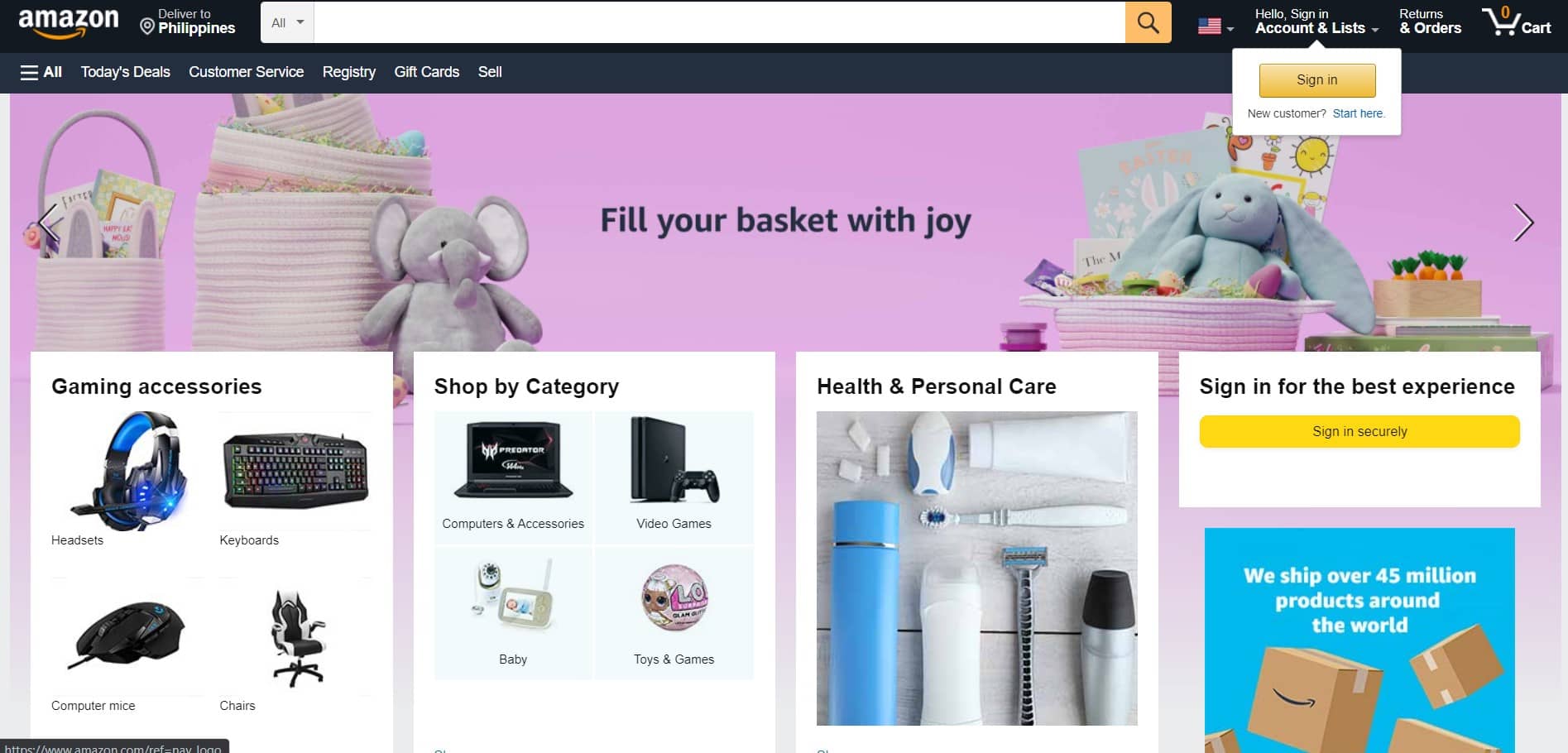 Amazon Prime also happens to be a convenient option for shoppers in a rush. In selected areas, items can be shipped and delivered within a day. Talk about speedy deliveries, right?
Apart from these features, shoppers can easily browse through a variety of product categories, too. Simply utilize their search bar or select a category you want to shop in.
In terms of costs, the Professional seller plan starts at $39.99 per month. The plan includes advertising, qualification for top placement on retail pages, advanced selling tools, and inventory for 40 units per month.
Did we mention that it has a global audience? Thanks to its worldwide fulfillment, customers can order from any part of the globe.
Ruby Lane
Ruby Lane was created in 1998 when Tom Johnson combined his passion for antiques and collectibles with his experience in the high-tech background.
Quite different from eBay and Amazon, Ruby Lane is focused on everything vintage and artsy. You can find art, jewelry, dolls, glass, porcelain, pottery, and silver on this website.
This online selling site is ideal for business owners who wish to market to vintage enthusiasts. The website itself is already known for its niche, making it easier for sellers to reach their target audience.
Fair warning though, don't try to sell electronics, tools, or anything other than the usual ones you find on this website.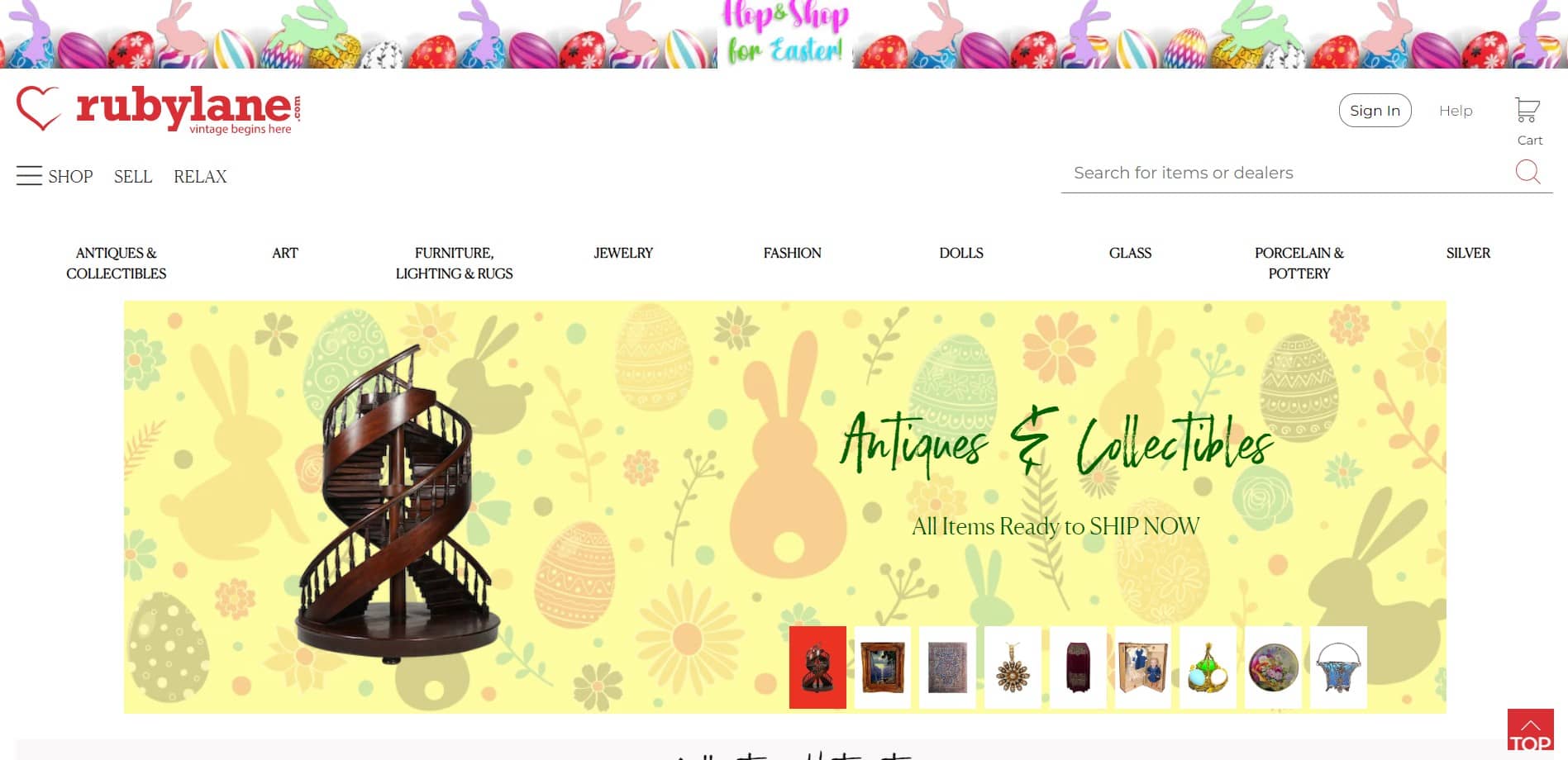 As a testimony from its loyal customer base, Ruby Lane was the most recommended selling website in 2019. As of November 2020, more than 1.8 million unique visitors browse the website each month.
As far as costs are concerned, you only need to pay a monthly maintenance fee of $54, which includes 50 listings. The more listings you have, the higher the maintenance fee goes.
Upon checkout, 6.7% gets charged to the total purchase order which excludes sales tax.
Though the fees may be a bit steep for new entrepreneurs, it's a small price to pay for direct connections with target customers.
Bonanza
Bonanza is still considered a new eBay alternative, as it was only established in 2007.
That doesn't stop the platform from bagging awards, though.
In 2021, the website was awarded first place in Customer Service and Communication. It was also the most recommended marketplace according to the EcommerceBytes Sellers Choice Awards.
This online marketplace makes itself known as seller-centric. They don't charge listing fees and monthly account fees. Until you make your first sale, they'll cover the advertising costs, too.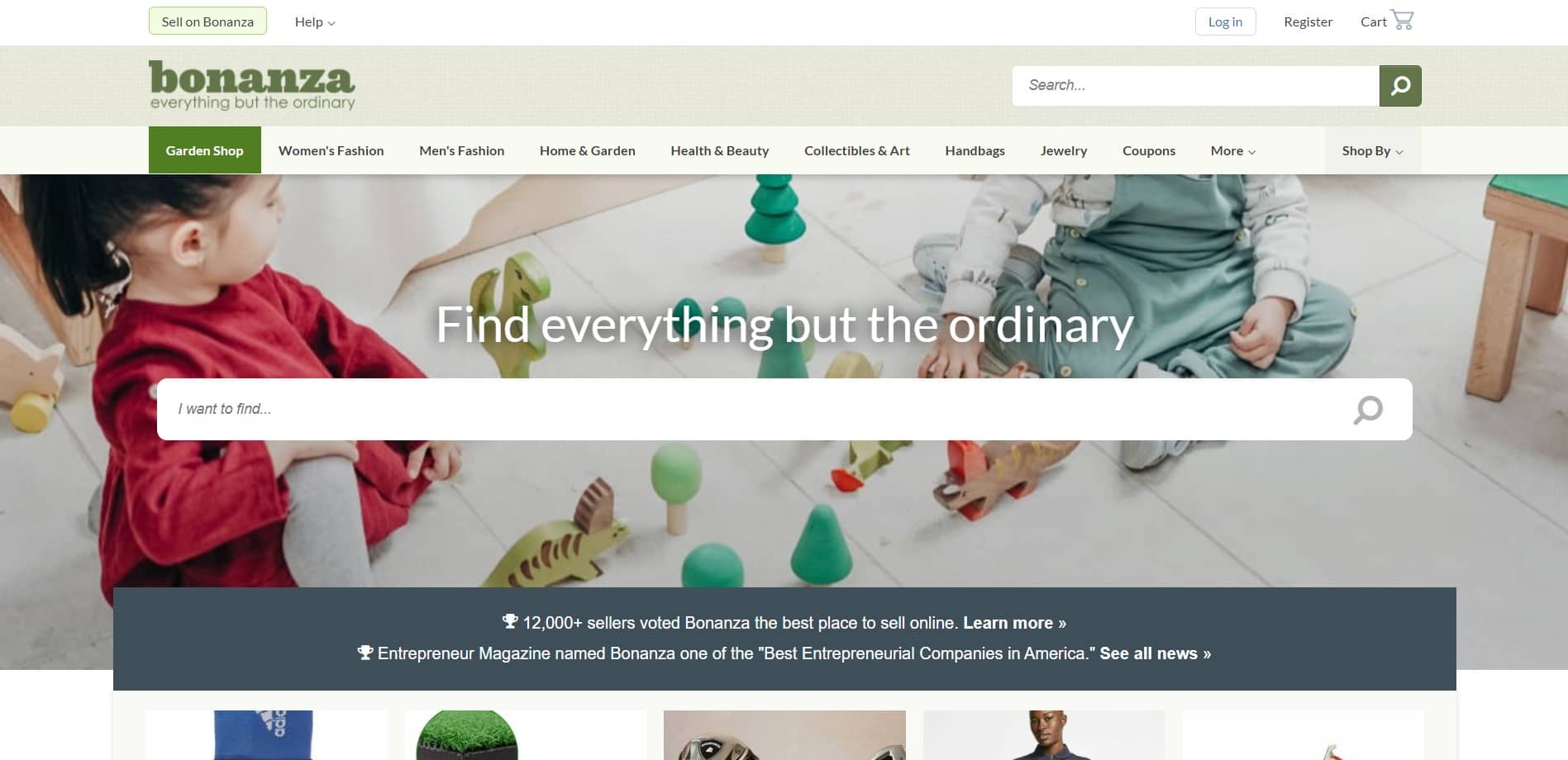 Once you make a sale, the selling fees will be based on the Final Offer Value. The Final Offer Value combines what the buyer paid plus a percentage of the shipping fee once it exceeds $10.
Selling fees for a cart of less than $500 upon checkout is 2.5%. Anything over $500 is charged with an additional 1.5% flat fee on top of 2.5%.
For example, you sold an item for $10, then charge $15 for shipping. The Final Order Value will be $15, taking the dollar value of the item sold ($10) and the $5 excess from the shipping fee.
Stick with us here. Since the selling fee for total dollar values less than $500 is 2.5%, you'll only be charged $0.375.
Bonanza may not carry as many branded items like Amazon, but you may still find buyers for more popular brands like Nike or Adidas. This is also a great platform for selling handmade crafts or newer products.
If you already have your online store on Shopify, you can still seamlessly integrate with Bonanza for easy management.
Flippa
Next on our list is a unique online marketplace.
Flippa is a platform where business owners can trade their digital assets such as ecommerce stores, blogs, SaaS companies, mobile applications, and social media accounts.
Currently, it's the top marketplace for such products.
It was founded in 2009 and has since sold more than 300,000 digital assets worldwide. Thousands of verified buyers each month help businesses of all sizes make money from their virtual products.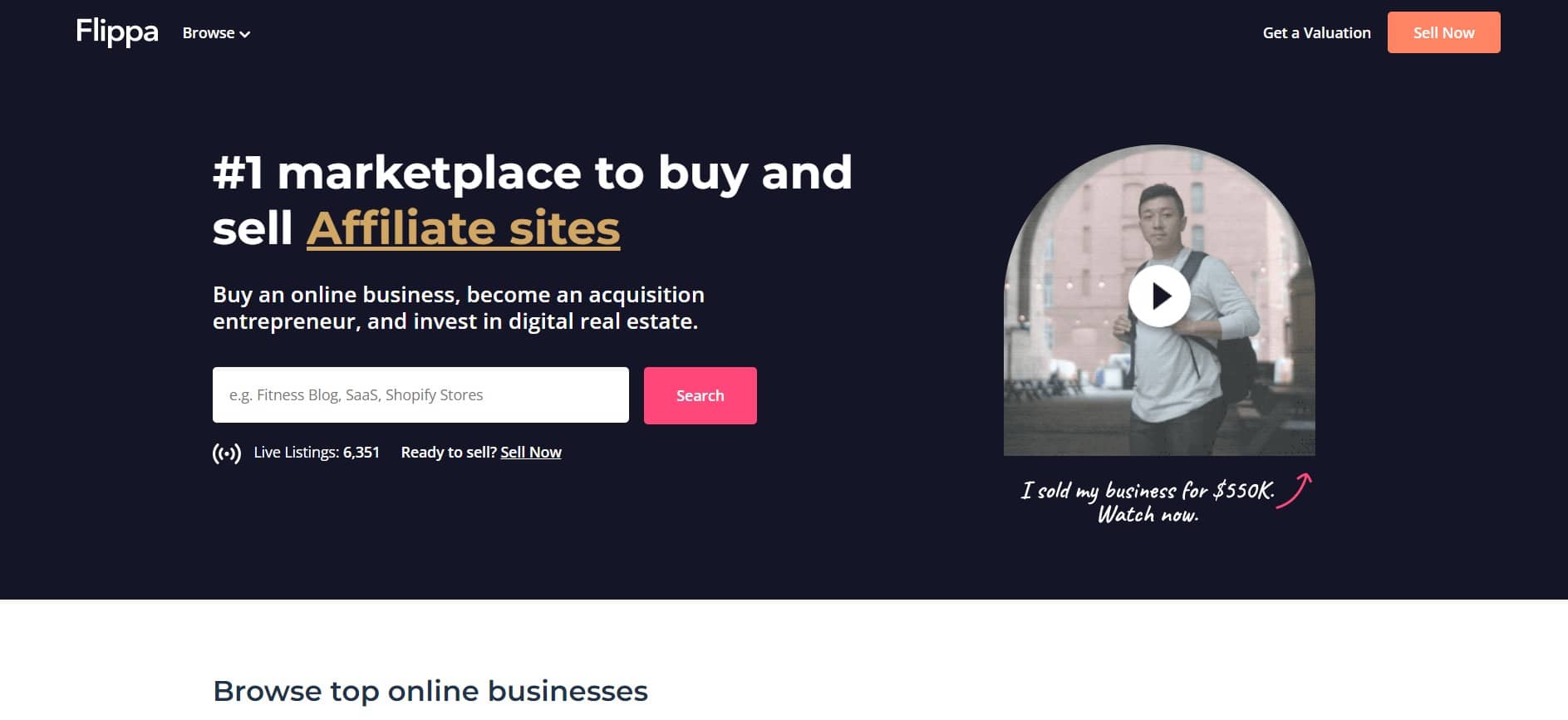 Key features you can enjoy include a free valuation tool and listing promotions. You can also add a "For Sale" sign on your website and receive detailed reports about traffic analytics, site ranking, and many more.
However, listing on Flippa does come at a cost.
$10 – domains
$15 – apps and starter websites
$49 – established websites and online businesses
The fees don't end there, too. Once you make a sale, you need to pay a success fee depending on your sale value.
$50,000 and below – 10%
$50,001 to $100,000 – 7.5%
More than $100,000 – 5%
Selling through Flippa's partner broker would also cost you a 15% success fee.
On the bright side, these fees are based on how fast assets are sold on the website. With 30,000 new visitors each month, it won't take long before you sell products in a blink of an eye.
Craigslist
Selling online doesn't always mean you need to go global. Sometimes, it's best to target local markets. When that's what you're aiming for, local marketplaces do the trick—like Craigslist.
You must have already heard about this website from family, friends, or even movies.
In 1995, Craig Newmark founded Craigslist as a way to email his friends about the local events in San Francisco Bay area. It eventually progressed into a web-based marketplace, where sellers post just about anything for sale.
Craigslist has 700 local markets across different cities, allowing customers to find what they need within their reach.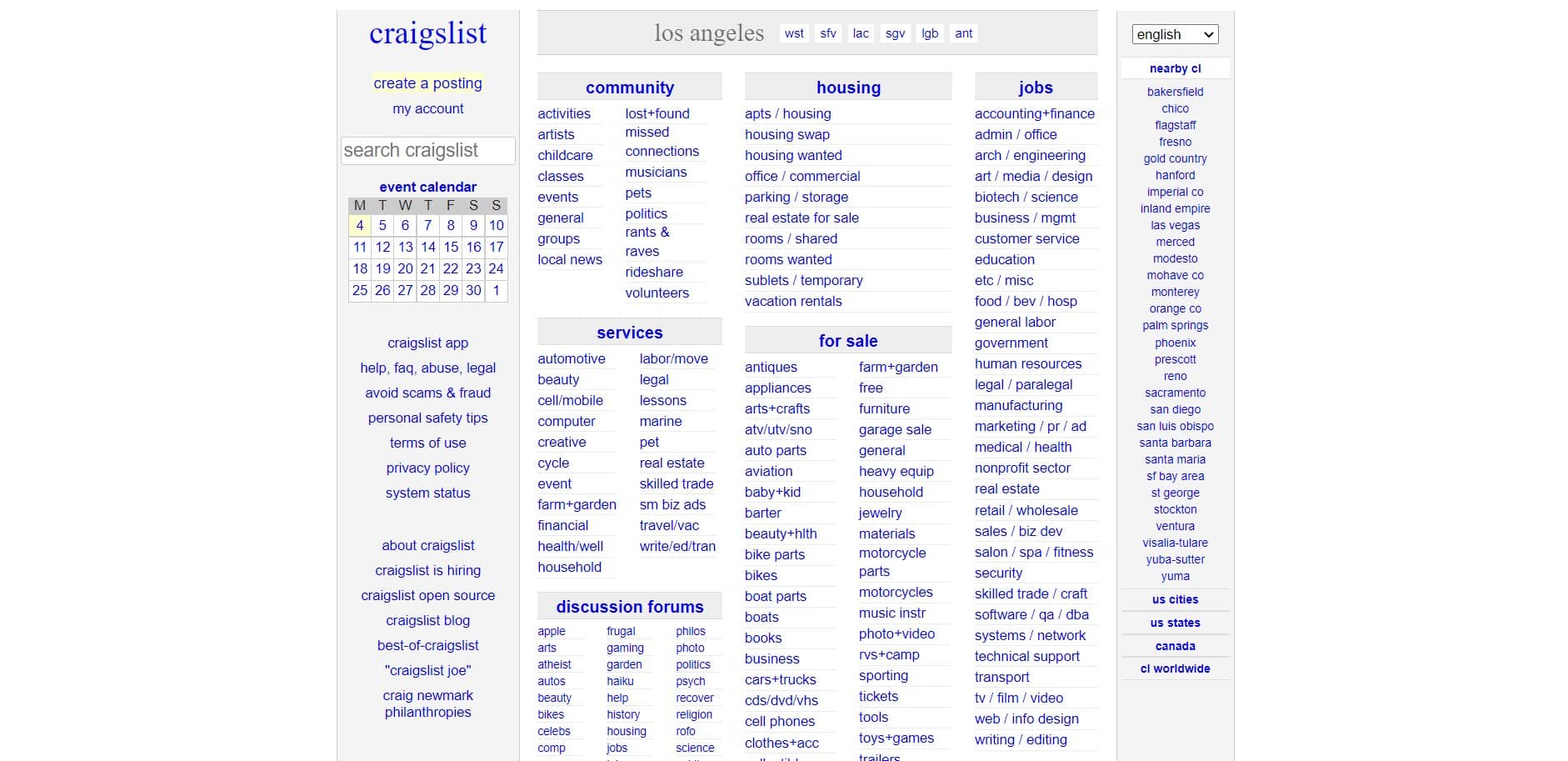 We have to say, though, that the website isn't as modernized as the other sites we've listed in this article.
Nevertheless, it's a feature we can let go of since listing on the website is free and easy. No need to worry about fees and listing customizations.
However, users still need to be wary about looking for items as the platform doesn't supervise transactions between buyers and sellers.
Still, Craigslist is a great place to find some items you usually wouldn't see on typical marketplaces. Whether it's tickets to a concert or preloved items, you'll find them if someone sells them.
Etsy
Are you a seller of handmade crafts and vintage items? Well, Etsy deserves to be a part of your options.
Etsy is widely known as the website for these product categories. Ever since it was launched in 2015, shoppers have always gone to Etsy first to find unique items not sold on mainstream markets.
60 million buyers visit Etsy each month. So, if you're worried about whether someone will notice your product or not, just think about the odds.
Granted, you do your part in advertising and optimizing your product listing.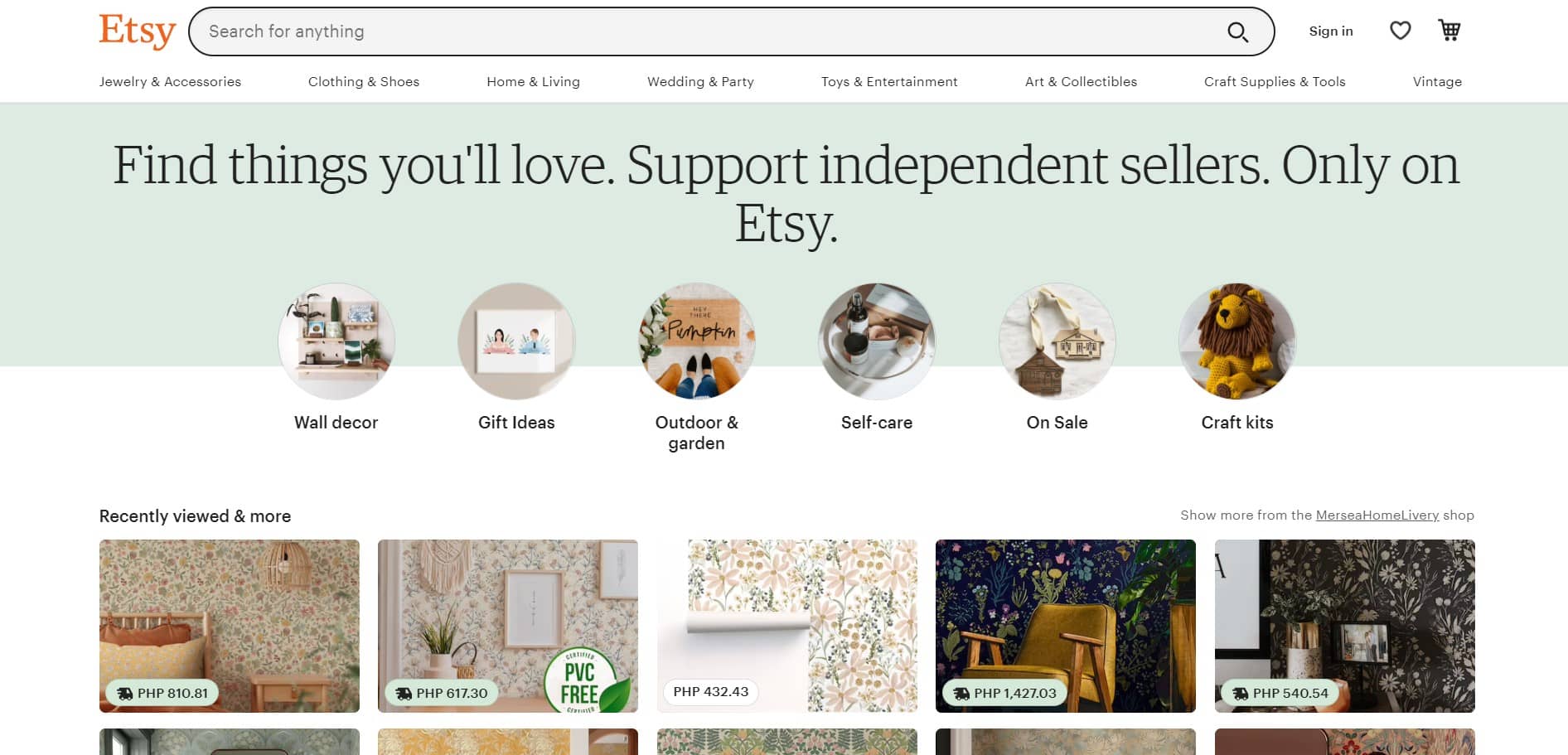 Now, let's talk about fees.
Listing on Etsy will cost you $0.20 per item which is valid for four months or until it gets sold.
Once you make a sale, a 5% transaction fee and 3% + $0.25 processing fee will be charged. If you decide to charge your buyer a separate shipping fee, that will be an additional 5%.
Renewing your listing or putting it up again will cost you another $0.20.
All these fees may deter you from selling on the website, but know that Etsy sold more than $4.97 billion worth of goods in 2019. With the right strategies, you might even contribute to that number.
Swappa
So far, we've mostly listed marketplaces for general products, handicrafts, and antiques.
With Swappa, let's change the mood a little bit.
Swappa is a marketplace designed for people who want to buy and sell electronic items. For the most part, it's a place to let go of old tech you no longer need.
Here, you can see watches, phones, cameras, home tech, and many more tech items.
Of course, given the nature of the items, Swappa has been committed to keeping its website scam-free. They thoroughly review products, requiring sellers to send verification photos and device ownership.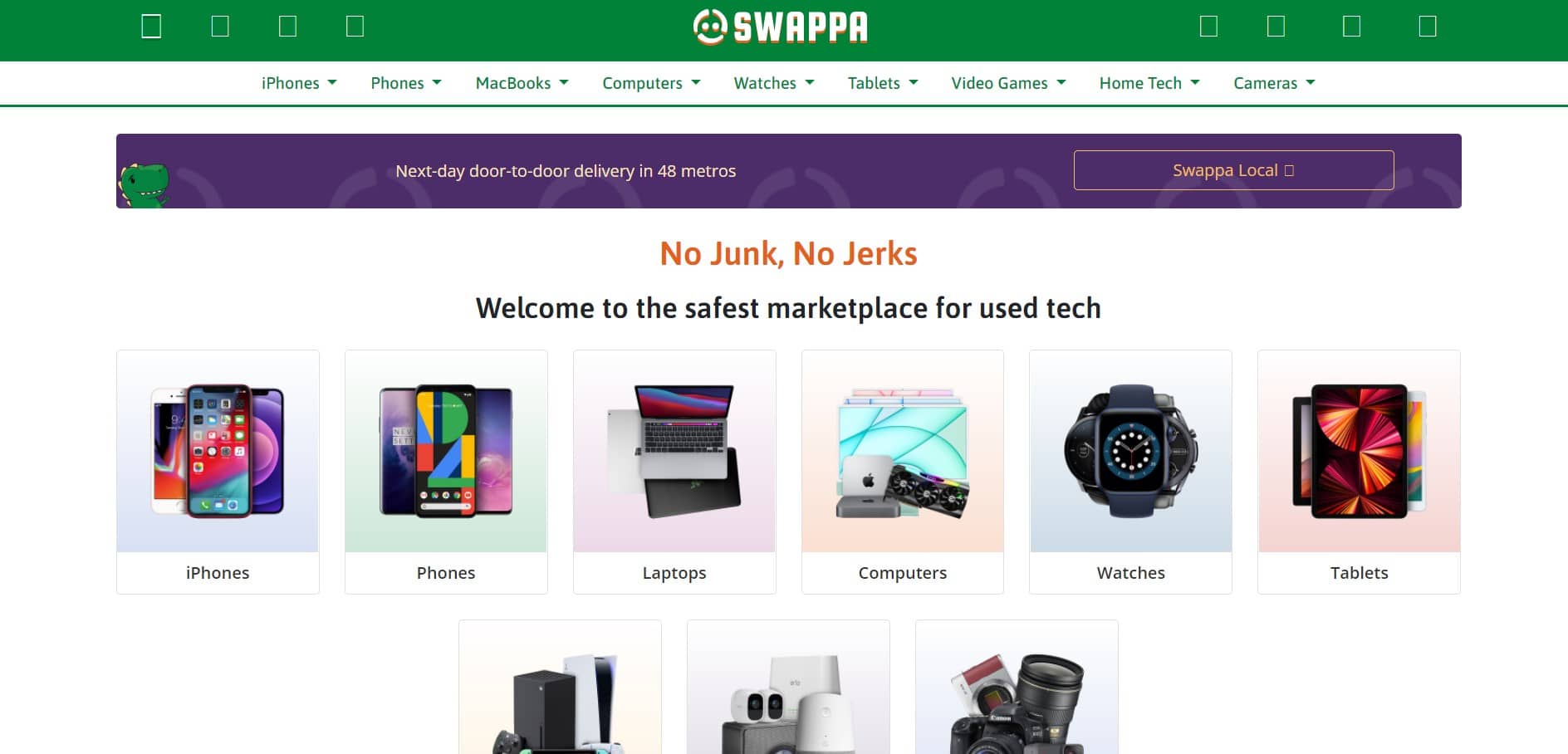 IMEI checks will be done on iPhones to ensure they're not stolen, and ESN checks will be done on other smartphones and gadgets. With those in place, you know the products are still fully-functional.
Although you can choose to sell your item globally, you can still opt to target nearby markets.
One catch, though, is the payment method. Swappa primarily uses PayPal for its transactions for security. Naturally, you'll encounter and cover the fees when using the platform.
As for fees, you must first list and set the item's price to see how much you will be charged. For a flat fee of $5, you can also have your listing featured.
Anything related to shipping is also covered by sellers.
Nextdoor
If Craigslist wasn't the site for you, maybe Nextdoor will make the cut.
Nextdoor is more than just a marketplace for local buyers and sellers. It's a hub where people can notify neighbors about traffic jams, or give tips to get around town.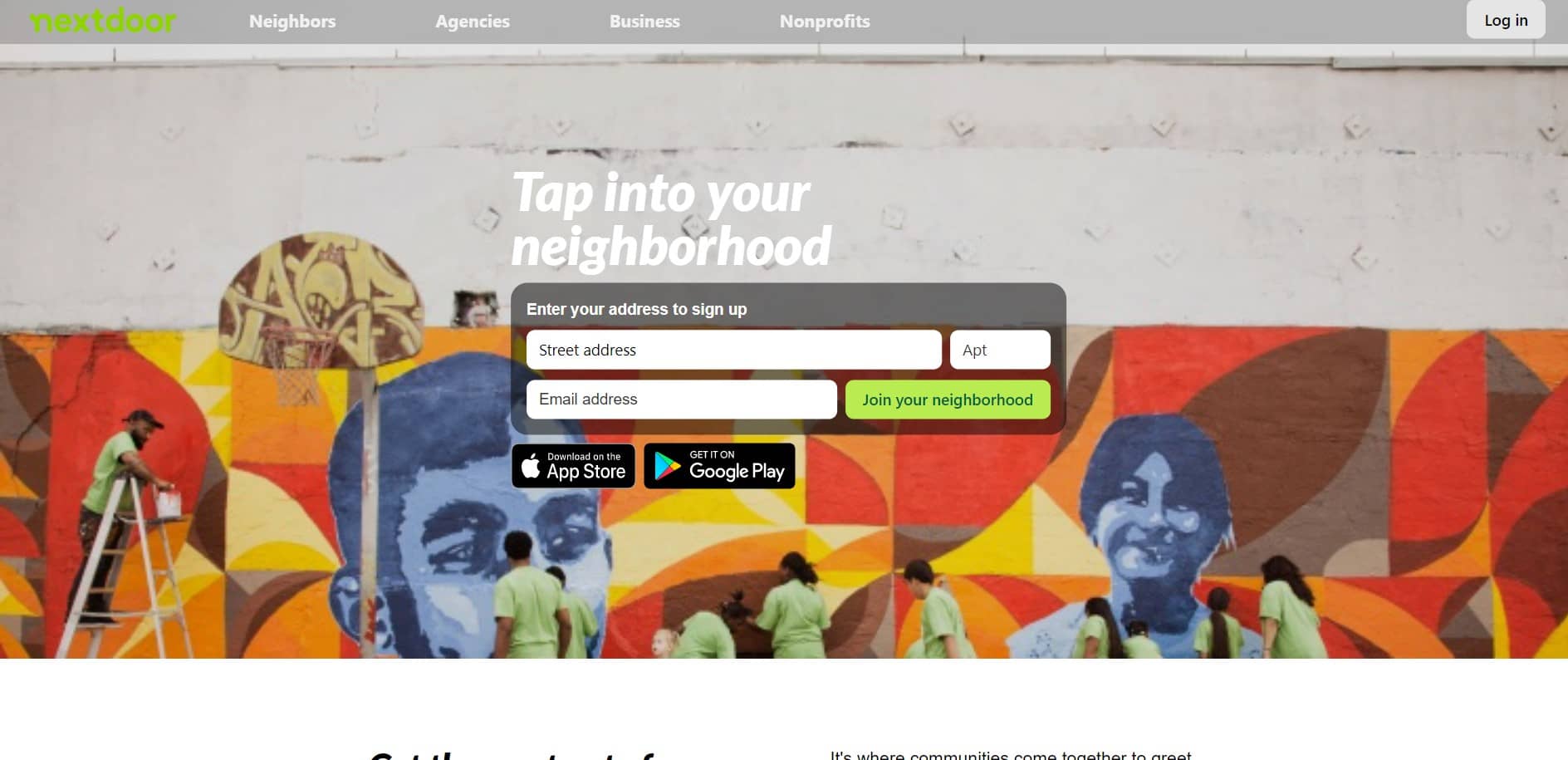 It's a trustworthy social network designed to help locals and tourists alike.
In terms of selling, you can post your products on the website's free forum that's visible to locals. The setup is less formal compared to previous platforms, adding to the appeal of a more personalized experience.
Once you establish your location, you're immediately linked to users nearby. You also have the option to broaden your reach by expanding your post visibility.
No need to worry about fees, too! Posting here is completely free, but you do need to coordinate with buyers on how to give your product. The site's in-app messaging system will make this a breeze.
For added security, everybody needs to create an account before they can access the platform, which is free, too.
Definitely opt for this site if you're open to moving away from the typical ecommerce approach.
Handshake
If you're a wholesaler open to selling online and offline, this marketplace may be the right fit.
Handshake is designed for wholesalers to reach the right retailers for their products. The platform doesn't limit the types of products that can be listed on the website, making it a diversified marketplace.
Sellers are empowered to reach new audiences for better chances of making sales. Likewise, buyers enjoy the possibility of selling products completely new to the market.
But before all that happens, each supplier is subjected to screening once they send their application to the platform. The minimum eligibility includes having an active Shopify store with credible order history.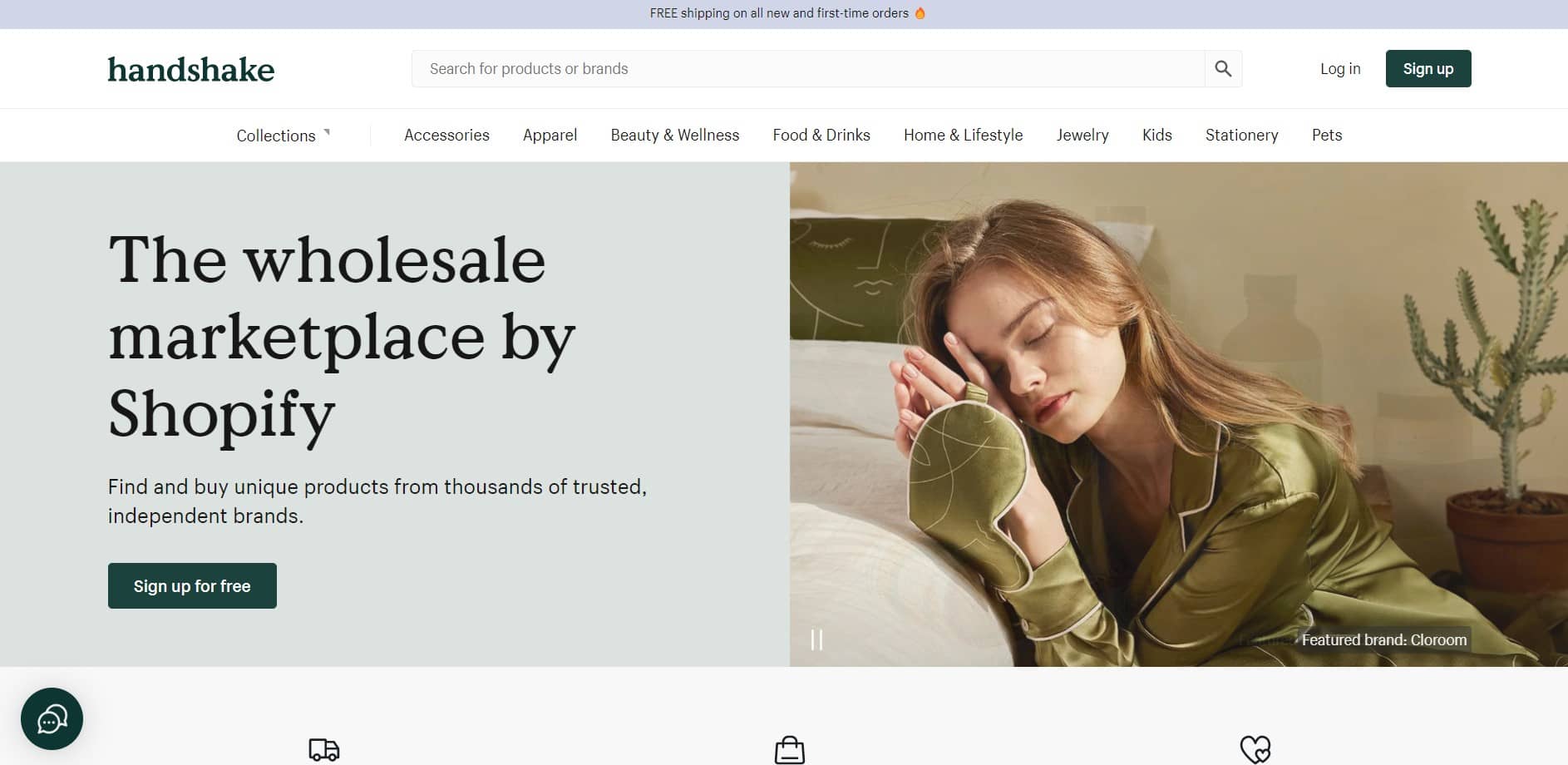 Currently, only customer-focused companies established in the United States should send in their applications.
When all of these requirements are met, the Handshake team, then, handpicks eligible wholesalers, ensuring the quality of products and service.
Shopify online store owners also find it convenient that Handshake seamlessly integrates with Shopify. With the integration, managing the inventory, tracking sales, and fulfilling orders can be a breeze.
We know that the minimum eligibility can be hard to meet. But this is definitely a small price to pay, considering you won't be charged for listing your products and making sales.
Facebook Marketplace
Now that we've mentioned Craigslist and Nextdoor, it's time to dive into Facebook Marketplace.
Undoubtedly, you're already familiar with Facebook and how it's widely used as a social media platform all over the world.
But with the recent addition of Facebook Marketplace, users can now buy and sell things without moving to a different platform or application.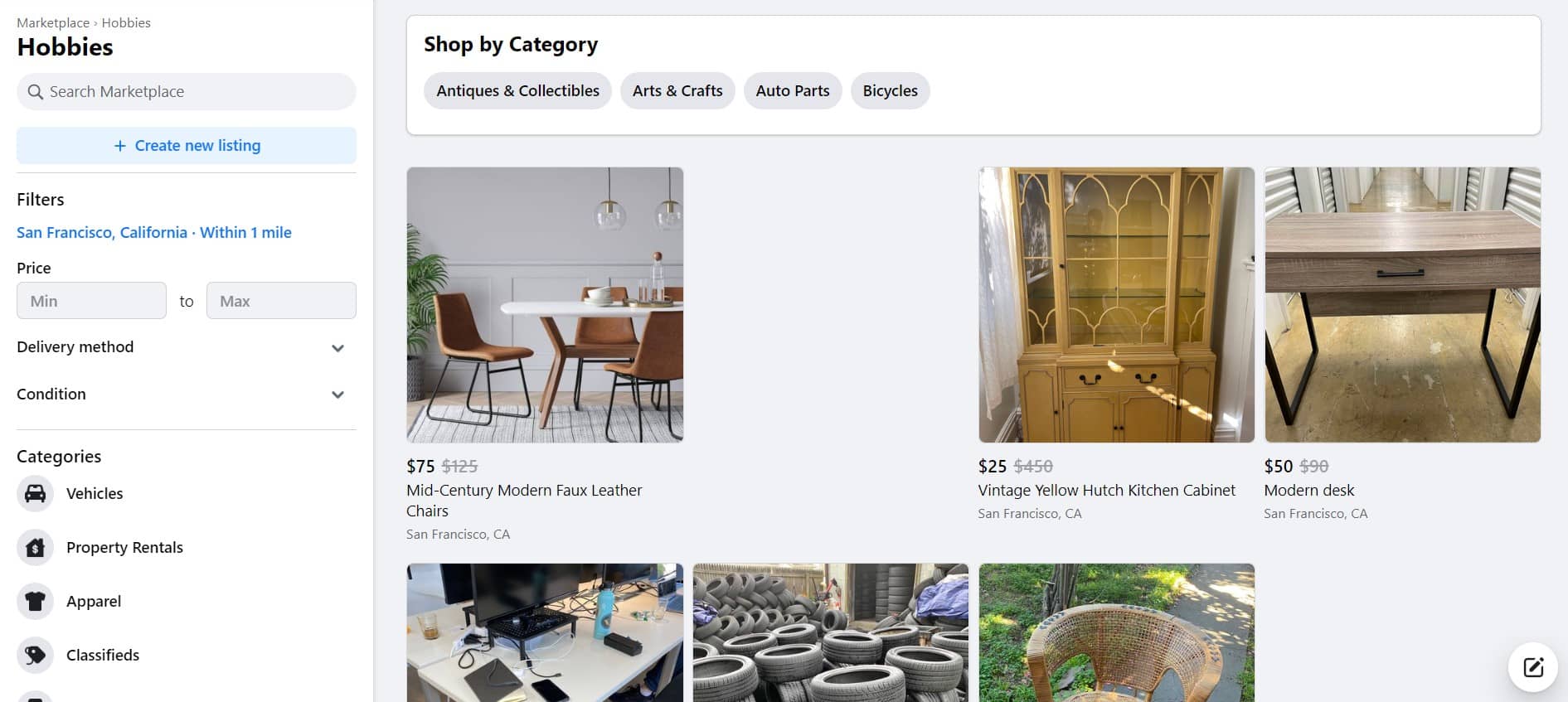 Right off the bat, Facebook Marketplace offers the convenience of finding items near you. Users can define the area they wish to shop in.
This feature also allows users to sort through categories and see the most recent listings as soon as they click on the tab.
For sellers, the main conveniences are the absence of fees and a large audience. Facebook doesn't take any commissions or charge fees every time you sell a product—which is a plus for small and medium enterprises.
Still, anyone who wishes to sell products must abide by Facebook's strict guidelines.
Facebook's also hands-off with the entire process, so users and sellers must be vigilant when handling transactions.
Listing products can be as easy as specifying all the details customers need to know. If the listing needs further verification, it will be tagged as pending.
As the platform grew, Facebook partnered with ecommerce platforms like Shopify to help sellers streamline their inventory, advertising, and sales strategies.
Newegg
Despite being named as such, Newegg was created in 2001 and only focused on selling PC components. Many credit the website for starting the PC-building movement many years ago.
This marketplace is based in California but has distribution facilities across North America. Given the number of facilities, the platform caters to more than 50 countries worldwide.
Tech enthusiasts are already familiar with the platform, as it's known to be the top marketplace for everything related to technology—apart from PC components.
Generally, buyers from this online selling site are between the ages of 18 to 35. You might think that's a small age bracket, yet the site received more than 18 million visits just last month.
Moreso, if that's your target age bracket, definitely start selling tech-related items on this website.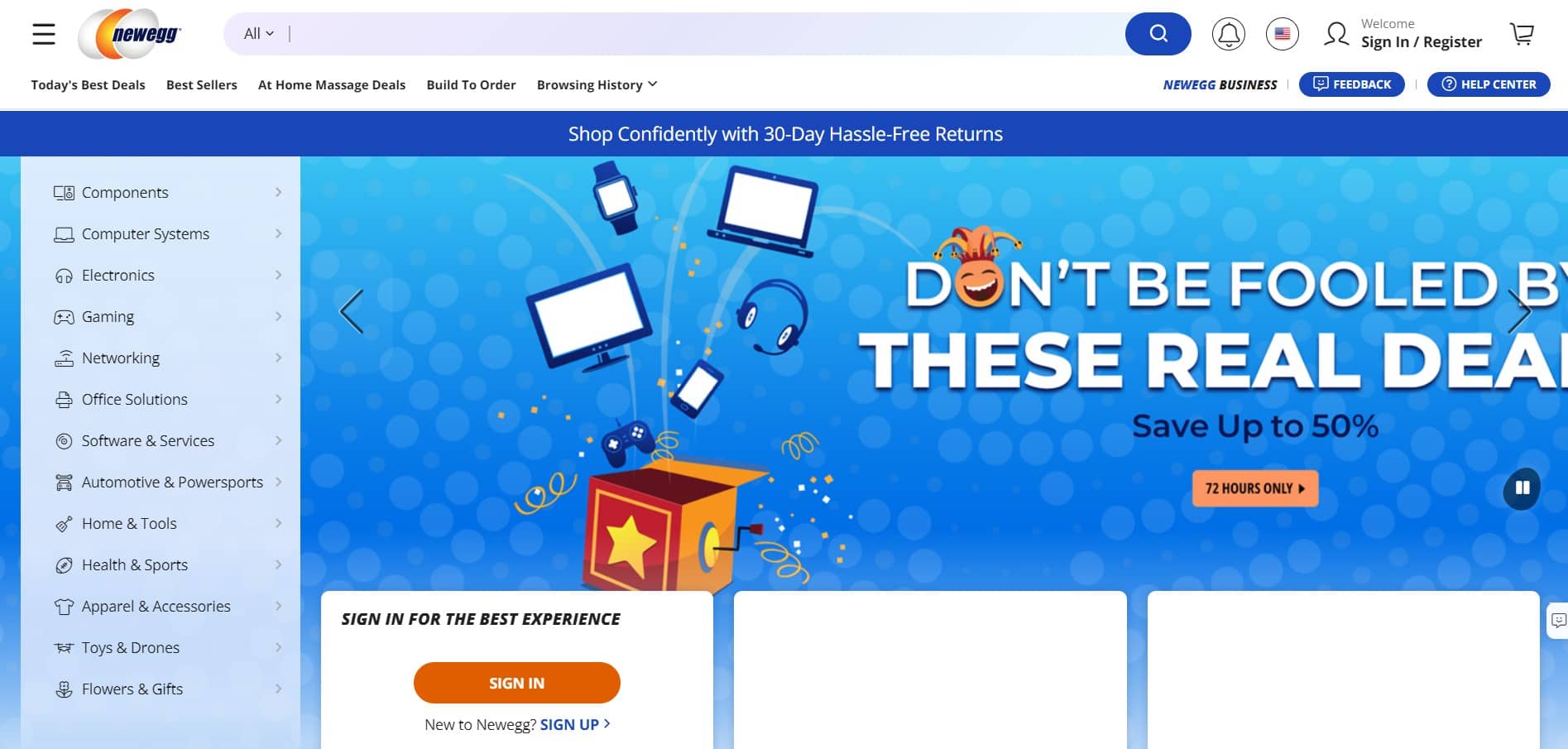 Features like daily emails, seller programs, and merchandising vehicles are also free for members to enjoy and maximize.
But of course, consider the fees. Newegg charges a commission rate between 8% to 15% depending on the product you're selling. Video games typically get charged 8%, whereas accessories may cost up to 14%.
To give you an idea about membership options, an elite plan starts at $29.95.
Mercado Libre
In Latin America, a different ecommerce platform consumes the majority of the market share.
Mercado Libre is the most popular ecommerce website in over 18 countries, from Mexico to Argentina. It was founded in August 1999, while its founder and CEO was still a student at Stanford University.
Since then, the company has grown exponentially in the number of users, hitting almost 140 million users in 2021. The website also receives more than 683.9 million visits per month.
If you plan to market to consumers in Latin America, this should be the best marketplace for you.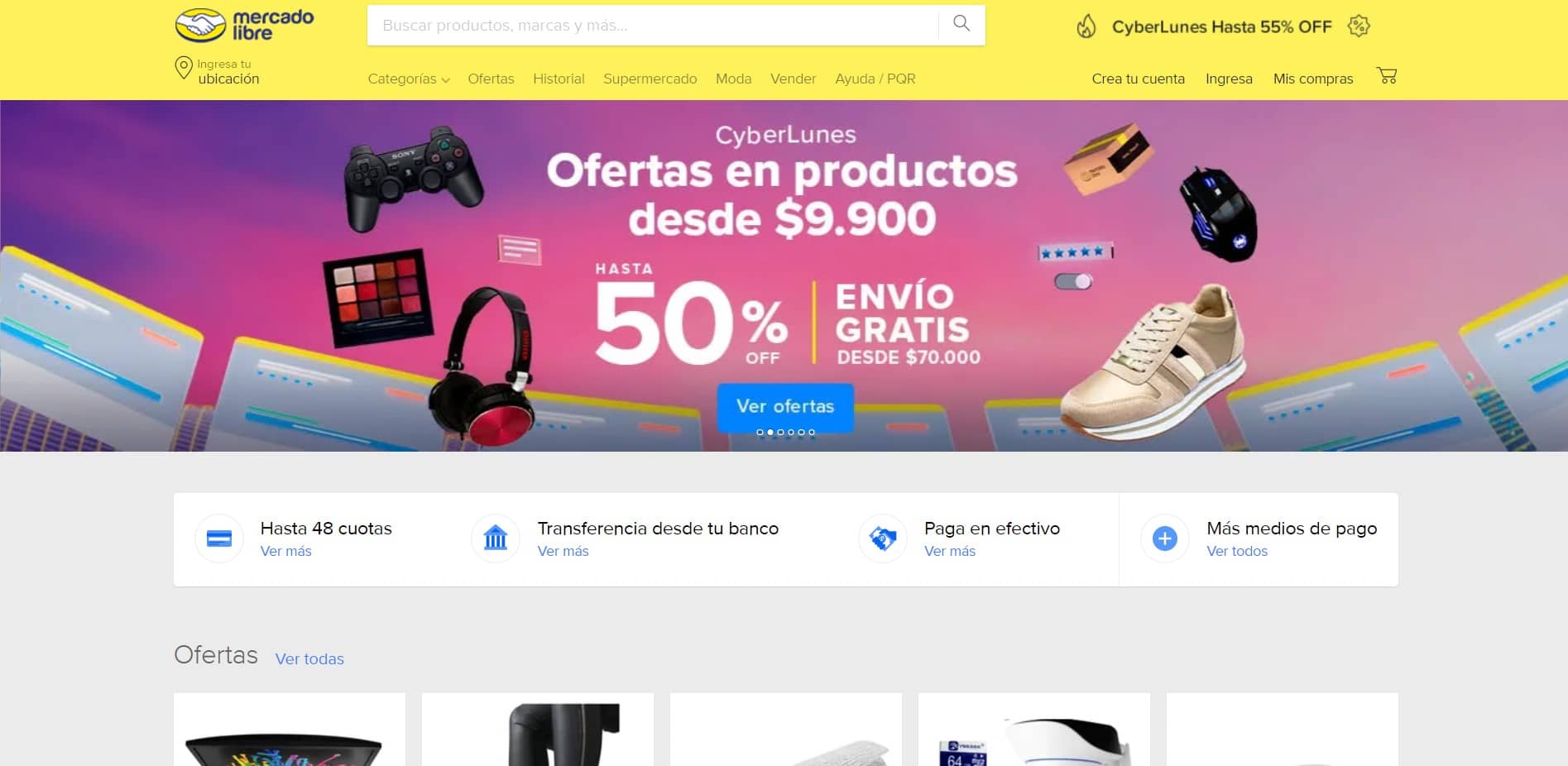 Mercado Libre covers 20 main product categories, with 123 smaller ones. The platform's logistics network also covers four different types, with the most popular one being dropshipping. 
However, sellers can still opt to sell through fulfillment by Mercado Libre.
You can sell any item under these categories, without worrying about fixed monthly costs. You only need to pay the sales commissions from each item you've sold.
Currently, the platform has 6 payment solutions:
Mobile Point of Sale
QR
Merchant Services
Prepaid Card
Mercado Fondo
Credits
All these are secured and designed to help users maximize their spending power.
Chairish
Evergreen niches like home decor and furniture deserve their spot on our list, too.
Chairish is a consignment shop dedicated to selling high-quality items you can for your home. The platform has curators that go through every listing posted to make sure they pass the minimum quality standards.
These curators also improve your product photos and take care of the final upload for you.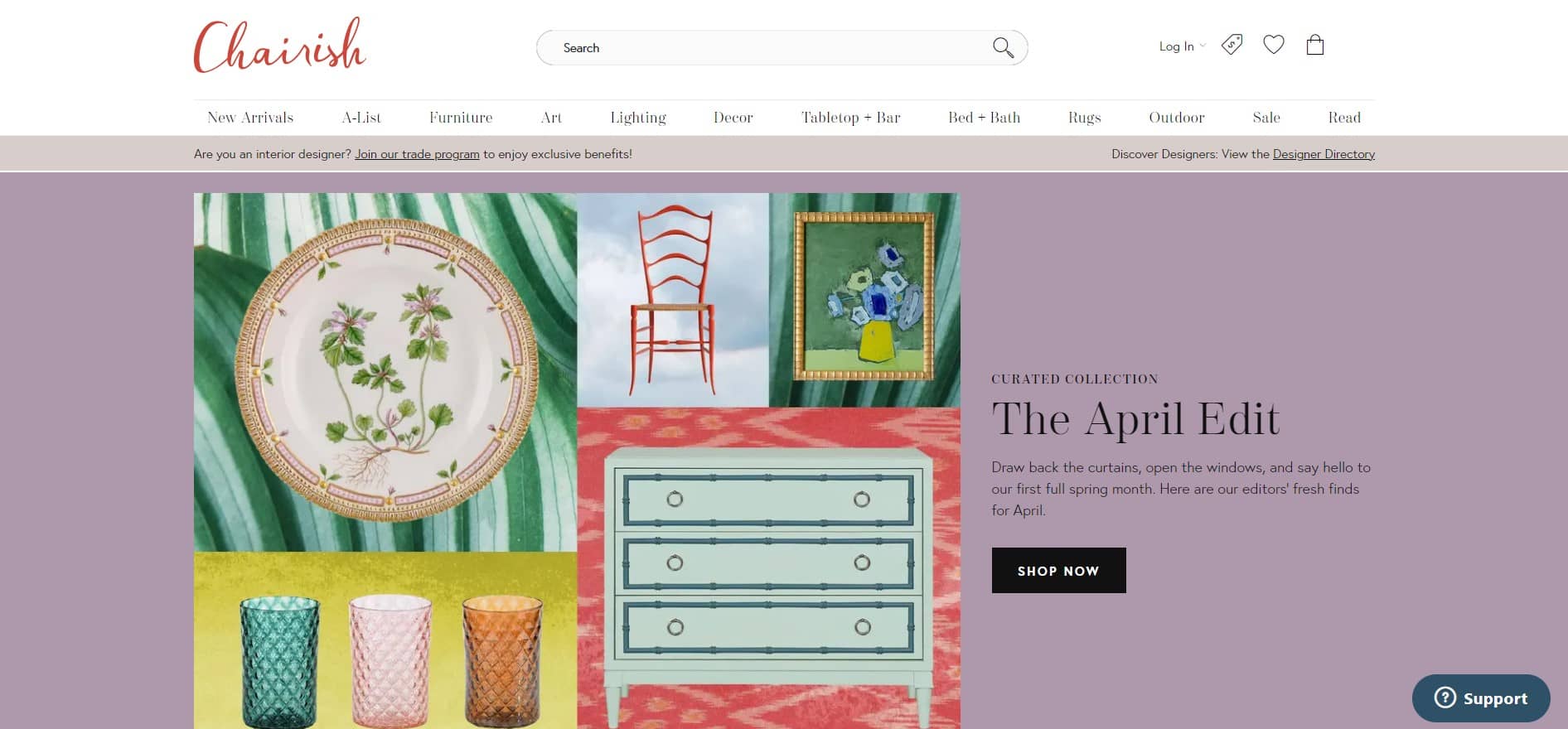 You won't have to worry about shipping, too, since all of that will be handled by the company. All you need to think about is making sure your items pass their standards.
Listing items is free, but Chairish does take a portion of your selling price. Once sold, you'll receive 70% to 80% of your selling price.
Upgrading to an Elite plan will cost you $149 a month, but gives you access to business analytics, prioritized customer service, and faster payments.
You'll also receive discounts for promoted listing and listing import services.
The margins may not look favorable, but trust that the platform is the best place to sell curated furniture or home decor. The company has an annual revenue of $5 to $10 million, selling over 500,000 pieces of furniture and decor.
Rakuten
Established in 1997, Rakuten is a Japan-based marketplace that offers a handful of benefits to customers. Cashback, deals, shopping rewards—you name it.
Although it's based in Asia, 12 million users are located in the United States. According to Rakuten, these users have already enjoyed more than $1 million worth of cashback from the website.
Major partners for cashback include Kohl's, Levi's, LifeLock, Macy's, Neiman Marcus, and Nike.
50,000 merchants conduct business on the platform, but they're all either registered in the United States or Japan as this is a requirement. These merchants also needed approval before they were able to list their items.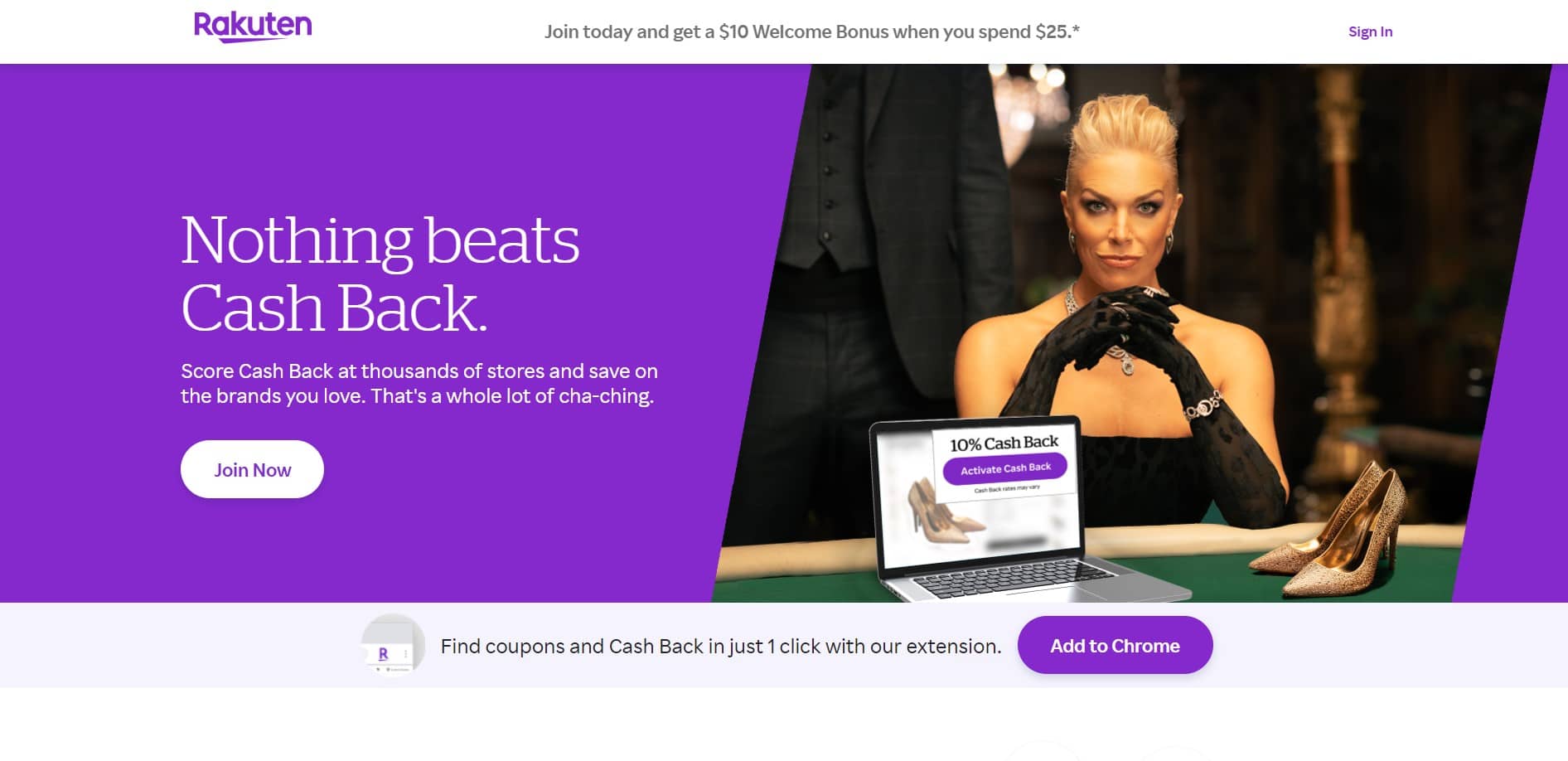 If you're not a resident in either country, you need to look for a service partner and course your application through them.
The monthly account fee on Rakuten is $39 per month. Listing an item will cost you $0.99 each, and the commission rates are based on the product's category.
Here are the following commission rates:
15% – Apparel and accessories, health and beauty, outdoor suppliers, jewelry, and watches
12% – Automotive and Powersports, musical instruments, and office supplies
10% – Video games and software
As a seller, expect payments to come weekly.
Sellfy
For creators out there, this website is for you.
Sellfy is an online marketplace that connects creators of digital goods to buyers. Here, you'll mostly find ebooks, digital art, music, comics, videos, and just about anything printable.
With more than 270,000 creators, buyers gain access to more than 1.2 million products.
As a seller or creator, you can easily create your own digital store on the platform. Payment processing, product hosting, and automatic download emails will be handled by Sellfy.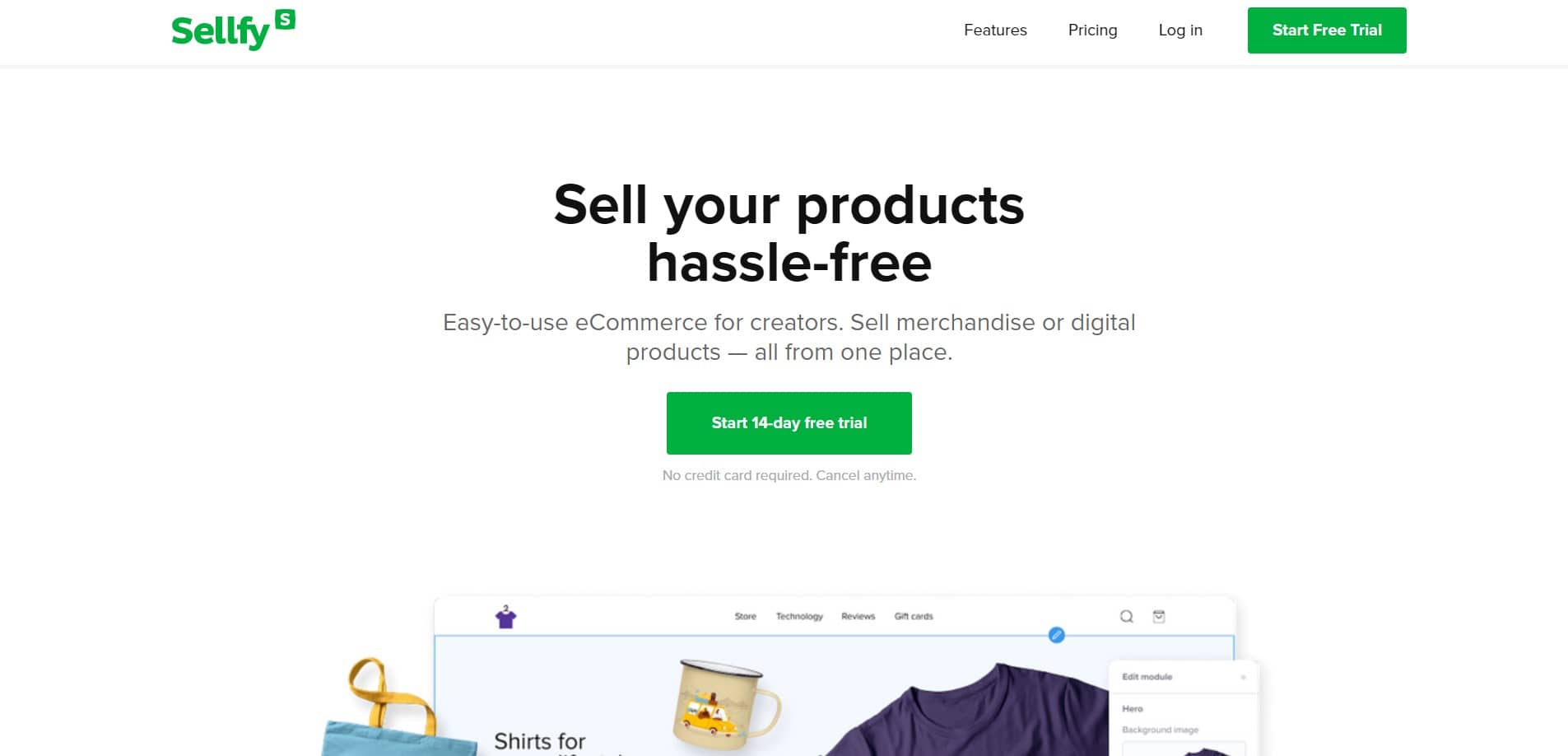 All you need to do is post as many design assets as you can.
If you already have your own website, Facebook page, or YouTube channel, simply use Sellfy's embed buttons to make your products easier to purchase.
Apart from these features, the platform also makes it convenient for sellers to create their email marketing campaigns to increase the chances of sales.
Sellfy's Starter plan is $19 per month, allowing up to $10,000 in sales with unlimited products. The Business plan is $39 per month, allowing up to $50,000 in sales, access to product migration, 10,000 email credits, and logo-free products.
Lastly, the Premium plan is $89 per month which is great for those making $200,000 per year with 50,000 email credits, priority support, product migration, and logo-free products.
If you're still unsure, you can always start with their 14-day free trial to make sure the platform's to your liking.
Poshmark
Looking for a website dedicated to clothing items? Poshmark definitely fits that bill. In fact, it's one of the most luxurious marketplaces for clothing on the internet.
Poshmark was established in 2011 to sell only clothing items for men, women, kids, and pets. Its target markets are North America and Australia.
In 2021, Poshmark reached 80 million users, 8 million sellers, and 75 million listings.
These numbers can be intimidating, but Poshmark has Posh stories that sellers can use to upload their photos and highlight their products.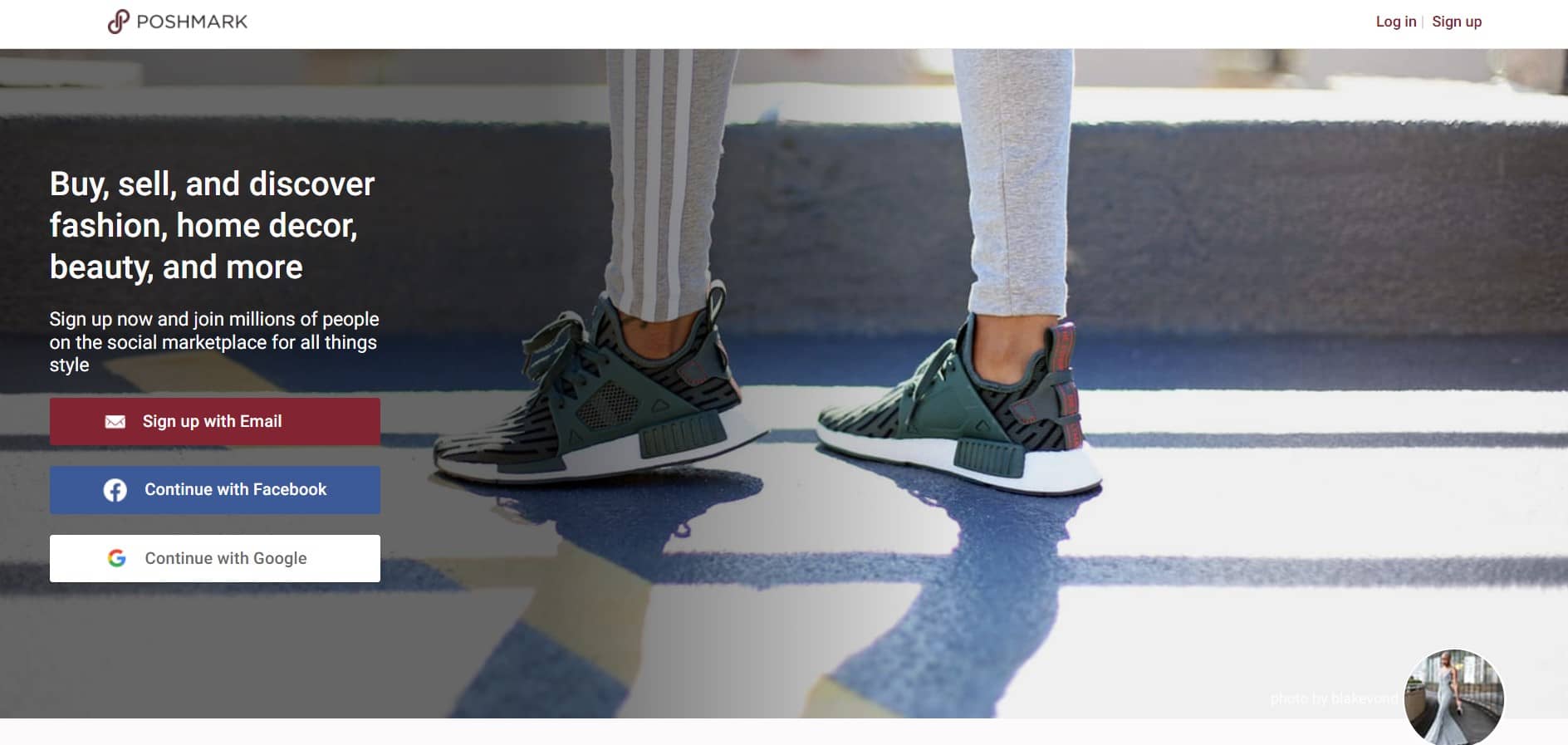 Listing tagging also helps users find your products more easily.
Sales reports and inventory management are just two key features designed to make your business more manageable as you grow.
As for prices, the website doesn't charge a listing fee but you do get charged fees for your sold items.
Items below $15 are charged a flat fee of $2.95, while items over $15 get charged 20%. Given these rates, make sure you establish target profit margins before setting your price to maximize your earnings.
Flipkart
In 2007, Flipkart was founded as an online bookstore. Seeing the opportunity in the virtual space, it expanded to selling fashion, home essentials, groceries, and other lifestyle products.
The company is based in India, but it's considered to be one of Amazon's top competitors, being a close second. In 2018, this Indian ecommerce giant was acquired by Walmart for $16 billion.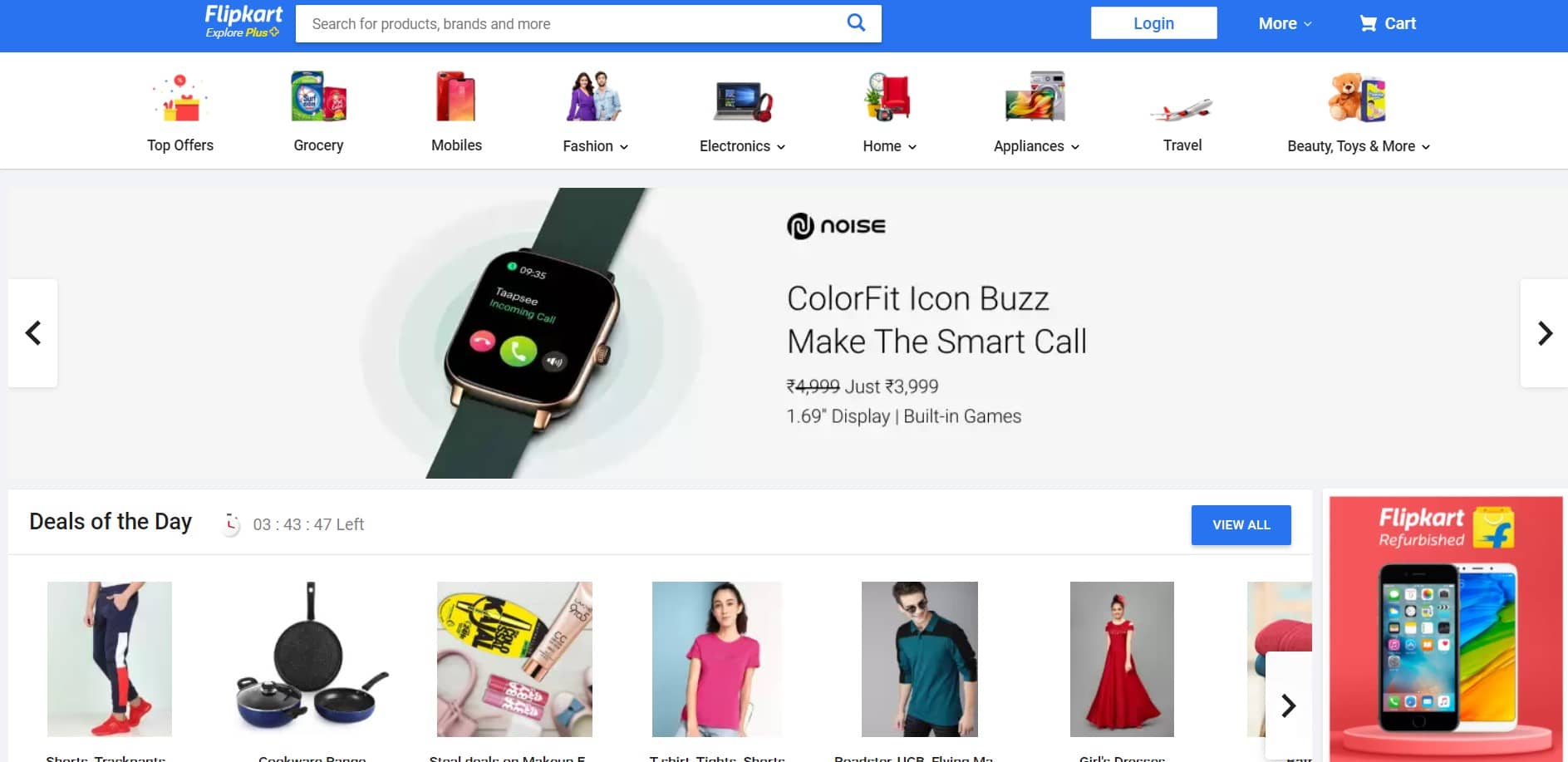 Don't get us wrong, though. This marketplace would also be an ideal site to market your products to customers based in India.
According to Firstpost, the total gross merchandise value earned by Flipkart during the holiday season in 2020 was around $4.8 billion.
The fees Flipkart will charge you are as follows:
Commission fee – based on the order item value
Shipping fee – based on the product weight and location
Collection fee – based on order item value and customer payment mode
Fixed fee – based on the order item value
Goods and Services Tax – a tax imposed on supply and goods
To be honest, the fees eat up a huge portion of your earnings. This is why we encourage you to establish your ideal profit margin so you can plan your prices.
4 Benefits of Selling Products Online
Although the sites above are sufficient testimonies to online selling, we're still going to list down the benefits you will enjoy once you venture into the virtual selling space.
24/7 Store Hours
You're always open for business.
Everyone can freely browse through your store at any time of the day. You also get to cater to people living in different time zones.
No need to worry about manning the store when you have bots to do that for you. You won't have to consider drastic increases in costs since everything's online.
Scalability
Let's be honest, entrepreneurs think ahead. These people start a business, hoping it succeeds and grows exponentially. The internet can make this happen if you take the right steps.
When you find the right platforms to track sales and conduct thorough product research, you can scale your business in no time.
Depending on your business model, you probably won't need a lot of inventory to add more products to your catalog.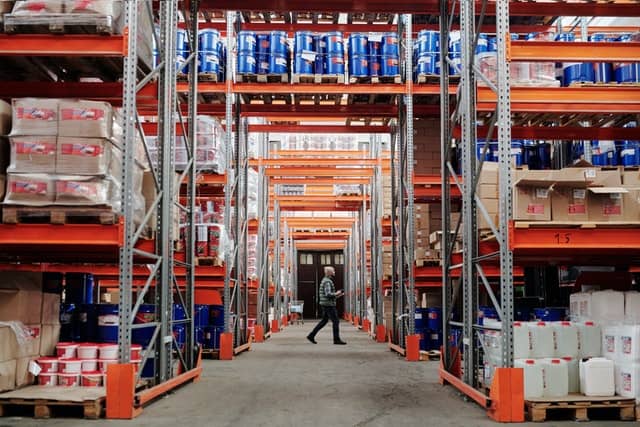 Cheaper Costs
The costs to start and maintain an online store are much more affordable compared to starting a physical store.
First of all, the "rent" for online stores is much cheaper. As an example, you can already have a good online store on Shopify for as low as $29 per month. That alone puts you in better financial standing as local rental prices don't go anywhere below $50.
Another set of costs you don't need to include in your monthly budget is utilities. Unless you decide to put up your own office, you only have to worry about this month's internet bills.
Normally, these costs take a huge chunk of your monthly profit from physical store sales. With an online store, you get to redirect these into more meaningful expenses—like marketing.
Flexible Location
One major reason many ventured into online selling is the flexibility to sell wherever you want. Though some countries have restrictions, you're generally free to start and manage your store remotely.
You don't have to worry about foot traffic or prime spots. You simply need to focus on marketing your shop well.
We have to say, it does feel good to work while overlooking mountains, or hearing waves crash.
FAQs about Online Selling Sites
How to Select an Online Selling Site?
Each online marketplace or selling site has its advantages and disadvantages.
You shouldn't just go for the most popular one, without considering the following factors:
Features
Subscription fees
Target audience
Niche
First, consider the features of the platform. Are these features compatible with your business?
Explore how you can maximize each aspect for the benefit of your business. That way, you get to enjoy your monthly subscription plan—if you even pay for one.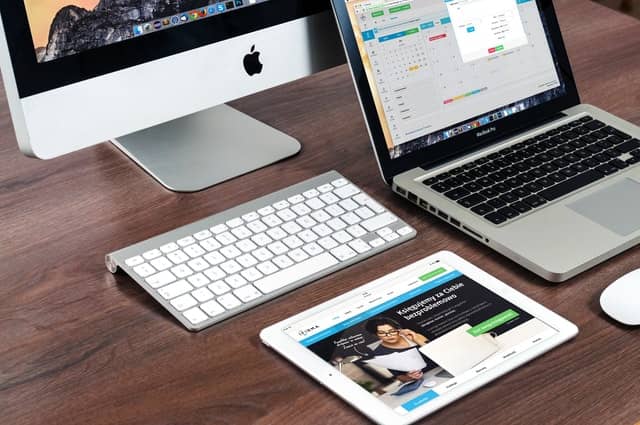 Another factor to consider is the subscription fee. If you want to save up on costs, opt for free or more affordable platforms. If you have room in your budget, don't be shy to try out premium platforms.
Your target audience should also have a bearing on your chosen platform. International target markets mean that you sell on global platforms such as Amazon and eBay. Going local means you opt for Facebook Marketplace or Nextdoor.
Lastly, your niche plays a key part in your decision process. These platforms already have established niches. You wouldn't want to sell electronics on Etsy, nor do you want to sell jewelry on Sellfy.
What Are Essential Details for Online Selling?
Over the years, online sellers found key factors that contributed to their internet success.
In no particular order, keep the following factors in mind:
Effective Advertising
Optimized Product Content
Fast Shipping
Reliable Order tracking
There's a thin line between traditional advertising and effective advertising. The former is a requirement, while the latter requires thorough research.
Do your research and use appropriate strategies to reach your target market.
Optimized product content also goes a long way when it comes to sales. Know the right keywords to use, and sprinkle your website with these accordingly. You'll see and feel the effects in no time.
With effective advertising and optimized product content, expect an increase in sales. But before that happens, ensure your customers get to enjoy fast shipping.
41% of customers don't mind spending more on express shipping. So take advantage of this. The faster their orders arrive, the more they are willing to pay premium prices.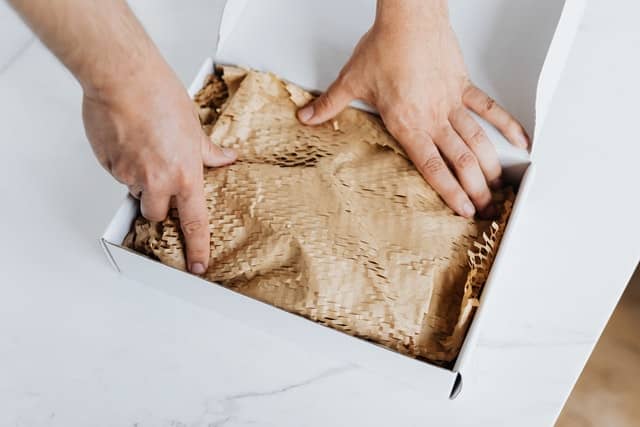 And, of course, pair your speedy shipping with a reliable order tracking system. People want updates about their orders, so indulge them.
All these should package your store as a reliable and quality online business.
Which Online Marketplace Is the Cheapest?
The cheapest online marketplace is Facebook Marketplace. It's completely free to use.
Forget about services fees, transaction fees, listing fees, and all the other fees you can think of. On top of that, all payments are handled between buyers and sellers.
As mentioned, you only need to create a Facebook account to start selling. Listing your items is also a breeze to do.
Final Thoughts
Surely, you now have an answer to whether or not you're ready to shift to an online store. The list of online selling sites above gives you an idea of where you can sell your products to reach the right target market.
We've also listed down important points to help you select the right platform and take note of what you need to succeed in your line of business.
Starting an online store can be a challenging task. Don't worry, give us a call and we'll see how we can help you.
From finding the right suppliers and sourcing your desired products to fulfilling the orders of your customers and everything in between, you can count on us at NicheDropshipping!