In today's world, if a business is not online, it might as well not exist. Consumers have become accustomed to the convenience of accessing products online and are even willing to pay a premium for it.
As an entrepreneur, this presents numerous opportunities that are ripe for the picking.
Dropshipping is one of the business models that have arisen from this new wave of online convenience. It gives your customers easy access to products while earning you handsome returns. However, it can be labor-intensive and time-consuming.
Could there be an easier way to go about it?
Say hello to Shopify dropshipping. It is built to help make your dropshipping business much easier to run. Would you like to learn how? Get comfortable.
In this comprehensive Shopify dropshipping guide, we give you all the answers and information that you need to get your Shopify dropshipping business off to a roaring start.
Let's dig in.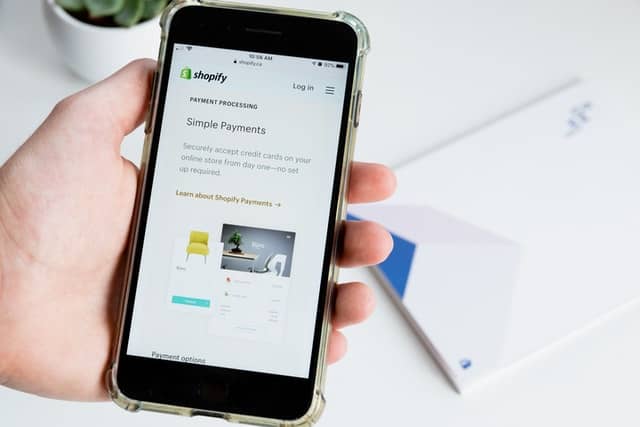 What Is Shopify Dropshipping?
To get a clear understanding of Shopify dropshipping, let us begin by defining Shopify and dropshipping as individual concepts.
Dropshipping is a business model where you serve as an intermediary between your clients and product suppliers. Your clients order the products from you, you source them from suppliers, and have them shipped to the clients.
You would not need to handle or store any inventory.
Shopify is a hosting service for online stores. When you register a Shopify account, you can set up an online store for your business where clients can view the products that you dropship and place their orders.
Shopify also provides a variety of other e-commerce tools that help you manage your online business and receive payments.
So, with that being said, what is Shopify dropshipping?
Shopify dropshipping is simply dropshipping while hosting your online store on Shopify. It is important to note that you would remain an independent dropshipper.
Shopify only provides a stress-free, affordable platform equipped with tools to run your online store.
Is Shopify Dropshipping Legal?
Yes, the Shopify dropshipping business model is 100% legal. However, like all business practices, you should be guided by compliance rules such as:
All the products that you dropship must be legal
The tax ID, Social Insurance Number(SIN), or Social Security Number that you use to register on Shopify should be genuine
All transactions between you and your clients should be non-fraudulent and within the law
Is Shopify Dropshipping profitable?
So far we have established that Shopify provides a user-friendly dropshipping business platform and that Shopify dropshipping is legal. All that is nice and dandy but it brings us to a more pertinent question, is this dropshipping approach profitable?
The brief answer is, yes, and here is why. Shopify dropshipping is straightforward and you can set up your online store all on your own. You would, therefore, not need to hire web designers and other technicians to handle your setup.
Additionally, this approach does not require you to buy any inventory or incur the cost of a warehouse to store goods. You may not even need to leave your house to run things, it is possible to do it all online.
For a business to be profitable, the operating costs have to be lower than the income that the business generates. In this case, you would hardly incur any costs aside from maintaining your Shopify subscription, advertising, and coordinating the fulfillment of orders.
Moreover, you would purchase products at wholesale rates and sell them at a margin that you deem fit. It is thus safe to say that with proper organization, Shopify dropshipping can be highly profitable.
What Products Can I Sell When Dropshipping on Shopify?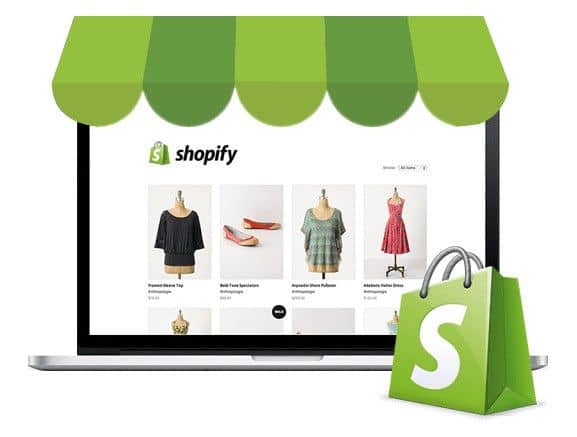 One of the great things about Shopify is that it does not limit the kind of products you dropship. However, keep in mind that you can only offer tangible products; no services are allowed.
The products you offer also have to be legal and delivered preferably as advertised on your page.
On the flip side, having so many product options to choose from can be overwhelming. It is best to try and find a niche to specialize in. It will help you focus on a manageable number of products and make it easy to stay on top of your dropshipping operations.
Customers may equally have an easier time identifying with your store when they know they can find particular items there. It's a win-win for all parties.
Which brings us to the question, how do you find the right niche?
Begin by researching products to sell and their levels of demand. The higher demand there is for a product, the more likely you are to make sales. Research in depth as well to establish the particular brands that customers prefer and what quantities they buy them in.
Consider using helpful research tools like:
Ecomhunt– this platform provides a diverse list of top products that dropshippers can consider. It includes product images, descriptions, and details such as possible profit margins, and how consumers engage with the product online.
Dropship Spy– this tool will give you lots of insider product details including price, engagement, and profitability. It additionally offers extra resources like short dropshipping courses and provisions to favorite and sort products in the categories you are interested in.
How do Create a Shopify Dropshipping Store Step by Step
Now that you are all caught up on the basics of Shopify dropshipping, let's discuss setting up your online store.
It takes a couple of steps to get everything running but the beauty of Shopify is that it has an intuitive design. You will find most of the resources you need readily available on the platform.
Let's set up your online store now, shall we?
1. Create Your Shopify Account
When you get on the Shopify website, you will need to first create your store. It is a typical site registration process but you will need to have a business name ready.
As you choose your business name keep in mind that it will be your brand going forward. Consider what you would like your brand to portray and what your target audience would relate to.
Further, your store will need a domain that is usually derived from your business name. If your business is named 'Essence and Style' your domain would likely be 'essenceandstyle.com'.
For this reason, before you commit to a business name, find out if it is available as a domain. Fortunately, multiple online sites allow you to search domain names for free and Shopify has a business name generator.
2. Design Your Store
Shopify has a theme store where you can pick a variety of designs for how your store will look. Themes also determine the navigation of your site. It is thus best to choose a beautiful theme that is also easy to use.
There are free and buy-to-use theme options. Work with what your budget allows.
You will also find resources such as Burst that offer free images to add to your online shop to make it more personable. If you do not have a logo yet, there are also design tools to help you with that. Overall, aim to make your store attractive and user-friendly.
3. Optimize Your Online Store Settings
The fundamental settings you will need to optimize include:
Refund Policy
Terms and Conditions
Privacy Settings
Payment Options
Shipping Rates
Once again Shopify's masterful design comes to the rescue. There are ready-made templates for each of these settings and all you have to do is choose one that works for you.
However, read through each option carefully before you make up your mind. If you are not savvy with technical terms, hire some help as the terms your set are legally binding.
4. Add Products to Your Shopify Dropshipping Store
At this point, you will need to have found a niche of products that you would like to dropship to customers. You will need a dropshipping app (more on this below) to help you import and list products on your site as your browse supplier sites.
Once the products are listed remember to tag them as it makes it easier for customers to find specific products and others in the same category.
Which Dropshipping Apps Are Compatible With Shopify?
Dropshipping apps make it possible for you to import products as you browse different supplier platforms such as AliExpress. The following dropshipping apps are designed to integrate flawlessly with Shopify.
Oberlo
Oberlo is a starter dropshipper's dream.
It is not only easy to use but has a Forever Free subscription plan. The terms of the plan are that it is free for all startup dropshippers receiving less than 50 orders per month. Further, you can import up to 500 products and there are no minimum order requirements.
For extra features like tracking shipments or to be able to import more products, consider upgrading to the Basic Plan. It costs $29.90.
Spocket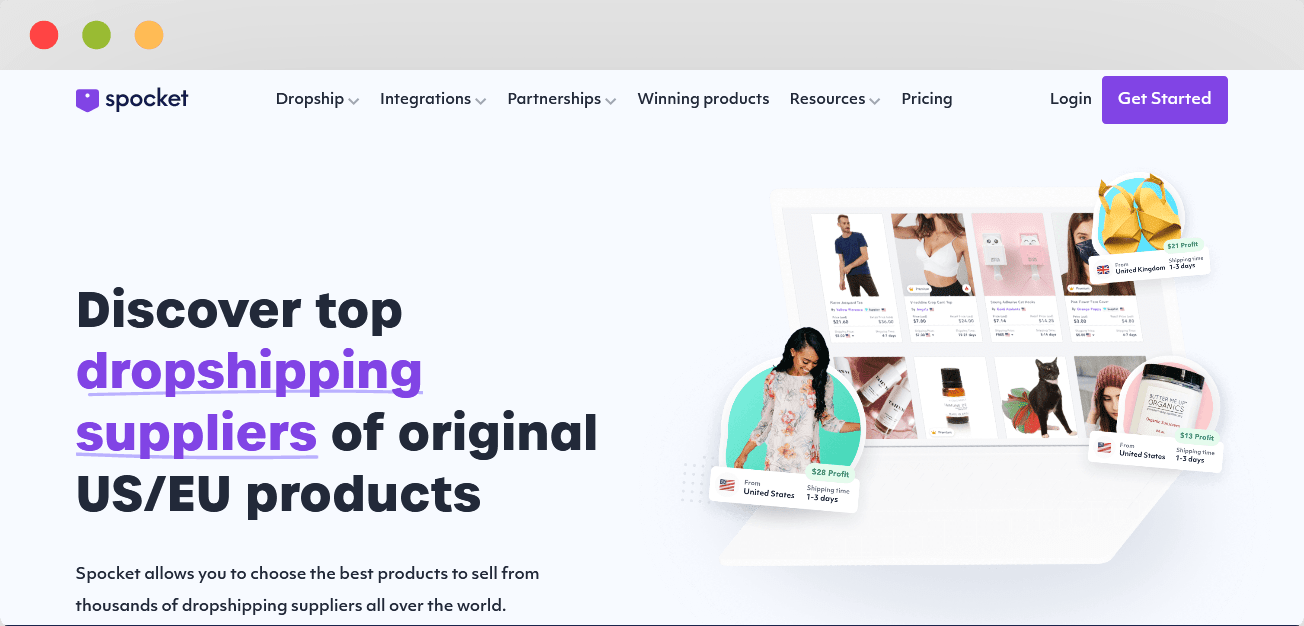 Spocket would be a good choice if you would like to dropship from a vast variety of merchants in the UK, the EU, or the USA.
Unlike most dropshipping apps, it is not focused on AliExpress. It will additionally give you access to print-on-demand product suppliers of mugs, t-shirts, and such custom items.
The 14-day Spocket trial period is free and comes with free shipment tracking, unlimited product orders, and real-time inventory info. It, nonetheless, only allows you to import 25 products.
The wider-access Pro Plan costs $29/month on an annual subscription and $49 on a month-by-month basis. It offers:
250 product imports
Branded invoices
Access to premium Spocket products
Printify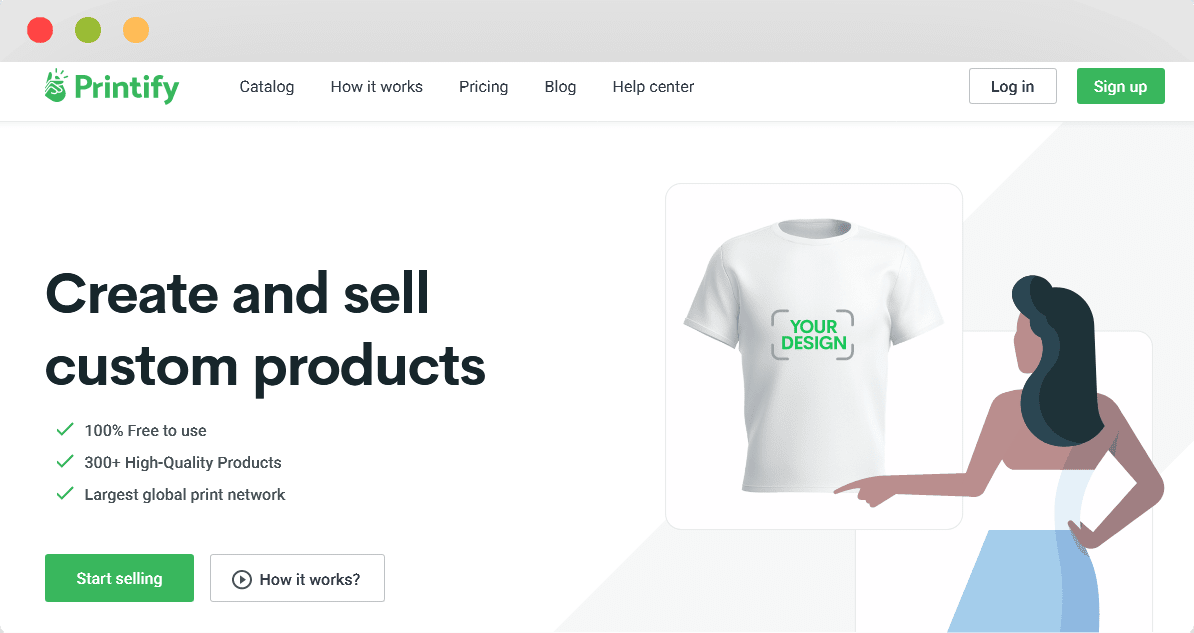 Printify is ideal if you are looking to only dropship print-on-demand products. The best part is that it is free and gives you access to hundreds of merchants. There is also no cap on the number of print-on-demand designs that you can import.
How Much Money Do I Need to Start Shopify Dropshipping?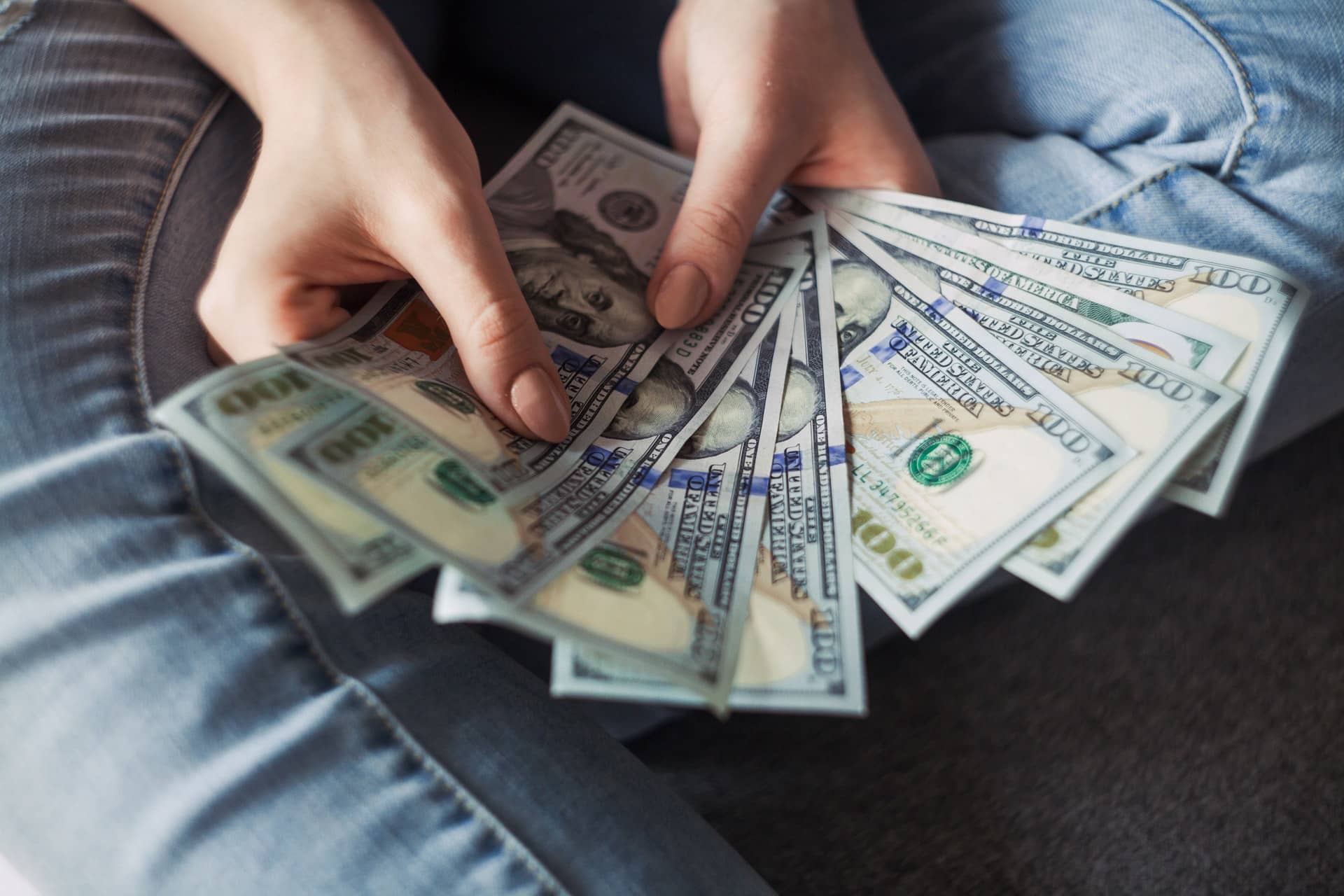 Shopify dropshipping does entail any of the high costs that typically come with starting a business. It is, therefore, the kind of business model that you can start on a modest budget. How modest is modest? About $500 will have your store up and running.
Some of the key items on your budget could include:
Shopify subscription fees
Research tools costs
App subscriptions
At the onset, Shopify provides a free trial but its features are limited and it lasts only 14 days. It would be helpful to use the trial to learn how the platform works and then upgrade.
The $29.99 Basic plan has more features and is ideal for starter dropshipping ventures. Advertising costs will mostly involve boosting social media posts and could set you back about $200.
Research tools such as Ecomhunt or Dropship Spy will cost you about $20 but are a worthy investment given the insightful guidance that they offer.
You may also incur extra costs if you choose to order product samples from your dropshipping supplier to test their efficiency. It is not a mandatory step but it may help you know what suppliers to engage and trust.
Further along on this guide, we will Shopify apps in more detail. However, in summary, you will need apps to import products from suppliers' sites to your Shopify product listing. Consider apps like Oberlo, which offers large product import allowances at low prices.
How to Automate Your Shopify Dropshipping Store
Shopify has done a great job of making its interface user-friendly. It is not the type of platform that requires complex tech expertise; everything runs smooth and easy.
Still, you may need some help keeping track of orders and other day-to-day eCommerce operations. Automation could also lighten your workload and even make it possible for you to run your dropshipping business on the go.
Here are some key automation options worth considering.
Automated Shipment Tracking
After placing an order, customers are often keen to find out when their products will arrive. It is thus prudent to share shipment details with buyers as soon as their order is in progress.
Nevertheless, as your business grows, it may be difficult to do this manually for each buyer. On occasion, it may even slip your mind.
Automatic sharing of shipment information would solve this problem for you and greatly improve your store's customer service. Apps such as Spark Shipping, AfterShip, or Shipway would help you implement this type of automation.
Some dropshipping apps also have an option to 'notify customers about shipped orders' in their dashboard ps.
Automated Inventory Management
Your Shopify dropshipping store will not involve handling any inventory.
However, it is important that you know whether your suppliers have the products you have listed in stock. This should also reflect in your store to prevent customers from making orders that can not be fulfilled.
The Oberlo dropshipping app allows you to choose options that automatically edit the status of a product in real-time.
For example, if a product is out of stock, the available quantity indicated on your online store will be zero. Price changes will also reflect accordingly. Plus, you can choose to receive notifications of such changes so that you can respond to them as you see fit.
Automated Marketing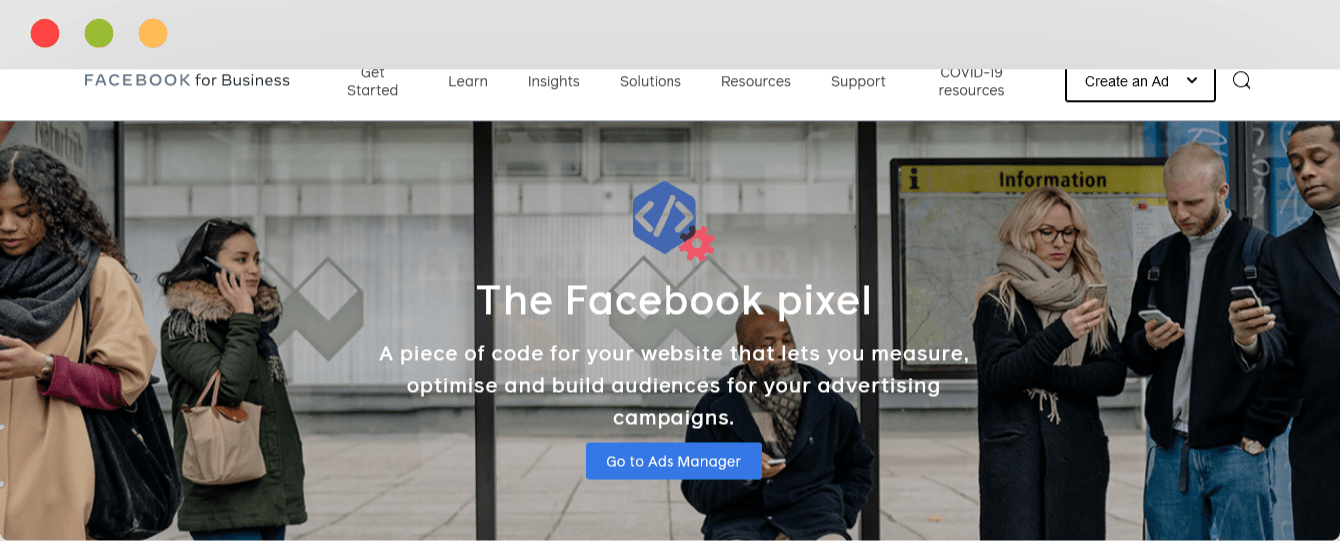 Emails and social media engagements are the most popular marketing methods in dropshipping. Apps like Privy allow you to send emails to clients that have abandoned their carts or offer coupons to first-time buyers.
For social media marketing, consider installing Facebook Pixel. It will help you gain analytics about consumer habits and run targeted ads that would appeal to their interests.
Automated Order Forwarding
As a drop shipper, you are the bridge between the buyer and the supplier. All orders are made on your site and need to be forwarded to suppliers for fulfillment.
As your business grows, this can become a tedious and time-consuming task that could result in unnecessary delays.
Supply chain apps like Inventory Source are a handy automation solution for this. Some suppliers also have apps of their own so be sure to find this out as you engage them.
How Can I Make My Shopify Dropshipping Business Successful?
Here is the headline; it is easy to set up a Shopify business but it is unlikely that you will experience overnight success. Like any other business, it may take some time for things to warm up.
However, if you keep putting in the right effort, there is lots of room for you to reap great returns.
Here are some tips that could help you get to the promised land of Shopify Dropshipping success.
Research, Research, Research
Finding the right niche of products to sell is arguably the pillar of dropshipping success. This can only be achieved through research. 'Going with your gut' are the last famous words of many unsuccessful dropshipping entrepreneurs.
Data on consumer preferences and competition in your market would be a more reliable guide.
As you research, try and find products that will give you a competitive edge. For example, you can differentiate yourself from most dropshippers by offering better name brands than lower quality options found on AliExpress.
You could also have options for wholesale and retail purchases to attract both individual buyers and resellers.
Choose Your Suppliers Carefully
Be discerning as you look for dropshipping suppliers and do your due diligence. Try and order samples from them to get a feel of what their order fulfillment is like. Consider other important factors as well such as:
Shipping solutions; are there multiple options for customers that would require them?
Payment options
Is there packaging well done and secure?
Is their supply chain consistent and reliable?
Spread the Word
Brand visibility is great for sales. If people know and interact with your Shopify dropshipping store or the products you offer, they are more likely to buy.
In light of this, invest in social media marketing and seek to build an organic rapport with your followers. More followers yield more traffic to your site and soon enough sales will grow.
Be Diligent About Customer Service
Avoid getting so caught up in running the business that you drop the ball on attending to customers. Be diligent about:
Anticipating customer needs and providing solutions to them
Quick response times on emails and all correspondences
Honoring refunds
Resolving complaints
Stay Consistent But Fresh
Take for instance that you found success by offering top American skincare brand products. It is great to keep dropshipping those products as your customers may have developed brand loyalty to them.
However, if Korean beauty products begin to gain popularity, it would be prudent to gradually introduce them to your online store. Most consumers appreciate dropshippers that keep up with current trends and this may also help attract new customers.
What Are Some of the Challenges Faced by Shopify Dropshipping Entrepreneurs?
The greatest advantage of Shopify dropshipping is sometimes its greatest challenge. By delegating fulfillment to suppliers, you give them control over a part of the business that is client-facing. If they make mistakes, you have little chance to correct the situation.
Other challenges you may encounter in the Shopify dropshipping business model include:
Delayed and erroneous product shipments
Some products delivered to customers may be of substandard quality from what was advertised
Difficulty verifying suppliers
Slim profit margins
Final Thoughts
Starting a Shopify dropshipping business is easy and accessible to anyone around the world. It does, however, require commitment and effort to grow into a lucrative venture.
Keep testing and exploring new frontiers and niches until you find one or more that work for you.
Ready to scale? NicheDropshipping will support you all the way, taking care of your supply chain and shipping. Register now and discuss further with your dedicated support agent.