Shipping is arguably the most significant part of dropshipping. It is the penultimate step that ensures that customers receive the products they ordered from your store.
Subsequently, it is imperative that you have a clear shipping policy for dropshipping that outlines what customers can expect at the order fulfillment stage.
In this discussion, we answer key questions regarding shipping policies and how to come up with one that fits the requirements to start your dropshipping business.
Would you like to learn more? Sit back and read on.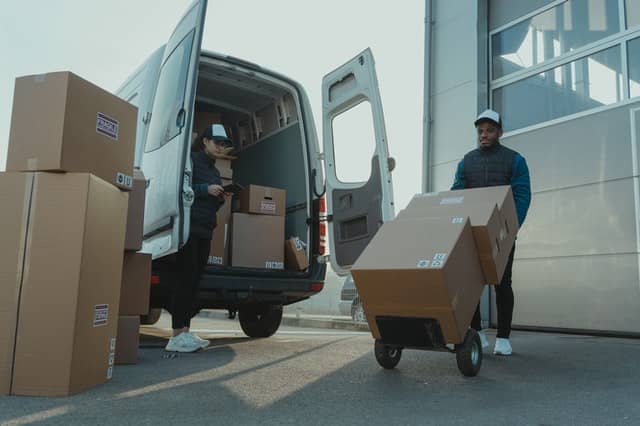 What is a Shipping Policy For Dropshipping?
A shipping policy for dropshipping is a document that explains to customers how you handle all shipping issues in your dropshipping store.
It comprises details such as:
How soon ordered products are processed and shipped
The methods (such as couriers or mailing services) used to ship orders
The costs of shipping
Notably, dropshipping fulfillment is handled by your dropshipping suppliers. As such, the shipping policies you state on your store's website should, ideally, match the shipping policies of your suppliers.
Why Do You Need a Shipping Policy?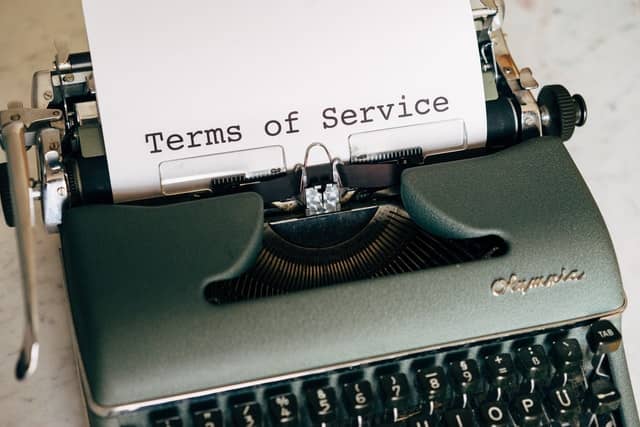 A shipping policy for dropshipping helps you inform your customers what to expect once they place their order.
Subsequently, they can judge for themselves whether the cost, shipping durations, and shipping methods are ideal for them before making their purchase.
This is important because when customers know what to expect, they are less likely to be disgruntled by your service or feel misled.
What Should a Good Shipping Policy For Dropshipping Entail?
A good shipping policy for dropshipping should, most importantly, be informative and realistic. Be honest with your customers about what you and your dropshipping suppliers can deliver.
Avoid embellishing the details to attract sales. Such a move is more likely to result in your customers being disappointed when you are unable to fulfill your promises. It would also make it unlikely for them to return to your store or recommend it to others.
With that said, let us examine some core aspects worth addressing in a shipping policy.
Shipping Destinations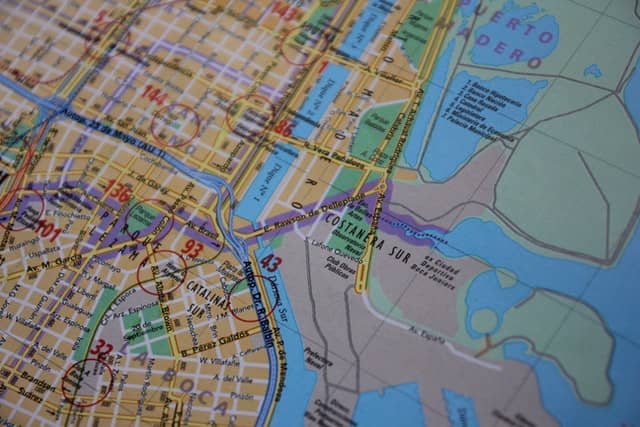 Before a customer buys anything from your online store, it is important that they know whether you deliver to their region.
In a perfect scenario, your dropshipping supplier would be able to offer worldwide fulfillment. However, if they only cover a limited radius or you prefer a niche geographical market, be sure to let customers know the scope of your fulfillment radius.
Shipping Options
From Epacket to renowned couriers, there is certainly no shortage of shipping options. Nevertheless, each dropshipping supplier offers their own list of shipping options which is what you should share with your customers.
Keep in mind that different couriers or shipping methods may only be viable for certain regions or parcel sizes. It is thus important that you highlight such specifications for customers so that they can make a suitable choice.
Shipping Costs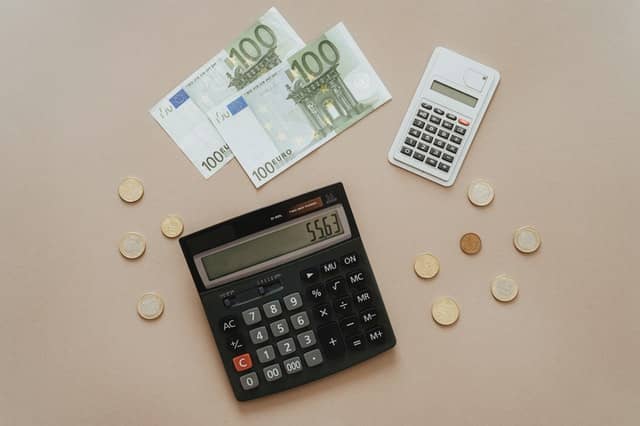 Shipping costs vary based on the courier service, the size of the item to be delivered, and the destination. It may, therefore, be ideal to illustrate this in a simple chart that customers can use to estimate how much it will cost them to ship their items.
If your dropshipping supplier offers preferential shipping, remember to make a p for that too. Some customers have no problem paying a little extra to get their goods overnight or in half the time it would ordinarily take.
It would also be beneficial to mention instances when custom duty would apply. It is an extra expense that your customers would have to bear and hence it is only fair that you inform them about it beforehand.
Shipping Durations
For most customers, shipping durations are a make-or-break factor when it comes to deciding whether they should buy from you. Especially considering that fulfillment companies like Amazon offer very short delivery windows.
That said, it is still important that you only provide realistic information on delivery durations. Remember to specify expected times of delivery based on regions and factor in order processing time.
For example, if it takes 2 days to process the order and 3 days of shipping before arrival, let your customer know as much. It is equally prudent to inform them if events such as holidays or weekends may further delay shipping.
If you are worried that your dropshipping suppliers use overly slow delivery channels, consider negotiating with them to see if they can explore faster shipping methods to serve your customers better.
Shipping Restrictions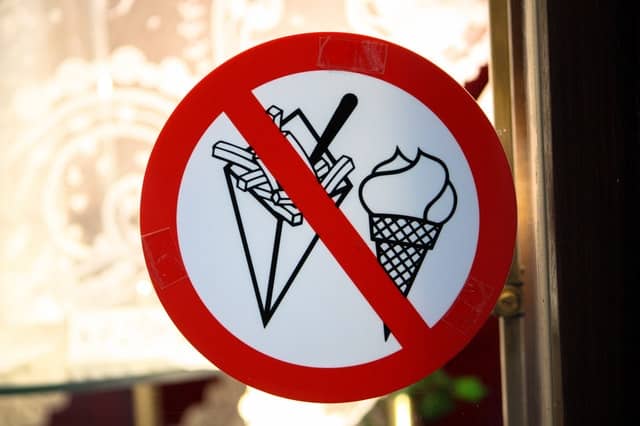 Shipping restrictions involve orders that you (through your dropshipping suppliers) may not be able to fulfill. Some reasons for such restrictions may include:
Legal red tape – if the products you sell are not legal in the jurisdiction your customer is ordering from, you may not be able to ship the order to them.
Safety regulations- due to air safety rules, some products such as lithium batteries, perfume, among many others can not be shipped by air.
Shipping address- due to logistical reasons, your dropshipping supplier may not be able to ship orders to P. O Boxes or military bases.
'Lost in Transit' Incidents
From time to time, shipments get misplaced in transit. Such incidents could be a result of pilferage or human error. Whichever the case, it is advisable that you have a clear strategy on how to handle them when they occur.
Let your customers know that they can reach out to you if they notice any unusual delays and outline the steps you will take to resolve them.
Return and Refund Procedures
If a customer receives an order that falls short of their expectations, they may opt to return it. Some returns are accompanied by a request for a refund but some customers may request a replacement of the flawed product they received.
In both cases, dropshipping returns and refunds involve the delivered product being shipped back to you or your dropshipping supplier.
Your shipping policy should, therefore, inform your customers on the right shipping channels to use and how the costs of shipping will be handled.
How Do You Write a Shipping Policy for Dropshipping?
The upside of writing a shipping policy is that there is no one method that you must follow. You could use templates from various platforms like Shopify or learn from your competitors' pages and decide how to draft your own.
The goal is mainly to get the information across to your customers and preferably use a structure that matches the layout of the rest of your online dropshipping store. Most e-commerce platforms also allow you to allocate an entire webpage to your shipping policy.
Aim for a shipping policy structure that is:
Informative but concise – the details of your shipping policy should provide all the requisite information but make an effort to keep the wording short and simple.
Easy to edit- shipping conditions change from time to time and necessitate policy changes. The Covid-19 pandemic, for instance, significantly disrupted supply chains and made it inevitable for most businesses to edit their shipping policies.
Outlined into definitive ps- as we have outlined above, a shipping policy addresses a variety of different details. Dividing them into definitive subps makes the information easy for customers to find and understand.
Inclusive of helpful tools– tools such as a shipping calculator, a currency converter, and shipping charts would make it easy for customers to calculate their shipping costs and make an informed decision.
How Often Should You Review Your Shipping Policy for Dropshipping?
Over time, the terms and conditions of your shipping policy are likely to change in various ways including:
Changes in shipping costs
Changes in shipping schedules due to extreme weather and other unforeseen circumstances
An increase or reduction in your delivery destinations
The best approach would be to make changes to your shipping policy each time any of these or other shipping details change. Where possible, highlight recent changes to draw your customers' attention to them.
However, while changes in shipping policy are sometimes inevitable, strive to offer your customers as much stability as possible. Frequent fluctuations can be off-putting for some shoppers as it may suggest unreliability.
Where Should You Place Your Shipping Policy?
Intuitive websites and online stores are highly preferred among users because they seem to anticipate their needs and cater to them. As a result, customers have a more seamless shopping or browsing experience.
This would be a good approach to use when choosing where to place your shipping policy in your online store.
For example, as opposed to only having it in one place, you could try and include a link or relevant segments of your shipping policy in site areas where:
Customers may need to refer to it
It can catch customers' attention
Customers may ordinarily expect to find it
Let us explore these prime placement ps in more detail.
Footer menus are usually where shipping policies are placed in almost all eCommerce websites. It would be wise to use it because it is one of the first places most customers may think to check. Plus, it is often less crowded than header menus.
On the upside, you can use footer menu placement alongside other methods too. Trendy Goods, for instance, is an online dropshipping store that has a shipping policy link in the footer menu and also provides shipping information per product.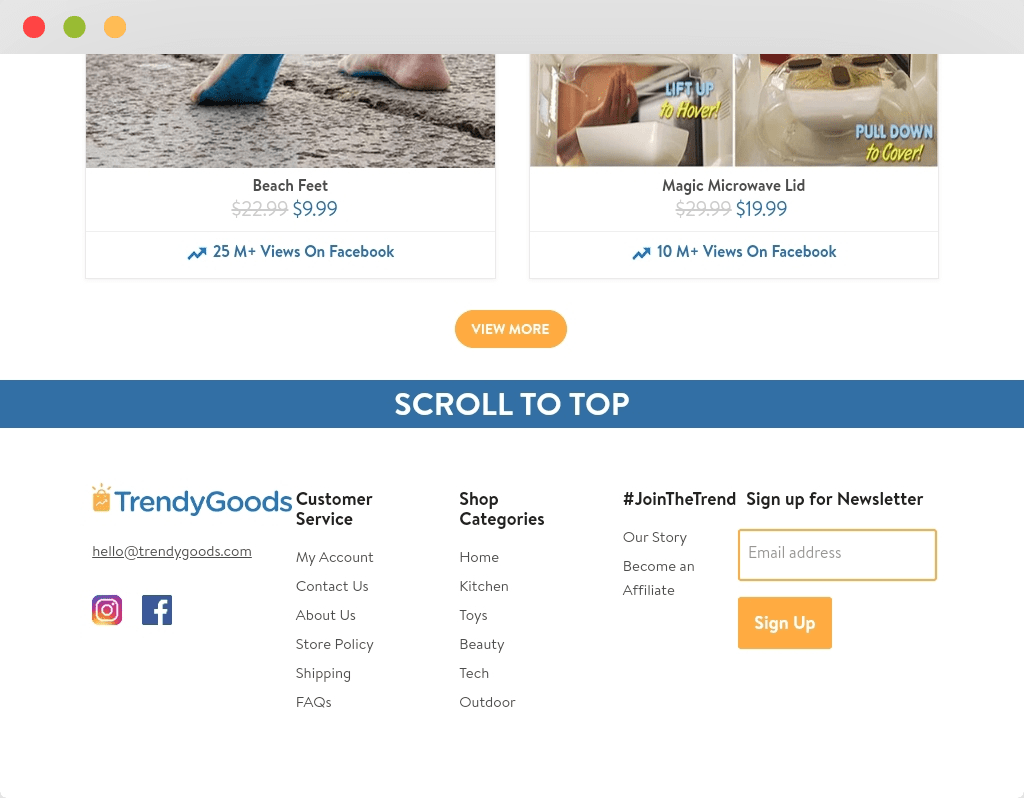 If you are looking to draw your customers' attention to a change in shipping details or discounted shipping, your website banner would make for excellent placement. It is easy to see and does not require customers to redirect to any other page.
However, this approach would work best if the messaging is brief as illustrated below. A crowded website banner can be distracting.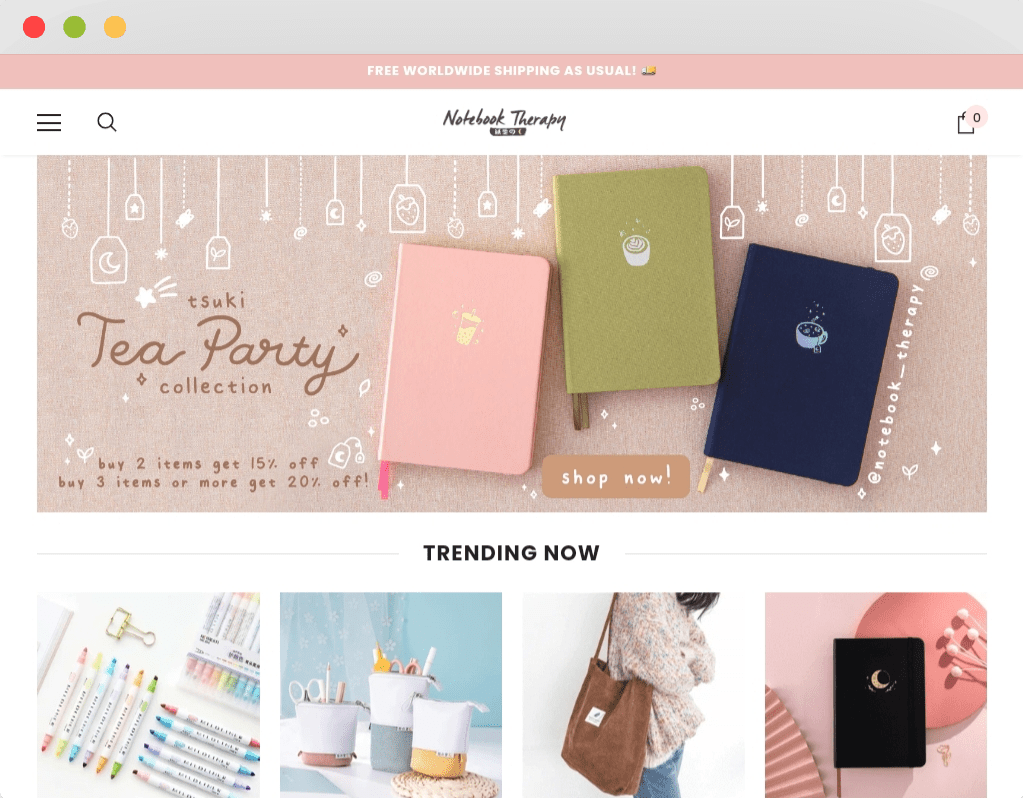 The FAQ Section
Shipping details greatly influence buying decisions and thus it would be right to include shipping details in your FAQ p. It may certainly not be possible to include your entire shipping policy but brief informative segments could be of great help to shoppers.
As the p suggests, aim for common questions such as the regions you deliver to, order processing times, and how customers can find out their shipping costs.
Notebook Therapy provides an excellent example of this style of placement. The store not only provides concise answers to shipping queries but also offers helpful charts with shipping details.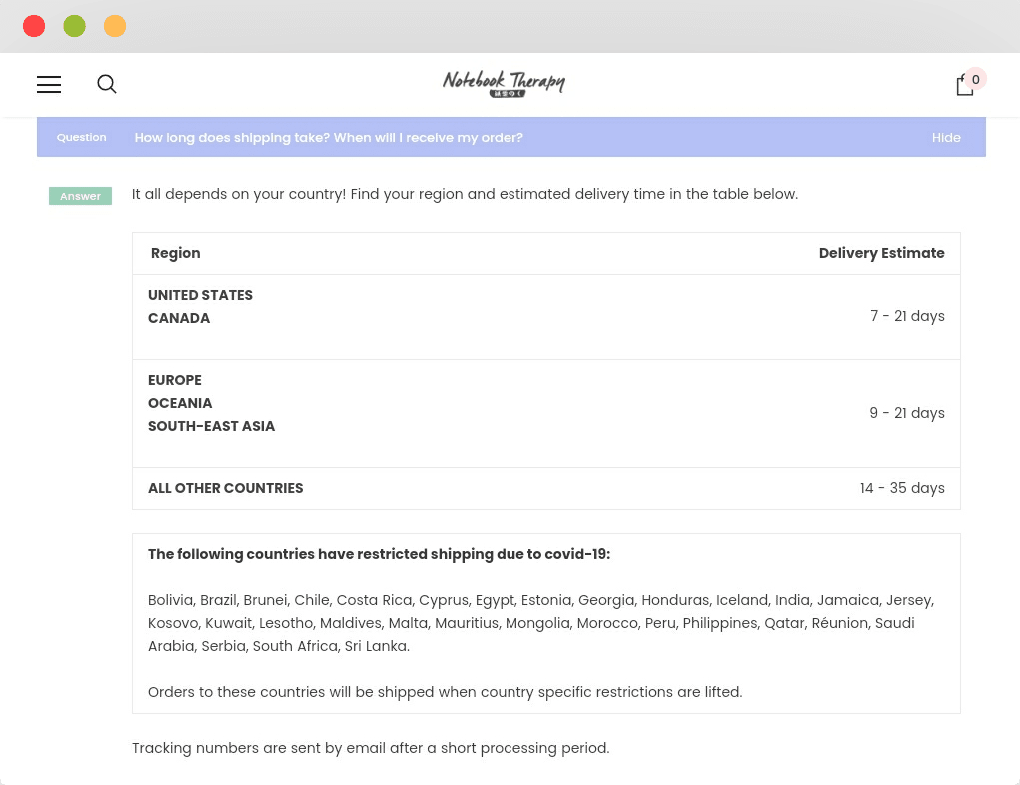 Product Pages
Placing shipping details on each product page may seem cumbersome but visitors to your site may find it very convenient. It would make it simple for them to assess the shipping options of the products they choose without having to redirect to a different p.
Nevertheless, with this approach too, you would only include key shipping details. You could also add a link to the complete shipping policy document at the end of the highlights for customers that may want to learn more.
Bluecrate, a leading Shopify gifting shop, executes this strategy in an exemplary way by providing shipping details for each gift item. It also offers a redirect option for further shipping policy details.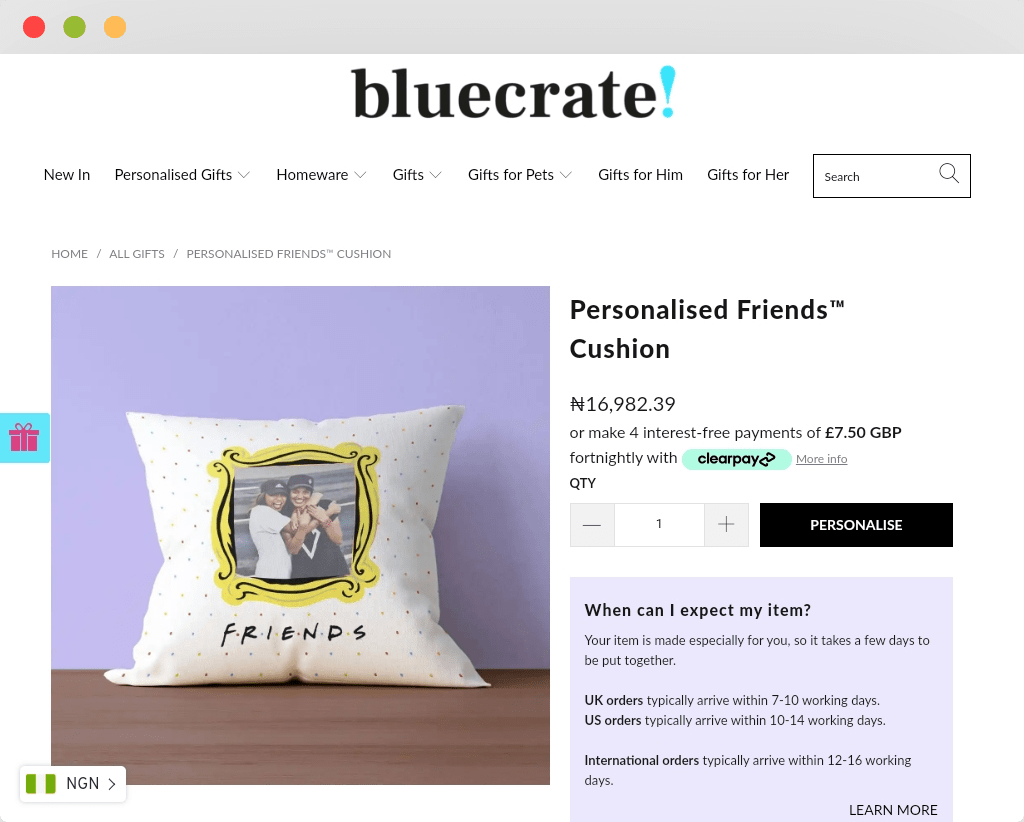 Wrapping It Up
A shipping policy for dropshipping is indispensable because it sets guidelines for your customer relations.
Further, it could protect your business from legal issues and also save you time as you would not have to constantly provide shipping details to each customer.
At NicheDropshipping, we have a wealth of experience in all matters of shipping. We provide worldwide fulfillment and offer over 15 shipping options depending on the delivery destination and the nature of the order.
We would, therefore, be happy and able to help you streamline your dropshipping fulfillment through timely, reliable, and traceable shipping. Better still, our shipping durations are also reasonably brief as we have warehouses in the USA and China.
Do reach out to us to learn more about how we can get your shipping on track.