AliExpress is widely popular among dropshippers as you can virtually source anything from the platform.
But the problem is that finding a reliable supplier on AliExpress is like searching for a needle in a haystack.
Most beginners think that product price is the only thing that matters. However, that's just one part of the equation.
There are other factors to consider such as product quality, supplier responsiveness, shipping times, and much more.
Working with a supplier who checks all these boxes can help you crush more sales and sky-rocket the growth of your business.
If you're struggling to make the right choice, then don't worry.
In this article, we'll go over all there is to know about how to find a good dropshipping supplier on AliExpress.
So let's dive straight into it!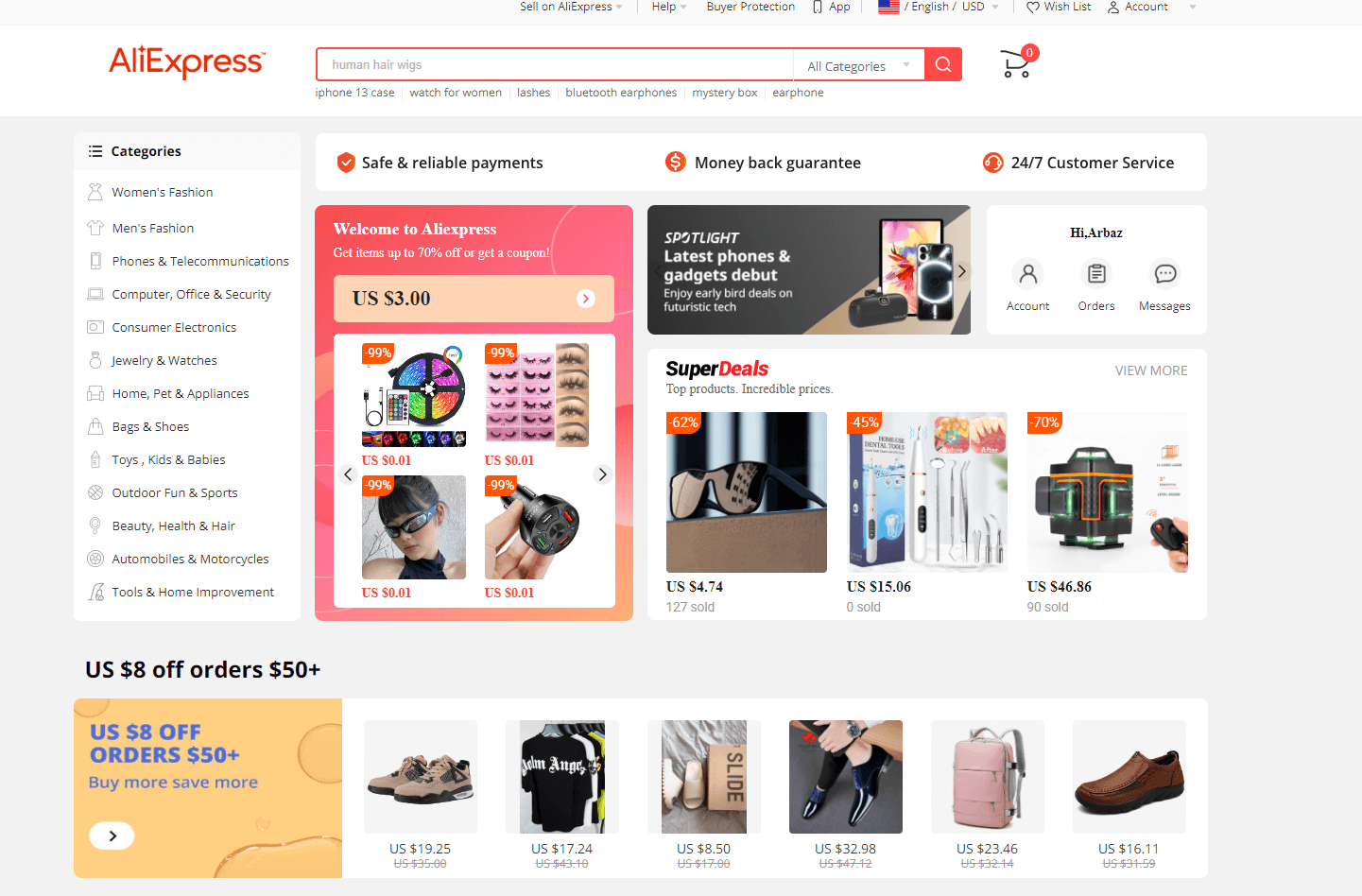 Why Is It Important to Find Reliable AliExpress Suppliers for Your Dropshipping Store?
The majority of dropshipping stores fail during their first month of operations.
You can think of an amazing product idea, come up with a creative store design and even go all in with marketing.
However, there's still a chance that your business might fail. The worst part is that most beginners don't even know where they went wrong.
It's essential to remember that your dropshipping business is only as good as your supplier.
From sourcing the product/manufacturing to packaging and shipments, the supplier handles every aspect of your business.
The decision isn't as simple as going on AliExpress and picking a supplier that offers the lowest price.
Sure, this would initially help you make more profit but your hasty decision will come back to haunt you in the long run.
There are many things that can go wrong such as your supplier not being able to keep up with the daily order demand.
Or even yet, the supplier won't respond to your messages after delivering a damaged product to your customers.
Keeping all this into perspective, it's only natural that you want to ensure that your supplier is reliable. Otherwise, your business is bound to fail.
7 Steps to Find the Best AliExpress Suppliers
Now that you understand the importance of a good dropshipping supplier, the next logical question is how to find one.
Well, just follow these 7 steps to make your search for locating the best AliExpress suppliers easier:
Step 1: Find the Right Product
We know, this sounds pretty obvious that if you want to find a supplier, then you need to know what to sell first.
But the thing is, there are millions of products on AliExpress and not all of them are worth selling.
First and foremost, you should always be on the lookout for counterfeit products.
Many suppliers are selling knock-offs of famous brands like Adidas and Nike in their stores.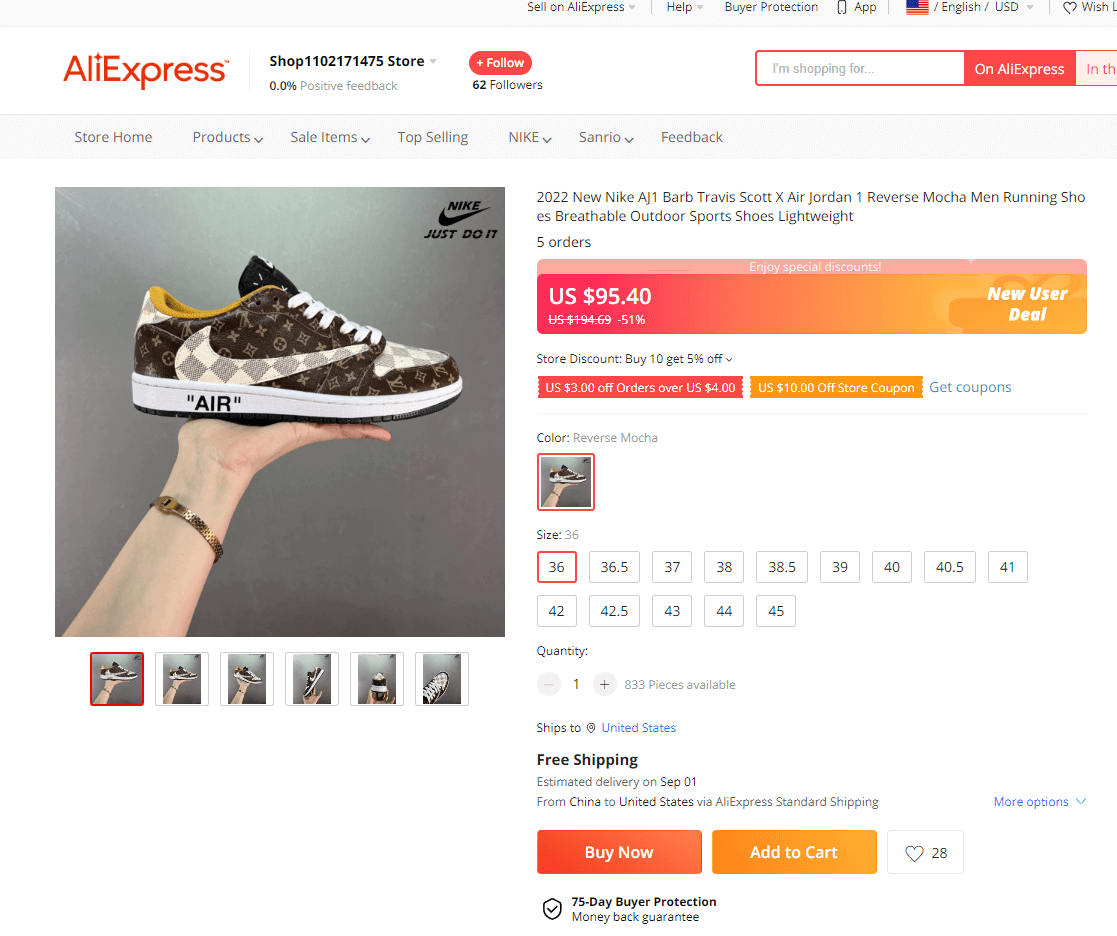 Some of them even have great reviews, however, that doesn't mean you should start selling them.
Dropshipping counterfeit products can lead to legal problems such as copyright issues.
Even if a supplier claims to be an original equipment manufacturer of branded products, the chances are that they're lying.
Most brands have stringent agreements in place and only deal with specific merchants.
This is the reason we suggest avoiding suppliers that potentially sell counterfeit products altogether.
Instead, look for non-branded products to avoid any future trouble.
Step 2: List Suppliers with the Best Ratings
Once you've figured out which product to sell, search the name of the product on AliExpress.
Look under the search tab and you'll find a couple of different filters such as "Price", "Free Shipping" and "Rating".
Most people would click the price button, however, that should not be your top priority.
Instead, click on the "Rating" checkbox and it would filter merchants with a rating of 4 stars or higher.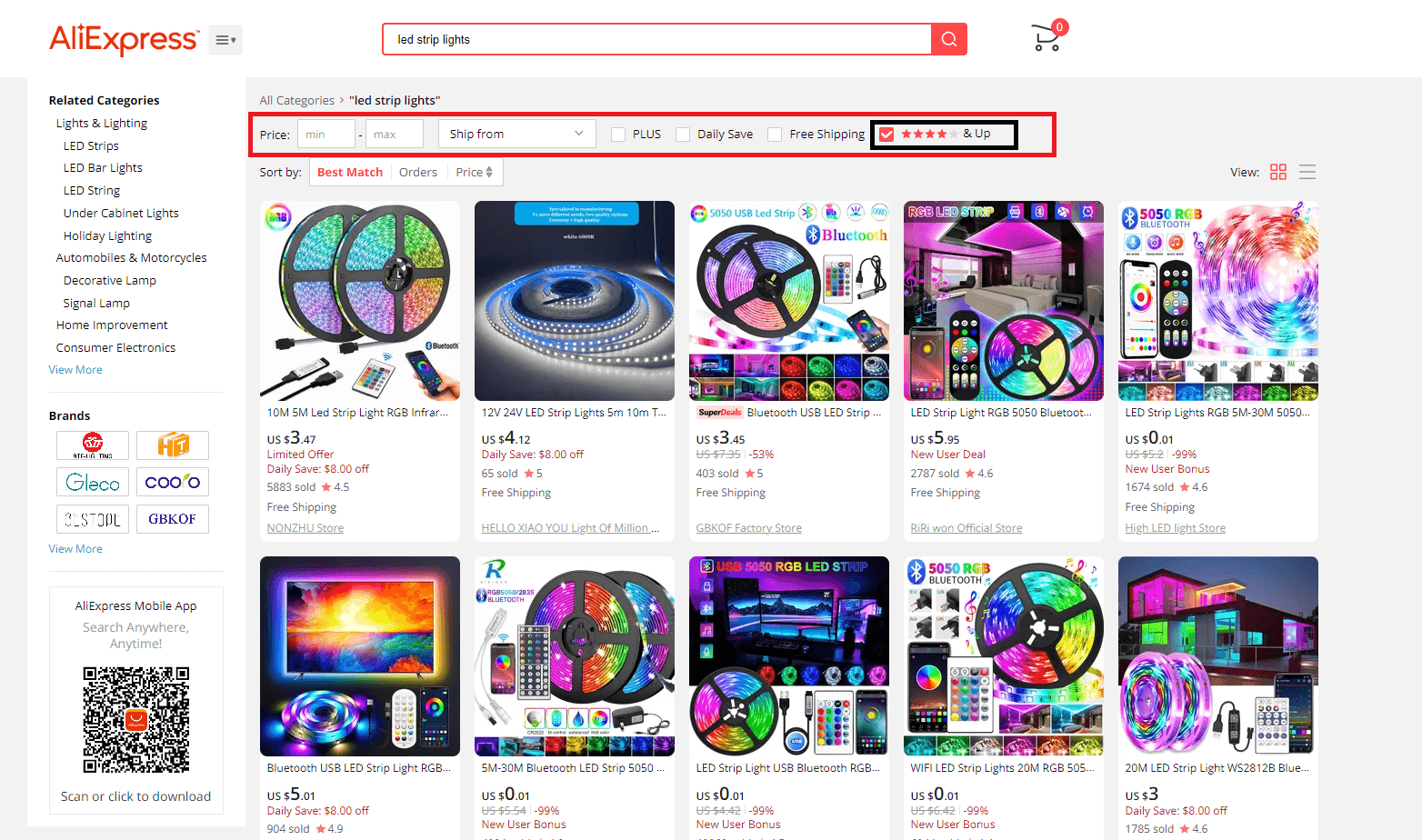 Now you would have the cream of the crop on your screen, but the job isn't over just yet.
You'll find many suppliers with different ratings, so what you want to do is to create a list of the best ones.
Ideally, your list should have suppliers with a rating of 4.3 or higher but that may not be possible for all products.
So just try finding the 5-10 suppliers with the most amount of orders and the highest rating.
After that, open the page of each supplier and click on the "Feedback" tab.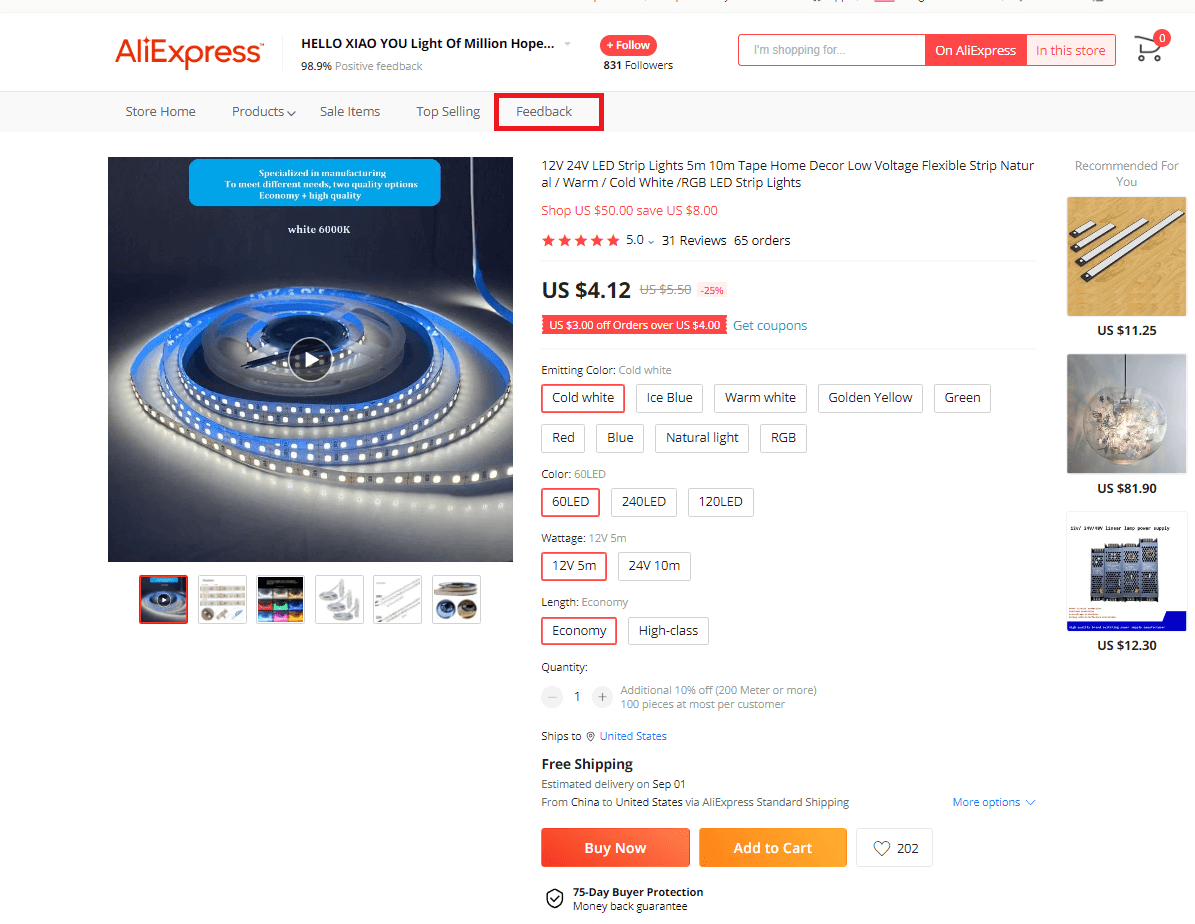 This would give you more insight into the performance of the seller in comparison to other merchants on the site.
The best case scenario would be if all 3 parameters of the seller are highlighted in green.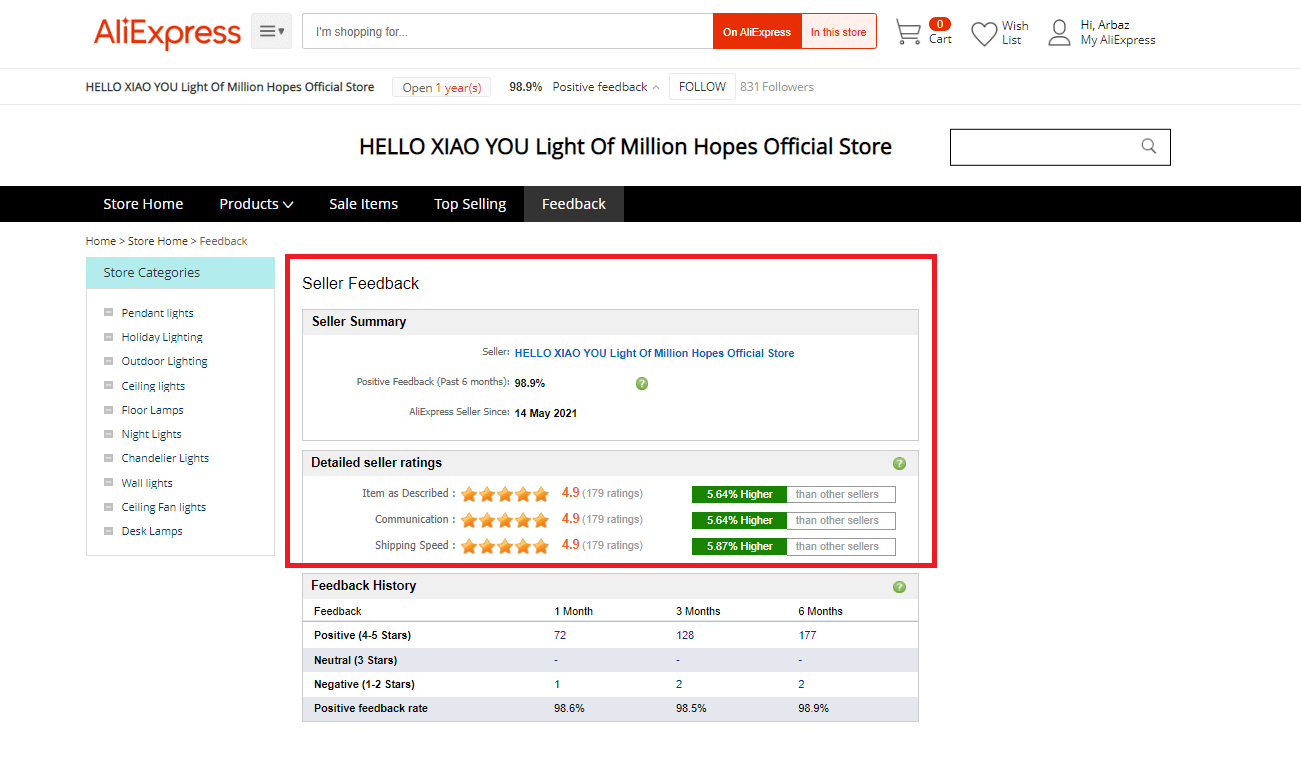 If all 3 are red, then although it particularly isn't a bad thing it does indicate that you have better options.
Step 3: Inspect Customer Reviews
Even if the supplier has an overall good rating, it's always worth checking what the customers have to say.
You can access customer reviews by scrolling down on the page.
What you want to do now is to go through the reviews with the photos attached.
To make that easier, you can simply click the "Photos" button as shown in the picture. This would give you some more perspective on what the product will look like and its build quality.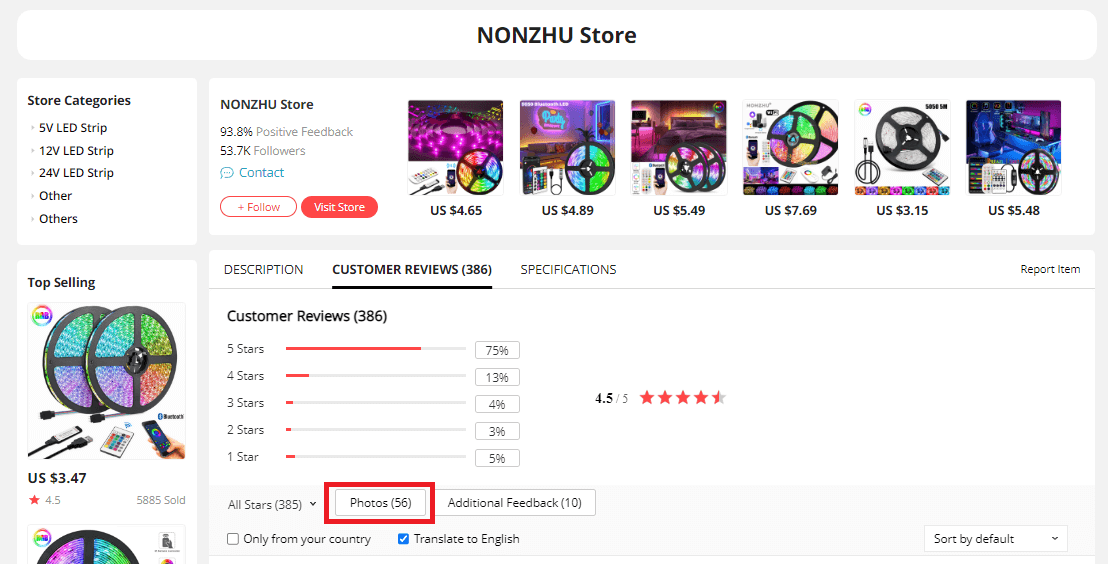 Needless to say, the majority of the reviews of the seller should be 5 stars. But that doesn't mean we would completely neglect the other reviews.
It's actually a great idea to browse through the 4 and 3-star reviews of the product.
That's where the customers talk about some minor issues they faced which could be related to supplier communication, shipment, or the product quality itself.
You do not have to spend too much time going through the 1 and 2-star reviews unless they're high in numbers.
They are usually from customers with incredibly high expectations or a genuinely disastrous experience.
Anyway if at least 85% of the supplier reviews are spread between 4 and 5 stars, you shouldn't let the lower ratings affect you too much.
Step 4: Go Through Shipping Terms
The most important step in choosing a supplier is to go through their shipping terms.
You can find shipping information and the countries the seller delivers to right underneath the product quantity.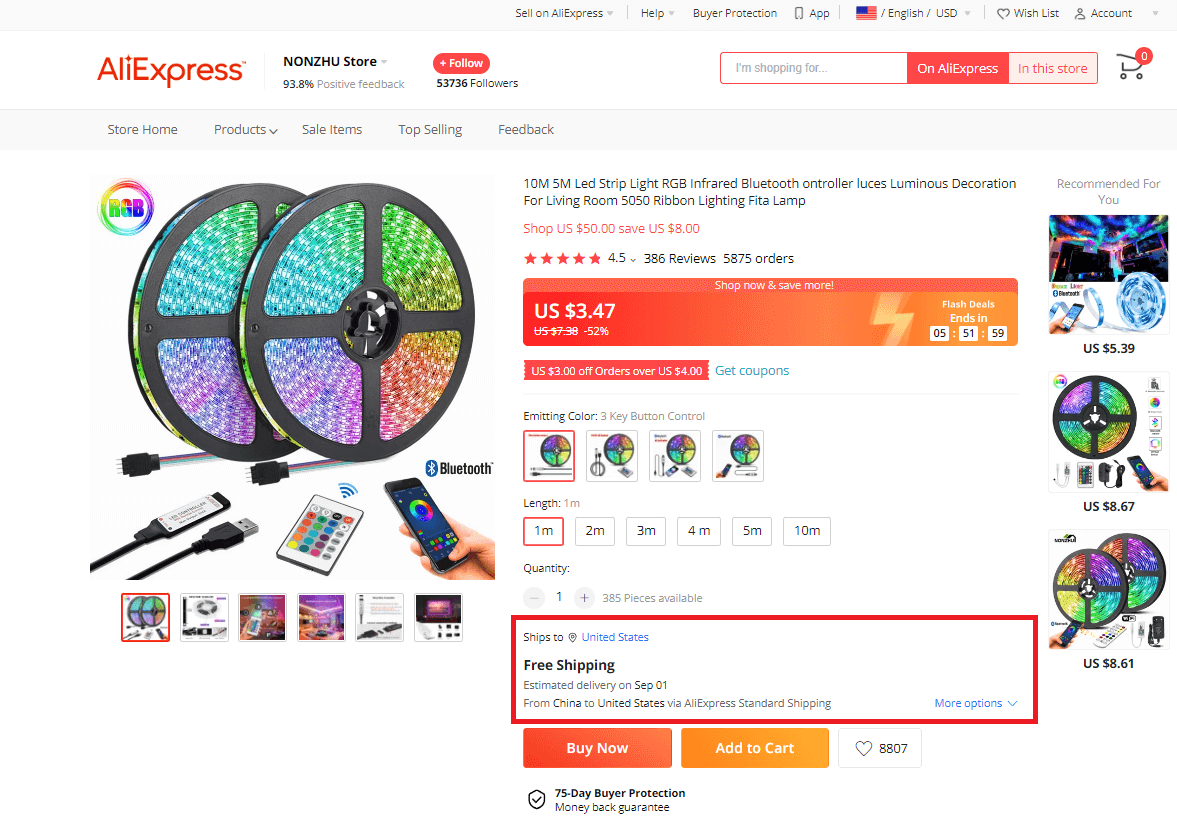 Click on the default name of the country highlighted below beside the "Ships to" text to see whether the supplier delivers in your targeted country.
If delivery is possible, then click on the shipping method under the country. In the screenshot, you can see "Free Shipping" because our selected country is the U.S.
However, depending on the product and the supplier, that may not be the case for you.
Either way, once you click that, a window will open with all the available shipping options.
If free shipping isn't available or takes too long then you can choose other carriers that charge a fee.
But obviously, the fee shouldn't be too much, otherwise, you'd either have to increase the price of the product or work with a low-profit margin.
The best combination would be choosing a carrier that charges the lowest but still delivers within a reasonable timeframe.
Regardless of the shipping method you choose, make sure that you're transparent with your buyers and don't overcommit.
It would be a bonus if the shipping method provided tracking information as that would help you keep your customers updated.
Step 5: Check the Return and Refund Policy
This is often overlooked but as a dropshipper, you're completely dependent on your supplier.
Unless you hire a professional dropshipping agent, you cannot inspect the quality of each product.
In case the customer isn't satisfied with the product and your supplier isn't cooperative, you would have to bear the loss.
That's why, before choosing the supplier, we recommend checking their return and refund policy.
You can see the supplier guarantee right under the "Buy Now" button.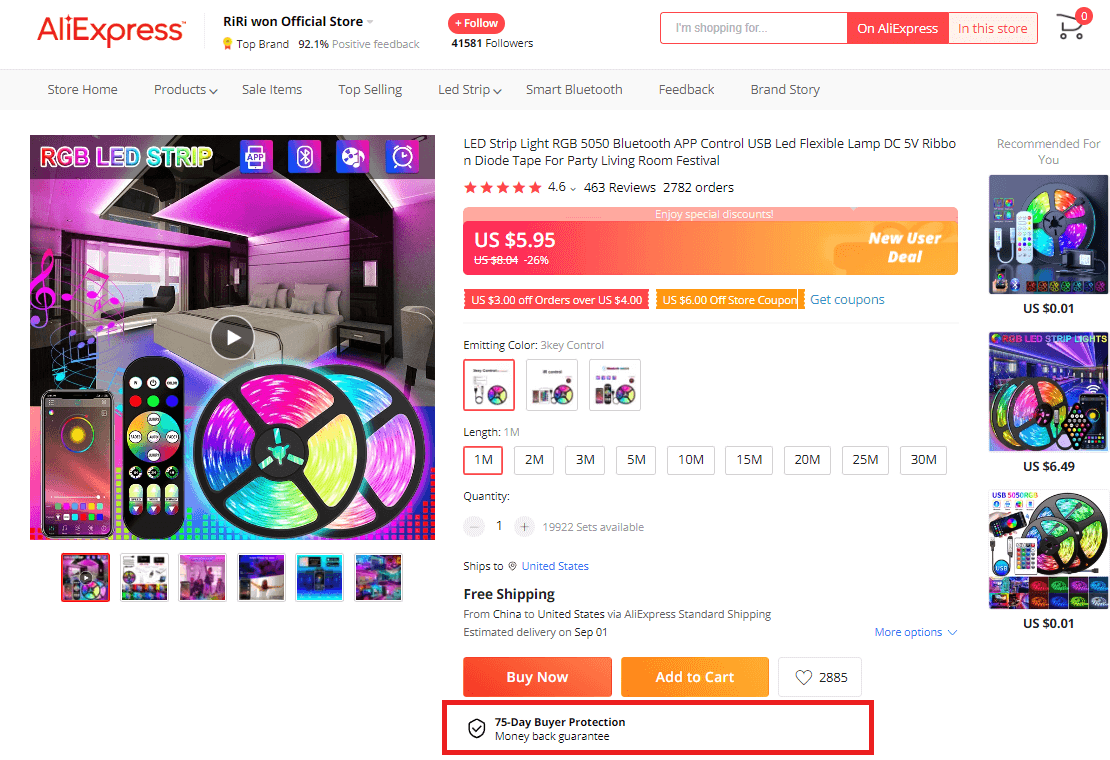 Although, the good thing about AliExpress is that by default, every buyer is protected with trade assurance.
That means, if the item isn't as described or not delivered on time, then the customer is eligible to file a dispute.
However, the number of days you get buyers' protection can vary depending on the product.
So make sure to double-check that to see if it's according to your expectations.
Step 6: Message the AliExpress Supplier
Even if everything looks good so far, you can't seal the deal just yet. If you're working with a supplier then you need to test their responsiveness.
It will help you assess how proactive they are when it comes to claiming a dispute.
In addition, you should also ask your supplier about their dropshipping policies and how they handle returns.
Most suppliers would take some time to respond, so you can just craft one message and send it to multiple suppliers.
Then, compare the reaction time of each supplier, and there's even a chance that some may not respond at all. That would help you automatically narrow down your options.
Directly messaging the supplier also allows you to negotiate the price.
Keep in mind that some suppliers may not offer many discounts in the beginning unless you prove the potential of your business.
It would be easier to negotiate the price once your business takes off and you're bringing a high volume of sales every day.
As long as you're not going at a loss, don't worry too much about the product price in the beginning.
Just choose a supplier that offers not the cheapest but the best price without compromising quality.
Step 7: Place a Test Order
If you've followed all of the above-mentioned steps correctly then you might not need this.
However, it's always a great idea to place a test order because there's nothing better than physically inspecting the product.
But either way, if you do plan to follow this step then first find the best supplier you possibly can.
You don't want to spend your money ordering a sample product from multiple suppliers, especially if it's a high-ticket product.
Although if you plan to white label the product, then you should definitely test it by ordering yourself.
It would help you verify whether the supplier is actually using the custom packaging or not.
In addition, you can also see what name the supplier is entering on the invoices.
How to Verify AliExpress Supplier?
Aside from the ratings, the easiest way to verify a supplier's authenticity is to go to their seller page and click on the "Feedback" tab. It would provide you with a complete breakdown of the seller's performance and feedback score.
How to Contact a Supplier on AliExpress?
If you want to contact an AliExpress supplier then go to their product page, scroll down and you will see the "Contact" button under the store name.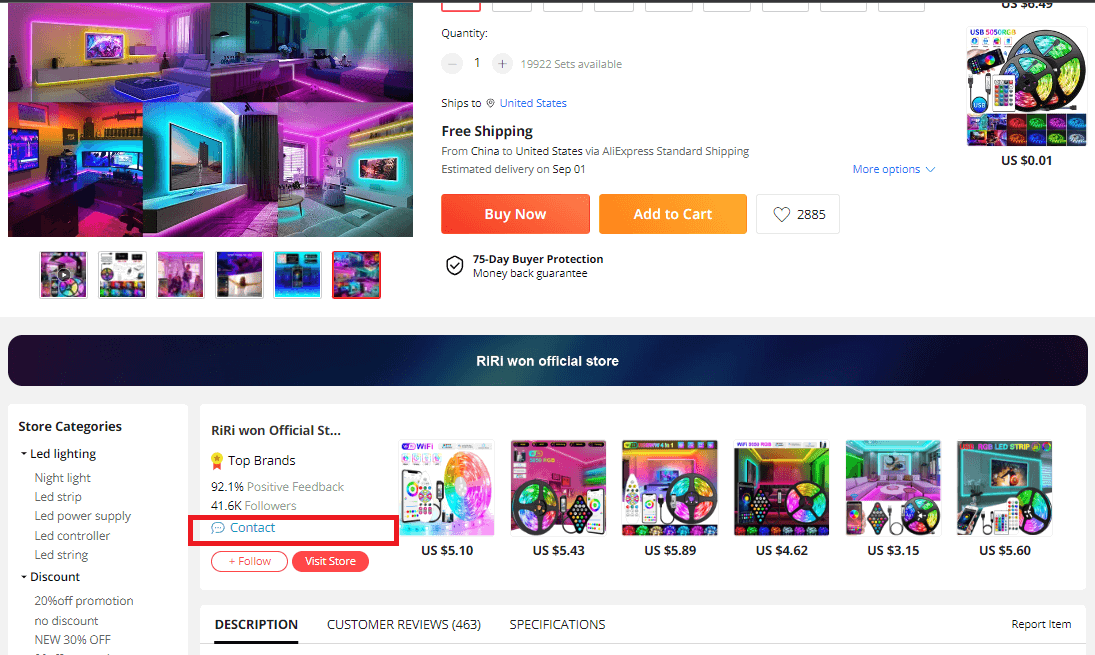 Click the button and if you're logged in to your AliExpress account, you will be directed to the suppliers' inbox.
Keep in mind that most suppliers on AliExpress don't speak English and use a translator. Make sure that your text is simple and concise to make communication easier.
You can also ask for their email to reach them out there. However, we strictly advise making payments only through AliExpress so you can get the buyers' protection.
3 Tips for Working with AliExpress Suppliers
If you've found a reliable supplier then congratulations! However, regardless of the rating of your supplier, there's still room for things to go wrong.
That's why here are 3 tips to remember while working with AliExpress suppliers:
1. Always Have a Backup Plan
Even if you've found a trustworthy supplier, don't discard your list just yet.
You might need it in the future, especially if you have plans to scale your business.
Don't forget that one of the biggest drawbacks of dropshipping is that you're completely dependent on your supplier.
The most common problem dropshippers face is stock unavailability.
If the supplier isn't able to meet your order requirements, then all the effort you've put in can go down the drain.
The best way to avoid that is simply having another supplier who you can order from in such situations.
Finding one at the last minute can be a problem, so we suggest looking for one as soon as your business starts growing.
2. Ask the Right Questions
Effective communication is an important part of running a successful dropshipping store.
Aside from negotiating the price, be on the same page with your supplier regarding the delivery time.
Ask them if the shipping information provided on the product page includes customs clearance.
Learn more about their return policy and what happens in case a product is delivered damaged.
3. Find the Best Mix of Quality and Price
We've said this multiple times, but price shouldn't be your top priority while looking for a dropshipping supplier.
But of course, this doesn't mean that you should completely disregard the price.
The thing about any eCommerce platform is that merchants with the best reviews would also usually have the highest price.
There could also be other suppliers who are selling the same product but don't have the same number of reviews.
So sometimes, you can consider choosing a supplier with a slightly lower rating, if you're getting significantly better rates.
FAQs about AliExpress Suppliers
Should You Tell Your AliExpress Suppliers That You're Dropshipping?
Yes, you should inform your supplier that you're dropshipping and ask them not to include their name on the invoices.
Staying transparent would also make communication easier for negotiating the price, asking questions, and also resolving disputes.
Which Tools Can I Use to Find AliExpress Suppliers?
There are multiple tools and extensions to make finding AliExpress suppliers easier.
One of them is AliExpress Dropshipping Center which helps you not only find hot selling products but also respective suppliers on the platform for these products.
How to Avoid Shady Suppliers on AliExpress?
AliExpress has thousands of suppliers and dropshipping scams are quite common but fortunately, they can easily be avoided.
Just make sure that you're only working with suppliers with a good overall rating and don't pay outside the platform as that would nullify the trade assurance.
Final Thoughts
Navigating the huge pool of suppliers on AliExpress can be overwhelming, especially if you just start dropshipping.
However, by following the steps in this article, you can narrow down your options in no time!
If the whole process still feels like a hassle for you then another alternative is to get the help of a service like NicheDropshipping.
From product sourcing to packaging and warehousing we can handle every aspect of your dropshipping business.
Interested to learn more? Just give us a call and our agents will happily guide you!