Although focused on bulk buyers, wholesale sites like Alibaba could be an excellent product sourcing spot for dropshippers.
There are many upsides to using Alibaba, but the suppliers will often offer the same products repeatedly. As a result, dropshippers are looking for alternative sites like Alibaba for product sourcing.
So, first, we'll show you the features of Alibaba and see what makes it so popular. Next, we'll give you the ten best wholesale sites like Alibaba you can use to source your products. And finally, we'll give you the answers to the FAQs related to sites like Alibaba.
Let's dive right in!
What Is Alibaba and What Are Its Main Features?
As one of the largest B2B wholesale marketplaces, Alibaba is the market leader for years now.
Even though its concept is bulk buying, suppliers have become increasingly flexible in their offers since competition has increased. Nowadays, on Alibaba, you can even find suppliers that dropship for you!
For new dropshippers who still don't need bulk orders, AliExpress is usually the product sourcing platform of choice.
However, more experienced dropshippers prefer Alibaba due to the lower product prices and opportunities for product customization and branding (white-label or private labeling of a product).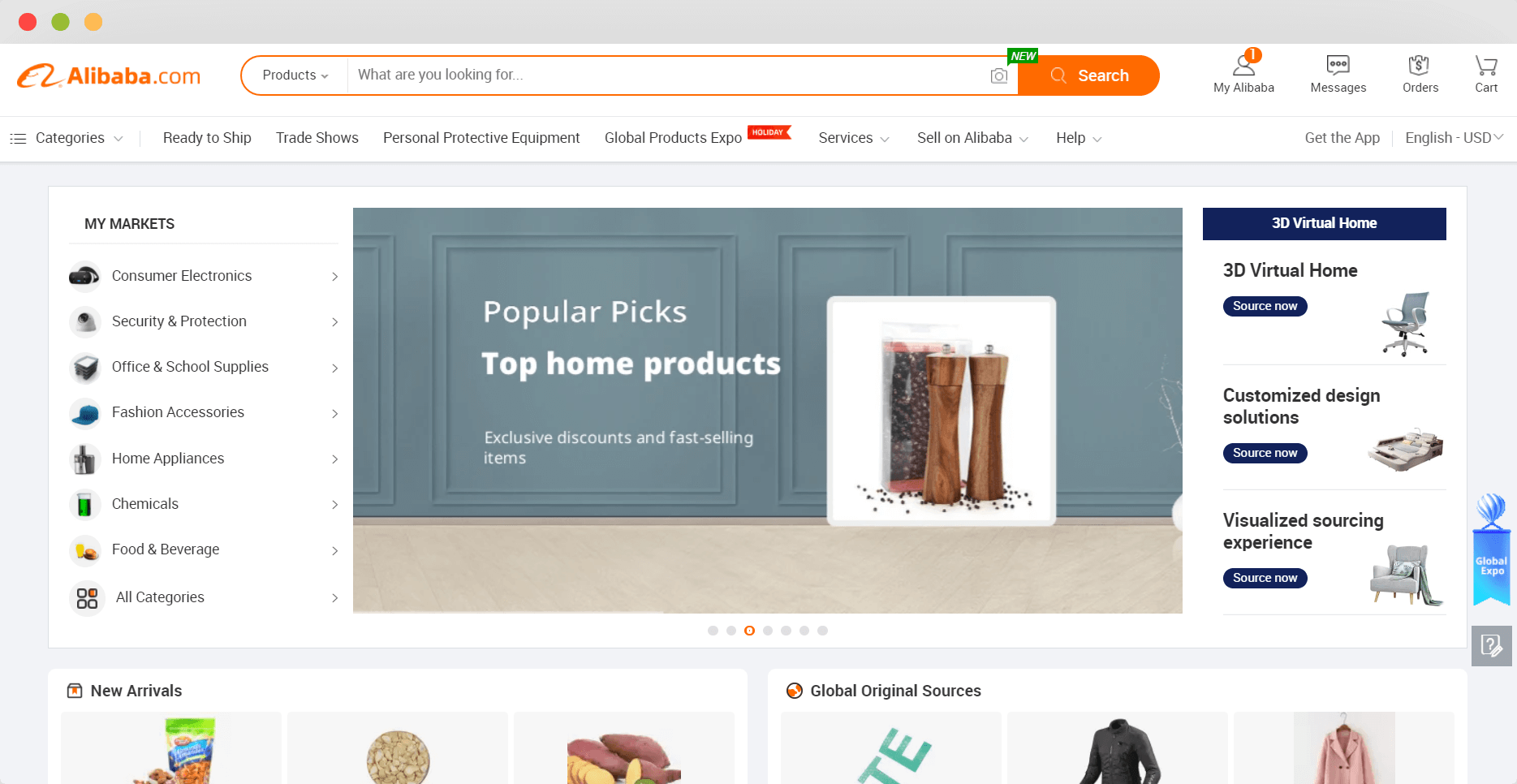 Some of the main features or pros why dropshippers use Alibaba include:
Pricing: factory/wholesale prices, lower than B2C sites like AliExpress;
MOQ (minimum order quantity): most Alibaba products will have an MOQ of 10, 50, 100, or more items. However, you can also find suppliers who dropship single items. As a comparison, on AliExpress, usually, there are no MOQs;
Rating and reviews: On Alibaba, you see the supplier rating instead of the product rating;
Branding and customization: Alibaba and sites like Alibaba are always better for white-labeling and especially private-labeling a product;
Shipping: depends on different suppliers – some will have it included in the price and sell the product with 'free shipping' while others will have different paid shipping options to choose from;
10 Best Wholesale Sites Like Alibaba
Fortunately, dropshippers can use many alternative sites like Alibaba to source products that are just as cheap and with the same (or better) quality.
Here, we'll give you ten of the best wholesale sites like Alibaba in 2022:
With over half a million different products listed and wholesale product prices, Chinabrands is an Alibaba competitor.
Even though the product selection on Chinabrands might be more limited than on Alibaba, you can still find unique, quality products for affordable prices.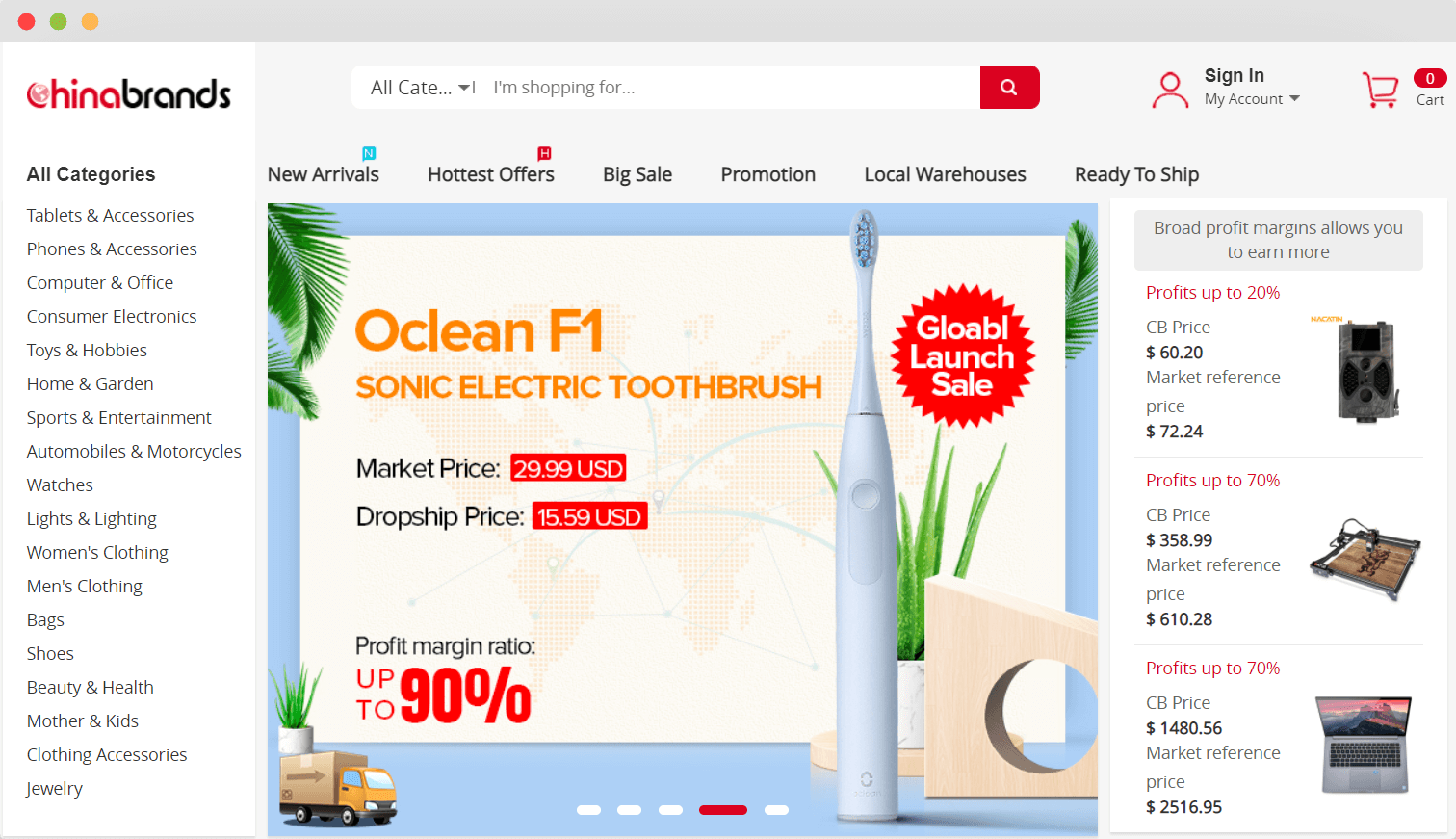 Some of the most commonly bought items on Chinabrands are different tech gadgets as well as clothing items.
Chinabrands is especially good for eCommerce store owners since it's specialized in dropshipping suppliers and one-by-one shipping.
Fun fact: Alibaba is the mother-company of 1688.com. So, when we talk about sites like Alibaba, we have to mention 1688.com.
Alibaba is a larger platform meant for international markets, while 1688 is its smaller subsidiary with local suppliers. As such, the entire website interface is in the Chinese language.
You might think – then why would I bother buying from 1688 instead of Alibaba?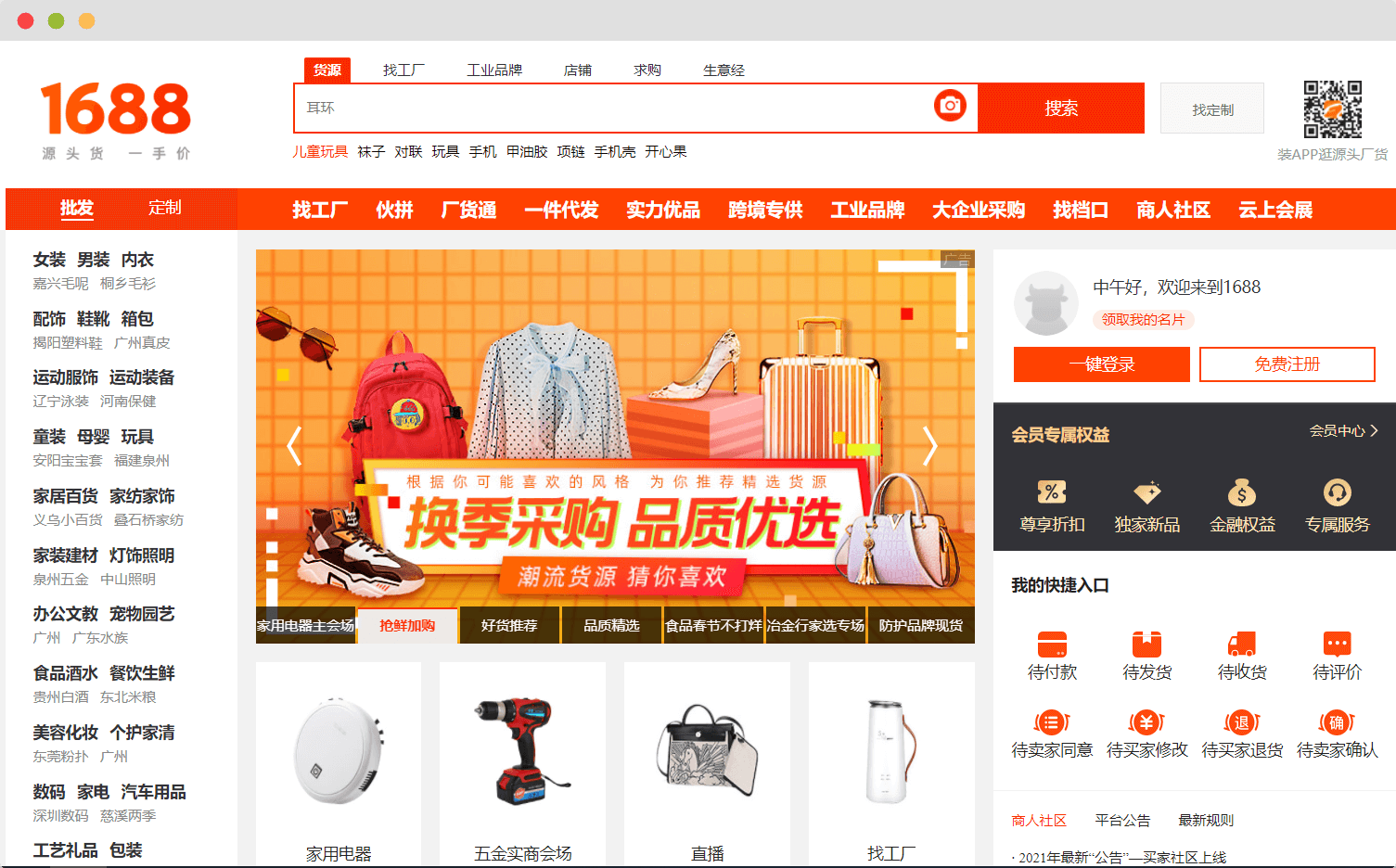 The answer is pretty simple – much lower product prices and no obligatory MOQs! Now it's probably clear why dropshippers find it so lucrative to dropship with 1688.
To surpass the language barrier issue, drop shippers can start collaborating with a product sourcing agent in China who speaks the language and can purchase products from 1688.
If you decide to work with a dropshipping agent, ensure that they have warehouses in China and the USA. Having inventory storage in a warehouse in the USA will significantly decrease the shipping time to your US clients.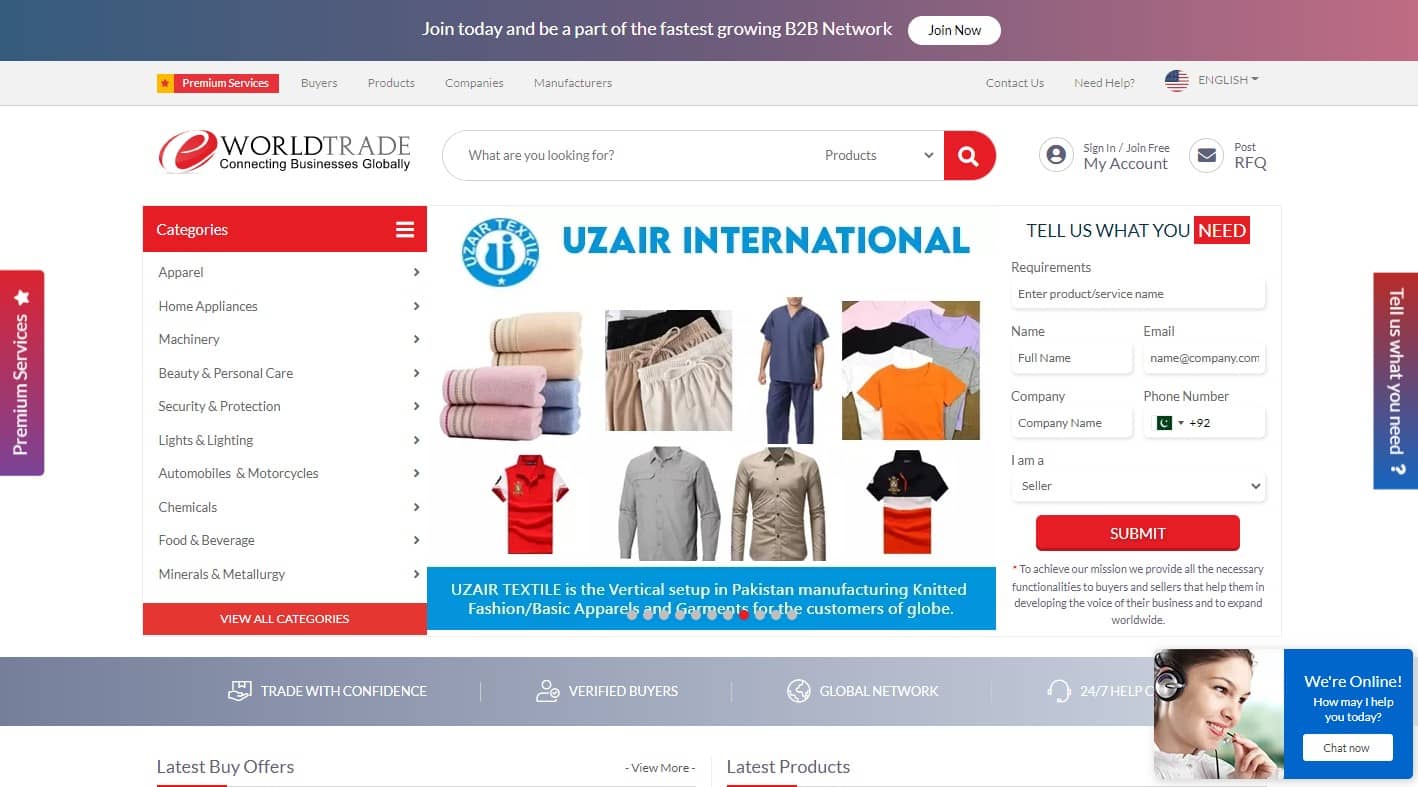 eWorldtrade is structured to be one of the most transparent global B2B marketplaces converging millions of potential wholesalers, buyers & sellers under one hood.
They are committed to providing authentic, fast, and innovative trading solutions with all new and smart features making trading even more effective.
It is a distinguished B2B platform bridging buyers with compelling digital solutions and services for better brand development.
They have redefined global trade with value-added services like Digital Branding, and community & reputation management. eWorldTrade allows all business partners, be it wholesalers, retailers, buyers, sellers, or middlemen, to do online safe trade dealings with each other regardless of any limitation to time or place.
In the sense of being a wholesale and B2B website, DHgate is the most similar among the sites like Alibaba. However, it's also not rare to find dropshipping suppliers there.
In the dropshipping world, we know DHgate for selling replicas of products. As such, dropshippers are often wondering if DHgate is legit.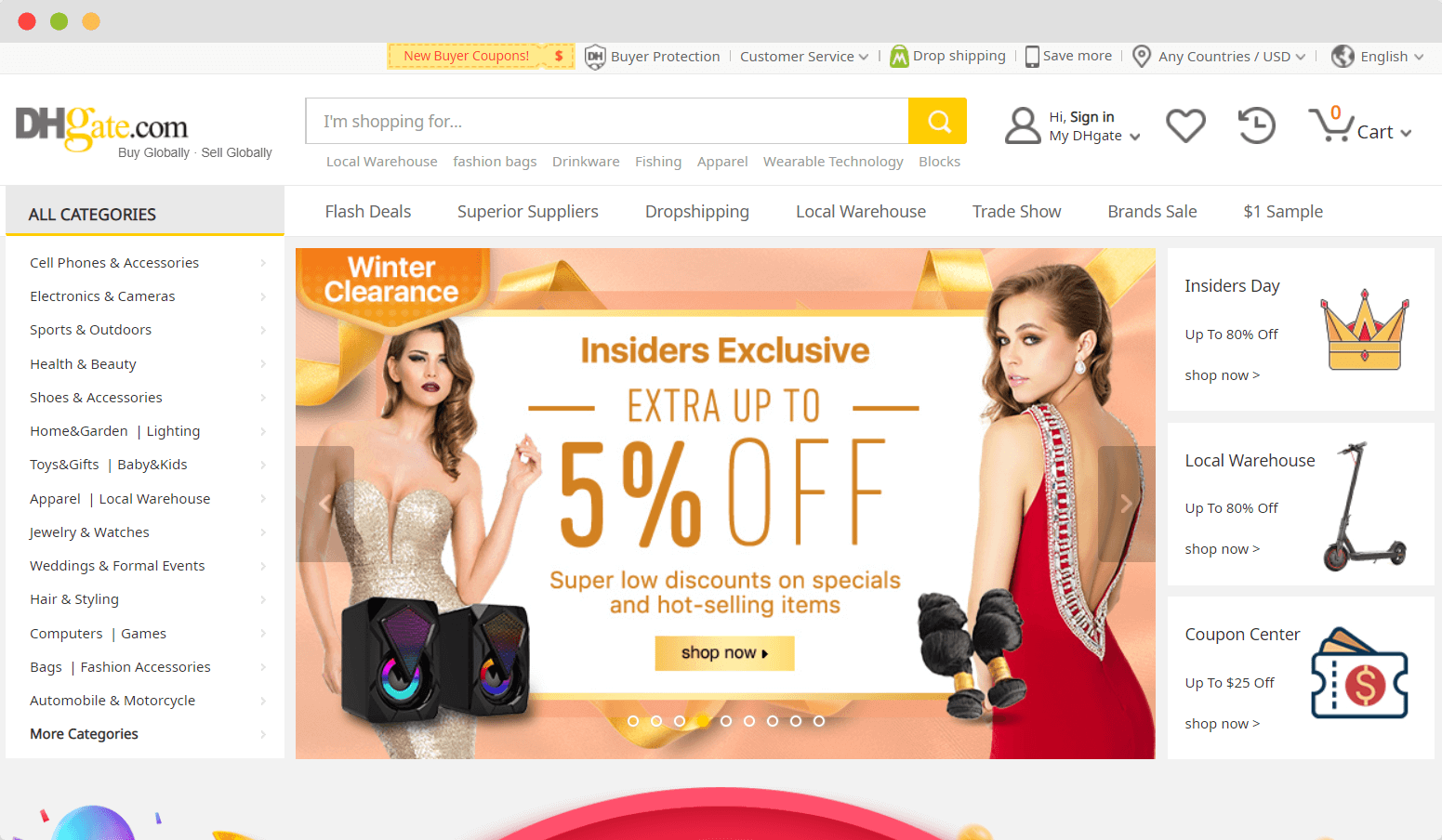 In this regard, you have to know that DHgate is simply the marketplace that handles the transactions between buyers and sellers. The products you purchase on DHgate all come from different suppliers, so they have different quality levels.
To ensure you don't pay for a lousy product and get what you expect, always look at seller reviews on DHgate.
Another good one in the list of B2B sites like Alibaba is Made-in-China.
All the suppliers on Made-in-China are from China, while buyers are from all over the world. Even though the website is mostly for bulk products from China, you can also find Chinese suppliers that agree to dropship single items.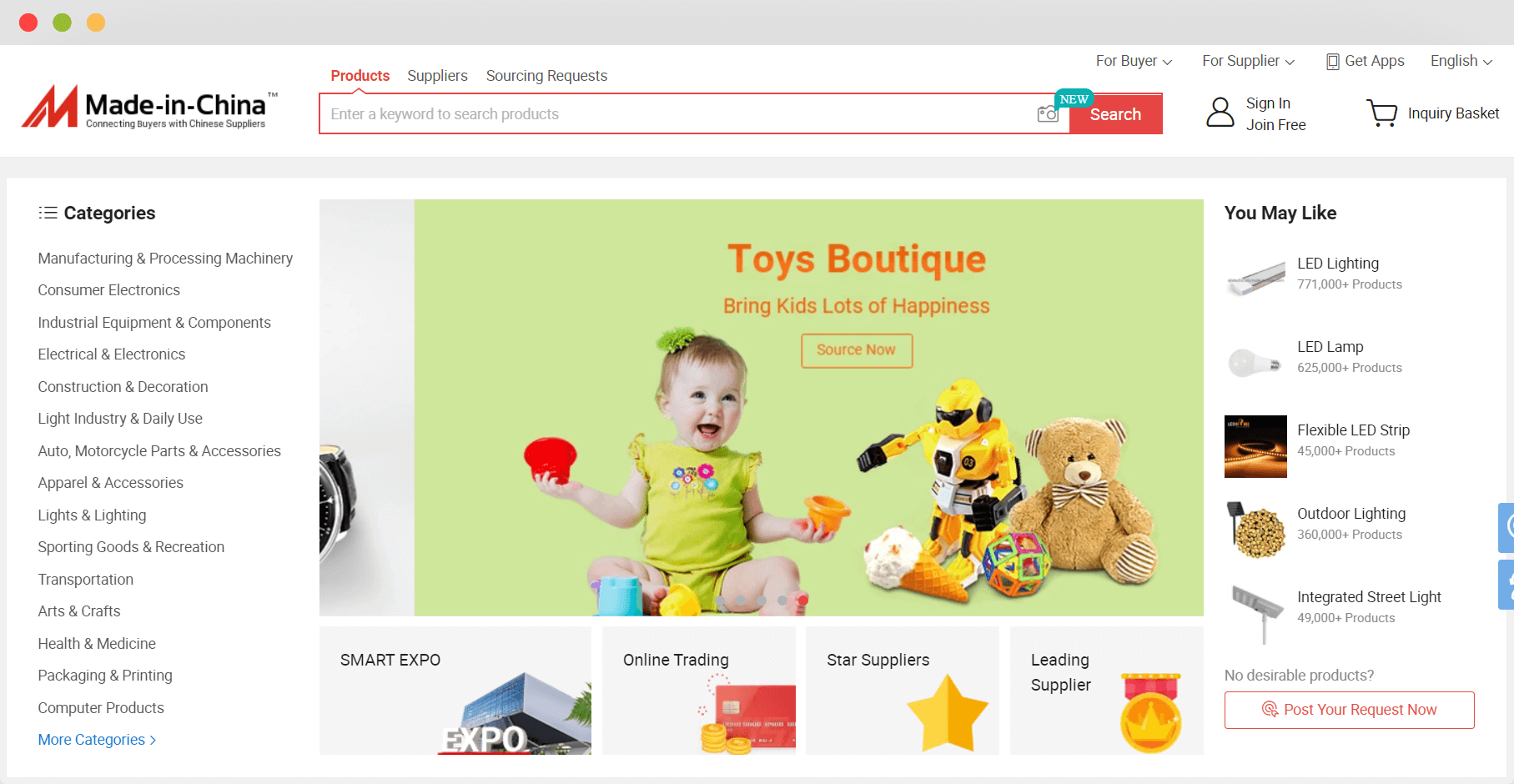 On the Made-in-China platform, sellers have to get certified and registered, which enforces buyer safety.
Global Sources is another Alibaba alternative website with a focus on B2B wholesale suppliers like Alibaba.
On Global Sources, you can find a wide variety of products for affordable prices, but you'll always have an MOQ that ranges from a minimum of 500 to over 5000 pieces.
Global Sources is more suitable for experienced dropshippers with a stable number of daily orders and want to scale and order in bulk.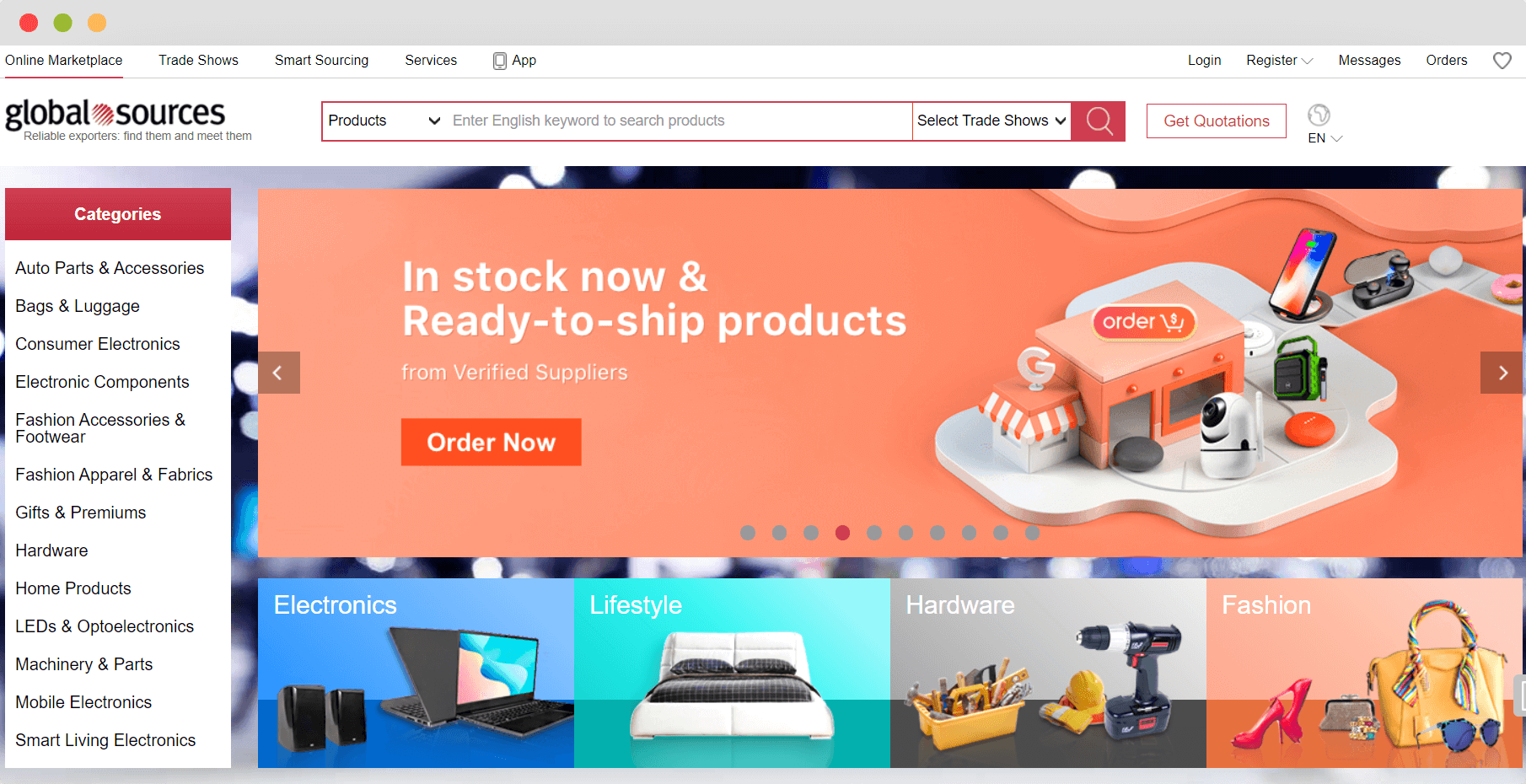 AliExpress is technically different from Alibaba because the former is B2C, and the latter a B2B marketplace. However, AliExpress belongs on this list of sites like Alibaba for several different reasons.
First, it belongs to the same company. Secondly, both platforms offer cheap products from Chinese suppliers that are incredibly profitable for your dropshipping store.
So, if you're looking for an Alibaba alternative, only with lower MOQs and more dropshipping possibilities, AliExpress can be a great replacement.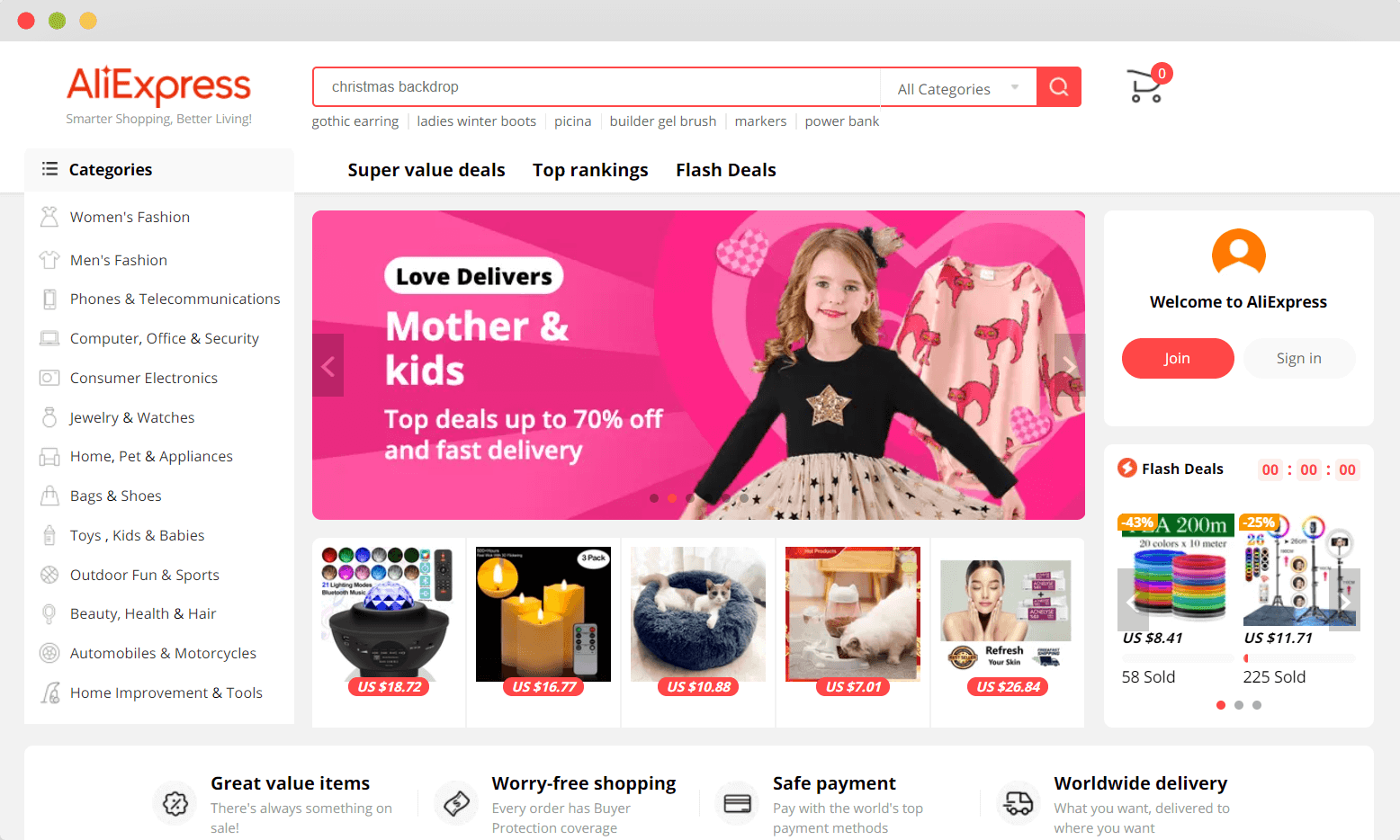 On AliExpress, single item dropshipping is nothing new, so you definitely won't be struggling to find suppliers there.
LightInTheBox is another Chinese Alibaba alternative that makes both dropshippers and resellers happy since you don't have MOQs, but you also get discounts on larger orders.
Heaven for single as well as bulk orders!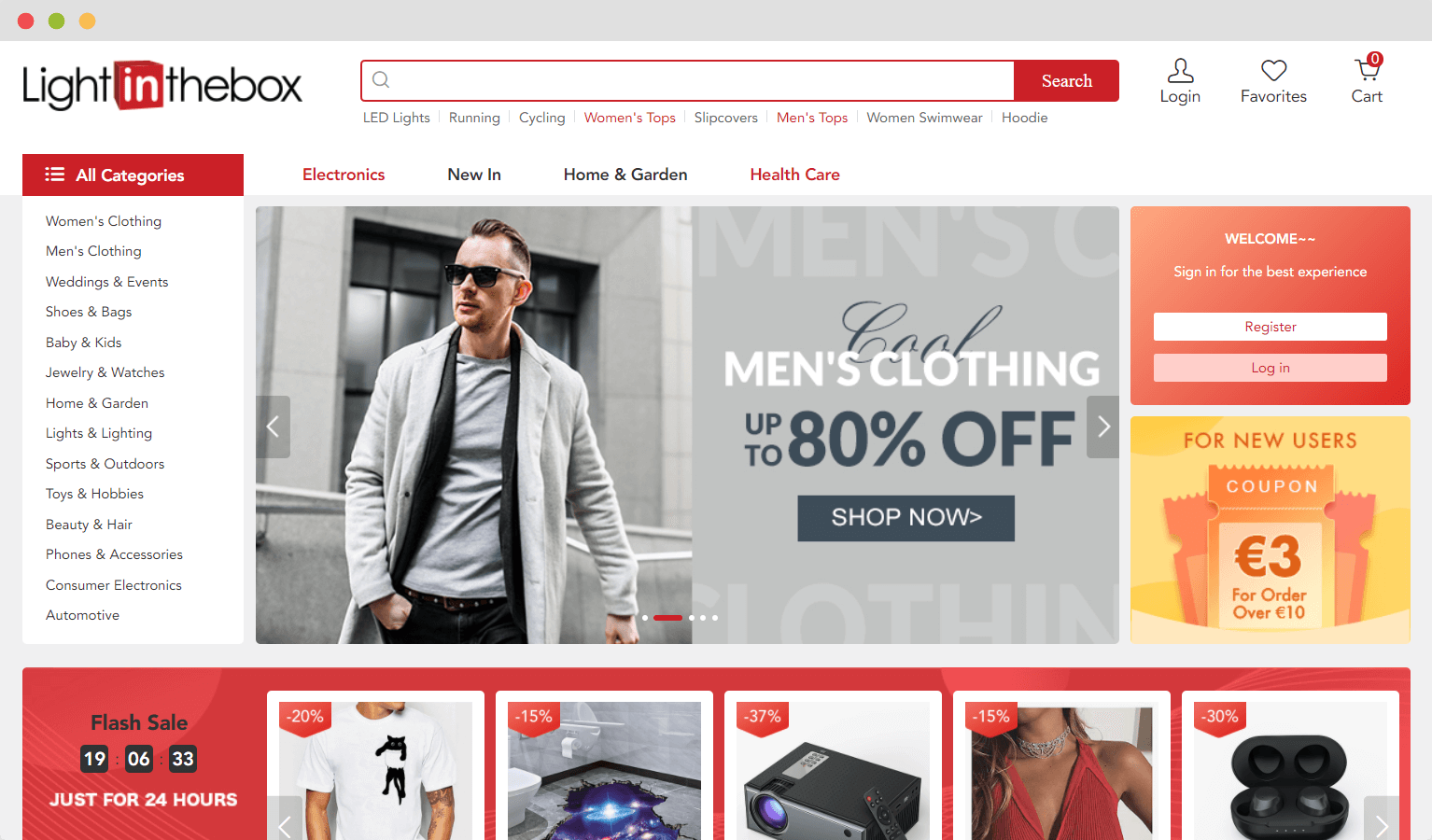 LightInTheBox products come from Chinese suppliers. Some of its most frequently bought products are wedding dresses, clothes, electronics, furniture pieces, toys, etc.
Contrary to Alibaba, where individual suppliers sell products, Banggood sells its own products, similar to many tech Amazon products.
Banggood is among sites like Alibaba due to its dropshipping-friendliness. Banggood works with dropshipping in mind, making it as easy as possible for dropshippers to start product sourcing from them.
For example, dropshippers on Banggood can enjoy anywhere from 5% to 20% price discount on regular prices shown on their website.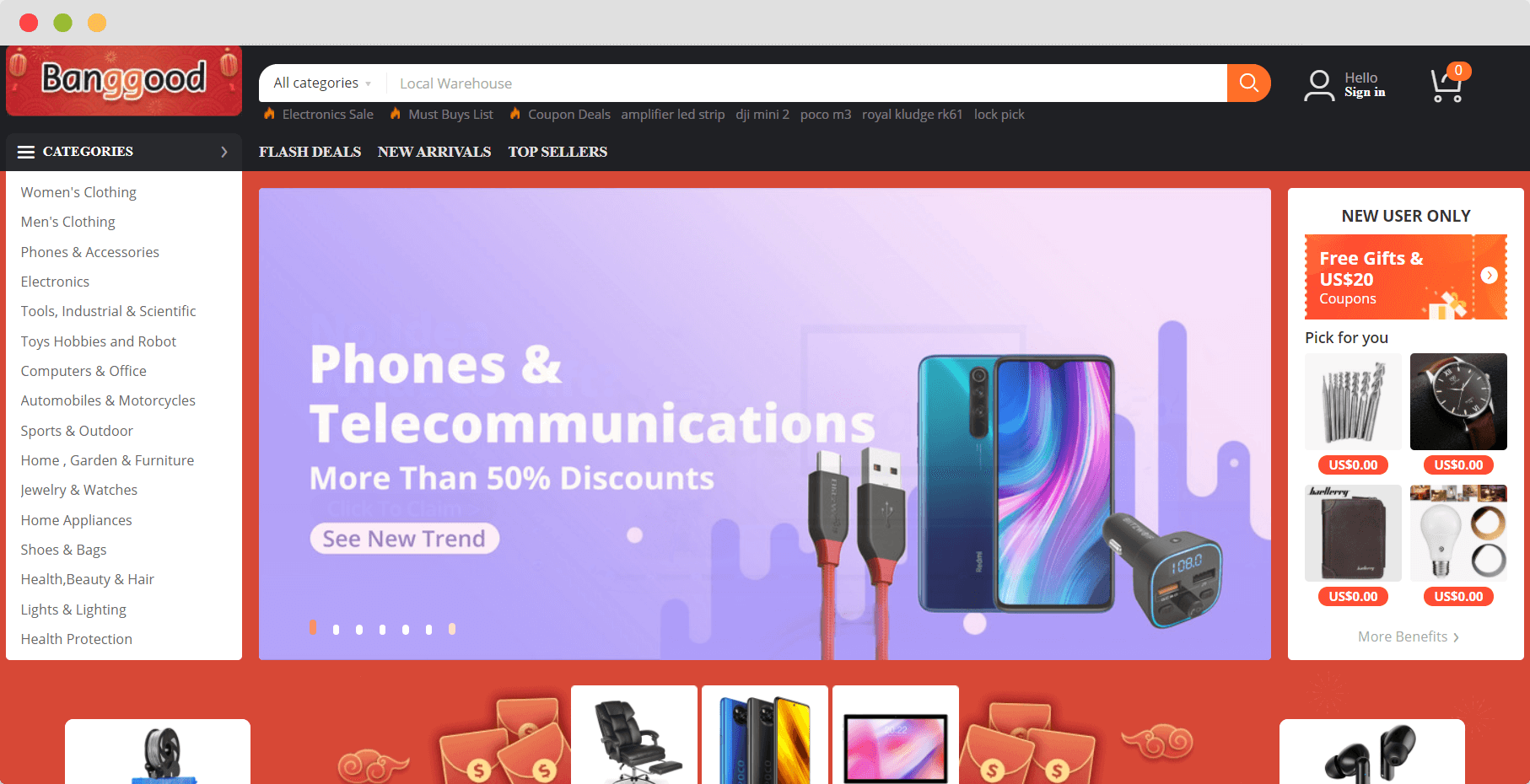 Aside from the discount, dropshippers can also connect their eBay or other online stores through custom APIs.
All in all, Banggood is definitely among the best alternatives to Alibaba.
Another dropshipping-friendly site similar to Alibaba is Chinavasion. Dropshippers don't pay anything, so you can sign up and start product sourcing from Chinavasion. Anyone can start dropshipping with Chinavasion right away.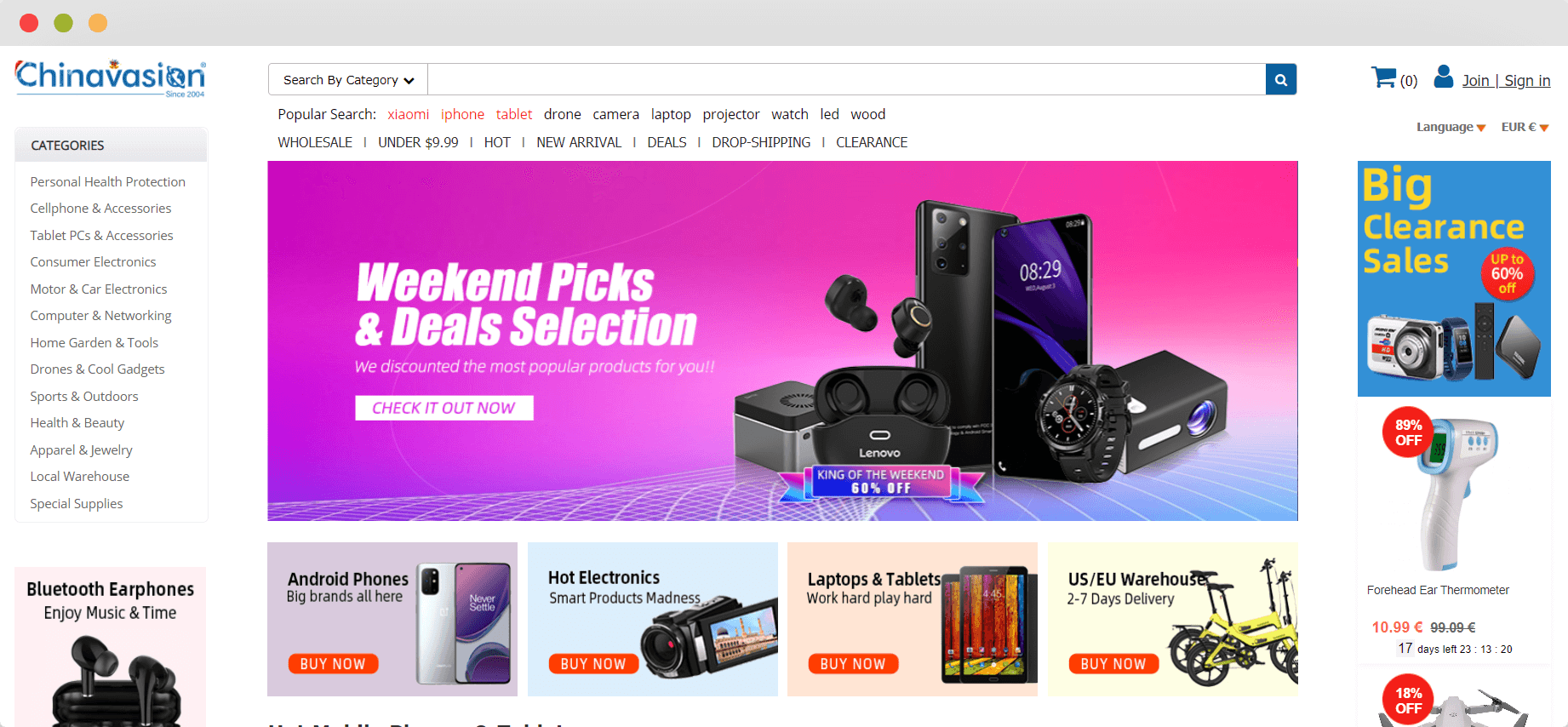 The website doesn't have an MOQ, which means you can order single items. To dropship, you can put your customer's address instead of your own, and they will deliver the product from your name, without your clients realizing it's a Chinavasion product.
Even though you can find many different categories on Chinavasion, they are focused primarily on tech devices, gadgets, and accessories. Take this into consideration when doing your product research.
As a final Alibaba alternative, we've decided to choose Taobao, since it also belongs to the Alibaba group together with 1688 and AliExpress.
Taobao has incredibly lucrative prices for dropshippers, which is why it deserves mention in this list of sites like Alibaba.
However, similar to 1688, Taobao is also entirely in Chinese. On top of that, not all suppliers on Taobao will agree to dropship in your name. So, how to use the advantages of Taobao without these issues?
The best (and probably only) way to source your products from Taobao is with the help of a dropshipping agent.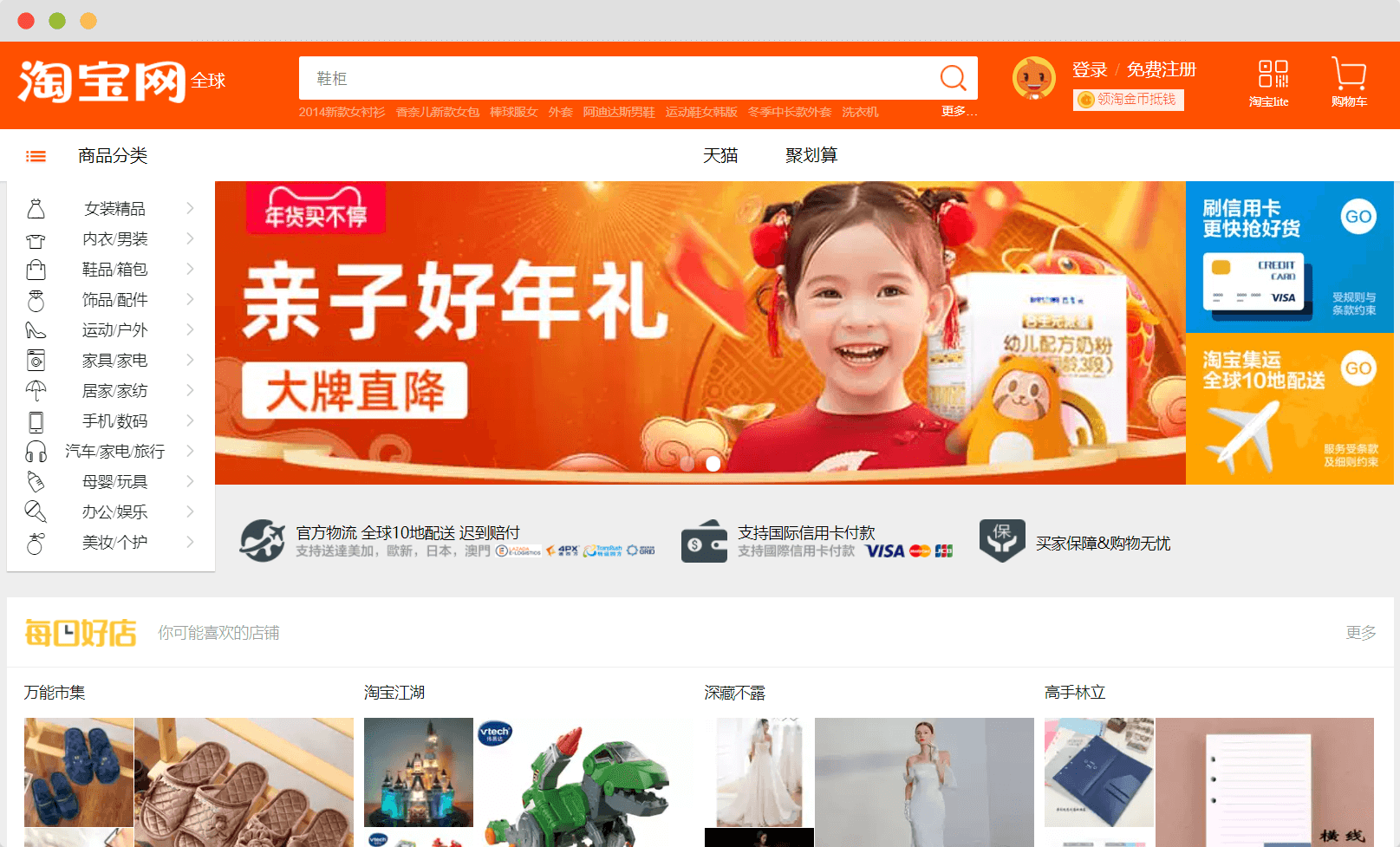 Many dropshipping agents in China, such as NicheDropshipping, regularly source products from Taobao or 1688.com.
All you need to do is send your dropshipping or product sourcing agent a link (URL) from the product, and submit a free product sourcing request.
FAQs on Sites Like Alibaba
And finally, we've reached the most frequently asked questions that dropshippers usually have when it comes to websites similar to Alibaba.
So, let's give you some answers!
What Are the Best Sites Like Alibaba?
All of the above websites are great Alibaba alternatives. For example, try some of these sites: AliExpress, Chinavasion, LightInTheBox, Banggood, Global Sources, Made-in-China, DHgate, Chinabrands, etc.
If you're collaborating with a dropshipping agent in China and you can surpass the language barrier, you can also ask them to source from 1688 or Taobao.
Can I Find Sites Like Alibaba With Suppliers That Dropship?
Since Alibaba is initially a B2B wholesale website, it can be challenging to find suppliers that sell single items or agree to dropship.
In this case, some websites like Alibaba but more dropshipping-friendly are AliExpress, Banggood, or DHgate.
Can a Dropshipping Agent Help Me Buy From Sites Like Alibaba?
Of course! Websites such as Alibaba that sell bulk products can be difficult for dropshippers to manage on their own.
Since you're considering using a dropshipping agent, we'll assume that you already have a tested product and a stable number of daily orders.
In this case, your dropshipping agent can help you buy from different Alibaba alternatives such as DHgate, Banggood, Made-in-China, or even 1688 and Taobao.
Then, ideally, your dropshipper can store your bulk order in your warehouse or fulfillment center. In that way, you'll have these products in stock, and your dropshipper can ship them out as soon as you place an order.
How to Find Good Products on Sites Like Alibaba?
Not just on sites like Alibaba, but practically on all marketplaces, there are several rules to follow if you want to choose the right products and reliable suppliers:
Always check the product reviews;
Check supplier/seller reviews (if available);
Check/ask for shipping methods/prices;
Always order a sample first;
Check if there are user photos in the reviews;
Check if the supplier has any badges (they're different from site to site, but something like Verified Seller, Gold Supplier, Trade Assurance, etc.);
Give clear and concise product features or specifications (color code, material, etc.);
Check and compare several different suppliers;
Always perform quality inspection or ask your dropshipping agent to do so;
Check trending, popular or hot products on sites like Alibaba and AliExpress, to see what sells and what people need;
Are There Some Sites Like Alibaba in India?
Although Chinese suppliers are much more agile and familiar with dropshipping, many online store owners decide to test the Indian market.
There are many sites like Alibaba in India, and some of the most well-known ones are IndiaMART, TradeIndia, go4WorldBusiness, JimTrade, ExportersIndia, Tradeford, WebdealIndia, etc.
How to Import Products to My Shop From Sites Like Alibaba?
Depending on the type of online store you own and the product sourcing website of choice, there are different ways and tools to help you import products.
Usually, every eCommerce service or marketplace will have the option to import your products and orders with a CSV file. Some platforms might also work with simply copy-pasting the URL of the product to import it.
Your other choice is to use tools such as Oberlo that can help you import products from sites like Alibaba or AliExpress to your Shopify store.
And finally, many dropshipping agents such as NicheDropshipping have an app that will automate the entire dropshipping process.
Are There Sites Like Alibaba in the USA?
Some Alibaba alternatives that operate mainly in the USA are TradeWheel, BeauteTrade, FashionTIY, Alibaba US, ThomasNet, etc.
Product sourcing from US marketplaces will provide faster shipping for your clients, but the base product prices can be higher.
Which Sites Like Alibaba Should I Use If I'm a New Dropshipper?
If you're a beginner in dropshipping or you haven't tested any products yet, make sure to avoid ordering in bulk.
Bulk orders require much more capital upfront. Plus, you can have financial losses if you don't manage to sell your entire inventory.
New dropshippers can start with websites such as AliExpress or Banggood. These are websites similar to Alibaba, but more dropshipping-friendly. You can dropship single items, and there are no MOQs set in place.
Which Sites Like Alibaba Should I Use If I'm an Experienced Dropshipper?
If you're a pro dropshipper, any of the above sites like Alibaba can be fantastic for your business.
You can significantly take advantage of the low prices on local marketplaces such as 1688 or Taobao.
One of the best ways to scale your eCommerce business is to work with a dropshipping agent in China and have them order from 1688, Taobao, or even local factories. Like this, you'll get the best product prices and have excellent profit margins.
On a Final Note
Although Alibaba is immensely popular among dropshippers worldwide, you are welcome to explore other options. You'll have less competition when sourcing from sites like Alibaba.
Depending on your business and product needs, you can choose one of the above Alibaba alternatives and start dropshipping.
Have you used any of these sites like Alibaba? If so, what are your experiences and thoughts? Let us know!