Fashion is one of the largest B2C segments in the eCommerce industry. By the end of 2025, its global size was estimated to be around 1.164,7 billion USD.
So without a doubt, it's a lucrative dropshipping niche, especially if you're a fashionmonger.
Your keen eye and knowledge of the current fashion trends can act as a catalyst for the success of your dropshipping business.
The only thing you need to get started is a list of fashion dropshipping suppliers and this is where we come in.
In this article, we'll go over the top 15 dropshipping stores in the fashion industry along with some FAQs to clear up any confusions you may have.
Let's dive straight into it!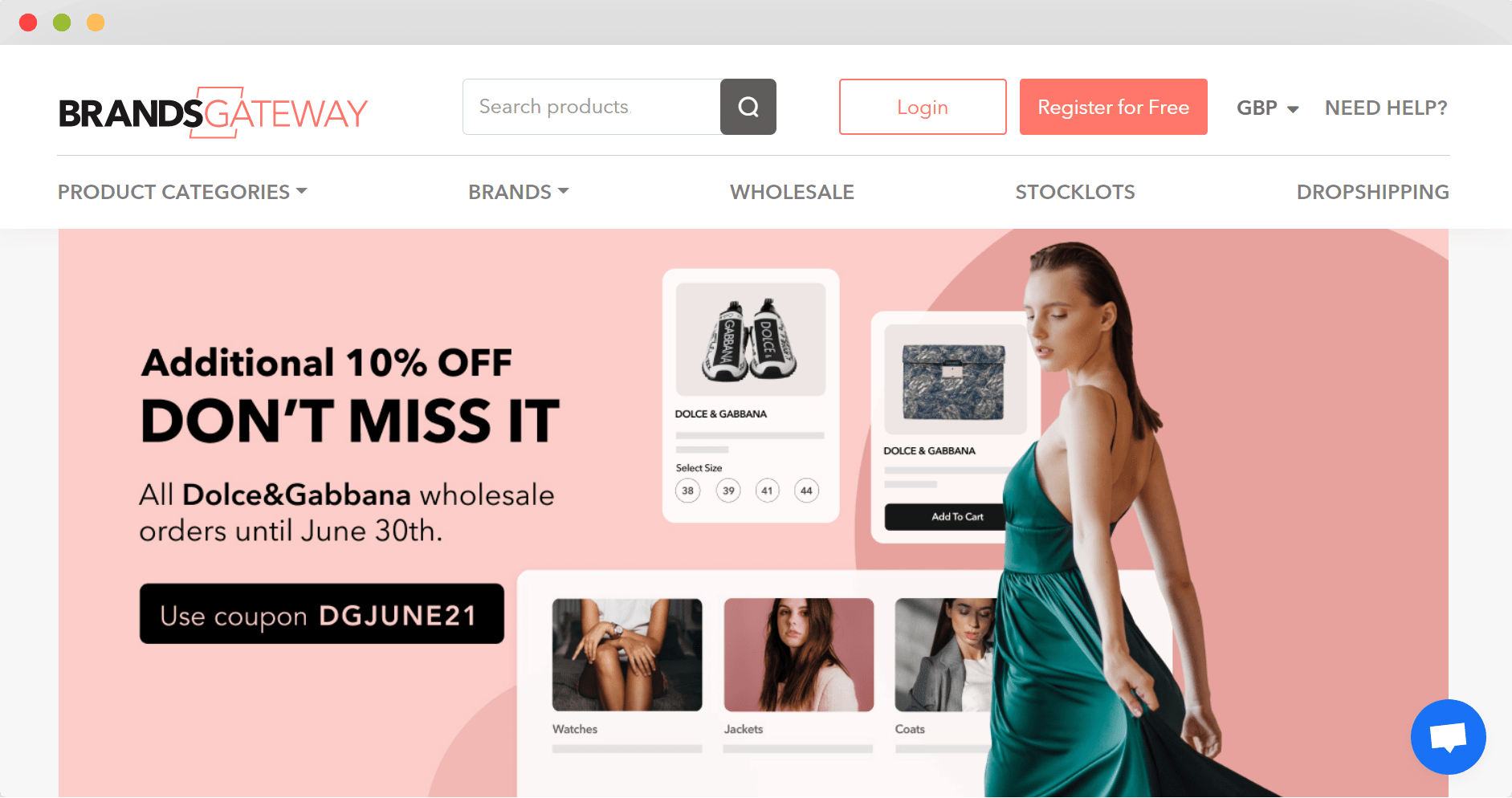 BrandsGateway is a luxury fashion brand store based in Estonia but their warehouses can be found worldwide.
They have items from more than 70+ well-renowned fashion designers. Some of them also include the likes of Karl Lagerfeld and Michael Kors.
In a nutshell, you're going to find an endless variety of fashion apparel and clothing here.
What's good about this store is that you don't have to worry about product photography or descriptions.
They provide high-resolution images along with compelling product descriptions to help you get some sales as soon as you launch your store.
And to wrap it up, integrating BrandsGateway to your WooCommerce or Shopify website is also a hassle-free process.
They have advanced plugins that you could install which can help you with real-time order syncing and also automatic inventory updates.
Pros
Rapid delivery

:

BrandsGateway promises to deliver all of their packages within 5 days, regardless of where you order from.

Easy to Integrate

:

Their advanced WooCommerce and Shopify plugins are easy to install and can help you automate your dropshipping business.

Images & Product Descriptions

:

You don't have to spend your money on product photography or product descriptions. BrandsGateway will provide you with it.
Cons
Expensive membership

:

Their monthly membership package costs around 295 euros/month. On the other hand, their annual plan adds up to around 1,188 euros per year.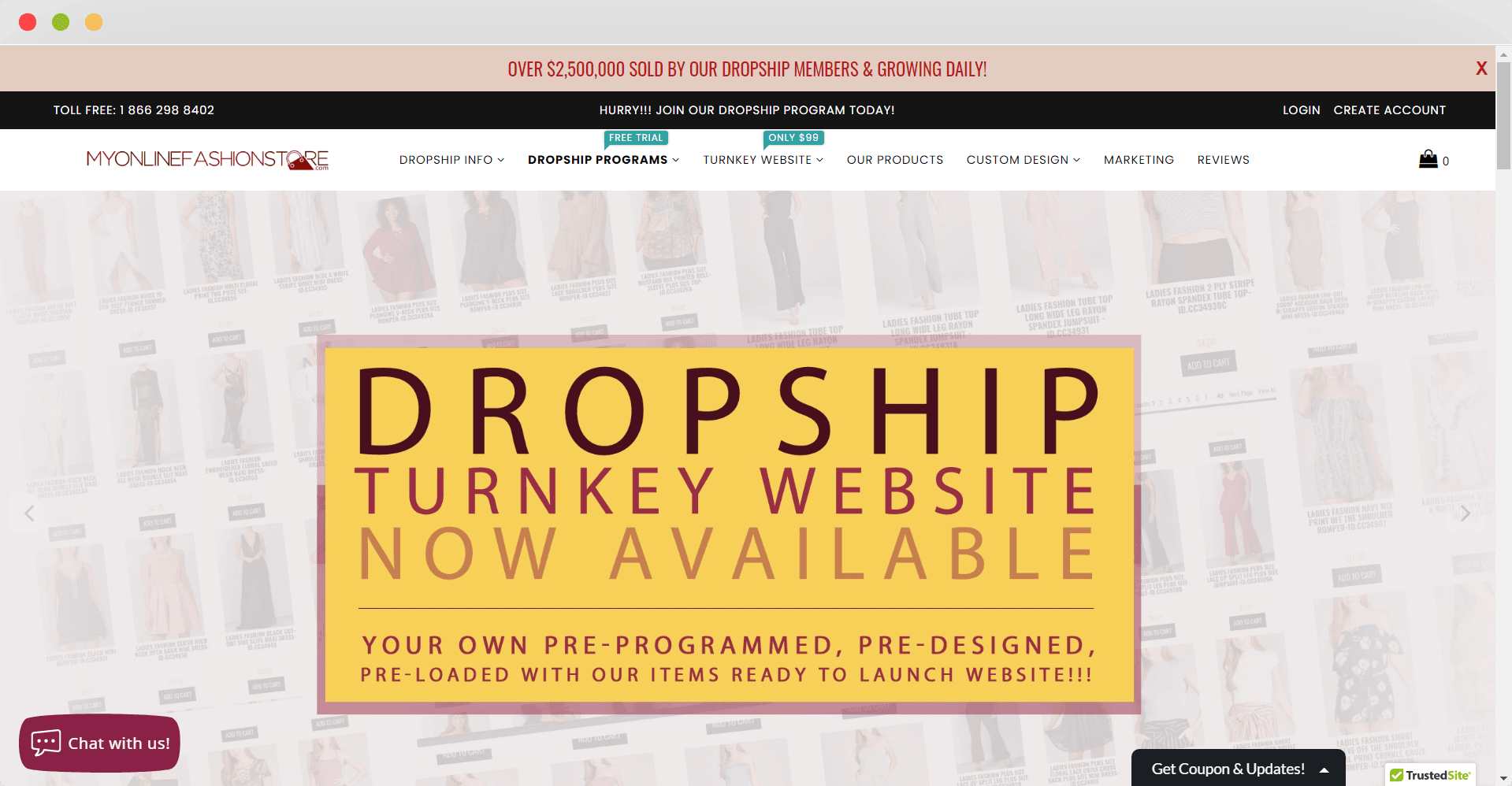 This is a U.S based store with a versatile variety of fashion products.
From trendy jewellery to clothing and even shades, you can find everything you need here.
The sole focus of My Online Fashion Store is to supply dropshippers with their required products.
So it isn't surprising that integrating your Shopify, Amazon, WooCommerce or other websites with this supplier is also quite easy.
All you have to do is to sign-up with their dropshipping program and you're ready to roll.
And if you want to put your own creativity to the test, then they also take custom orders.
Pros
Supports Multiple Platforms

:

Whether you're creating your online store on Amazon, Shopify or WooCommerce, it's easy to get started with My Online Fashion Store.

Professional Customer Service

:

In case your customers are dissatisfied with the product, My Online Fashion Store also has a free refund policy.

Custom Designs

:

If you want to put your creativity to test by creating your own designs, then My Online Fashion Store allows that.

Quick Shipping

:

My Online Fashion Store promises to fulfil all deliveries within 5-7 days at max.
Cons
Warehouse Only in the U.S

:

The warehouse for My Online Fashion Store is in Los Angeles. You know what that means – they can only work with US dropshippers.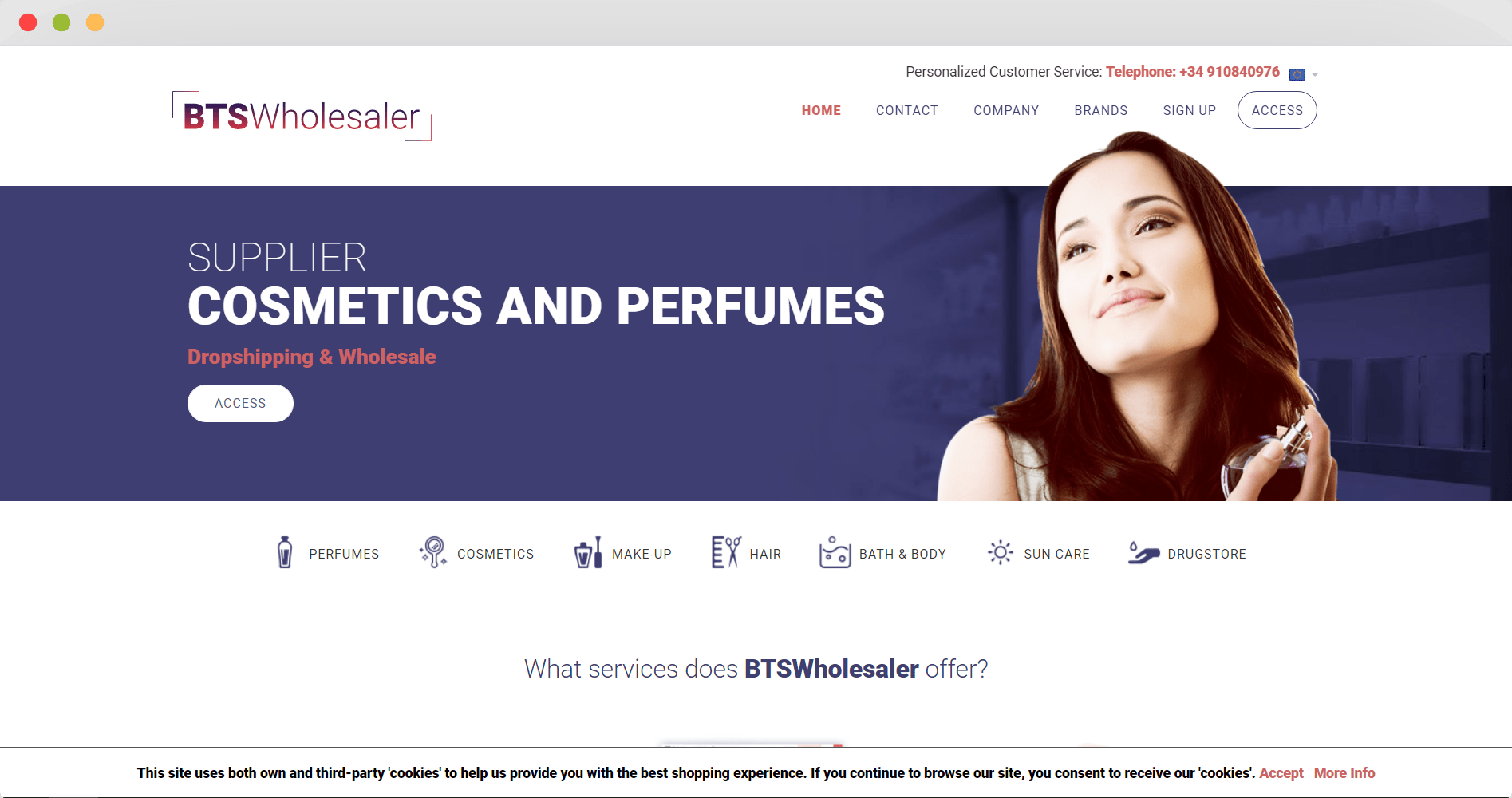 With over 600 brands, BTS Wholesaler are also the giants of the fashion dropshipping industry.
They mainly operate in Europe and the United States and you can find all sorts of fashion and beauty products at their store.
If the variety alone wasn't enough, then they also offer exclusive discounts to dropshippers.
But what makes BTS Wholesaler secure a spot on this list is that they allow private label dropshipping.
Instead of using someone else's name, you can get your own company logo and name printed on the packaging.
And to address any potential language barriers, their product catalogue is available in 5 different languages.
Pros
Private Label Dropshipping

:

You can get the name of your store and your logo printed on the packaging to promote yourself as a brand.

Language Options

:

Their product catalogue can be translated into 5 different languages including German, French, Italian and Spanish. The 5

th

is, of course, English.
Cons
Limited Integrations

:

Unlike other options on this list, BTS Wholesaler can't be connected to your BigCommerce or WooCommerce store.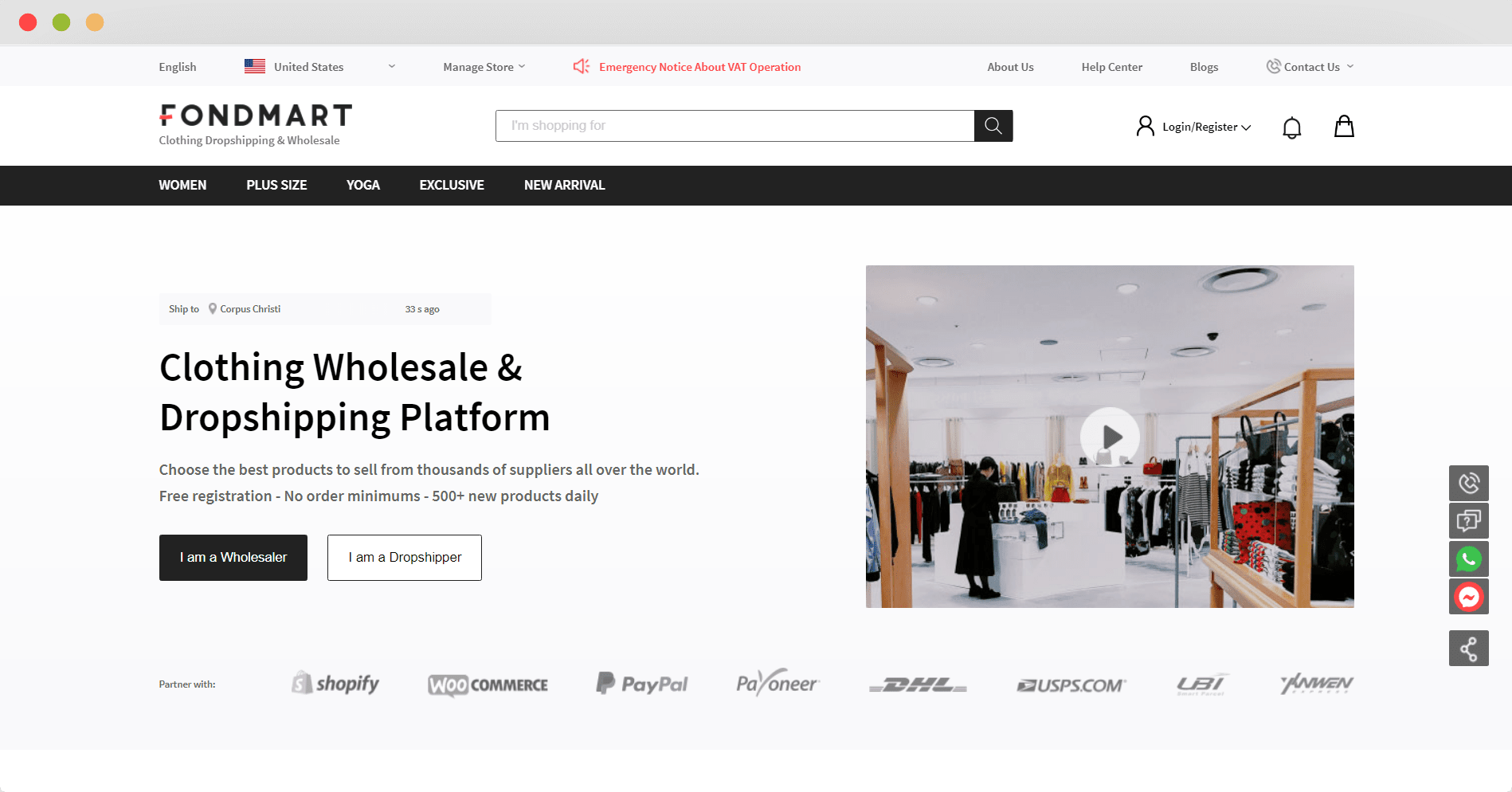 Fondmart is another US-based clothing supplier. What makes them stand out is their experience of over 10 years, and the sheer variety they offer of over 200,000 items.
They process over 5,000 orders per day from wholesalers and dropshippers combined.
This alone indicates that they must be doing something right to earn the trust of so many business owners.
Their variety also updates every day, so you'll never run out of fashionable clothing to dropship.
To add, the only thing you need to pay for is the price of the product and the shipping fee. You don't have to worry about purchasing a membership.
And if you want to develop your own brand identity, then they also allow customized packaging.
Pros
No Membership Needed

:

A membership isn't necessary to dropship with Fondmart. You only need to cover the product and shipping costs.

Customized Packaging

:

Build your own brand identity by printing your company's name and logo on the packaging.

U.S Warehouses

:

Fondmart has warehouses in the U.S to help you keep your American customers happy with quick deliveries.
Cons
Limited Product Selection

:

The only variety you'll find in the store is for clothing. Other fashion items like handbags aren't available.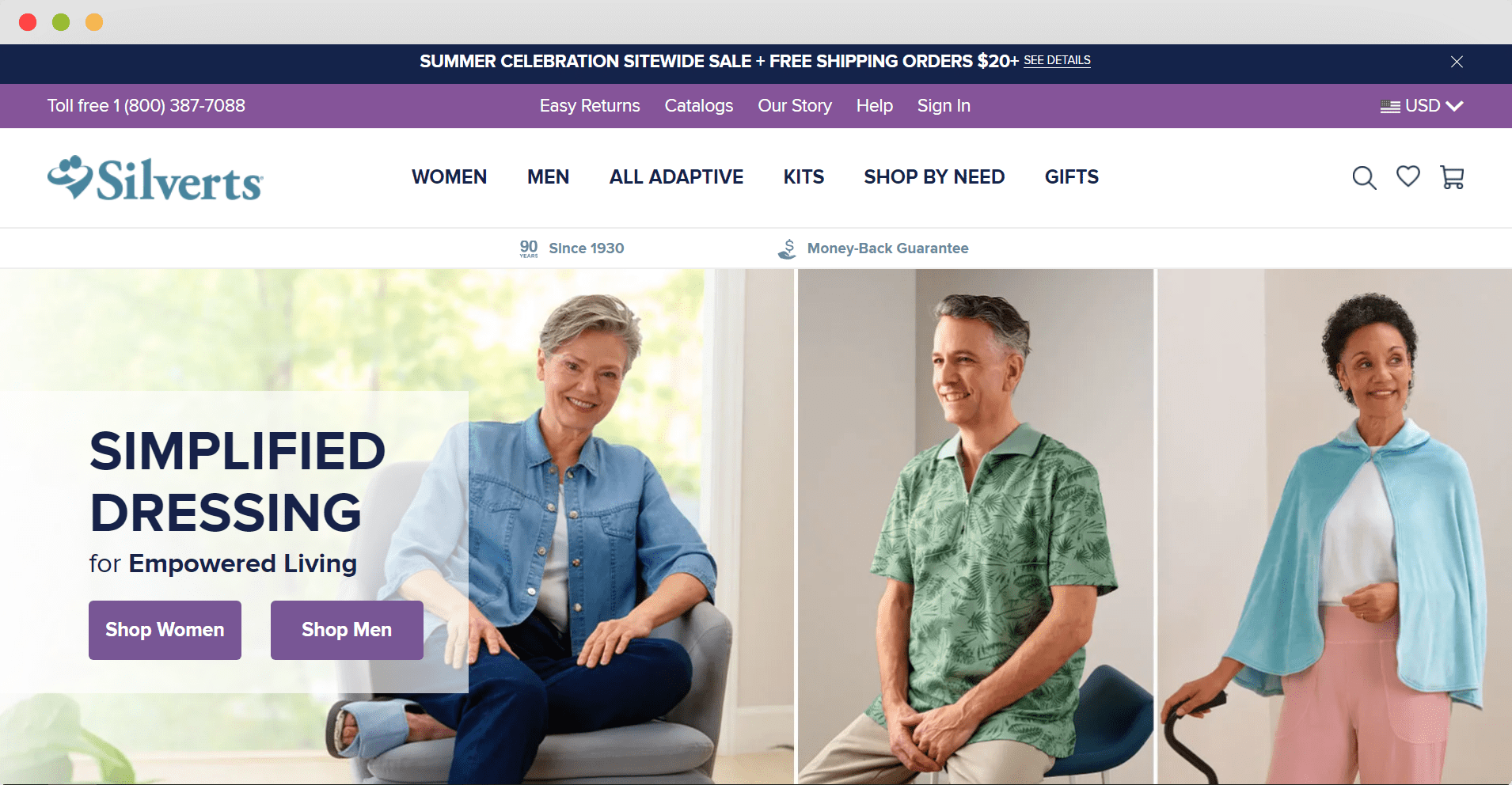 Silverts isn't like the other fashion niche suppliers you'd find on this list.
Their clothing is easy to wear because it's mostly geared towards the elderly, seniors and even the disabled.
So dropshipping with Silverts can help you target a layered niche market. There aren't many fashion suppliers out there who offer such products.
And if the quality is one of your concerns, then don't worry. This store has been around for over 70 years now.
They've established a reputation for being one of the leading suppliers of adaptive clothing in North America, which in itself indicates how reliable they are.
Aside from that, Silverts also offers a discount if you buy in bulk.
So all in all, if you're willing to take the risk then this dropshipping supplier can enable you to dive into a relatively untapped market,
Pros
Discount Prices for Dropshippers

:

For both bulk buyers and dropshippers, Silverts offers discounted prices. The only thing you need to do is to sign-up with their dropshipping program.

Quality Product Images

:

Don't worry about spending money on product photography as Silverts will also have that covered. They will supply you with high-resolution product images for your store.
Cons
Limited Area Coverage

:

Unfortunately, Silverts only offers its services to dropshippers in North America.

Limited Audience

:

People above 60 don't often use social media. And as Silverts primarily designs clothes for the disabled, elderly and seniors, reaching your target audience can be challenging.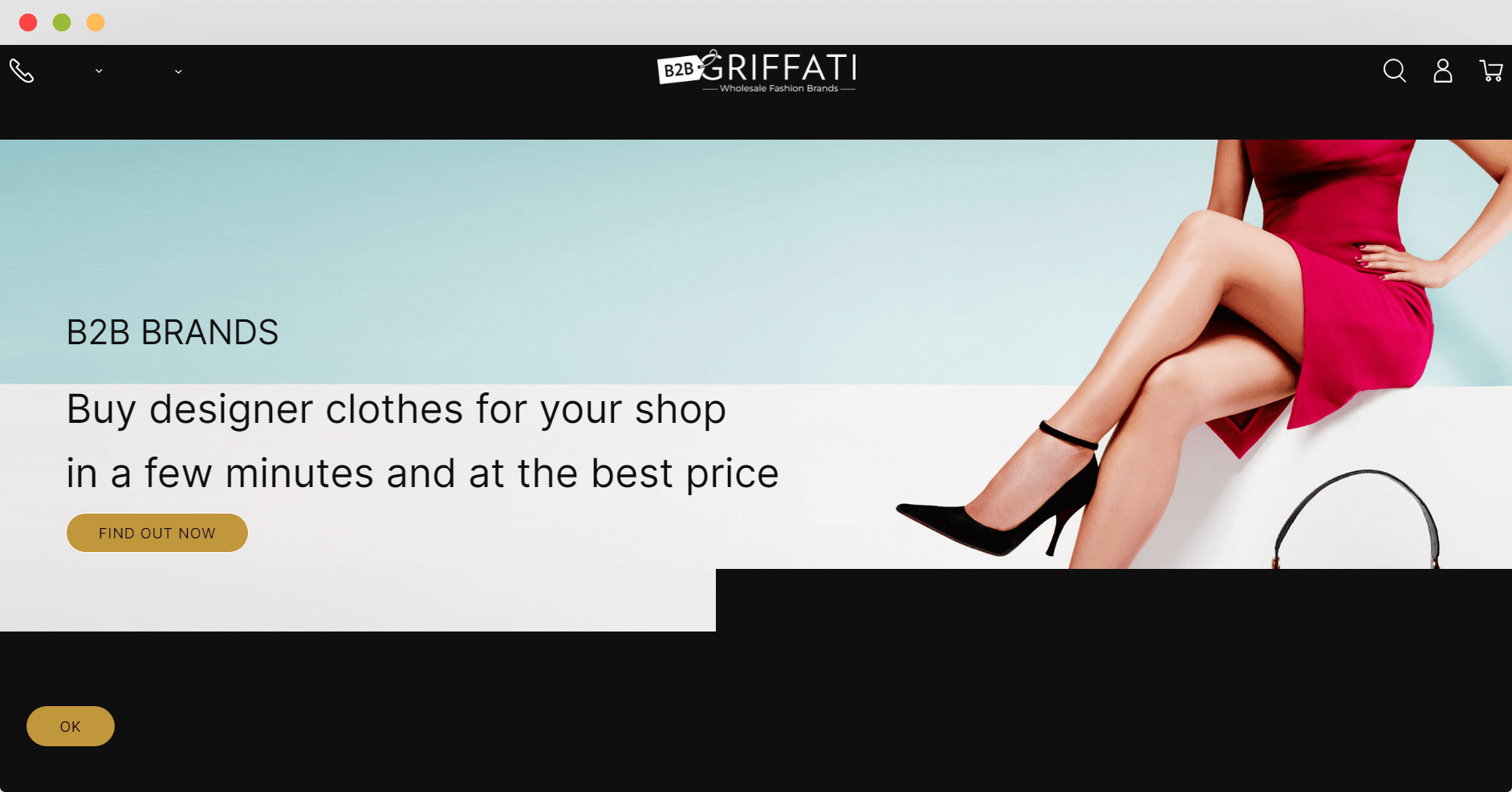 Griffati is the ultimate stop to help you build a European designer cloth dropshipping store. They have warehouses all over the world, so you can target countries of your choice.
And if you're concerned that buying designer clothing will cost you a fortune, then think again.
Griffati often has sales offering up to 75% discount. Keep an eye out for those.
Aside from that, if your business shows potential, then we're sure that they'll sell you clothes at a cheaper price.
You can sign-up with the dropshipping program on their website to start your business.
And since they deal in premium quality products, you can keep a higher profit margin per sale.
Pros
Rapid Delivery

:

Their local shipping time is 48 hours at a maximum, while worldwide delivery only up to 2-4 business days.

Huge Profit Margins

:

They sell premium quality products that can easily help you lure customers. You can keep a profit margin of up to 100% and even more depending on your marketing strategy.
Cons
Difficult Approval Process

:

Griffati have a strict approval process and they do not work with everyone. If you want to use their dropshipping services, then your business needs to show potential.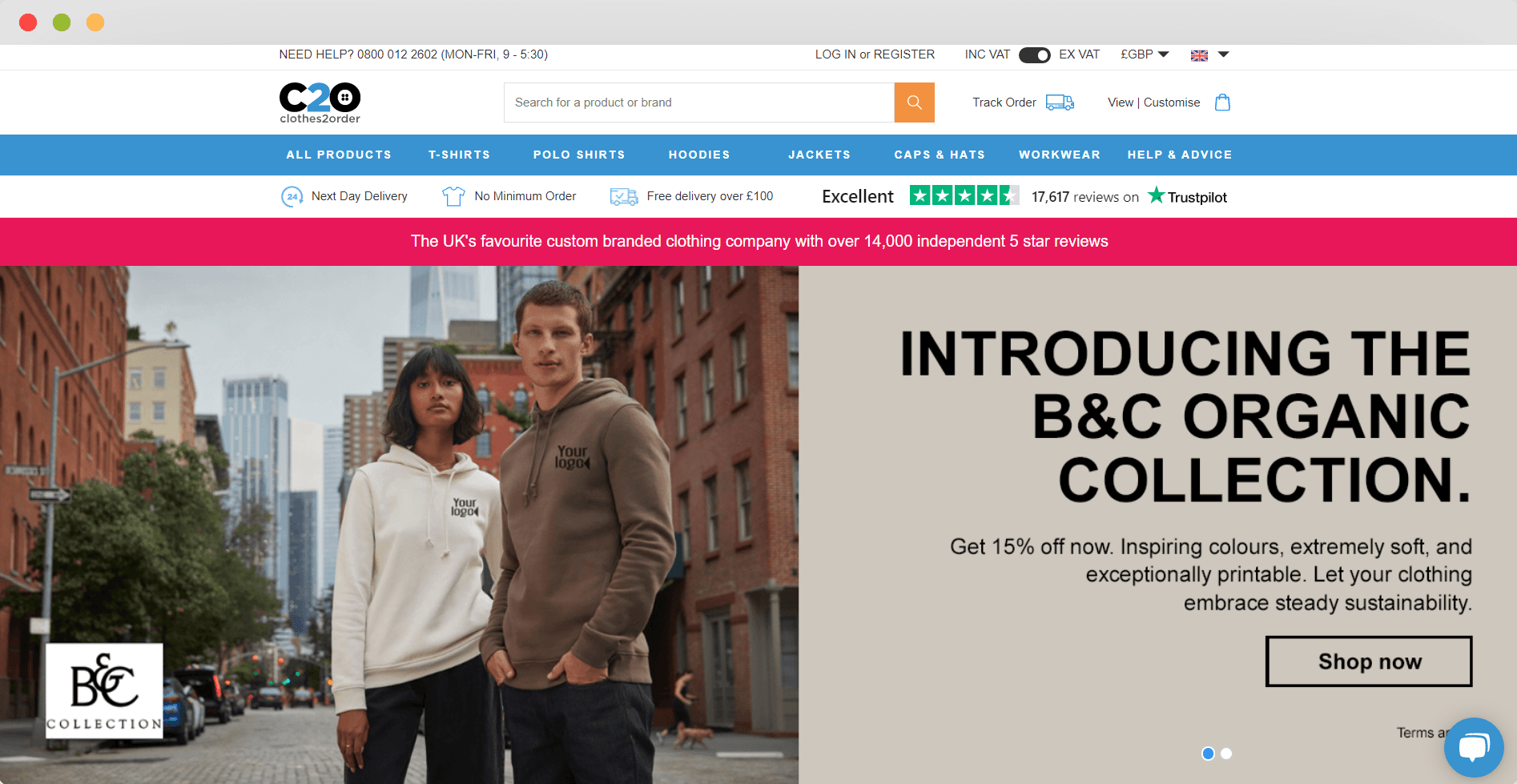 If you want to put your immense fashion knowledge to the test and do some experiments, then Clothes2Order allows that with personalized clothing.
This store also doesn't have a minimum order quantity, and in general, they have responsive customer service to help you clear your queries.
To help you automate your business, Clothes2Order also has an API that can help you with order placements and other tasks.
Clothes2Order is based in the U.K, so they promise delivery in as little as 24 hours, or at a maximum of 48 hours.
And to further help you clear your confusion, their website also has guides with product sizing and prices.
Pros
API for Dropshipping

:

Clothes2Order has a free API for dropshipping which can help you automate your business.

Product Guides

:

If you have any confusion regarding their product pricing and sizing, then they have guides available on their website.

Quick Delivery in the U.K

:

They provide lightning fast delivery in the U.K and at times, fulfill the order in as little as 24 hours.
Cons
High Shipping Fee

:

They allow dropshipping to other European countries but you'll have to pay a hefty shipping fee of over $15.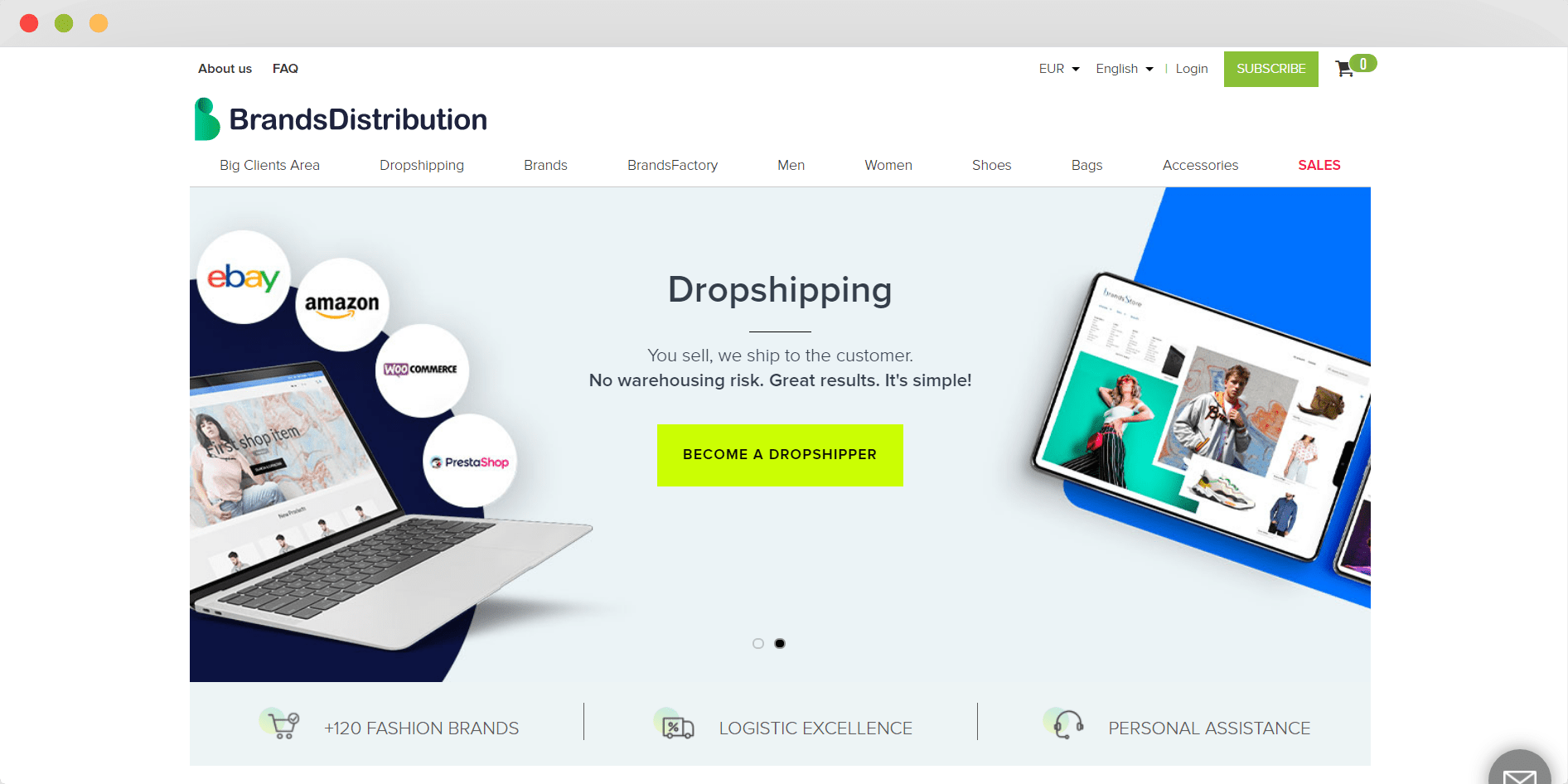 Brands Distribution can help you rule the world of fashion clothing. Their catalogue contains over 120 fashion clothing and accessories from some of the best Italian and international brands around the world.
To help you automate your dropshipping business, they have also launched a service named BDroppy.
It is completely free to use and it allows you to integrate your dropshipping store to Brands Distribution with ease.
Some other advanced features of BDroppy include multilingual management and automatic order synchronization.
Brands Distribution has over 15 years of industry experience. And if you're willing to pay for their 99 euros/month membership, then you cannot go wrong with them.
Pros
Easy to Integrate

:

Brands Distribution can easily be integrated into your dropshipping store with their BDroppy service.

Product Catalogue

:

With over 120 fashion clothing and accessories, you have a decent variety to work with.
Cons
Costly Membership

:

The membership fee of Brands Distribution will set you back 99 euros/per month. But on the plus side, their BDroppy service is free to use after that.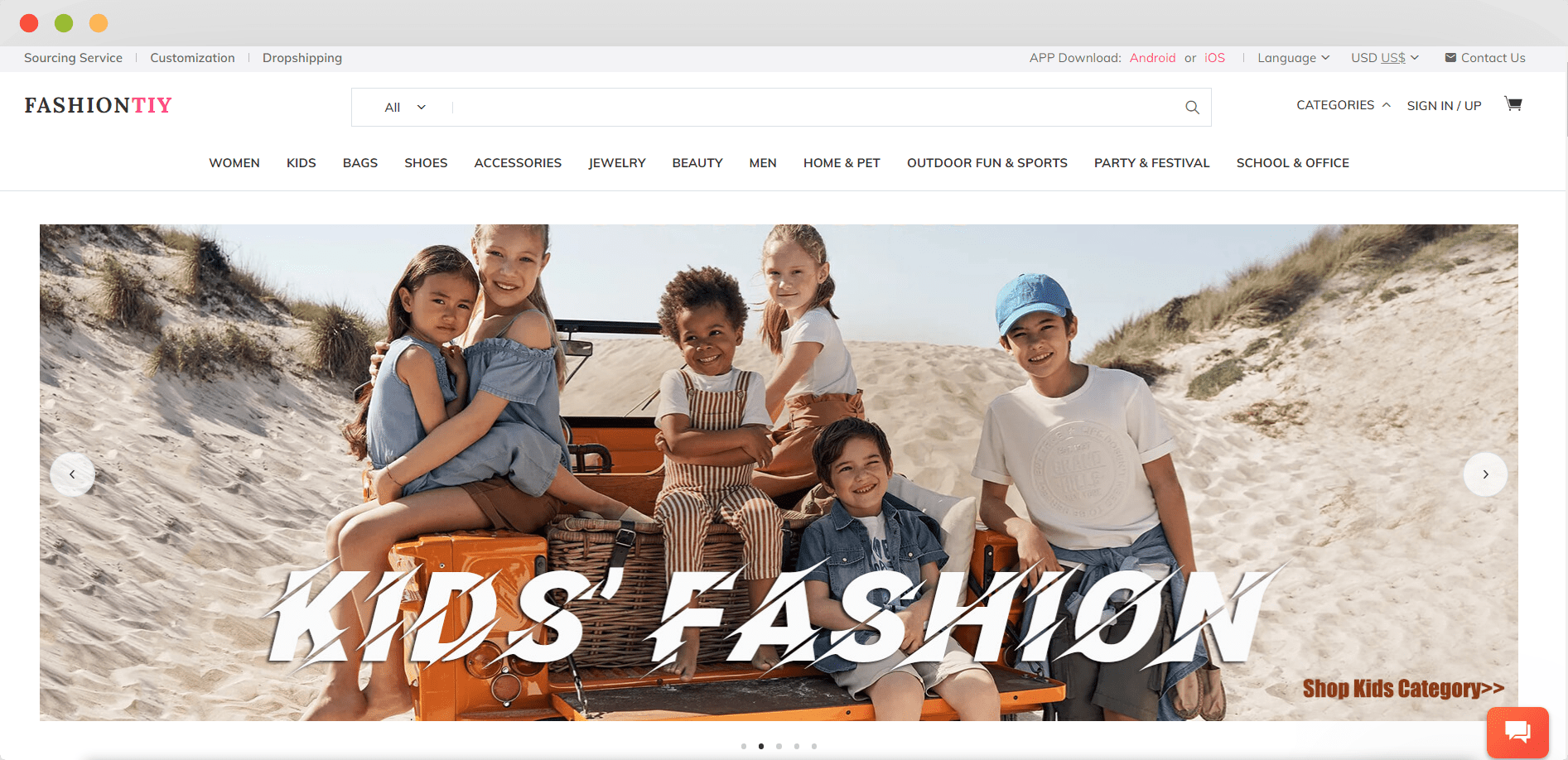 This store primarily deals in beauty and fashion products with some of them including jewellery, shoes and cosmetics.
However, unrelated products like office/school accessories and stationery can also be found at their store.
The good news for dropshippers is that, unlike some stores that have a minimum order quantity, such is not the case with FashionTIY.
You can go to their website and sign-up on their dropshipping program to get started with them.
And lastly, FashionTIY is also known for offering low prices to dropshippers. So if you want a higher profit margin, then this supplier is worth giving a shot to.
Pros
Decent Profit Margin

:

Since FashionTIY sells its products at a lower price to dropshippers, you can keep a higher profit margin.

Customized Packaging

:

You can ask FashionTIY to help you print your logo and company name on the packaging. All you need to do is to drop a remark while placing the order.

No Membership Plans

:

You don't have to pay any additional membership fee or purchase licenses to work with FashionTIY.
Cons
Lack of Tools and Plugins:

FashionTIY doesn't have any tools and plugins for you to connect your store to their product catalogue. Everything needs to be done manually, which can be quite time-consuming.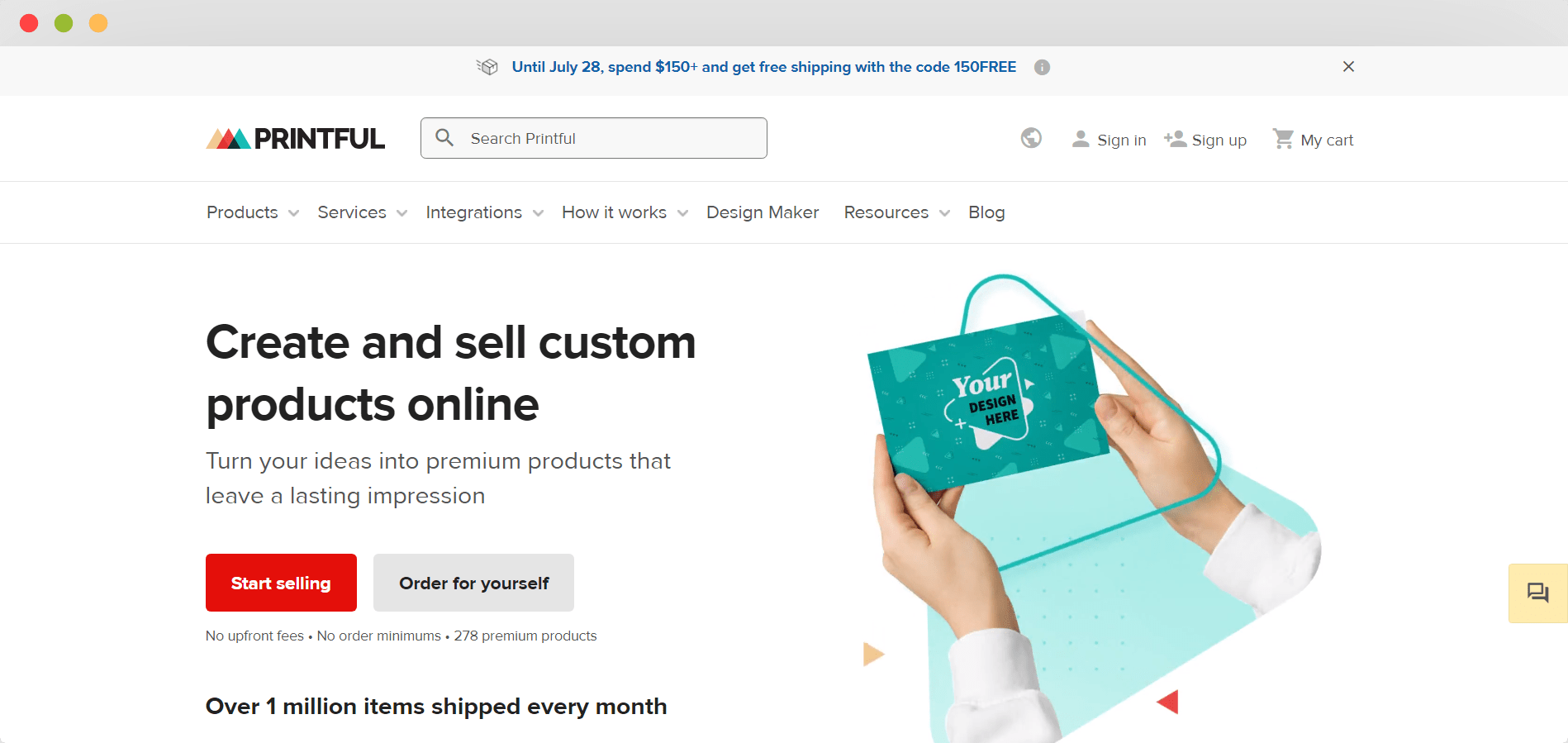 Can't find fashionable products that click with your audience? Why not print them on your own?
Printful is a print on demand store, but they can also help you meet your fashion demands.
From clothing to water bottles, you can find a variety of different accessories in their store.
To make delivery faster, you can also print products in advance and store them in their warehouse.
And since you are in charge of creating your own design, you can be more creative with what you sell.
Pros
Product Variety

:

Printful offers print-on-demand service on a variety of different products. So you have quite a lot of flexibility with your store.

High-Quality Graphics

:

The graphics of Printful custom prints are of high quality and do not fade over time.

Easy Integration

:

You can integrate Printful to your Shopify or WooCommerce store with ease.
Cons
No Refunds:

Printful doesn't have a refund policy. In case the products get lost or damaged, you'll be the one to bear the losses.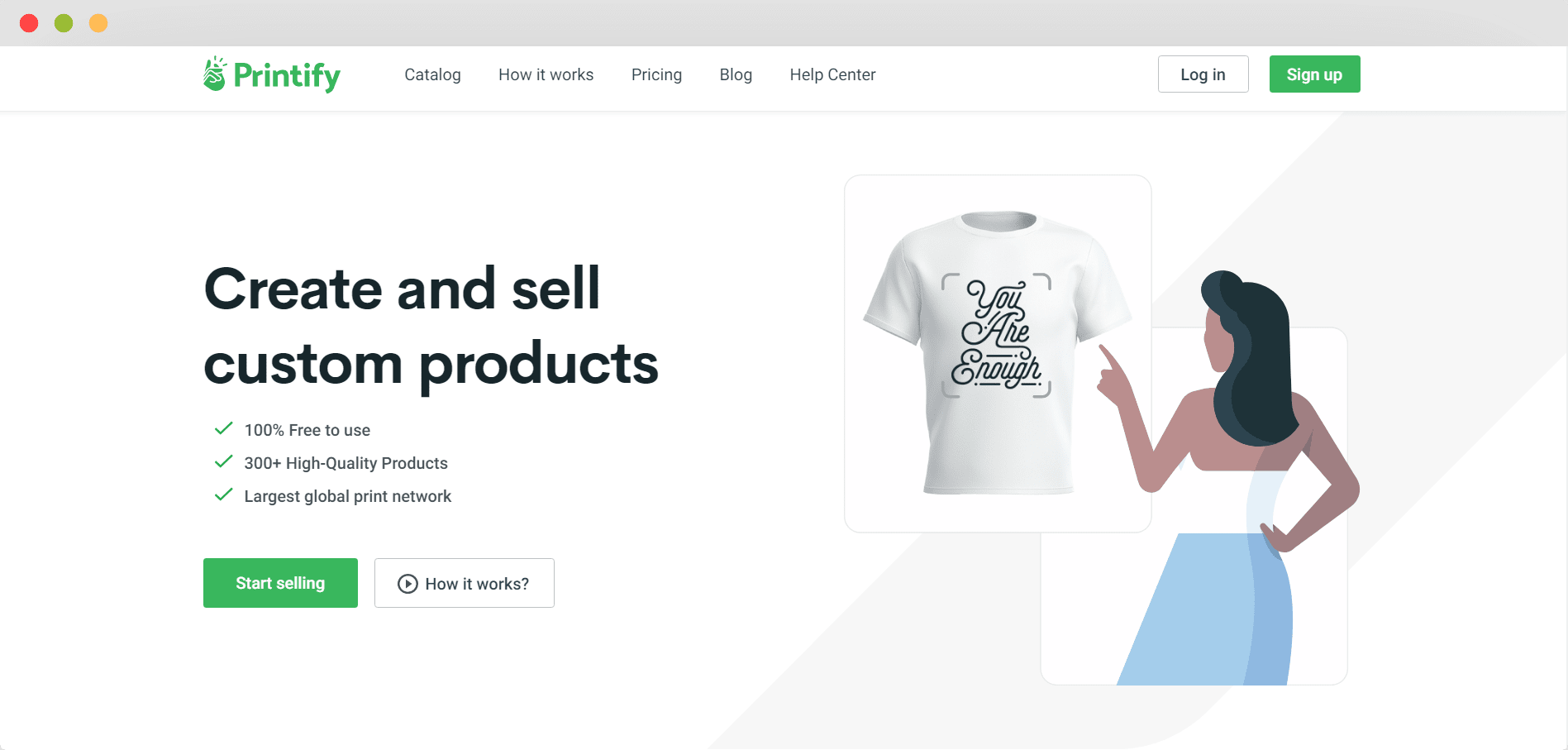 Similar to the option above, Printify is another print on demand store. But considering the flexibility these stores offer, you shouldn't be surprised why it's on this list.
They also provide easy integrations for your eCommerce website.
But one thing that makes them stand out is their responsive customer service. All of your issues can promptly be resolved from their website.
And if you upgrade to their premium plan, then you'll also get a 20% discount.
Pros
Higher Profit Margin

:

Upgrading to the premium plan of Printify will give you a 20% discount, which as a result, can increase your profit margin.

Store Integrations

:

Your eCommerce website can be integrated with Printify without any hassle.
Cons
Inconsistency

:

Sometimes the print quality of Printify is inconsistent. But their fantastic customer service can compensate for that.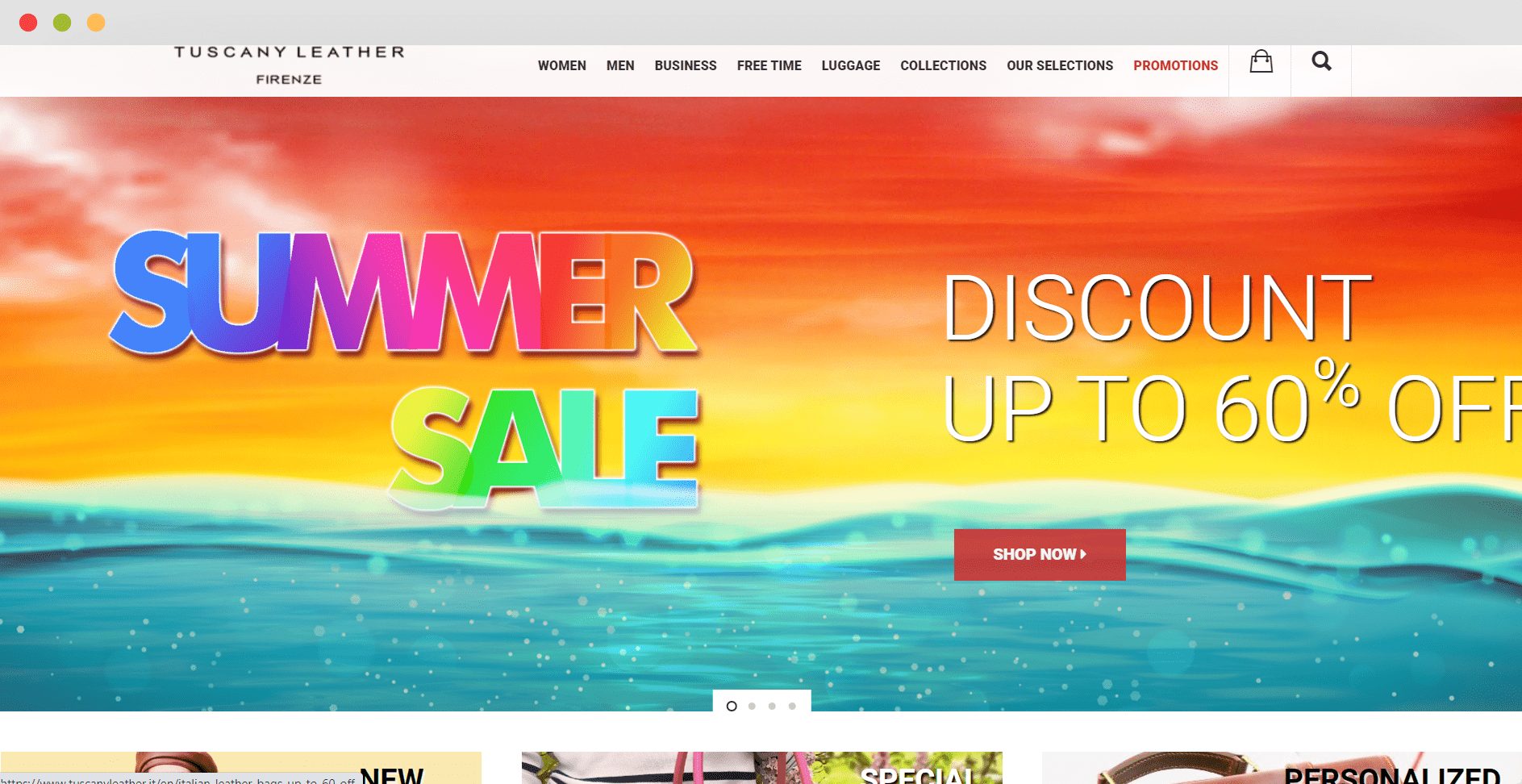 Tuscany Leather is another popular name in the world of fashionable Italian leather items.
From packaging to logistics, similar to other dropshipping businesses, they will handle every aspect of the order for you.
They also offer exclusive discount prices but only if you've signed up for their dropshipping program.
So don't let go of the opportunity to potentially keep higher profit margins.
Pros
Exclusive Discounts

:

Tuscany Leather offers exclusive discounts to its dropshipping partners.

Premium Quality Leather Products

:

Tuscany Leather is unarguably one of the best dropshipping stores for fashionable and high-quality leather products.
Cons
Higher Competition

:

Although Tuscany Leather works with dropshippers, they're not an exclusive dropshipping supplier. Everyone can go to their website and purchase the products, which as a result, increases the competition.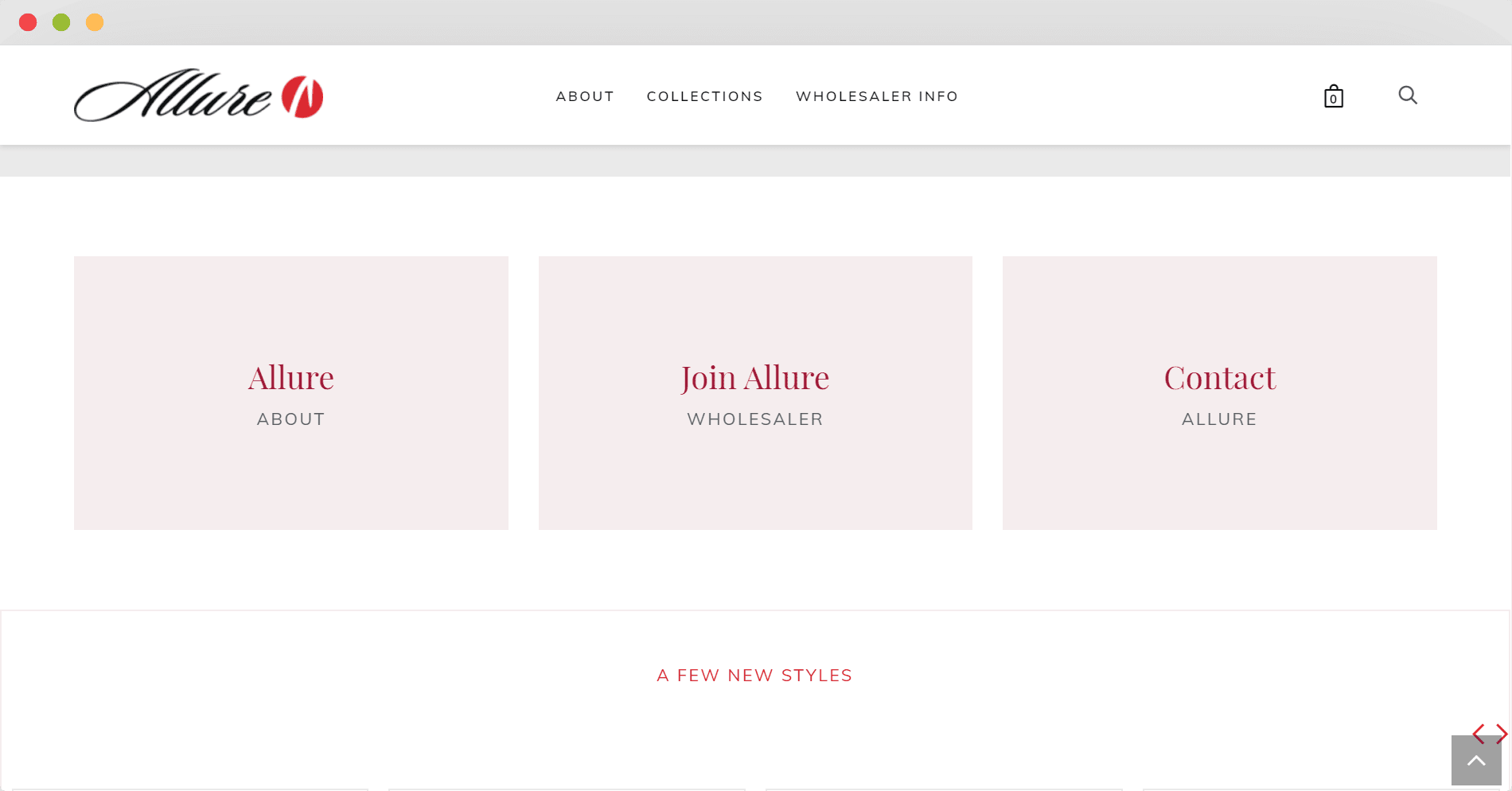 This one may look a bit odd, but hey, who doesn't like to wear fashionable lingerie, especially in front of their partners?
And if you haven't guessed it with their name already, they sell lingerie.
Allure Lingerie has been in business for over 25 years, so one thing's for sure, they know what they're doing.
So if you want to target this niche market then you now know about a supplier to choose from.
Pros
Fast Shipping in the U.S

:

Allure Lingerie is a U.S based supplier, so they'll keep your American customers happy with quick order fulfillments.

No MOQ

:

Allure Lingerie doesn't have a minimum order quantity for its dropshipping partners.

Bulk Discounts

:

If you're buying products from Allure Lingerie in bulk, then they may also offer a discount as they primarily work as wholesalers.
Cons
Return Restrictions

:

By law, some products like bras and bikinis cannot be returned to Allure Lingerie.

Per Order Fee

:

Dropshipping partners of Allure Lingerie need to pay them $5 per order.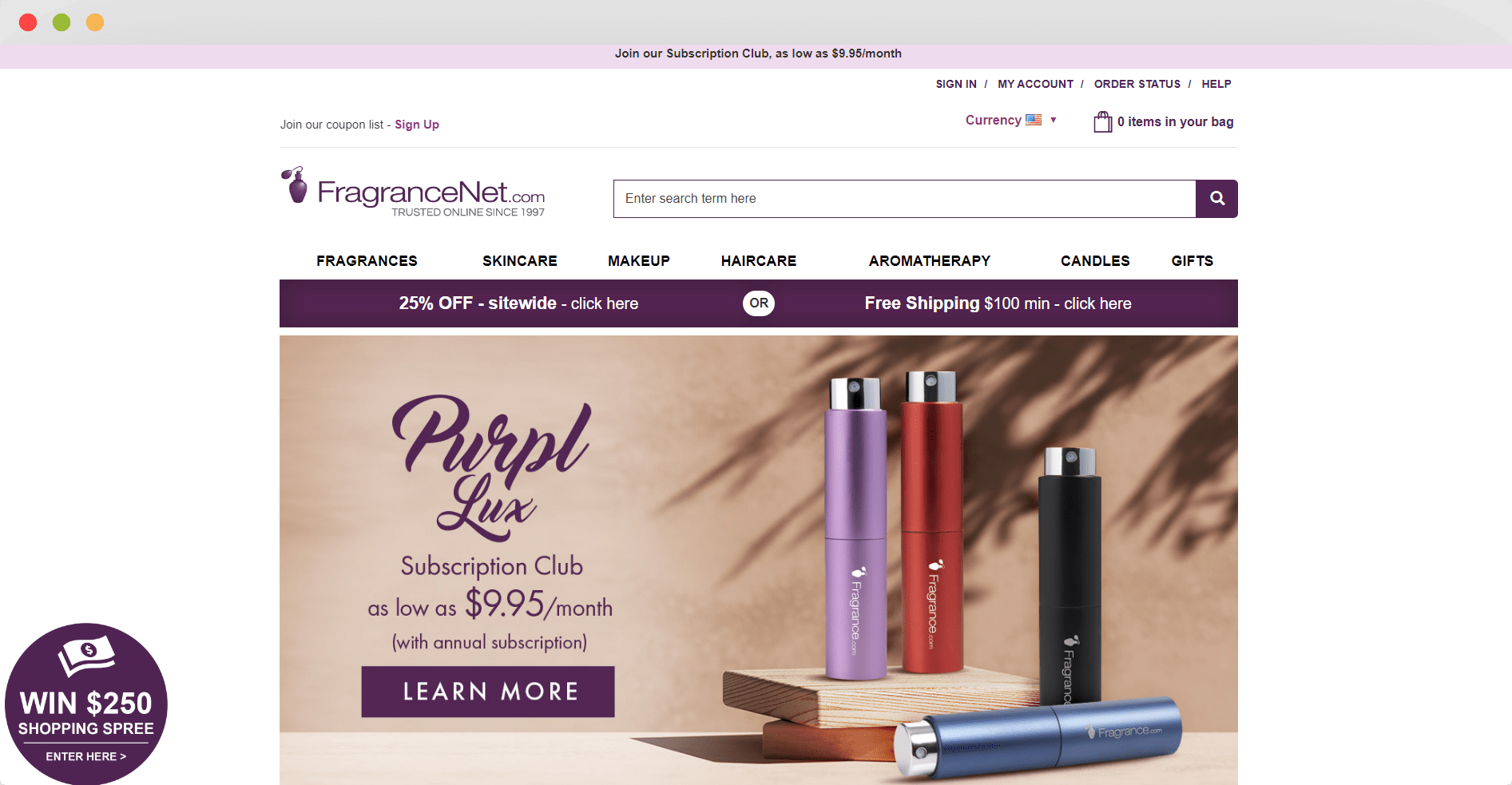 Perfumes, makeup and skincare products will always remain in trend.
So if you're basing your dropshipping business on them then FragranceNet can help you.
And unlike some dropshipping suppliers, FragranceNet also offers international shipments but terms and conditions may apply.
They sell products at wholesale prices and also do not have a minimum order quantity.
All you have to do is signup with their dropshipping program that you can find on their website.
Pros
International Shipment

:

FragranceNet offers international shipment but you would most likely have to pay a hefty fee.

High-Profit Margins

:

You can purchase products from FragranceNet at wholesale or near wholesale prices and keep higher profit margins.
Cons
No Integrations

:

Unfortunately, there isn't any way as of now for you to connect your store to FragranceNet. You'll have to do everything manually.

Limited Payment Methods

:

You can only pay with credit cards on FragranceNet.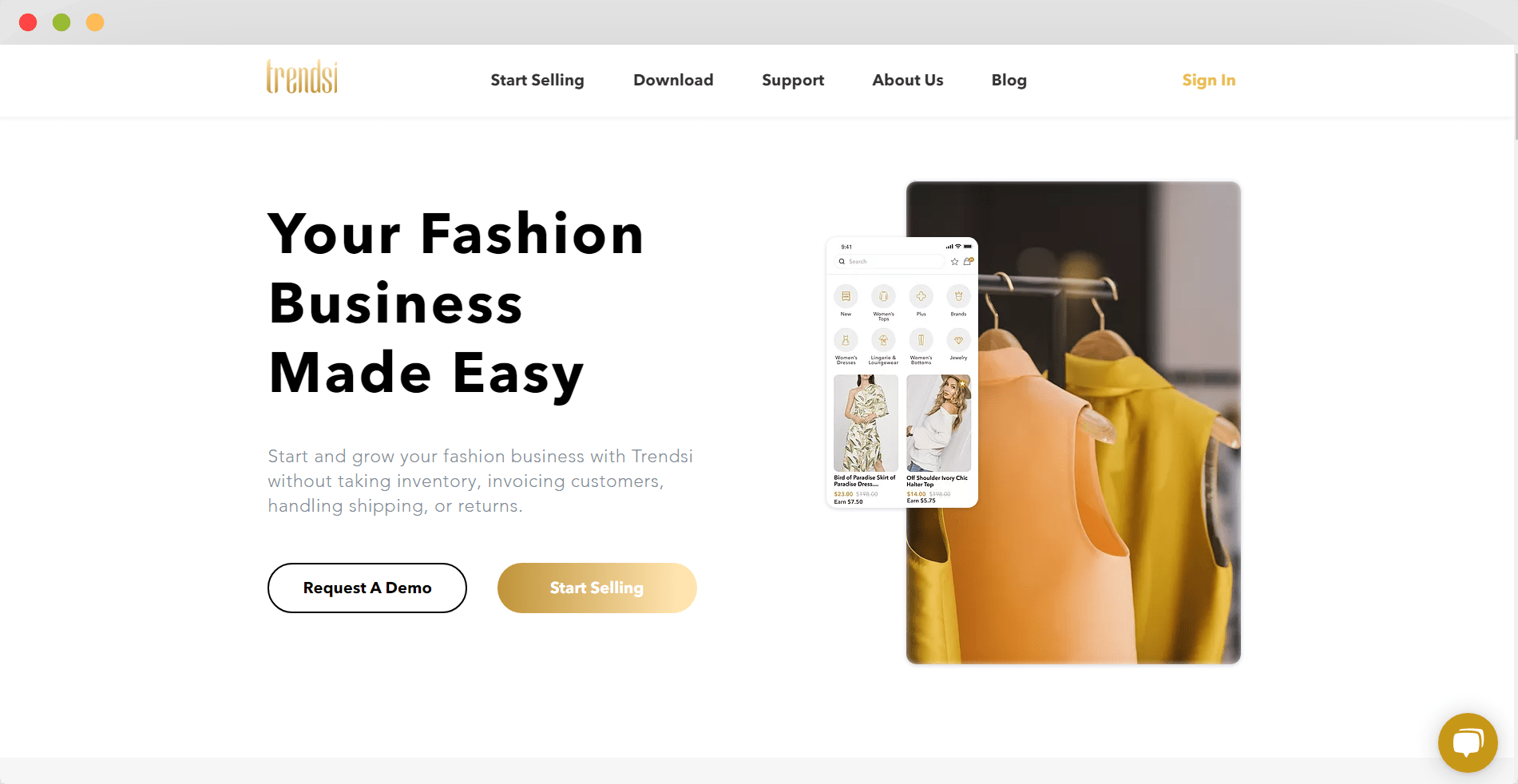 Trendsi is a clothing dropshipping store that's geared towards the female audience.
You can find a vast variety of clothing from designer brands in this store and potentially rack up huge profit margins.
They also offer branded invoices and do custom packaging in case you want to create a unique identity for your store.
And Trendsi also offers free returns, but the only drawback is that sometimes the shipping may even take up to 10 days.
Pros
Designer Brands

:

Trendsi deals in high-quality clothing directly coming from designer brands to attract more customers.

Bigger Profit Margins

:

Given the quality of the products Trendsi offers, you're likely to get bigger profit margins.

Free Returns

:

Trendsi offers free returns to help you deal with dissatisfied customers.
Cons
Shipping Time

:

Sometimes the shipping may take up to 10 days.
Fashion Dropshipping – Frequently Asked Questions
Is Fashion a Profitable Dropshipping Niche?
Due to how mainstream dramas and movies have become, new fashion trends are being introduced every day.
The market size of the fashion dropshipping niche is expected to reach 1.164,7 billion USD by the end of 2025.
So it's safe to say that the fashion niche isn't going anywhere, and it can be referred to as one of the most profitable dropshipping niches out there.
Who are the Best Fashion Dropshipping Suppliers?
You can find a more comprehensive list of fashion dropshipping suppliers in our list above. But in general, here are some according to their categories:
BrandsGateway

(Luxury fashion clothing)

Tuscany Leather

(Fashionable Leather products)

Griffati

(European Designer Clothing)

My Online Fashion Store

(Versatile Fashion Accessories)

Clothes2Order

(Personalized Clothing)
Is Fashion Dropshipping Good for Beginners?
Fashion is already a competitive industry but it's also difficult to go wrong with. You have a vast variety of products to continue experimenting with until you don't find something that works for you.
So yes, fashion dropshipping is good for beginners. But keep in mind that among other factors, the success of a dropshipping store is heavily influenced by your website, marketing strategy and customer service.
Which Product Should I Choose for Fashion Dropshipping?
If you're a beginner then we suggest that you start with dropshipping fashionable clothing.
The reason for that is, clothing is lightweight, takes less space and is also easy to ship.
Moreover, the chances of the clothing having any defects are also lower in comparison to products like electronics.
5 Hallmarks to Start a Fashion Dropshipping Store
If you've made up your mind about starting a fashion dropshipping store, then here are 5 hallmarks that you should follow to make your business successful:
1) Choose the Right Platform
There are a variety of platforms you can use for your dropshipping business. However, we'd recommend you to start with Shopify.
The reason for that is, not only does Shopify have numerous different plugins to help you automate your store, but also, it has more than 60+ existing custom themes in the clothing & fashion niche.
This can help you start with an attractive store, even if you're on a low budget.
If you want to learn more about which store builder is better for you, then you can read our Shopify vs. WooCommerce guide.
2) Be More Creative with the Theme
Just because you're using a free theme, doesn't mean you can't be creative with it. Once you apply your custom theme, optimize it and try developing a unique sense of identity.
Even if you're copy-pasting an existing theme, consider getting the help of a designer to help you create an appealing company logo.
Also, make changes to the theme according to the kind of product you're dropshipping. This will leave a good impression on the customers and put you ahead of the competition.
3) Focus on the Store Design
The design of the store includes a variety of things, so let's touch on them one by one:
Colour Contrast: The colour contrast of the store is easy to go wrong with. Just because you're dropshipping fashionable and trendy products, doesn't mean you need to go all-in. It's recommended to use colours that aren't too hard on the eyes of the store visitors.
Typography: Each font serves its own purpose and goes along with the type of product you're selling. So play around with the typography and try finding a font that goes along with the overall colour contrast of your store.
Graphics: This can be a bit advanced, but adding attractive graphics can add a nice touch to your store.
We can't exactly pinpoint what type of graphics you should use, because it all depends on the theme of your store and your niche. But it's worth consulting a professional designer for this.
4) Run Ad Campaigns Effectively
Ad campaigns can work like a charm for the fashion and clothing niche but only if done right. Make sure that you filter your audience according to the product you're selling.
For instance, people in their early 20s wear trendier clothing. While those who are in their 40s, often go for more sophisticated options.
Similarly, don't forget to sort the audience according to their geographical location. A product might be in fashion in one country while being completely unheard of in another.
5) Consider Influencer Marketing
Influencer marketing can be a great way to promote your brand, especially if you are dropshipping on TikTok, because fashion products spread like wildfire on the platform.
You can get in touch with someone with a large following to shoot a quick video while recommending your store and product to their followers.
Final Thoughts
It's hard to go wrong with the fashion niche due to the sheer variety you can choose from.
From beauty products to clothing and even day-to-day accessories, the possibilities are endless.
It's completely dependent on you whether you'd like to target a layered niche market or stick with dropshipping multiple products.
But regardless of what you plan on going for, you'll find a fashion dropshipping supplier from our list above to meet your needs.
And if you'd like to try your luck with any other niche, then NicheDropshipping can further help you by sourcing the products you have in mind.
Send us a message to know more about the services we can offer for your dropshipping business.