Women's clothing has always been a popular niche, even before dropshipping or ecommerce came to be. With the internet's help, ladies from all across the globe find it much easier to shop for clothes.
According to Statista, the apparel market is expected at $312 billion in 2022 and will grow annually by 3.98% by 2026.
The market size is only growing, therefore, you'll always have customers to target. In this case, you'll have a specific target market, which is women looking for boutique clothing.
With that said, it's understandable that a lot of ecommerce business owners are looking for boutique clothing suppliers. The question is, where do they find them?
In this article, we'll list down popular and trusted wholesale boutique clothing suppliers for dropshipping and similar ecommerce businesses.
So, if you're interested in finding the right supplier for your business, this article should be a great guide for you.
Let's get started.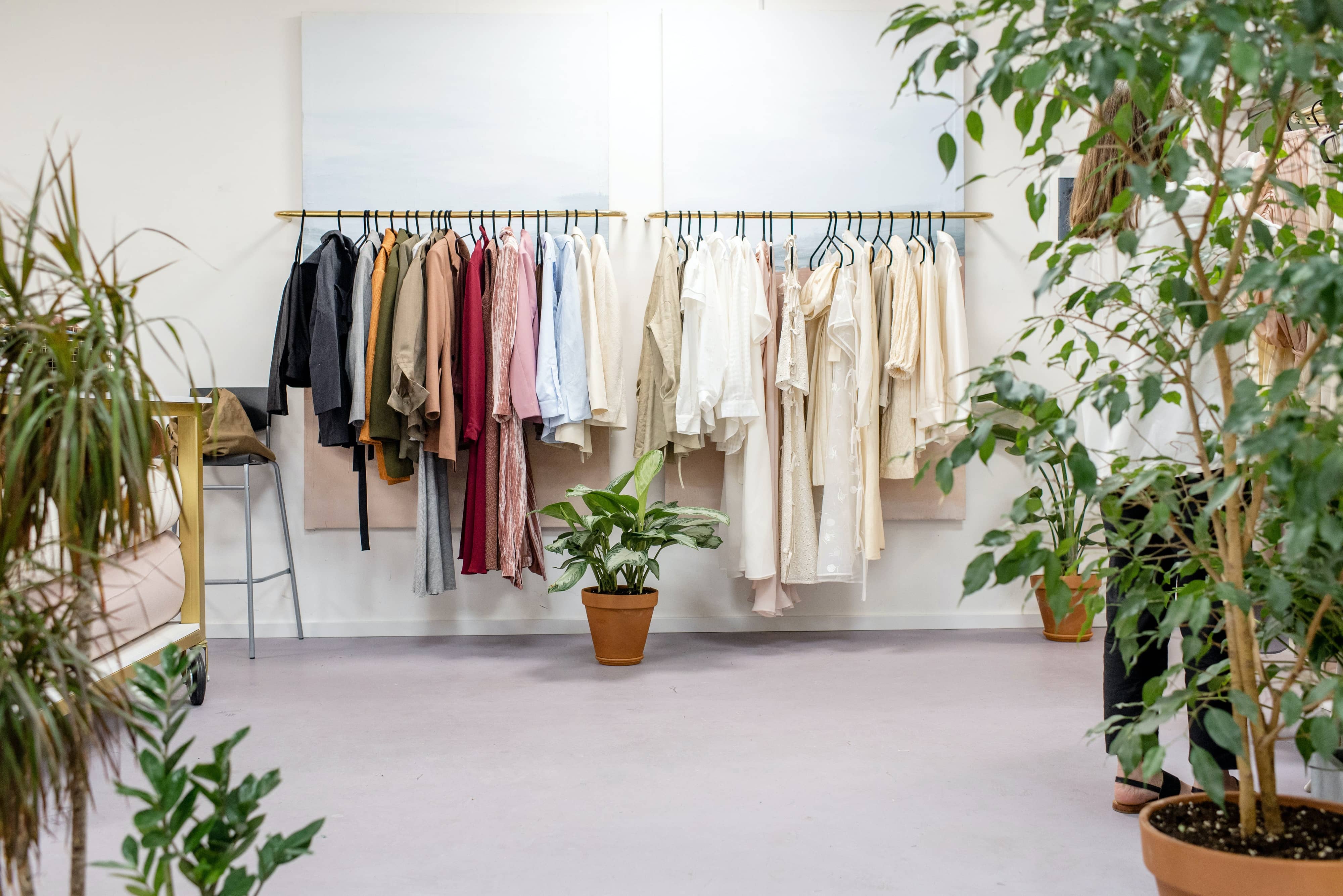 What Is Boutique Clothing?
Before we give you the list of wholesale boutique clothing suppliers, let's first talk about what boutique clothing is.
Many might think that it's just another word for women's clothing, but there's actually a difference between the two.
A store that sells boutique clothing usually sells items that are personally chosen or cater to a specific market.
This type of store is also small in size and often markets its products as a limited edition. Certain types of dresses or hats are just some examples you can find in a boutique that provide a great profit margin.
In other words, a boutique is a specialty shop.
On the other hand, women's clothing stores sell items that are mass-produced and can be commonly found in other similar stores.
These stores can sell mainstream items like t-shirts, trendy dresses, and shoes that you can also find in other stores. Depending on the season and the trend, there's no telling what kind of items will be sold the next day.
Can You Dropship Boutique Clothing?
Of course, you can. These items can be dropshipped just like any other type of women's clothing, and some suppliers sell these items in bulk or wholesale.
You just need to find the right ones with the right prices. The location of the supplier also plays a part in whether they're an ideal supplier or not.
Some examples of boutique clothing are designer clothes, saris, and plus-size clothing.
Top 24 Wholesale Boutique Clothing Dropshipping Suppliers
Now that you know the different boutique clothing and typical women's clothes, it's time to get your hands dirty.
Let's look through 24 different wholesale boutique clothing suppliers from all across the globe. All these wholesalers have a lot to offer, just narrow down your search according to your location and preferred items. 
Alibaba
Alibaba is currently one of the largest ecommerce companies in the entire world. It was founded back in April 1999 and started as a China-based business-to-business marketplace.
It has since grown to be one of the largest ecommerce companies in the entire world.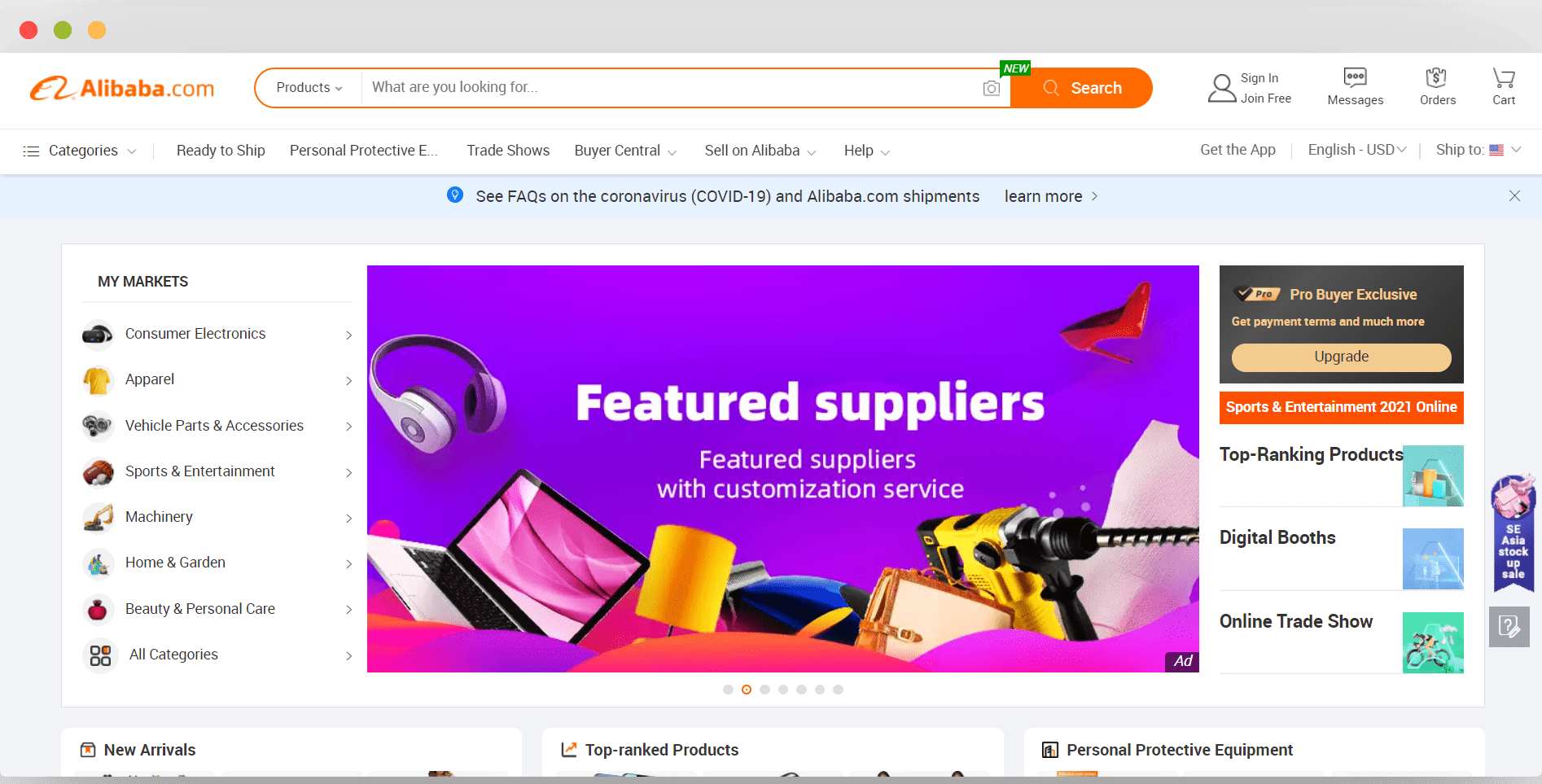 One of the things that set Alibaba apart from its competitors is that it has low prices. It's ideal for dropshippers and retailers who are looking to increase their profit margin for quality products.
The suppliers and wholesalers on Alibaba are located in different regions, with millions of products listed since it was founded.
Currently, suppliers have different minimum order quantities depending on the type of item you're purchasing. The price ranges also range from one-digit prices to two-digit prices.
The best way to find boutique clothing on this website is to use the keywords of the products you're looking to sell.
Some of the filters you can use to find your ideal products include the following:
Supplier Types
Product Types
Minimum Order
Price
Supplier Country or Region
Signing up to this website is free, so better check this one out as it's one of the best options for cost-effective products.
CCWholesaleClothing
Based in Los Angeles, CCWholesaleClothing is a popular place to buy wholesale clothing. It was established in 2009, with a family history going back to 1994.
According to their About Us page, they are the one-stop destination for discounts, closeouts, and wholesale fashion. The owners of this company take pride in knowing what their customers' preferences are and choosing the best products to sell on their website.
The website doesn't just sell clothing, they're also selling high-quality jewelry and accessories for their customers.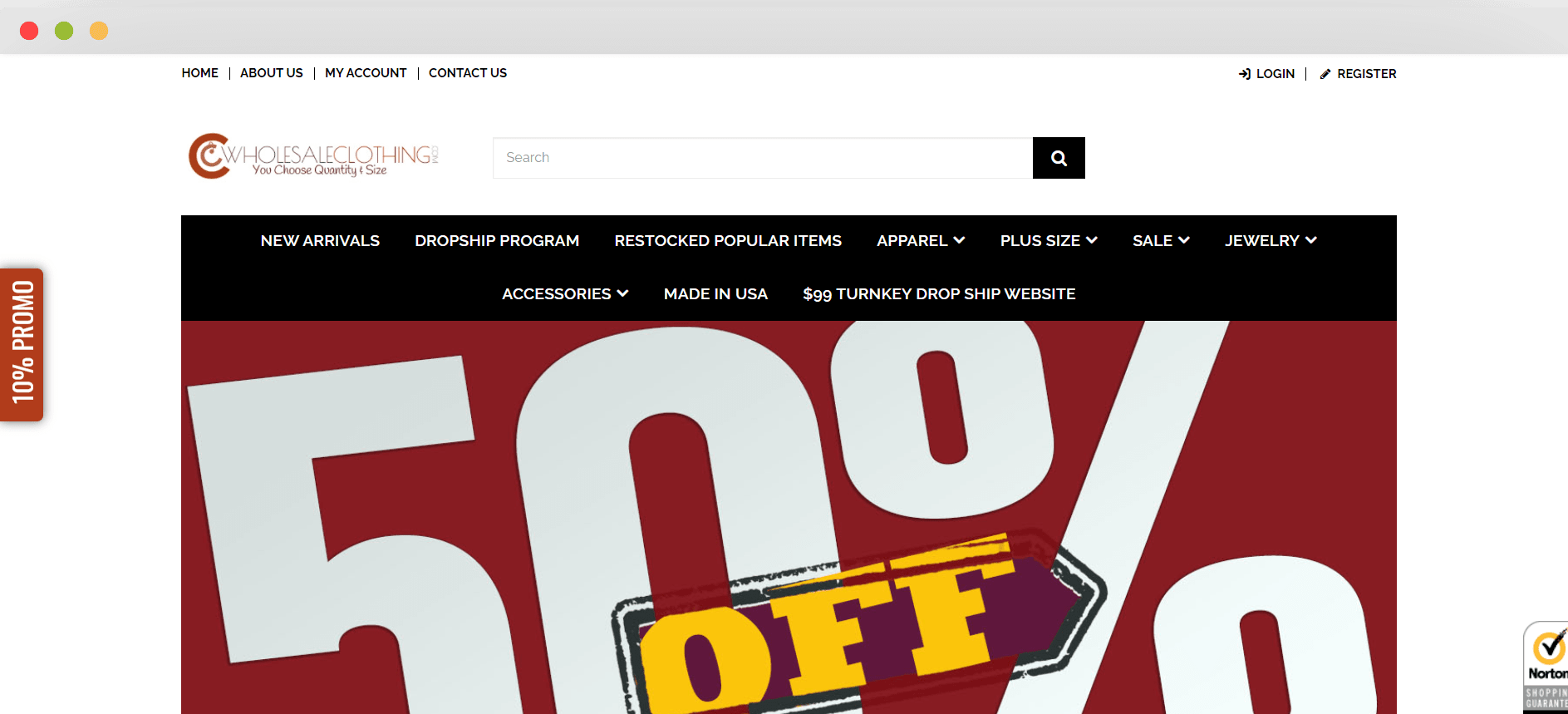 To shop on CCWholesaleClothing, you need to have at least $100 worth of orders in your cart for you to be able to check out. If you exceed $300, you get to enjoy free shipping.
So no minimum number of items to purchase, just make sure you have about $100 in your cart.
What's great about this website is that it frequently has promos and sales for you to maximize. On top of that, they also offer a variety of clothing—not just boutique items.
To find items you want to purchase, use keywords and sort according to the following:
Average Review
Price
Newest
Name
Once you check out, you're able to track your orders using the information they'll send to you.
They also have a dropship program you might be interested in.
BrandsGateway
Luxury brands can also be bought at wholesale prices. If you didn't know that, it's about time you stumbled upon BrandsGateway.
BrandsGateway is a popular wholesale luxury clothing marketplace. More than 70 brands supplied from 5 verified vendors can be found on this website. With over 15,000 items to choose from, we doubt you'll have a hard time choosing which ones to buy.
Multiple brands can be found on this website, including luxury brands Michael Kors and Armani. Don't fret about the prices though, they still sell them at discounted prices.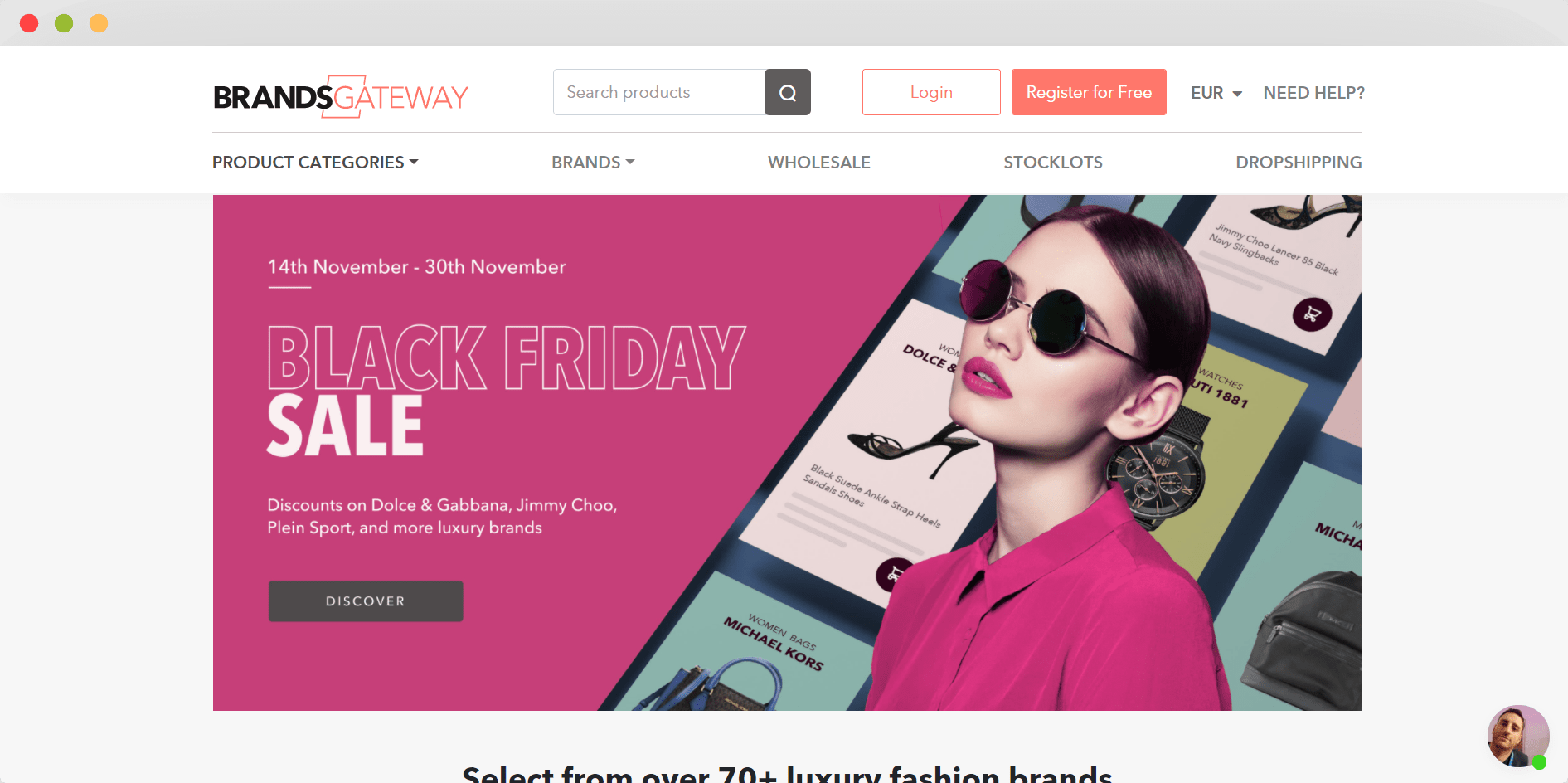 The minimum order quantity is $1200 or about €1000. Seems like a lot, but if you're buying luxury items in bulk, this will definitely pay off.
Apart from boutique clothing, they also sell shoes, bags, accessories, and jewelry from high-end brands.
BrandsGateway delivers to more than 170 countries across the globe, with independent officers and operations in Sweden, Finland, Italy, the United States, and North Macedonia.
They also have a dropshipping program you should check out if you want to be a high-end clothing dropshipper.
Tasha Apparel
This LA-based company is also known for its trendy pieces. Tasha Apparel is a wholesale fashion clothing and jewelry supplier for those who want to stay trendy but still want unique items.
The company opened in 2005 and launched its website in 2008. Boutiques, department stores, and high-street chains source their products from this supplier, making it a well-known and trusted brand.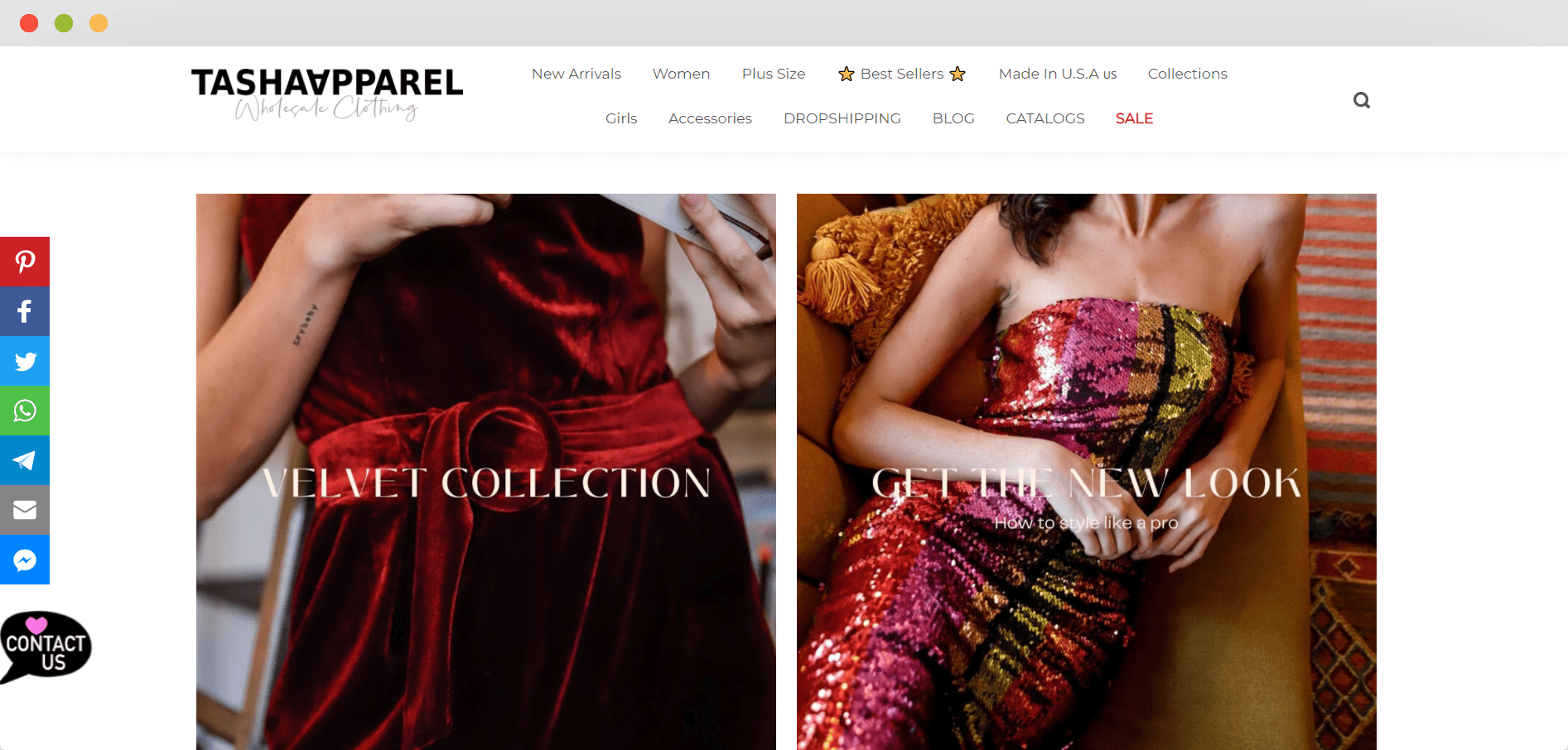 Tasha Apparel is noted for its look-alike products and their work-smart ethic, resulting in a fast-growing customer base.
Given the variety of products on the website, it's best to have products in mind so you get to sort through all the trending and chic items listed. Finding boutique products on this website might require effort, but it's something worth doing for your benefit.
Despite being a high-end supplier, they often have sales to attract their customers. Wholesale discounts can go as high as 80% off, enticing customers and resellers to purchase more products.
To avail of free shipping, you need to have at least $300 worth of items on your cart.
Explore their dropshipping program if you're also interested in this business model.
FashionTIY
FashionTIY is great for resellers who want to try out products before fully committing to wholesale purchases. Quite popular among dropshippers, you can easily find thousands of boutique clothing in just a few minutes.
This company sells wholesale clothing, jewelry, accessories, bags, and many more at affordable prices.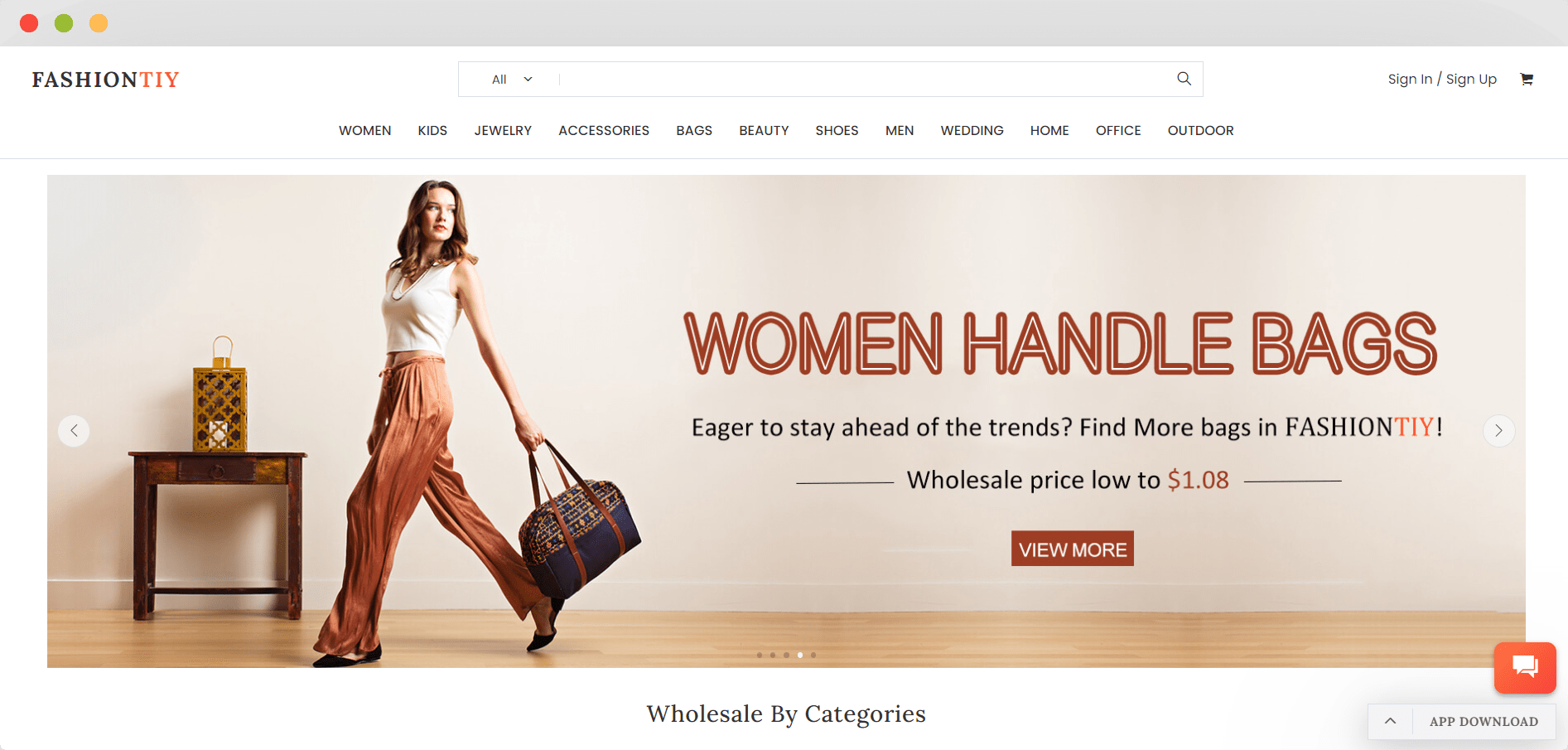 In fact, their website indicates that they are 70% cheaper with no minimum order quantity—ideal for those who want to check the quality first.
On top of that, they provide customized service, fast shipping, and excellent customer service. Their customized service includes printing logos, embroidering, putting tags and labels, and printing.
Signing up is free and their shipping rates are all displayed on the website. In about three weeks, you can expect to receive your orders, but this still depends on the weather and logistics factors.
You can have your orders shipped through DHL, UPS, FedEx, Air Cargo, and USPS among others.
Chinabrands
Another leading China-based wholesaler is Chinabrands. This company sells products to 200 different countries and territories.
Boutique clothes, shoes, accessories, and jewelry are just some of the products the ecommerce website sells. With more than 500,000 products to choose from, you can never run out of options.
The price range can go as low as $0.29 to as high as $40 for high-end brands. Wholesale buyers can enjoy discounts from time to time, so make sure to check out their Hottest Offers tabs for the latest deals.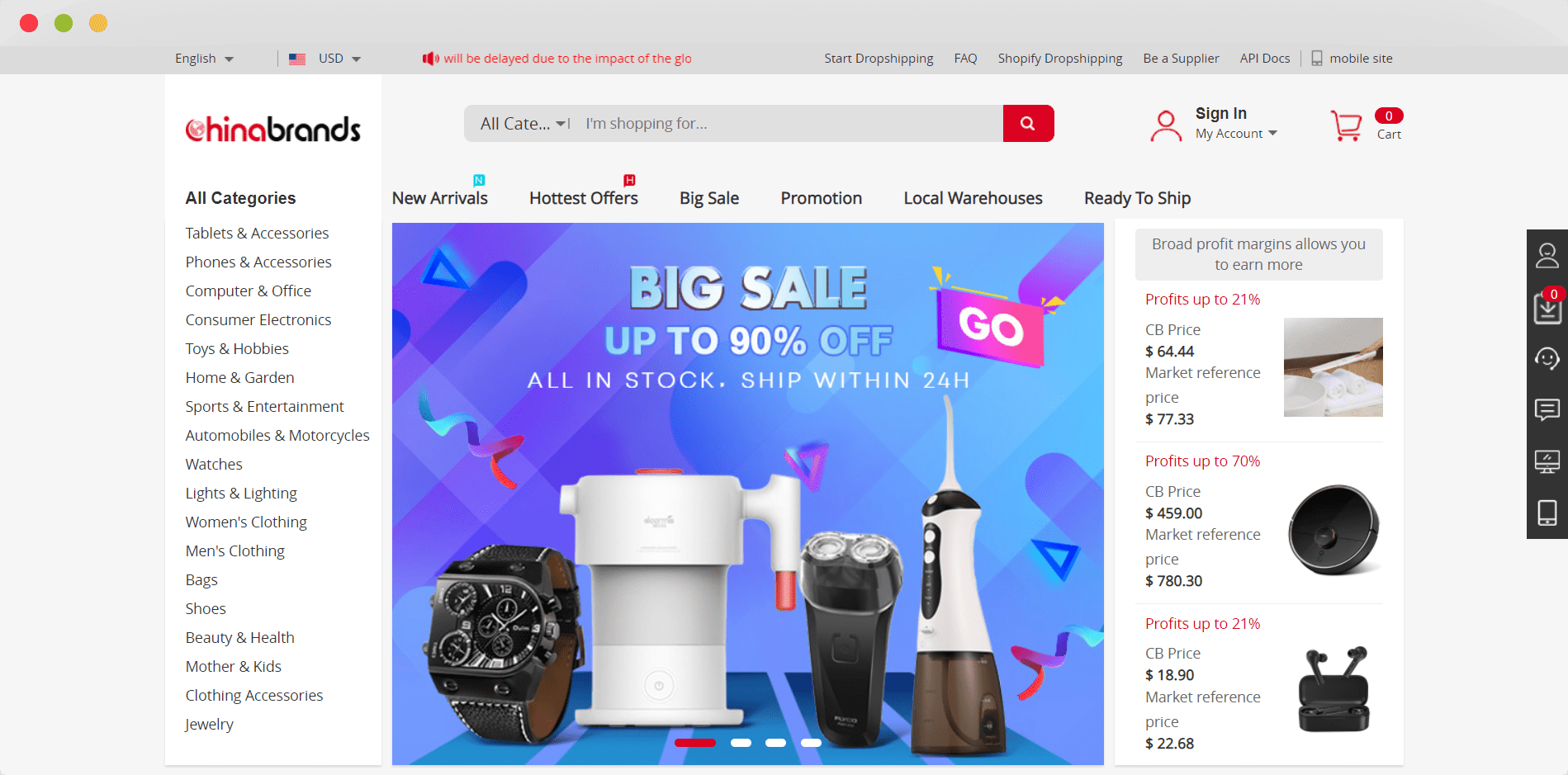 Signing up is easy and free. You can even integrate Chinabrands products to your Shopify store if you're a dropshipper.
If you want more discounts, you should consider becoming a VIP member. VIP members can enjoy additional discounts, depending on their level and the products they wish to purchase.
The membership fee is $7 per month and can either be purchased for multiple months or just a one-time payment.
Spocket
Looking for reliable suppliers can take up quite some time. If you wish to skip that part of the process, you should definitely consider browsing through Spocket.
Suppliers on Spocket have already gone through the necessary screening, ensuring their reliability and quality. These suppliers are based in the United States and Europe, ideal for those who are located in those regions.
Since suppliers are vouched for, you can save time on doing your research since it was already done for you. Products sold on the website are high-quality and are sold at reasonable wholesale prices.
Their huge catalog makes it a top choice for the US- and Europe-based retailers because of its proximity to their target markets.
Spocket offers different pricing plans depending on what you're looking for. They have a free membership for those who simply want to browse through their catalog.
Starter, Pro, and Empire all provide support and unique products. Pro and Empire plans offer additional branded invoicing.
The Starter plan is at $24.99 per month, the Pro Plan at $49.99 per month, and the Empire plan at $99.99 per month.
Handshake
As Shopify's official platform for handpicked wholesale products, Handshake is bound to become a top option.
The website is great for both customers and business owners. You can even view both products and suppliers if you're looking to buy wholesale.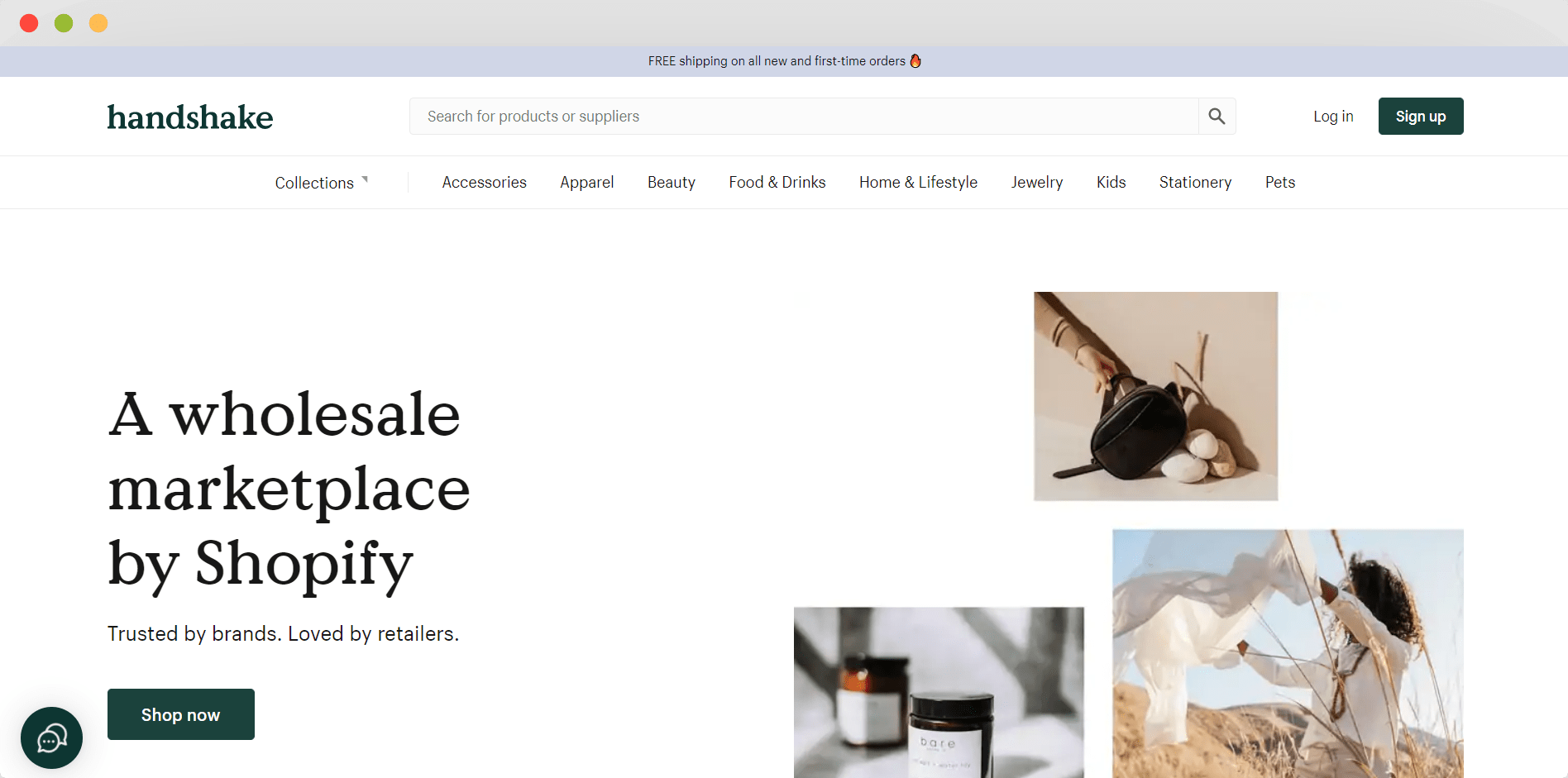 You can sort products or suppliers according to the following criteria:
Categories
Minimum Order
Supplier Location
Their minimum order can range from 0 to up to $300. It varies according to the items and category. For boutique items, you can expect to see different price ranges.
Relatively, the profit margin from Handshake is not that high compared to more affordable options, but the quality and service can be worth the price.
Currently, Handshake only supports the United States market. But given that it's a Shopify platform, you can expect the expansion to other regions in the coming years.
You don't have to worry about fees, regardless of whether you have already sold products or not.
Stylewise Direct
Stylewise Direct became popular because of its high-quality products. They're known for offering celebrity designs and plus-size clothing.
The company has been supplying wholesale products since 2001 to all types of buyers—from small stores to high-street ecommerce stores.
Apart from their high-quality products, you can also expect excellent customer service, strict quality control, and reliable shipping.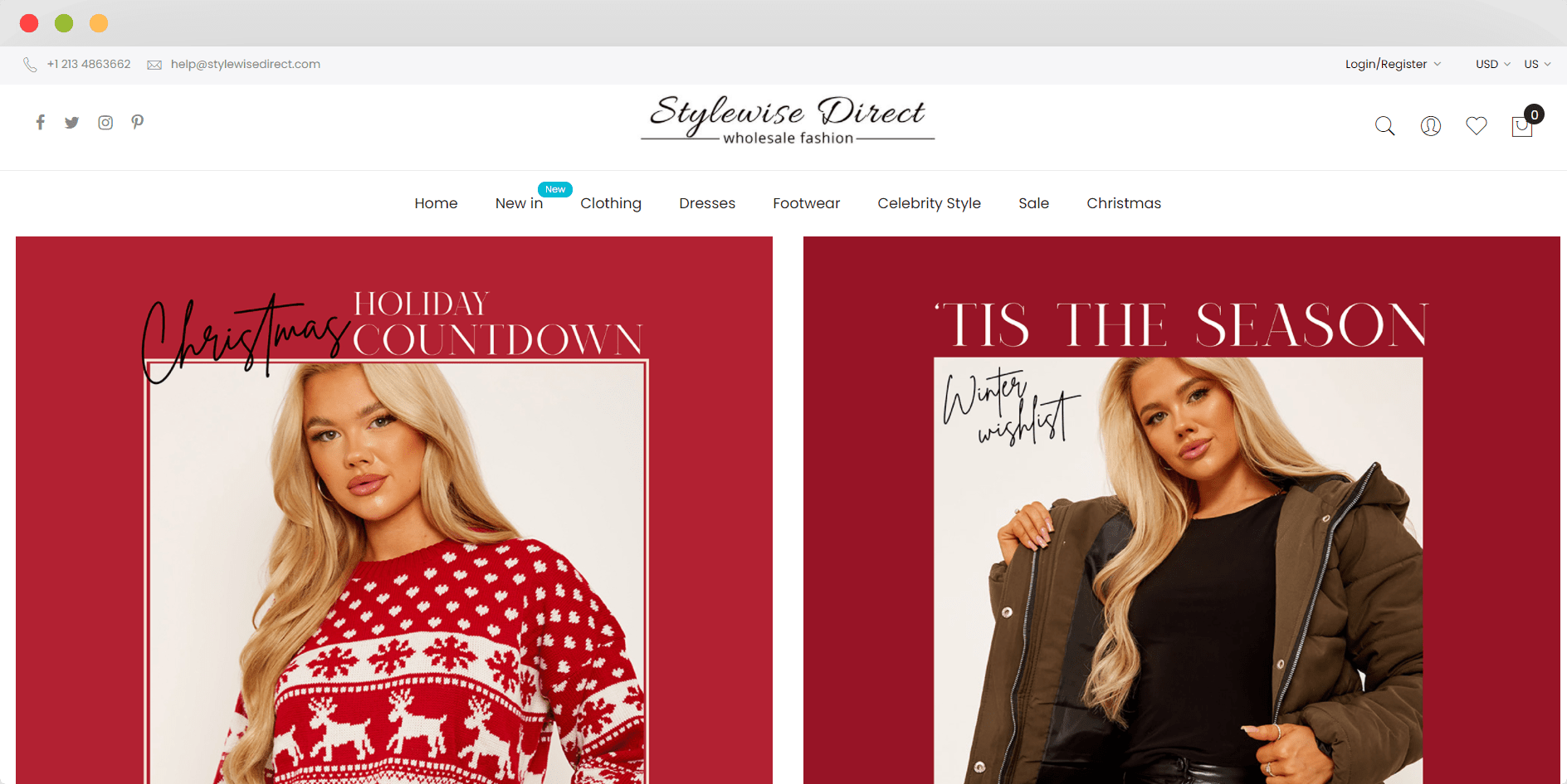 Hundreds of new styles are released each week, and they always make sure they're up-to-date with the latest trends. When the item is no longer listed, it's because the item has been sold.
They don't restock nor relist items which make this website quite unique from the rest.
You need to first sign-up before you can see the prices of their products. Don't worry, it's totally free!
They currently deliver to over 80 countries and use UPS for their postal service. You can see all the details before you check out and you will receive a tracking number to see the location of your parcel.
All payments on this website, however, need to be in Pounds Sterling.
Apparel Candy
Rock bottom wholesale prices are what Apparel Candy is known for. Unlike other companies, this doesn't sell single pieces and only sells their items in wholesale packs.
They also do not offer dropshipping for their customers.
However, their virtual showroom is constantly updated, having all the trendy products you can think of. Boutique clothing can also be found here if you know the right keywords to use.
Some of the items they sell include masks, fragrances, accessories, and handbags.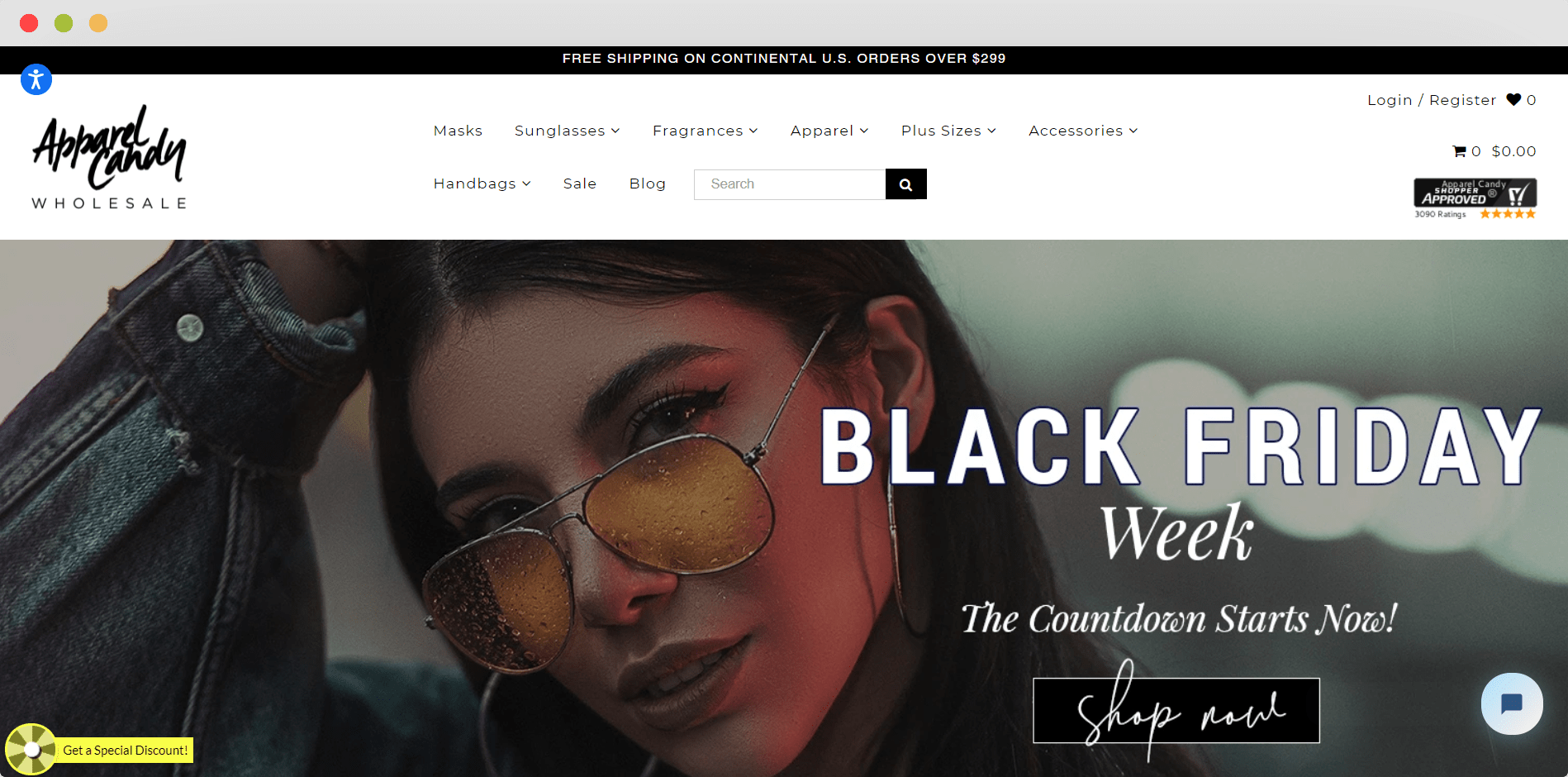 Signing up is pretty straightforward. They ship to a number of countries, but if your country or location is not in their dropdown menu, then you'd have to find another way to have your products shipped if you shop here.
In line with that, your shipping rates will be calculated upon checkout. You can get free shipping if you live in the United States and have more than $299 worth of items in your cart.
Bloom Wholesale
Another US-based website is Bloom Wholesale. The company is a wholesale distributor of boutique clothing as well as women's clothes and plus-size fashion products.
Their products include the latest fashion trends since they buy directly from designers in Los Angeles. Although the company keeps up with the trends, it's also conscious about buying fashion-forward items.
Customer service and reliable shipping are also included in their high-quality service.
All items show their unit prices and you can order them as individual pieces.
They don't have a minimum order quantity and offer flat rates for their orders. If you have more than $800 worth of products in your cart, it has a flat rate of $16.95. If you have less than that, it's $9.95.
Don't worry if you live in Alaska, Hawaii, Canada, and Puerto Rico, they cover a portion of your shipping fee.
Pink Tree
Pink Tree Wholesale is a Los Angeles-based wholesaler. They sell boutique clothing which includes, activewear, clubwear, plus-size clothing, dresses, and tops. You can also purchase jewelry and accessories from the website.
They frequently update their products, so if you're the type to look for the newest items in the market, be sure to check out their New Arrivals tab.
All of their items are sold in packs and the prices for each are quality according to the number of packs you want to purchase.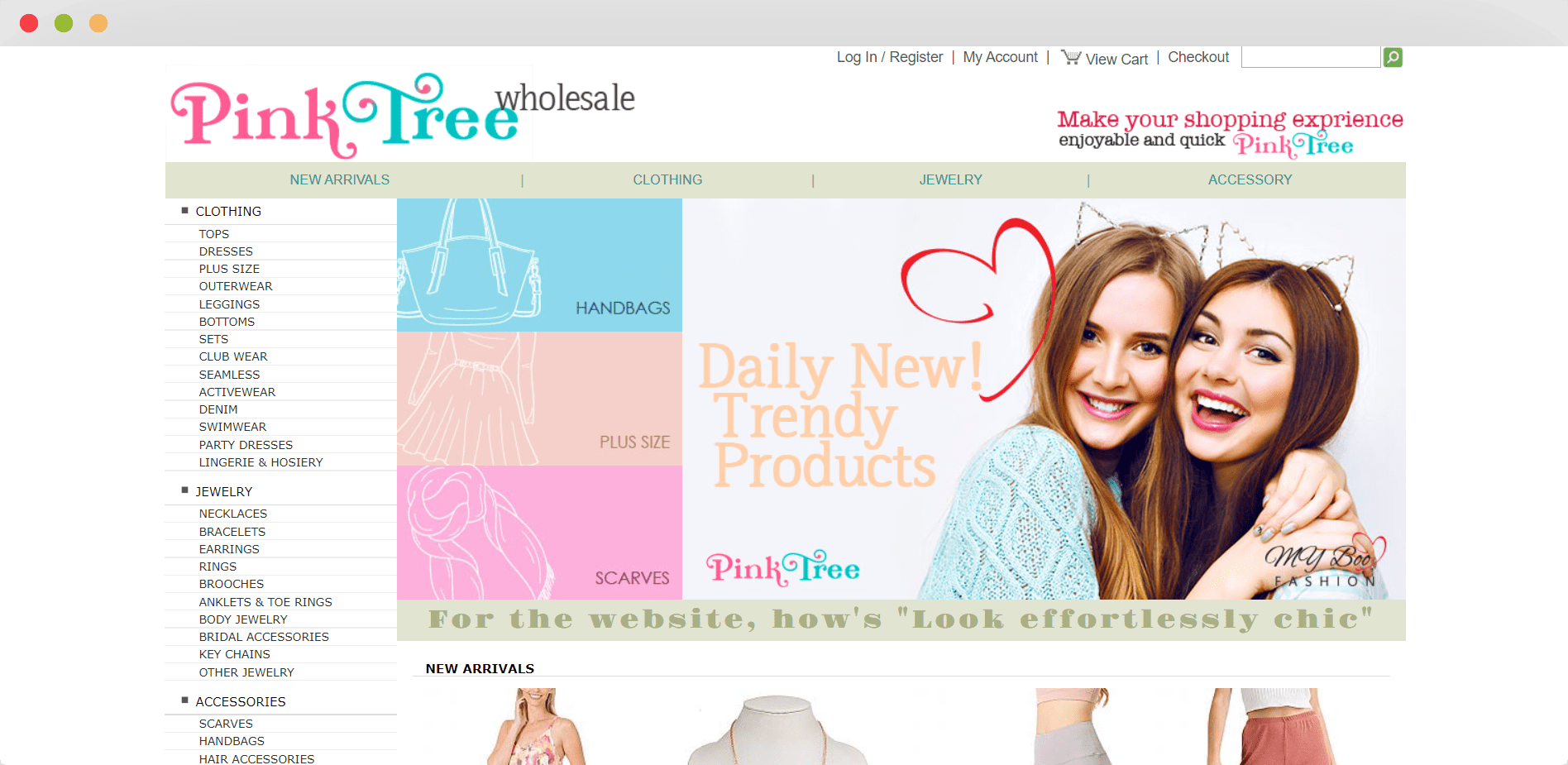 The images they use feature models which will make it easier for customers to see whether they like the product's fit or not. This is one of Pink Tree's advantages.
However, you still need to create an account for you to see the actual prices of your orders. It's fairly easy, though!
Given that their warehouse is in Los Angeles, they use UPS standard shipping which takes 4 to 6 days if you live in the United States.
Magnolia Fashion Wholesale
Compared to the previous US-based wholesalers, Magnolia Fashion Wholesale is located in Miami, Florida. They're one of the leading wholesalers in women's fashion and have high-end customers.
Each week, they update their website with hundreds of new arrivals. Inspired looks and the latest trends are mostly the types of items they sell, but you'll easily find boutique clothing with their search bar.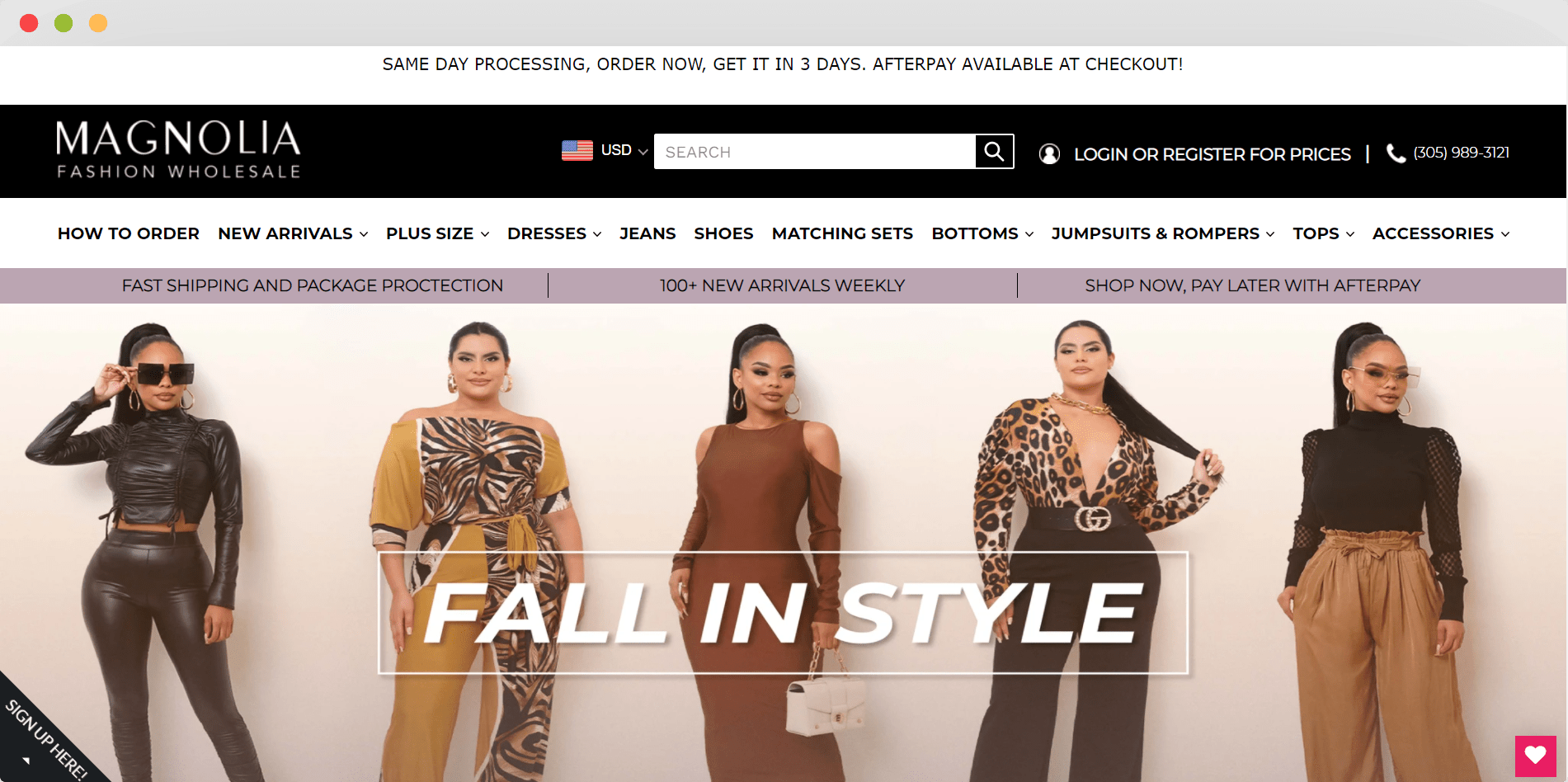 The styles are often hand-picked. They also provide excellent customer service so you know you're in good hands if you decide to purchase from their website.
More than 80 countries are supported by their shipping. But you can receive your items within 2 to 3 days if you live in the United States.
Unlike other wholesalers, this one offers a shop now, pay later scheme with Afterpay. So, if you want to leverage your current capital, you should definitely consider shopping on this website.
Just simply sign up to see their wholesale prices.
Parisian Wholesale
Parisian Wholesale can be commonly seen in department stores all over the globe. However, they don't just sell their products to big corporate companies. They also cater to resellers of all shapes and sizes.
They've been a leading wholesale supplier since 2002 and source their products from the United Kingdom.
You can see all the latest patterns and fabrics, but still, sort through these items and find boutique clothes that you want to sell. Just use the search bar to look for the items you want.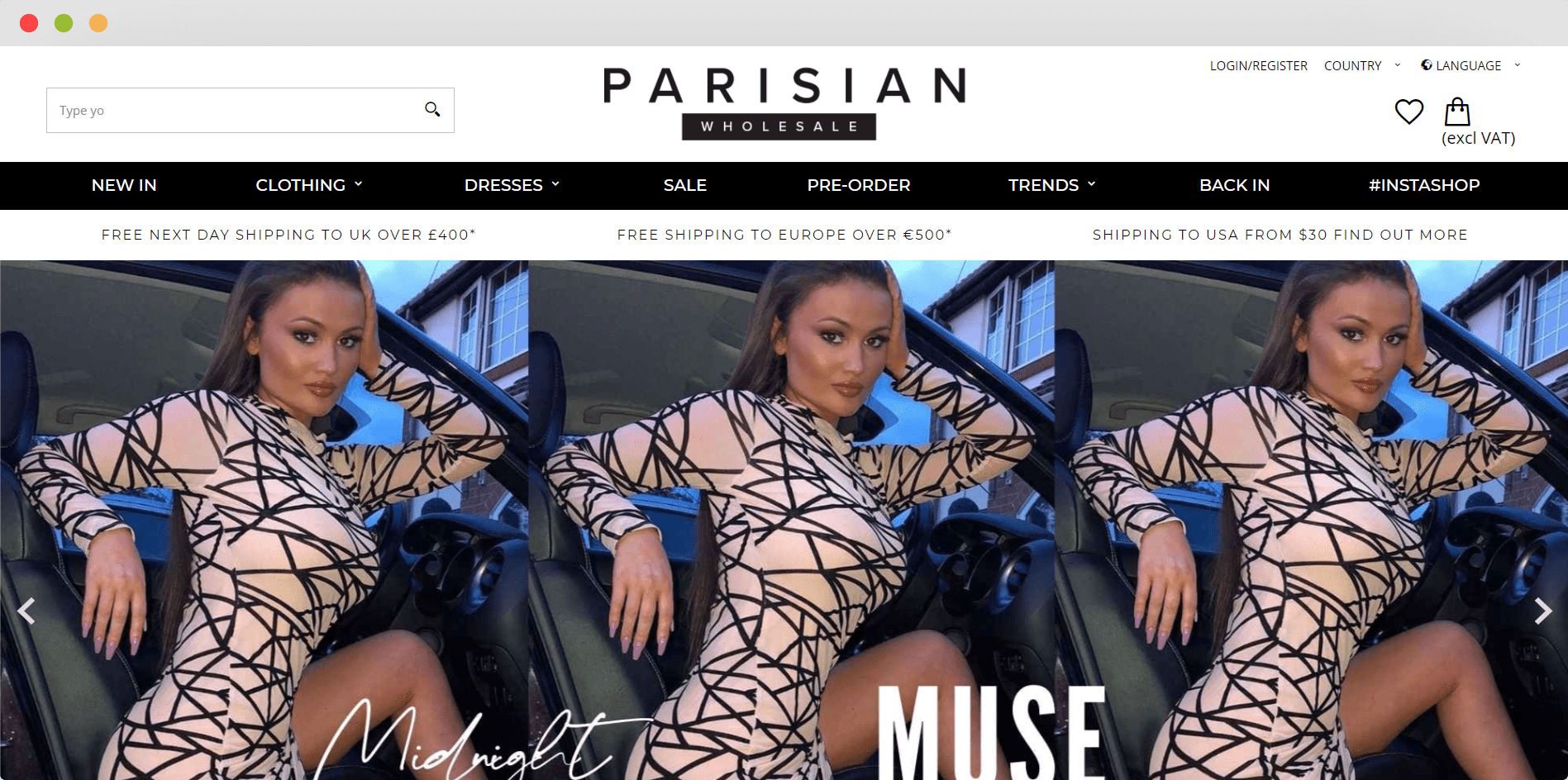 They do not sell individual pieces on their website and only have packs with 4 to 8 pieces each. They also do not support dropshipping.
They have different free shipping schemes, depending on where you live. If you live in the UK, you must have over £400 worth of items. For European customers, you must have over €500. For US customers, you can start with $30.
To see their wholesale prices, you must register on their website.
Paperdoll
Similar to Pink Tree, Paperdoll offers affordable wholesale boutique clothing. Right off the bat, you can see how easy it is to navigate through the website.
You can also opt to look for specific products if you can't see the type of products you want to purchase. Clothes here are always up-to-date and high-quality.
The website doesn't just list clothing, they also sell jewelry, handbags, and accessories.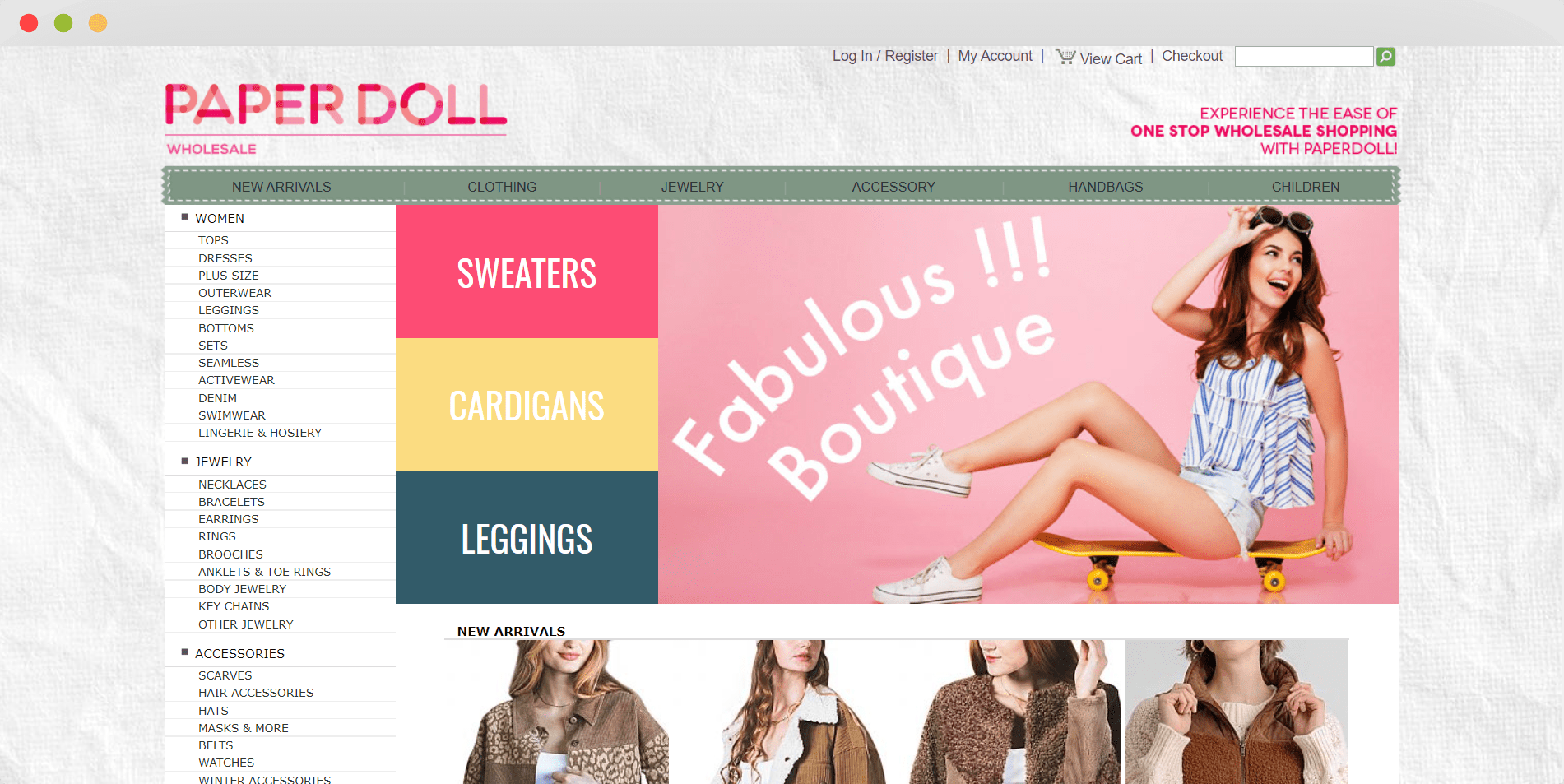 To see wholesale prices, you must first register on the website. All of their items come in 6-piece packs. You can immediately see the total value of the products once you input your desired quantity.
Given that the warehouse is in Los Angeles, you can expect to have your orders in less than a week if you live in the United States. International orders may take two to three weeks, depending on the location.
LA Showroom
Branding themselves as the premier online wholesale marketplace, LA Showroom indeed exudes elegance and class. It's even situated in the heart of the Los Angeles Fashion District.
Products from this website are sourced from designers, apparel manufacturers, and distributors from all over the world. Collections are pre-screen so you can guarantee their quality and design.
You can also join their virtual showrooms to see boutique clothing before anyone else. New pieces are added each week, never missing any season or trend.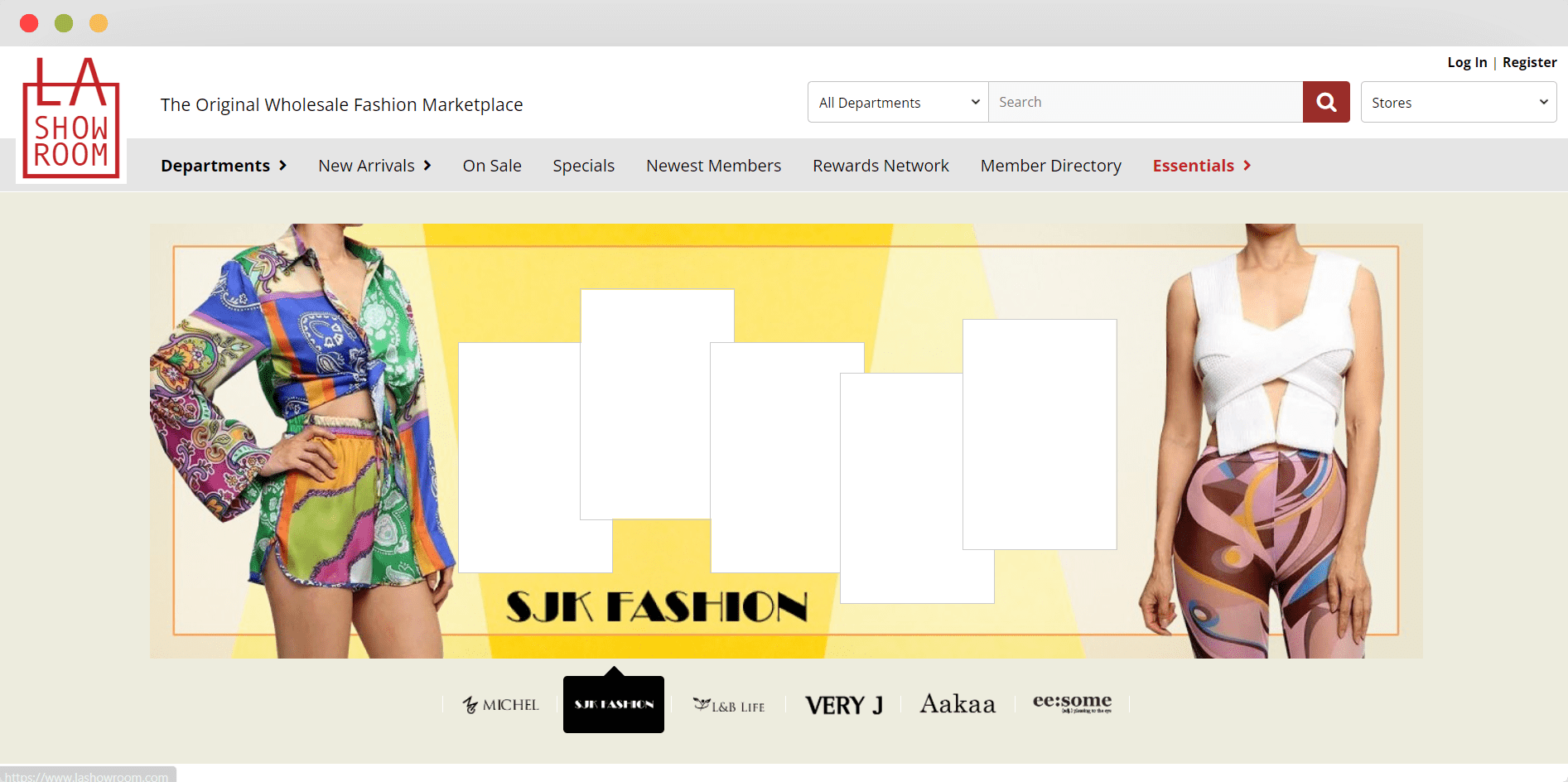 Signing up for this website is free and will grant you access to the products.
However, LA Showroom still screens users and reserves the right to verify them. Their vendors are strict on who gets to be verified or not, given the quality of the items.
Verified users have access to excellent customer service and full access to the website.
You also need a business license or seller's permit or purchase invoices from other fashion-related wholesalers to get verified.
City Goddess
City Goddess focuses solely on UK fashion. Its products are purchased by department stores, boutiques, fashion stores, and high street brands.
One of the founders of City Goddess has a background in fashion design which is useful for finding the right pieces to add. Operating for over 15 years now, this wholesaler is a pro at following the trends and keeping products up-to-date.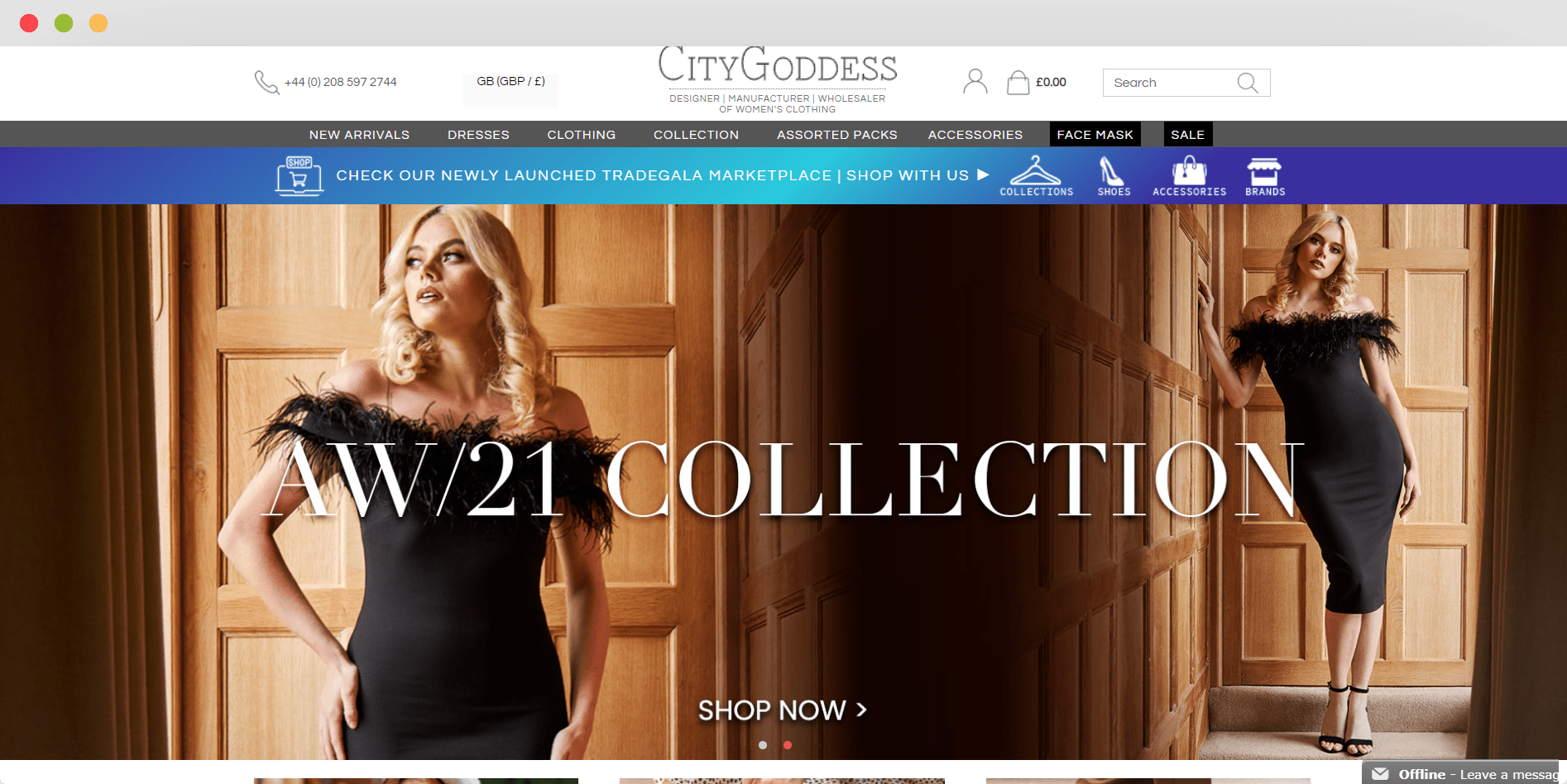 Sorting the products can either be done through a manual search or by filtering according to the following specifications:
Color
Dress
Clothing
Collection
You can also choose how many items to display per page.
You first need to register to see the wholesale prices of their products. Don't worry, the registration process for the website is straightforward and can be done in minutes.
You can enjoy free shipping when you have more than £300.00 worth of products in your cart and you live in Europe. For those who have less than that, you can partner with UPS, DHL, or FedEx for your shipping options.
Sugarlips
Sugar Lips was founded in 2002, as a full-range clothing brand in the heart of Los Angeles.
What started with sweaters has now become a full-blown wholesale clothing company that sells dresses, tops, accessories, and plus-size clothing.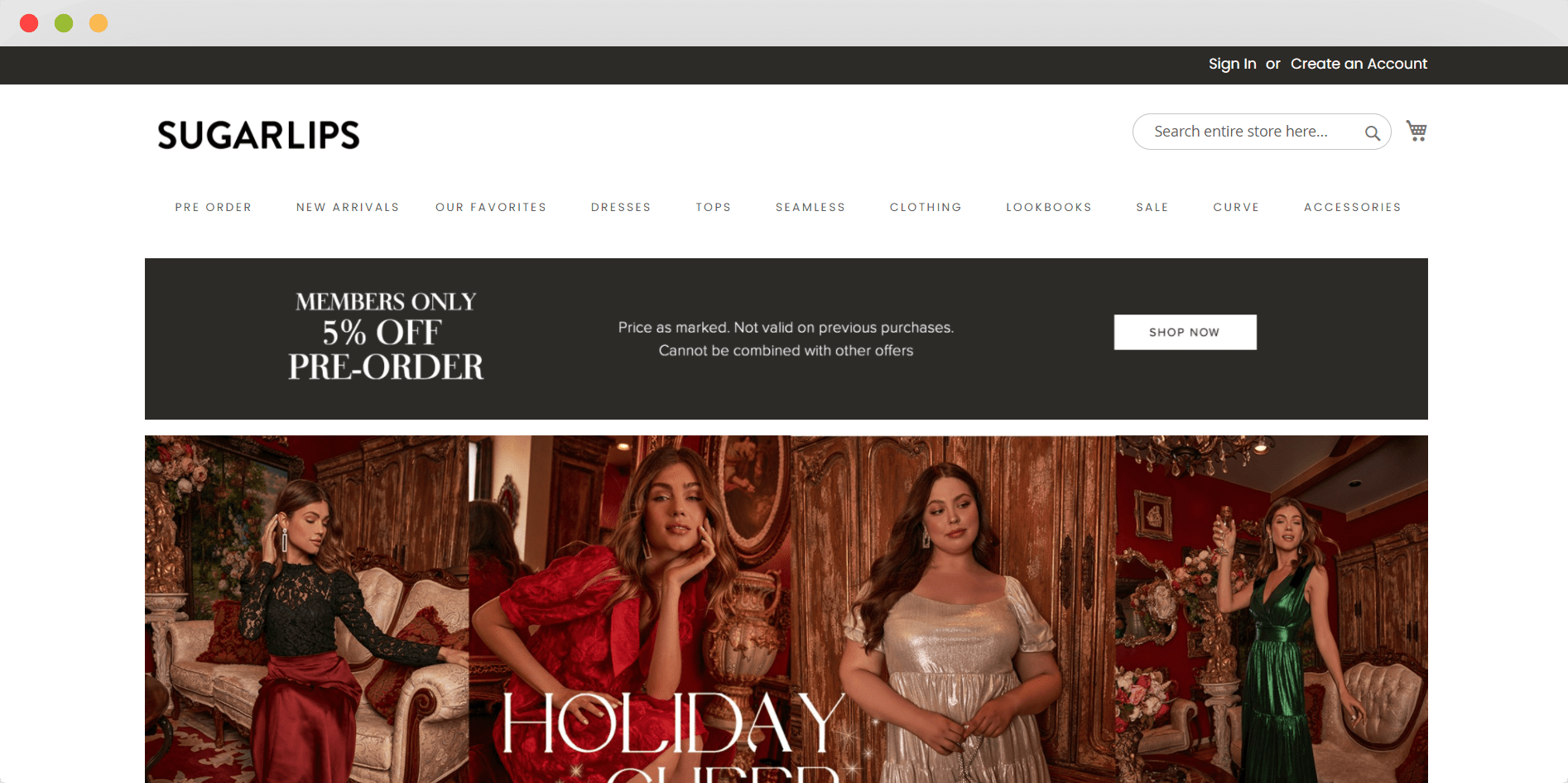 The website features lookbooks for every season. New arrivals are also highlighted every now and then. Some items are even up for pre-orders.
You can easily see available items on their website without a membership. Although, you need to be a member to see the prices and start earning rewards and discounts.
They support worldwide shipping through DHL, UPS, and FedEx.
But you must first prove that you have a business license before Sugar Lips ships out any of your orders. You can easily verify by putting your store address or website URL on your registration form.
If ever that your website is still underway, just present an "Under Construction" page for verification.
Wholesale Fashion Square
If you're looking for a one-stop-shop, Wholesale Fashion Square might just be the right destination. The website doesn't just sell boutique clothing, they also sell accessories and make-up to go with it.
One thing this website guarantee is that they're actively working with their partners to make their products more affordable.
The website's catalog features all sorts of items like plus-size clothing and even resort wear.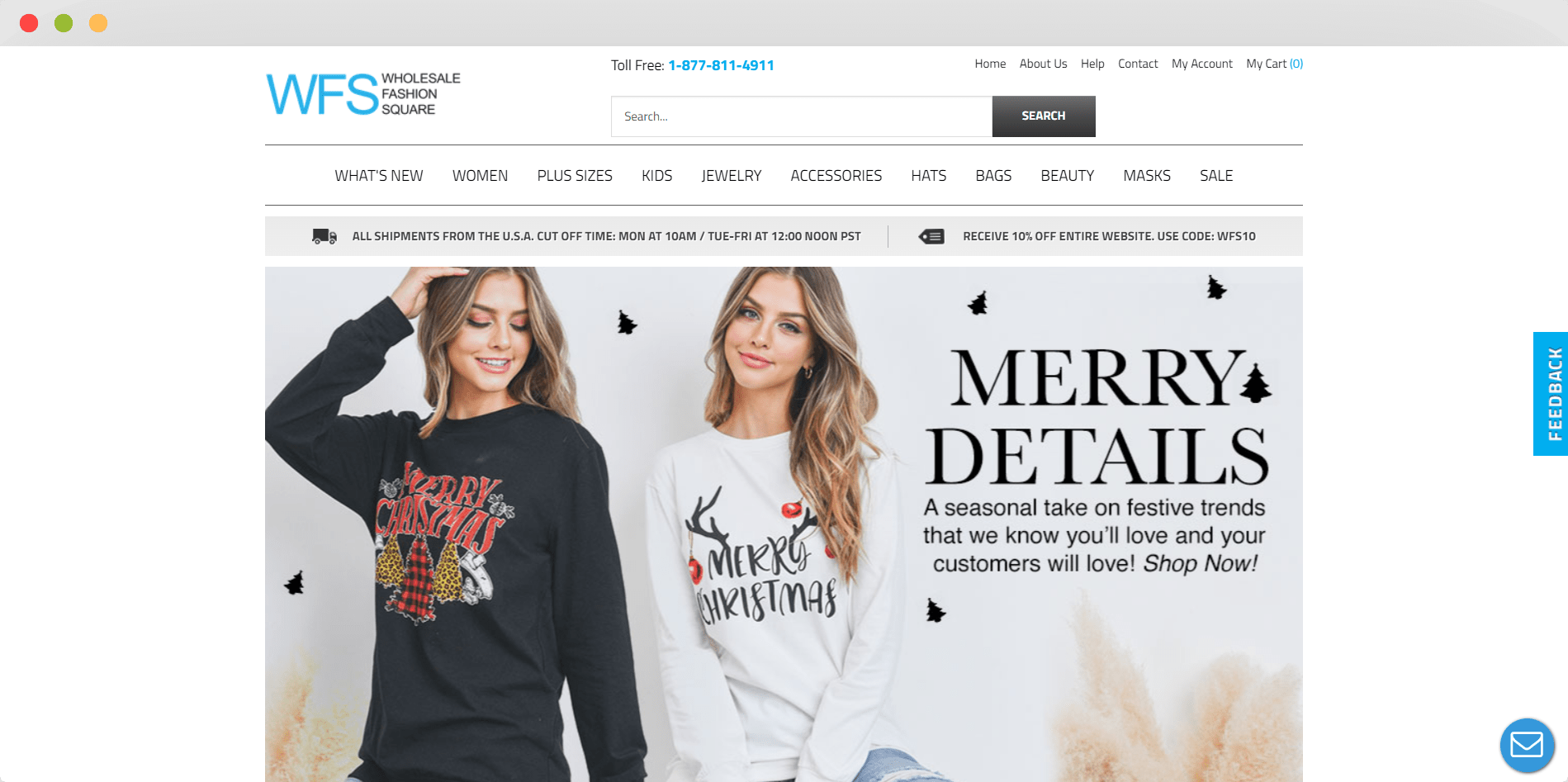 As stated on their website, they prefer orders with a minimum number of six bundles. But to cater to a wider range of customers, they've added smaller bundles to their options.
This is great for sellers who still want to try out their products without committing to a large number of products.
Creating an account on this website is fairly easy. Having an account makes it easier for you to contact customer service in case of issues.
You can immediately see the prices of products on the website, even without an account. So, if you're still not sure whether you want to source your items here, better take a look!
Emma Cloth
Free shipping and large discounts are two of Emma Cloth's advantages. This online wholesaler has been supplying a variety of stores since 2008 and has since targeted wholesalers who want to stay on top of the trends.
Another reason why wholesalers choose to partner with Emma cloth is that they offer a low minimum order quantity, with some even allowing just 1 piece per order.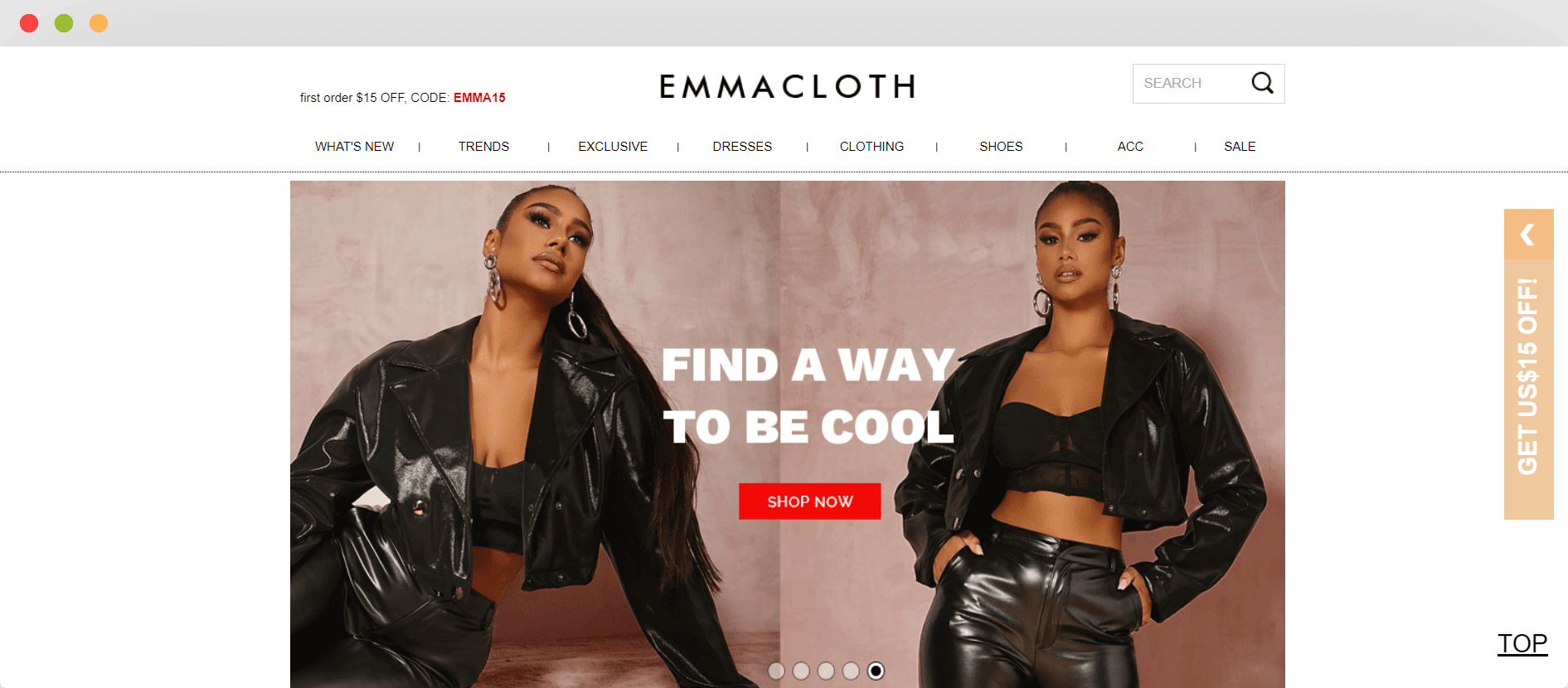 Boutique clothing is just some of the items they sell along with shoes and accessories.
Signing up is free but VIP members get to enjoy bigger discounts, usually more than 20% of the original price.
Sometimes, Emma Cloth also sends out orders as soon as they are ready which means that you might receive your orders separately and not as one piece.
Most countries are supported for free shipping, but this will still depend on your location and the number of items you purchased.
Catwalk Wholesale
Catwalk Wholesale is known for being one of the top wholesalers and manufacturers in the United Kingdom. It recently celebrated 10 years of business in the fashion industry.
Items from this website are sourced from the UK and European suppliers.
You can expect to see trendy items being added daily. Customer service is also one of their strongest suits, with 5-star reviews from customers across the globe.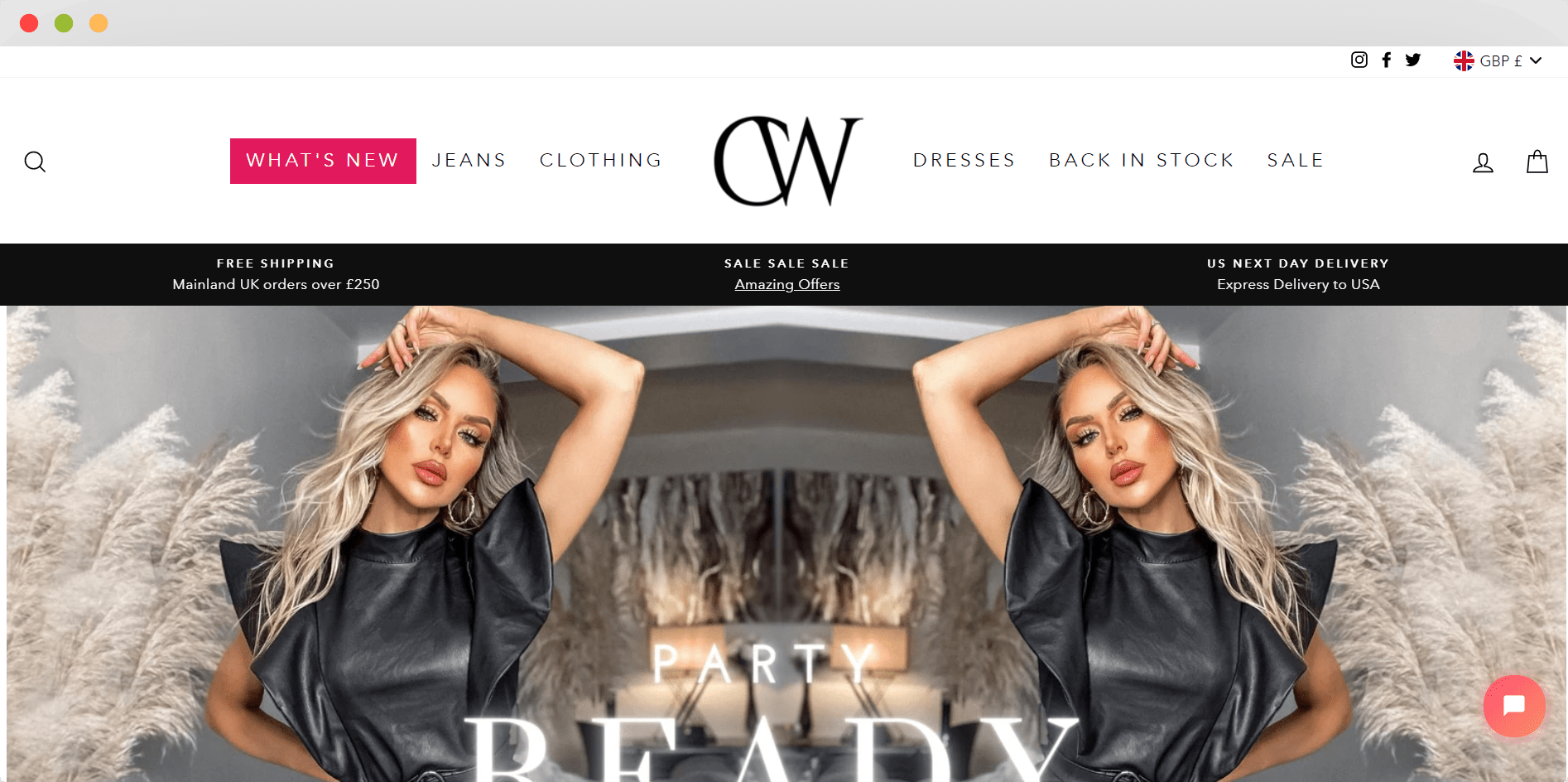 If you have a boutique design in mind, you can speak to their design team and they might just fulfill your wishes. Imagine having your own private label.
The website also has frequent sales on selected items—some going as low as £5 per piece.
For those who want to receive their items immediately, Catwalk Wholesale offers next-day delivery for those living in the United States.
Free shipping can also be enjoyed if you have more than £250 worth of products in your cart.
To see the prices of their products, register on their website. Your membership also grants you access to exclusive deals and promotions.
Immediate Apparel
Immediate Apparel has been around for more than 40 years now, with over 15,000 styles to choose from. This B2B apparel company sells trendy items that are affordable and high-quality.
Each week, editors choose their top picks and showcase that on their website. On top of high-quality pieces, they also have no minimum order quantity, and items do not come in pre-packed options.
Some of the items they sell include Mother of the Bride, jumpsuits, rompers, petite, and plus-size clothing.
Finding boutique clothing on this website is also made easy with their advanced search. Just type in the keywords and filter products accordingly.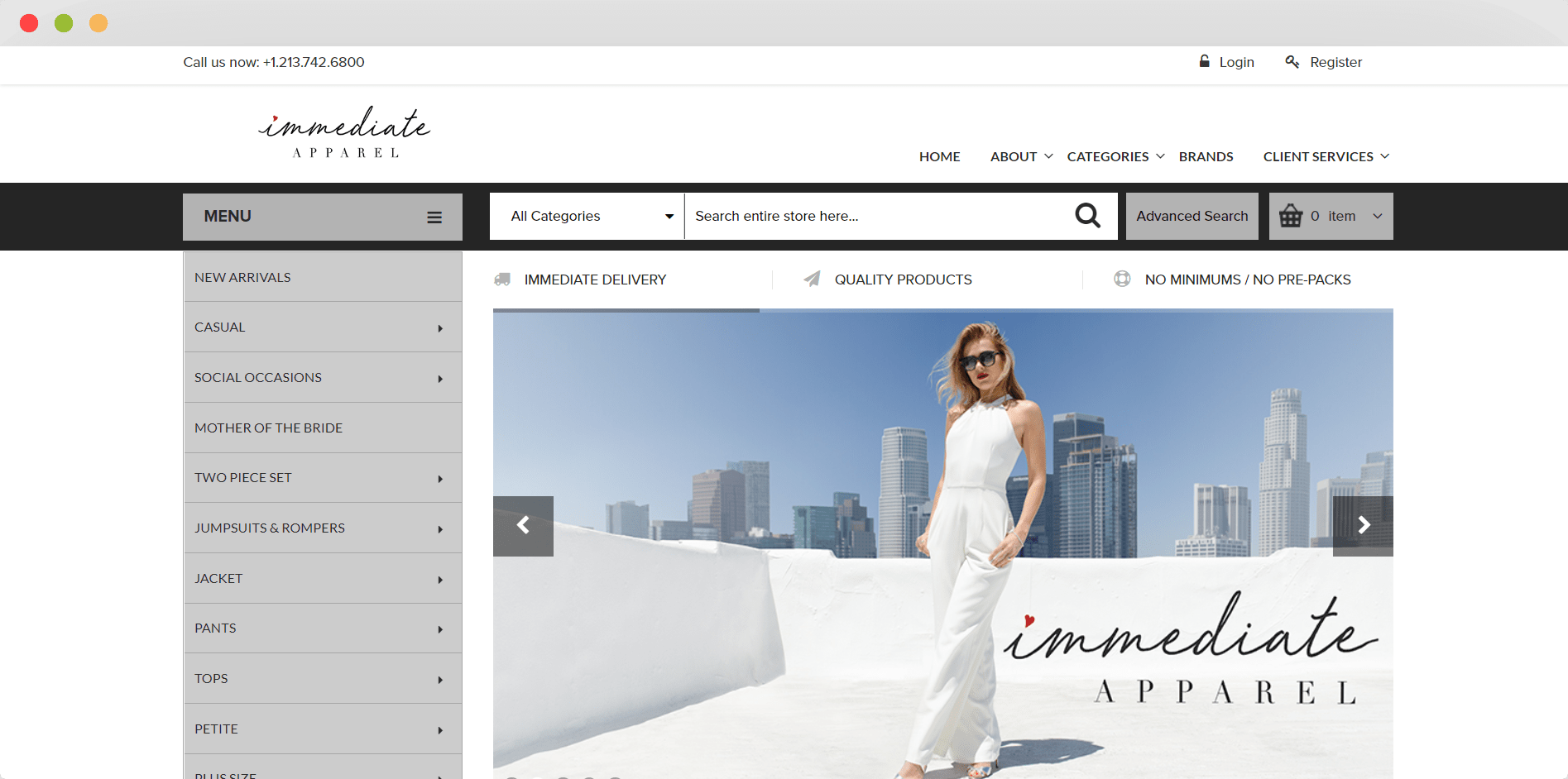 Before the pandemic, Immediate Apparel brought tradeshows to Las Vegas. You can inquire on their website to check if they have any upcoming ones.
Registering to this website lets you see the price of each product, along with the option to view their dropshipping terms. If you become a qualified client, you can take part in their dropshipping program.
J5 Fashion
J5 Fashion is one of the leading manufacturers in Manchester. Selling both men's and women's clothing, this company has built a name for itself for the past 20 years.
Currently, it supplies to big retailers like Prettylittlething, Boohoo, and Asos.
The website frequently adds new items, especially the trending ones.
Because they sell wholesale, items come in packs and cannot be broken down into smaller packs.
You can also use their photos on your website, but they did put a disclaimer that they cannot provide proof of consent. Therefore, this is at your own discretion.
They ship worldwide and accept all currencies.
Signing up is free and will let you have a seamless transaction, but it isn't necessary if you just simply want to see prices without making a purchase.
Influence Fashion UK
And last but definitely not the least is Influence Fashion UK.
This family business has been operating since the 1970s and has seen five decades of trends and styles. But they're not just wholesalers, they're also manufacturers based in the United Kingdom.
Every day, items are uploaded with items designed in the UK. if you want to have your own personalized label, you can just send them an email.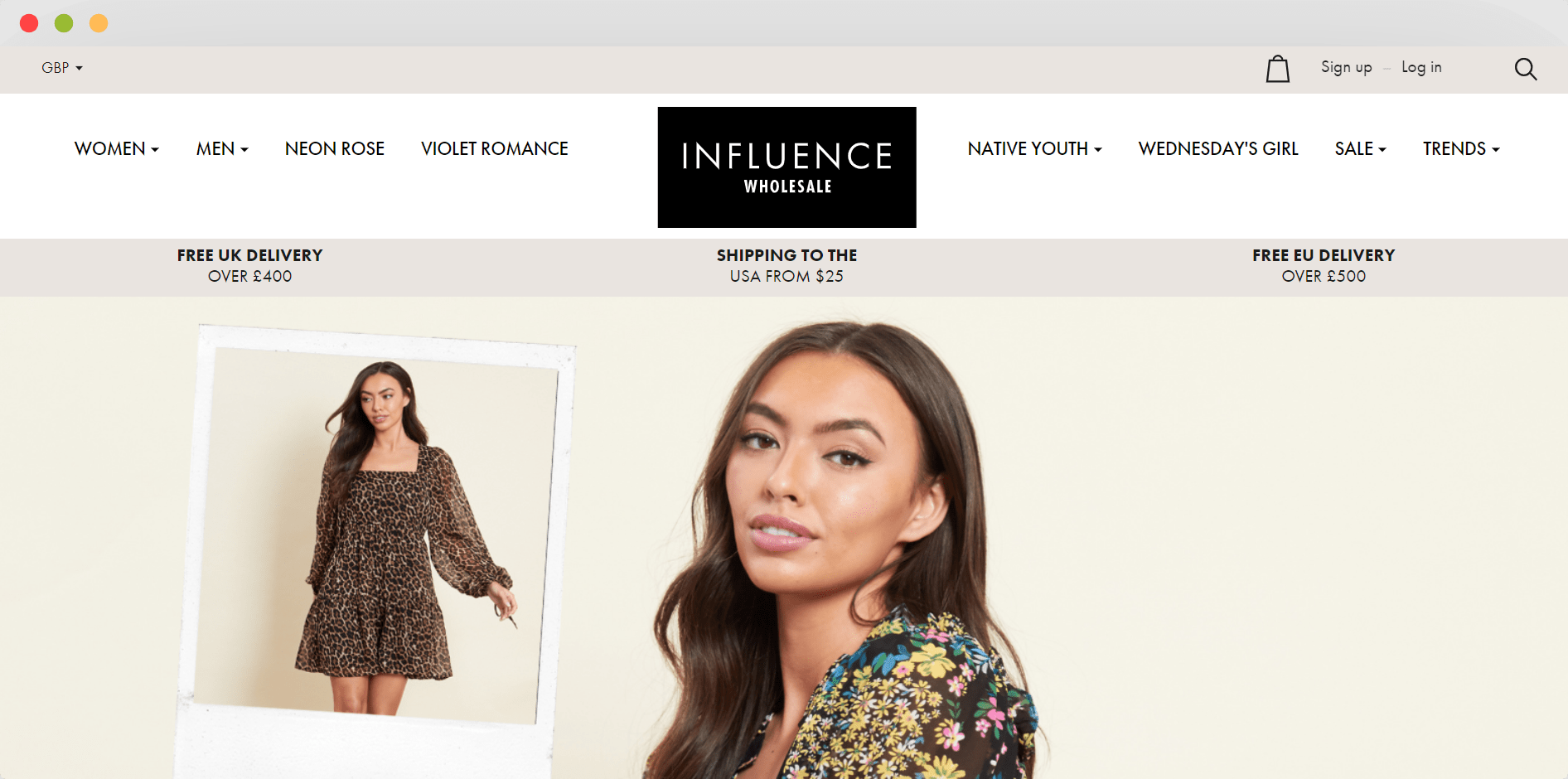 Apart from their own designs, they also list items from their sister brands, Neon Rose and Native Youth. Pre-order is also available for select luxury pieces.
The website doesn't just target women, though. They also have pieces designed for men—jackets, trousers, vests, knitwear, etc.
Just like most wholesale websites, you must first register to see the prices of their items. All these come in 6-piece packs.
UK customers can enjoy free shipping with carts worth more than £400 and £500 for European customers. USA customers can enjoy free shipping starting from $25.
FAQs on Dropshipping Wholesale Boutique Clothing
Can Wholesalers Sell to the Public?
Yes, wholesalers can sell their goods to the public. Some popular wholesalers include Walmart and Target where they sell their items both in bulk and smaller quantities.
It's important to note, though, that when wholesale suppliers sell their products, they need to sell them in bulk because their prices are lower than retail prices—or what is called wholesale prices.
In order for them to have a significant profit margin, they need to sell a certain number of items.
With that, it's now a matter of whether a wholesaler will sell items to you in smaller quantities or not. They can choose not to sell smaller quantities because they might lose money on that.
However, if you're the type to purchase items in bulk, then feel free to find the nearest wholesaler near you.
In the case of wholesale boutique clothing, if you're willing to purchase items in bulk, then you can still purchase items even though you're not purchasing them for business.
Can You Buy Straight From the Manufacturer?
Similar to the previous question, you can buy some products directly from the manufacturer. But some companies have strict contracts with businesses that limit who they can sell their products to.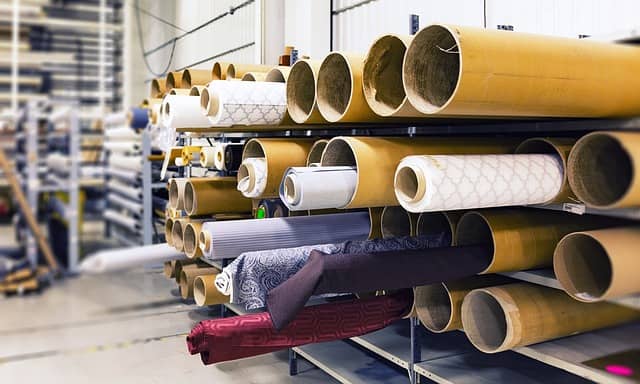 For example, when a manufacturer has an exclusive distributor, you can only buy products from that distributor. You can't buy from the manufacturer nor can you buy from any other store.
However, there's also a strategy that allows customers to buy directly from brands. Direct-to-customer marketing strategy is now becoming popular, wherein brands sell directly to customers instead of their usual intermediaries.
This is one of the most common situations where customers can buy directly from manufacturers. Not all businesses follow this marketing strategy though, but it's becoming quite common nowadays.
Do I Need a License to Buy Wholesale?
There are two answers to this question depending on what type of buyer you are.
If you're a consumer, you don't need to have a license to buy wholesale. However, if you're a business owner and you want to resell these items, you need to have a license.
There's a reason why a license is needed to buy wholesale if you're a reseller. First, this makes it easier for governments to track businesses and ensure they're paying their taxes.
Resellers are also business owners who need to adhere to tax laws and pay their dues.
Another reason is that having a license makes you a reliable buyer. You're not just some random customer who wants to buy lots of items.
More often than not, wholesalers offer different payment schemes and won't always ask that you pay in full. With a license, you are a legitimate business entity that can make you eligible for favorable financing plans.
How to Find a Good Wholesale Boutique Clothing Seller?
There are ways to find good wholesale boutique clothing suppliers without the need to visit their warehouses one by one.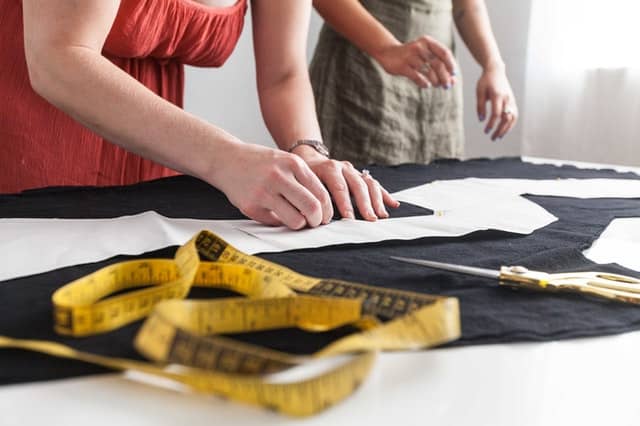 Below are some best practices you ought to follow for a smooth search:
Attend Local and International Trade Shows
Trade shows are some of the best ways to find yourself new suppliers. The very purpose of these events is to exhibit suppliers and their products. During these events, you can ask lots of questions to different suppliers or simply ask for their brochures.
Depending on what kind of trade show you're attending, you're most likely to discover a supplier you'd partner with for a long time.
In this case, look for local and international boutique or clothing trade shows that you can attend. Some of these trade shows are even done online, given the recent pandemic.
Just be on the lookout and make sure to check your schedule. You wouldn't want to miss this great opportunity.
Use Wholesale Supplier Directories
These directories can either be online or offline directories. However, it's highly recommended that you use online directories because of convenience.
With online directories, you're able to easily filter through suppliers and find ones relevant to your store, such as boutique wholesalers.
You can either use do your own research on Google or click on these excellent directories and databases: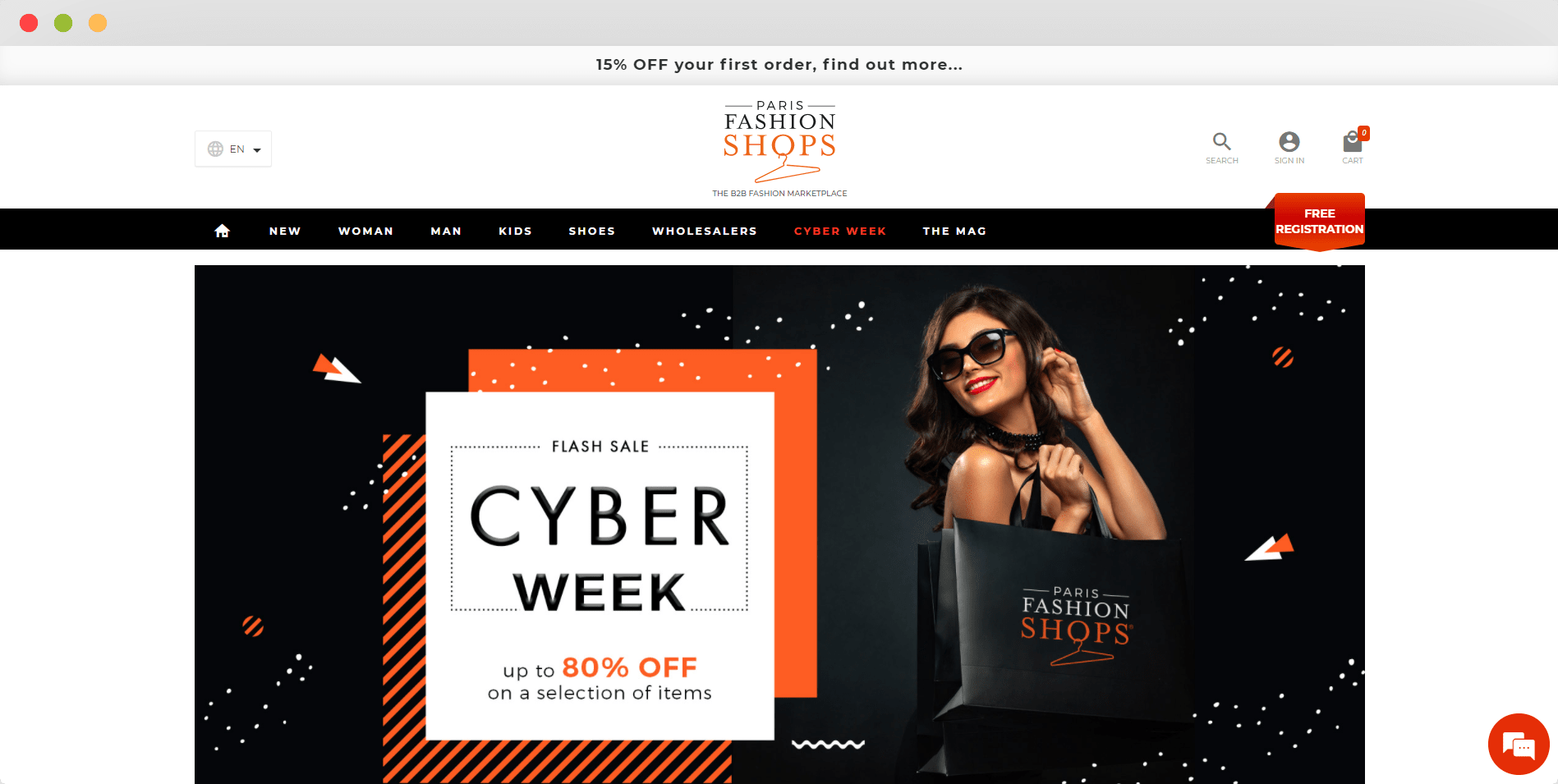 But if you don't have access to online directories, you can just simply use offline ones. These are also great, but just make sure to double-check if the directory is updated, as some suppliers may no longer be operating.
Ask For Referrals
When you're in this type of business, you can easily build a network with your fellow entrepreneurs. We're not saying we build connections with competitors, but it won't hurt to establish relationships with like-minded people.
If you have the right connections, you can just simply ask for referrals. Your connections will most likely lead you to reliable wholesalers and suppliers.
You can also go to the Chamber of Commerce or business cooperatives and ask for a list of suppliers. More often than not, they're more than helpful to provide you with a good list.
Hire Professionals
One of the easiest ways to find good wholesalers and suppliers is to simply hire professional dropshipping agents to do it for you. From looking for suppliers to scoring good deals, these professionals will lay out the foundation of your business.
In line with that, NicheDropshipping can cover your sourcing for you. No need to fuss over finding the best deals, you can just leave it all to us.
Closing Thoughts
As you can see, there are several wholesalers all across the globe. These wholesalers all have different products to offer. It all boils down to the products you want to sell and where your customers usually are.
Use the tips we've mentioned above to narrow down your search. Of course, it will be much easier to hire professionals to do the job for you. So, don't hesitate to contact us if you'd like to know more about our services.