The United Kingdom has a robust economy with discerning consumers. It can equally be said to be an eclectic market due to the influences of British traditions that the country holds dear.
As a drop shipper looking to prosper in the UK market, it would be essential to find suppliers that can live up to its needs. The million-pound question is, with so many options available, how do you whittle your list down to the best UK dropship suppliers?
We went ahead and took that heavy load off your shoulders. Here is a list of UK-based dropshipping suppliers worth checking out.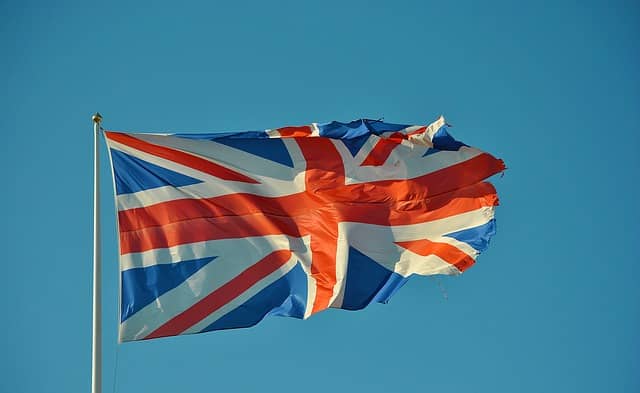 Wholesale Deals
Wholesale Deals is a long-standing entity in the UK trading market. It is a supplier directory service that gives you access to suppliers of products from different industries.
Some of the suppliers you can find on the platform deal in products such as furniture, toys, adult products, and lots more.
As a dropshipper, you would have to pay a subscription fee to get access to the suppliers listed on Wholesale Deals. The subscription fees range from about £15 to £45 and can be paid monthly, bi-annually, or as a one-off annual fee.
On the upside, Wholesale Deals offers a money-back guarantee if any of the suppliers on its platform fails to hold up their end of the bargain. The site is, however, not optimized to sync with e-commerce platforms like Shopify or Woocommerce.
Amos Mann Furniture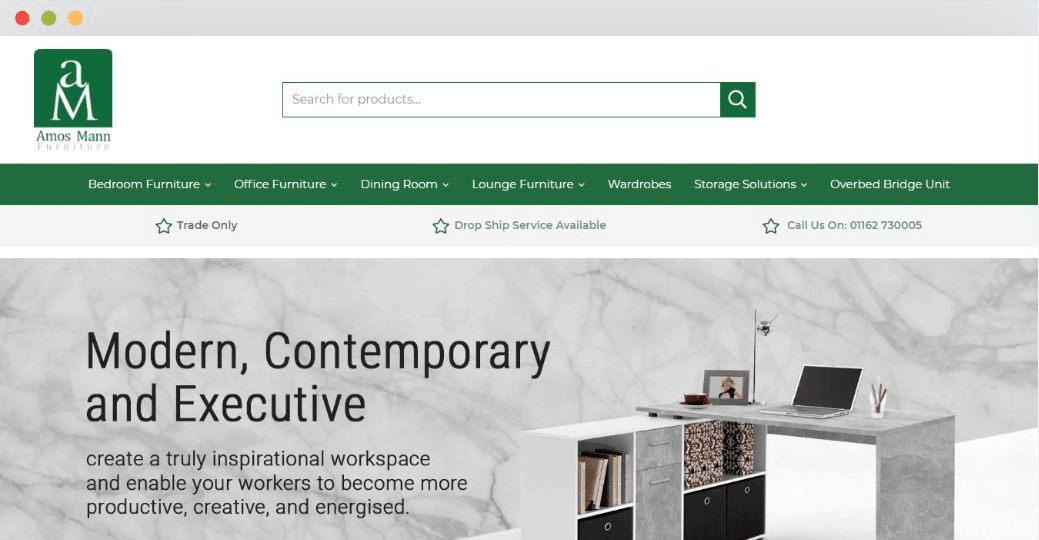 Amos Mann Furniture is a furniture wholesaler company based in Leicester, UK. It offers furniture for:
Dining rooms

Bedrooms

Lounges

Offices

Home and office storage
If you are a furniture drop shipper, all you need to do is to set up a trade account on the company's website. They will then help you navigate the rest of the registration process.
The furniture pieces are listed alongside elaborate images that you can peruse as you choose what to list in your store. It is worth noting that at present, Amoss Mann mainly ships within the UK.
Adam Sinclair Limited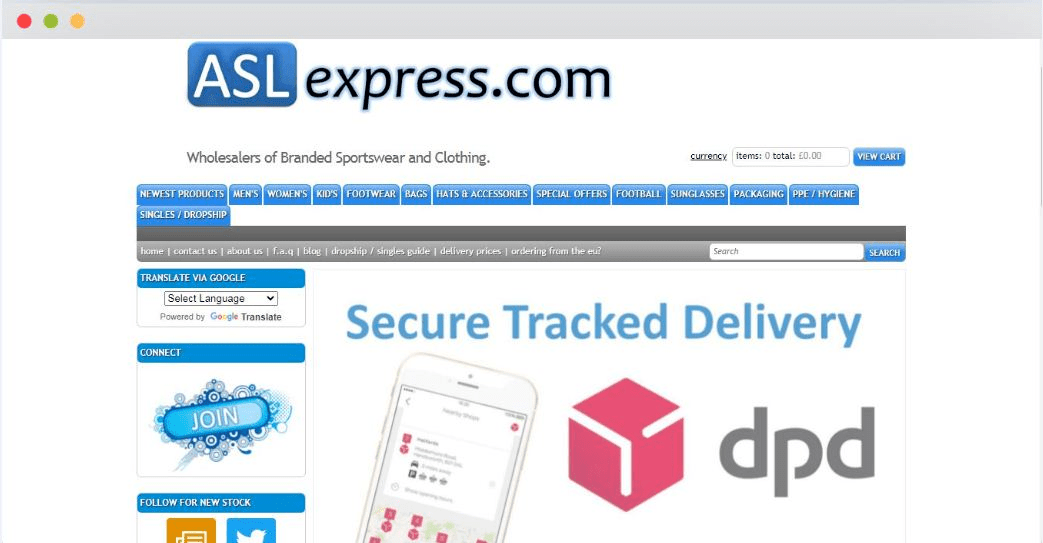 Adam Sinclair Limited would be a good fit for you if you are looking for a sportswear supplier. For retail suppliers, this company supplies bulk sporting attire. It, however, only avails a limited selection of products for dropshipping. Such products include:
Bags

Sporting accessories

Sports shirts

Adult sports footwear
This platform is also not optimized for automated dropshipping. To keep track of sold-out products, add the specific products to your wishlist and you will receive a notification when they are restocked. Generally, you would have to manually manage inventory in your store.
Nitrotek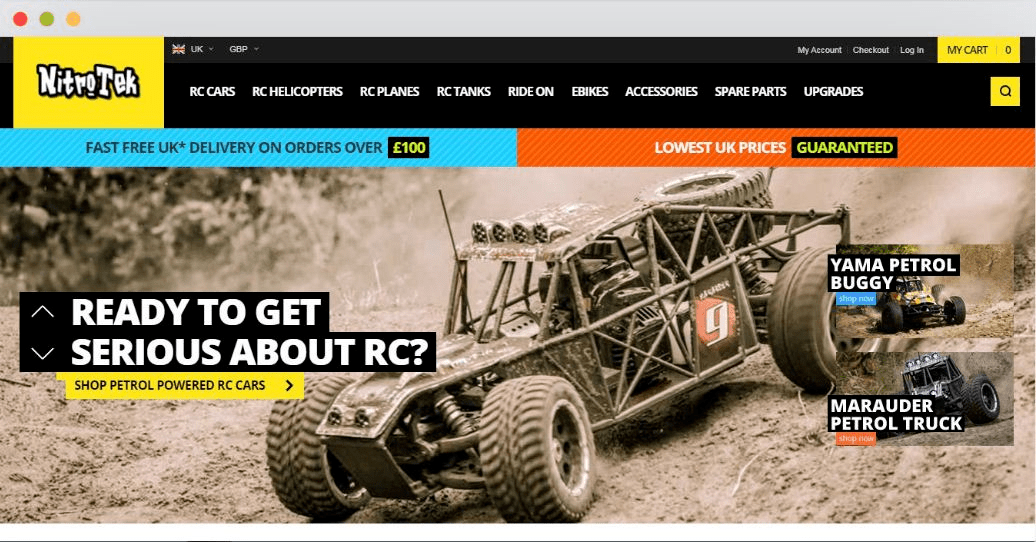 Nitrotek is a supplier of radio-controlled cars, helicopters, planes, and tanks. The company's product listing also includes E-bikes as well as accessories and spare parts for these advanced toys.
Currently, Nitrotek supplies its products within the UK both directly and through dropshippers on platforms such as Amazon and eBay UK. To sign up as a dropshipper, simply register a dropship account on the Nitrotek website and include your company's details.
In a bid to broaden its market reach, Nitrotek encourages dropshippers from platforms where they have no resellers to sign up. Dropshippers from Europe and other high-potential markets are equally on the company's list of targeted dropshipper partnerships.
Acess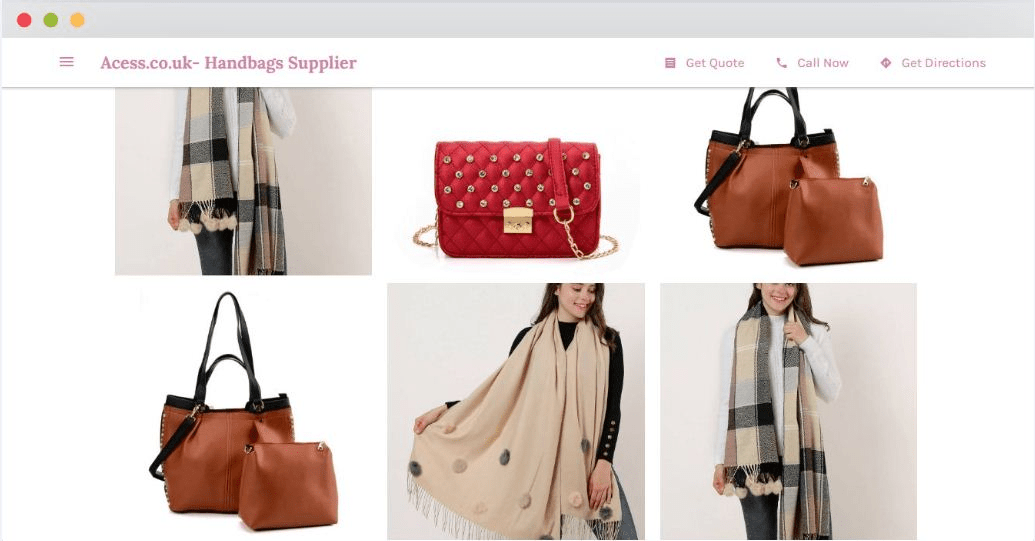 When it comes to handbags and accessories, Acess has certainly made a name for itself in the UK market. Its bags range from sleek formal designs to fun, colorful, and purse-size varieties.
The accessories comprising scarves, key-holder decorations, and jewelry are equally charming and diverse.
Acess offers 2 types of dropshipping membership plans. For the first, you would pay a one-off fee of £200 to join and gain access to the firm's dropshipping service.
The other option is to pay a prepaid credit of £500. Each time you make an order, a standard dropshipping fee will be deducted from your credit. When the total sum runs out you would have to top it up for your orders to keep being processed.
Speaking of order processing, Acess offers a daily CSV and updated inventory list for you to keep track of available, new, or restocked products. The company is also working on automation plugins that will make it easy to sync your store to the Acess website.
MX Wholesale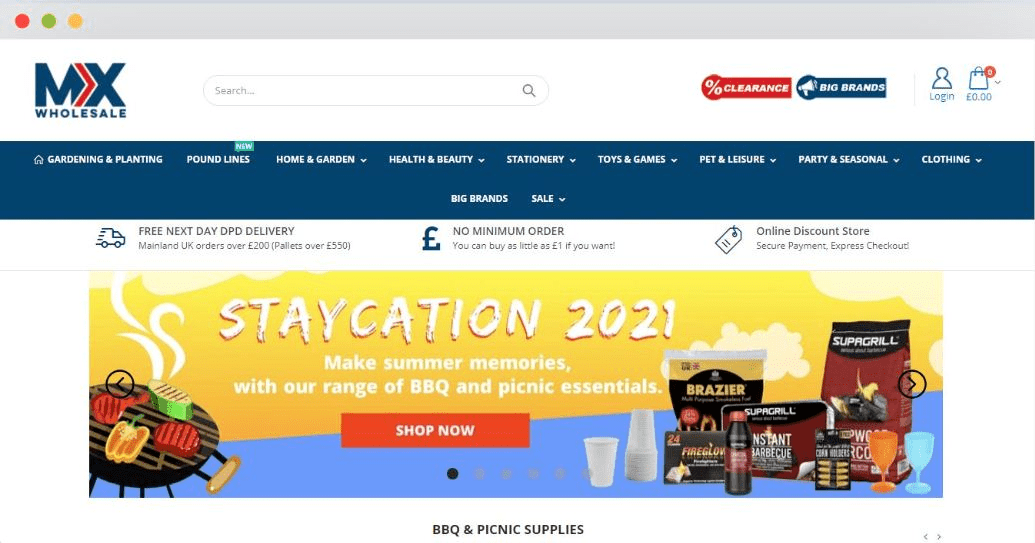 MX Wholesale stocks products from a wide variety of suppliers within the UK and some top foreign brands. It covers sectors such as:
Pet care

Gardening

Party supplies

Home care products

Health and beauty care products
The MX Wholesale dropshipping program is ideal if you are looking to supply bulk consumers or businesses. This is because the company does not offer dropshipping services for individual products.
The signup process is quite straightforward. Moreover, MX Wholesale is open to accommodate any special requests you may have so that their dropshipping service meets the needs of your business.
Dropshippers enjoy wholesale rates and orders within mainland UK are covered under free standard shipping.
Geko Products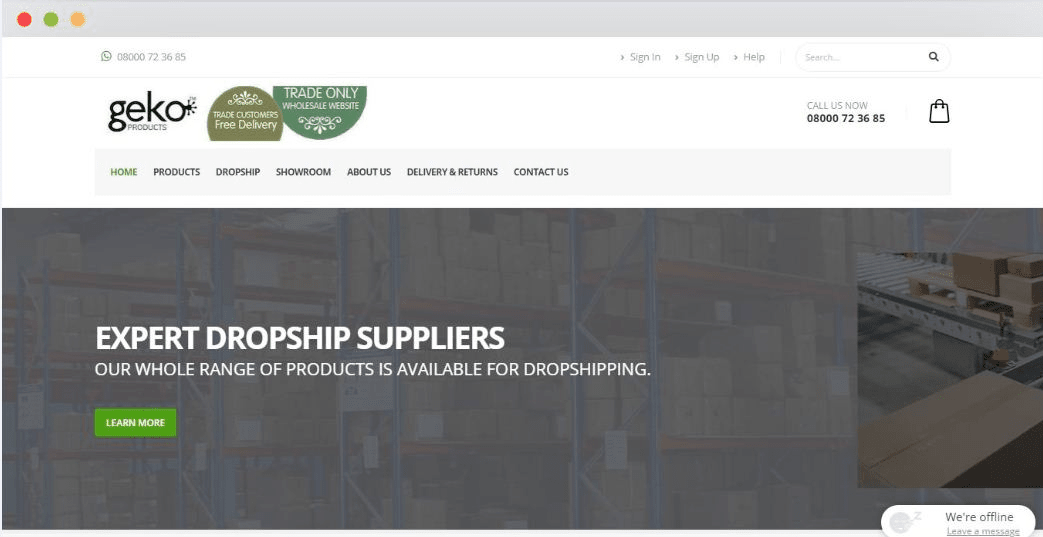 Geko Products is based in Nottinghamshire. It is a wholesale supplier, manufacturer and importer of a unique selection of items. They include:
Vanity cases

Artificial plants

Homeware

Home furniture
The dropshipping membership at Geko Products attracts an annual membership fee of £30. This would give you full access to the company's product listing and dropshipping services.
Additionally, Geko Products would provide you with a link to download display images for your store as well as live inventory updates.
All products available at the Geko warehouse are available for dropshipping. There are no minimum orders but each order is billed a standard shipping rate+VAT. However, for orders above £9.99 shipping is free.
TekBox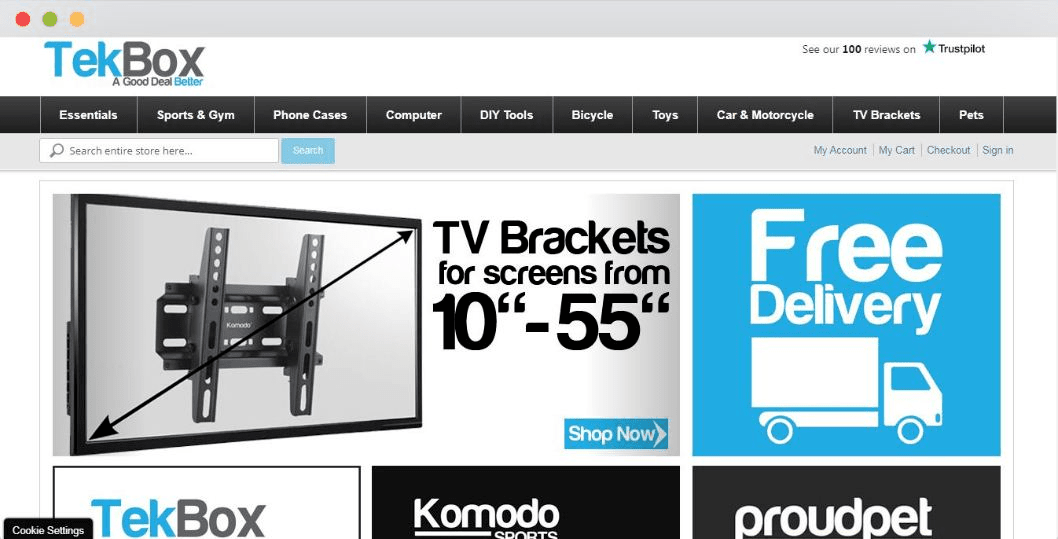 TekBox is a supplier of a wide array of products including sports goods, pet care, homeware, computers, bicycles, and lots more.
These products are sourced from select brands and are well-organized into distinct categories to help you find what you are interested in.
TBTrade has a well-established dropship program. It requires you to set up a trade account through which you can place orders as received from your dropshipping store.
During check-out, enter the customer's address as the shipping address and yours as the billing address.
This supplier only accepts payments through SagePay or PayPal. You can expect same-day dispatch for orders made before 2 pm.
Clothes2order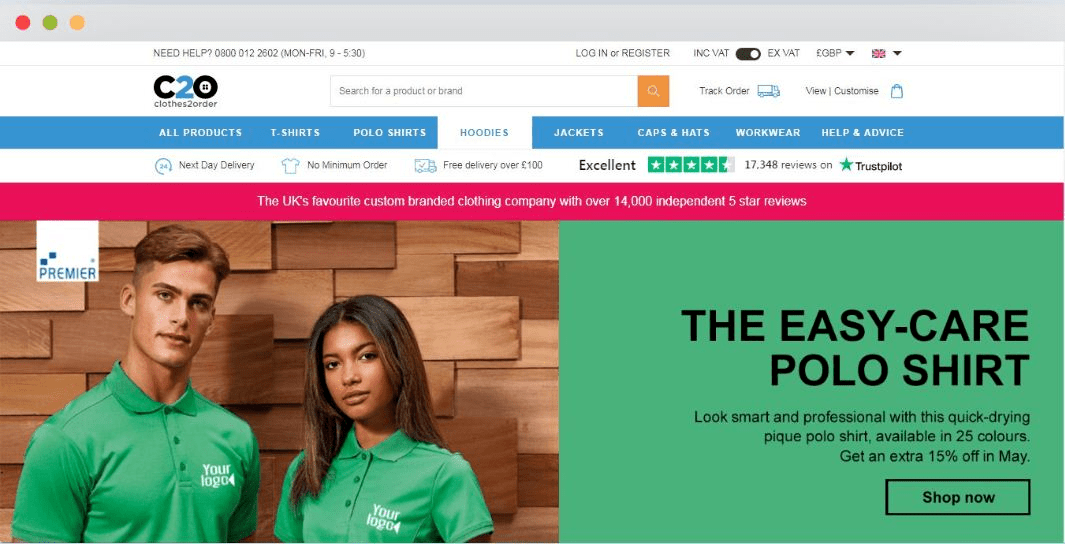 Custom clothing is a trendy niche that caters to individuals with unique style and companies looking to promote their brands. If this is an area you would like to venture into, Clothes2order is worth considering.
Clothes2order receives and fulfills orders for custom-printed caps, t-shirts, polo shirts, hoodies, and more. There are no minimum order restrictions and so you can process both single and bulk orders through them.
The best part is that this supplier has an app that you can use to seamlessly transfer orders from your shop to their platform. You would, however, need to be a registered Clothes2order dropshipping member to gain access to the app.
Other benefits of the C2O app include:
Automated billing

Real-time stock updates

Custom packing slip printed for every package with your store's logo on it
AW Dropship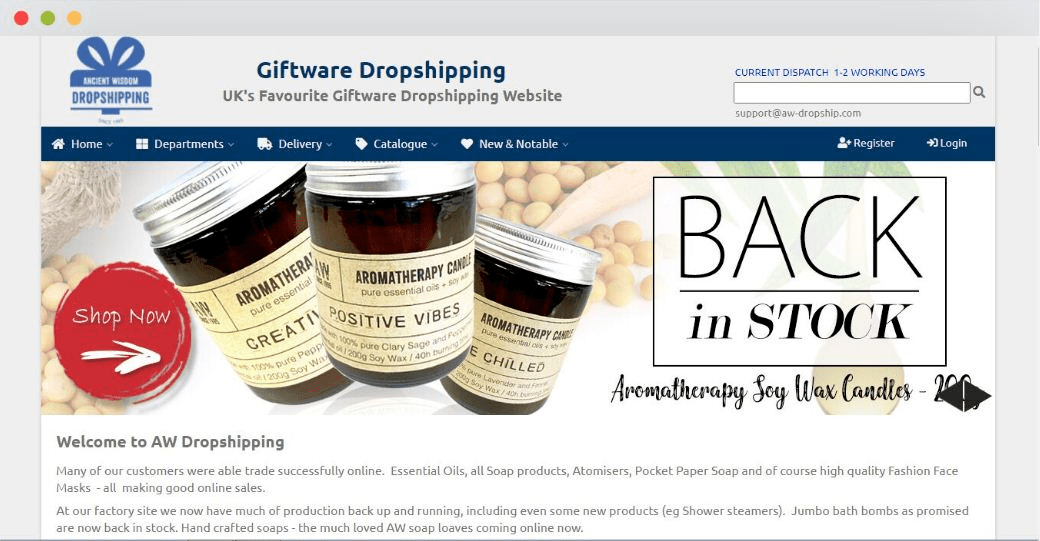 AW (Ancient Wisdom) is located in Sheffield, UK. It supplies products that would be ideal for a gift items dropshipping store or a wellness products store. They include trinkets, souvenirs, essential oils, bath bombs, and many more bliss-inducing goodies.
The dropshipping program registration process is brief but detailed. Barring any hitches, your account should be active within 24 hours.
AW fulfills both local and foreign orders. The average lead time is 3 to 7 days depending on the destination and the method of shipping.
PowerBody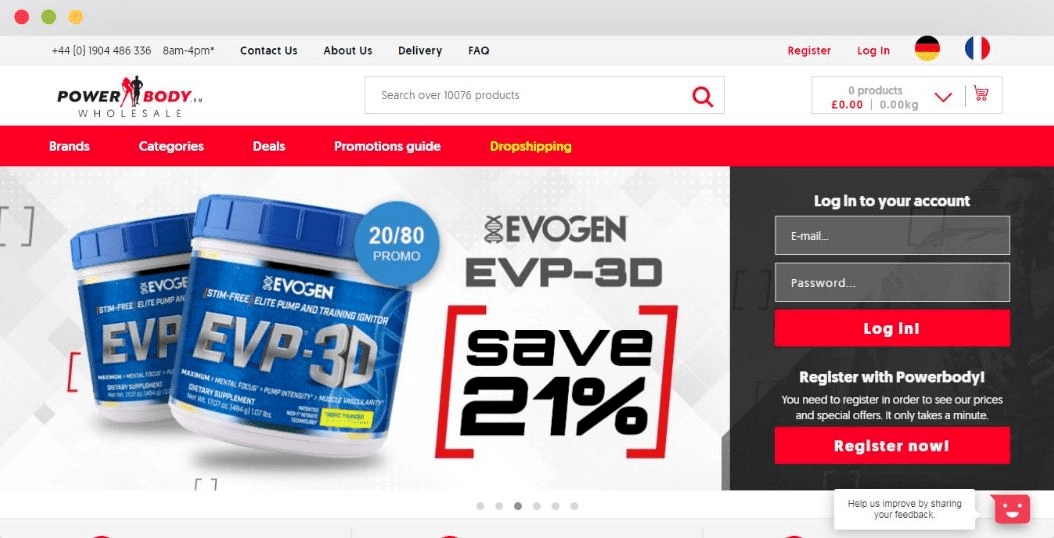 PowerBody is a fitness supplements retailer and wholesaler. It stocks over 7,000 products for men and women from over 70 leading supplement brands.
To qualify as a PowerBody products drop shipper:
Your business has to be registered with Her Majesty's Revenue and Customs (HMRC) department.

You will be required to show proof that your online store has an inventory listing of at least 100 fitness products.
If you meet both qualifications then you can go on to choose any of the membership plans provided for dropshippers. They come with benefits such as:
Free UK delivery for orders of £50 and up

Wholesale prices

Personalized delivery boxes

or invoices

Access to your own designated PowerBody dropship panel
Baumhaus
Whatever room of their home your customers need to furnish, they will likely find what they need from the Baumhaus catalog. This company designs and manufactures its furniture in-house from its facility in Heyford Park.
To keep up with changing furniture shopping trends, Baumhaus has cultivated a sharp online presence. This includes a dropshipping program that you can easily sign up for by submitting a trade application.
Once your application is approved, you will be assigned a Kinetic Logistics account through which you can process orders.
Aulola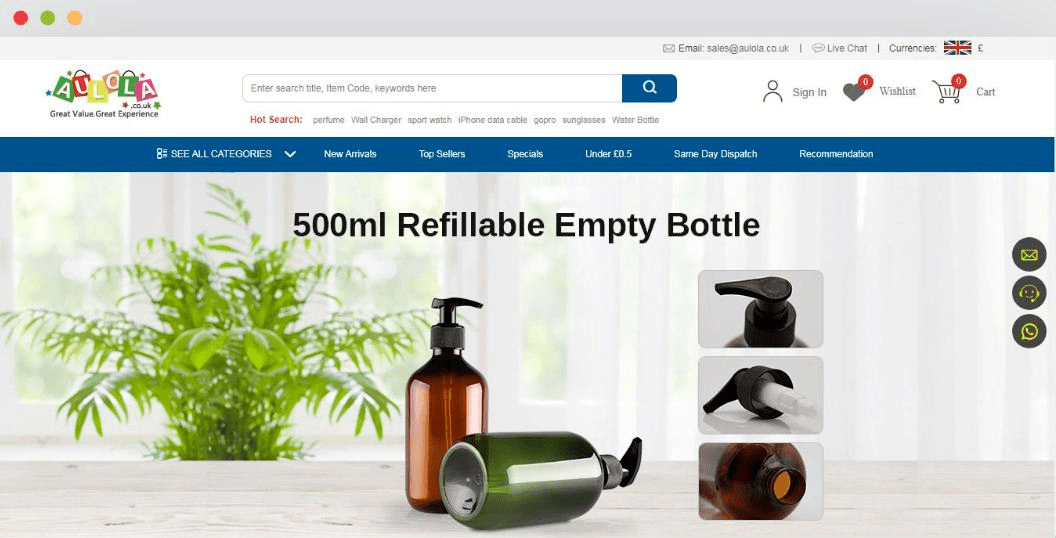 Aulola has its roots in Shenzhen, China but has a warehouse in Germany and the United Kingdom. The company uses these two warehouses to fulfill product orders in the UK and the greater EU region.
This supplier's product offering comprises consumer electronics, health and beauty products, sporting equipment, car, and camera accessories, and lots more.
The Aulola dropshipping program is not as fine-tuned as those of other suppliers but it is still an option worth considering. With the new warehouse in the UK, the firm's delivery times have improved, and registered Aulola dropshippers are not limited by any MOQs.
Costway UK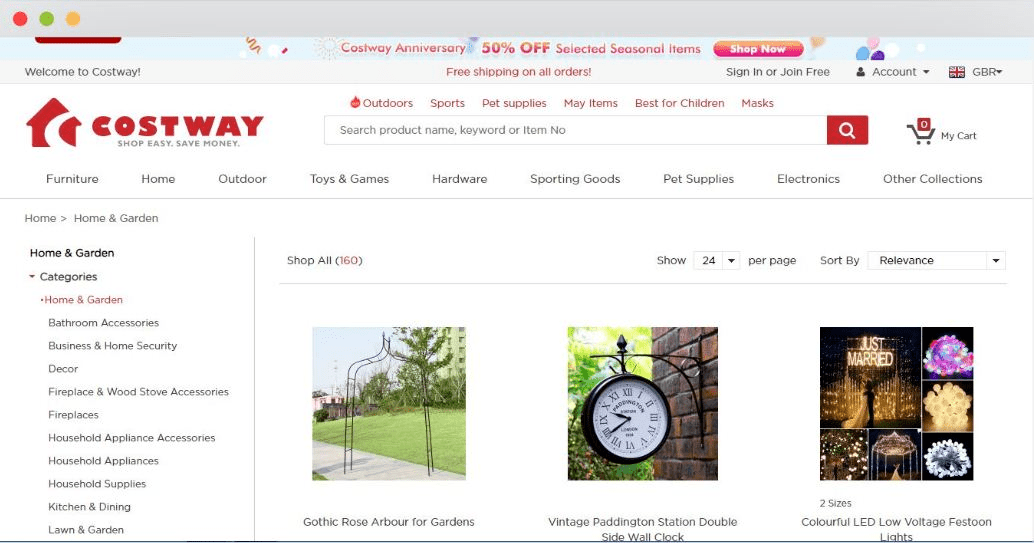 Costway UK's merchandise list ranges from kitchenware to hardware and pet supplies. In a nutshell, this is an all-under-one-roof supplier and it is well-established in the UK market.
If you choose to take on Costway UK as your dropshipping supplier, you will not incur any dropshipping fees. On the contrary, you will be entitled to a dropshipping discount that is fully elaborated on the company site.
Additionally, Costway UK would give you consent to use any but its first product images. As for the fulfillment of orders, Costway UK only covers mainland UK.
NicheDropshipping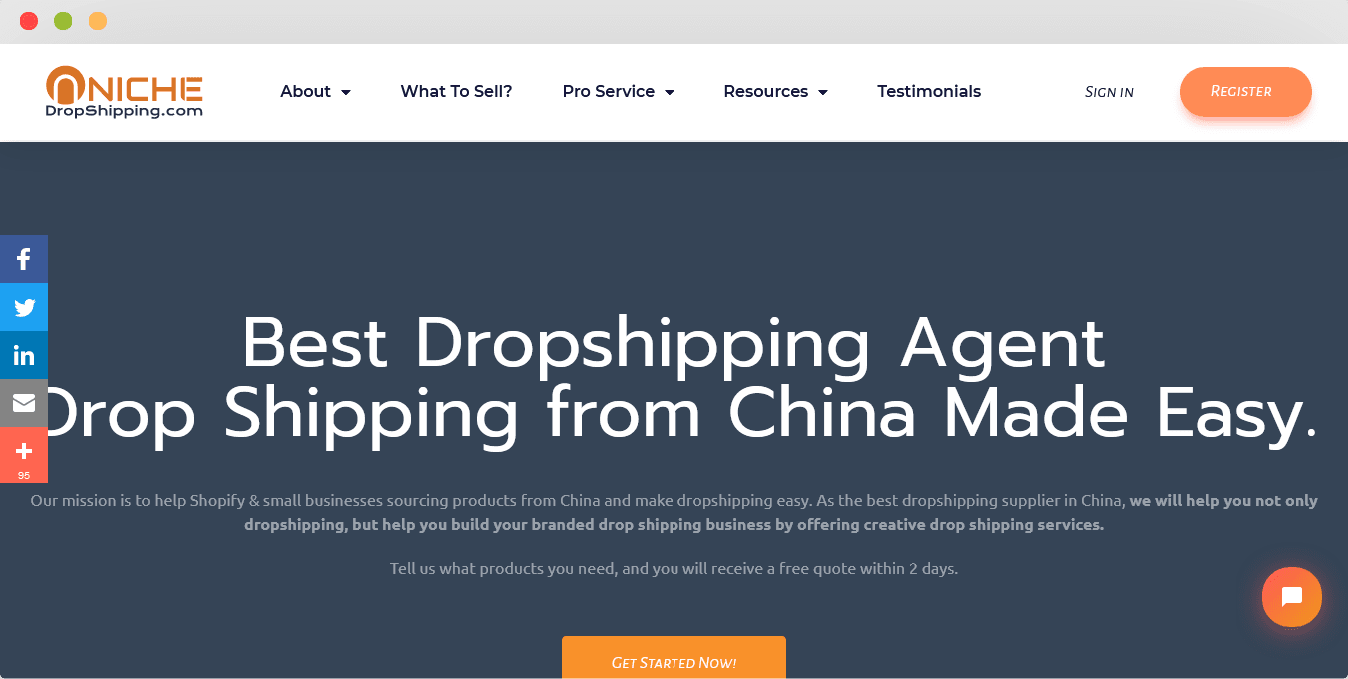 NicheDropshipping is the kind of dropshipping partner you choose when you want stress-free all-inclusive dropshipping services. The company is headquartered in China but has a well-managed global presence. This includes 5 warehouses; two of which are based in the USA.
Partnering with NicheDropshipping gives you access to a rich and well-curated list of dropshipping suppliers that will fulfill your orders in the UK. Here is what you need to do to get started:
Register your account on NicheDropshipping for free

Authorize your dropshipping store on the platform
Once your store is authorized, you will be able to sync your product listings to those available on the NicheDropshipping platform. At this point, you can begin sharing orders that you need to be fulfilled. The products you choose to list will depend on your store's niche.
As a registered dropshipper, you will be assigned a dropshipping agent. Their role is to handle any queries or requests that you might have. This includes sourcing for products or making bulk purchases on your behalf, among other services.
All orders for products that are in stock are dispatched within 24 hours. Bulk orders or products that need to be sourced are dispatched within 2 to 5 days.
NicheDropshipping provides worldwide fulfillment with 18 different shipping options and so you never have to worry about your dropshipping store being limited to shipping within Mainland UK.
FAQs about Dropshipping in the UK 
Is Dropshipping in the UK Profitable?
In 2022, the eCommerce market revenue in the UK is projected to grow to almost 200 billion USD.
If even half of this expenditure went to dropshipping stores, it still points to one thing: dropshipping in the UK is profitable and has immense growth potential.
What are the Prevalent Methods of Payment Among Online Shoppers in the UK?
A credible research study shows that most online shoppers in the UK prefer Paypal. This choice is followed closely by credit and debit cards with online wallets coming a distant third.
It is advisable to factor this into your setup process as you venture into dropshipping in the UK.
What are the most popular products among UK online shoppers?
Clothing, books, footwear, and music, top the list in that order. However, this is not cast in stone, popular products change as seasons and people's interests evolve.
Final Thoughts
The consumer market in the United Kingdom is dynamic.
On one hand, that is great news because it means buyers would be open to new products and brands. However, on the other hand, it means you need to stay at the top of your game and keep paying attention to what your customers need.
At NicheDropshipping, we have a team of experts that will help you navigate dropshipping in the UK with ease. Our services are all focused on helping you grow your business to its full potential. Contact us today to learn more about what we can do for you.