Everyone has at least one t-shirt in their closet. It's a piece of clothing that's a staple in all generations because it's open to all sorts of designs and ideas.
From 2022 to 2030, the value of global custom t-shirt printing was estimated to expand at a CAGR of 9.9%. 
For business-minded people, this can be a good source of income if you know what to do and where to source your shirts from.
However, this may be an intimidating business idea because it's hard to find good suppliers these days. Don't worry, we're here to help you.
In this article, we'll enumerate top t-shirt dropshipping suppliers and companies you might want to check out this 2023. 
These companies have established good reputations for themselves. You'll read more about their business below, along with some frequently asked questions about the t-shirt business.
Let's get on to it.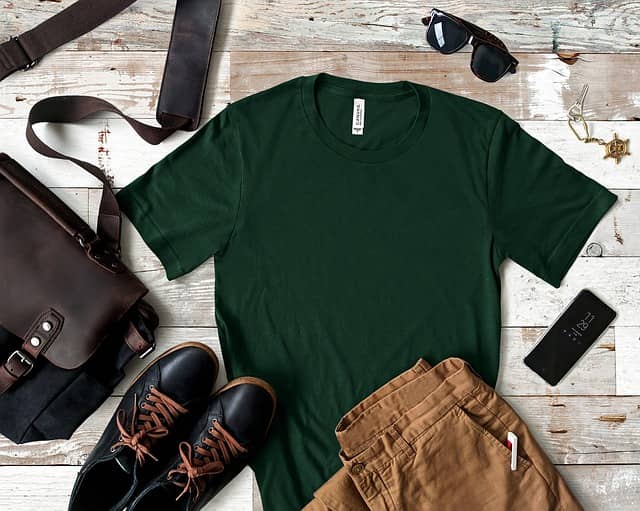 Top 17 T-Shirt Dropshipping Companies to Check Out
Don't worry about not knowing where to supply your products, we've already got you covered.
Below is a list of the top t-shirt dropshipping companies and suppliers you can explore for your business. These are known brands that have proven their services and qualities.
Without further ado, here's the list:
Printful
There's a reason why Printful is the first company on our list. It's probably one of the most—if not the most—popular print-on-demand platforms on the internet.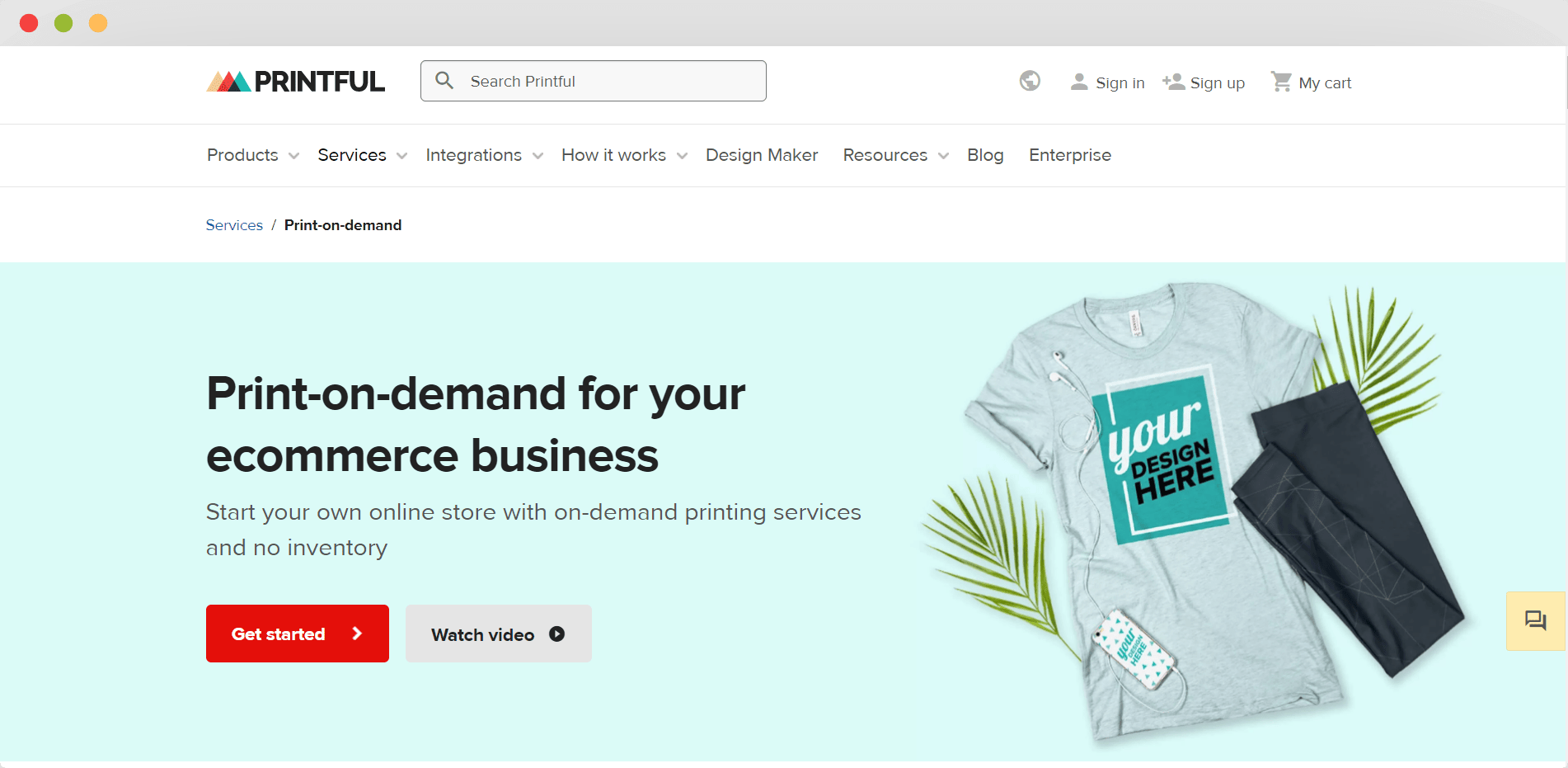 The company is known to supply t-shirts, sweatshirts, hoodies, stickers, and many more.
What makes this company popular is its website's built-in tools which allow users to create their designs and mock-ups. Some companies even create their logos on Printful's website.
Once your designs are ready to go, standard shipping takes 3 to 4 business days to the US, 6 to 12 days to Canada, and up to 20 days in other parts of the globe.
Printful is also enticing for those who want to lower costs as they have no monthly fees. With many printing options, this company deserves to be considered for your store.
Print Aura
Based in New York, Print Aura's primary focus is to dropship t-shirts. Its website may not have the latest vibe, but the company provides great services to its customers.
One of Print Aura's selling points is that you can immediately design a shirt without an account. You can choose from several branding options on their websites, too. You'll find everything, from tags to labels, on the platform.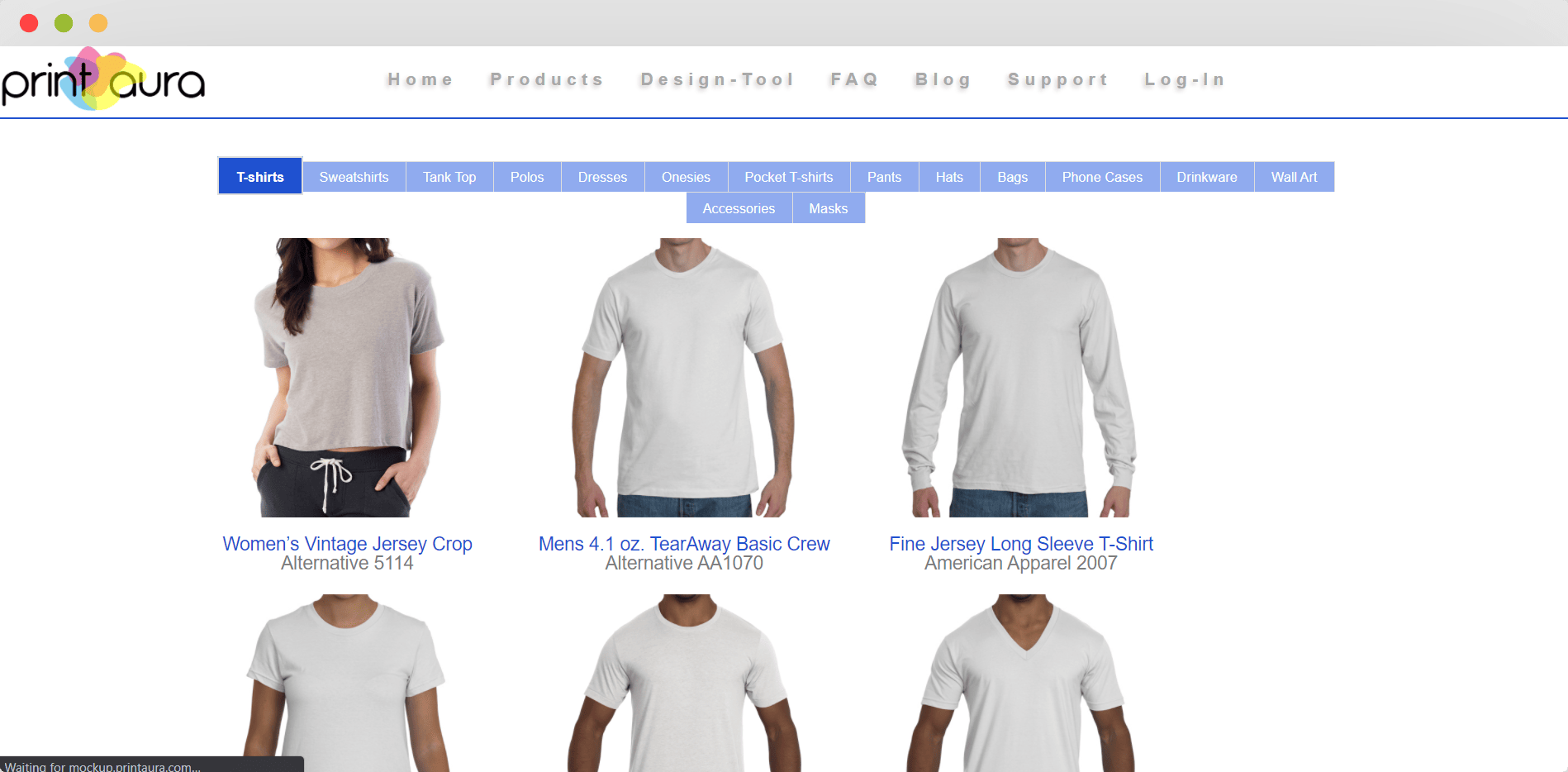 Shipping takes up to 5 business days, with a rush option that will only take 2 to 3 business days—with extra fees, of course. Packages can also be tracked with the company's complementary delivery tracking.
If your target market is also inclined to eco-friendly products, this should be an ideal product as the company uses eco-friendly inks.
The cherry on top would be Print Aura's swift integration for those using Shopify.
Printify
Printify sources their products from all over the globe. The company has more than 250 products in its catalog which includes t-shirts, hoodies, socks, blankets, etc.
Considered to be a great alternative to Printful, Printify has a similar process to the former. You can choose a product then create a mockup design using the website's tools.
Since Printify sources its products from different partners, shipping costs, delivery times, packaging, and production times will vary according to your chosen provider.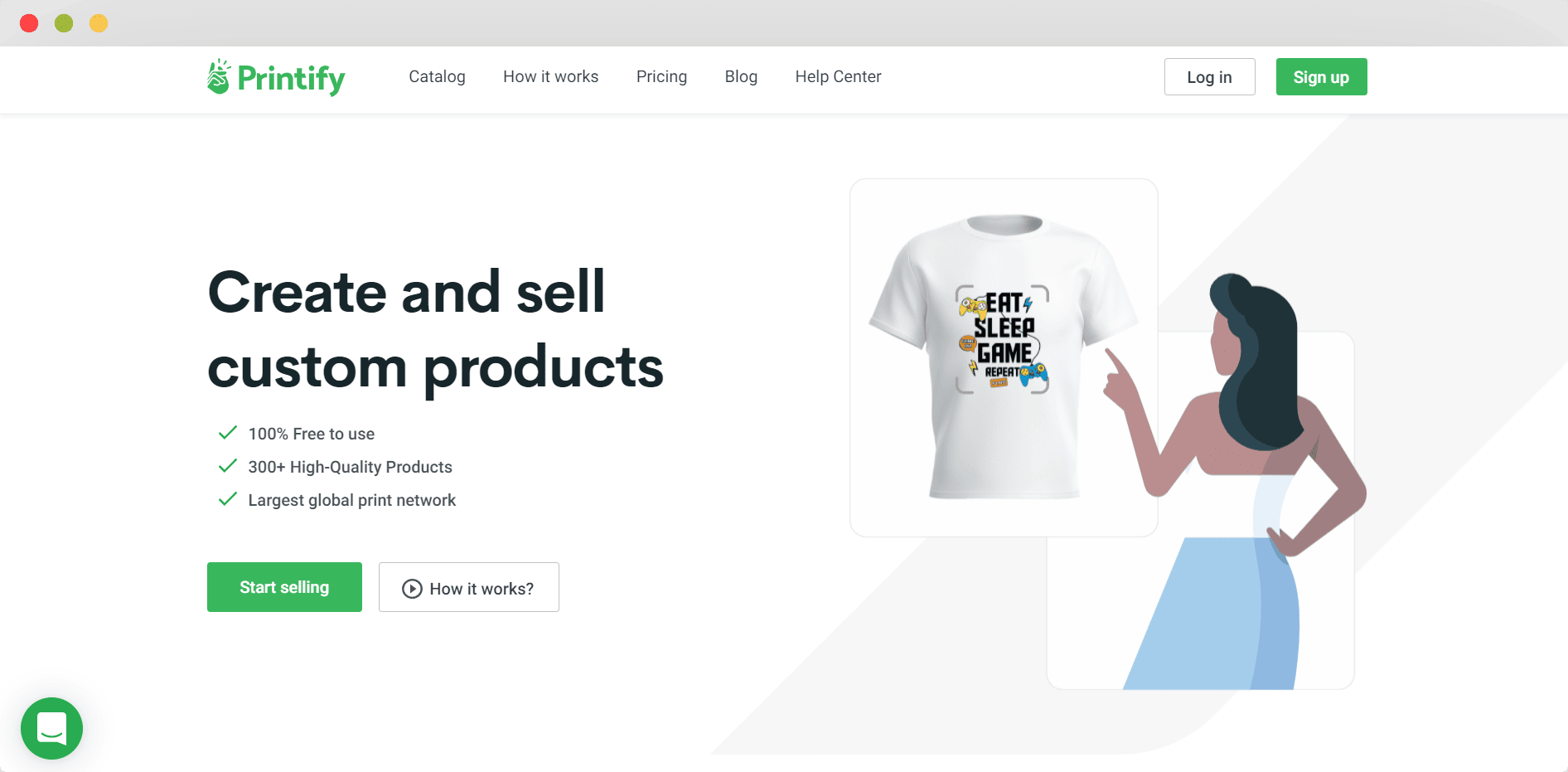 Printify has a free plan which includes a mockup generator, unlimited product designs, integration to Shopify, and manual order creation. But for $24.99 per month, you get 20% on all products and custom order imports.
This company is the ideal supplier for those who want to target specific regions around the world. With their wide network of providers, you won't have a problem regardless of location.
Apliiq
Apliiq has a number of customization options for those who want to design retail-quality apparel products.
Custom labels, clothing tags, and patches can be added to your products. Some unique features on Apliiq also include the option to design the interior lining of hoodies or add pockets to pieces of clothing.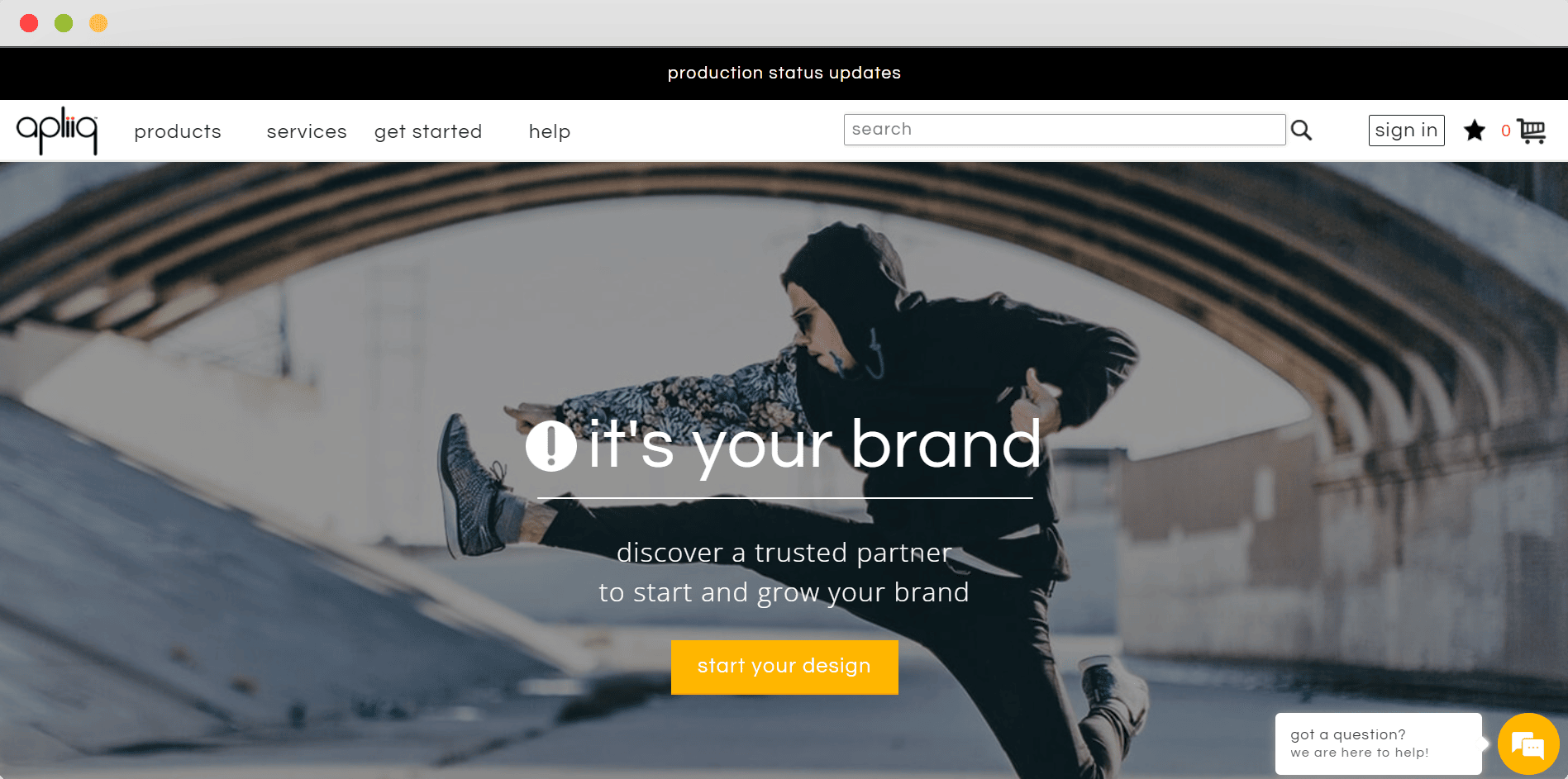 It offers competitive wholesale discounts, starting at 20% off for a bulk order of 10 products.
The only catch is that shipping times may take longer than most print-on-demand services. Production may take up to 7 days, which subsequently affects lead times.
On the bright side, Apliiq offers weight-based shipping and ships to more than 150 countries all over the globe.
A great subscription plan starts at $100 per year which includes custom woven labels. If you want extra quality assurance, you can pay for an in-house production artist to check up and review your products.
SPOD
If order fulfillment is your top concern, definitely consider SPOD. the company has factories in USA and Europe which allows it to ship products within 48 hours—or earlier.
Customers can expect their products to arrive within 8 business days.
Despite only a number of available products, it has a simple pricing model for shipping. Shipping costs depend on the value of the products ordered, offering more room for profitability on your end.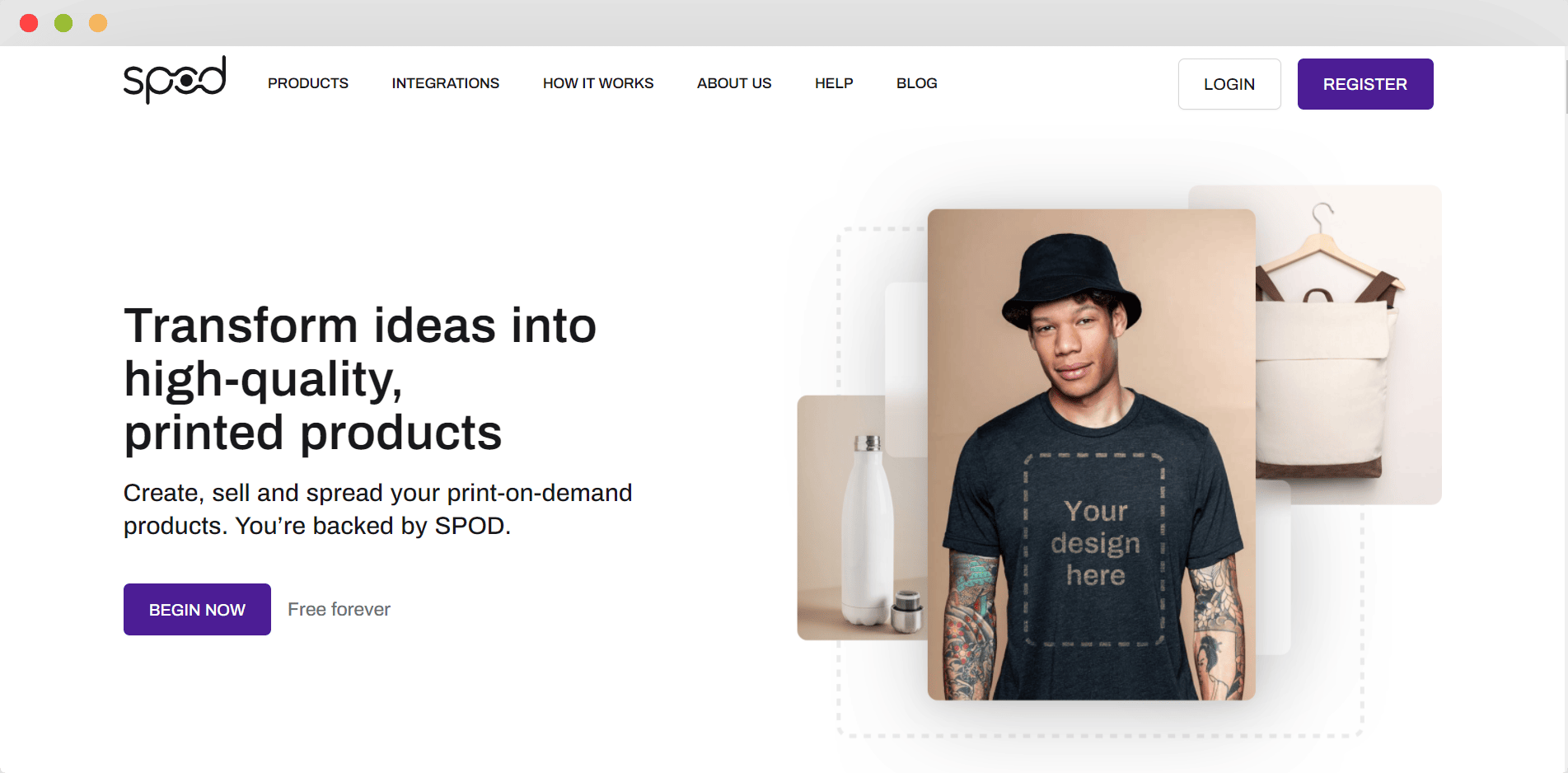 The website has a customization tool that has over 50,000 free designs, with the option to add your design. Checking the quality won't cost you much, too, with their 20% discount on sample orders.
SPOD doesn't have sign-up and monthly fees which lessens costs. So, if your customers want the option to customize their shirts, SPOD should be a no-brainer option.
CustomCat
CustomCat is a US-based brand that has been around for 17 years. The platform has more than 550 products on its catalog and is considered to be one of the largest print-on-demand companies in the country.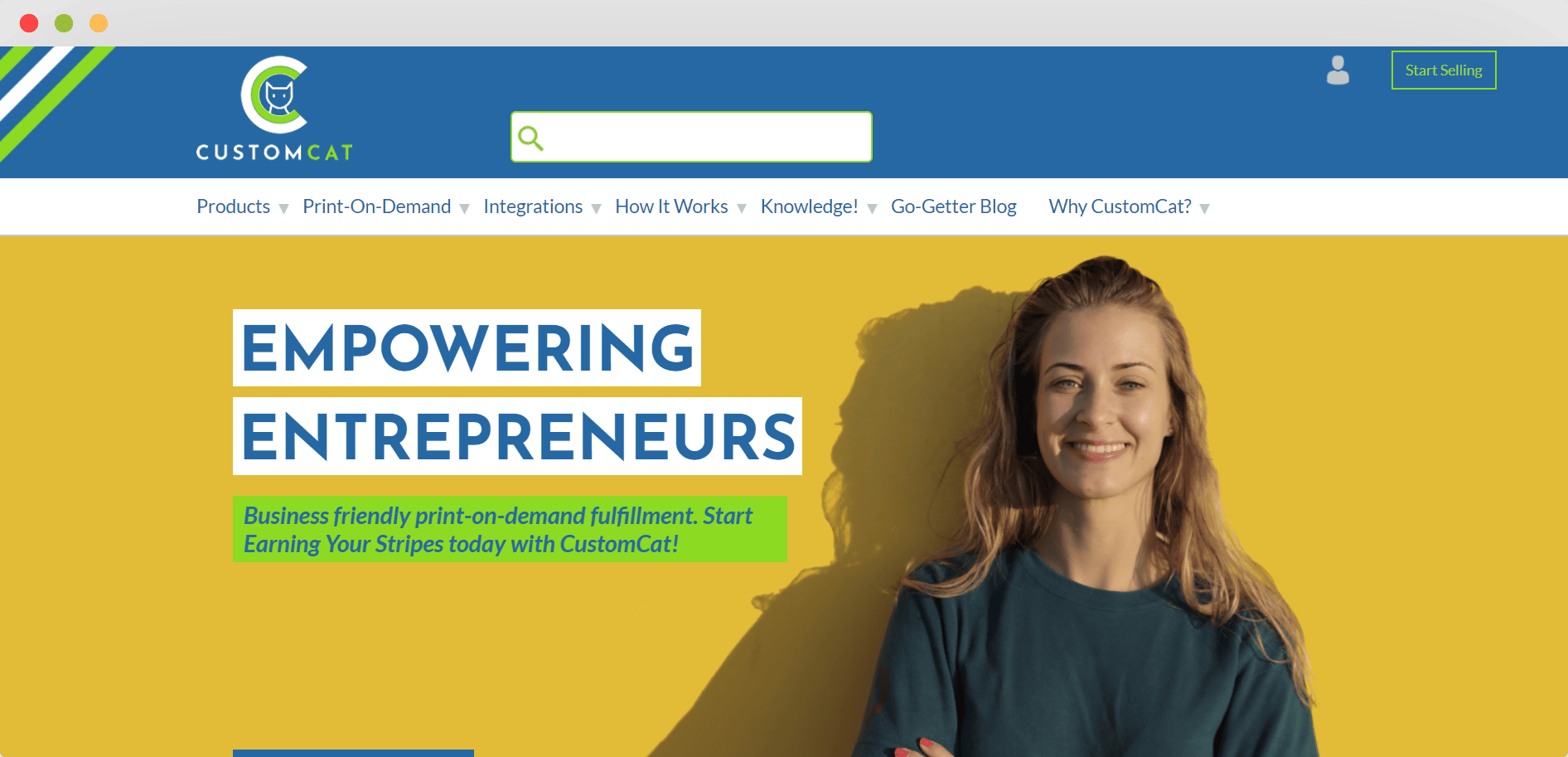 Suitable for beginners, CustomCat's design tool is simple to use. On top of that, you can find products you won't easily find anywhere else.
Products are shipped within 2 to 3 business days for domestic shipping and up to 15 days for international shipping. While CustomCat has a free plan, you can opt to pay an additional $30 per month if you want lower costs on all of its items.
Overall, this is a suitable option for those looking for unique items and a simple design tool.
Gooten
Another popular choice for beginners is Gooten.
The platform has lots of branding options and lets you sell your own designs through different dropshipping partners. But what sets it apart from others is that you can sell the designs of other users, as well.
Apart from T-Shirts, you can also sell your designs on wine tumblers, business cards, and wall art. All of these will automatically be routed to the best vendors and manufacturers, care of Gooten.
US Expedited shipping can take up to 6 business days from shipping and international orders can take up to 30 days. But to cover for the long delivery times, you can track orders through their automated order tracking.
With their seamless integration to different ecommerce platforms, Gooten is worth considering.
TeeSpring
What started as a basic print-on-demand website has grown to sell everything from shirts to home decor. TeeSpring is now a leading brand in the dropshipping market.
Dropshippers choose TeeSpring because it's a lot easier to create mockup designs on this platform. Plus, the platform lets you promote your designs to a wider audience and ship products seamlessly.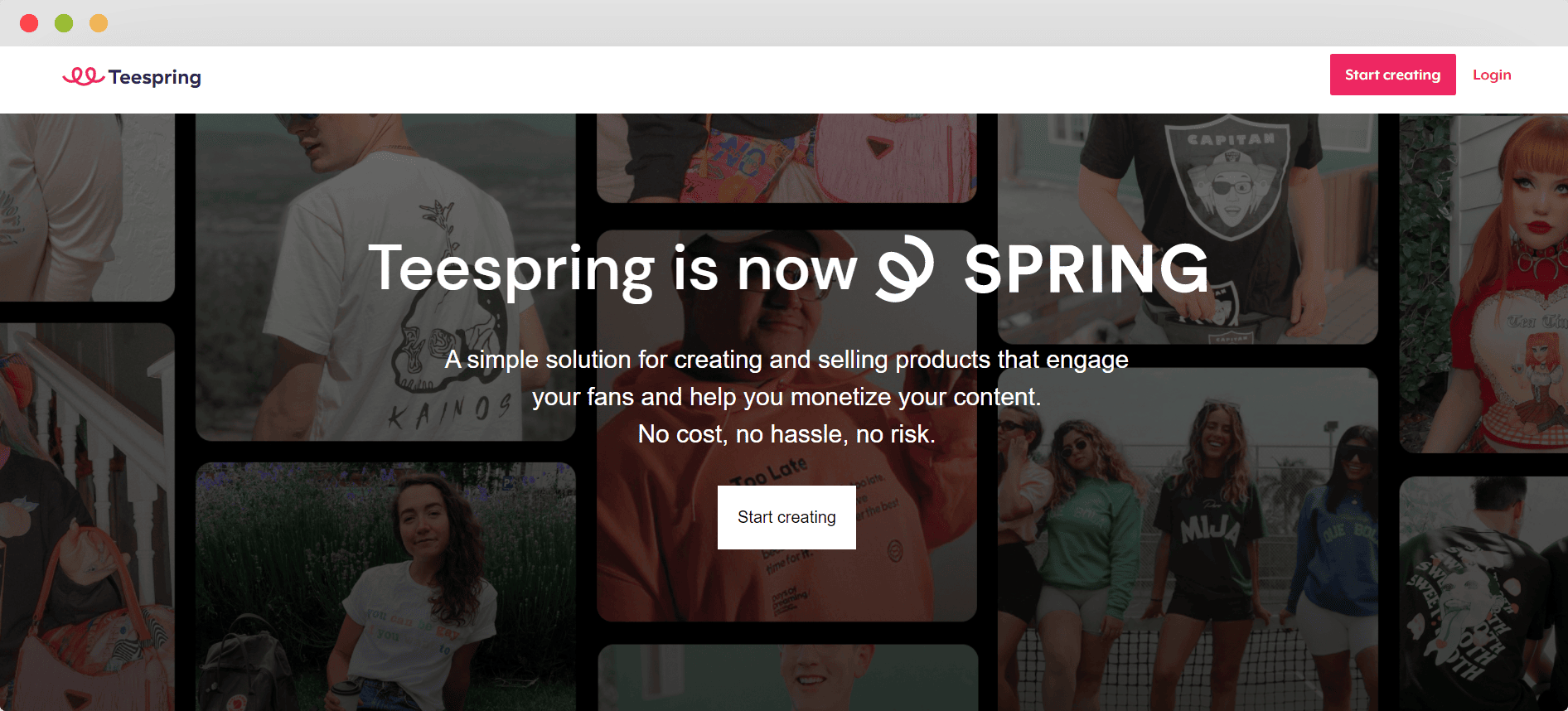 One of their notable services is the Instagram Checkout option. As its name suggests, users can just order products through Instagram. This removes several steps in the process, making the entire process more convenient for users.
According to its website, TeeSpring is free to use. The discounts are also based on your account's monthly sales and types of products.
So for those who want to reach a wider audience and have unique selling integrations, keep TeeSpring in mind.
Teelaunch
The quality of mockups from Teelaunch is unmatched, according to its users. The products you get look professional enough to be used in marketing materials.
This print-on-demand company is also known for its competitive pricing and reasonable fulfillment times.
Products are made within six days and can be shipped from the US, Canada, and the UK. Although costs are dependent on product and destination, customers won't find it too pricey.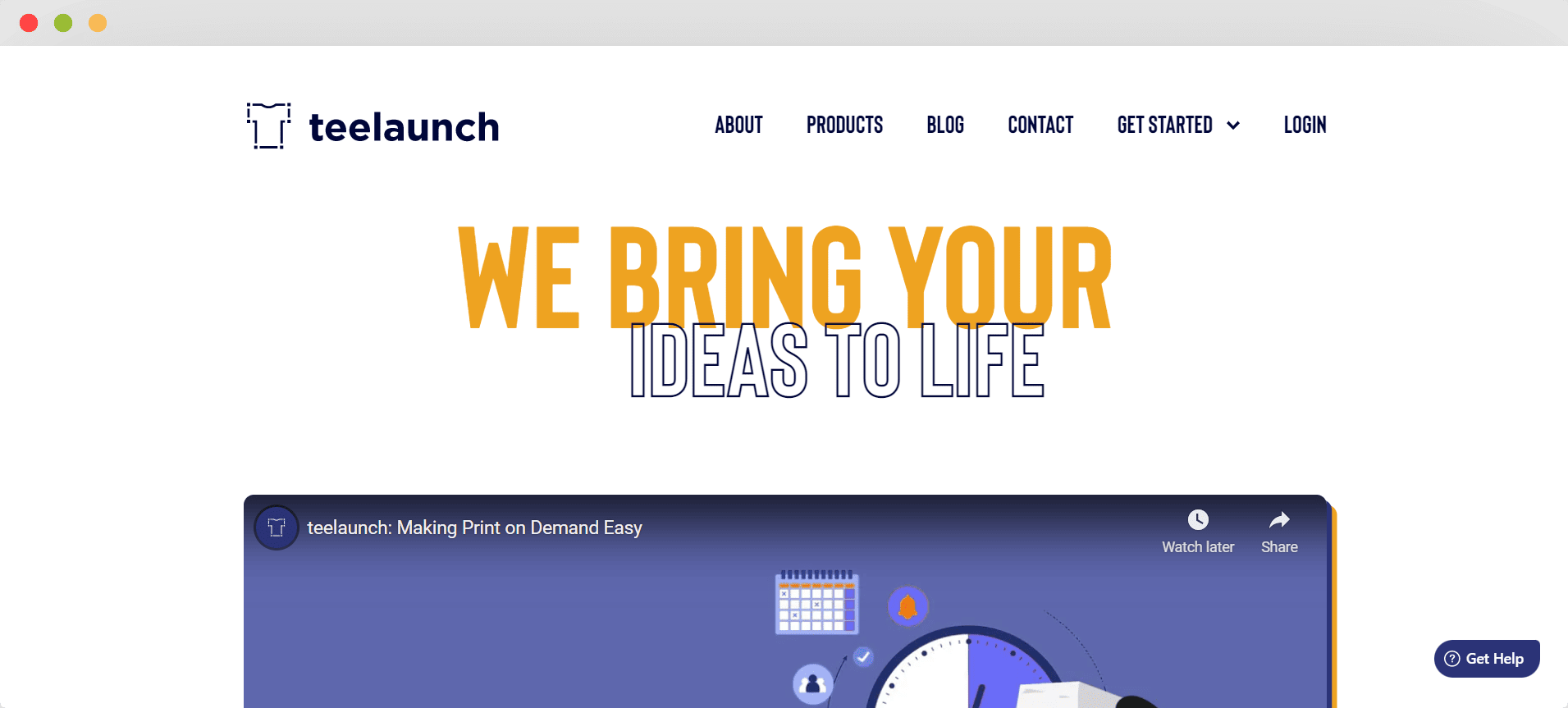 With Teelaunch, you can customize products by adding your own photo or name. Because the tool generates professional-looking mockups, you can easily use these on your website.
You can install the Teelaunch app on your Shopify store for free, but you have to pay the base price for every product you sell.
Printsome
Founded in the United Kingdom, Printsome's primary objective was to modernize t-shirt printing.
The company has mostly sold its products to Shazam, Ikea, and Rockstar, but has recently explored the print-on-demand landscape with Printsome On Demand.
Registration is completely free and has all the necessary tools and services—from printing to shipping. You're only charged for each item you sell which starts at around £7.64 inclusive of VAT.
It ships to all of Europe and globally, at reasonable rates. You can also integrate Printsome into your Shopify store for seamless transactions.
With a trusted service, you can bet that partnering with Printsome will give you desirable margins.
T-Pop
If you want to sell items that clearly establish your brand, T-Pop will help you with that. The company ensures that everything—from packaging to labels—will showcase your brand.
This Europe-based company is currently focused on apparel and accessories that are fully customizable. As mentioned earlier, you can even customize packaging slips according to your desires.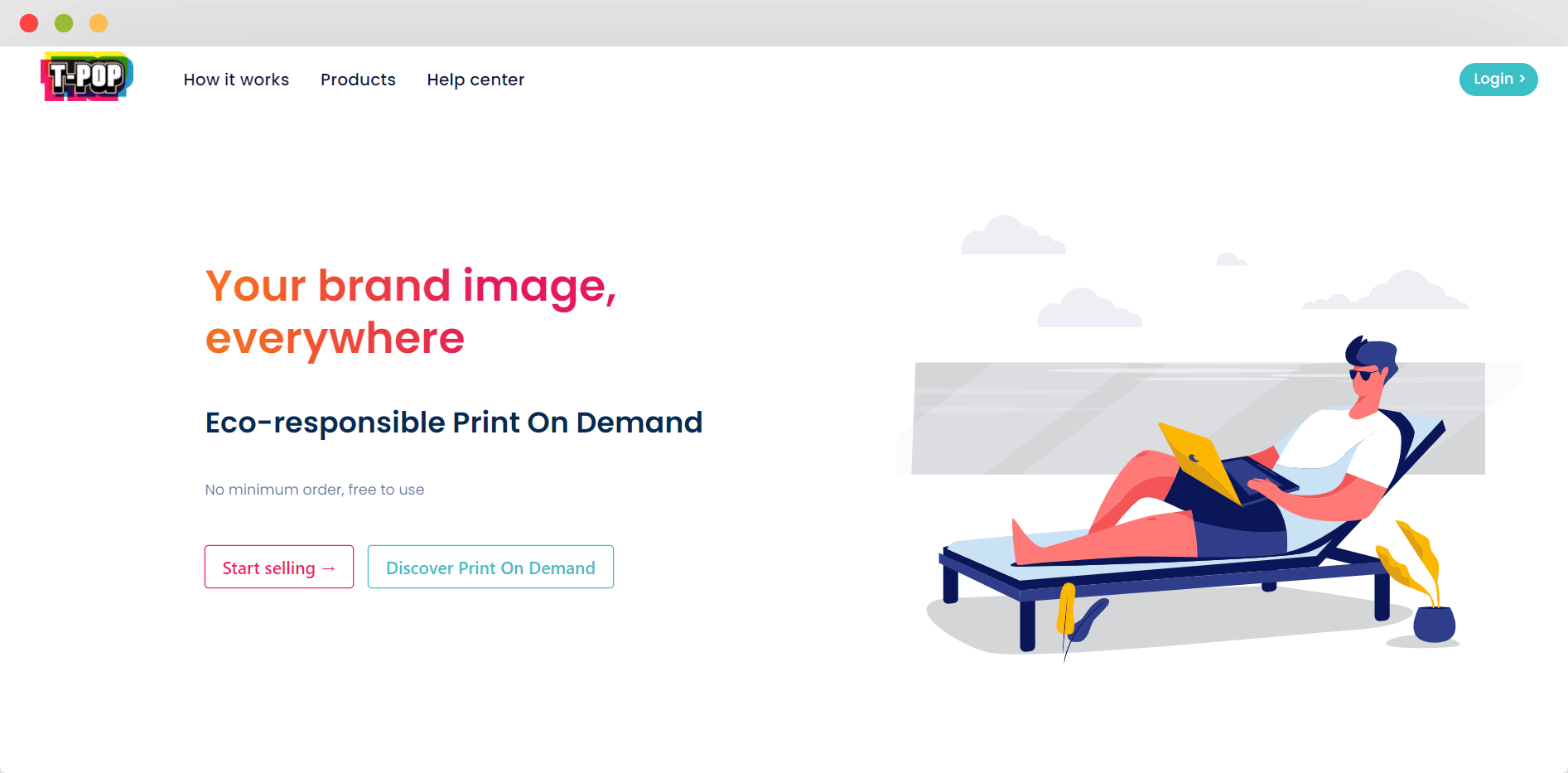 On top of that, everything is eco-friendly, easily targeting those who are wary of excessive packaging and plastic.
Since orders are made in France, products are made within 2 to 4 days. Domestic shipping takes about 2 to 3 working days while European locations can expect to receive the product within 3 to 7 days.
The shipping rates are based on the weight, but nothing too pricey. If you reach a monthly sales volume of 100 products, you can add your brand to the labels inside for as low as €2.50.
For those looking to source from Europe, T-Pop is easily a great option.
JetPrint
JetPrint is primarily known for its watches. This was the company's flagship product that most people are familiar with. But recently, it has explored the print-on-demand space.
You can easily design and print your custom designs on t-shirts, cases, wall tapestries, and many more products.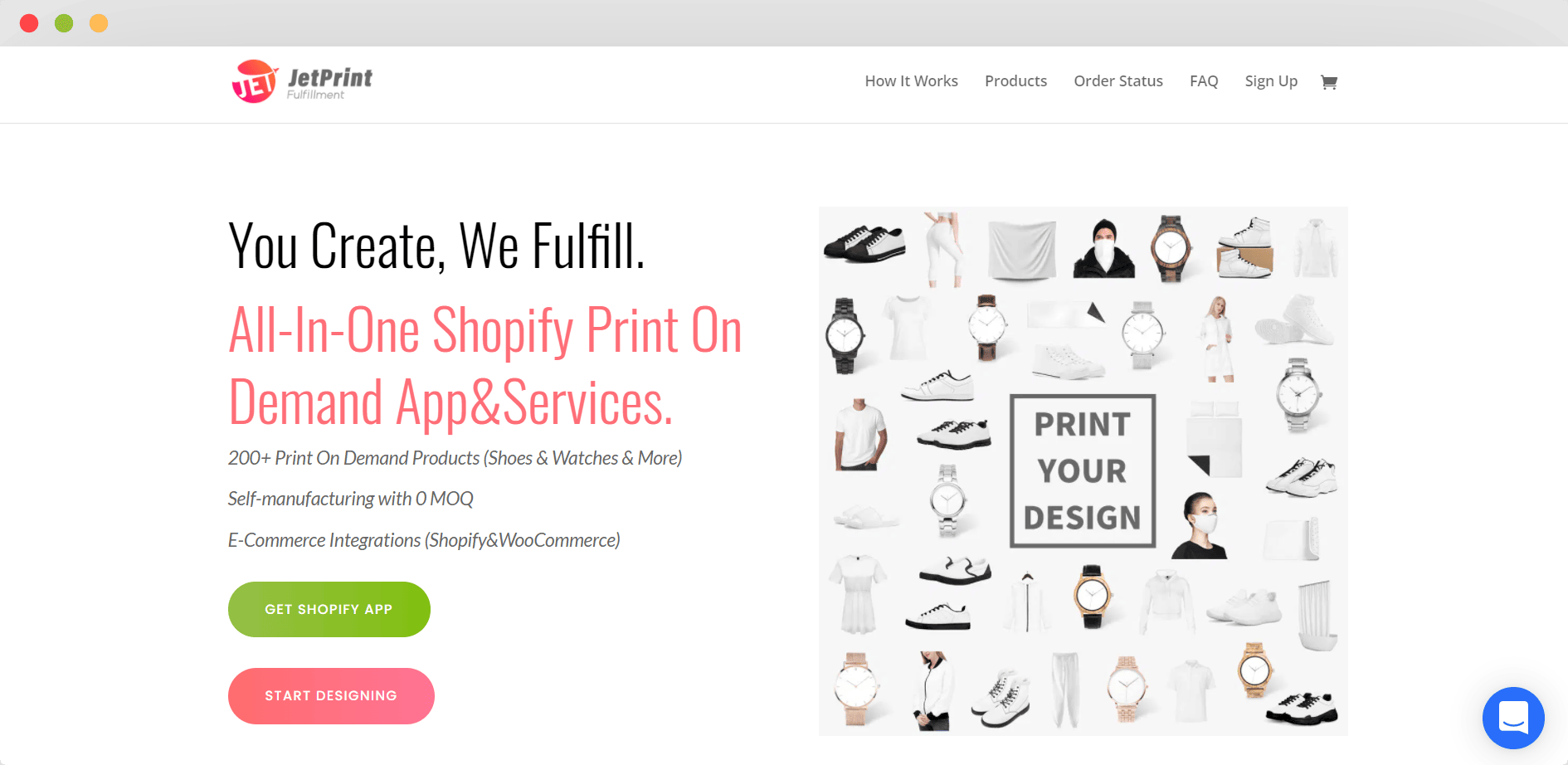 But what sets it apart from other brands is that it automatically generates photos that showcase your product from different angles.
The current production time is 3 to 5 business days. Its global shipping arrives within 14 to 20 business days, but customers have the luxury to choose express shipping for $15. Express shipping only takes 5 to 9 business days.
JetPrint is free and has low base costs which vary according to premium products.
AOP+
AOP simply stands for all-over printing, another name for sublimation. This method is used on several key products like t-shirts, leggings, and socks.
Given its company name, AOP+ is focused on selling all-over print products. The company has a tool you can use to upload your design and add it to different products.
Since the company prints the product in-house, you won't really have a problem from start to finish.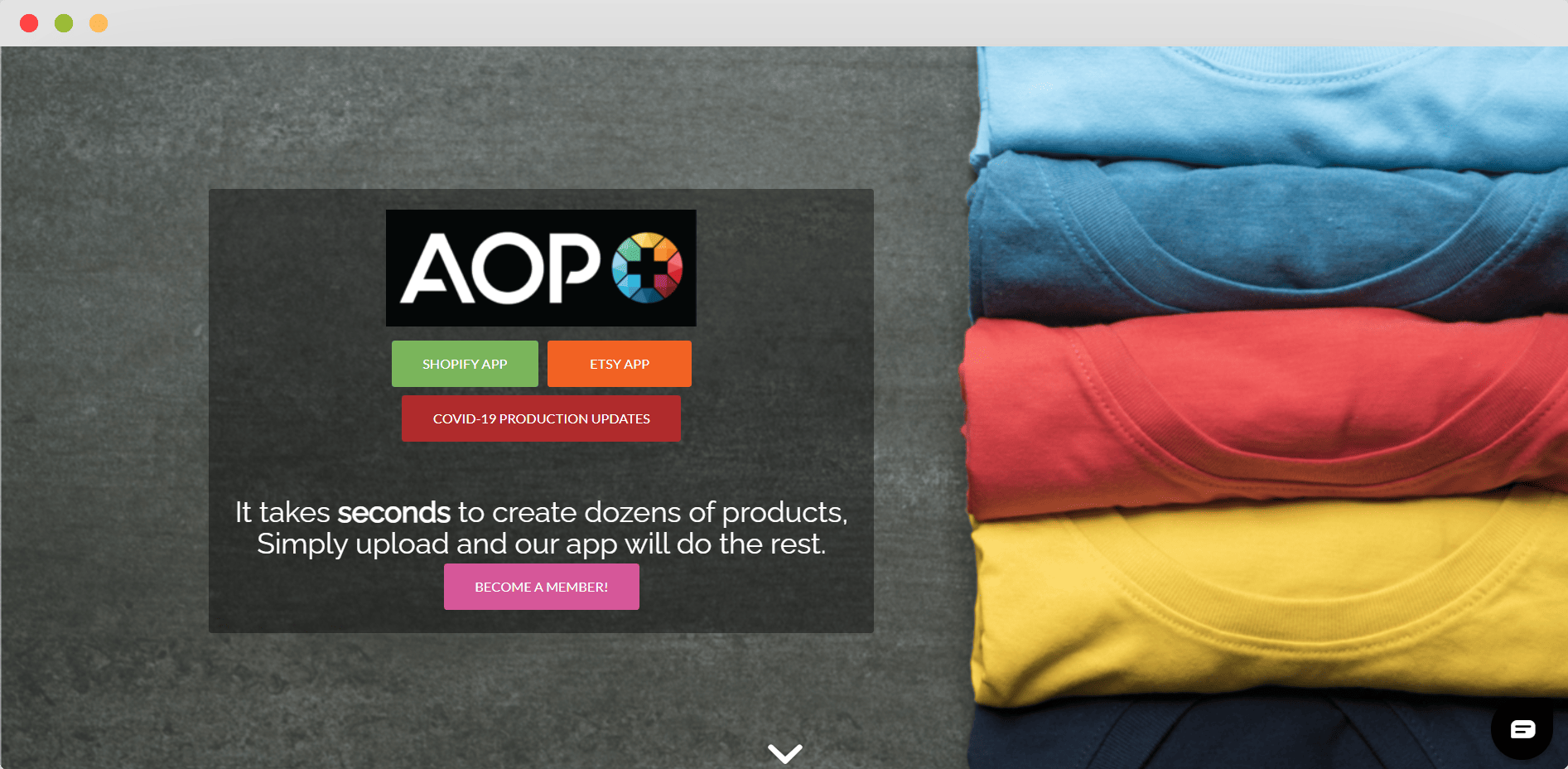 Another key feature of AOP+ is that its free plan already has the essential features you want from a print-on-demand company. You also get to customize your packing slip in orders.
If you want more discounts, you can become a Super Member which starts at $11.99 per month. This plan also gives you access to personalized product add-ons.
Production takes up to 5 business days, where the orders are shipped to fulfillment centers in the US, Europe, and the UK.
Its easy-to-use tool and affordable pricing plans make AOP+ a perfect starter for beginners and veteran dropshippers.
Spreadshirt
Ever considered designing bibs and duffel bags? Well, Spreadshirt is here to make that idea come alive. Apart from shirts, you can easily design a number of products on the platform.
The company's tool is easy to use where you can customize different parts of the product you wish to sell. You can upload your own designs or choose from readily available ones.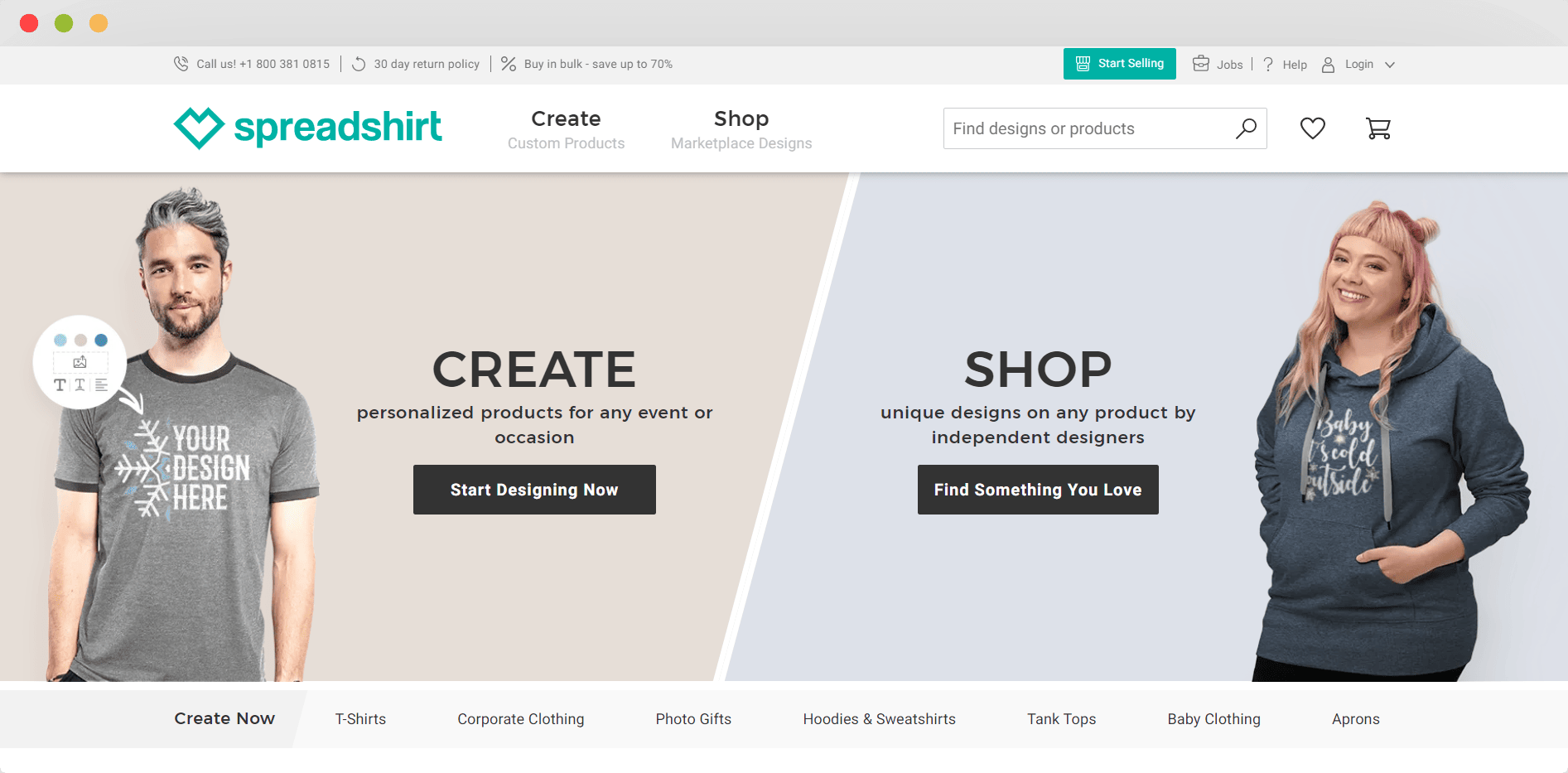 You might also consider shopping for ones available in their marketplace.
The company payout system, however, is what makes it all the more interesting.
New sellers will initially start with 20% commissions on their products, and this is called the Affiliate Commission. Once they get traction, a Volume Commission will be added and will start at 0.5% if you sell anywhere between 26 to 50 products per month.
The percentage will go higher, but will be capped at 40% if you sell more than 4,000 products per month.
Everything is free to use and you get monthly payouts from your sales. Delivery costs are also dependent on order value before discounts.
Shipping inside the United States generally takes up to 9 mailing days, inclusive of Alaska, Hawaii, and Puerto Rico. Other locations may take up to 30 days and are subject to custom or duty fees.
Teepublic
Compared to its competitors, Teepublic has a smaller catalog. This doesn't really make them any less of a competition, given that they give high royalty earnings to their artists.
Indie artists flock to this website because it supports their communities better than other brands.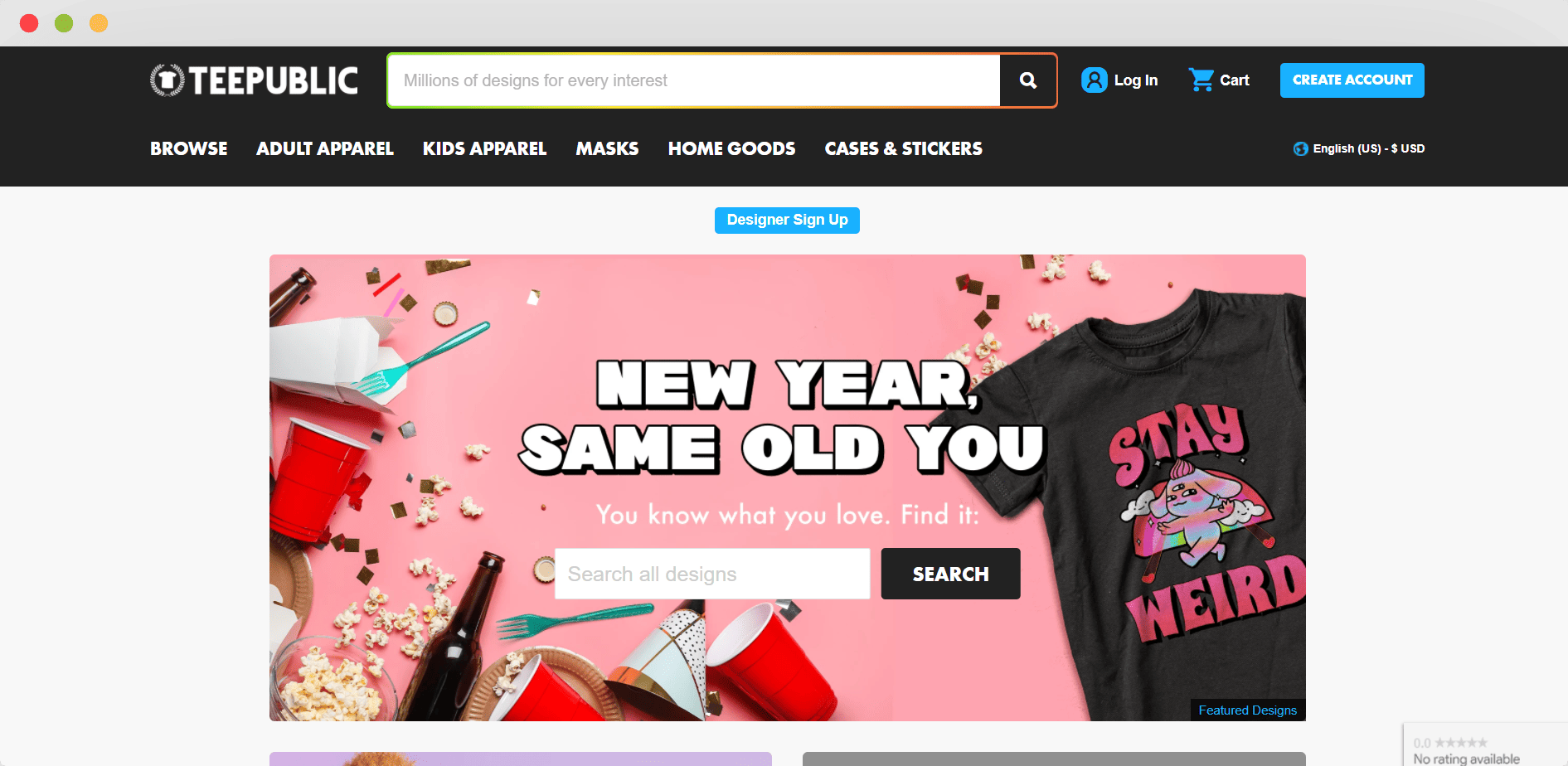 Moreover, creating products is also easy, you just need one art file to set up your design and have it printed.
Opening your own store and selling your designs on Teepublic is completely free. No need to worry about minimum orders because that's also free as well.
Everything you sell is at a flat rate and will be paid out through PayPal or Payoneer.
It's good to note though that each product is discounted in the first 72 hours going live. But, this is just a strategy to boost sales which is crucial in making it a popular item.
RedBubble
RedBubble is a marketplace where you can buy and sell all sorts of items. However, it has the same functions as other print-on-demand platforms.
You create your own t-shirts and have RedBubble fulfill the products. Though, don't limit yourself to apparel since they also offer customization for vinyl stickers, device cases, and posters.
Regularly, RedBubble features artists on their homepage, giving them a boost in sales and publicity.
The entire marketplace is free to use and you earn through the margin you set on top of your base price. Everything you create is your copyrighted property, which is a good thing for independent artists.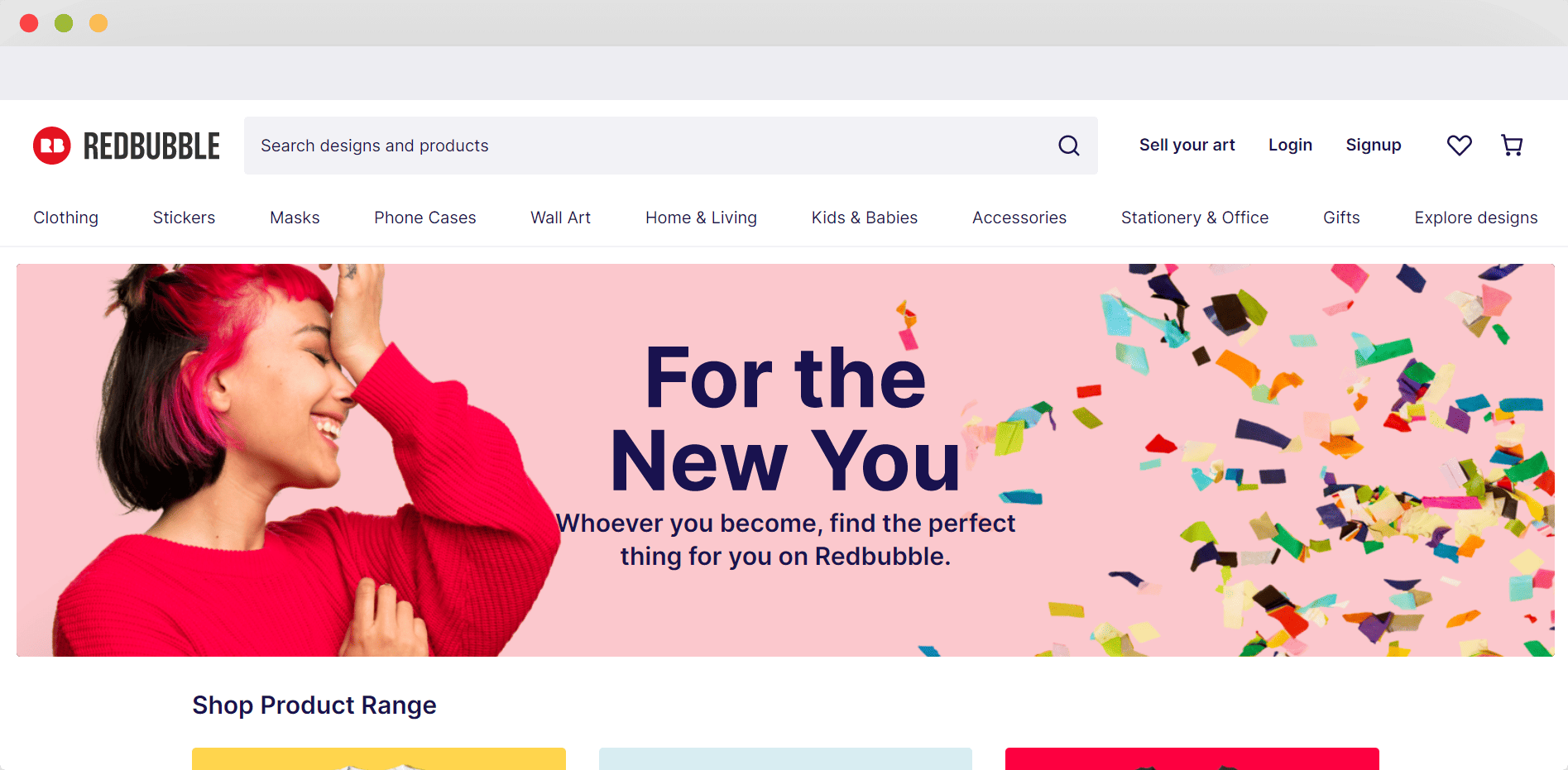 So, if you wish to sell through a marketplace instead of a store, consider RedBubble.
Design By Humans
Quite similar to RedBubble, Design By Humans is also a marketplace where you can sell items you've designed.
But in Design By Humans, you see licensed and official brand stores like Marvel, Nintendo, Disney, and Star Wars. These are big names that sell products like apparel, mousepads, art, etc.
The company also supports charities by having a Charity section where customers can buy branded merchandise from said charities.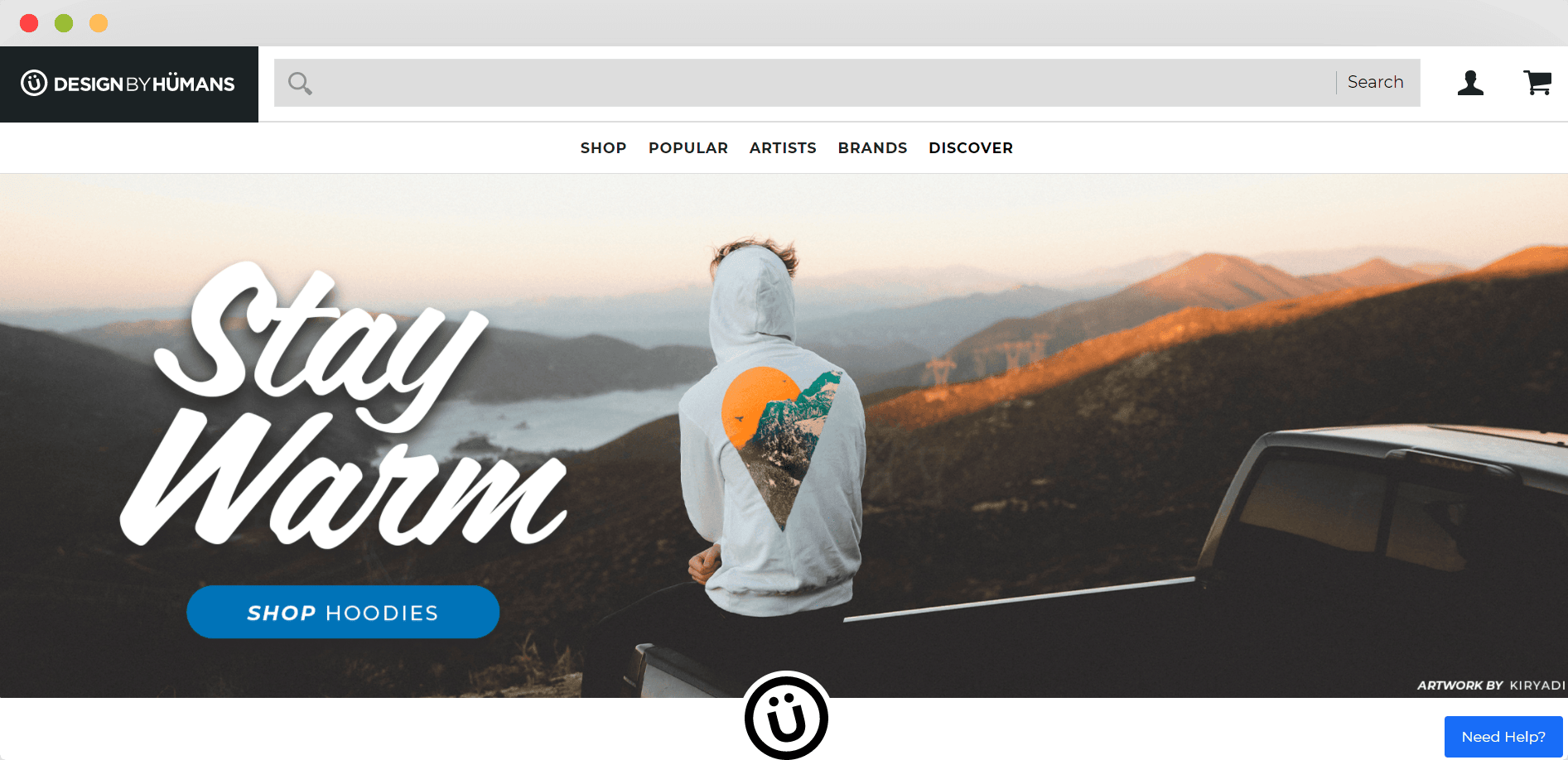 When you sell the designs you create on this platform, you earn set royalties for each product. This is quite different from other platforms that let you dictate your own margins.
For example, selling t-shirts will earn you $3 in royalties.
On the bright side, you can promote other Design By Human products which earn you royalties at a set rate, too.
Opening a store and selling on the platform is completely free. If you wish to explore other income streams, apart from selling your own designs, Design By Human might be a good option.
FAQs About T-Shirt Dropshipping
Are T-Shirts Good for Dropshipping?
Yes, t-shirts are great for dropshipping. The t-shirt printing market is expected to grow to $10 billion by 2025. You can also expect a growth of 9.6% from 2022 to 2025.
On top of that, print-on-demand services are one way to sell products without having to keep inventory—minimizing overall costs.
If you're keen on looking for the ideal target market, you can easily target a high-profit margin. Since everyone in the world probably has their own t-shirt, knowing what designs to sell is ultimately what matters.
This comes with research and marketing, though. In the end, it's up to you to decide on whether or not you find selling t-shirts online lucrative enough.
How to Start an Online T-Shirt Business?
Before we give you the details, you should know that the t-shirt business is a competitive niche online, but not impossible to penetrate.
Relatively, it's easy to start your own t-shirt online store—especially if you decide to create one on Shopify. But before you start creating one, let's go through the steps on how to start an online t-shirt business.
First, decide on a niche for your store. You need to think about what designs and niches have yet to be maximized or, better yet, explored. You can go for what interests you, as well.
Perhaps, you might want to focus on men's clothing or environmentally-friendly products as these are profitable niches in 2023.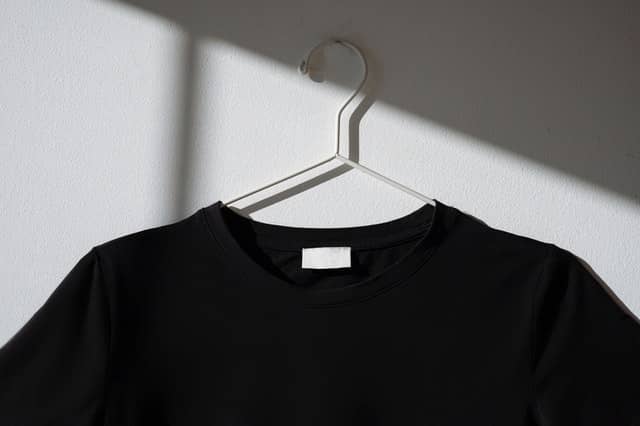 Next, create shirt designs and validate them. Show your friends, family, and even strangers shirt mockups and ask for their opinions. For more accurate inputs, ask people from your target market.
Receiving constructive criticism is essential for you to know whether or not your shirts will sell. You can post through forums, discussions, and even groups. See what they like, and don't like.
From there, you'll know what's the ideal designs are for your customers.
The third step is to find suppliers. Don't rush this step as you must get high-quality t-shirts. It's not just to keep your customers happy, but it's one of the best ways to differentiate you from your competitors.
Read through reviews and buy shirts from them. Try them on, wash them, and check if they shrink or show signs of damage. You'd want firsthand experience so you know what it's like to be your own customer.
Once you find your suppliers, it's time to set your prices. Take into account all the costs it takes to buy, print, and sell a shirt—don't forget marketing and overhead costs.
When you have finally know how much to charge, establish your online presence. Build the appropriate store and use effective marketing strategies.
Your marketing strategies should be at par with the prices you set. Remember that you need to entice your customers to make a purchase, not offset them with your prices.
With everything set and done, wait for orders to come in and watch your business grow.
Wrap Up
Despite having so many options for clothing, t-shirts are still a go-to for people all over the world. This is why putting up a new t-shirt store seems like a great idea.
But to have a successful store, you need trusted companies and suppliers to provide shirts for you. The list above should let you know who to approach when looking for high-quality shirts.
This can be a daunting task for both beginners and veterans alike. You may contact us if you want to source reliable t-shirt suppliers for your business.