Launching an eCommerce store isn't easy. From purchasing hosting to registering a domain, plenty of technicalities can get in your way.
And that's only the beginning because, after that, you have to hunt for products, devise a solid marketing strategy to build a recognizable online presence, and much more.
If that sounds too big of a hassle, then, fortunately, there are plenty of affordable store-building services nowadays to streamline the process.
So in this guide, we'll go over 19 of the best turnkey eCommerce store providers who can help you start your dropshipping business as soon as possible.
Let's get right into it!
List of Turnkey Store Providers
Before we dive into this list, just a heads up that most of these sites specialize in turnkey dropship stores for sale. But don't worry, we'll also include a few providers that deal in traditional eCommerce sites.
1. Dropobo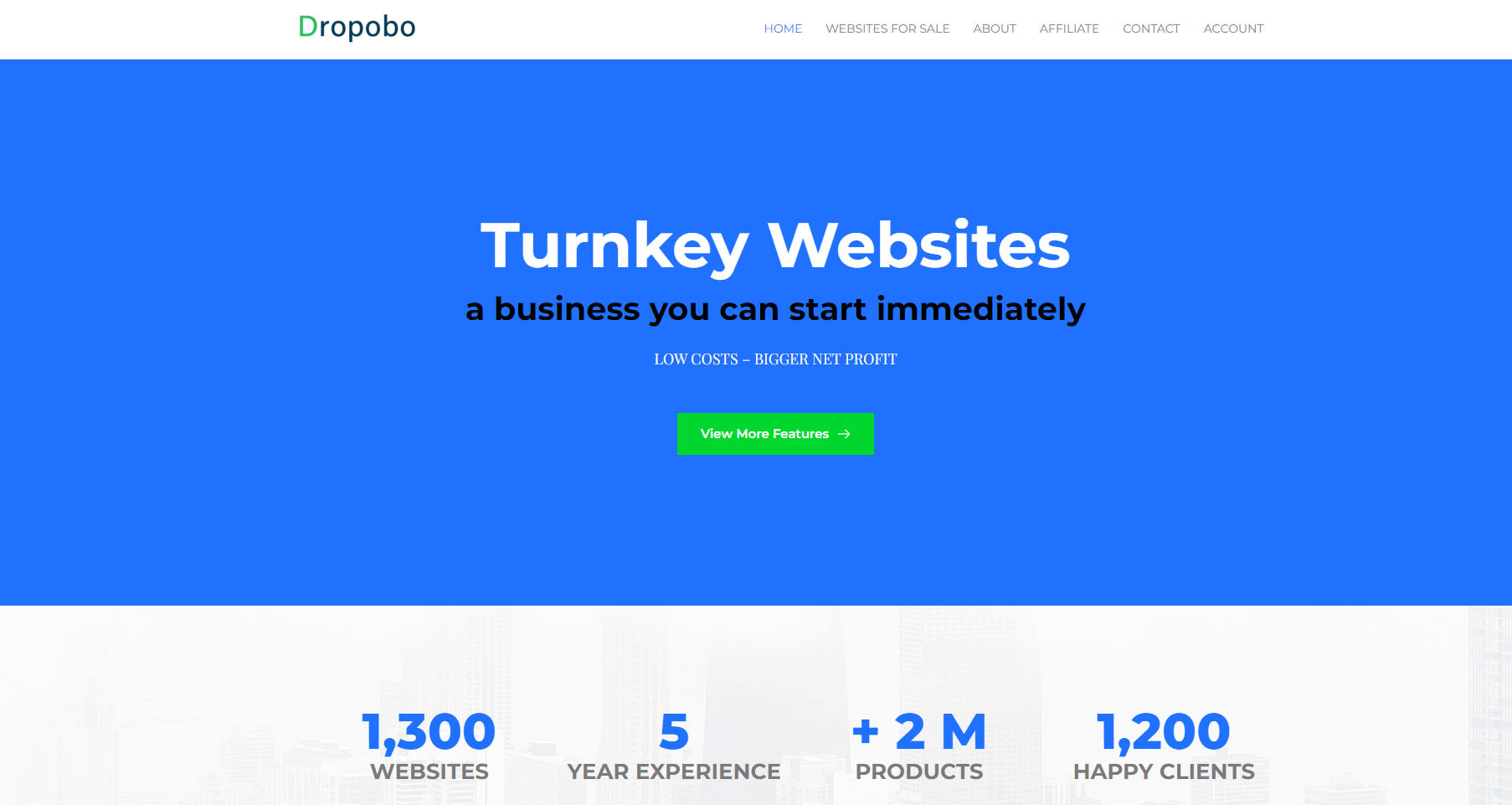 If you're looking for a way to generate a passive income then Dropobo can quickly help you set up a fully-loaded dropshipping business.
They promise delivery within 24-48 hours and all of their dropshipping stores have a stunning and user-friendly design.
They use premium themes for their stores and list hundreds of best-selling products from reputable suppliers to quickly help you get started.
The icing on the cake is that their dropshipping stores are automated and they also offer a lifetime after-sales support.
Their pricing starts at $149, but they also offer discounts in which you can buy a ready-made dropshipping store for as little as $49.
Key Features
Great after-sales service with lifetime support
You can find readymade stores for $49 – $149
Fully loaded with products from reputable suppliers
Premium themes and a user-friendly interface
Guaranteed delivery within 24-48 hours
2. WooDropship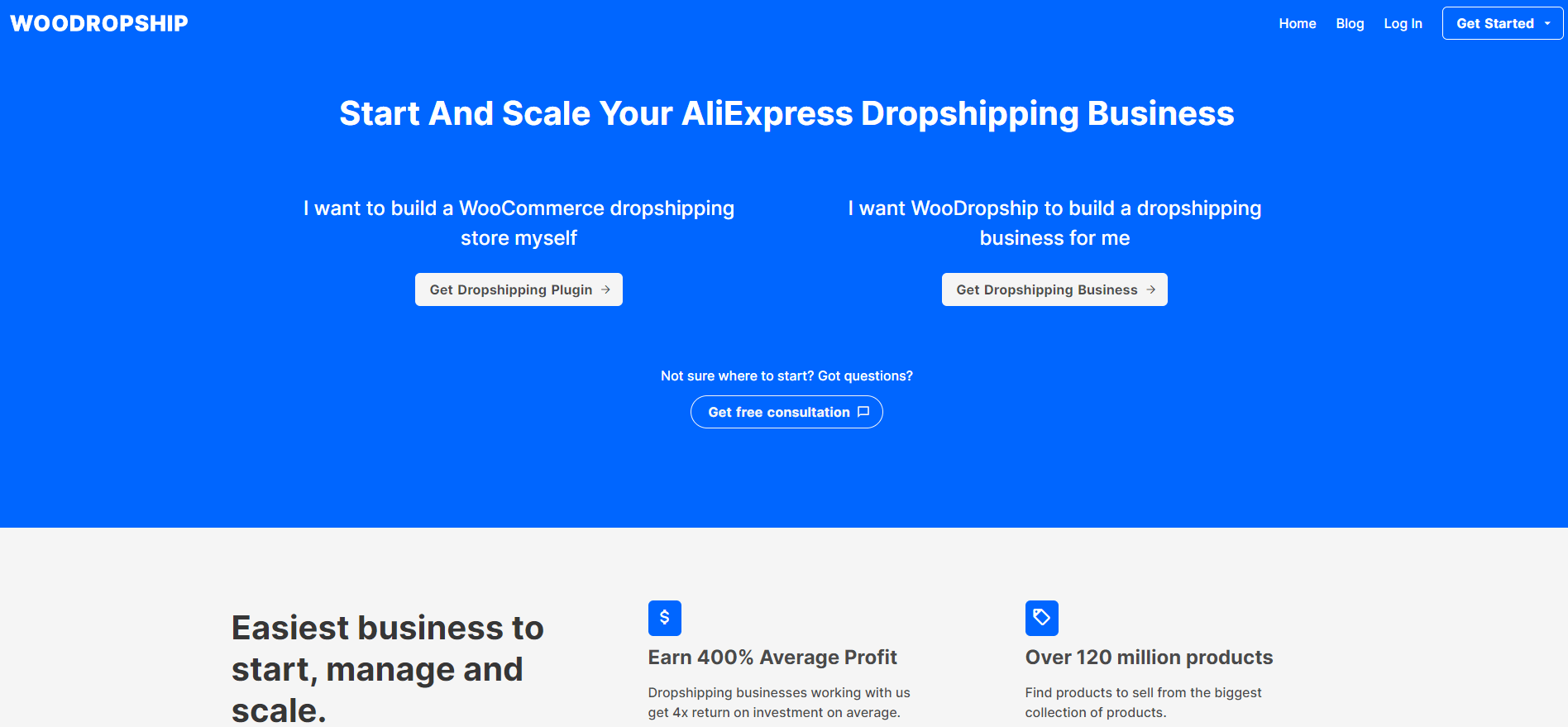 Most people know about WooDropship as an Oberlo alternative for WordPress.
It allows you to import products from AliExpress and helps you automate order fulfillment.
But did you know that they also provide custom dropshipping stores?
All you have to do is place an order on their site, provide the relevant details like the niche and they will deliver a readymade store to you within 48 hours.
Their turnkey dropshipping stores feature premium themes along with a domain name and one year of hosting.
Lastly, the WooDropship plugin is also obviously integrated into your site so you can start taking orders right off the bat.
Key Features
Professional WooCommerce dropshipping store in your desired niche
Premium themes and customized logo to make sure your business stands out
Guaranteed delivery within 48 hours or less with full ownership transfer
Generated more than 2M in sales with over 1500 completed stores
One year of web hosting and a premium domain name and an SSL certificate is included in the package
3. Premade Stores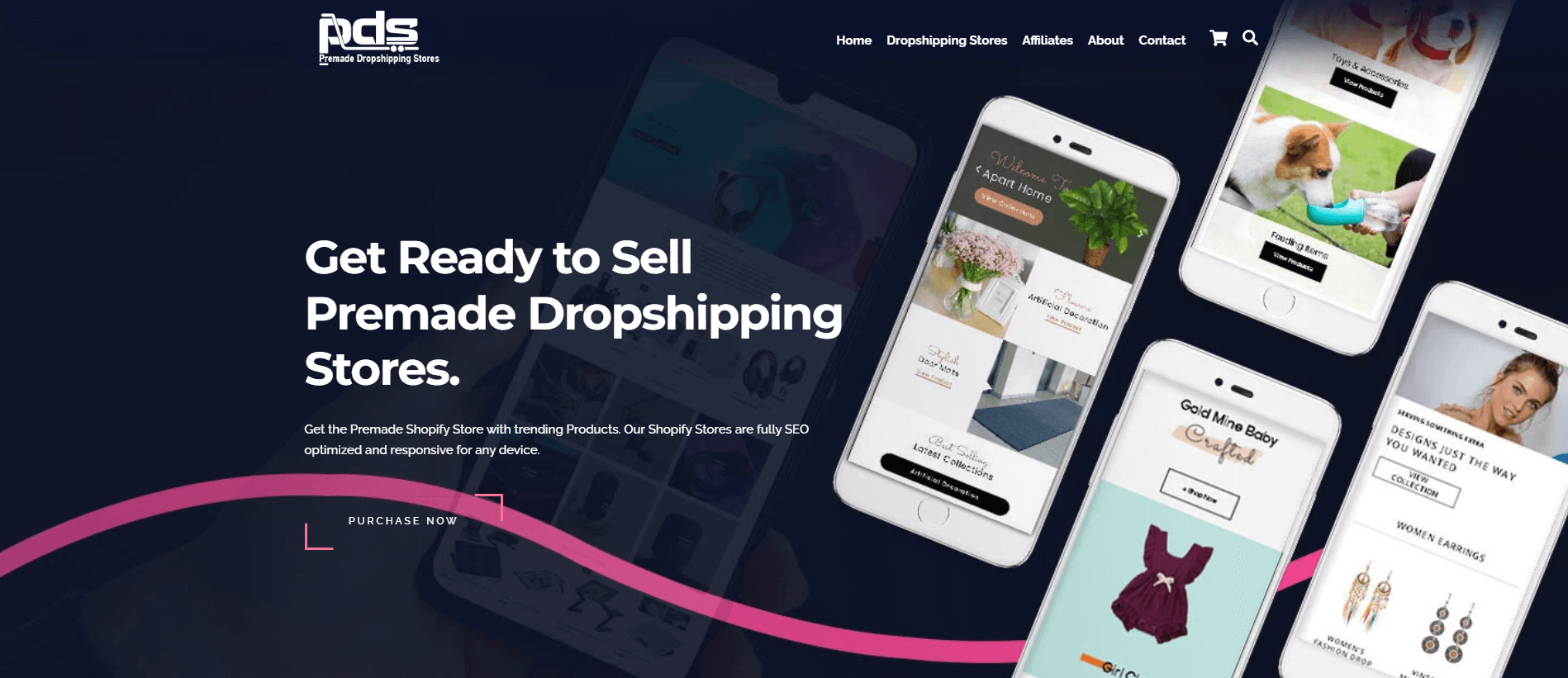 Premade Stores, as the name suggests, also provides a fast-tracked dropshipping store-building service.
They promise to deliver a fully-functional Shopify dropshipping store within 24 hours by charging a starting fee of $99.
You can also get services like social media profile building and sales channel integration, but you'll need to pay an additional cost.
Their premade package includes a custom domain name, and logo, along with 10-15 preloaded winning products.
In addition, they also use premium themes, attractive color schemes, a mobile-friendly website design, and much more.
Key Features
High-quality graphics and mobile-responsive themes
Shopify dropshipping store delivery within 24 hours
Custom domain name and a professional logo
Dedicated and reliable customer support team
Professional marketing scripts and Facebook video ads
4. Brandafy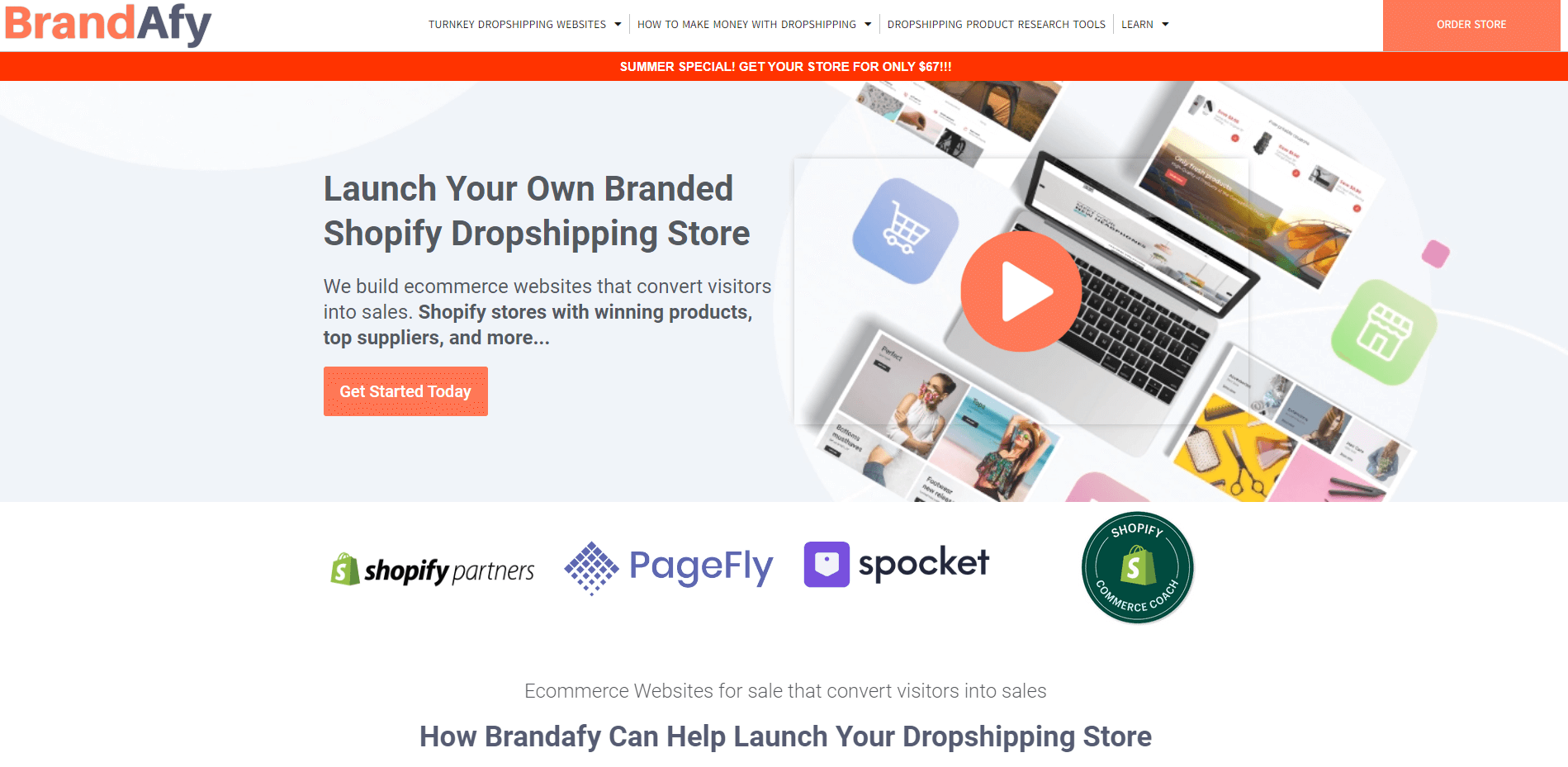 Brandafy is unarguably one of the most popular turnkey store providers on this list.
They load the dropshipping stores with some of the trendiest products, sourced from the most reputable suppliers.
They have two packages listed on their site. The first is a One Product store that costs $1497 while the other is a niche store priced at $1997.
Without a doubt, that's a high price, but they charge for the quality.
They provide email marketing, along with a pixel and analytics setup and much more in both of their packages.
If you're opting for a niche store, then you'll get up to 45 imported products.
Brandafy also offers 2 revisions and 30 days of technical support to make sure you don't face any trouble while starting your business.
Key Features
2 revisions and 30 days of technical support
Premium theme and professional website design
Up to 45 imported products on a niche store
Pixel, analytics, and payment gateway setup included
Professional logo and branding with email marketing setup
5. TabonTech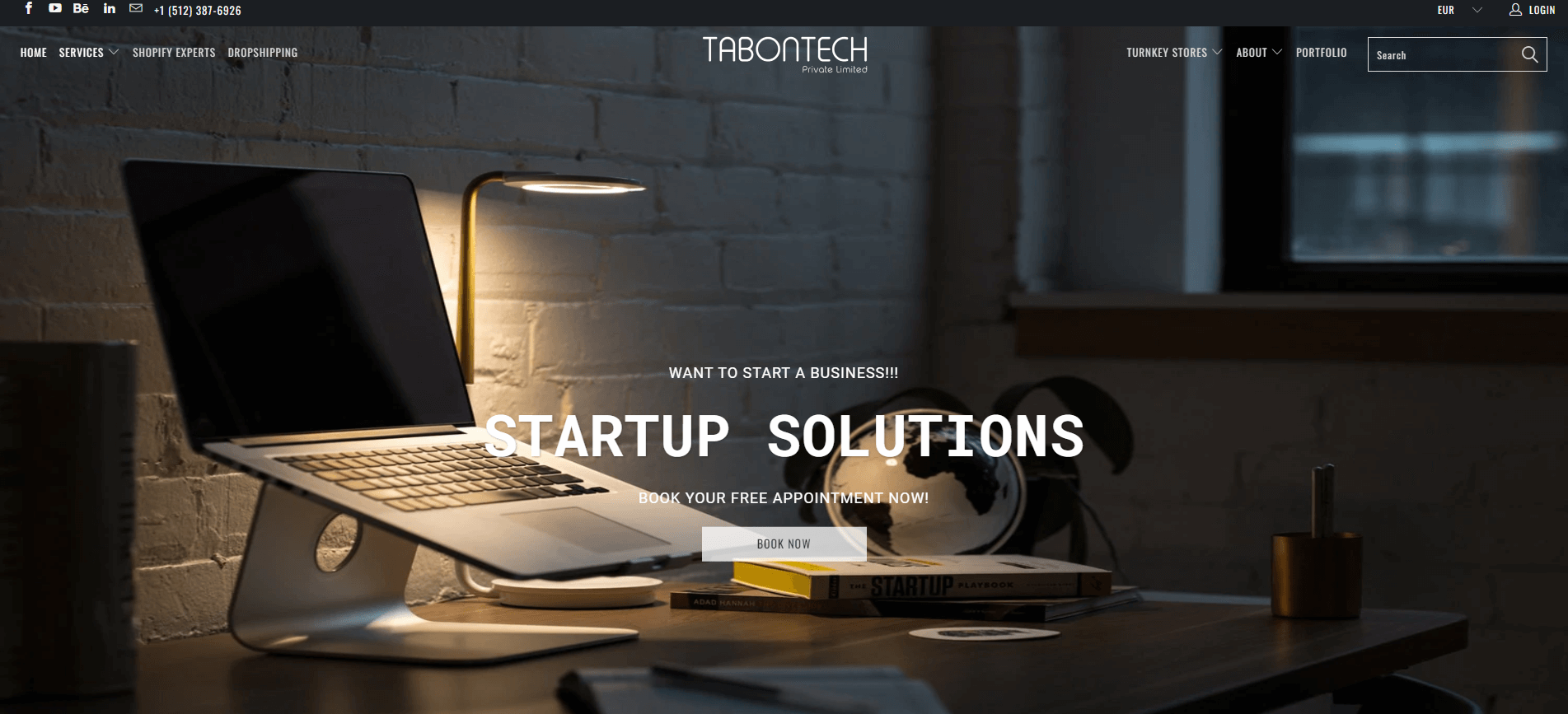 TabonTech provides a comprehensive solution to help you start your eCommerce business.
They not only provide turnkey Shopify dropshipping stores but can also help you build traditional eCommerce sites designed on other platforms like Magento, OpenCart, BigCommerce, and so on.
They also have dedicated customer support teams that reply within 48 hours – which isn't too bad.
What we like about this TabonTech is that their service goes far beyond just building a copy-pasted eCommerce site.
Aside from web building, their services also include SEO, social media marketing, and much more.
Key Features
All their sites are 100% mobile responsive.
Basic web descriptions are included.
Available in the language of your choice (Translation must be provided)
Professional logo design and graphic work.
Create an eCommerce site on your preferred platform.
6. Ecom Today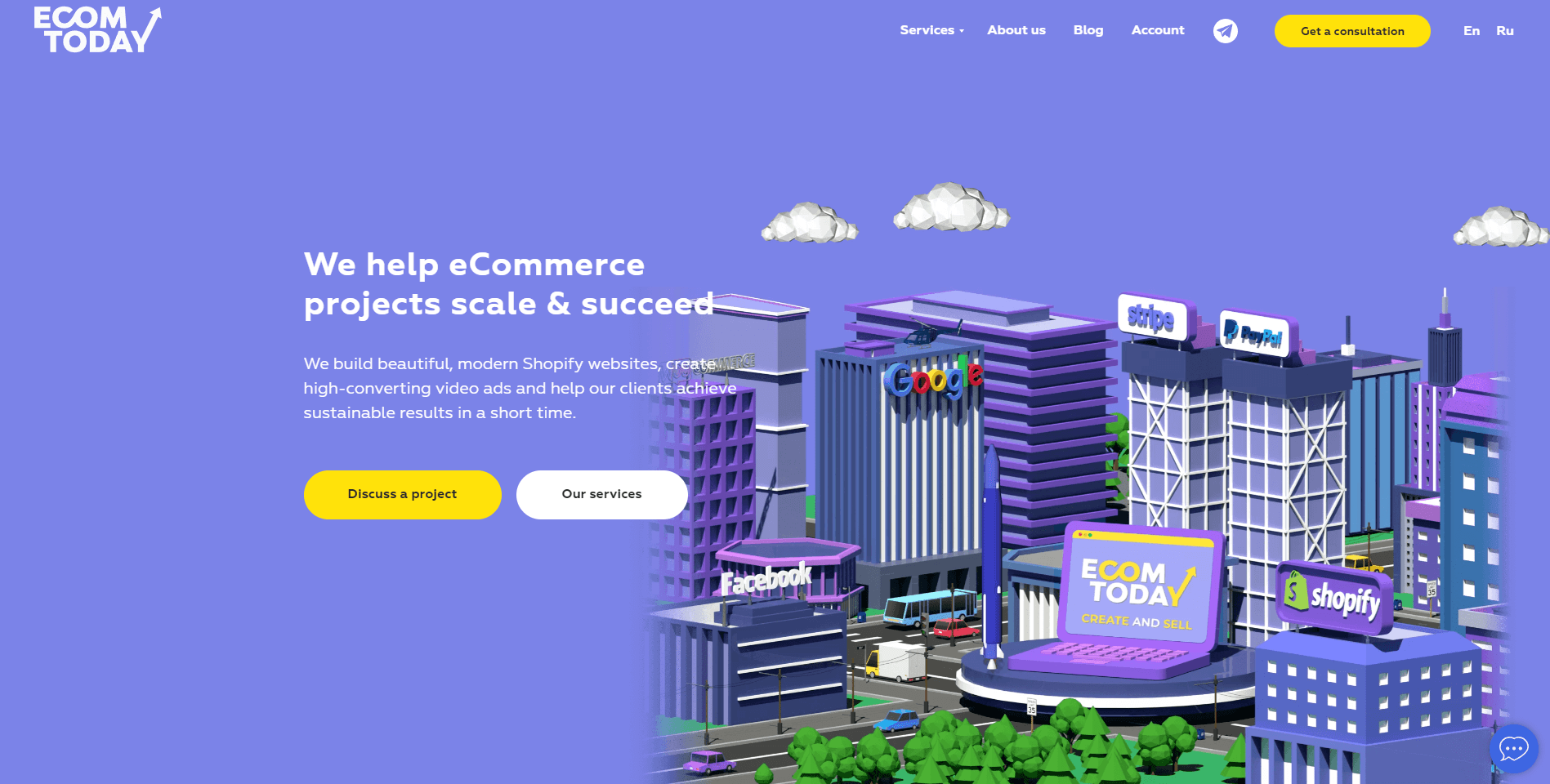 Ecom Today is another reliable agency that specializes in beautiful and responsive Shopify stores.
Aside from basic store building, they can also help you create high-converting video ads to help you set your business off the ground.
Their pricing usually depends on the complexity of work and your requirements.
They deal in not only turnkey dropshipping stores but also custom Shopify eCommerce sites.
Lastly, Ecom Today also offers a free consultation to help you clear your concerns and queries.
Key Features
Experts in full-stack development to provide clients with a complete eCommerce solution
Specializes in both turnkey dropshipping and custom Shopify sites
High-converting Facebook video ads to help you with your marketing efforts
Free consultation along with friendly and communicative customer service
Premium theme, logo, and banner designs to build an attractive storefront
Delivery within 7 days with full ownership of the site
7. Ecommerceify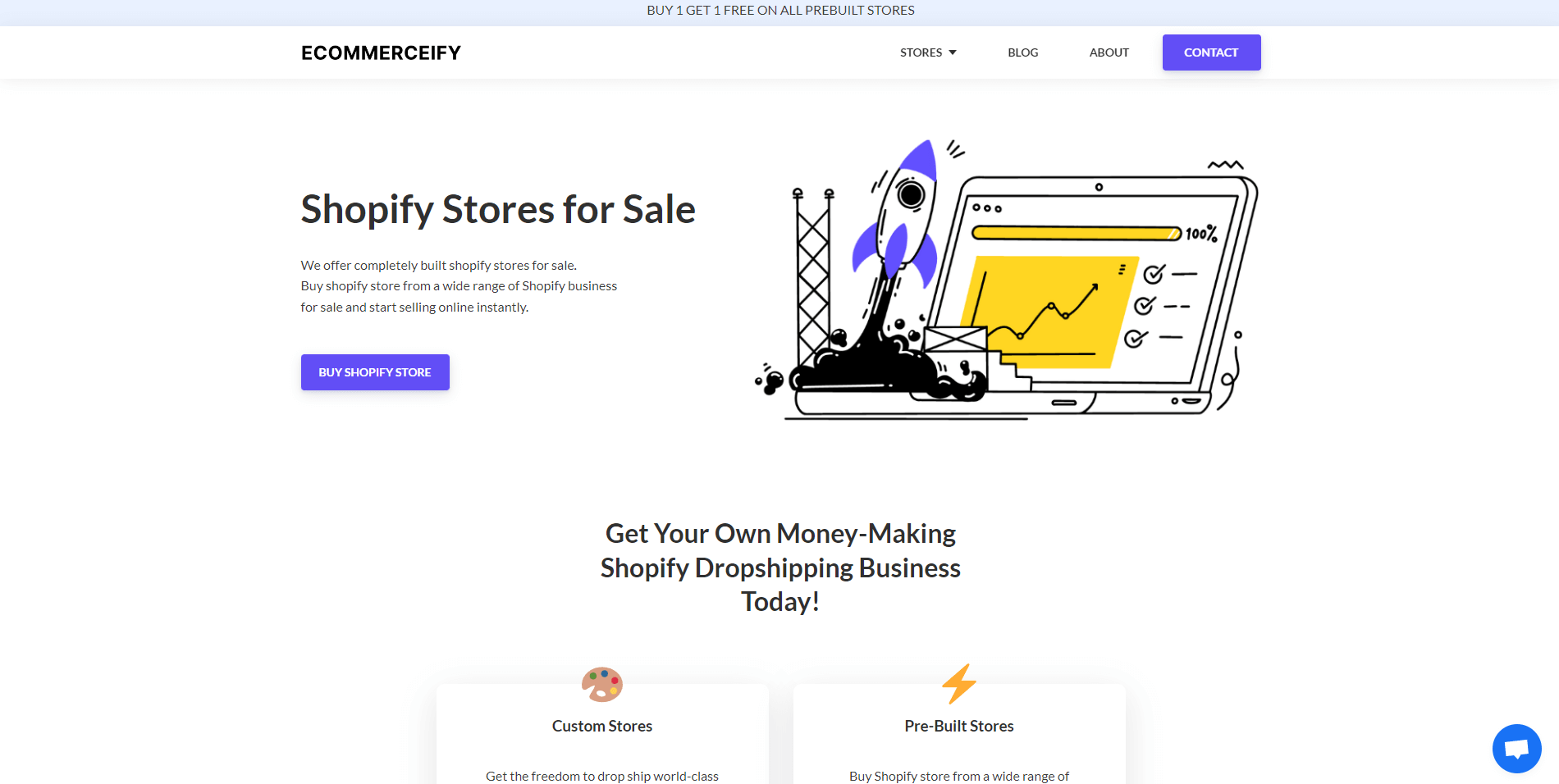 Ecommerceify deals in both custom and pre-built Shopify stores to help you instantly start your online business.
The pricing of their custom store starts at $199 which includes premium themes, logo design, and an SSL certificate.
Some other features of their site include payment gateway integrations and an automated inventory management system.
Additionally, Ecommerceify also provides professional product description writing and SEO services if you opt for their Advanced Package which sets you back $349.
The readymade stores are slightly cheaper and start at $149. But if you're feeling creative, then we recommend going for a custom store.
Key Features
Advanced Plan includes product description and SEO services.
Premium themes and SSL certificate are included regardless of the package you choose.
Integration of multiple payment gateways including Stripe and PayPal
Delivery within 48-72 hours with full transfer of ownership
Mobile responsive site with professional design and logo
8. Dropbuild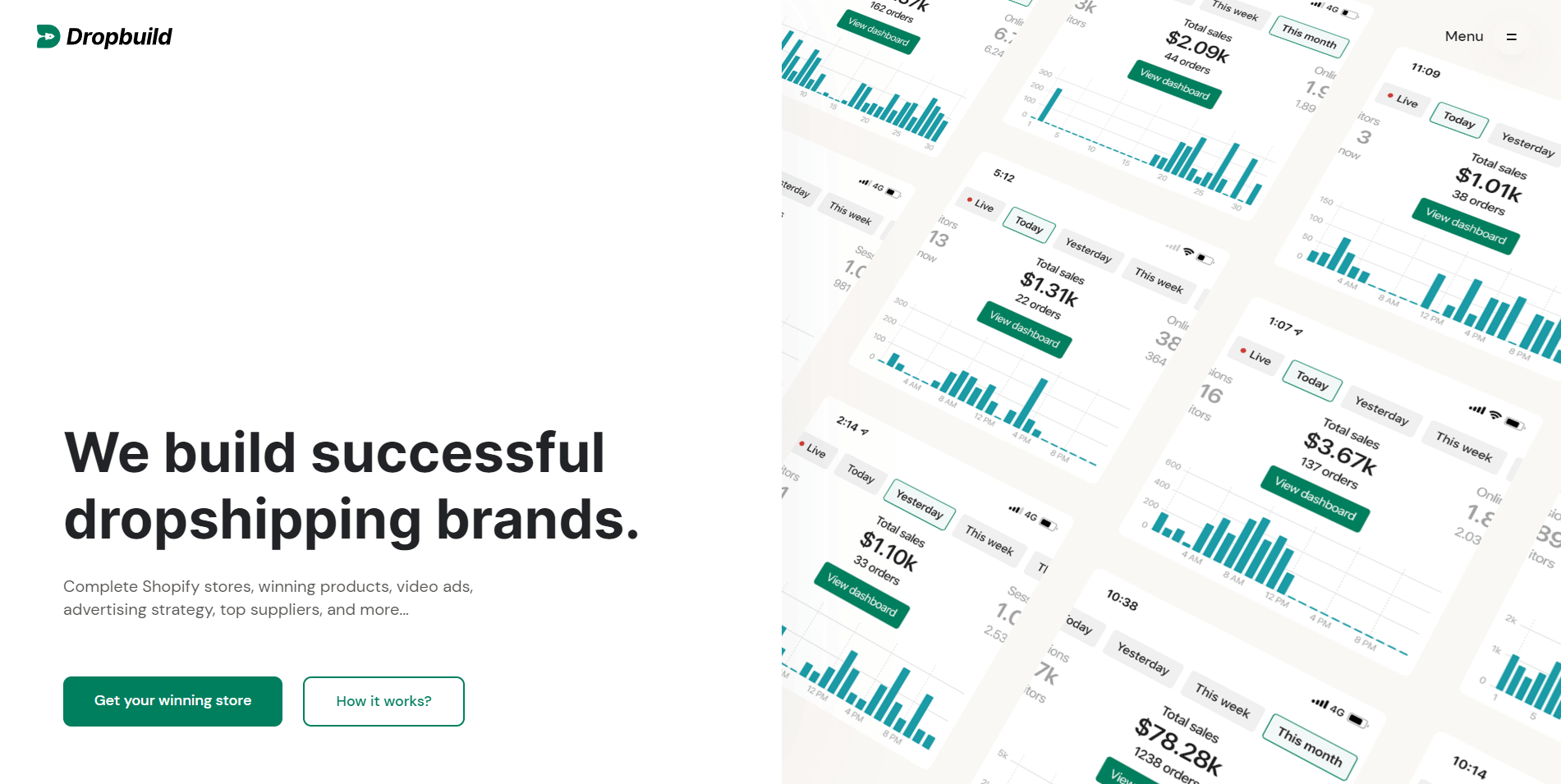 Dropbuild is perhaps one of the most reliable turnkey store providers on this list.
They have secured a rating of 4.8 on Trustpilot with a ton of satisfied customers vouching for them.
All of their stores are packed with hot products sourced from leading dropshipping suppliers and use premium themes.
What we like about Dropbuild is that they won't just leave you after building a store.
They go the extra mile and provide professional descriptions, branding, and video ad services to help your business succeed.
Plus, your site will also be well-optimized for SEO and speed to offer a good customer experience.
Key Features
Guaranteed delivery of a Shopify dropshipping store within 7 days
Mobile-friendly website design with all the necessary apps and integrations
Fully optimized for search engine visibility and speed
Top-rated turnkey store provider according to TrustPilot
Premium website design along with product description writing and marketing services
9. Ali2Woo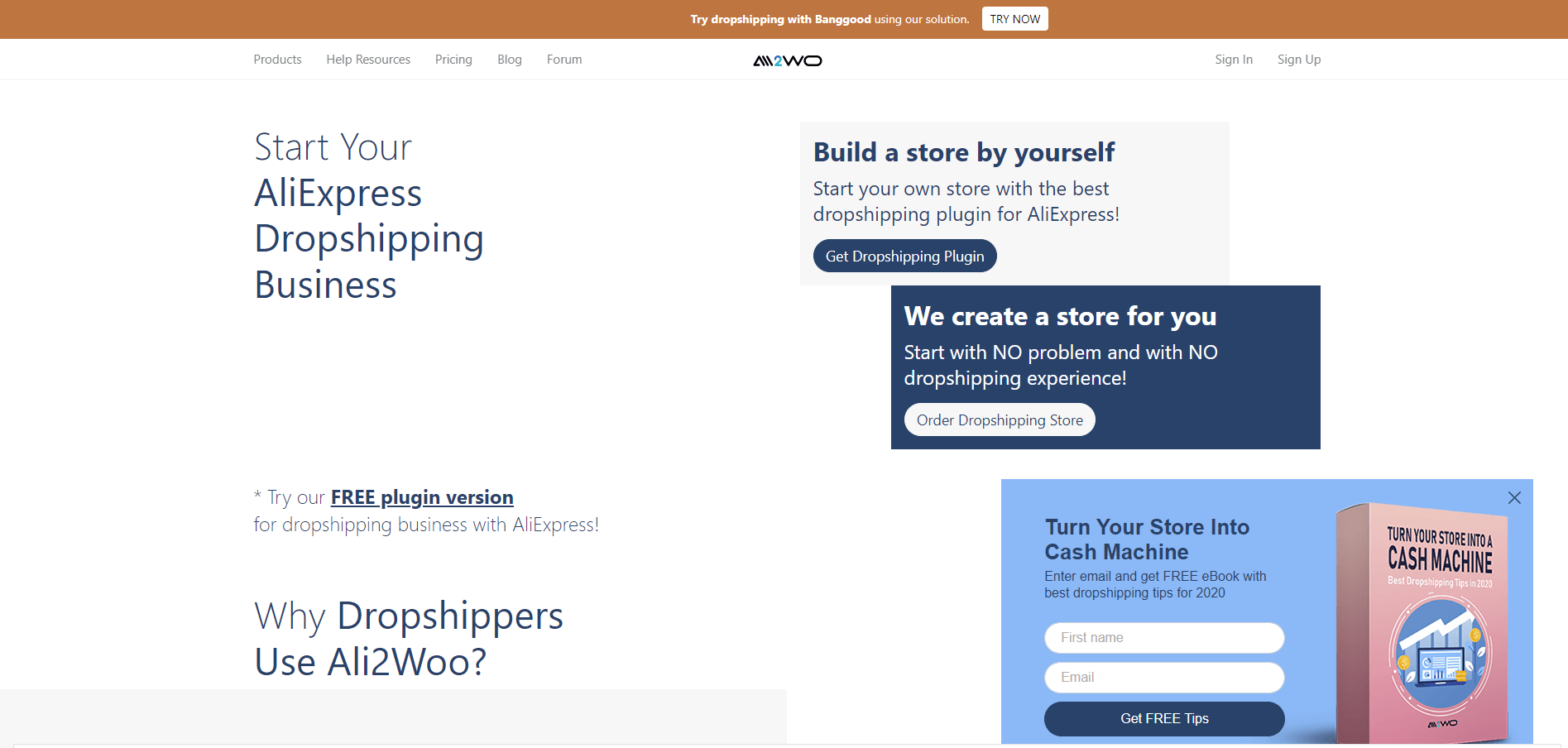 We talked about WooDropship earlier on this list. If you didn't like that option, then Ali2Woo is another great alternative.
Not only is Ali2Woo a plugin that can help you import products to your WooCommerce store from AliExpress, but they also provide turnkey stores to help you launch your business.
They have more than 20,000 satisfied customers with an average online rating of 4.6.
Ali2Woo uses modern premium themes with high-quality graphics to help you set yourself apart from your competitors. The store is also fully optimized for search engine visibility.
Plus, the store is also loaded with 50-200 of the best AliExpress dropshipping products.
Key Features
Professional design and payment gateway setup
Average online rating of 4.6 on platforms like Trustpilot
Fully optimized for search engine visibility
Loaded with 50-200 of the hottest AliExpress dropshipping products.
Online support center that you can connect with via email
10. eHustlr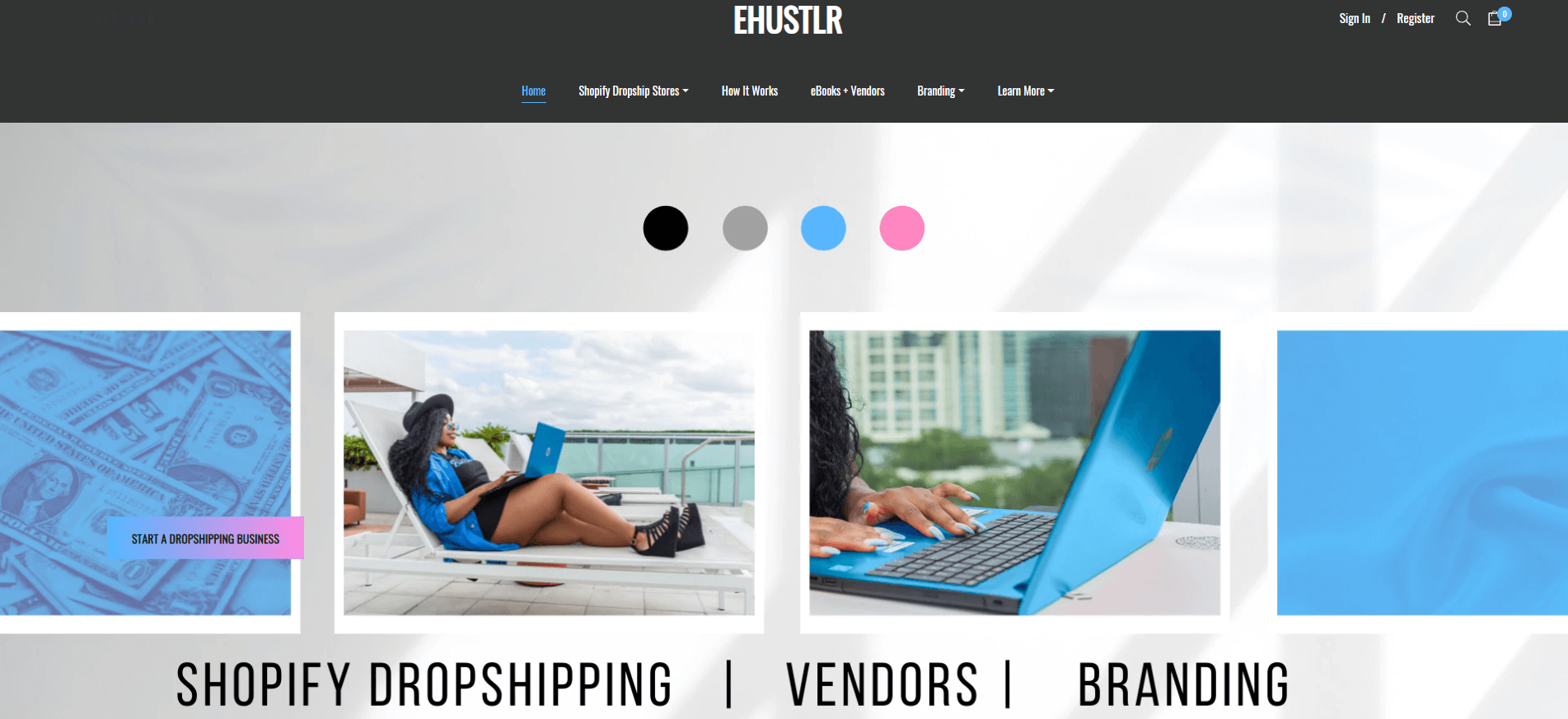 eHustlr is founded by Crystal Burt, a professional dropshipping entrepreneur.
Burt has assisted hundreds of clients set up their online dropshipping business through eHustlr.
Whether it's fashion, fitness, or pet supplies, eHustlr can help you create a Shopify store in the niche of your choice.
The starting fee is $199 which includes a premium theme and 20 preloaded products.
In addition, it also includes lifetime support and a free eBook to generate sales.
But of course, you might not need the eBook, especially with so many other dropshipping learning resources.
Key Features
Mobile-friendly website which also includes legal pages and policies
Lifetime support and eBook sharing tips on how you can maximize your sales
Shopify store preloaded with 20 winning products
Niche-driven websites integrated with all the necessary apps
Fully customized dropshipping stores starting at $199
11. Dropship Empire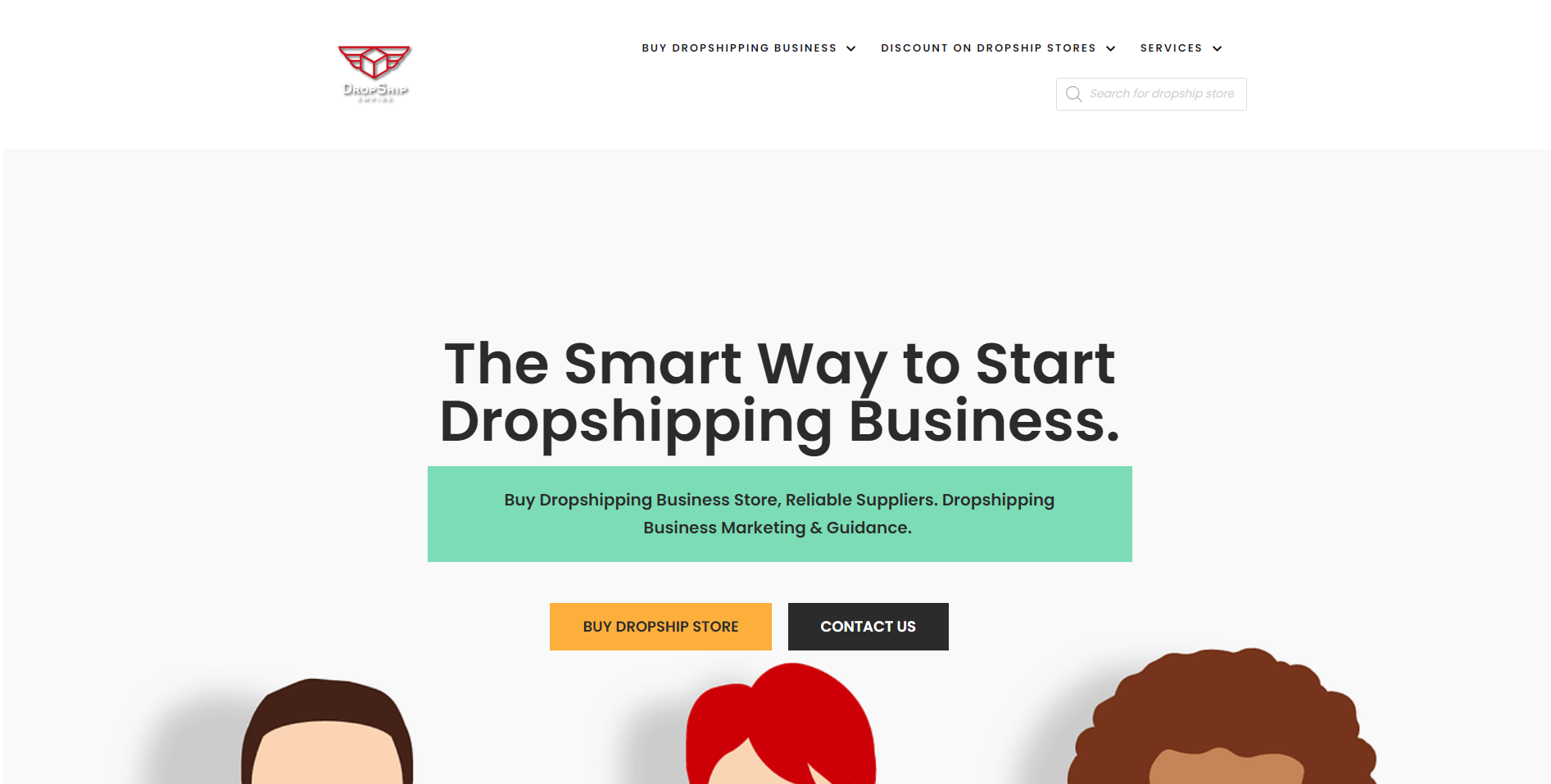 If you're looking for a premade or custom dropshipping store at just a price of $119, then Dropship Empire wouldn't disappoint you.
The stores come with automation options, a professionally designed custom logo, and a business email.
In addition, it is also preloaded with products from reputable suppliers in the UK, US, or Europe.
And if you want to start making money right from the beginning, then they also deal in already established dropshipping businesses.
Some of those stores can generate up to $25,000 a year – but of course, you'd need a reasonable amount of investment to buy them.
Key Features
Turnkey dropshipping stores in the niche of your choice
Fully automated with preloaded products from reputable suppliers
Ongoing support along with free digital marketing service
You can also purchase dropshipping stores with an established income
Mobile responsive design with custom logo and SSL
12. DropshippingHelps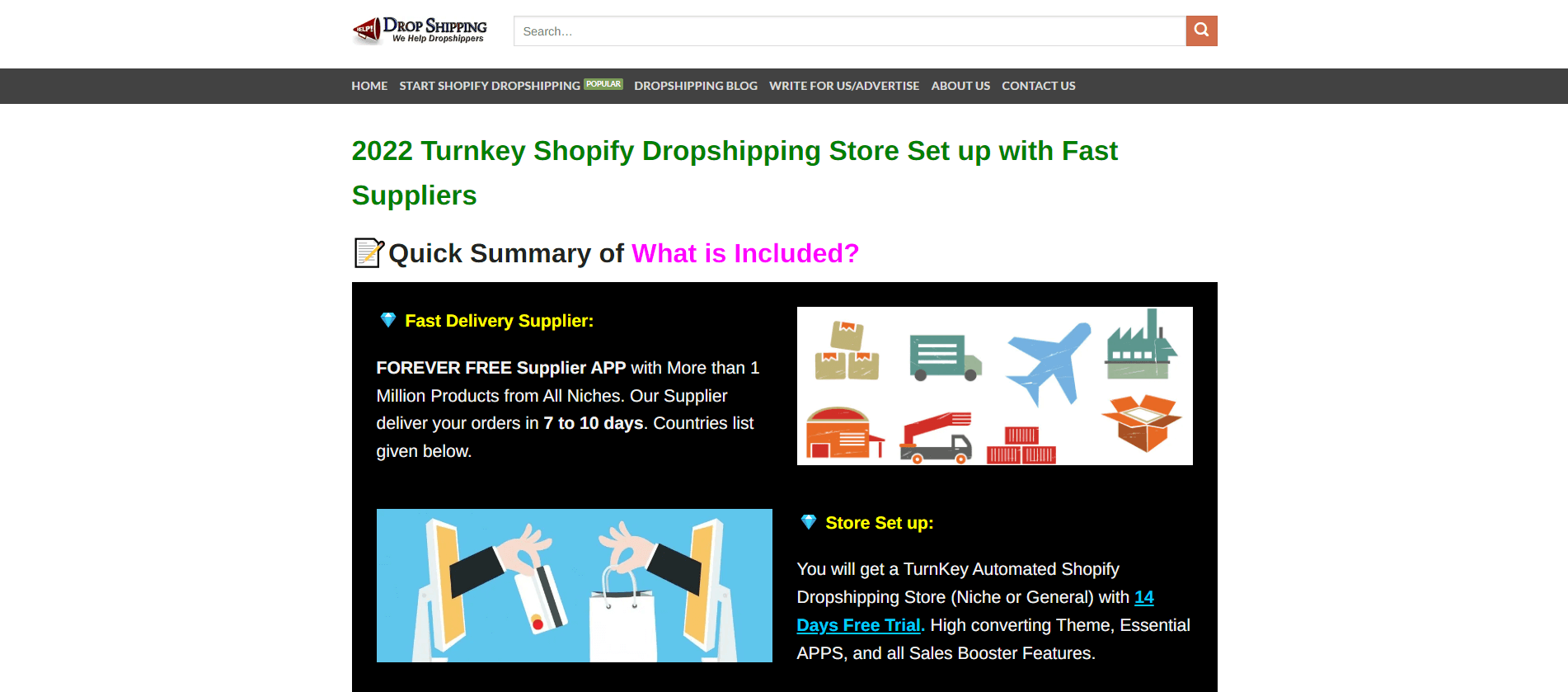 DropshippingHelps has been operating since 2017 and mostly has good reviews.
They only charge $50 to build a Shopify dropshipping store – which also makes them one of the most affordable turnkey store providers on this list.
The store includes 25 preloaded products, 8 free apps, 8 legal pages, and an additional list of 60+ suppliers.
They promise delivery within 24 hours and also have a 7-day no-questions-asked money-back guarantee.
Key Features
Affordable pricing of only $50 for a Shopify dropshipping store
25 preloaded products and 8 free apps
24 hours guaranteed delivery with ownership transfer
7 days no-questions-asked money-back guarantee
Build a store in the niche of your choice
13. BeBiggy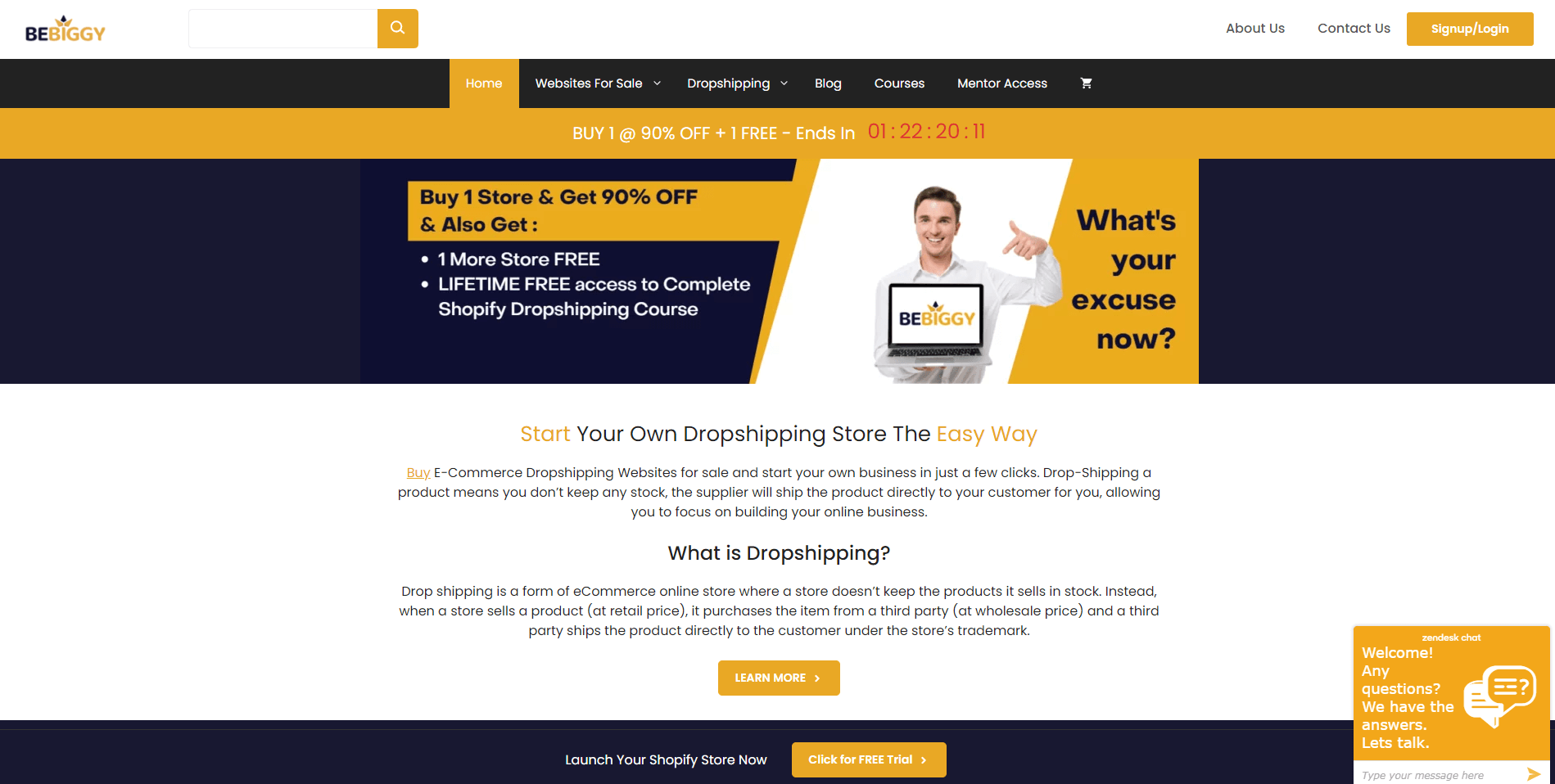 BeBiggy sells both generic as well as custom turnkey dropshipping stores.
You can purchase the generic stores for as little as $119 while the custom ones lean more towards the expensive side and start at $499.
They can also help you automate your business if you pay an additional fee of $29/month.
The biggest perk of choosing BeBiggy is their lifetime aftersales service which will help you maintain your site.
Key Features
Automate your business by paying a fee of $29/month
Premade turnkey stores can be purchased at $119
Lifetime aftersales service to help you maintain your site
Multiple store niches to choose from
Get connected with reliable suppliers to source your products
14. Wholesale2b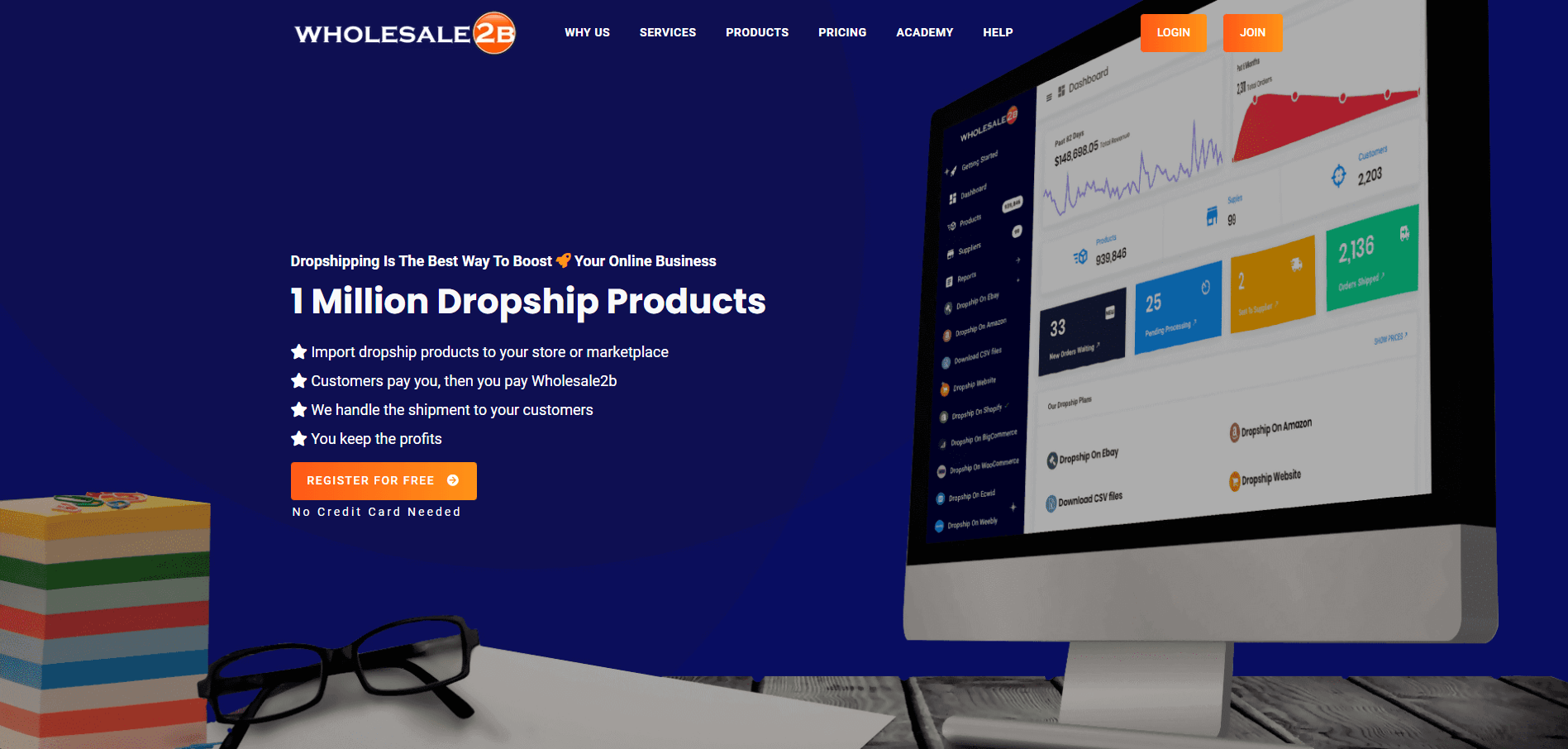 Wholesale2b is a popular dropshipping automation platform that also offers a wide range of other services including turnkey dropshipping stores.
Their plan includes hosting, a domain name, inventory automation, and much more at a price of $49.99/month.
We know that paying a monthly fee can be a bummer for some people.
However, their additional features also include a business email address, marketing tools, and an SSL certificate. Wholesale2b works with both professionals and beginners alike.
Key Features
Hosting, domain name, and inventory automation are included.
Hundreds of products are preloaded and more can be imported with a single click.
Marketing tool, business email, and a free SSL certificate
A quick turnaround time of one business day.
40% discount on the yearly plan bringing it to $447
15. Turnkey Ecom Stores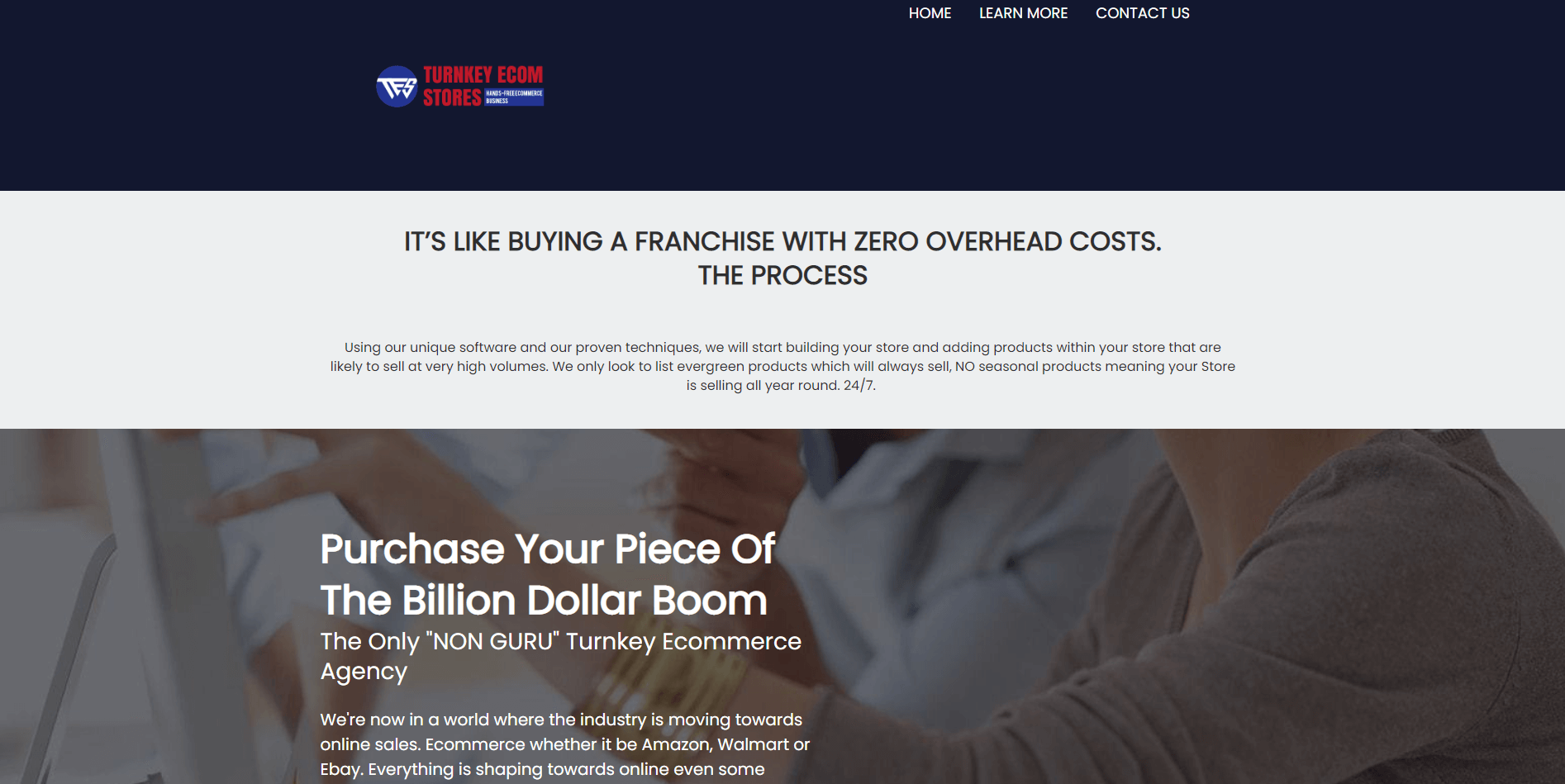 Turnkey Ecom Stores is an agency, which as its name suggests, provides ready-made eCommerce stores to motivated clients.
The unique selling proposition of this agency is that they don't believe in seasonal or temporarily trendy products.
Their top priority is to preload the stores with evergreen products so you can generate a stable income throughout the year.
Not only do they offer store-building services but can also help you create a sales funnel to set you on the right track.
In addition, they can also help you write product descriptions, and design images to set you apart from the competitors.
Key Features
Operating since 2006 and successfully operating more than 150 Shopify stores
Loaded with evergreen products to make sure you can generate sales in any season
Custom funnels to help you achieve your business goals
Product descriptions and image designs to set you apart
Custom store design with an attractive theme
16. Flippa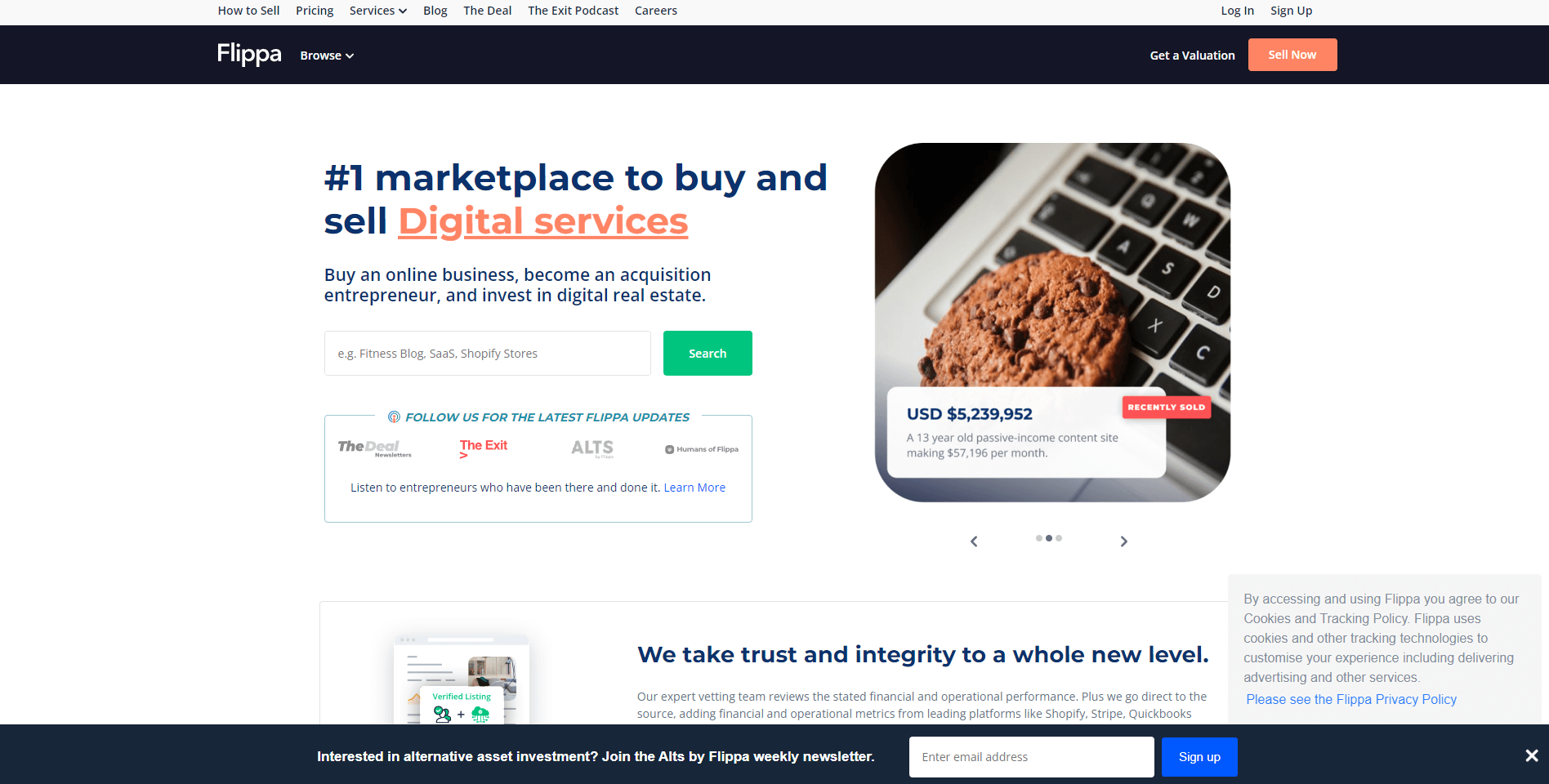 Flippa isn't a turnkey store provider, but rather a marketplace where you can purchase established businesses online.
The platform has been around since 2009, and it is completely protected and safe for peer-to-peer selling.
Although we only recommend purchasing a store from Flippa when you already have experience in the industry and enough capital to invest.
The prices of dropshipping stores on Flippa can vary depending on their income.
But in general, they start from a few thousand dollars and can go up to a few million dollars.
Key Features
A full marketplace to purchase established turnkey dropshipping stores
Fully safe and protected for peer-to-peer selling
Great platform for individuals who are looking for businesses with existing income
17. Empire Flippers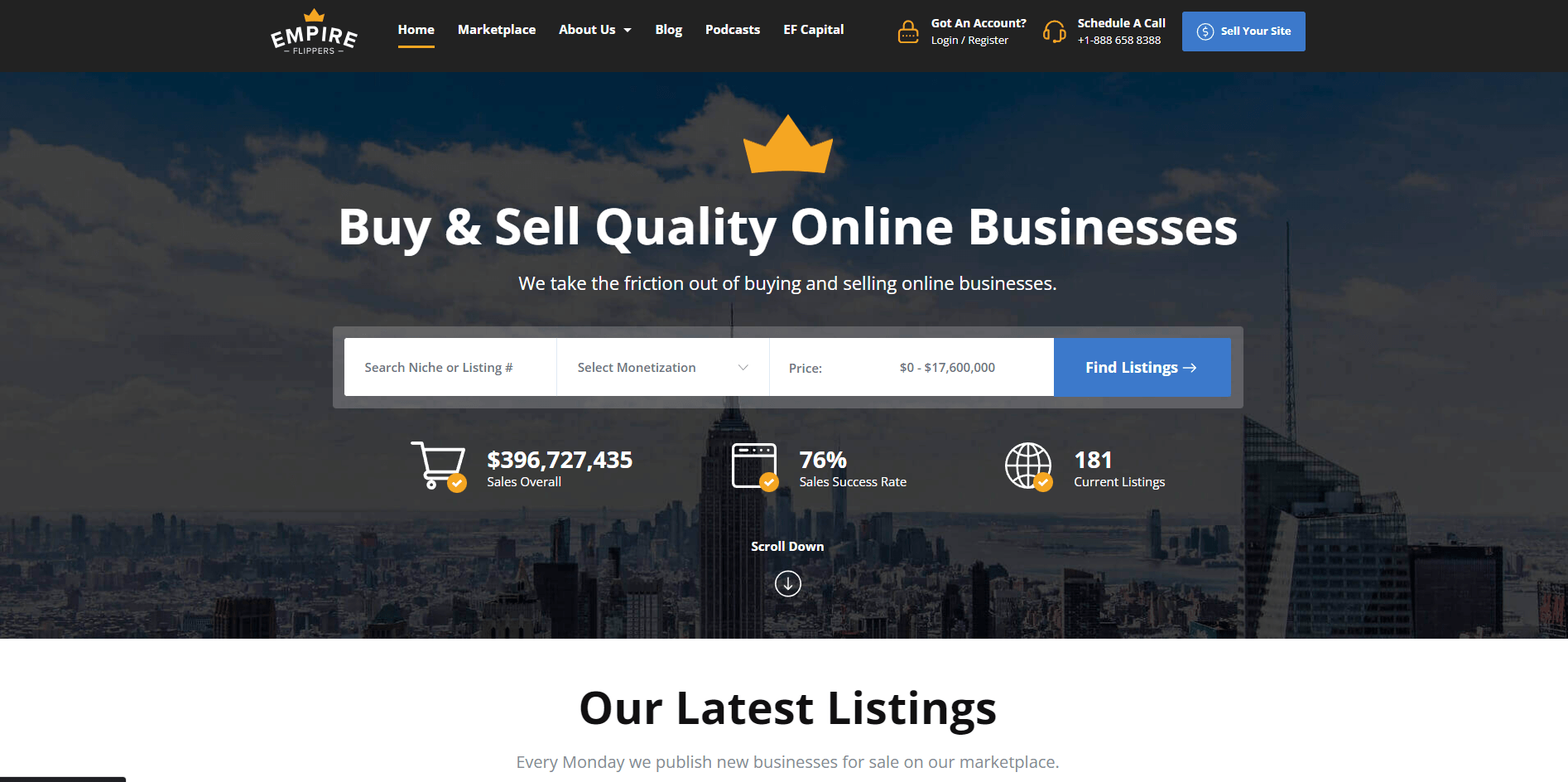 Empire Flippers is a brokerage of already established dropshipping stores.
But just like Flippa, if you're going to purchase a store from this marketplace then you'll need a huge initial investment on hand.
On the plus side, the dropshipping store you purchase would already be running social media ad campaigns on platforms like Facebook and TikTok and have a customer base actively placing orders.
Although once again, we wouldn't advise beginners to purchase an established business because running it smoothly without experience can prove to be a challenge.
Also, before you hop on to Empire Flippers, keep in mind that they do not offer any customer support once the transaction is complete between you and the existing business owner.
So you have to be extra cautious to make sure that you don't fall prey to a scam.
Key Features
Buy businesses with an active social media campaign and marketing funnel.
Already established businesses generating a monthly income
Existing customer base and business optimized for SEO
18. AliDropship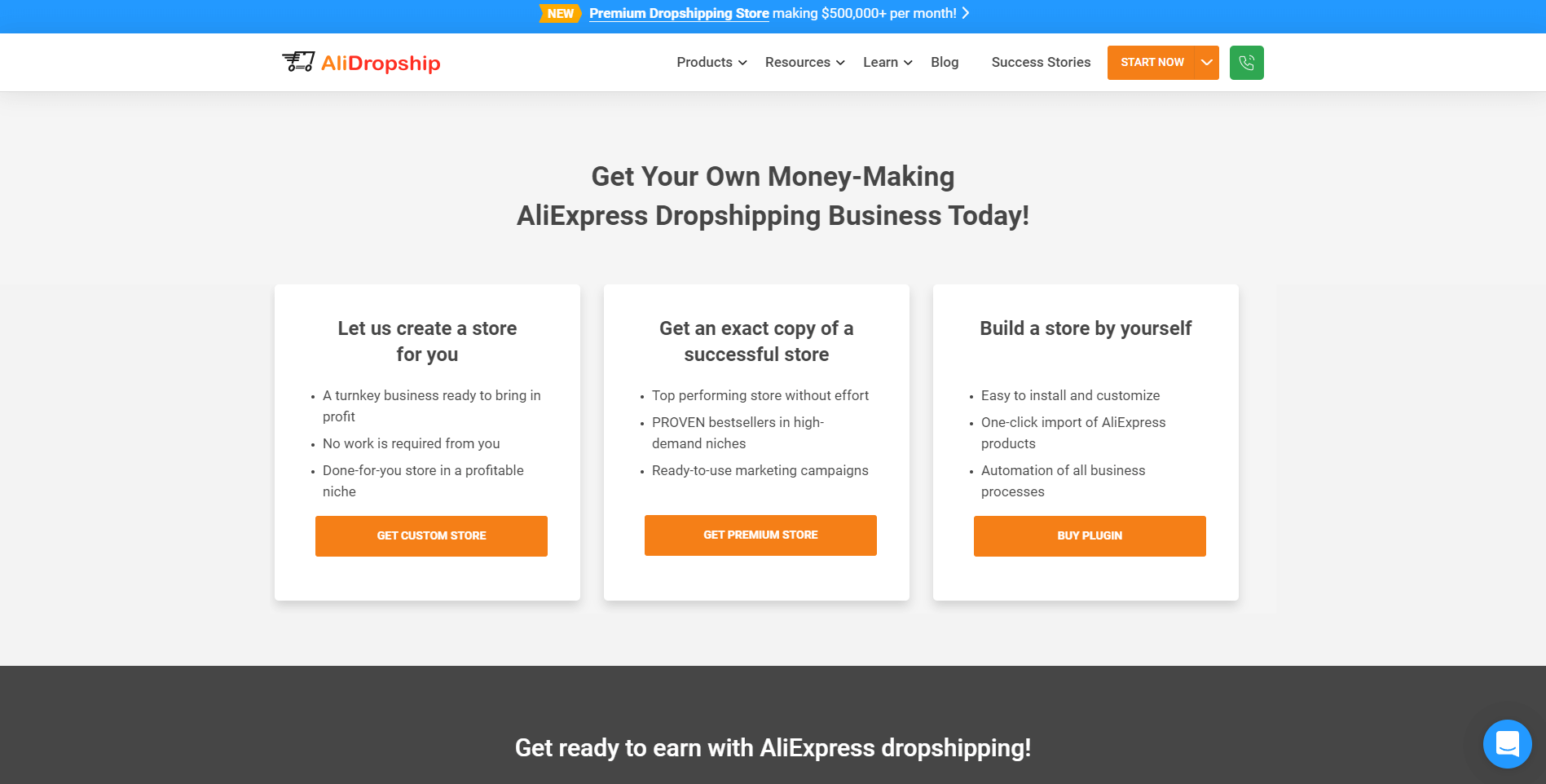 AliDropship not only provides an automation solution but can also help you set up a turnkey WooCommerce dropshipping store from scratch.
The price of the store starts at $299, and it is preloaded with 50 winning products with the AliDropship plugin obviously integrated into it.
A professional theme, custom logo, and branding are included in the package to make sure that you have a strong starting foundation.
And if you have the budget, then you can also buy existing dropshipping stores with an established customer base.
Key Features
Preloaded with 50 winning products in the niche or category of your choice
Built-in SSL certificate to keep your business safe from online attacks
Custom logo, banners, and a professional theme
Unique branding and a premium domain name
Best for those who want to start WooCommerce dropshipping
19. Dropship For Sale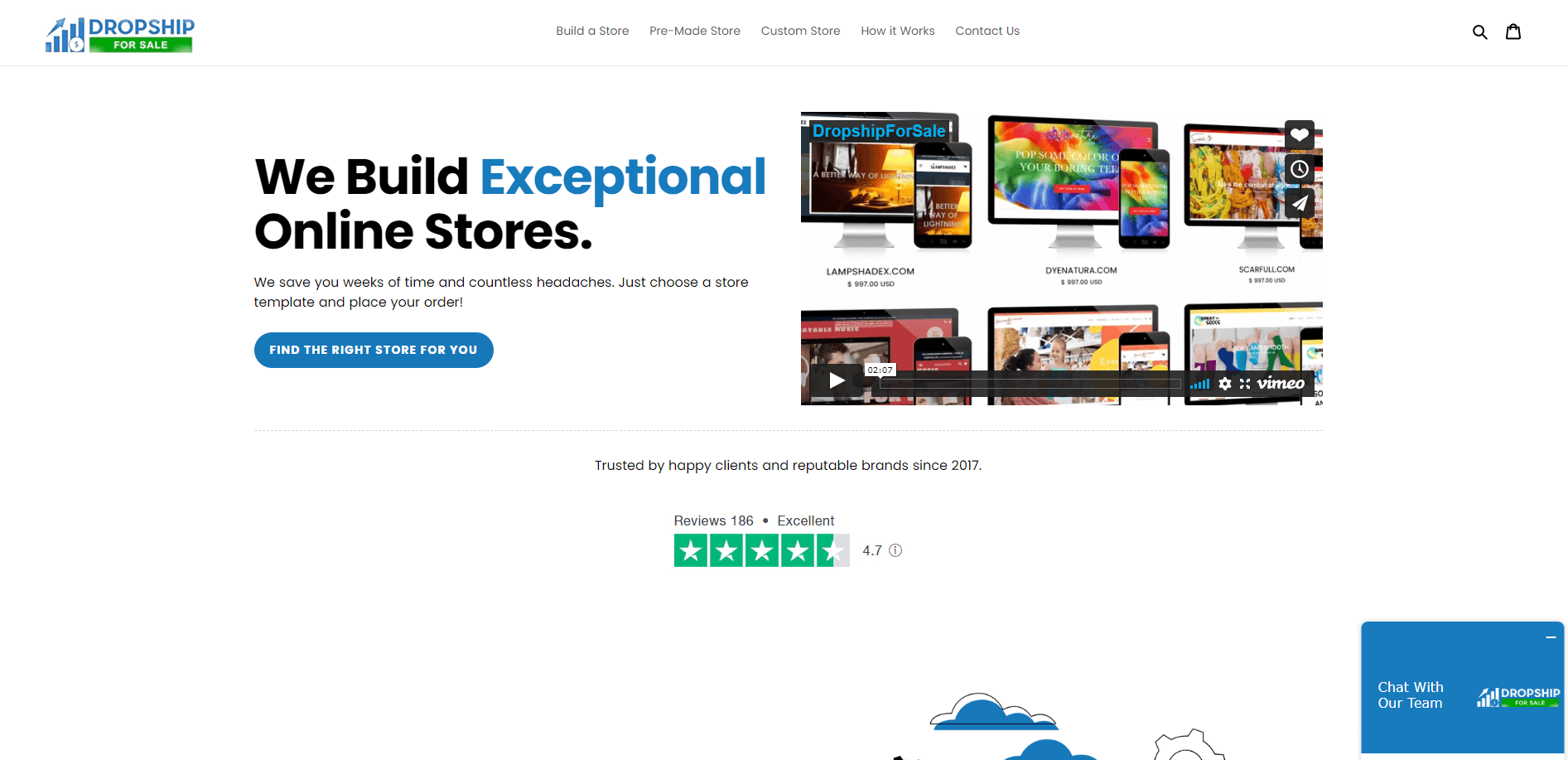 Established in 2017, Dropship For Sale has grown in popularity for its attractive custom Shopify dropshipping stores.
The price of the custom store starts at $199 which can increase depending on if you require any add-ons.
They promise delivery and transfer of the full ownership of the store within 24 hours.
The only drawback of Dropship For Sale is that they do not offer any after-sales service.
So once you get your store from them, you'll pretty much be on your own.
Key Features
Custom stores start at $199.
Delivery within 24 hours with full ownership
Attractive store design with all the necessary app integrations
Add-ons like automated order processing at an extra cost
Build a store in the niche of your choice
FAQs about Turnkey eCommerce Stores
What Is a Turnkey eCommerce Store?
A turnkey eCommerce store is basically a business ready to use the moment you get it in your hands. It normally comes with preloaded products and has all the apps and integrations you need to start selling as soon as you get the ownership of it.
What Are the Advantages of Turnkey eCommerce Stores?
Turnkey stores come with a variety of benefits, so here are to name a few:
1) Saves Your Time
Building an eCommerce store can be a bit challenging for a beginner. There are numerous things to consider such as purchasing hosting and registering a domain.
After that, you need to come up with a presentable website design, hunt products, and basically, the list goes on.
Turnkey eCommerce stores can help you avoid all the hassle as you're paying to get a readymade business, which as a result, can help you save a ton of time.
2) Start Earning Instantly
If you know your way with marketing and know-how to attract customers then your turnkey store can instantly start generating money for you.
In addition, if you're experienced enough and have the budget, then you can also purchase established eCommerce stores having an existing customer base, sales, and revenue.
3) Professionally Designed
Building an eCommerce store as a beginner can be challenging. Even after spending days, it might still not look the way you want it to.
On the other hand, turnkey stores are designed by professionals. If you're opting for their custom store package then you can make the final result look exactly the way you want it to.
Should You Buy a Turnkey Dropshipping Store?
Buying a turnkey dropshipping store can be a great idea, especially if you're new to the business and aren't tech-savvy.
Otherwise, you might end up spending days or even months learning how to create one on different store builders like WooCommerce and Shopify.
In addition, opting for a turnkey dropshipping store can also help you avoid the product hunting phase as most of them come preloaded with products.
Final Thoughts
Buying a turnkey store can be a great way for beginners to get into the world of eCommerce.
It can help them learn how the industry works, without worrying about the technical aspects of setting up the business.
With that said, most turnkey store providers only specialize in setting up the site.
When it comes to product sourcing, the better approach would be to trust a reputable service like NicheDropshipping.
Not only can we source your products at competitive prices but also private-label them to help you build a brand.
So if you want to grow your business, then give us a call and our dedicated agents will guide you!