At face value, Shopify dropshipping is an easy business to run. You only need to find suppliers, list products, and share orders with suppliers for fulfillment. Besides, Shopify is one of the most user-friendly online store platforms, right?
The truth, however, is that it's not all as easy as it looks. Sourcing products and handling multiple orders without making mistakes is time-consuming and exhausting.
This is why you need dropshipping apps to automate such processes and ease your workload.
Here are 10 of the best Shopify dropshipping apps and everything you need to know about them to make an informed choice.
Product Sourcing Apps
Product sourcing apps enable you to access dropshipping suppliers and list their products in your Shopify dropshipping store. They include:
1. CJ Dropshipping App
CJ Dropshipping is a dropshipping company that offers product sourcing and other dropshipping services such as warehousing.
The CJ Dropshipping platform lists countless types of products. They range from clothing, home care, electronics, and much more. They are sourced from different vetted suppliers.
The CJ Dropshipping app makes it easy to sift through the vast product options and find what you need. There are no access fees required. CJ Dropshipping only bills you for the products ordered and the order handling services.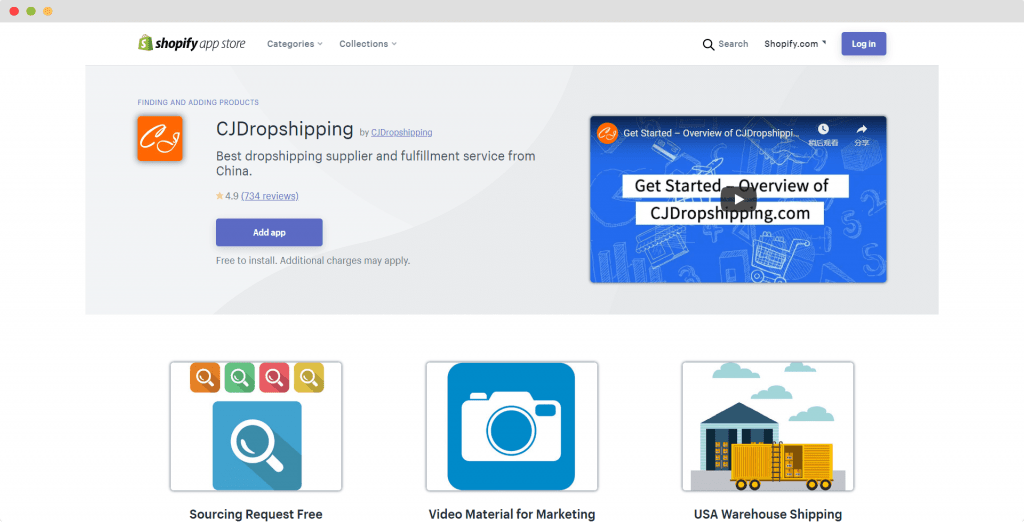 CJ Dropshipping App Features
The app is designed to help you:
Search and filter products

Import selected products in one-click

Edit product details and pricing before importing products

Share product sourcing requests with CJ Dropshipping

Share orders for fulfillment by 'Add to Cart' or 'Import Excel Order' for bulk purchases

Calculate shipping costs

Track orders
Pros
Free access

The services provided are very helpful and make dropshipping easy

CJ Dropshipping provides customer support
2. NicheDropshipping App
NicheDropshipping is a full-service dropshipping company. From sourcing products, providing product images and video, to bulk purchasing and worldwide fulfillment, all your dropshipping needs are catered to.
NicheDropshipping is optimized to deliver full integration with Shopify. To sync your Shopify store to NicheDropshipping, you will need to register for an account. This will give you access to all the automation features on the NicheDropshipping platform.
NicheDropshipping Automation Features
With the NicheDropshipping app, you can
Sync your product listings to those on NicheDropshipping

Import product listings from NicheDropshipping

Manage orders and share them with NicheDropshipping for processing

Upload CSV files for bulk orders

Track order processing and monitor orders that have been shipped
Pros
NicheDropshipping integration works best for Shopify, but it also works fine for WooCommerce.

You get a full range of dropshipping automation services for free

You would have a dedicated customer support

dropshipping agent

This dropshipping automation system is designed to help you avoid common order processing errors
3. Oberlo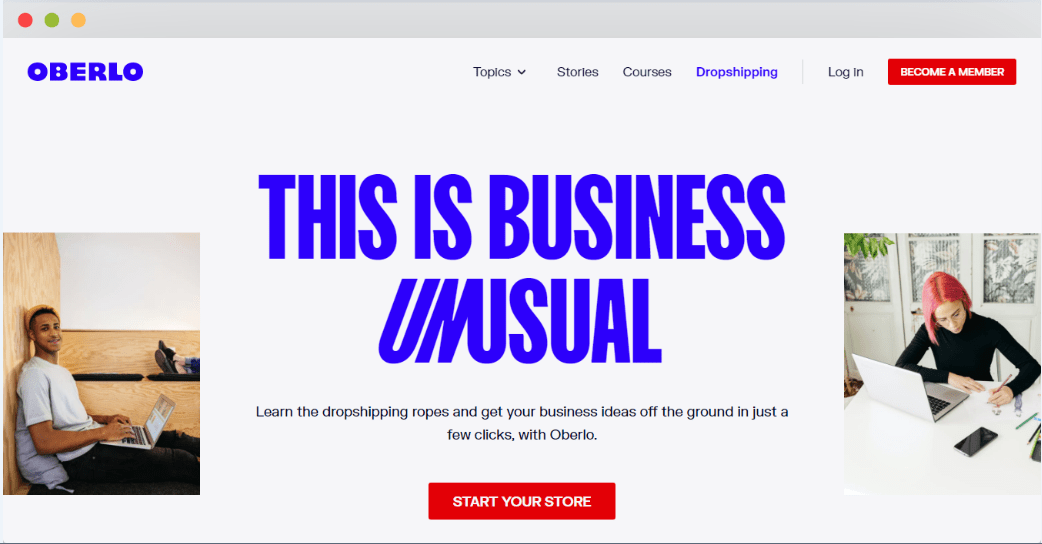 Oberlo is a popular app among many Shopify store owners. This is likely because it is seamlessly compatible with Shopify and gives users access to a very wide list of product sourcing options.
When you sign up for Oberlo, you can source products through 2 avenues.
You can choose to source products from the product catalog provided by Oberlo from different suppliers.

You can sync your Shopify to AliExpress and use Oberlo to import the products you would like to sell.
Oberlo offers a free entry-level plan and 2 paid membership plans. On the Basic plan, you can only list 500 products and have access to minimal features. For $29.90 you can list 10,000 and for $79.90 you can list $30,000.
Oberlo App Features:
This Shopify app enables you to:
Access 2 sources of product suppliers

Import product listings to your Shopify store

Sort and customize product listings before importation

Manage your store with ease through automatic price and inventory level notifications

Make bulk orders in one click
Pros:
It is a user-friendly app

It provides access to lots of suppliers

Round-the-clock customer support

Real-time order tracking
Cons:
It does not offer full automation which can make scaling your business with this app challenging

The Oberlo app does not pair seamlessly with AliExpress
4. AliExpress Dropshipping App
AliExpress is a popular dropshipping supplier for most dropshippers across the world. However, the site offers so many options that it can be difficult to keep track of everything manually.
The AliExpress dropshipping app is developed in conjunction with Appfreaker. It is designed to make it easier for dropshippers to import products from AliExpress to their Shopify online stores.
When you first install the app, there is a 7-day free trial. However, the trial version has very limited features such as access to only 1 supplier.
The paid plans are based on the number of products you can import and how many suppliers you can access.
For $5, you are allowed 5,000 products and 6 suppliers. $40 allows you 40,000 products and access even to suppliers from other platforms.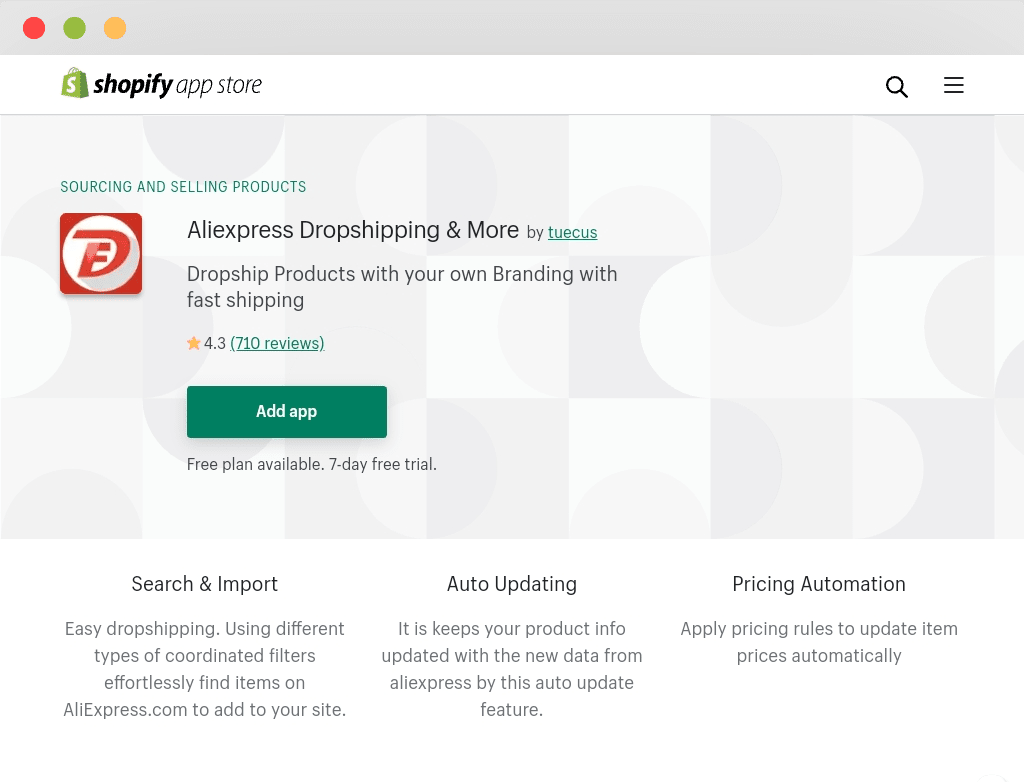 AliExpress Dropshipping App Features
Once you install this app, you will be able to:
Import products with one click using the chrome extension

Edit product information before importation

Have your product listings automatically updated in terms of pricing and inventory

Fulfill orders quicker. When you order the product on a customer's request, the app will automatically share their shipping info as part of the order details
Pros
It makes importing products from AliExpress much easier

The automated updates are convenient and you never have to worry about listing products that are out of stock

Customer support is provided
Cons
The chrome extension can be slow and can be challenging for beginners to navigate

Order fulfillment is automated but feedback from suppliers can be delayed
5. Spocket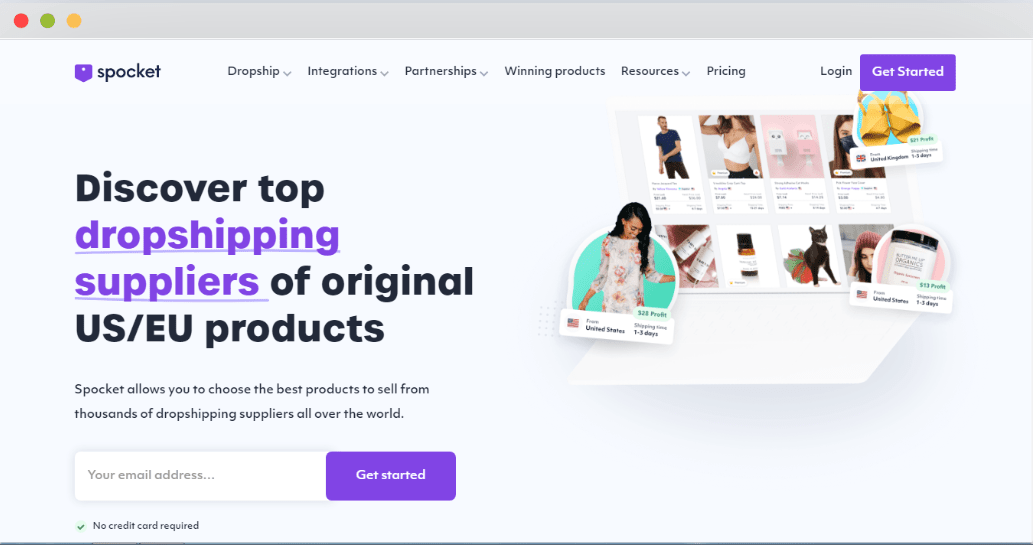 Spocket is a dropshipping app that provides access to suppliers in the USA and Europe. Its suppliers are all vetted and Spocket negotiates for lower prices on behalf of its members.
This app syncs quite well with Shopify. If you would like to get an idea of how it works, you can start by signing up for the free plan. If you like what you see, you can upgrade to a paid plan. It is not possible to sell or import on the free plan.
Spocket offers monthly and discounted annual plans. The monthly plans range from $25 to $299. The former allows you to list 25 products but with the latter, there is no limit. You may find a good compromise in one of the mid-range plans.
Spocket App Features
Quick and easy importation of product listings

Inventory is automatically updated in your Shopify store in real-time

The branding provided branding tools allow you to personalize your invoices with your store logo and details

The order fulfillment process is automatic; customers' orders and their shipping details are all compiled on your order page
Pros
It is easy to use and does not lag often

The supplier list is curated

Sharing orders with suppliers is made much easier as customer details import automatically
Cons
You have to commit to a paid plan to test the importation process or list any product

The customer support could be better
6. Printful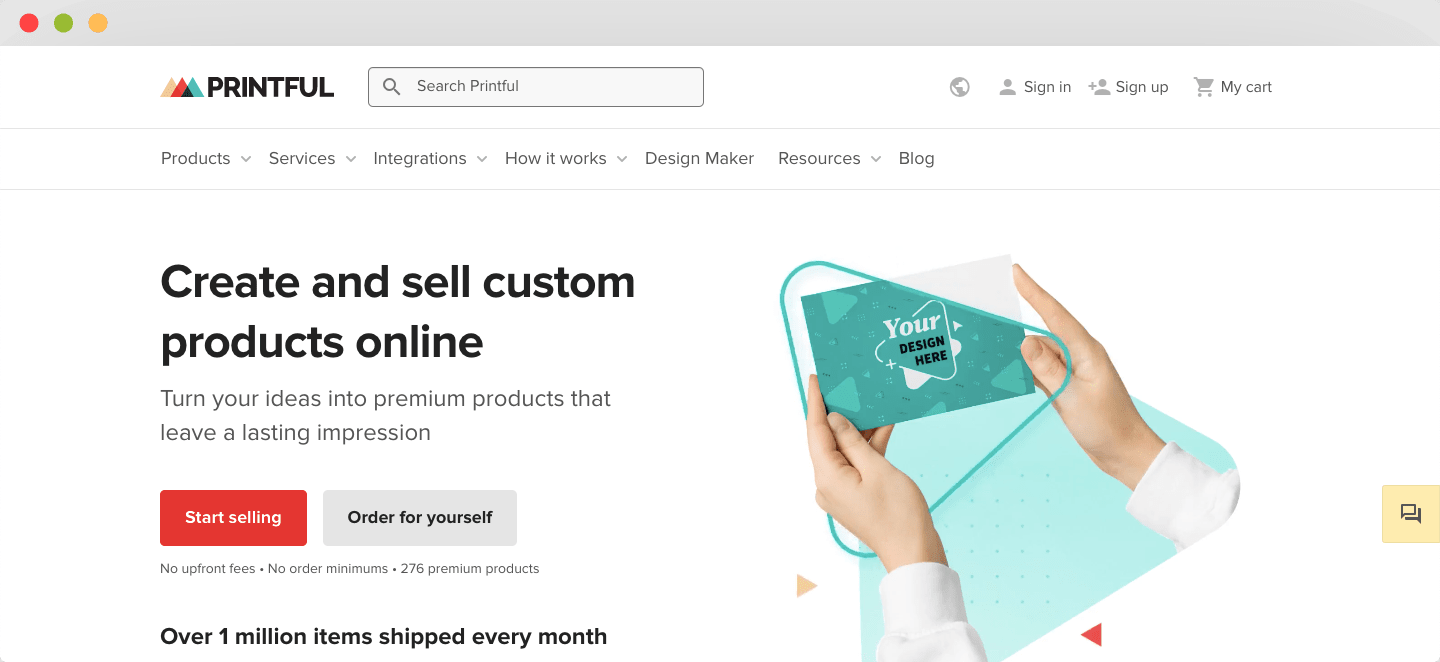 Printful is a great dropshipping service if you sell customized items in your Shopify store. It allows you to share a custom design and have it printed on t-shirts, mugs, coasters, and such products.
These on-demand orders are processed at various Printful warehouses depending on which of them is closest to your customer.
The Printful offers automation to make it easy for you to share or choose designs and process orders. There are no monthly fees. Rather, Printful costs are billed per order.
Printful Shopify App automation features
Orders are imported automatically including customer shipping details and size specifications

Shipping and tax calculators will help you estimate costs appropriately

You will have access to informative Printful tutorials
Pros:
Printful provides online and phone customer support services

Order processing is easy due to proper automation and fulfillment is equally swift

You do not have to commit to a monthly or an annual plan
Con
In the long run, per-order fees can add up to more than a one-off monthly fee
Marketing Apps
So, your Shopify online store is all set up and ready to make your first sales, right? This is where the real work begins.
To make sales, you will need to market your store and its products to drive traffic to your site. Ergo the need for marketing apps that are compatible with Shopify.
It is estimated that over 4 billion people use social media. This makes it a powerful marketing tool through which you can reach a broad customer audience quite affordably.
However, you need to first build a social media presence for your Shopify store. Herein lies the importance of Sked Social.
Sked Social is a scheduler for Instagram posts. It enables you to choose the product videos, images, and captions you would like to post and schedule them to publish at set times.
Better still, if you would like to engage potential customers on other social platforms such as Facebook and Twitter, you can cross-post.
Cross-posting means that the same content you post on Instagram can be scheduled to publish on your other social platforms. You can also tailor the post to match the style or buzzwords of said platform.
Sked Social offers a free 7-day trial and 3 paid plans; $25, $75, and $135 per month. The trial allows you to choose which plan you would like to try out.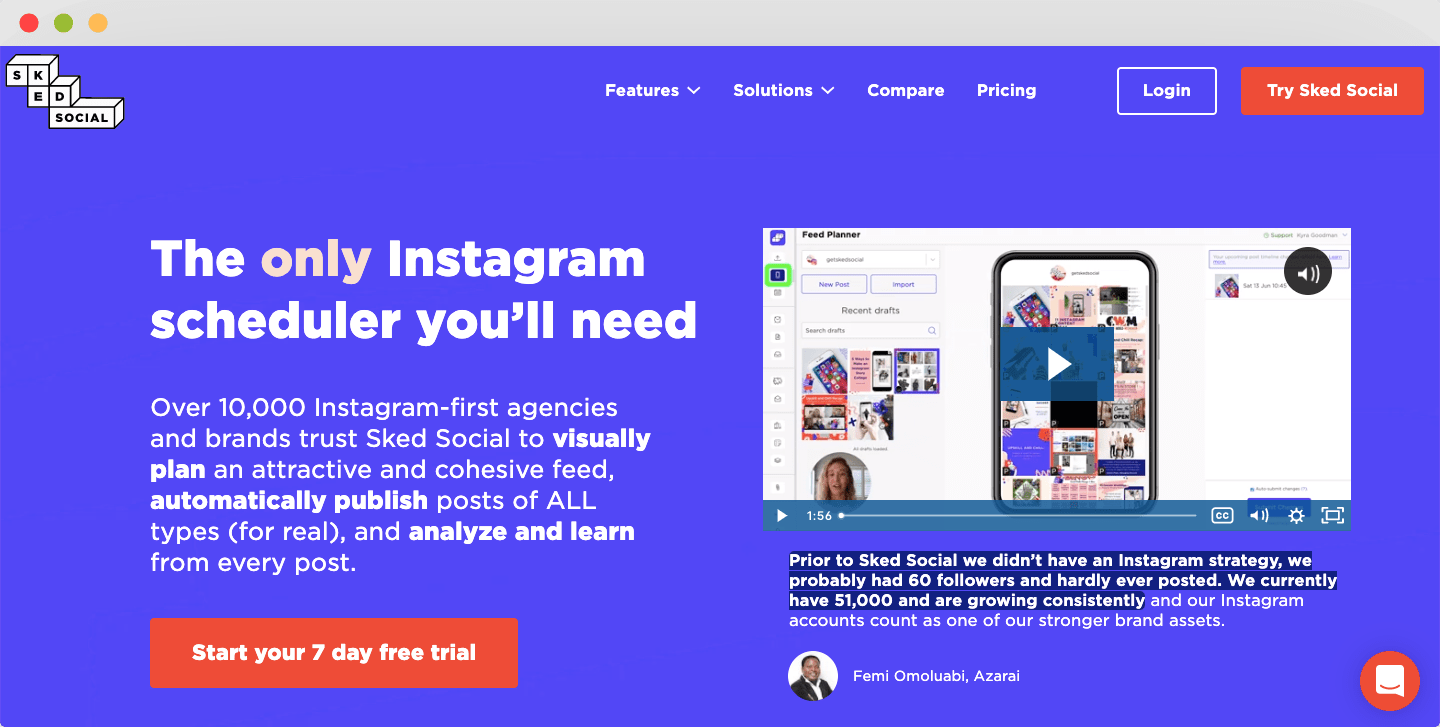 Sked Social App Features
With the Sked Social App you can:
Publish marketing posts across different social media platforms

Insert tags, hashtags, and links to your Shopify store in posts

Receive marketing analytics on how and whether your audience is interacting with your posts

Preview your social media posts and timelines to see what they will look like before the posts are ever made. You can then edit if you wish to.
Pros
It makes it easy to maintain consistent engagement with customers on social media. Increased visibility often helps boost traffic to your online store.

Previewing posts allow you to correct errors before they are in the public domain

You can manage multiple social media platforms via one app

Analytic data can help you identify whether your marketing strategies are working or not
8. Mailbot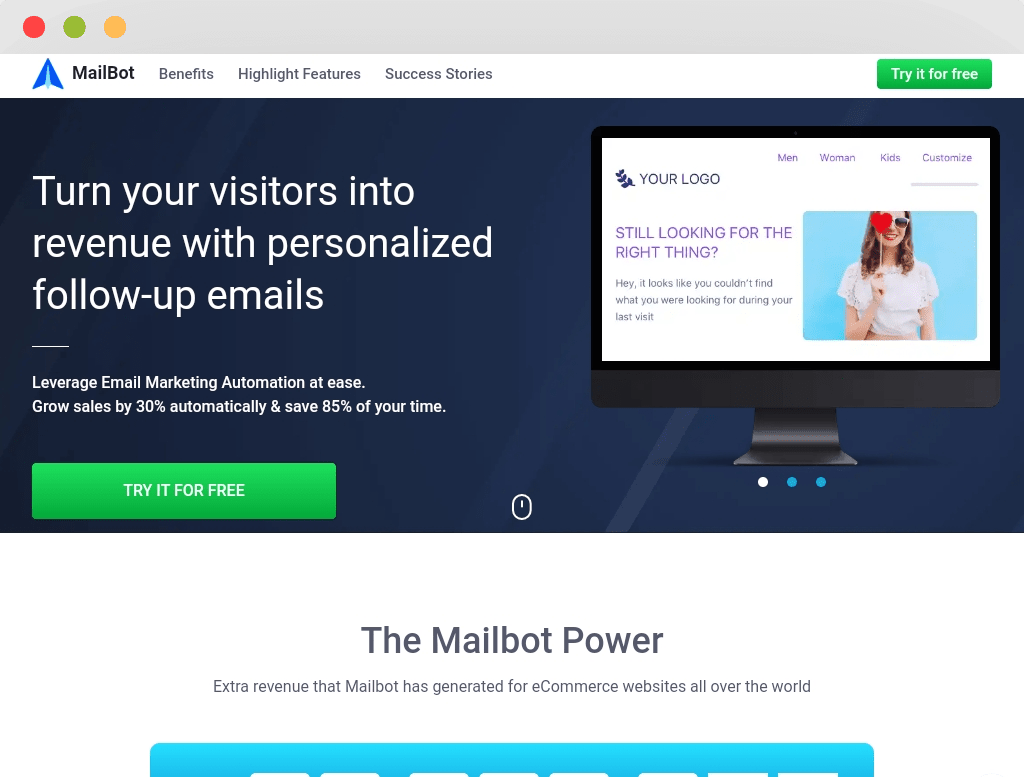 If you prefer the email marketing route, Mailbot would be the app for you. It uses customer-specific data to draft email content so that the information is relevant to the recipient.
For example, if you run a clothing dropshipping store, Mailbot would sort the email recipients by gender. This would mean that male shoppers would not end up receiving marketing emails for bustiers that they do not need.
Pros:
Customer-specific marketing emails are more impactful than generic ones

Automated emails make it possible to reach customers that you may not have been able to reach manually

You can schedule marketing emails based on when and how often you would like them to be sent. This is essential as no one likes a business that spams them.

It can easily be used alongside other

Shopify dropshipping tools
Cons
Some customers may have marketing emails set to go to their spam folder

A customer has to have already visited your Shopify store for you to be able to use this method as their email address is required
Conversion or Sales Apps
Now that you have traffic flowing to your online store, it is important that you convert such traffic into sales. You can achieve this by capitalizing on the power of suggestion using apps.
9. Boost Sales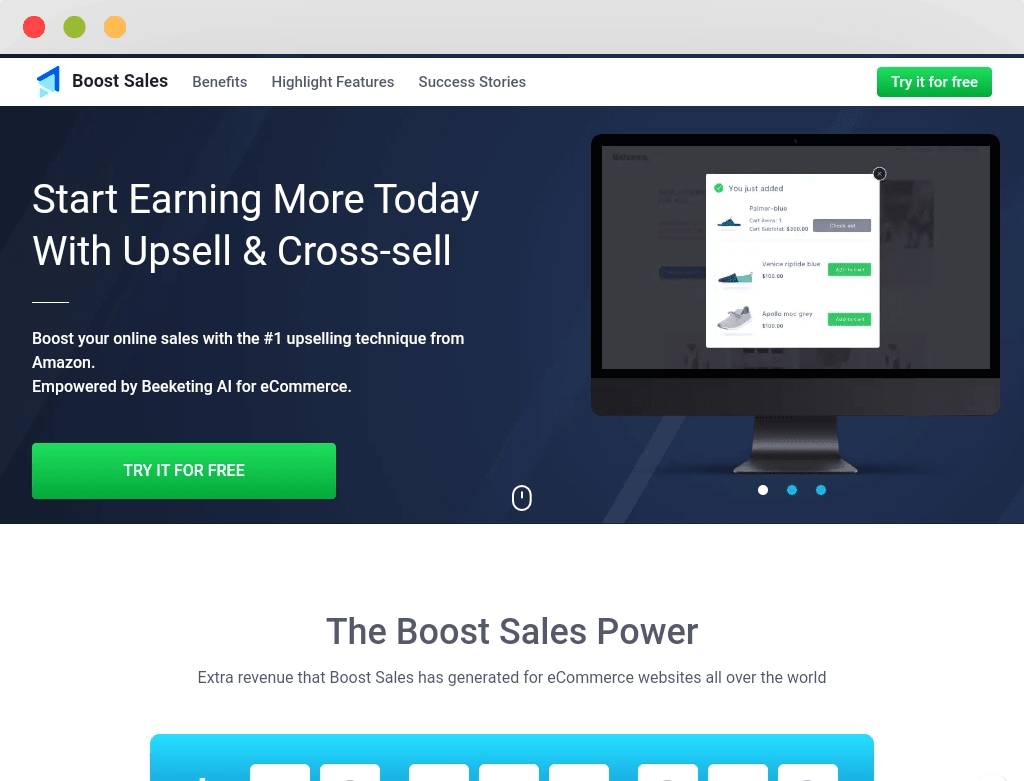 Picture this, you walk into a shoe store and an attendant diligently helps you find the perfect pair for your needs. Before you leave, they suggest a lovely pair of socks or stockings to go with it. Odds are you will buy them too.
This is exactly what Boost Sales do for your online Shopify store. It suggests products and offers to customers that help increase the sales that you make. This often works as the products offered to make the overall purchase worthwhile.
The Boost Sales app is compatible with Shopify. It offers a myriad of plans starting at $30 and has a free 7-day trial.
Pros
It is fully optimized for Shopify

It has a user-interface that is compatible with a wide variety of devices

It takes away the hustle of having to curate sale offers manually

You would receive a detailed report to help you identify the offers that work best
Cons
Some buyers find upselling pop-up messages annoying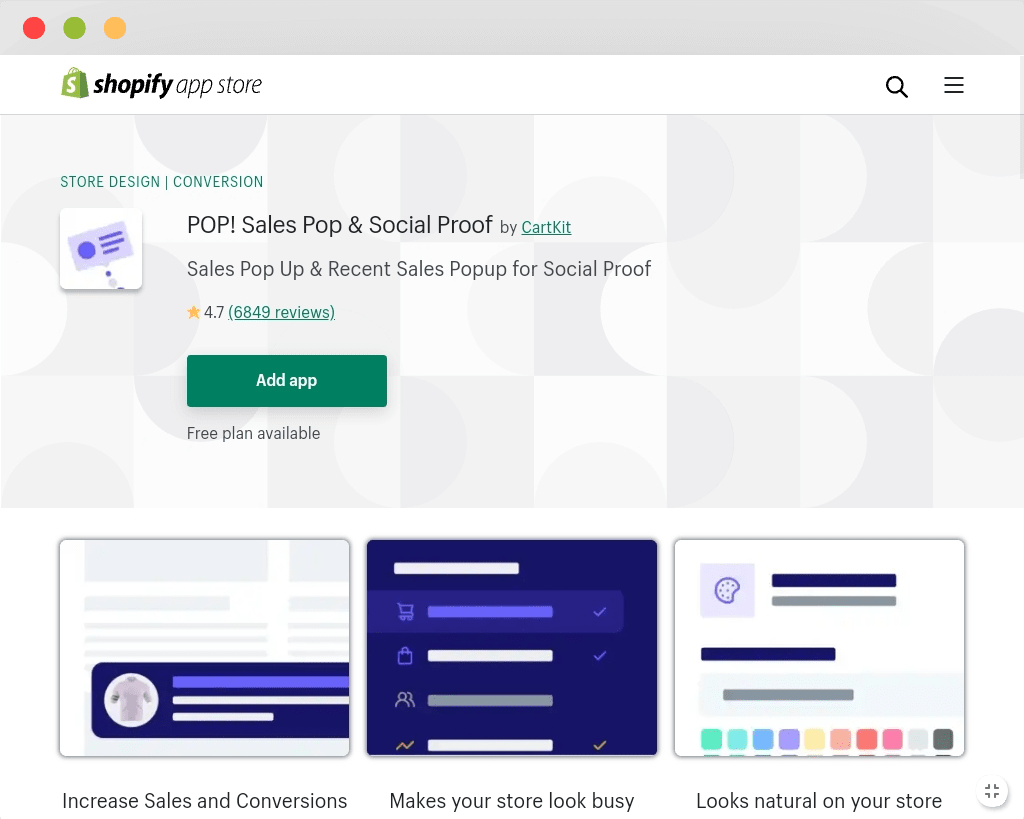 Buyer psychology 101, people often long for items that are in high demand. The fact that other people are buying from your store or ordering certain products often persuades others to buy too. The fear of missing out comes into play too.
POP! Sales Pop & Social Proof does this for your Shopify store by:
Showcasing sale statistics

Displaying user traffic stats
This app offers free and paid versions. The free version offers most of the basics. Nevertheless, if you have more traffic or a scaled dropshipping business, the advanced features of the paid plans may be more ideal.
Pros
It easily influences buyers to trust and buy from your store

It blends in organically with the original design of your Shopify store

You can easily get by on the free plan
Cons
It can be difficult to use this marketing app or strategy if your dropshipping store is new because you would have no traffic or sales data for the app to use
FAQs on Shopify Dropshipping Apps
Are Shopify Dropshipping Apps Worth Investing in?
Yes.
In the beginning, it may be easy to manage all the tasks involved in running your dropshipping store. However, as your business grows and more orders come in, you can easily get overwhelmed.
Automating repetitive tasks helps you run your store more efficiently and avoid costly errors.
How Do I Choose the Right Shopify Dropshipping Apps For My Business?
The right apps for you will largely be determined by where you are in your dropshipping journey and your resources.
If you are just starting, access to suppliers, product importation, and marketing tools might be the most fundamental needs for you. Compare options and choose the dropshipping app options that you feel would offer you the most value.
Where possible, try and choose apps that are either free to access or those within your budget. It is best to keep your costs low until your business is profitable.
Are Paid-Membership Shopify Dropshipping Apps Better Than Free Ones?
Not necessarily.
Using price as a measure of value can be a misleading approach. Instead, compare the features each app offers versus your needs. This would give you a better representation of how much value you will be getting by installing any Shopify dropshipping app.
Final Thoughts
The world has undeniably gone digital. The dropshipping business model in itself is proof of that. It is, therefore, only right that you automate your Shopify store to ensure that you serve your customers in the best way possible.
You can hardly go wrong with any of the Shopify Dropshipping apps on this list. However, at NicheDropshipping, we go the extra mile for you. Our platform has instinctive compatibility with Shopify and we deliver premium dropshipping services.
Contact us today and let us discuss how our automation can work for you.