As Shopify is one of the best online platforms to launch your business, you will have a dire need of knowing the best Shopify tools to kickstart your business on Shopify.
In this guide, you will come to know about the must-have Shopify apps and tools that can benefit you in many ways to help make your dropshipping business move fast.
As we already know the cost of business is one of the major concerns of struggling entrepreneurs, we have made sure to bring the free tools and Shopify apps so that you don't hesitate to use them for your benefits.
So sit tight as you read the exciting information on these important Shopify hacks as most of these apps may remove a lot of hassle from your business.
Let's start!
Shopify Tools for Finding and Adding Products to Your Store
Following is the list of Shopify apps that you must consider for multiple purposes including product research, adding them to your store, and automating your order placement, etc.
You may consider installing a few of them to speed up the overall process of adding products to your store.
If you have been in the field of dropshipping or you have been following the dropshipping insights lately, it is most likely that you already know about Oberlo.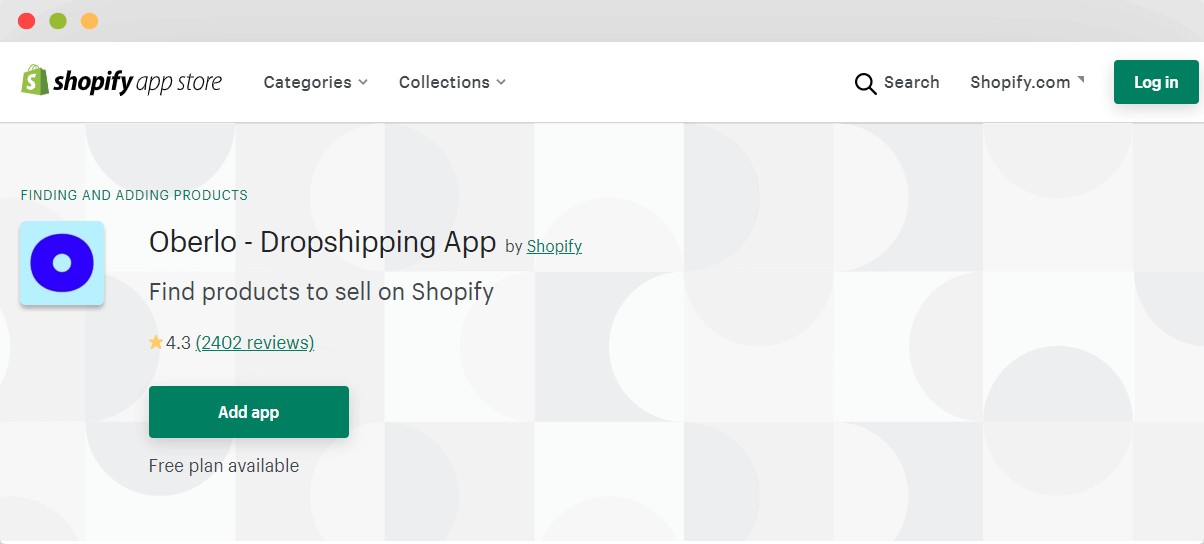 Oberlo is an online platform introduced by Shopify itself for automating the dropshipping process. It helps you import products directly from AliExpress to your store along with product details such as product pictures, pricing, and descriptions, etc.
It integrates with the AliExpress website through Google Chrome extension and viola! You can import the products of your choice with a single click.
Once you have imported the products, it also facilitates you in making changes to the product descriptions, SKUs, pictures, and pricing, etc.
Apart from getting integrated with AliExpress, it has its own marketplace where you can choose products that you can easily include in your store. It also holds AliExpress suppliers in its marketplace.
In addition to the features and benefits of Oberlo described above, we have listed down its additional benefits in the following.
Product inventory is automatically synchronized with AliExpress.

You can change the prices of all SKUs either by fixed price or a multiplier.

It also suggests the retail prices of the products with the help of its own algorithm.

Automated order fulfillment and tracking of the products.

Keeps track of your sales.
Note: Oberlo is not totally free to use but it has a free plan also that is limited to use for a specific number of products.
DSers is another great Shopify tool for automating order fulfillment processes. In fact, DSers seems to be more popular on Shopify as compared to Oberlo as it has more positive reviews on Shopify.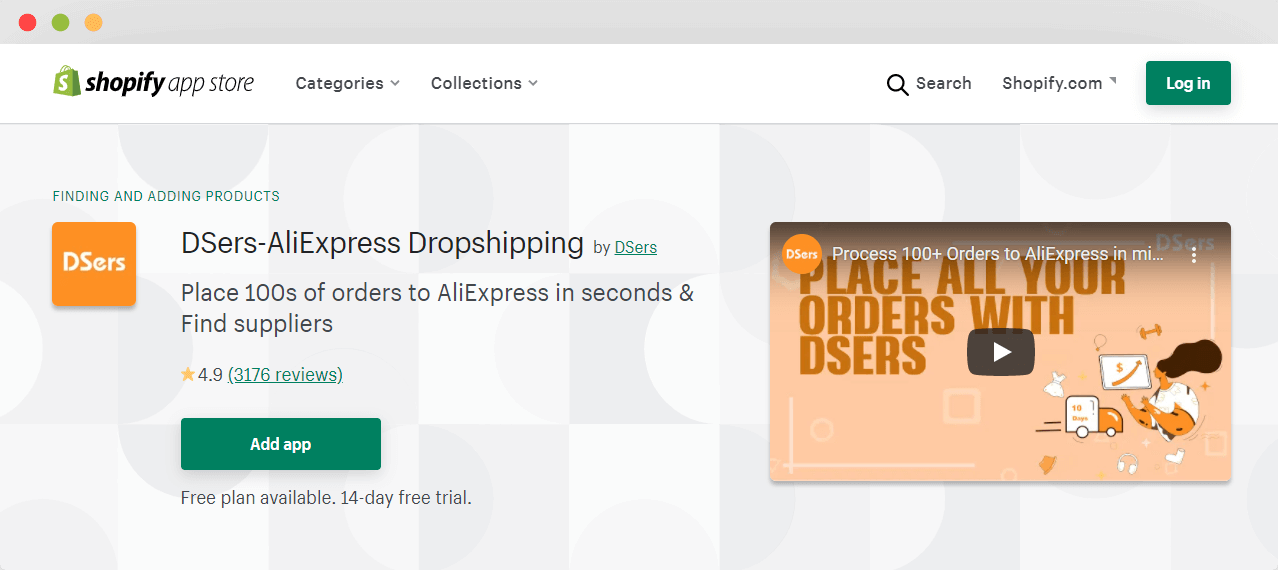 It is an official partner of AliExpress just like Oberlo.
We have listed down the key features and benefits of DSers below.
Improves your experiences for working with multiple suppliers.

You can place multiple orders on AliExpress with the help of a single click on DSers. This feature especially suits established dropshippers having regular orders.

You can easily manage multiple SKUs and product variants.

Automatically synchronizes your orders and tracking numbers to help reduce manual work.

Actively synchronizes product inventory with your suppliers to keep you and your customers updated at all times.
Note: DSers has a free plan available on Shopify that is limited to using 4000 products and 3 stores at max. After that, it is around $1.99 to $49.99 per month depending upon your store requirements and additional features.
You can say that CJDropshipping is a platform within a platform to help dropshippers source and deliver products at cheaper prices. Some online marketers also term it as an alternative to AliExpress because it offers products from its own platform too.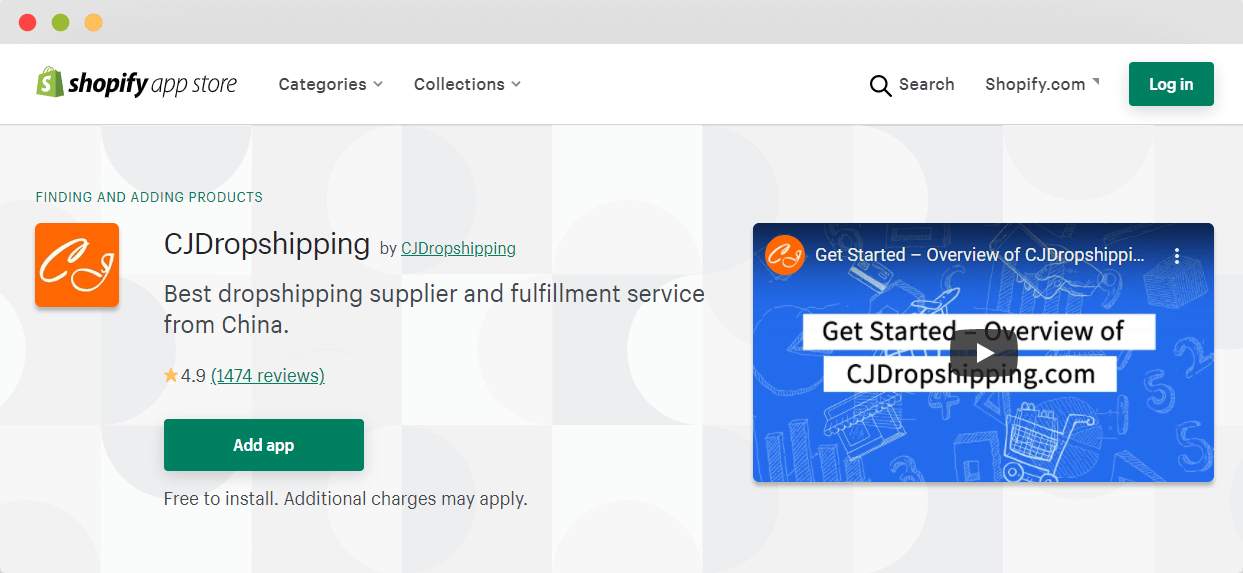 Out of all the benefits that you can get from this amazing Shopify tool, we have mentioned only a few of them below.
A long list of products to choose from.

No fees for sourcing products from CJDropshipping.

Automatic synchronization of your order fulfillment

Automatic order processing after synchronization.

Fast delivery of products with warehouses scattered all around the world including the ones in the US, China, and Germany.

Opportunities for white label and private label dropshipping.

Customized packaging along with special photos and videos of products for advertising.
CJDropshipping is completely free to use.
As a dropshipper, you cannot always rely on Chinese platforms for sourcing your products. Spocket is one of the best Shopify tools to start your dropshipping pursuits with US and European suppliers.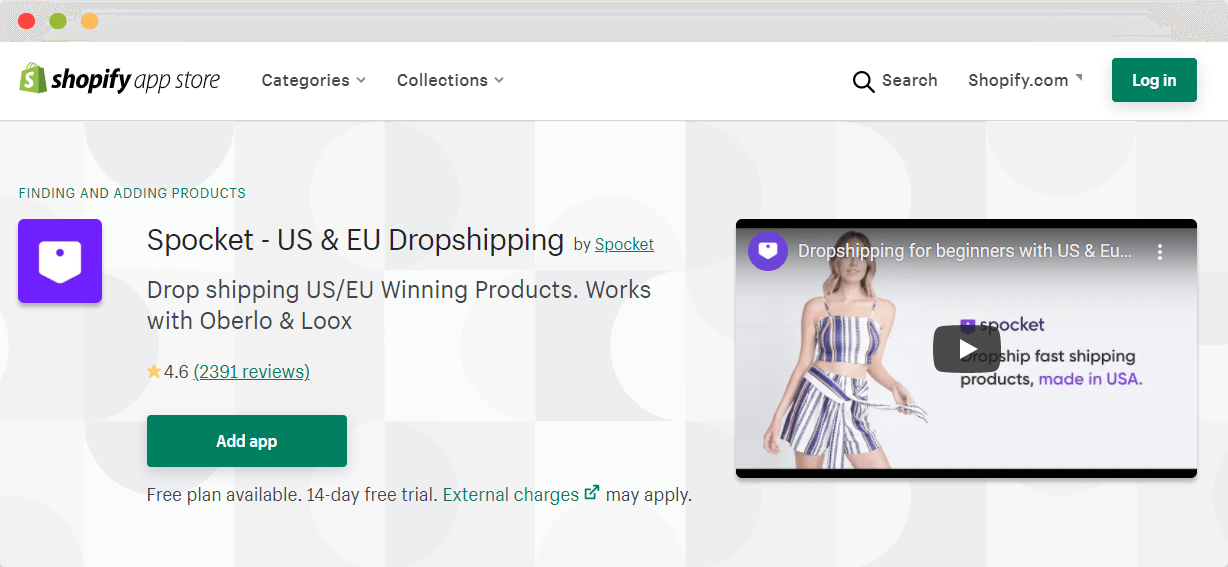 Based in Canada, Spocket gives you excellent options to import US and EU-made products directly to your store so that you can start selling them directly. You can call it a Western substitute for Oberlo or DSers.
The main benefits of Spocket include:
Quality products from Canadian, American, and European suppliers.

Reliably fast shipping in American and European countries.

Automating your dropshipping process.

Efficient order fulfillment services.

Easy return and refund policies with Spocket suppliers.
Best Shopify Tools for Improving Your Store Design
Developing your online store is probably the first step in starting a dropshipping business. Following recommendations will help you improve your store design and help you give it a professional look.
As dropshipping is usually a worldwide business, you would definitely need a currency converter for your store. This gives your customers an idea of the total price that they have to pay for products in their own currency.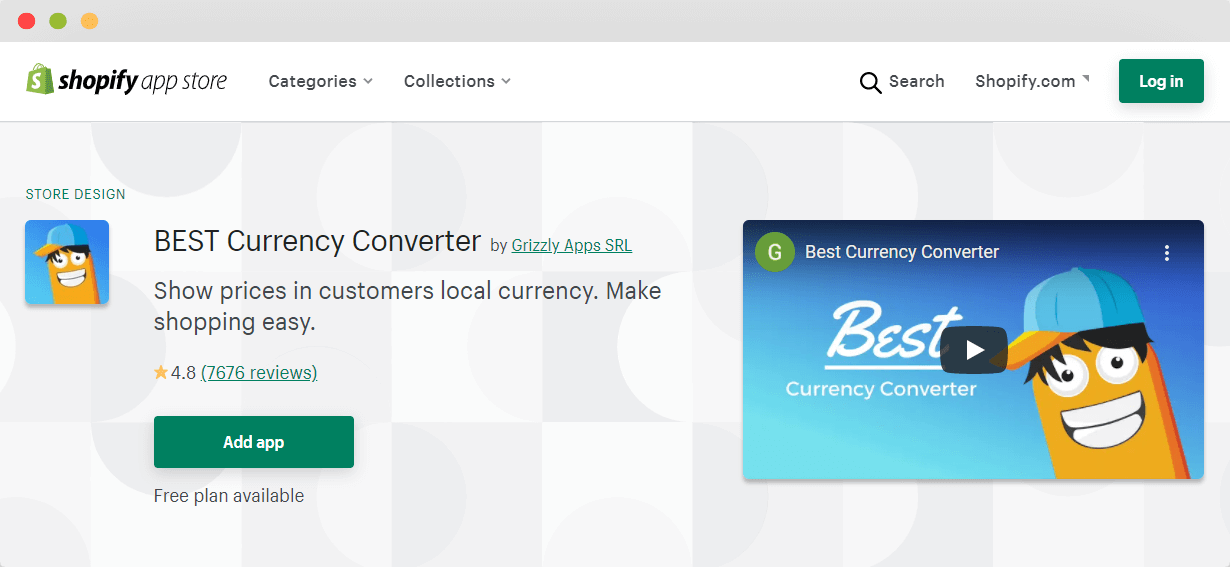 With a lot of currency converters available on the Shopify marketplace, BEST Currency Converter by Grizzly Apps SRL is the best solution for automatically converting currency.
Benefits of BEST Currency Converter include the following.
Supports and automatically converts over 150 currencies worldwide.

A responsive app that is supported on the majority of Shopify stores.

Quick conversion within a blink of an eye.

Gives a straight round-off price.

Payment options with cryptocurrencies like Bitcoin available.
The E-commerce field has some thumb rules. You need to impart a sense of urgency to make sure that visitors to your online website turn into customers.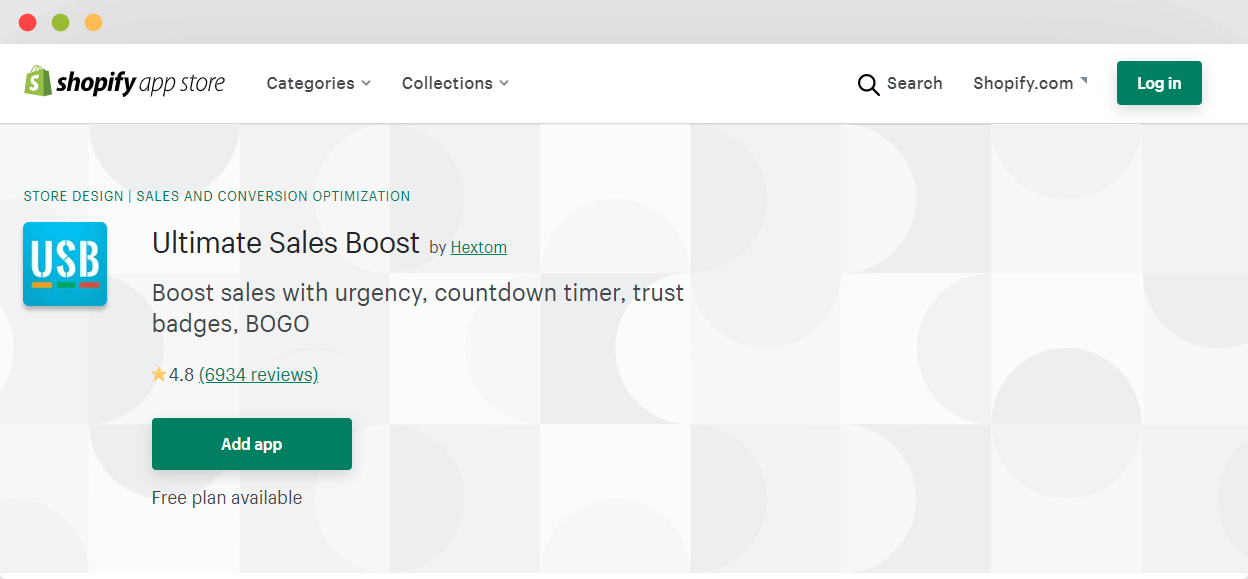 Online sales gurus consider it very important to use these techniques for quick and increased sales responses. If you want to open the door to success in online selling, using apps like Ultimate Sales Boost can make it happen quickly.
Such kinds of sales-boosting techniques increase your chances of getting early sales for your dropshipping business which is the utmost requirement of a struggling entrepreneur.
The most important benefits of Ultimate Sales Boost are listed as follows.
You can add a countdown timer to your product pages to show a sense of urgency.

You can set your own time for the app to take reference from.

Keeps you updated about the stock positions of your products.

Also tells you about the products that recently received orders.

You can add the trust badges to your home page and product pages. This helps your customers take your brand seriously.

Also facilitates in tying up the upsells of different products to ensure increased sales of products.

You can also add a special promotion on your website like "buy one get one free".
This Shopify tool is not completely free but there is a free plan available for startups.
Most of the dropshipping sales seem to be one-time. But that should not be the case every time. The real business lies in retaining the customers and forcing them to visit your store again and again for shopping more products.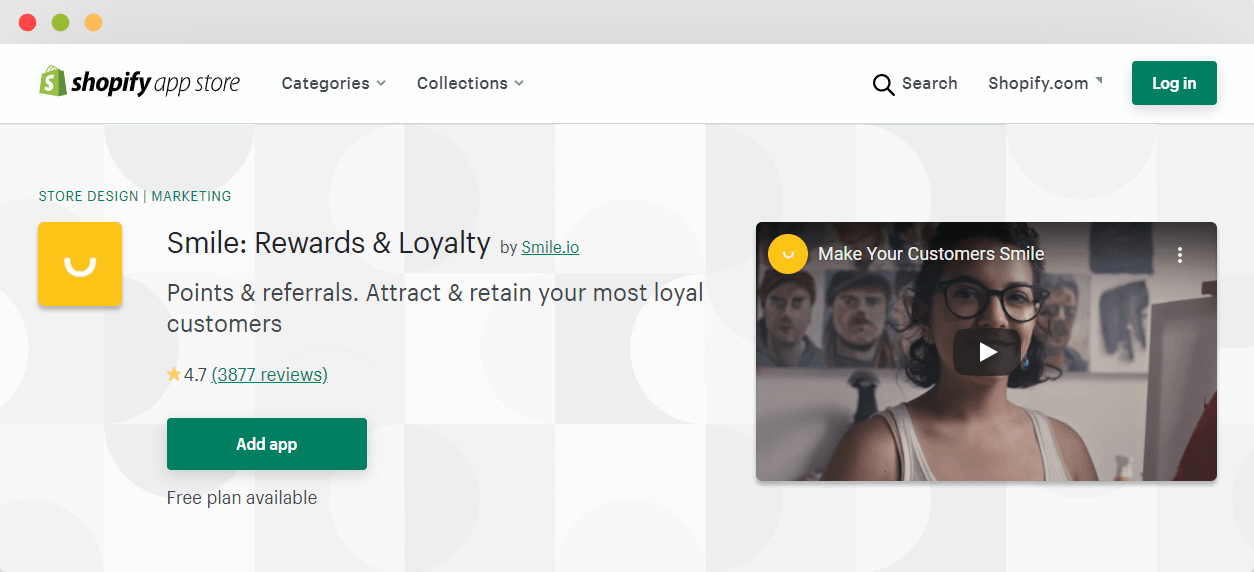 Smile is an excellent Shopify tool to involve your customers in long-term loyalty engagement. This app integrates with your store and creates a cute pop-up to offer your customers a sweet discount for referring your site to their friends and family.
It may offer them a certain discount for doing so. For example, your customers may get a 15% discount for referring your site to their friends. The friends of your customers will also get the same discount.
But for your customer to avail of that discount, their friends need to purchase from your store. So, your sales just kind of doubled, right? That is how it works.
You can get the following benefits from Smile App.
Excellent Shopify tool for scaling your business.

Ensures repeat visits and sales.

Ideal for getting your website referred to other people.

There are other loyalty programs for your customers that your customers will value for sure.

Huge presence over the internet community.

Also works with other e-commerce platforms like Big-Commerce and Wix, etc.
Every dropshipping business needs worldwide scaling. When you find a winning product, you always try to show the product to the entire world to explore every passionate lover of the product.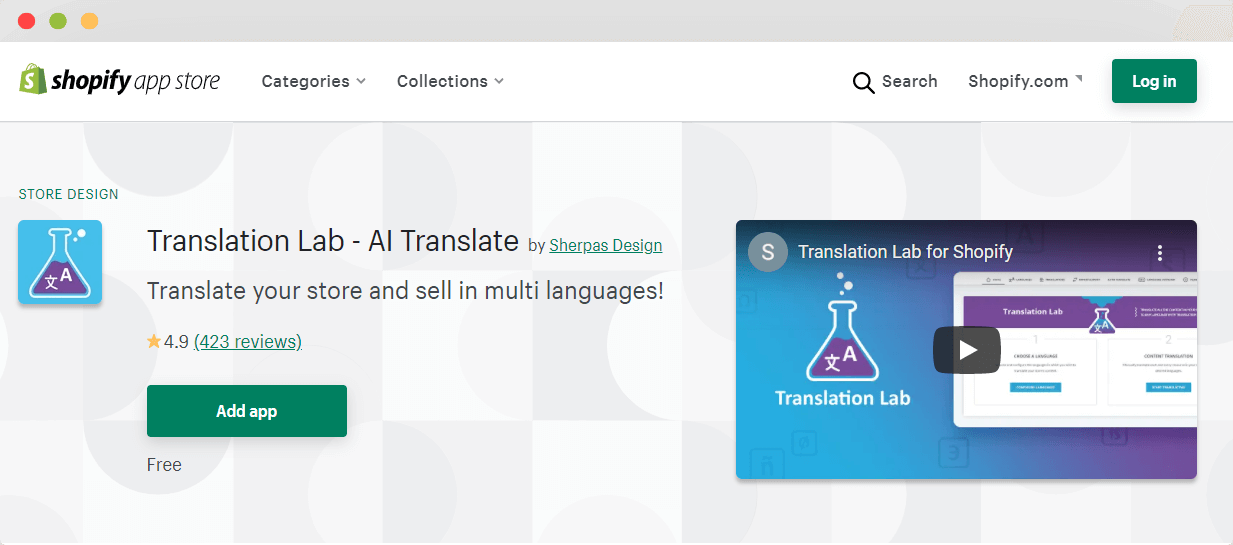 So, you cannot rely on a single language for your store. That would mean making your store already limited to a certain community.
Translation Lab by AI Translate by Sherpas Design is one of the coolest Shopify tools to facilitate your store to automatically translating it in the required language.
It is a free Shopify tool and helps facilitate your customers to access your store in their own language.
The main benefits of the Translation Lab are as follows.
It includes a majority of the languages spoken all around the world.

You can put an option of translating your store by providing options of different languages.

It is integrated with Google translator.

Also translates the checkout page. The feature that we rarely find in the majority of the translating apps.

You can also translate the whole website in bulk including your About Us page, Meta Data, and product variants, etc.

SEO-friendly features. Helps Google reach your site and show results in the Google search bar as it is already there in multiple languages.
The app is totally free to use at the moment. So, get it as soon as possible until Sherpas Design decides to make it paid.
As we have already discussed translating the website and changing the currencies independently, how about you get a combo of both in a single Shopify tool?
Yes! Hextom has made it possible to use both features in one app.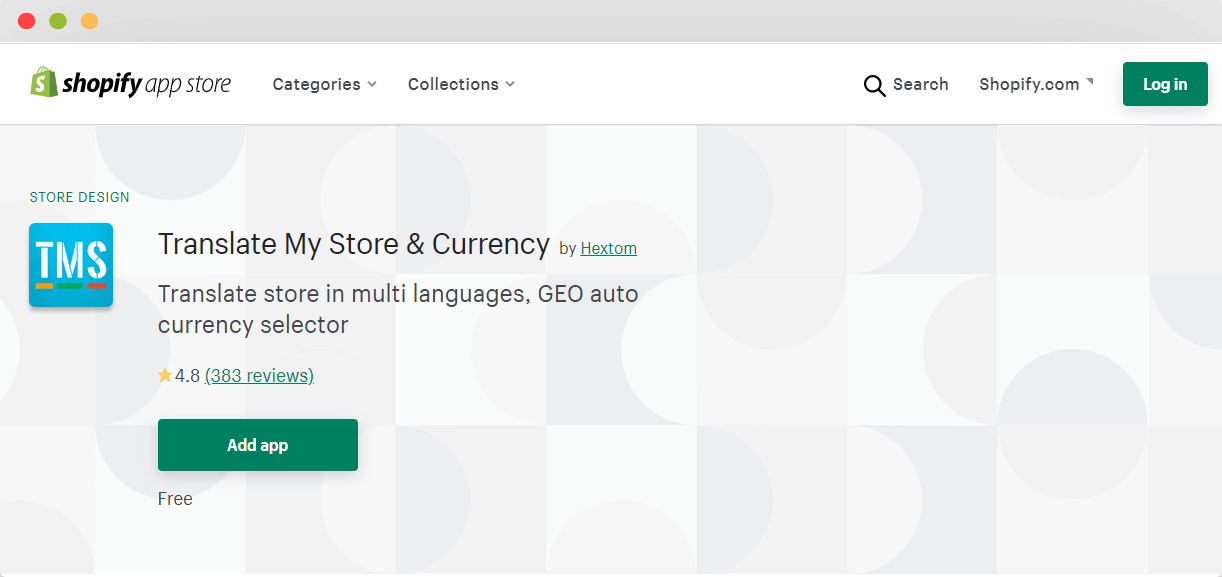 In addition to these basic features of this app, the other benefits are mentioned below.
Totally free to use.

Automatically translates in the language of the country with Artificial Intelligence software.

Also translates checkout pages.

Manual translation options with flags are also available.

SEO-friendly.
Seems like the amazing list of Shopify tools is long with Hextom. This self-explanatory app creates a bar on your Shopify store that announces free shipping with your selected message.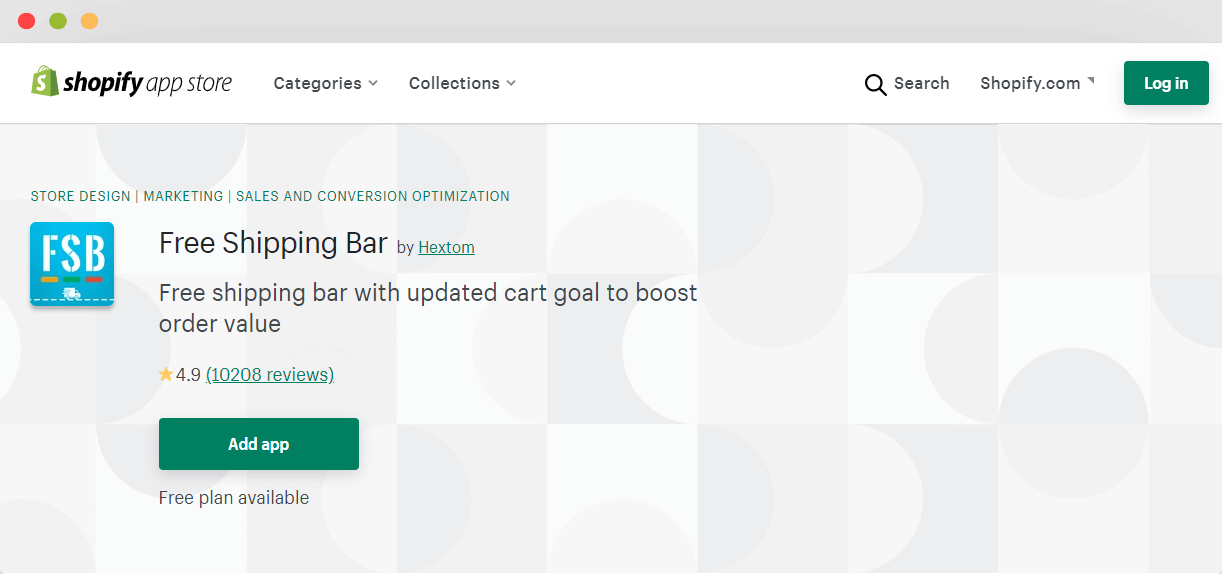 If you follow the top dropshipping stores, you must have noticed something like "Free shipping on orders above $49" on various stores. That is most probably done with this app.
The key highlights of the Free Shipping Bar are as follows.
Creates a custom message on your shipping bar.

Helps increase overall order value by enticing the customers to get free shipping on all orders if they purchase a certain order value.

Excellent tool for cross-selling.

You can make use of certain events and holidays to announce free shipping on specific events eventually boosting sales.

You can also create custom messages regarding shipping that relate to your specific customers. Like you can create free shipping options by a region or certain device, etc.
Please note that some advanced features are not free in this Shopify tool but the basic version is free to use.
Best Shopify Tools for Product Reviews
We know that dropshippers would have been waiting for this p as the product reviews are something that you must have on your site to sound genuine, legit, and win overall customer trust.
Following are the top 3 product review apps on Shopify. We have included the main features and highlights of every app. We are leaving it up to you to decide which product reviews app you should go for.
Pro Tip: Don't use more than one product reviews app on your Shopify store. Otherwise, your store would show multiple product review ps on your product pages.
It is a great Shopify app for showing product reviews on your website. You can choose which product review you should publish or hide. This app also lets you send follow-up messages or emails to your customers about product reviews.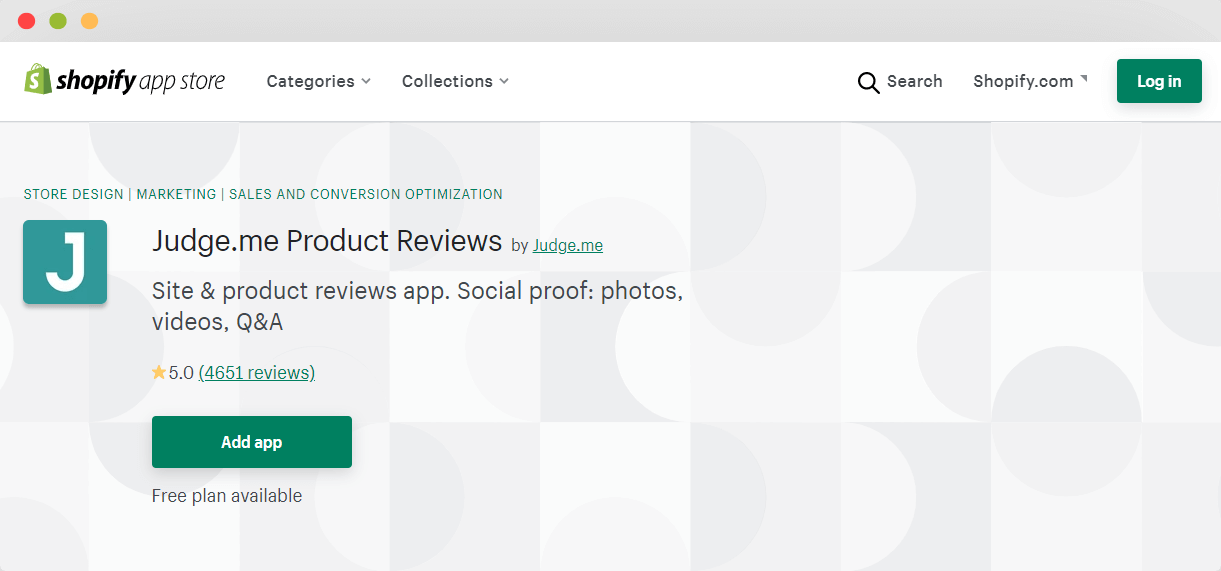 In addition to the product reviews, this app also allows you to create different widgets that help improve the overall look of your store. The downside of this app is that you cannot show photo reviews or video reviews in the free version of this app.
Following are the most highlighting features of this Shopify tool.
Display customer reviews with pictures and star ratings. Charges will apply.

There is an option of showing a blue tick that states a review as a verified buyer.

You can also show verified reviews as the number of verified reviews at the end of your collection page or the product page.

There is also a follow-up option to resolve the matter with negative reviews.

This app also lets you send reminders to your customers for sharing their reviews about the products they have received. You can set automatic reminders too.

Display awesome widgets at the end of product pages or in the footer of your website.

You also have the full liberty of showing or hiding a customer review on your product page.

You can also share reviews across social media platforms to gain more traffic by highlighting the wonderful experiences of your satisfied customers.
This product review app is from Shopify itself. Although many dropshippers regard this Shopify tool as a great product review app, a few of them have reservations too.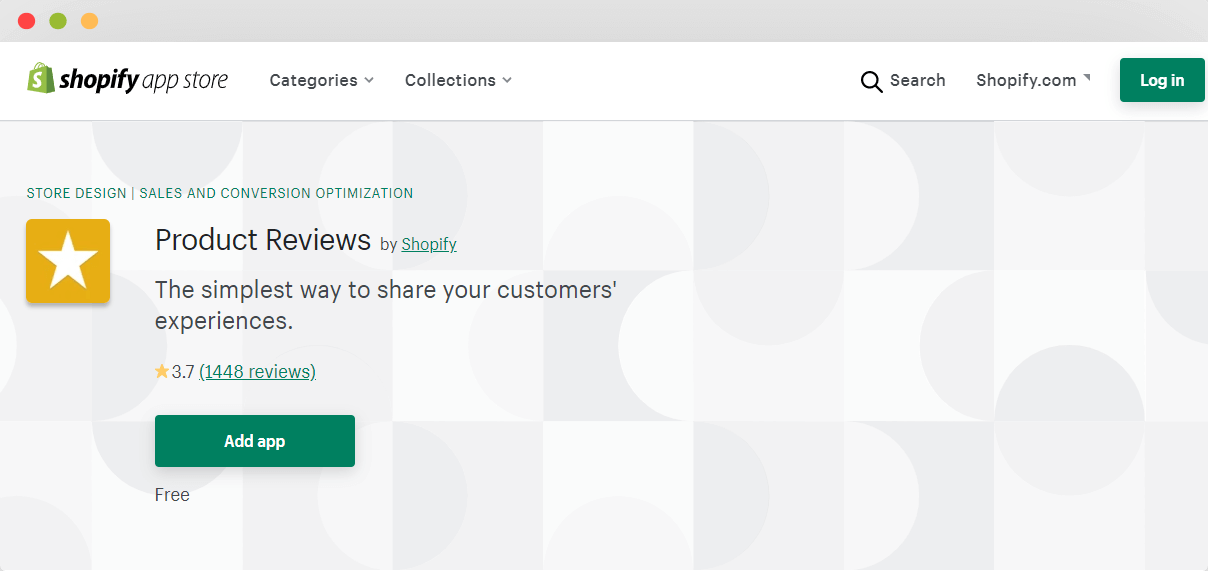 The greatest downside of this app is that it does not allow you to have reviews with photos or videos on your website. That is the reason why this app does not have many positive reviews itself on Shopify.
Nevertheless, it is a great option if you just want to keep the reviews on your website in text form.
The highlighting features of Product reviews by Shopify include:
Completely free to use.

Provides a neat and clean look of the reviews.

Easy to import and export reviews in CSV format.

You can also manage reviews to include or exclude the reviews you want.

You can also edit the original text of the reviews.

The app is SEO-friendly and helps rank your website higher in search results depending upon the text of the reviews.
Ryviu is probably the best product reviews app on Shopify. You truly have 100% control over your reviews with this amazing Shopify tool.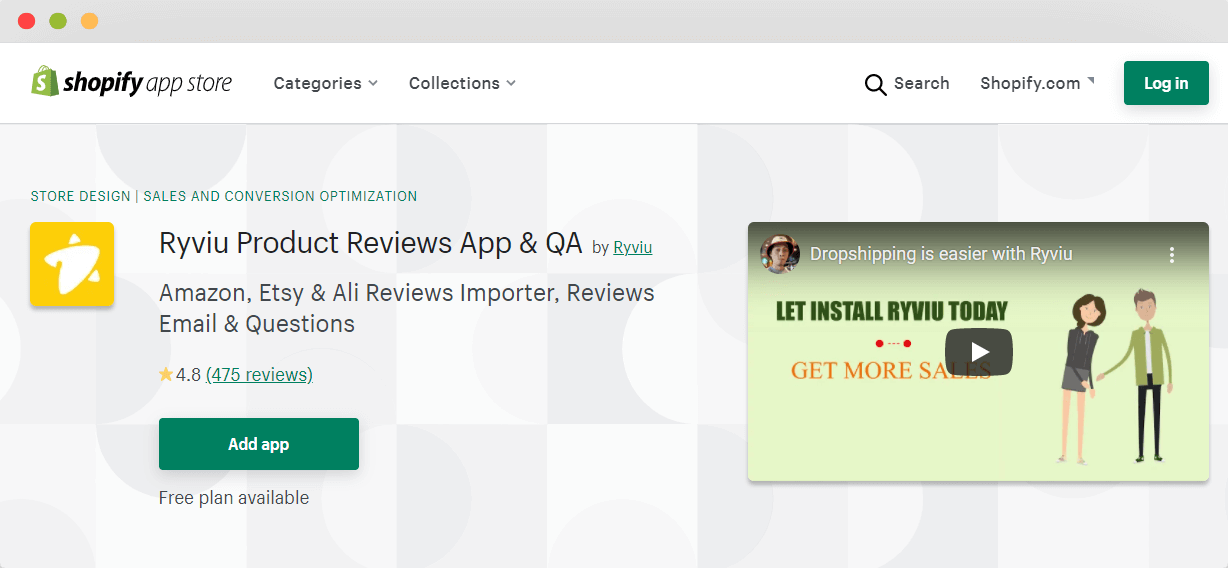 You can make your store stand out with this amazing Shopify app by showing the decent-looking customer reviews widget at the end of your product pages. You can choose which products you want the reviews to be shown.
Following are the most sparkling features of this app.
Import product reviews directly from sites like AliExpress, Amazon, Etsy, and DHgate.

Choose to include or delete the product reviews.

You can also change the text of the review, date, name, and country of your customers.

Automatically hides information on Chinese Shipping Methods used in AliExpress.

Allows your customers to leave reviews on your site.

You can also control the look and place of the review widget on your website.

Allows bulk import and export of reviews in CSV format.

Also allows you to create a question and answer thread on your product page.

Sends emails to your customers to request a review of the products they receive.
Note: The Ryviu app has multiple payment plans. There is a free version also that you can use to show limited reviews with pictures.
Best Shopify Tools to Boost SEO of Your Shopify Store
No matter how effectively and aggressively you carry out your marketing efforts, your store always needs to be shown in the search engine results.
Search engines like Google have massive users who keep on searching for different keywords. If your store pops up in the search results, it is always a huge benefit.
Following are some of the top Shopify tools that can help your store meet SEO requirements.
This is an SEO-responsive Shopify tool that helps you in multiple factors. It does not let the pages of your site go down and always keeps them alive for better SEO signals.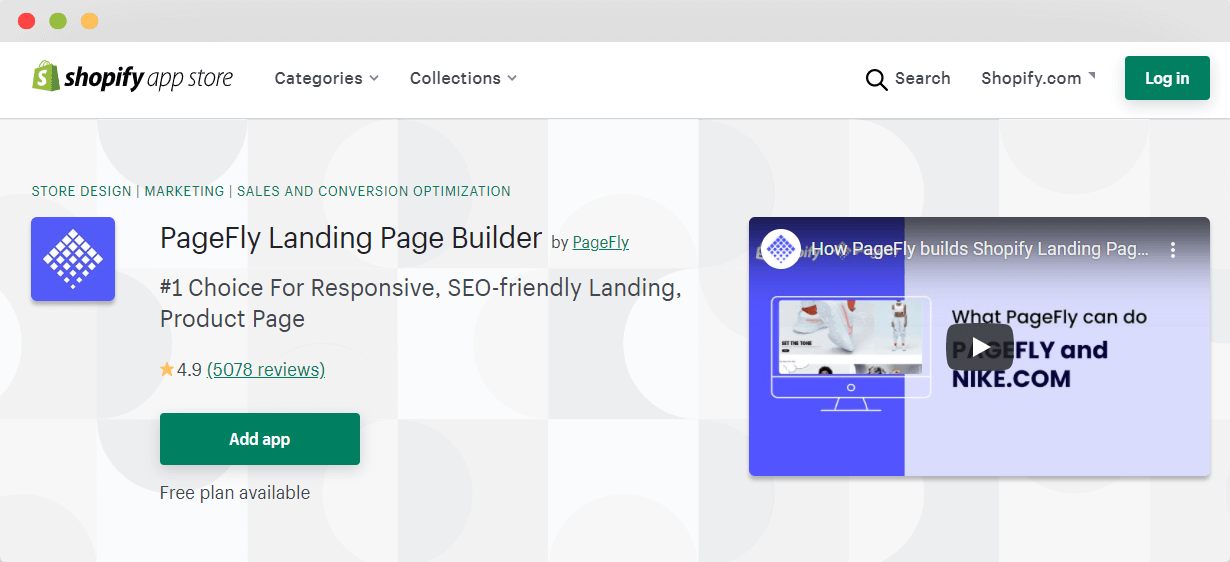 It optimizes the landing pages or product pages of your website in a way that increases your overall site performance in terms of SEO.
The main highlights of PageFly Landing Page Builder include the following.
Optimizes heavy slideshows, videos, pictures, gifs, and banners, etc that help your product pages load faster.

Includes additional optimizing features for countdown timers and the number of units left in stock, and other animations on your website.

Excellent templates and integrations with other apps like reviews, Upsell and Cross-sell, etc.

Allows to create and display sign-up forms to your visitors to collect their emails.

You can also edit and optimize the SEO objects like metadata, alt text, and product descriptions.
SEO optimizer is another great Shopify tool if you want to rely more on organic traffic from search engines like Google.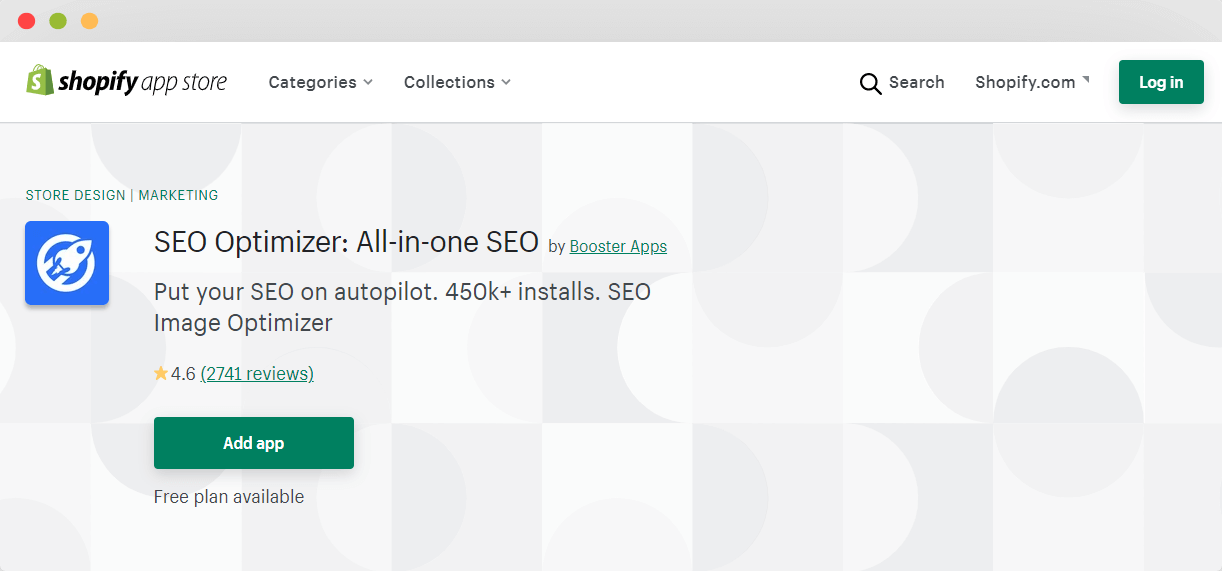 You can use this app to optimize your images and this app will continuously monitor and suggest ways to improve search engine ranking.
Among all the benefits that you can get from this Shopify tool, the following are the ones you may like the most.
You can optimize your images and ALT tags.

You can also edit your meta titles to increase your search rankings.

This app also gives you weekly reports around the SEO of your website.

The free version of this app is an excellent choice for optimizing your product pages. This is also called on-page SEO.

The paid version of this app also suggests mending the broken links.

You can also use this app to redirect the broken links to your homepage. This is very necessary for Search Engine Optimisation.

It also increases the overall website speed.

You can also build your website's sitemap and submit it to Google for better indexing.
So, did you find out that this app does not only optimize your images but also helps in making your website rank higher in search engines?
With over 2,000 reviews on Shopify, this app is a must-have if you want organic traffic to visit your website.
SEO Suite is another beneficial Shopify tool to boost your website speed and overall performance for SEO. This app is ideal for optimizing your website images to convert them into ideal file size and optimizing ALT tags and meta description, etc.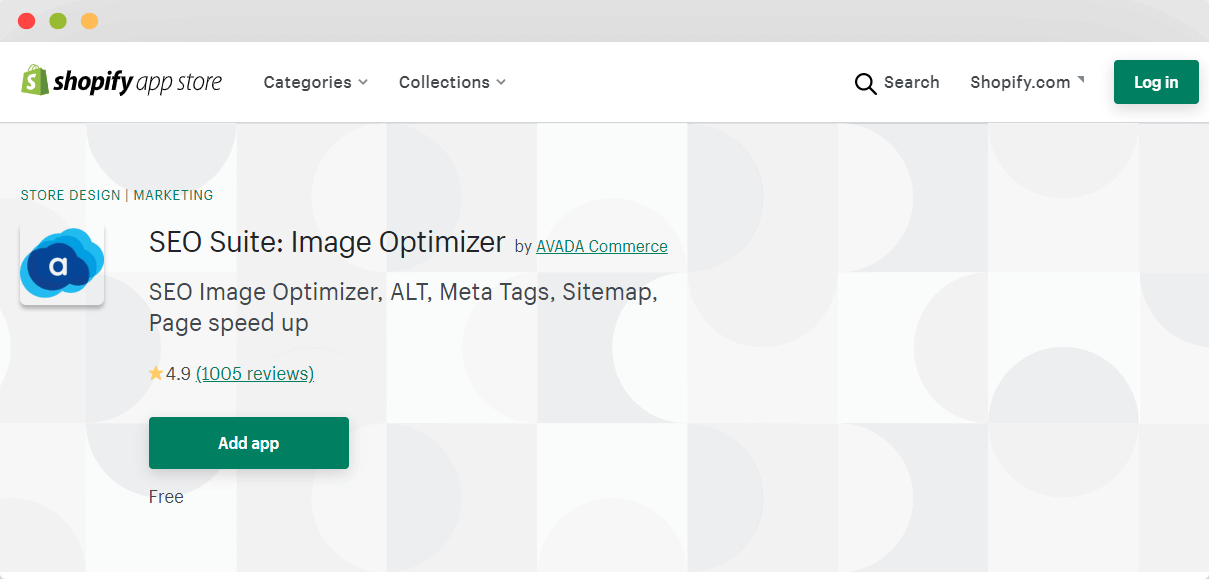 This app is similar to the previous one that we discussed. You can consider it as another option in case you have any problems with All-in-one SEO.
The main benefits that you can get from this app are as follows.
It optimizes the pages of your website and helps load your website faster.

It helps give search engines positive signals for better search rankings.

It claims to get your website indexed faster with Google.

Helps to make the website in the proper structure that Google likes.
LayoutHub is an effective Shopify tool that helps you build pages of your website in ideal formats. This app seems to have a vision to assist dropshippers and other businesses design their websites without spending much time.
It offers a lot of website design templates and layouts that you can choose from. It helps you make landing pages and product pages in a smarter way.
The main benefits you can get from this Shopify tool are as follows.
Easy to set up the design of your website easily.

Multiple styles and layouts for different kinds of businesses.

All the formats and layouts are highly optimized for SEO.

Non-technical persons can also make use of the designs.

Change designs and layouts of your websites as and when you like.

The design of your website stays there even after you uninstall this app.
Most of the basic functions in this app come free of cost.
SEO Booster is another awesome Shopify tool that performs multiple functions for your website that boosts your website's SEO in many ways. This app is different from others as it offers various SEO solutions using one app only.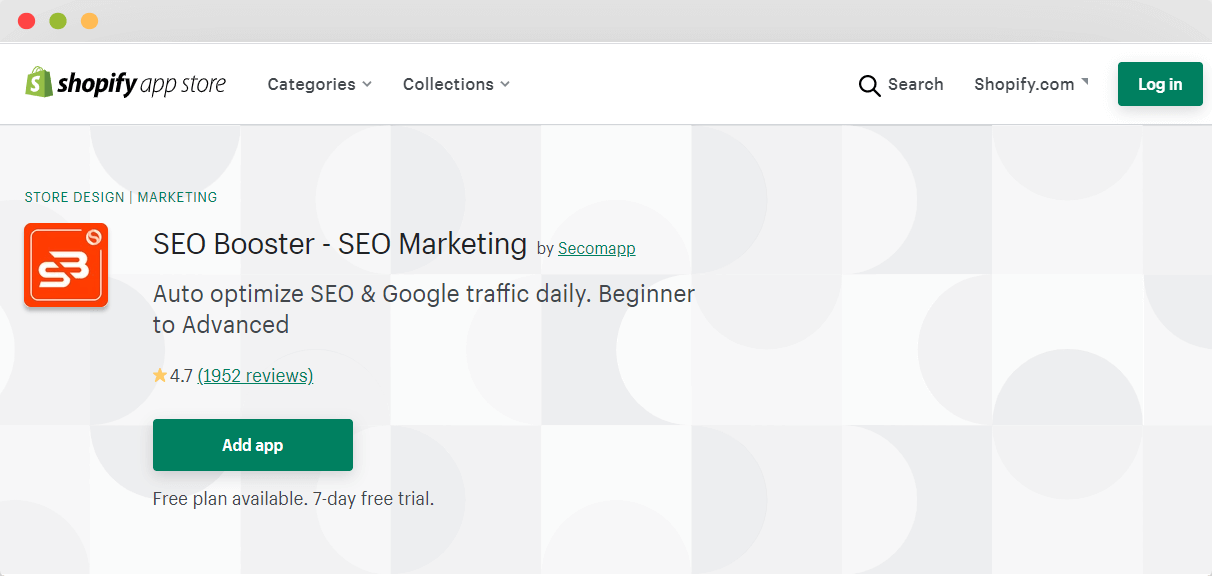 The best part about this app is that it offers many features that come free of cost. The main benefits that this app offers are as follows.
You don't need to change metadata one by one. You can save time by optimizing meta tags in bulk.

Optimizes Alt-text for your website for many products free of cost.

Most SEO apps on Shopify don't offer free solutions for broken links on your website. With this app, you can also mend the broken links in the free version.

Also offers solutions for submitting your sitemap to Google.

It also offers one of the prime SEO functions called JSON-LD to provide machine-readable data to Google bots.
Must-Have Shopify Tools for Sales Channels
Most dropshippers use sales channels to link their stores to social media and search engines. The following Shopify tools are must-haves for your store to increase sales via multiple channels.
Facebook needs no introduction to the world of e-commerce. Shopify has the Facebook sales channel as a Shopify tool. You can connect your store with your Facebook account to synchronize both.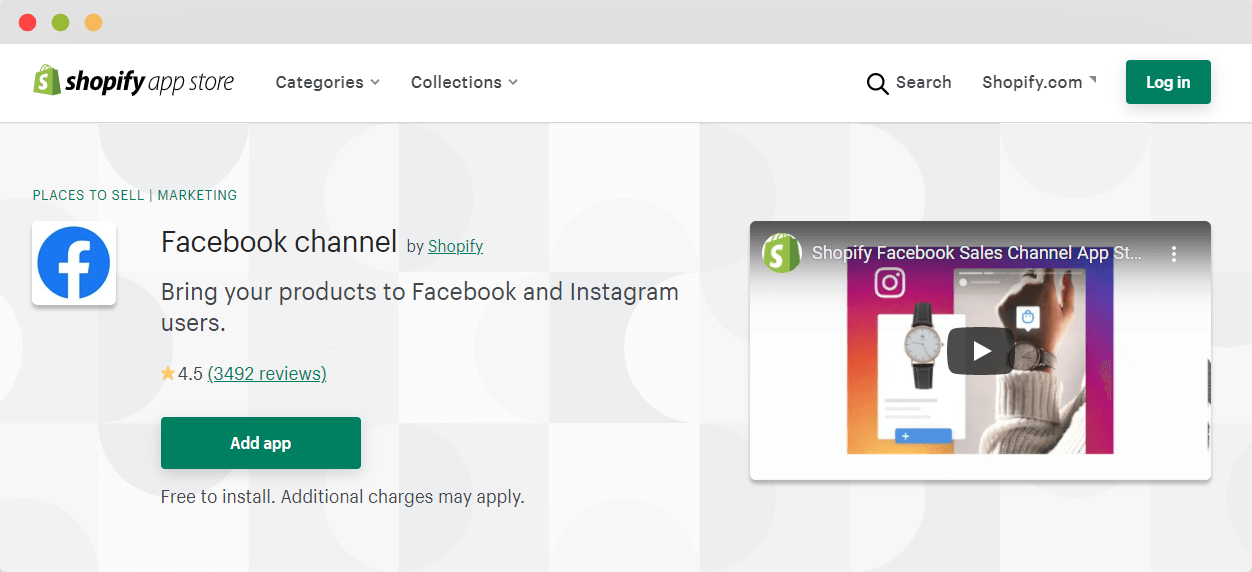 As most of you know that Facebook has also bought Instagram. So, you have a huge reach potential to almost 4 billion people.
Connecting your store with Facebook Channel on Shopify will give you the following benefits.
Exposure to a large audience of social media.

Benefits in running Facebook and Instagram ads.

Connecting to the Facebook shop also gives you the benefits of coming up in Facebook search results.

You can access the Facebook channel without having to leave Shopify.

Simple, easy, and free to use.
Give your store a chance to show up in over 70,000 Google searches every second by adding Google Channel on Shopify. This is one of the widely used Shopify tools to get early and easy sales.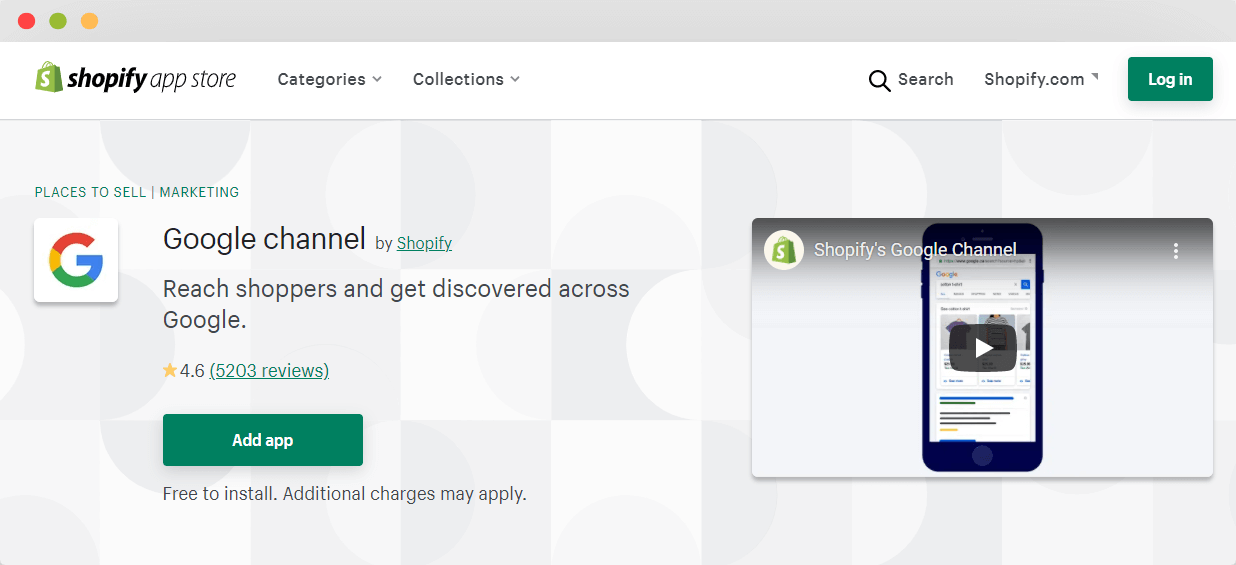 You can get the following benefits if you link your store with Google Channel.
You can show your products on Google shop free of cost.

This app also helps you in running paid advertisements on Google.

There is a chance of getting free credits from Google for up to $150 for paid advertisements of your products.

Opportunity to make use of linked platforms including YouTube, Gmail, and Google Display Network.

This app also links your store to Google Merchant Center.
This is a simple yet effective Shopify tool to help your visitors shop easily in your store. Although some Shopify themes come with a built-in Buy Button, you can also utilize this Shopify Channel as a free widget.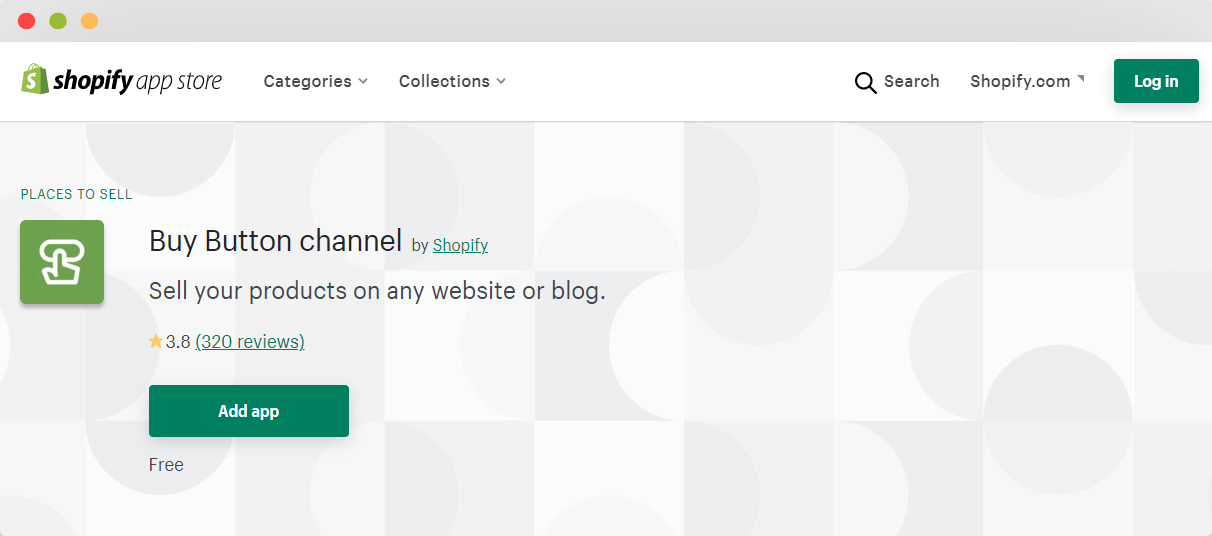 The main benefits of this app include the following.
Design your own Buy Button on your website.

Gives your customers a handy option to proceed to the checkout page.

It also offers the option to fulfill the orders your customers place on your website.

Also provides analytics of your visitors and customers.

You can also add related buttons including "View Product" and "Add to Cart", etc.
This is one of the most anticipated Shopify tools for dropshippers who are interested in Amazon dropshipping. It helps you integrate your store with the gigantic platform called Amazon for a better dropshipping experience.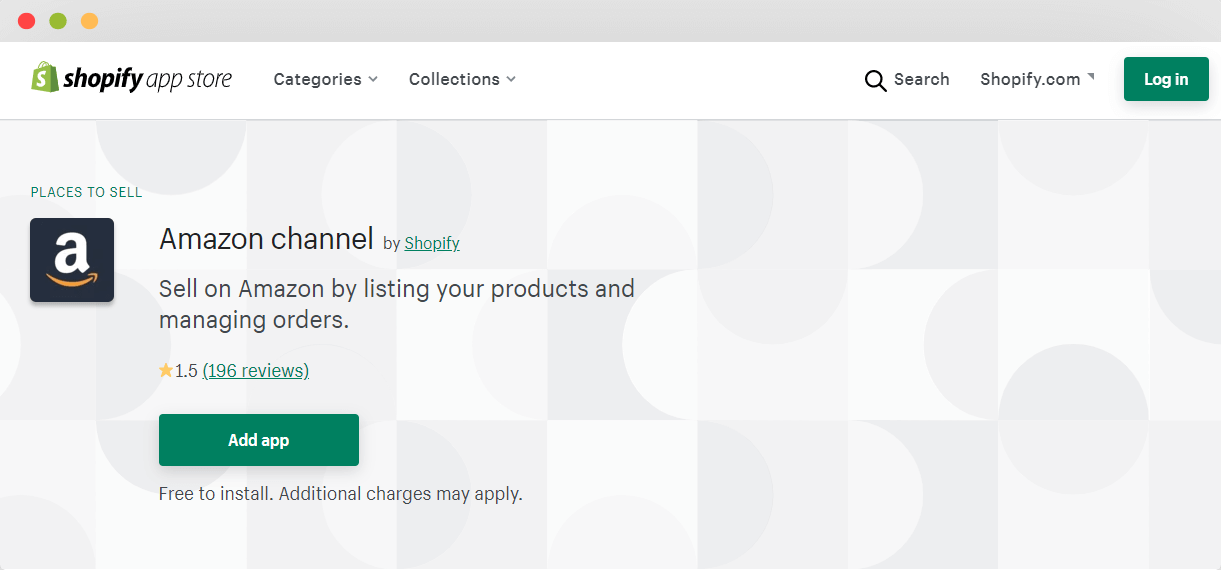 So, why won't you have an opportunity to show up your products to a platform that has around 200 million active users per month?
Without spending more time regarding its introduction, let us go straight to what it has to offer to dropshippers.
Links your products to your Amazon account.

Synchronizes the product status, inventory, and other details with Amazon automatically.

Provides a great chance to increase more sales with less hassle.

You can also add products to your Amazon shop by using this tool on Shopify.

You can also fulfill your Amazon orders from this Shopify channel.

This is one of the most beneficial ways to automate dropshipping processes.
Instagram alone has over 1 billion active users. You don't want to lose such a huge platform and do what you can to ensure your store's presence on this platform for every reason to be successful.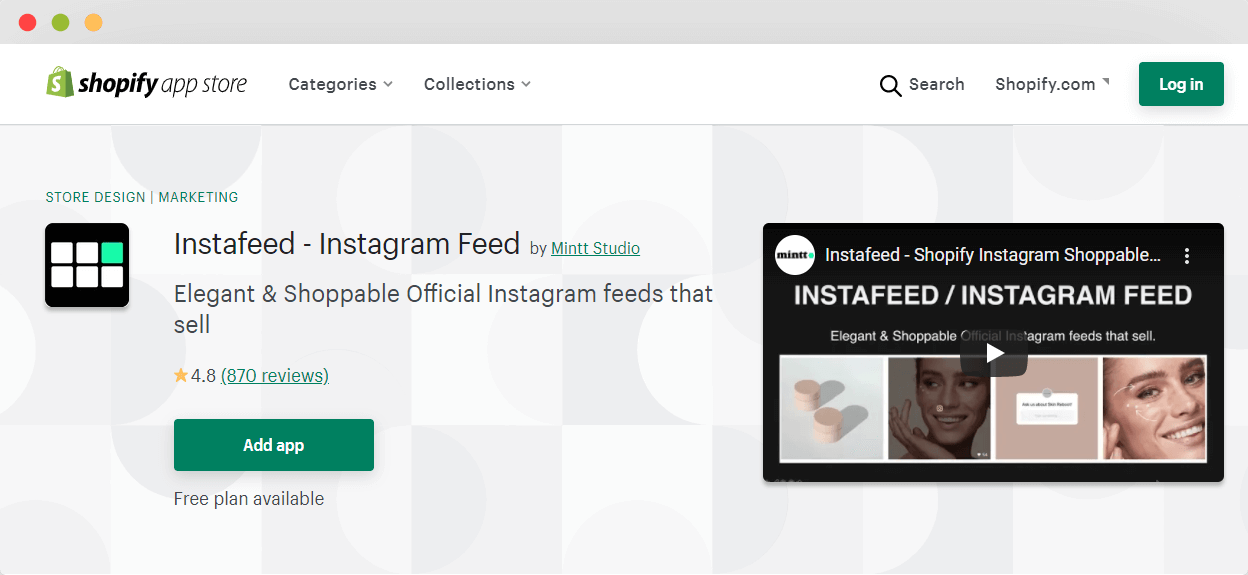 With this Shopify tool, you can rule the Instagram world by synchronizing your product pictures and videos from your store with Instagram.
The following are the key benefits of using this app.
Synchronizes your store with your Instagram account to ensure more sales.

Shows the most sparkling sides of your store on Instagram.

Excellent Shopify tool to increase social proof via Instagram.

You can also show Instagram content on your store and your store's content to Instagram. Works both ways.

Images and videos from your store can be shown on your Instagram.

Fast, responsive, and easy to use.

SEO-friendly app.
The free version of this app comes with multiple benefits including layout options, customization, and video support, etc.
Best Shopify Tools for Sales and Marketing
Every business aims at increasing sales by launching different marketing campaigns. The same goes for dropshipping too.
We are recommending the top Shopify apps for increasing your sales and helping in your marketing objectives.
Automate your advertising experience across the most popular platforms with this outstanding Shopify tool. This app helps you create Facebook, Instagram, and Google Ads in just a matter of a few clicks.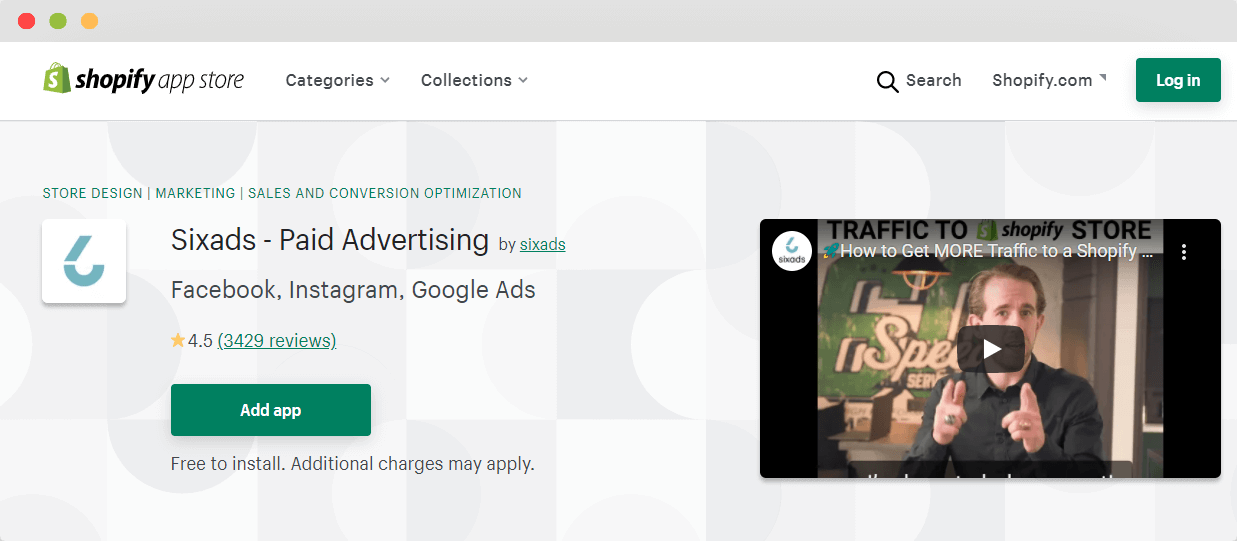 Now you don't have to spend hours deciding what makes your advertisement look better. You can use this app free of cost to save your time.
The key features of this app include the following.
Advanced algorithms make it easier for you to run advertisements around multiple platforms including Facebook, Instagram, and Google.

You can generate new leads as well as retarget visitors who did not buy from your store.

Fast, effective, and easy to use ad setups.

Helps you reduce ad spend by focusing on quality customers and targeting them multiple times until they buy from your store.
Have you noticed the cute-looking luck wheel on Shopify stores that offers discounts? Or you must have seen the immediate discount offer on dropshipping websites as soon as you take the cursor away from the website.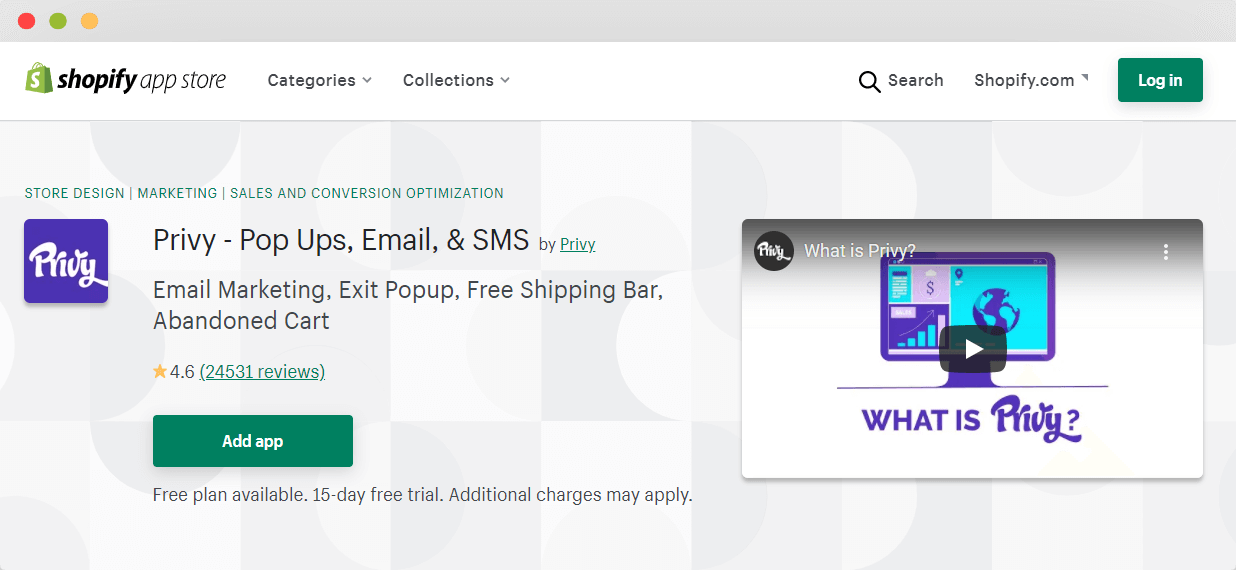 Privy is the Shopify tool that makes such kinds of pop-ups possible.
Let's find out the main features of this app.
It offers a huge list of pop-ups for your website to attract visitors and convince them to become buyers.

Also offers an email collection template to offer your visitors sweet discounts if they come back.

Sends automatic reminder emails to call the visitors back to your store.

Deals in making coupons available for your visitors to turn them into customers.

Excellent tool to retain the visitors who intend to leave your store without buying.

Also offers to set up a free shipping bar on your website.

This app can also act as an email marketing tool to share newsletters and promotions to your customers and to grow your email list.
The basic features are free of cost in this app. Advanced features like unlimited emails are paid options.
This is another Shopify tool for creating pop-ups to increase sales. That is why they have named it Conversion Pro.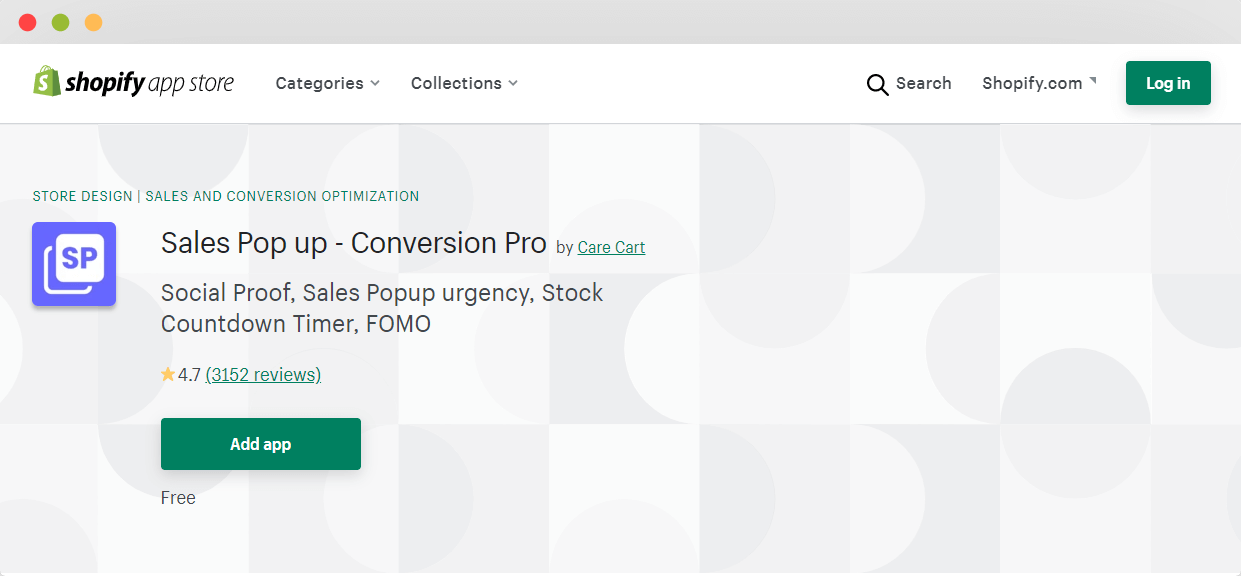 You must have noticed on some dropshipping stores that a pop-up emerges every few seconds showing that someone from somewhere just bought a product from this store.
This is because of such great apps. It is one of the ways
to give your visitors a sense of social proof and trend of that product so that they immediately buy that product without much thinking.
You can get the following benefits by using this app.
Notifies your visitors about live sales that are happening in your store. You can also fake this data if no sales are happening.

Set up a countdown widget on your store showing that the product is about to go out of stock.

Also shows a countdown timer for the sale to end in specific hours or minutes to create the fear of missing the product.

Live traffic counter shows the popularity of your website to your visitors.

All of these features that this app offers are completely free to use.
ReConvert is a Shopify tool that helps you increase sales and also helps you build your brand image. It does so by applying simple yet effective strategies to capture more customers.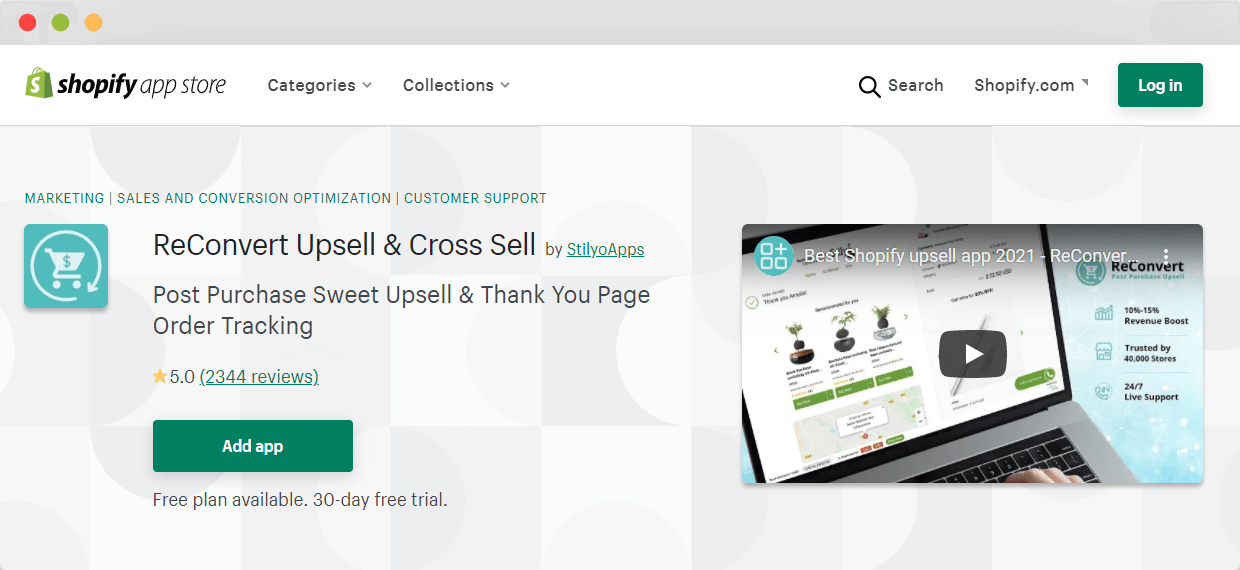 It focuses on getting customers back to your website for purchasing more products. That is why they have named it ReConvert.
The main features of this app are as follows.
You can build your own Thank You Page with this app to encourage the customers to visit your store again.

An amazing tool to include upsells and cross-sell techniques to increase sales.

This app also helps you target customers after they have purchased from your website.

Notifies about promotions on your websites to create
The app is free to use for applying these strategies to 50 monthly orders in your store.
This is yet another Shopify tool to increase sales by suggesting the customer buy additional items from your store. Most of the customers often look at the product for which you had advertised.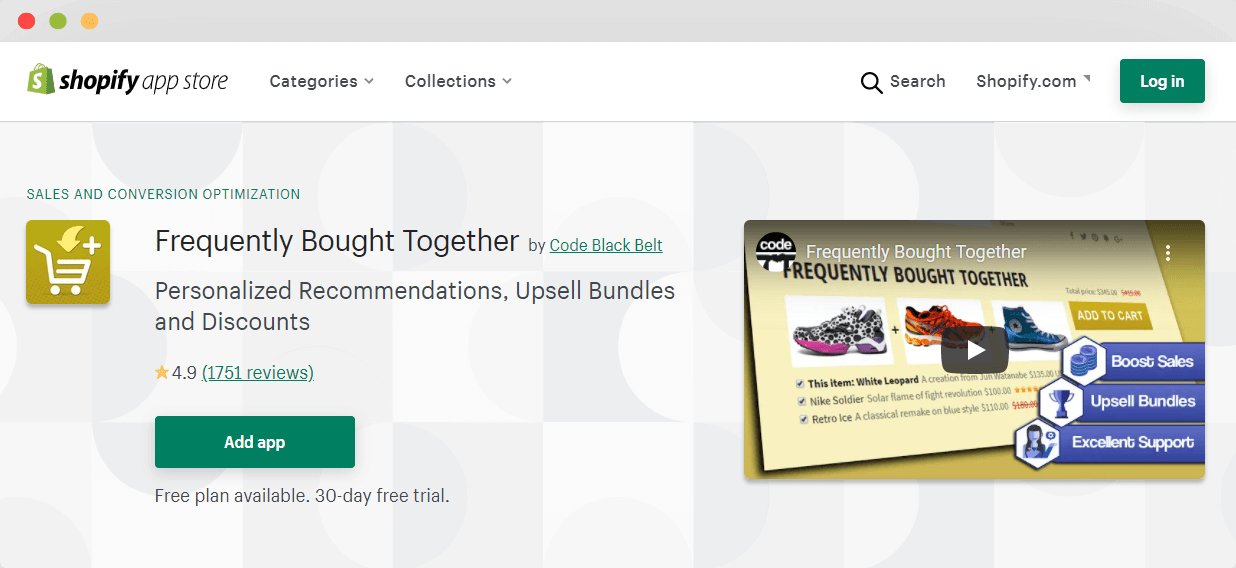 This app makes sure to show up other products too so that they can buy more.
Following are the key benefits of using this app.
Highly trained AI software to automatically recommend the frequently bought together products.

You have full control over how the widget Frequently Bought Together will appear in your store.

You can offer bulk discounts or offer free shipping if a customer buys certain products together.
Caution: The app is completely free to use for the stores that are created in the last 3 months. This is because of their generosity to help new entrepreneurs.
Best Shopify Tools for Aftersales and Customer Service
Getting sales is easier, retaining customers is difficult. That is why after-sales services are there in every successful business. The same goes for dropshipping too.
That is why we have brought the following recommendations for boosting your sales with the power of after-sales and customer services.
HelpCenter is an outstanding Shopify tool for contacting your customers to carry out after-sales services.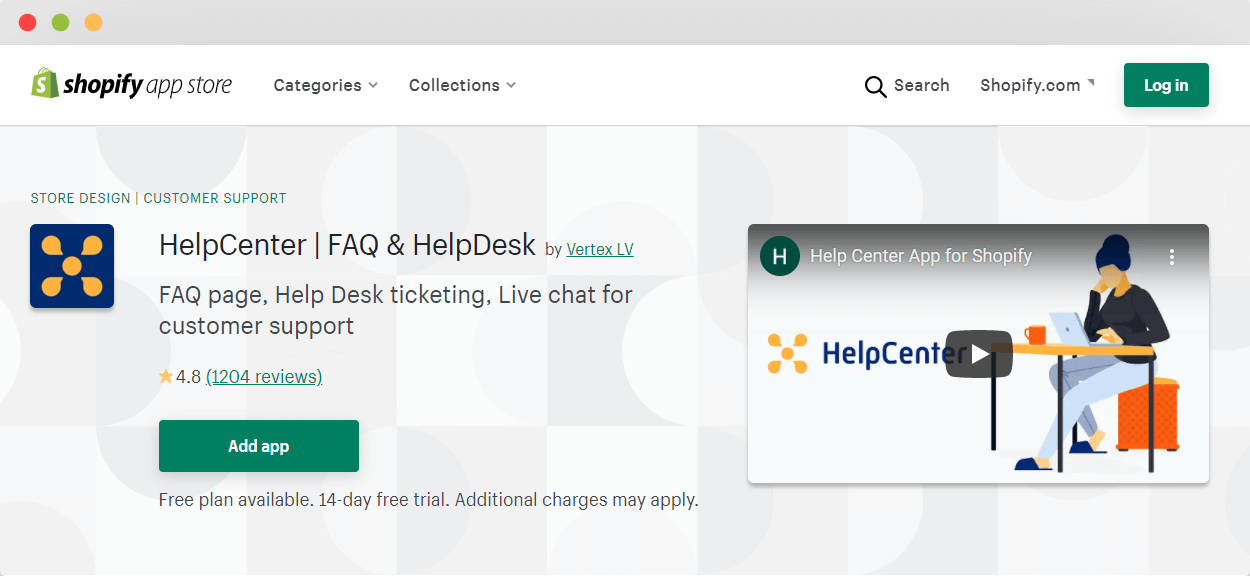 Its highly effective functions like Live Chat support and customer complaint handling make it a great choice for dropshippers and other business owners to retain their customers.
The main highlights of this Shopify app are mentioned below.
You can build a dedicated page for your customers that has all the information that most customers often ask you via email.

Saves store owners' time and customer's time with its extended functions.

It helps you accumulate all the queries of your customers by gathering them from multiple platforms including emails and Facebook, etc.

One app can synchronize data across multiple Shopify stores.

Easy to use and operate.

An SEO-friendly application that helps your store rank higher in search engines.

Helps you award tickets to your customers automatically so that they know when their queries will be answered.

Team integration options let your VAs work efficiently by collaborating with each other.

Keeps track of all the customer inquiries in a searchable form.
Basic features for starting dropshippers are free to use in this app.
Tidio is another great Shopify tool that is very helpful in giving your website a professional look and entertaining your customers' queries and complaints. It is a Shopify app that is more than just a live chat software.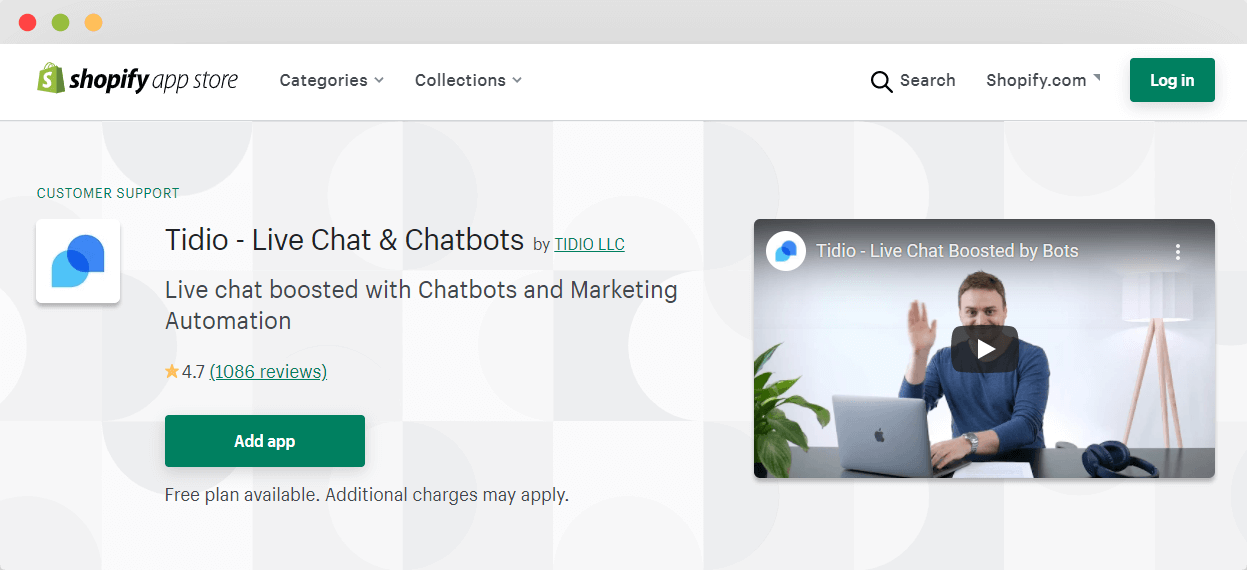 It is a very helpful tool to carry out your customer satisfaction processes. The main features of this Shopify app are as follows.
You can quickly reply to your customers' questions.

Option to utilize automatic replies until you or your VAs are available.

You can also keep track of your sales with this app.

This app also monitors and suggests follow-ups for lost sales and abandoned carts.

The majority of functions of this app are customizable according to your preferences.
The free version of this app includes features like Live chat, integration of your email and Facebook messenger accounts, along with mobile devices.
You can also manage 3 VAs with this app with a free version. These functions are enough to kickstart a fresh dropshipping store.
AfterShip is one of the most beneficial Shopify tools for after-sales services and customer retention. This app relates to the major after-sales functions including shipment tracking and delivery status, etc.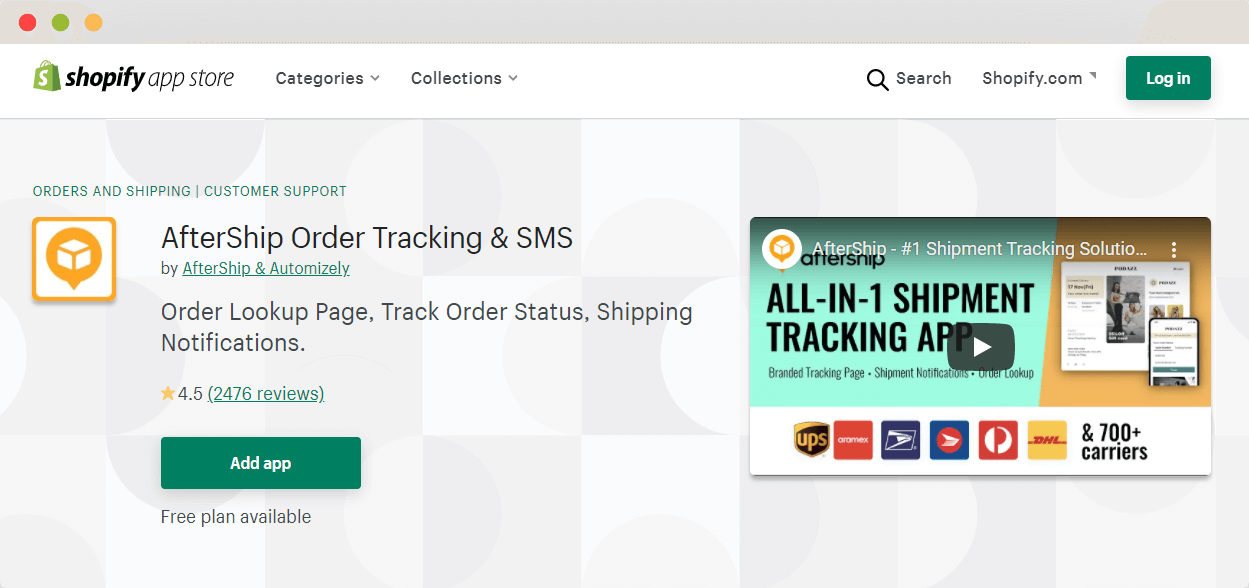 Considering to incorporate this app in your Shopify store can surely make your store stand out from others as most dropshippers and businesses do not generally provide such delivery notification services.
Out of all the features that this app offers, the following are the most sparkling ones.
You can have consolidated insights of your order shipment tracking in one place with this app.

The intelligent interface of this app keeps you updated about all the orders and shipment details.

You can also sort options of orders and shipments by date and place, etc.

Keeps your store alive in the minds of your customers due to notifications.

You can check and keep your customers updated about all the information regarding whether your shipments are delivered or not.

Integrates with major courier and shipping companies around the world.

Gives your store a branded look with advanced features.

Fully customizable email messages and SMS for your customers.
The free version of this app comes with options including up to 50 shipment details per month, order status details, live chat, etc.
Best Shopify Tools for Making Videos
The video ad is the most powerful way of convincing visitors to convince them to buy your products. While there are much video-making softwares out there, Shopify also presents video-making tools that you can consider installing in your Shopify store.
The following are the recommended video-making tools you can use for your advertisements.
You can stop investing time in making videos or hiring VAs for the videos of your products. You can use this Shopify tool to make videos effectively.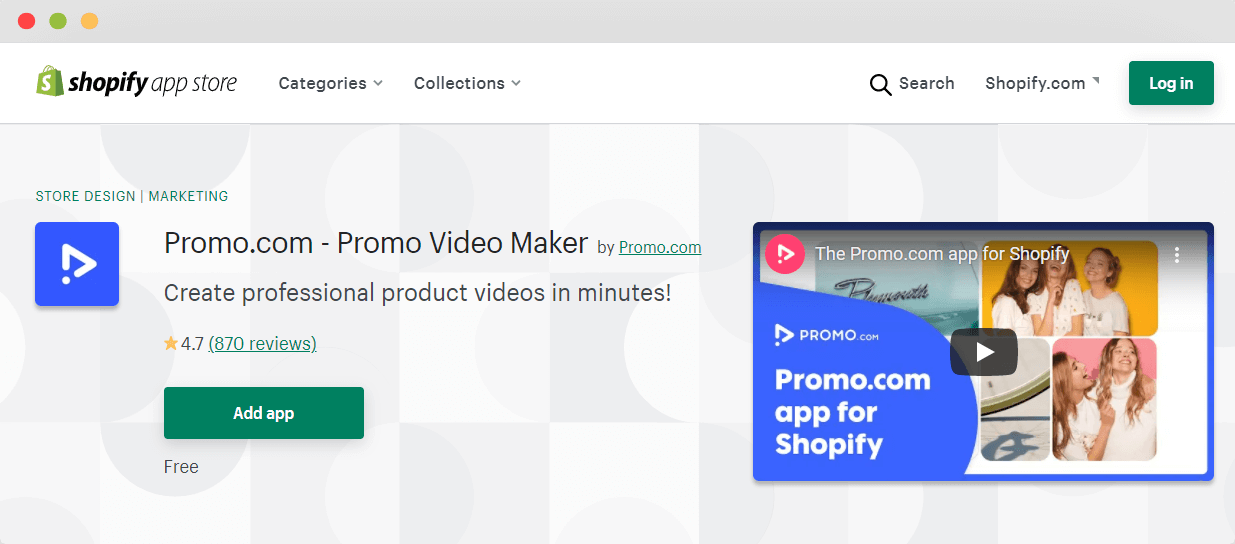 The main features of this app include the following.
You can select the type of videos you prefer to be made for your products.

It uses existing photos from your store to make videos from those photos.

You can also make a consolidated video from different products to promote your store.

Adds to the overall look and feel of your store's products.

Helps increase sales manifolds.

You can directly publish the video to social media platforms to gain social signals.
Go pro with making powerful videos with this great Shopify tool. Vimeo is a brand known to many people and it has also entered Shopify's domain too.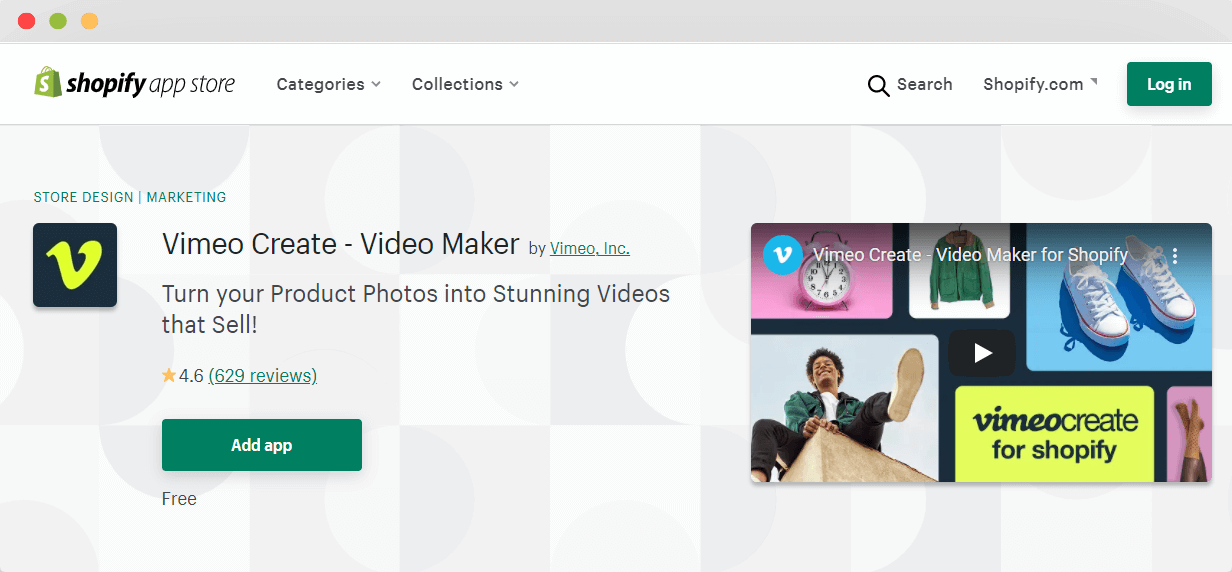 Create instant and hassle-free ads with this Shopify tool with no technical knowledge. Just decide the products to sell and let this app turn those products into videos.
The main features of this app are as follows.
This app asks a few questions about your products and helps you make relevant videos based on your answers.

You can easily highlight the most attractive features of your website or products with this app.

Gain customer attention with powerful and best videos with this app.

You can also include your offers, discounts, and business logo in videos created from this app.

No worries about losing your videos as you can utilize Vimeo's own cloud storage space.

Offers more than 700 video templates that you can choose from.
This app is free to use along with all of its features mentioned above.
Vimotia is yet another useful tool to make different kinds of videos to promote your products involving visual engagement. This app offers a special feature of making your videos swipeable to give them a look just like the one on TikTok.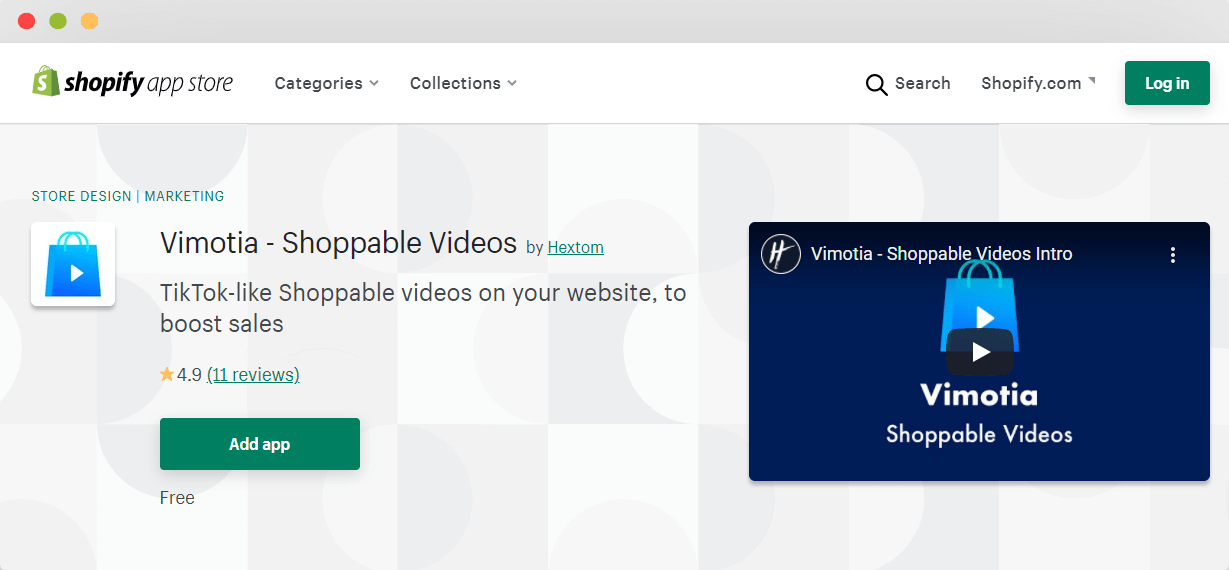 Another awesome feature of this app is that you can also import videos from other sources and make tweaks to turn them into unique videos.
The main features of this app are as follows.
You can access this app from your mobile phone to upload them directly from your phone or computer.

Provides all the video editing features like trimming, joining, including photos within a video, and others.

You can also add subtitles to the videos to make them look unique and professional.

Adds interesting and clickable widgets. Customers can buy products they like directly from the videos.

Also keeps track of customer statistics and order follow-up from the videos.
The best part about this app is that it is completely free of cost to use.
Best Free Shopify Tools for Store Backup & Synchronization
Whatever the situations are, you always need to back up your store to not lose out on any important information regarding your store. Bad things can happen in technology and you must have ways to correct them.
We are recommending the following Shopify tools to back up your store data so that you can restore that at any point when you require it.
The list of recommendations also includes other apps that help you synchronize your store data with other stores and to monitor your visitors' activities on your site.
Don't worry about the mistakes that you may have made in developing or improving your store's design or coding. With this amazing Shopify tool, you can have backups of your store details and restore the previous settings easily.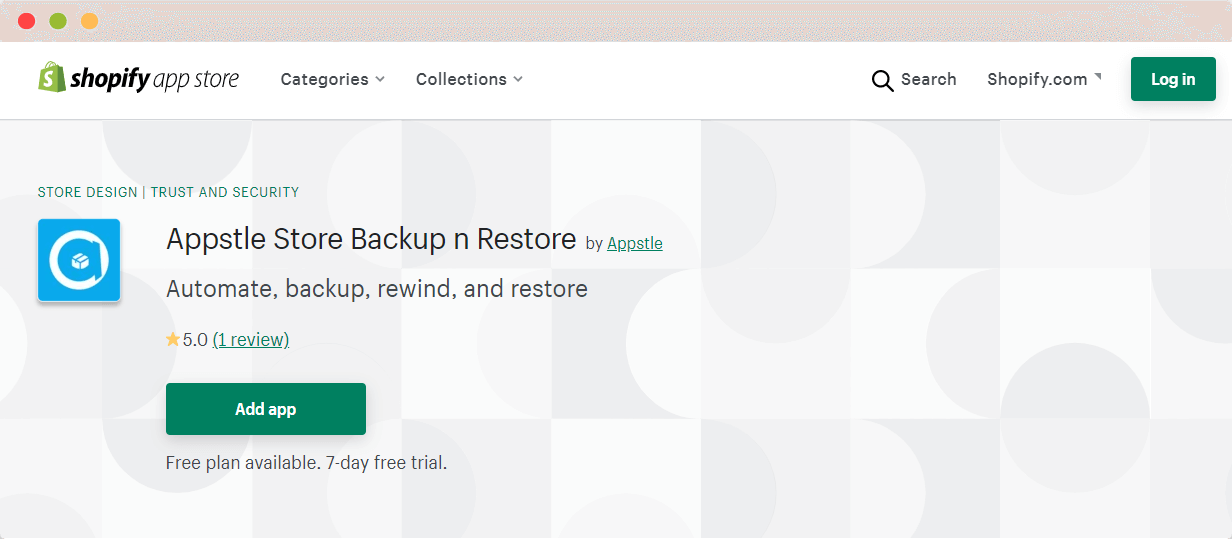 Backup is needed for every website and this app helps you with that in a convenient manner.
Let's find out what you can have with this app on your Shopify store.
Automatically backup all of your important data including the order and customer details.

It shares the backup files via emails so you can have records of backups at different times.

Manual backup requests at any point in time are also fulfilled.

Provides fast, easy, and reliable backups instantly.
With the free plan of this app, you can backup up to 20 orders per month.
This Shopify tool is meant for the dropshippers running different stores for the same products.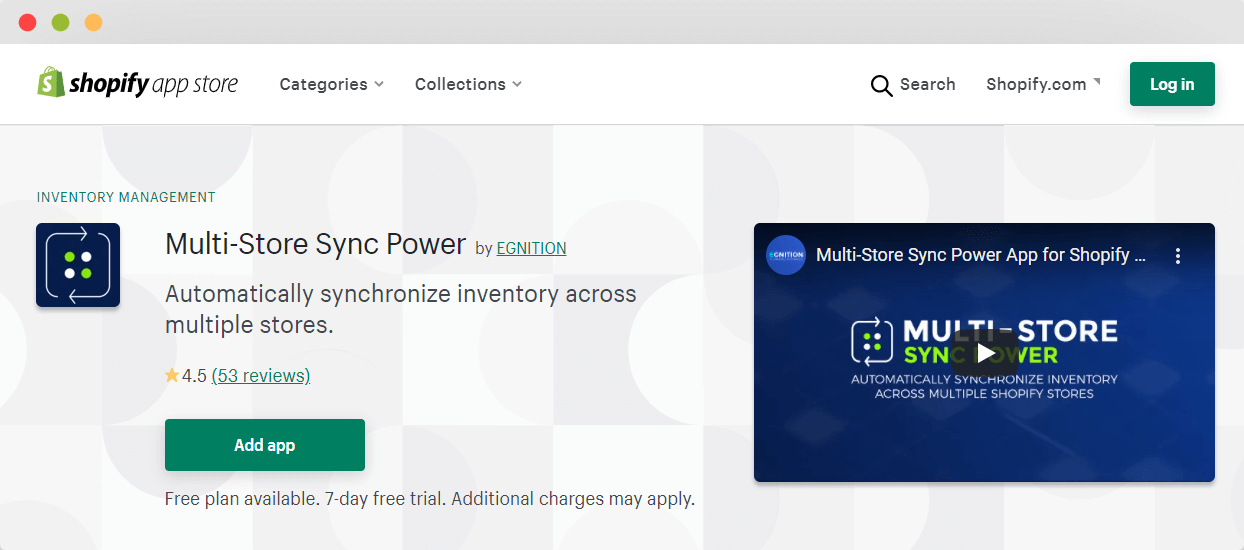 This app synchronizes all the inventory between the stores connected via this app in real time so you don't have to worry about getting the orders for out-of-stock items.
The salient features of this Shopify app are as follows.
Easy and automatic synchronization of your stores' inventory.

Allows you to partner with another merchant who is selling the same products in a different region.

Saves time for the people to keep track of their product inventory manually.

Provides synchronization for multiple locations with the use of a single app.

Especially suits for the dropshippers who own their inventory.
With the free plan, you can connect up to 25 products per store that are connected via this app.
How about having a live recording of details of what's happening at your store? Replay Live Session Recordings makes it possible to access the information regarding visitors on your website.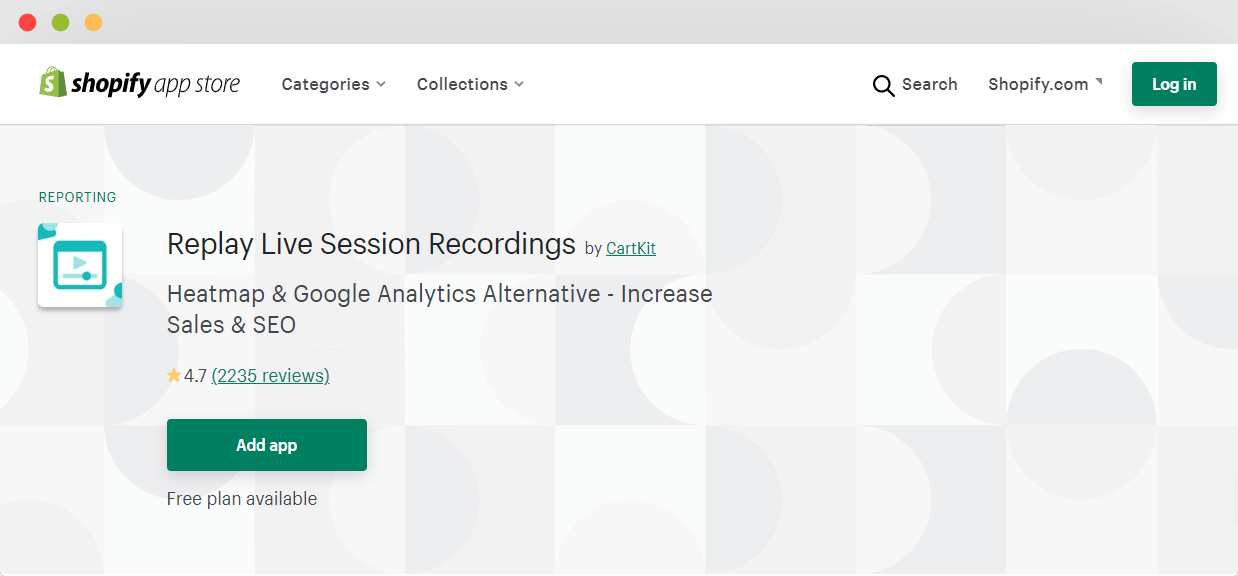 Now you don't have to worry about the fate of your website or products as you would exactly know where your visitors got stuck so you can fix that to increase sales.
The main features of this app are as follows.
Tells you about the date and time of the visitors.

Clearly lets you know how many seconds your visitors spent on your website. You can calculate the bounce rate yourself.

You can also come to know from which device your customers are looking at your products. If you find out that most of your visitors are accessing your website via mobile phone, you can target mobile phone audiences more.
Note: Checkout pages or shopping carts of your customers cannot be recorded with this app because they are secured by Shopify itself.
The free version of this app records the sessions of up to 100 unique visitors per month.
In addition to the Shopify apps discussed above, you can also get help from this useful video to know about additional Shopify tools.
Summary
So, you have just finished reading about the top Shopify tools that are highly essential for smarter dropshipping processes.
All of these top Shopify apps have been endorsed by many eCommerce store owners and you can see this in the reviews of these free tools.
You must take help from these apps and Shopify plugins to sell online without wasting time on things you can automate.
We hope that this article would have imparted value to your knowledge about Shopify apps and you must have filtered out the apps of your interest.
If there is anything else that you want us to cover, do share a comment on this article. We always respond to our queries and suggestions.