Research indicates that when users look up an item on search engines like Google, they are more likely to click on the first few websites that are presented to them as search results.
As a result, if your Shopify store website ranks high among other search results in your niche, you are likely to draw more potential customers to your store.
So, how do you get your website to appear among the top results? Through Search Engine Optimization (SEO). However, SEO is not a walk in the park for everyone. More so if you are not very fluent in tech terms.
Thankfully there are amazing apps that you can use to ensure you achieve your SEO goals. In this discussion, we evaluate some of them to help you find the best SEO app for Shopify to suit your needs.
Let's get into it, shall we?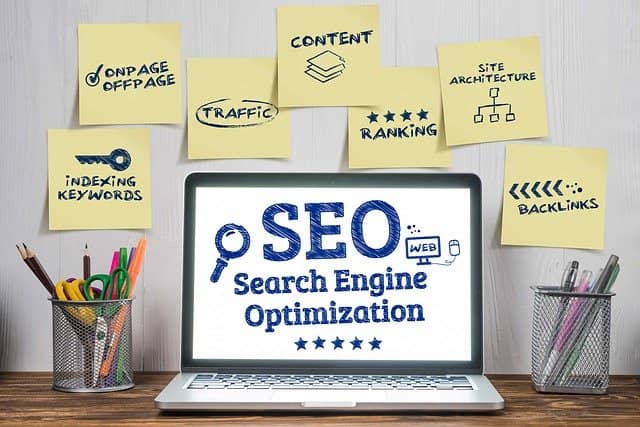 What Is an SEO App for Shopify?
A Search Engine Optimization (SEO) app is a program designed to help users improve their websites to achieve better search engine rankings.
All you have to do is install the app and it will guide you on the website and content features you can improve on such as:
Use of keywords
Meta tags
Backlinks
Website design
An SEO app for Shopify still falls within this definition. The only difference is that SEO apps for Shopify are optimized to be integrated with Shopify stores. Consequently, they deliver a much better user experience.
With that cleared up, let's explore some SEO apps for Shopify and what they have to offer.
SEO Manager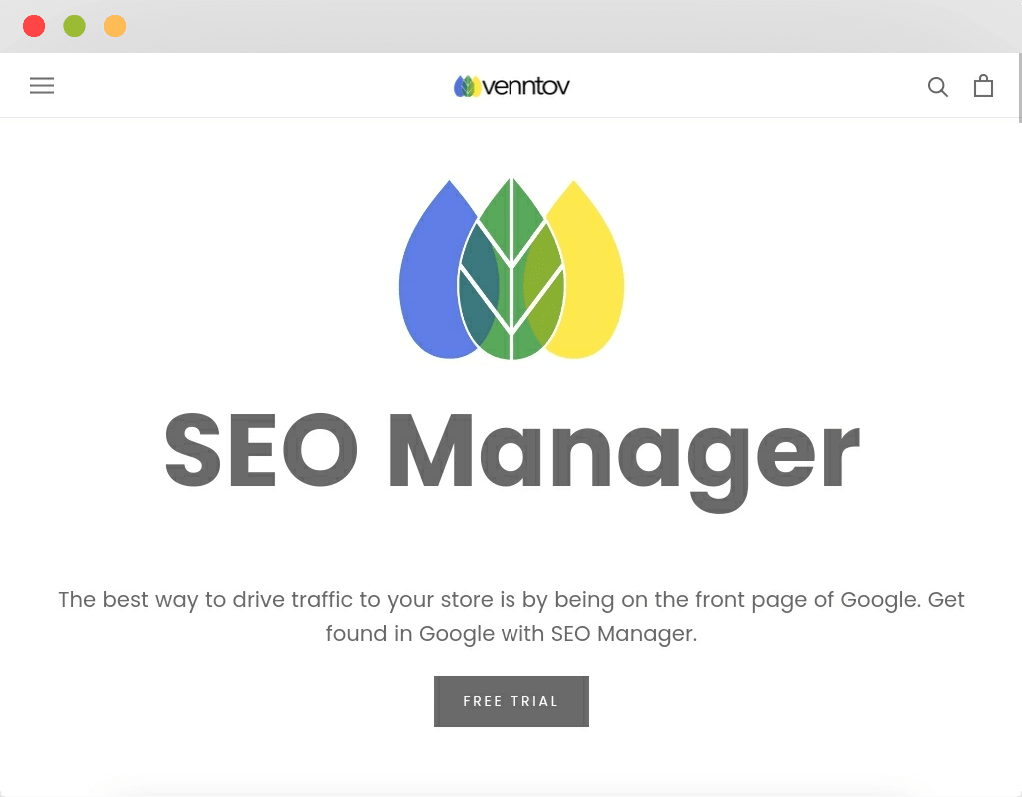 SEO Manager is ideal for both beginners and those who are well-skilled in SEO. This is because, while it is packed with lots of handy features, they are all simple to use.
First, the app allows you to out in basic information such as keywords, a description for your website
For example, the different pre-made templates instantly introduce you to the fundamental details of SEO. You simply need to pick out the template that appeals to you and use it to start making changes to your website.
Some of the changes include a fresh website layout, entering keywords, a brief description of your website, and custom meta tags. These are essential because Google uses them to determine your SEO ranking. They will also influence how well your dropshipping ads perform if you use Google Ads.
As you make changes, the SEO Manager app offers suggestions to help you create the best search-engine-friendly website.
The best feature, however, has to be the feedback that the app offers and all the testing tools it provides. They give you instant insights on whether the changes you have made to your website will improve your rankings in search engine results.
You can also test to see whether your website is mobile-friendly.
Highlight Features:
It integrates with Google Trends and Google Search Console
It scans your website for '404' errors and provides automatic solutions
It suggests and runs scans for SEO issues, keyword issues, image ALT text issues
It allows you to edit titles, descriptions, keywords, and more
The JSON-LD structured data feature provides data about your website to Google in a systematic way that is easier for the search engine to pick up
Provides sitemap management and submission to search engines
Free installation from the SEO Manager team(if you need it)
Price:
7-day free trial
$20/month
Plug In SEO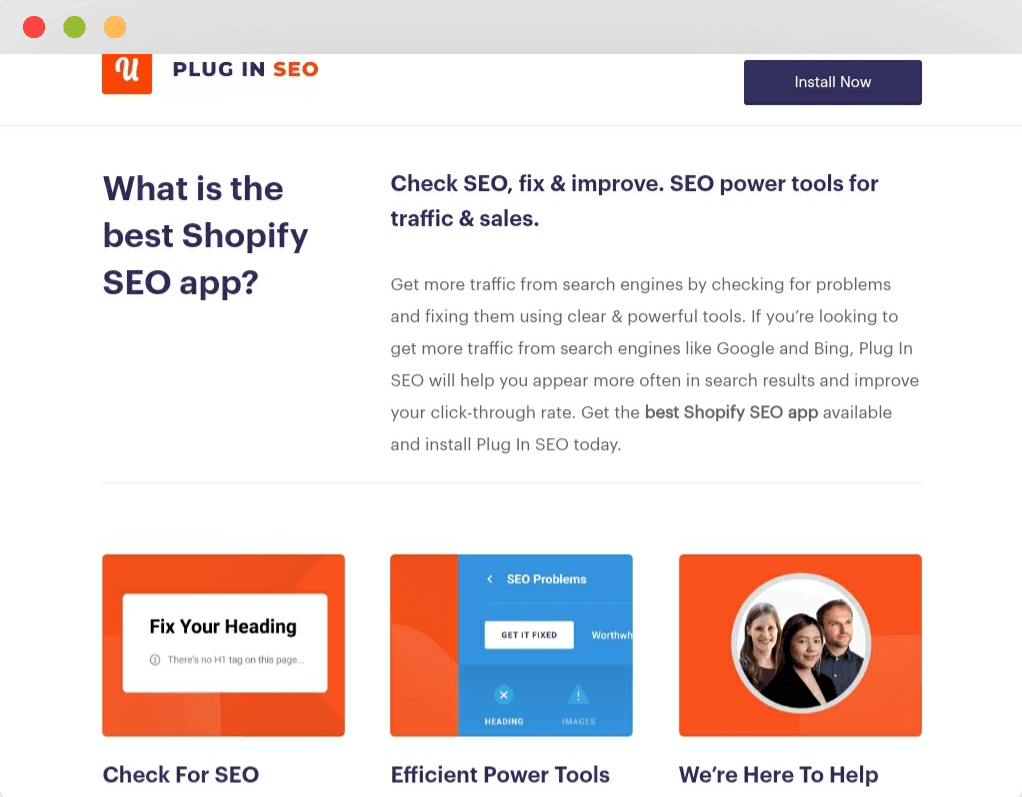 Plug In SEO is equally great whether you are a beginner or are more adept at SEO. You may also want to consider getting this app if you would like to delegate your SEO tasks altogether.
For starters, there is a free and a premium edition of Plug In SEO.
The free version- allows you to run diagnostic checks on SEO features such as titles and keywords to see if they are indeed optimized or if they need some tweaking. It is recommended if you are content and able to do most of the SEO work yourself.
The premium edition- this version gives you access to tons of SEO training material and advanced SEO features. It even allows you to request custom SEO templates for your website.
In terms of features, this SEO app enables you to run diagnostic checks on your website to find issues that could be impeding your search engine rankings.
The diagnostic results will prompt you to edit problematic details such as missing titles, a lack of keywords, or meta tags.
Notably, Plug In SEO offers lots of support options to premium customers. You can ask for support whether you need a template or are simply experiencing issues with the app.
If you would like to delegate SEO tasks to a professional, you can do so by subscribing to the Plug In SEO plus package.
Highlight Features
Checks and recommends solutions for keywords and other SEO factors on pages and blogs on your Shopify store's website
Checks for 404 errors and suggests fixing methods
Fully integrates with Shopify SEO apps
JSON-LD structured data is automatically uploaded
You can get a live Google preview upon making SEO changes on your website
Price
Free with limited features
$20/month
Reload SEO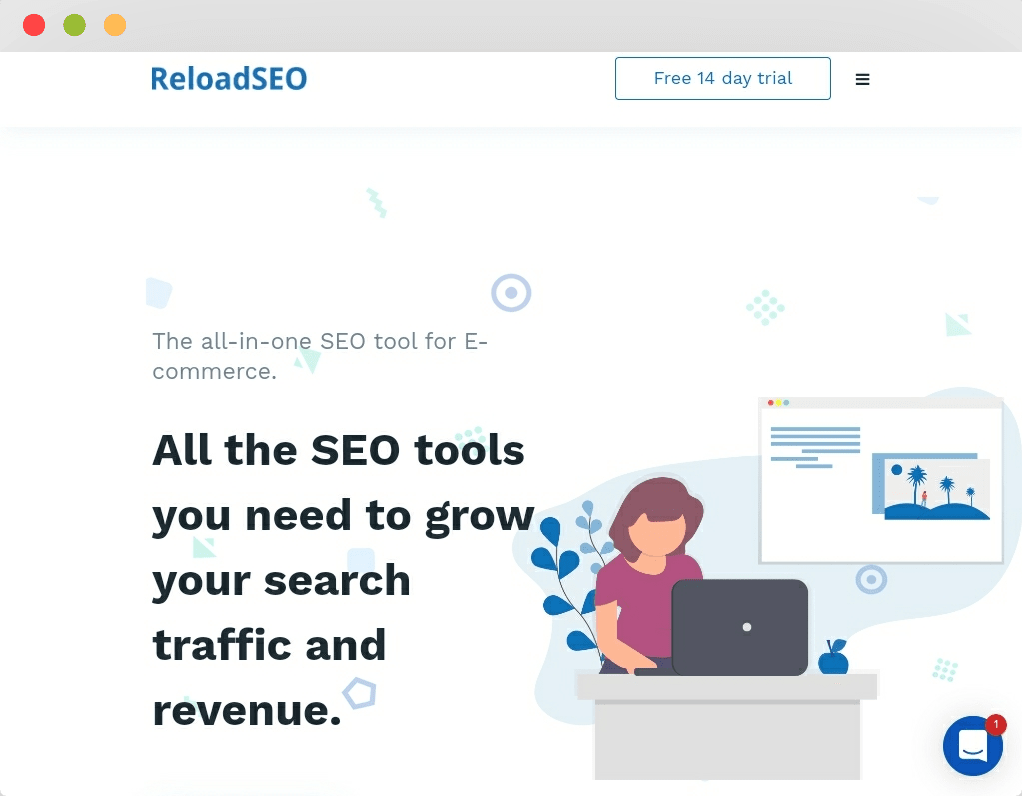 Reload SEO is compatible with most e-commerce platforms including Shopify. It has a dashboard that is designed to make it easier for you to keep track of your SEO analytics such as keyword searches and your search engine rankings.
This SEO app additionally stands out because it provides comprehensive insights into your competitors' SEO performance. You could use this information as a reference point on how to achieve better SEO outcomes.
Beyond that, Reload SEO also provides instant feedback on any SEO-related changes you make.
Highlight Features
It tracks keyword performance on an international scale; this could be useful if you are keen on expanding into other markets
Finds SEO issues and recommends fixes
Analyses backlinks and can help you find backlink opportunities through its vast backlink index
Provides Shopify store traffic analysis
Price:
Free 14-day trial
$14.95/month
SEO Doctor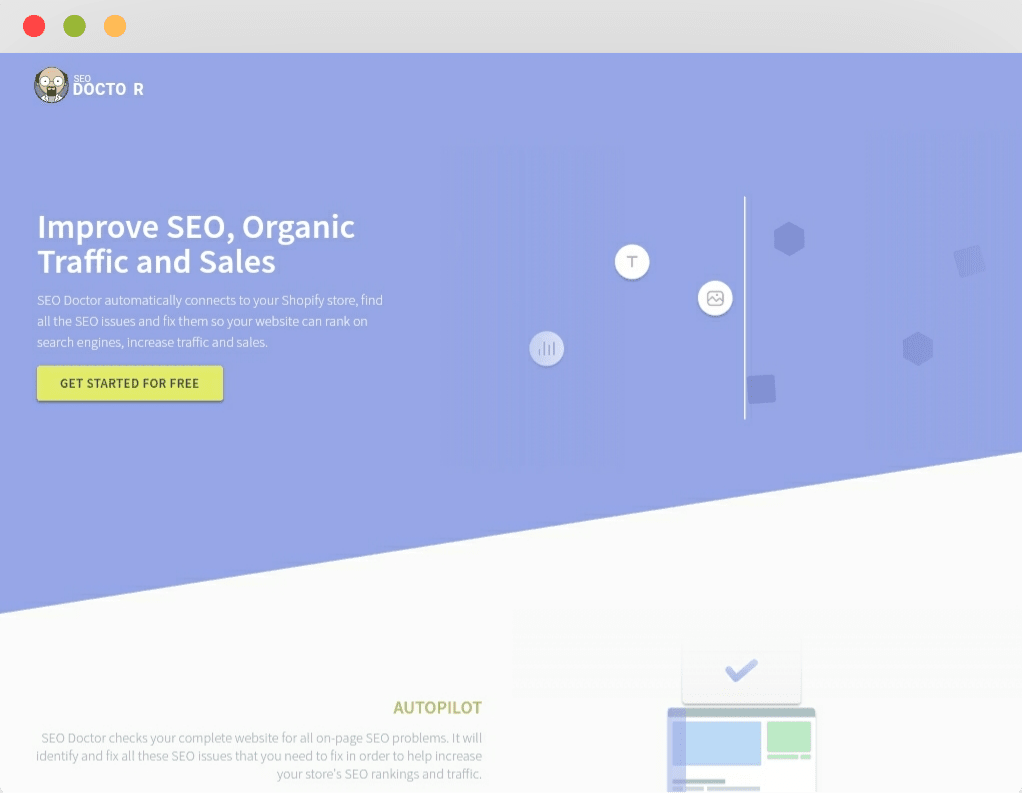 SEO Doctor can help you improve your SEO and also drive more traffic to your store. The latter is great for boosting retail and dropshipping sales.
It achieves these goals by scanning your Shopify store for SEO issues and fixing them automatically. If the issue requires your input, then the SEO Doctor will prompt you to fix it by suggesting so.
To enjoy the true value of this app, take a moment and evaluate its plans to find one that is ideal for you. The free plan, for example, only offers SEO tools in manual mode. So, if you need more automation, a paid plan would be a better choice.
Highlight Features
Google Knowledge Graph support
Integrates with Google Webmaster and Search Console
Sitemap Submission
Images can be compressed and renamed if necessary
Website speed booster
It offers Google Mobile-Friendly tests
Prices
5-day free trial
Free plan
Paid Plan- $14.99/month
SEO Optimizer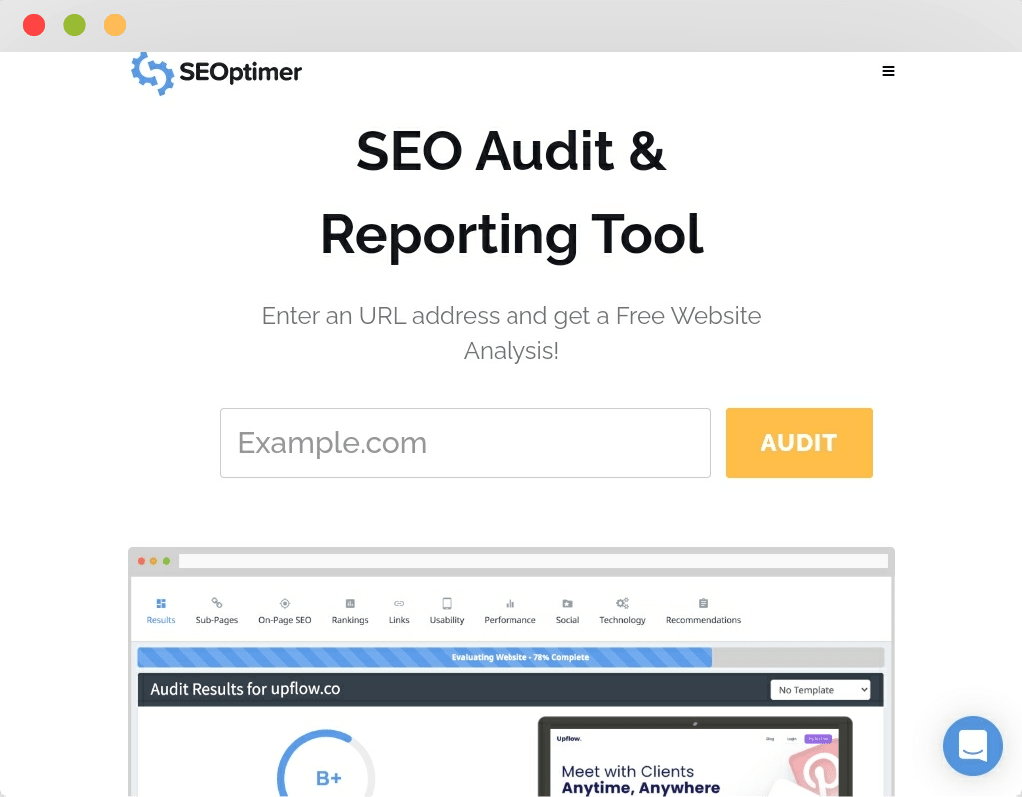 SEO Optimizer focuses on improving both image and text on your Shopify store to help boost your rankings. Once you install it, it will scan your website and recommend actions such as compressing images to improve loading speeds.
This app further provides weekly health reports which could notify you of broken links or 404 errors. The Pro version also has an Autopilot feature that you can activate to identify and resolve SEO issues.
Highlight Features
Builds, maintains, and shares your Shopify Store sitemap with Google
Recommends image ALT tag optimization
Ensures that your meta titles and meta descriptions are optimized for better rankings
Automatically adds JSON-LD
Price:
Free plan- has no time limitation but offers few features
Pro- $29.88/month
Avada SEO Suite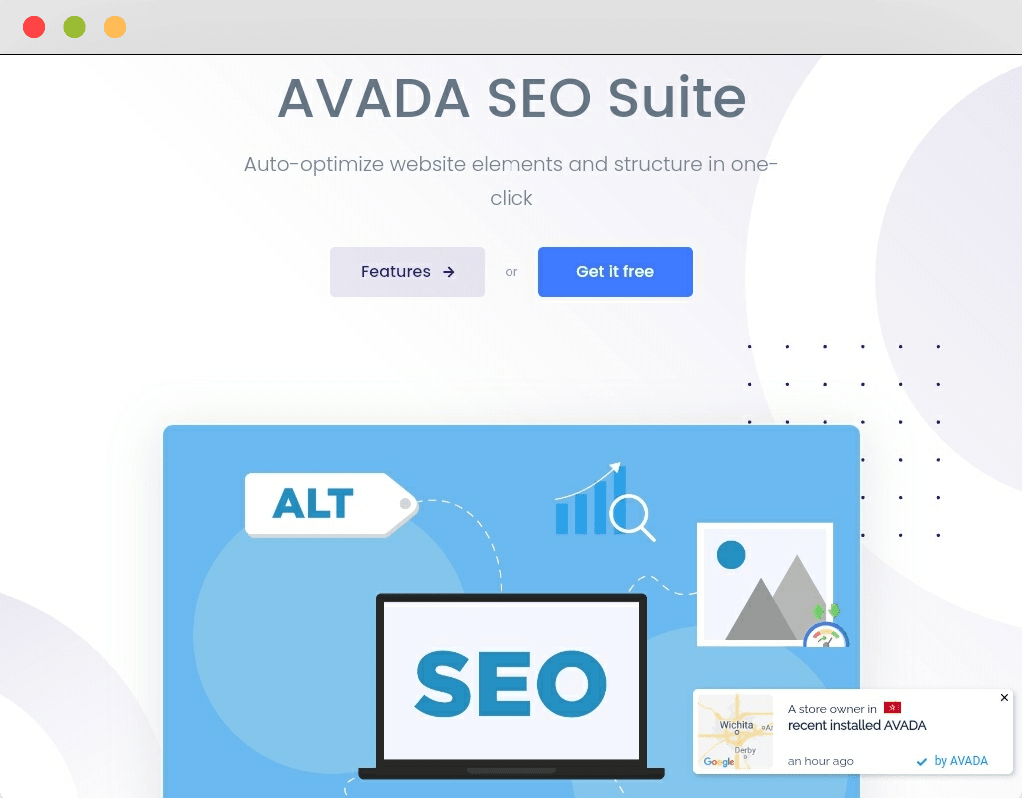 Are you worried that your Shopify website structure or images are working against your SEO rankings? AVADA SEO Suite may have just the solution for your problem.
The SEO Suite app can help you compress images to improve your site's loading speeds and recommend layout changes to boost your conversions.
In addition, the AVADA SEO Suite allows you to edit meta tags and descriptions per product (this is important for ads too). It also automatically adds Google structure data.
Highlight Features
Integrates with Google Search Console
Provides weekly analysis reports
Provides sitemap management
Alt text optimization, 404 scans, and an SEO checklist are available for all plans. (The free plan enables you to only optimize 50 products).
Prices:
Free; with limited features
Premium plan $29/month
Smart SEO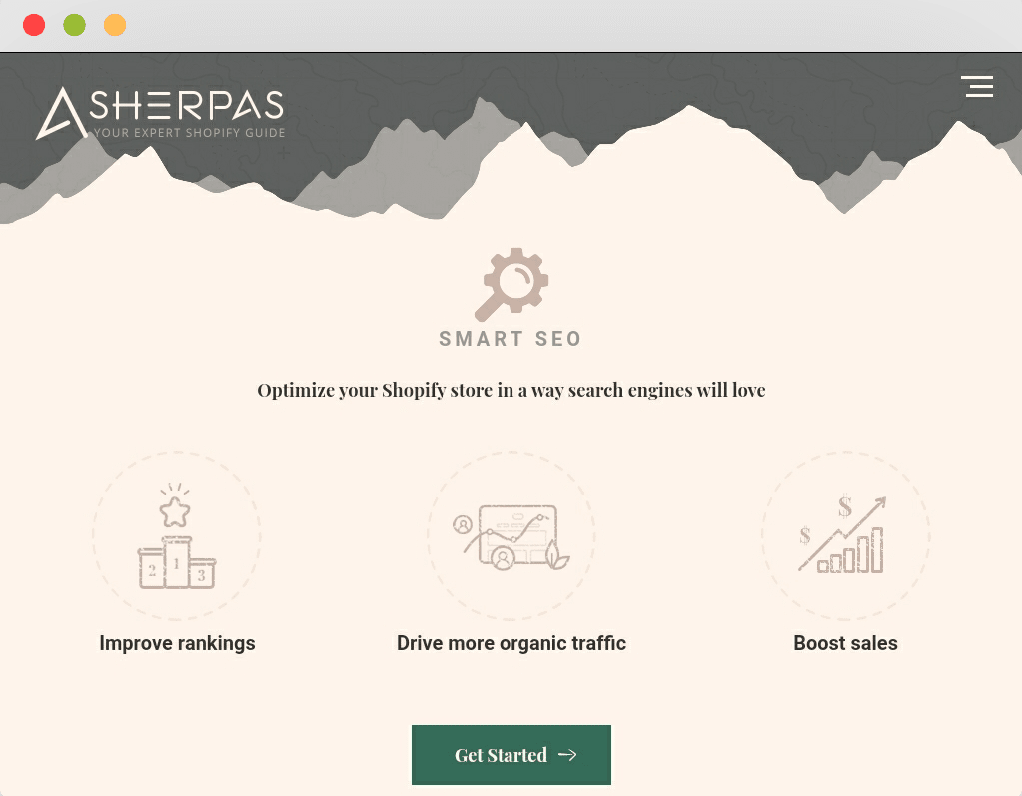 Smart SEO would be a great app if you would like to automate tasks like the generation of meta tags and ALT image tags. You simply need to choose one of its multiple templates and the app will do the rest.
Unlike most SEO apps, Smart SEO also offers multilingual support thereby making it ideal for users across different nations. It would equally be handy if you run a Shopify store with multilingual pages.
Highlight Features
Site management
It automatically adds JSON-LD data to each image
Broken link scanning
Optimization of alt and meta tags (even on the free plan)
Price:
Schema Plus SEO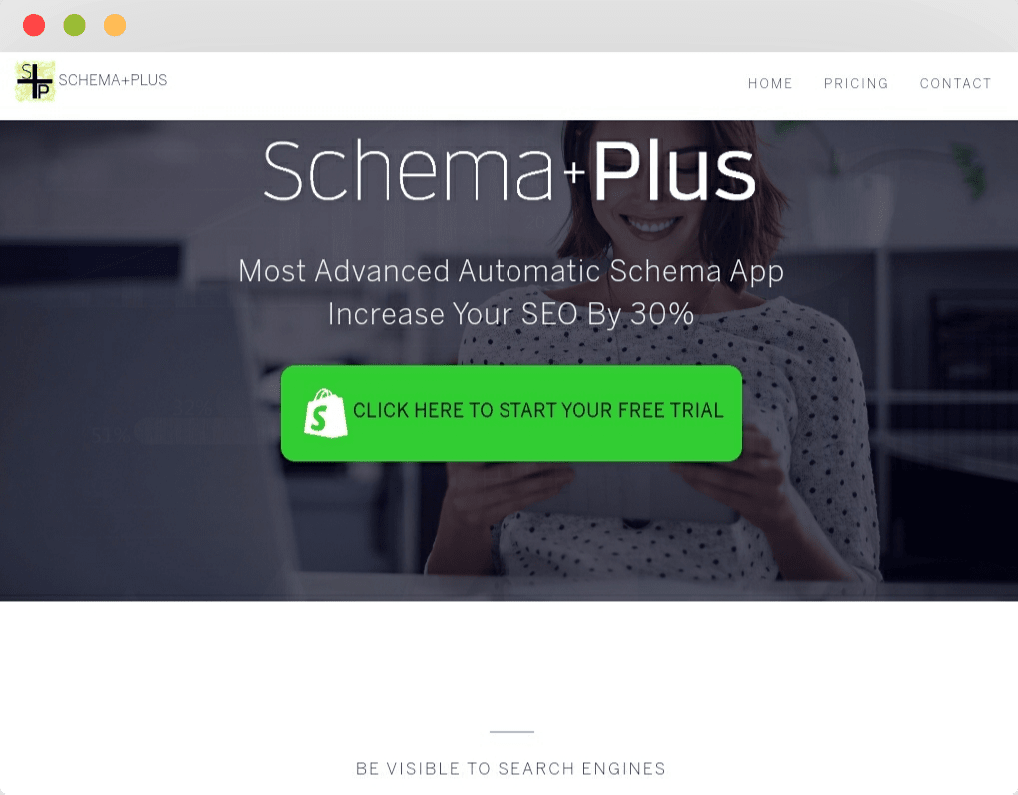 Schema Plus SEO is designed to help your site become more visible to search engines. It achieves this by uniquely structuring the content in your store in a way that is more compatible with search engines.
As a result, search engines will index your website faster and this raises your chances of better SEO rankings.
Schema Plus also adds rich snippets to the content displayed from your site on search results. Such snippets include star ratings and reviews from customers. These types of insights are quite effective in drawing traffic.
Highlight Features
One-click install
Automatically adds content markup for better indexing and rankings
Price:
7-day free trial
$14.99/month
SEO Images King
SEO Images King offers different plans to suit the needs of different scales of Shopify stores. It is thus ideal if you look forward to scaling your Shopify dropshipping or retail store.
Contrary to its name, this app offers a full range of SEO support provisions. It optimizes images, meta tags, alt tags, and product descriptions. You will also have access to free JSON-LD.
On the free version, you would have to edit these details product-by-product but on the paid plans, you can automate the whole process. The plan you are on will determine the number of products you can set for automatic optimization
Highlight Features
Image optimization
One-click optimization
SEO scanning
Uses artificial intelligence to improve your SEO ranking and suggest better keyword placement
Prices:
Free plan
Small shop- $7.99/month
Medium shop- $12.99/month
Large shop- $18.99/month
SPO (SEO Product Optimizer)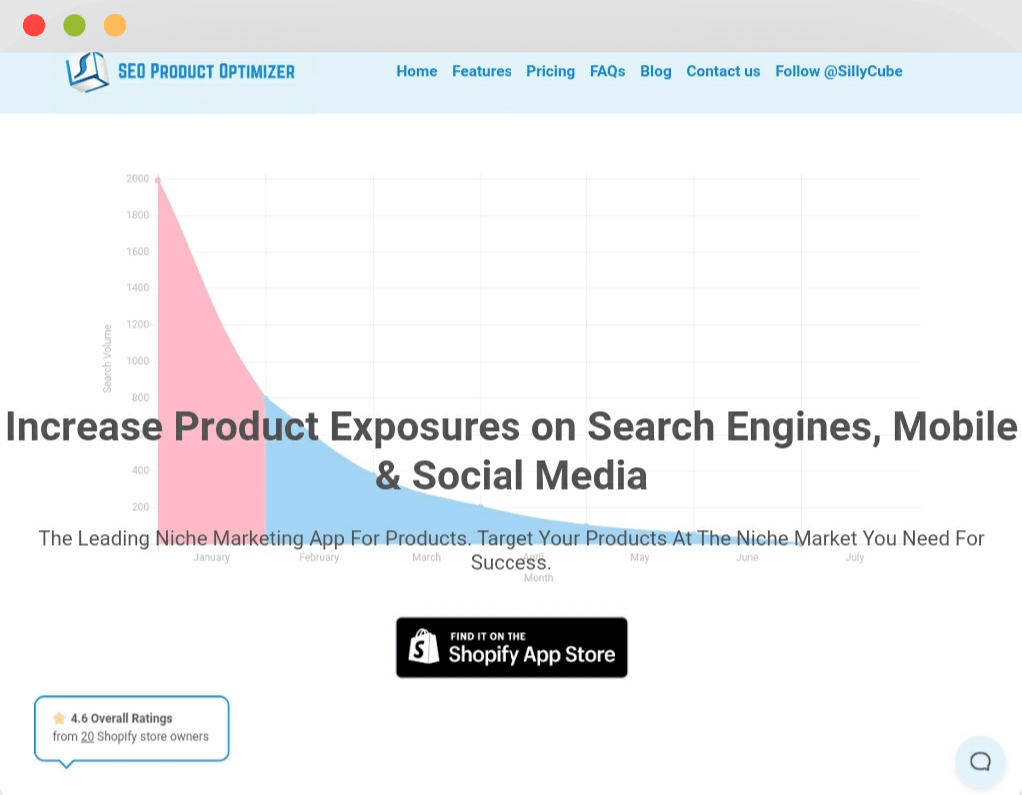 SPO is unique in that it drives traffic to your site from both search engines and social media platforms.
For social media traffic, it enables you to customize social media link previews. It also gives you a glimpse of how your link will look when it is posted on social media.
For search engines, SPO recommends keywords within your niche. It goes a step further and suggests placement strategies that could earn you higher conversions from low-competition keywords.
Highlight Features
Paid plans allow you to bulk edit product link previews
It integrates with Google Trends, Google PageSpeed, and other platforms such as Bing, Amazon, Twitter, and Facebook
Paid plans get access to JSON-LD which creates rich snippets and social media profiles
It provides SEO advice
Price:
14-day free trial
Lite plan- free(limited features)
Basic Plan- $15.99/month
Search Pie: SEO Booster & Speed
Search Pie offers solutions to make your Shopify store more visible and subsequently attract more traffic.
It achieves this by:
Recommending auto alt tags and image optimization to improve your site's loading speeds.
Suggesting keywords
Running website diagnostics and presenting a report of your site against those of your competitors
Providing SEO stats that are relevant to your region
This SEO app also has plans that are structured to make it easy to scale your business.
Highlight Features
Bulk meta tag optimization
SEO diagnostics
Real-time support
It provides data on your site's optimization for mobile use
JSON-LD and rich captions
Price:
3-day free trial
Free plan; unlimited duration but with limited features
Pro Plan- $39.99
Unlimited Plan- $79.99
FavSEO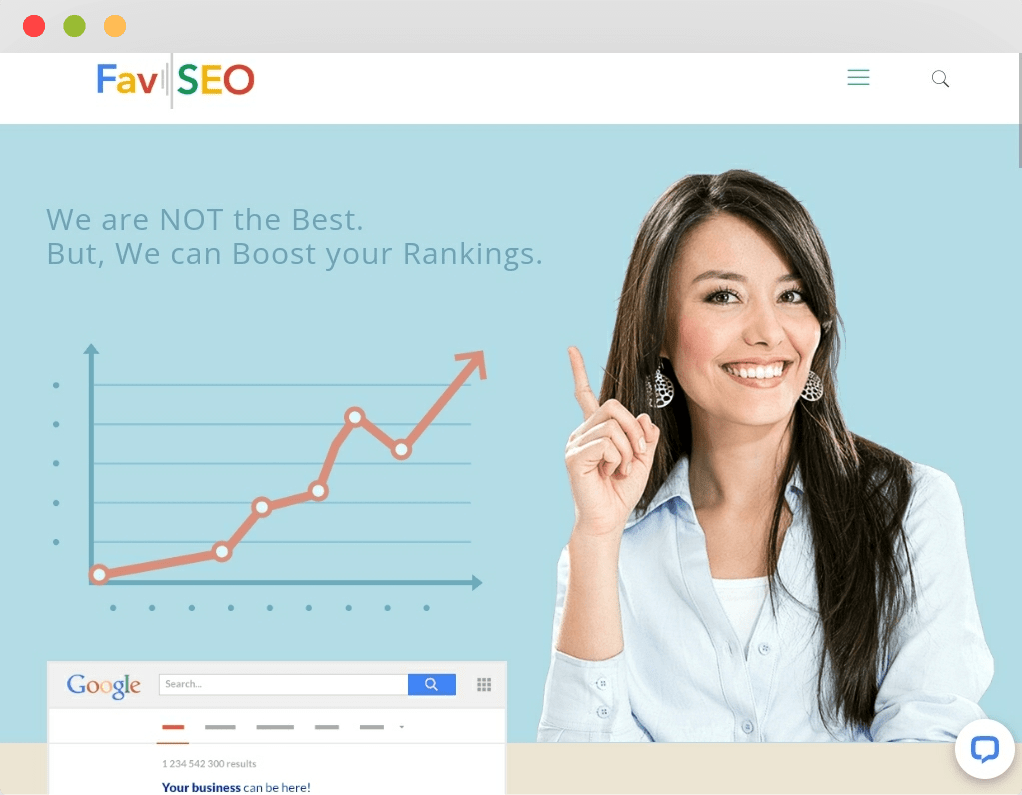 FavSEO is a go-to solution for Shopify SEO audits and more. Once you run an audit, you can access the analytical feedback on the user-friendly dashboard and begin making the necessary changes.
Are you struggling with keywords? FavSEO addresses that too. You can connect to Google Webmaster via the app to explore keyword possibilities and track the position of your keywords on Google.
Highlight Features
The bulk editor allows you to edit and optimize multiple meta tags at once (premium plan)
The title/description editor can be used to edit individual title tags and meta descriptions of individual blogs, pages, or products
Sitemap management
Live chat support
Price:
10-day free trial
Standard Plan- free
Premium Plan- $20/month
Frequently Asked Questions about SEO Apps for Shopify
Does Shopify Have Built-In SEO?
Yes, all Shopify online stores have built-In SEO features to help your store rank well on search engines. This comes along with other provisions such as automatically added canonical tags to prevent duplicate pages from your site appearing on search results.
How Can I Improve My Google Ranking on Shopify?
The Google ranking of your Shopify store is determined by:
The layout of your landing page; is it relevant to the search being conducted?
The loading speed; how long does it take to load pages on your Shopify store?
The use of keywords
Addressing these SEO issues and others suggested by SEO apps for Shopify could greatly improve your rankings.
Is Shopify Good for SEO?
Yes. It is easy to add SEO content and product descriptions on Shopify. There are also numerous apps that you could integrate with Shopify to make SEO even easier.
To top it all off, Shopify stores are automatically crawled and indexed by Google as long as they are not password-protected. This is crucial because without indexing and crawling, search engines would not pick up on your site.
Are SEO Apps for Shopify Worth Investing in?
Yes, more so if you choose one that is not just laden with features but also caters to your SEO goals. SEO apps for Shopify are also worth considering because:
Running a business takes a lot of time and can make it difficult to keep up with SEO demands.
As a beginner, you may also not be well-versed with how SEO works. Using an SEO app could make it all easier.
SEO Apps for Shopify provide helpful SEO checklists and updated recommendations on how to rank better on search engines.
Final Verdict on Best SEO App For Shopify
Using an SEO app for Shopify is convenient and offers substantial value to both beginners and well-experienced entrepreneurs. However, for best results, try and identify your needs and then choose an SEO app for Shopify that can fulfill them.
Aim for suppliers whose platforms are compatible with Shopify too. NicheDropshipping, for example, fully integrates with Shopify. This makes it easy to edit product descriptions and tags to boost your SEO accordingly.
We also offer all-inclusive dropshipping services so you never have to worry about integrating multiple supplier platforms to your Shopify store.
Simply let us know what products you need and we will quickly source them from top manufacturers in China. We further collect and offer warehouse for your orders, and provide dropshipping fulfillment services.
Reach out to us to discover more about our one-stop dropshipping services.