Starting your online selling adventure can be pretty overwhelming.
There are tons of platforms, loads to learn, and no substitute for hands-on experience.
If you're a new entrepreneur still figuring out how eCommerce works, why not start with something easy?
Now, we know that there's no one-size-fits-all answer to the question of the "easiest" platform.
However, some certainly stand out as user-friendly and accessible, especially for those new to the game.
That's why we've compiled a list to simplify your search.
In this guide, we'll explore the easiest online selling platforms, whether they're website builders or eCommerce marketplaces.
So, let's get right into it!
| | | |
| --- | --- | --- |
| Platform | Pricing | Best For |
| Shopify | Three plans range from $39 to $399 per month. | eCommerce stores of all sizes. |
| WooCommerce | Free plugins for WordPress sites. | Creating customizable eCommerce sites on a tight-budget. |
| Amazon | Individual plan for $0.99 per item plus additional fee or Professional Plan for $39.99 per month plus additional fee. | Sellers looking to target an international market. |
| eBay | Four plans starting from $4.95 per month going up to $299.95 per month plus other charges. | Globally selling expensive products and collectibles. |
| Facebook Marketplace | No listing fee or setup costs. Only sales charges. | Small businesses to reach local customers. |
| Craigslist | Free to use but may sometimes incur charges depending on country and product. | Connecting with local buyers and garage sales. |
| Etsy | No account maintenance costs but $0.20 per listing and 6.5% transaction fee. | Selling handcrafted unique and artsy items. |
| Ruby Lane | $25 monthly account maintenance fee and additional order processing charges. | Selling antiques and collectibles. |
| BigCommerce | Three plans starting from $39 per month going up to $399 per month. | Launching an online store with little tech knowledge. |
| Instagram Shopping | Free to use, all you need is an Instagram business account. | Generating traffic to your site and marketing. |
1. Shopify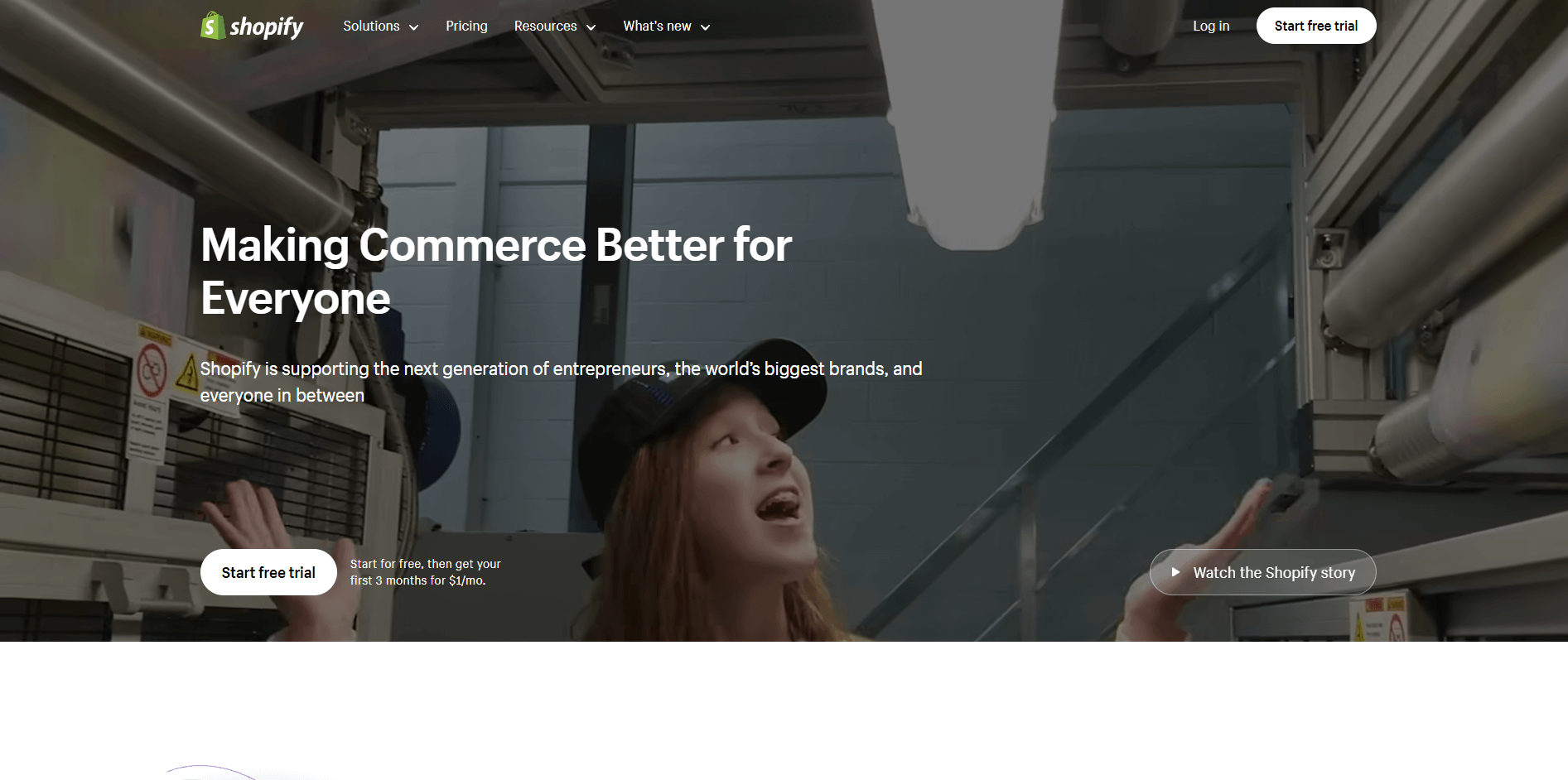 Shopify is one of the easiest and most trusted platforms for launching an online store.
It can help you get your store up and running with zero tech skills because you don't have to write any custom code.
In addition, Shopify's pricing plans include hosting, making it particularly well-suited for beginners.
Whether you're an influencer selling merchandise or a small business offering handcrafted items, Shopify provides the tools and integrations to get you started.
Additionally, Shopify boasts over 4,000 free apps that can enhance your site's functionality.
These apps enable you to customize your online store and optimize its performance to meet your unique needs and goals.
Key Features
Custom Domain – Shopify offers the option to use your custom domain, providing a professional and branded online presence.
User-Friendly Design – The platform's intuitive design makes it accessible to beginners, ensuring a smooth website creation process.
Over 100 Payment Gateways – Shopify provides access to a wide range of payment gateways, giving your customers flexible payment options.
Pricing
Shopify offers three pricing categories:
Basic: $29 per month (billed annually) or $39 per month (for month-to-month billing).
Shopify: $79 per month (billed annually) or $105 per month (for month-to-month billing).
Advanced: $299 per month (billed annually) or $399 per month (for month-to-month billing).
Best For
Shopify is great for both small and large scale eCommerce stores, as you can choose a plan based on your needs.
2. WooCommerce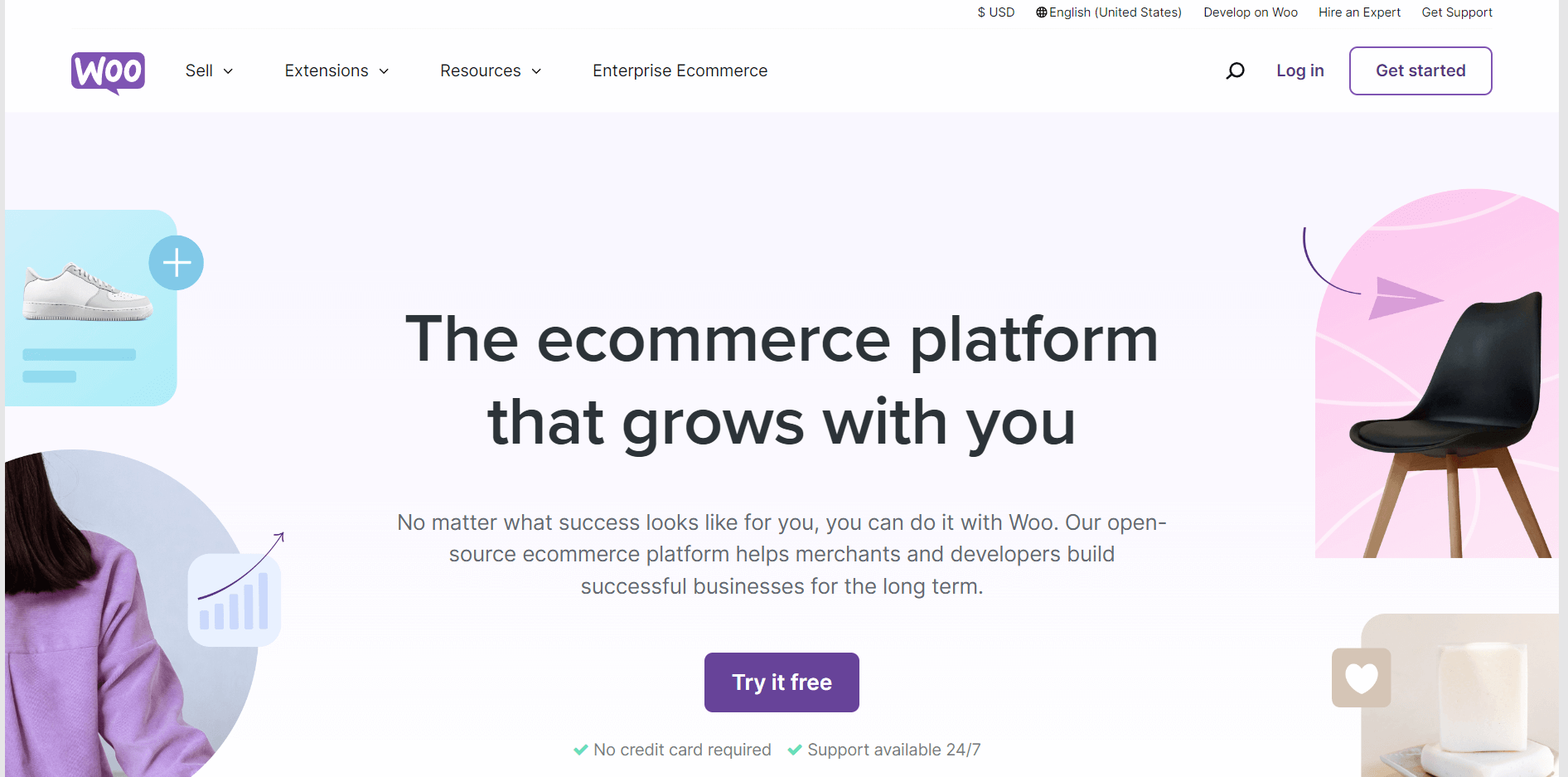 WooCommerce is a versatile and user-friendly plugin for WordPress. It seamlessly incorporates eCommerce functionalities into your existing website.
It's an ideal choice for those who wish to transform their WordPress site into an online store without diving too deep into the technical side.
You can effortlessly set up an online shop, manage orders on-the-go, and offer secure payment options to your customers.
As an open-source solution, WooCommerce also provides various customization options, allowing you to tailor your online store to match your unique needs and preferences.
The platform also has a proprietary payment processing system called WooCommerce Payments.
It enables customers to purchase directly on your website, eliminating the need for external payment processors and simplifying the buying process.
Key Features
Online Shop Setup – WooCommerce empowers you to create a fully functional online store within your WordPress website.
Customization – As an open-source solution, WooCommerce offers extensive customization options, allowing you to tailor your online store to your unique requirements.
WooCommerce Payments – Streamline the checkout process by using WooCommerce's proprietary payment processing system, enabling customers to make purchases directly on your site.
Pricing
WooCommerce itself is a free plugin for WordPress, but additional costs may apply for extensions, themes, and other optional features to enhance your online store's functionality.
Best For
WooCommerce is perfect for entrepreneurs who want to create a customizable eCommerce site without breaking the bank.
3. Amazon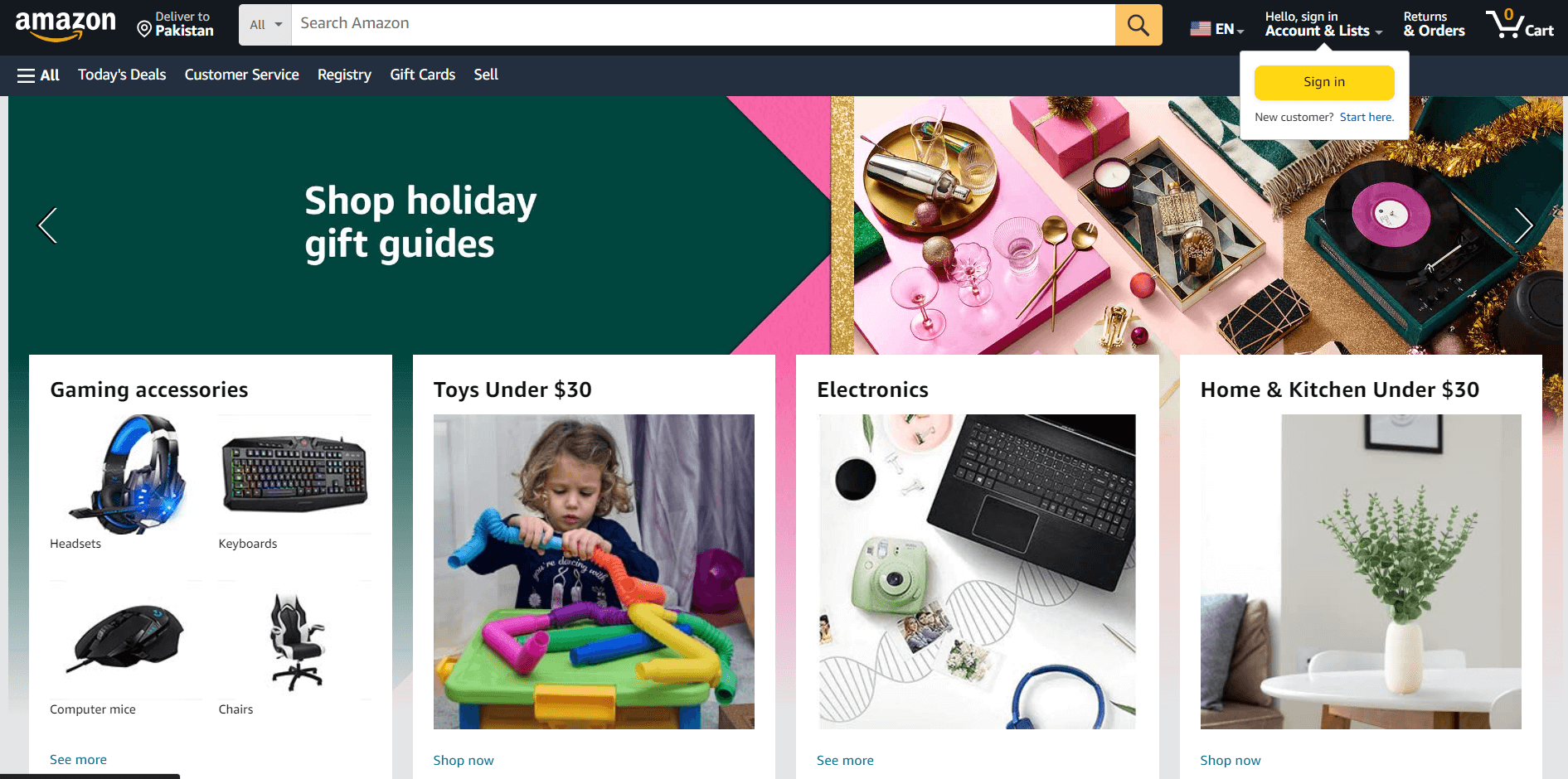 A list of online selling platforms wouldn't be complete without mentioning Amazon.
And even though it may look daunting to some, it's usually because people ignore their guidelines and don't know how to get started.
But in general, Amazon is open to all types of sellers, whether you're experienced or new to selling online.
Staying competitive in pricing is key. Even though small businesses might face tough competition from bigger sellers, it's not impossible to break into the market.
There are many ways to sell on Amazon, but in our opinion, the Fulfillment by Amazon model (FBA) is the easiest.
This approach grants your business broader visibility, lets you tap into Amazon's logistic services and provides access to a host of features without the need to create your own website.
Key Features
Inventory Management – Access detailed inventory reports to efficiently manage your stock.
Product Recommendation Algorithm – Automatically cross-sell by suggesting relevant products from your store to boost sales.
Fulfillment by Amazon (FBA) – Send your items to Amazon's fulfillment center for packing, shipping, and customer service support.
Amazon Marketing Services (AMS) – Create sponsored product ads and launch automated campaigns to increase product visibility.
Business Reports – Monitor sales, conversions, campaign performance, and more with comprehensive reporting tools.
Back-End Support – Leverage Amazon's complete back-end infrastructure, including credit card processing, sales tax collection, and more.
Pricing
Amazon has various pricing structures but here's a basic rundown of what you should expect to pay.
Individual Plan:
Cost: $0.99 per item sold (plus additional selling fees).
Features: Allows you to add products to your catalog and use the Fulfillment by Amazon (FBA) feature.
Professional Plan:
Cost: $39.99 per month (plus additional selling fees).
Features: Enables you to create listings in bulk, leverage Amazon's API integration, utilize on-site advertising tools, run promotions, and more.
Best For
Intermediate and experienced sellers who want to sell internationally.
4. eBay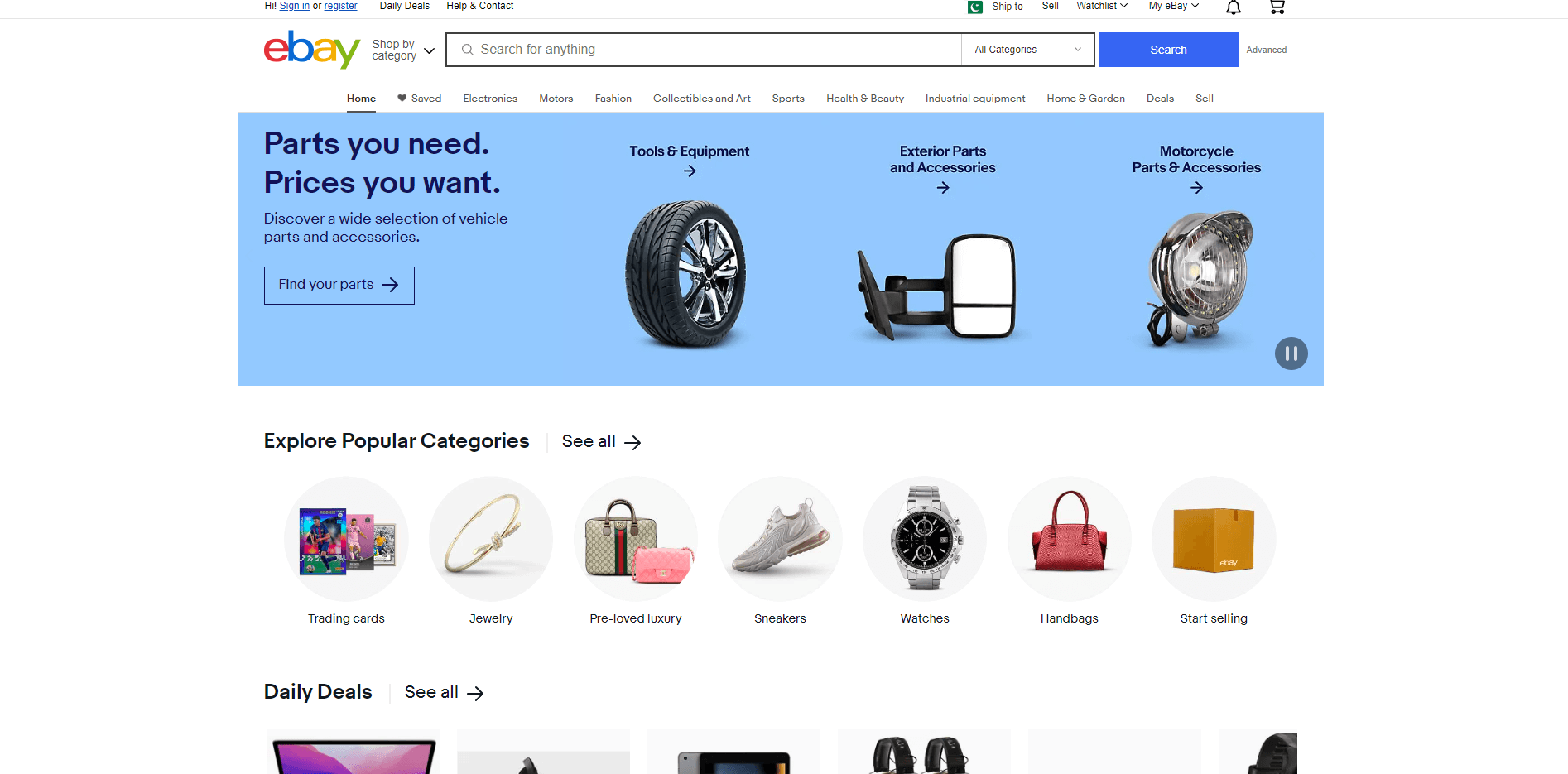 eBay is one of the original online marketplaces, going strong since 1995. It's a massive platform with 1.7 billion listings and over 130 million users worldwide.
You can sell virtually anything on eBay, from everyday items like shoes and watches to toys and collectibles.
With a huge customer base and straightforward integration options, eBay is an excellent marketplace to sell your products.
eBay offers two main listing options: Fixed Price, where you sell directly to one buyer, and Auction Listings, where multiple buyers bid on your item, with the highest bidder making the purchase.
One of eBay's strengths is its commitment to regularly introducing new and improved features to enhance customer satisfaction.
Key Features
Escrow Service – Keeps your money safe until the buyer gets their item, protecting both of you from fraud.
Seller Protection – eBay watches out for any rule-breaking transactions, and if a buyer doesn't pay within two days, eBay will return the fee.
Multiple Payment Gateways – Customers can pay with PayPal, credit cards, Google Pay, Apple Pay, and even pay when they pick up the item.
Free Listings – You can list up to 250 items every month for free and only pay a fee when you make a sale.
Integrated Shipping Options – eBay sellers can get cheaper shipping rates from USPS, FedEx, and UPS, and show customers the real-time shipping cost based on where they live.
Pricing
The pricing on eBay is a bit complicated. Aside from the pricing plans, there's an insertion fee based on your asking price, charged every time you add an item to a new category.
Then, when you make a sale, you'll encounter the final value fee, which amounts to 12.55% of the asking price plus a $0.30 transaction fee.
And for those aiming to open an eBay store, here are its four pricing plans available, billed annually:
Starter: Priced at $4.95 per month with an annual subscription, it is ideal for sellers who want to create a storefront to sell and promote their small business.
Basic: This plan costs $21.95 per month with an annual subscription and provides the benefit of zero insertion fee listings and discounts on final value fees.
Premium: Priced at $59.95 per month with an annual subscription, the Premium plan offers more zero insertion fee listings and a broader product selection.
Anchor: The Anchor plan is designed for high-volume sellers and is priced at $299.95 per month with an annual subscription.
Best For
eBay is a diverse platform where you can pretty much sell anything. But in particular, it's great for expensive, or high-ticket products.
5. Facebook Marketplace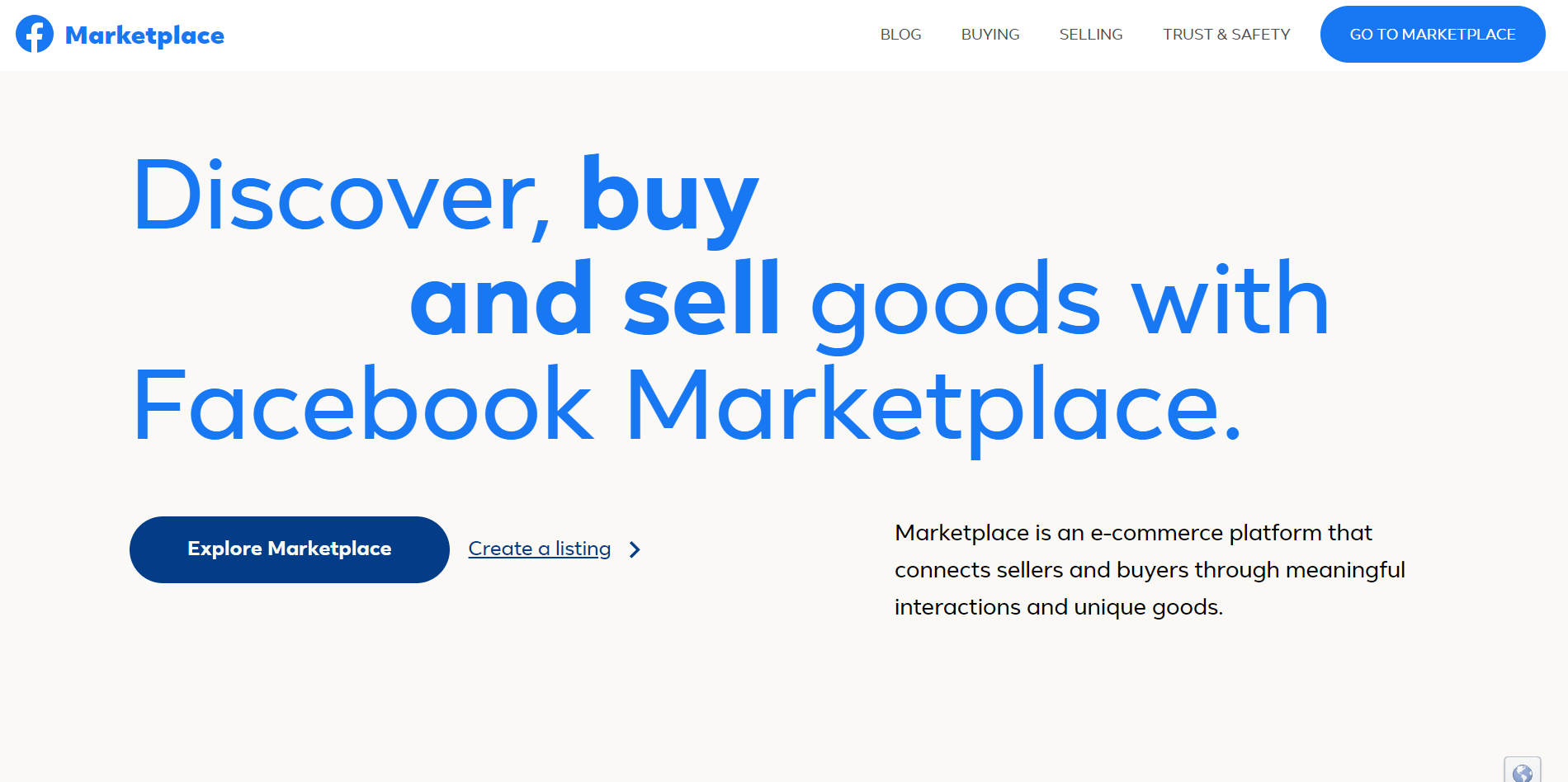 Facebook Marketplace is a user-friendly online selling platform that revolutionized the world of eCommerce when it was introduced in 2016.
It's an ideal choice if you're looking to host a virtual garage sale or connect with potential buyers in your local area.
Initially designed for individual sellers looking to declutter or part with used items, it has now evolved to become a valuable platform for small online businesses as well.
With Facebook boasting a user base of over 2.9 billion worldwide, it's a goldmine for reaching new customers.
What's more, joining Facebook Marketplace grants you access to a range of essential features.
It's a fantastic opportunity for individual sellers and small businesses to connect with an active audience, as more than one in three people in the US use Marketplace each month.
However, there are some guidelines to follow when selling on the platform.
Key Features
Free Listings – Facebook doesn't charge any fees for listing your items.
Integrates with Shopify – Integration with Shopify allows eCommerce businesses to extend their reach through the platform.
AI Tools – You can use Facebook's powerful AI tools to automatically generate descriptions and categorize items.
Instant Messaging – You can stay in touch with your customers through the Messenger app.
Facebook Ads – You can boost your listings by running Facebook Ad campaigns.
Pricing
Although Facebook doesn't charge a listing fee, you must still pay a 5% selling fee per shipment and if your sale is $8 or less, you'll face a flat fee of $0.40.
Best For
Facebook Marketplace is an excellent choice for individuals and small businesses looking to reach local customers with the option to expand nationally.
6. Craigslist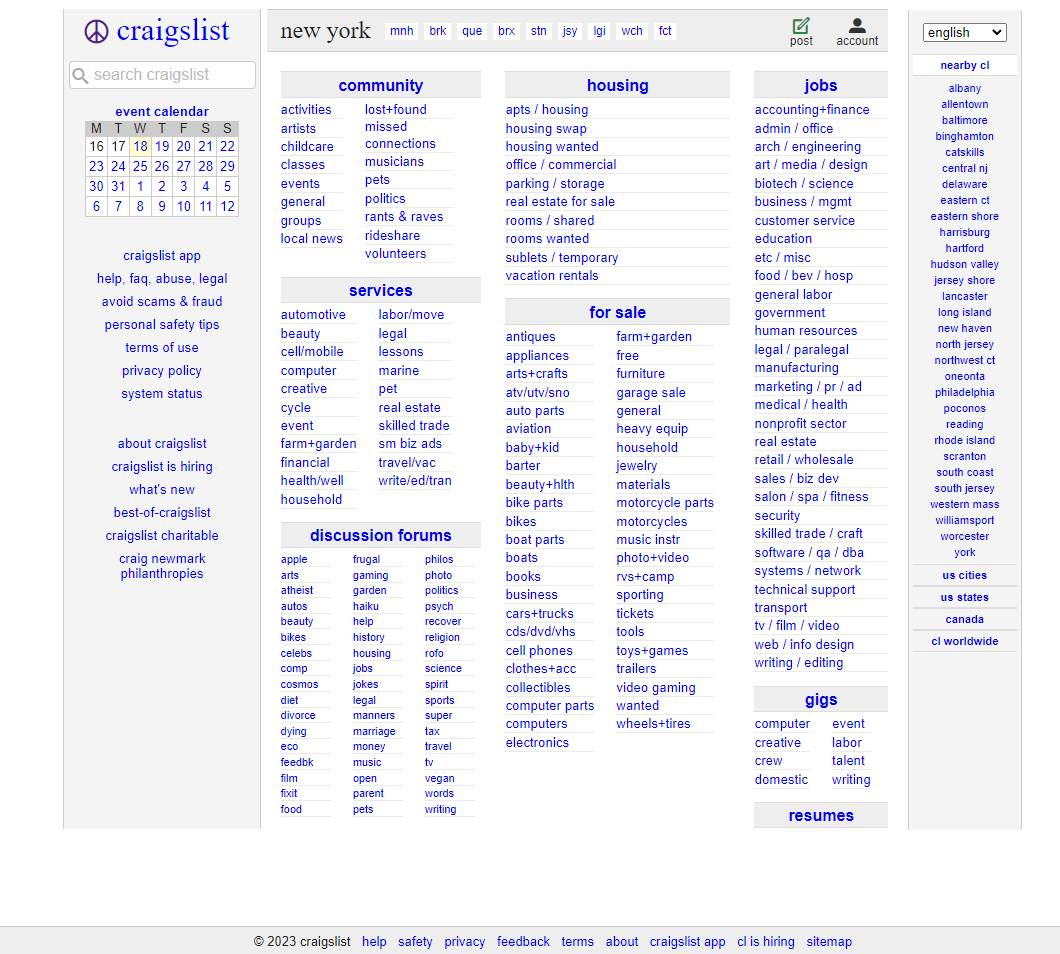 Craigslist, a pioneering online platform, has been a classified advertisement site since 1995.
It remains a go-to destination for selling a wide array of items, ranging from food and used clothing to outdated video games.
While Craigslist may appear slightly outdated in terms of its interface, it continues attracting millions of buyers and sellers, making it one of the most active eCommerce platforms today.
Individual sellers, particularly those looking to declutter and eliminate excess possessions, can greatly benefit from using Craigslist.
However, it's important to note that the platform may not be the most ideal choice for businesses due to the lack of specialized business-related features. Nonetheless, it remains one of the easiest platforms to start selling online.
Key Features
Localized Listings – Craigslist operates on a hyper-local level, allowing you to select your exact location. This local focus simplifies transactions and makes it convenient for both buyers and sellers.
Ad Refresher – You can refresh your free ads every 48 hours without incurring any charges, and for paid ads, there's an option to refresh them for a small fee. This feature helps keep your listings up to date.
Craigslist Mobile App – Craigslist offers a dedicated app, available for download on Google Play and the Apple App Store. This app provides a convenient way to access and manage your listings on the go.
Anonymous Posting – Craigslist allows for anonymous posting. You can include only a phone number or email address in your listings to protect your identity.
Pricing
For most product categories, Craigslist does not charge commission fees. However, certain categories, such as housing and vehicles in the US or Canada, may incur fees.
Best For
Sellers who prefer a straightforward, no-frills platform for selling their goods or decluttering their homes.
7. Etsy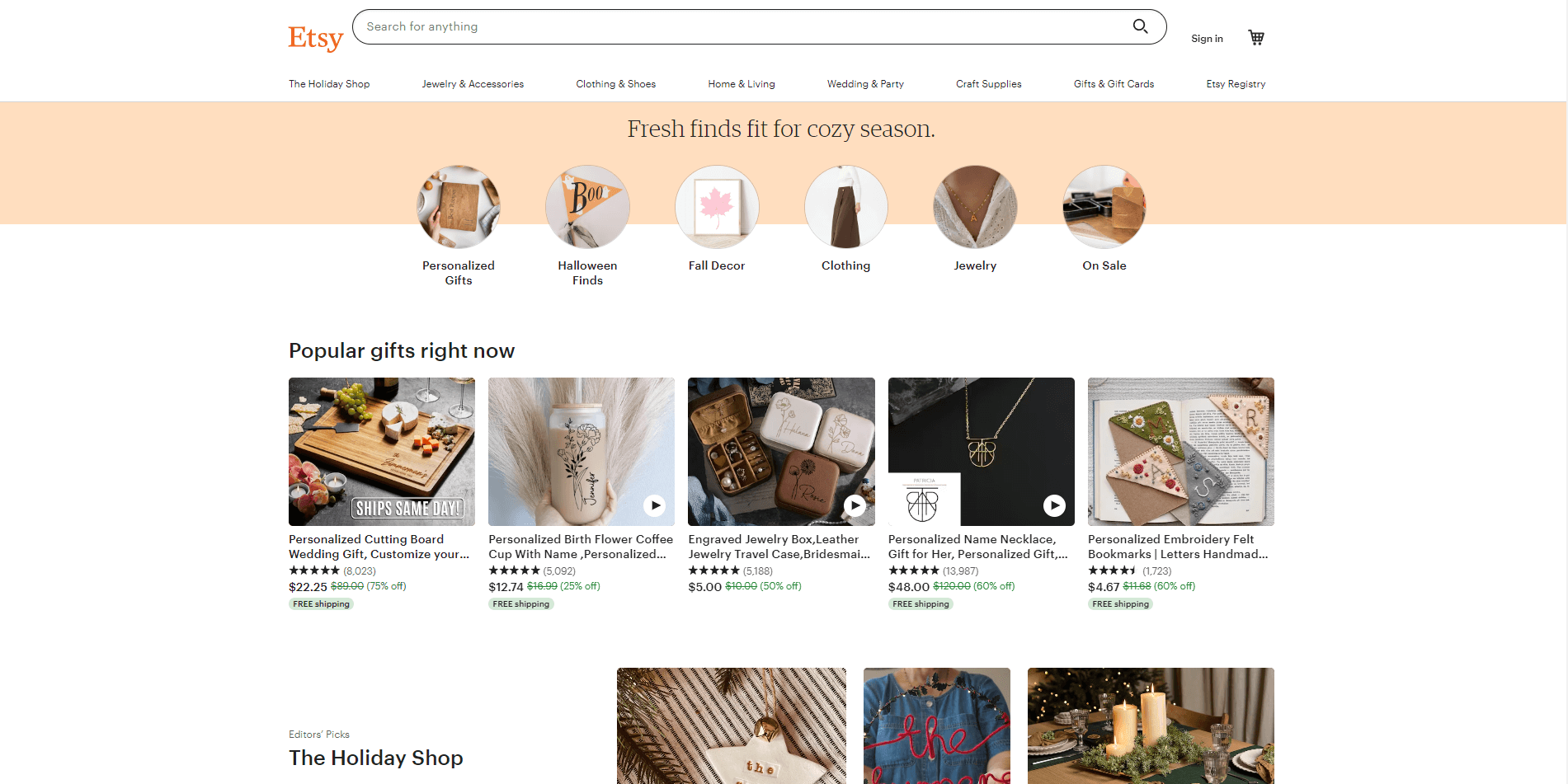 Etsy is your go-to platform for selling unique, artsy, or vintage items.
Launched in 2005, it has flourished into one of the world's largest eCommerce sites.
Etsy takes pride in its diverse community, with over 7.4 million active sellers, many of them independent creators and small businesses.
It serves as the perfect stage for selling items across various categories, including handmade goods, vintage clothing, and even inspirational quotes.
One of Etsy's most appealing features is its exceptional user-friendliness.
Setting up an Etsy store is a streamlined and straightforward process, even if you're new to eCommerce platforms. You can get started within minutes.
Key Features
Advertising Credits – Promote your products using Etsy Ads.
Promotional Tools – Enhance item visibility in Etsy's search results and share them on social media.
Insights & Analytics – Gain valuable reports and analytics to understand your store's performance and visitor sources.
Pricing
The Standard Etsy plan covers your essential selling needs, but it comes with some fees:
Listing Fee: For each item you sell, there's a $0.20 listing fee.
Listing Duration: Listings expire every four months. If your item doesn't sell and you renew the listing, you'll be charged an additional $0.20.
Transaction Fee: When you make a sale, Etsy charges a transaction fee of 6.5% of the display price.
Best For
Etsy is the best platform for beginners and small businesses to sell handmade arts and crafts.
8. Ruby Lane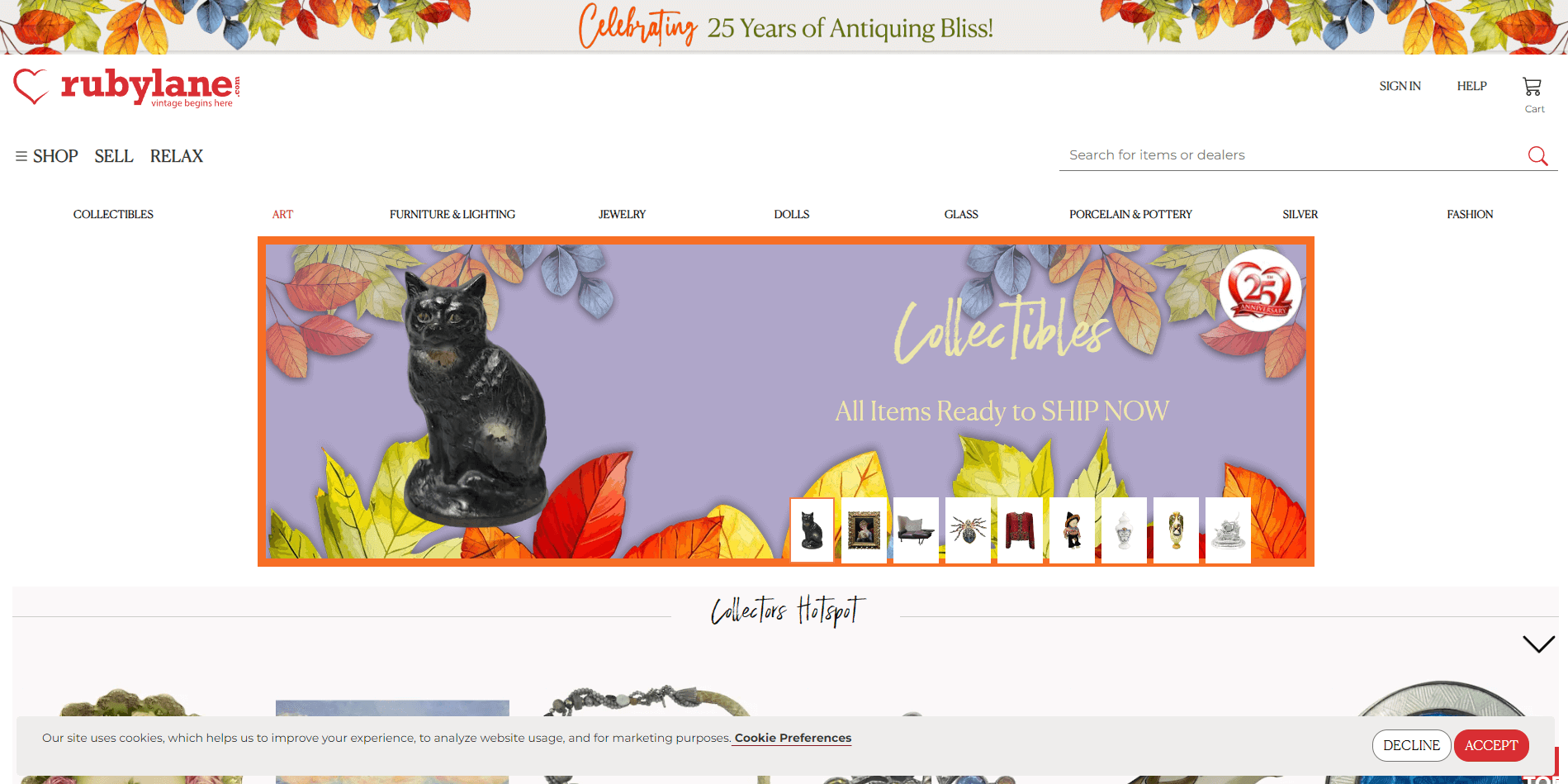 Ruby Lane is an eye-catching online marketplace that stands out with its unique store design.
It's the perfect place to sell collectibles, jewelry, art, and antiques. Every month, around 1.7 million people visit this site.
What's special is that Ruby Lane makes it easy for sellers to create online stores, even if they're not tech-savvy.
They have tools to help you edit product photos, talk to customers through Skype, and resize images automatically.
Ruby Lane has a Secret Shopper program. They buy things from stores and review the experience. If a store doesn't meet their standards, they provide feedback.
If you have antiques, collectibles, or vintage items to sell, Ruby Lane is a great choice.
They mostly focus on things older than 20 years, but some newer items are accepted if they aren't from the last year.
Be sure to check their requirements, as each category has specific rules.
Key Features
Unique Store Design – Ruby Lane offers an eye-catching and distinctive store design that differentiates it from other online marketplaces.
Specialized Marketplace – It is an ideal platform for selling niche items such as collectibles, jewellery, art, and antiques.
Seller-Friendly Tools – The platform provides user-friendly tools for sellers to create and manage their online stores. These tools include features like photo editing, direct communication with customers through Skype, and automated image resizing.
Secret Shopper Program – Ruby Lane operates a Secret Shopper program where a team of shoppers makes purchases from stores and provides feedback on the buying experience, including response times and packaging quality.
Acceptance Criteria – While Ruby Lane primarily focuses on items older than 20 years, they may accept newer items as long as they don't fall within the last year. Specific price limits and rules apply to different product categories, so sellers must review the requirements accordingly.
Pricing
Setting up a shop on Ruby Lane doesn't cost anything initially. There are no listing fees.
After the first month, you must pay $25 per month, which includes unlimited items.
Additionally, they charge a 9.9% service fee based on the order total (excluding sales tax), capped at $250.
Best For
Ruby Lane is like a gathering place for collectors. If you're into selling antiques and collectibles, it's a good fit, but watch out for the fees.
9. BigCommerce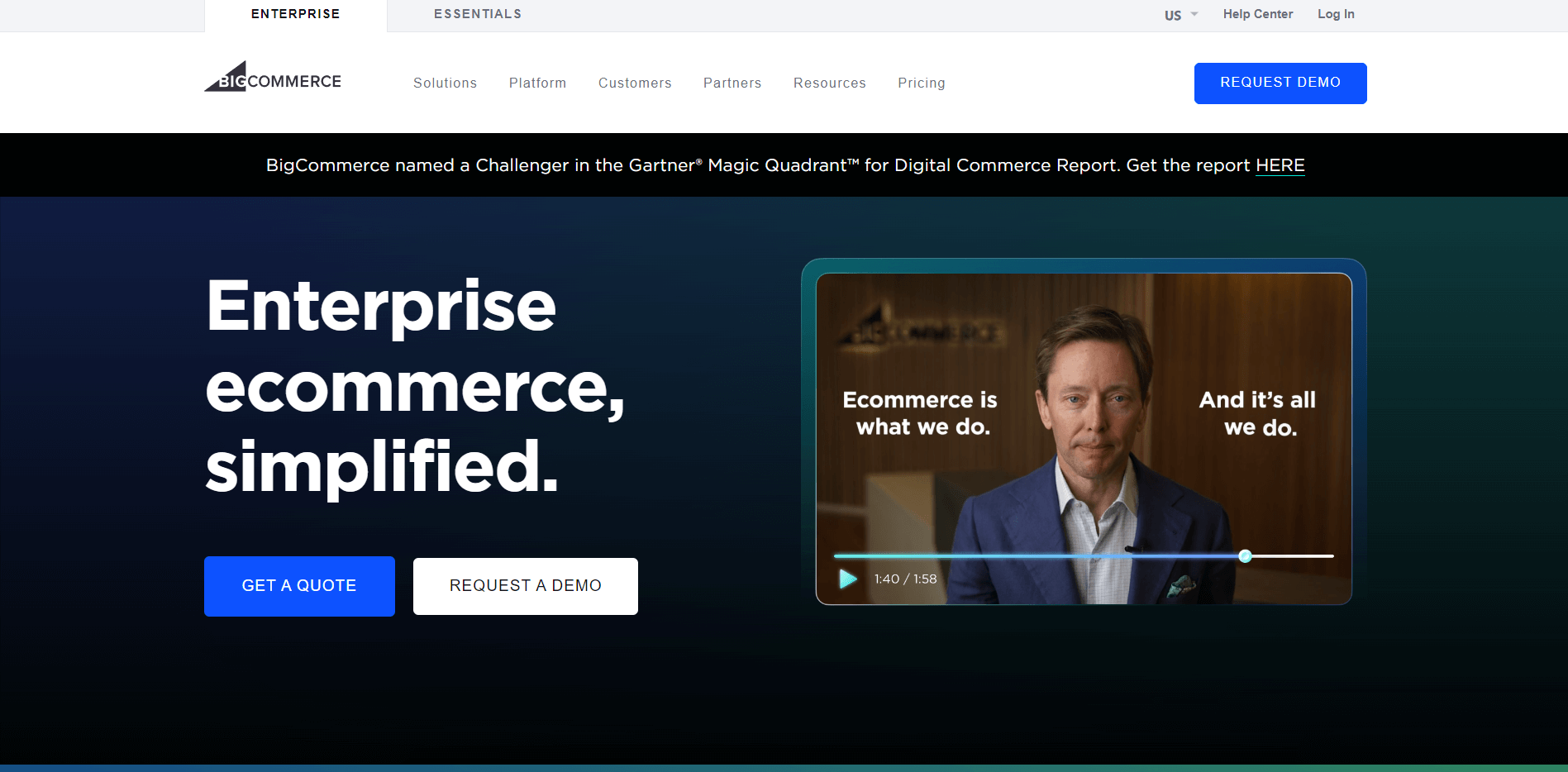 BigCommerce is a strong rival to Shopify and has been gaining traction recently.
It's a paid, 'hosted' eCommerce platform, which means it runs on its own servers, saving you from the hassle of setting up web hosting or installing software.
Plus, it offers a wide range of out-of-the-box tools to design your website and manage sales.
If you need more than the basic features, you have the option to choose from a vast selection of over 800 apps available in the BigCommerce App Store.
The platform also provides customizable templates to design your online store.
You can sell both physical and digital items, and it offers tools to help market your business effectively.
Key Features
Custom Store Design – Design your online store according to your preferences using customizable templates.
Hosted Solution – BigCommerce operates on its own servers, eliminating the need for external web hosting or software installations.
Multi-Product Sales – Sell a wide range of products, from physical items to digital goods, all from one unified platform.
Marketing Tools – Utilize a suite of marketing tools to boost your business's online presence and reach your target audience effectively.
Pricing
BigCommerce offers three distinct pricing categories:
Standard: $29 per month (billed annually) or $39 per month.
Plus: $79 per month (billed annually) or $105 per month.
Pro: $299 per month (billed annually) or $399 per month.
Best For
BigCommerce is the ideal platform for businesses looking to create highly customizable online stores without the hassle of hosting.
10. Instagram Shopping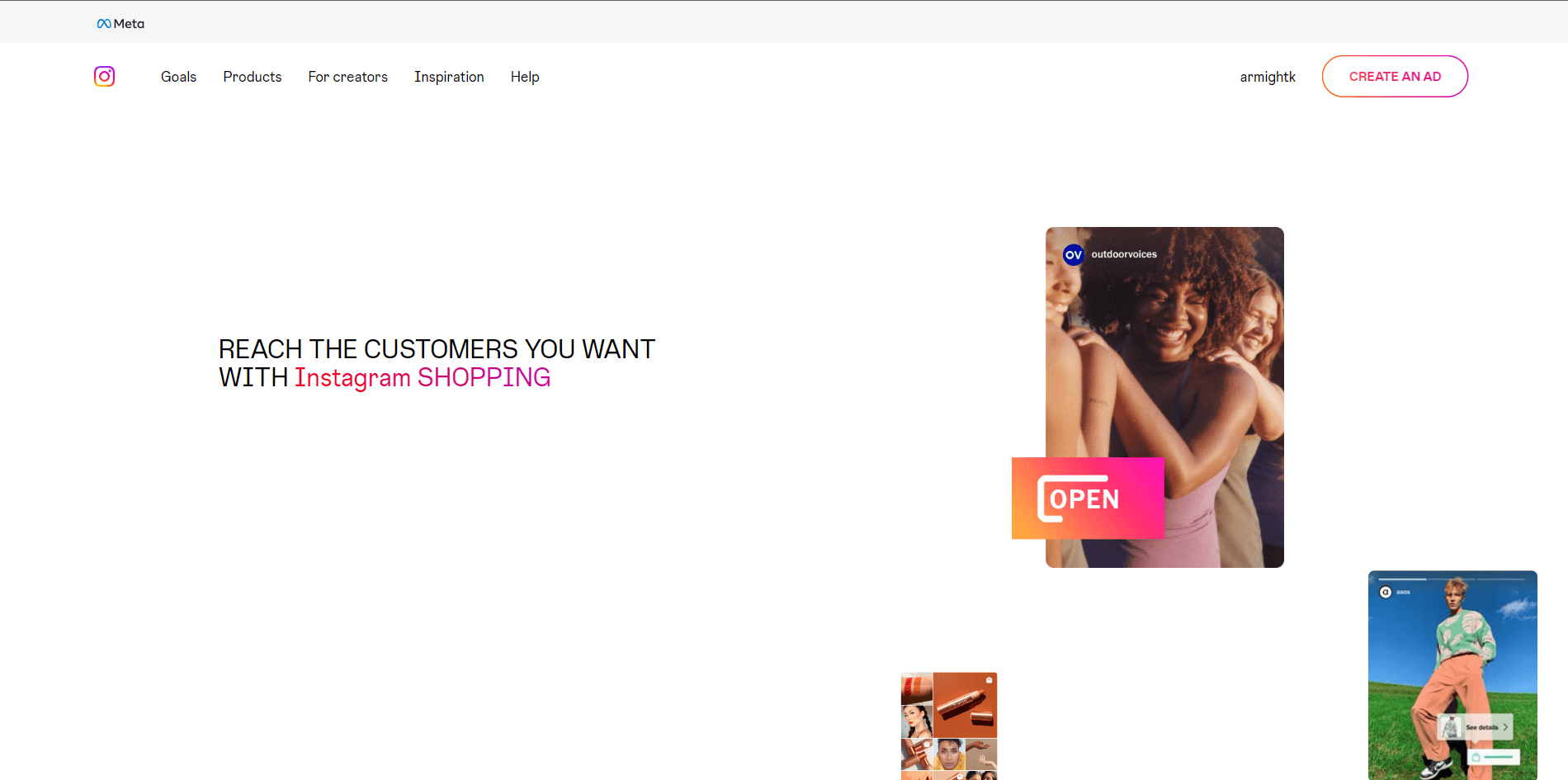 This one is a bit different, but since Instagram Shopping makes online selling significantly easier, it's worth including!
By converting your profile into a business account, you can strategically feature your products within posts and stories and even leverage influencer marketing.
The process is a breeze:
Link your Instagram business profile to your Facebook catalog.
Register on the Instagram Shopping app.
Craft posts and stories, tagging your products (up to 5 per image/video).
Using Instagram Shopping is a smart way to reach customers. It allows you to show your products naturally and find the right people using hashtags.
However, remember, Instagram is mainly for marketing as you'll still need a website to list your products.
But your customers can complete their purchase through the app.
Key Features
Product Tagging – Easily tag products in your posts and stories, allowing users to view product details by tapping on the tagged items.
Shoppable Posts – Create shoppable posts that showcase your products and enable users to make purchases directly from their Instagram feeds.
Instagram Shop – Set up a dedicated shop section on your Instagram business profile where users can explore your entire product catalog.
Checkout on Instagram – Some businesses offer a streamlined checkout process, enabling users to complete purchases without leaving the app.
Product Discovery – Users can discover new products through personalized recommendations and Explore features, increasing the visibility of your products to potential customers.
Pricing
Instagram Shopping is a free feature and all you need to get started is an Instagram business account, and of course, an online store where your products are listed.
Best For
Great for both beginners and experienced entrepreneurs interested in social media marketing.
Tips and Considerations When Choosing an Online Selling Platform
The platform you choose can significantly impact your online store's success.
Let's talk about some important factors to consider when making this critical decision.
1. Know Your Niche and Target Audience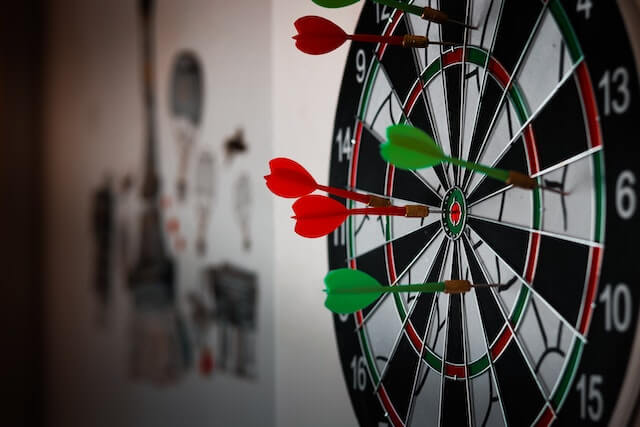 Before starting an online store, you need to know two essential things: your niche and your target audience.
Once you've got a clear understanding of these factors, you can choose the best platform for your business.
For example, let's say, if you create handmade products, Etsy is a great option. It's designed for crafters and attracts buyers who love handcrafted items. This means you can easily reach the people you want to sell to.
On the other hand, if you sell valuable vintage or antique items, Ruby Lane is a top choice.
It's a platform dedicated to these types of products and draws in people who appreciate antiques. It's a perfect fit for your niche.
No matter what you sell, the first step is to pick a platform where your target customers are likely to be. This improves your chances of connecting with the right buyers.
2. Analyze Platform Pricing Structure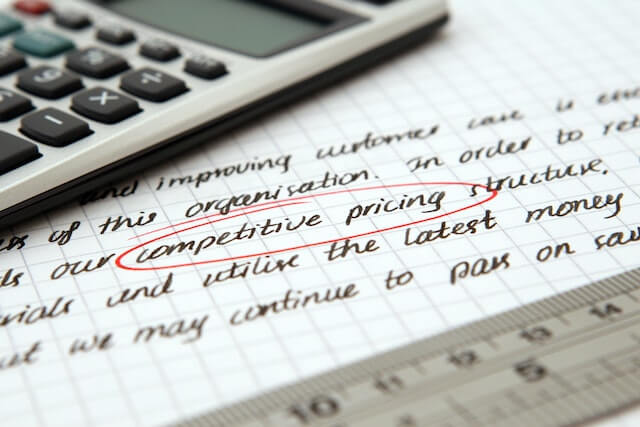 It's also crucial to check how much the platform costs and whether it fits your budget.
Take a close look at their different pricing options and see which works best for your business.
Be on the lookout for hidden fees that could eat into your earnings and whether the features provided are worth it.
This will help you make the right choice to support your business goals and keep your finances in good shape.
Remember, the ideal platform not only matches your niche but also provides the tools you need to succeed with your online store.
3. Scalability for Future Growth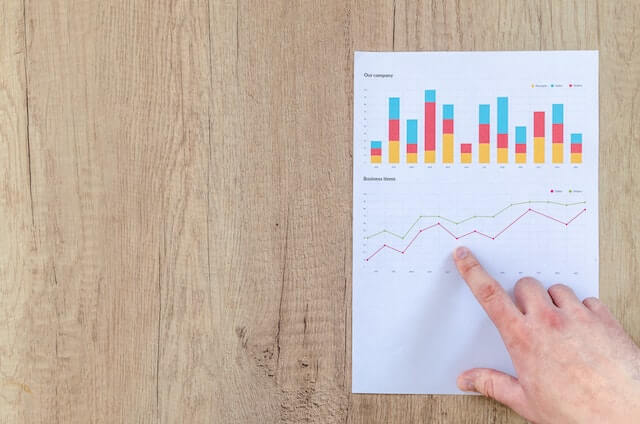 You might not worry about this if you're just starting out, but for those who have been in the business for a while and want to grow, it's important.
Scalability means your online store can handle more visitors and products as your business expands.
Look for other features too. Does the platform offer tools to track your sales and marketing? Can you easily take payments from customers?
Choosing a platform that can adapt and offers these extra tools will help your business succeed as it gets bigger.
FAQs about Online Selling Platforms
Which Online Platform Is Easiest to Sell On?
The answer depends on the type of product you're trying to sell and your business goals.
If you want to create a brand, then Shopify is the ideal choice due to how easy it is to set up your store on the site.
Those who just want to locally sell products can use Facebook Marketplace or Craigslist.
And if you want to do international trade, then both Amazon and eBay both are solid options.
What Is the Most User Friendly Online Selling Platform?
Shopify is often considered the most user-friendly online selling platform.
It's designed for beginners, offers easy store setup, and provides a range of user-friendly tools and templates.
It's a popular choice for those looking for a straightforward selling experience.
Which Online Platform Is Best for Handmade Products?
Etsy is the top choice for handmade products. It's specifically designed for artisans and crafters, making it the best platform to showcase and sell your handmade goods.
Final Thoughts
Online selling can be a bit daunting for beginners. However, as you become more experienced, most platforms will become easier to use.
Just make sure that you have a game plan. Determine whether you want to sell on a marketplace or build a brand.
If it's the latter, then go for one of the website builders we've listed above.
And if you're concerned about failure altogether and on a tight budget, consider dropshipping.
It's a low-risk business model and more forgiving for beginners since you don't need to invest a lot of money upfront.
Finding a trustworthy supplier would also become the least of your worries because NicheDropshipping can help you source your products.
So if you're ready to take the first step, then request a free quote and our agents will guide you through the process.