Do you have a knack for crafting handmade products and want to start a side hustle from your hobby?
If so, then you should consider selling on Etsy.
It is one of the world's largest eCommerce marketplace to sell handcrafted, vintage, custom, and unique products.
All these restrictions can seem overwhelming – but once you find the right product, Etsy can be a great platform to generate a passive income.
So if you can't decide what to sell, then don't worry.
In this article, we'll go over a list of the best selling items on Etsy along with some tips on how you can run a successful Etsy business!
Let's get right into it!
Is Selling on Etsy Worth It?
Selling on Etsy is definitely worth it because it's one of the cheapest and quickest ways to make your products accessible to millions of potential buyers.
In addition, starting an Etsy store is also easier than building and marketing an eCommerce site from scratch.
With that said, don't immediately expect to reap the benefits of an Etsy store.
You have to be smart with the type of products you sell and optimize your listings. Only then, you can start getting steady sales.
The 16 Best Selling Items on Etsy
Whether you're planning to use Etsy to make a full-time income or just as a side hustle, here's a list of the 16 best selling products you can add to your store.
1. Personalized and Handmade Jewelry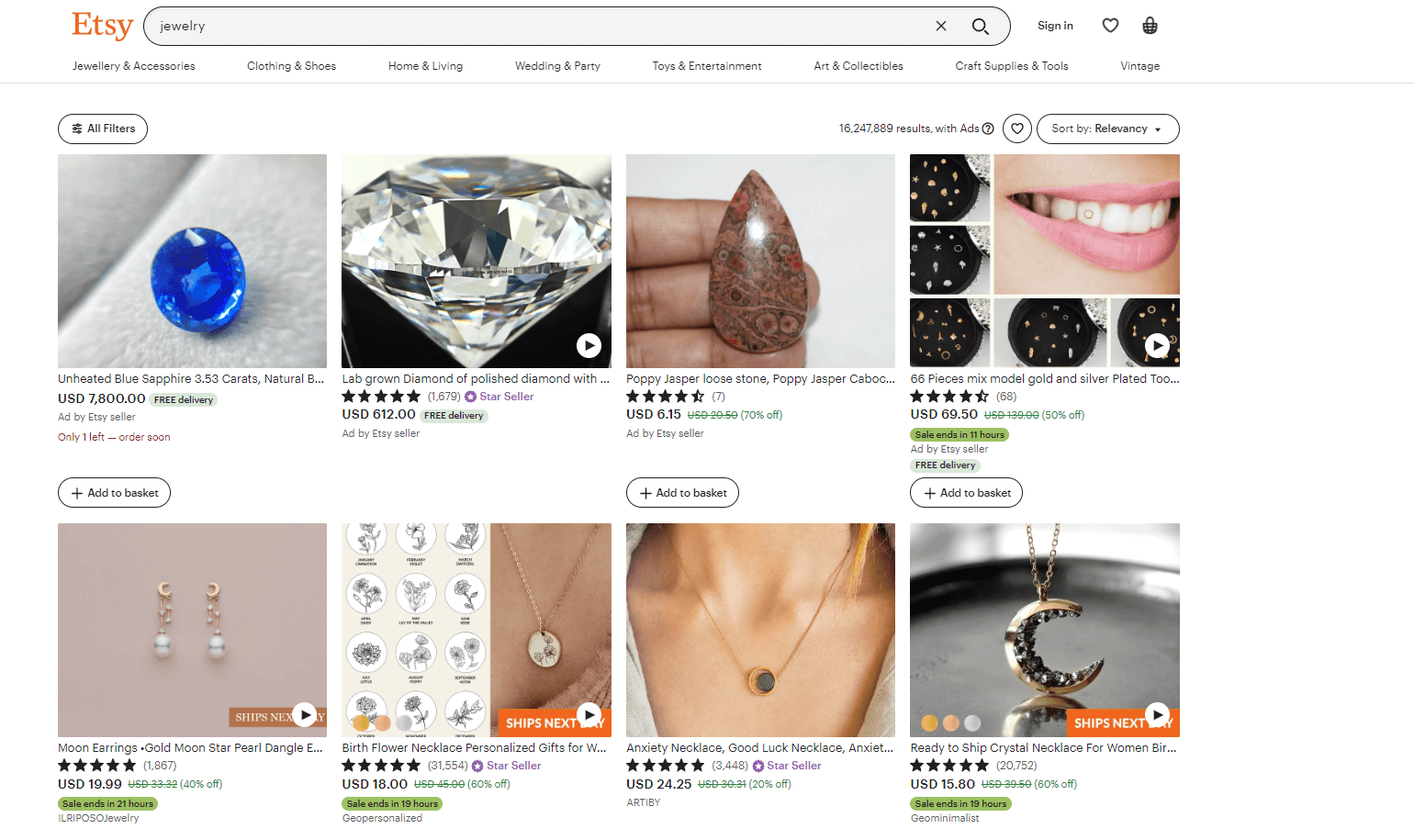 Jewelry is always a hot selling product on the site mainly due to its high demand among both men and women.
It can include rings, bracelets, necklaces, anklets, charms, and so on.
The abundance of choices makes it easier for you to keep your product variety interesting, and attract more customers. Some merchants also allow buyers to design custom jewelry.
If you're providing good quality, then your store is bound to blow up. Jewelry sells like hotcakes regardless of the season.
You can even get the help of a POD jewelry company, as long as they offer integration with the Etsy marketplace.
2. Papercraft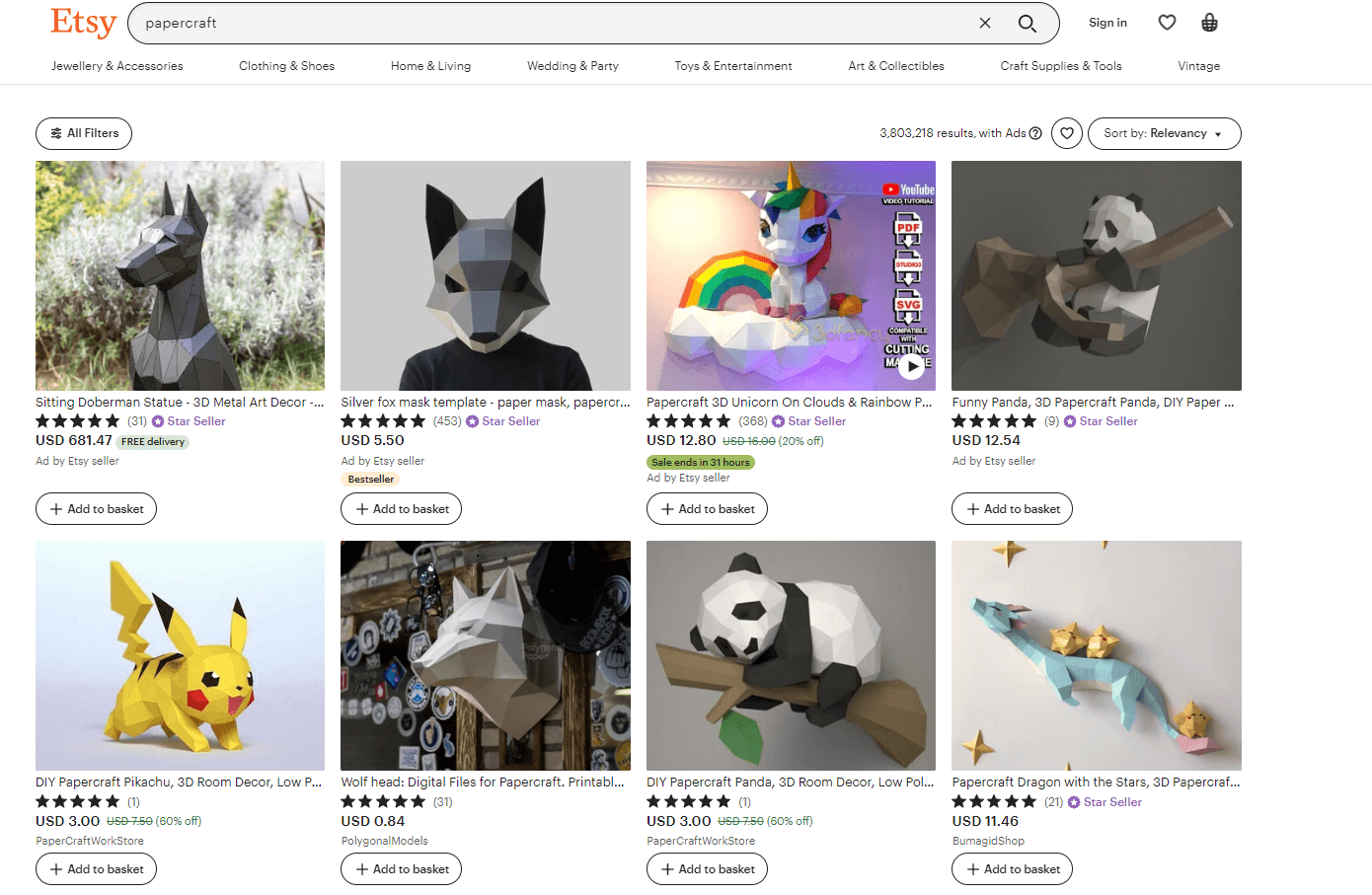 You probably won't see eCommerce stores selling papercraft every day – and that's exactly what makes Etsy interesting.
Papercraft is actually quite a popular product category on the site and can be used as a decoration or a gift.
But needless to say, this item requires a high skill and creativity level.
However, if you're willing to put in the effort, then it is certainly a great product to kickstart your Etsy business.
You can also take the help of a 3D printer for papercraft and sell it on Etsy as long as you're using original designs.
3. 3D Printed Items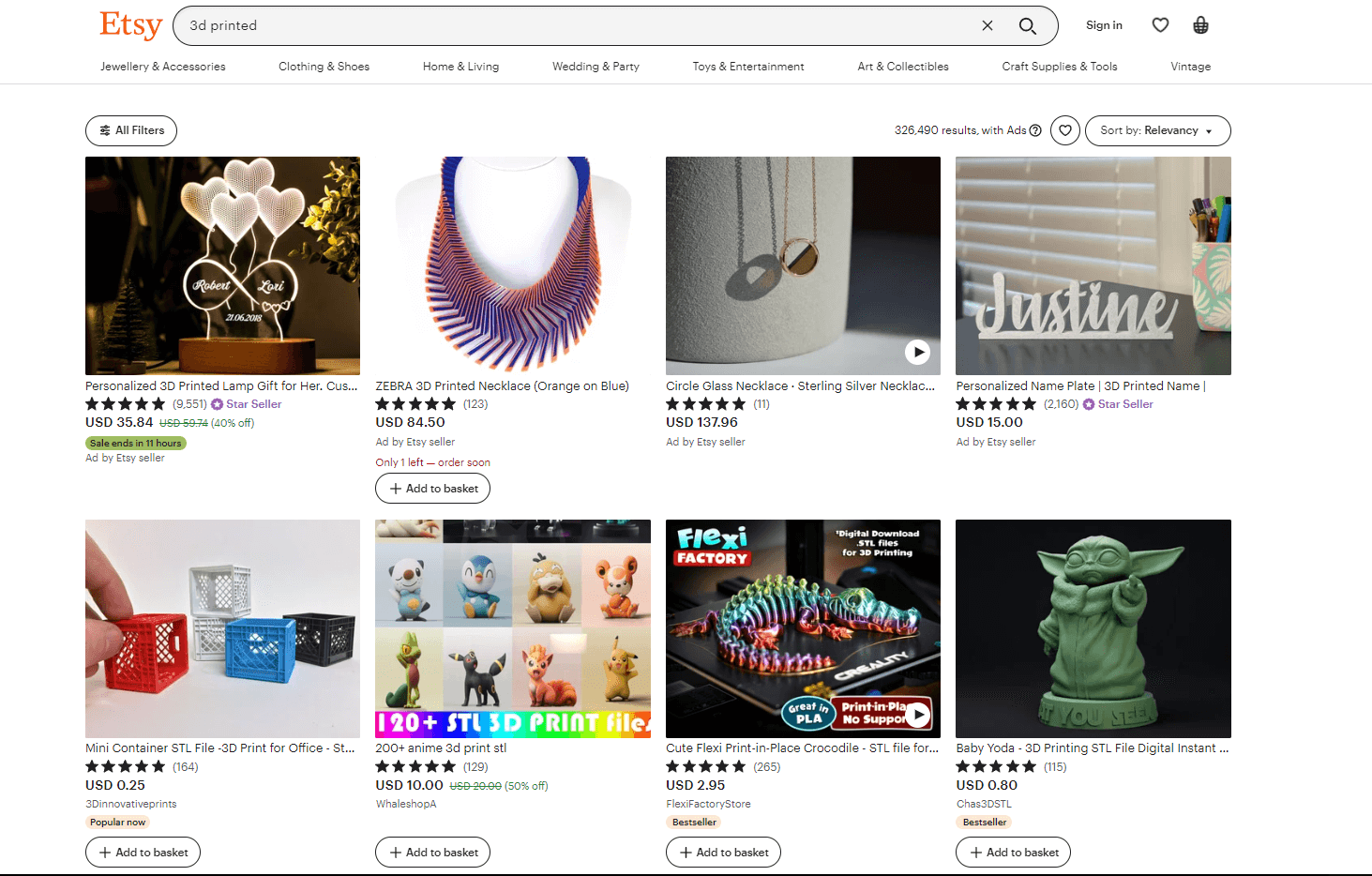 3D printed products sell well on Etsy and some of the most common items include phone cases, skulls, and rings.
However, the catch while selling 3D products is that you should use an original model.
It isn't legal to sell 3D-printed items generated using a digital file purchased or downloaded for free.
At the very least, you need to get the permission of the creator, otherwise, you can face legal repercussions.
Another problem with selling 3D printed items is the learning curve to get started, which can take months to master.
But if you're willing to go past all that then selling 3D printed items on Etsy is definitely an idea worth considering.
4. Craft Supplies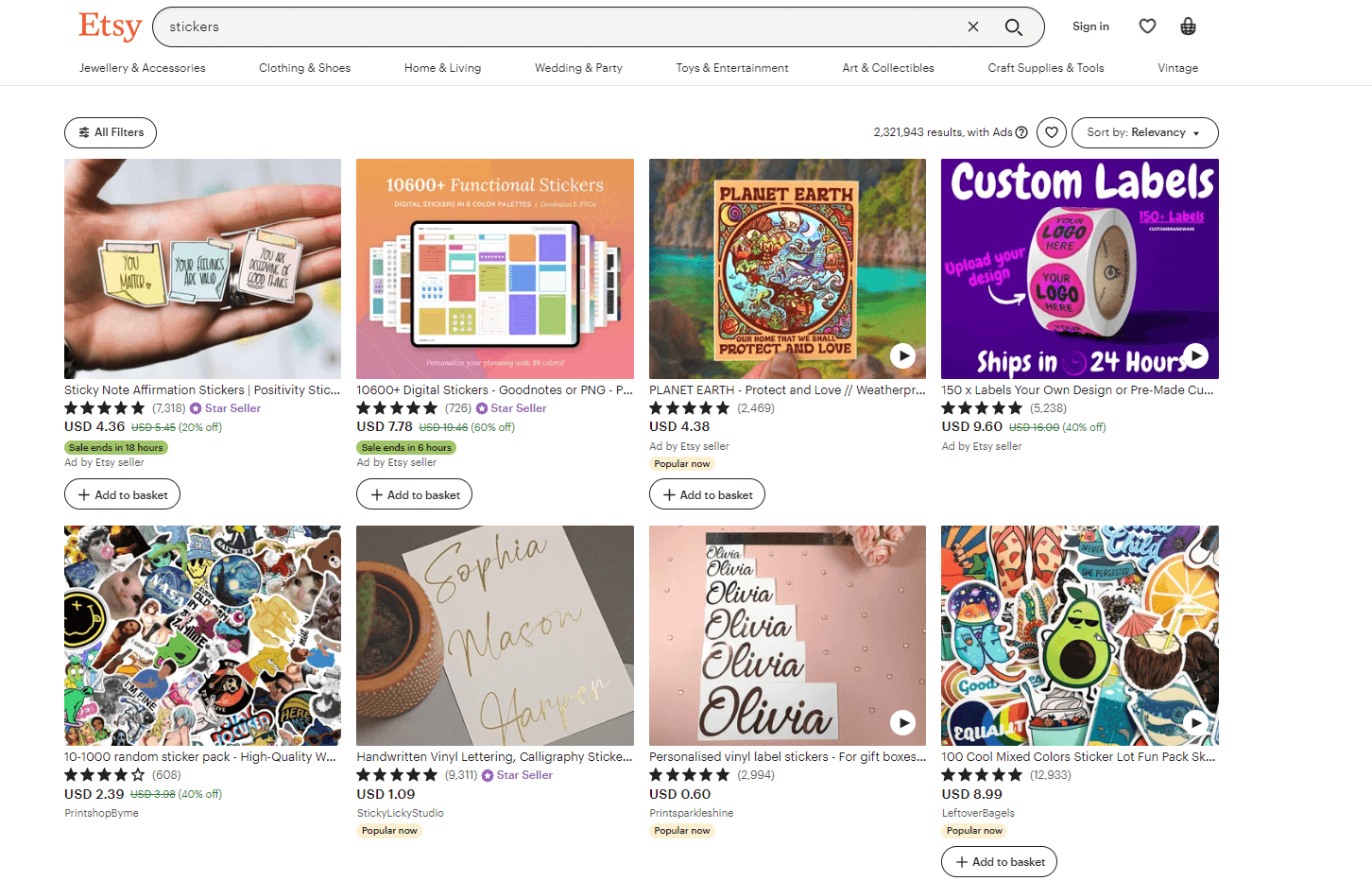 Etsy is a platform for creative hobbyists so it's not surprising that craft supplies are also a top-selling category on the site.
Stickers are a part of this category and are often snapped up by shoppers due to the cute designs they come in.
You only need to ensure that your handmade stickers resonate with the buyers.
For that, you can experiment around to see what type of stickers sell most on the site.
Charms and beads are also famous on Etsy as they can be used in artwork and jewelry designs.
So explore around and learn what type of craft supplies you would like to build your business on.
5. Journals and Notebooks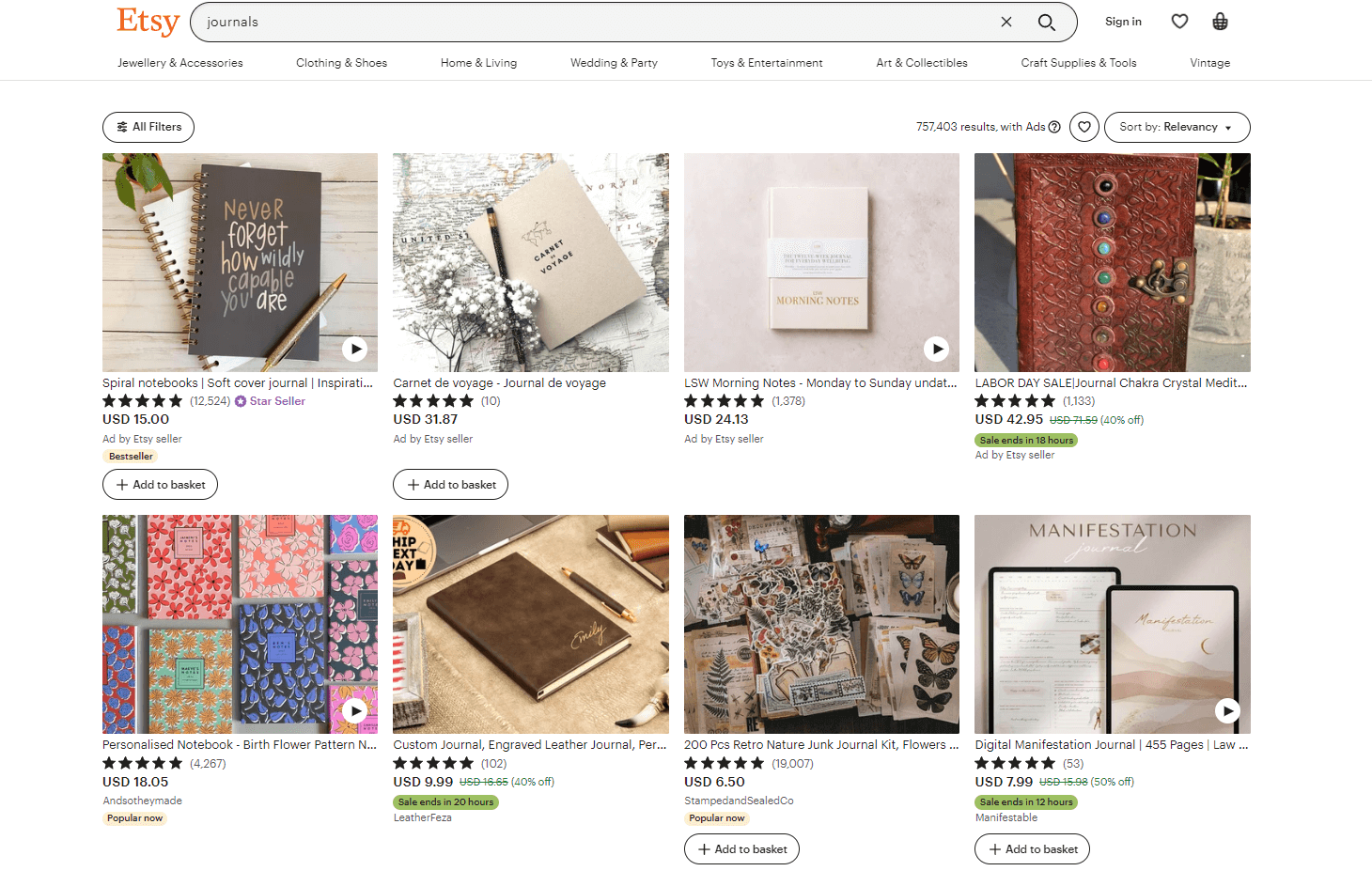 Notebooks and journals are an evergreen product on Etsy and the reason is simple – writing interests many people.
While plenty of merchants are already selling this item on Etsy, there's always room for creativity.
You can design journals and notebooks for people based on their hobbies.
Some would just like to have a personal diary so you can gimmick the notebook around that.
While traveling enthusiasts would want to jolt down their adventures. For that, you can create different sections in the journal to help them easily document the experience.
6. Digital Artwork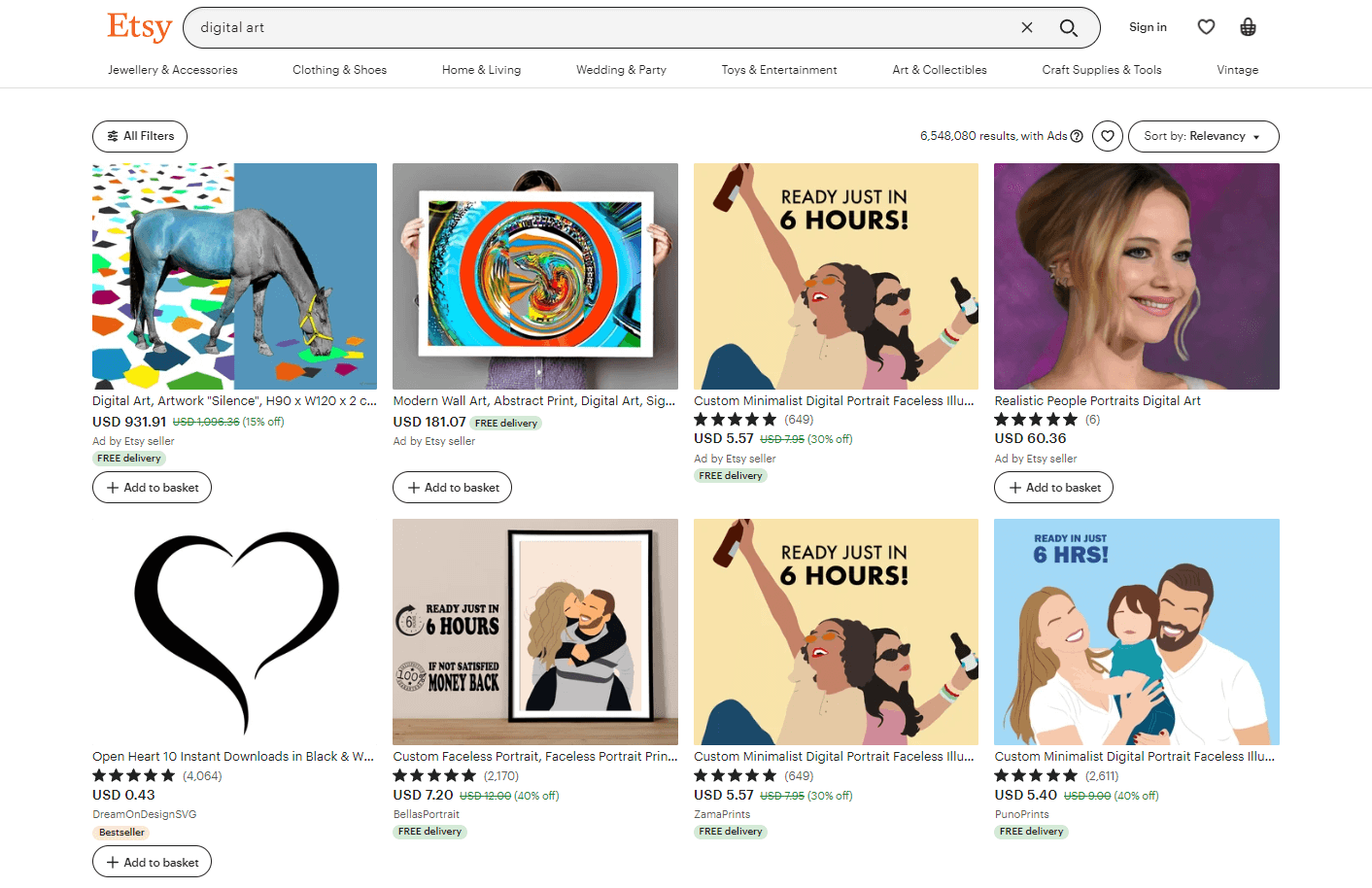 Most people don't know this but you can also sell a service on Etsy. In fact, the platform has seen a surge in the number of digital artists and graphic designers.
It could include offering design services for POD products, creating wallpapers, front covers, and much more.
You can also sell digital paintings on Etsy but you'll need to select the "Instant Download" option while creating your listing.
Overall, there's no limit to what digital artists can sell on Etsy as long as the work is original and the representation doesn't go against the platform's terms of service.
7. Vintage Items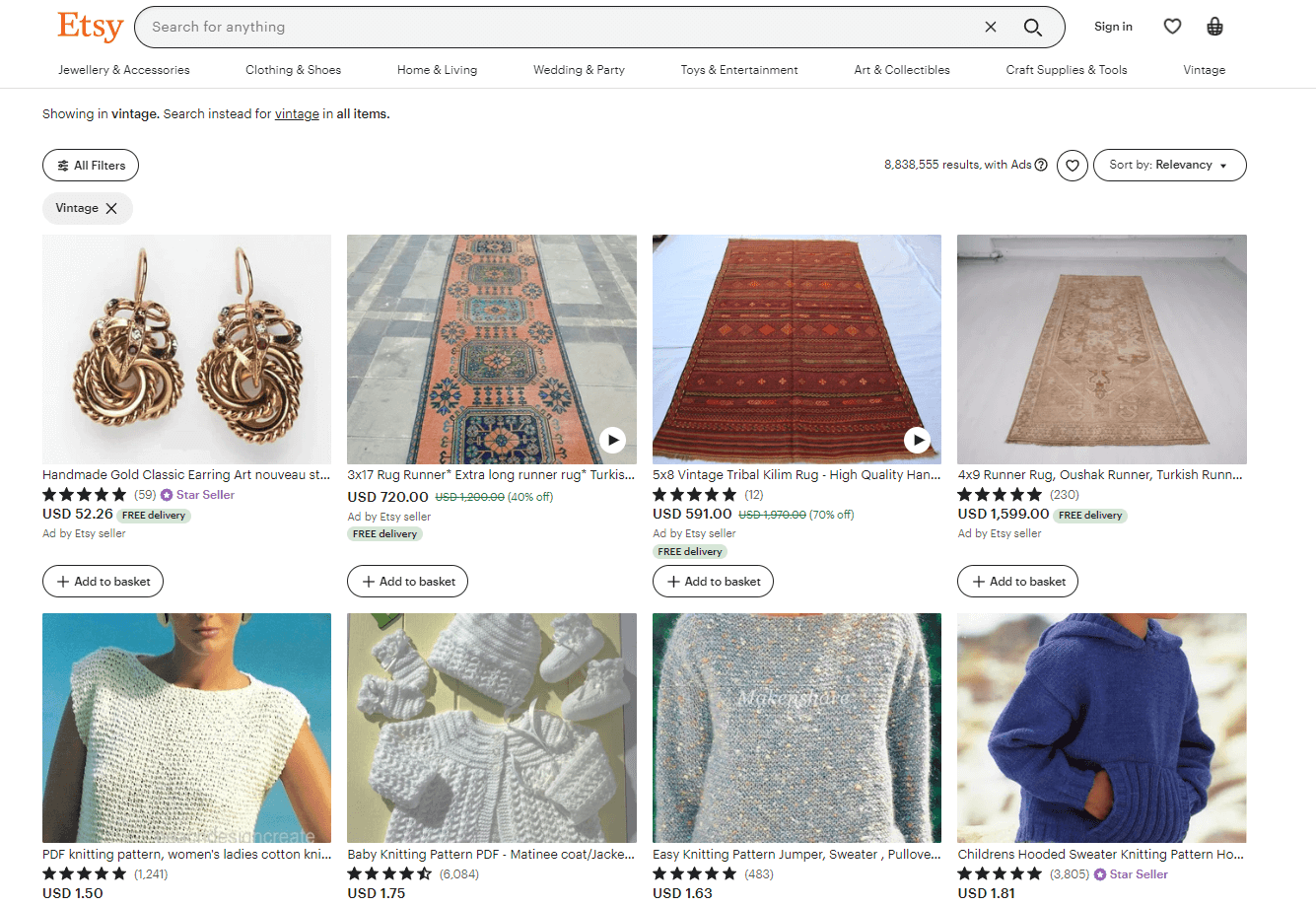 There are only a few eCommerce marketplaces that sell vintage items, and Etsy is one of them.
The only problem with selling vintage products is that they aren't easily available.
But if you have something "useless" lying around the house for decades then you never know – it might be a collectible for someone else.
And believe it or not, you can even sell used clothes on Etsy as long as they meet the platform's vintage criteria.
Those who want to learn more about it can directly check Etsy's Vintage Items Policy.
8. Handmade Clothes and Crochet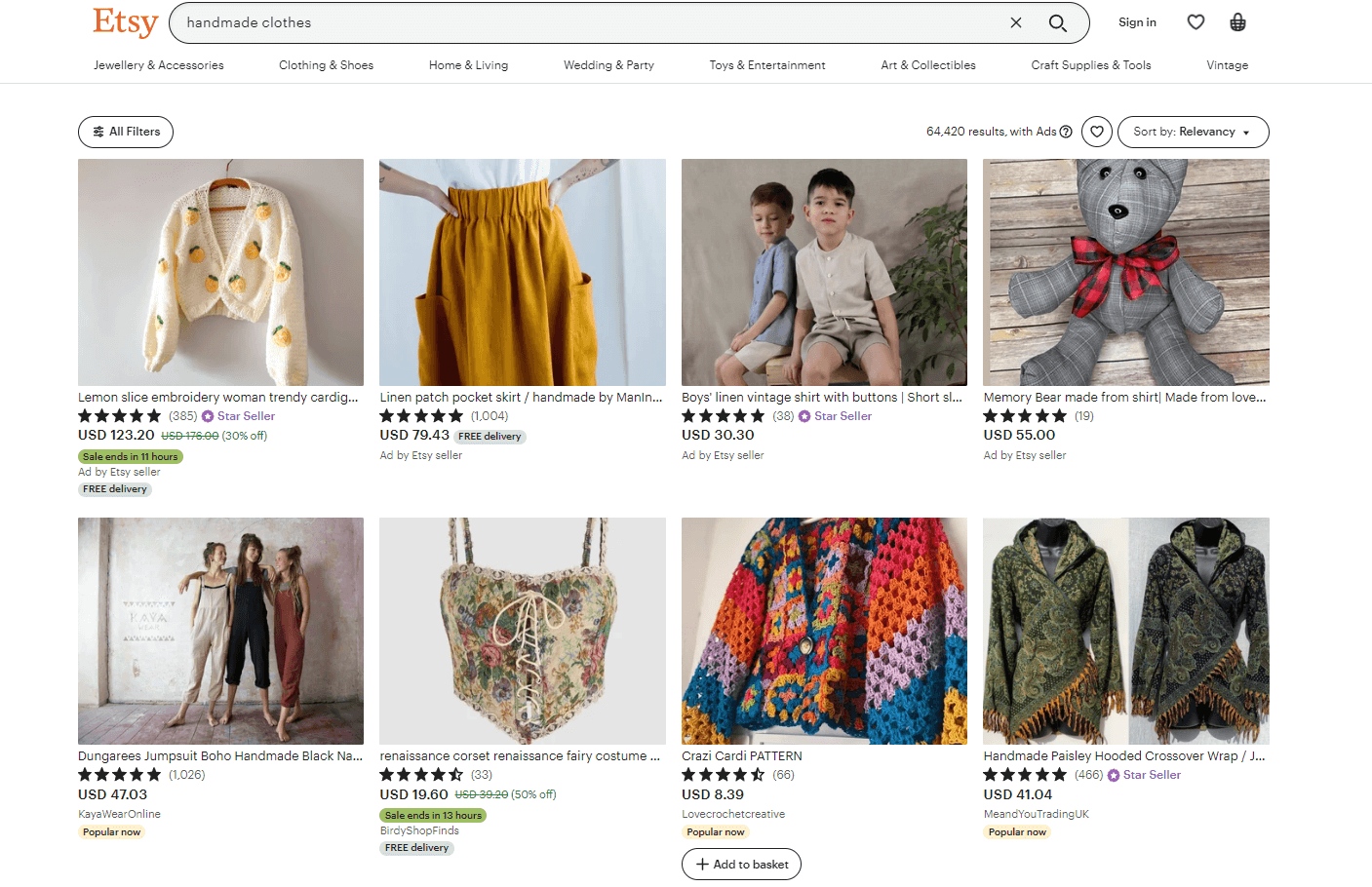 Have a passion for sewing? Why not start making money by selling handmade clothes or crochet patterns on Etsy.
You can find countless tutorials that can walk you through how to make dresses, sweaters, and even teddies to sell online.
Selling clothes on Etsy might even be more profitable than other eCommerce marketplaces. Mainly because people are often willing to pay a higher price for handmade items.
That is also why you'll find thousands of clothing options when you search for clothing on Etsy.
9. Wedding Decorations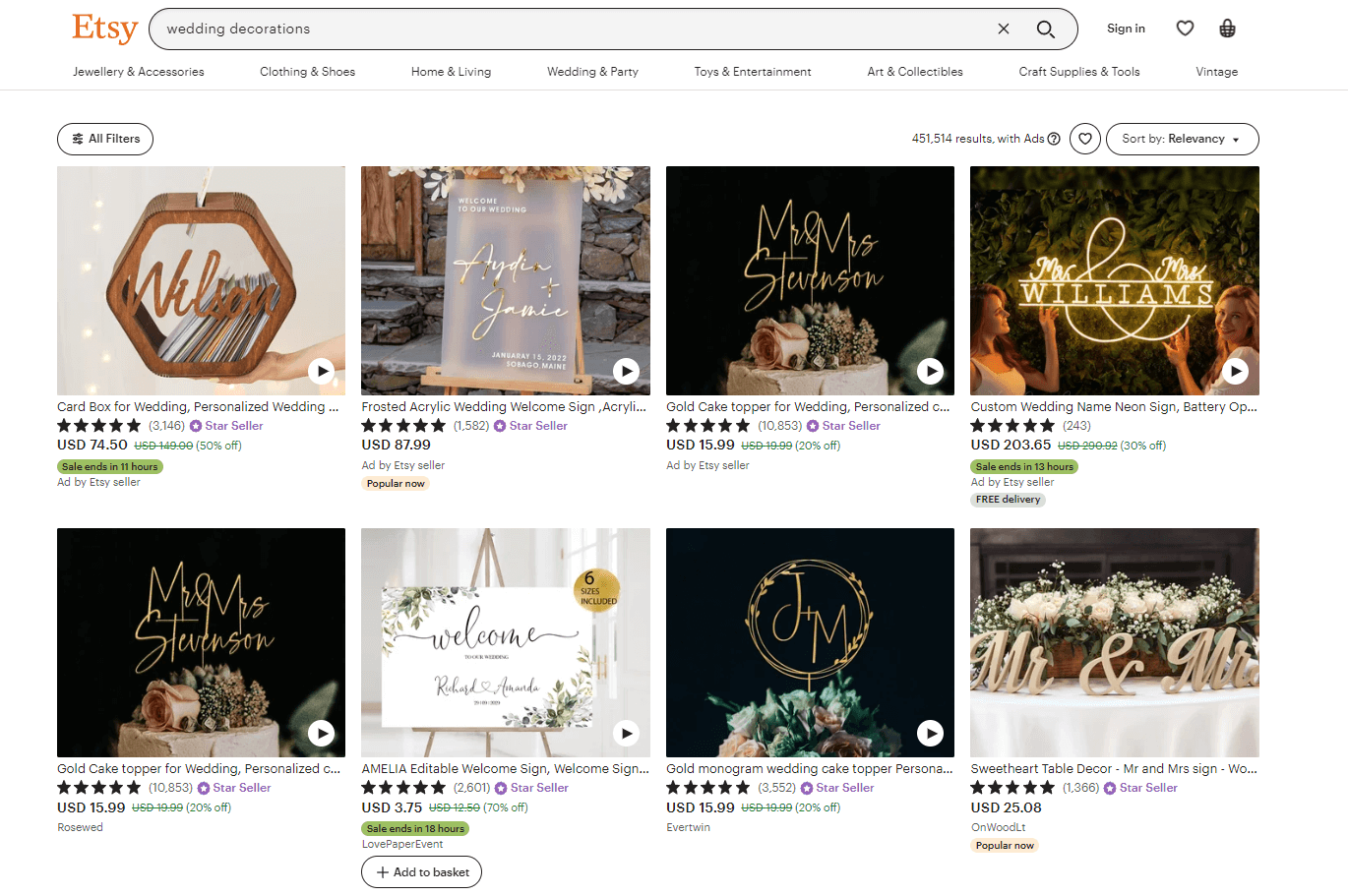 Your wedding preparations are simply incomplete without going on Etsy.
That is due to the amazing decorations and dresses you can find on the site for your big day.
Plus, if you're confused about what your wedding invitation should look like, then Etsy may solve that for you as well.
Some of the best-selling wedding items on Etsy include bridesmaid gowns, handmade invitations, and bachelorette shirts.
All in all, wedding decorations are so popular on Etsy, that you can find a category for it on the main page of the site.
10. Home & Living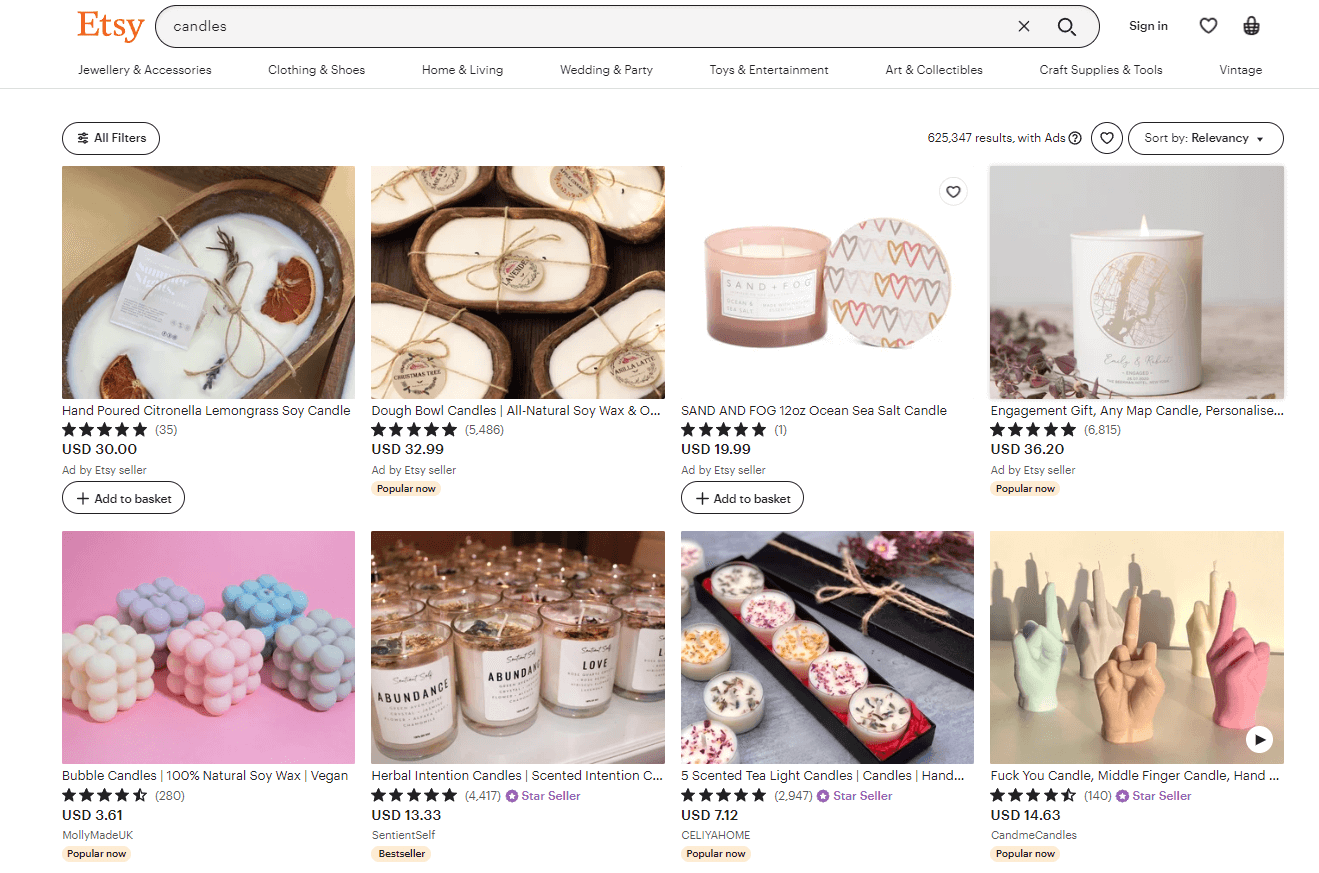 Furniture is probably the first thing that comes to your mind when you hear about the home and living category.
And while you can sell furniture on Etsy, there are also plenty of other products like candles which already have bagged thousands of sales on the site.
The good news is that candles are inexpensive to make but can still leave you with a good profit margin.
There are also plenty of online video tutorials to help you start making candles.
But of course, candles and furniture aren't your only options.
Basically, you can sell anything that is handmade and would be used by people in their daily lives, including perfume, and gardening items.
11. Eco-Friendly Products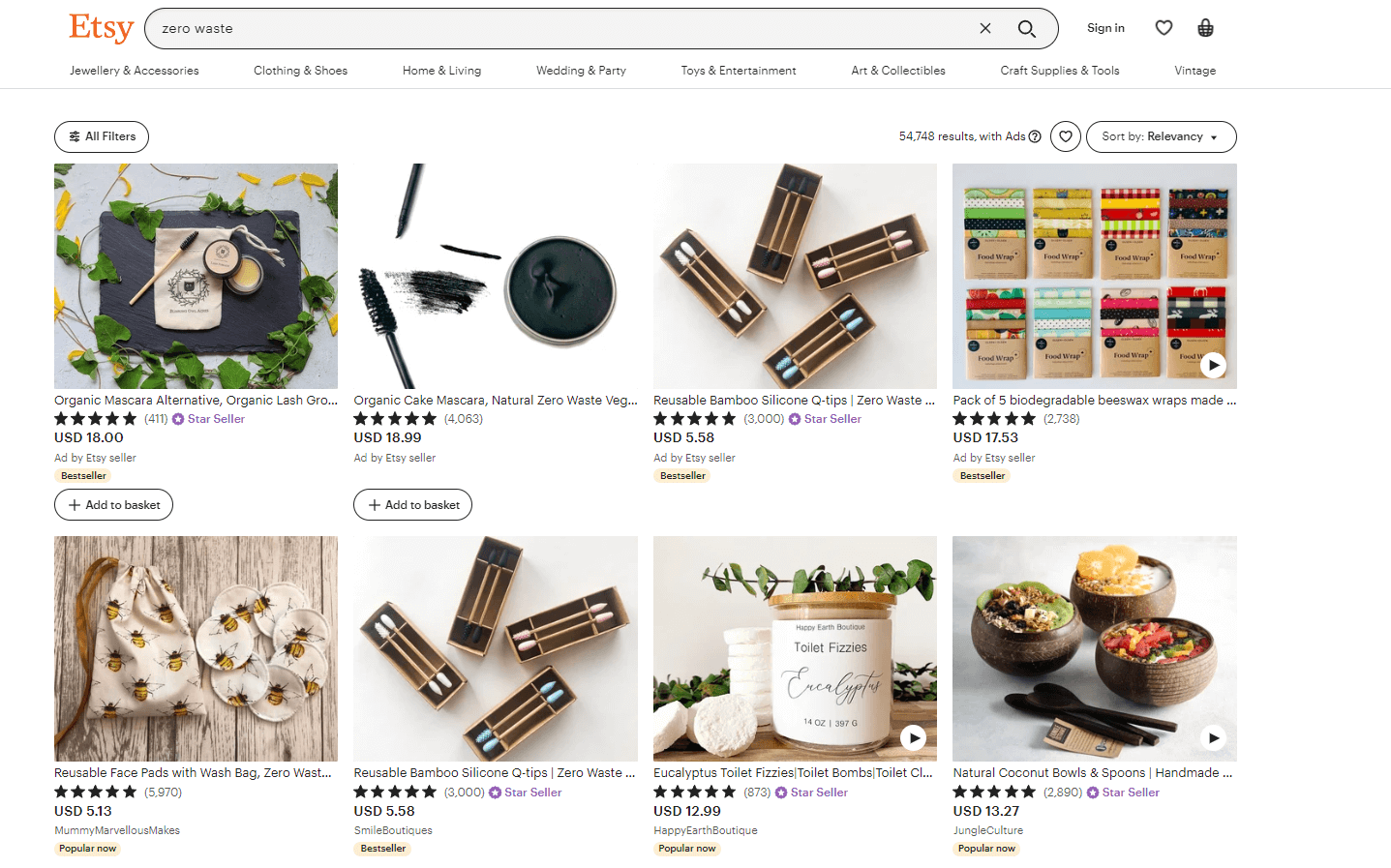 Eco-friendly products are all the rage nowadays.
And if you want to play your part in reducing the carbon footprint, then you should consider selling zero-waste products on Etsy.
For those who don't know, zero waste means that nothing will go to landfills.
Designing these products requires a bit of innovation, and that's why they're popularly sold on Etsy.
Environmentalists are willing to pay a pretty penny for even daily use zero waste products like toothbrushes, reusable bags and cutlery.
So if you want to onboard the sustainability journey then consider building your store around eco-friendly and zero-waste products.
12. Homemade Organic Beauty Products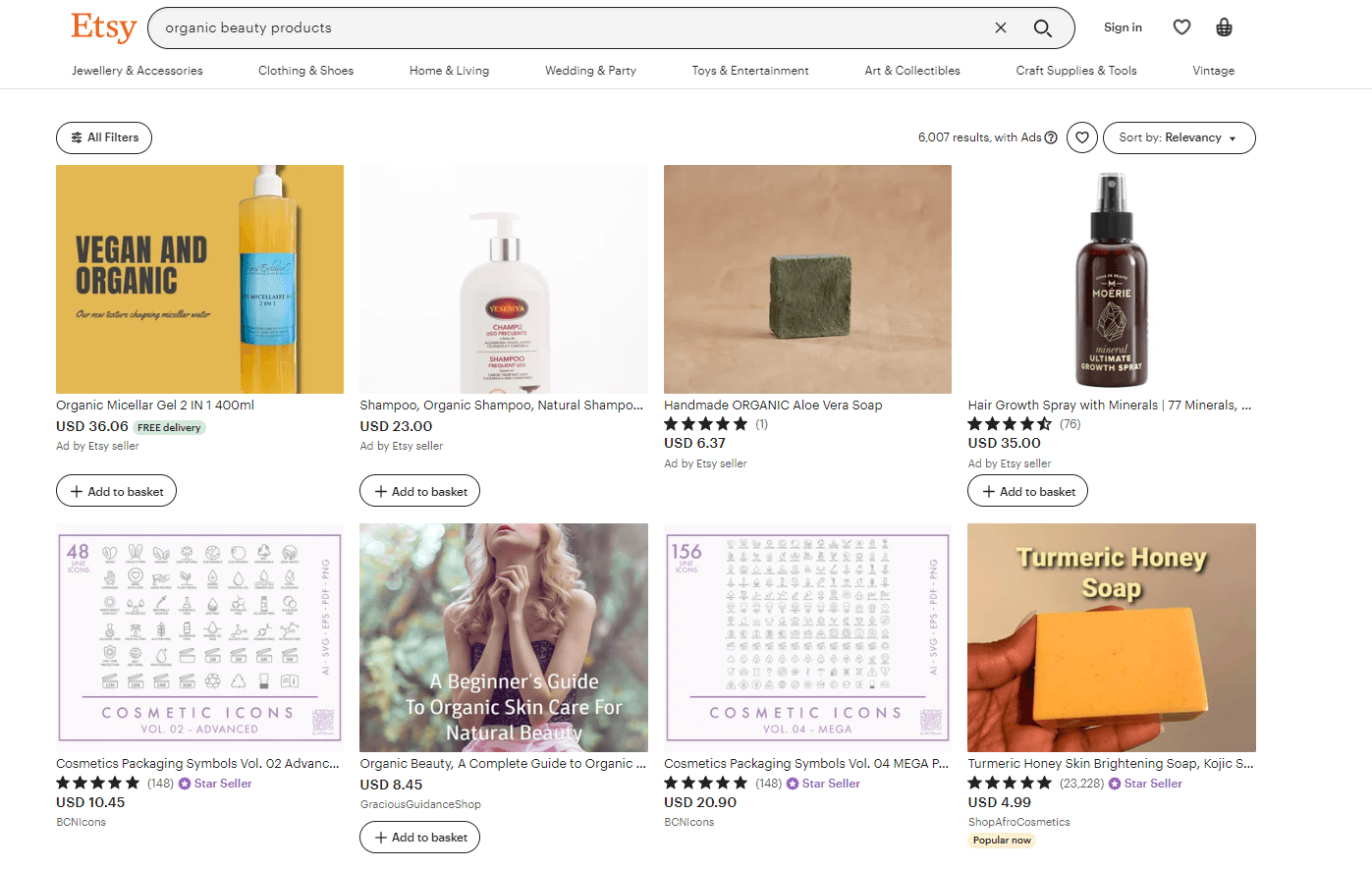 Stores are full of beauty products and most entrepreneurs would think that breaking into this niche is challenging.
Well, for the most part, we agree – but there's also been a growing hype surrounding organic beauty products.
People are starting to realize that most chemical-filled "premium" products can be terrible for their skin in the long run.
That's the reason they've set their eyes on organic beauty products.
So if you want to take advantage of this growing movement of organic products then start selling on Etsy.
But keep in mind that you need to stay true to your word with the ingredients and add proper safety labeling to avoid legal trouble.
13. Party Decors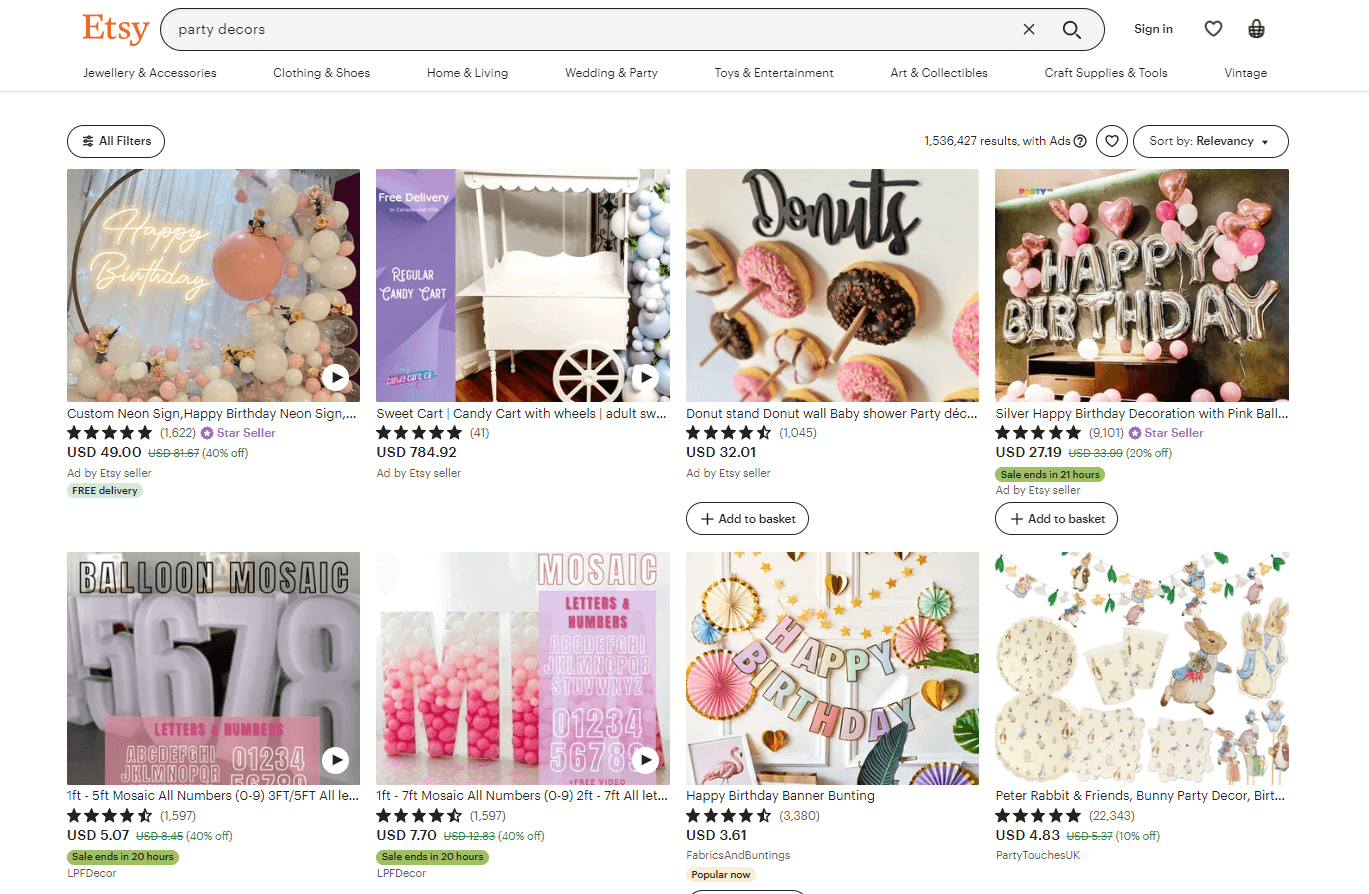 Similar to wedding decor, party decor is also a popular category on Etsy.
Party planners can include décor items, accessories, and handmade supplies.
The appeal of selling in this category is that people love dishing out money for special events.
Whether it's a birthday, graduation, or anniversary, you can add party decor for different occasions in your store.
And if you're truly feeling creative then perhaps you can even launch your own variations of different party games.
But hey – why would anyone choose Etsy to purchase party decors and supplies?
The answer is simple – the merchants of Etsy are known for their creativity, and obviously, people don't want to buy generic items for special occasions.
14. Printables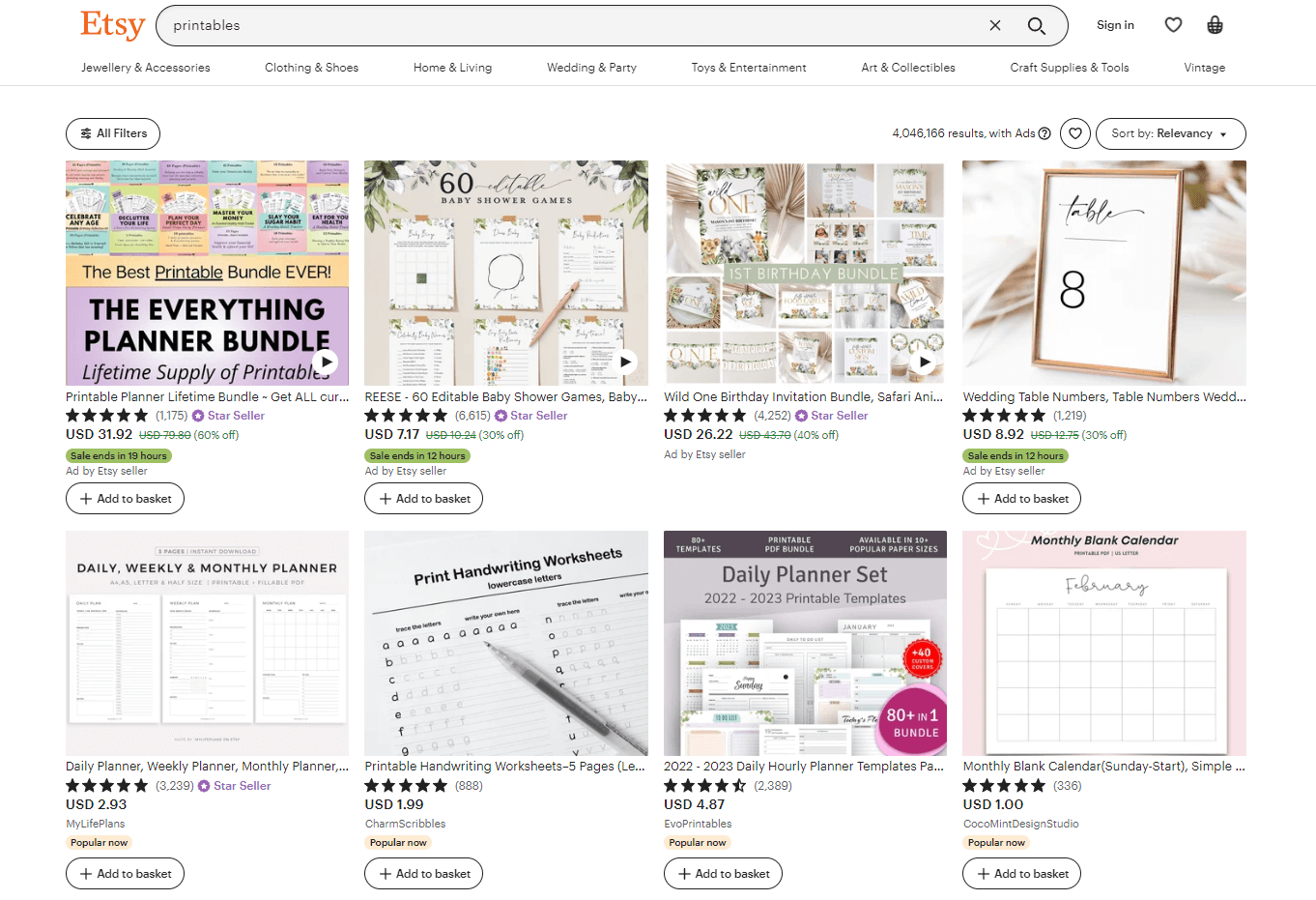 Another way to express your creativity on Etsy is by selling printables.
The printables you can sell on Etsy include but are not limited to coloring books, photo albums, daily planners, and resume templates.
Wondering who would buy them? Well, you're in for a surprise because printables are one of the most popular categories on the site.
And the best part is that they're a perfect source of passive income because you only have to create them once!
If all that wasn't convincing enough, then while selling printables you don't have to worry about calculating the volume of your shipment or choosing the right shipping method either.
15. Kitchenware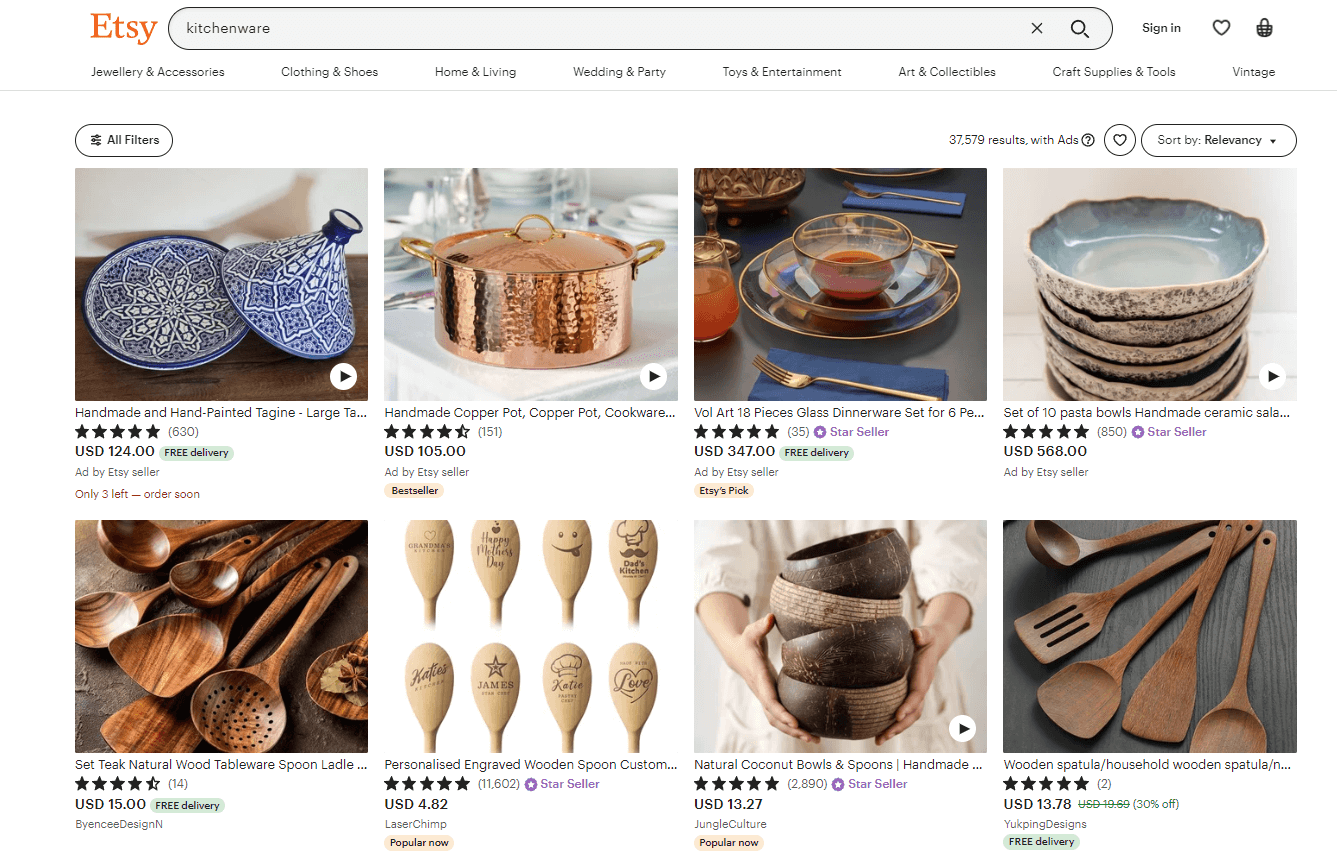 Not everyone is interested in buying the same old generic kitchenware that's sold in stores all over the world.
If you think that you have a talent for crafting unique kitchenware then it's about time you start making money from it.
As you can see, most people are ready to pay a premium price for these products.
The high number of reviews also indicates that finding buyers for it isn't difficult.
16. Sculptures and Paintings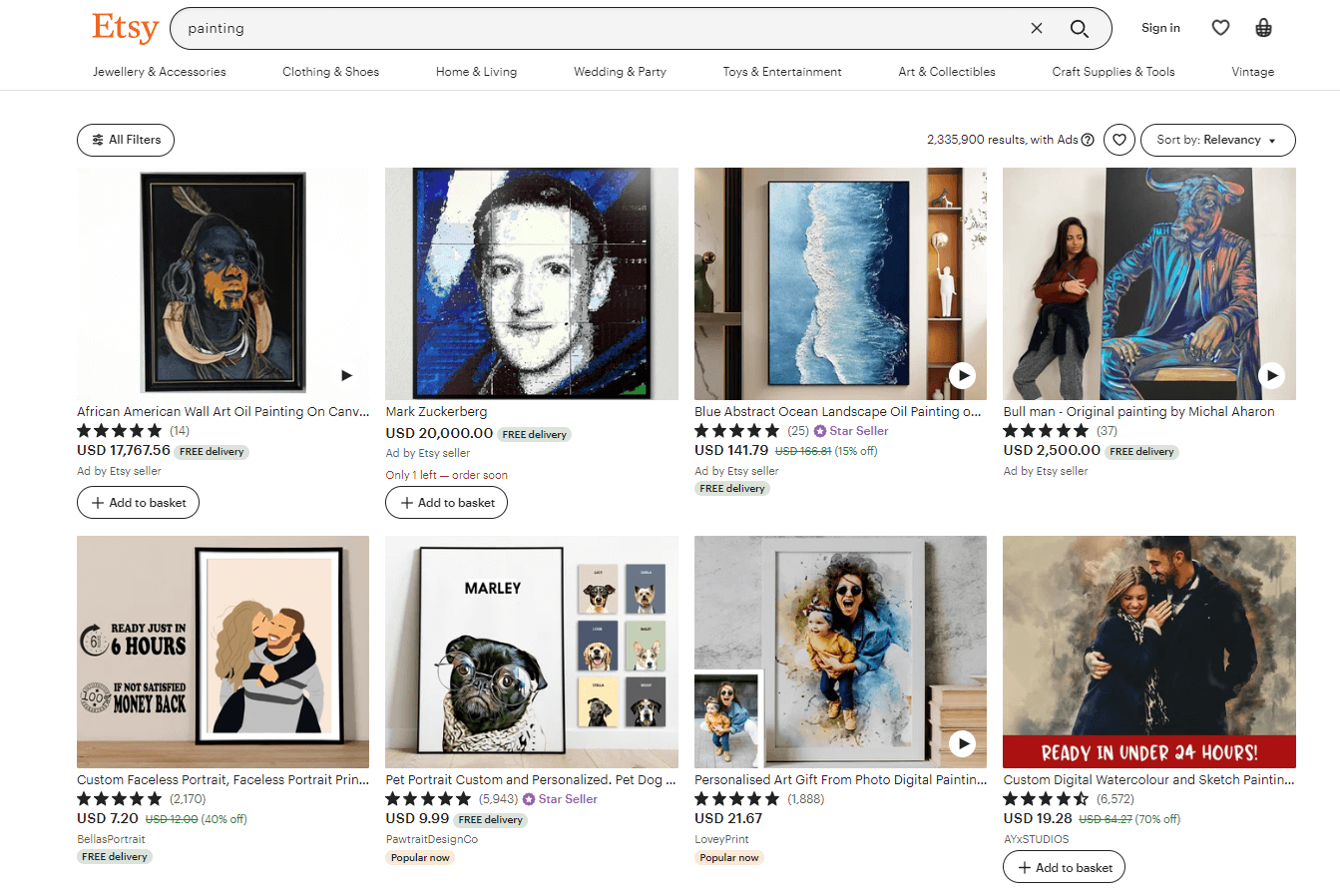 The buyers of Etsy truly understand the value of art. No wonder sculptures and paintings are in-demand on the platform.
So do you have a painting that you're proud of and want to earn from it?
Well, Etsy is the perfect platform to sell it. And not only can you sell paintings on the site, but also sculptures and other forms of visual arts.
While this niche requires a tremendous effort, the good news is that if your store takes off then you can make some serious dough.
Tips to Start a Successful Etsy Business
Every eCommerce site has its own strategies that you need to follow to succeed and Etsy isn't an exception.
So before you launch an Etsy store, let's go over some tips to help you prepare your business for takeoff.
1. Learn How Etsy SEO Works
Learning how the Etsy search algorithm works is the most important part of making your business successful.
To begin with, you need to understand that most of your potential buyers will come from organic Etsy search.
That's because the platform has more than 80 million buyers and that alone is enough to help you get the ball rolling.
Obviously, you can also generate traffic through social media or other marketing methods but that is secondary.
However, this does bring us to another question: How can you make your Etsy listings rank higher?
Well, that depends on a variety of factors like your choice of keywords, product title, and tags.
Although in a nutshell, the goal is to brainstorm keywords that your customers are likely to use.
2. Take Inspiration from Successful Etsy Sellers
There's a fine difference between taking inspiration and entirely copying another store.
If you try the latter, then you'll end up getting your store suspended from the marketplace.
So instead, try to learn what the top sellers on Etsy are doing differently. Ideally, you want to find stores that are relevant to your niche.
Then study their product descriptions, branding, and keywords to learn how you can improve your listings and products.
3. Target a Specific Audience
We aren't saying that you should always stick to the same products. After all, innovation is key to a successful business.
But initially, what we recommend is to find two or three similar "hot" products and then go all-in with those.
This would make it easier for you to manage your business and establish a brand identity.
Because if you're handcrafting each product then that requires a high degree of time and effort.
Adding more products is only a good idea once more production partners are onboard.
Assuming you're starting a small business, you'd probably have to manage everything by yourself – which isn't easy, especially with multiple products.
4. Give Extra Thought to Product Descriptions
A well-written product description can truly give you an edge over your competitors.
And even if it sounds simple, the majority of digital entrepreneurs aren't able to get it right.
So what should your Etsy product descriptions include? Well for starters, you need to conduct extensive keyword research.
For that, you can use keyword research tools, study your competitors and think from the buyers' perspective.
Make sure that the descriptions are providing all the information about the products and clearing any concerns the shoppers may have.
In theory, the descriptions alone should be enough to give your customers a visual representation of what the product will look like.
Lastly, keep your words concise and paragraphs short so the information is easily digestible.
5. Take Etsy Product Photography Seriously
Selling handmade products doesn't mean that you can get away with poor-quality product photos.
The product photos should be a cherry on top of your product descriptions.
You don't necessarily need a fancy camera, but try making the photos look as professional as possible.
Capture the photos in adequate lighting and show the item from every angle.
Make sure the background of the picture is in contrast with the color of the product.
6. Deliver the Products on Time
The most challenging part about selling on Etsy is meeting the growing customer demands.
Handcrafting each product without outside help can get hectic, especially once you start getting a high volume of orders.
That's why you need to avoid overcommitting with your customers.
Stay transparent about the shipping times and don't set unrealistic timelines.
That would only make you feel overwhelmed and also possibly impact the quality of the items in the long run.
7. Focus on Pinterest for Marketing
When it comes to eCommerce marketing, most people would use popular social media platforms like Facebook, Instagram, or TikTok.
However, for Etsy, we highly recommend using Pinterest. That's because Pinterest is a platform that focuses on visual representation.
And since you're selling handmade and unique products on Etsy, you can upload their pictures on your Pinterest business account.
We also suggest joining the existing Etsy Pinterest board where you can find various sellers to get inspiration and build exposure.
FAQs about Selling on Etsy
How Much Profit Can I Make From Selling on Etsy?
The amount of profit you can make from selling on Etsy depends on a variety of factors.
That includes the type of products you're selling, the amount of time you're putting in, and of course, whether you have production partners or not.
If you're working handcrafting each product, then obviously, you'll have a hard time fulfilling the ever-growing customer demands, which in turn, will affect your profit.
In this case, don't expect Etsy to help you make a fortune, and your profit might be only $500 per month or even lower.
But if you're really serious about your Etsy business and are also getting outside help with manufacturing then you can even make around $4,000 per month.
Can I Sell Any Item on Etsy?
You can only sell handcrafted, vintage, custom, or unique products on Etsy. All items sold on Etsy must follow their House Rules, otherwise, your store will get suspended.
What Items Sell the Fastest on Etsy?
Personalized jewelry is one of the most sold items on Etsy followed by artwork, craft tools, printables and home décor items.
Final Thoughts
Etsy is one of the largest eCommerce marketplaces for selling custom and handcrafted products.
It's the perfect platform for those who are trying to turn their crafting hobbies into a source of income.
Hopefully, through this list, you were able to find a product that can help you get your Etsy business off the ground.
If you think that you don't have the creative spark to start an Etsy business but still want to sell online then you can try dropshipping instead.
There are no restrictions on what you can sell as a dropshipper. The only thing you need is to find a reliable supplier and that's where NicheDropshipping comes in.
We can help you source your desired products at reasonable prices – all you have to do is give us a call and let us know your requirements!