The Print on Demand model has transformed the eCommerce landscape.
It's the perfect business for entrepreneurs who thrive on artistry and creativity.
You don't have to fill warehouses with products, nor worry about packaging, fulfillment, or any other time-consuming tasks. Plus, a POD business doesn't require huge upfront capital.
So are you planning to set foot in the POD industry?
Then scroll down as we go through all about how to start a print on demand business.
Let's begin!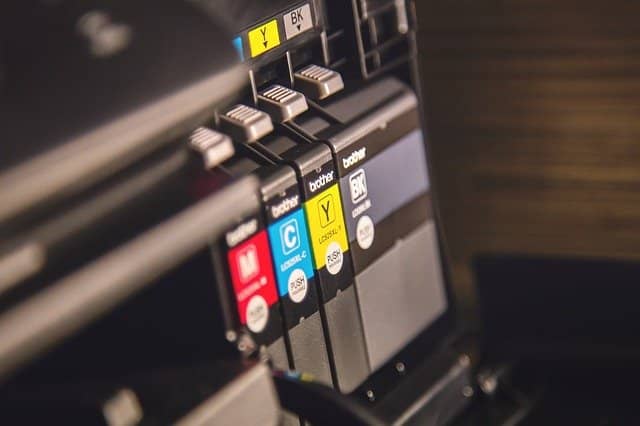 What Is Print on Demand?
Print on Demand is an eCommerce model in which you directly work with a supplier of white-label products like t-shirts, tote bags, and posters.
These products can either be personalized by the consumers or yourself.
The catch of a POD business is that the products are sold on a per-order basis. You don't hold inventory, and your supplier will only produce the items when a customer places an order.
In addition, the packaging and fulfillment are also handled by the supplier – which also makes POD quite similar to dropshipping.
Is Print on Demand Worth It in 2022?
Print on Demand is definitely worth it in 2022. It's still a great model for entrepreneurs who want to start a business without investing a huge upfront capital.
However, with the growing competition, the chances of launching a successful POD business are getting thinner. You definitely would've had an advantage if you started POD 5 years ago.
But as of 2022, this graph by Google Trends makes it clear that POD has become familiar territory.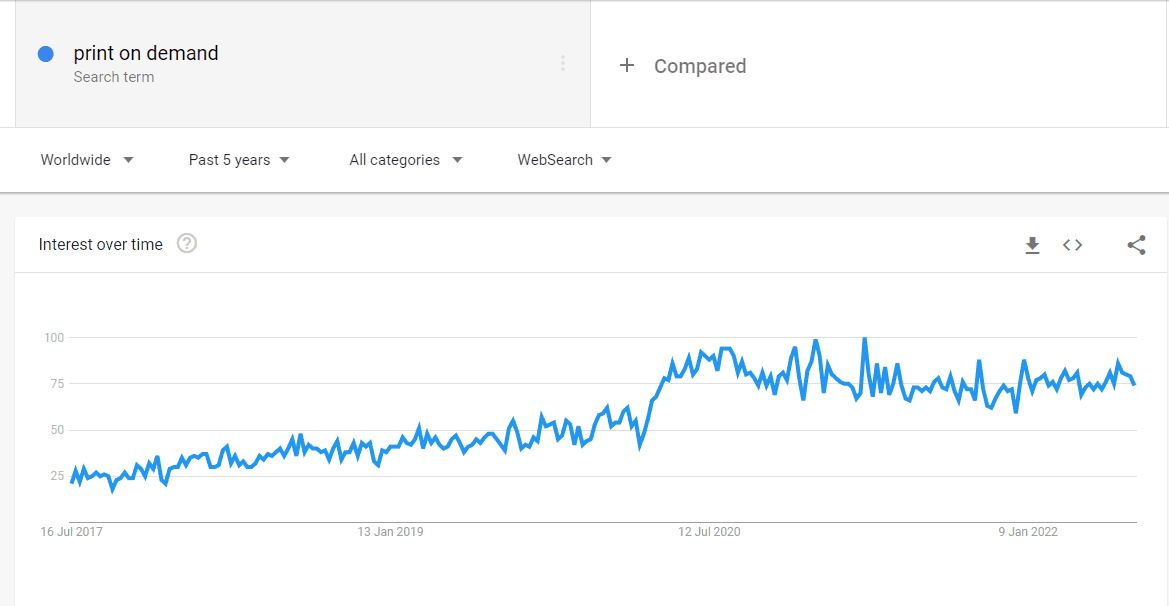 The growing number of people displaying interest in the POD model indicates that the competition is tougher than ever. You would need to devise a solid marketing strategy in order to get the buyers' attention.
But overall, it would be too soon to say that POD is a saturated model. You just have to be more creative than your competitors to see great results.
How to Set Up a Successful Print on Demand Business
Starting a POD business can look tricky at first, but in reality, it's a fairly simple process. All you have to do is follow these simple steps and you'll have your own Print on Demand store in no time:
Step 1: Brainstorm Designs and Ideas
The first step of starting a POD business is to brainstorm creative designs.
In case you're lacking inspiration, here are some tips to help you get your creative juices flowing:
Study Your Competition – It's fine to take inspiration from other stores. However, make sure that you don't copy-paste the exact design as that can potentially get you into legal trouble.
Create Multiple Drafts – Rather than brainstorming for that one "perfect" design, start by creating multiple drafts. Producing more ideas can get you closer to your actual target because always remember, "quantity breeds quality."
Explore New Trends – Explore hot-selling designs among your target audience. For example, if you're planning to sell t-shirts, then check trending designs among celebs and add your own twist to them.
Brainstorming ideas is unarguably the hardest part of starting a POD business. Even if you're allowing customers to create personalized products, it's still essential to add premade designs to your store to target impulse buyers.
Lastly, always remember that not all of your designs will succeed. Trial and error is inevitable so don't let failure discourage you.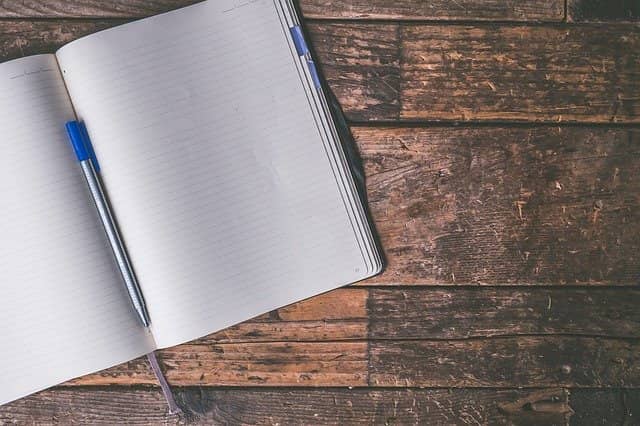 Step 2: Decide What Product to Sell
There's a common misconception surrounding POD businesses that you can only sell products like t-shirts, mugs, and hoodies.
And while these items are insanely popular, there are other various products that you can include in your POD shop such as:
Face masks
Tote bags
Socks
Bedsheets
Posters
Aside from printed products, it's also possible to sell custom engraved jewelry, given that you can find the right POD jewelry companies.
If you're unable to decide what to sell, then marketplaces like Etsy and Amazon also allow users to offer POD services. Explore the sites to see the best-selling products and also go through customer reviews to learn the weaknesses of your competitors.
Keep in mind that regardless of what you're selling, try differentiating yourself from the competition.
You don't necessarily have to introduce a new product to do that. Just focus on providing superior quality, and you'll automatically attract buyers.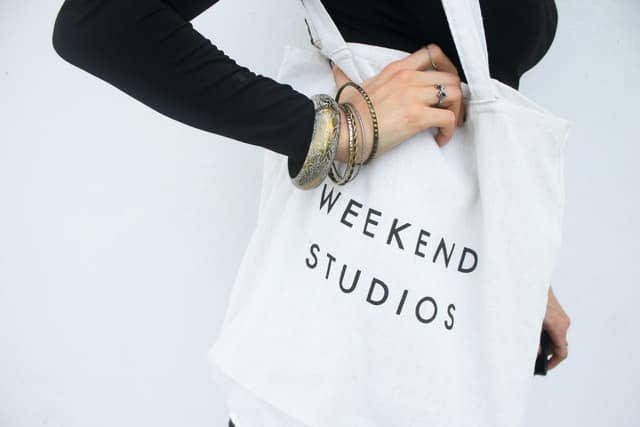 Step 3: Set Up an Online Store
Another big decision you need to make before starting your POD business is to choose how you will sell your products. You can either sell on an online marketplace or set up your own online store. Let's talk about what each method has to offer:
1. Selling on an Online Marketplace
Many online marketplaces allow merchants to offer POD services.
The biggest benefit of choosing this route is you won't have to do the legwork it takes to build an online presence as you get free traffic from the existing user base of the platform.
All you have to do is create an account, upload your listings and you can start selling on the site. This eliminates the hassle of buying hosting, designing the site, and other technicalities that come with building an online store.
However, there are also downsides to selling on online marketplaces. One of them is you will be completely dependent on the platform and won't get the opportunity to do any branding of your own.
For whatever reason, if your account ever gets suspended from the marketplace you will go back to square one. Another problem is that most online marketplaces also have high competition.
Probably hundreds of other merchants are selling the same product, thus making it difficult for you to attract potential customers.
Obviously, it's still possible to run a successful POD business by only selling on an online marketplace but if your main goal is to build a brand, then this method isn't for you.
2. Creating Your Own Online Store
This method requires a bit more legwork as you first have to create an online store. Fortunately, there are plenty of online store builders like BigCommerce, Shopify and WooCommerce to make this part easier.
Most POD companies also offer easy integration with these platforms, allowing you to effortlessly sell online.
Your choice of eCommerce web builder mainly depends on your requirements and personal preferences. Compare their features and choose the one that best suits you — and create a logo and branding for your store while you're at it! A professional-looking logo and brand identity will help you make a lasting impression on customers.
The biggest advantage of creating your own online store is you get full control over your brand. You don't have to follow any strict rules or policies, nor worry about account suspensions.
As for the drawbacks, you'll need a bit more investment and technical knowledge. Plus, there's also the hurdle of creating a brand presence to generate traffic for your business.
Which Method Should You Choose?
Selling on an online marketplace is quite straightforward and also gives you access to free traffic.
But the biggest downside is you can't build a brand, and most marketplaces also keep a commission, which will eat into your profit.
On the other hand, creating a store from scratch may sound like a staggering task, but it's more fruitful in the long run as you will be able to establish your own brand.
To conclude, if you're willing to put in the time and effort, then we would definitely recommend going with the second method.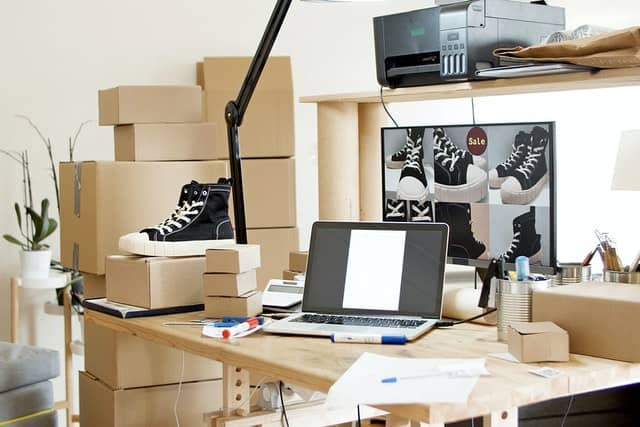 Step 4: Create a List of POD Companies
You can't start a Print on Demand business without a reliable supplier to prepare and fulfill the orders.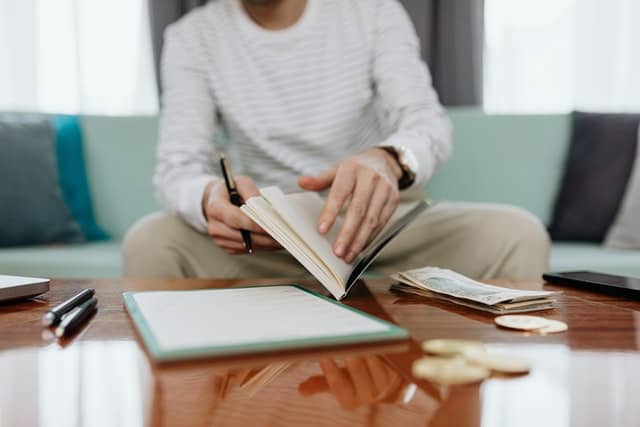 This is the trickiest part of the whole process because the reputation and the future of your business depend on it.
Take your time choosing a supplier and start by creating a list of the best POD companies. After that, narrow down your options based on the following criterion:
1. Product Variety
At this point, you've probably decided which item(s) you're going to sell. Remove the suppliers who cannot fulfill your product requirements.
2. Print Quality
The whole idea behind a POD business is to sell printed products. So it's a no-brainer that you should be able to provide high-quality prints to your customers.
This especially applies if you're selling washable products. You don't want the print of the t-shirts to fade away right after a single wash.
3. Integrations
There's no point keeping a supplier on your list if they don't offer integrations with the marketplace or platform of your choice.
4. Shipping Time
Shipping time in a POD business cannot be controlled because all the orders are fulfilled by your supplier. What you can do, however, is to check the location of their warehouses.
Ideally, you only want to work with a company that has warehouses near, if not in the country you're operating in.
This will help you reduce the lead times because let's not forget the supplier also has to produce the product after the customer places the order, which can take additional time.
5. Customer Support
Lastly, good customer support is an important part of choosing a POD company because you will be fully dependent on your supplier.
Your top priority should be to look for suppliers that at least provide shipment tracking so you can update your customers with the status of their orders.
Step 5: Devise a Solid Marketing Strategy
Lastly, if you're creating your own store, you will need a solid marketing plan from the start to succeed.
The marketing strategy of every eCommerce business varies according to its goals, product, and target audience.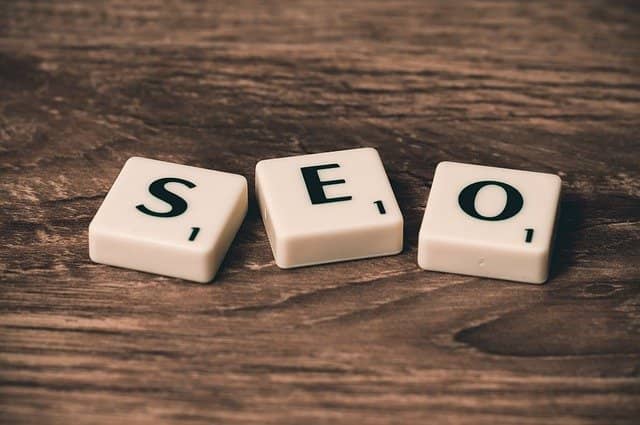 However, here are some general tips to help you market your POD store, especially if you're creating one from scratch:
Social media marketing has become a must for businesses nowadays. It enables you to interact with millions of users worldwide and significantly helps in building a recognizable brand image.
The social media platform you choose to market your business mainly depends on the target audience and the type of product you're planning to sell.
If your POD products involve jewelry, clothes, and other fashionable items, consider creating short clips for TikTok marketing. Another popular way to increase the reputation and visibility of a brand is by getting Instagram influencer shoutouts.
Regardless of the platform you choose, make sure that you stay active on your account and post daily content to engage with the audience.
2) Start a Blog
Blogging is one of the most effective ways to generate organic traffic to your site.
Although managing a blog takes a ton of time and effort, in the long run, it can significantly improve your ranking on the SERPs.
Besides, there are plenty of topics you could discuss in your POD blog ranging from different printing techniques, to products and designs, making it easy for you to create informative content.
3) Run Paid Ad Campaigns
Lastly, one of the most effective ways to generate traffic and increase conversions is to run paid ad campaigns. But beware that ad campaigns can cost a hefty amount of money.
You need to know your target audience to make the most out of your investment. Otherwise, you will get a ton of irrelevant traffic to your store.
Tips to Successfully Run a Print on Demand Business
Launching a POD business might sound easy on paper, but quite a lot of complications can get in your way. So here are some tips and solutions for some common challenges you may face:
1) Work with Professional Designers
There's no denying that appealing designs play an important role in the success of a POD business. But don't worry because you don't necessarily have to be a designer to create them.
You can commission those designs to professional artists, as long as you have a visual image of what you're looking for and understand the key concepts of the POD business.
For starters, the designers should know that you're outsourcing for printing purposes so they can prepare the design file according to the context and save the resolution at 300 dpi.
The printing area of the product should be of the same size as the dimensions of the images.
The specifications for the print may vary depending on the printing technique. Always send the changed specs to the designer to avoid miscommunication.
2) Validate Your Ideas
Just because you like a design, doesn't mean your customers would share the same sentiments.
At the end of the day, you'll only generate profit from a POD business if the consumers like the design and quality of the product you're offering.
This is why, before finalizing a design idea, try knowing what your target audience thinks about it.
Upload the design on your social media accounts, and also on popular forums like Reddit to get direct feedback from the public.
If you don't want to publicly reveal it, then just share it with some of your brutally honest friends.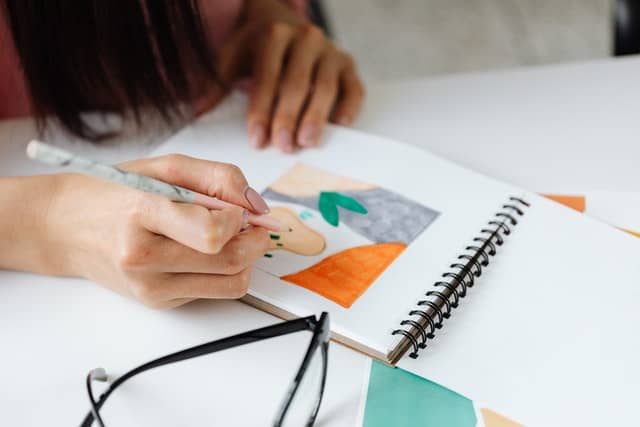 3) Create Mockups of Your Products
Most of the popular POD companies have a mockup tool that gives you a glimpse of what the final product will look like.
In case the platform doesn't have a mockup generator, you can search for online templates or use Photoshop or other editing tools.
If you don't know how to use it then try learning it by watching an online tutorial because going the extra mile really is worth it.
4) Always Test the Product Quality
Quality assurance is an essential part of running a successful POD business. Your product should look and feel exactly the same as you describe it to your customers.
There's no way of individually checking every product before shipping, but you can still be your own customer and order samples to verify if the supplier is meeting the desired quality standard.
You can also take this opportunity to click some attractive product images that you can upload to your site – so basically, it's a win-win situation.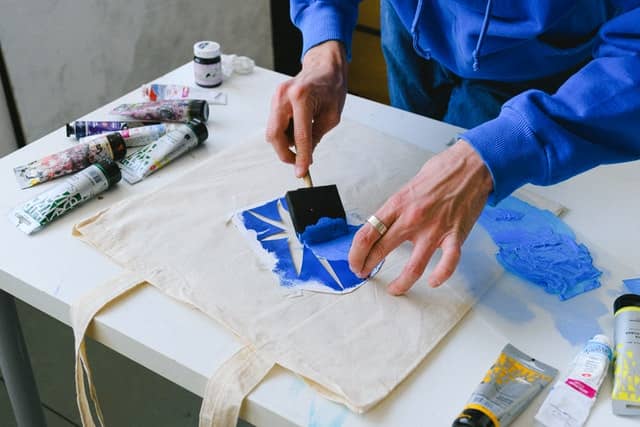 5) Be Upfront about Shipping Times
You don't really have much control over the shipping time of the product. But you can control the customer expectations by not making unrealistic commitments.
It's important to consider that the lead time of POD products is generally higher because they're prepared on a per-order basis. Keeping that in mind, you want to at least keep a margin of 2-3 days for production.
After that, calculate the transit time based on the distance and the shipping method being used. If you aren't honest about shipping times from the start then your inbox will soon swarm with shipping-related questions.
We recommend creating a separate shipping-related FAQ section addressing all the common queries of the customers, so you don't have to explain it to everyone individually.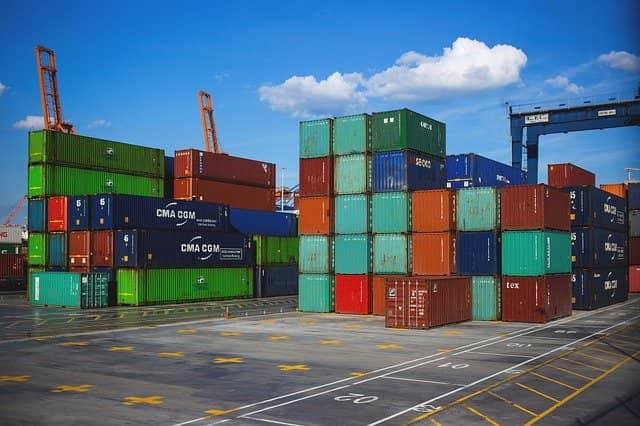 6) Offer Bundles and Discounts
The profit margin in a POD business is generally considered to be low. That's because most POD products are inexpensive. If you want to increase your profit, then you need to start getting a higher volume of sales.
For that, you have to be more creative with your marketing. Try offering bundle discounts to your customers like selling a bundle of 3 t-shirts for $27 instead of $30.
If possible, try adding complementary items with the main products. Free shipping on a certain order value can also act as a sweetener in helping you bag more sales.
Overall, there are a ton of creative marketing tactics you can use to promote your POD business. Experiment around to see what works best.
FAQs about How to Start a Print on Demand Business
Is Print on Demand Profitable?
Whether Print on Demand is profitable or not depends on your expectations. If your main goal is to just generate a monthly passive income then yes, POD can help you achieve that.
However, don't keep your expectations too high as you can't make a fortune with POD alone.
How to Promote Your Print on Demand Business?
There are multiple ways to promote your POD business. You can start with social media marketing, run paid ad campaigns, start a blog, or even create an email list.
Try exploring different marketing strategies to see which one works best for your business.
How Much Can You Make with Print on Demand?
The amount of money you can make with Print on Demand depends on the type of product, your marketing efforts, and your target audience.
If you're selling two products each day and keeping a profit of $5 on it, then you'll make $300 per month.
We know this doesn't sound a lot, but the profit grows depending on the volume of sales, so it isn't possible to give concrete numbers.
Final Thoughts
The Print on Demand service is great for those who want to test a product before fully investing in it.
You can try out thousands of white-label products with an immeasurable number of different designs and combinations.
If you find a winning product, you can start enjoying a steady passive income. If not, go back to the drawing board to generate new ideas.
Overall, the flexibility Print on Demand offers makes it a great business model, especially for beginners.
However, POD does have its drawbacks like you can only sell limited products and it offers a low profit margin.
If you don't like the product restrictions of this model then perhaps dropshipping would be the better choice.
You don't have to worry about product sourcing either as NicheDropshipping can help you source and private label your desired products at competitive prices.
Want to learn more about our services? Just give us a call and one of our agents will happily guide you!