In recent years, people all over the world have begun to feel the drastic effects of climate change. Other issues such as the scarcity of natural resources and the negative impact of plastic waste have also become impossible to ignore.
Consequently, most consumers now prefer eco-friendly products and ethical brands. Offering such products in your store could earn you great profits and also help build your brand as one that advocates for environmental wellness.
Still, like any other market niche, it is important that you choose the right products to sell. So, in this blog, we highlight top-selling eco-friendly products that your customers would love and some informative tips to help you succeed.
Read on.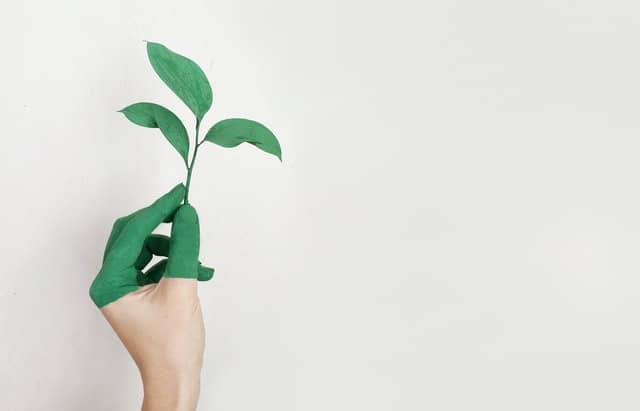 What Are Eco-friendly Products?
Before we dive into analyzing eco-friendly items to sell, let us begin by defining them.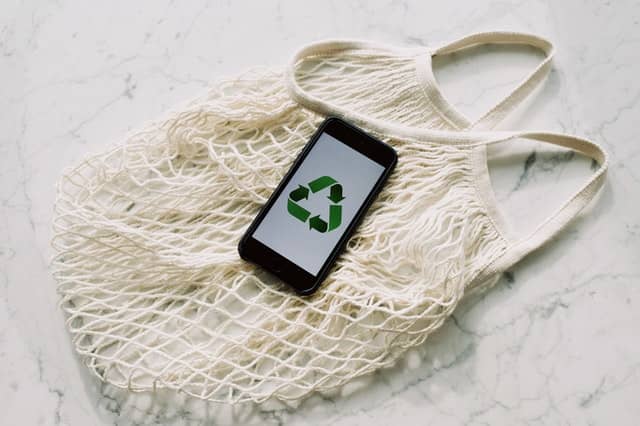 Eco-friendly products are products whose design/formulation and ingredients do not cause undue harm to the environment. They are also known as green products or bio-friendly products.
They can mainly be divided into four categories:
Sustainable products– these are products that are made using raw materials that can be regenerated. An example of this would be bamboo furniture because bamboo is a fast-growing plant that barely requires any farming.
Recyclable products– these types of products are made of materials that can later be reprocessed to either make a new unit of the same product or an entirely different product. Plastic bottles are an apt example of this.
Reusable products– reusable products prevent the accumulation of waste in the environment because they are not frequently disposed of. They also reduce the need for high volume production which causes high carbon emissions.
Biodegradable/Compostable products– these are items made of natural materials that can be broken down by nature. They reduce the occurrence of harmful waste (like plastic) which does not decay and can cause harm to animals among other dangers.
Now that you know what qualities to look for, let's discuss some winning examples of top-selling eco-friendly products in different categories.
Personal Care
Personal care is a fundamental need for most people. More importantly, it is something we do every day and so the consumption of personal care products is quite high.
Subsequently, the right selection of eco-friendly personal care products would likely earn you great dropshipping sales and go a long way in saving the planet. Consider offering your customers:
Eco-friendly Toothbrushes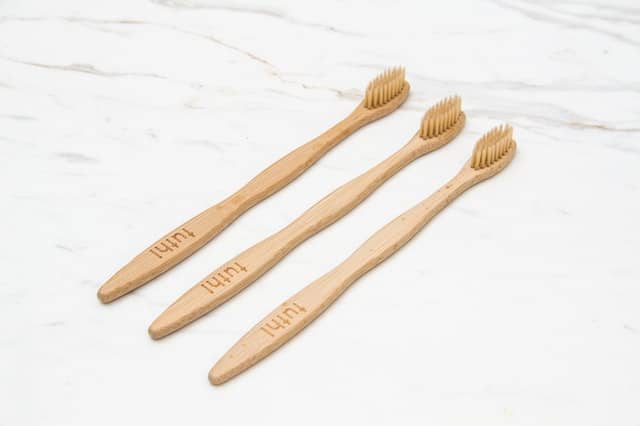 Dentists recommend that we change toothbrushes at least once every three months or after a bout of the flu. The problem is, a typical toothbrush is made of plastic and this could lead to a big accumulation of plastic waste.
Your customers may appreciate eco-friendly toothbrushes such as those made of bamboo because they allow them to stick to dental health recommendations without polluting the environment. Bamboo is also free of BPAs.
Eco-friendly Hybrid Diapers
A hybrid diaper is made of a reusable part that resembles underwear and a disposable insert that is discarded during diaper changes.
There are many different brands but aim for the game-changers that offer disposable inserts that are made from sustainable or compostable materials. These qualities greatly reduce the negative impact of the millions of diapers disposed of each year.
Reusable and Recyclable Razors
Disposable razors are popular because they are associated with hygiene. They are also affordable in the short run. However, every disposed razor simply piles onto the growing mountain of problematic waste.
In contrast, a reusable and recyclable razor like a safety razor can be used multiple times before disposal making it cheaper in the long run. Safety razors are also usually made of stainless steel and other alloys that can easily be recycled.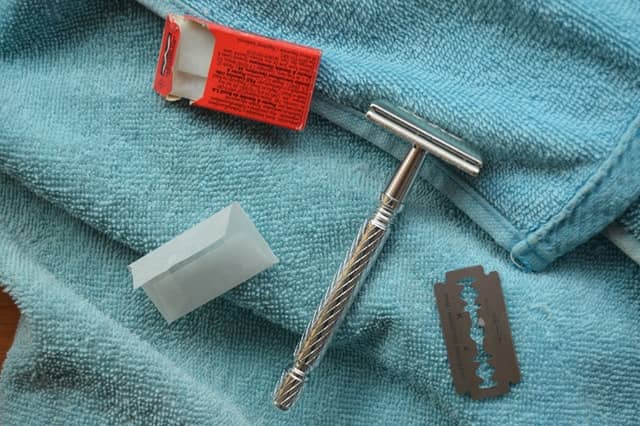 Look out for safety razor brands that offer quality shaving solutions for both genders at a fair price. It could equally be a plus if the brand has sustainability initiatives in place.
Reusable Make-up Remover Pads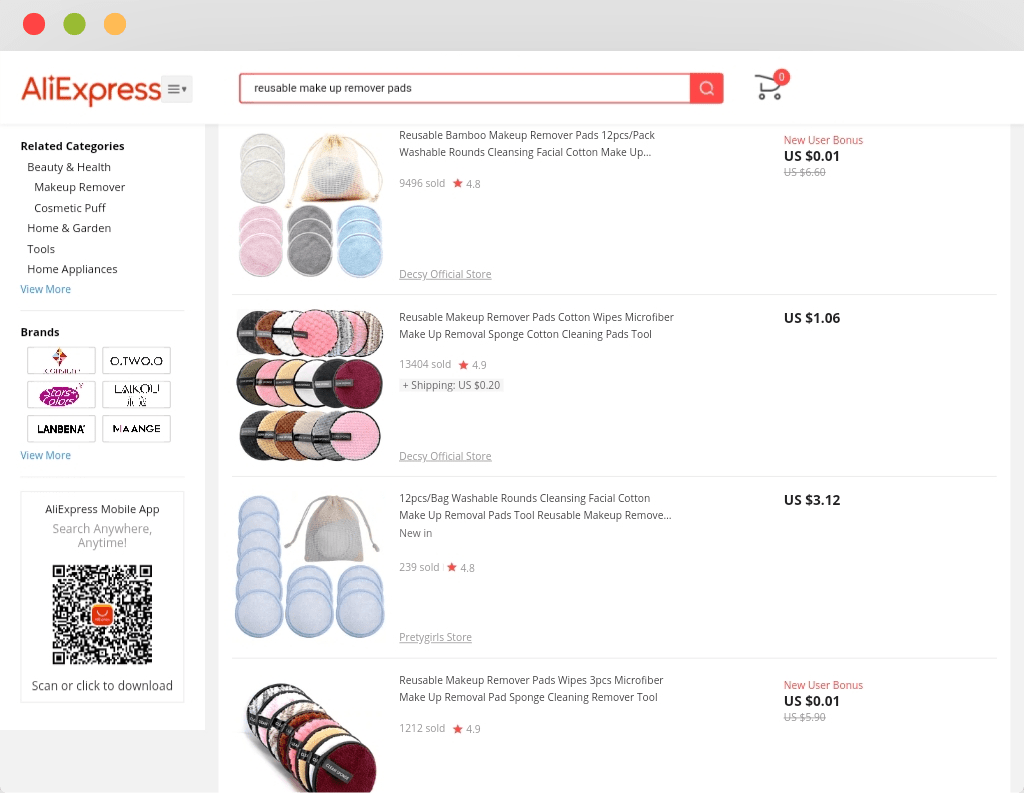 Taking off make-up at the end of every day can take up a bunch of make-up remover pads. You could, however, save your customers this agony by offering them reusable make-up remover pads. More so if you run a cosmetics or beauty dropshipping store.
Aim for quality brands that are easy to clean between uses. Pay attention to the materials they are made of too; good makeup remover pads should not be abrasive.
Clean Beauty Products
Beauty products are considered eco-friendly if they are:
Sold in recyclable or reusable packaging
Manufactured free of animal cruelty
Manufactured using natural ingredients that are ethically and sustainably sourced
Your beauty dropshipping store may also become quite popular if you list cosmetics that are free of toxic chemicals. Consumers prefer them because their ingredients are safer and are also less likely to emit toxic fumes or effluent during manufacturing processes.
Kitchenware
Kitchen items are some of the most highly used items in homes and commercial premises. This makes them a high-selling item and also one of the areas where the use of green products can make a significant impact.
Here are some kitchenware sustainable product examples you could include in your dropshipping store.
Reusable Straws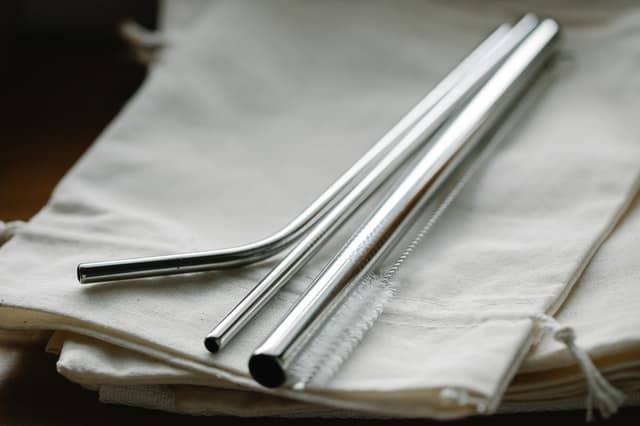 Reusable straws are often made of food-safe metals like stainless steel. They are easy to sterilize and can be used multiple times and thus they offer long-term value.
You could alternatively opt for bamboo straws which are often more affordable and can equally be used multiple times.
Reusable Coffee Filters
Reusable coffee filters are made of either cloth or metal.
Some coffee drinkers prefer cloth filters because they filter fine grounds better. On the other hand, some prefer the easy-to-clean design of a metal filter. Ultimately, it would be a good idea to offer both options.
Reusable Produce Bags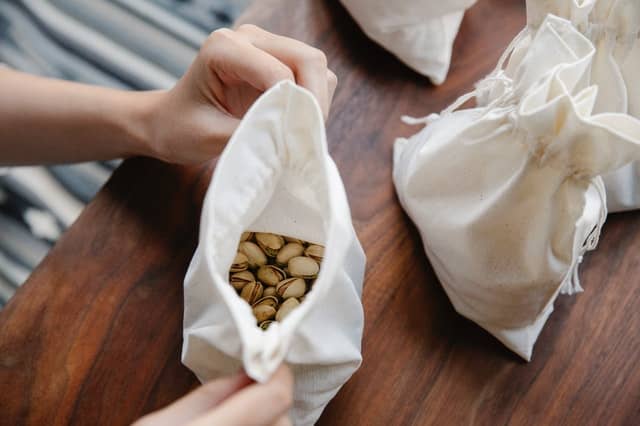 On average, a shopper is likely to use at least 2 shopping bags per shopping session. This leads to a high demand for produce bags that requires a very high level of production to sustain.
Reusable produce bags are designed using resilient fabrics that can be used multiple times. Aim for designs that are easy to clean and trendy enough to appeal to your shoppers' sense of style.
Reusable Coffee Cups
Research data based on Starbucks sales indicates that the company serves approximately 4 million coffee drinks in a day. This, by extension, means that customers use about 4 million coffee cups in a day.
You could tap into this vibrant market by offering reusable coffee cups in your store. All you have to do is highlight to customers, through ads, that they can positively impact the environment by buying the coffee cups you are offering.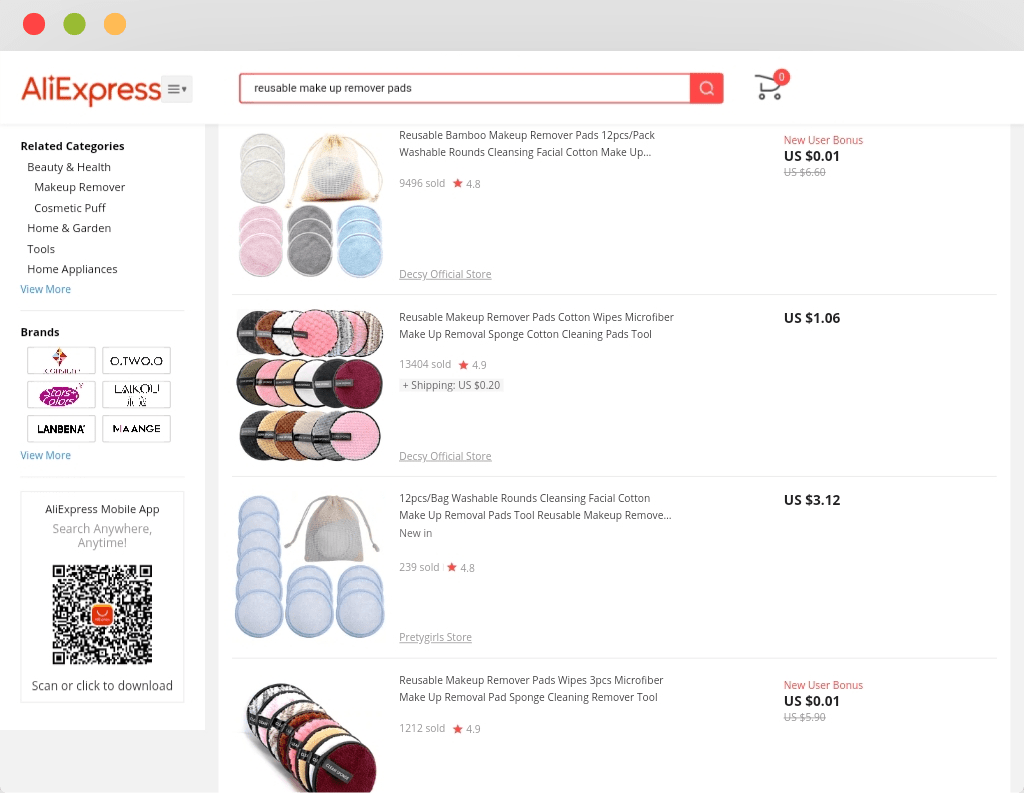 If you dropship coffee, consider cross-selling it with reusable coffee cups to increase sales and as a way to introduce eco-friendly options in your store.
Sustainable Fashion
Sustainable fashion focuses on using materials that are either recyclable or obtained from sustainable sources. If you drop ship clothing or run a shoe dropshipping store, you could introduce your customers to:
Sustainable Sneakers
Sustainable sneakers are just as cool as ordinary sneakers. The only difference is that they are made using eco-friendly materials such as:
Recycled bottles and plastic waste
Coconut husks
Natural hemp
Sugar cane fibers
The best part is, you can find different designs to cater to whatever your target customers prefer. Whether they prefer activewear sneakers, waterproof ones, or everyday-wear options, you easily find a sneaker supplier to deliver.
Eco-friendly Handbags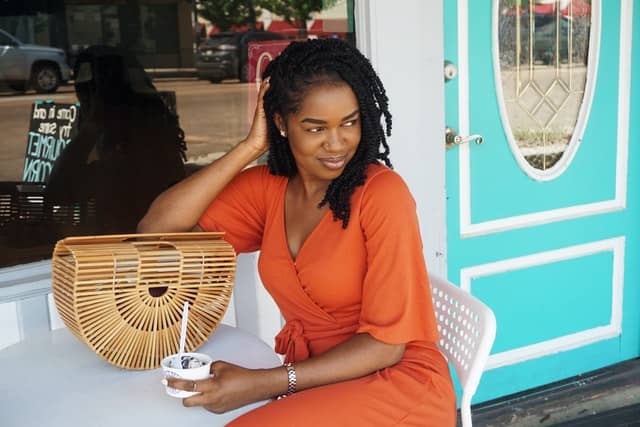 Eco-friendly handbags include:
Vegan leather options that are not made of animal hide
Plastic-free biodegradable designs
Colorful designs made of environmentally safe dyes
You could also choose to work with fair-trade handbag manufacturers that adhere to ethical production standards.
Sustainable Eyewear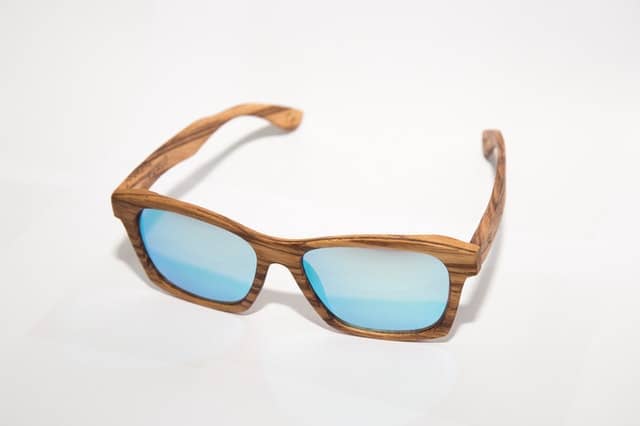 Whereas most sunglasses are made of plastic, sustainable eyewear is innovated using recycled and upcycled materials. The materials include recycled plastics, cork, or bamboo. They are stylish and are often more lightweight than typical materials.
Pet Care Accessories
Pet care accessories are a day-to-day need for pet parents. Most of them are made of plastic because plastic is:
Soft and non-abrasive
Lightweight
Dye-friendly and can be fashioned in different colors that are amusing for pets
However, there are now products made of alternative pet and eco-friendly materials that you can offer to your customers if you run a pet dropshipping store. They include:
Compostable Waste Bags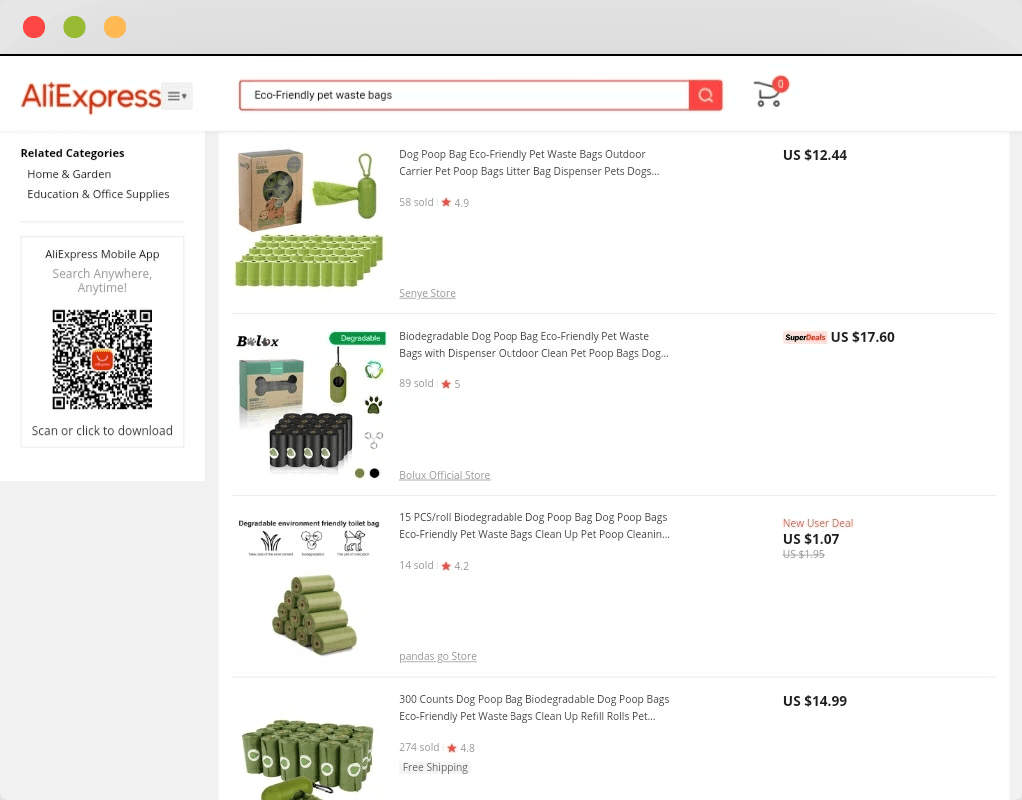 These bags are made of biodegradable paper which makes it easy for them to be disposed of in an eco-friendly way. Aim for brands that are well-lined and do not leak.
Non-plastic Leashes
Non-plastic leashes are made of either biodegradable or sustainably sourced fabrics. Aside from their eco-friendliness, they are durable and even more stylish than plastic leashes.
Pet Dishes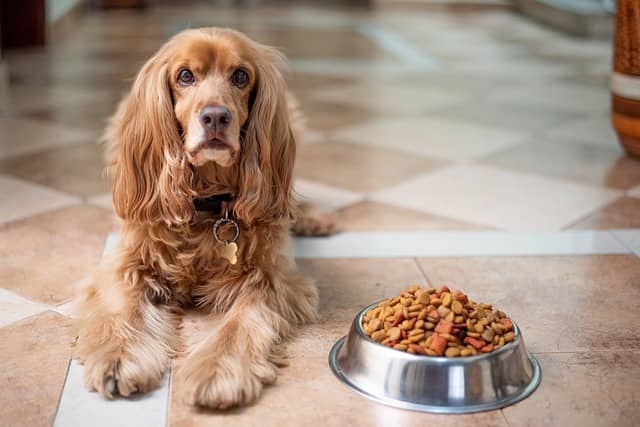 Pets can get rather excited and rough around their feeding trays. This is why plastic dishes that can be easily replaced are so popular.
However, your customers may appreciate the long-term service of recyclable pet utensils made of stainless steel and other food-safe materials. These green materials are also free of BPAs.
Home Care
Home spaces can be fitted with green products too. You could venture into drop shipping home care products such as:
Eco-friendly Furniture Accessories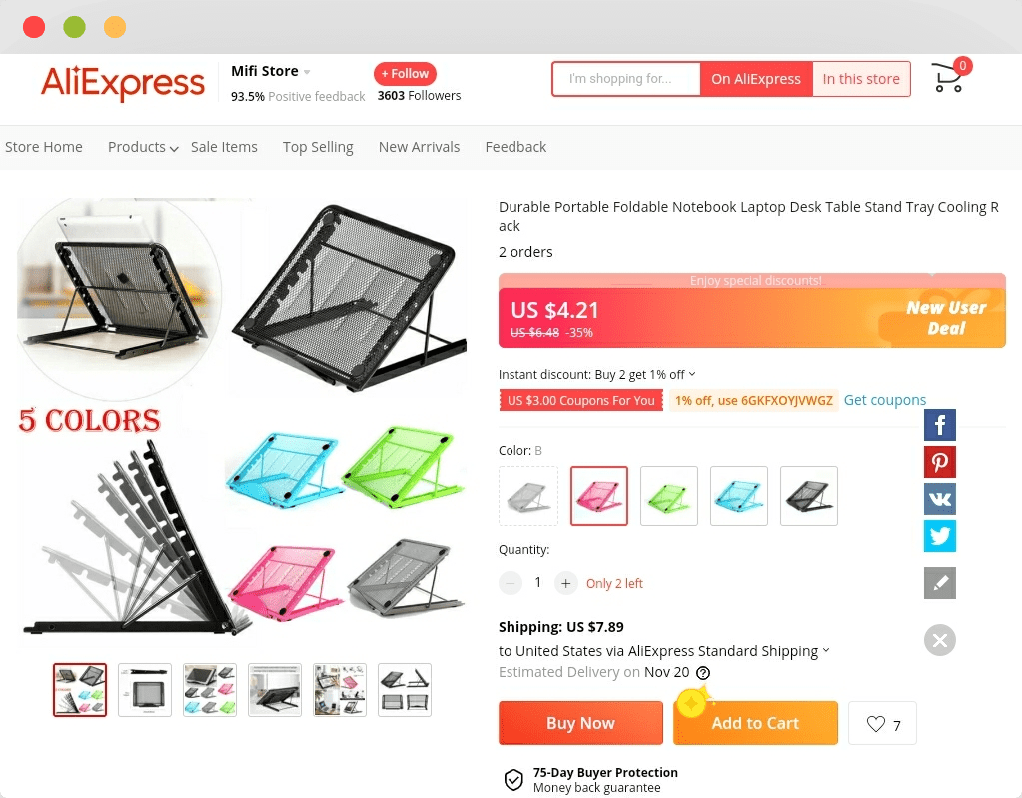 Wooden furniture is highly popular because it is homey and can be quite durable. Fortunately, you can still offer your customers these features through furniture made of recycled or sustainable materials.
Recycled furniture materials can include pieces made of repurposed wood or wood engineered using recycled plastic. The latter is known as plastic lumber and it can be used to make flower beds, mini laptop desks, benches, and much more.
Environmentally-friendly Cleaning Products
Homesteads contribute to environmental pollution through the wastewater that they discharge because it is filled with harsh chemicals from cleaning products. Some cleaning products such as sanitizing sprays also degrade the quality of air.
Endeavor to offer your customers safe cleaning products made of healthy natural ingredients. Choose brands that have been tested and certified as green. This way you can be sure that they are actually using the right ingredients.
Compostable Bin Liners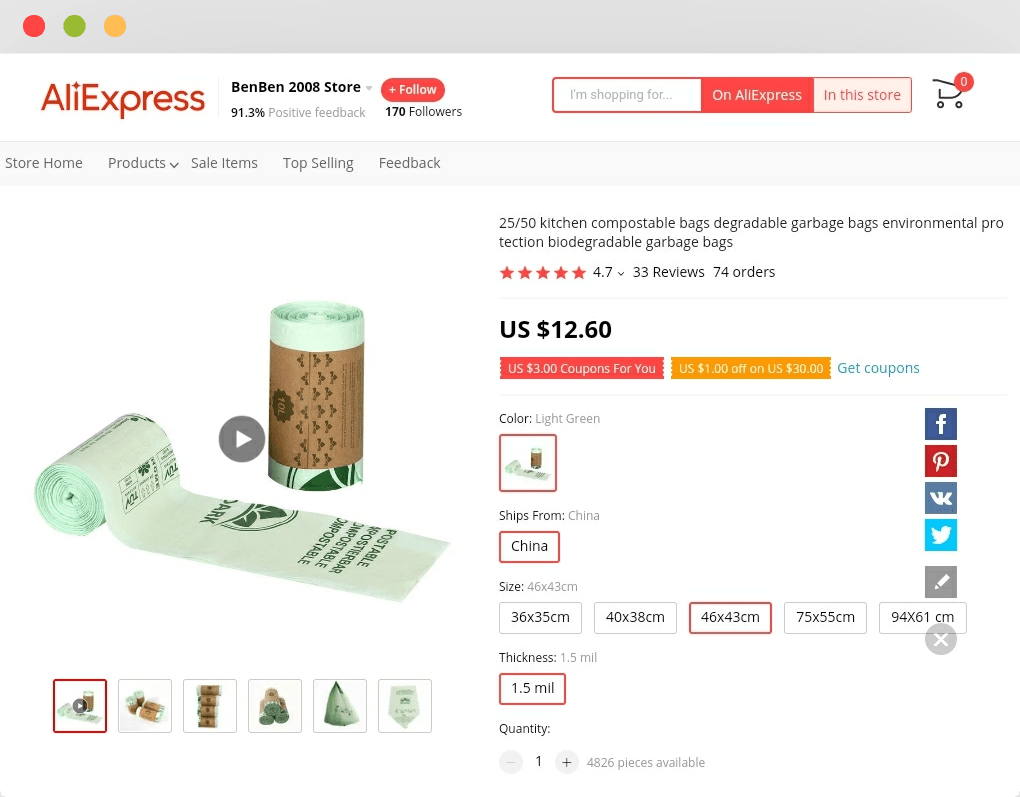 Compostable bin liners are made of biodegradable material. They can hold waste effectively and can be disposed of in an eco-friendly way.
As you add them to your product catalog, try to choose different sizes to cater to households with different bin sizes. Different colors may also be a plus as most people use color to differentiate various categories of garbage.
Eco-conscious Travel and Adventure Products
Exploring the great outdoors is fun but you can help your customers be more eco-conscious as they get out and about by dropshipping:
Recyclable Cutlery and Dishes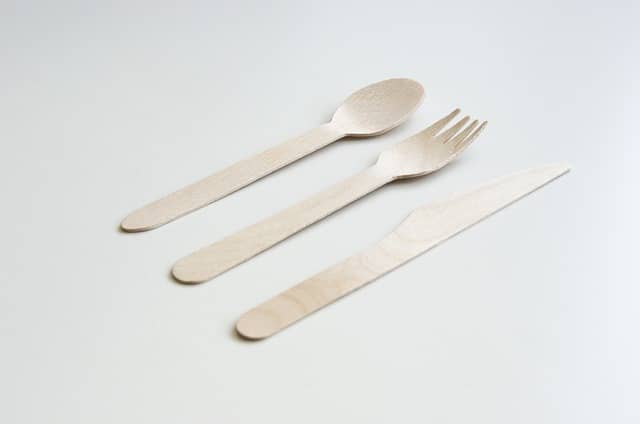 No one wants to spend their picnic or vacation cleaning dishes. Yet, one-use cutlery and dishes are both wasteful and not eco-friendly.
Recyclable cutlery and dishes solve these problems. They do not have to be cleaned after use but they can be tossed in the recycle bin and used to manufacture other items.
Compostable Dishes
Compostable dishes can be disposed of in a typical waste bin because they are biodegradable and would not harm the environment. They are made from sustainable materials and are thus ideal for users that prefer one-use utensils.
Reusable Lunch Wraps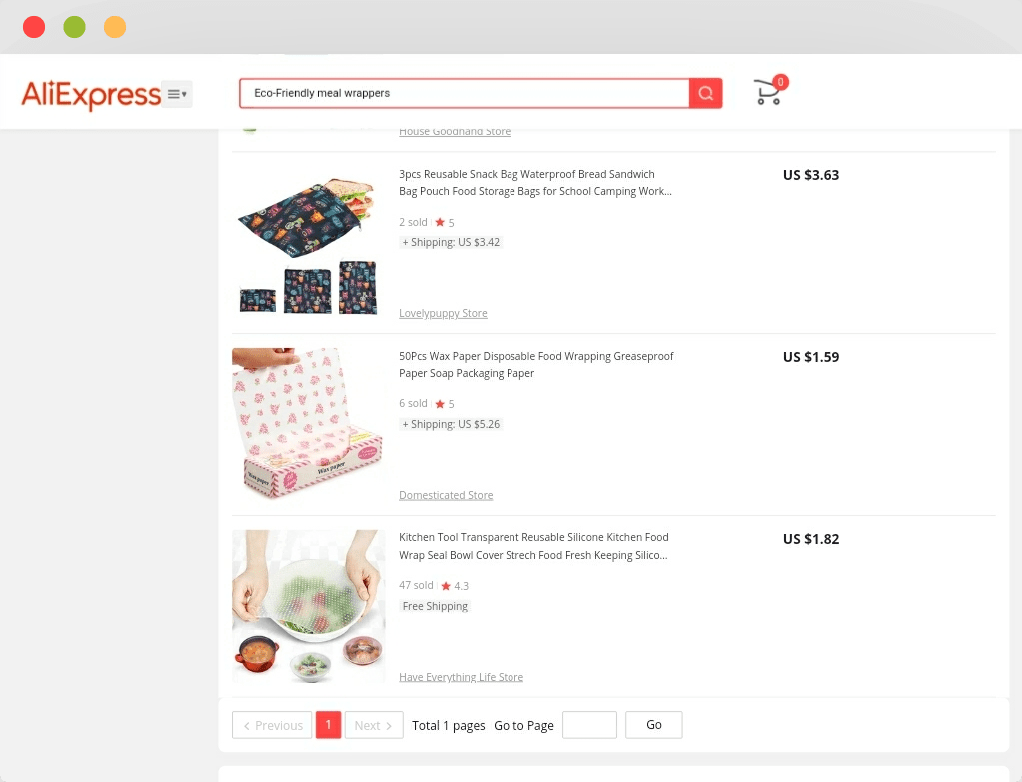 Lunch wraps are used to keep food well packaged during transit. Those made of reusable materials help cut back on one-use plastic waste. It would be an even bigger selling point if the lunch wraps are made of recycled materials.
Tech Items
Tech can contribute to environmental wellness in two ways. They can be designed to function in an eco-friendly way or they can be made of eco-friendly materials. You could partner with suppliers to dropship:
Solar Lights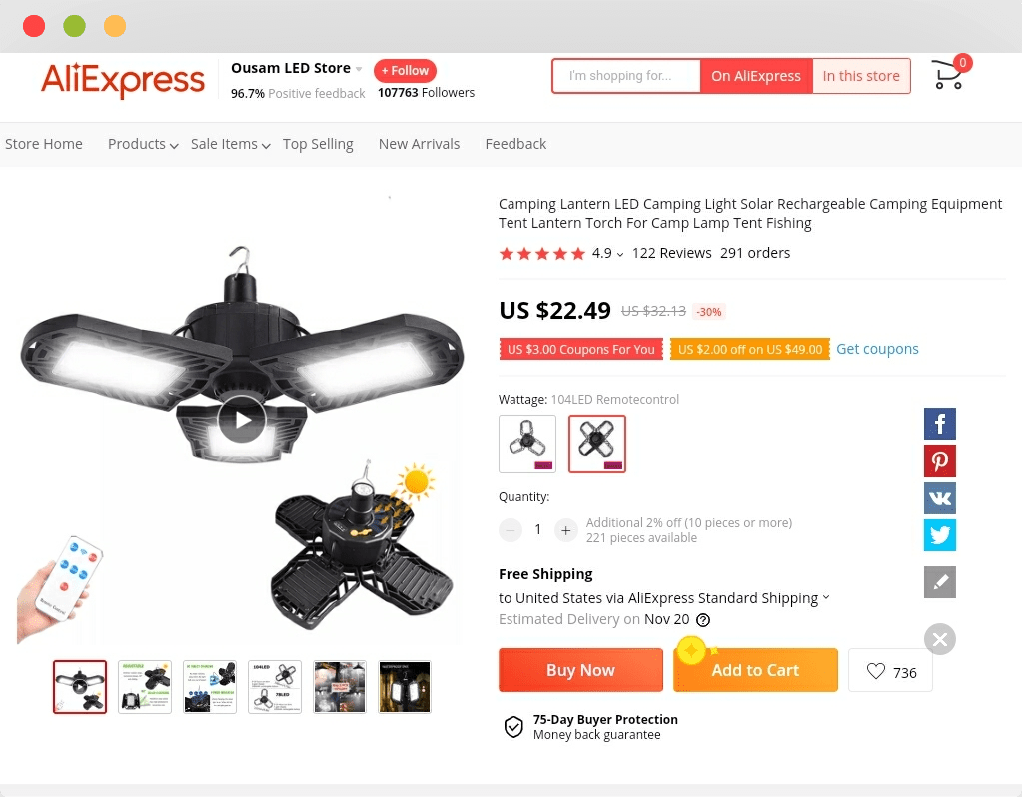 Solar lights are powered by the sun which is a renewable source of energy. They reduce the depletion of non-renewable sources of energy. Solar energy is also clean and prevents air pollution, unlike energy sources that require fuels to be burnt.
Solar Generator
A solar generator stores solar energy and can be used to recharge electrical devices. Most designs are portable and they can be used regularly by anyone looking to stick to clean energy consumption.
Alternatively, solar generators would be a hot-selling green product for emergencies like storms and adventures such as camping.
Phone and Earpod Cases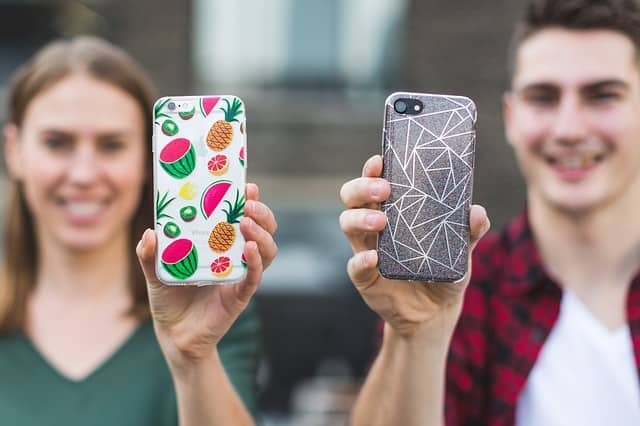 Phone and earpod cases are a must-have for most people because they offer a protective covering for devices. Instead of listing typical plastic ones in your dropshipping store, opt for eco-friendly alternatives made of recycled or compostable materials.
Try to use tools such as Google Trends to find out what phone models are popular within your target market. This could help you learn the kind of phone and earpod cases that are highly sought after by your target customers.
Frequently Asked Questions About Dropshipping Eco-friendly Products
Why Are Eco-friendly Products Important?
Eco-friendly products are designed to help preserve the environment which comprises the atmosphere, plants, water bodies, and natural resources that produce raw materials.
They are crucial because preserving the environment supports the perpetuity of life and the wellness of humanity in general.
Are Eco-friendly Products More Expensive?
Yes, they are often priced a bit higher. However, lately, the margin between them and non-eco-friendly products is getting more competitive.
This is because research and innovation have now made the production of eco-friendly items more affordable than it was in the early stages when eco-friendly products were a new concept.
Is Dropshipping Eco-friendly Products Profitable?
Yes, it is.
If you find a good dropshipping supplier that offers you fair wholesale prices, you can easily price the products at a healthy profit margin.
On the other hand, with more people consciously choosing to go green, you are likely to make higher volumes of sales which could amount to substantial profits.
Which Type of Advertising Is Best For Promoting Eco-Friendly Products?
Both written and video dropshipping ads could be effective in promoting eco-friendly products. The trick is to structure your messaging in a way that:
Highlights to customers why it is important that they choose environment-friendly products
Explains the quality and value that the green products you are selling can provide
Mentions the safe ingredients in the product you are advertising
What Are Ethical Brands and Are They Eco-Friendly?
Ethical brands are companies that prioritize and adhere to fair standards of manufacturing. These standards often include:
The use of healthy and eco-friendly ingredients
Manufacturing processes that are focused on reducing carbon emissions
The use of clean renewable energy
Fair wages and working conditions for staff
In a nutshell, yes, ethical brands are often eco-friendly but they are also characterized by other positive features.
Who Buys Eco-friendly Products?
Anyone can buy green products. There is no specific population niche that you must target to make great sales.
In fact, a recent study shows that most customers are very willing to buy eco-friendly products. They just do not know how to tell them apart from other products. If you can make this easier for them, you could easily get them to shop at your store.
How Do I Find Dropshipping Suppliers For Eco-friendly Products?
You can find suppliers for eco-friendly products through:
An online search
An online marketplace
Recommendations from online sites with directories of eco-friendly brands
Alternatively, you could choose to use a dropshipping company like NicheDropshipping. We can evaluate different manufacturers in China and help you find one that fully adheres to eco-friendly standards.
Moreover, we can leverage our long-standing relationships with reputable manufacturers to negotiate fair prices that allow you to earn a fair profit margin. Further, we offer:
In Conclusion
Green products are the future. They are likely to keep becoming more popular because they are sustainable and positively impact the planet. So, it would be wise to get ahead of the competition and establish your brand in this niche before they catch on to the trend.
The products in this list provide numerous options you could explore no matter what type of dropshipping store you would like to set up. Still, make an effort to keep finding new and innovative green products that offer your customers even more value.
Better still, at NicheDropshipping, we've got hundreds of green dropshipping trends and products on our list. So, all you have to do is browse through our catalog and choose the products you want to sell and we'll collaborate with their suppliers on your behalf.
Reach out to us to learn more about our expert dropshipping services.