Product research is fundamental for any entrepreneur looking to venture into dropshipping and e-commerce in general. It entails gathering data to find out what your customers are interested in, what they are shopping for, and other helpful demographics.
A quick Google search could point you in the right direction but, let's face it, a search engine is not optimized for the collection of such data. In turn, Google came up with a more refined tool known as Google Trends.
In this discussion, we define Google Trends, how it works, and more importantly, how Google Trends dropshipping can help you get ahead of your competitors.
Come along for the read, will you?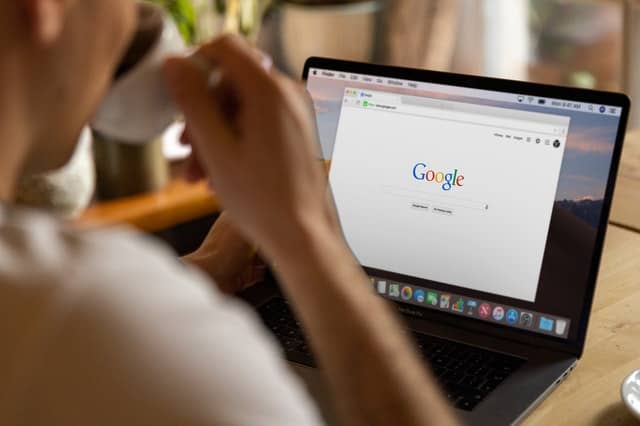 What Is Google Trends?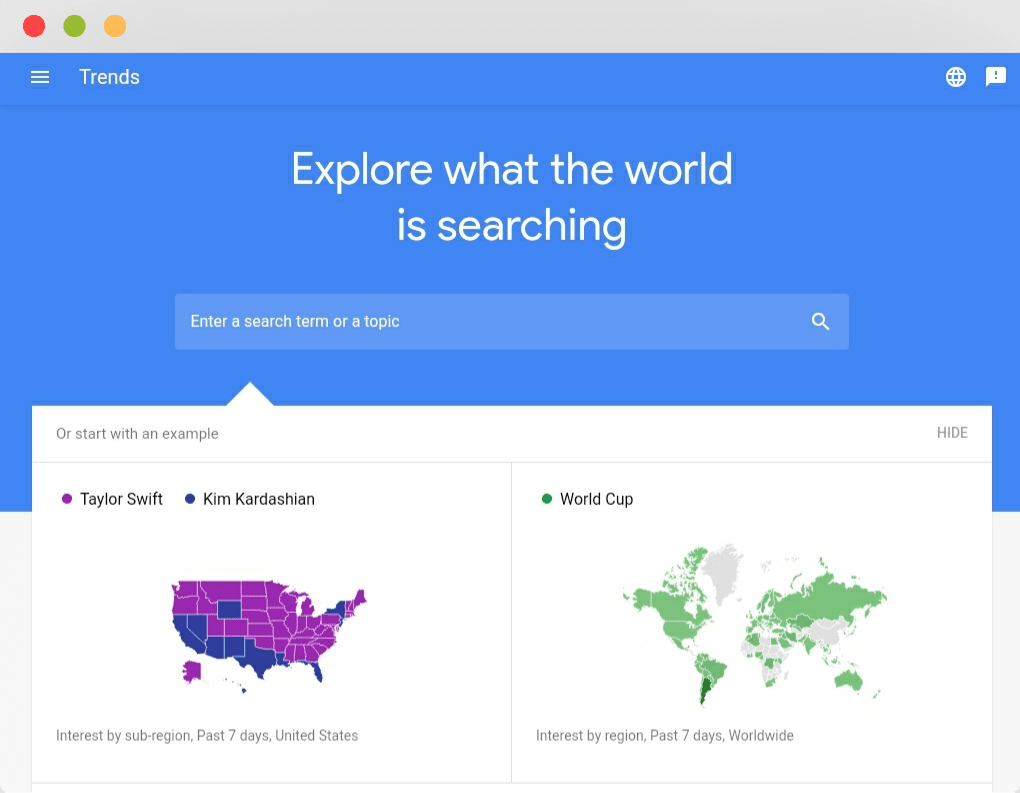 In 2022, more than 8.5 billion searches were run on Google platforms in a day. The search queries consist of different subjects that users across the world are interested in.
Google Trends is a tool that monitors these searches and consolidates them into informative data. The data is presented in graphs and search volumes that show the level of interest that Google users have shown in a product based on their searches.
This platform works in two ways. On one hand, you can visit the Google Trends platform and check out the trending subjects of the day or the year. Alternatively, you can look up data for a specific product by running a search using a keyword.
In dropshipping, the latter method would work best. For perspective, let us take for example that you would like to start dropshipping lighting products like bulbs. If you look up the keyword 'lighting' on Google Trends, you will get feedback on:
Interest over time- this is presented using a graph illustrating the level of interest over a certain period. You can adjust the time factor to show data from as far back as 2004 or up to an hour ago.
Interest by region- this search parameter shows users' interest based on geographical locations. It is illustrated as a map but you can also change it to get data in terms of search volumes.
Related topics and queries- these are lists that summarize the percentages of interest in items that are related to the keyword you searched. You can either check out top related topics or those that are rising (emerging).
Comparison- this search parameter allows you to compare trends between two or more products. For instance, if you are torn between dropshipping indoor and outdoor lighting, your comparative data on Google Trends would appear as follows: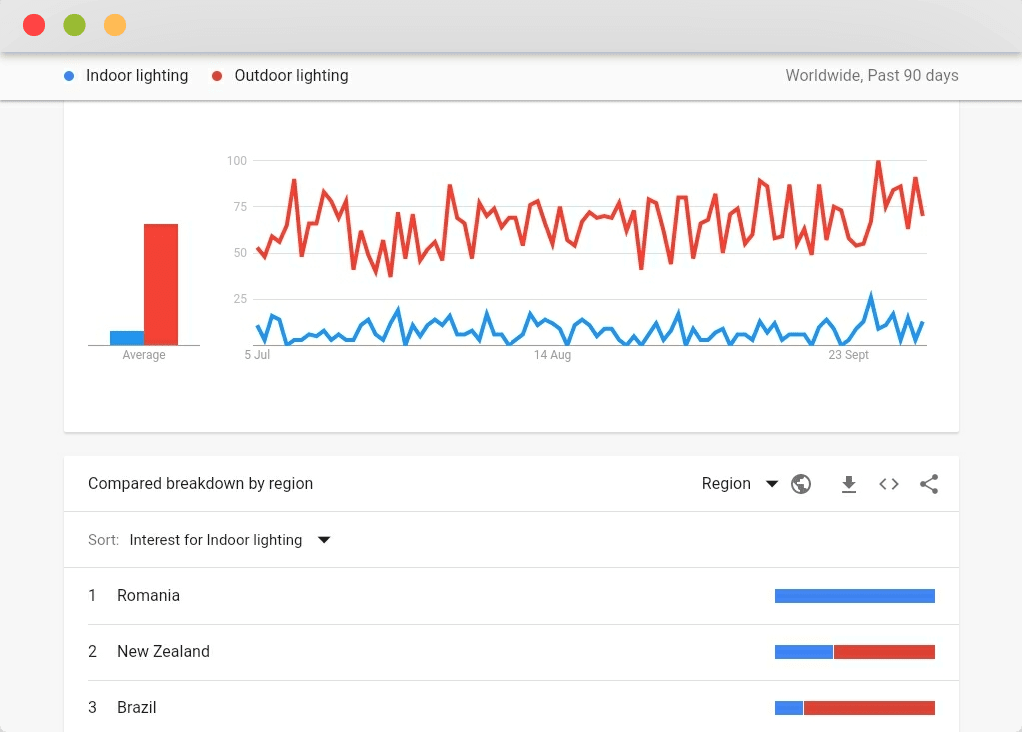 Further, you can use filters to select what type of Google Trends data you would like to see. This allows you to obtain information from users on different platforms and users with different search intents(more on this below).
The upside of this is that Google Trends does not pigeonhole your research to only one online dimension. It offers you an opportunity to get a more balanced view of the statistics it offers.
The filters include:
Google Shopping
Google Youtube
Web search
Image search
News search
Interpreting Google Trends Data
It is a great advantage to have access to data on various dropshipping products. However, the data is only useful if you can interpret it and subsequently use it to make decisions about the future of your dropshipping store.
Here is a brief look at how to interpret different trend indicators and what to avoid.
Interest Over Time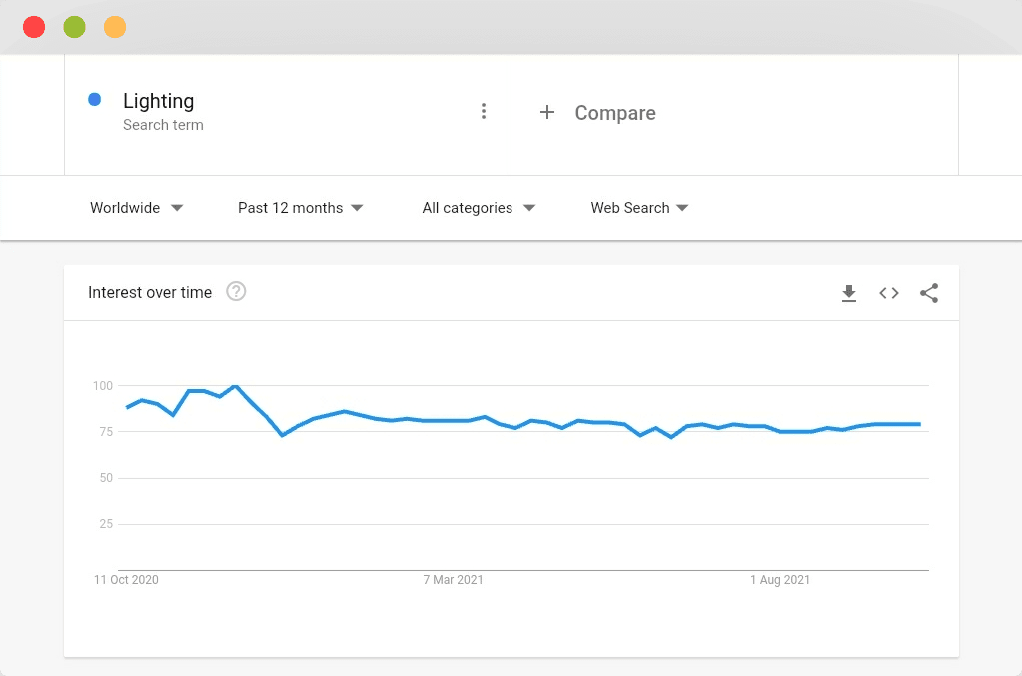 This trend indicator is illustrated using a graph. On the vertical axis, the level of interest is denoted by numbers ranging from 0 to 100. 0 indicates no/negligible interest, while 100 is the highest measure of interest.
Realistically, very few products can have a sustained interest of 100. However, any product that registers an interest level above 50 is promising and worth looking into.
That said, it is also crucial that you look at the nature of the graph.
A consistent curve– if the trend curve is consistent through the year, then it shows that you are likely to register consistent sales at that level for most of the year. Aim for a high level of interest though.
Rapid fluctuations– a trend curve with many ups and downs indicates an inconsistency in interest. This is not necessarily a bad thing but if there is a significant difference in percentage between the highs and the lows, tread carefully.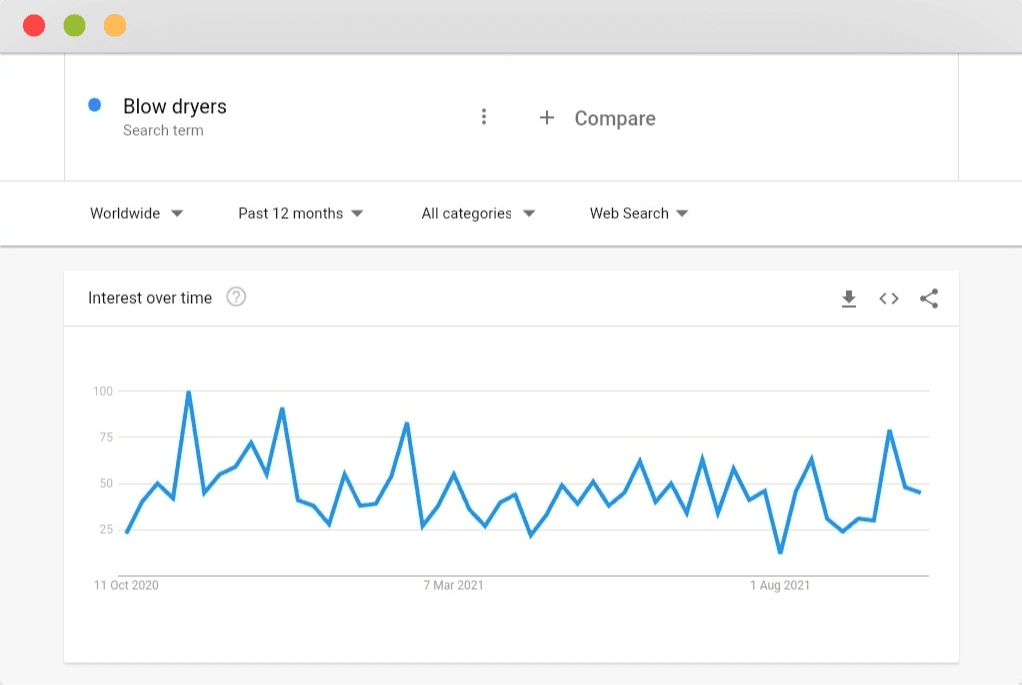 A steady rise– if the graph's curve has been on a steady rise for a couple of months, it shows that the product is currently a rising trend. The sooner you start dropshipping it, the better your chances of earning profits from the trend.
Seasonal spikes– this type of curve is common with products that users tend to only need at certain times of the year. Halloween costumes, for example, may have a seasonal spike in interest in October.
A one-spike curve– this type of curve usually shows one or a few spikes of interest in the past. After that, the curve dwindles below 25 and stays there. It indicates a product that is no longer popular and one you should probably reconsider.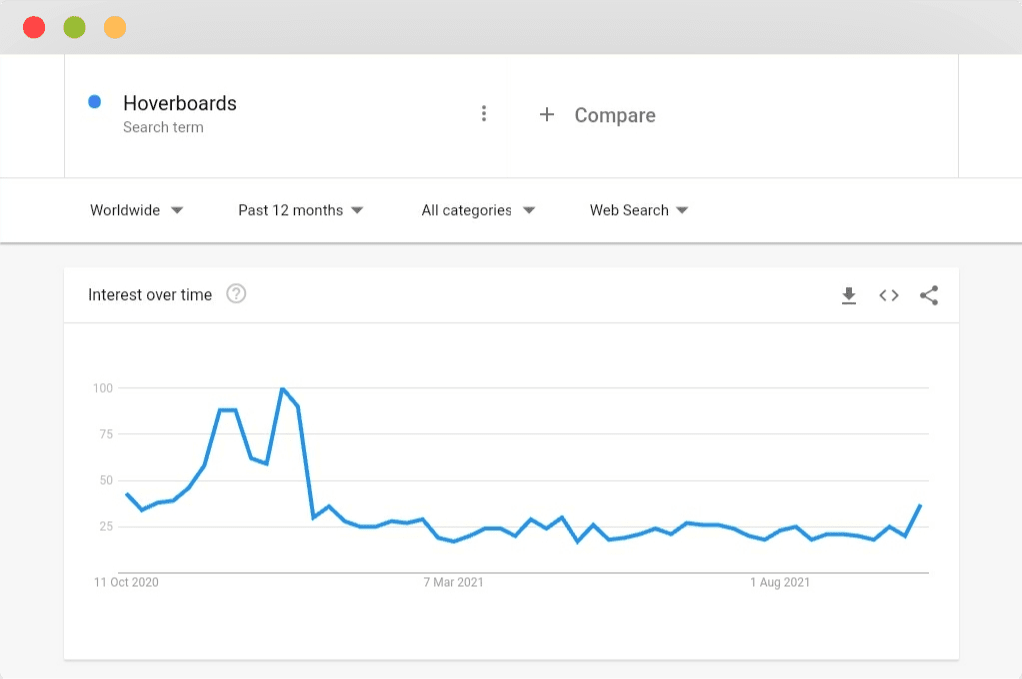 Interest by Region
Interest by region is displayed using a map. You may, however, get more concise data if you change settings and view the feedback in terms of search volumes.
High search volumes show that more people in that region are interested in that product. For accuracy, ensure that your location settings are optimized to match the regions where your target market resides.
Related topics and queries display keywords/products that are often in the same niche as the keyword/product that you searched.
Just like the other search parameters, a high percentage rating or a high search volume indicates high interest.
You can use this data to find other popular products to sell in your dropshipping store. If you set the filter to 'rising' you may also discover emerging winning products for dropshipping and get on them before your competitors do.
How to Use Google Trends for E-commerce
Now that you know how to make sense of all the data, let us discuss how to use it for e-commerce. More specifically, how to apply Google Trends data when setting up and running your dropshipping store.
Different aspects of Google Trends data can help you:
Zero in on a Dropshipping Niche
Finding a profitable niche is the first step towards setting up a successful dropshipping business. Nevertheless, it is a tricky decision that requires discernment and tangible data to help you decide whether the niche is viable.
Once you have a niche in mind, look it up on Google Trends to gauge how much interest it generates in your dropshipping market. Go further and look up the trends of some of the products you envision selling within that niche.
If both categories of searches indicate high interest, then you are probably on the right path. You can also compare different niche options to see how they rank against each other. This way, you will know which of them is the safer bet for you.
Select Specific Products
Finding the niche is only the first hurdle. Once you get past it, you will need to identify specific types of products and possibly even brands.
For example, if you are dropshipping security products, you may need to decide what type of security cameras to offer your cameras.
All you have to do is search security cameras as your keyword. Then, scroll down to the p with data on related topics and queries. Switch between the 'rising' and 'top' filters and you will get some feedback on what type of cameras users are looking for.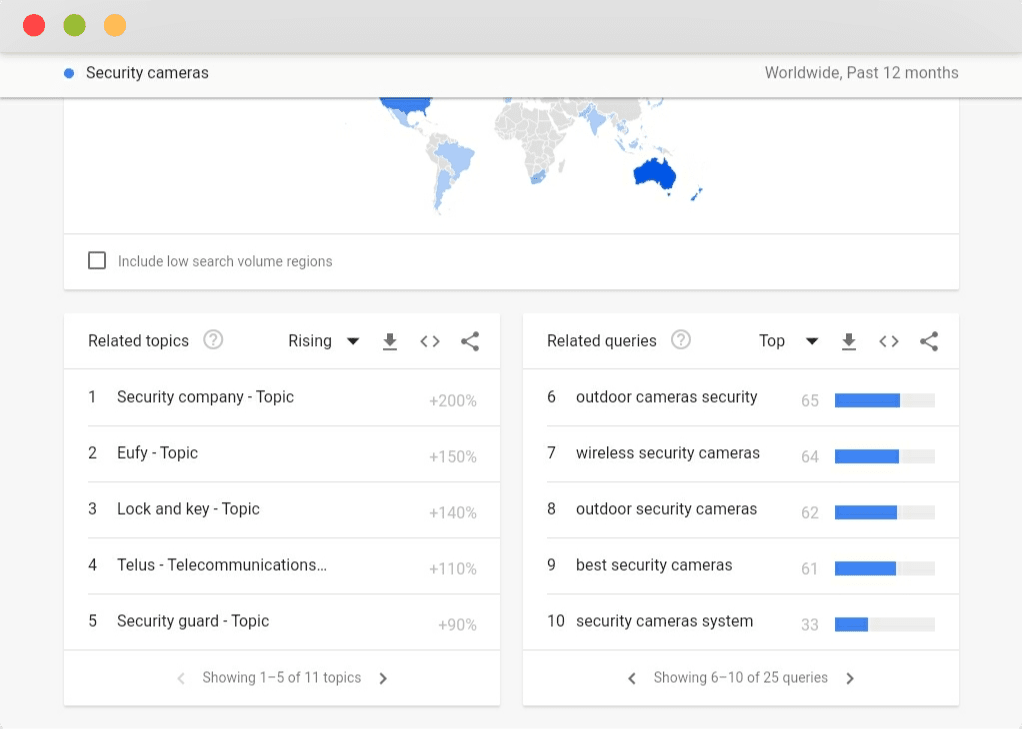 This approach can be replicated for most products. However, if you have specific product ideas or brands in mind, you can also look up their trends data through a direct search.
Keep up with Dropshipping Seasonal Trends
Annual seasons and events have a major impact on customers' shopping habits. Dropshipping in the fall, for example, is often characterized by a rise in demand for warmer clothing and back-to-school supplies.
You can use Google Trends to keep track of when these seasons kick off and the products customers are keen on. The start of a season is usually denoted by a sharp rise in the Google Trends 'interest over time' graph.
Research Keywords
Anytime a user runs a search on Google, the search engine scours through tons of content to find the most relevant results. The use of relevant keywords could help your dropshipping store rank higher than others among search results. This increases:
The chance of potential customers clicking on the link to your store and making a purchase
The visibility of your dropshipping ads if you use Google Ads to advertise
If you are uncertain about what keywords to use, refer to the 'related topics and queries' that come up when you search your niche on Google Trends search. They are often a compilation of other keywords that users enter into their Google search bars.
Discover New Markets
As you set up your dropshipping store, the practical approach would be to use Google Trends data that is specific to your target market.
However, once you are well-established and ready to scale, you can widen your geographical scope and explore new potential markets. If you had filtered your data to your city, you can widen it to country-wide data and eventually to regional and worldwide data.
Create Traffic-Driving Content
Google Trends provides a list of current trending topics. You do not have to search for them, they are simply displayed on the Google Trends home page. They are based on the subjects that are trending based on general searches on Google.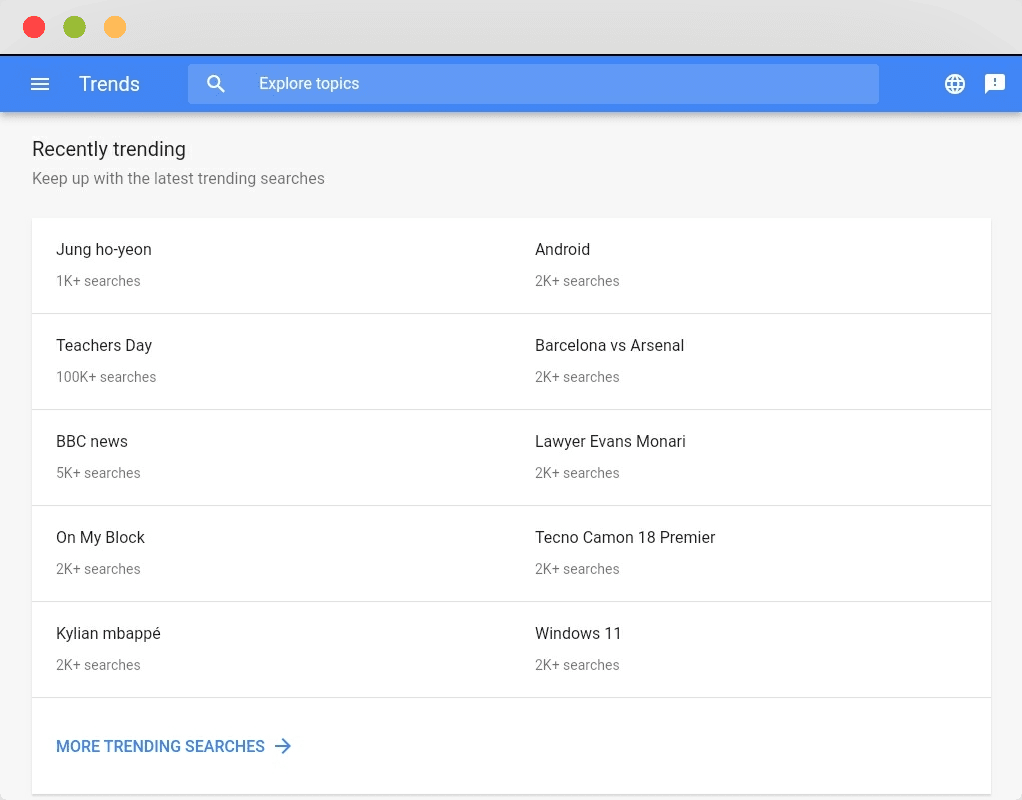 If any of the trending topics are relevant to your niche, make an effort to create blog content that relates to them. Also, where possible, use them as keywords.
The ripple effect of this is that when you users look up that trending topic your blog is likely to come up. As people click on it, it will drive more traffic to your dropshipping store.
Trending topics can also be used to generate traffic on your social media platforms such Facebook, TikTok, Instagram, or Twitter. To get even more traction, add the trending topic's hashtag to your post.
3 Tips on Google Trends Dropshipping
At this point, you most probably have a great grasp of how to use Google Trends. Still, it never hurts to know some insider tips and tricks that could help you get the most out of this tool.
We recommend that you:
Cross-Reference with Other Market Research Tools
Every dropshipping market is defined by different factors and not all of them may be available on Google Trends. This is why it would be a good idea to cross-reference your findings on this platform with data from other research tools.
For instance, if you can Oberlo subscription, you can find out if products that are trending on Google Trends are:
Being looked at or imported by your dropshipping competitors
Well-rated among other dropshippers on Oberlo
Being bought by consumers from dropshipping stores
This approach would give you a fuller perspective of the products or niche that you are considering and help you make a more informed choice.
Choose Your Keywords Carefully
The data you get from Google Trends wholly depends on the keywords you use during your search. Make an effort to use keywords that are popular in your niche but also consider search intent.
Search intent is the thought process that leads a user to look up an item on Google. For instance, if a man is shopping for jogging shoes, he may use different variations of keywords such as:
Jogging shoes men
Jogging shoes for men
Best jogging shoes men
Nike jogging shoes men
All these keywords are related but they are phrased differently; the last two are also more specific. More importantly, they represent different user search intent.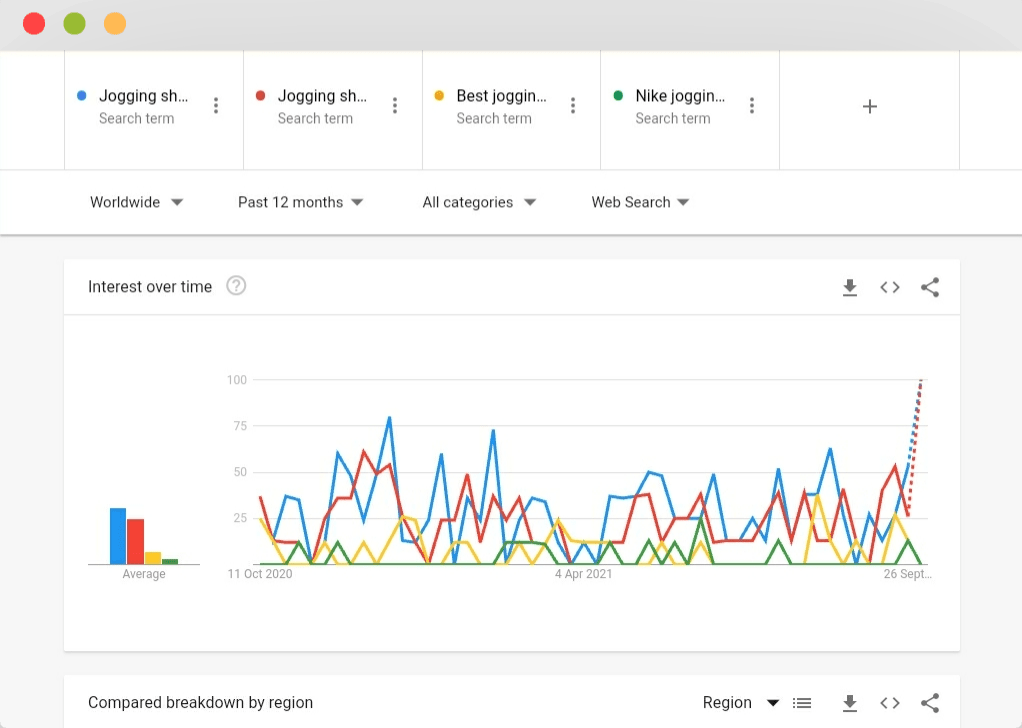 The bottom line is, if you use them on Google Trends, they may present different data. Therefore, you need to consider and compare these different aspects for you to get a more accurate read on the market.
Use Google Trends Data to Find the Right Dropshipping Supplier
Google Trends could help you identify:
A good niche
Products to sell
Popular brands in the market
Geographical areas that your dropshipping business can expand to
Make an effort to use this data as you choose dropshipping suppliers. Aim for suppliers that:
Manufacture or can source the products that you require
Are flexible enough to help you keep up with dropshipping product trends
Offer dropshipping fulfillment to the geographical regions that you may expand to once you start scaling your dropshipping business
Final Thoughts
Few market research tools can hold a candle to Google Trends. It offers an unmatched scale of global data and better still, it is completely free. You only need to ensure that you:
Use the right keywords
Use the comparison tool to find the best niche and product options
Take your time to interpret the data
Cross-reference it with other credible market research tools
Find a dropshipping supplier that can meet your needs
At NicheDropshipping, we offer free product sourcing and consult with multiple leading manufacturers in China to find the products you need. Additionally, we run quality inspection checks on your behalf, then collect and warehouse your merchandise.
We dropship worldwide and provide other value-adding dropshipping services such as branded packaging, white labeling, and private labeling.
Do reach out to us to discover more about how we can align our services to meet the needs of your dropshipping business.