Everyone strives to keep themselves, their loved ones, and their property safe. Subsequently, most people prioritize security products and are often willing to pay a premium for them. More so if they are effective and reliable.
Fortunately, due to the evolution of technology, there are now plenty of advanced security solutions in the market. All you have to do is identify those that would appeal to your target market and list them in your dropshipping store.
In this article, we have put together a list of top dropship security products to help you get started. We also address some key questions that you may be grappling with about dropshipping security products.
Curious to learn more? Come along.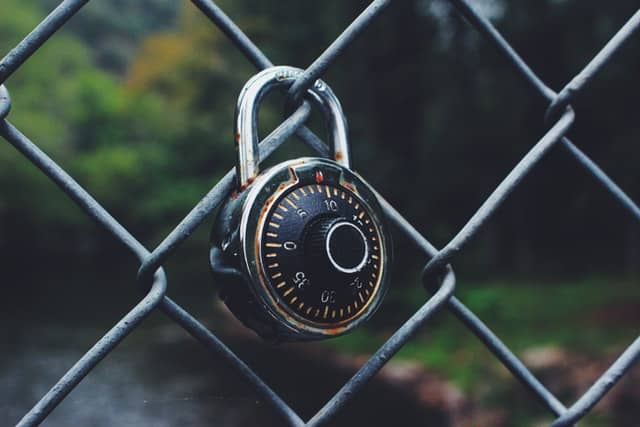 What Are Security Products?
Security or safety products are items or systems that are used to protect people or property from harm, theft, or malicious damage.
This is a vast niche. Therefore, you can choose to dropship security products in general or focus on personal, home, or property-related security products. It all depends on your target market and your vision for your dropshipping business.
Now that we have defined the niche, let us get into some of the products you could consider listing in your store.
Surveillance Cameras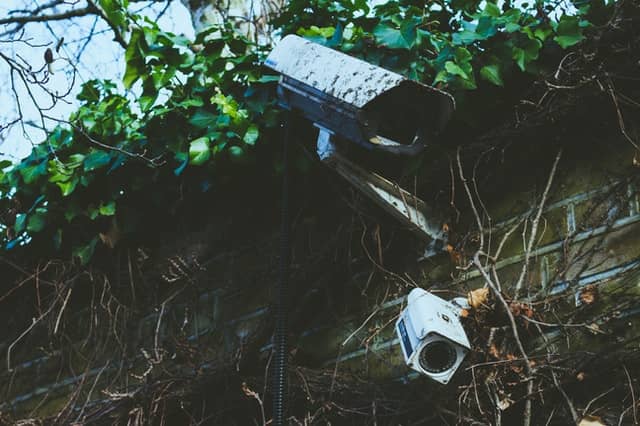 Surveillance cameras provide users with a real-time or recorded view of their property. They are available in different designs that all provide different functionalities.
Subsequently, it would be best to work with a supplier that offers a wide variety of security cameras models. In addition to multiple functionalities, aim for security cameras brands that offer good resolution and are fairly easy to install.
Some popular models include:
Dome Cameras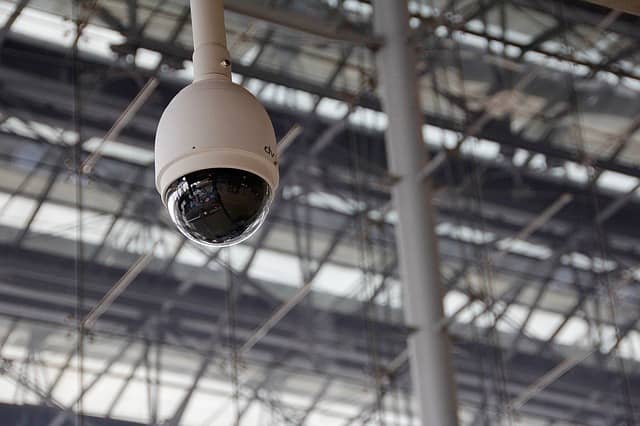 Dome cameras are popular due to their discreet design that could easily pass for a light fixture. They are also quite resilient even in areas where they may get exposed to dust or other forms of dirt.
Day/Night Vision Cameras
This type of camera ensures that users can still keep an eye on their property even in low-light or night-time conditions. However, they also function perfectly in the daytime when there is sufficient lighting.
Pan, Tilt, Zoom (PTZ) Security Cameras
A PTZ camera would be ideal for customers that would like to install only one or two cameras. This is because it can be set or controlled to pan an area and provide a surveillance feed of different ps of it.
Wireless Security Cameras

Wireless security cameras transmit live property feeds to users via Wi-Fi. They are remarkably handy because users can view their property from wherever they are as long as they are connected to the internet.
Thermal Security Cameras
Thermal security cameras are built with heat sensors which they use to distinguish between intruders and objects. They are also able to provide thermal images even in dusty, foggy, or other unfavorable conditions.
Bullet Security Cameras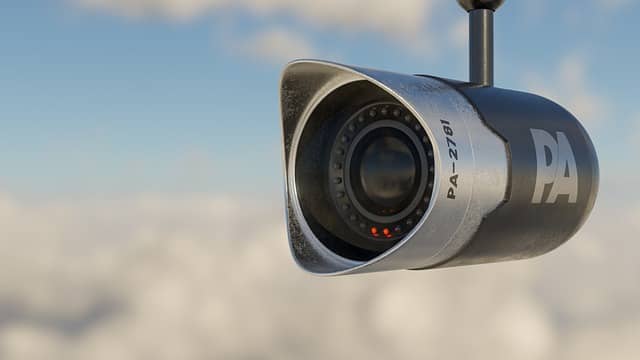 These bullet-shaped cameras are encased in a metallic body. They are ideal for outdoor applications, work well even in low light, and are quite durable.
Motion Sensors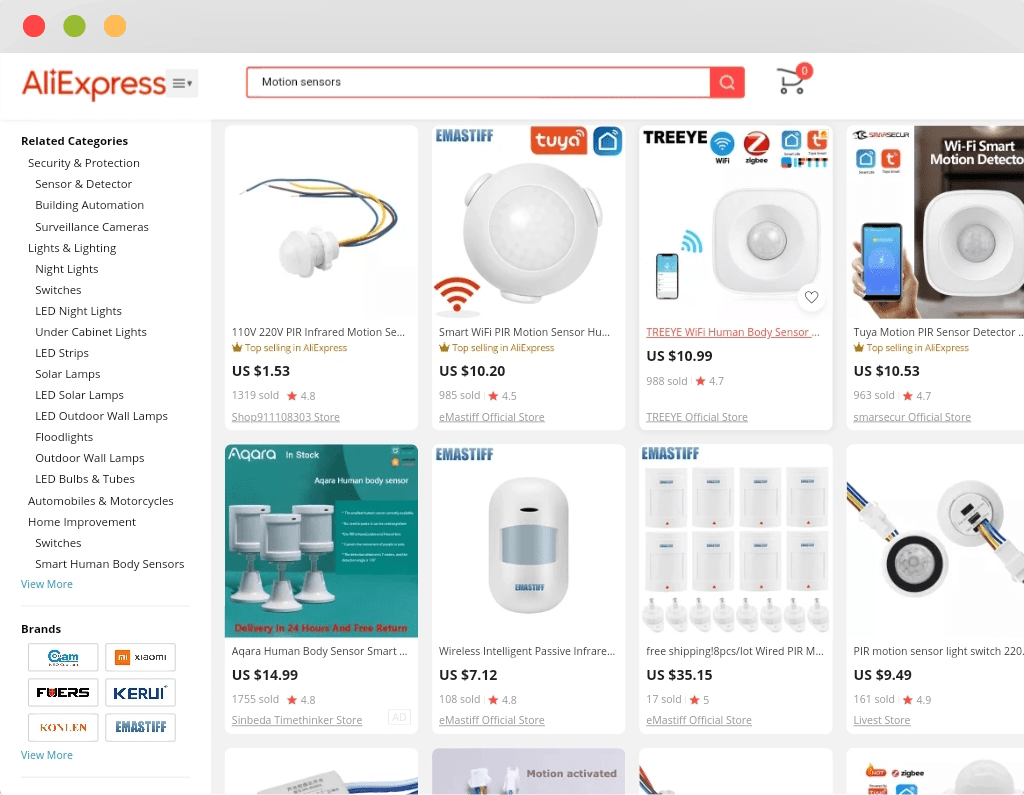 Motion sensors are devices that are designed to detect movement in an area and react accordingly.
Take for example, that you have an activated motion sensor in your living room. If a burglar comes in while you sleep or are away, it will alert you or your security firm.
In light of this, your customers may appreciate:
Contact motion sensors – they can be placed on doors, windows, and other surfaces. Once activated, they will raise an alarm anytime the surface is touched.
Adjustable sensitivity motion sensors – they can be set to ignore or detect people or pets based on their weight and height.
Passive infrared motion sensors – they detect motion based on body heat changes in a room. They are not subject to electrical interference and generally much safer as they do not emit active radiation .
Video motion sensors – they are usually connected to a video security camera. When the sensor detects motion, it activates the camera. They can also be set to notify the owner of the property of the intrusion.
Baby Monitors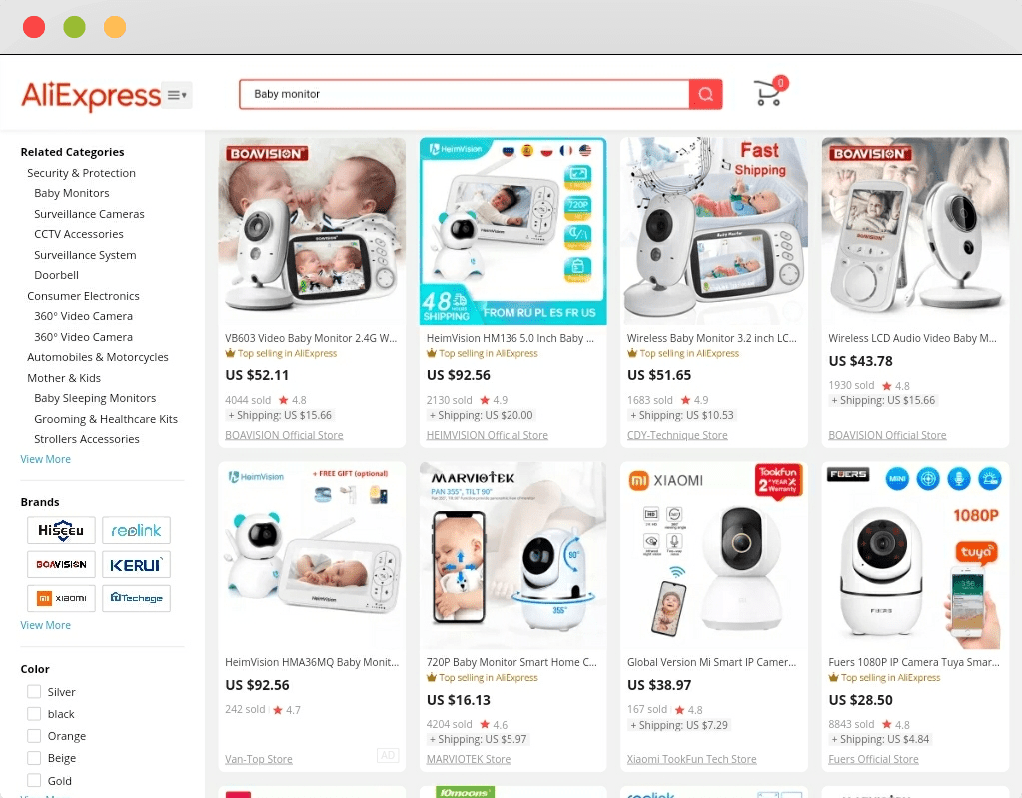 Child safety is critical. More so because parents and guardians often have to delegate their responsibilities to hired caregivers. Stay-at-home parents also have to juggle caregiving and other house chores.
Your dropshipping security store can solve these problems for them by offering:
Audio baby monitors – they relay a baby's cries, coos, co, and other sounds in the nursery to the caregiver so that they can respond as needed.
Audio-video baby monitors – these monitors allow a caregiver to see and hear everything going on in the baby's vicinity. Some models have motion sensors too.
Wifi camera baby monitors – they relay video or audio feed of the baby via the internet. They can be used without proximity limitations, unlike radio-frequency monitors.
Smart Doorbells
Smart doorbells require a wifi connection and function as follows:
A guest rings the smart doorbell
The smart doorbell sends a notification to the homeowner's smartphone via wifi to alert them that there is someone at their door.
Smart doorbell notifications are sent whether the homeowner is home or away. They thus make it possible to monitor entryways at all times and even forestall intrusions.
It would be a good idea to offer your customers both audio and audio-video smart doorbells. Audio models would allow them to respond to notifications via two-way voice communication. Audio-video models make it possible to see and speak to the guest.
Smart Padlocks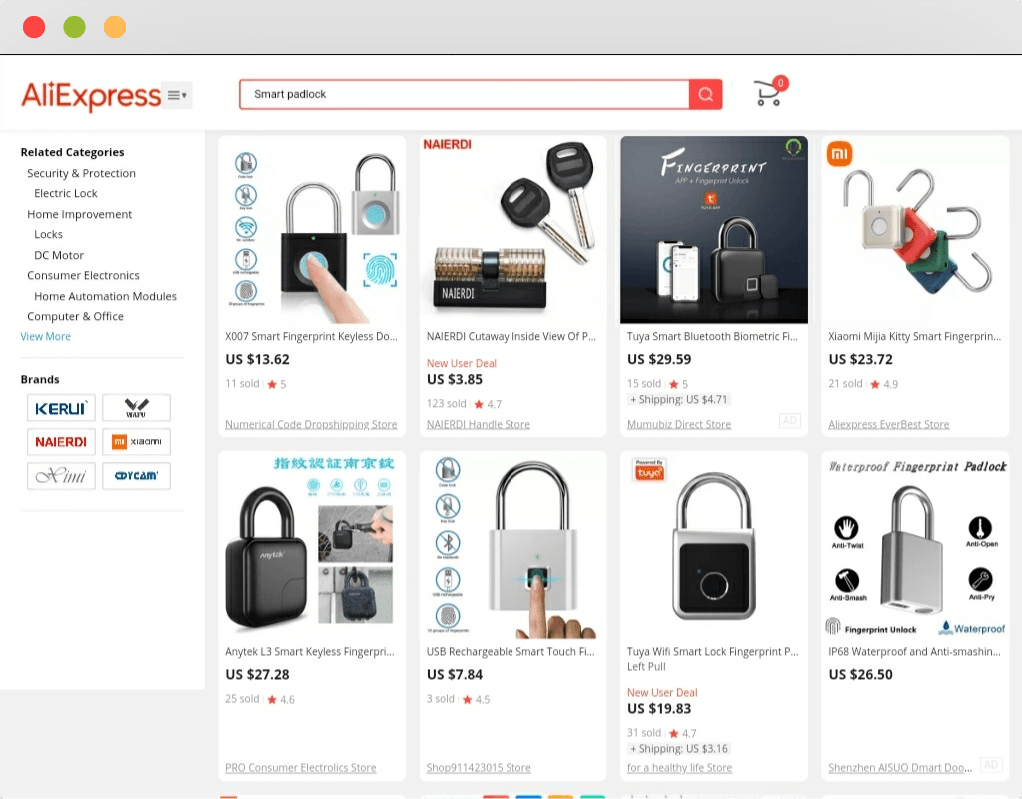 Smart padlocks are designed with either wifi or Bluetooth connectivity. Consequently, they can be locked or unlocked using tech-based methods such as:
Fingerprint scanning
A smart mobile phone/device app
Digital support solutions such as Google's Alexa
As you curate your list of dropshipping security products aim for smart padlocks that:
Offer multiple control options such as passcode entry, Bluetooth or wifi connectivity to your smart devices, voice activation via an app, and a traditional key as a backup
Send prompt alerts to a user's smartphone
Can be paired with other smart home solutions
Can auto-trigger permanent locking after multiple wrong attempts are made to unlock it
Alarms
Alarms are used as security measures to scare off intruders or notify other people on the property that there is an ongoing attack. Some alarm types that you can offer include: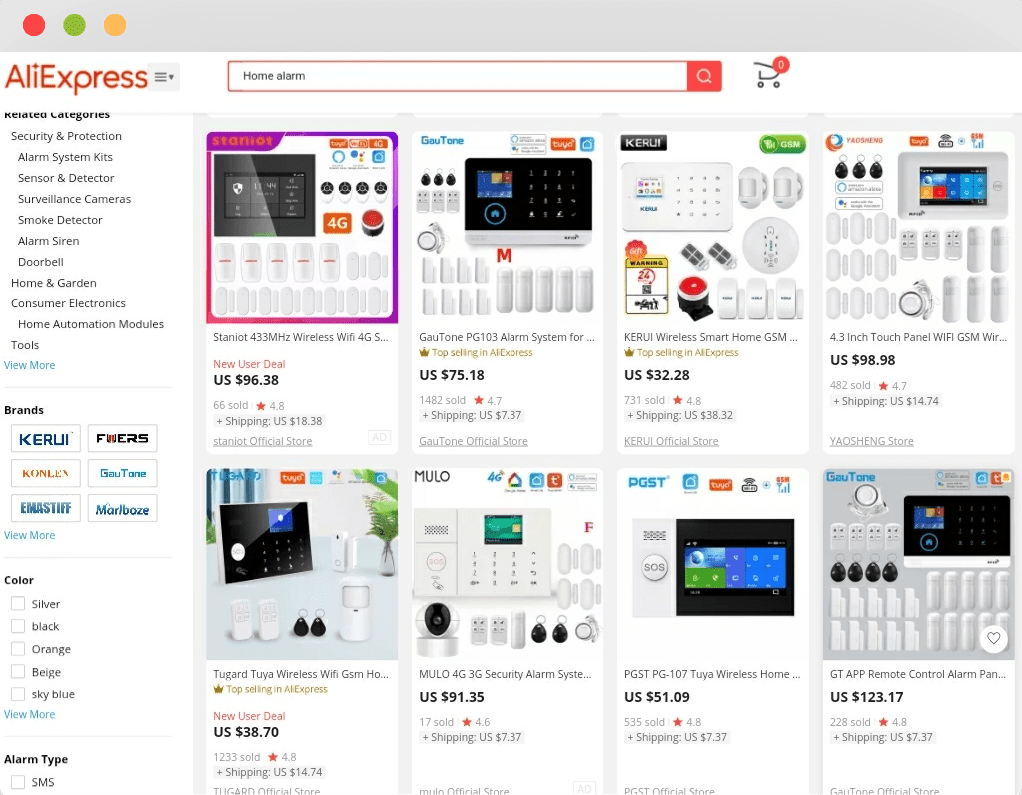 A Silent Alarm
These often comprise alarm buttons that are strategically placed. When the alarm button is pressed, it sends a notification to the designated security personnel without making any sound.
An Audio Alarm
Audio alarms are loud and can be used to stun intruders and alert others of their presence. Electronic barking dogs also fall in this category.
Smart Alarms
This type of alarm can be silent or loud. Their distinction is that they send notifications to the property owner or security personnel via wifi. They are, therefore, ideal for remote security monitoring.
Safes
Safes would be a hot-seller among customers that would like to safely store valuables and risky items like guns. The trick is to offer a variety of them to cater to different tastes and storage space needs.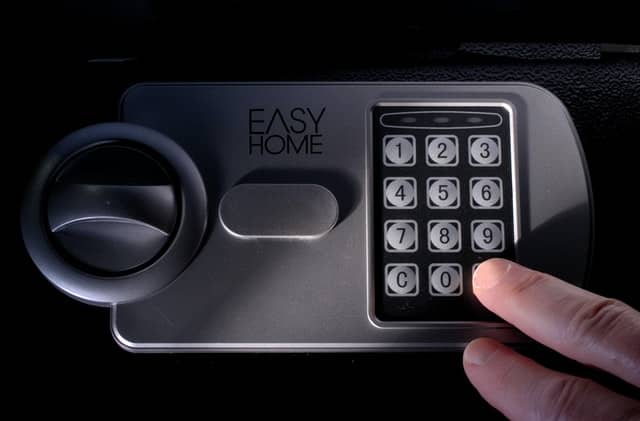 Consider:
Burglar Fireproof Safes
This type of safe is often made of heavy steel and coated in fireproof material. It is likely to be popular in your dropshipping store because it offers protection against theft and fire damage.
Floor and Wall Safes
As their names suggest, floor and wall safes can be installed in the floor or in a wall. The idea is to keep them concealed and hard for prying eyes to find. They are, nevertheless, still built with a tough body and complex locking mechanisms.
Smart Safes
Smart safes can be installed in different areas based on design. However, they have a wifi-operated locking mechanism. They can be locked or unlocked using a fingerprint scanner or activation via a smart device like a smartphone.
Personal Safety Gadgets
Personal safety gadgets are self-defense measures that people can use on the go. They include:
Self Defense Alarms
These are small devices that resemble key rings or key fobs. They are designed with a string or a button that can be pulled or pressed when a person is in danger. The device would then emit a loud stunning sound to ward off an attacker or summon help.
It would be best to select self-defense alarms that are easy to activate and child-friendly (some parents would like to buy them for their kids).
Tactical Pens
Tactical pens are shaped like ordinary pens but have extra features. They usually have:
A heavier metal casing that can be used to hit an attacker
A sharper ballpoint tip
A blunt end tip that can be used to break through glass barriers
Other hidden features such as a small blade or a concealed handcuff key
A Self Defense Torch
A self-defense torch emits an overwhelmingly bright light to disorient attackers. It should preferably be small, easy to handle, and have a long-lasting power source.
Pepper Spray
Pepper spray is an irritant chemical and that wards off attackers with ease. Most distributors supply it in small spray cans but there are also trendy unassuming designs like pepper spray key rings.
Trackers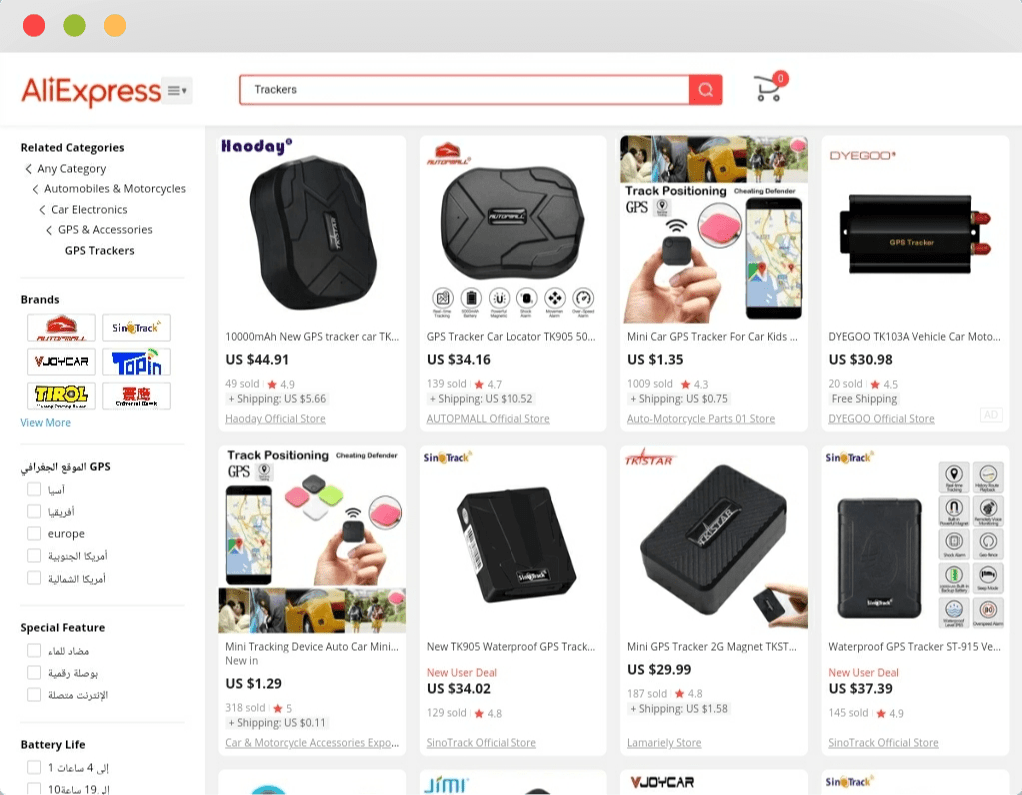 Trackers are small devices that emit a traceable signal when activated. They would allow your customers to keep track of their gadgets, wallets, pets and more. They can also be attached to kids' bags or key rings.
Frequently Asked Questions About Dropship Security Products
Is It Legal to Dropship Security Products?
Yes. Home and property security products usually have no legal limitations or restrictions.
However, the legalities surrounding self-defense security products can differ from one jurisdiction to another. Pepper spray, for example, is not legal in the Netherlands. Yet, in the US, it is legal in at least 50 states.
In a nutshell, it would be best to confer with legal authorities before you begin selling any product that could be used as a weapon. Guns, tasers, and stun guns all fall under this advisory.
Is Dropshipping Security Products Profitable?
Yes, it is. Even though some items may be relatively pricey, most shoppers find them to be worth the investment.
That said, this niche may require some strategic marketing. Strive to create dropshipping ads that are informative and show potential customers how the products you offer can improve their safety.
Further, keep in mind that people have diverse security needs. As such, aim for a diverse list of security products. If you cannot find all the products you want from one supplier, consider partnering with multiple dropshipping suppliers.
How Do I Find Dropshipping Suppliers For Security Products?
Contrary to popular opinion, security product suppliers are not rare. They can be found on online marketplaces like AliExpress, through an online search or referrals.
If you are worried about their legitimacy or the quality of their products, you could:
Evaluate the brands of products that they offer – a brand name enables you to look up the product and find out what it offers and how other users rate it. If the brand is not well-rated, then you may need to find another supplier.
Look out for a reasonable refund and returns policy – if the security product they offer falls short, your customers should be able to return it and get a refund or replacement product.
Stick to accredited distributors – given the sensitivity of security products, some brands have authorized wholesale distributors. Working with them assures you of authentic products.
On the other hand, you could choose to source your security products directly from manufacturers. Moreover, we, at NicheDropshipping, can help you find the best security product manufacturers in China.
Our product sourcing services are free and we can coordinate the entire process with manufacturers on your behalf. This includes negotiating fair prices, quality inspection, warehousing, and dropshipping fulfillment.
Do I Require a Special Licence to Dropship Security Products?
Standard security products such as alarms and smart padlocks may not require any special licensing. However, as aforementioned, self-defense products may be subject to more legal specifications.
To Sum It Up
Dropshipping necessities, like safety products, is always a wise idea. This is because, unlike vanity or luxury products, people are always willing to invest in protecting what they hold dear.
Nonetheless, you will still have to contend with competitors and other market forces. So, make an effort to:
Select modern effective security products that offer reliable solutions
Create dropshipping ads that explain and demonstrate the problem-solving value of the products in your online store
Use target marketing to ensure that you are marketing the right solutions to the right target market
At NicheDropshipping, we can help you find the right product for your dropshipping security products store. We also provide an all-inclusive array of dropshipping services and fulfill orders worldwide.
Contact us today for more details on our services.