Dropshipping is fun and seems to be an easy way to get your online business started within hours. But when it comes to taking the practical steps, it can be a tedious job, especially for the newcomers.
That is why we have brought this compact guide that provides comprehensive information on a dropshipping store checklist.
Whether you are planning to go for a Shopify dropshipping store or you want to start with Woocommerce or any other platform, you need to fulfill all the items mentioned in this checklist to succeed.
Let's start.
1. Getting Started
Every regular dropshipping model starts with a website. This website is often referred to as an online store in terms of eCommerce. You need the following things to set up your store.
Domain Name
This is what your visitors and customers are going to see. You need to have a domain name that represents your business. You are free to choose the extension that is .com, .net, .org, etc.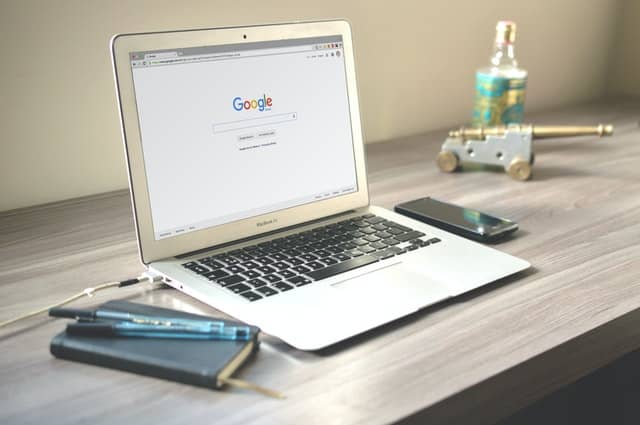 But you need to try to choose the name that broadly reflects the nature of your dropshipping products. If you are launching a general store, then any general name will do the job.
Just try to make the domain name catchy and short enough so that your visitors and customers find it easy to memorize it.
You can purchase the domain names from any of the recognized domain name registrars including GoDaddy, Namecheap, and Bluehost, etc.
Hosting
Hosting is a virtual service that makes your website live and keeps your Web files like your product pictures and descriptions, etc to be accessible.
If you are launching a store on WordPress (Woocommerce), you need to buy proper hosting to launch your store. You can purchase the hosting services from popular hosting service providers including Bluehost, HostGator, and Hostinger, etc.
With Shopify, you don't need to worry about hosting as it provides the hosting services itself. These services are included in the monthly fee of Shopify.
2. Setting Up Your Store
Once you are done with having a domain name and hosting, you need to set up your dropshipping store. For that, having the following dropshipping store list is a must.
Theme
A theme gives shape to your website. It decides how your website is going to look and what features and shape it will have. You will have to install a theme on your website whether you are doing dropshipping via Shopify or Woocommerce.
The good news about themes is that you can get some themes free of cost on both platforms. There are paid themes as well having money or a fixed cost to purchase a theme.
Some paid themes come with specific built-in features too. For example, a theme may be packed with features like a countdown timer and showing the number of online shoppers on the website.
You don't have to worry much about themes with these features because you can have these functions by installing apps.
Settings
You would have to make some tweaks to your website before it is ready to be launched. Settings of your website may include the icons, placement of your products, the order of your website's products, etc.
For example, you will have to decide where on your website your potential customers should see the checkout button. You may also do things like how many times a checkout button should appear on a product page.
Logo
A good dropshipping website has a proper logo. You can design your logo yourself from platforms like Canva. If you don't want to design the logo yourself, you may also hire the services of a freelancer from freelancing platforms including Fiverr and Upwork, etc.
Don't overthink about your logo. Just go with a simple yet appealing logo that can largely describe the nature of your business.
Just as an example, the arrow on the logo of Amazon explains excellently that they offer products from a to z.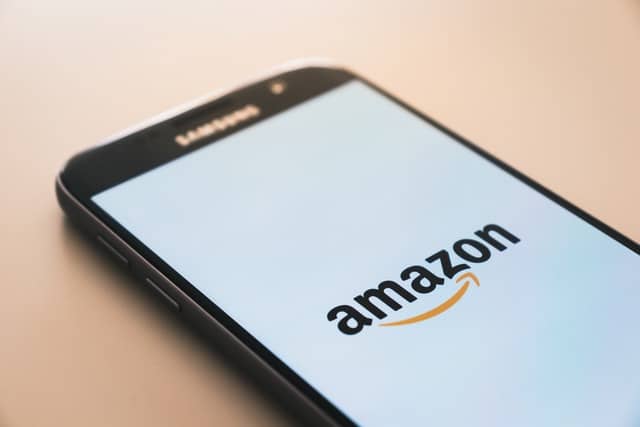 Favicon
You must have seen favicons while browsing multiple websites in different tabs of your web browser simultaneously. You can say that a favicon is the shortest visual of your website that appears on the top left side of your website in a browser.
A good tip about having a favicon is to derive from your logo. It doesn't matter if your website is newly launched, you will still need a favicon to give your website a professional look.
3. Must-have Pages
Every good and professional website has several essential pages. These pages are necessary to give brief information to your visitors regarding your business. By having these pages, you try to sound legal and professional.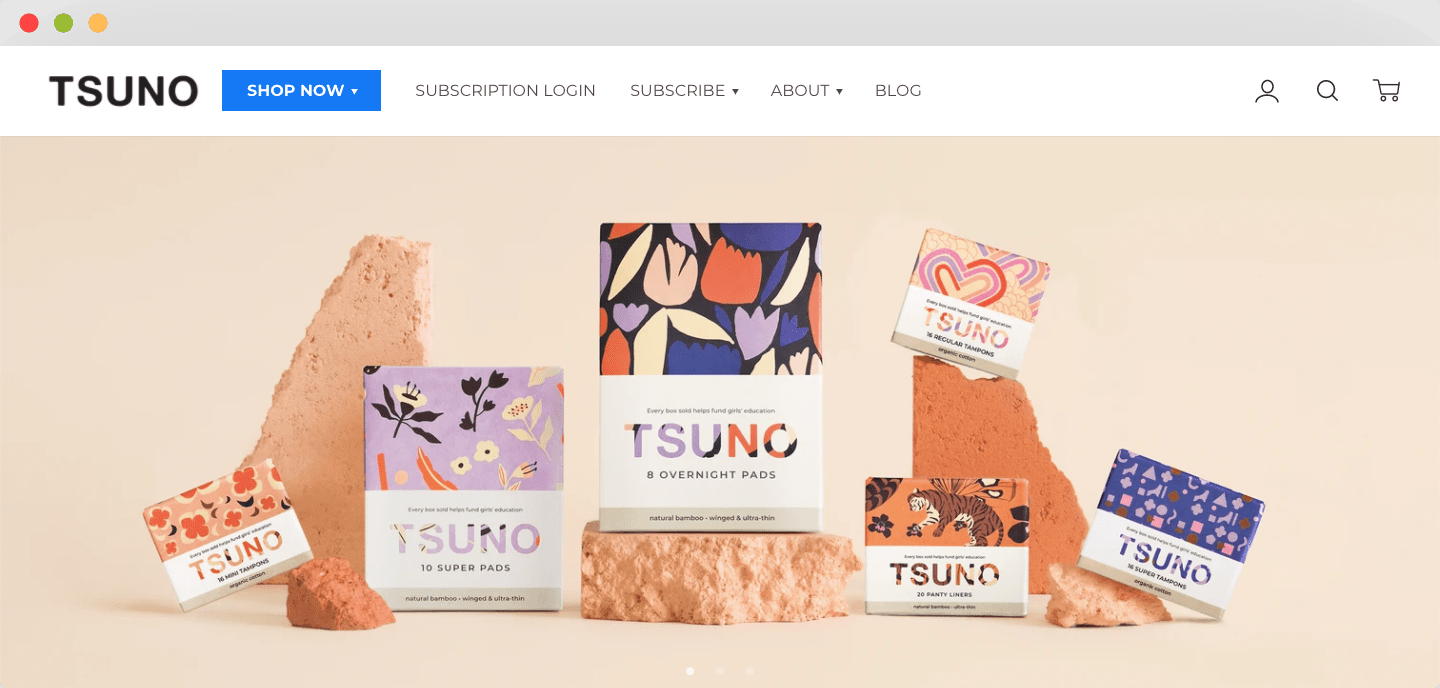 Especially, if you are pondering upon getting sales from search engines like Google, you need these pages. These pages include the following:
Homepage
A homepage is what your visitors would see when they visit your website directly from your main URL or your website's domain name.
For example, if your website's name is xyz.com, a visitor would land on the homepage of this website if he types xyz.com on his browser.
You need to design your homepage very carefully as it is the main page of your website.
On your homepage, you may include every important product on your homepage along with links to the relevant pages and any special offers or promotions you are running.
About Us Page
As your dropshipping website will be new to the world, you need to create an About us Page to let your visitors learn about your business or your company. That is why people also name this page "Who We Are" or "Know About Us", etc.
Try to sound as professional and authentic as you can on this page because authenticity matters to as many as 86% of consumers according to a survey.
Caution: Being truthful is good but looking professional is important. Even if you are an individual who is running a dropshipping business all alone, try to sound that you are a proper company without lying on your homepage.
Contact Us Page
This page is meant to give your visitors or customers a chance to interact with your company. Sometimes, visitors gain trust in a website after they receive a sound and quick reply from the website's management.
It gives them a feeler that the website they are considering buying from does respond to the customer queries and will have their back even after they have purchased the products.
There are free plugins on WordPress to create a contact us page for Woocommerce dropshipping. You can use apps to add the contact us page to your Shopify store. If you don't want an app to do this for you, you can also add this page manually.
Policy Pages
This page includes information regarding your business policies. If you don't have specific business policies, you can mention the information regarding your vendors and information like "the origin of the products".
Privacy Policy
As your website will be selling products, your visitors would need to enter their personal information like their name, address, phone numbers, email ID so that they can receive products.
You need to make your visitors and customers realize that their personal information is in safe hands. Especially, your customers need to feel secure while entering confidential financial information for payment like their credit card number.
That's why you have to write your privacy policy clearly and state that the information your customers enter will not be shared with any third party or any other irrelevant sources.
Return & Refund Policy
As a dropshipper, you would not know about the real shape and situation of the product you would be selling. That is because you would be selling products that are not in your possession.
Pro tip: Try to craft your refund and returns policy as per the policy offered by the real vendor of the products.
If the real supplier does not have a refund policy, then you should not also offer this facility unless you have a huge start-up capital for your dropshipping business.
Shipping Policy
A shipping policy page gives information regarding when your customers can expect to receive the products they have ordered.
It also includes information on when and after how many days you will dispatch the products and whether your company would provide shipment tracking details or not.
You need to give a clear shipping policy on this page mentioning the average number of days it would take for the products to be delivered.
Pro Tip: Try to read the complete shipping details of each product that is mentioned in your store from the source website. Mention the minimum to maximum possible days for the products to arrive at desired destinations.
Optional Pages
You can create some other pages on your website too. You can have a separate page if you want to start a blog about your business or you can also create sub-pages under the main page as shown in the screenshot below.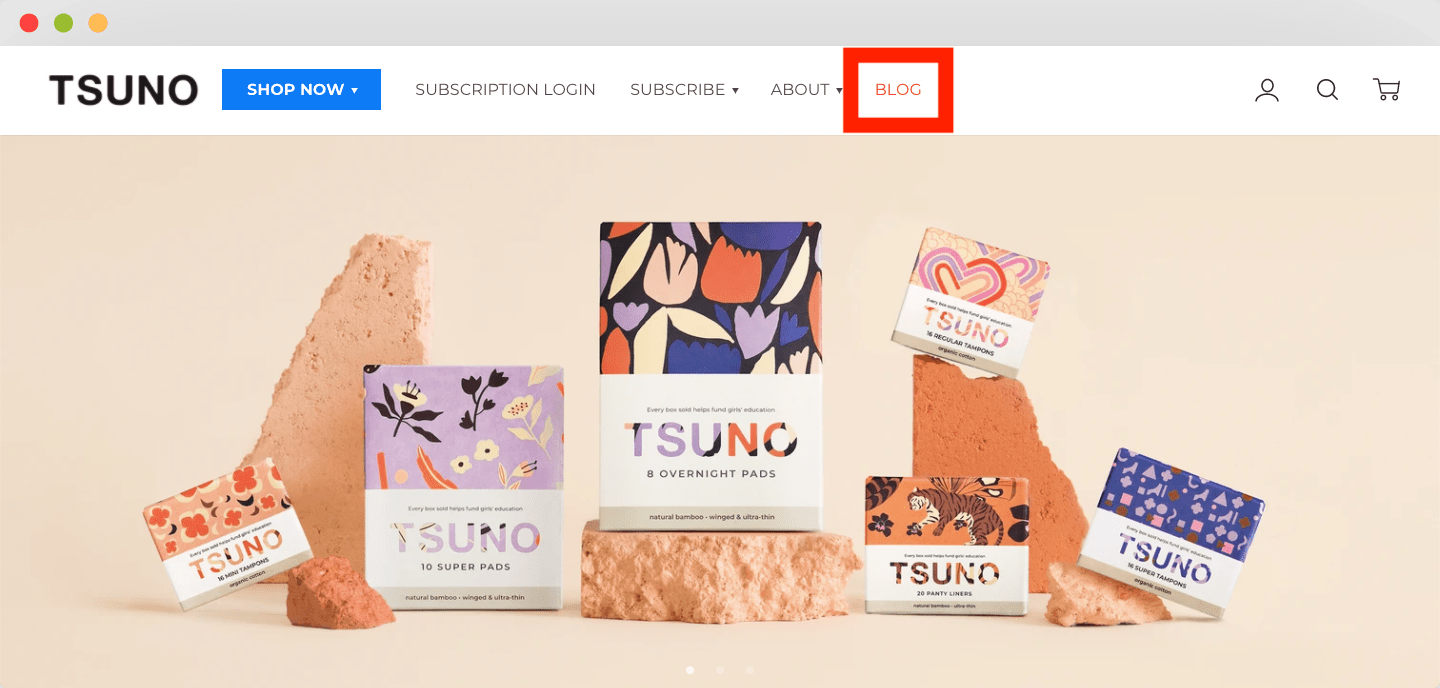 You can also have a different page to show off your most sparkling product reviews and can create a dedicated page for UGC (User Generated Content) like Q&A and FAQ page, etc.
4. Important Apps
Apps are the tools to make your website more efficient. You can also say that you can automate your dropshipping business with the help of these apps.
There are many apps on Shopify and Woocommerce that can save a lot of your time and effort to make you more productive. For example, you can bring all the information regarding a product from AliExpress to your dropshipping store in just a single click.
Many other apps give your store a professional look and also help you boost your sales. You can take help from these Shopify tools to get your business going without doing manual work.
For example, you can get the best review app for Shopify to showcase the product reviews on your website. In addition to Shopify, you can find tons of apps on WordPress if you prefer to choose Woocommerce dropshipping.
5. Extensions
An extension is a kind of software that is installed on your web browser to make things simple and quick for you.
If you use Google Chrome as a web browser, you can get hundreds of useful extensions that are related to dropshipping.
An interesting example of an extension is to get the product reviews on your Shopify store without even selling a single product as we discussed in the p of apps. Look at one of the product reviews import extensions below.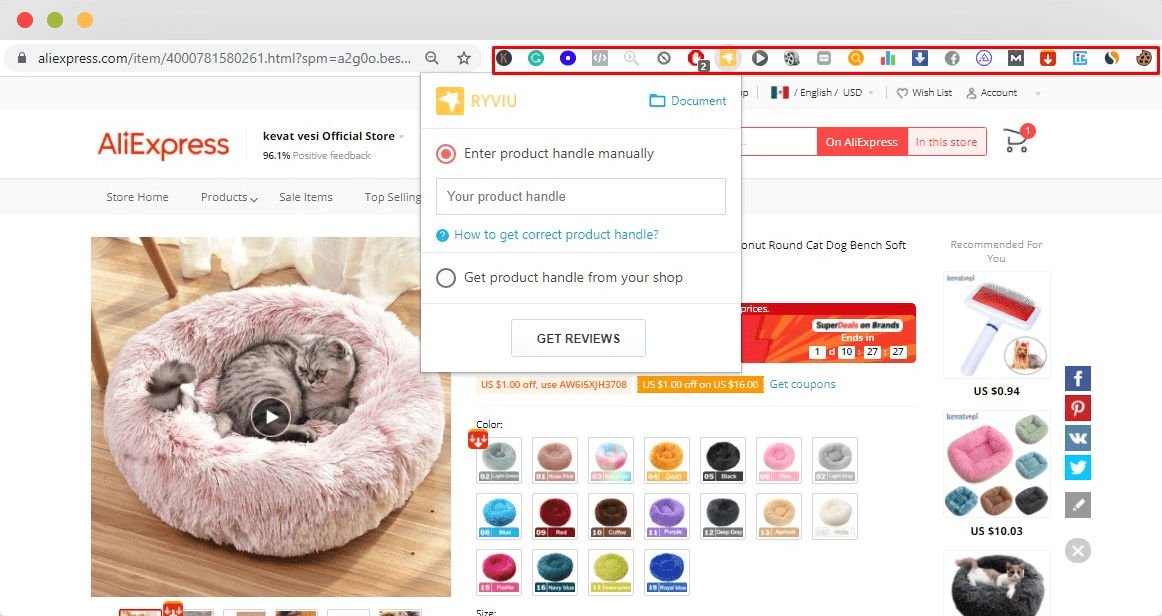 Yes! You can get photos, videos, and text reviews on the products that you are reselling via your store. You install the review app on your Shopify store and fetch the desired customer reviews from the source website with the help of an extension.
6. Payment Gateways
A payment gateway is a must for launching a dropshipping store. That is because you need to set up a medium on your website so that your customers can pay for the products they order and you can receive payments.
There are many payment gateways available to be integrated into your online store. The most famous payment methods include Shopify payments, PayPal, Google Pay, AliPay, ApplePay, and Stripe, etc.
Pro Tip: Make sure to check whether these payment gateways are supported in your region. If not, you should choose the payment gateway that is available in your country so that you can easily receive payments in your local bank account.
7. Analytics
Website analytics is a tool that tells you inside information regarding the number of visitors on your website in a specific period and keeps track of all the user activities on your website.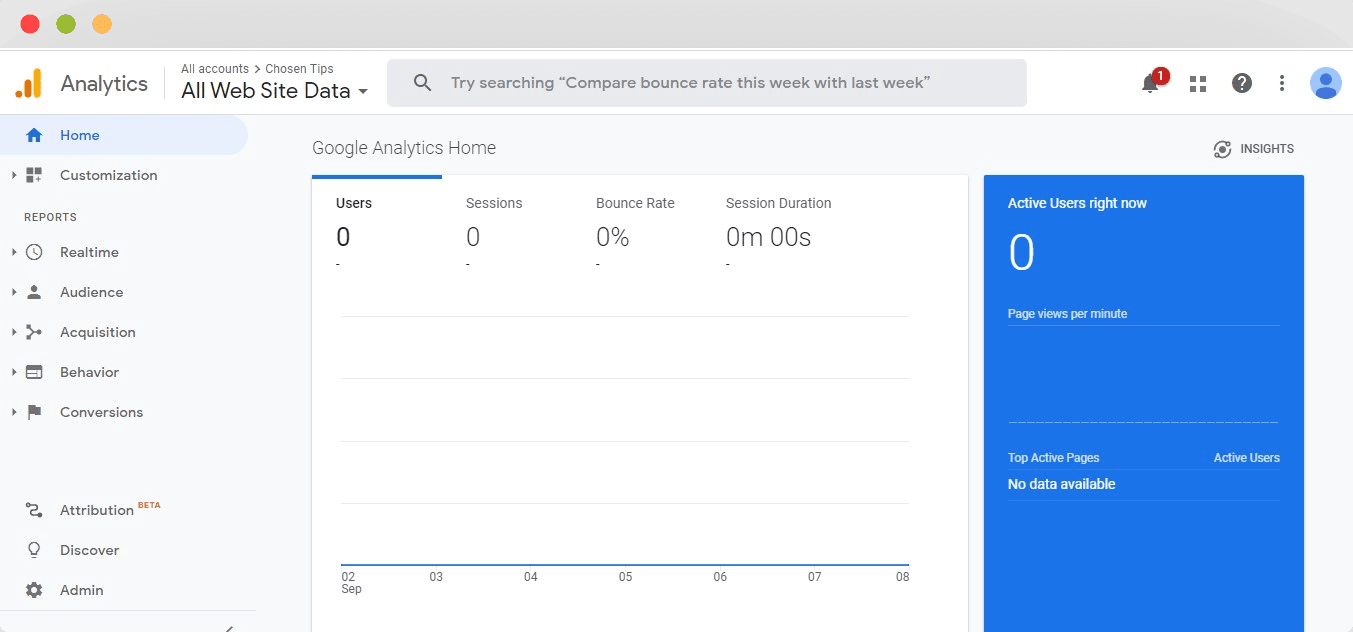 Installing a good analytics tool on your website is essential to know the latest happenings and user behavior to gauge your website's performance.
Although Shopify gives you a certain amount of data via its dashboard, you still need to install a good analytics tool to know the complete situation of your online store.
Google Analytics tool is a great tool for checking and monitoring the detailed insights of a website.
You can submit your site on Google analytics. The best part about this tool is that you can check the data of multiple websites or dropshipping stores via a single tool.
Dropshipping and social media go hand in hand. Most dropshippers launch their online stores via social media platforms like Facebook and Instagram.
Therefore, you need to add the links to your social media accounts on your store so that your visitors could access them.
Moreover, you would have to give them the options to share the products on their social media accounts. Such activities are always encouraged to increase your customer base.
You can add the social media links in the header of your store's homepage and on each of the product pages.
Your store would be new to the people you are targeting. So, you need to add the trust badges to your website to make them believe that they are on the safe website and they can buy from the website without being dubious.

Similarly, it is also recommended that you add the relevant banners on your website's homepage. You would need these banners to announce the promotions, sales, and other specific information like free shipping on orders above a certain amount.
10. Custom Email
A custom email is quite essential to coordinate with your customers until they receive their orders. It is also very helpful while doing email marketing and announcing promotions.
Try not to use typical emails like Gmail, Yahoo, and Hotmail, etc. This does not leave a good impression on your customers. You can get a custom email from any of the major email hosting companies including GoDaddy, Namecheap, and Hostinger, etc.
FAQs about Dropshipping Store Checklist
We have answered the top frequently asked questions about dropshipping store checklists.
Is Dropshipping Store Checklist the Same for a Niche Store?
Yes. Whether you are planning to launch a general dropshipping store or a niche store, you need to have all of the items discussed in the dropshipping store checklist.
That is because you can't afford to lose any of the aspects that contribute to the authenticity and professional look of your store. Additionally, you would not also want to miss out on any of the important options that your store must have.
What Will Be the Dropshipping Store Checklist for One Product Store?
The basic requirements for a one-product store would remain the same as they are for a general store or a niche store.
You need to understand that your store requires certain features and aspects to be fulfilled if it has to create a good impression on the minds of visitors. That is the only way you would get sales.
The list of items mentioned in the dropshipping store checklist is the list of bare minimum properties of a good online store. As the competition grows in dropshipping, you always need to go the extra mile to gain popularity.
So, even if you want to launch a one-product store, you would have to follow all the instructions mentioned in this guide.
Can I Launch My Store Quickly Without Implementing a Dropshipping Store Checklist?
Dropshipping store checklist is one of the most important things to do before dropshipping. It is highly advised that you follow all the necessary steps mentioned in this guide before launching your store.
If you don't have the time to implement the items in this checklist, you can go for the following options.
Hire the services of a freelancer to do it for you.
Take help from AI software to duplicate the settings of your store within minutes.
So, these were the FAQs about dropshipping store checklists.
Final Words
We have tried our best to mention and explain every important item that needs to be included in a dropshipping store checklist. We hope that you find this article helpful before launching your dropshipping store.
If you have any questions or you feel that any of the aspects regarding the checklist of a drop shipping store, do tell us in the comments.
NicheDropshipping is always excited to guide the store owners to maximize their businesses by offering multiple services such as product sourcing, warehousing, order fulfillment, and a lot more.
Message us today to know how our services can further help you. In the meantime, implement this checklist before starting a dropshipping business and sell products for the long term.