Worried about your competitors always being ahead in bringing the hottest products to the market?
As a dropshipper, choosing the right product to list on your store might not cost you a buck, but it can surely influence how many bucks you make.
With trends evolving every minute, finding winning products before their fame dies can be a hassle.
In such scenarios, product research tools come in handy. Not only do they save you time, but they also keep you ahead of the curve.
This piece will cover the best dropshipping product research tools you can currently get your hands on.
We'll go over their pros, cons, pricing, and key features. So get ready to learn how you can become an expert in product research.
Let's get right into it!
1. Niche Scraper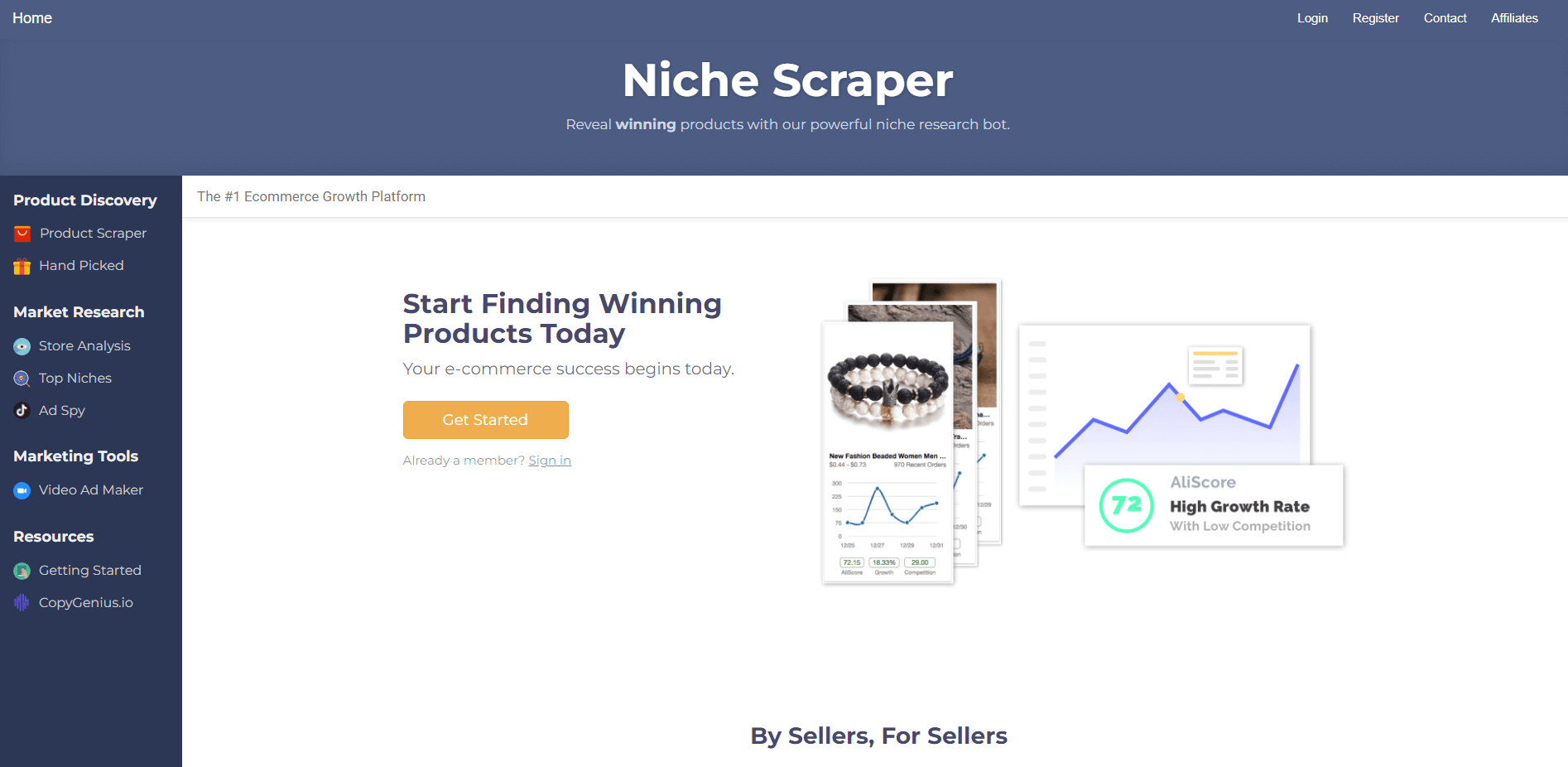 Niche Scraper is loved by dropshippers all over the world, both pros and beginners.
Why? Because it's not only easy to operate but also gives you info about the hottest products on mainstream platforms.
By hottest products, we mean the most-selling products on AliExpress and Shopify.
Niche Scraper is quite affordable, which is also one of the reasons behind its unmatched popularity.
It's still solid for a product research tool even if you refuse to pay and use the free version.
The tool primarily aims to help you find products performing high on the charts.
Niche Scraper even has a section dedicated to handpicked hot products. This section is great if you want to minimize your research and rely on an expert's judgment.
Pricing
Free (basic features/limited scrapes)
$49.95/month for full access
Pros
Offers product hunt, competitor store analysis, and handpicked products
Ideal for beginners
Relatively affordable
Has a product video maker
Cons
Data is limited
Your competitors are likely using Niche Scraper too
2. Ecomhunt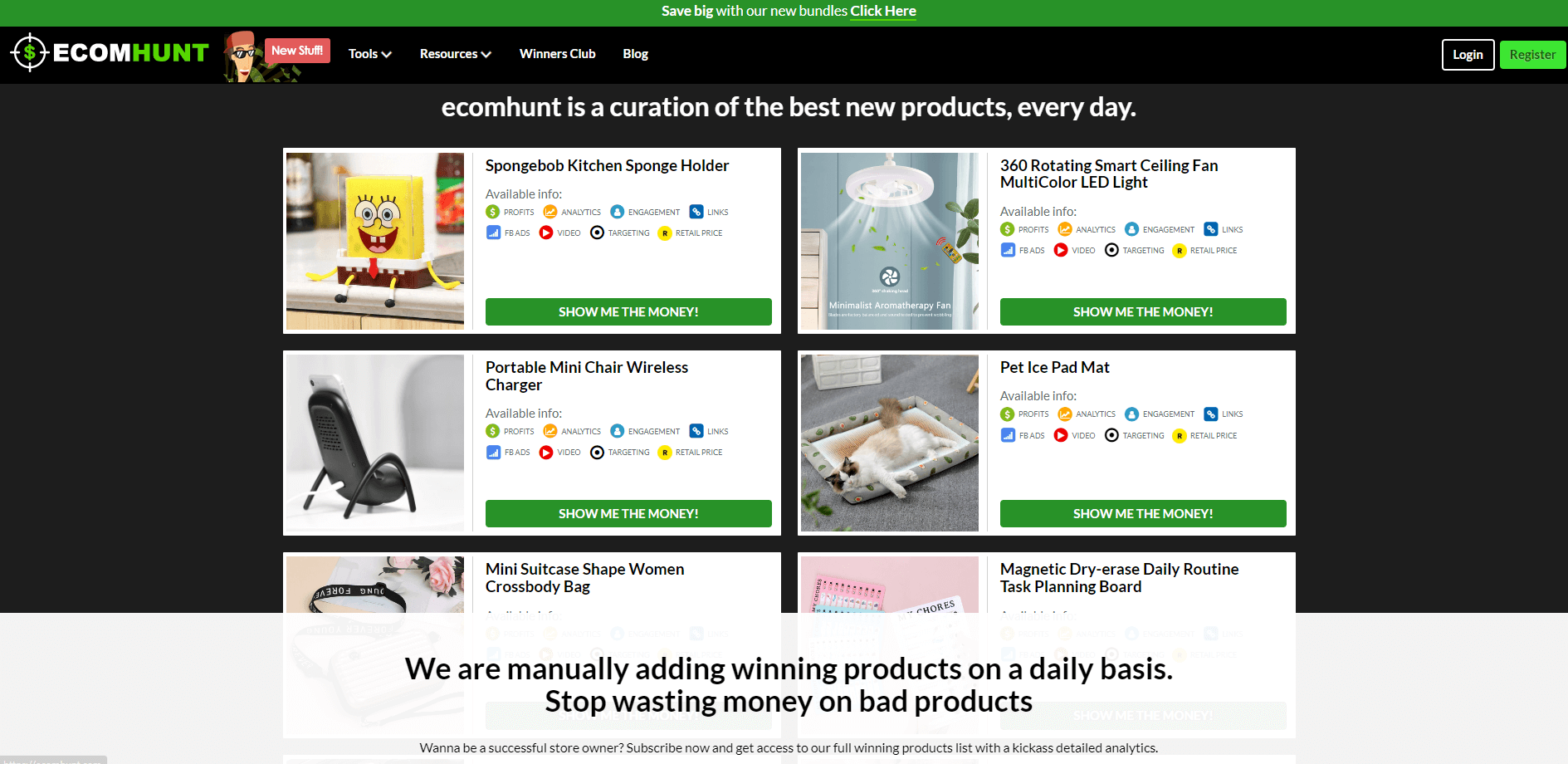 Ecomhunt is another tool for dropshippers to find winning products in the eCommerce industry.
Much like our previous pick, Ecomhunt has a section dedicated to hand-picked products.
Note that handpicked products tend to be better than products picked by AI since the chances of error are fewer.
Ecomhunt offers you in-depth details about products, such as estimated production costs, rates in the market, and even profit margins!
These details can be very helpful for someone looking to set prices for their products online.
The best part of Ecomhunt is that it not only helps you find good products but helps you sell them as well.
Ecomhunt will help you find your target audience on the right platform. They even have training videos for beginners.
Although Ecomhunt also has a free version, its members get special perks and features that are too good to miss out on.
Pricing
Free (limited features and delayed access to hot products)
Basic $29/month
Pro $49/month
Suite $69/month
Note: All paid plans can be canceled and refunded within 30 days if you're discontent with Ecomhunt's features.
Pros
Handpicked winning products by experts
Affordable
Helps set the right price for your product
24/7 customer support and training videos
Cons
Most of their focus is on handpicking products and not on keeping product info up-to-date
3. Intelligynce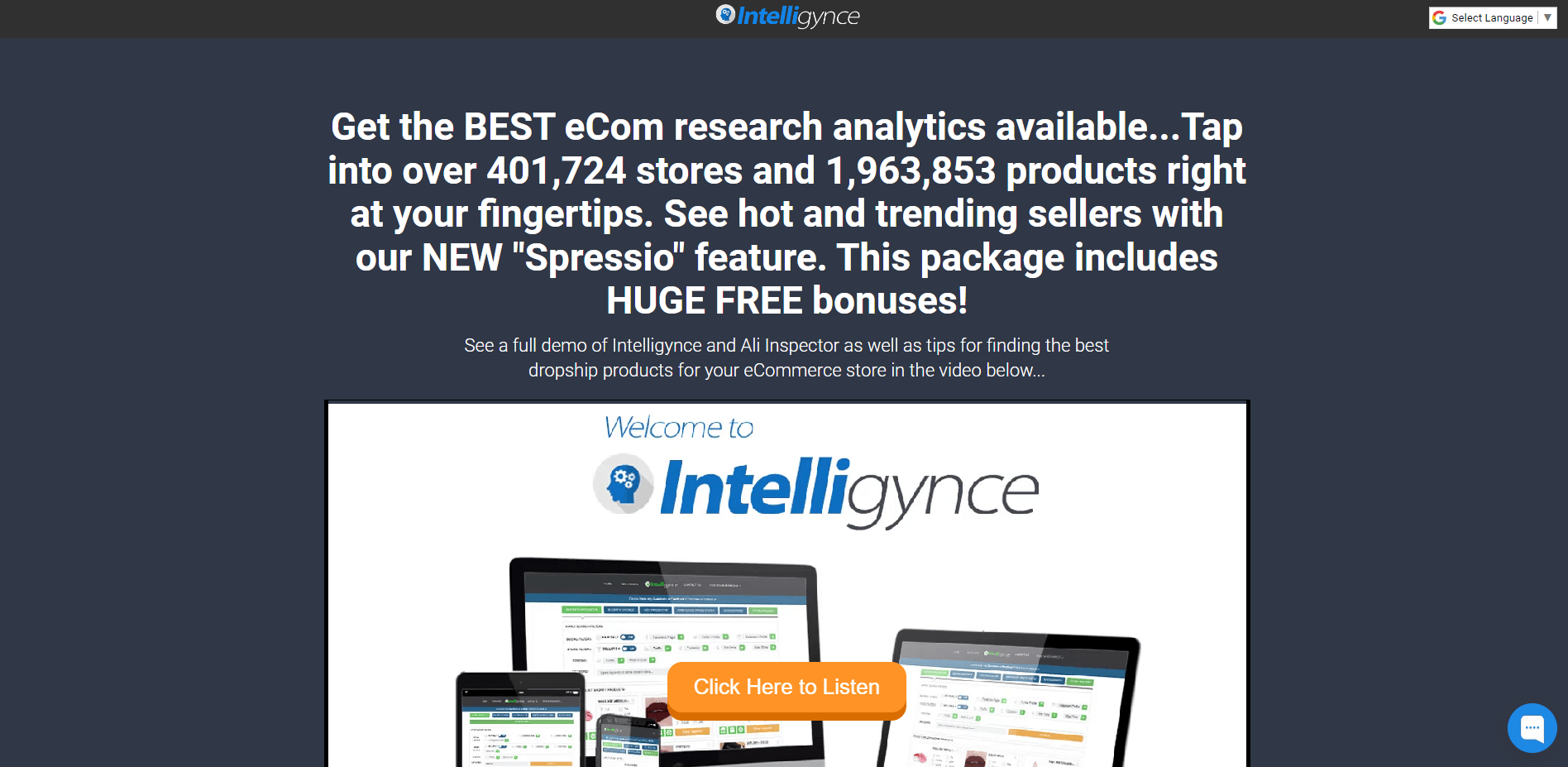 Intelligynce is up next on our list of the best dropshipping product research tools.
This tool provides information about millions of eCommerce products from hundreds of thousands of Shopify stores.
Intelligynce is basically a combination of tools designed to help you land the best products for your dropshipping store.
All you have to do is type a keyword in the search bar and Intelligynce will enlist all products associated with the keyword.
We get that searching by keyword might not help narrow your results, which is why Intelligynce offers multiple filters to help you find the right pick.
Other than this, you can also search by stores and spy which products are scoring the highest on their charts.
Intelligynce has a few other tools in itself like the Ali Inspector. It helps you analyze the AliExpress platform and find its best-selling products.
Although Shopify stores are its primary target, Intelligynce also allows you to keep an eye on Amazon and eBay.
Pricing
Free trial (basic features)
Monthly Plan $29
Yearly Plan $99
Lifetime Plan $149
Pros
The ultimate tool for finding winning products
Massive database covering 500,000 stores
Extensive keyword research
Offers lifetime access at a fair price
Cons
4. AliExpress Dropshipping Center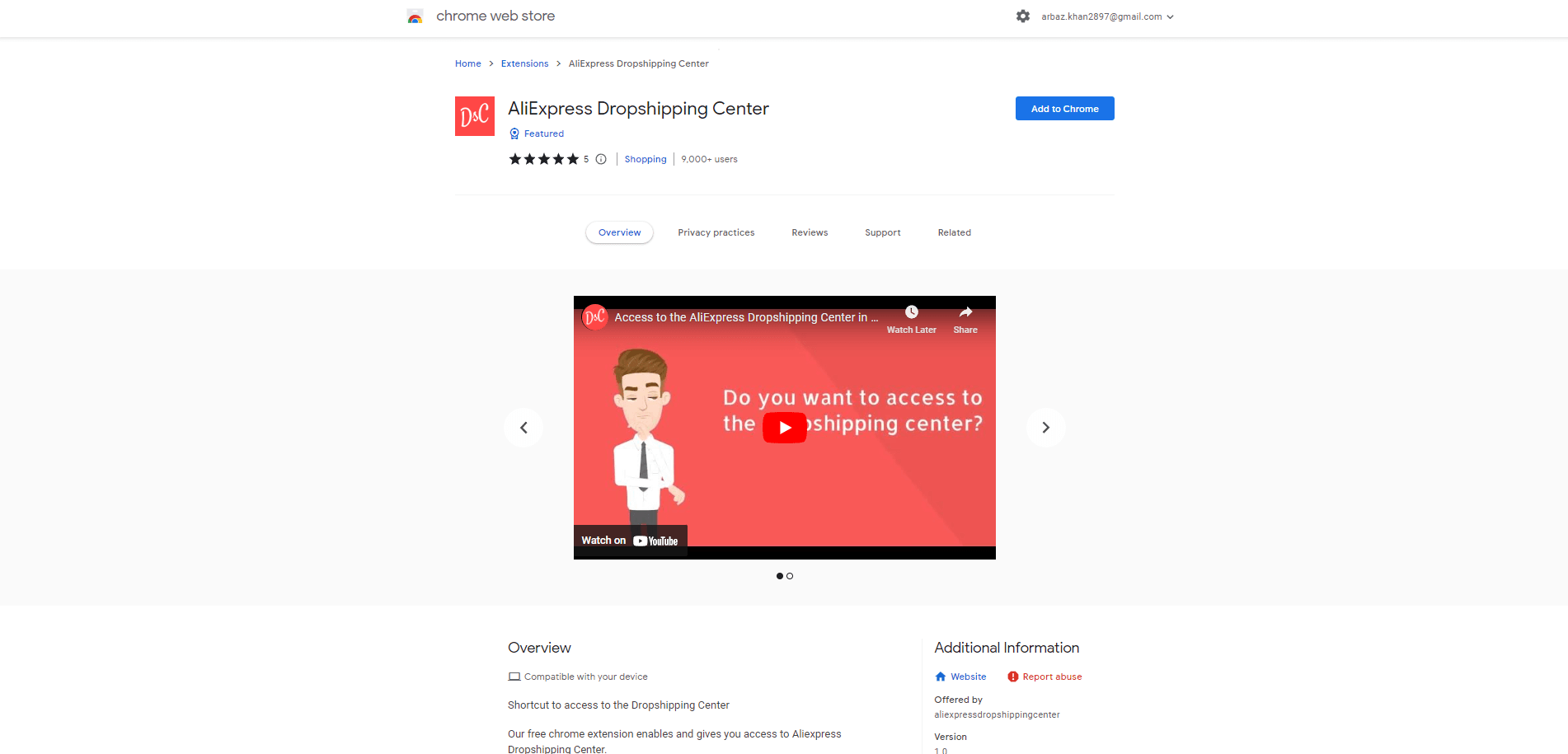 As the name suggests, the AliExpress Dropshipping Center is a tool developed by AliExpress itself to assist dropshippers in finding goods to sell.
Before we continue to discuss its features, it's essential to mention that AliExpress Dropshipping Center is entirely free to use.
So, if you're not in a place to allocate a budget for product research, mark this option down.
AliExpress Dropshipping Center is built upon two primary features: product research and supplier network.
It allows you to search for the hottest products in specific niches using super-useful sorting features like free shipping.
The categories shown here are imported from AliExpress. So, if you're familiar with using AliExpress, using this tool should be a piece of cake.
The dropshipping center not only helps you find profitable products but also connects you with reputable suppliers on AliExpress.
Users are given insights into the number of sales of a particular product being sold by an AliExpress seller.
In summary, AliExpress Dropshipping Center is undoubtedly a tool with the potential to make your business grow.
However, it only gives you access to the info from its database. At the end of the day, choosing the products and issuing verdicts is still your job.
Pricing
Pros
Best tool for finding hot products and reliable suppliers on AliExpress
Numerous sorting features
Offers Search by Image
Doesn't cost a penny
Cons
5. Thieve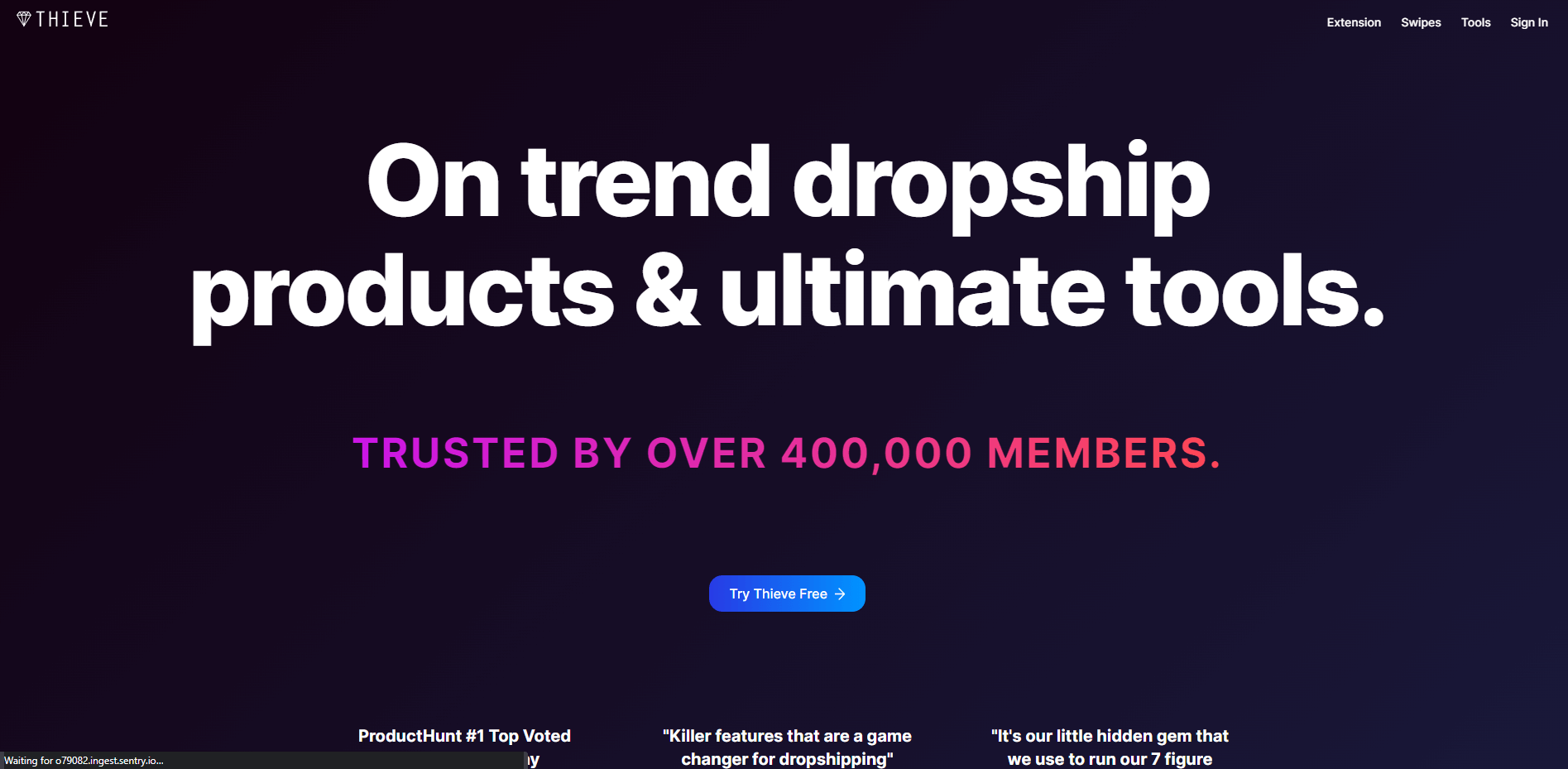 Thieve is a solution trusted by numerous renowned online stores in the world.
Don't let its name fool you. Thieve is a legally safe spying tool that aims to make your revenues skyrocket by giving you the hottest products.
The list offered by Thieve is compiled manually by veteran dropshippers and pros in the eCommerce industry.
Thieve's primary database comes from none other than the eCommerce giant AliExpress.
Moreover, their picks are influenced by real consumer interactions – so the chances of the product not selling are pretty much nonexistent.
Thieve has spent a lot of money in making the tool as organic as possible. It prioritizes handpicked products over products chosen by algorithms.
Some other features of Thieve include top-notch sorting options, product images, and super-detailed stats of products.
Lastly, if you've gone out of inspiration, Thieve has a reputation for removing creative roadblocks for dropshippers. It has a list of evergreen untapped niches to explore.
Not only do you get to see how good that niche is performing, but you also get detailed info about estimated profitability, target audience, and related dropshipping stores!
Pricing
Free trial (basic features)
Dropship Plan $15/month
Pro Plan $49/month
Pros
Filters out profitable products from junk products
Offers top-notch sorting features
Can help you find new niches and copy successful dropshipping stores
Allows you to craft product-imagery
Cons
6. Sell the Trend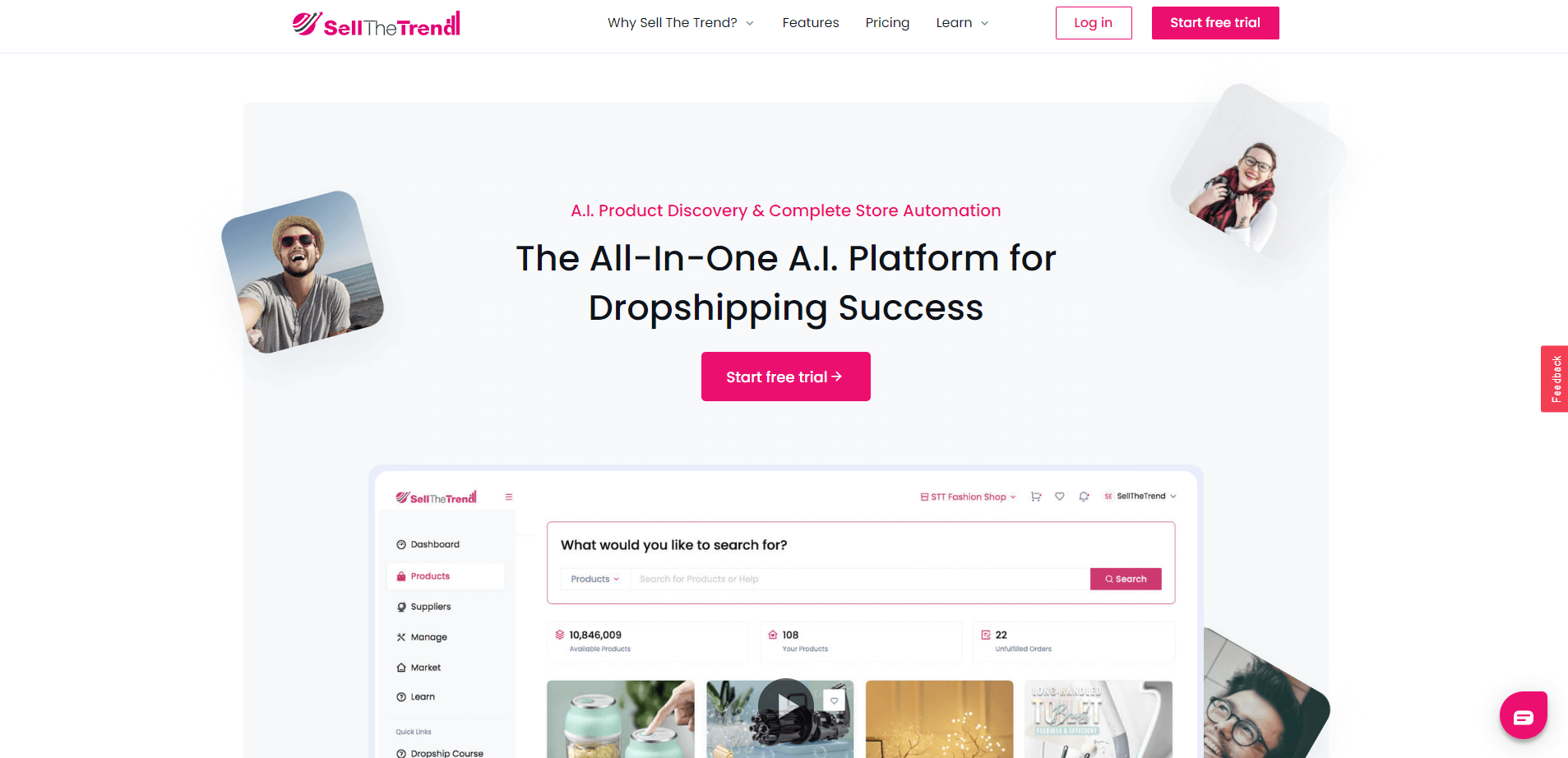 Sell the Trend takes pride in calling itself the all-in-one platform for dropshipping success, but is it really the case?
Well, to a great extent, yes! Not only can you research profitable products on this platform, but you can also build your website from scratch.
Sell the Trend's product research is quite remarkable. It incorporates a tool called Nexus which is powered by AI.
It tells you how good a product is performing in a specific location, its sales success score, and even predicts how good it can be for your store.
So, the tool is not just helping you by displaying data, it's also assisting you in selling the product.
Apart from this, Sell the Trend offers a comprehensive list of suppliers you can source products from.
The primary sources of Sell the Trend's data are AliExpress, Shopify, and Amazon. The platform further uses AI to extract hot products from the mix.
Lastly, if you're looking to create a website for your dropshipping store, Sell the Trend helps you out with that too!
Pricing
7-day Free Trial
Essential Plan $39.97/month
Pro Plan $99.97/month
Pros
One tool for all of your product research needs
Helps target Facebook ads
The Nexus is a top-notch product finder
Integrates with WooCommerce
Cons
7. AutoDS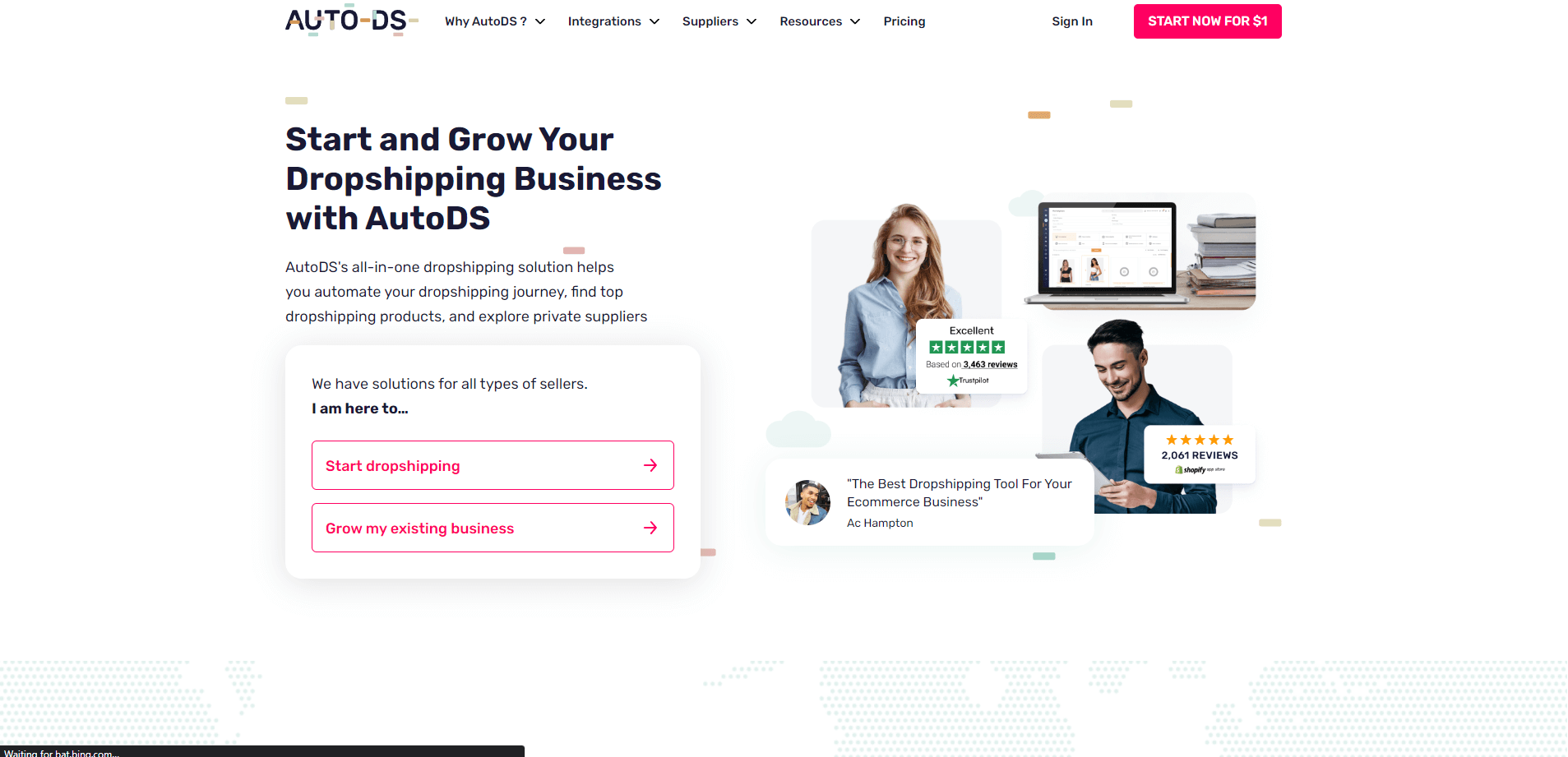 If you're fond of automation, you'll surely love this one.
AutoDS is a tool designed to automate most of your dropshipping business, including product research.
Although it's not primarily a product research tool, it does a very good job at it.
So, how does it work? AutoDS incorporates AI to find the best-selling products and bring them to your service.
Once you choose the products, they're only one click away from being imported to your store.
Note that the comparison of millions of products and their import happens within minutes, thanks to AutoDS.
On top of that, AutoDS automated order fulfillment, which is the tool's core specialty.
This means you don't have to manually approve, process, and forward orders. You have a robot to do it for you.
In the meantime, you can focus on scaling your dropshipping business and taking it to greater heights.
Simply put, AutoDS takes a lot of workload off of your shoulders, especially in researching winning products.
Pricing
Trial of 14 days for $1
Import 200 $9.90/month
Starter 400 $17.90/month
Advanced 800 $39.90/month
Pros
Saves loads of time for research
Incredible value for money
Automated fulfillment
Helps you focus on the bigger picture
Cons
Mediocre customer service
No refunds
8. Pexda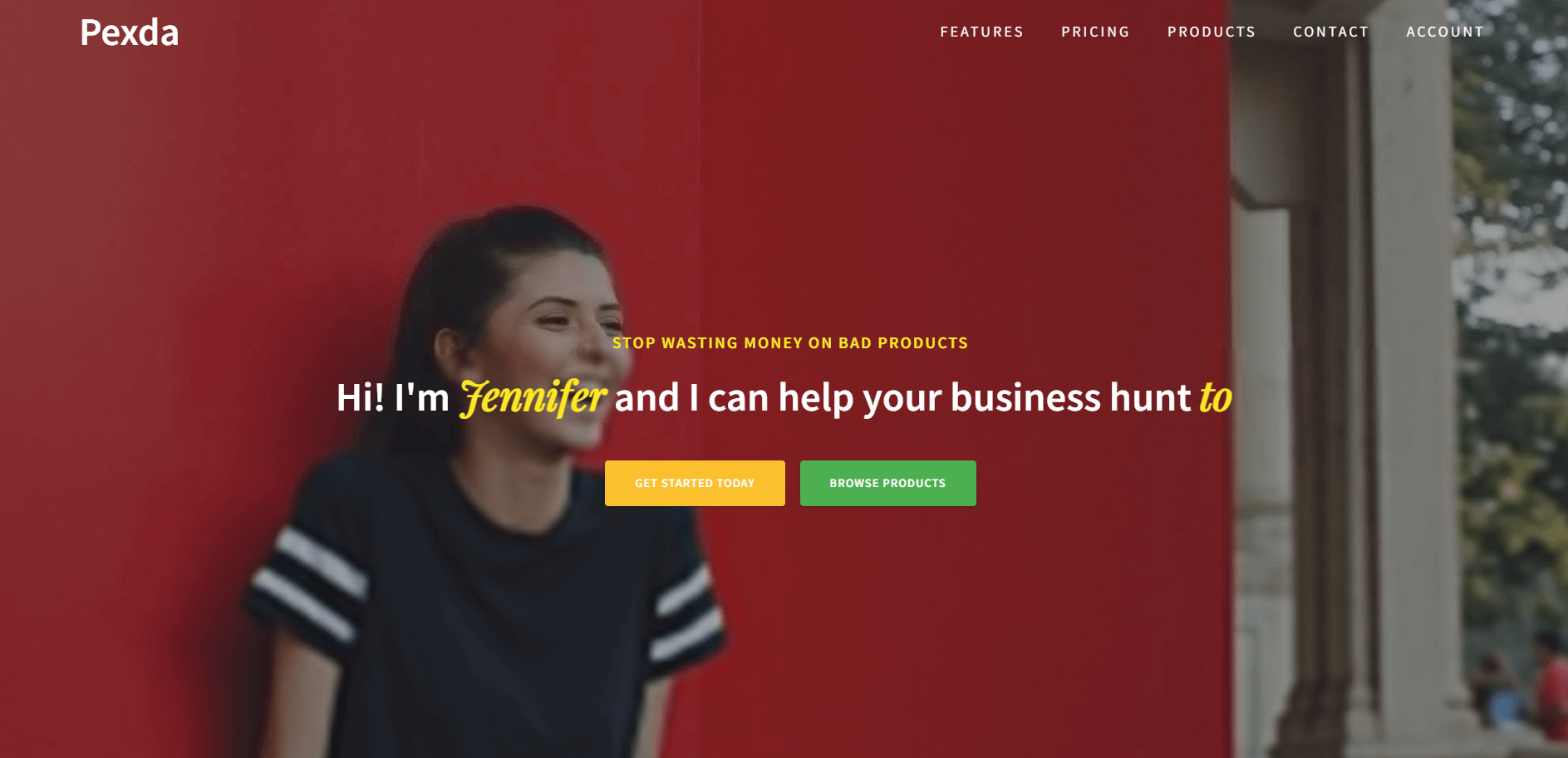 Pexda emphasizes the importance of focusing on products that sell, which is why their tool came into existence in the first place.
Once you use the tool, you'll find a section full of top-performing products in the eCommerce industry.
Pexda offers you a bit of a competitive advantage by being faster than most other tools.
It helps you find trending products often before they become popular on social media.
The brain behind this is not AI, but Pexda's product listings are all chosen by their team itself.
By signing up, you gain access to six products every day that have the potential to blow up your revenue.
However, if you're subscribed to the premium plan, you'll only gain access to 5 of them. The last one is kept only for ultimate plan members.
Other than product research, Pexda also helps you craft the perfect copy for running Facebook ads.
This is done by monitoring ads with the highest conversion rates and applying similar tactics to your products.
Pricing
Premium $14.95/month
Ultimate $24.95/month
Annual $99.95/month
Pros
Access to the latest handpicked winning products every day
7-day money-back guarantee
Helps you market your products too
Affordable
Cons
9. FindNiche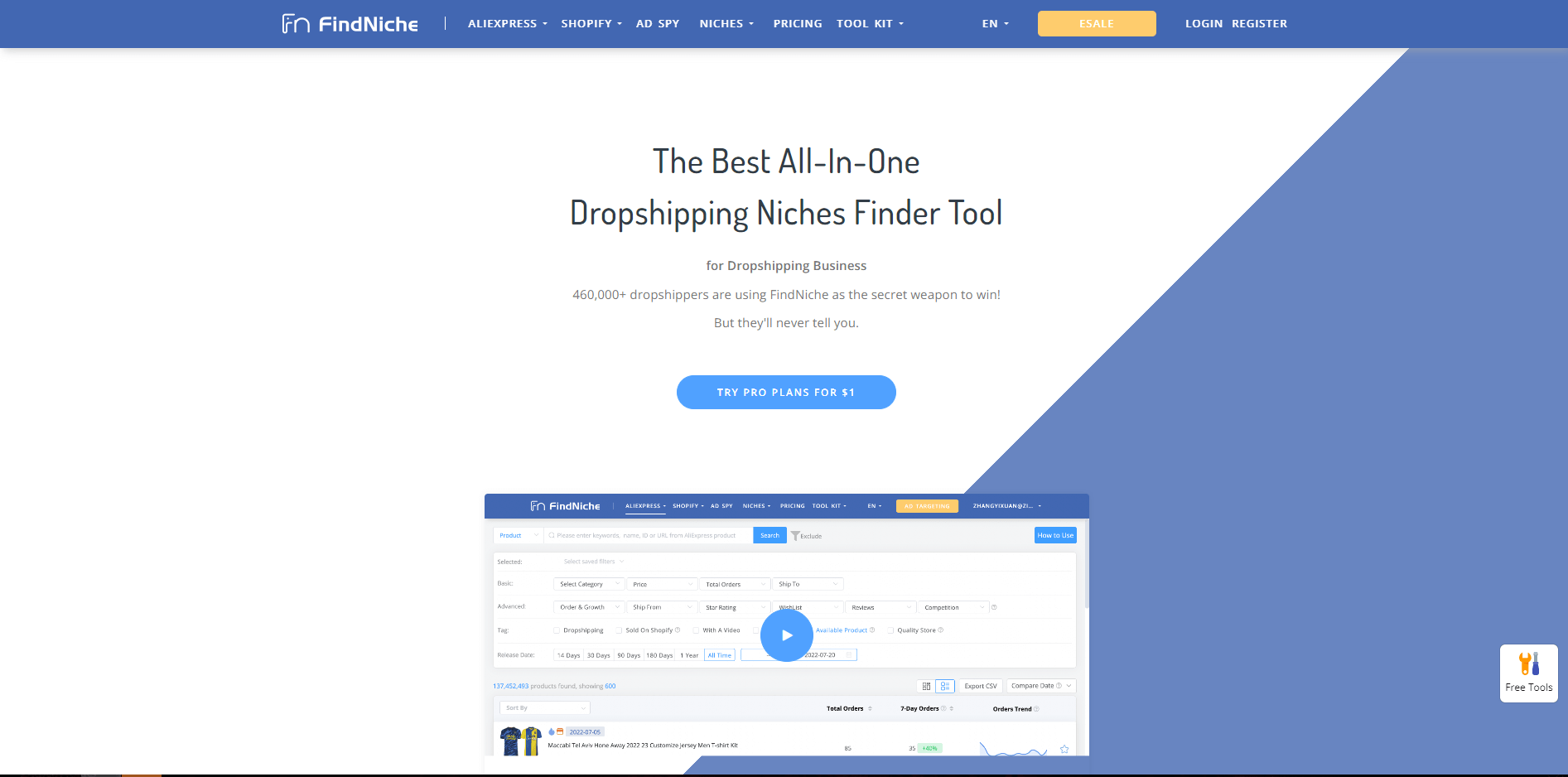 Sometimes, narrowing our search results makes us ignorant of the bigger picture, which is why FindNiche is on this list.
Contrary to most of our picks, FindNiche focuses on finding a profitable niche.
Dropshippers often underestimate the power of untapped niches, and focus solely on product research, regardless of the niche a product may be from.
Remember, finding a profitable product is like finding a golden egg, but finding a profitable niche is like finding a chicken that lays golden eggs.
So, FindNiche helps you find what to sell, but it's more niche-oriented.
FindNiche utilizes big data to bring you the best-performing niches, products, stores, and suppliers.
With loads of filters and sorting features, analyzing stores and niches becomes a piece of cake.
To wrap it up, FindNiche is a solution that incorporates several tools helpful for dropshippers on product hunts.
We'd definitely recommend this one, especially for resellers looking for all-in-one product research tools.
Pricing
Basic $9/month
Elite $59/month
Premium $99/month
VIP $200/month
Note: All of FindNiche's plans can be tried and tested by paying just $1 for 3 days.
Pros
Helps you find winning products, top-rated suppliers, and unpopular niches
Provides numerous dropshipping tools
Great value for money
Gives insight into best-performing ads
Cons
The trial period is short
Expensive
10. AliShark
AliExpress is an evergreen platform loved by dropshippers where you can find golden products at fair rates from trustworthy suppliers.
Finding winning products on AliExpress has now become easy, thanks to AliShark.
Much like AliExpress Dropshipping Center, AliShark is made specifically for AliExpress products.
So, AliShark gives you valuable details about the product like its history of orders, regions where it sells, and what the public thinks of it.
We all know AliExpress is home to millions of products, which is why AliShark offers multiple filters to simplify your product hunt.
Other than these features, AliShark users get a remarkable bonus. They're able to view a product's live stats.
Though it's not as accurate as real-time data, it still comes quite close and keeps updating throughout the day.
Another cool fact about AliShark is that its creator is a dropshipper himself – so, the team knows what dropshippers expect from the tool and strive to add features accordingly.
Pricing
2-day trial for $1
$20/month
Pros
Access to live product stats and order history
Offers some of the best filters
Access to in-depth product information
Doesn't break the bank
Cons
Restricted database does not give insight into the competition
11. WishInspector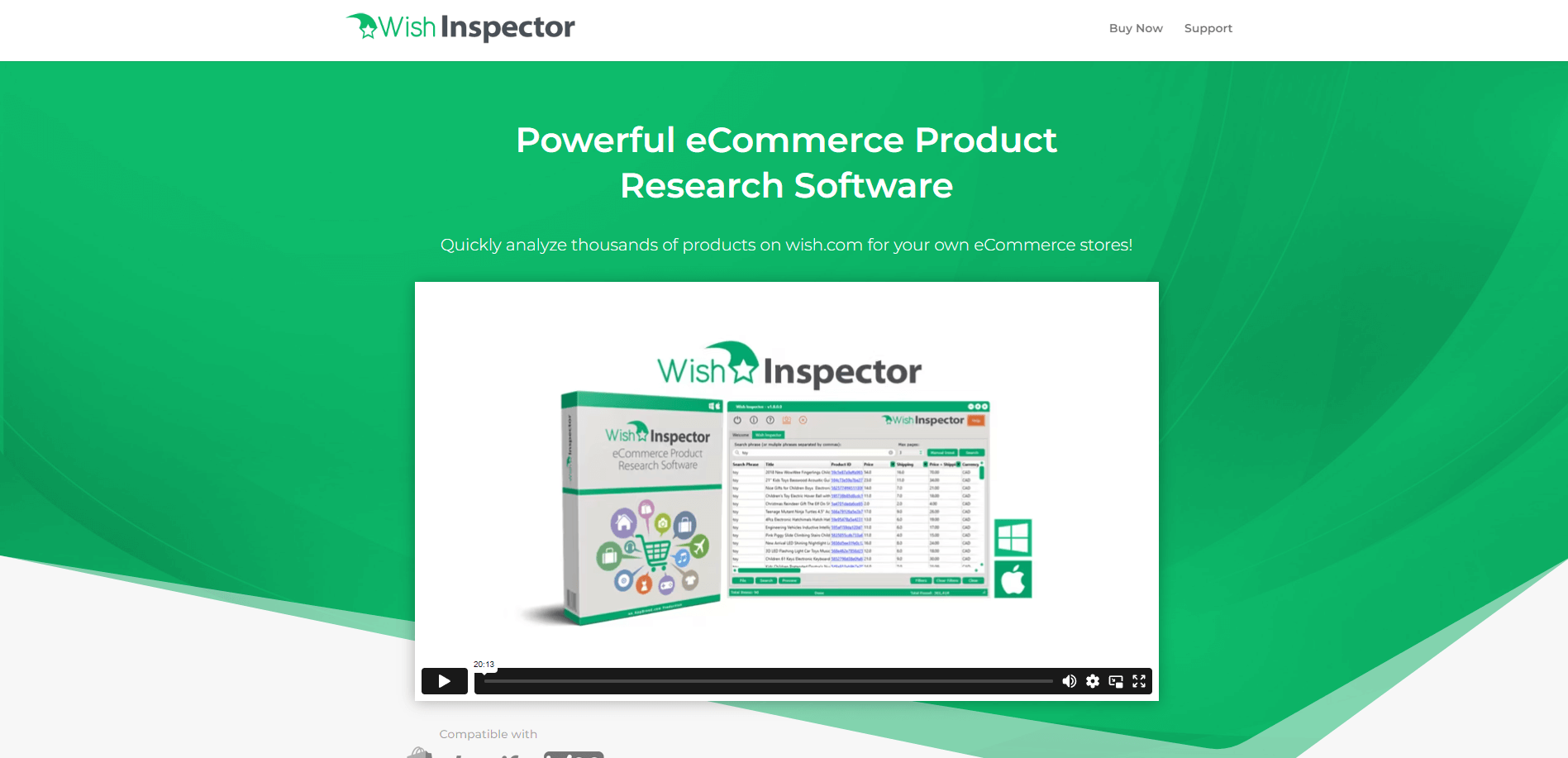 Up next on our list of best dropshipping product research tools is none other than the WishInspector.
WI is a tool primarily made to assist you find products for your online store, but it can help you in other aspects too.
The tool requires keywords to find the most relevant information to your queries.
Once you hit enter, WI lists 26 different metrics of the product. Some of these include product ratings, orders, store links, store ratings, total inventory, and more.
When you finish your research, WI allows you to import the product directly into your Shopify or WooCommerce store.
But that's not all, WI also offers you an auto-generated selling price ideal for your store.
Lastly, it has a review import feature too. WI lets you import unlimited reviews for unlimited products on your store.
The post-research perks you get from this tool are simply phenomenal.
Pricing
$87 for full lifetime access
30-day refund applicable
Pros
Insights into 26 parameters of a product
Allows you to import products directly to your store
Lets you download product images/descriptions
One-time payment
Cons
12. Spocket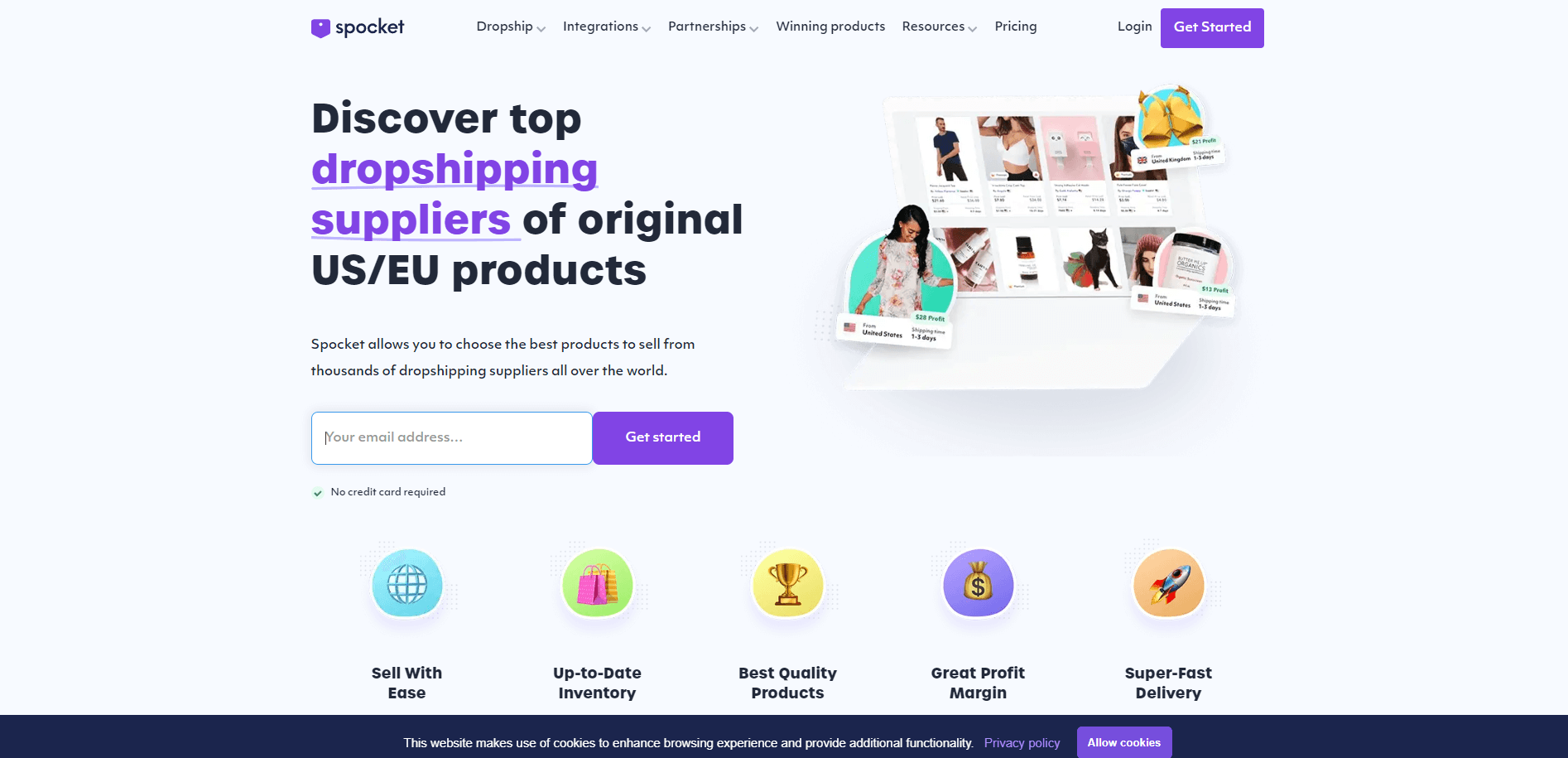 Spocket is a popular platform where dropshippers connect with suppliers based in the EU and US.
Although it's packed with dozens of awesome features, we aim to stick to its product research capabilities.
Once you sign up, you first get access to a section of hot trending products.
This section is split into different categories such as clothing, jewelry, pets, etc.
Spocket lets you choose your products and connects you to world-class suppliers offering those products.
Once again, the data displayed around these products is not as in-depth as tools solely made for product research, but it's still good.
Spocket has a reputation for being one of the most easy-to-use tools.
The interface is user-friendly and since it's popular, finding tutorials is the last thing you need to worry about.
Lastly, we must say Spocket does cost a bit more than tools of similar standards.
For some dropshippers, it might be worth the money but for most, it can be too costly.
Pricing
Free (access to product catalog)
Starter $24/month
Pro $49/month
Empire $99/month
Unicorn $299/month
Pros
Access to the hottest products in the US and EU
Automated order fulfillment
Spocket only lets the best suppliers on board
Can reduce your shipping time if your audience is in the US/EU
Cons
Does not offer in-depth product research
Costly if you're willing to take full advantage of the platform
13. Minea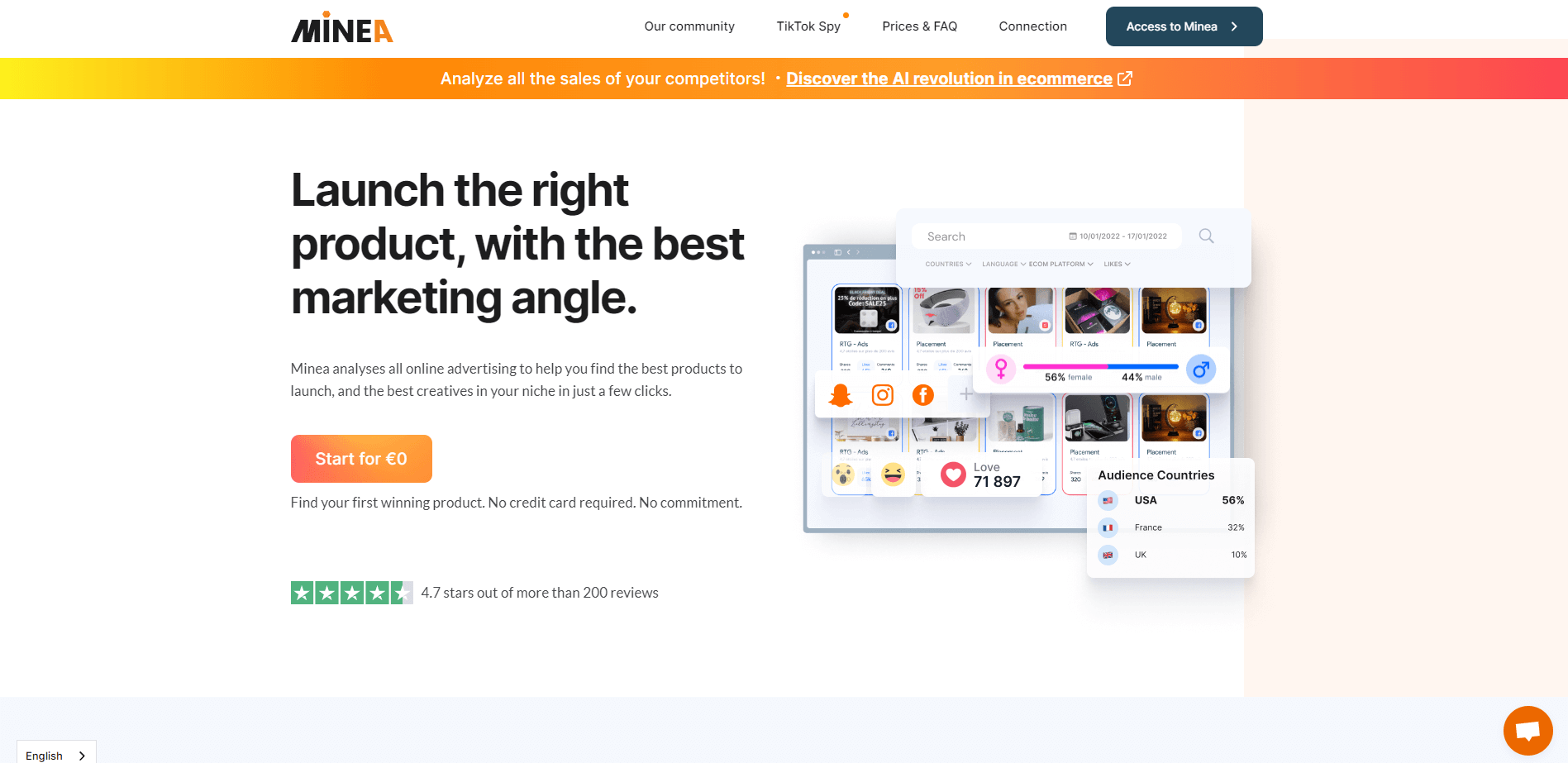 Minea is another product research tool for dropshippers. With a team of e-com experts, this is essentially a tool to help you make your sales skyrocket.
Minea gives you the current hottest products in the market, gives you insights into your competition's ads, and even offers strategies to help you climb the ladder of success.
The tool uses AI to scavenge through AliExpress' database and find profitable products.
Besides this, one of Minea's specialties is its spying features extending to Facebook, TikTok, and Pinterest.
These three mediums have all the data you need to succeed, making Minea an all-in-one tool for spying.
Minea is still a new tool in the market. It does offer some great features but also lacks in certain aspects.
Multiple user reviews have posted negative comments about its customer support. Some even complained of a faulty interface.
Regardless, Minea is still a good tool worth giving a shot at.
Pricing
Free Trial (250 credits)
Starter $53/month (10,000 credits)
Premium $107/month (100,000 credits)
Pros
Covers mainstream social media platforms
Gives valuable information about trending products
Massive database
Cons
Credits can run out before the month ends
14. Google Trends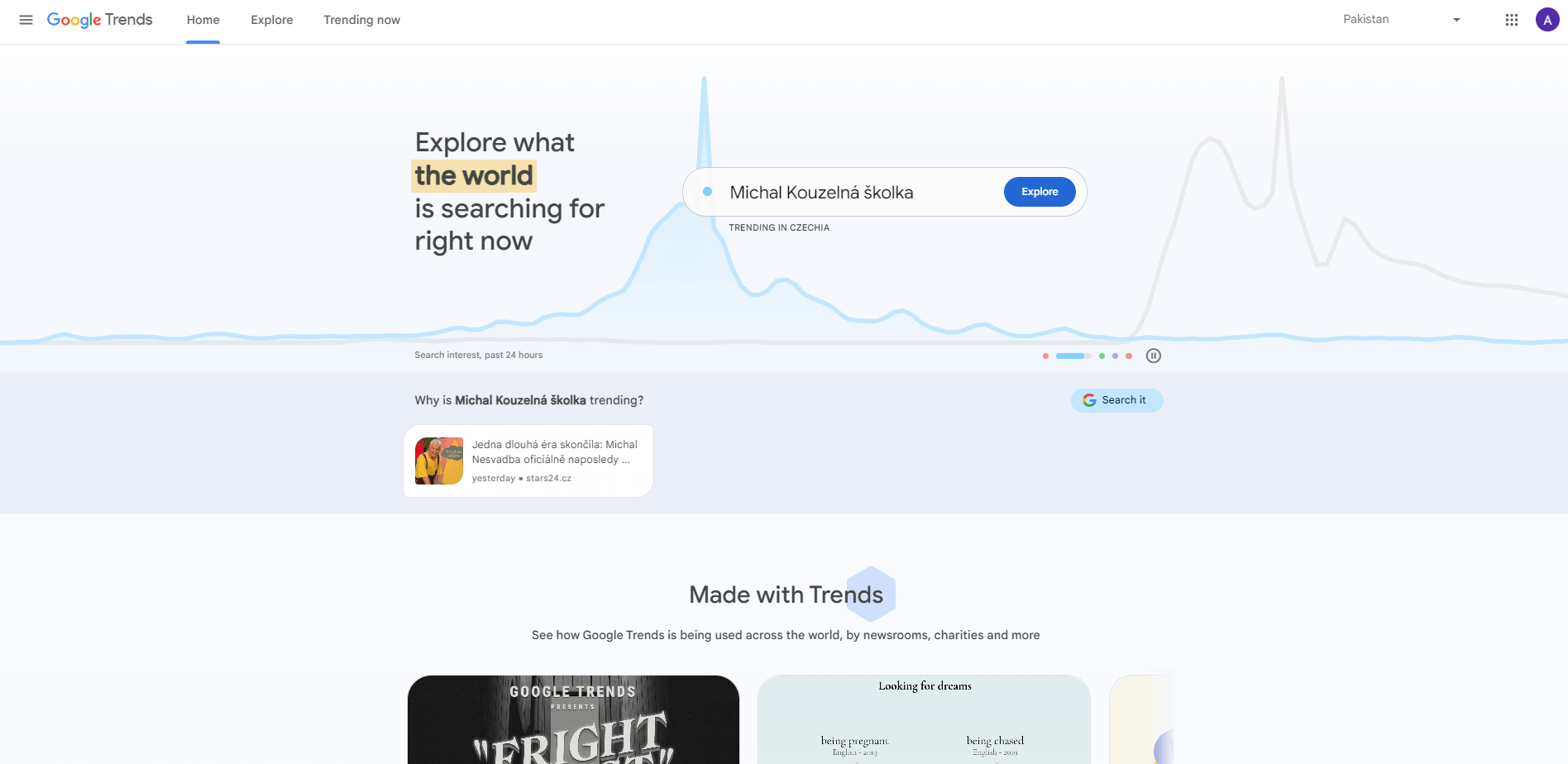 We've covered over a dozen tools that offer you winning products on a golden platter, but this one's a bit different.
Some of you might already be aware, but Google Trends is one of the most popular tools for product research in dropshipping.
It is a powerful solution for analyzing ongoing trends in not just the eCommerce industry, but elsewhere too.
Google Trends utilizes its search engine's data to determine live stats about a keyword, which can be great for your product hunt.
Although it's not exactly a spying tool, it's very useful for marketers and entrepreneurs striving to be ahead of their competition.
Of course, the data displayed on GT is quite limited. It does not go as deep as full-fledged product research tools but rest assured it's accurate.
In summary, Google Trends can be used to examine the interests of the public audience from time to time.
If you prefer doing your homework yourself, then no need to purchase product research tools. Google Trends has enough data to satisfy your needs.
Pricing
Pros
Live analysis of trends and searches
Offers multiple data presentation options
All functions are free to use
Helps you stay ahead of the curve
Cons
Lacks in-depth information needed for product research
FAQs about Dropshipping Product Research Tool
How Do You Analyze a Product for Dropshipping?
Before listing a product on your dropshipping store, you can analyze it by its market demand, expected selling price, profit margin, target audience, and more.
By examining some of these metrics, you would be able to give a verdict on whether it's profitable or not.
How Do Dropshipping Product Research Tools Work?
Dropshipping product research tools provide you with some important stats about products, allowing you to determine their profitability.
These tools are usually powered by AI and scavenge through databases to bring you the most-demanded products in the market.
What Features Should One Look For in an Ideal Product Research Tool?
An ideal product research tool would include the following features:
Key metrics for determining product profitability
Comprehensive database sourced from well-known marketplaces
A user-friendly interface
Data of other stores/competitors
Supplier network
A suitable price
Customer support
Final Thoughts
With so much saturation in the market, it's necessary to opt for the right products so you don't end up wasting your time selling the wrong stuff.
In this article, we went through a handpicked list of the best product research tools for dropshippers.
With each tool offering its unique features, you probably noticed most of them were paid and only a few offered free access.
If you're serious about being faster than your competition, then you'll inevitably have to invest a certain amount in one of these tools.
Product research is surely worth investing in and can make your revenue skyrocket.
Nevertheless, finding products is just one part of your eCommerce journey. The other is to help you find a reliable supplier to source these products.
Throughout the years, we here at NicheDropshipping have sourced products for numerous satisfied clients and we'd love to add your name to the list.
Reach out to us today and request a sourcing quote. We'll help you find the best profitable products for your online store!