This is the ultimate guide on probably the most lucrative question about dropshipping or any other form of online business: high profit margin products.
With the fast pace of digital transformation, online businesses, especially ones like dropshipping have become more and more in vogue, and finding products with high profit margins has become more difficult than ever.
So we have brought this article to guide you about choosing and selling products that will boost your e-commerce business if you follow our guidelines. We advise you to stay tuned till the end of this article so that you don't miss out on anything important.
Let's jump in.
Basics of High Profit Margin Products
The most profitable online products require you to set an ideal price point so that you can earn a high profit even by selling lower amounts of SKUs. If you are dropshipping, then calculating a profit margin can be a tricky part.
Smart dropshippers launch the products with large profit margins at an ideal time to get the greater share of the pie because they know that as soon as the product goes online, the competition pops up right away.
Shopify helps you calculate the retail price with its profit margin calculator. You just have to put in the cost of the product and your profit percentage. It will calculate and present the sale price of that particular product.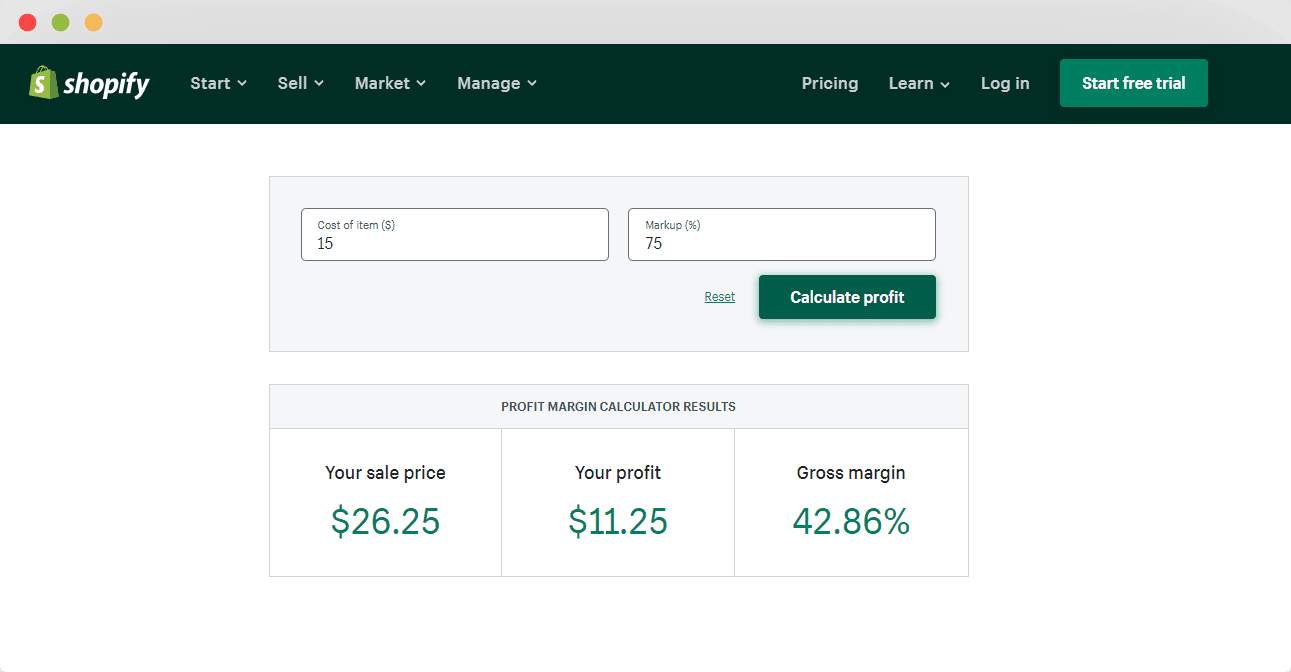 Before we jump into the list of high markup products to sell online, you need to know what factors you must consider while selecting the high profit margin products to sell online.
How to Select the Most Profitable Products to Sell Online
1. Market Demand
You must have an idea whether the product you are going to sell would have a demand in the market or not. But how will you predict this important factor?
We have mentioned a few criteria below to check if the product is going to perform or not.
While there is no guarantee that the product fulfilling these below-mentioned criteria will perform or not, there is a very high probability to get desired results by following these guidelines.
Problem Solving
The best high margin products to sell online are the problem solvers. If someone has a severe health issue and he sees an advertisement for a product that can solve his problem, he would most probably buy that product.
This is where search engines and other marketing platforms including Facebook help you out. They show your problem-solving products to the people having the same problems. How do they do it? Let's find out.
If you have a backache, it is most likely that you will search for its remedies on Google and find related posts on Facebook. From that day onwards, Google and Facebook, etc store you as a prospect to buy a product that solves backaches.
That is why you will start seeing ads for the products or solutions that solve backache issues.
Look for the product's potential to go viral on social media. There have been some dropshipping items that have taken the internet by storm and created a huge craziness for the product in almost every part of the world.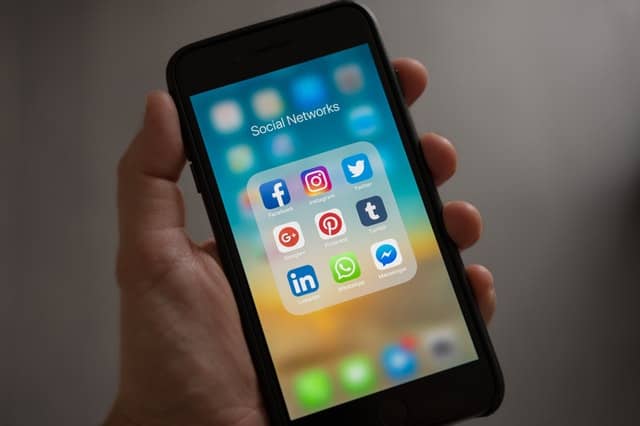 Do you remember the public madness for fidget spinners a few years back? That is one of the examples that proved to shake social media.
Repeat Customers
Some products have the potential to grab repeat customers on a regular interval. For example, clothing is the kind of product that customers would require to change or replace after a certain period.
That's why the POD (Print on Demand) niche is a highly profitable niche in dropshipping. It is because even if a customer does not need to replace the t-shirt, he or she would probably go for an additional one if the design of the t-shirt is appealing.
Uniqueness
The most profitable products in dropshipping are exclusively unique in their entirety. Do you think that a normal hair straightener can ring a bell for a hair maniac girl? She may already be having one in her house.
But a hair straightener that is also a hair curler? This 2-in-1 feature will force the most beauty-conscious girls to leave their Facebook wall and check out the product's landing page. Combine that with a hair styler, your product will most probably rock.
Availability
A good product to sell online is one that is not easily available in the market. One of the highly efficient tricks of selling high margin products online is to adopt the impulse buying technique.
You need to tempt the audience high enough that they immediately purchase the product without much research. That is why timing to launch or test a product in dropshipping is of utmost importance.
By the time the product will be available in physical stores, the profit margins will squeeze and the online demand for that product will drop.
2. General VS Niche
Another major factor to consider while selecting the most profitable product to sell online is the type of store you will use to present the product to the audience.
While there is a huge debate on whether to start with a general dropshipping store first in comparison to a niche product store or a single product store, most conclusions generally favor the single product stores to generate high profit margins.
That's because a single product store shows more credibility and the customers take your store as the single and only source to buy that unique product.
Another drawback of launching the products with the best margins via a general store is the possibility that your visitors already know about some of the rest of the products your general store is offering.
If they find out that you have overpriced a product that they had bought at a cheaper price before, they may doubt your credibility.
3. Trends
Some high margin products have a specific trend. If the product is newly launched, then the trend will be upward as the market starts to establish that product.
You can check the trend of a particular product in many ways. Some of them are mentioned below.
Google Trends
AliExpress Dropshipping Center
Viral Posts on Social Media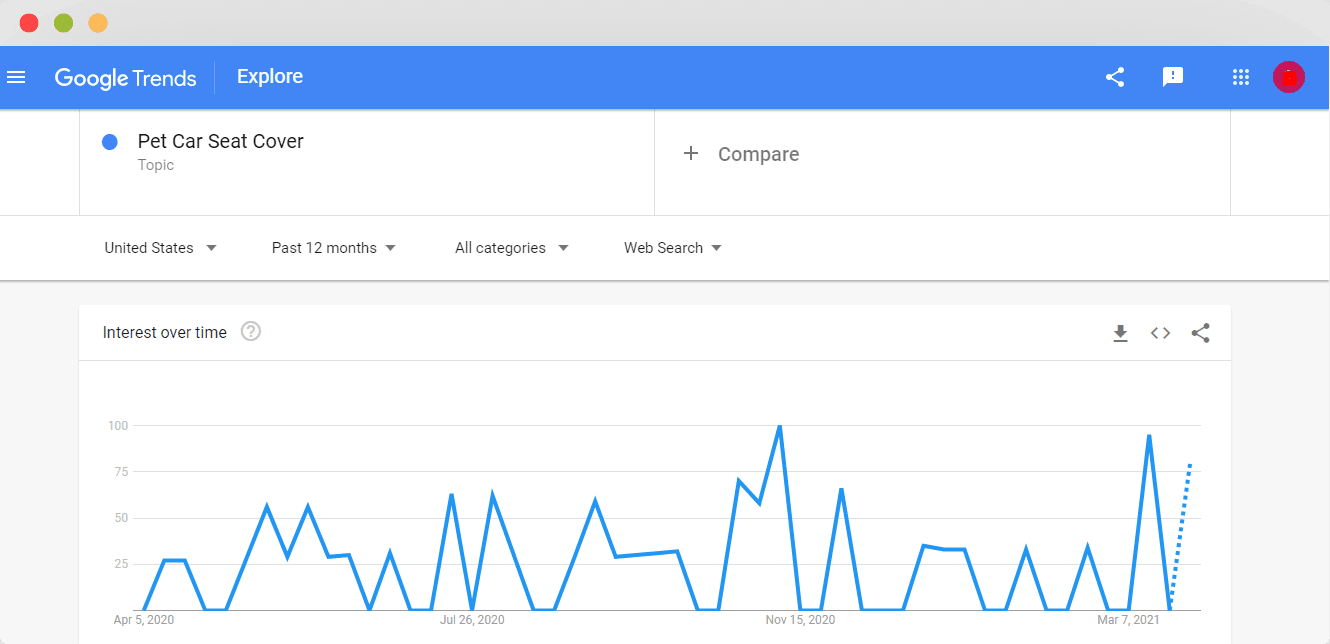 4. Seasonality
Some best margin products work best in specific seasons. These trending products have a very low probability of sales other than the season.
For example, the t-shirts with Donald Trump memes were sold in very large volumes when the US elections were around the corner. So, dropshippers had to sell products in that specific period.
Similarly, you shouldn't be selling things like unique Halloween costumes in a season that is already over or has a few months to start.
5. Competition & Saturation
Let us recall fidget spinners once again. The sale of such items is only relevant and profitable in a very specific period of time. Consider selling fidget spinners now and you will most probably not get the same response.
This is called product saturation. Almost all the interested people have already bought the product and there is negligible repeat demand for that product.
The competition in dropshipping grows fierce as soon as a dropshipper is successful in finding a winning product. That is because other dropshippers keep on spying on each others' ads.
So, if the competition is too much on a particular product, just think about taking your decent share and try newer products.
High Profit Margin Products for Dropshipping
Now that we have discussed the most important factors for selling high profit margins for dropshipping, you will better understand the list of most profitable items to sell online that we have mentioned below.
So, without further ado, let's start with the list of these lucrative products to sell.
1. Health & Wellness Products
Health & wellness is a highly lucrative yet one of the most competitive niches. That is because people are ready to spend money buying products that can potentially improve or maintain their health.
The top 3 products with the highest margins and low competition are as follows.
1) Visual Ear Sticks
Everybody has earbuds in the house and cleaning our ears is one of our routine tasks. But have you ever wondered to check what's happening inside your ear?
These amazing Visual Ear Sticks have a built-in mini camera to allow the visuals live from inside of your ear to see it on your mobile phone. Awesome, right?
This product costs you around $28 including shipping costs. If you hit the right audience with the help of social media platforms, this could be one of the best products to sell online to make money fast.
This type of health gadget can allow you to earn up to 2 to 3 times the cost of the product. So, you can potentially make even $40 to $60 per sale provided you launch the product in a timely and effective manner.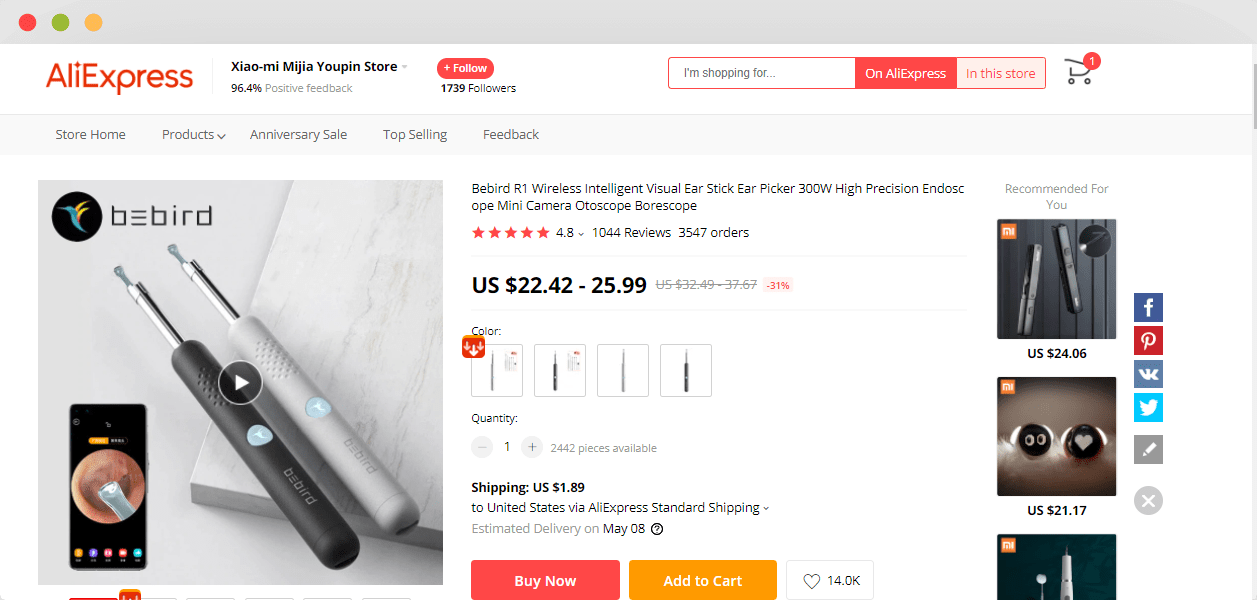 You can try using the following interests while advertising for this product:
Health and wellness
Self care
Ear care
2) Acupuncture Socks
If you are a dropshipper, or you had been following the dropshipping products before, you must have come across products like acupuncture pens and acupressure massage guns, etc.
This product is simpler, cheaper, and more innovative than those. This is a pair of socks with a kind of acupuncture map on it. It shows areas to massage that will have specific effects on your body.
Every other person needs a pair of socks and with this cool product, you can specifically target the ones who are into massage, foot pain, and acupuncture techniques, etc.
They would surely think about having these socks for their next self physical therapy.
About the cost of the product, it only costs below $5 and you can sell it for beyond $24.99 making a profit margin of around $20 per sale. That's quite lucrative!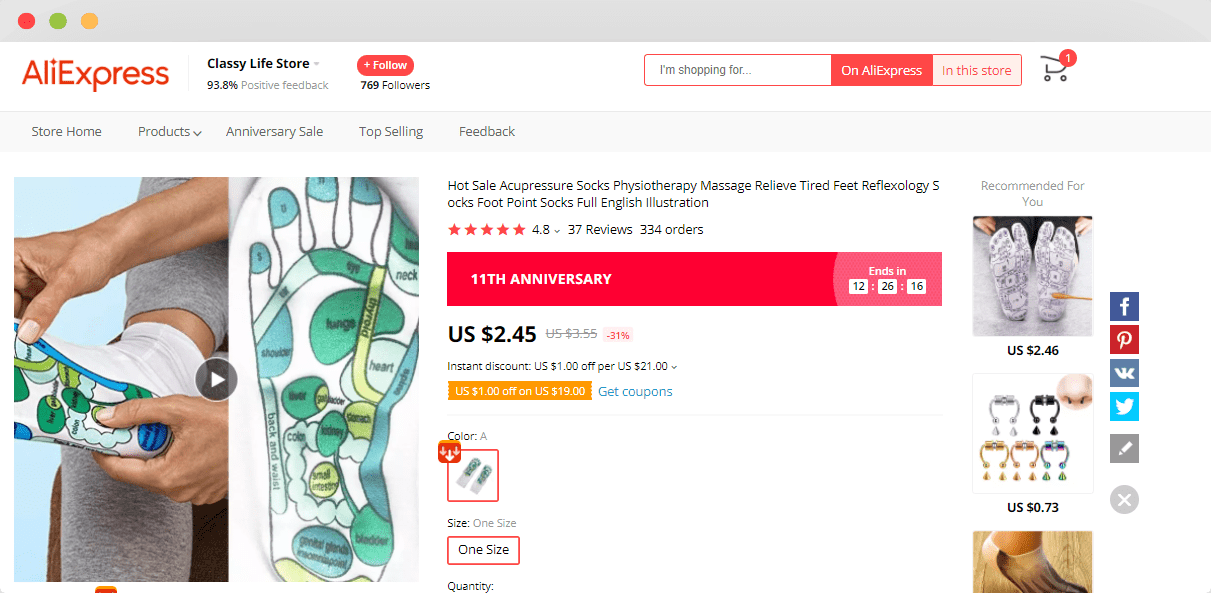 Include these interests for targeting the audience on Facebook.
Acupuncture
Acupressure
Foot Massage
3) Home Gym Band
This product is ideal for people who are crazy about their fitness. With all the gymnasiums and parks closed due to lockdowns, this Home Gym Band can be a perfect choice for exercise lovers, fitness freaks, and bodybuilders.
With its price starting from around $30 including shipping costs, you can term this item as a slightly high ticket product. But still, high ticket items offer higher margins as well.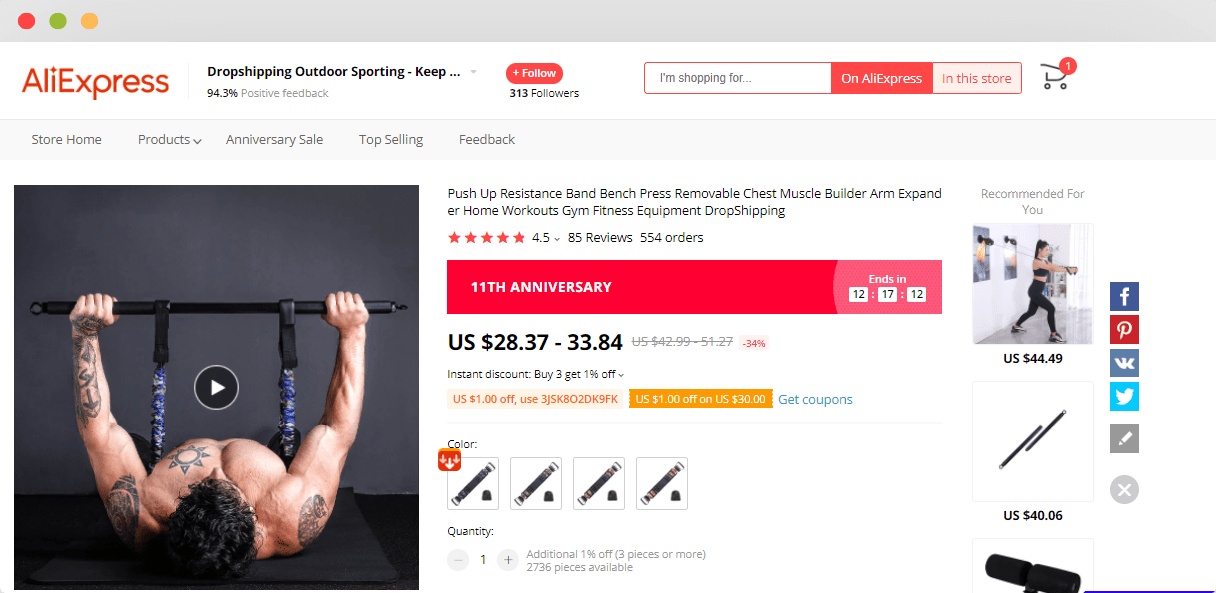 The profit margin may not be great in terms of multipliers but you can straight away put the price of this product at around $49.99 or $59.99 per product to earn a good profit margin for your online store.
Some products are just broad enough to be included in a single category or a niche. Just like this very product, you can also include this product in the stay-at-home niche and travel niche as this product is ideal for each of these situations.
The following interests might be effective while running ads for this product.
2. Universal Products
Some products are universal and almost every other person uses them because of their universality. These general products require a very large audience to target with no specific interest.
So, how do you target the audience for such products? You can go for targeting the audience with behaviors instead of interests in such cases.
Following is the list of such low cost high demand products that you can consider for selling.
1) 2-in-1 Shopping Bag
Everyone goes shopping to buy stuff including groceries or other forms of products from stores. In addition to shopping, people also need a medium to carry their stuff from one place to another.
With most countries banning plastic bags, there is a dire need for environment-friendly bags that you can use to carry things. What if a bag offers 2-in-1 features of being extendable and draggable with tires? Absolute problem solver!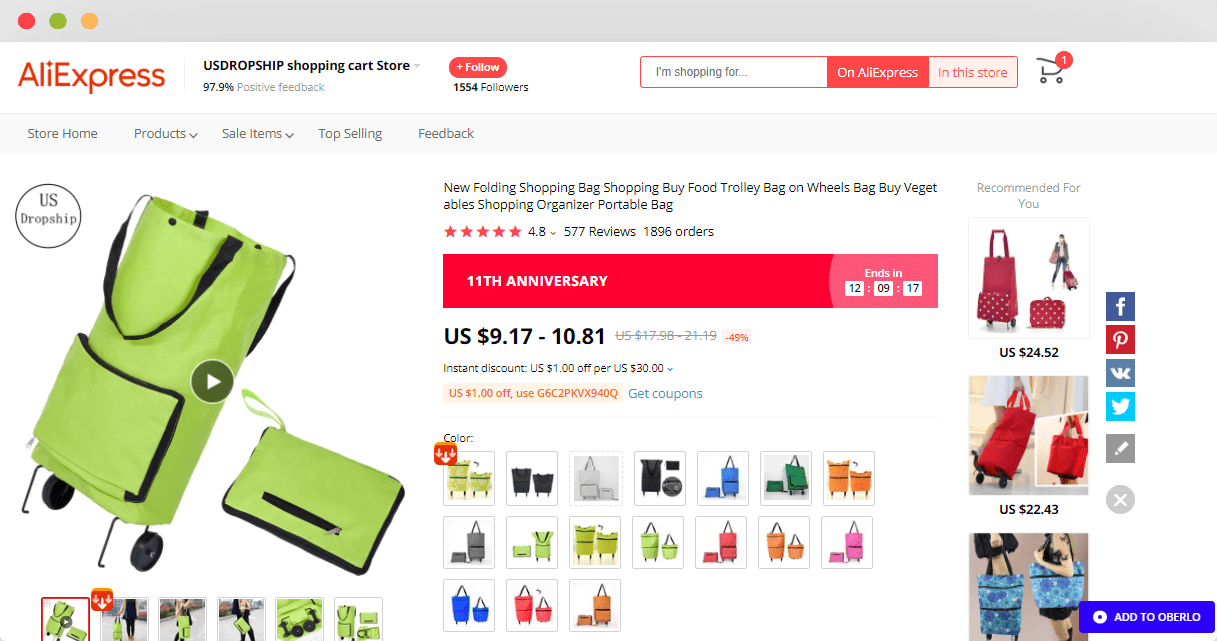 The product costs around $12 per item including the shipping costs. You can sell it for $29.99 making a profit of around $18 per product.
With its utilization being way higher than your expectations, you can sell this item to thousands of people online.
Use these interests while running ads for this product on Facebook:
Shopping Cart
Shopping Bag
Grocery
2) Comfy Chair Cushions
How about mixing up the chair and cushion experiences? The online world accepts cute things with open arms and with everyone stuck in their homes, these extra cute cushions will make their day.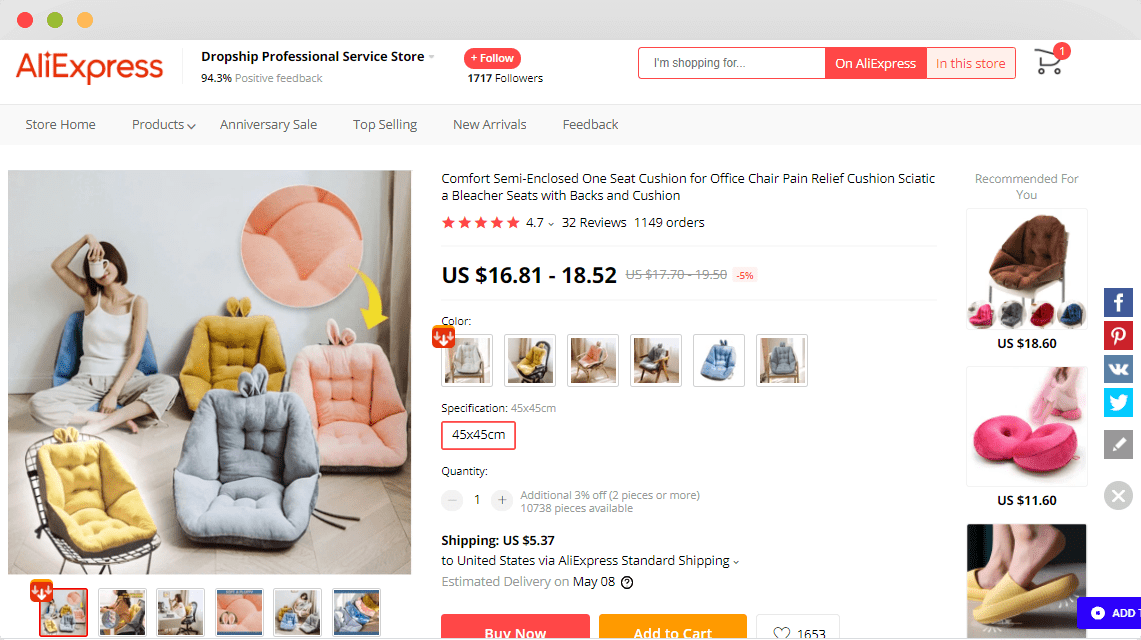 The total cost of this product is around $23 including the shipping costs and you can easily sell them for $50 to $60.
We see a very huge potential in this product because there are chairs in every home that are not very comfortable. This product will not only make their sitting experience warm and cozy, but will also add a pretty look to their chairs.
This product will be ideal for home, office, and even travel. Try to search and test similar interests while launching an advertisement for this product.
3) Pop-up Stationery Holder
This product is another cute addition to the messy office or home table. It holds the stationery in a very adorable way. This product looks simple yet it solves many problems of office and work-from-home.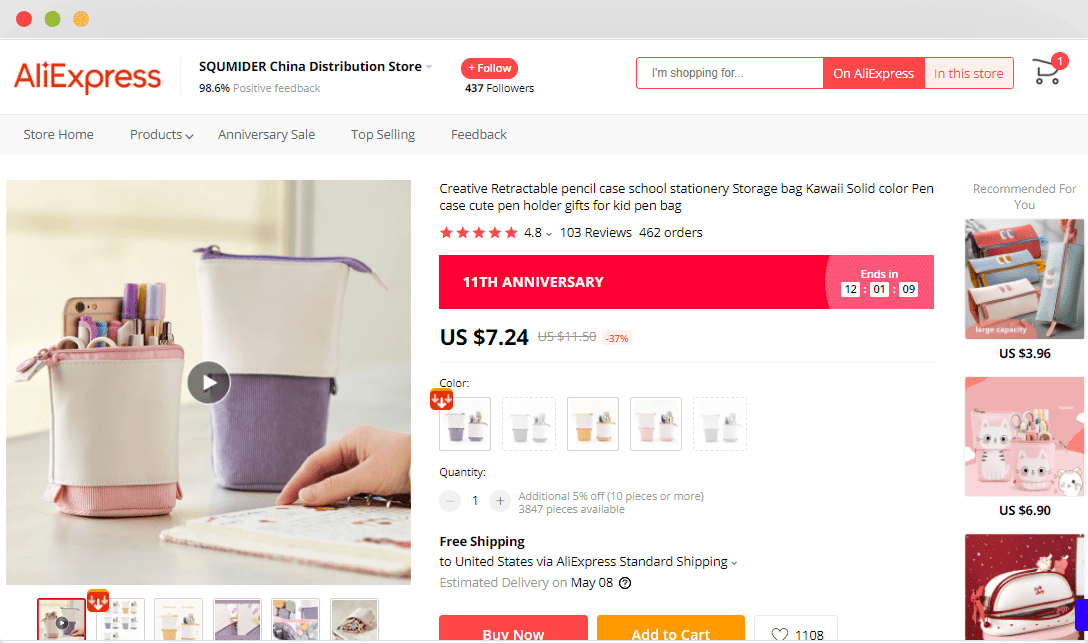 It can be an ideal choice for people who easily misplace their stuff from the study or work table. In addition to that, this stationery holder is movable.
So, you can highlight to your customers that they can move this holder from their home to school, college, or office.
The product costs around $8 including shipping costs and you can easily price this product at $29.99. A straight profit margin of $21 per product is not that bad for a start.
You will even find dropshippers selling this product for $34.99. You can use the following interests while targeting your customers.
Office supplies
Stationery
Home Decor
3. Hobbyist Products
Hobbies are highly passionate niches and products in those categories usually earn a high profit margin. Consider selling the following products and you can rock your online business if you hit the nail right.
1) Electronic Blackhead Remover
Skincare is one of the favorite hobbies that most women love to do. The top product that you can start selling for high profitable margins in skincare hobby is the Electronic Blackhead Remover.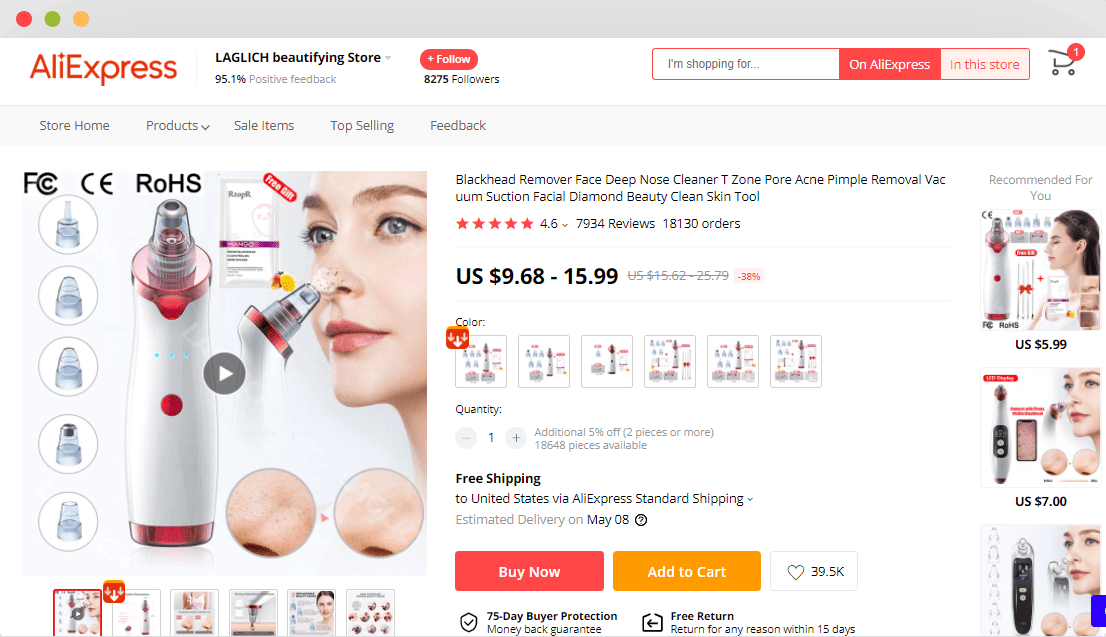 Yes! You guessed it right. Women are going to go crazy after this product as it is a BIG problem solver. Again, the beauty salons and spas are closed due to lockdowns, so women can do the skin touches on their own with this beauty product.
This is a typical example of the kind of products you can buy cheap and sell high. This product costs you between $10 to $15 and you can easily sell it for $45. A profit margin of around 3 times will truly serve your purpose of making good money from your dropshipping store.
You can use the following interests for targeting beauty and skin-conscious people on social media.
Facial care
Skin care
Beautiful skin
2) Tactical Waterproof Pants
Tactical pants may have revolved around dropshipping ads from time to time but this one has a high potential to perform for a long time.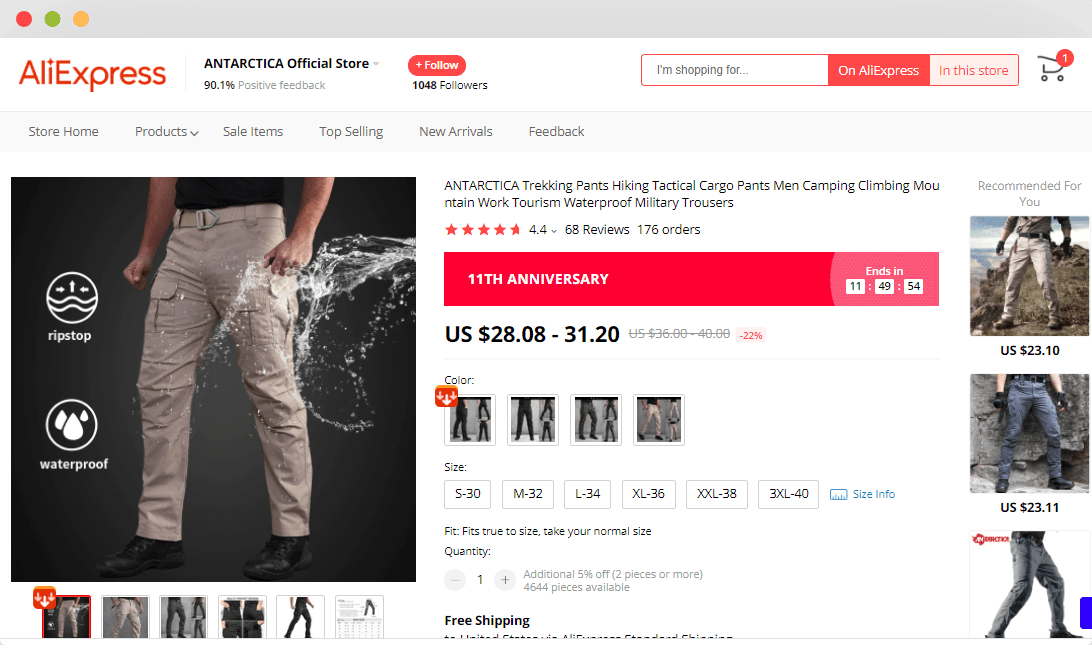 With its multi-pocket feature, durability, and quality of being waterproof, this thing can earn great profit margins for your business.
The cost of this outstanding product starts from $28 to $32. Due to its versatility, you can easily sell this trouser for way above $70. If you research the internet closely, you will even find people selling such items for $99.
It is universal and every other man would like to have one for him due to its multi-functionality.
While you can target a very broad audience for this product, you can at least include the following interests.
3) DIY Cake Decorations
This is an amazing product that may interest a large audience especially ones who are interested in baking cakes. Although there have been similar products previously in the market, this is a better and unique version with multiple design options.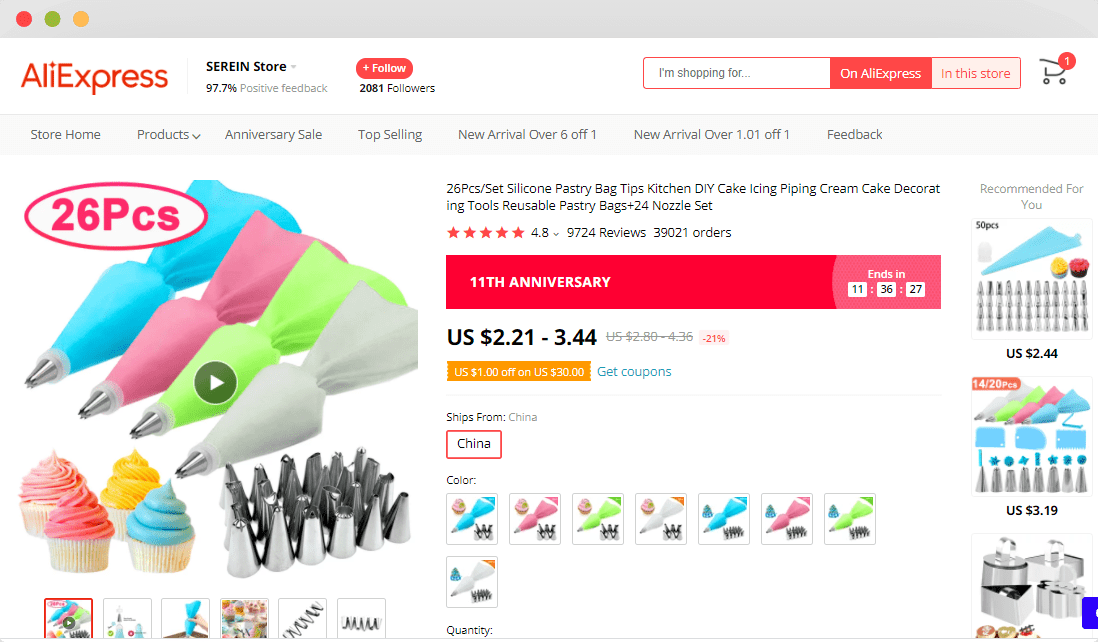 The cost of the product is very low around $2.5 to $3.5 per product with multiple designs. You can easily sell this item for around $19.99 with free shipping.
A profit margin of $16 to $18 per product is not that bad at all. While you are marketing this product on social media, you can include the following interests:
Birthday Cakes
Cake Decoration
Baking
4. Baby Products
Baby products fall in such a large-scale category that the need for these products will not die ever. There are new innovations in these products every day and you have to be vigilant about the updates to earn a high profit at the right time.
We have brought you the following top 3 products in the baby niche that you can start selling right away.
1) Whale Bath Sprinkler Toy
Every baby needs to take a bath and adding a fun part to it will always make the job easier for moms. This product can be a practical version of babies' all-time favorite rhyme "baby shark".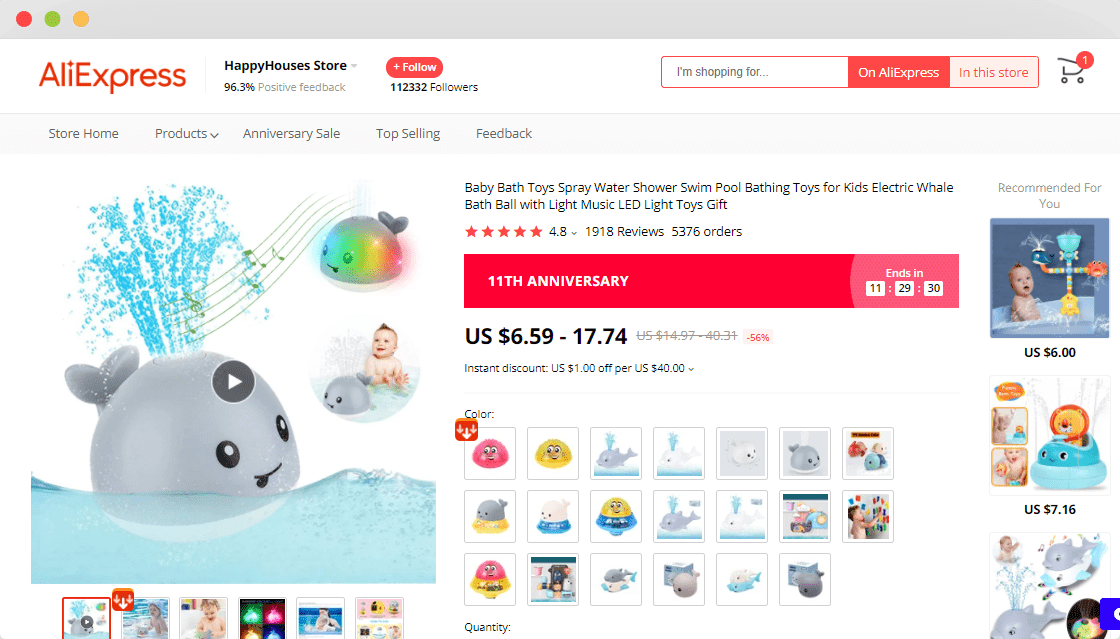 The product has attractive and fun features of sprinkling water along with showing different colors in the water. So, babies would really love this toy while they take a bath.
The cost of this product is around $7 to $18 depending upon different variants. You can easily market this product with over 2.5 times the cost of the product. This will make you earn a decent profit of around $15 to $25 per product.
You can target the audience with the following interests and behaviors.
New moms
Baby bath
Baby toys
2) Practice Copybook
Every parent wants their children to read and write quickly and efficiently. That's the point of including this product in our list of cheap products to sell with high profit margins.
This is a magical cookbook that makes it easy for children to practice writing. You can also erase and reuse the copybook again and again.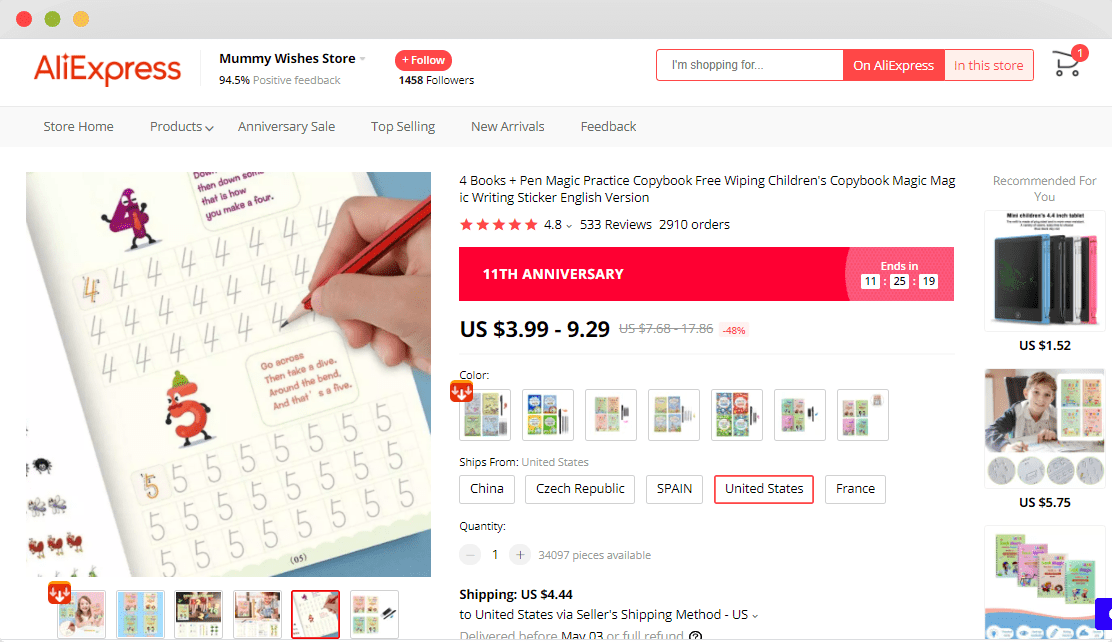 The product costs around $8 to $14 including shipping costs. You can easily sell this learning copybook for $24.99 to $34.99.
This product can turn out to be a huge winner as educating children is always one of the best business ideas with a sense of adding value to society.
You can use these interests to test this product on Facebook.
Homeschooling
Early Childhood Education
Preschoolers
3) Air Filled Bubble Balloons
These are one of the best kids' play items that parents would love to buy for their children. It is a kind of balloon that is filled with air and water and kids jump, play, and have fun with these balloons.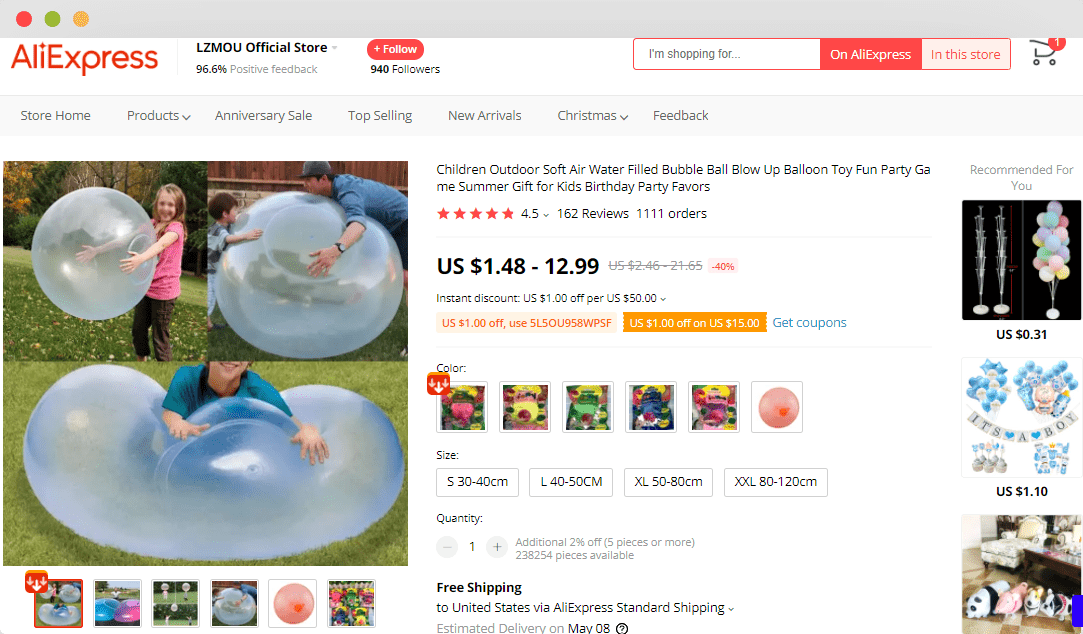 A video ad of this product on social media can create viral sensations, especially with moms when they start to tag each other and share this simple and cool toy across different platforms.
With extremely low pricing of this product in AliExpress starting under $2 to $13 with free shipping, you can earn a profit margin of 4 times.
Early dropshippers can even make 5 times profit on this product until the competition becomes fierce.
You can easily figure out the interest and keywords for this product to target. They may include the following:
Childhood Games
Kid Toys
Parenting
5. Pet Products
Pet niche is an evergreen niche and the demand for these products seems increasing day by day. As pet lovers are quite emotionally attached to their pets, you must use this rationale to market your products.
Following are the most profitable products that you can start selling right now.
1) Plush Pet Beds
Pets always need to sleep and take a rest. How about a cool, comfy, and plush bed for them?
Dropshippers know that the trend of products like pet houses and pet clothes saw a boom a few years back. That's why we have included this new Plush Pet Bed in our list of high margin eCommerce products.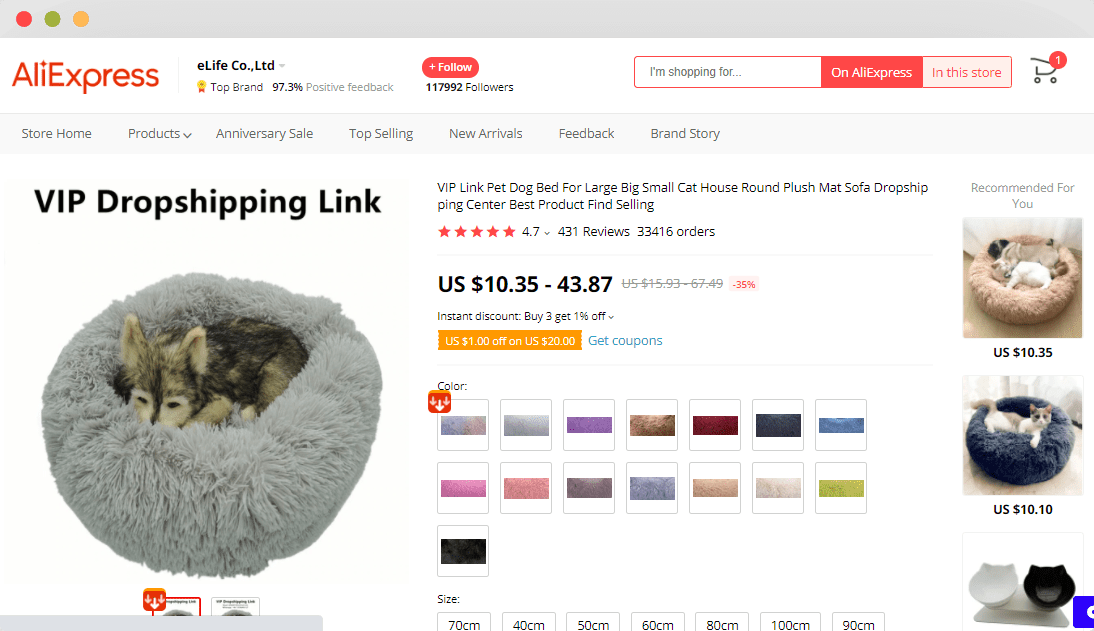 You can market this product from an emotional angle to grab the attention of pet lovers.
The price of this product starts from around $11 and goes up to $45 depending upon the size of the beds. You can safely put your margins to at least 2.5 to 3 times the cost of these pet beds.
Do consider the following social media platforms to target your potential customers:
Facebook and Instagram
Pinterest
TikTok
2) Automatic Pet Fountain
Having a pet and not worrying about her feeding is not possible. This product helps a pet owner to give a water fountain to his pet so that it can drink water whenever it is thirsty.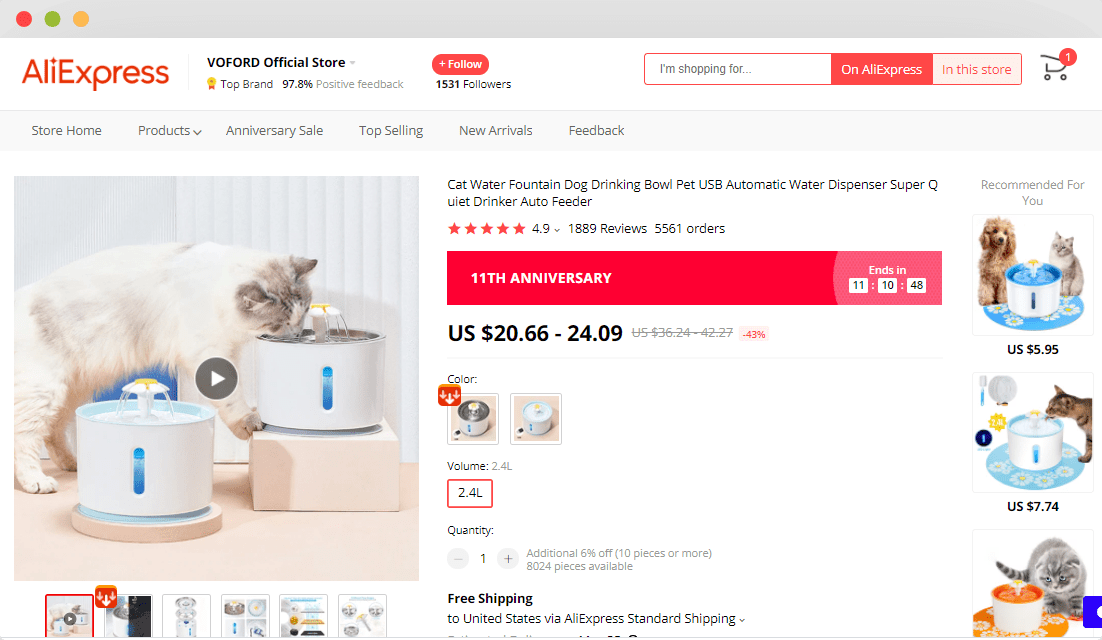 This is an electronic USB-powered water fountain and it helps cats and dogs to drink water in the most exciting and fun way. So, you must try this product as it offers a huge profit margin too.
Starting from as low as $20 per item, you can sell this item for a way up to $49.99. So, you can easily earn a 2.5 times profit from this product. In other words, you can earn around $30 per product with a single sale.
Again, you must use platforms like Pinterest and TikTok to create viral posts with links to your store.
Go for the simple interests to target pet owners on social media.
Dogs
Cats
Dog Accessories
3) Pet Car Seat Cover
Most pet owners don't even travel without their pets. But pet owners also love their cars and they may not like their pets to get the car seat dirty.
This product is here in the list to cater to their problem. This is the Pet Seat Cover and pet lovers can easily take their pets along with them to any place without any fear.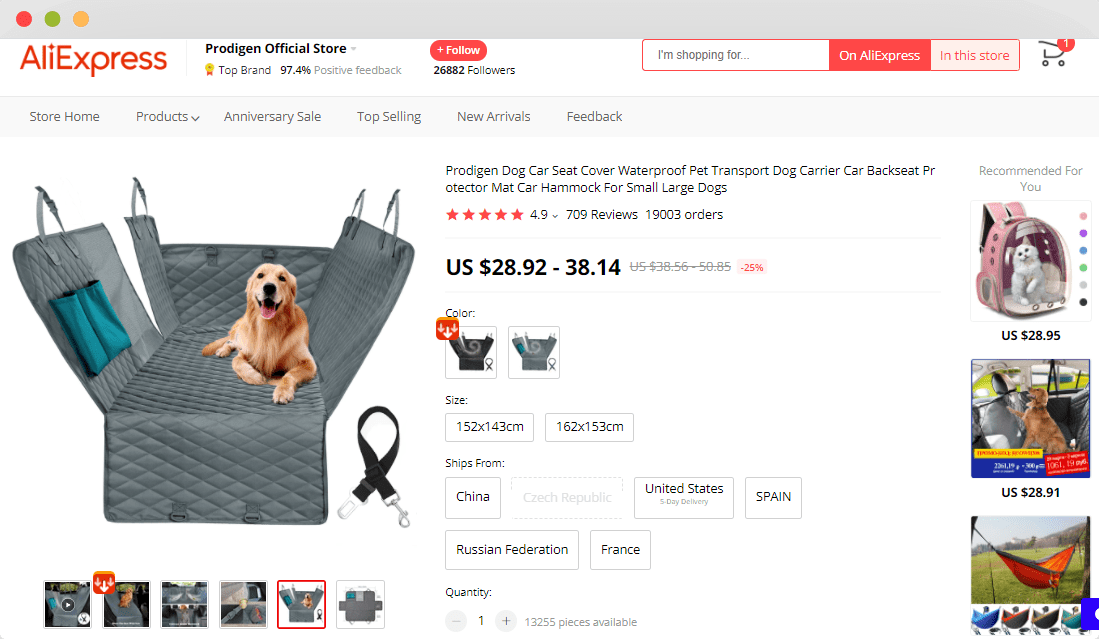 In addition to the car cleanliness, this seat cover also makes pets travel safely. This is another huge selling point that can quadruple your sales if you can highlight it properly in your ad copy.
About the profit margin, this product costs around $30 to $40 including shipping costs and you can easily make a profit of around $15 to $20 to be on a safer side as this might be a little trendy product.
Use the following interests while targeting your audience for this product:
Pet Travel
Pet Safety
Dog Accessories
So, you must have enjoyed checking out the list of interesting products mentioned above. These are highly researched items and have a great potential to be your next winning product.
Do try all or a few of these products and let us know what worked out best for you.
At the end of this article, let's check what most people are asking about this topic.
FAQs about High Profit Margin Products
1. What Is a Good Profit Margin for Dropshipping?
A good profit margin for dropshipping in terms of percentage is around 250% to 300%. You can also call a good profit margin for a dropshipping product if you set the product's price as 2.5 to 3 times the product cost. Both are the same.
But as we have discussed before, it depends upon many factors including the type of the product, your price point, competition, saturation, and its demand in the market, etc.
The price of the product determines how much you will earn from that product. So, you have to set the price of the product after careful research so that you don't put the price too high or too low.
Take help from Shopify price suggestions and do your calculations to keep a reasonable profit margin so that you recover the cost of your advertising and other expenses.
2. Where Can I Find Profitable Dropshipping Products?
There are many platforms where you can find profitable dropshipping products. The topmost platform to find profitable dropshipping products is AliExpress.
In addition to that, there are other dropshipping platforms where you can also find products with the biggest profit margins. These are AliExpress alternatives with similar or better options.
Some dropshipping platforms also integrate with these ecommerce marketplaces and conduct the product sourcing for you.
3. Which Product Sells Most Online?
The product that sells most online is a problem-solving product for almost every other person. It can be anything from a great phone accessory like a Magnetic Charger or day-to-day item like bluetooth speakers.
Both of these are among the best dropshipping products that sell but as they are slightly saturated now, we did not include them in this list.
As far as the product is solving the audience's problems, it will keep on attracting online buyers.
In addition to that, what sells most online is a kind of a product that is not easily available in physical stores just like Walmart.
Obviously, if you can buy a product from a store next to your street, you may not buy that online.
How Can NicheDropshipping Help with High Profit Margin Products?
NicheDropshipping can help you in sourcing products at the cheapest cost with the highest quality so that you only worry about selling the products.
We can also become your dropshipping agent in China and assist you with everything you would like to facilitate your online business.
We offer premium services to dropshippers as well. These include:
Summary
We have tried our best to bring the list of high profit margin products for dropshipping. All items have huge profit potentials and you can also use these products as the wholesale items to sell from home easily.
Dropshipping is becoming highly competitive day by day. With the average profit margin of the mentioned products being above $15 to $20 per product, you can use these products for starting an online business with a high profit margin in no time.
Tell us if you liked the products and which products you are going to try for your own dropshipping store. If you have any questions or confusion regarding the topic, let us know in the comments p. We will reply to your queries as early as possible.