Kitchen products have always been among the hottest niches in dropshipping. People are taking more and more interest in cooking and related hobbies.
That's why the demand for kitchen items, gadgets, and utensils has been increasing day by day. The market for small kitchen appliances is estimated to be as big as $125.8 billion in 2023. 
So, we thought of sharing the list of best kitchen products to dropship in 2023. 
In addition to the list of hottest kitchen dropshipping products, this article will contain all the related information that you would need as a dropshipper for kitchen products.
Let's jump in.
Top Kitchen Products for Dropshipping
1. Folding Trash Bin
This is a very innovative product and is multifunctional too. This is a foldable trash bin that can be attached to the cabins. The users can put the garbage directly into the bin and can press it again to close its entrance.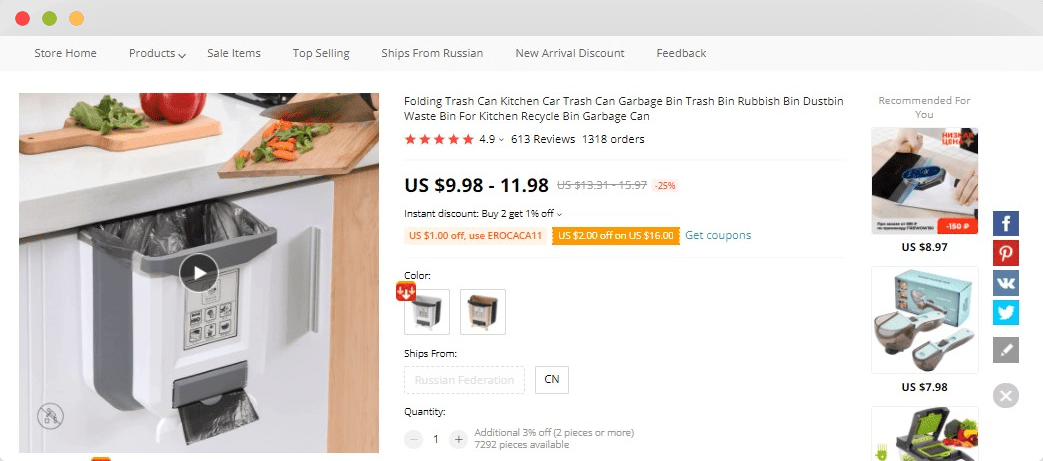 In addition to the kitchen, it can be used anywhere in the house and there are multiple benefits that you can highlight in your ad campaign to attract passionate kitchen buyers.
With just over 1000 orders, this is one of the hottest products that you can start selling right now before the competition gets fierce. The price is under $10 and there is a huge profit potential if you sell it for $24.99. This makes it one of the great kitchen products to sell.
2. Portable Garbage Rack
Every kitchen is full of mess. As we talked about the garbage can in the previous product, we had to include this as well in the list. This is a portable garbage rack. It is a simple yet very effective and useful product.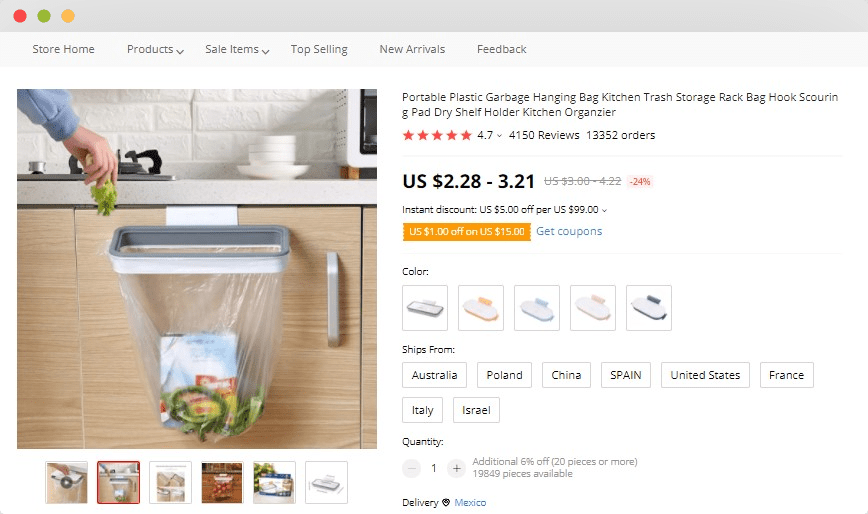 While we know that every standard kitchen has a trash bin, an innovative garbage bag like this will truly attract a kitchen enthusiast.
This rack can be attached to any cabinet and the user can just use a shopping bag or a trash bag to attach with this rack. The perfect garbage back will be ready for use.
The plus point for this product is that the plastic bags can be removed and the users would never have to keep dirty garbage bags in their kitchen.
With its cost of under $5, you can easily sell this product for $14.99 ensuring a good profit margin.
3. Anti Drain Clogging
Clogging in the kitchen sinks can be very frustrating. And it always has to happen as many cutting and slicing tasks are being done in the kitchen. Their remains can clog the sink drain.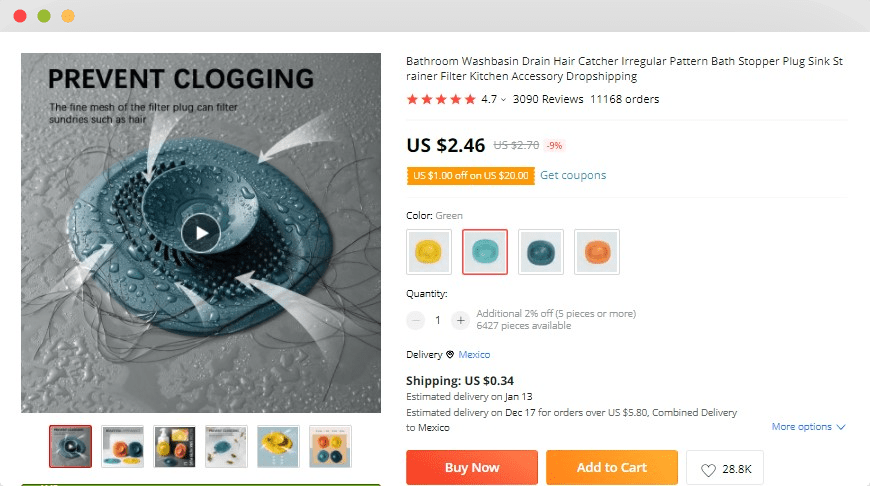 This simple product can prevent the sink drains from clogging. The user just has to put this anti-drain clog on the drain of the sink and this will stop everything from getting inside the drain except water.
The normal kitchen drains allow smaller things like hair to go into the drain which can clog the drain after some time.
This product does not let that happen and it is reusable every time. In addition to the kitchen, the users can think of buying this product for their washrooms too.
This amazing product costs under $3 and it can easily give you a good profit margin of up to $7 per sale.
4. Egg Shaper
We all love eggs and they are good for our health too. The joy doubles up when we get a fried egg in the shape of our liking. This especially works with the kids.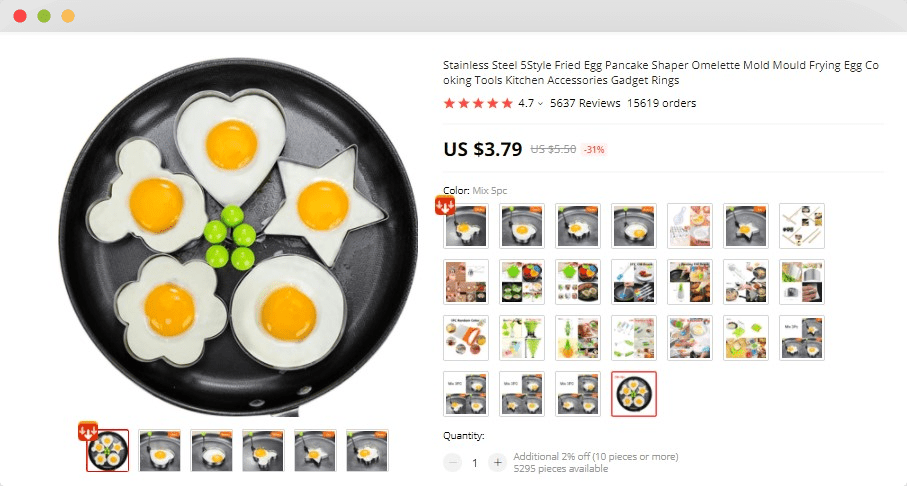 This wonderful product does the same. It is the egg shaper. It can shape the fried egg into 5 different shapes including a star, heart, and flower.
This product has a huge potential of attracting mothers whose children do not like to eat eggs. The mothers can attract the children by giving them a fried egg in the desired shape. Don't forget to use this catch in your ad campaign.
The best thing about this product is that it costs under $1. So, you can list this product on under $10 items in your dropshipping store.
Bonus Tip: Given the amazingly low cost of this product, you can also use this product as a gift with any of your high-ticket kitchen items to attract more sales.
5. Spiral Vegetable Cutter
We all love to eat with style. That's the catch with this product. It cuts vegetables into spirals. It cuts in different shapes of spirals too.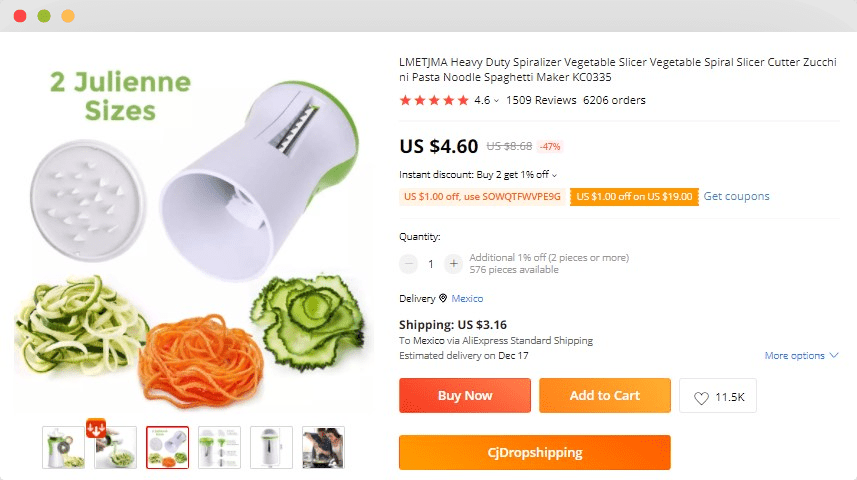 This will suit people who like cut salad in different shapes. It will make their work easier and will appeal to them a lot.
With under $5 in cost, this product can easily generate a profit of $10 to $12 per sale.
6. Sticky Kitchen Hanger Hooks
These are portable hanger hooks with a very strong adhesive to hang the kitchen accessories. The users can hang their kitchen accessories like kitchen ladles, etc. This can depart a kitchen with style and convenience.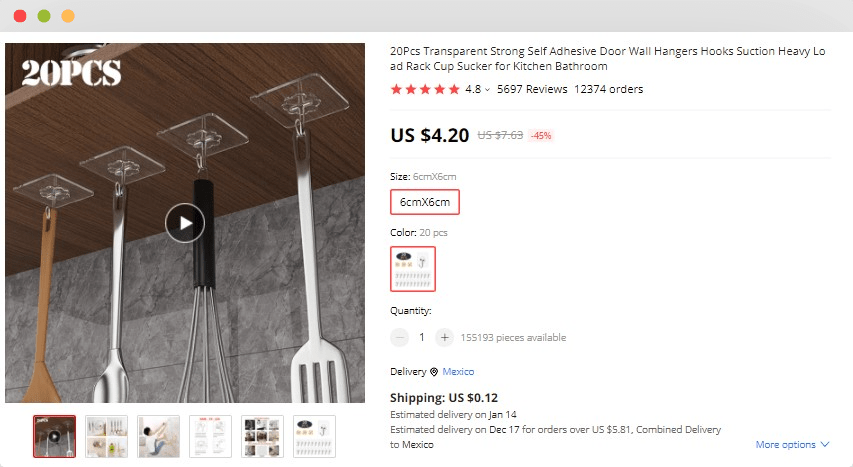 These sticky hooks are made of stainless steel and can also be used as cup holders too.
This item costs under $5 and has a great potential of generating $10 to $12 per sale because one order would contain 20 pieces.
7. Mini Bag Sealer
We all tend to leave our snacks unfinished sometimes. Most of the time, we are only left with the option of wasting that packet of snacks when we do not finish it. This mini bag sealer solves this problem.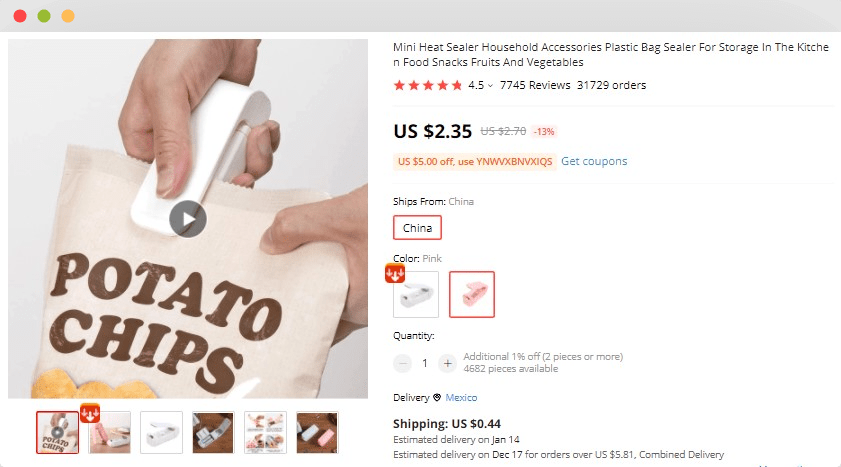 With this mini bag sealer, the users can seal any plastic bag to keep the food or snacks protected. This is an excellent replacement for traditional rubber bands that did not provide full protection.
The whopping number of orders above 31K and a meagre price of under $3 makes it one of the best kitchen products to dropship.
8. Stretchable Eco Lids
This can be a great addition to your kitchen products to dropship. These are the smart lids that are eco friendly. You can place them over any used food to keep it protected.
These lids are stretchable enough to fit the size of any lid. The kitchen users would love it due to its multifunctional benefits.
With the cost of Under $4 for 6 pieces, you can easily set the price at $14.99 ensuring a profit margin of $10 per sale. It is a hot-selling product on AliExpress having more than 12K orders.
9. Oil Sprayer
This cute-looking oil sprayer can be the need of every kitchen as it solves a big pain point of sprinkling unnecessary oil during cooking. In addition to saving oil, this also spreads oil all over the meal to ensure efficient cooking.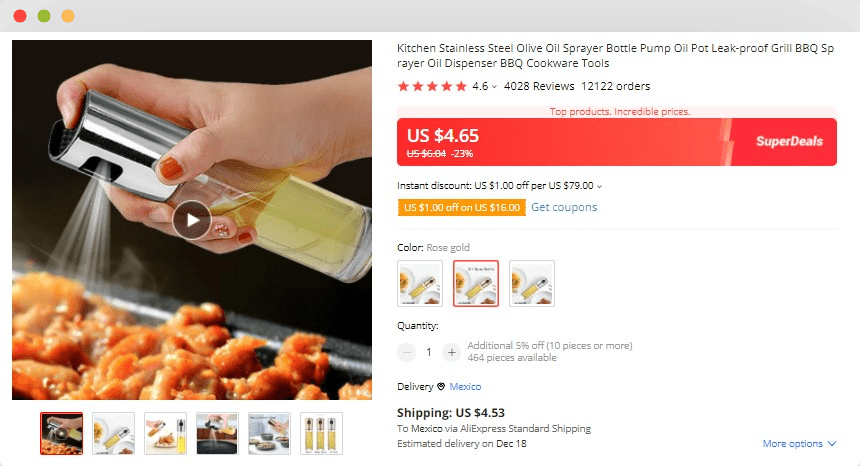 This is made up of stainless steel. So, you can bag on this feature to earn a decent profit margin.
Having the cost of under $5, you can easily sell it for above $14.99 to earn a profit margin of $10 per sale.
10. Punch Free Towel Holder
This very small yet necessary kitchen item has recently grabbed huge attention from the audience. This is a towel holder for any kitchen.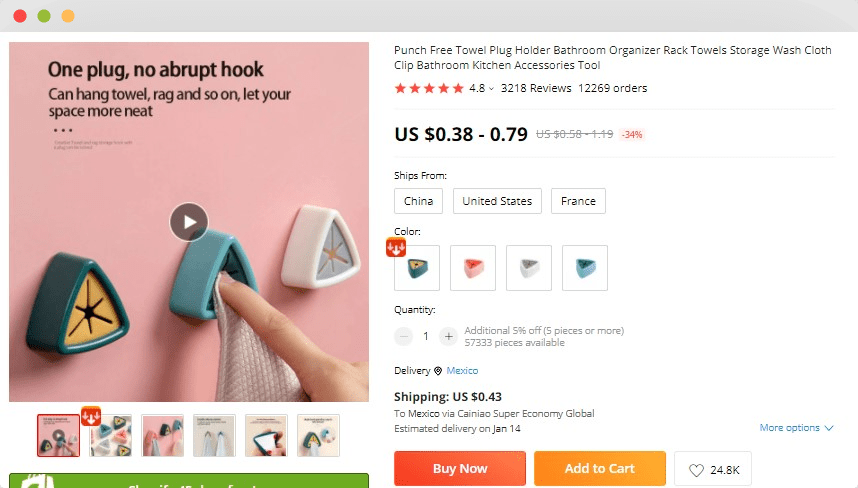 But the amazing feature of this product is that the user does not need to have a hook to place the towel or any other kitchen cloth.
The users just need to paste this holder anywhere in the kitchen and push the towel onto it. The towel will stay there and can be pulled back whenever required.
This product has an amazingly low cost of under $1 per product. You can either use this as a gift to drive more traffic to your store or you can sell it separately for $9 per product.
11. Kitchen Utensils Organizer
Every kitchen has a variety of utensils. A great kitchen product for dropshipping is the one that has a huge targeted audience offering them a great solution to the persistent problem.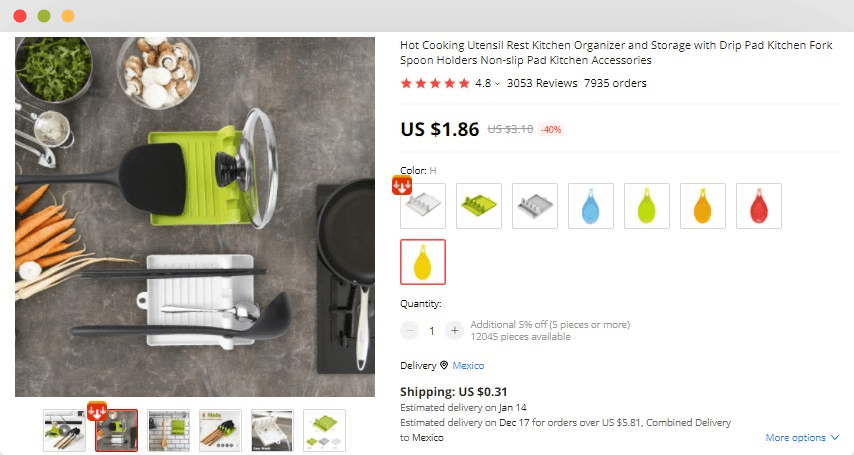 This utensil organizer does all of that. It is smartly designed to manage kitchen utensils while a user is busy cooking. The users won't need to place every kitchen utensil separately.
Having a cost of under $2 per product, you can earn a profit margin of $8 to $12 per sale.
12. Leaf-Shaped Soap Holder
Soap is an integral part of every kitchen. While the world has shifted towards liquid soaps, the solid shape of soaps has not yet lost its importance.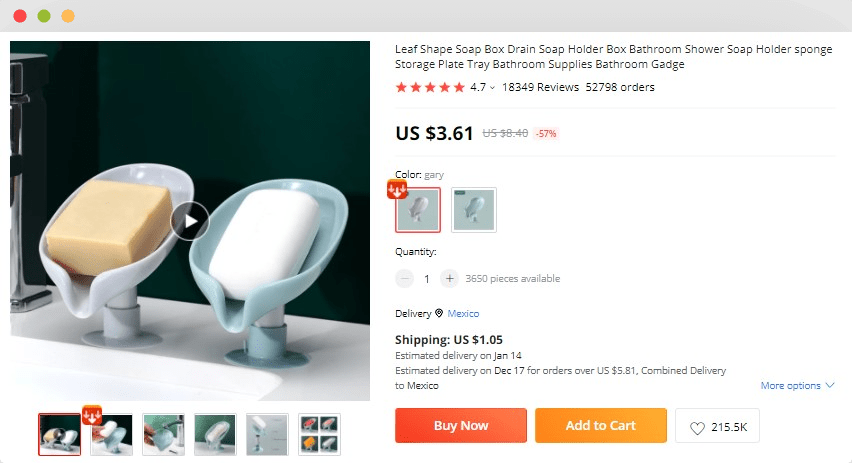 But improper drainage of water from the soapbox would most probably lead to damaging the soap.
This leaf-shaped soap holder or container does not allow the water to stay under the soap after it is placed in the soapbox. The water rinses away naturally due to its smart shape and the soap remains in its true size and form.
This product also costs under $5 per piece. You can easily earn a good profit margin of $10 per sale.
13. Smart Sponge Holder
Every good kitchen enthusiast avoids mess in a kitchen. Most of the mess is observed in the sink area. This product helps maintain the tidiness of the kitchen sink.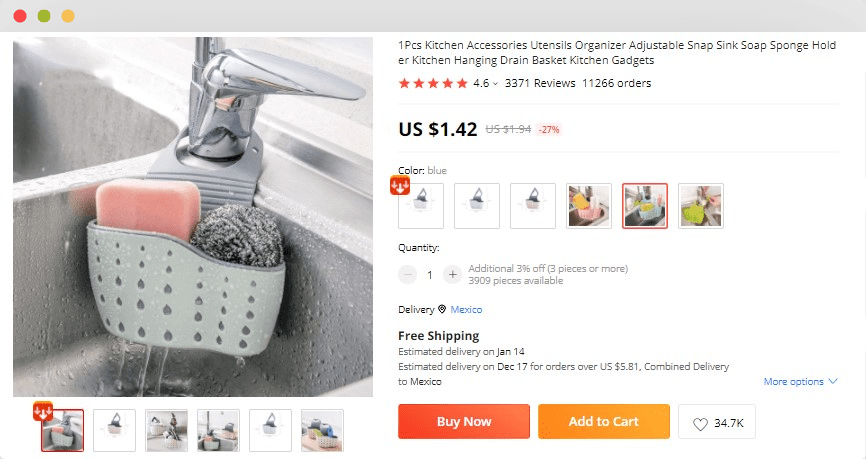 The users can place the kitchen accessories like a sponge in a way that the sponge drain remains in the sink only.
A user can tie it up with the tap of the sink and can place certain things in it while still keeping the water from dripping in the sink.
Look at the insane number of orders in the screenshot and its cost of under $2. You will surely get an idea of how much you can earn from this amazing kitchen product.
14. Stove Protection Mats
The stove is the center of every passionate cook and the cooking can be untidy sometimes. As a result, the stove area can get dirty. These magical stove protection mats will not let your stove get messy.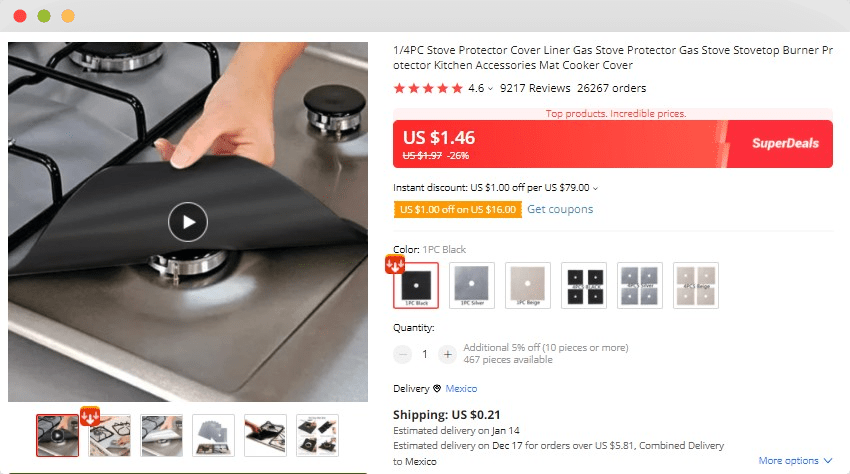 These mats are supposed to cover your stove area and everything that spills during the cooking will fall upon these mats. These mats are fire-resistant. So, the users won't have to worry about getting them burnt.
These mats are removable and can be cleaned to be used again and again.
The amazing cost of under $2 per piece and the insane number of orders for this product on AliExpress tell the whole story. It can be a compulsory kitchen tool for many kitchen enthusiasts.
15. Vintage Spoons
Last but not least is the kitchen product that adds a royal look to the eating. These vintage spoons are stylish enough to attract every person who has a habit of eating with knives and spoons.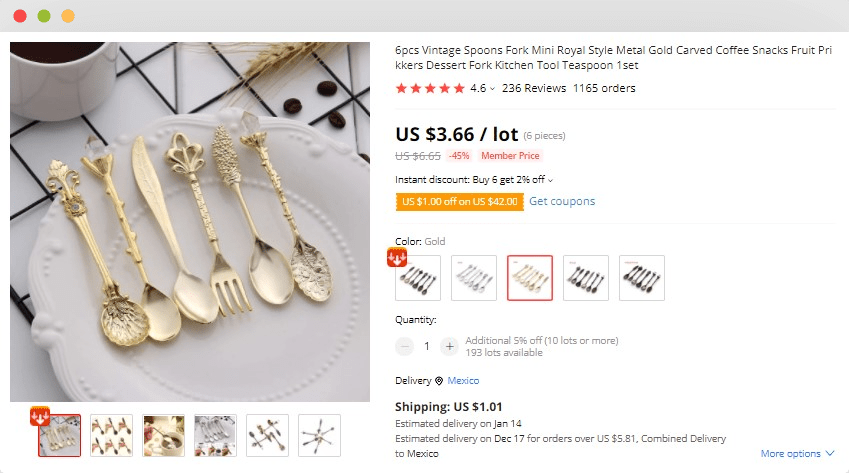 The spoon set is already a permanent demand of every kitchen. Having these vintage spoons will add beauty and style to their kitchen.
The perfect price of under $4 per 6 pieces of this amazing spoon set will surely get you a great profit margin. You can even sell this spoon set for over $19.99 per set.
FAQs about Best Kitchen Products to Dropship
Now that you have gone through the list of best kitchen products to dropship, let's answer some of the most frequently asked questions regarding this topic.
Are Kitchen Products Good for Dropshipping?
Yes. Kitchen products are good for dropshipping. That is because there are a lot of people in the world who love cooking and spend most of their time in the kitchen.
If you can give them a few great and trending products that make their lives easier, you can be the king of dropshipping kitchen products.
As food is one of the compulsory tasks that everyone has to undergo a few times a day, making it a business will benefit you as an entrepreneur.
Is Dropshipping Kitchen Products Saturated?
Dropshipping kitchen items is not a new trend. Rather, the kitchen niche is surely one of the most competitive niches in dropshipping. But nothing is saturated if you can come up with unique and new product ideas.
You must have seen the products like a unique salad cutter bowl or an innovative cutting board. These kinds of products have been so common that they are now available in physical stores as well.
So, you need to try out the products that have a wow factor and are new to the online world. It would be great if a product can solve a big daily kitchen problem.
How to Decide if a Kitchen Product Is a Winner?
There are many ways to decide if a certain kitchen product is a winner or not. You can check and compare your winning product with the rest of your competitors. There are some Shopify tools like Commerce Inspector to help you find the number of orders from your competitor's website.
If your competitor is getting a steady number of orders for the same product, it means you can also take a step forward with that product.
You can also check the status of your product at AliExpress Dropshipping Center too. It analyzes the product and shares some interesting stats with you like the daily number of orders. This provides you with better clarity regarding a particular product.
Another method of checking if a kitchen product is a winner or not is to check if the product is available at famous shopping websites like Amazon, eBay, and Walmart, etc. If the product is available, you need to check the status of their orders and reviews as well.
How to Get Suppliers to Dropship Kitchen Products?
It is always advised that you work with at least 3 to 4 dropshipping suppliers while you are dropshipping. That is because if one of your suppliers is not responding for any reason, you can fulfill the orders from the other suppliers.
To do this, you have to contact at least 5 to 6 suppliers on the dropshipping platform. You need to talk to all of them and show them that you will be selling their products.
You need to take special care in selecting your suppliers. For that, you have to click on the supplier and check their brief stats.
If you are on AliExpress, you can quickly check a supplier's status by watching their positive feedback rating in percentage and the number of years that store has been working. You can see the highlighted area in the screenshot below.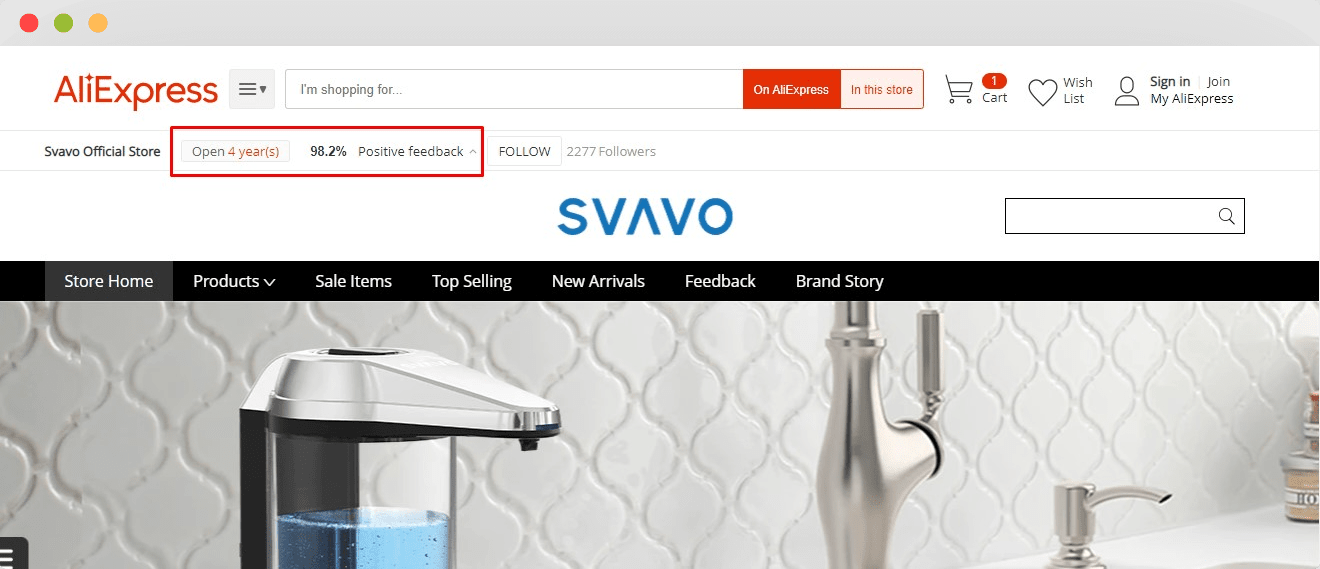 How Can I Source Kitchen Products Effectively?
You can source kitchen products directly from websites like AliExpress. But that will take much of your time and effort. The best idea is to hire the professional services of a dropshipping agent in China.
A perfect sourcing agent will not only help you source the products at the cheapest possible costs but can also help you in every other process of dropshipping including your inventory storage and worldwide fulfillment on your behalf.
Final Words
Cooking tools have always been in fashion and this fashion can never grow old. Only the products will keep shuffling but the passion seems to remain the same.
We know that finding products can be too tiresome to start over and over again. That was the core reason for bringing up this informative article to help kickstart your dropshipping business.
Do tell us in the comments if you liked some of the kitchen products to dropship. If you want more assistance in this regard, we are always a click away from you.
Just shortlist a few of the suggested products and your dropshipping business of kitchen supplies will be ready in no time.