Pet products never cease to be in demand. No matter what the world is going through, pet lovers will strive to keep their furry friends happy by filling their stomachs or giving them toys.
For dropshippers, the pet niche is an evergreen niche. It is a tree that grows fruit in all seasons.
If you've made the wise decision to fill your pockets by selling pet products, the next step is to find a pet dropshipping supplier.
To make your search easy, we come to you with a list of the best pet dropshipping suppliers in 2023.
So keep on reading if you're ready to do business!
1. NicheDropshipping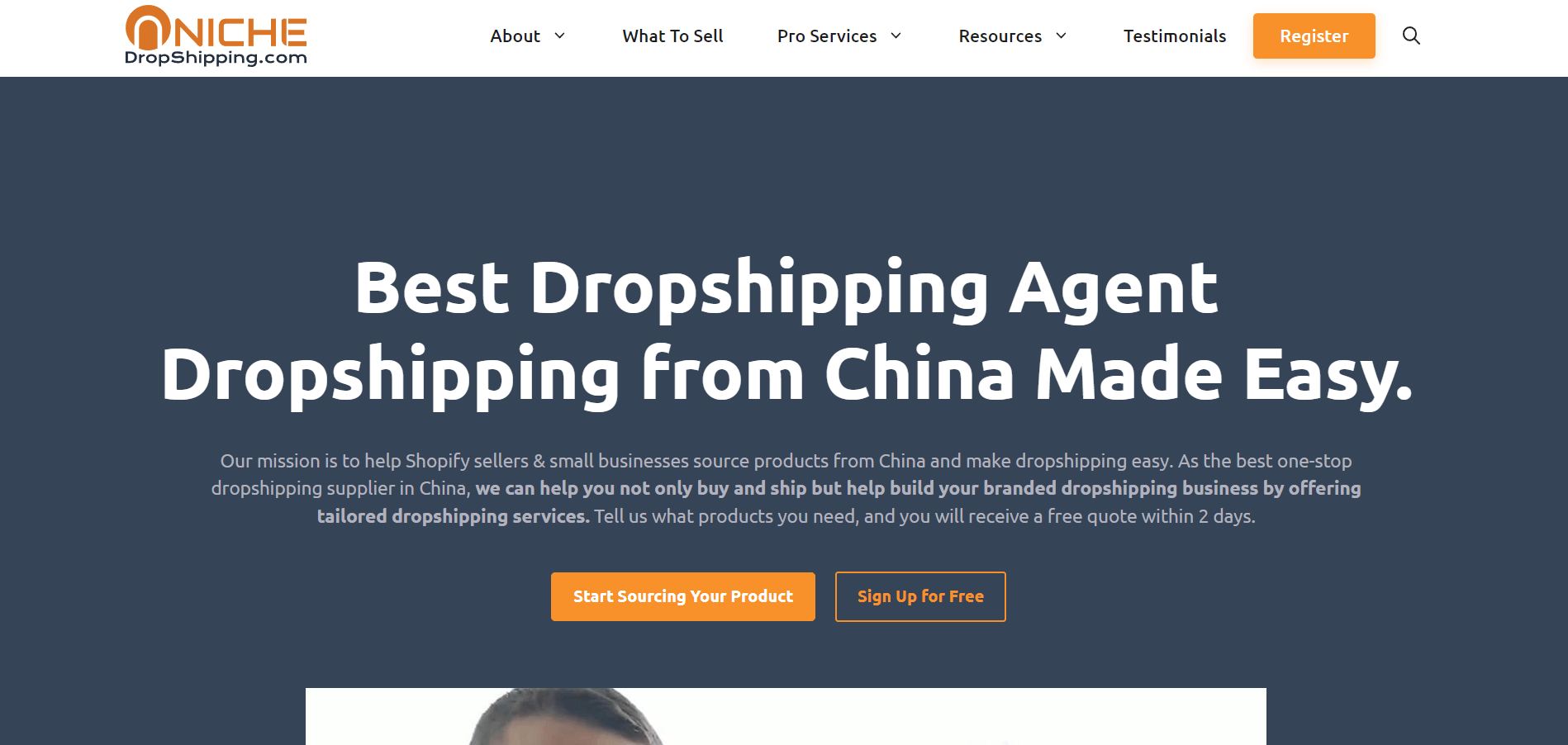 NicheDropshipping is a China-based dropshipping service that also deals in a massive variety of pet products.
We have a high standard for quality, meaning there is no room for faulty or B-grade products on board.
Every product is checked manually before making its way to dropshippers to ensure quality control.
Even if you're expecting bulk orders from customers, our agent will purchase the goods in bulk quantity on your behalf.
Furthermore, our agents are also trained to negotiate on behalf of our clients, landing you the best possible rates in the market.
The cherry on top is that NicheDropshipping also provides additional services, such as warehousing and private labelling, to help you build your pet brand from the ground up.
Key Features
Provides exceptional sourcing services for worldwide fulfillment
Dropshipping agents order and negotiate on your behalf
Offers private labeling, white labeling, brand packaging, and warehousing services
2) PetStoresUSA
PetStoresUSA is one of the most popular and oldest pet product suppliers in the US.
With 40+ years of experience, various warehouses all over the US, and 2500+ products under their name, PetStoresUSA is a wholesaler relied upon by countless resellers.
One of the best things about PetStoresUSA is their variety of products. They've partnered with hundreds of brands covering pet products for dogs, cats, fish, and birds.
PetStoresUSA does not do retail themselves, rather they take orders placed on dropshipping stores and dispatch the products directly to the customer.
Regarding customer support, PetStoresUSA representatives are available to sort your queries from Monday-Friday 8 AM to 5 PM.
To take things forward, you'll have to contact the wholesaler. Their agent will help you finish registering and give you a spreadsheet of products.
Overall, PetStoresUSA is a great supplier to start dropshipping. They're professional, experienced, and ideal for building a quality supplier-retailer relationship.
Key Features
Fast shipping times in the US
40 years of pet industry experience
2500 products from renowned brands
3. TopDawg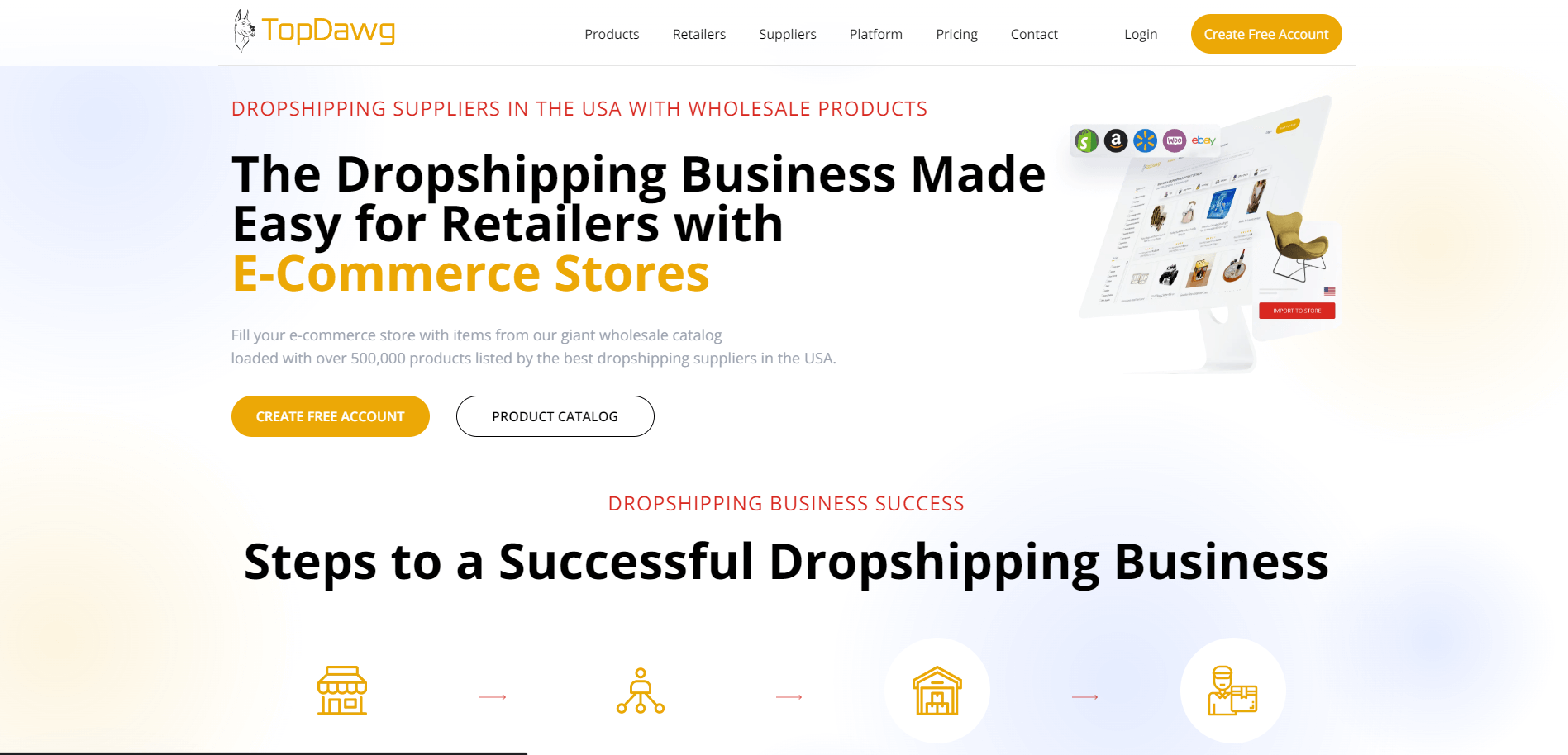 TopDawg not only offers you products for dogs, but they have an extensive range of pet products to dropship.
With a massive catalog consisting of 500,000 pet products, TopDawg is a legitimate supplier catering to audiences both from the US and the rest of the world.
Based in the US, the wholesaler covers pet clothing, supplies, toys, food, treats, and much more.
TopDawg was created especially for dropshippers and primarily targeted the US audience.
Since they have several warehouses in the States, shipping times are also relatively shorter.
Also, the platform offers precise tracking of orders and shipments, so you're never left in the dark about the parcel's status.
They allow you to test their platform for free in the first month. Afterward, you can upgrade to the following plans:
Business $24/month
Scale $59/month
Key Features
500,000 products
Worldwide shipping
Order tracking
Free trial
4. Mirage Pet Products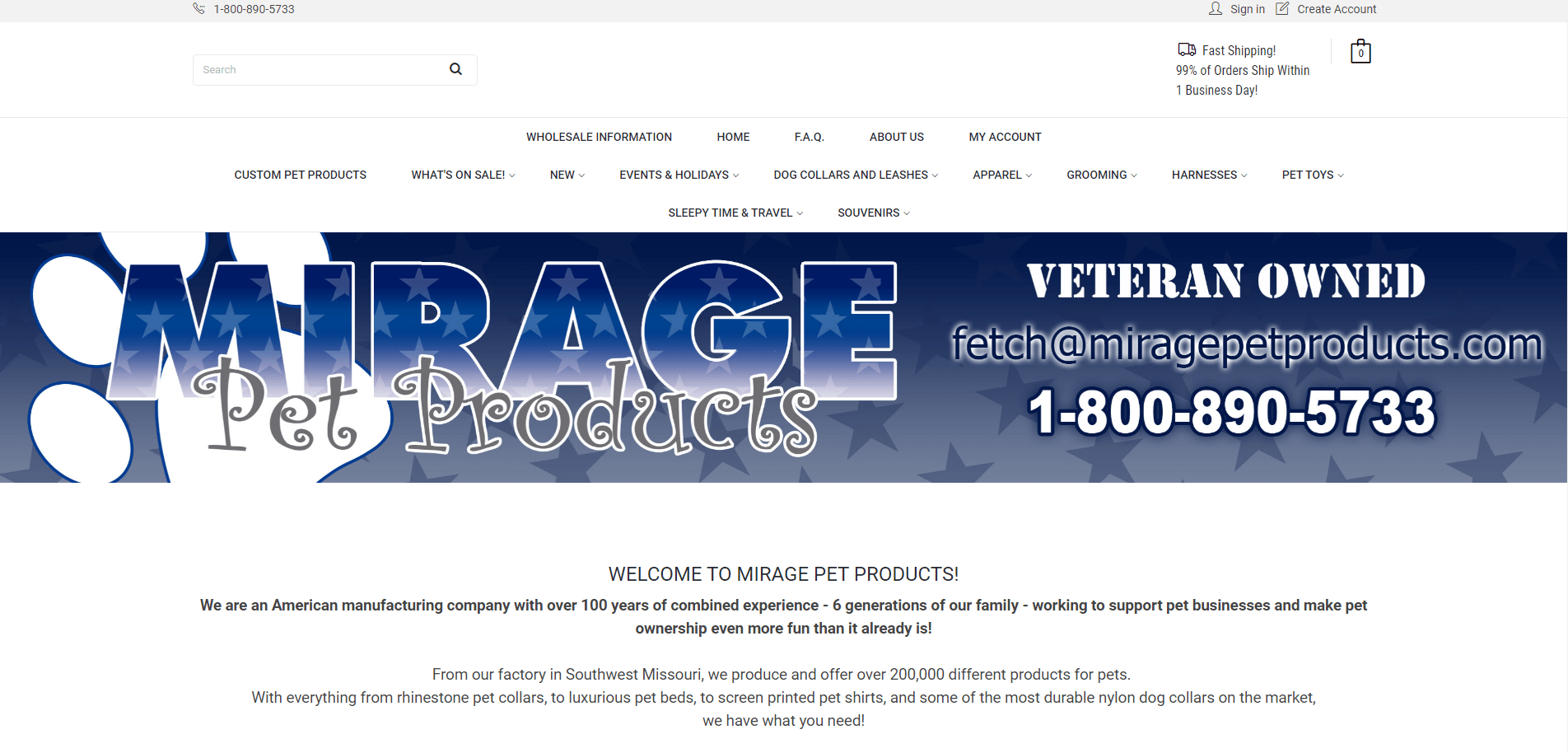 This US-based company produces its own pet products, mainly clothing for cats and dogs.
Some of their products include pet collars, beds, shirts, harnesses, and blankets.
Being a veteran, Mirage Pet Products has garnered quite a reputation in the eCommerce industry as a trustworthy supplier.
MPP does not cost you anything besides the shipping and product costs.
Considering the fact it manufactures its own goods, no fee is a great advantage for dropshippers.
As a result, MPP's products are relatively lower in price, giving you leverage in setting suitable margins.
In regards to shipping, MPP ships for free to the US if your orders exceed $250. Overseas shipping depends on the nature/quantity of the orders.
Their shipping times are quite fast, barely going over a business day in most cases.
Another perk dropshippers get from having MPP as their supplier is the ability to order custom products. However, this will cost you a bit more.
To begin, simply sign up on their website and have your store approved.
Once that's done, you'll have to manually set up your store before taking orders since MPP does not offer integration.
Key Features
Manufactures own products
Takes custom orders
Relatively lower prices
100+ years of combined experience
5. Essential Pet Products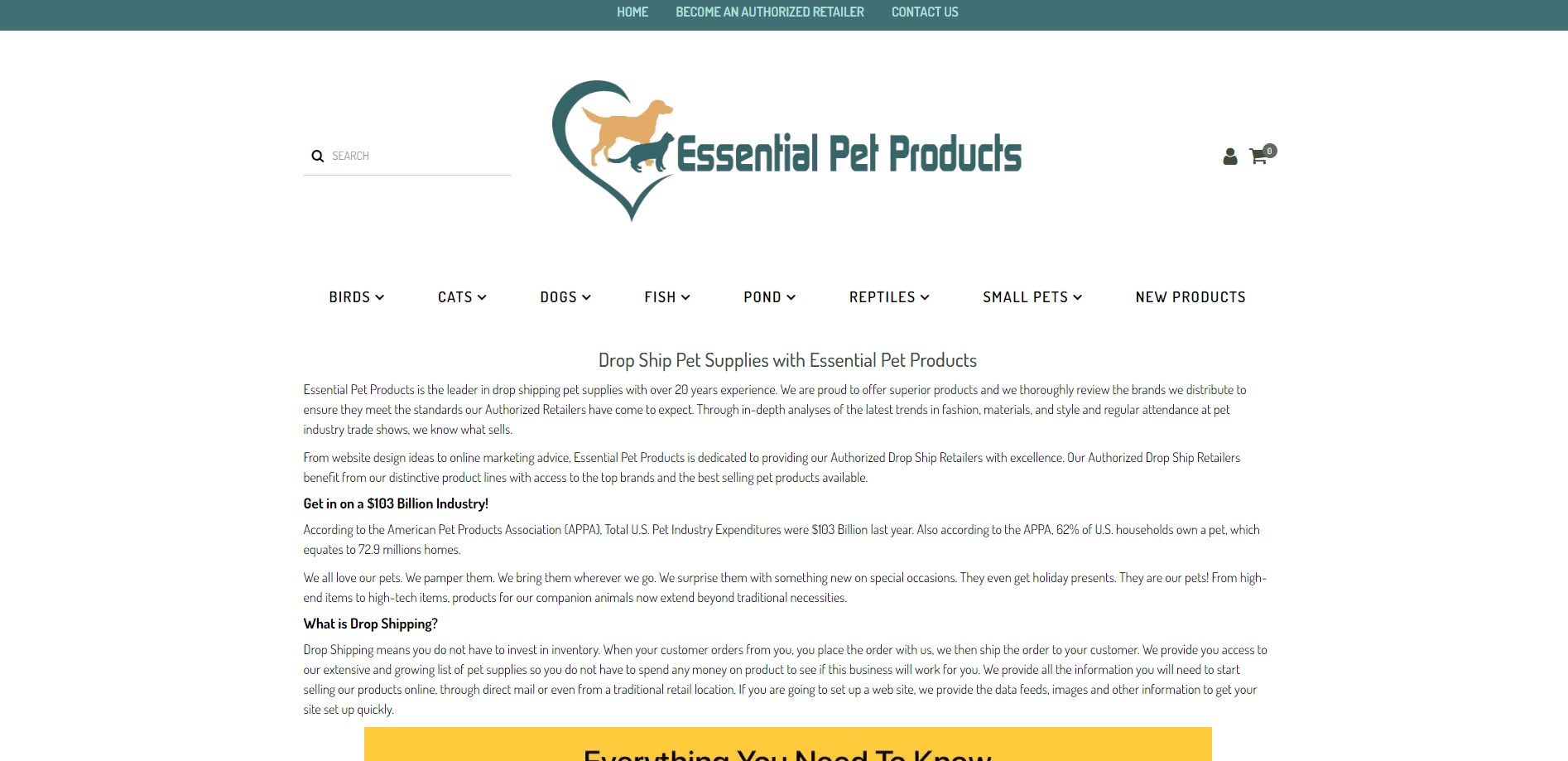 Our next pick for you is Essential Pet Products, or EPP for short.
EPP covers a fair variety of pet products, especially for uncommon pets.
With 20 years of experience serving the US audience, EPP has expanded beyond products for cats and dogs.
The company specializes in supplying pet products for fish, birds, rabbits, and even reptiles.
Some of their products include cages, aquariums, fish food, grooming brushes, and more.
EPP is based in the US and likewise, being a registered business entity in the US/Canada is something they expect from dropshippers looking to sell their products.
If you meet this requirement, all that's left is to register online, download their seller application, and submit it by email.
EPP will review your application and approve it without charging you a dime.
Other than this, they'll provide you with Product Data Feed which includes every product detail you'll upload to your online store.
Key Features
Covers products for fish, birds, rabbits, and other small animals
Registration requires to be based in the US/Canada
20 years of industry experience
6. Pet Supply UK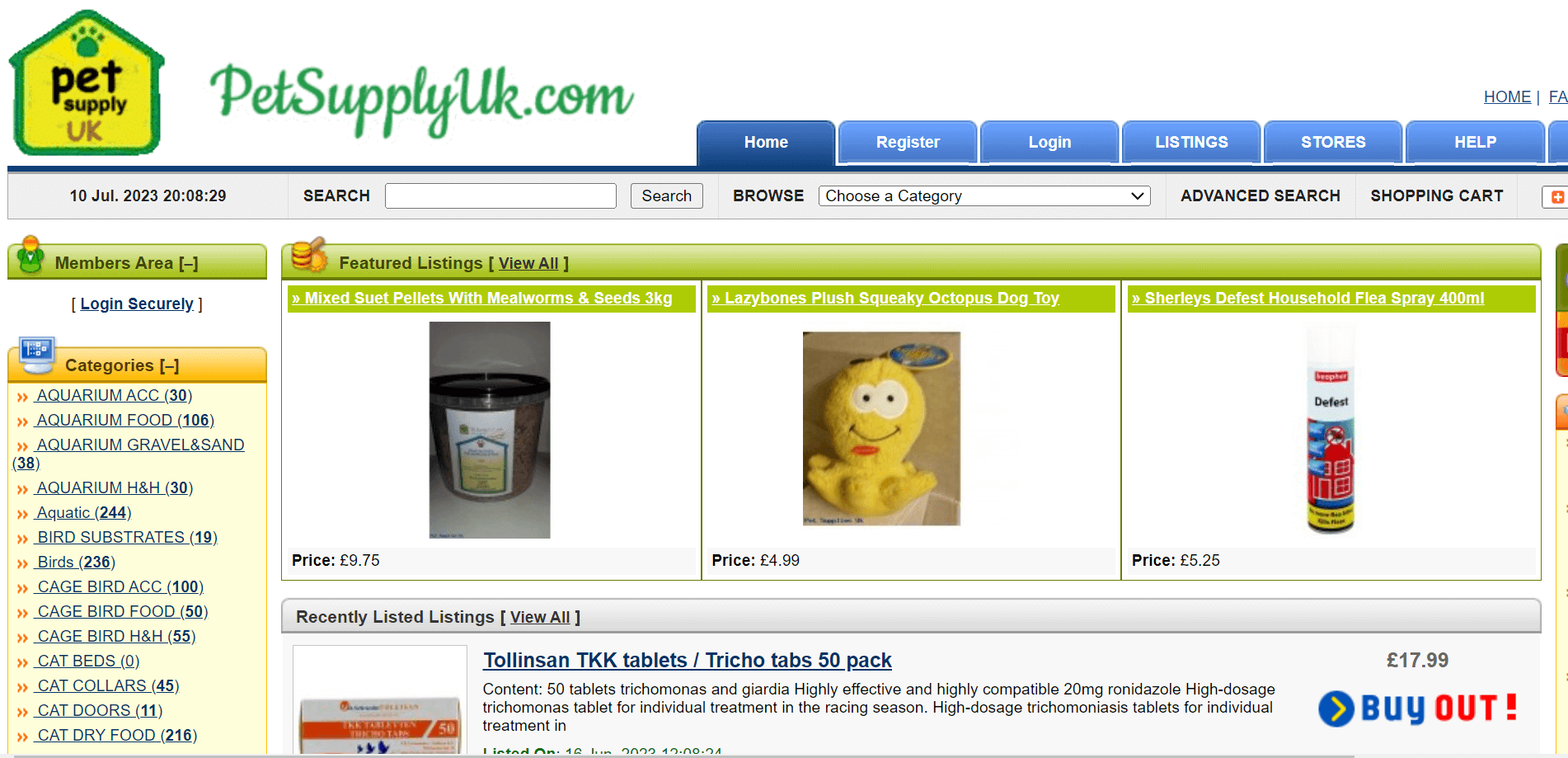 If your audience is mainly in the UK, having Pet Supply UK as your product source can be a great idea.
Headquartered in Wales, Pet Supply UK offers plenty of pet products for birds, cats, dogs, fish, and reptiles.
Their prices are relatively lower and their shipping times are faster as well.
Pet Supply UK has top-notch customer support. Their team is available to answer your queries 24/7 on chat.
So far, the company has made quite a name for itself in the industry throughout its 80-year tenure.
It is relied upon by dropshippers all over the globe selling pet products on Amazon, eBay, Overstock, and other marketplaces.
Much like other suppliers on our list, you can start selling Pet Supply UK's products once you register by reaching out to them.
The company will provide you with their product data feed and everything necessary for you to set their products up on your online store.
Lastly, Pet Supply UK charges a fee on the two types of accounts it offers, basic and advanced.
Key Features
Based in the UK, worldwide coverage
24/7 chat support
Provides accurate product data feed
80 years of experience
7. HyperSKU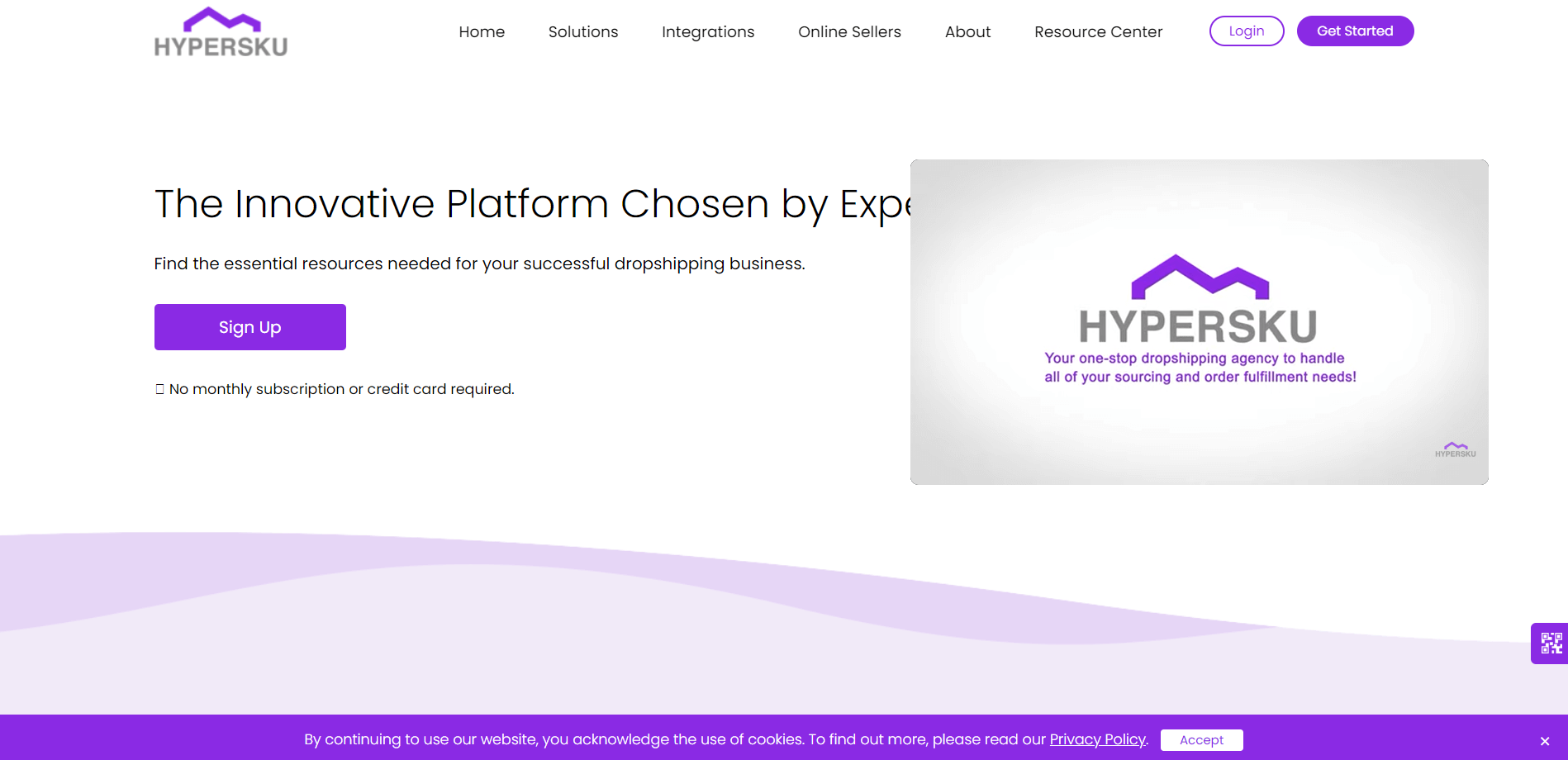 HyperSKU is a relatively new supplier in the market but is quickly becoming the go-to supplier for countless dropshippers.
One of their specialties is helping you build a brand out of your online store.
HyperSKU offers private labels on your products, along with several other perks such as thank you cards and customized packaging.
This platform isn't just restricted to pet products; it covers numerous niches, finds you the best possible trade, and mainly deals in bulk orders.
HyperSKU sources its products directly from China and has shipping times between 7-12 days.
In this process, you're given a tracking number so the status of your package is always known.
With global coverage and seven warehouses, signing up on HyperSKU can be a great investment, especially if building a brand is your priority.
Their outclass post-purchase services will make your customers loyal to your business and secure future sales.
Although they're not veterans in supplying pet products, their services are excellent, and adherence to quality is unparalleled.
Signing up on HyperSKU does not cost a penny, but you do have to pay a fee every time you make a sale.
Key Features
Helps you build a brand of your own
Accurate tracking system
Offers private labeling, custom packaging, and thank you cards
Can source pet products for you
8. Gor Pets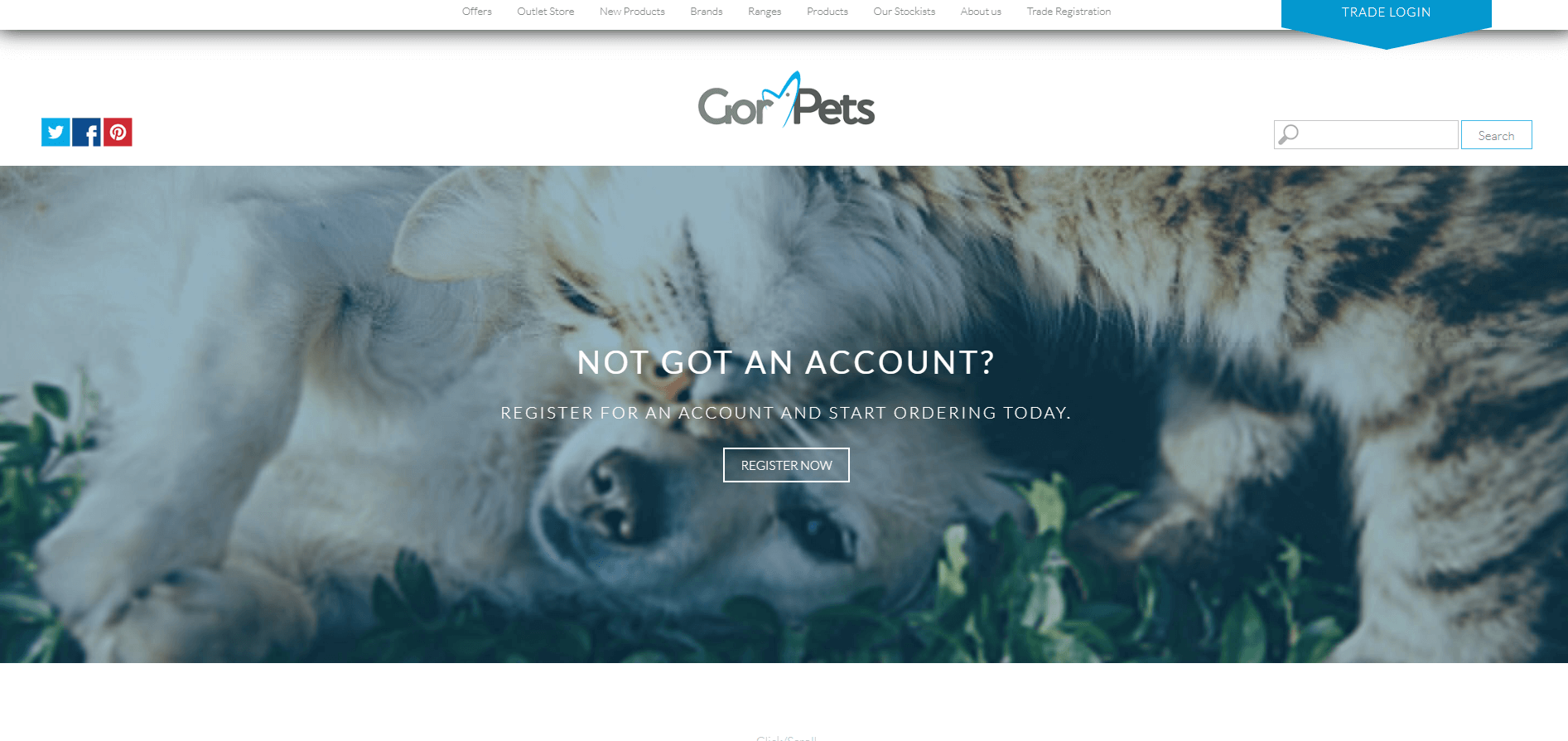 Our next pick of the best pet product supplier is Gor Pets. It is a company based in Bromwich, UK.
Gor Pets' product catalog mainly consists of pet care products such as coats, bedding, belts, toys, and more.
The company has been around since 1999 and is both a purchaser and manufacturer.
Initially, they used to manufacture and design products, but with time, Gor Pets started buying from other manufacturers and supplying it to resellers.
They deliver to the UK Mainland in 2-5 days for free if the order value exceeds £150. Otherwise, the delivery charges are dependent on the item's build and value.
For offshore shipping, the charges are calculated according to the mode of transport, location of delivery, and nature of the product.
Gor Pets does not have a minimum order quantity and it facilitates credit purchases as well.
The method of signing up is relatively straightforward. All that's expected from you is to fill out a form on their website and they'll take it from there.
Key Features
Free dropshipping service
Worldwide shipping
Two decades of experience
9. The Paws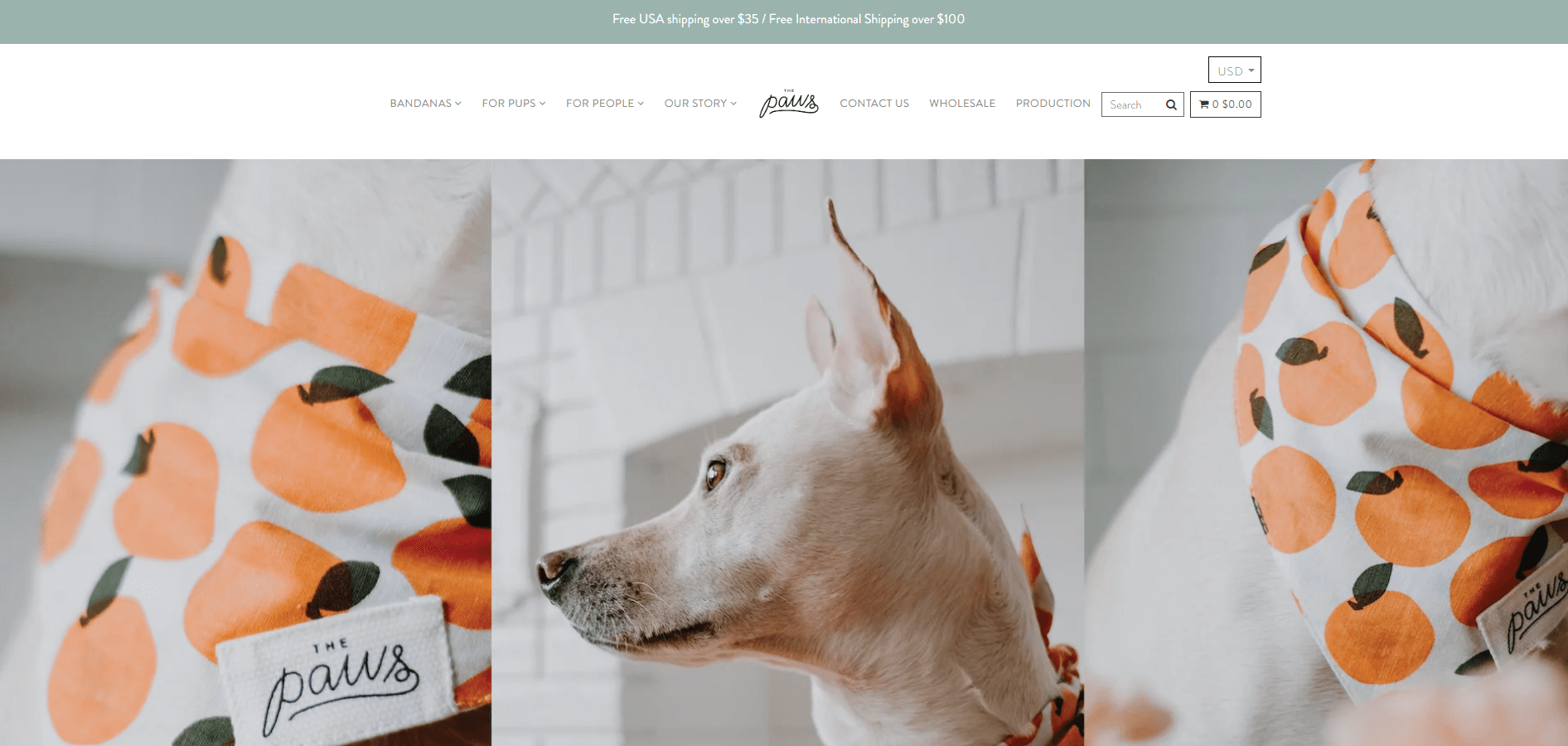 Having its roots in Bali, Indonesia, The Paws extends its business operations all over the world.
This supplier offers a diverse range of pet products from multiple brands, mainly catering to cats and dogs.
One of The Paws' specialties is their care for the environment. So, if you're conscious about making the planet greener, this pick is for you.
Most of their products are environmentally friendly and can be recycled.
The Paws is also on the front line to raise funds for needy animals. They donate a portion of their profits to support animals with food, medical attention, and shelter.
The supplier manufactures their products in Indonesia. Among their most-sold products is the bandana for your furry friends.
Whether you're selling in a physical store or online, The Paws is a reliable wholesaler we recommend sourcing your products from.
There is no minimum order quantity either. Whether your customers are in the UK or anywhere in the world, a fixed shipping fee should cover the delivery process without any hassle.
Key Features
Covers mainly clothing products for pets
Eco-friendly pet product supplier
Donates a portion of earnings
Fixed shipping fee
10. Lee Mar Pet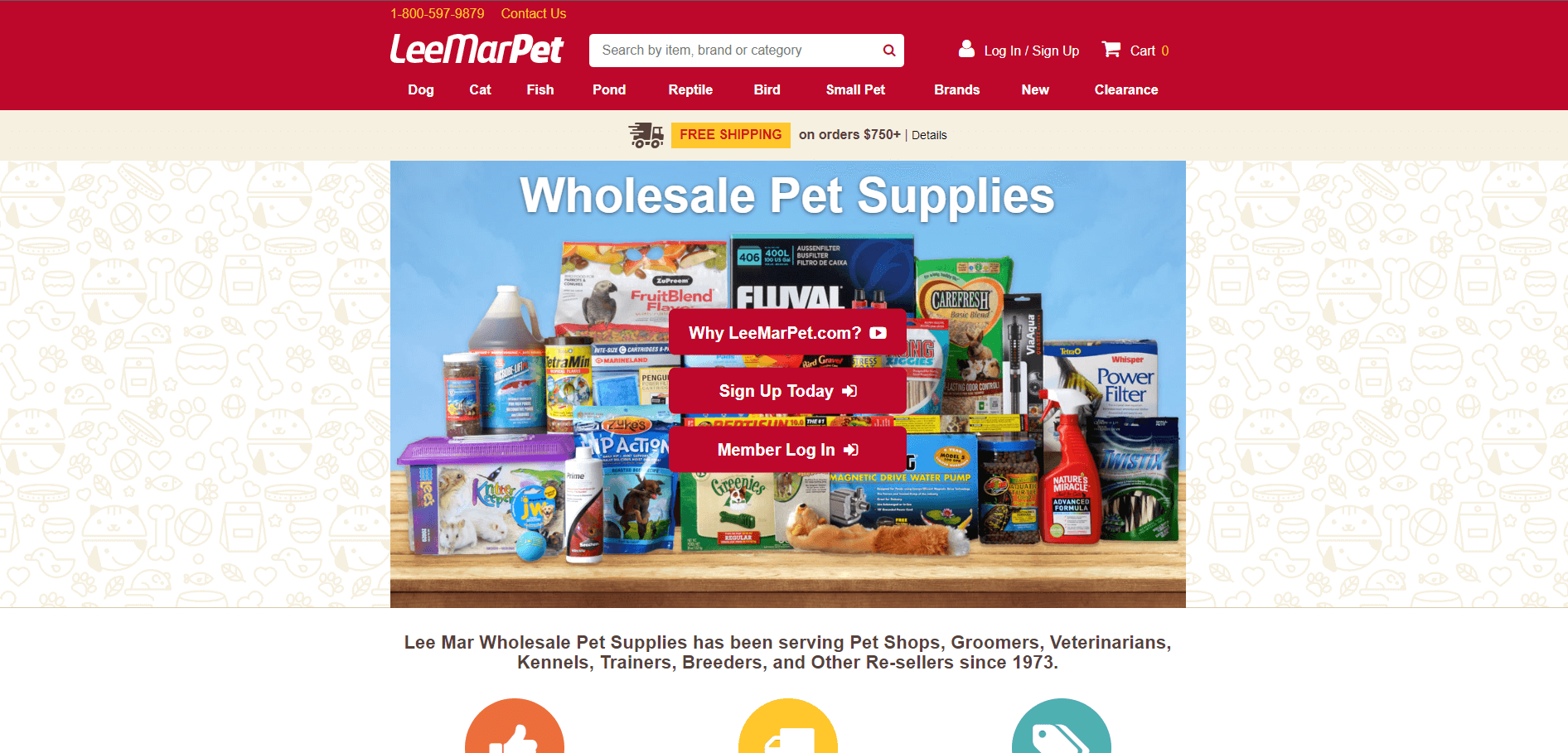 The award-winning wholesaler Lee Mar Pet has quite a status in the US due to its quick shipping and extensive product catalog.
Lee Mar Pet covers a massive number of pet products with their range extending beyond 10,000 items.
They also have a ginormous warehouse in California covering a whopping 70,000 sq ft.
Decades of experience, enormous variety, and exemplary shipping times in the US make Lee Mar Pet a supplier you can't go wrong with.
Most of their product range consists of pet care, specifically medication. Lee Mar Pet also covers products for reptiles and fish.
Some brands that trust Lee Mar Pet are Kong, Tetra, Dingo, Adams, and around 200 more.
Although not exactly a wholesaler, Lee Mar Pet sets no MOQ restrictions on dropshippers.
Their prices might not be the best either, but they're still an excellent choice for dropshipping in the States.
Unfortunately, international shipping is not covered by Lee Mar Pet as of now.
Key Features
10,000 products from 200 brands
Moderate prices
Does not ship internationally
11. Central Pet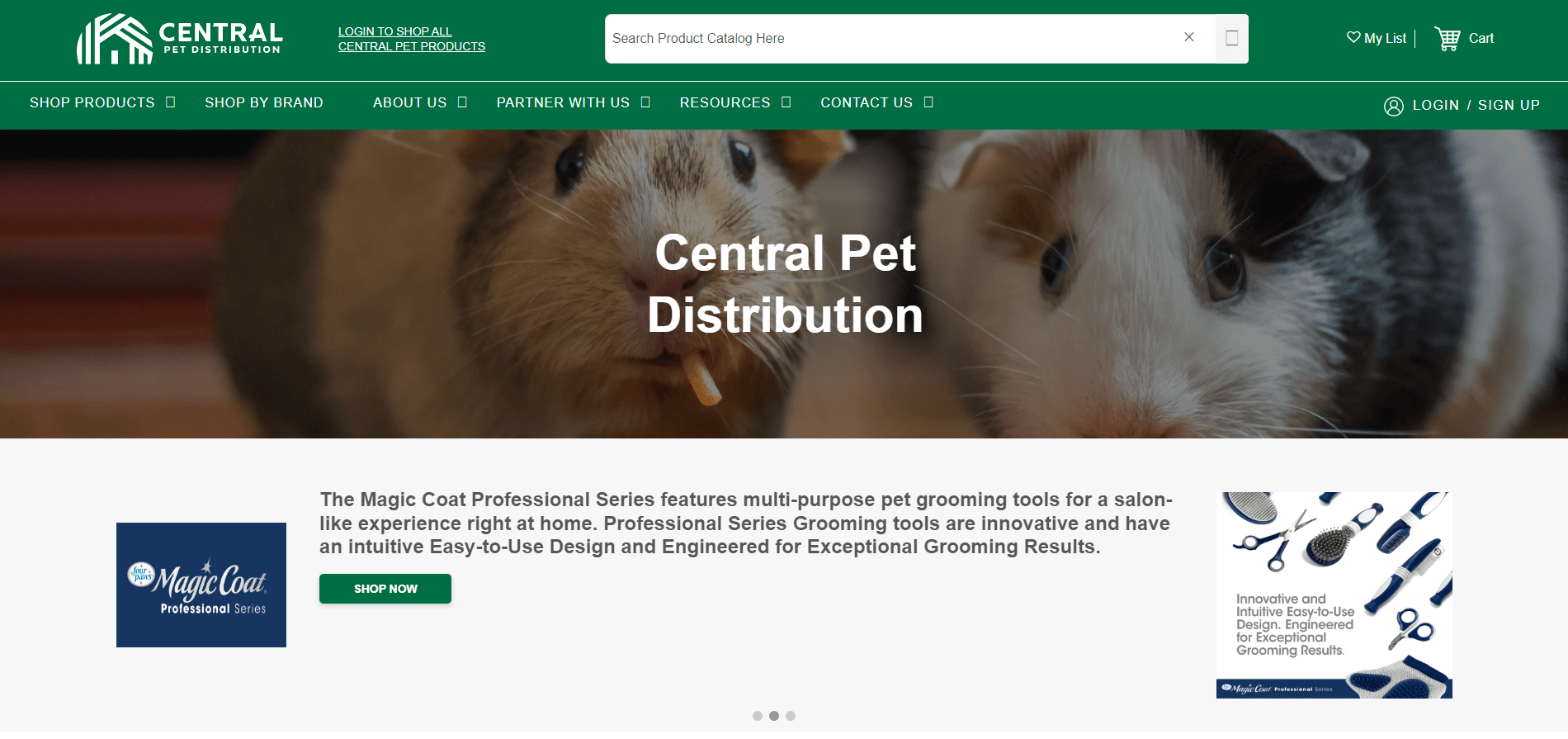 Central Pet is a leading pet products distributor established in America.
If having variety and diversity in pet products is a priority, then Central Pet is definitely the one for you.
Once you sign up as either a retailer or a vendor, Central Pet connects you with 340 pet product manufacturers!
Thanks to the plethora of their connections, retailers can freely choose from a vast range of products.
Central Pet has warehouses all over the US, making shipping times faster than ever.
Their distribution channel is quite efficient as it extends to almost every region in America.
Due to the hundreds of brands they're linked with, resellers get more than just pet products limited to cats and dogs.
Some of the products Central Pet supplies you with are not easy to come across; e.g. plant-based treats for your four-legged friends!
Key Features
Ideal for dropshipping in America
Extensive product catalog
Experienced and reliable distribution channel
12. PetDropshipper
The final pick on our list of the top pet dropshipping suppliers is PetDropshipper.
Trusted by dropshippers all over the US, this supplier specializes in providing treats and foods for our furry friends.
PetDropshipper was made to cater to the needs of dropshippers and offer them pet food from numerous brands.
Their product catalog hosts a whopping 14,000 products to choose from. These products are mainly food items, but the company also covers other pet products.
Being in the e-com industry for over a decade, PetDropshipper knows what retailers expect from them, so they've introduced innovations and automated their business throughout the years.
Although the automated dropshipping comes with a fee, the rest is absolutely free.
PetDropshipper requires you to submit a dropshipper application on their website to get things going.
Once they evaluate and approve your business, you're given a CSV file consisting of all the necessary product details and images.
The final step is to list their products on your website and PetDropshipper will fulfill all orders onwards.
Key Features
14,000 products
Accurate tracking system
Automated website solutions
Up-to-date product catalog
FAQs about Pet Product Dropshipping
Is Pet Product Dropshipping Profitable?
The pet market is a highly profitable one and can be taken advantage of by dropshipping.
Not only are pet products always in demand, but dropshipping them means you won't have to hold any inventory.
This will require minimal investment and hold great chances of success.
How to Find a Good Pet Dropshipping Supplier?
You need to look for the following factors while vetting out a reliable pet dropshipping supplier.
Unique and hot products
Shipping times don't exceed 10 days
Low prices
Accurate product data (images, descriptions, details)
Store integration
Package tracking
What Do Pet Owners Buy Most?
Pet owners buy premium pet food the most. Other frequently bought pet products include collars, clothes, and toys. All of these products have the potential to make a pet store flourish due to their demand.
Final Thoughts
The pet supplies industry has made entrepreneurs millions and is expected to grow further in the years to come.
It's a safe niche and definitely worth investing in. You can lower the investment and risk by utilizing the dropshipping business model.
All you need to do is have a user-friendly website for hosting hot products from suppliers that don't disappoint your customers.
We've made the last part easy for you; if this isn't enough, we can do more!
NicheDropshipping brings a new meaning to trusting your supplier by offering top-notch sourcing services for our esteemed clients.
By assigning the sourcing part to us, you can sit back and relax knowing your business is in the good hands of our professionals.
So, what's the holdup? Contact us right away and allow us to help you build a profitable pet products store!