Let's face it, your dropshipping business is only as good as your supplier.
After all, the supplier is the one who dispatches your orders once you forward the details.
But it's still your reputation that's on the line, so you have to be vigilant about who to trust.
Lucky for you, reliable Shopify dropshipping suppliers shouldn't be hard to come across.
In this piece, we'll enlist the best sourcing agents, directories, and platforms that can supply you with the finest products out there.
So, without further ado, let's get right into it!
1. NicheDropshipping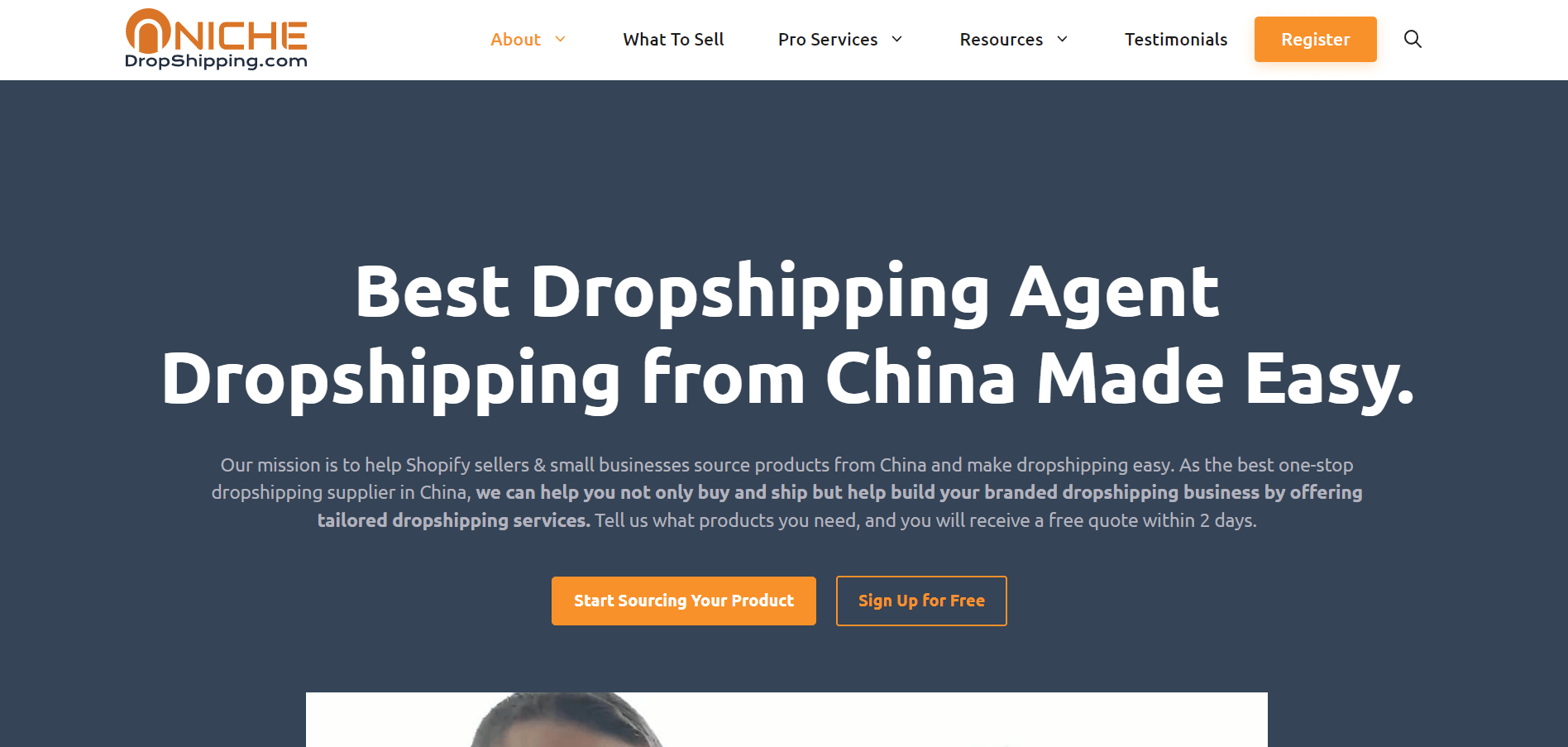 If you've been in the world of dropshipping for a while, you probably know the real deal is in China.
Thanks to China's low labour charges and manufacturing costs, sourcing products from there gives dropshippers great leverage in setting profit margins.
However, finding trustworthy Chinese suppliers is anything but easy due to the language barrier. That's where NicheDropshipping comes into the scene.
With a decade of experience in serving resellers, we have satisfied thousands of clients by getting them the products they need.
We take pride in calling NicheDropshipping an all-in-one solution for your dropshipping needs.
We understand your customers rely on you for top-notch products and assist you in fulfilling their orders.
NicheDropshipping has numerous other services besides just sourcing products for you.
Our dedicated team can offer you private labeling, warehousing, negotiation with Chinese suppliers, and much more.
Not to mention that our system easily integrates with Shopify and WooCommerce, so importing product data shouldn't be a hurdle.
Features
Sources products from China at the best possible rates
Provides services such as warehousing, private labeling, and custom packaging
Maintains quality checks and ensures products are A-grade
Integrates with Shopify and WooCommerce
Pricing
Signing up on NicheDropshipping is entirely free. Once you begin your journey with us, you'll be charged based on the products sourced and orders fulfilled.
Location
Hangzhou, Zhejiang, China
Shipping
Best For
NicheDropshipping is perfect for dropshipping businesses aiming to scale up and serious about creating their own brand.
2. Doba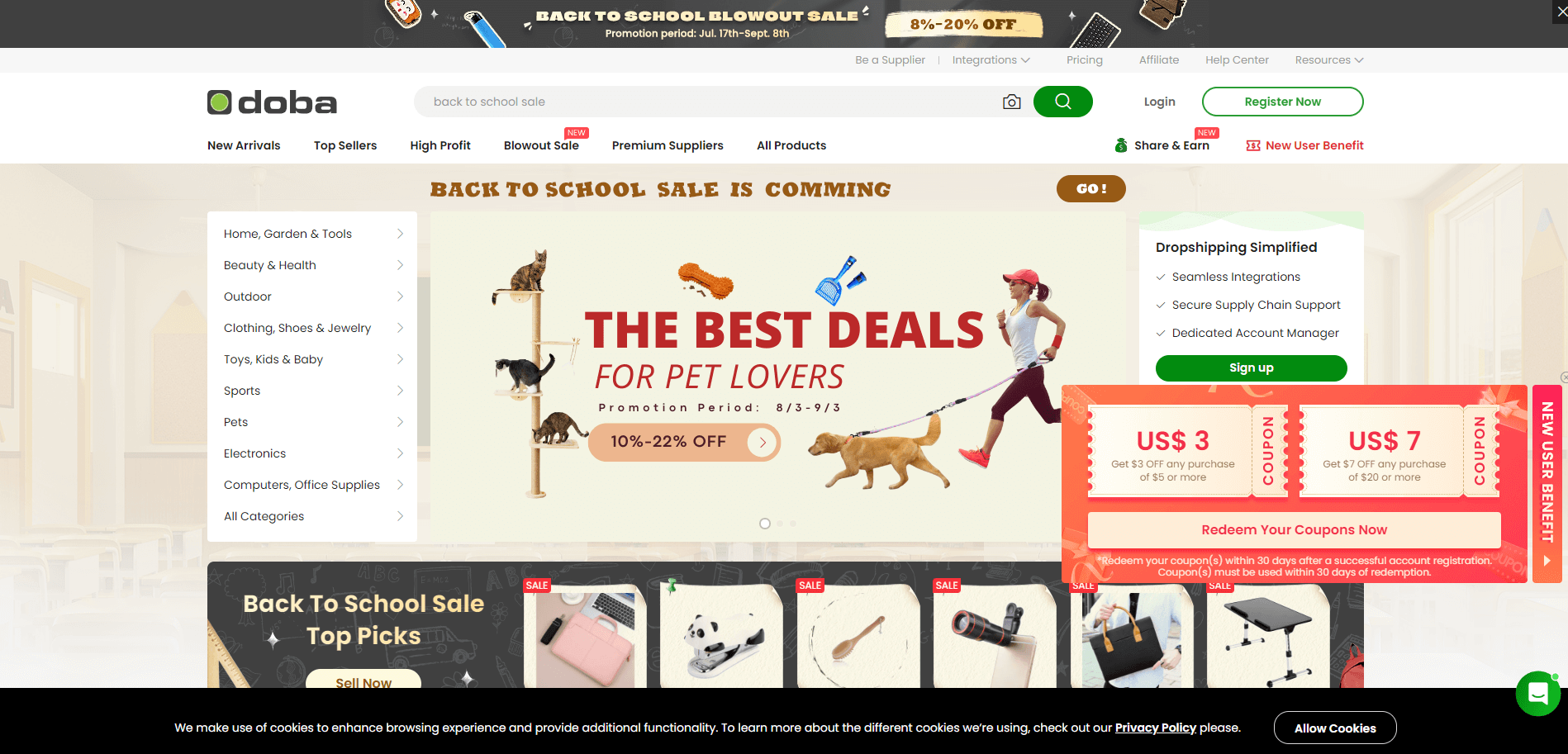 Unlike a typical eCommerce marketplace connecting suppliers and dropshippers, Doba is actually a directory where you'll find a small network of suppliers.
These suppliers are handpicked by Doba and cater to all of your sourcing needs.
Doba's primary purpose is to make sourcing hassle-free for dropshippers.
One of the reasons it truly stands out is its user-friendly interface, which makes navigation quite simple for beginners.
Doba offers a dashboard from which you can manage all your sourcing affairs.
The platform also has an extensive product catalogue that covers a whopping two million products.
Doba's supplier network is very controlled and restricted, which is why it's considered a good pick for dropshippers looking to minimise their sourcing chain.
Although you might not find the best prices on Doba, it sure is worth giving a shot if you're picky about suppliers and can compromise a bit on your margins.
Features
Access to 2 million products and a confined network of suppliers
User-friendly interface makes product/supplier research easier
Lets you download product data in various formats for ease of export
Pricing
Free trial for 30 days
Startup $24.99/month
Business $49.99/month
Enterprise $299.99/month
Location
Doba and 70% of its suppliers are based in the US
Shipping
Doba does not ship worldwide. If your country isn't included in Doba's shipping list, you might have to purchase a third-party's freight forwarding services
Best For
Doba is ideal to be used by dropshippers that prioritise bringing value to their customers over profit generation
3. Spocket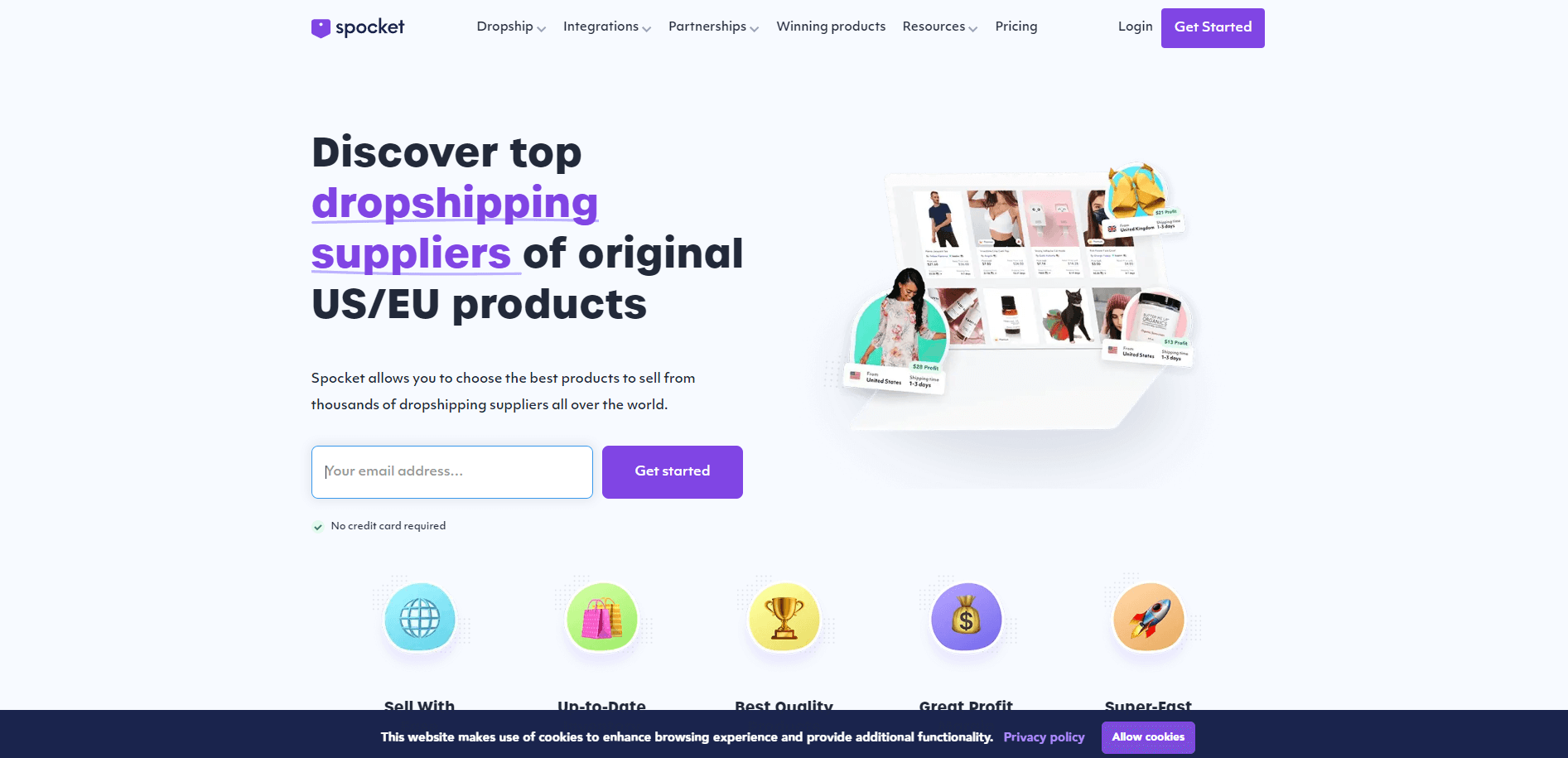 Spocket is one of the most popular platforms to source products from and resell them.
Offering integration with most mainstream eCommerce website builders, Spocket's specialty lies in its product and supplier collection.
The products you'll find on Spocket are original, unique, and often hard to come across.
As for Spocket's suppliers, the platform mainly comprises US and European merchants, making shipping times faster than ever for audiences in the surrounding regions.
Not to mention Spocket's strict criteria for accepting suppliers. Unlike most other dropshipping platforms, Spocket runs an extensive quality assurance test before letting suppliers on board.
Things going south due to a supplier's mess is the last thing a client of Spocket, needs to worry about.
Some other cool features offered by Spocket are inventory updates in real-time, branded invoicing, sample testing, and 24/7 customer support.
Once you sign up, integrate your Shopify store, and import products from Spocket, the suppliers will handle the fulfilment of orders.
Features
Original and A-grade product catalogue
Gold-standard suppliers to make dropshipping easier than ever
Branded invoicing allows you to establish a relationship with your customers on a personal level
Pricing
Free
Starter ($24.99)
Pro ($49.99)
Empire ($99.99)
Location
Spocket is headquartered in Vancouver, British Columbia, Canada. In comparison, its suppliers are distributed throughout the American and European regions.
Shipping
Most of Spocket's suppliers offer worldwide shipping
Best For
Spocket is ideal for dropshippers looking to:
Invest a hefty monthly fee to access top-notch products and suppliers
Create a brand image and bridge a connection with customers
Sell to the American and European audience
4. Printful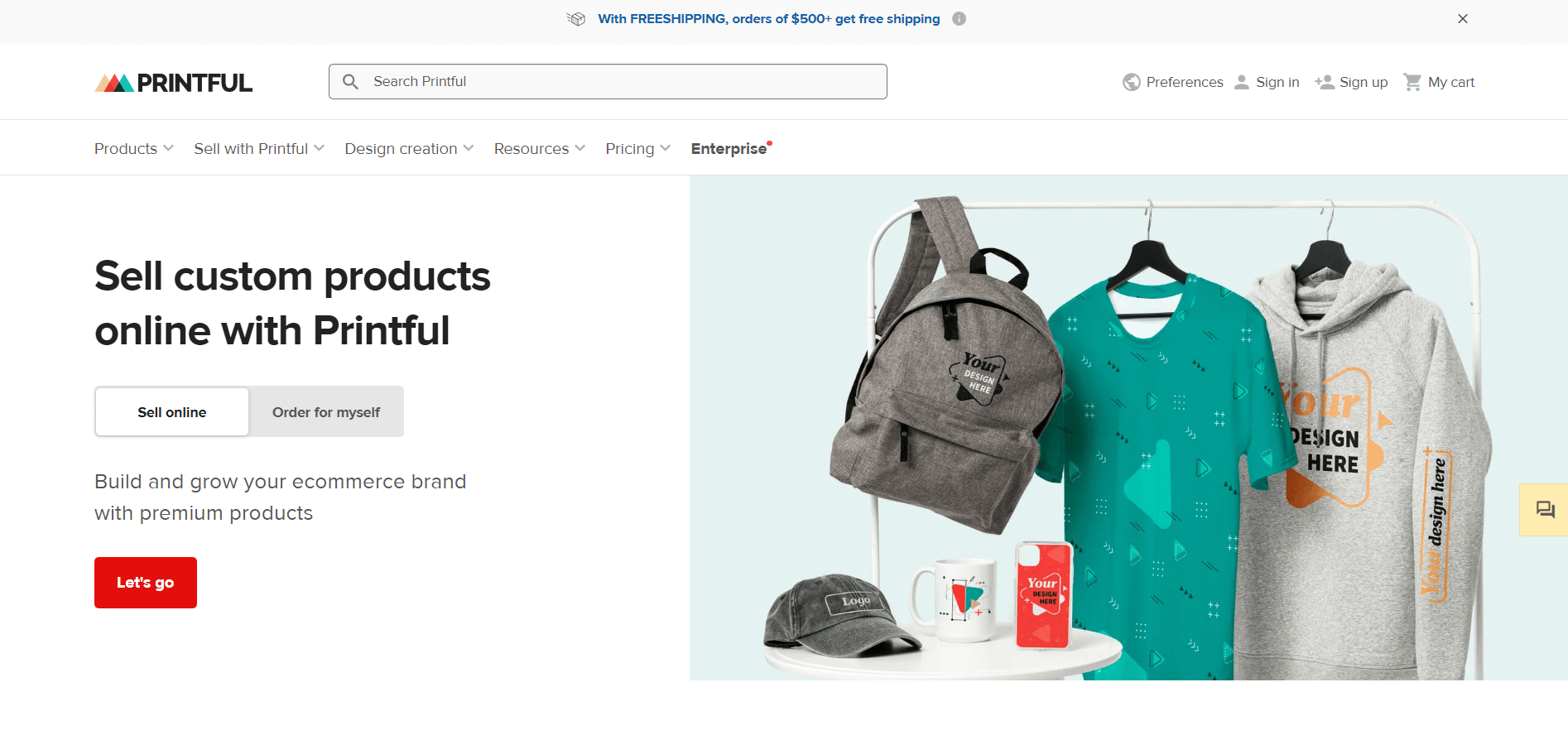 If you expect product customization from your idea of the best Shopify dropshipping supplier, consider giving Printful a go.
When it comes to printing on products, dropshippers have to be extra cautious while choosing a supplier.
This is because custom-printed products need thorough testing before a conclusion can be made about the supplier's legitimacy.
Printful is considered one of the best print-on-demand dropshipping suppliers in the industry since it's trusted by renowned brands all over the globe.
The cherry on top is Printful's 25+ integration partners, which you won't find other print-on-demand suppliers offering.
Printful also has a reputation for not compromising on quality. Whether you want customised clothing or pillows, their 3-step quality assurance procedure has you covered.
Despite having fulfilment centres worldwide, Printful might not be the best at offering fast shipping times.
The reason behind their mediocre shipping times is that they print on demand and printing can take a while before an order is shipped.
Features
Offers great quality POD products that go beyond just shirts and mugs
Worldwide fulfilment centres
Seamless integration with numerous eCommerce site builders including Shopify
Pricing
Printful is entirely free to use. Once you start receiving orders, Printful will charge you based on each order's production and shipping costs.
Location
Shipping
Best For
We would recommend Printful to resellers who prioritise branding, product customization, and testing new ideas without breaking the bank.
5. SourcingBro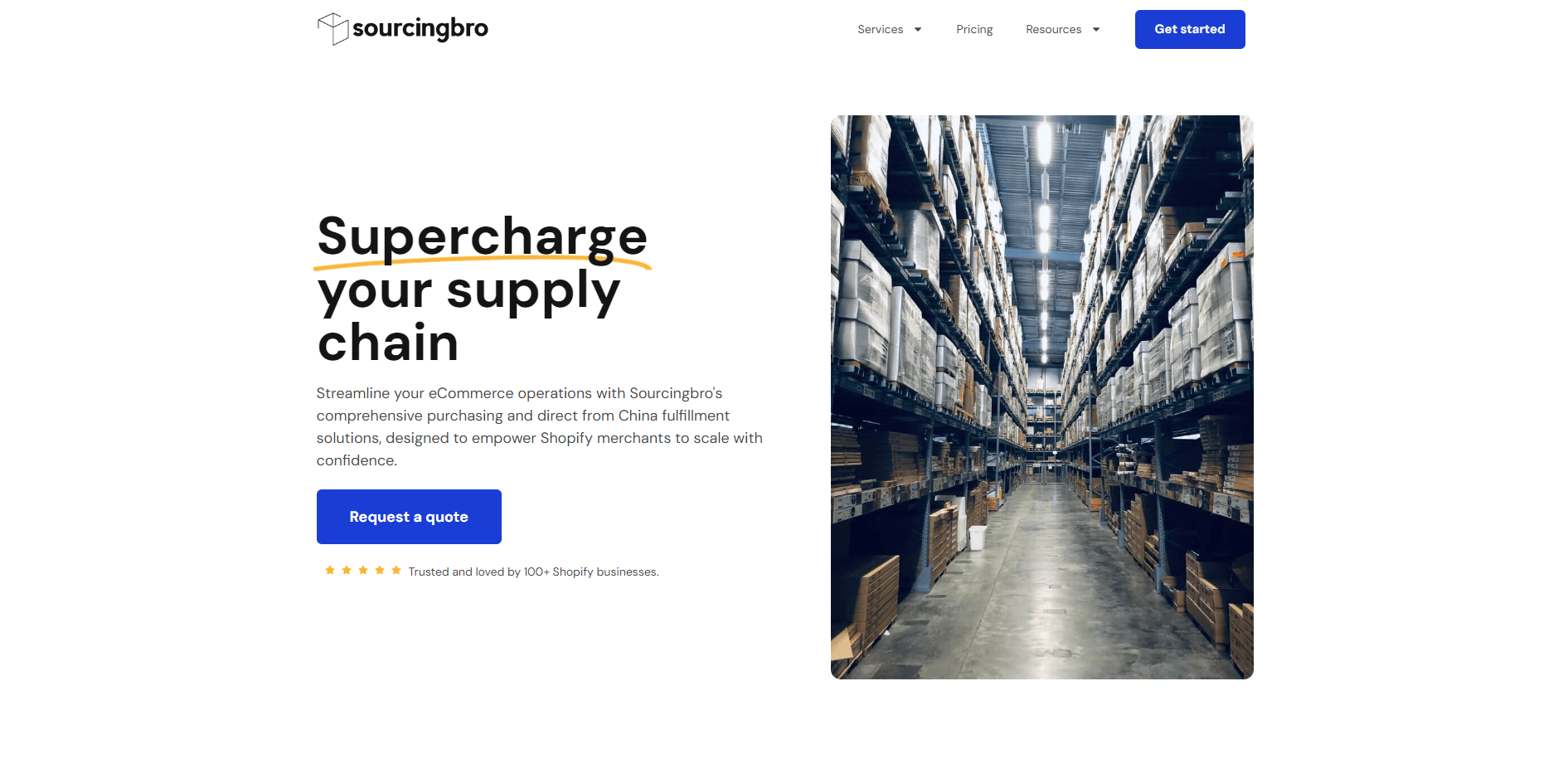 SourcingBro is a dropshipping agent best known for supplying products from China.
The agent's specialty lies in simplifying logistics from China, which is a hassle for US-based dropshippers.
SourcingBro offers general order placement, logistics, and fulfilment services.
Considering China's massive eCommerce market, SourcingBro does a great job at sourcing products on your behalf and shipping them to your customers.
Speaking of shipping, SourcingBro promises an international shipping time of 4-10 days, which is quite impressive.
Throughout the shipping process, if anything goes south, SourcingBro will take full accountability.
This shows its supply chain is well-figured out and can be relied upon if your goal is to sell Chinese products to a global market.
Moreover, the agent also offers private labelling, precise order tracking, and packaging solutions.
Features
Sources products from China and ships worldwide within 10 days
Offers private labelling and branding options
Specialises in making shipping from China cheap and easy
Pricing
There is no fee to sign up on SourcingBro. You'll be charged based on orders fulfilled, depending on the nature of the product, shipping address, etc.
Location
Shipping
Best For
SourcingBro is recommended for dropshippers looking for a reliable supplier in China that can handle international logistics easily.
6. MegaGoods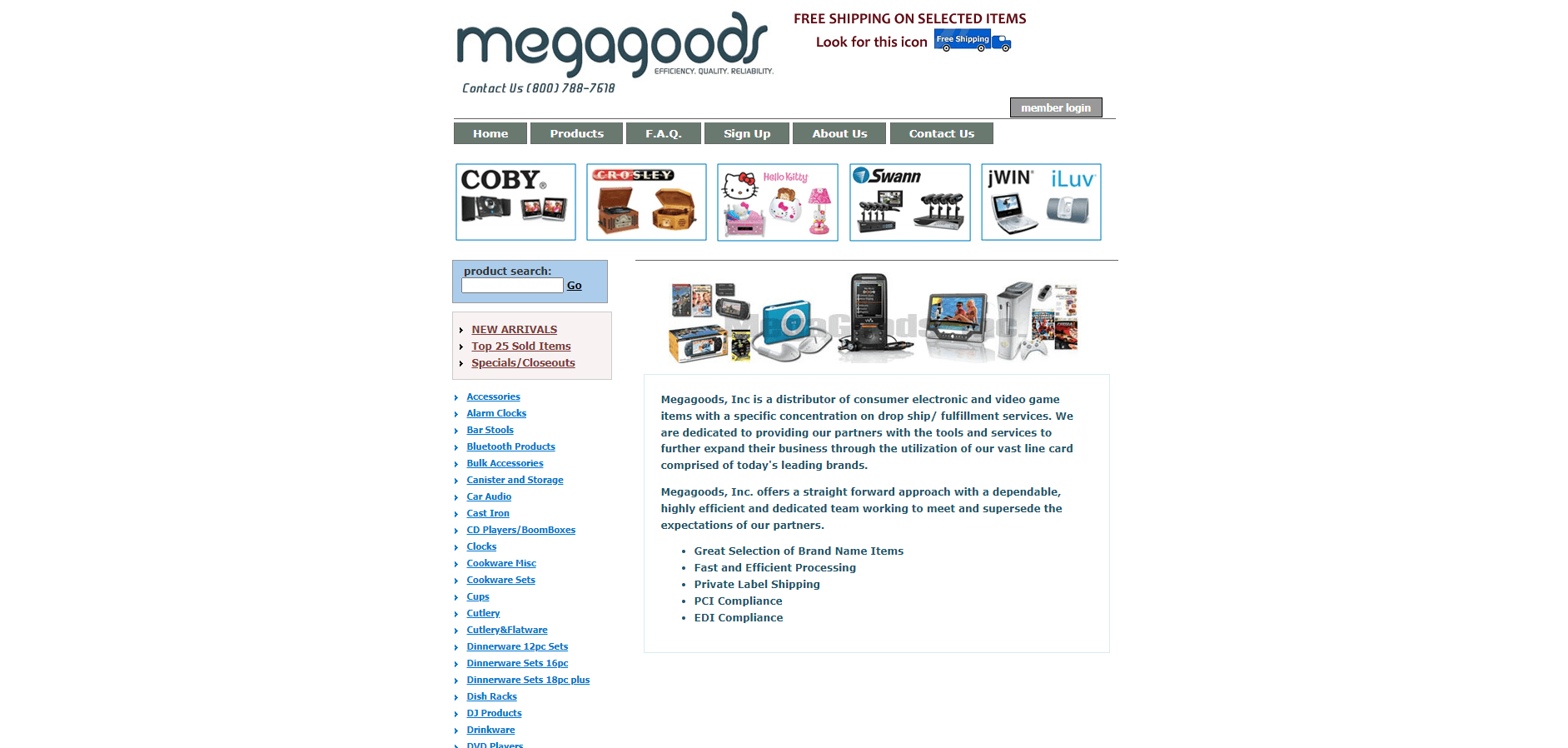 The electronics niche is like a tree that flowers throughout the year.
If selling electronic items is your thing, MegaGoods might be worth considering.
MegaGoods is a distributor that primarily supplies electronic items to dropshippers and retailers.
The distributor covers pretty much everything that needs a power outlet or batteries to function.
To be more specific, their product catalogue includes speakers, gaming consoles, LCDs, watches, and even alarm clocks.
Fortunately, MegaGoods has no MOQ and can deliver products to your customer's doorstep regardless of the quantity ordered.
MegaGoods has almost two decades of industry experience, making them a veteran and reliable supplier.
Since the distributor sells products wholesale, you can keep a hefty profit margin from the fulfilment procedure.
In terms of quality, MegaGoods brings both new and refurbished products to the consumer.
Refurbished products are thoroughly tested before they make it back on the shelf.
Lastly, MegaGoods also offers private-label shipping to dropshippers. This means your customers won't have any idea who your supplier is.
Features
Offers refurbished and new electronic items and fulfilment to US dropshippers
Offers private labelling
Fast and reliable package processing/tracking
Pricing
MegaGoods charges a $1.50 fee for every order they fulfil on your behalf
Location
Shipping
MegaGoods does offer international shipping but they don't have warehouses in other regions, which may result in slower shipping times.
Best For
Dropshippers aiming to sell electronics in the US and nearby regions should consider MegaGoods.
7. SourcinBox
As the name suggests, SourcinBox sources products on your behalf.
It is a dropshipping agent that handles the fulfilment of resellers and brings them several other benefits, including quality assurance, supplier negotiation, and packaging.
SourcinBox primarily sources products from China. They have a pre-existing product catalogue but if that's not what you're looking for, you can give them specific products to source at reasonable rates.
Some other noticeable features of SourcinBox include product photography, customised cards, and package labelling.
With the ability to integrate with Shopify, SourcinBox has warehouses from where products are dispatched after a quality check.
SourcinBox has been around for five years and they've served thousands of resellers in their tenure.
Simply put, if you're looking to source Chinese products, SourcinBox is a professional and experienced agent to contact.
So far, their reputation is positive in the eCommerce industry and they're definitely worth giving a shot.
Features
Sources products from China
Offers labelling, custom cards, product photography, warehousing, and fulfilment
Professional customer manager offers 1-1 support
Pricing
SourcinBox can source products for free. You'll be charged on the basis of orders you receive from your customers
Location
Shipping
Best For
SourcinBox is ideal for dropshippers looking for a reliable, professional, and trustworthy sourcing agent to source products from China.
8. Modalyst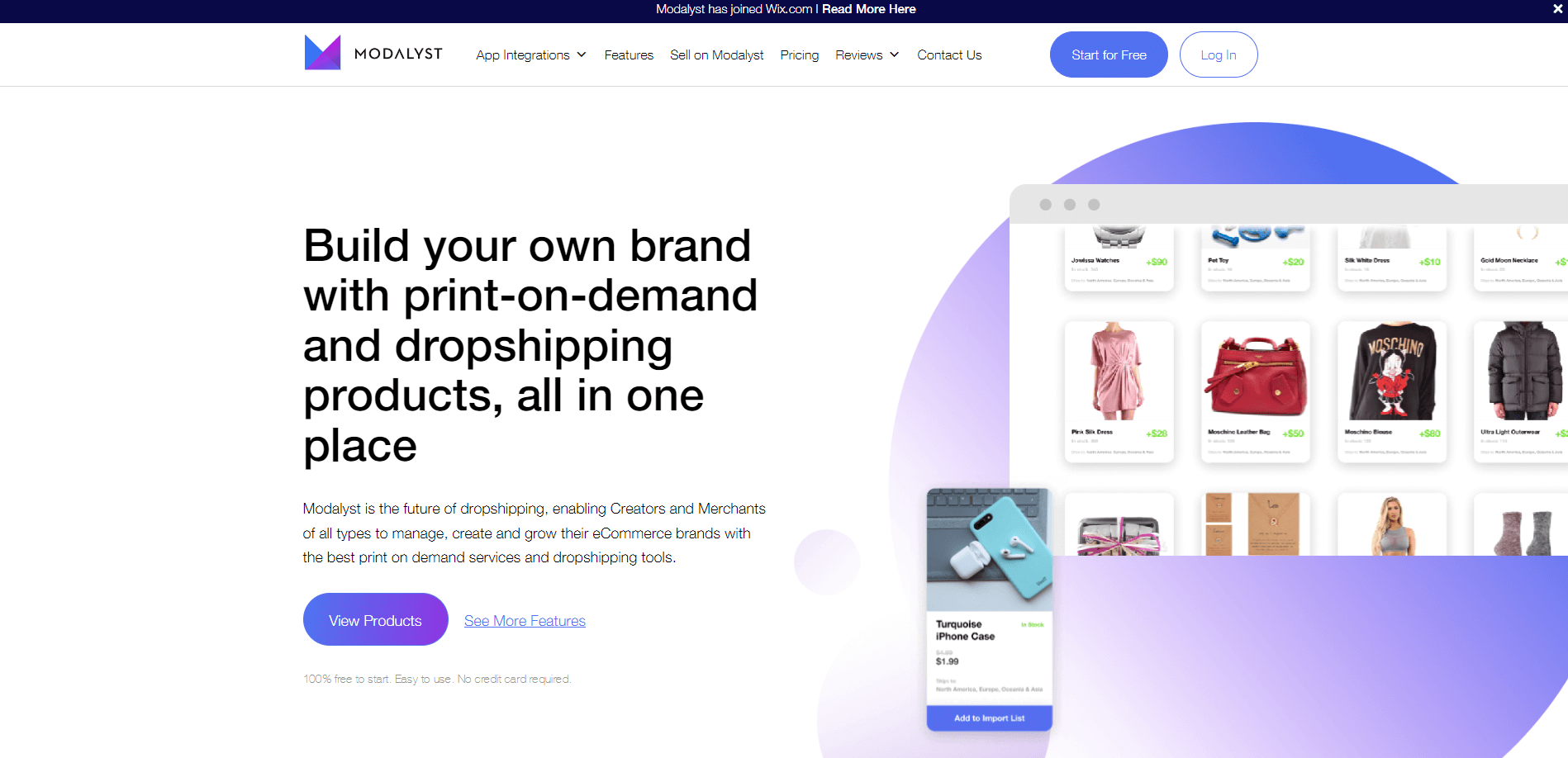 Modalyst is a platform dedicated to connecting suppliers willing to fill your dropshipping store with their products.
The platform not only connects you to vendors but sources products for your store as well.
With its focus mainly on clothing and apparel, Modalyst easily integrates with Wix, Shopify and WooCommerce.
Modalyst has connections with suppliers based in the US and China. These two countries are great to source products from, in terms of quality, shipping time, and price.
Dropshippers can also use Modalyst's print-on-demand feature. It allows you to custom print apparel and sell it in your store.
The platform requires you to sign up and integrate your store. The second step is to browse products and import them into your store.
If you wish, you can set profit margins and make some tweaks in the product data before it appears for sale in your store.
From there, Modalyst will pretty much handle the orders you receive.
To sum it up, Modalyst is a platform where you'll find suppliers willing to help you build an identity of your own.
Features
Connects you with top-notch suppliers offering best-selling and private-label goods
Gives you the ability to print-on-demand products and take customization to the next level
Allows you to set your own profit margins and cover shipping costs within product prices
Pricing
Hobby (Free)
Start-up $35/month
Pro $90/month
Location
Shipping
Best For
Modalyst would be a great choice for dropshippers looking to sell custom products, reduce shipping times, and bring variety into their store.
9. SaleHoo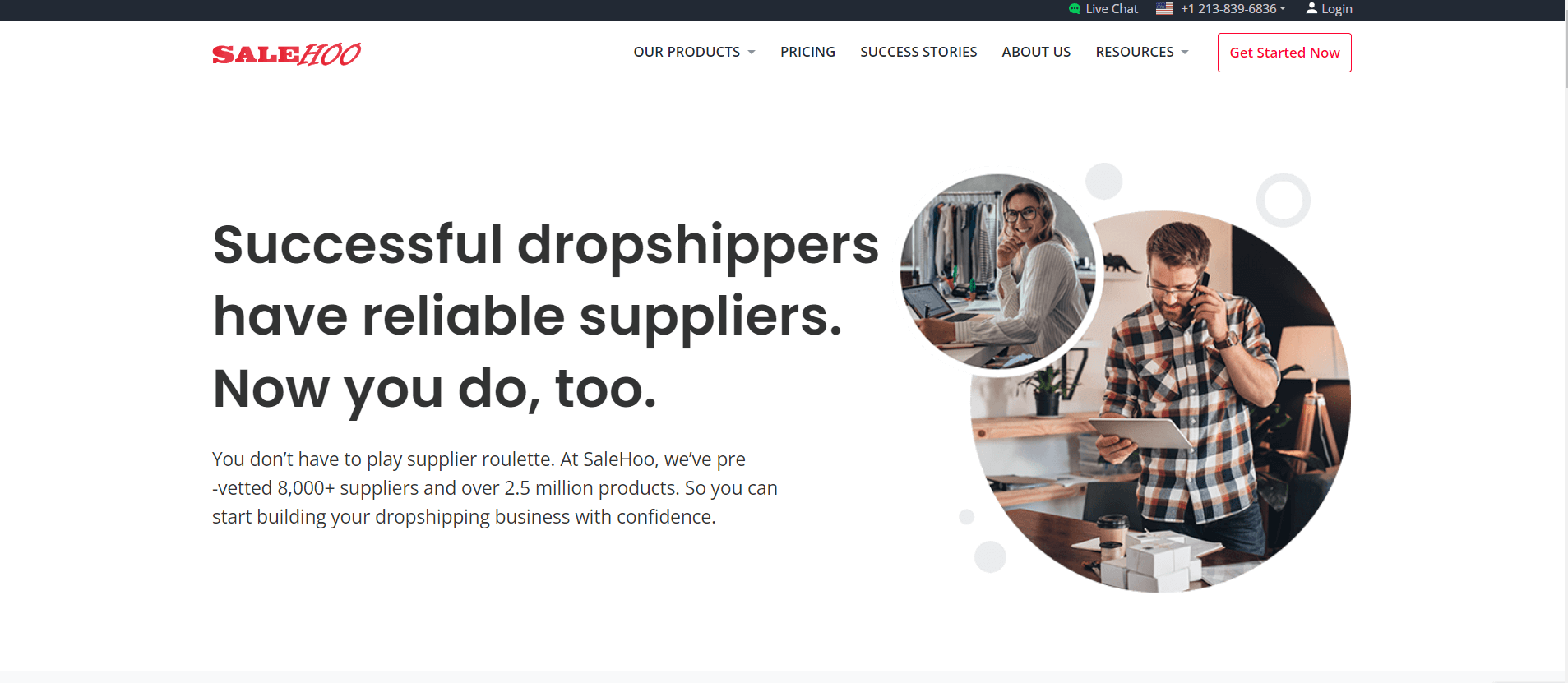 SaleHoo is another platform designed for dropshippers to source products from recognized wholesalers.
The primary target audience of SaleHoo is dropshippers that resell on Amazon and eBay.
With over 8000 suppliers and 2.5 million products, SaleHoo is the go-to platform for mainly newbie dropshippers.
Although SaleHoo itself doesn't source the products for you, it connects you to a network of suppliers you likely won't find just by googling.
SaleHoo also lets you figure out what you want to sell. It has powerful product research tools that help you land winning products.
It is worth noting that SaleHoo only acts as a bridge between you and dropshipping suppliers.
Negotiation, supplier evaluation, and setting terms, are still some tasks that fall on your plate.
SaleHoo does make the communication process relatively easier by offering templates to dropshippers.
Lastly, SaleHoo can easily be integrated with your Shopify store. So, listing products shouldn't be a hassle.
Features
Connects you with 8000+ suppliers and offers 2.5 million products
Simplifies product research with its powerful tools
Offers guides, forums, and training material to help you kickstart your dropshipping career
Pricing
The pricing of SaleHoo falls into three different plans, with each catering to specific requirements:
SaleHoo Directory
Annual access $67
Lifetime access $127
SaleHoo Dropship
Basic $27/month – $270/year
Premium $97/month – $970/year
SaleHoo Educate
Shopify course $47
Amazon course $47
Location
Shipping
95% of the suppliers on SaleHoo ship worldwide
Best For
SaleHoo is a good choice for newbie dropshippers looking to start dropshipping on Amazon, eBay, or their own Shopify store.
10. Worldwide Brands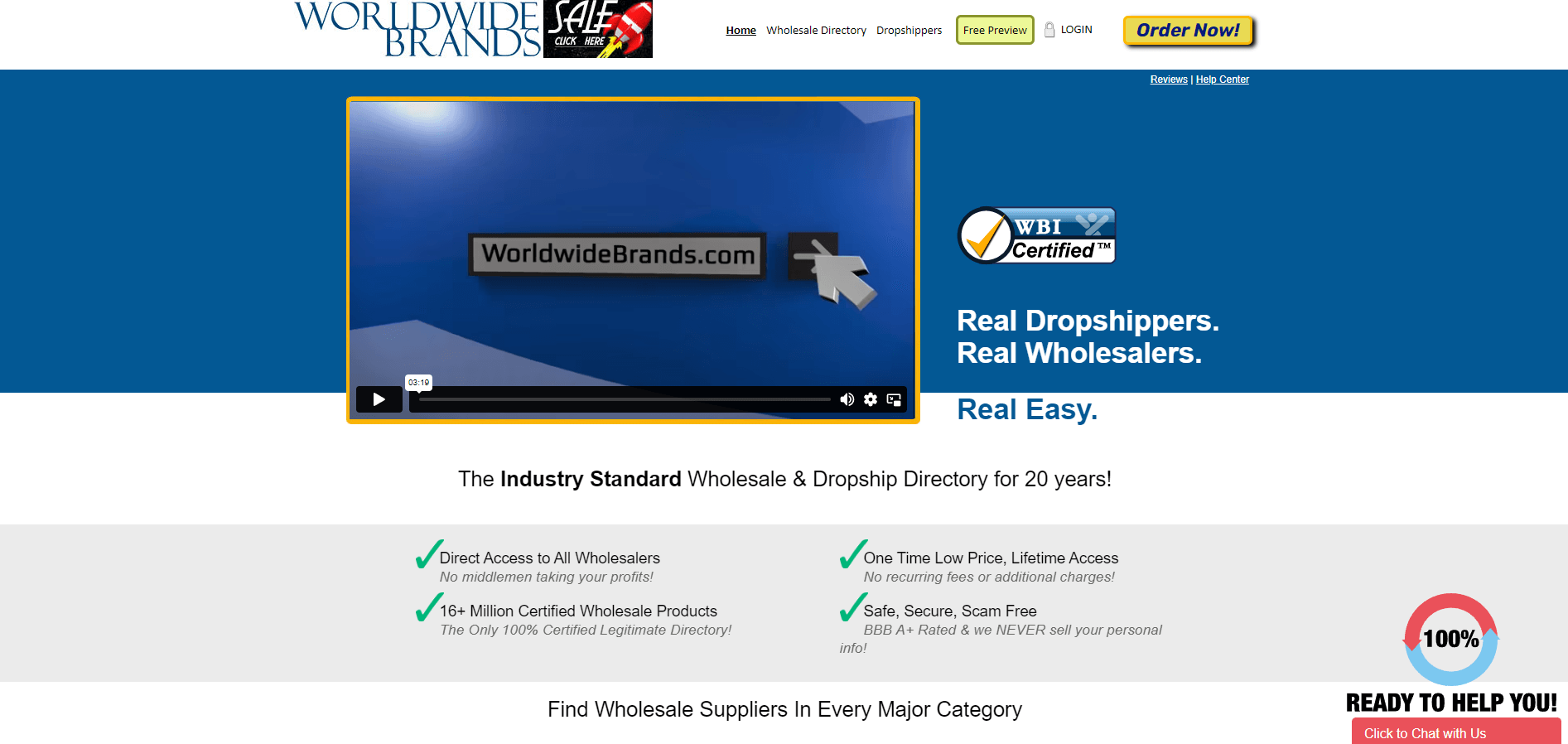 Although not a supplier itself, Worldwide Brands connects you with certified wholesalers from all over the globe.
The platform has two decades of experience in offering the best wholesale directory.
Perhaps the most impressive part about Worldwide Brands is their massive product catalogue covering a whopping 16 million products!
With numerous niches under their wing, Worldwide Brands caters to retailers selling on Amazon, eBay, and Shopify stores.
Their supplier standard is one of a kind, which made us include them in our list, and it also ranks their platform among the best supplier directories.
However, Worldwide Brands only connects you with wholesalers. From there, you'll have to deal with them directly.
It is worth noting these suppliers will most probably be at the top of the supply chain.
So, the only middleman between you and the wholesaler is Worldwide Brands.
Regardless, this still gives you enough room to keep a suitable profit for yourself.
Features
Offers genuine wholesale suppliers to resellers
Performs strict quality checks on suppliers
Has a plethora of products ranging from various niches
Acts as a middleman between wholesalers and dropshippers
Pricing
There is no fixed fee charged by Worldwide Brands. It mainly depends on the nature of the product and can range from $1 to $5 per order.
Location
Shipping
Best For
Worldwide Brands is for dropshippers that are experienced enough to negotiate with suppliers and land themselves the best deals regardless of the niche.
11. CJ Dropshipping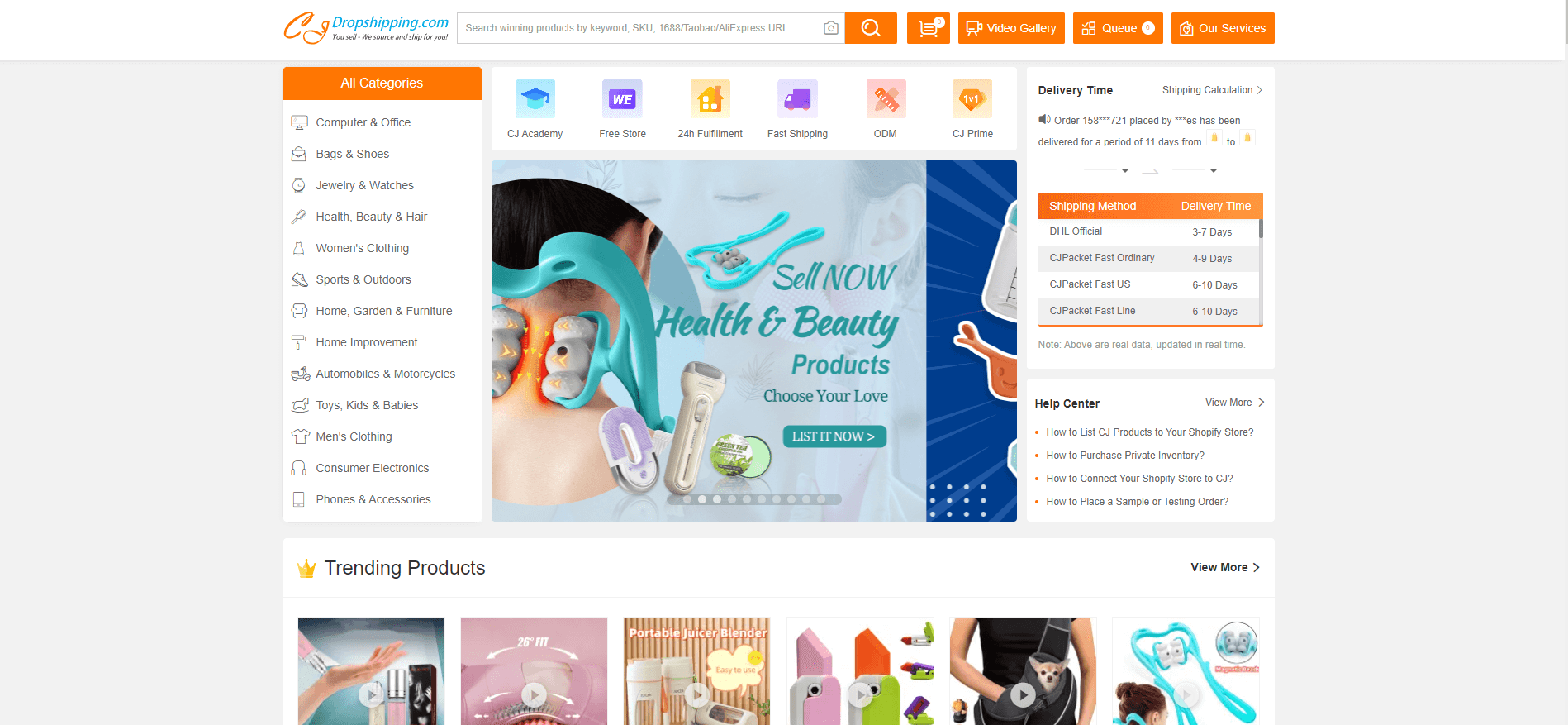 The final pick on our list of best Shopify dropshipping suppliers is none other than CJ Dropshipping.
This is a popular platform best known for its dropshipping services.
CJ Dropshipping has been around for a decade now and offers numerous services to dropshippers.
Although CJ Dropshipping has a huge range of products listed on the website, they can also source products on your behalf.
The number of products on CJ Dropshipping goes up to 400,000.
This might seem less since other platforms of similar standards go above the million mark, but then again, you can have them source other products too.
Not to mention that CJ Dropshipping easily links to your Shopify, WooCommerce, or eBay store.
Aside from having multiple warehouses worldwide, CJ Dropshipping also offers custom packaging, branding, and auto-fulfillment.
Features
Offers 400,000 pre-existing products and product-sourcing services
Auto-fulfillment, custom packaging, product branding
Has warehouses all over the globe, making shipping faster
Pricing
CJ Dropshipping does not charge a monthly fee, rather they charge you on the basis of orders they fulfill.
Location
Shipping
Best for
CJ Dropshipping is an all-in-one dropshipping solution that caters to both beginners and experienced dropshippers.
What to Look for in an Ideal Dropshipping Supplier?
If the above picks don't seem to click for you, you can conduct your own research and find genuine reputable suppliers easily on Google or other search engines.
However, we recommend you prioritize the following factors before giving someone the responsibility of fulfilling your orders.
1) Suitable Refund/Return Policies
A supplier's policies say a lot about their experience in the industry.
A newbie would generally design strict policies that benefit them the most.
Experienced suppliers, on the other hand, would have fair policies in returning/refunding the products.
For instance, customers usually expect to keep and test a product for a couple of days.
Restricting returns to a short time span might lead to customers not even ordering in the first place.
The lenient a supplier is in this regard, the better it is for your customer base.
2) Private Labelling
Private labelling means the retailer gets to sell customised products under their name, despite the fact they didn't manufacture them.
Private labelling is great for creating your own identity as a dropshipper.
When your customers receive their orders and see your label on them, their trust in your store increases.
Suppliers offering private labelling should be given priority since making a name for yourself in the dropshipping industry is mainly done through this practice.
3) Branding/Customization
Branding and customization are other key perks you should seek from an ideal dropshipping supplier.
Much like private labelling, branding, and product customization are closely linked with making yourself unique in the market.
Customization refers to adding your own tweaks to a product to make it exclusive to your brand.
Although these changes are minor, they contribute heavily to making the product stand out, especially when it's commonly used.
Similarly, branding refers to the outer packaging of the product.
If you purchase a supplier's branding services, they'll have each product wrapped in the package you design or prefer before it's shipped.
4) Fast Shipping Times
Shipping times play a key role in a dropshipping business.
You can bring your customer top-notch products at reasonable prices, but if it takes 3 weeks to deliver them to their doorstep, they might never order again.
Customers generally prefer paying more for faster shipping than waiting for their parcel for weeks.
The best supplier would have logistics figured out such that the shipping time does not ideally exceed a week.
If your customers are based in a specific region, look for suppliers around that area, or suppliers having warehouses in the nearby region.
5) Crystal Clear Communication
Running an online dropshipping store requires crystal-clear communication with your supplier.
Whether you're hiring a sourcing company or an individual supplier, you cannot compromise on communication.
Order tracking, inventory management, and customer support all fall under this umbrella.
For instance, delayed stock updates from the supplier's side can result in you selling out-of-stock items in your store.
Ambiguity or delay in communication potentially leads to dissatisfied customers and loss for your business.
If you're dealing with a sourcing company and they appoint an agent 1-on-1 to handle your concerns, consider this a green flag.
Honourable Mention: Ignore Their Lousy Website
Usually, suppliers being tech savvy is rightfully emphasized. After all, real-time inventory updates and other related features come from professionals in the business.
However, it is also important to note that not all veteran suppliers are keen on keeping up with technology.
As a matter of fact, you'll often find suppliers with decades of experience and unparalleled work ethic having a poor website.
Suppliers like these may not bring the best tech features to the table, but they might bring you the best price, logistics, or products.
So, it's best not to dismiss them just for having an old-fashioned website or decade-old marketing tactics.
FAQs about Shopify Dropshipping Suppliers
How Do I Find the Best Supplier on Shopify?
You can find the best Shopify suppliers by using Google, contacting sourcing companies, or accessing platforms that connect you to suppliers.
For instance, you can get products from China by using NicheDropshipping's sourcing services for Shopify resellers.
Similarly, platforms such as Worldwide Brands, Spocket, and Doba offer some of the best suppliers.
Is AliExpress a Good Dropshipping Supplier?
AliExpress is not a dropshipping supplier, rather it is a marketplace where you can find both products and suppliers.
There's no doubt AliExpress is a phenomenal marketplace to find suppliers, but it can take a lot of time and effort to find the right ones.
While AliExpress provides a vast selection of products, the quality and reliability can vary among suppliers. It's crucial to thoroughly research and vet suppliers to ensure product quality, shipping times, and customer service meet your standards.
Additionally, communication with AliExpress suppliers may require patience due to potential language barriers.
Is Shopify Integration Important When Finding a Supplier?
Suppliers offering Shopify integration is a plus, but it is certainly not a hard and fast requirement for conducting business.
Shopify integration helps you link all data from the supplier's side related to the product, inventory, and payment methods to your Shopify store.
Not only does this make fulfilment easier, but it also saves you a lot of time.
Final Thoughts
If you're searching for Shopify dropshipping suppliers manually, you'll need a bit of knowledge about how keyword search works on Google.
As we mentioned, not all elite-grade suppliers are conscious about openly advertising themselves in the market.
So, you might need to conduct in-depth research to find the best Shopify dropshipping supplier.
However, this step only comes after you've gone through the list we compiled in this article.
Hopefully, these directories and suppliers help you land a fine deal for your dropshipping business to prosper.
And if negotiating and dealing with suppliers seems too much of a hassle, we at NicheDropshipping are always here to help source products for you.
Just reach out to us and request a free sourcing quote and our team of professionals will get back to you with a quote soon!