Product hunting is the biggest hurdle faced by dropshipping entrepreneurs. And this doesn't come as a surprise since it will have long-term consequences on your business.
There are a variety of aspects to keep in mind during this phase, including the ever-changing shopping trends and customer demands, which makes it all the more difficult.
That is why if you're running short on ideas, then no need to worry. We've compiled a list of the 35 best dropshipping products that you can sell to maximize your profit.
So let's dive straight into it!
Best Dropshipping Products: Health and Personal Care
As shown by Google Trends, more and more people are becoming health conscious nowadays: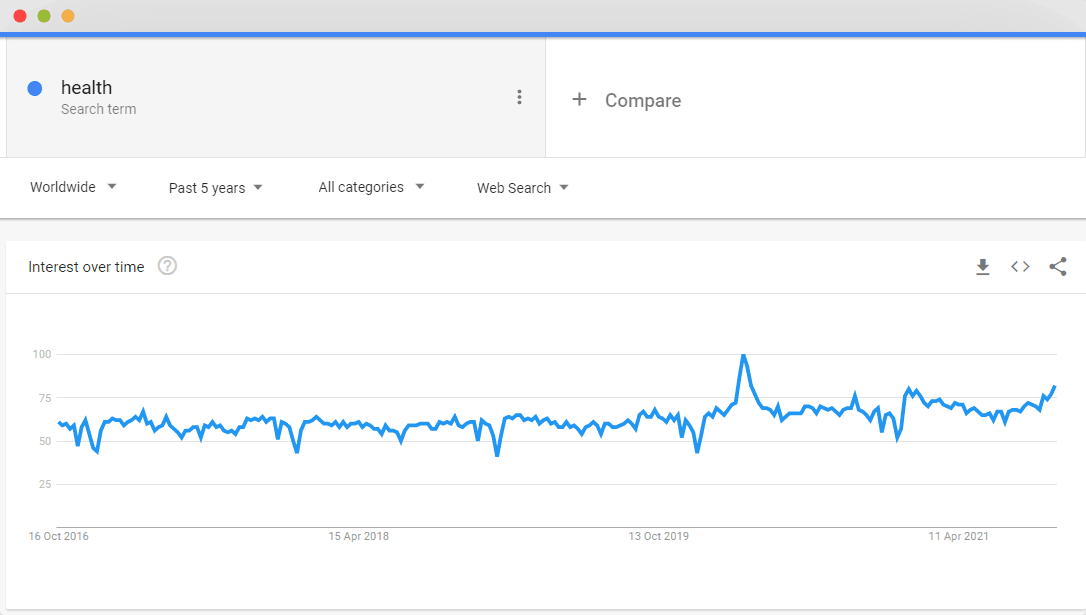 Due to the pandemic, the rising demand for this niche isn't really a shocker.
So here are some health and personal care products that you can dropship: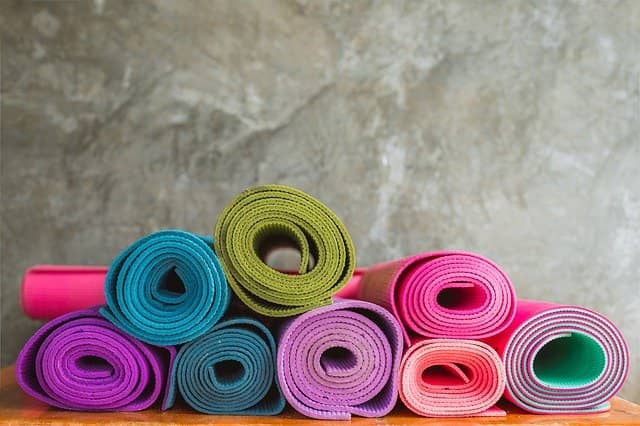 Electric Toothbrushes
You probably didn't expect to see electric toothbrushes here, but over the years, they've steadily been growing in popularity.
And it doesn't come as a surprise given that they're considered to be more effective in removing plaque from the teeth.
In addition to that, people are also becoming more aware of the importance of dental hygiene.
All of this combined makes it one of the best dropshipping products in the health and personal care niche.
Home Gym Equipment
Some people feel nervous while going to the gym, while others simply don't have the time. This is the reason home gym equipment is growing in demand.
What's amazing about this niche is the sheer variety you have.
From iron rods to dumbbells, benches and kettlebells – there are dozens of products that you can dropship in the home gym equipment category.
So start slow, and see what works best for you!
Sleep Eye Masks
On average, adults need 7-8 hours of sleep per night to stay healthy and maximize their productivity.
And let's not forget that the quality of sleep matters as well. Darkness plays a major role in helping people sleep better.
So why not capitalize on that by dropshipping sleep eye masks? They're easy to dropship and do not carry a risk of breaking either like fragile products.
Yoga Mats
You can either throw yoga mats along with other home gym equipment or start selling them separately. Either way, they're guaranteed to get you some sales.
What makes them a great product is that they're easy to dropship, come in a variety of colors, and are also frequently replaced by people.
Massage Gun
Massage guns have started to catch the attention of people.
These high-powered tools can be quite effective in relaxing your muscles to improve the blood flow post workouts or after a long day of work.
Not only that, but massage guns are also effective in helping people deal with joint and muscle pain.
If you want to open a niche store, then you can sell this with a massage chair and table that we talked about in our list of high ticket products.
Stylish Dropshipping Products: Clothing and Fashion Accessories
The apparel market in the U.S is approximately valued at 368 billion USD. And as suggested by Google Trends, this industry hardly sees a dull moment: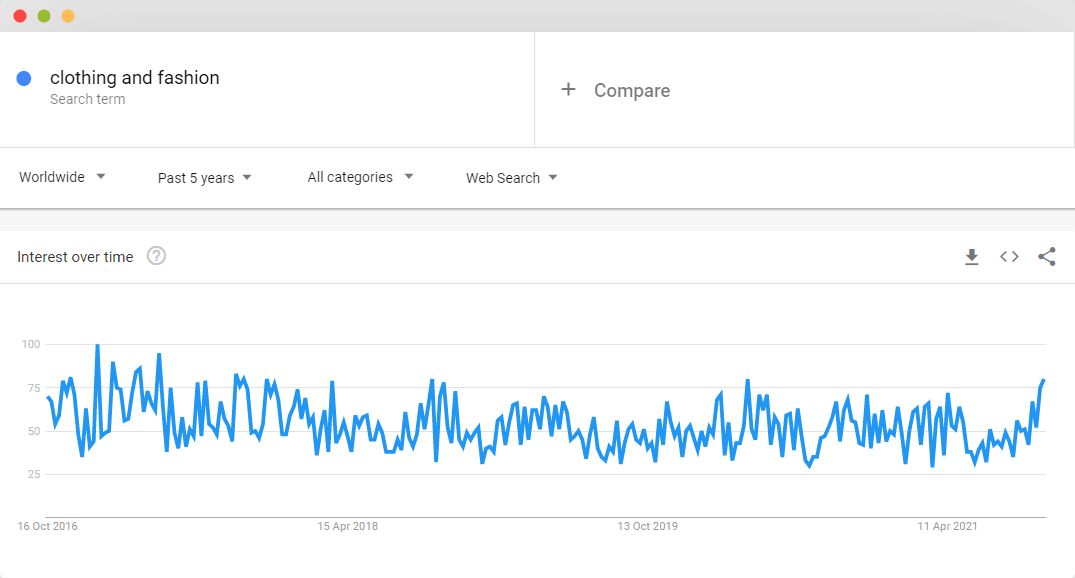 But with so much competition, it's important for you to find a way to make your business stand out.
That is why here are 5 stylish dropshipping products in the clothing and fashion niche: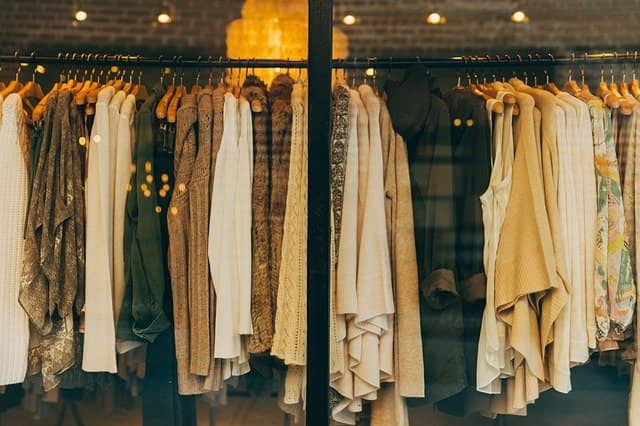 Yoga Leggings
Yoga and squats can cause a tear in your trousers in no time. This is why yoga leggings have always been a safe product to dropship.
But make sure to double-check the quality. You want to provide your customers with a thicker and more durable material to help them combat their problems!
Tracksuit
Another addition to the list of fitness wear, tracksuits can also prove to be a stylish yet handy purchase.
They are basically outfits that consist of two pieces – a hoodie/jacket and pants.
This is another great product to target athletes and in general people who are trying to blend comfort and style together.
Balaclava
You probably don't hear about balaclavas too often! But hey, that's the reason they're on this list.
A balaclava is basically a winter headwear that fully covers your neck, head as well as mouth.
If you plan on dropshipping these, then do it in a country where the winters can get rather chilly.
Silk Pajamas
Silk pajamas are sleepwear but they're also finding their way in casual wear. The reason for that is due to the breathable, cool and flexible properties of silk.
Aside from that, it comes in a variety of different colors, so fashionistas don't have to worry about finding the perfect match.
Whether you sleep in it or stroll outside – that's entirely your choice!
Mom Jeans
If you followed fashion in the 80s and 90s, you're probably familiar with mom jeans. Well, you might be surprised to know that they're back in fashion!
These high-waisted jeans were brought back by the millennials. So if you loved retro clothing, then you can now flaunt these funky-looking jeans in public.
Trending Dropshipping Products: Pet Accessories
67% of U.S households own a pet. This is one niche you can never go wrong with, and even Google Trends shows that how it's still rising in popularity: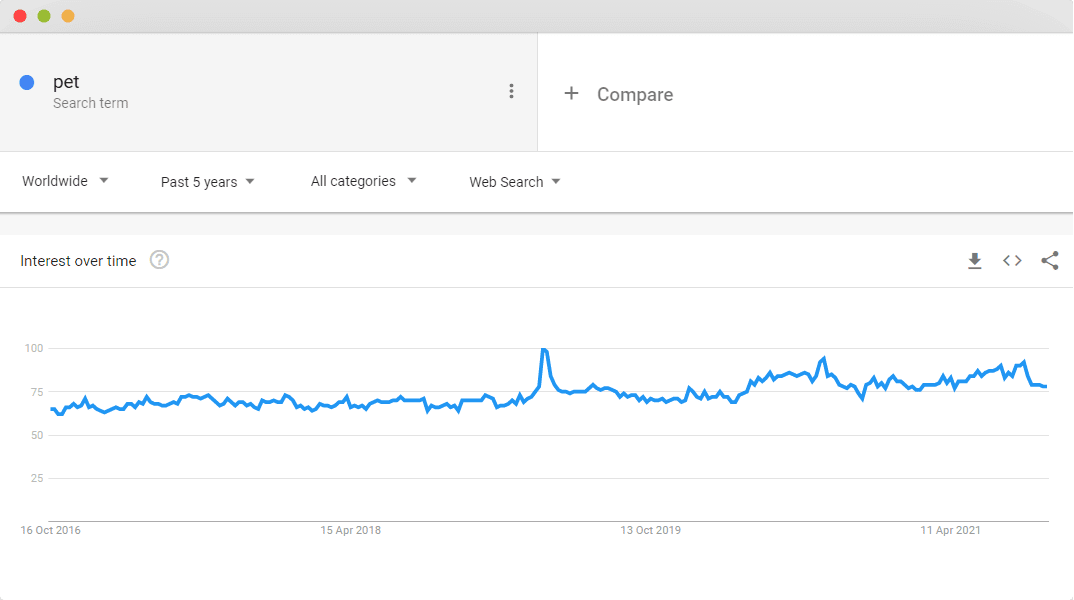 There are plenty of pet accessories that you can choose from. So let's help you by listing a few that can make you stand out from the competition: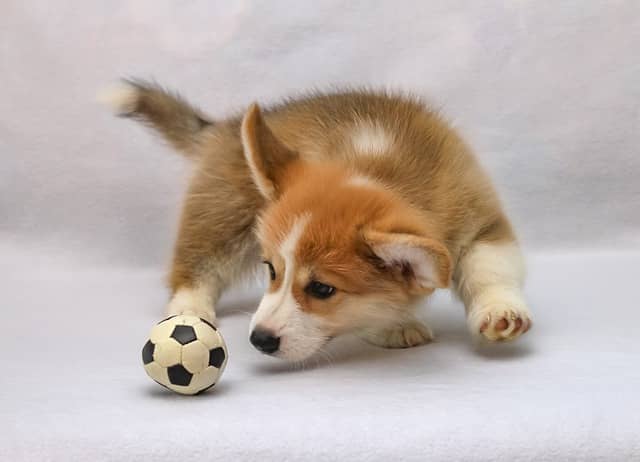 Dog Raincoats
If you don't like walking in the rain without an umbrella, then your dog wouldn't either.
Besides, those who have an overly energetic pup, like a Golden Retriever, don't get the luxury to stay at home, regardless of the weather.
This is why dog raincoats can come in handy to take your fur baby out on a walk without worrying that they'd be getting drenched and wreaking havoc in your house afterward.
Pet Toys
This one's especially for all the cat owners out there: are you tired of constantly changing your sofa covers?
Well, it's about time that you give your cat something else to scratch on. Cats normally scratch the furniture, because they don't have anything else to destroy.
This is where pet toys come in. Like regular toys, pet toys also come in a variety of different shapes, sizes and colors, so you'd have plenty of options to choose from.
Car Seat Protectors
Car seat protectors are essential for people who are planning a day to the beach with their pets.
Cleaning the seats can be a hassle, especially if your dog is fully covered in the mud. Similarly, cats can also destroy your seat covers by scratching them.
So you'd be surprised to see how many people would be interested in buying car seat protectors, especially if you're able to offer a decent quality.
Pet Grooming
Grooming a pet isn't easy – you need proper brushes, nail clippers, shampoo for their fur and a ton of other products.
Leave your pet unattended for a couple of days, and you'll see how they'll leave their fur in literally every corner of the house.
These products may end with fashion, but begin with a necessity. This is why you're likely to get a good response once you start dropshipping them.
Novelty Pet Beds
Our furry companions deserve just as much comfort as anyone else. So why not combine basic needs with cuteness and start dropshipping novelty pet beds?
Pet beds come in a variety of shapes and sizes and the bigger the bag, the higher the price tag. So you have a lot of profit waiting for you with this product.
Popular Dropshipping Products: Kitchen and Grocery
Running a successful dropshipping store is all about targeting the needs of your potential customers.
Apparently, kitchen and grocery products are always in demand, and Google Trends also agrees with us: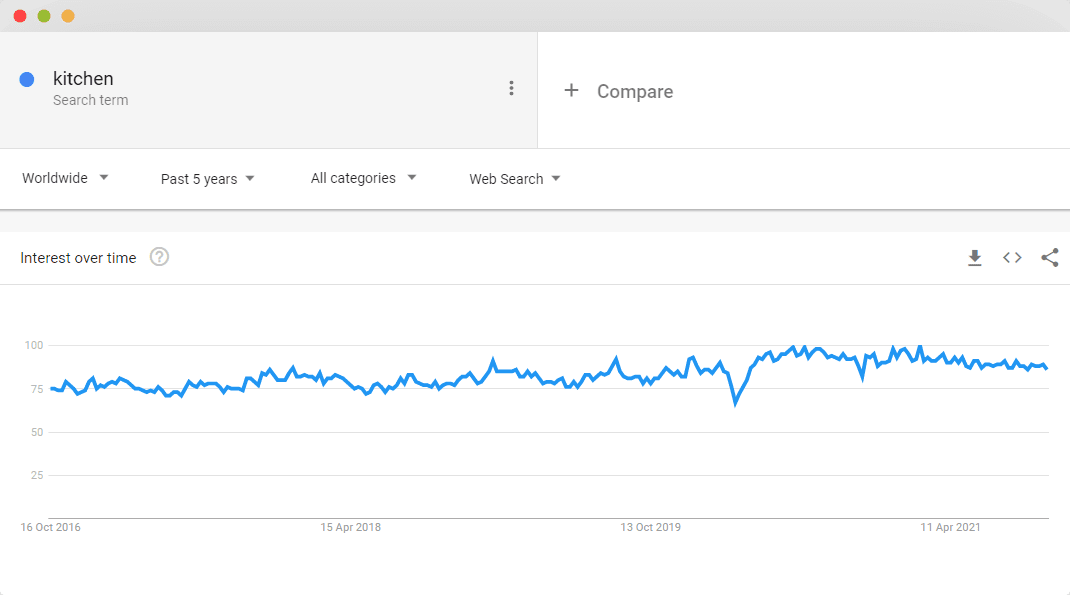 So here are a couple of popular products that you can dropship in this niche: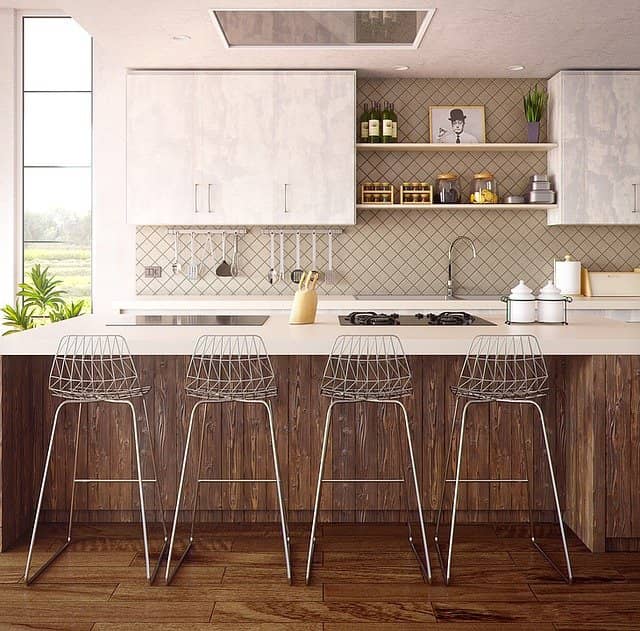 Air Fryers
Most people don't know how much they need an air fryer until they buy one.
This appliance started to rise in popularity only in 2017, but has been around much longer than that.
Air fryers can be a valuable addition to the kitchen for people who are fond of fried foods. Overall this is a great product to dropship.
Electric Kettles
Electric kettles are definitely not a new product. They've been around for more than a century, but only recently have they started to capture the attention of buyers.
More and more customers are realizing the portability and convenience electric kettles offer.
Just make sure to double-check the quality before you start dropshipping any electrical products.
Portable Blenders
Almost everyone has a blender at their home. So without a doubt, this product is already high in demand.
But you can further capitalize on its popularity by offering customers a portable blender.
They're ideal for travelers due to how easy they're to carry and store.
Fasting Tea
A vast majority of people require coffee or tea to kick off their day.
But the conventional options can get in the way of people who are following the "intermittent fasting" diet.
In case you aren't aware of it, this is a diet plan where people only eat during a specified period, known as the "eating window", and fast the rest of the day.
Fasting tea can act as a low-calorie drink to keep them charged. This is why we believe that this product is worth dropshipping.
Wine Fridges
A wine fridge isn't common, which is all the more reason that we've included it in the list.
It can be used to not only store wine, but also other beverages and keep your drinks at just the right temperature.
You can commonly find a wine fridge in bars, but nowadays, people have also started to keep this appliance in their homes.
Evergreen Dropshipping Products: Home and Bedroom
Dropshipping products in the home and bedroom niche can also be a great decision. Even Google Trends shows how often this query is searched for: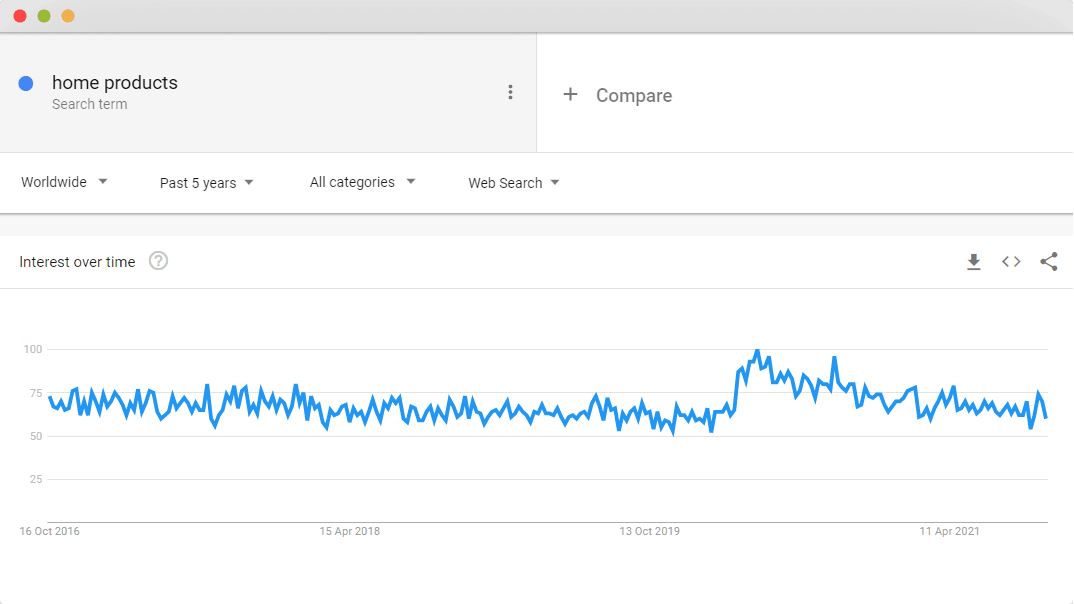 Such products are always in demand, especially among people who are keen on making their living space as aesthetic as possible.
So let's help you pick the 5 best products in the home and bedroom category: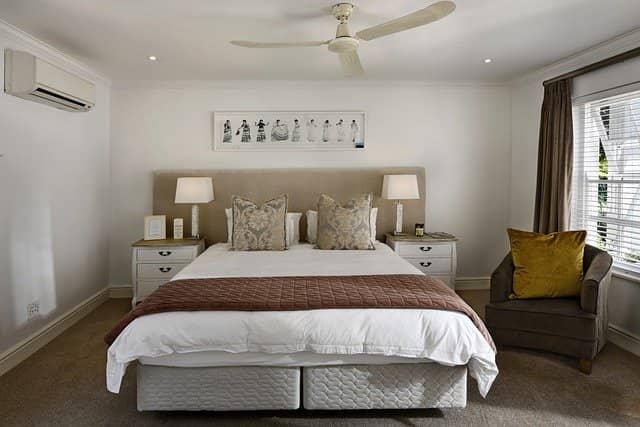 Air-Purifying Plants
We all know how great staying around plants can be for our health. They reduce CO2 levels and release oxygen, making it easier for you to breathe.
In essence, all plants can help in purifying the air. But usually, this label is given to the larger and leafier plants.
Considering how they aren't as common to find, you can start dropshipping them to make some good profit.
Air Purifiers
Similar to the plants, air purifiers can be another useful addition to your living space. It can help you filter out irritants such as dust, smoke, pet dander and odors from your room.
This product is especially popular among people who suffer from allergies. Overall, as of 2022, air purifiers are considered to be quite profitable due to their high demand and low competition.
Doormats
Sometimes people spend so much time coming up with an out-of-the-box product, that they completely ignore the options that are right in front of them.
Doormats are a fine example of that. They may not look too special to you, but they hold great importance in the eyes of most people.
After all, a doormat is the first thing that visitors see while entering your house.
Bedside Lamps
Getting out of the bed and turning the lights on for even the smallest of things can get quite annoying. This is where bedside lamps come in!
It's a staple of a home décor list and a highly profitable dropshipping product.
Nowadays bedside lamps come in a variety of shapes and designs, so be more creative while finding a supplier to catch the attention of as many customers as possible.
Orthopedic Pillows
Extended work hours can take a serious toll on our bodies and leave us with nasty back and neck pain.
This is why more and more people have started to look for orthopedic pillows.
It can help them improve their posture as well as back and neck pain. All of this makes it a solid product to dropship.
Hot Dropshipping Products: Office and Daily-Use
Google Trends shows how office supplies have peaked in terms of search queries recently: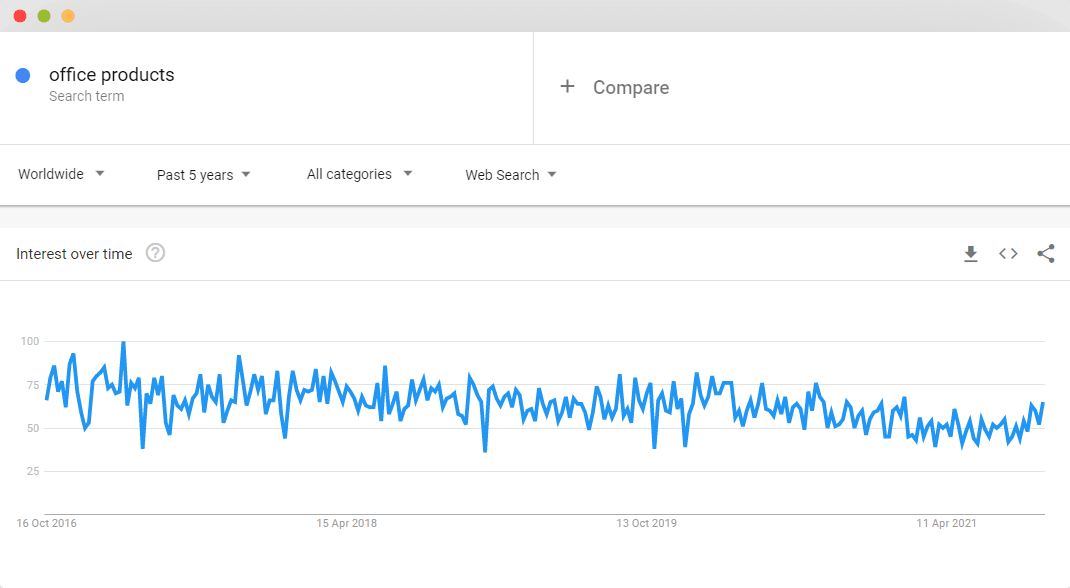 With the recent remote working dynamics, this doesn't come as a surprise.
And either way, sitting for long hours at the same spot can also leave your muscles and joints in intense pain.
This is why here are some office and daily-use products that you can dropship: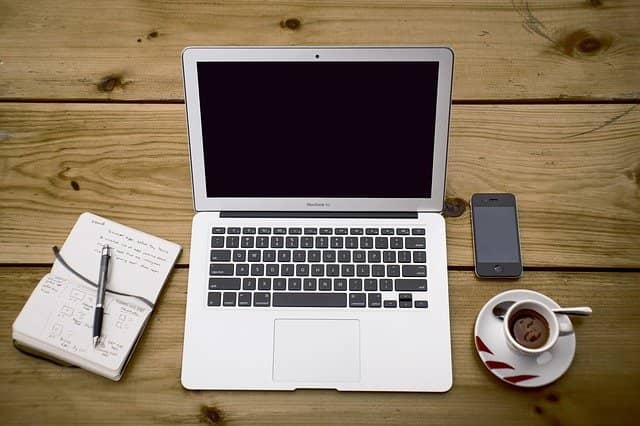 Mechanical Pencils
Instead of keeping the same-old dinosaur print pencil, people have started preferring mechanical pencils. Needless to say, these pencils do not require sharpening.
They're particularly useful for graphic designers or for people who have to do a lot of paperwork every day. All in all, it isn't uncommon to get a bulk order for this product.
Blue Light Glasses
Staying in front of the computer screen for extended hours is never good for your eyes.
In fact, if you've been dealing with frequent headaches, then that may be one of the reasons. Unfortunately, the majority of modern jobs demand that.
This is why blue light glasses are becoming popular among people. They can limit the amount of blue light entering your eyes and reduce the eyestrain.
Reusable Notebooks
Despite having laptops and phones, many people still prefer making handwritten notes. So reusable notebooks or also known as erasable notebooks can be a great product to add to your listings.
These notebooks can really come in handy as they can be used over and over again and people won't have to clutter their desks with hundreds of papers.
Posture Belt
A large number of people are suffering from neck pain nowadays, and one of the biggest contributors to that is poor posture.
Bad habits formed over years don't go away in a single day. This is why posture belts are often purchased by people who have to do desk jobs.
As the name suggests, not only does it help them improve their posture, but also, alleviates the stress from the back. All in all, this dropshipping product will only become more popular over time.
Seat Cushion
Once again, an ergonomic seat cushion can be a great product to dropship for people who are dealing with postural problems.
It evenly distributes the body weight, reduces compression on the spine, hips and tailbone and also promotes blood circulation.
Who could've guessed that a single seat cushion would make such a big difference, right? That is the reason we've added it to the list.
High Demand Dropshipping Products: Gaming and Computer
The revenue of the eSports ecosystem is projected to reach 1.8 billion USD by 2022. With the rapid growth, more and more people have started to show an interest in gaming. Google Trends also backs that up: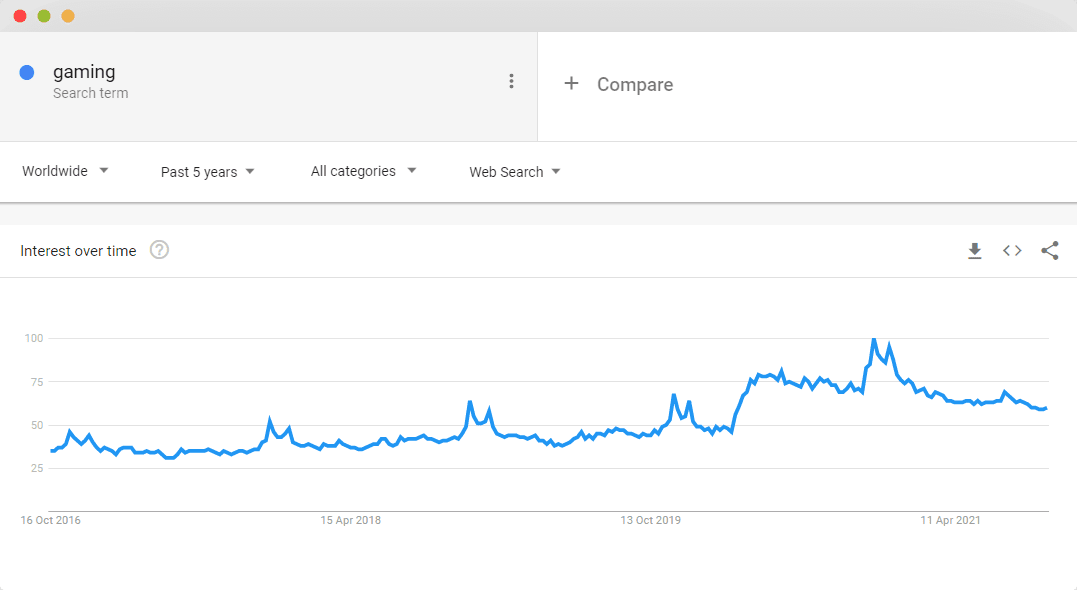 The growing popularity of the eSports industry doesn't come as a surprise.
So this is the perfect time to start dropshipping gaming and computer products and here's a list to make it easier for you:
Gaming Mouse Pad
Gaming mouse pads have a friction-resistant surface to make the movement of the mouse much smoother. Only a gamer can understand the importance of a gaming mouse pad.
Especially if you're playing an FPS game that requires the players to act at a moment's notice. And with the growing fever of battle royale games, it isn't surprising why gaming mouse pads have also significantly grown in popularity.
Ergonomics Chair
This isn't particularly a gaming chair, but it has almost all the features to be considered as one. An ergonomics chair comes with proper head and lumbar support to evenly distribute your body weight and avoid compression.
Aside from that, it also has adjustable legs, arms and footrests so anyone who has to sit and work for hours can do so comfortably. Overall, this is a high ticket product, but one that you cannot go wrong with.
Gaming Headset
Only true gamers will understand the importance of gaming headsets.
The problem with headsets is that there are thousands of options in the market, but most of them are below average. This is why there's great potential to dropship this product.
In addition, wearing low-quality headsets for extended hours can cause pressure damage to your ears.
For this reason, gamers are always on the hunt to find high-quality headsets, and you can potentially fulfill this role by dropshipping this product.
Gaming Monitor
Most people don't know this, but a gaming monitor can play a major role in determining the outcome of the game. They have panels with high refresh and response rates to minimize the lag.
They're slightly curved and come in different sizes. But keep in mind that dropshipping although profitable, can also be risky. Only do it at your own risk and if you're able to get them delivered in perfect condition.
Mechanical Keyboard
After going through the other products, you shouldn't be surprised to see mechanical keyboards on this list.
They can further help in improving the gaming experience as they're not only easier to type on, but also faster.
Their keystrokes are more responsive, allowing gamers to react instantly.
So if you're opening a niche store, then don't forget to throw in a mechanical keyboard to the list!
FAQs about Best Dropshipping Products
How to Decide What Kind of Products to Sell?
Define your supply according to the demand—research what your customers would want to purchase. There are two ways to choose what kind of products you would like to dropship.
Select a dropshipping niche: For example, beauty and fashion, tools, cell phone accessories, etc. Then choose the best-selling products in that particular niche similar to how we've listed some options above.
Create a combination of the trending products: If you are a new business, restricting the dropshipping business to one particular niche may not yield the best results.
So, choose a combination of the trending products and then decide further based on how well they sell.
The best dropshipping products fall under one of these categories:
Products in the cheaper price ranges (5$ – 50$) – These products satisfy the customer's impulse buying urge. When the product they want to purchase is available at a cheaper cost, there's a higher chance that the customer would buy the product.
Products that improve the customers' quality of life – We all are in the constant search of making our lives easier and better. So, cater to the customers' needs and choose the products which would make their lives better. E.g., travel kit for makeup brushes, wireless chargers, etc.
Products that are unique or rare-to-find – There's a high demand in the market for unique products. Novelty always attracts customers.
What Dropshipping Niches are Popular?
The following dropshipping niches are popular in 2022:
Pet Products
Health & Fitness
Home Décor and Improvement
Office Supplies
Clothing and Fashion Accessories
Gaming and Computer Accessories
Kitchenware and Appliances
How to Find the Best Dropshipping Products?
Finding the best dropshipping product is a time-intensive process and requires a lot of research. There are a few sources to research what products will be suitable and profitable for your dropshipping business.
Amazon Best Sellers – If your business has a particular dropshipping niche, this is the best way to research what products are profitable. Go to the Amazon bestsellers page and select the niche you are targeting and find the products that are doing well. All you have to do is sell them at lower prices to attract more customers.
Google Trends – This is one of our favorite tools to analyze the customer market for each product. Log on to Google trends and search for the product you would like to sell. The interest over different periods is readily available here.
AliExpress Hot Products – If you are starting a new dropshipping business, AliExpress Hot Products provides an overview of the products that have been profitable for online businesses. This is also useful in reviewing the suppliers and the prices in the market.
Salehoo Market Research Lab – Salehoo is one of the most popular dropshipping supplier directories that enable the dropshipping businesses to research the trends, the hot products in their niches, and the competition stats, etc. based on the real data.
Spocket – Spocket is also a dropshipping supplier directory that provides the winning products list in each category for your retail business.
Reddit – Reddit is an unconventional yet brilliant source for product research. There are hundreds of subreddits for each category. Read the discussion forums and analyze the needs of the customers.
Competitor research – List out the potential competitors for your dropshipping business or the businesses that have been doing well already in the dropshipping business. Research what products they are selling, the prices, and the profit margins. By doing this, you will get a clear picture of the latest trends in the market, the price-fixing strategy, and the competition rate for each product in the market.
In addition to the sources mentioned above, you can also use social media platforms like Facebook, Instagram and TikTok to hunt for the best products.
Final Thoughts
There's no denying that product hunting is one of the most time-consuming parts of starting a dropshipping business.
Do it right, and you'll reap the fruits of your labor for years to come.
Then again, after product hunting, there's another important step and that is to find a reliable supplier.
But don't worry because this is where NicheDropshipping has got you covered.
We can connect you with reputable suppliers to help you source and private label your desired products.
So contact us today to learn more about our services!