Launching a successful dropshipping business requires hard work, dedication and most importantly, hours of research.
You need to pick a suitable platform to set up your store, hunt the right product, find a reliable supplier and much more!
All of this can be overwhelming, especially for beginners who have no clue where to start.
So wouldn't it be much easier if you could get a list of the best dropshipping websites and companies for all your needs in a single place?
Well, that's exactly what we're planning to do in this comprehensive article.
We will categorically list the top dropshipping sites and platforms so they become easier for you to find, and you don't have to look elsewhere.
Now if you're ready, then let's get right into it!
Best Dropshipping Platforms to Set Up Your Store
The first step of launching a dropshipping store is to choose a platform that meets your requirements.
Each platform comes with its own set of pros and cons and with so much variety, deciding which one to go for can be a bit difficult.
This is why here are a couple of factors that you should take into consideration before making the final call:
Customer Support
Ease of Use
Features and Plugins
Scalability
Setup Time and Cost
While keeping the above criteria in mind, here's a list of the top 5 dropshipping platforms: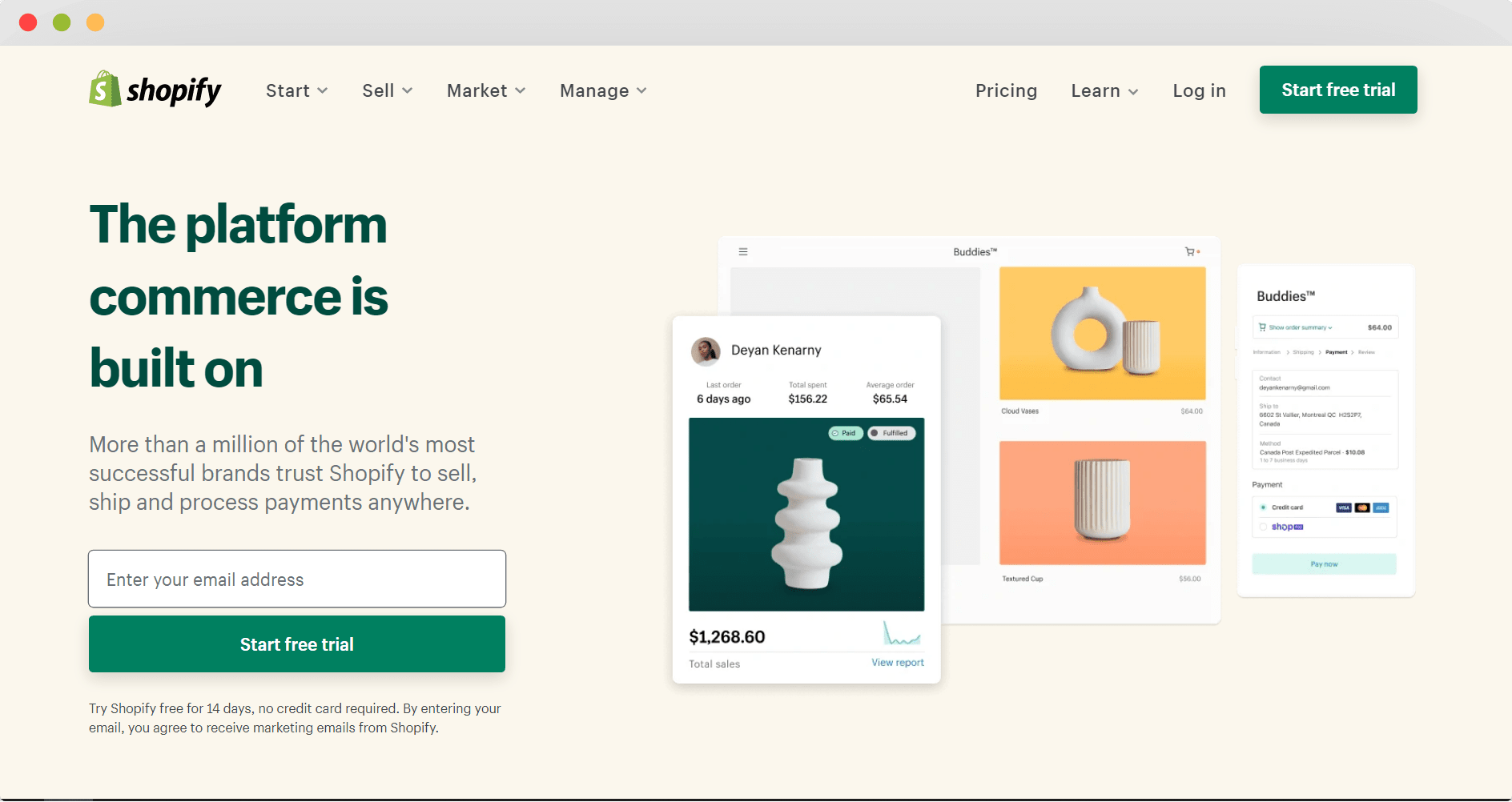 Shopify is one of the most popular dropshipping platforms in the world right now. It's the first choice for the majority of dropshippers nowadays due to the plethora of tools, features and plugins it offers.
The biggest benefit of launching a Shopify dropshipping store is that you don't have to worry about hosting because it will be included in your plan.
In short, they will handle most of the technical aspects of your business. All you need to do is to set up a website and come up with a kick-ass marketing strategy to attract customers.
Pros
Starting a Shopify store is super easy.
Their customer support is quite responsive.
They have plenty of free and paid themes available.
They provide fast and reliable hosting services.
Shopify sites are highly secure with SSL encryption.
Cons
Your Shopify store will be removed if you don't pay on time.
Their pricing plans can be costly with the basic one starting from $29 per month.
You need to optimize the appearance of your store according to strict Shopify rules.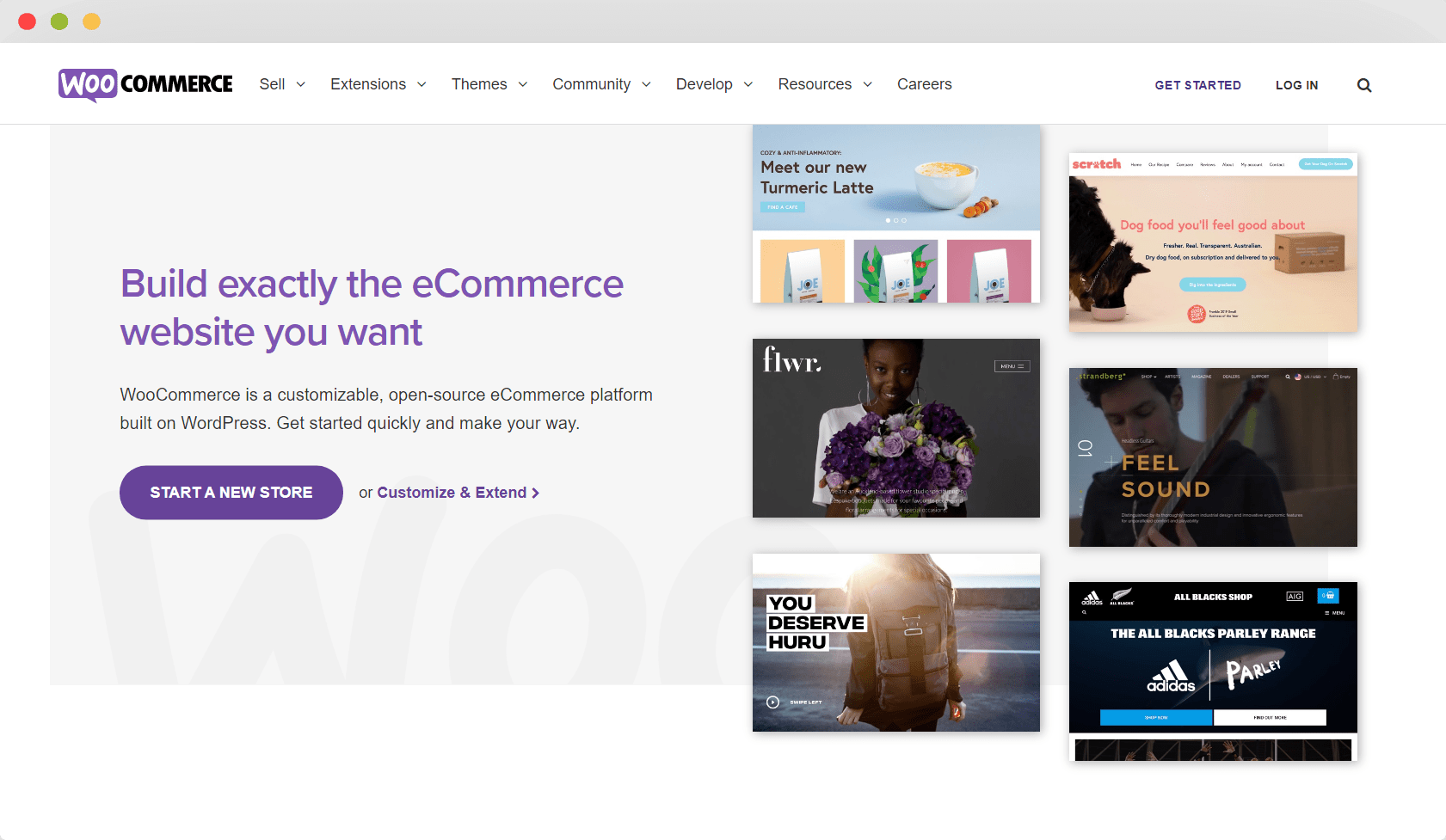 WooCommerce only offers basic functionality to dropshipping stores, but that's the reason it's the go-to option for many dropshippers.
It's easy to understand and use for beginners and in general, more user-friendly.
Although customizing a WooCommerce site can be challenging even for developers and most of its functionalities also come from third-party plugins.
In addition, you need to buy a separate hosting for your store. But either way, WooCommerce dropshipping is growing in popularity, especially among beginners.
Pros
WooCommerce is essentially just a free plugin of WordPress, which is quite easy to use.
It's easy to find solutions for problems by either contacting Woo support or searching on Woo documentation.
Offers fundamental eCommerce features such as payment gateways, inventory management and much more.
Cons
Not suitable for medium or large-scale dropshipping businesses.
The majority of the functionalities come from third-party plugins.
You need to buy separate hosting for your WooCommerce site.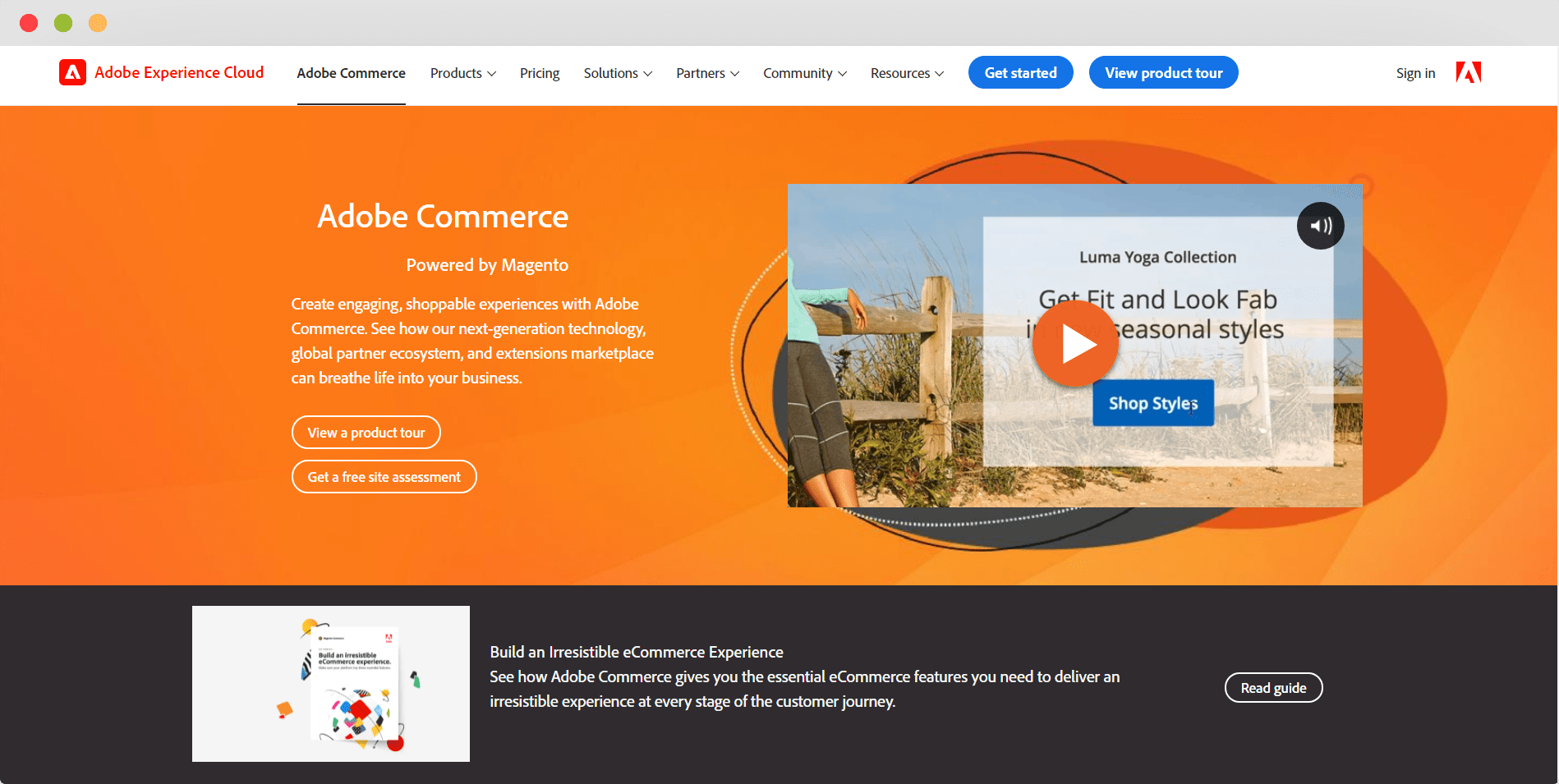 Magento is considered to be one of the most powerful eCommerce platforms. It has two versions, Magento 1 and Magento 2 – with the latter being highly recommended.
Similarly, it also has a free version of Magento Open Source and a premium one named Magento Commerce. The free version is enough for you to start a basic dropshipping store.
But keep in mind that developing a store on Magento requires significant technical knowledge, this is why it isn't often preferred by beginners.
What makes this platform truly shine, however, is its scalability. You can grow your business and add as many products as you want without worrying too much about the performance of your site.
Pros
One of the fastest and smoothest platforms for eCommerce businesses.
Sites developed on Magento are easily scalable. You can grow your store according to your business needs.
Large community to help and it's also easy to seek customer support.
Cons
Requires strong technical knowledge so not a suitable choice for beginners.
You need to hire a professional to develop Magento sites, which can be costly.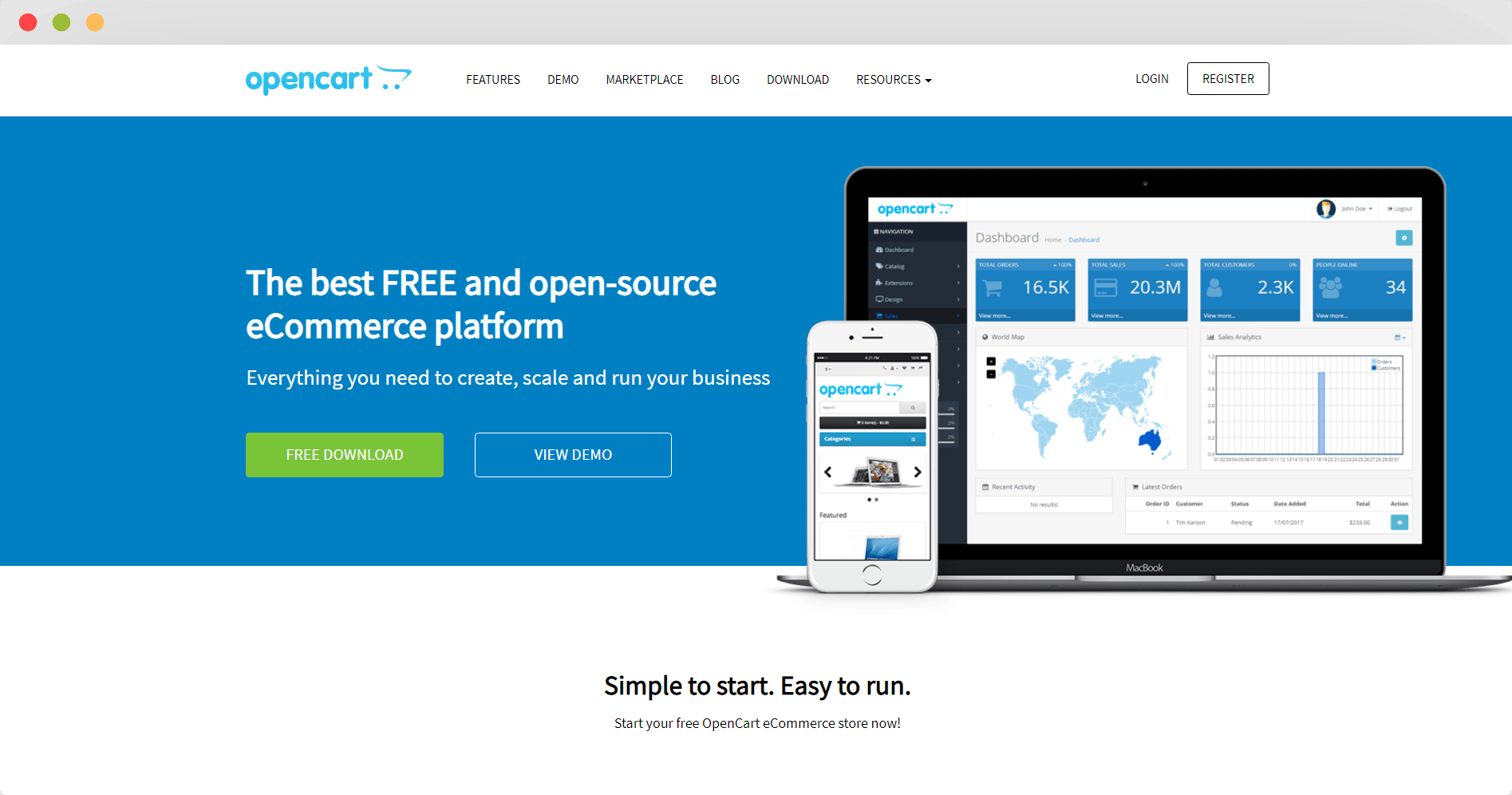 OpenCart is quite similar to Magento. It's free and open-source but not as powerful as its counterpart.
But on the plus side, OpenCart is less complete and can be used by people who possess moderate technical knowledge.
One drawback of OpenCart is that its community is still growing and it could use some more themes and extensions.
Pros
You get lifetime software updates and free support if you set up your dropshipping store on OpenCart.
Requires technical knowledge but it isn't too hard to learn for beginners.
Multiple eCommerce features including unlimited products, payment gateways and backup and restore tools.
Cons
The OpenCart community is still growing so there's not enough documentation.
It's not suitable for large-scale businesses.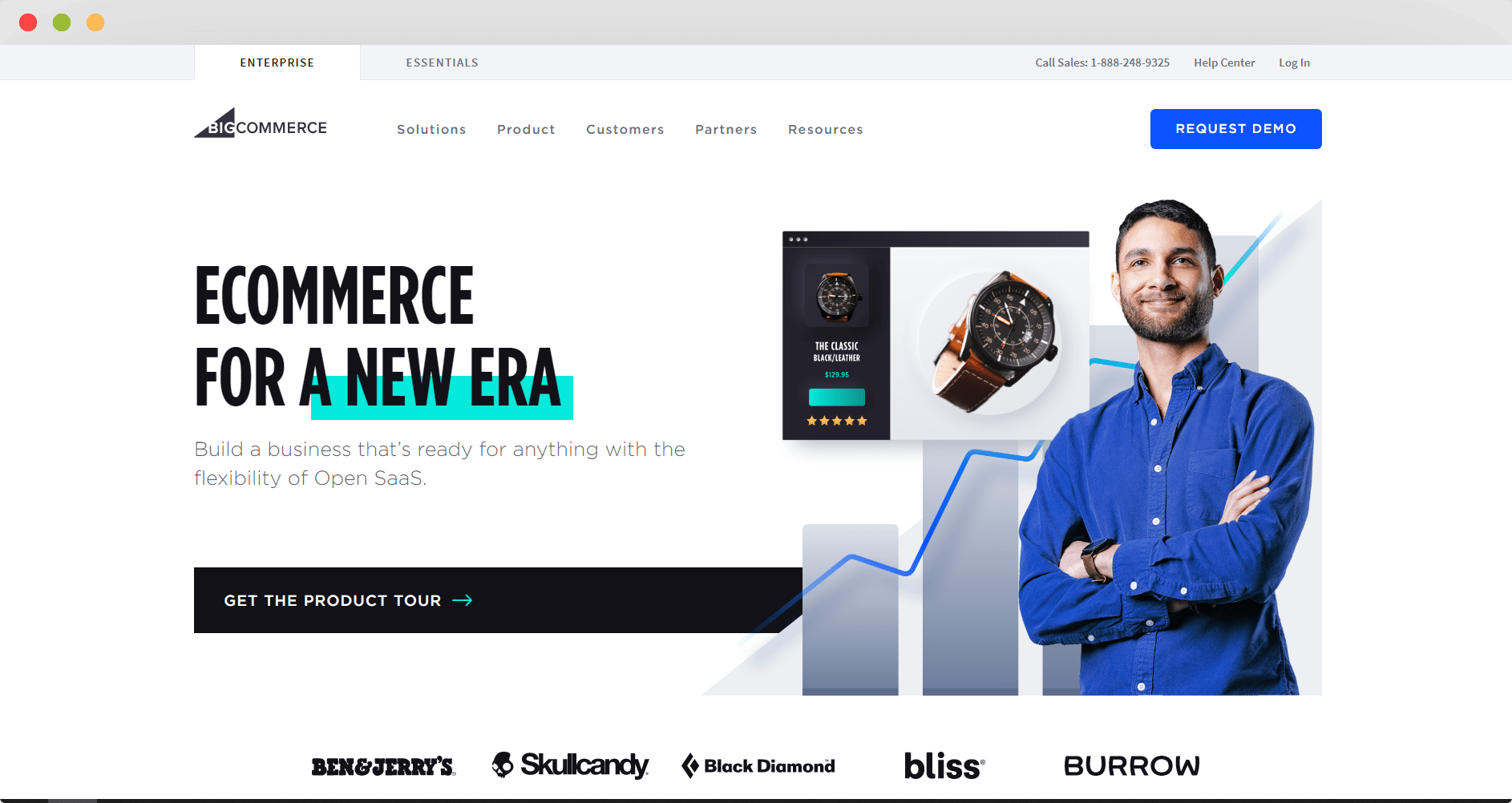 There are more than 50,000 eCommerce sites running on BigCommerce. Similar to Shopify, they have 3 monthly plans (Standard, Plus and Pro) with the Standard Plan costing $29.95 per month.
However, if needed, you can also get in touch with the BigCommerce team for an enterprise plan. You can get a 15 days trial to decide if the platform is suitable for you.
Pros
Free 15 days trial to see if the platforms meet your requirements.
Easy to use for beginners since the websites can easily be customized.
You can contact support via live chat, phone, email and the forum.
Cons
It can be costly especially if the Standard Plan isn't enough for you.
Annual sale limits can only be increased by upgrading your plan.
Best Dropshipping Websites to Host Your WooCommerce Store
Unlike Shopify, WooCommerce requires you to purchase separate hosting.
And if you don't know what hosting is, then in simple words, it is a service that makes your website visible online and makes it accessible on the World Wide Web.
You need to pay a yearly amount (as specified by the host) to keep your site up and running.
So before we go over the list of the best hosting websites, here are a couple of things you need to keep in mind:
Stay Within Your Budget
There's no denying that a good hosting service is important for your business and it can cost you a lot of money. However, if you're just starting out, then you don't need to pick the best.
Your first priority needs to be to make your site noticeable to customers. If you aren't getting too many visitors, and for some reason, your store fails, you'd also waste the money you've paid for the hosting.
So focus on growing your business first because you can always migrate to another host later.
Focus on Reliability
What you should ultimately focus on is reliability. The last thing you would want is for your website to go down with the customer support nowhere to be found.
Besides, not every host charges a hefty amount. If you go on Google, you'll find plenty of cheap hosting services with great reviews. So all in all, never compromise on reliability regardless of how much you pay.
Now that you know the basics, let's move on to some of the best hosting sites in the world: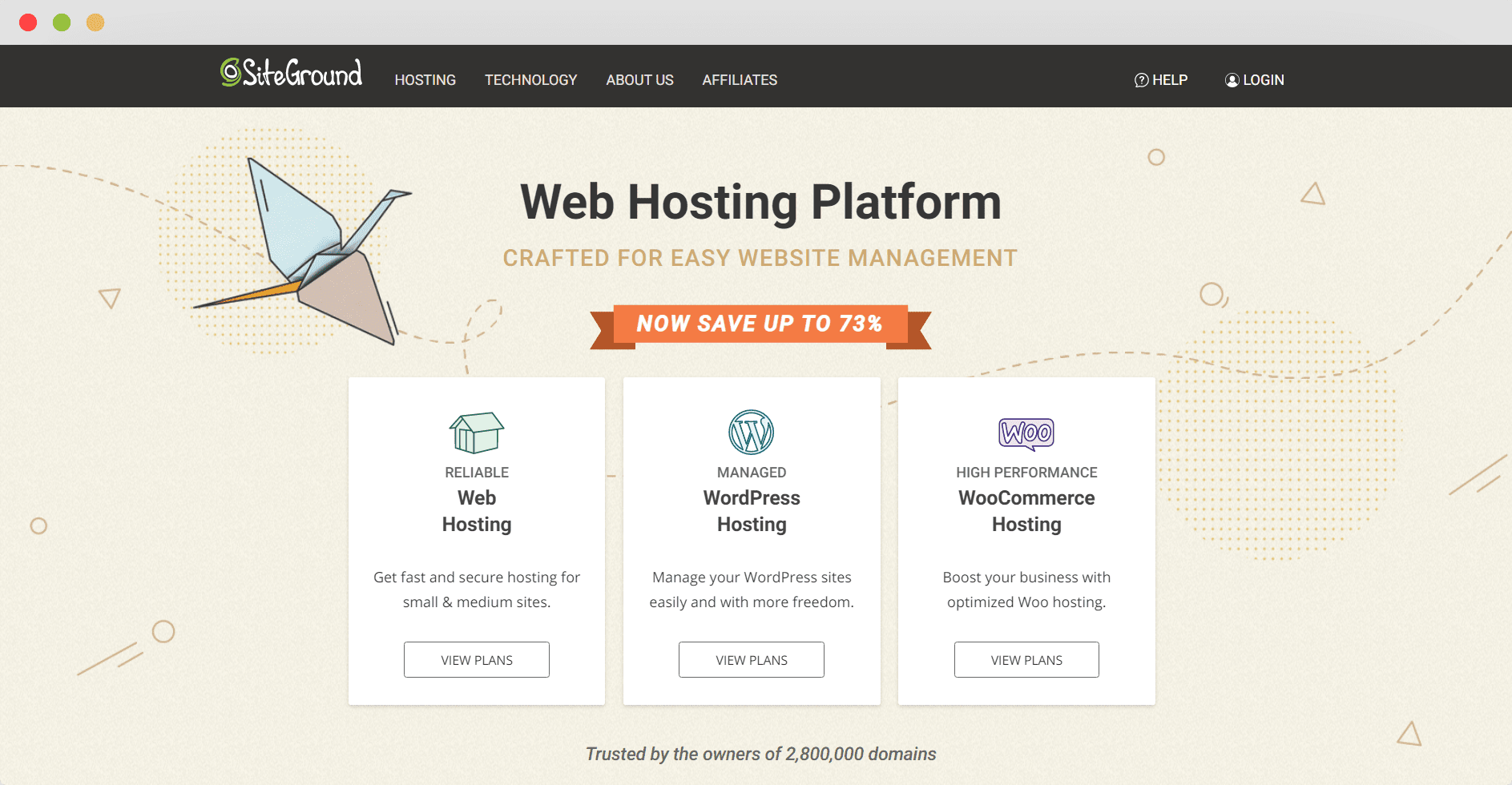 SiteGround is one of the most preferred WordPress hosting companies. So in short, they will be suitable for your WooCommerce store.
They offer plenty of WooCommerce specific features, have responsive customer service and overall great performance.
Their pricing is also quite reasonable with the basic StartUp plan only setting you back $3.99 – making it perfect for low-budget businesses.
Pros
Reasonable pricing, making it perfect for if you're on a tight budget.
The support will set up the WooCommerce plugin for you so you can start right away.
Very well prepared and responsive 24/7 customer support.
Cons
The hosting control panel of the site is clunky and can be difficult to navigate for beginners.
Their StartUp plan only offers 10 GB SSD space.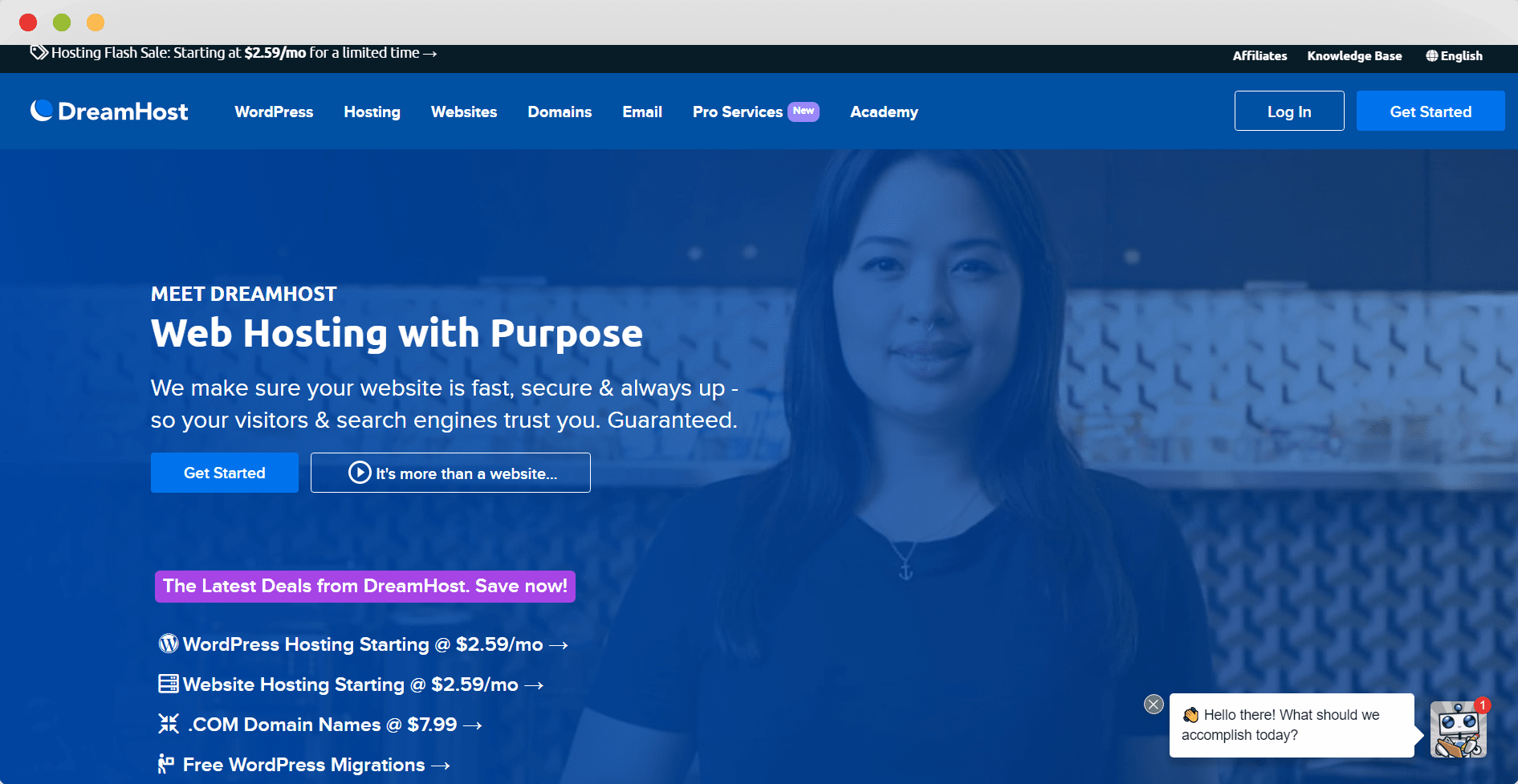 You can of course use DreamHost for sites made on other platforms, but WordPress sites are where it truly shines.
They offer dedicated plans for you to easily manage and take care of your WooCommerce store.
This includes features such as a fully configured and pre-installed store-front, server-side protection and much more!
However, their services may be a bit costly for some people as their cheapest plan sets you back $16.95/month.
Pros
Pre-configured and pre-installed store-front for your WooCommerce store.
Free Jetpack Professional plugin to authenticate customer logins and a lot more.
SSL certificate and server-side protection from hacking attempts.
Cons
Some customers complain that WordPress updates crash their servers.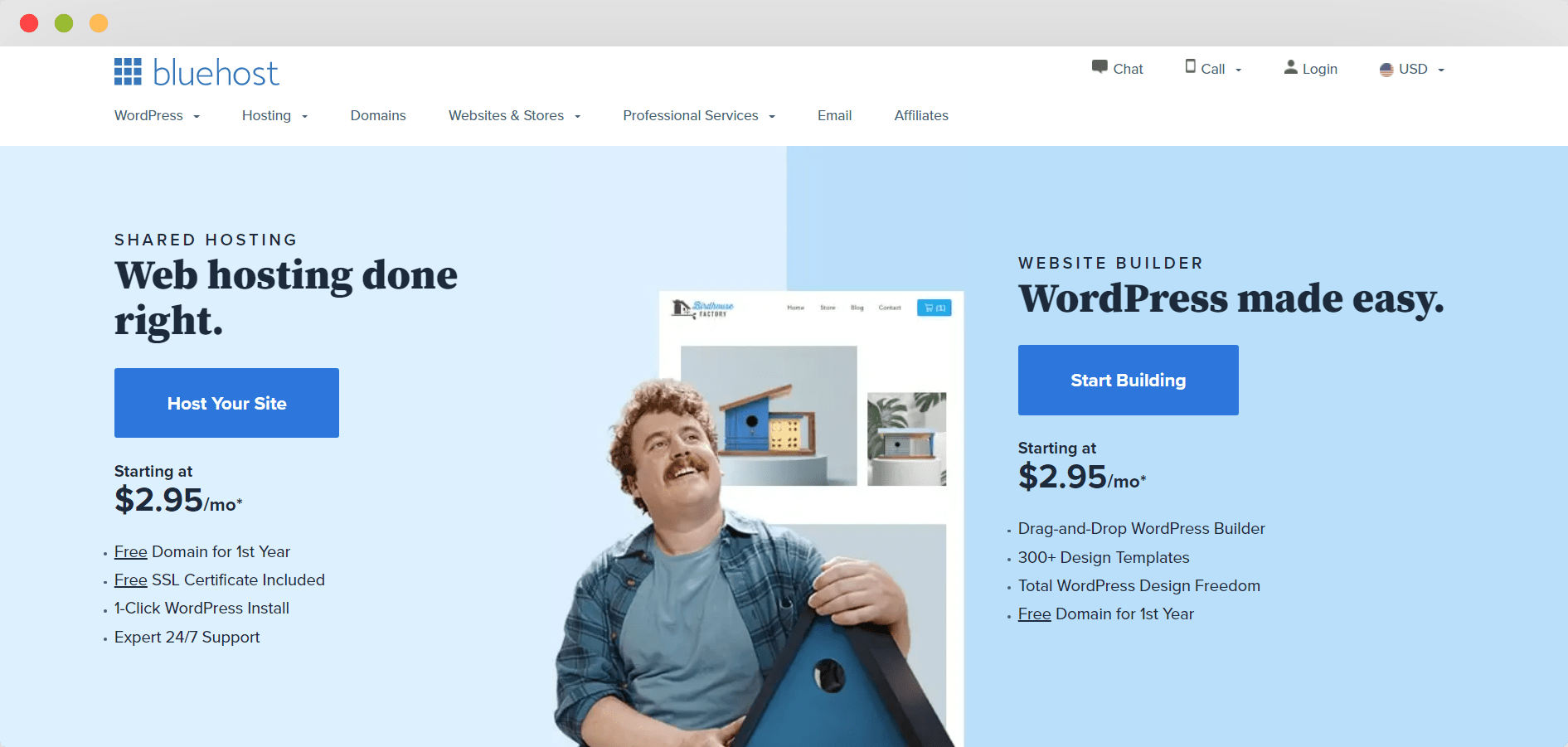 BlueHost is recommended to be the hosting of your choice directly by the WordPress.org team. So it's safe to say that this is another option that you cannot go wrong with.
This hosting service also has the WooCommerce plugin pre-installed. So you can start building your store and adding products without wasting any time.
Their cheapest Standard Plan costs $12.95/month. It includes unlimited bandwidth and SSD storage, which in our eyes is a deal sealer.
Pros
You can add and keep your data safe with the CodeGuard backup system.
Any web app built with PHP can be hosted on BlueHost.
Unlimited SSD storage and bandwidth with the Standard Plan.
The website dashboard is easy to navigate and user-friendly.
Cons
The support needs to be faster and more knowledgeable.
High volume of traffic may affect sites performance.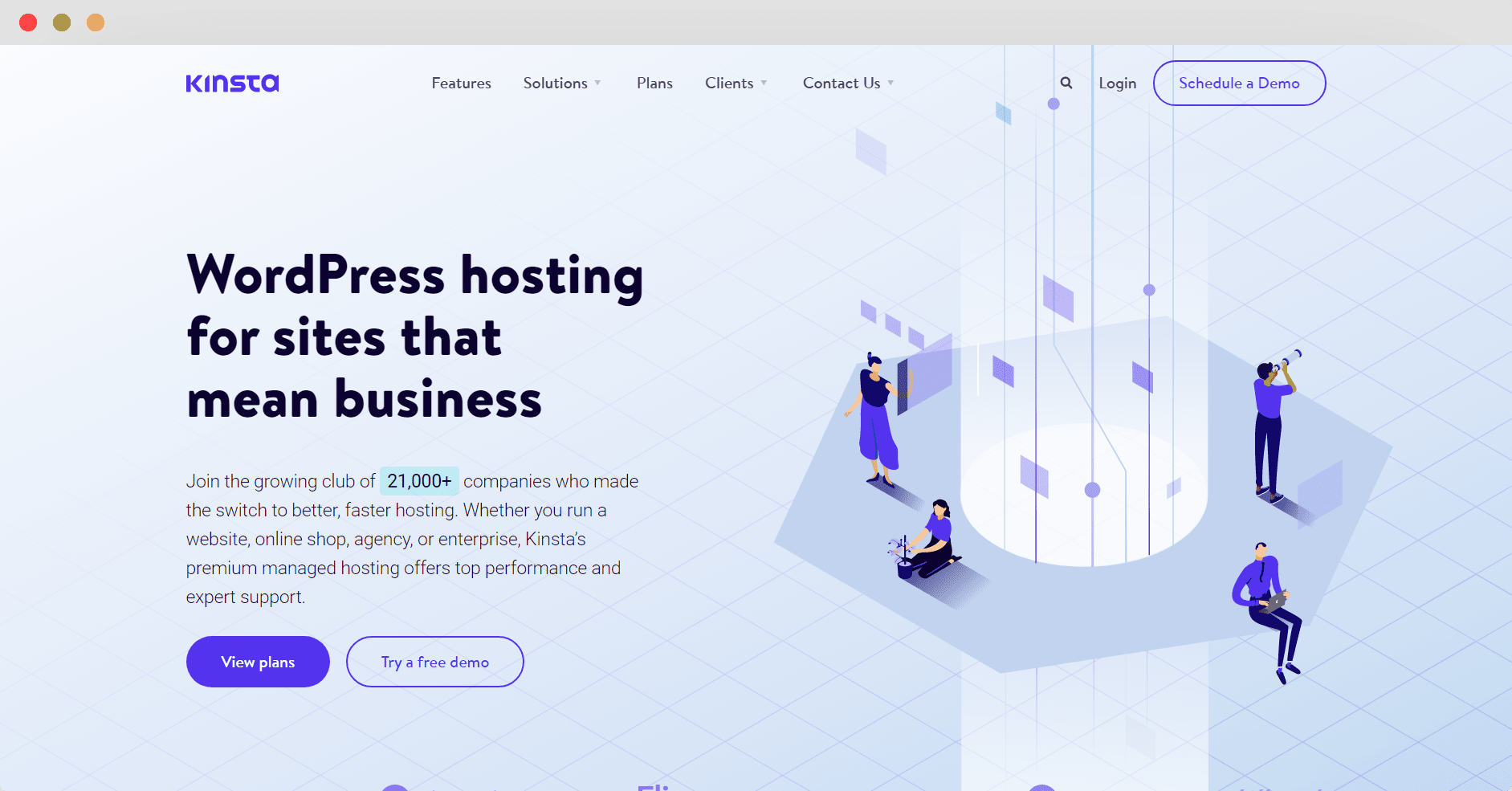 Powered by Google Cloud Platform, Kinsta is a managed WordPress host. Their services are specifically optimized for eCommerce businesses and can handle a high volume of traffic.
You can open the MyKinsta dashboard to install WooCommerce with a single click. Each plan comes loaded with different features with the cheapest one starting at $30/month.
Their pricing may be costly, but they have a 30-day money-back guarantee, which shows their commitment to customer satisfaction.
Pros
All your data is automatically backed up every 24 hours.
Install free SSL with a single click.
24/7 customer support that also helps with malware removal.
Cons
The pricing plans are expensive.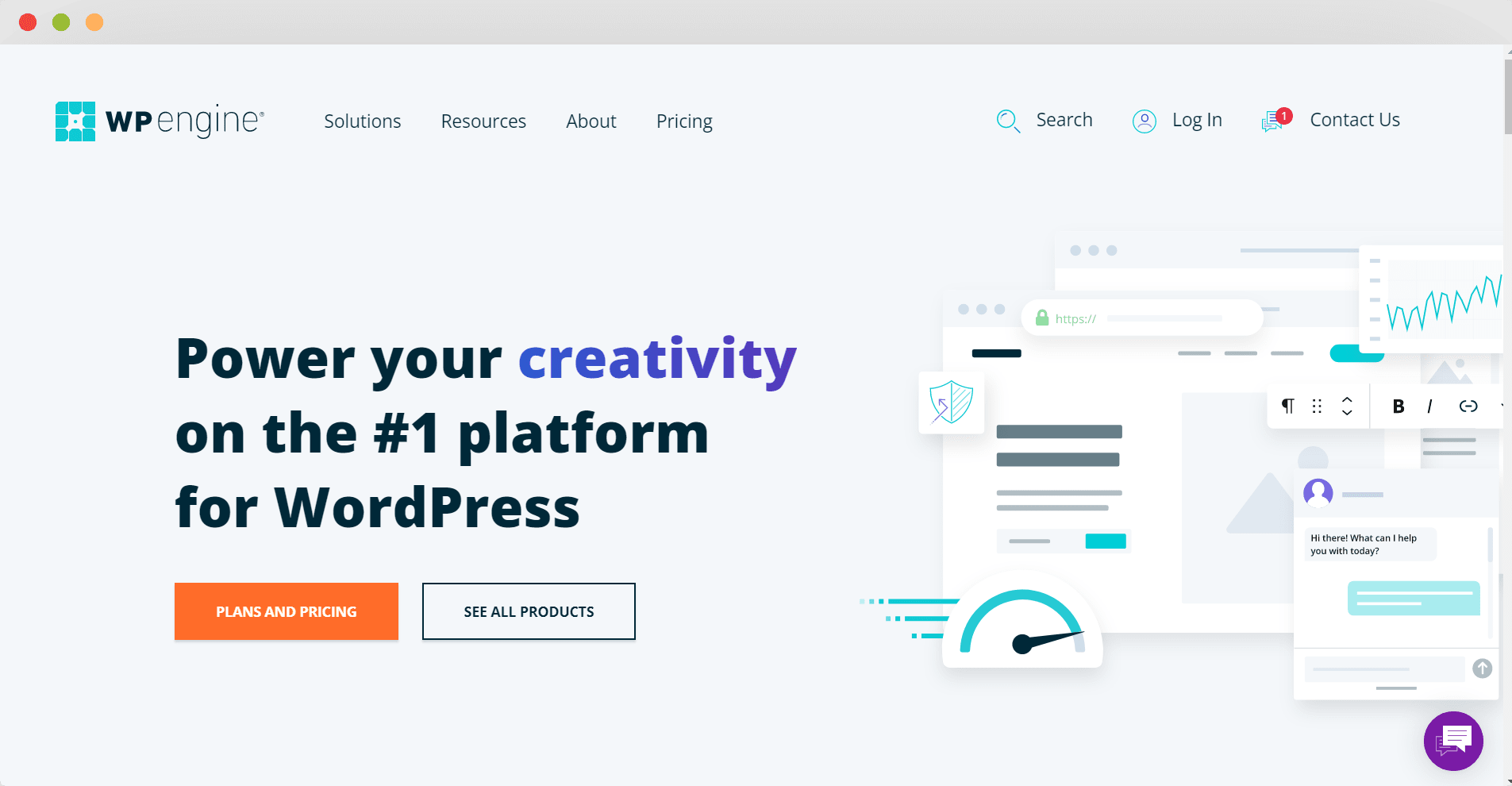 WP Engine is also a managed WordPress hosting service. It's quite similar to Kinsta and can also support stores with high traffic and has plenty of features to help you smoothly run your WooCommerce store.
It also provides free access to plenty of fast and SEO-optimized themes, and SSL to keep your store secure from online attacks.
What sets WP Engine from other hosts on this list is its Toolkit plugin. It can be used to optimize the performance of your store, access KPIs, and other useful features including auto-logouts and one-tap payments.
With all the features that you're getting, the pricing isn't too bad either. Their entry-level plan starts from $20 per month and if needed, you can also get custom plans.
Pros
Toolkit plugin comes with plenty of useful features.
Fast and free SEO-optimized themes.
Automatic backups to keep your data safe.
Free SSL to keep your site safe from online attacks.
Cons
The entry-level plan only supports up to 25,000 monthly visitors.
Best Dropshipping Websites for Product Hunting
Product hunting is one of the most time-consuming steps of launching a dropshipping store.
You can of course gain basic insights by analyzing what's hot on Google Trends and by researching on platforms like AliExpress. However, at times it can get extremely confusing – especially if you're a beginner.
So did you know that you can make your life much easier with the help of product hunting tools? The right tools can assist you in finding those "Winning Products" in less than half the time.
And don't worry, those tools – or at least the good ones that we'll be talking about do not throw a random list of products at your face. You can in fact use them to research and analyze your competition at a deeper level.
For instance, a single click can show you how many stores are selling the same product that you're planning to dropship. This can allow you to adjust your marketing strategy accordingly and come out on top.
So let's have a look at the product hunting tools that are worth your time and money: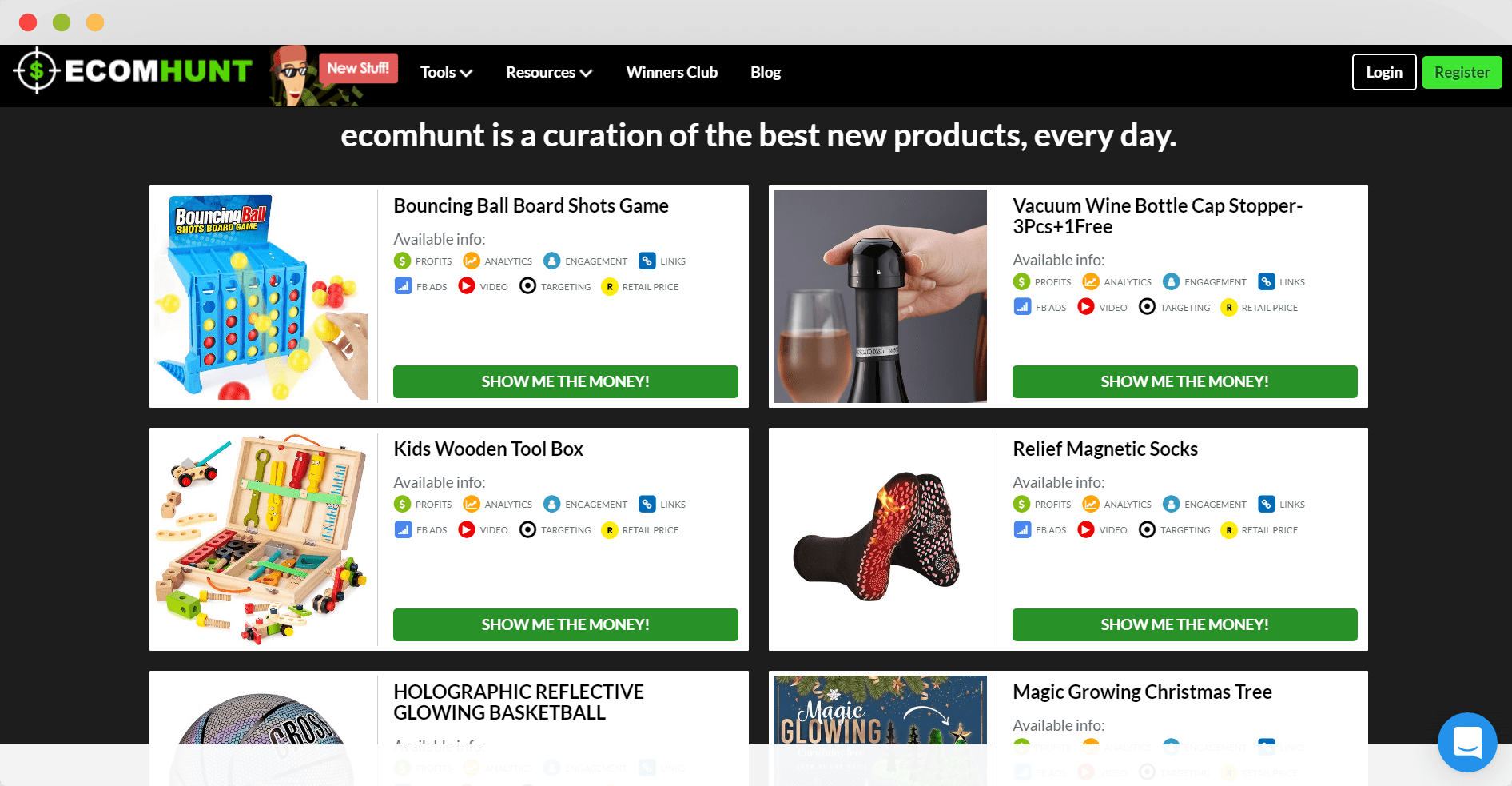 If you're someone who doesn't like doing the labor, then don't worry. Ecomhunt is a famous tool that lists handpicked winning products for you every day! But wait – that's not it.
With each product, you're also going to get information like what price you should sell it on, product video ideas, reviews of buyers and much more!
However, keep in mind that this information first becomes available to its premium members with the subscription costing $29 per month – which isn't too bad.
And then they also have an active Facebook group so you can connect with the community and get more support.
Pros
Daily handpicked products with competitor information.
Ideas to engage on social media.
Helps in finding you the target audience.
List of Instagram influencers for influencer marketing.
Cons
Limited research potential and lacks tools, but not a bad deal for the price.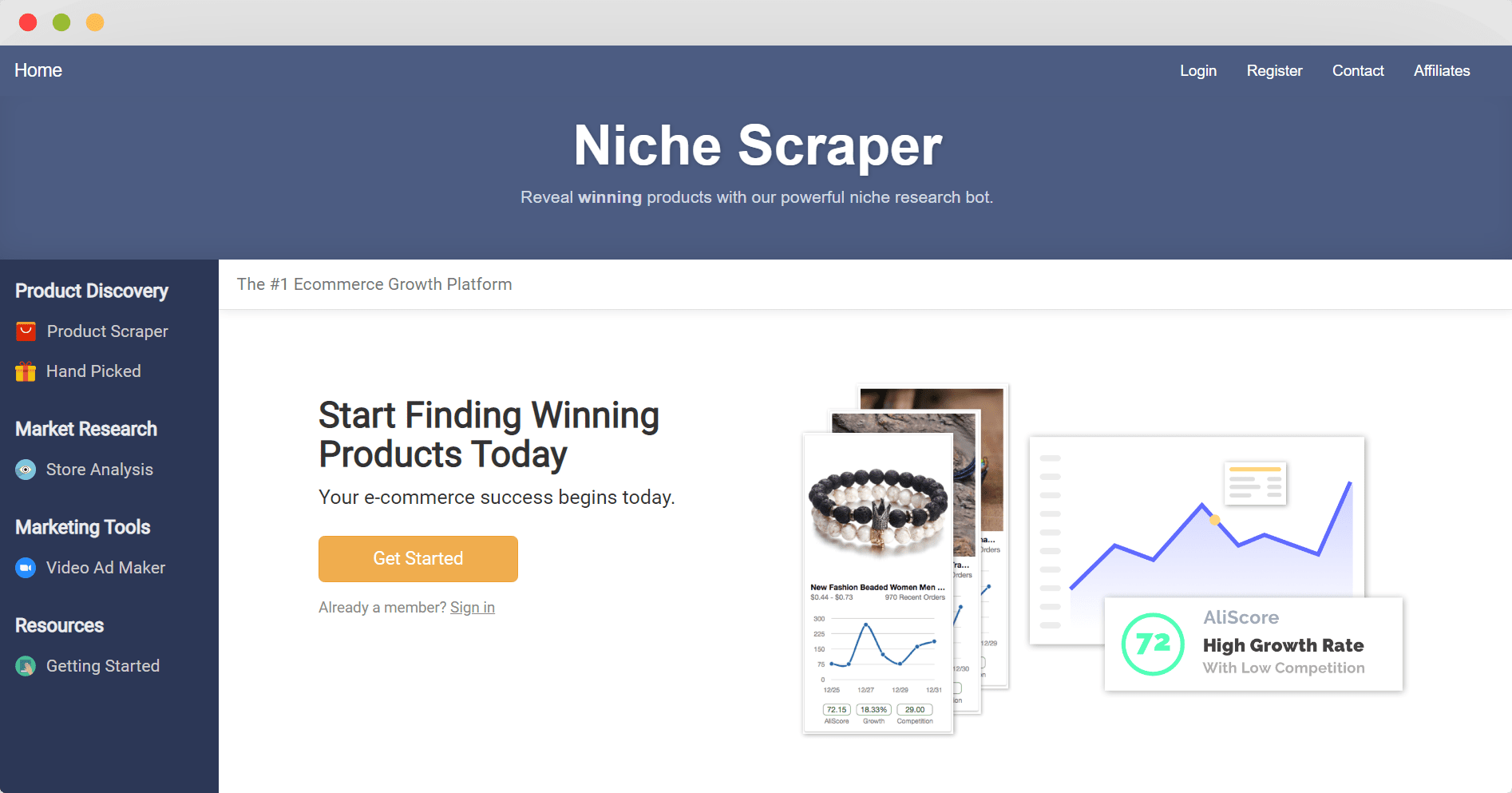 NicheScraper primarily targets popular sites like Shopify, eBay and Amazon and helps you find the hottest products on them.
Similar to Ecomhunt, this site also has a p of hand-picked products which is updated every day. So you can get a quick idea of what's worth selling without any effort.
But if you want to dive deeper into product researching then you can also look for products based on specific keywords.
This would also provide you access to information about your competition, the general product rate, growth potential and much more!
And that's not it because NicheScraper also helps you analyze other Shopify stores so you can directly learn by seeing what others are doing.
The Pro plan of this site costs $39 per month, which isn't bad considering the features it offers.
Pros
You can search for products by targeting specific keywords.
You can easily create video ads within a few seconds using simple images and music.
Daily list of hand-picked products with competitor information.
Cons
NicheScraper only has 4 tools, but either way, all of them are pretty useful.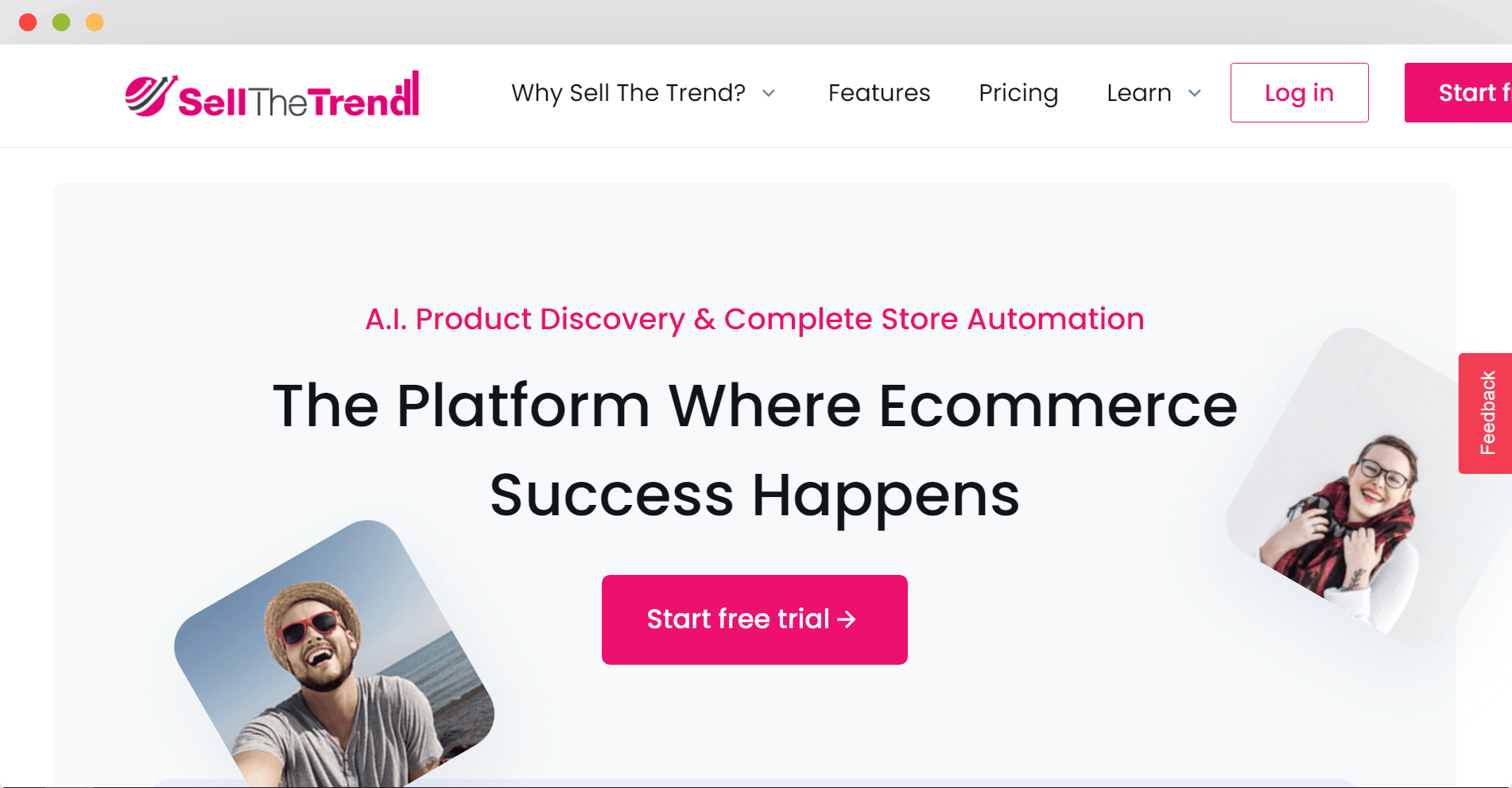 Sell the Trend is an AI-based tool that is particularly popular among experienced dropshippers. It contains a ton of features to help you find winning products and provides you with all the competitor info you need to beat them.
This tool can scan popular platforms like AliExpress, Amazon, dropshipping stores on Shopify and even Facebook to find you the hottest products.
You can further access the Nexus dashboard in the tool to find information neatly compiled in the form of easily comprehensible data tables.
In addition, this tool also helps you in building Facebook ad videos and provides you with a catalog of more than 4 million products to sell.
Lastly, if you still have any doubts, then before buying its $39/month membership, you can use its free 7-day trial.
Pros
Free 7 day trial to see if the tool is worth your money.
A variety of different tools to hunt winning products.
Helps with influencer engagement calculation and Facebook video ads creation.
Cons
This tool doesn't list daily hand-picked products so it may not be suitable for beginners.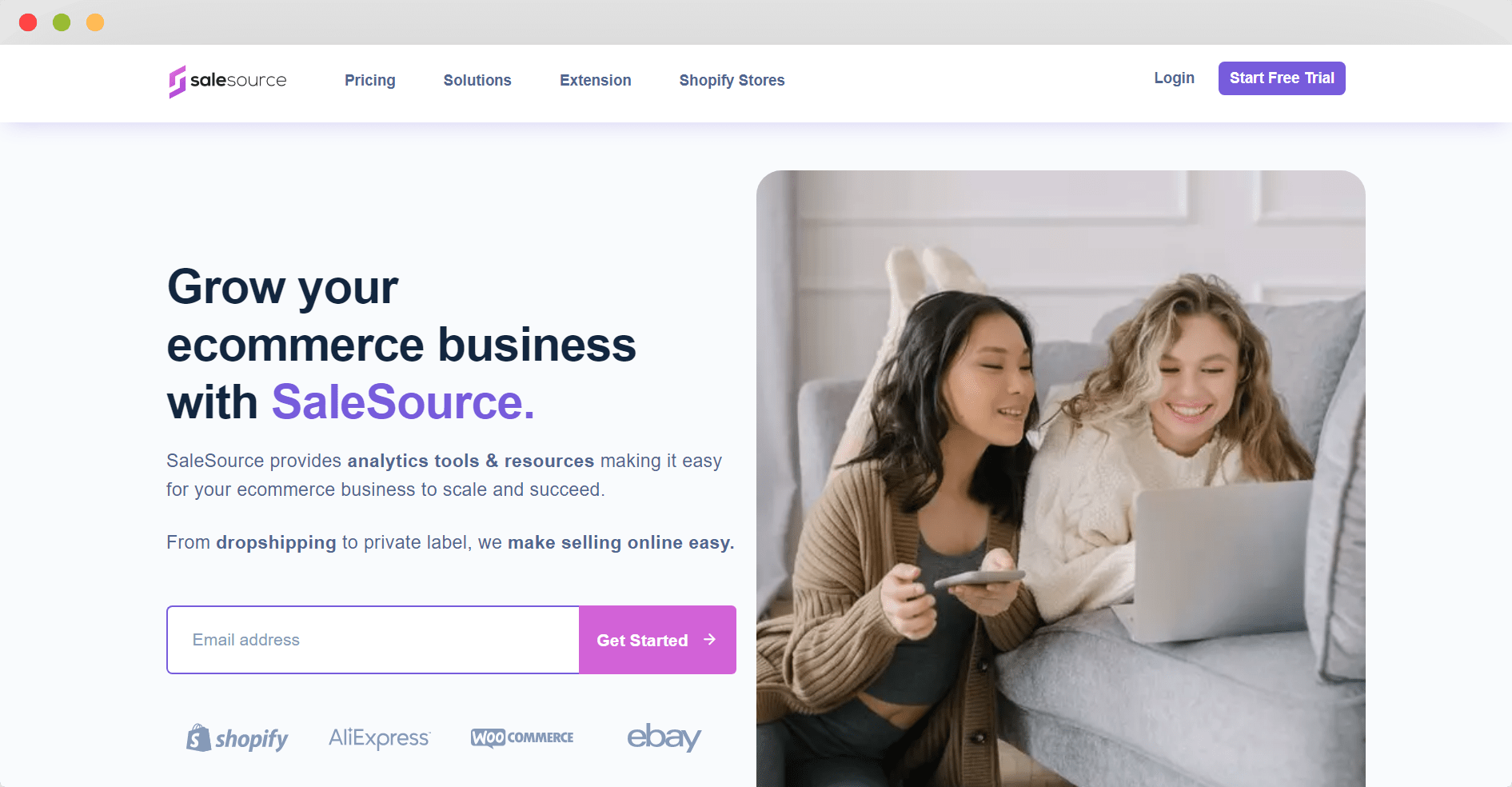 Just like the homepage of their website says, SaleSource is an all-in-one research and product hunting platform.
You can not only use this to find winning products but to also connect with reliable suppliers and find competitor data in the dashboard.
They also provide a list of daily items that are trending. But don't worry – those items disappear before getting saturated.
As for the pricing, you have 3 plans to choose from. Their cheapest plan, Essential costs $49/month, while Pro and Elite plans can set you back $99 and $299 respectively.
Overall, it is without a doubt expensive but keep in mind that it isn't just used for product hunting. It may even be quite useful for beginner dropshippers, given that they can afford it.
Pros
All-in-one platform to help you find products, suppliers and competitor data.
Daily list of trending items to help you get started.
You can also get private-label services.
Cons
Even the cheapest plan starts at $49/month, which is quite expensive.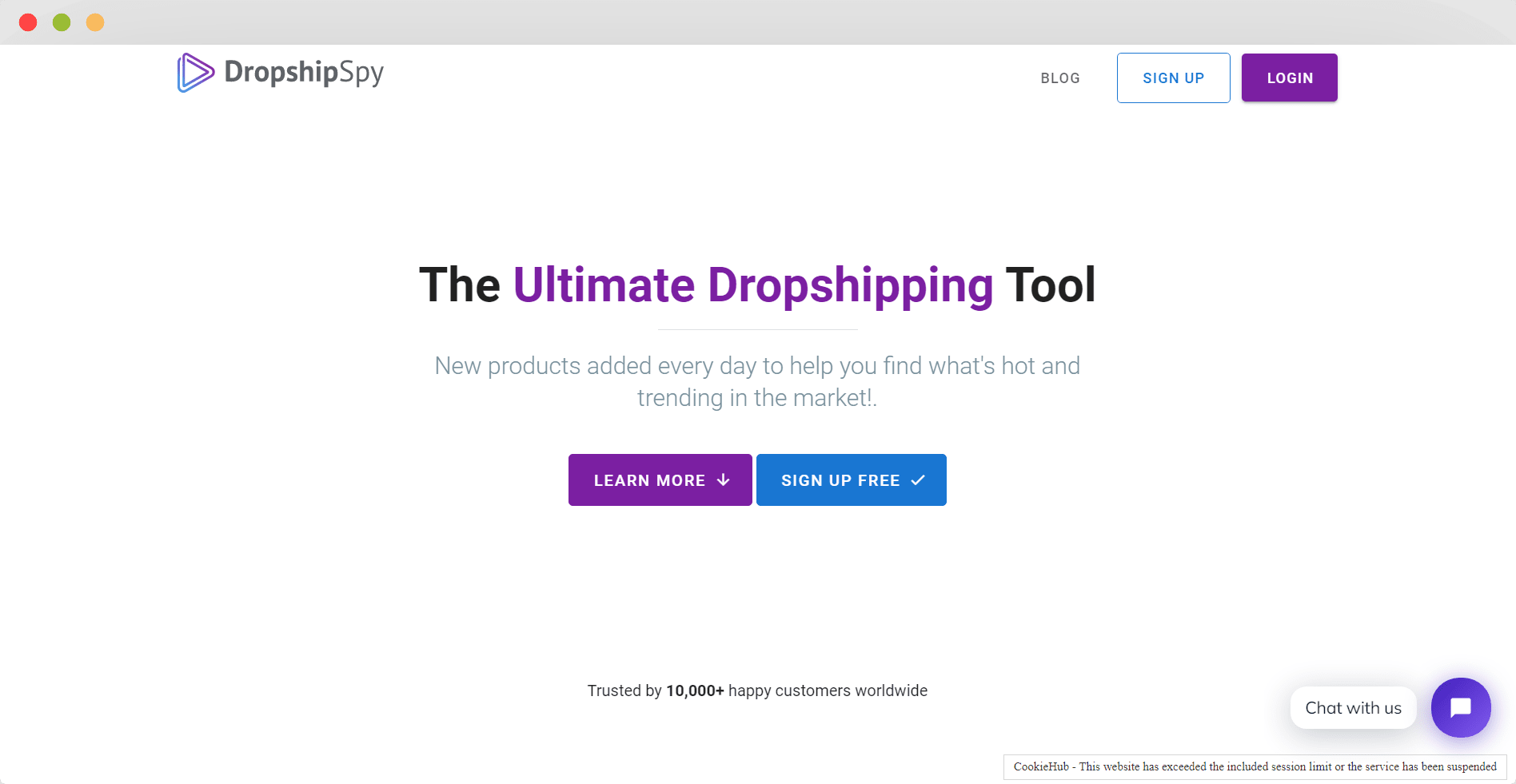 If you think it couldn't get any better, then here's Dropship Spy for you that gives you 10 different tools under one subscription.
In addition to that, they add 5 hand-picked products every day and potential influencers that can help you with marketing.
Aside from that, with this tool, you can also get downloadable video ads to promote your business.
The only problem is that unlike Sell the Trend, this tool doesn't offer you a free trial. So you would have to risk your investment to see if this truly works for you.
But on the bright side, the Standard monthly subscription costs only $15/month while its Pro and Premium plans are $18 and $20 respectively.
All in all, it's much cheaper than other tools on this list and has plenty of features to help you with your business.
Pros
10 tools under one subscription.
The Standard subscription plan costs $15, which isn't too bad.
You can get downloadable video ads.
Cons
Only 5 handpicked products a day, which is quite less considering how fast dropshipping products get saturated.
There's no free trial option to test the tool before purchasing its subscription.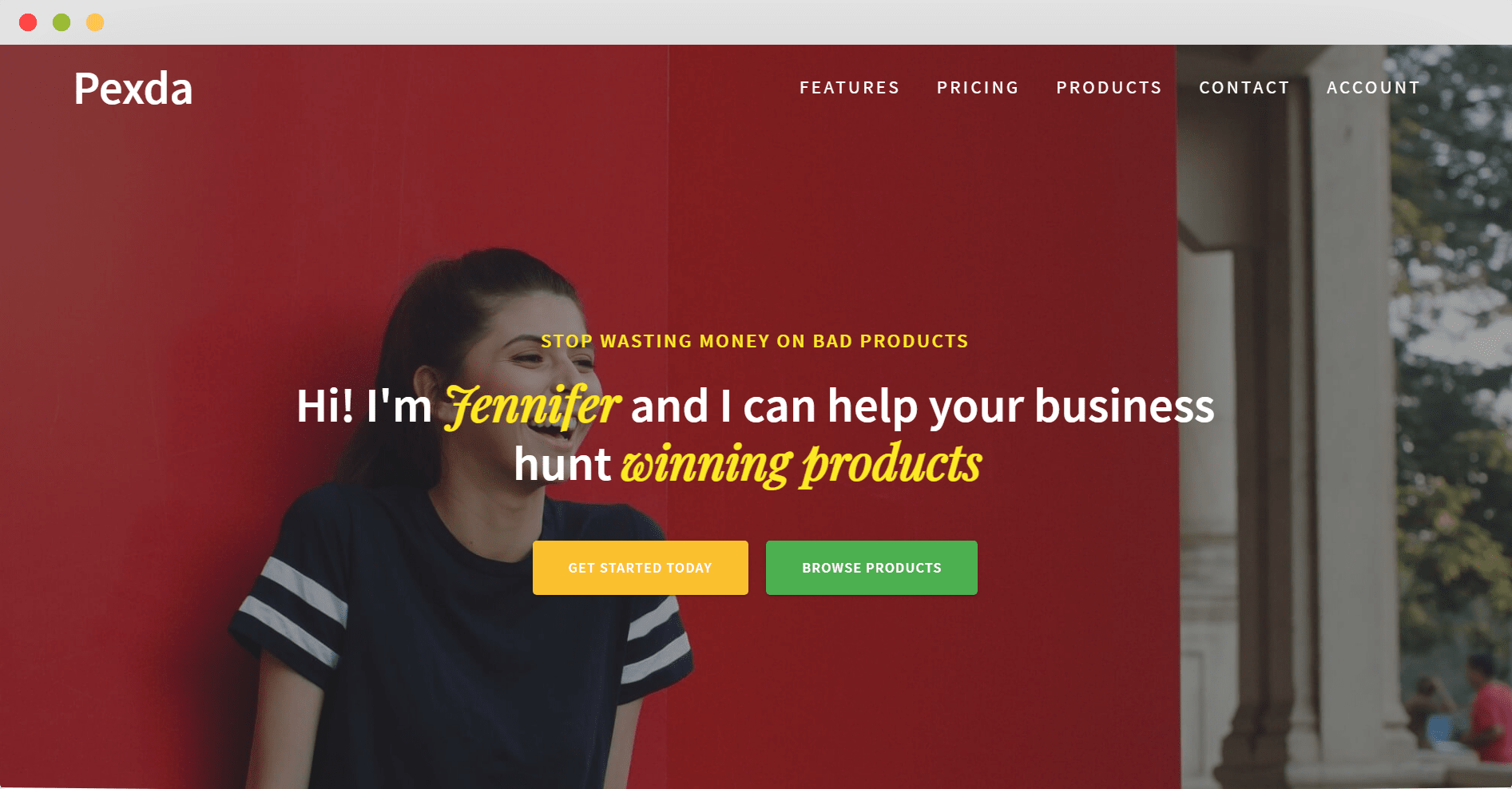 Pexda not only has a catchy and attractive homepage but also, this platform does a great job helping you find winning products through its diverse list of tools.
Through the platform, you can get sales reports of AliExpress, Amazon, Facebook Ad and eBay. In addition, it also helps you create video ads and ad copies for marketing.
And if you don't feel like putting in the labor, then you can also use its auto hunt tool to find an array of products to choose from.
The Standard plan of Pexda is $14.95 while Premium costs $24.95 and Ultimate sets you back a whopping $99.95 per month.
Another thing that's worth mentioning is that they provide 24/7 support to their members.
Pros
Provides information about products and competitors like the number of orders, target audience and selling prices.
Daily list of fresh and trending items.
Helps you find your target audience.
Discounts on pricing plans from time to time.
Cons
You can only access all features of the platform by purchasing the premium plan, which costs $99.95.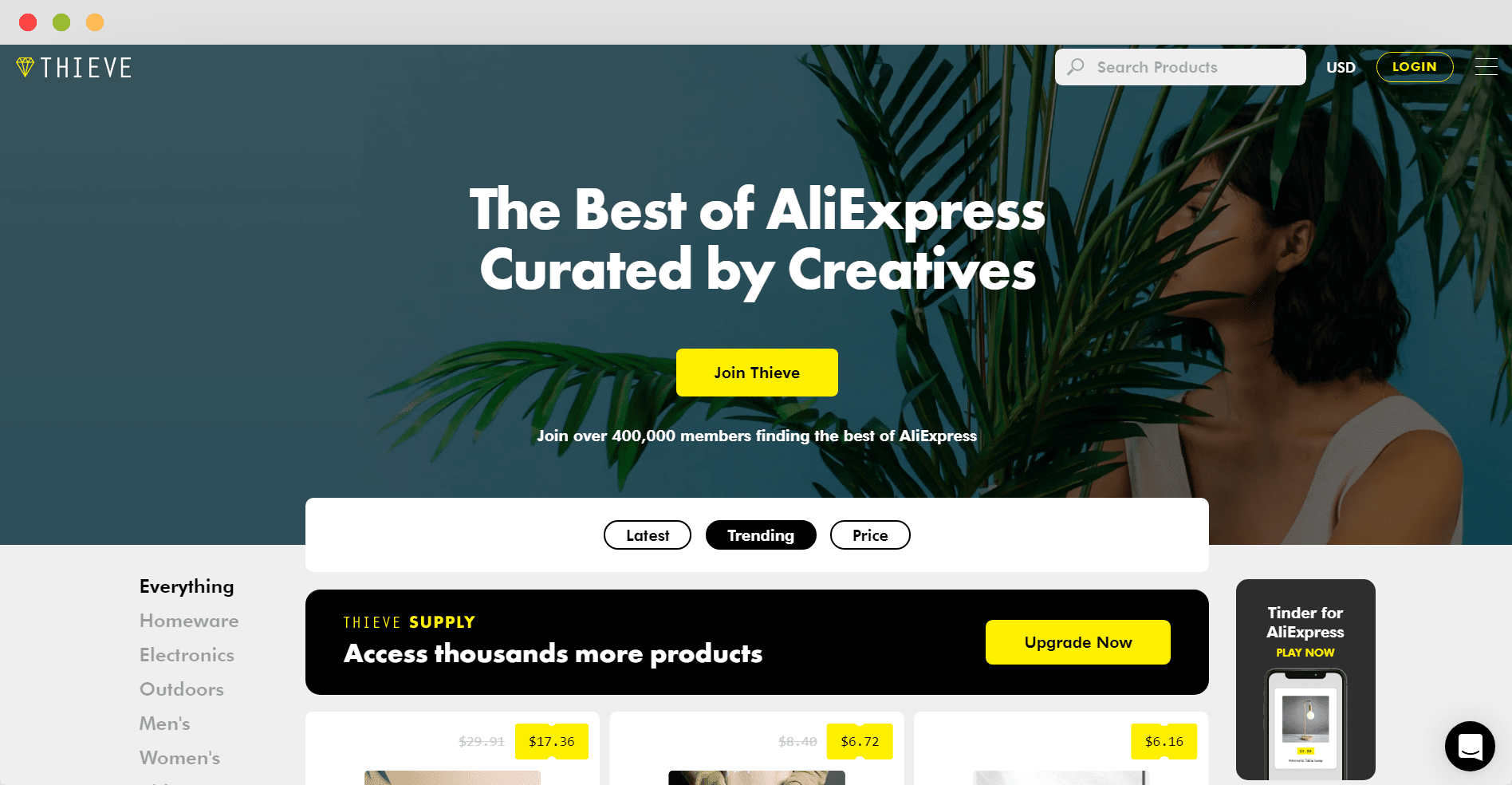 Just as the name suggests, Thieve is another product spy software that shows trending products on AliExpress and also helps with competition analysis.
If you're looking for products in a specific niche, then you can put different filters to make your search easier.
In the past, Thieve only had a free version but now, there's also a paid plan for dropshippers called Thieve Supply.
The pricing of Thieve basic Dropship plan is $29 per month in which you get 5-10 new products every day from AliExpress with their stats and insights.
And then there's the Pro plan that costs a hefty $99/month, but it's also quite useful as it provides premium product content and access to pre-release products.
Pros
Plenty of different filters to narrow your search and find products in a specific niche.
Detailed competitor information including order numbers, prices and much more.
Other tools for logo removal, conversion stats, and reverse image search.
Cons
Only shows you products from AliExpress.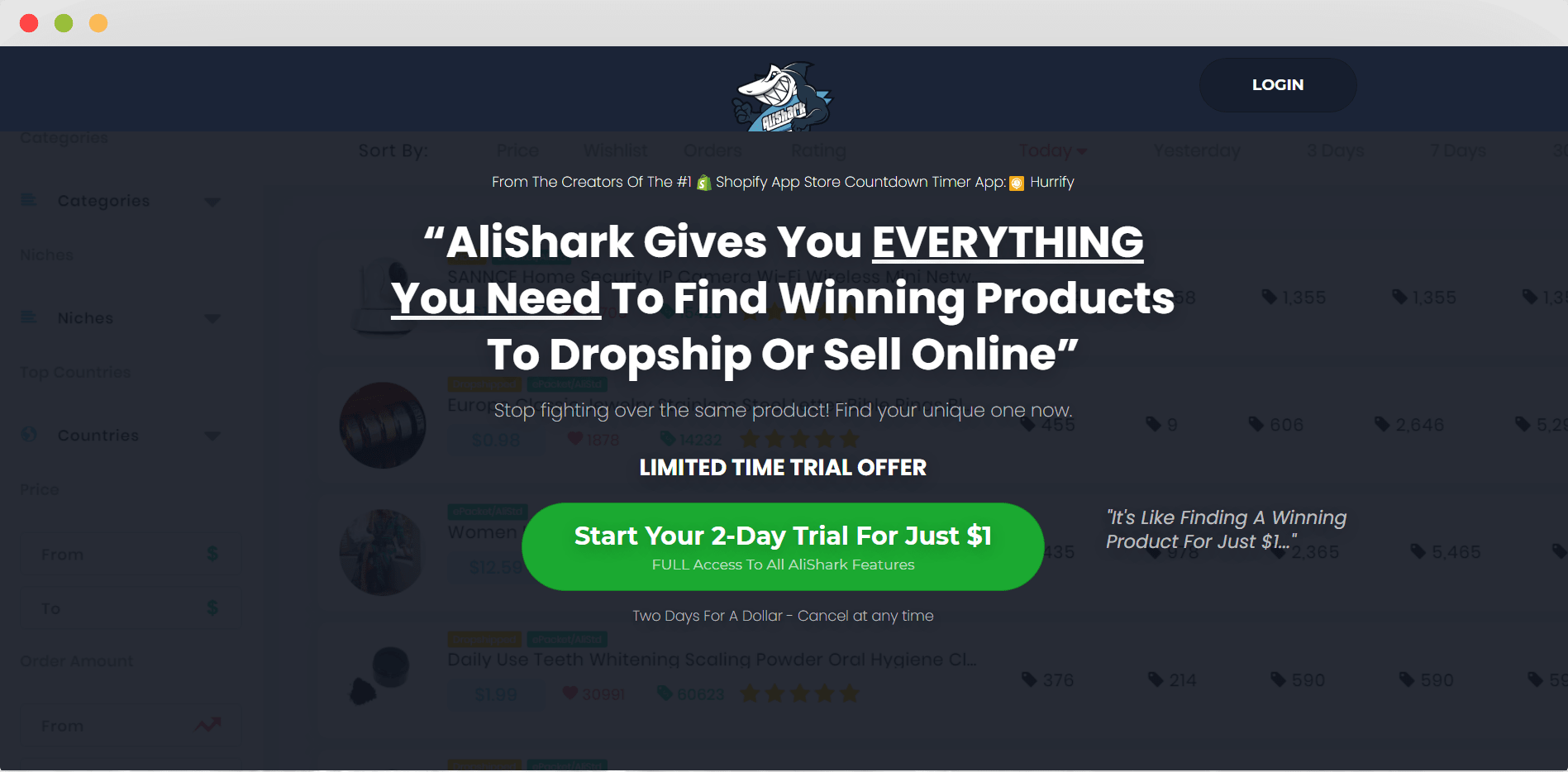 Ali Shark is also a spy tool to find products on AliExpress. It gathers information from different stores on the platform to help dropshippers find high-demand products.
Some of its other features also include live stats of different products which tell how many people are ordering them, info on the prices, reviews, total order number, etc.
If you want to search for a specific product, then there are also a ton of advanced filters that you can use.
As for the pricing, you either directly purchase the $20 per month subscription or pay $1 for a 2-day trial.
Pros
Helps you find viral products by gathering data pieces.
Provides all the competitor information that you need.
$1 trial version to test if the tool is suitable for you.
Cons
Similar to Thieve, this tool is also only limited to AliExpress.
Best Dropshipping Websites to Source Products
No matter how much time you spend searching for a product, all your efforts would be useless if you aren't able to source it.
Fortunately, there are plenty of paid and free websites and platforms to help you find a reliable supplier.
If budget is not an issue, then one of your options is to buy access to a dropshipping supplier directory or pay a service to assist you.
So let's explore some of the options that you have to source products: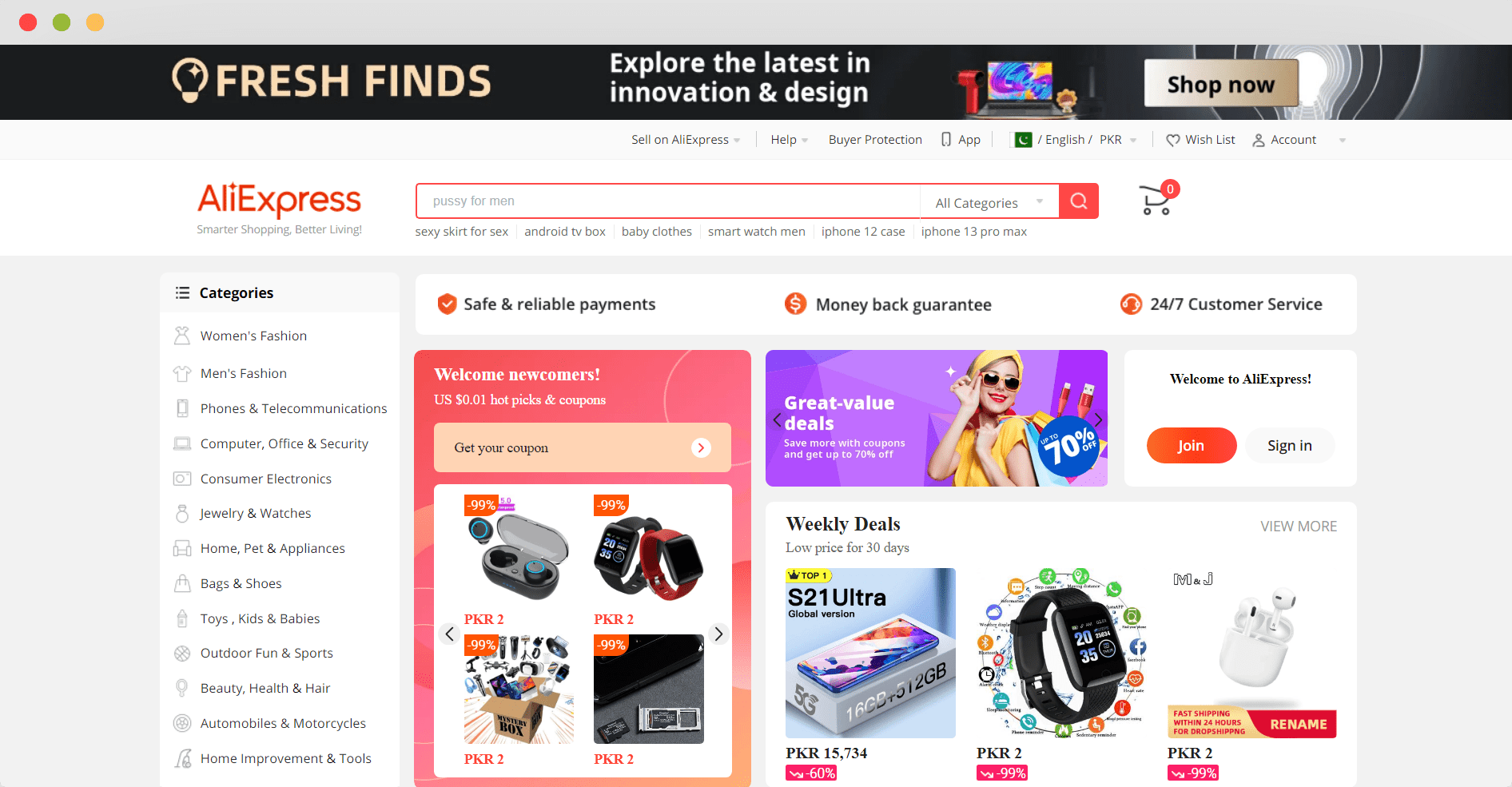 You shouldn't be surprised to see AliExpress on this list because this is where the majority of the dropshippers source their products from.
You can find multiple suppliers for the same product at different prices. In fact, a large number of successful Amazon store owners also source their products from AliExpress.
There's so much variety on AliExpress that you can browse for hours and still not run out of options to choose from. However, this also raises the concern of quality.
You have to be extra careful to make sure that you don't sacrifice the product quality and go through reviews of each supplier before placing an order.
If you want to learn more then you can go through our Ultimate FAQ Guide to AliExpress Dropshipping.
Pros
Thousands of suppliers to choose from.
With so many suppliers, it's easy to find a good price.
Many suppliers also offer free shipping.
Cons
Finding suppliers with high-quality products can be challenging.
Some sellers on the platform may not be able to speak English.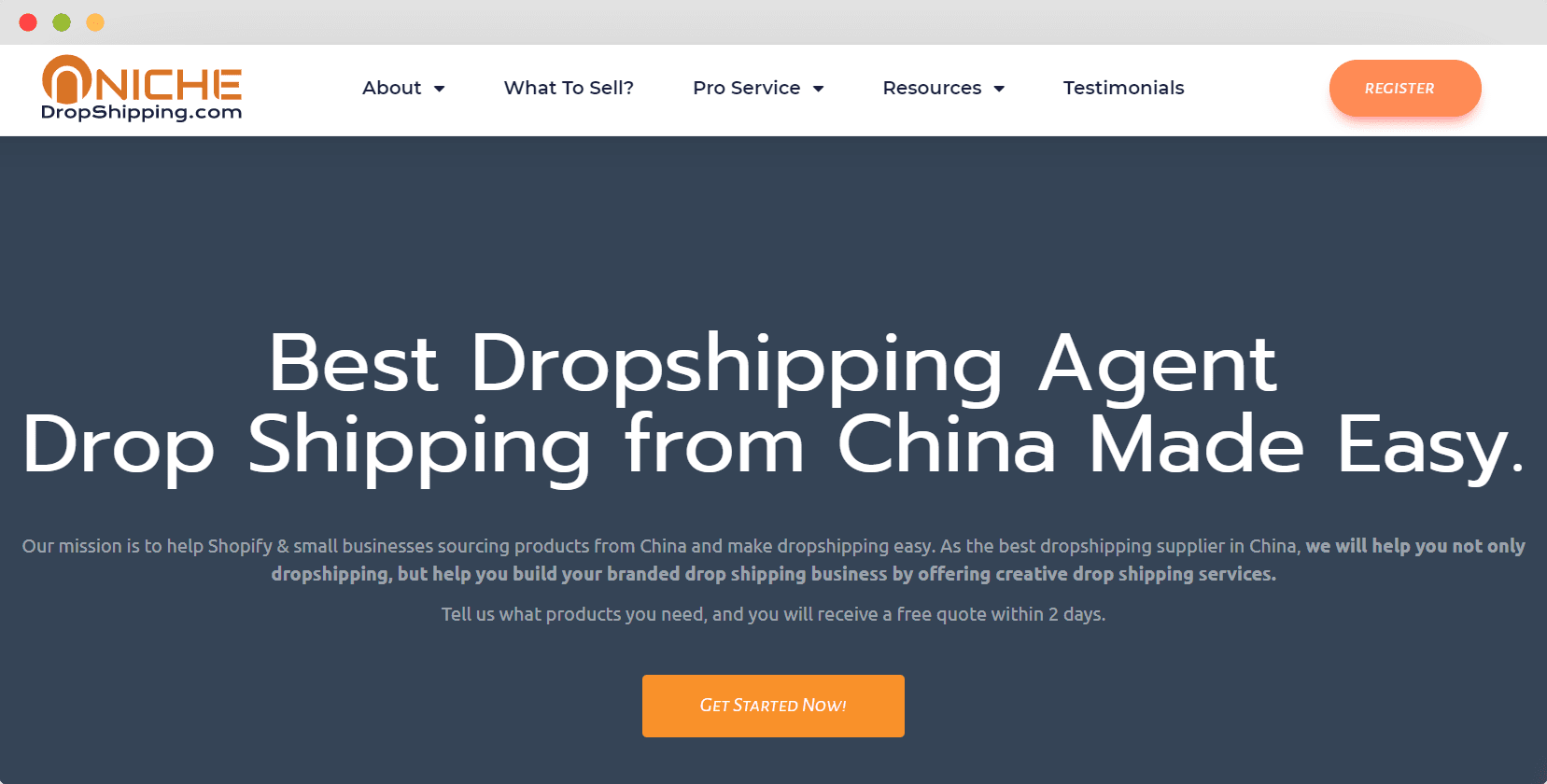 If you are unable to source your desired products, then NicheDropshipping can also assist you with its on-demand dropshipping services.
We offer worldwide order fulfillment and can help you source any product that you want at reasonable prices through our comprehensive supply chain in China.
In addition, we can address most of the concerns dropshippers have which include private labeling, customized brand packaging, inventory storage, US warehouses and much more!
Pros
Integration with Shopify to automate order processing.
Easily source products from Taobao and 1688.
US warehouses for fast delivery.
Professional support and assistance from dedicated agents.
Cons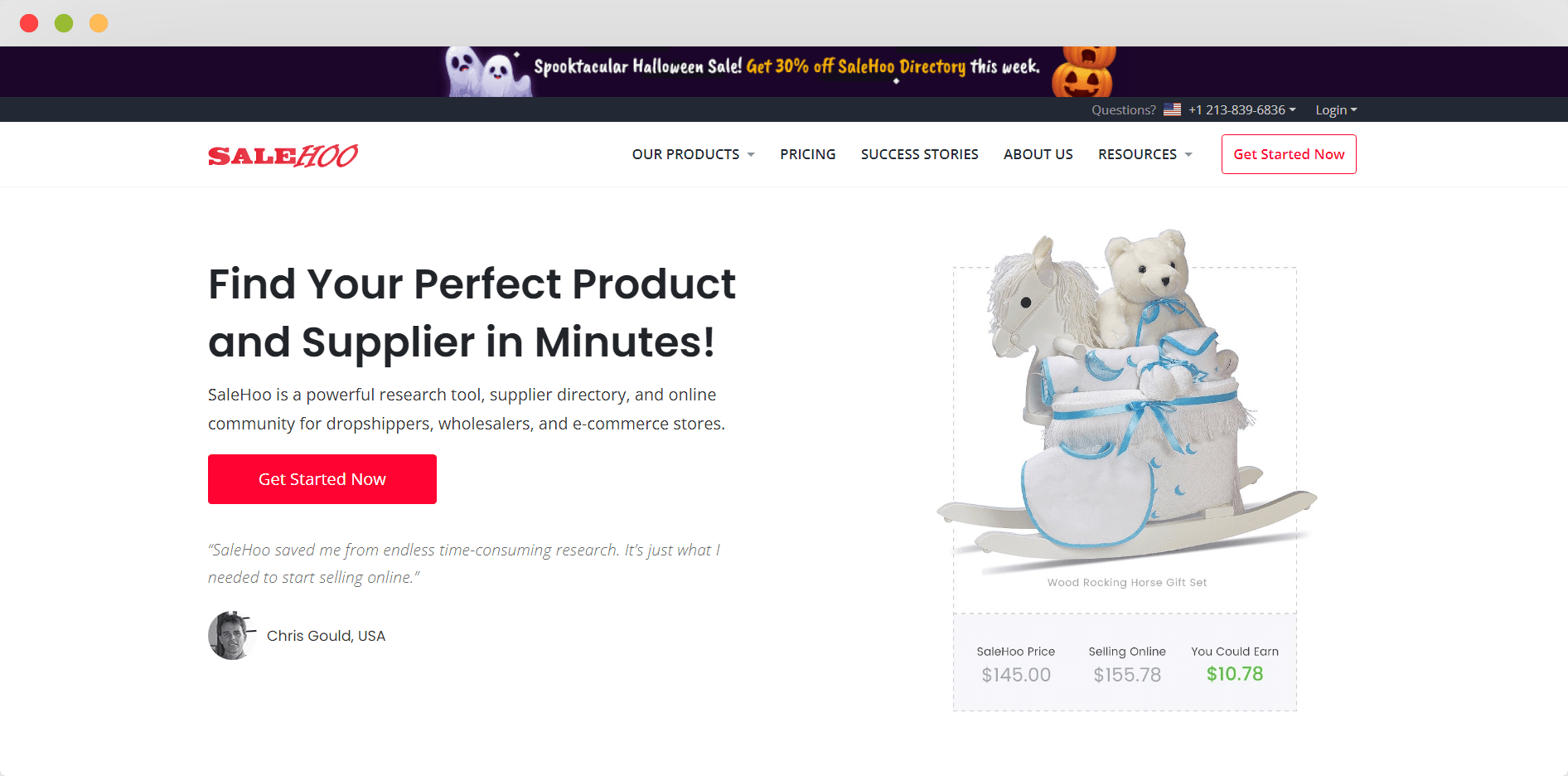 SaleHoo is a popular dropshipping directory where you can not only find dropshipping suppliers but also manufacturers, wholesalers and even liquidators.
They also have 1.6 million branded products and extremely cooperative 24/7 customer support to clear all your confusion.
Many people often ask if dropshipping directories are worth it and in most cases, we would say they aren't. However, in the case of SaleHoo, we can say that it's not a bad investment.
It isn't too expensive either and only costs $67 per year or $127 for lifetime access.
Pros
You can get a 7-day trial for $1 which is perfect if you're skeptical about paying for a monthly subscription.
You can browse through a comprehensive list of products and suppliers.
Their customer support is highly responsive.
Cons
Despite the variety, there are many products that you can't find on SaleHoo.
You can't buy a monthly subscription. You either have to go for yearly or a lifetime access.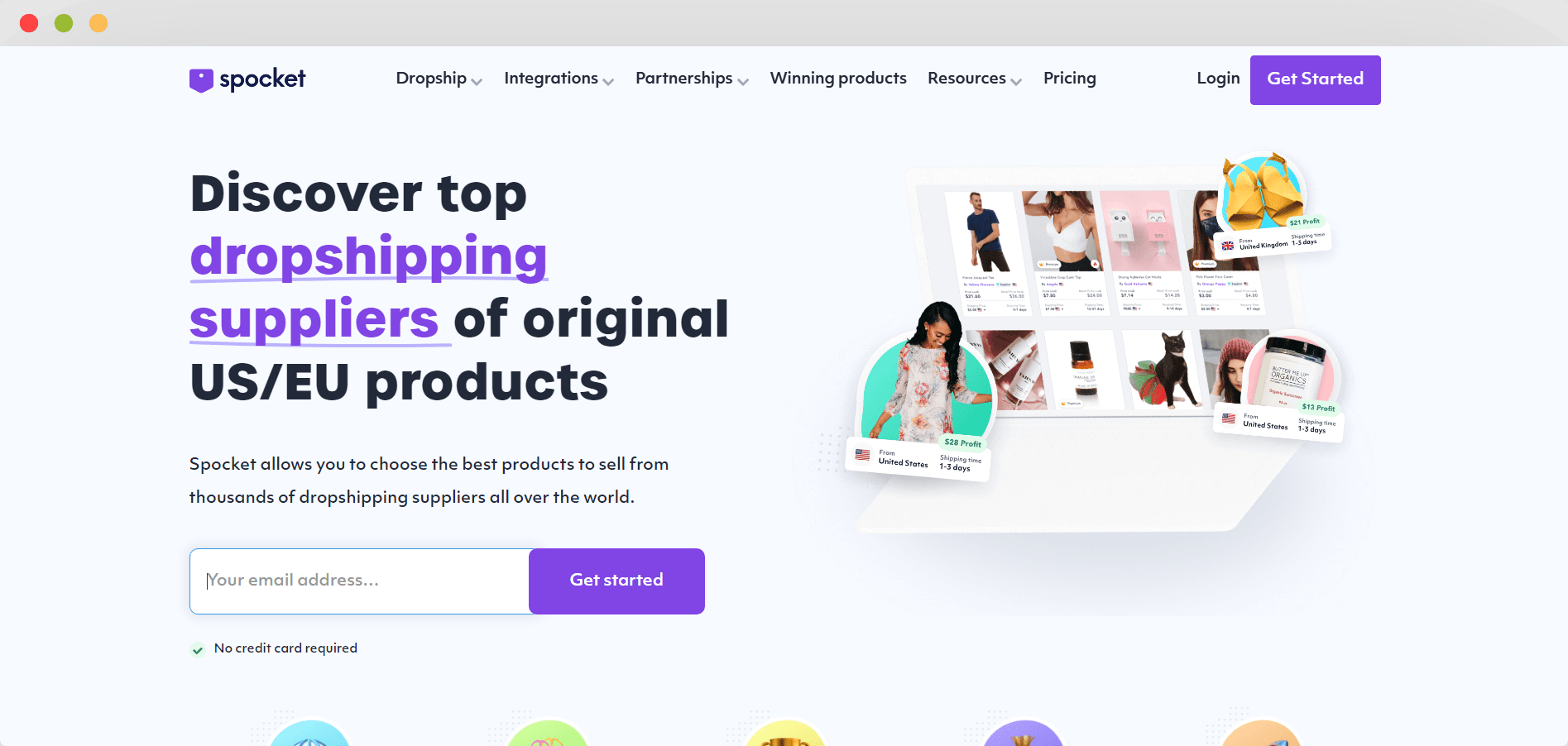 More than 80% of the suppliers on Spocket are from Europe and U.S. The biggest benefit of that is if you plan on dropshipping in EU or US, then shipping time would become the least of your worries.
To give you some perspective, if your customers had to wait 2-4 weeks before, then now it can be reduced to only a few days!
In addition, you would easily be able to connect with the best EU and US suppliers through the platform to source quality products. They can also make order processing a walk in the park for you. All you need is a single click.
Pros
Makes order processing incredibly easy.
You can connect with the best EU and US suppliers.
Reduced shipping time for dropshipping in EU and US.
Branded invoicing is also possible through a paid plan.
Cons
The subscription costs $19 per month which can get expensive for beginners.
There's no free trial for you to see if the service is suitable for you.
At times, the final price can be more than the suggested price.
Most of the suppliers are in the U.S. So if you're sourcing products to other countries from Spocket then be careful.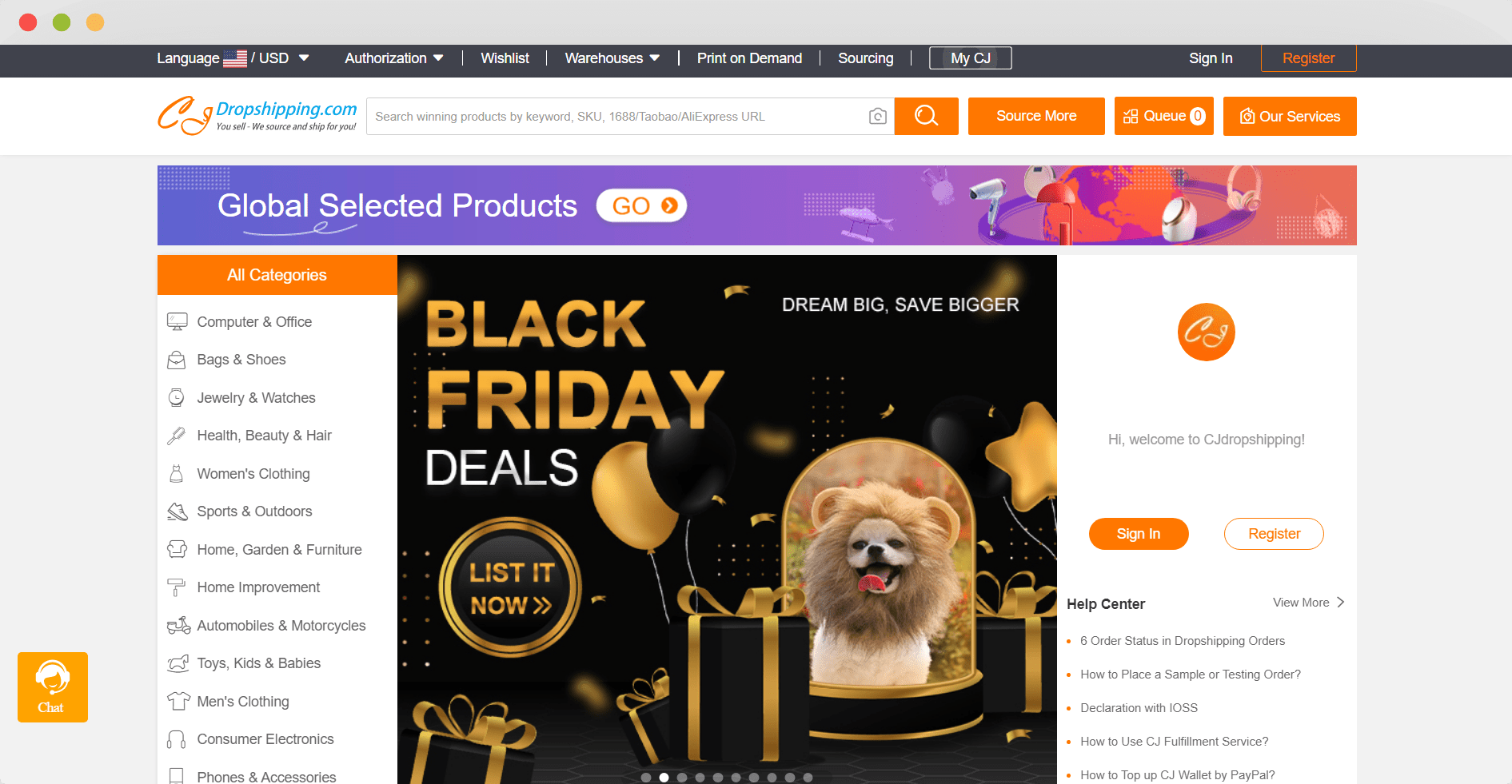 CJDropshipping is a well-renowned China-based dropshipping company. The platform can not only connect you with thousands of suppliers but also automate the order fulfillment process for you.
They also have global warehouses in the US, Thailand, Indonesia and Germany to significantly reduce the shipping time and make sure that your customers feel satisfied.
Pros
Easy to integrate with WooCommerce, Shopify, Amazon and other eCommerce platforms.
Great customer support.
Daily recommendations of winning products.
Cons
Cluttered interface, making it difficult to use the site.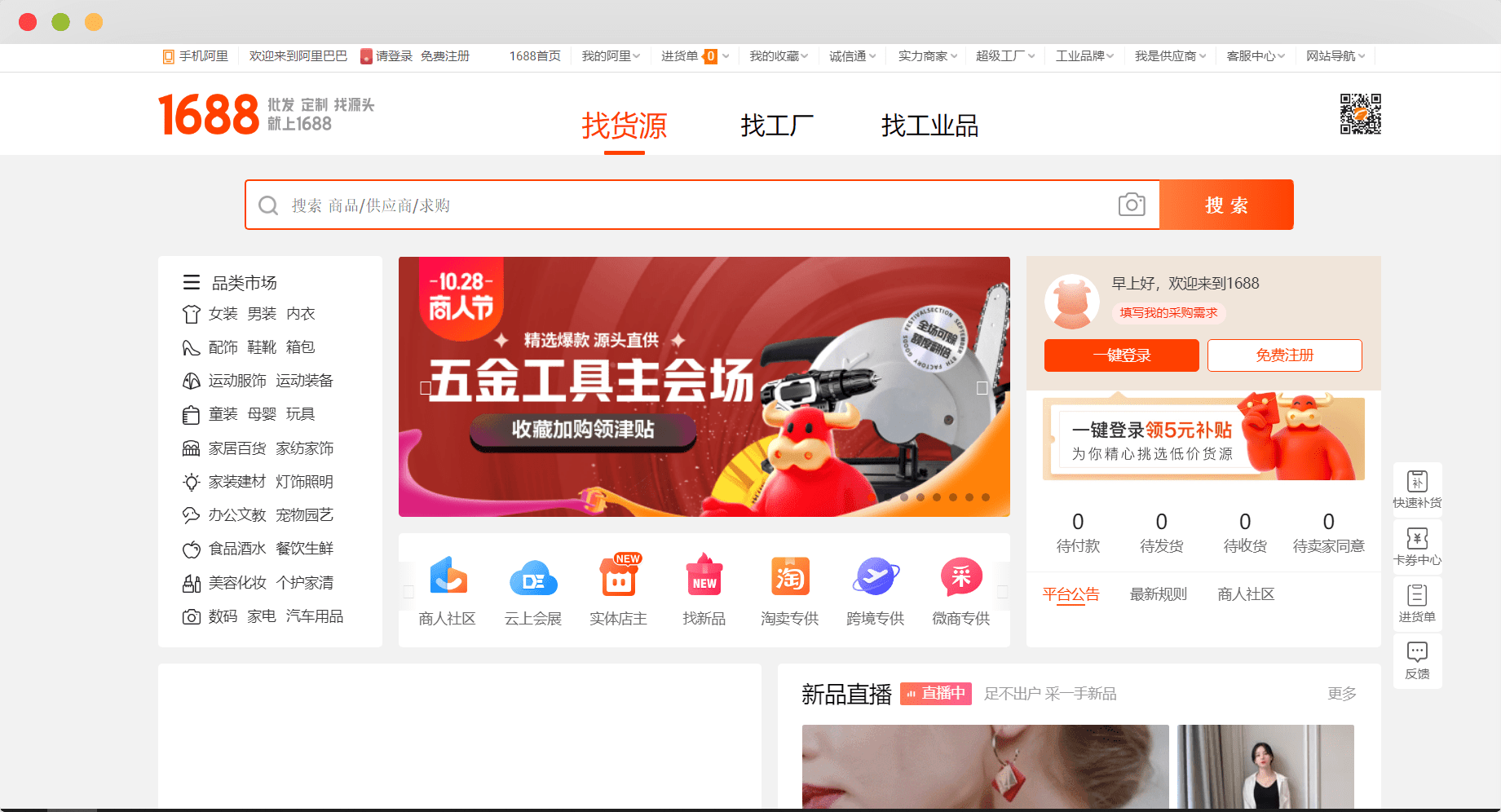 1688 is a marketplace owned by Alibaba Group of Companies. In simple words, it is the domestic version of AliExpress as the majority of the Chinese locals shop from this platform.
The reason we believe 1688 is a great place to source products is that you can find thousands of suppliers on the platform. And the product prices are even cheaper than what you'd get on AliExpress.
The biggest drawback of 1688 however is that the site is in Chinese and the majority of the sellers on the platform can't speak English either.
In addition, the number of payment gateways is also limited, so you may need third-party assistance to source products from the platform.
But if you can get past all the hassle, then you'd be able to keep a decent dropshipping profit margin from each sale due to the dirt-cheap prices you'd get.
If you want to learn more about 1688, then check our 1688 Dropshipping Guide.
Pros
1688 has the cheapest products in China.
Thousands of suppliers on the platform.
Potentially more variety than AliExpress.
Cons
Limited payment gateways so it's hard for sellers to accept foreign payments.
Product quality is often a concern by the buyers on the platform.
Most sellers cannot speak English and the website is also in Chinese.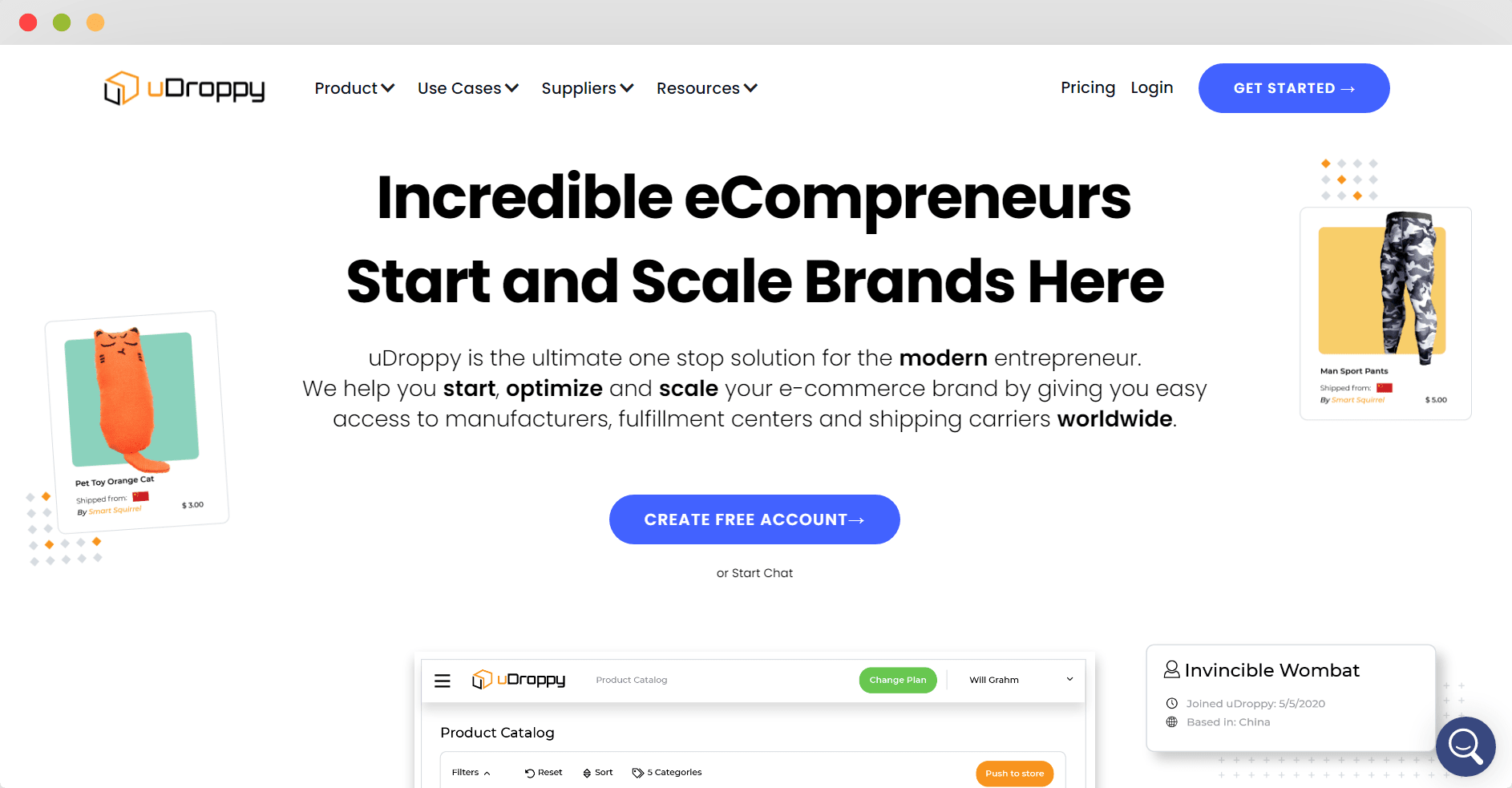 uDroppy is a platform that's primarily designed to support eCommerce businesses. It can help dropshippers with product sourcing, fulfillment, as well as shipment.
Quality would also be the least of your worries because they work with more than 900 factories. And you can also request your desired product in case they don't have it.
You can find suppliers from all across Asia, Europe and U.S on the platform. Their pricing can be a bit expensive though as it starts from $49/month.
Pros
Fast shipping times due to warehousing all across the world.
Quick order processing with just the tap of a button.
Product sourcing isn't an issue as you can also make a request.
Cons
Shipping costs are more expensive in comparison to AliExpress.
The paid plan at $49 can be expensive for low-budget dropshippers.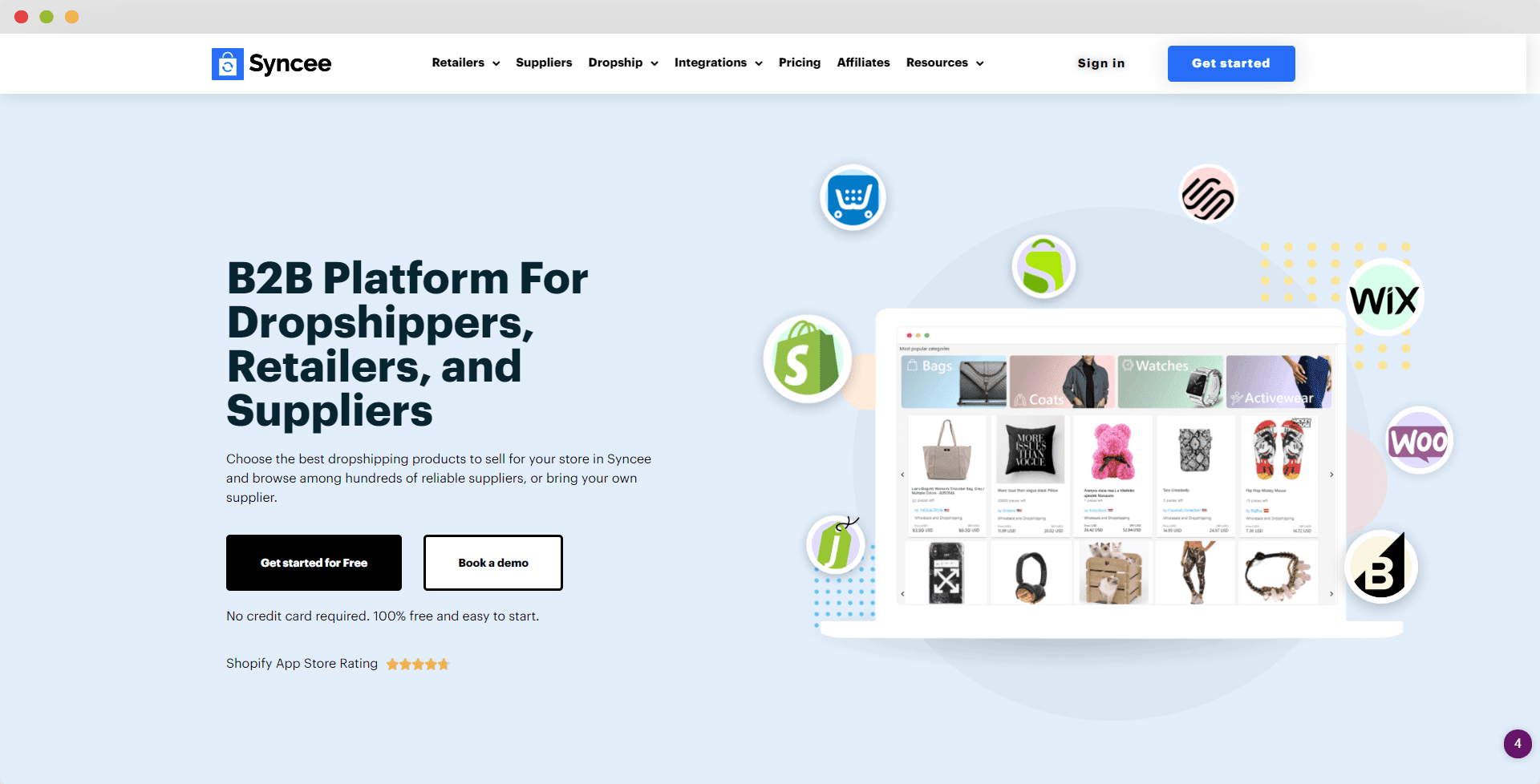 Syncee is a global B2B dropshipping & wholesale platform designed to help retailers and suppliers connect. Online store owners can find the best products to sell in their online store from the reliable US/CA/EU/UK/AU suppliers available on the Syncee Marketplace.
Syncee manages product uploads and updates automatically and offers automated order data synchronization for online stores.
The application supports all major e-commerce platforms. It currently works on Shopify, Wix, Squarespace, WooCommerce, BigCommerce, Ecwid, Jumpseller, Shoprenter, and KMO Shops.
Pros
Millions of high-profit products from pre-vetted suppliers

Transparent platform, direct contact with suppliers

Bulk product management by suppliers also available

Automatic product uploads & updates, order data synchronization

Customizable pricing, catalog, and product settings

Free Starter plan available to manage 25 products in the Syncee Marketplace for an unlimited time.
Cons
Some merchants may find the subscription cost expensive.
Best Dropshipping Companies for Order Processing
Order processing is another important aspect of dropshipping. The last thing you want is angry customers leaving negative reviews.
So it's always worth having a reliable order processing company by your side to share the burden.
Note that the companies we'll talk about in the list below are mostly compatible with AliExpress dropshipping. But a few of them also support integration with other websites.
Let's get into the list of dropshipping order processing companies now: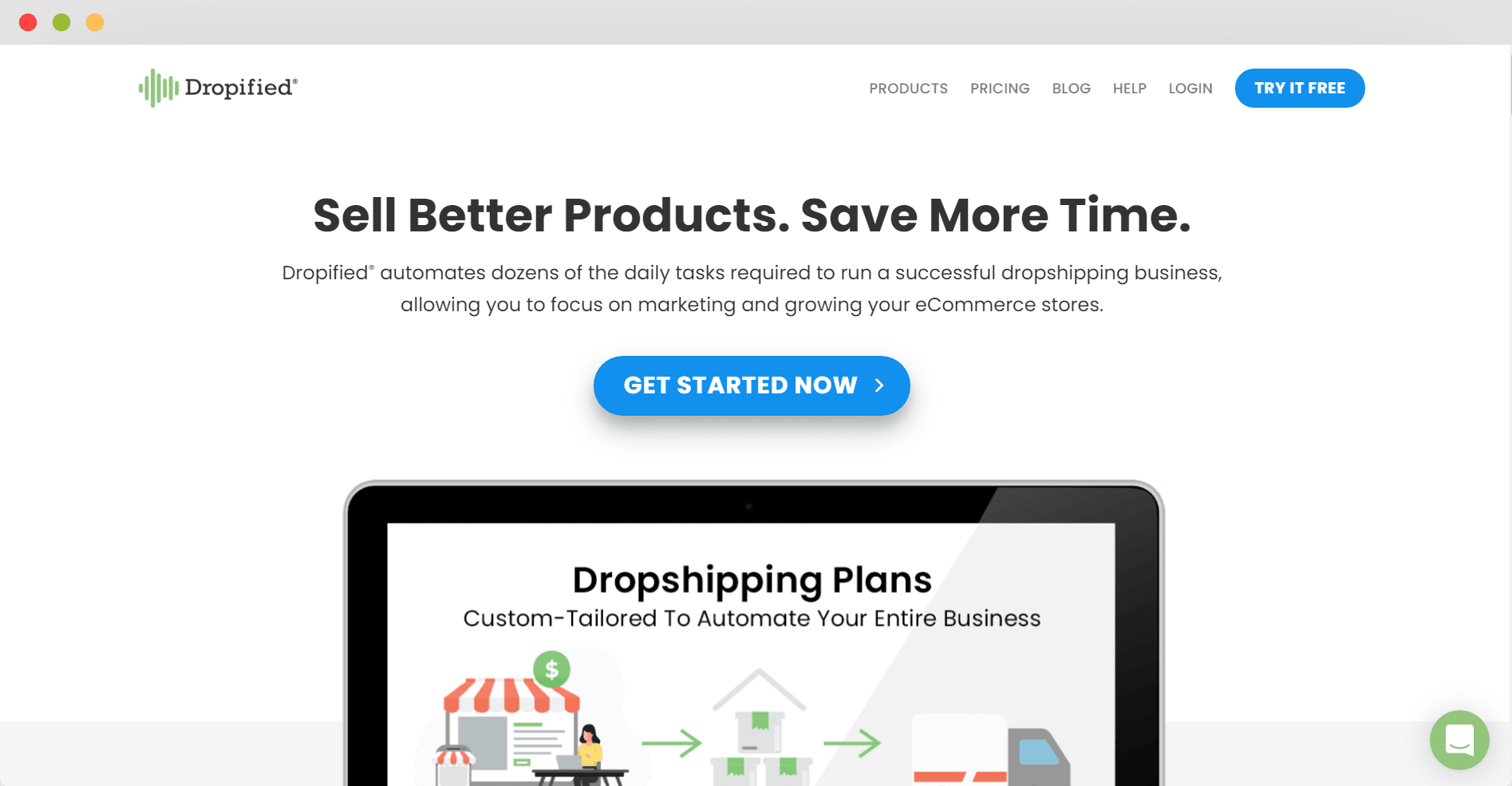 If you don't want to restrict yourself to AlIExpress alone, then Dropified is a great company to get assistance with order processing for all sorts of different sites.
In essence, Dropified works similar to Oberlo as its primary purpose is to also help you package and ship products from different manufacturers and suppliers.
Pros
They offer a private label on-demand service now.
You can import products from a ton of different sites including eBay and Alibaba.
Cons
Costly for beginners as it sets you back $47 per month.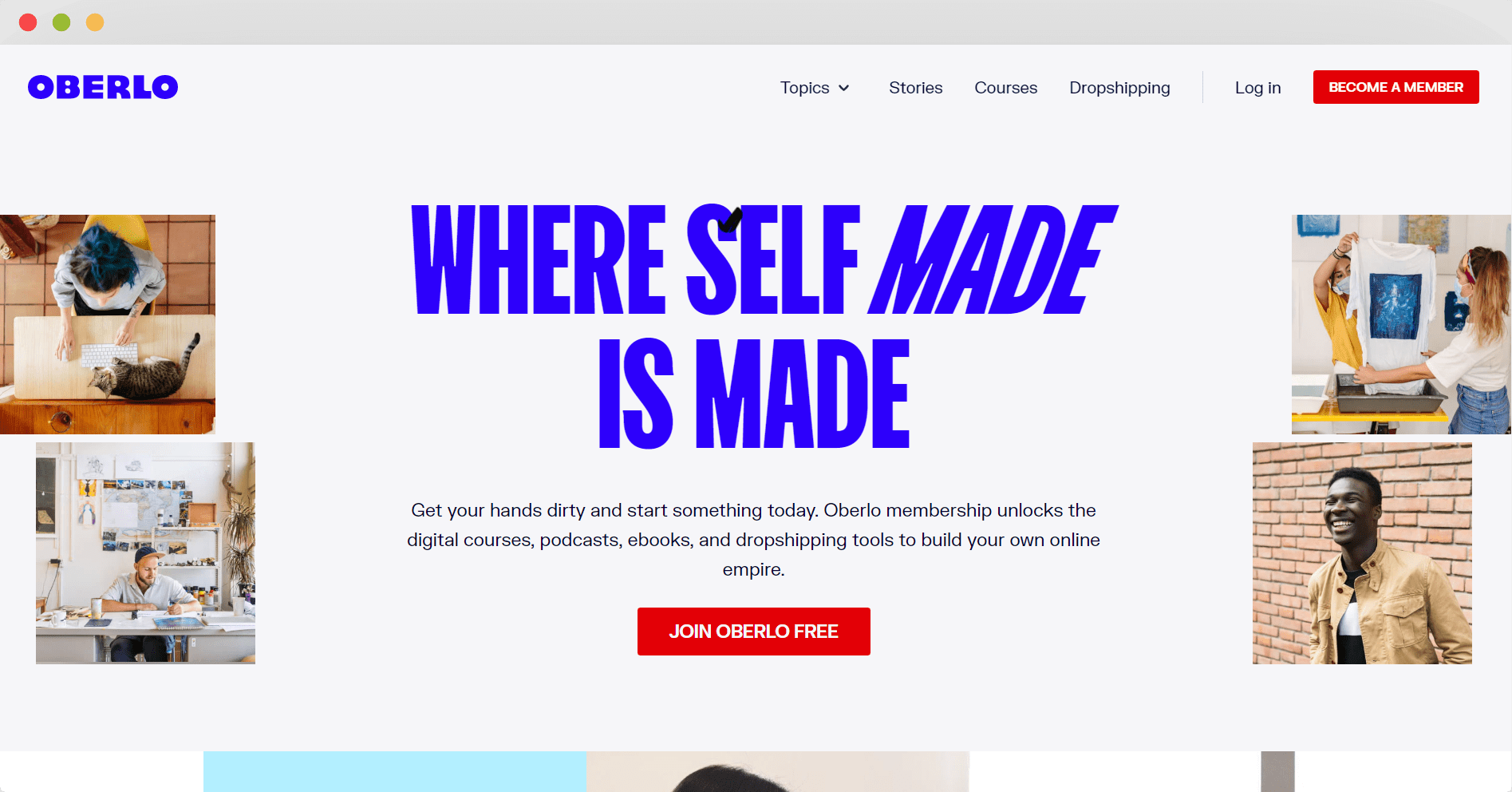 Oberlo is a famous dropshipping company that was acquired by Shopify in 2017.
If you're running a Shopify store, then it can save you a lot of time as it helps you import products from AliExpress.
In addition, the platform also helps you track your orders to keep your customers updated.
Pros
The majority of dropshippers use Shopify and Oberlo is a part of it.
Import AliExpress products with a few clicks.
Cons
The order processing on Oberlo is slow and can only be done one at a time.
Can only be integrated with AliExpress and Shopify.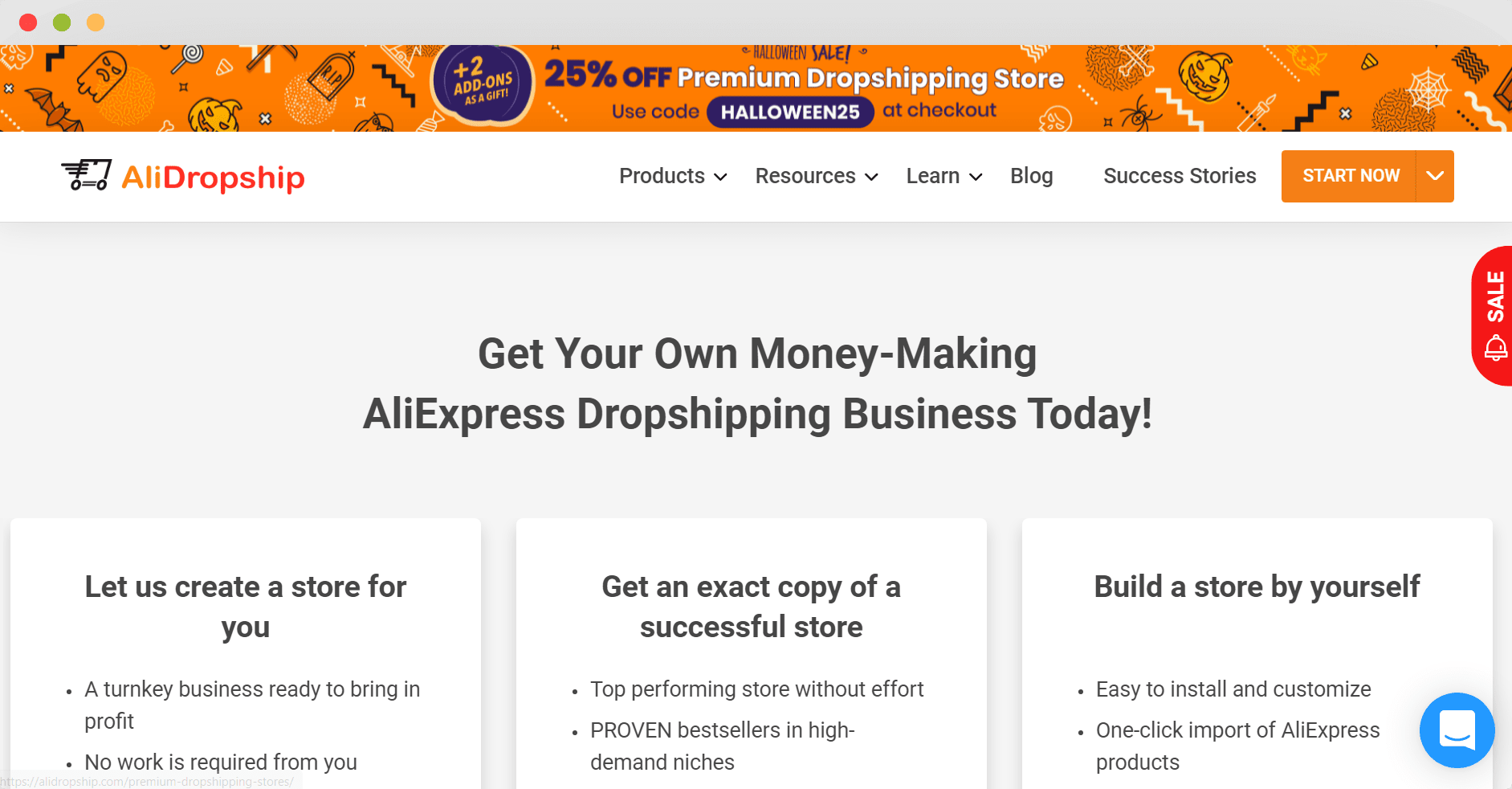 Finally, WooCommerce gets the love that it deserves because AliDropship is used to process orders for WordPress and WooCommerce.
The best part is that you only have to pay a one-time fee of $89, which isn't bad considering the convenience it provides.
In addition, the one-time fee also includes lifetime support and updates. We know it sounds too good to be true, but there's no catch to it.
Pros
Lifetime access to AliDropship is only $89 and you can sometimes even get a discount on that.
Import reviews from AliExpress.
Easy to integrate with WooCommerce stores.
Cons
There are complaints about the technical support of AliDropship.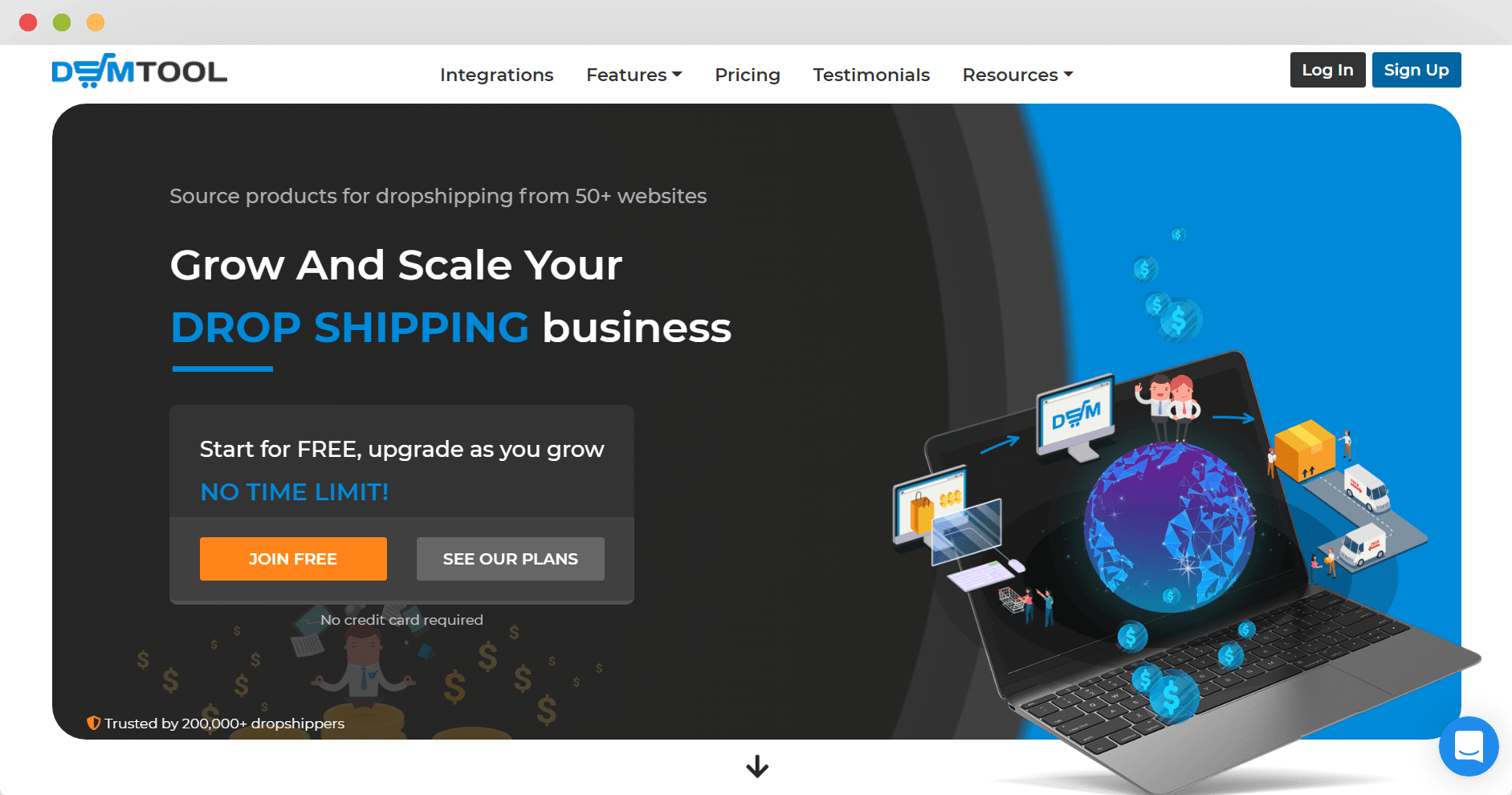 This is the perfect tool if you want to dropship on eBay. And considering there aren't many tools that are compatible with the platform, you don't have much to choose from either.
You can also get a product research extension of this tool for your Chrome browser. All in all, it is a decent option to help you automate your business.
Pros
Great tool for dropshipping on eBay.
You can get a product hunting Chrome browser extension.
Cons
Primarily made for eBay so can be a bit confusing to use with Shopify.
DSers is considered to be one of the best alternatives to Oberlo. They are really good at what they're supposed to do – and that is to process your orders fast.
At least if you're familiar with how painfully slow Oberlo is, you'll appreciate DSers. Using this service, you don't have to process orders one at a time.
And if that wasn't enough, then it supports both Shopify and WooCommerce. However, keep in mind that DSers can only be used for AliExpress and it's an official partner of the platform.
Pros
DSers has a free basic version in case you don't want to pay for it.
The paid options are also quite flexible with entry-level plans starting at only $1.99.
It integrates with both Shopify and Oberlo.
Cons
Similar to Oberlo, it can only integrate with AliExpress.
Best Dropshipping Websites to Take Inspiration
To be the best, you gotta learn from the best. So it's always worth studying what the top dropshipping stores are doing.
This is why we're going to take you through some example dropshipping stores.
After going through the list, if you want to read a more detailed analysis then you can refer to this list of dropshipping stores to take inspiration from.
Now let's quickly go over some stores that are performing extremely well: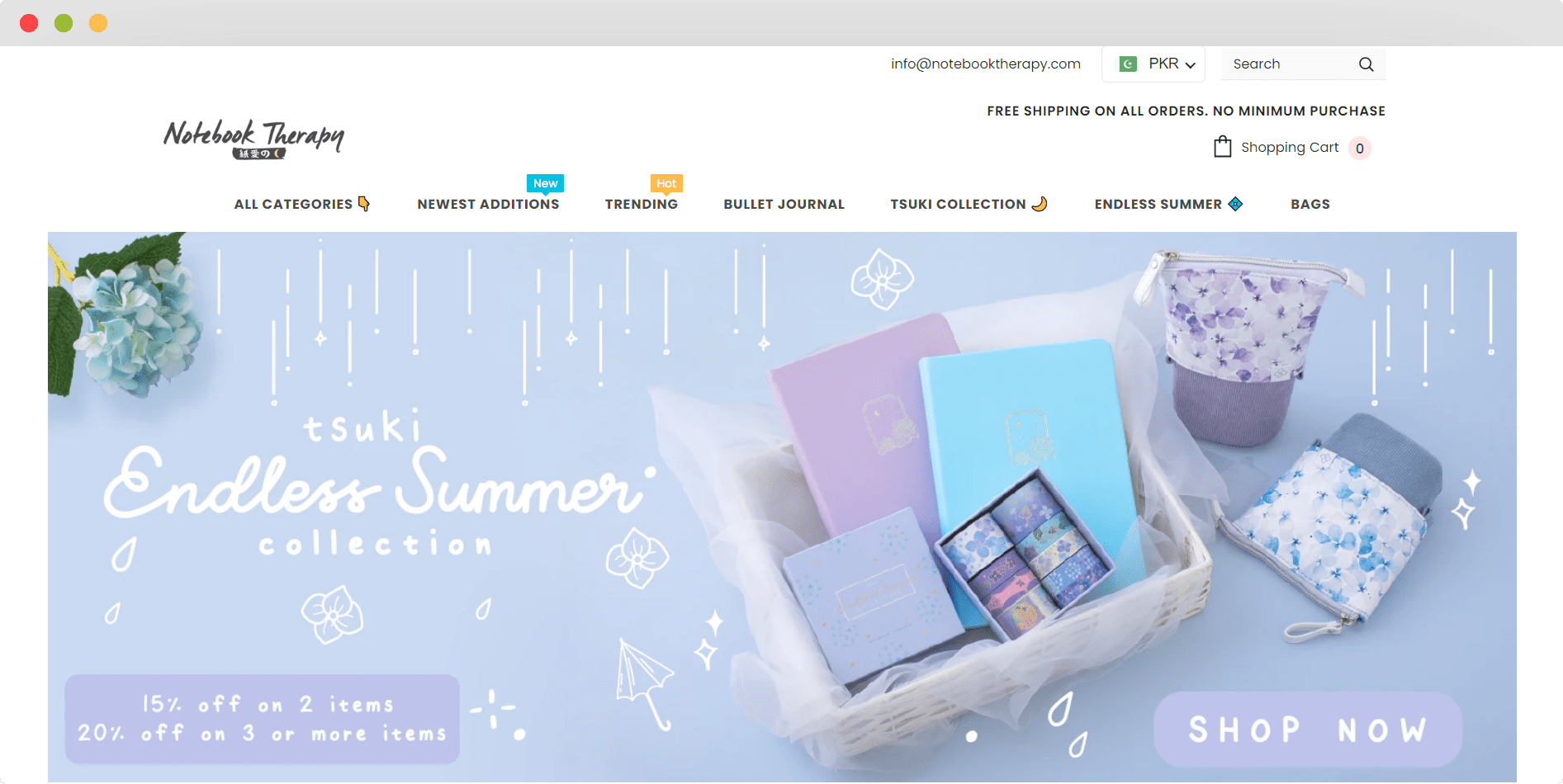 Hands-down Notebook Therapy is one of the most aesthetically designed dropshipping stores out there.
The pastel color palette makes their website look simple, yet attractive and also matches their niche – which is Japanese and Korean stationery.
All in all, this dropshipping store shows how much presentation truly matters in this business.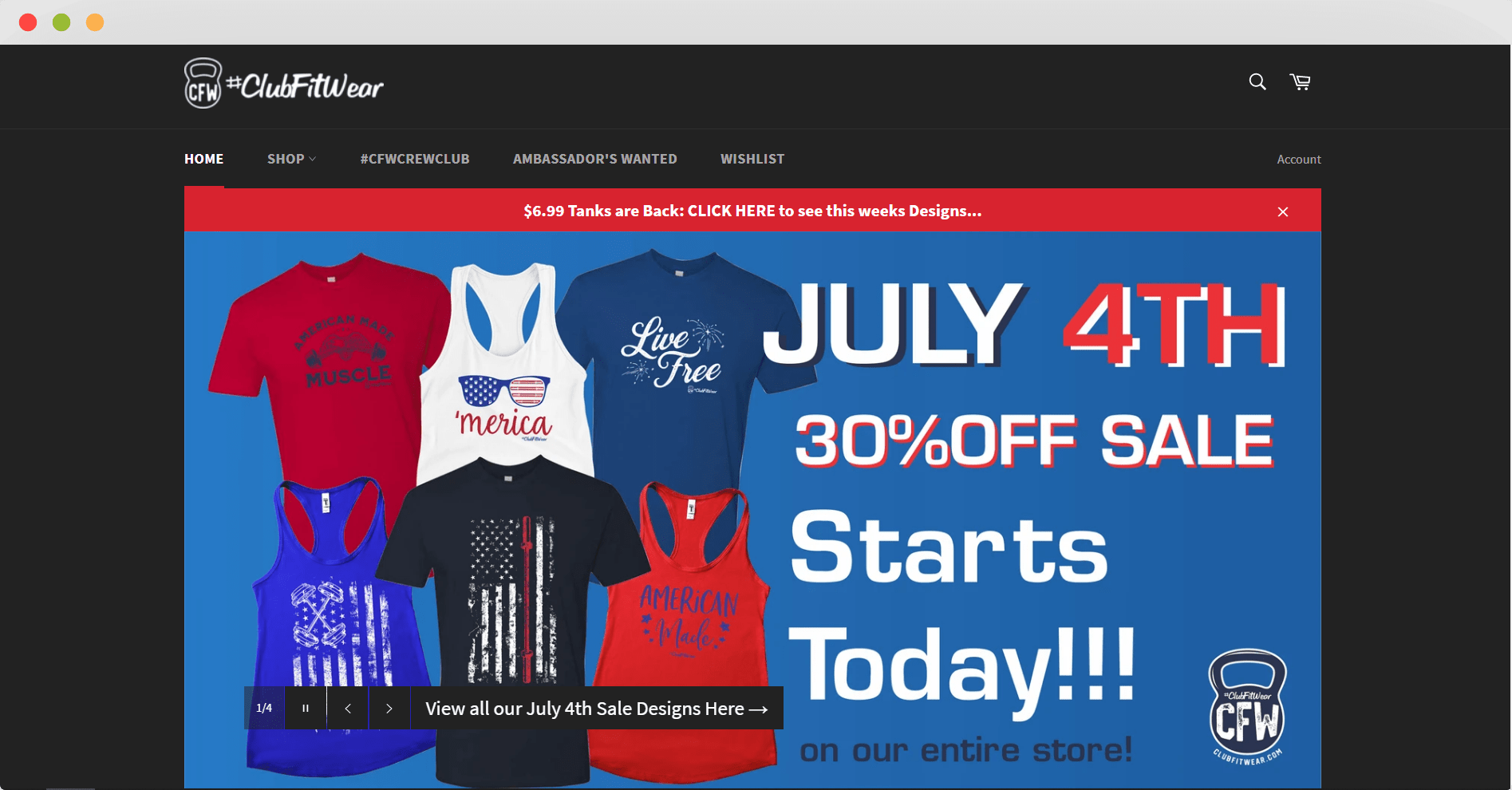 Club Fit Wear cashes in on the fitness fever by selling printed workout and gym clothes.
They make use of the classical marketing techniques that includes a free shipping policy on orders of more than $40.
Their range of motivational prints is high quality and they often target viral slogans to bag in more sales.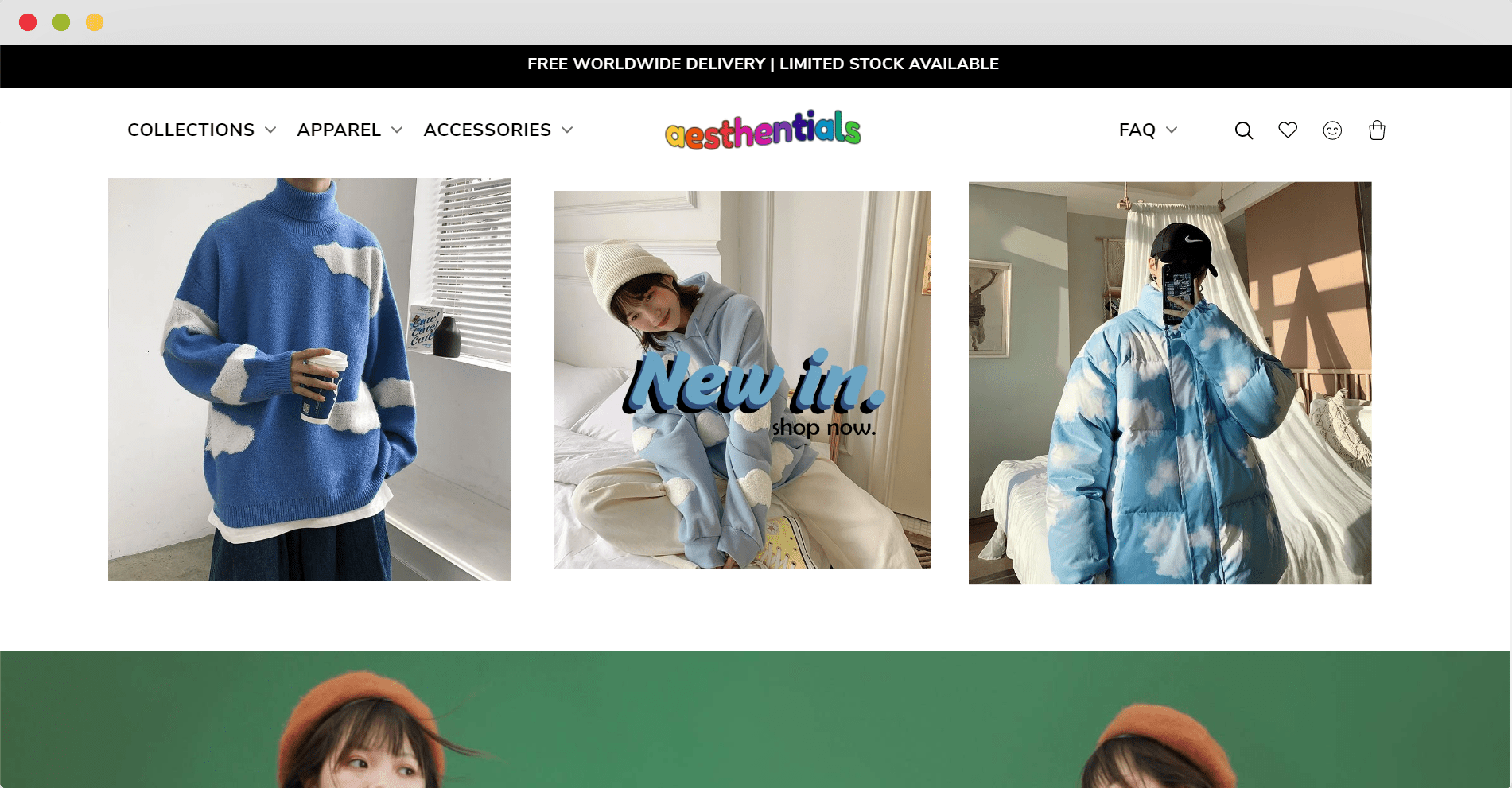 Aesthentials target K-pop lovers by selling a vibrant and floral variety of clothing and accessories.
They have done a really fine job with their logo, and not just because it's fancy, but because it matches the brand identity they're trying to establish.
In addition, they use original photography for their products by hiring models. So this sets them apart from other copy-pasted dropshipping stores.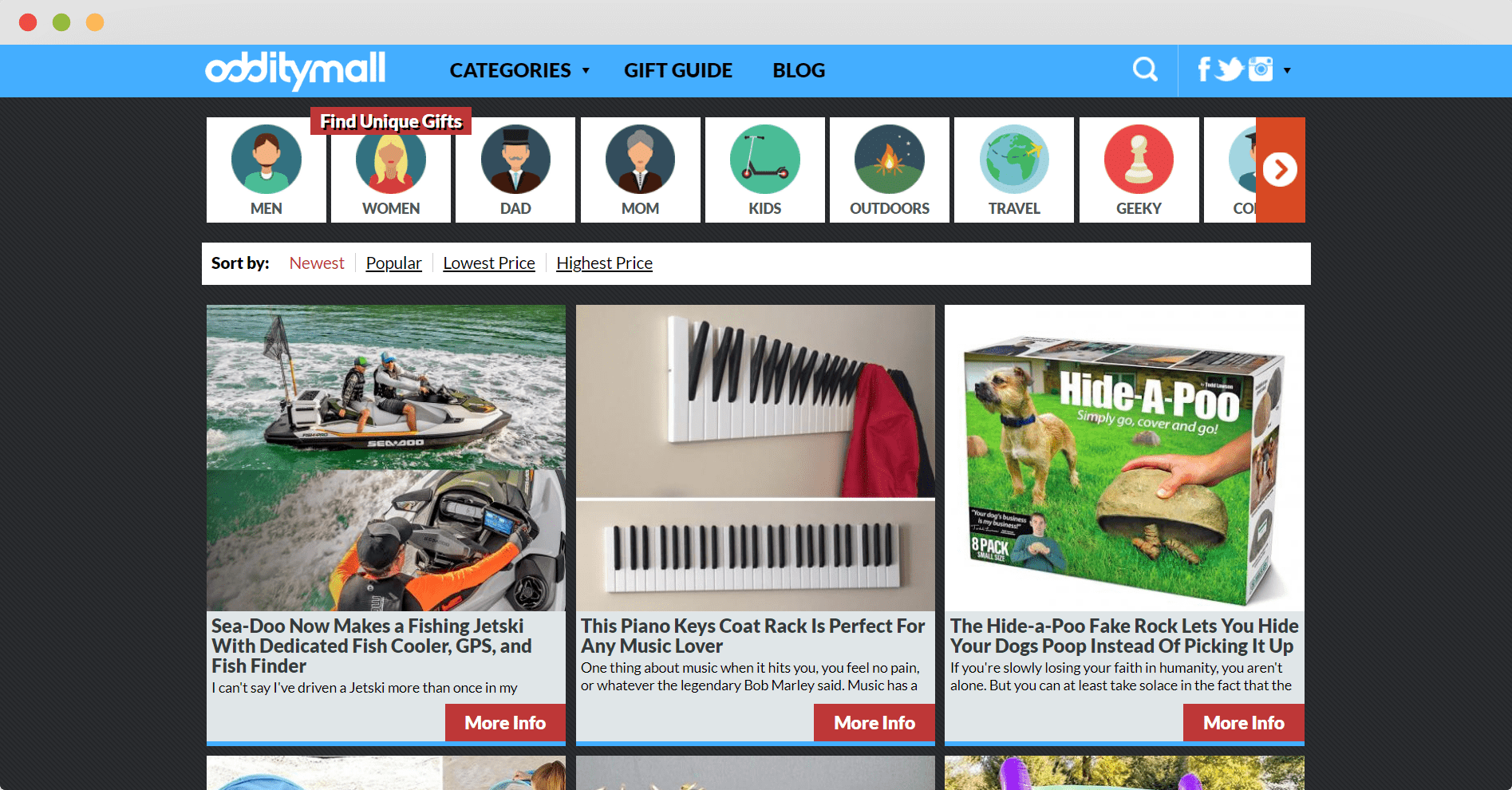 This store is our personal favorite because it really proves that product hunting is all about thinking outside the box.
You can find different original yet wacky and bizarre gifts at this store which just seems to be working out quite well for them.
Their website is also worth talking about due to how easily navigable it is.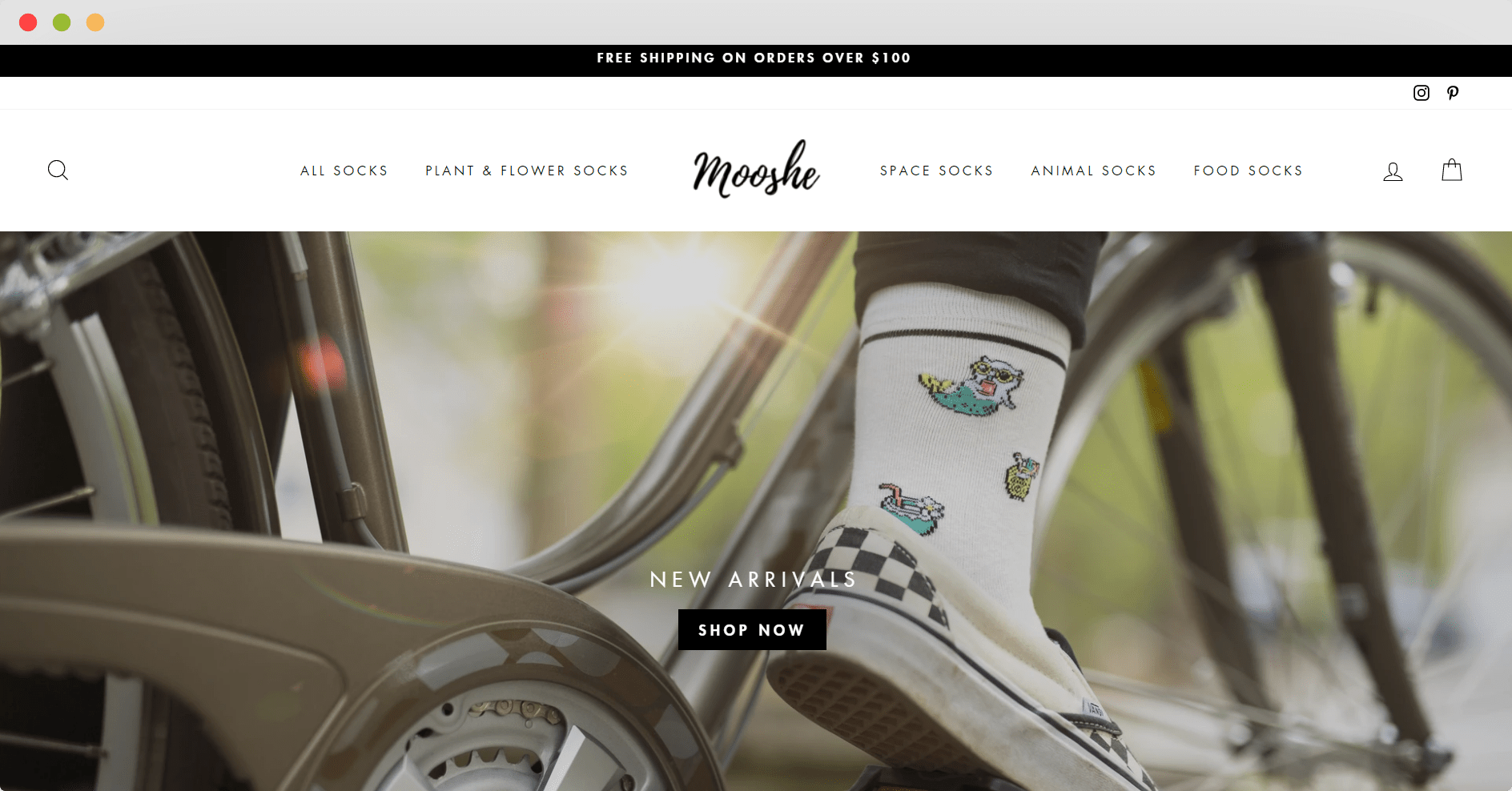 Mooshe Socks is a fine example of how to run a one product store.
They've done a brilliant job with branding and also provide top-notch product quality to further secure their place in the market.
Socks in general are also easy and inexpensive to dropship due to being lightweight.
So take some notes from Mooshe Socks on how to succeed using everyday products.
FAQs about Dropshipping Websites
How to Pick the Right Dropshipping Site or Company?
There are plenty of dropshipping sites and companies to choose from. So how to pick the one that best meets your requirements? Here are a couple of things to consider:
Learn What They Specialize In
Before you trust a dropshipping company, you first need to learn more about what they specialize in.
Just like you wouldn't hire a web developer to design the logo of your site, you should trust everyone with your store either.
This is the reason we've broken down the list shared above into different categories.
Whether it's product sourcing, order processing, or hosting, all the sites and companies we've discussed specialize in a certain niche.
So rather than trusting a jack of all trades, try finding a master of one.
Find Out Their Shipping Times
If you're especially searching for a supplier to source products or a company to process orders then don't forget to test their shipping times.
We've covered this in detail in our How to Test Dropshipping Products article. But in general, always place a test order to find out how true they are to their word about "quick" shipping.
Look for Reliable Customer Service
Human errors are always a possibility and even the biggest companies can make mistakes from time to time.
However, there's one thing that you shouldn't compromise on and that's reliable customer service. Before you pick any company or website, be sure to test their customer service.
You can simply do that by sending them an email to assess their responsiveness or by connecting to their live chat if they have one.
How to Make my Dropshipping Website Stand Out?
There are too many copy-paste dropshipping stores nowadays. So how to make your website stand out? Well, here are a couple of tips to remember:
Attractive Design
Customers are naturally biased towards visuals. Wherever you go shopping, you're highly likely to visit the most attractive-looking shop first.
The same applies in the world of eCommerce. Especially given the competition nowadays, if you want to make your site stand out, you should leave no stones unturned to make it look as attractive as possible.
And by attractive, it doesn't have to be anything fancy. A clean user interface and ease of navigation should be enough. Just focus on making your website presentable.
The Right Tone
You don't have to write bulky paragraphs on your site. Just make sure that there are no grammatical mistakes or typos and you're using a tone that reflects your brand.
Spelling mistakes on a website, in general, indicates a lack of professionalism and attention towards quality. Things like these can be a huge turn-off for your potential customers.
Detailed Listings
Make your listings as detailed as possible. Add high-quality images, videos and explain every single aspect of your product while remaining as concise as possible.
Even if you're dropshipping, you need to have knowledge about your product. The more detailed your listings are the less likely your customers would reach out to the support.
What's the Best Website to Learn More About Dropshipping?
If you want to learn more about dropshipping, then NicheDropshipping has all the resources that you need. We keep our blog updated by publishing new posts every week so you can find an answer to everything you need to know!
Final Thoughts
The internet is full of different dropshipping websites offering different services.
All these options can make it overwhelming for you to pick the ones that are best for your business.
So now, you have a list of the 35+ best dropshipping sites available at your fingertips.
We hope you will now be able to find the right site for your specific needs!
In case you have any queries about dropshipping or want product sourcing, private labeling, or other services, you can directly contact us and our dedicated agents would be happy to assist you!