Have you finally decided to choose Taobao as your sourcing platform? Well, you're not alone.
The marketplace has been gaining traction worldwide due to its competitive pricing.
But the process can be intimidating for first-timers.
That's why we've prepared a comprehensive guide on how to buy from Taobao.
From creating an account to choosing a product and finally, placing and tracking the order – we'll cover all the basics.
So let's get right into it!
How to Buy from Taobao
First things first, you're probably aware of Taobao being a product haven.
The marketplace has pretty much any product you can think of.
And what makes it even better is that Taobao is also probably offering the best price for that product.
Keeping that in mind, sourcing from Taobao might be the turning point for your business.
Now that you're motivated to lace up your boots, let's cover the steps you need to follow:
Step 1: Accessing the Platform
Taobao can be accessed in two ways, through the website or its smartphone application.
Unfortunately, neither the app nor the website comes in English. However, there are a few ways to translate Taobao into English,
But before we get to that, let's talk about accessing the right website.
They have the main www.Taobao.com and the international world.Taobao.com. We'll be using the latter since it's made for foreigners.
Even if you go to the first one, they'll automatically redirect you to the second if you're not accessing it from China.
Make sure you visit the website using Google Chrome. This way, you can use the webpage translation feature by clicking on English from the popup.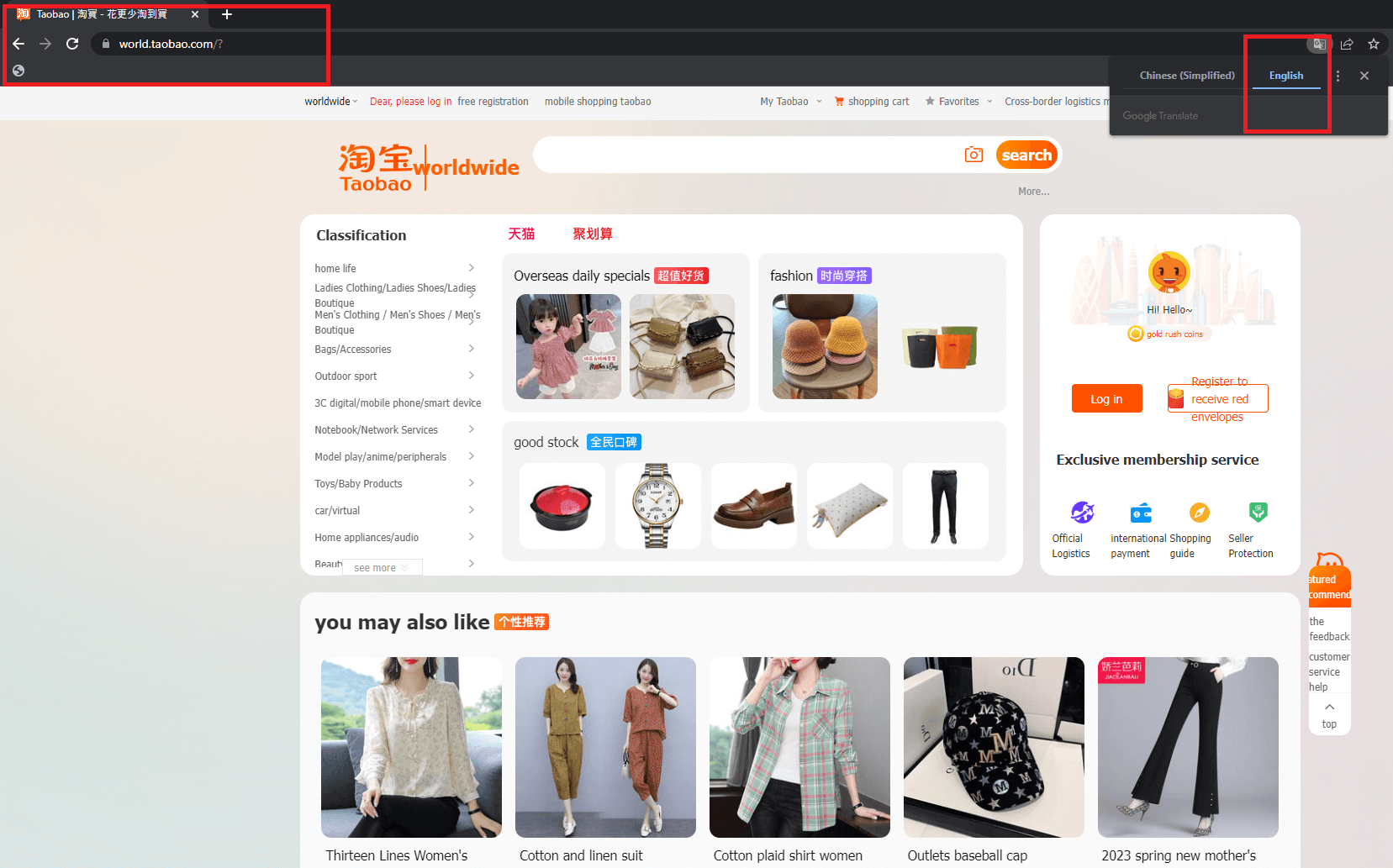 If Chrome doesn't display the popup, you can turn the feature on by accessing Settings > Language.
Also, it is worth noting that the word "Product" is usually translated as "Baby" by Google Translate on Taobao. So, don't be shocked to read "Baby" Descriptions!
Step 2: Account Creation
Taobao started accepting global orders and shipping to the US only a few years ago.
Before this, only the Chinese people could create accounts on the platform.
Making an account on Taobao is as simple as making an account on any other platform.
Once you access the website, click on the Register button and let Taobao guide you through the process.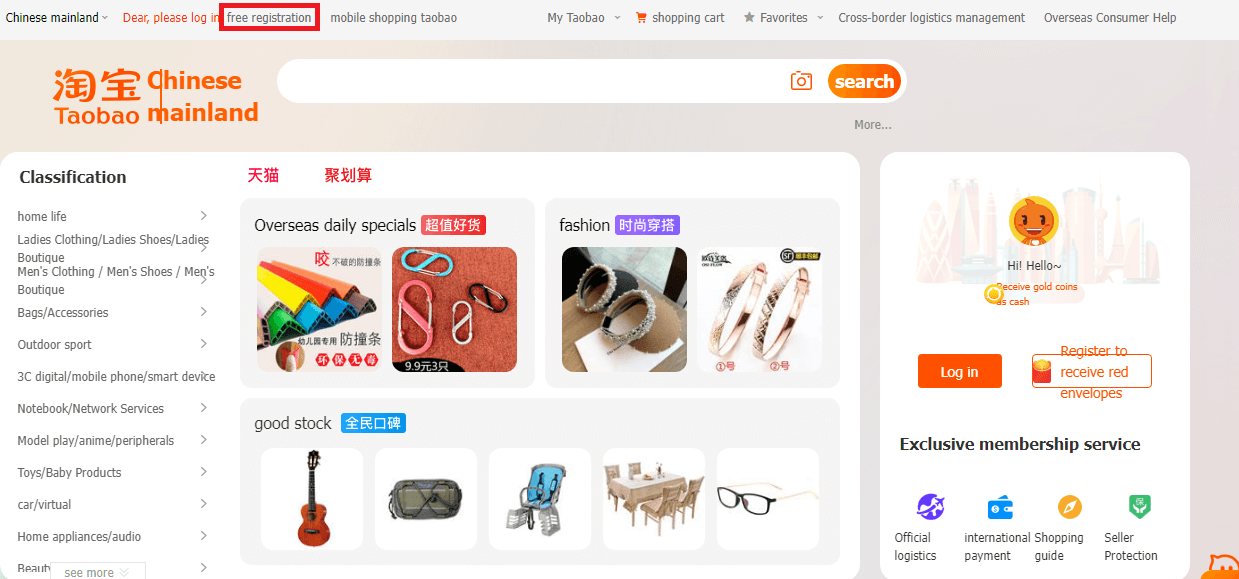 Taobao will request your mobile phone number for registration.
The dialog box will require solving a simple puzzle before Taobao sends you the verification code.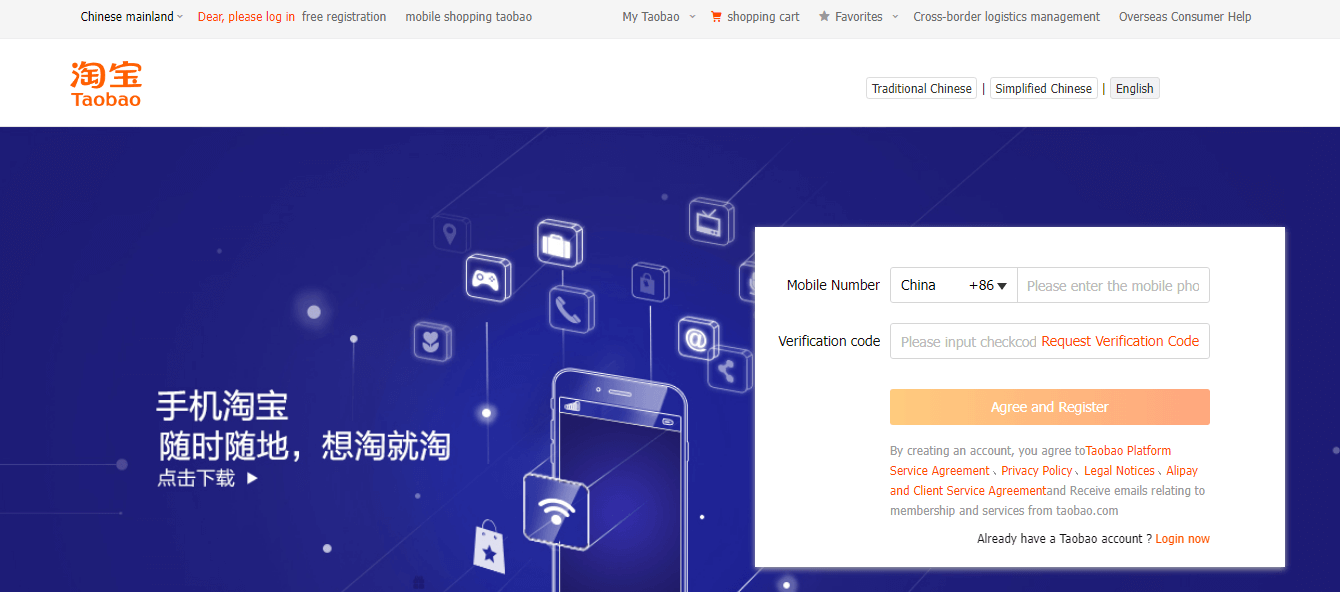 After that, you'll receive a verification code which you'll have to type into the box.
The next thing is to provide Taobao with your delivery address. Once you do that, your account is now ready to be used!
Step 3: Product Hunt
Now that you're logged in and ready to surf the marketplace, it's time to commence the product hunt.
Taobao itself makes a few categories, but they're meant to target customers instead of re-sellers.
Much like other e-commerce platforms, Taobao incorporates a search bar that lets you search for products by name.
If your query is general, such as "wireless earphones" the site would allow you to browse hundreds of relevant listings.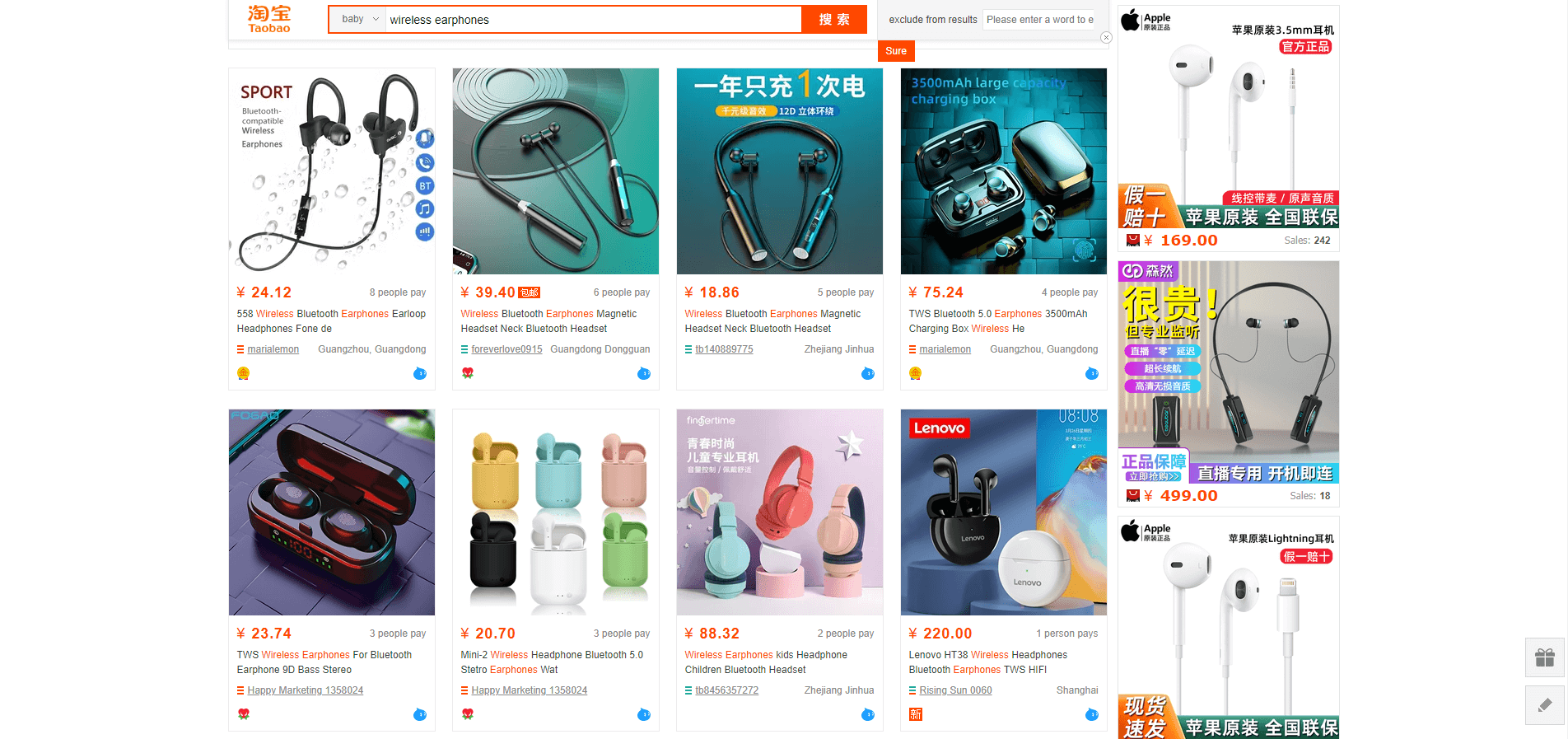 Taobao's search engine is good enough to display relevant results, but finding a specific product using English keywords would be like searching for a needle in a haystack.
So if your product hunt is more specific, you can utilize Taobao's image search feature. It allows you to search for products by images and provides pretty accurate results.
You can also use Taobao's product sorting features, such as sorting by price, sales, relevance, free shipping, etc.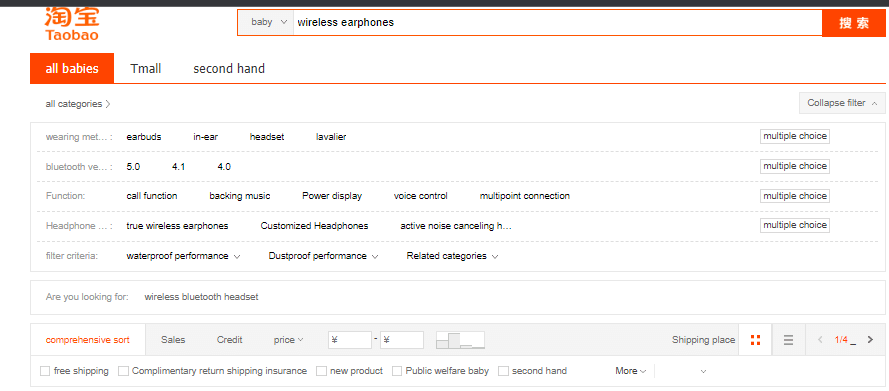 Step 4: Determining Quality
Scams and frauds are rare on Taobao. Regardless, it's essential to do a bit of research before placing an order.
Pre-purchase quality assurance on Taobao isn't much different. All you need is to keep an eye out for well-reviewed products.
Extremely low-priced products with minimal reviews are red flags. Products on Taobao are cheap, but make sure you know where to draw the line between cheap and too cheap.
Go through the product's reviews, images, and descriptions to see whether the quality is up to the mark or not.
Usually, a 4.6+ rating and 20+ product reviews should be sufficient proof that a product is legit.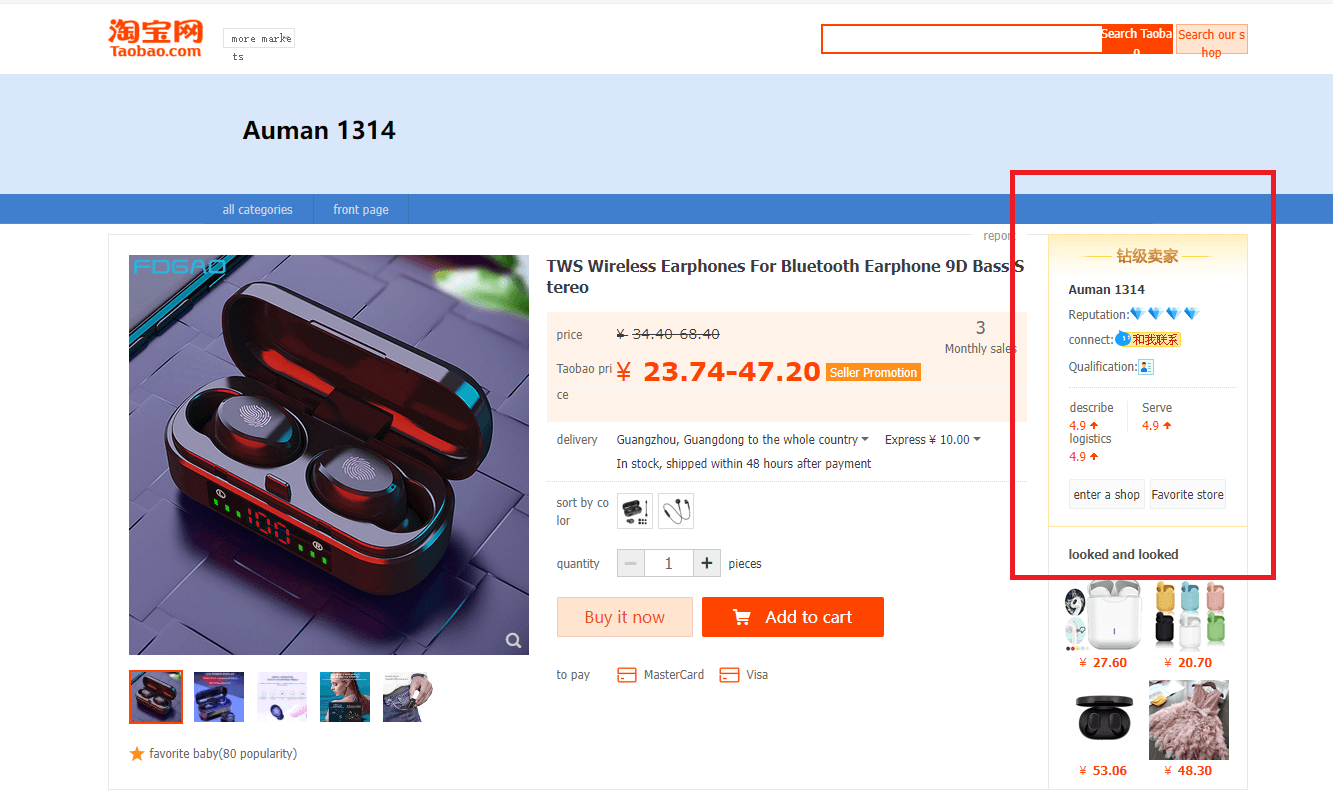 Even good products will have negative reviews, but as long as they're in minority, it's a positive sign.
Ensure the product you order is not on the list of Taobao's sensitive items. Otherwise, it's just going to be seized at the port.
Once your mind is set on a product, the next step is to order a sample.
Step 5: Making the Purchase
Taobao will now ask you to choose the product's variations (if any) and the quantity.
You can either add multiple items to your cart or check out right away.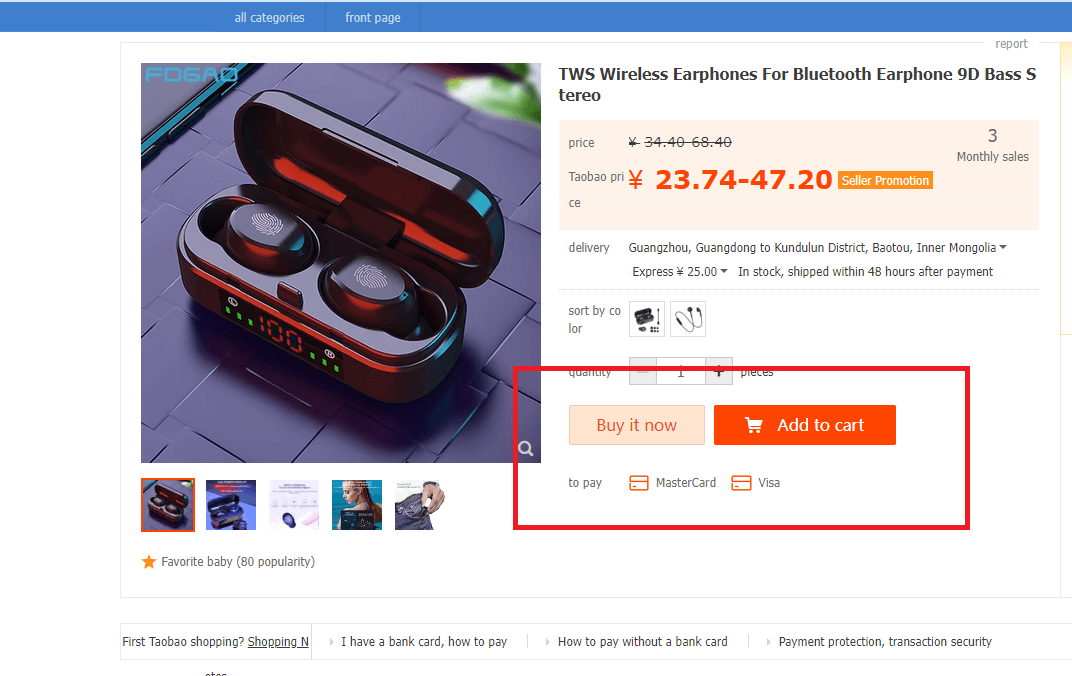 After that, Taobao will ask you to select your shipping address. Once you enter that, you'll be asked to make the payment.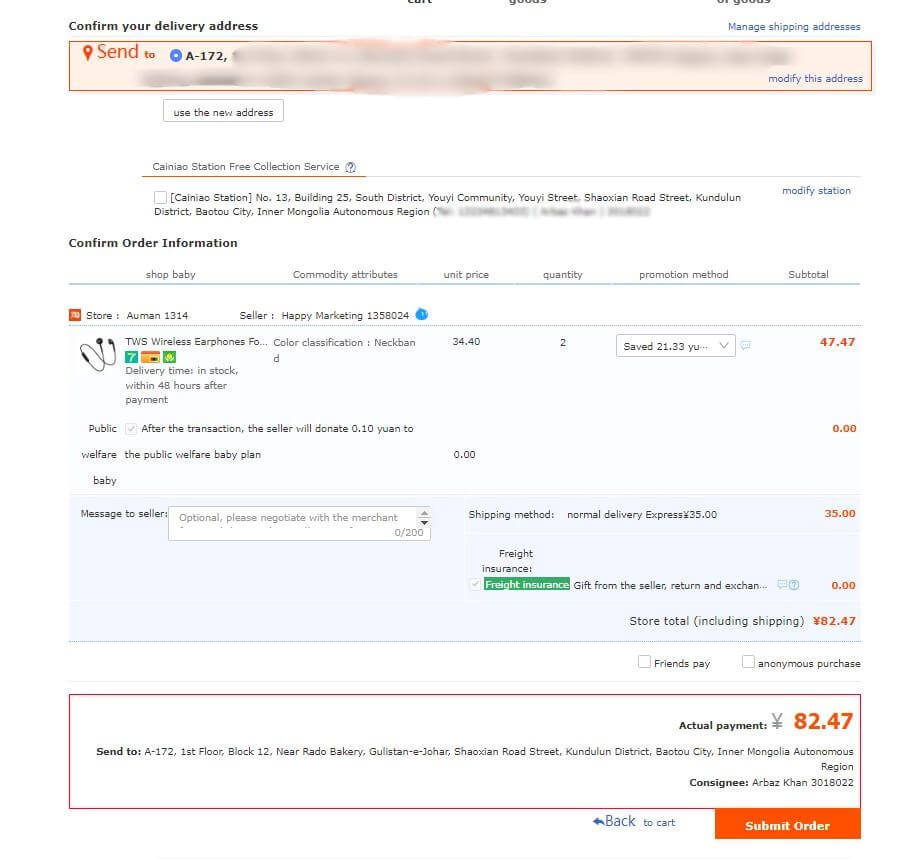 Unfortunately, Taobao does not accept payments from PayPal. However, you can also use your Visa or MasterCard to pay.
Alternatively, you can also use Malaysian eBanking if you're residing in Malaysia.
The primary method used by Taobao is Alipay. Creating an account on Alipay as a foreigner is a complicated and tiresome process.
You can use Alipay gift cards, but they're only available in a few countries.
Therefore, your best bet is to either pay by credit card or have someone in China pay on your behalf.
Note that this payment will only cover the product's value and domestic shipping fee.
You'll have to pay later for international shipping. This brings us to our next and most crucial step of the process.
Step 6: Calculating Shipping Costs
The shipping costs incurred on a Taobao order depend on various factors.
When it comes to third-party freight forwarding companies, they'll charge you according to their own particular standard. It varies from company to company.
As for Taobao, they calculate the shipping cost when you are about to make the payment.
Taobao's official shipping cost calculation is based on weight or volume, whichever is higher.
If you wish to calculate shipping costs before ordering a product, you can find several Taobao shipping cost calculators online.
Although the calculation might not be precisely accurate, it can give you an idea of what to expect when buying from Taobao.
Lastly, Taobao itself offers two methods in its consolidated shipping, shipping by air and by freight.
Freight shipping should be the way to go since the restrictions and costs of shipping by air are too high for someone sourcing products.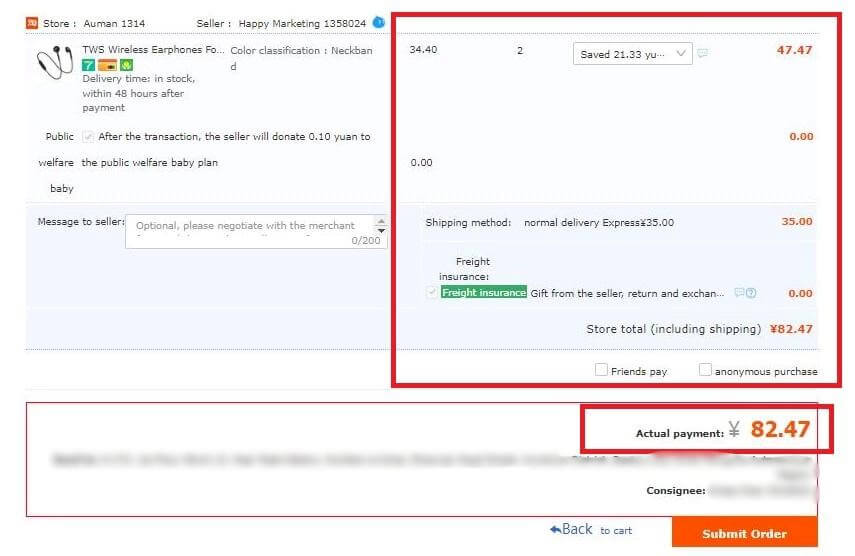 Step 7: Order Tracking
When it comes to international shipping, Taobao primarily offers two ways for foreigners to receive their goods.
The first way is Taobao's official logistics, and the second is third-party freight forwarders.
In Taobao's official logistics, Taobao forwards your package to its warehouse whenever you confirm an order.
Once your package reaches the warehouse, Taobao requests its second payment. This payment is the cost of international shipping.
The journey of the package is documented step-by-step on Taobao. You can check the status by accessing the "cross-border logistics management" section.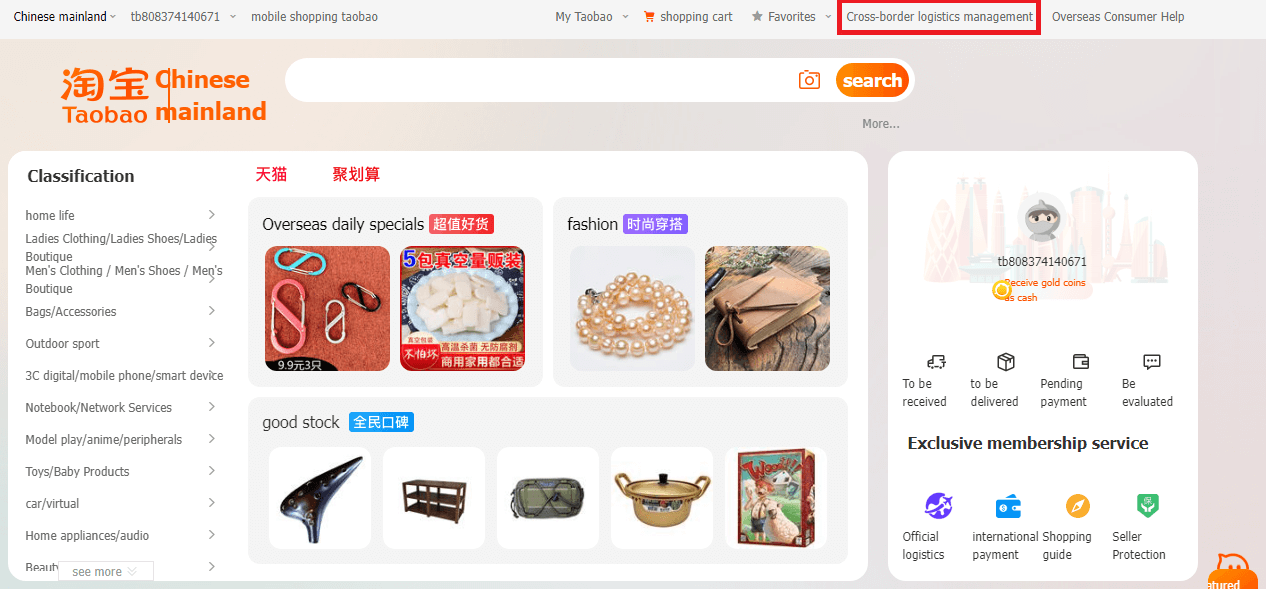 As soon as you pay, Taobao will dispatch your package. All that's left now is to wait until it arrives at your doorstep.
The second shipping method is to choose a third-party freight forwarding company.
This method involves a third party conducting the shipping process on your behalf.
Taobao will deliver the package to the third party's warehouse in China, from where the package will be shipped internationally.
Both of these methods are reliable and charge almost a similar amount for shipping.
However, we'd recommend you opt for Taobao's official logistics since they're safer.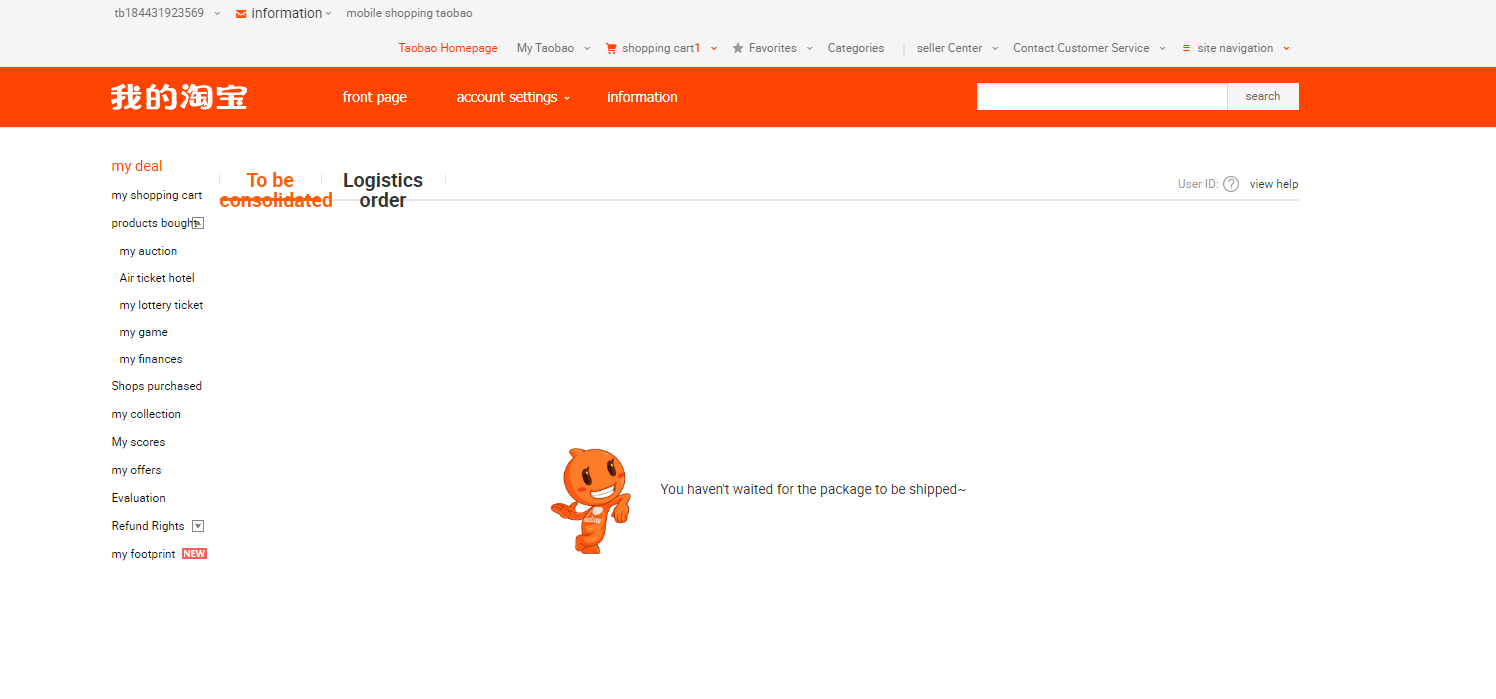 Bonus Step: Dealing with Sellers
Communication with sellers can be a challenge on Taobao. The sellers do not understand English, so you must keep Google Translate by your side.
Despite the language barrier, you'll eventually have to establish and maintain a relationship with your seller if you plan on sourcing products from Taobao.
Initially, you'll have to scrutinize the seller's reputation. Thankfully, Taobao offers a points system to indicate a seller's performance on the platform.
The higher points a seller has, the more customers they have satisfied, and vice versa.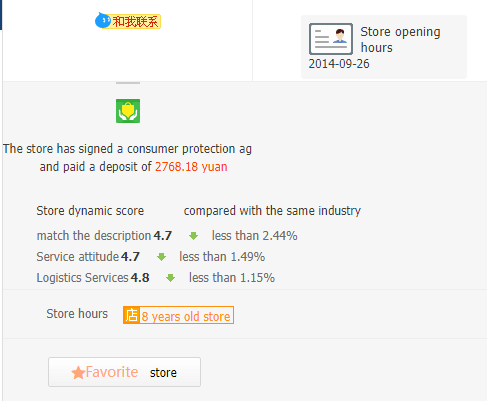 Similarly, sellers with outclass performance are awarded gold medals displayed next to their name.
It's very unlikely to have a bad experience with a gold medal seller on Taobao. However, they might not always offer the best price.
To sum it up, Taobao has taken several measures for its users to evaluate the seller's legitimacy.
These measures of performance assurance make it almost impossible to have a poor encounter on Taobao.
Tips on Buying from Taobao
Now that we've covered how to buy from Taobao, here's a list of some tips and tricks for our readers looking to make their first purchase.
1) Never Buy from New Sellers
This principle applies to every online shopping platform. But for resellers, it's emphasised more since they have a consumer to satisfy.
On Taobao, good sellers are not hard to come across considering all the ways you have to find them.
So, there's no reason to place your trust in a new seller. Not to mention the fact that you're buying as a foreigner so unless you get help from a sourcing agent, you can't inspect the quality of every product.
It's possible a new seller might send a good sample first and mess your order up when you purchase in bulk.
2) Taobao Agents
Handling sourcing from Taobao can be a long and burdensome process if you're not willing to put the effort and time into it.
If you have the upper hand on the budget, hiring a Taobao agent could be the way out for you.
Taobao agents are professional middlemen dedicated to helping foreigners buy from the eCommerce giant.
Usually, these agents handle all of the sourcing process, but you can also narrow down their services.
Not only are Taobao agents experienced in dealing with sellers, but they also know how to get the best price.
3) Always Match the Product Measurements
When buying clothing items from Taobao, it's recommended to view the size chart of the product and match it with your required measurements.
Sizes in Mainland China are known to be smaller than what we have as S, M, L, and XL in other parts of the world.
The clothing the West considers to be of small size might be the large size in China.
This is probably because of the difference in size between the average Chinese person and the average American or European.
So it's safer to order a bigger size and match measurements instead of applying for a refund/exchange.
4) Keep an Eye Out for Sales
Two things make Taobao special: Cheap price tags and variety.
Top that off with half-yearly sales, and you just might get the best deals you can get on the planet.
Since you're dealing directly with manufacturers and wholesalers, the chances of stock running out are even less.
So, make sure you keep an eye out for these sales and collect vouchers too if possible.
5) Ship Wisely
As a reseller, your priority is to minimize costs and increase your margin in the process. Much of this can be achieved by shipping wisely.
By shipping wisely, we mean knowing when to ship, how to ship, and how much to ship.
Your products land in Taobao's warehouse when you purchase them. For a certain period, they stay there for free.
After that, you'll be charged on a daily basis unless you pay for shipping and move them out.
Likewise, carefully choosing the number of packages you ship at a time can also be a good way to cut down shipping costs.
FAQs about Buying from Taobao
How Much Is the Shipping Fee on Taobao?
Taobao's shipping fee depends on various factors, such as product weight/volume, mode of shipping, and country of delivery.
Before you make the payment for international shipping, Taobao allows you to calculate the expense you'll bear on shipping.
Does Taobao Ship to the US?
Yes, Taobao has begun to ship to the US in the last few years.
However, Taobao hasn't gained a lot of popularity in the US because of the platform and its sellers being Chinese.
Despite the language barrier, a significant fraction of US-based consumers order from Taobao due to its relatively low prices.
What Are the Best Items to Buy from Taobao?
The following are the best items to buy from Taobao:
Baby products
Kitchen Appliances
Smartphone Accessories
Beauty Products
Men's Clothing
Does Taobao Sell Original Products?
It is often observed that many products available on Taobao are replicas or copies of branded goods, despite the strict laws in China regarding the manufacturing and sale of counterfeit products.
If you are new to Taobao, buying costly branded products from Taobao is not recommended since they might be knockoffs.
In addition, reselling or dropshipping these products might get you into some legal trouble.
To avoid purchasing counterfeit products on Taobao, try to look for official stores of well-known brands. These stores are often verified by Taobao and can provide assurance that the products being sold are genuine.
Final Thoughts
In conclusion, sourcing from Taobao is a brilliant way to access a diverse range of products from various niches.
However, it can be overwhelming for beginners, because the platform is not as foreigner-friendly as other eCommerce marketplaces.
This guide should help learn the basic steps of buying from Taobao.
Nevertheless, if the process is still daunting for you, we at NicheDropshipping can lend a helping hand.
From product sourcing to quality assurance and negotiations – our agents can handle it all.
So feel free to reach out to us with a sourcing request and we might get you a better price than Taobao!