Taobao, also known as the Chinese version of Amazon, is an untapped haven for most dropshippers.
With over 800 million users, it is considered to be a Chinese eCommerce giant.
But does Taobao ship to the US? Yes, Taobao offers shipping to the US, but the downside is that the platform and its sellers only speak Chinese.
Due to this language barrier, US-based dropshippers cannot fully take advantage of the marketplace. But is there a way around it?
In this piece, you'll learn everything you need about sourcing products from Taobao.
So, let us first start from the basics!
What Is Taobao?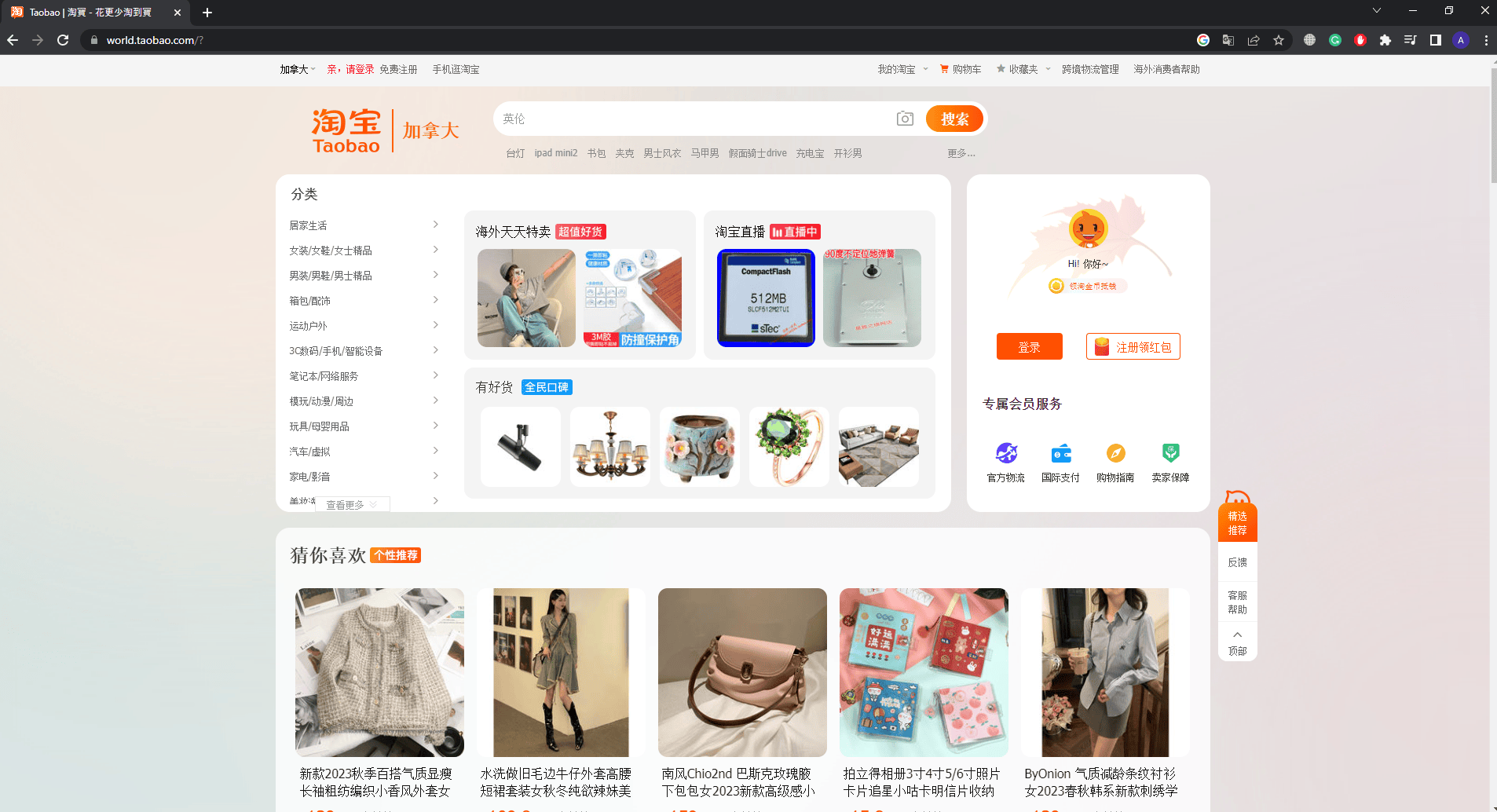 Headquartered in Hangzhou, China, Taobao is an eCommerce platform owned by Alibaba.
With over 20 years in the business, Taobao was made solely for the Chinese audience.
It initially came into the frame as a competitor to Eachnet, another Chinese shopping platform owned by eBay.
After defeating Eachnet, Taobao secured a whopping market share of 60%.
The platform is best known for consumer-to-consumer (C2C-based) transactions.
Having 1+ billion product listings, it is often said that Taobao is the place to find anything.
Since the number of listings is so massive, the products available on Taobao are relatively cheaper.
Does Taobao Support Shipping to the US?
Yes, Taobao lets you ship to the United States. However, the process is more complex than any other Chinese platform.
Taobao did not go beyond the Chinese mainland initially. Recently, the platform gave the green signal to the following countries and regions for shipping.
USA
Canada
Australia
Japan
New Zealand
Cambodia
Thailand
Vietnam
Philippines
Singapore
Hong Kong, China
Taiwan, China
Malaysia
South Korea
You're eligible to register on Taobao and ship products if you have citizenship in any of the above countries and regions.
Products That Cannot Be Shipped from Taobao to the US
Taobao has diverse products. However, not all of them can be shipped to the US.
The platform has certain policies regarding exporting goods. Some sensitive products are not allowed to be shipped.
However, these products can be shipped through safer means by a Taobao agent.
Taobao's official shipping does not cover these items and won't be responsible if your goods are seized.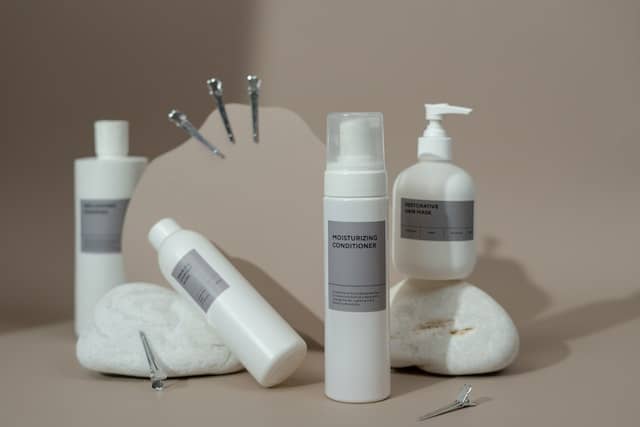 Sensitive Items
Here's a list of products that are considered too sensitive for the Chinese shipping authorities:
1) Foods
Food items are prohibited because they are perishable goods.
There's no room for any food items, even if they're considered to have long shelf lives.
2) Medicine or Chemicals
Medicines and chemical substances, whether solid or liquid, all fall into the category of sensitive items.
There's a restriction on exporting medicinal items from Taobao.
3) Liquids
Liquids such as shampoos, tubes of toothpaste, or liquid soap are all considered sensitive items.
There's always the possibility of leakage during shipping, so these items are not allowed.
4) Magnetic Items
Magnetic items are known to be dangerous goods due to the interference they cause in the airplane's signals.
As a result, aviation rules and regulations strictly prohibit shipping magnetic items.
However, they can be shipped by sea or ground with specialized packaging.
5) Valuables
Valuable goods such as gold, silver, gems, or artworks are all sensitive items prone to theft and damage and hence, cannot be shipped.
6) Batteries
Batteries are unsafe in many ways. Especially during air travel, their presence can interfere with the signals.
Items containing batteries, such as smartphones, are not allowed to be shipped by Taobao.
7) Flammable Items
Items that can catch fire or contribute to it count as sensitive items.
These items can include deodorants, perfumes, oil, glue, etc.
8) Politically Sensitive Items
Items containing politically sensitive content or controversial information regarding the Chinese state are sensitive and can be seized.
These items can include both digital and printed media, such as videotapes, USBs, CDs, drives, newspapers, or posters.
Forbidden Items
Moving on, the following items are clear red flags for the authorities and cannot be shipped no matter what.
1) Explosive Items
Explosive items do not make it past the authorities for obvious reasons.
Items such as gunpowder, matches, firecrackers, and pesticides are strictly prohibited from shipping.
2) Drugs
Unsurprisingly, addictive substances such as cocaine, heroin, methamphetamine, and cannabis are considered forbidden items that cannot be shipped.
3) Firearms
Guns, gunpowder, ammunition, knives, swords, or weapons of any kind are prohibited from being shipped by the Chinese authorities.
4) Animals
Animals in any form will be seized by customs at Chinese ports.
Animal skin, meat, or bones are items forbidden for shipping. The same goes for pets.
5) Replica Items
Shipping replica items of famous brands is considered copyright infringement by the Chinese authorities.
Goods that are made to appear as copies of originals will be seized at the port.
6) Items That Exceed the Max Weight/Length
Although items with exceeding weight/volume can be shipped, they'll charge you more for them.
If your item surpasses the length of 80 cm, then it counts as an excess.
The total length, width, and height should not go beyond 150 cm.
Similarly, the maximum weight allowed for an item is 22 kilograms. Anything above this mark will cause issues for you.
Note that these limits may slightly vary based on the shipping line.
How to Register for a Taobao Account in the US?
We mentioned that the Taobao website is entirely in the Chinese language.
Fortunately, Google Chrome can help you out in the registration process by translating the page into English.

Although Chrome's translator is not entirely accurate and has numerous grammatical errors, it should be enough to help you register.
You can also download Google Translate to help you with the registration process.
Much like any other platform, all you have to do is provide Taobao with some basic details.
Here's a step-by-step list of instructions to register yourself on Taobao.
Visit the registration page of Taobao.
Enter your phone number and hit the orange button.
Taobao will now display a confirmation dialog. Clicking on it will resolve the dialog.
Enter the verification code sent to your phone number.
Once Taobao approves the code, you'll be directed to the official homepage and browse its millions of products!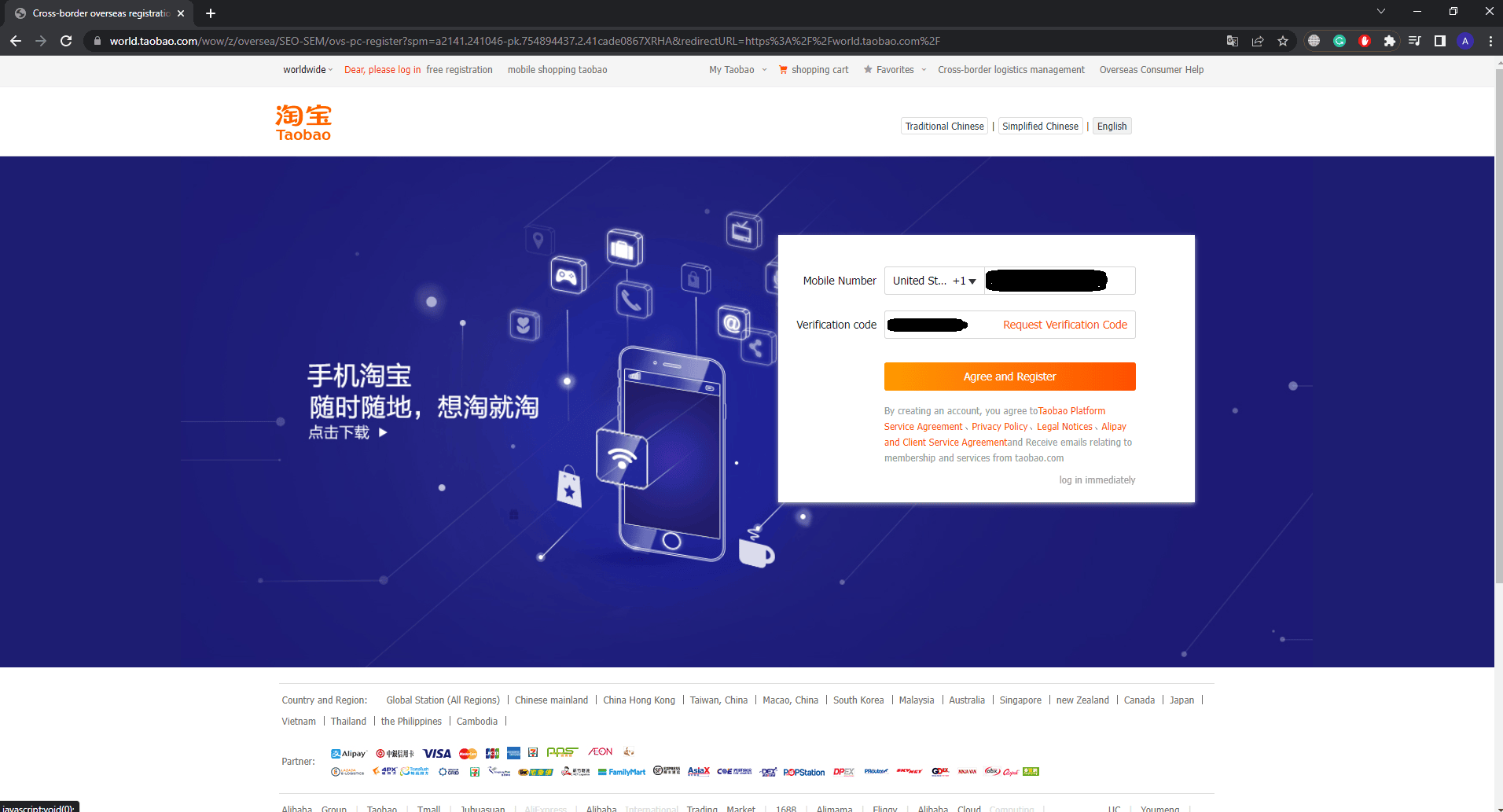 The registration part is anything but tricky. However, Chrome's translation will not be as helpful in browsing products on Taobao.
Now that you have a Taobao account, the next step is shipping products to the US.
Ways to Ship from Taobao to the US
There are multiple ways to ship from Taobao to the US. We'll go through each of them and then discuss which one is the most suitable.
Taobao Official Logistics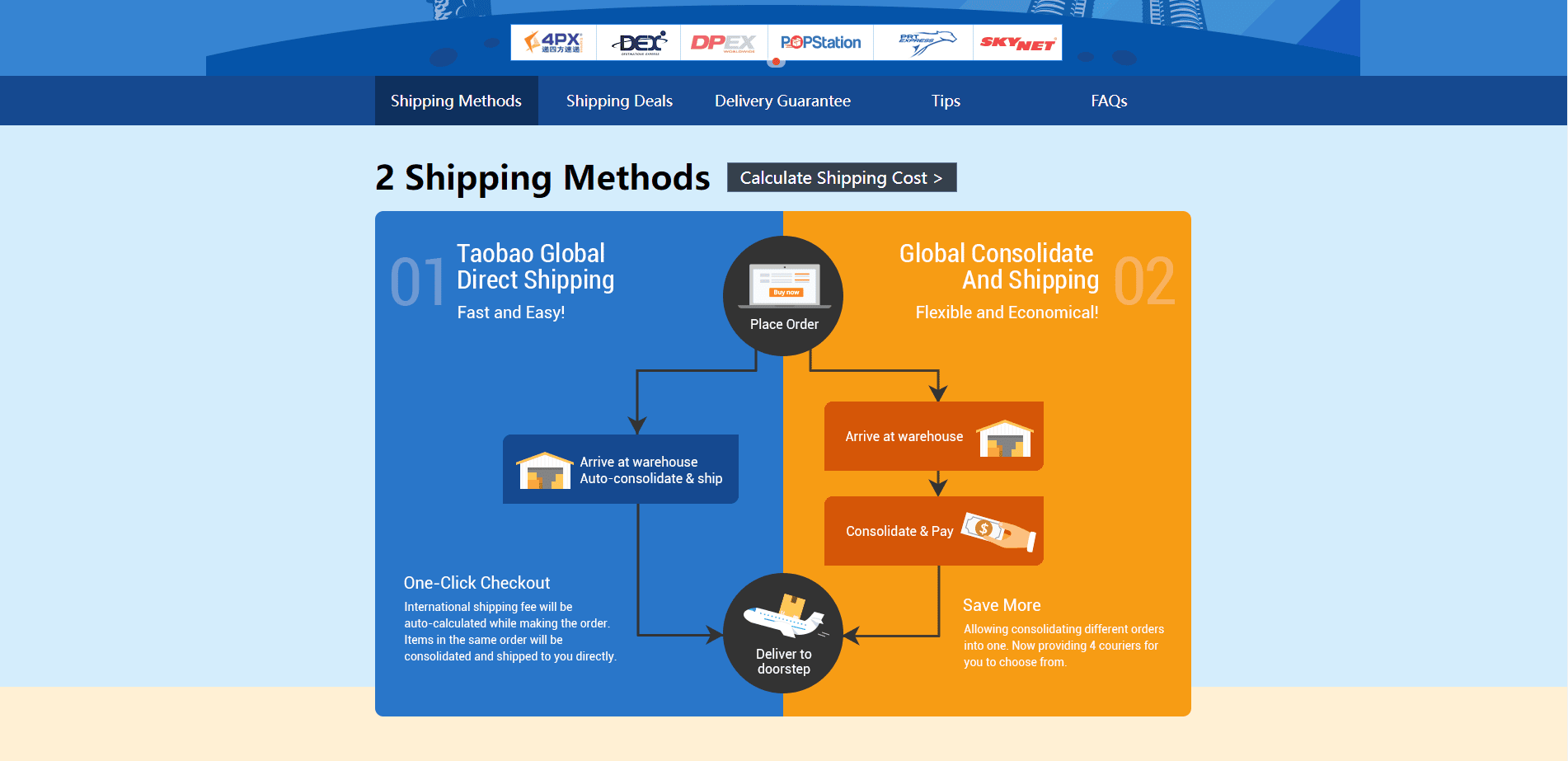 Using Taobao's official shipping procedure is perhaps the safest way to source from the platform, but not the simplest.
Taobao offers only two ways to ship its products: air and sea.
Taobao's official shipping requires you to add your personal US shipping address to your Taobao account.
On Taobao's homepage, look for "shipping address" near the left sidebar. Click on it and add your own address, then save.
Since Taobao has your address now, the next step is to fill your cart with the products you want to buy.
Once you're ready to checkout, Taobao will now take you to the payment page. For international users, the payment method is divided into two.
The first payment you make will consist of:
The value of your products
The shipping cost to the forwarder warehouse.
This payment will cover half of the shipping process and will be considered completely separate from what follows.
When your products reach the warehouse, you'll receive a confirmation text message on your registered phone number.
The next step is to have your products shipped internationally from the warehouse. Note that your products can stay at the warehouse for up to 20 days for free.
With this, the next segment of your shipping procedure commences. Taobao's forwarder will now request payment to consolidate your products and internationally ship them.
As soon as the payment is completed, all that's left is waiting for your products to reach you.
Third-Party Freight Forwarders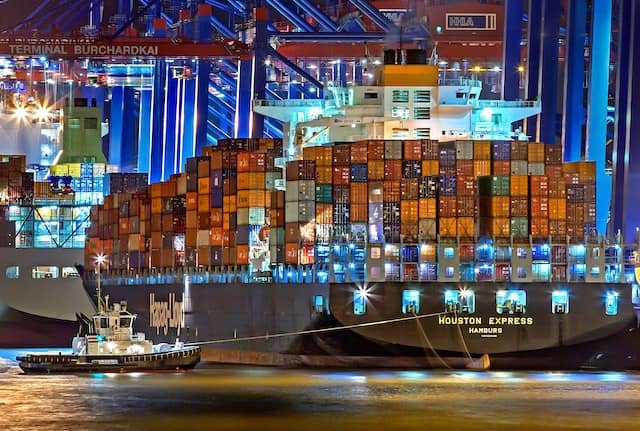 Another way of having your items shipped from Taobao is to use third-party freight forwarders.
Freight forwarding companies are easy to come across, reliable, trustworthy, and will handle shipping from China to the US.
To assign the shipping procedure to these companies, you must sign up on their website and note the address they allocate to you.
Once you have their warehouse address, the next step is to put it as your default Taobao shipping address.
Whenever you buy products from Taobao now, they will be shipped to the freight forwarder warehouse, and then to you.
This process is almost the same as Taobao's official shipping method, but a third party will handle your shipping procedure and you'll be charged a fee for it.
Taobao Agents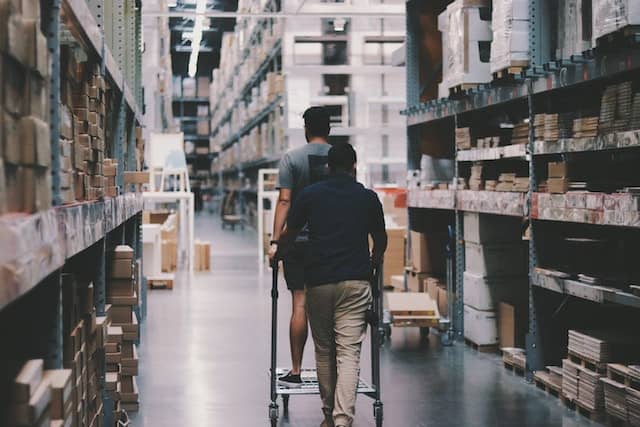 Sourcing products from Taobao can be a tiresome process. There's a lot of manual fulfilling, making it a hurdle.
If things seem to be too complicated, hiring a Taobao agent can be a good idea.
Taobao agents are individuals willing to get the buying process from Taobao done for you.
They can also be full-fledged companies that handle shipping, but generally, Taobao agents can do more than just ship your products.
A Taobao agent can negotiate/purchase goods on your behalf, examine them, and make sure they are delivered to your doorstep. Plus, there will be no language barriers.
Of course, hiring a Taobao agent will cost you more than completing the buying process yourself.
However, if you're not familiar at all with the ins and outs of Chinese buying procedures, then hiring a Taobao agent can be more fruitful for you.
How to Browse Products on Taobao
Browsing products was tricky for English speakers until Taobao's image search feature came.
Though you can rely on Google translate for translating search queries into Chinese, the translation can sometimes be inaccurate.
So, the most accurate way to search and browse products on Taobao is through the image search button.
In the search bar, you'll find a camera symbol that allows you to choose an image of a product.

Once you hit enter, Taobao will display the closest results to your product image.
The best part is that Taobao even lets you crop the image if multiple products exist.
How Much Does It Cost to Ship from Taobao to the US?
The total shipping cost incurred on an item will mainly depend on the parcel's size or weight.
Usually, the cost is calculated by examining the physical nature of the parcel.
If your parcel is heavy but covers little area, then its shipping cost would be determined by its weight.
However, if it's lightweight but covers more area, then its volume would be the determinant.
This is why it's not recommended to ship products with high volume and light weight from Taobao, such as pillows.
Because the cost incurred would be based on the space your item covers, and not the weight.
Taobao allows you to calculate the shipping cost of each parcel while it waits to be consolidated.
Once your parcels are ready to be consolidated, head to the cross-border logistics management section from the Taobao homepage.
Here, the website will automatically give you the precise shipping cost for each parcel.
Note that the above costs only apply to Taobao's official logistics.
If you're using a third party to ship your products, then you'll be charged an additional fee for their services.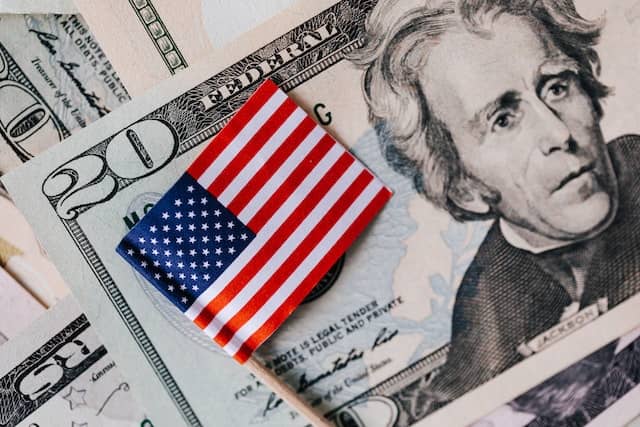 Tips to Optimize Shipping Costs from Taobao to the US
Shipping from Taobao to Taobao the U.S isn't as straightforward and may require a lot of trial and error before you finally find the fastest and cheapest way.
Taobao gives you access to some of the best rates in the entire global market, but all of it can be in vain if you cannot optimize your shipping costs.
When it comes to decreasing shipping costs, third parties are simply out of the question.
This leaves us with a single option, Taobao's official logistics.
You must be wondering, how is there any other way around if the only option is Taobao's own shipping method?
A couple of strategies worth considering might lower your shipping costs.
However, these will require brainstorming, calculation, and testing.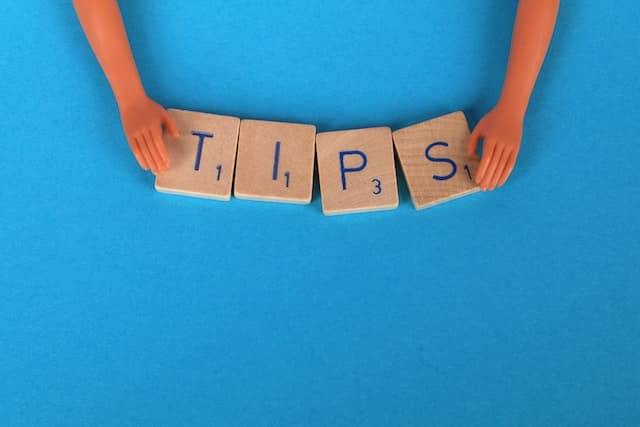 1) Pick Products Wisely
The first step is to leverage Taobao's costing technique and use it to your advantage.
Taobao's shipping costs either depend on the weight or the size of the parcel.
This means that items with less space, lighter weight, and more value will cost the same as items with less space, lighter weight, and lesser value.
Simply put, two items with the same dimensions but fairly different market values would have the same shipping costs.
You can choose products with smaller dimensions but higher intrinsic value, and pay the same shipping cost.
We know your product specifications might not always give you the freedom to choose, but this is a brilliant way to save costs.
2) Have the Seller on Your Side
Although it's almost impossible for a Taobao seller to know English, getting them on your side can do wonders for you.
Not only can you negotiate with the seller on the product's costs, but you can also have them package your items so that their shipping cost is decreased.
For instance, by mixing your items, the chances of you getting taxed separately for each item drop tremendously.
These tricks require the seller to be on your side and are only possible if there's no language barrier between you and them.
3) Consolidate Your Orders Carefully
Choosing how often or how many of the items you want to be consolidated can save you money in the shipping procedure.
Some sellers offer free shipping if your bill exceeds a certain value. So, ensure your shopping cart is filled accordingly.
How to Find a Good Taobao Agent?
Taobao agents are not rare to come across, but it's important to do some research so you don't end up getting scammed.
Here is a brief guide to finding Taobao agents:
1) Utilize Google
The first step is to simply search for Taobao agent leads on Google.
There are numerous forums dedicated to finding trustworthy Taobao agents.
Make a list of your top picks and reach out to them through their contact details.
2) Examine Their Responses
The key to finding reliable Taobao agents is by communicating with them.
Observe their tone, responsiveness, and willingness to handle business on your behalf.
If their communication is questionable, then their performance will likely be the same.
3) Evaluate Your Options
Different agents offer different services at different rates.
Once you have noted their offers, evaluate them and see which suits you best.
Another key step in evaluating potential candidates is reviewing their reputation on the internet.
Browse their profile/portfolio and see what their clients say about them.
4) Make the Final Decision
Once you're satisfied with your research, make a deal with the successful candidate.
Although proper investigation almost never gets you a bad deal, the chances of ending up with a bad agent are still there.
In such a case, consider changing the agent ASAP instead of changing the platform.
FAQs about Shipping from Taobao to the US
How Long Does It Take To Receive an Order from Taobao in the US?
The total time it takes for Taobao products to reach the US is about 10-20 days.
Usually, Taobao delivers the products within 3-7 business days to the forwarder.
Depending on your forwarder, it may take around a week or two for the items to be forwarded to your address.
How Do I Pay for My Orders on Taobao?
Taobao uses Alipay as its default payment method, but using this method requires you to have a verified Alipay account.
Fortunately, users can also use VISA, JCB, or Mastercard to make their payments. Taobao will charge a 3% fee on transactions done by credit/debit cards.
Which Shipping Method Is the Best for Taobao?
The best shipping method for Taobao depends on what you're purchasing.
If your products are lightweight and easy to handle, then air shipping is the best method.
However, if you're ordering heavy-duty items, sea shipping would be the best option.
Is AliExpress Better or Taobao?
Both Taobao and AliExpress have their own pros and cons.
If you're not familiar with Chinese sellers, policies, and shipping methods, AliExpress is the best option.
But if you're willing to research and put in some effort to land the best deal, Taobao can save you a lot of money.
Taobao is a top-performing platform in China for a reason, and dropshipping from the platform can leave you with an amazing profit margin.
Final Thoughts
Once you start purchasing from Taobao, you'll understand why it's called the Chinese Amazon.
One can only imagine the heights Taobao would reach if the platform became more foreigner-friendly.
If you're unfamiliar with how Chinese eCommerce platforms work, you'll certainly encounter several roadblocks in your journey on shipping from Taobao.
In this scenario, your best bet is to use the services of an agent willing to source Taobao products for you at the best rates.
And this is where NicheDropshipping comes in. We can help you source your desired products from Taobao, all you have to do is submit a sourcing request.
Let us bridge the gap between you and Taobao. Our expert agents await your response!