As a dropshipper, your goal is to maximize profit by being the middleman between your customers and suppliers.
Benefiting from this trade can be tricky, considering there's a lot of competition in the industry, and the market is heavily saturated.
Several factors can contribute to your success, like making wise financial decisions and picking a supplier within your budget.
Because let's not forget that some suppliers charge a certain monthly fee or signup fee for their services.
But fret not! There are still some free dropshipping suppliers in the US from which you can source your products!
So join us as we help you explore your options and discuss their services, features, and product categories.
Carry on reading to see which one best suits your business!
1) NicheDropshipping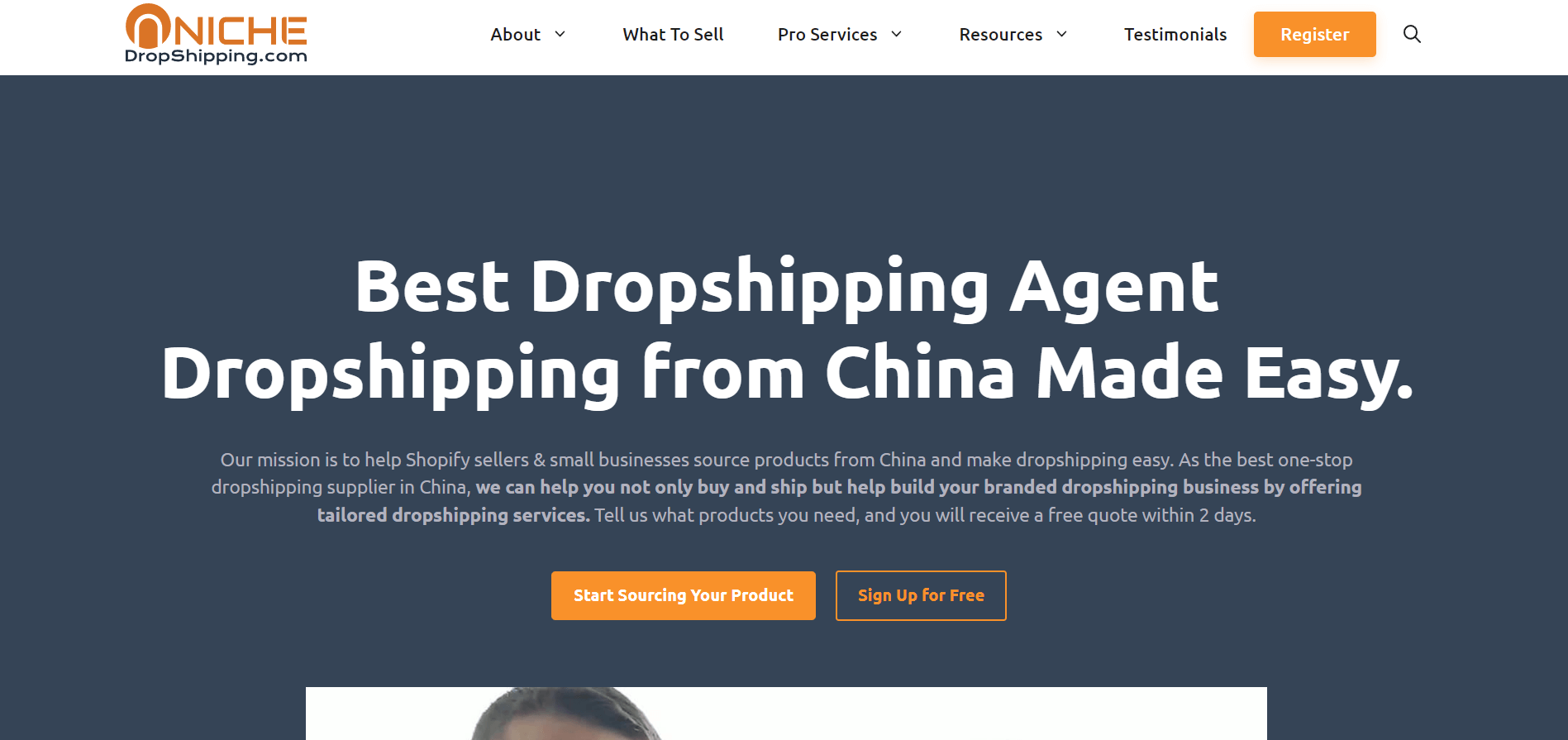 Being a veteran in the eCommerce space, NicheDropshipping is one of your best options when choosing a free dropshipping supplier.
Their core focus is to source products from China on behalf of dropshippers.
You probably know how China is a goldmine for dropshippers.
Unfortunately, sourcing products from China can be challenging due to logistics issues and language barriers.
So not only does NicheDropshipping bridge this language barrier effectively, but they also offer numerous other services.
Some of them include warehousing, private/white labeling, branding, and more.
NicheDropshipping's commitment to quality control and client support is unparalleled.
Their dedicated team thoroughly inspects all products before they reach your loyal customers.
Similarly, their team's professional customer support representatives have got you covered if you have any queries.
All of these factors make NicheDropshipping an ideal partner for sourcing and scaling dropshipping businesses.
Key Features
Professional and veteran dropshipping agent specializing in sourcing from China
Offers warehousing, branding, labeling, and custom packaging
Has warehouses all across China and the US
Offers seamless integration with Shopify and WooCommerce
Product Categories
Clothes
Home décor
Toys
Lingerie
Cosmetics
Art suppliers
And all other products on demand. 
2) CJDropshipping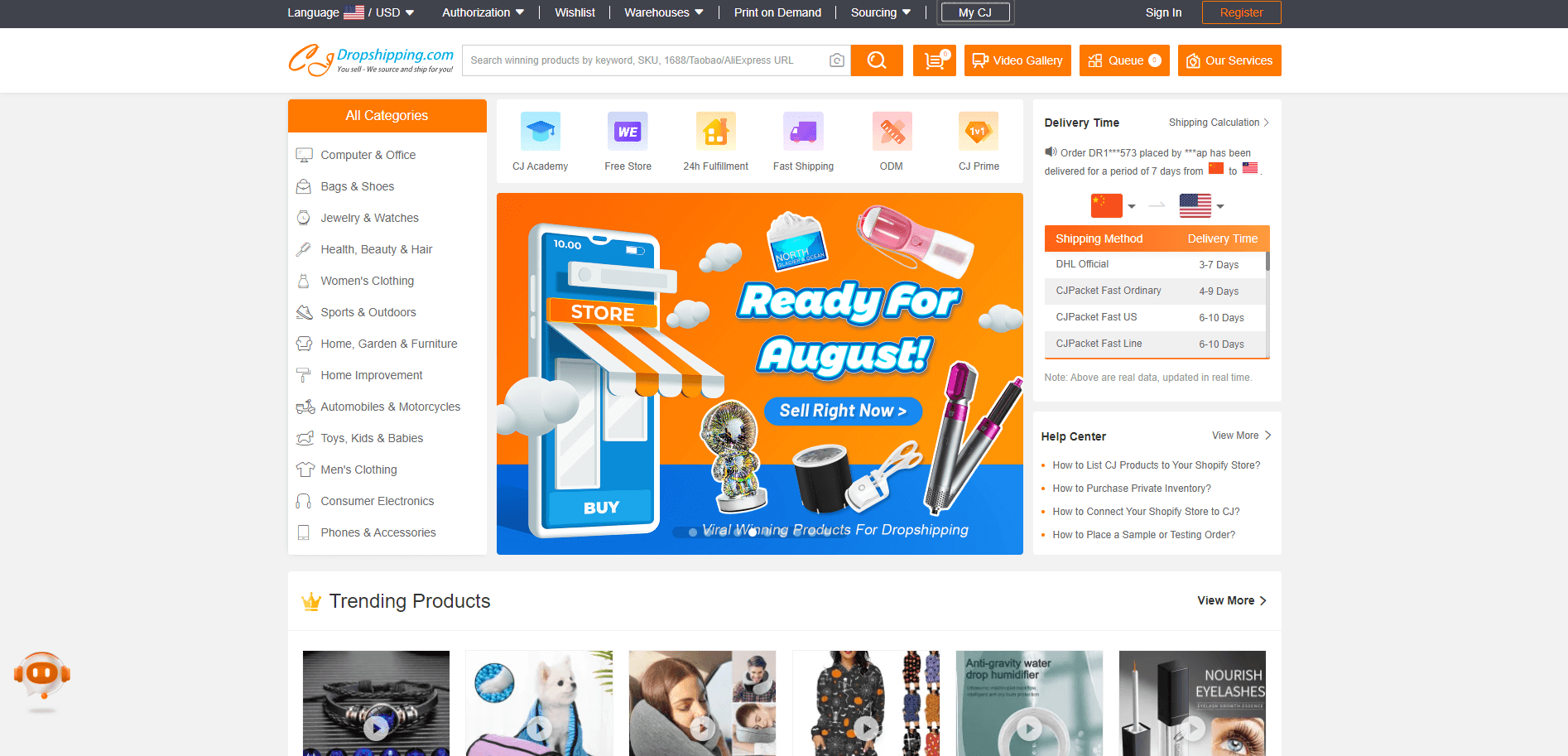 CJDropshipping is a big name in the dropshipping industry, mainly due to their diverse product range and wholesale prices.
It is a comprehensive dropshipping platform dedicated to assisting dropshippers in expanding their business.
The products listed on CJDropshipping are mostly from China.
Thanks to numerous warehouses in the US, they offer same-day order processing and fast shipping times.
Although the platform works with multiple logistics providers, they have also introduced CJPacket, a solution that minimizes the shipping times from China.
Their product catalog is also quite impressive and covers both general daily-life items along niche products.
The best part is that if you're unable to find a product on CJDropshipping, all you have to do is submit a sourcing request, and they'll source it for you.
Moreover, CJDropshipping offers several other features to dropshippers, including branding and custom packaging.
To sum it up, the platform is an excellent all-in-one solution for your dropshipping needs and doesn't break the bank.
Key Features
Comprehensive all-in-one dropshipping platform
Massive product range and on-demand sourcing services
Excellent shipping times due to various warehouses in both China and the US
Product Categories
Fashion and clothing
Pet supplies
Electronics
Baby products
Home improvement
Jewelry and beauty
3) SourcinBox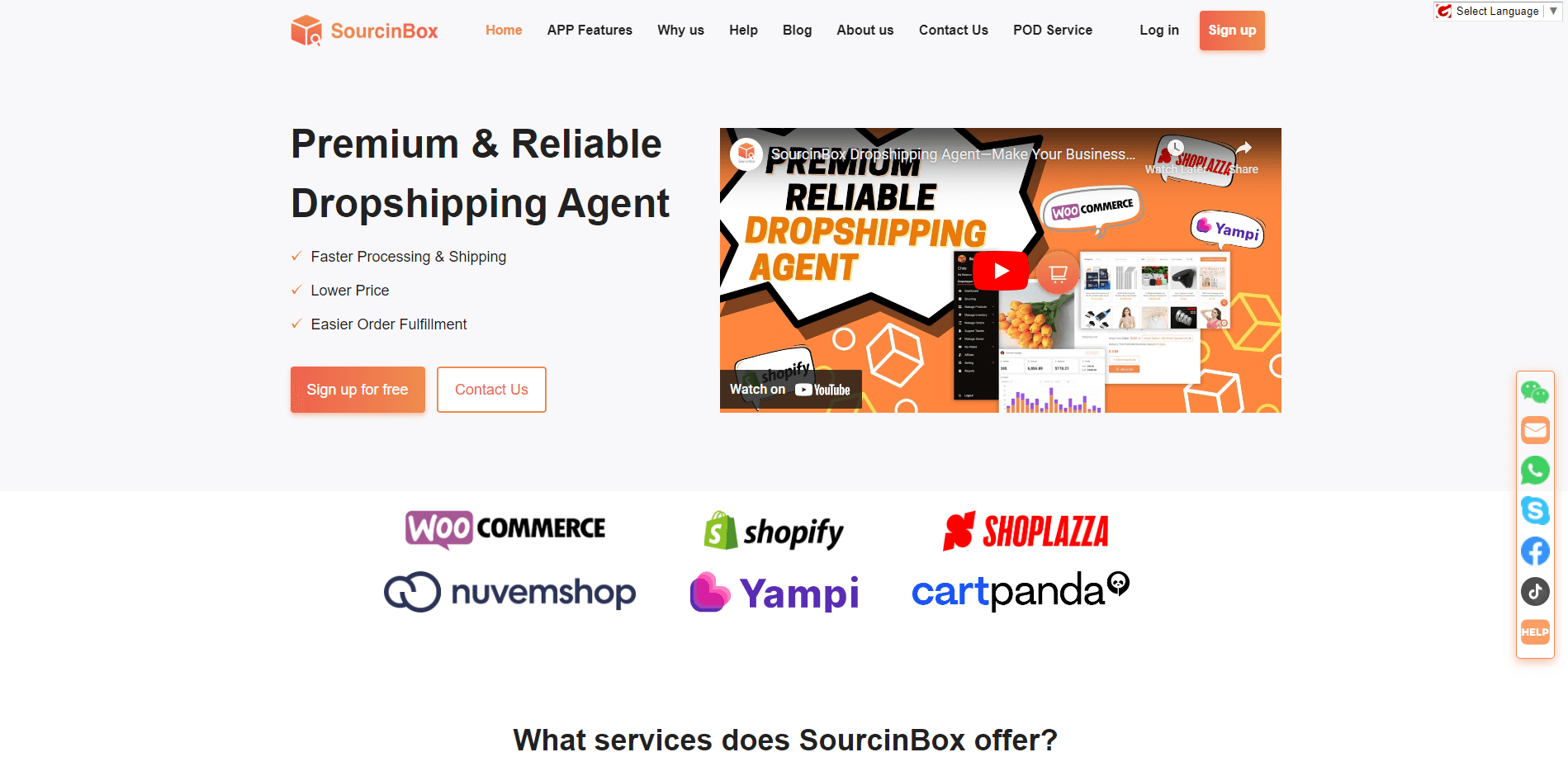 Much like NicheDropshipping, SourcinBox is a fulfillment service primarily aimed at making dropshipping from China easier.
Their professional team is always available for guidance and to provide you with a seamless product sourcing experience.
Alongside their exemplary customer support, the quality control, shipping times, and integration with mainstream website builders make them one of the best free dropshipping suppliers out there.
Some of SourcinBox's other features include a multi-functional app, private labeling, competitive prices, and more.
SourcinBox also offers precise order tracking to ensure nobody is kept in the dark while the package is on the run.
Though their popularity is not over the roof, SourcinBox is still a brilliant choice if you're aiming to take your business to the next level.
These many features from a platform that doesn't charge a dime to sign up are rare.
In conclusion, SourcinBox's is a dropshipping agent you can definitely count on.
Key Features
Underrated dropshipping agent offering fulfillment services
Extraordinary 1-on-1 dropshipper support
Offers integration with Shopify, WooCommerce, and Shoplazza
Free auto-fulfillment app
Product Categories
SourcingBox has 30,000 products coming from numerous categories. Some of them are:
Electronics
Home appliances
Fashion and clothing
Pet products
Baby products
Men's watches
4) Printify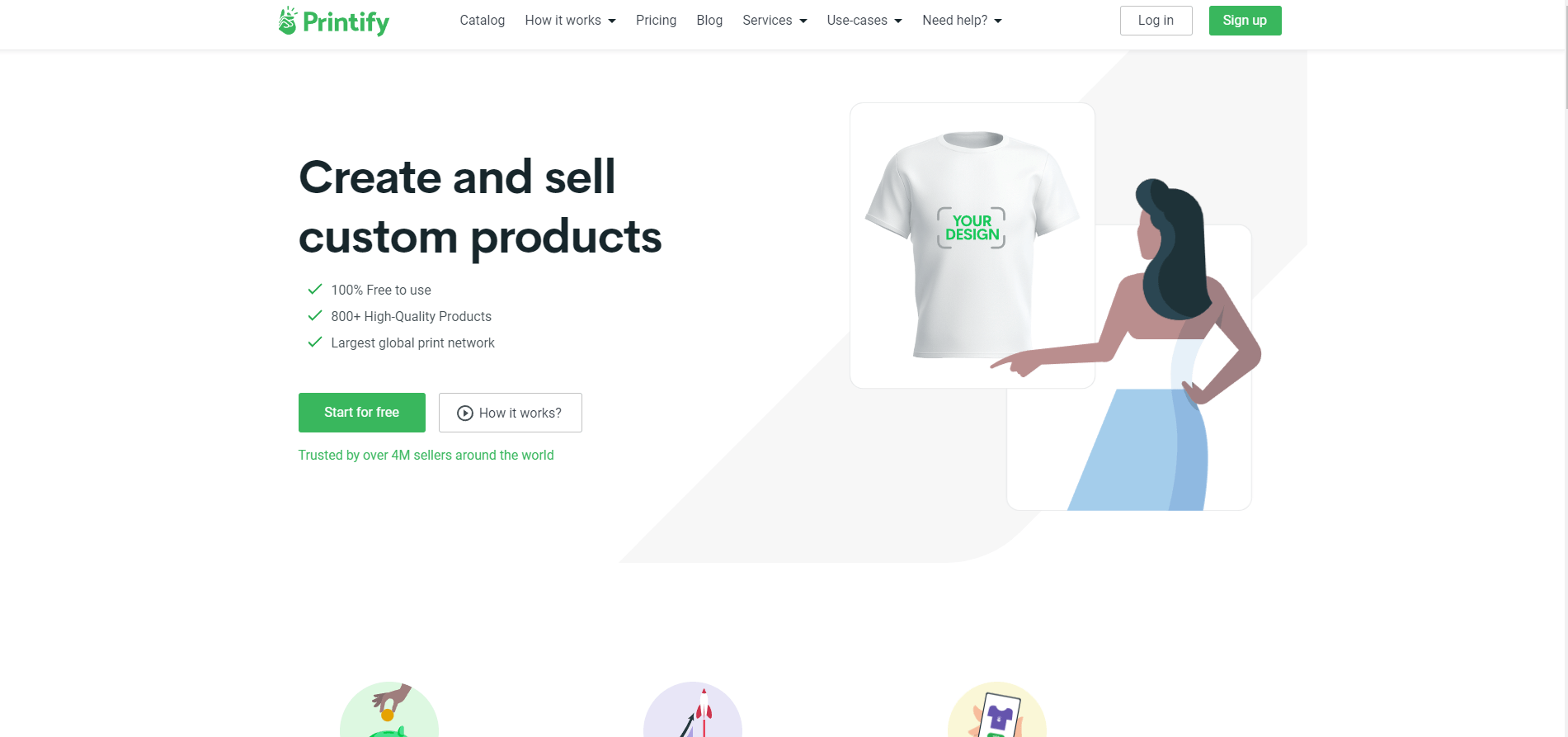 Print-on-demand dropshipping platforms have been getting massive popularity hikes these days for the right reasons.
With customization being given more priority than ever, platforms such as Printify are leading dropshipping suppliers in the eCommerce industry.
Printify has over 800 products ranging from numerous categories, which you can customize on demand.
Generally, you'll find POD suppliers either lacking quality or not offering Shopify integration, and Printify has neither of these issues.
But that's not all – Printify not only integrates with Shopify, but also with other platforms like Etsy, eBay, and Walmart.
No minimum order quantity is probably the best part about Printify. So the platform gives the green signal to both newcomers and veterans in the dropshipping industry.
Other than this, Printify also has your back if you run out of ideas. Their mockup generator helps you get creative and design graphics from scratch.
In terms of logistics, Printify has a broad network to handle efficient fulfillment and shipping all over the planet.
The POD supplier does not charge a dime to be used, but if you plan on becoming an avid user, consider opting for their premium plan for $24.99/month and get some serious discounts.
Key Features
Extensive product catalog covering 800 customizable products
Offers integration with mainstream platforms such as Shopify
Mockup generator lets you test and create design ideas
Product Categories
Clothing and apparel
General accessories
Home décor
Footwear
Pet supplies
5) Printful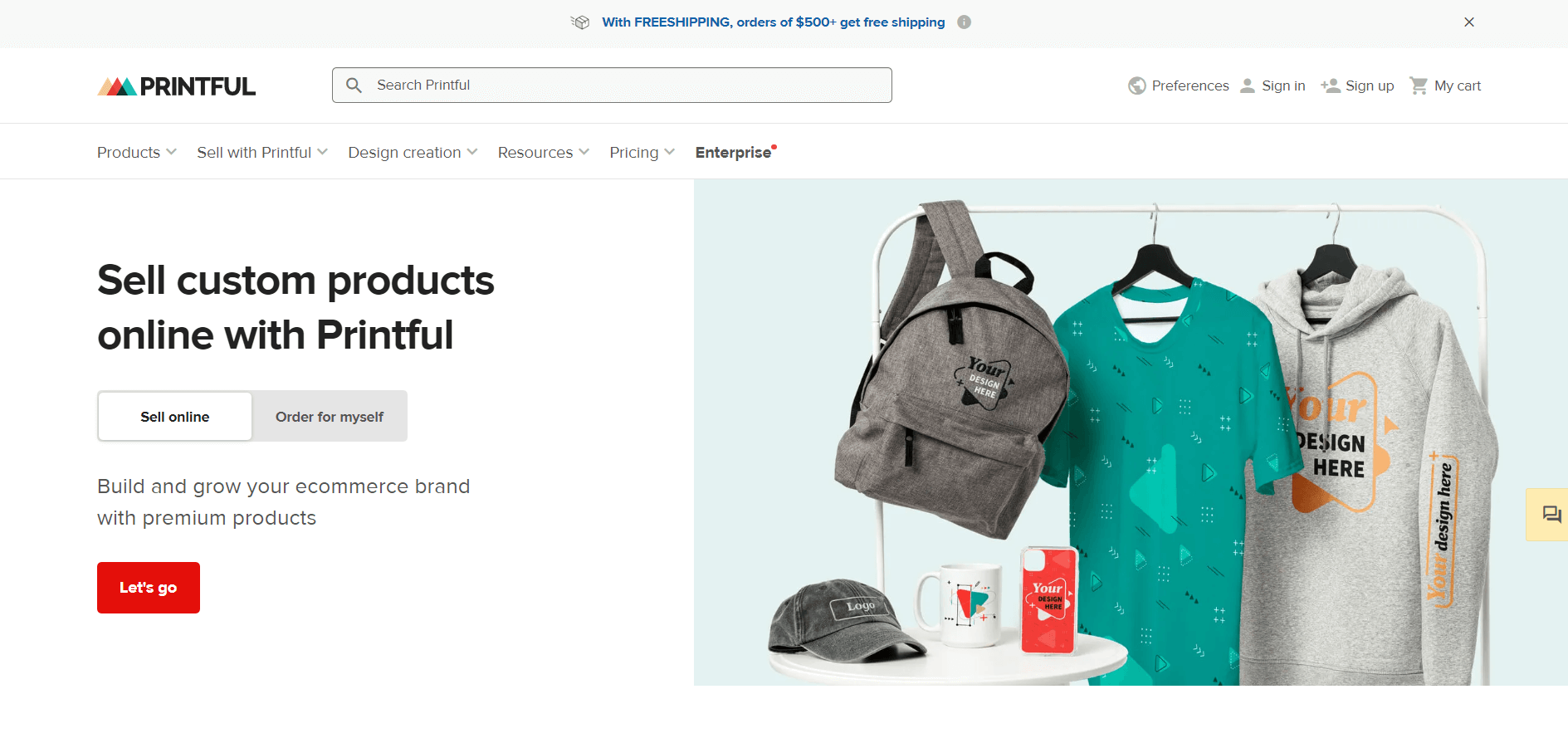 Printful is another supplier of some of the best POD products.
Much like the rest of our picks, Printful charges you according to the orders fulfilled.
So, what does Printful offer? Along with 330 products available for customization, this POD dealer handles your order fulfillment and ships worldwide.
Another feature that sets Printful apart is their dedication to upholding quality standards.
Printful also has partnerships with several global carriers, allowing retailers to not worry about shipping times and costs.
Printful not only links with Shopify, but it has 28 more integration partners.
The POD supplier also makes sure your customers never know where the product is actually coming from.
Thanks to their white labeling and custom packaging services, your brand receives all the due appreciation from the customers.
A drawback of Printful worth mentioning is their high product costs.
Depending on how in-demand your products are, it might be a struggle to adjust costs and profit.
Regardless, Printful's focus on print quality and responsible order fulfillment makes it a brilliant platform for dropshipping.
Key Features
Access to 330 POD products for free
Fulfillment centers spread across Europe, Australia, and America
Integration with 29 e-commerce platforms
Product Categories
Hats
Clothing
Patches
Drinkware
Footwear
Posters
6) FondMart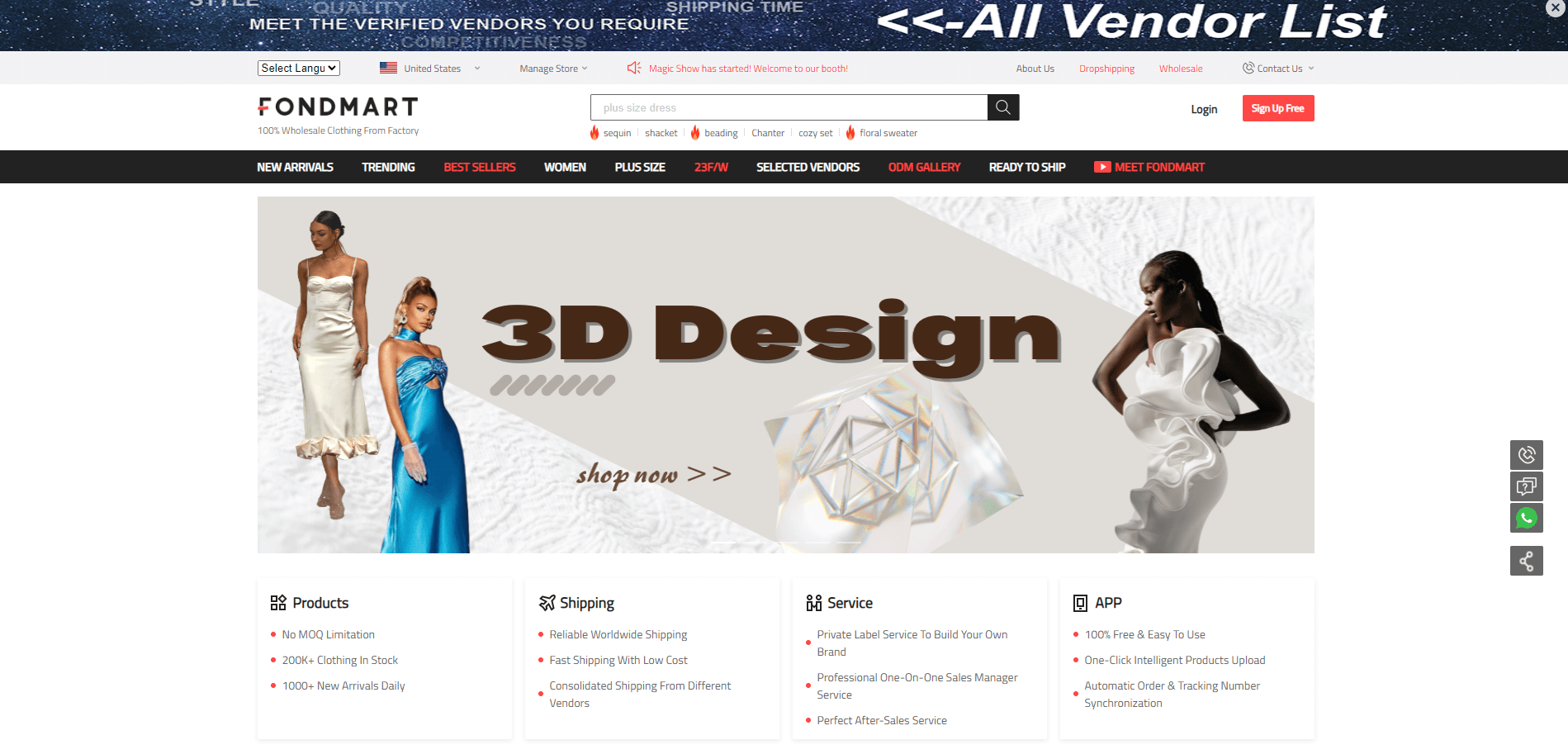 Having over a decade of experience to their name, FondMart is a clothing supplier with a whopping 200,000 products at their disposal.
The Chinese supplier expands its catalog daily by adding hundreds of items at competitive prices.
Fondmart specializes in women's clothing, but you won't find elite-grade products on their website.
Although the quality is good, their catalog is mainly filled with inexpensive products sourced from China.
Fondmart provides worldwide order fulfillment to its clients but their main target market lies in the US.
Therefore, their warehouses in the US are numerous, resulting in faster shipping times for American customers.
As you anticipated, Fondmart only charges you the product's price and shipping charges.
Customized packaging and logo printing are some features offered by this Chinese supplier.
If you choose to avail of their private label services, they will cost you slightly more than normal order fulfillment.
Fondmart can also be integrated with your Shopify store, making the connection process relatively easier.
Overall, Fondmart is a reputable dealer of generic fashionable clothing items.
Key Features
Offers 200,000 women's clothing products at low rates
Has warehouses in the US and ships worldwide as well
Offers private labeling, branding, and packaging to dropshippers
Product Categories
Dresses
Tops and bottoms
Swimwear
Sweaters
Activewear
Hoodies and sweatshirts
7) PlusBuyer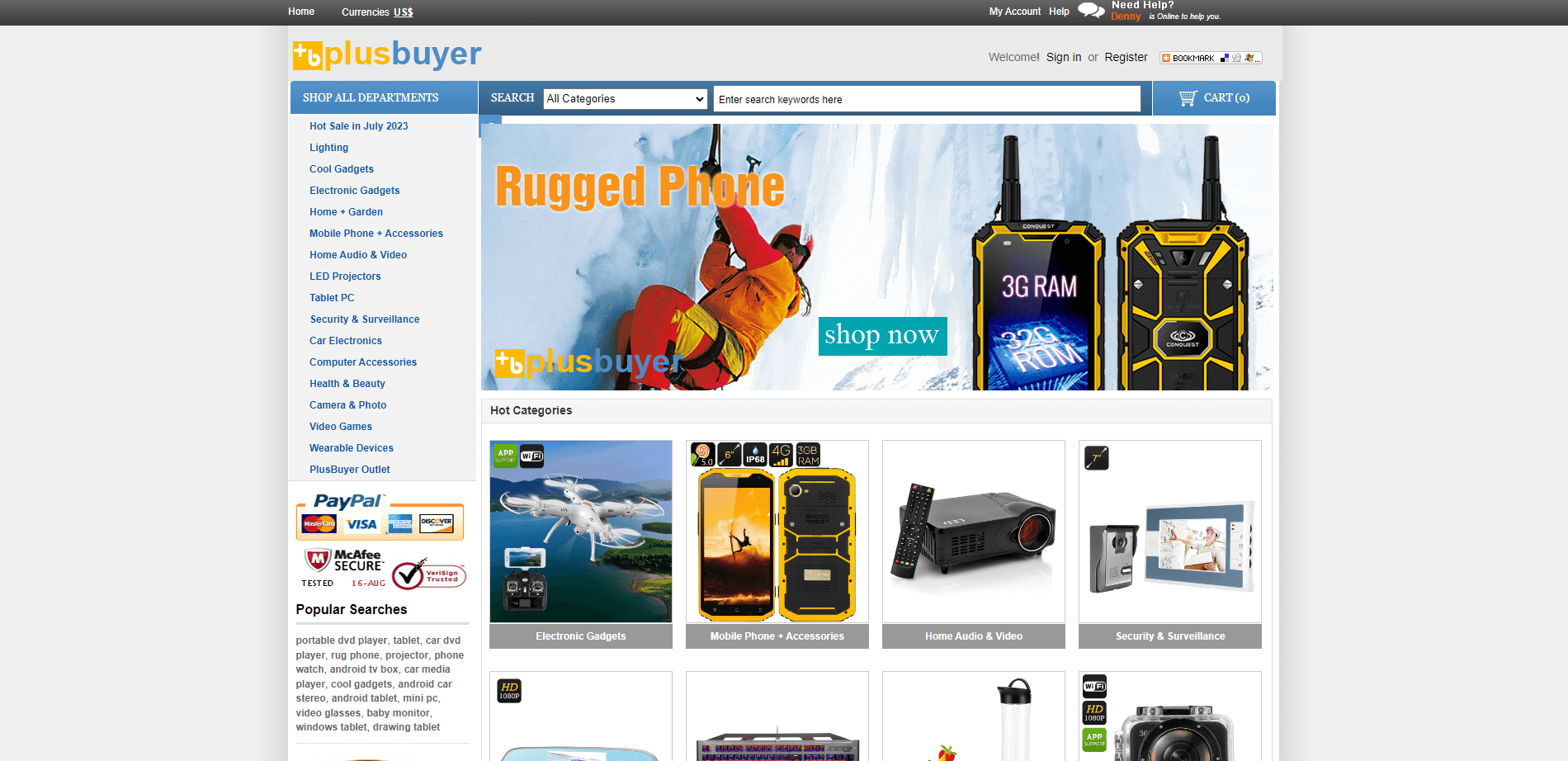 Interested in selling electronics in your dropshipping store? Consider PlusBuyer as your supplier.
PlusBuyer is a respected wholesaler in the eCommerce industry and supplies high-quality electronics to dropshippers.
Having over a decade of experience under its name, the platform has become one of the leading electronics supplier entities in the US market.
PlusBuyer also deals in a few other niches than electronics, such as home improvement and beauty products.
Some of the perks you get by having PlusBuyer as your supplier are order processing, no minimum order quantity, and convenient payment methods.
The platform offers numerous electronics to both retailers and consumers and offers worldwide shipping as well.
Using renowned delivery companies such as FedEx and UPS, PlusBuyer can get your customers their parcels within 3-15 business days.
Besides this, the supplier offers a year of warranty on its electronics, giving them an upper hand on customer satisfaction.
In conclusion, PlusBuyer is a trustworthy and reliable electronics wholesaler known best for its product range, customer service, and secure payment methods.
Key Features
Specializes in supplying electronics at wholesale rates to retailers and consumers
Offers a broad variety and covers all products in warranty for 12 months
Uses SSL Encryption and PayPal for secure payments
Product Categories
Mobile phone accessories
Home audio and video
LED projectors
Gaming accessories
Tech gadgets
Health and beauty
8) Automizely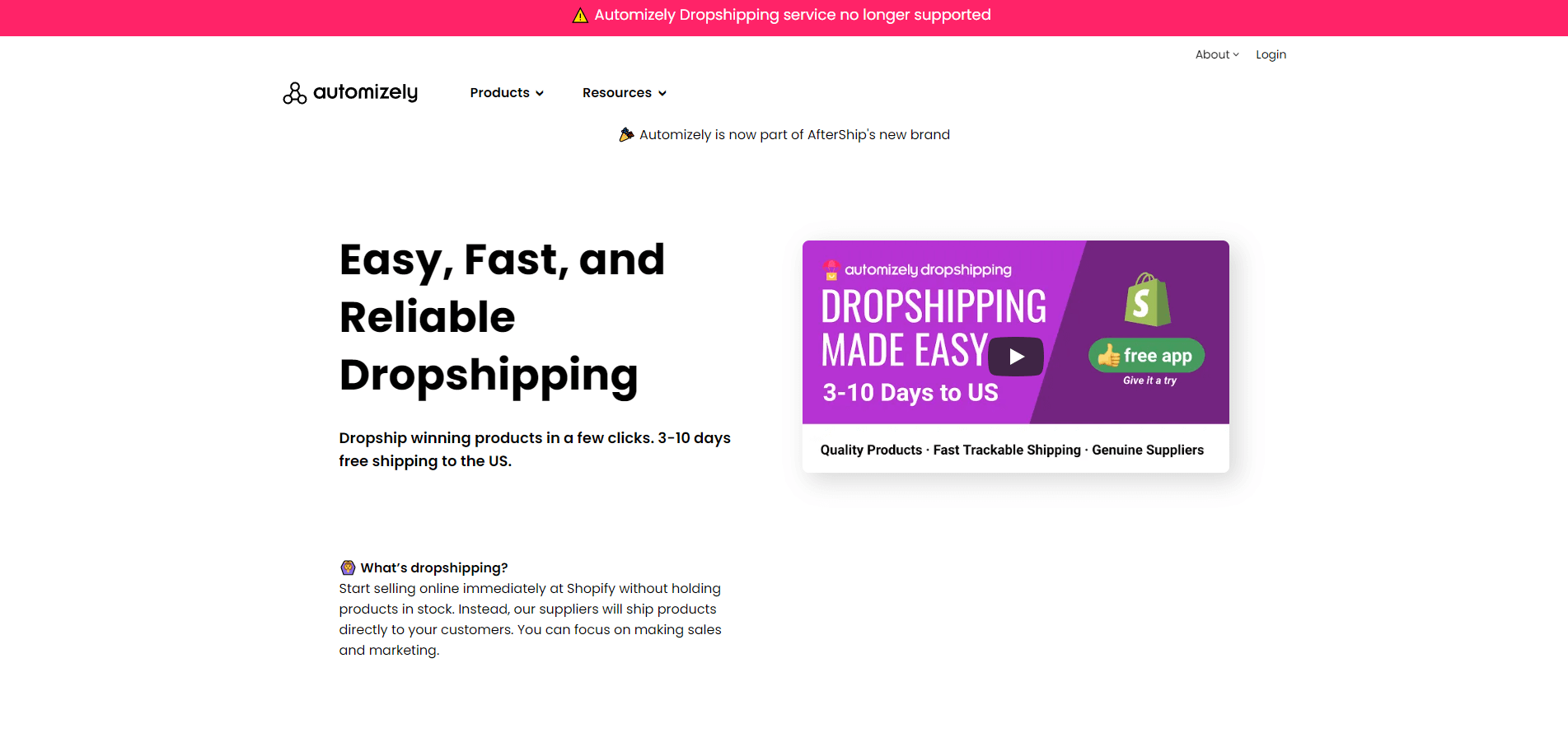 If you don't like to complicate your supply chain as a dropshipper, Automizely might be the one for you.
Catering to the US and European audiences, Automizely prioritizes user-friendliness by offering seamless integration and trending products.
Automizely does not source products for you but connects you with reliable suppliers from AliExpress.
The platform emphasizes both efficiency and simplicity. With a single click, you can import numerous products to your online store and sell them under your name.
After importing, Automizely handles order management and gives customers regular updates on the order status.
Regarding shipping, Automizely does not have logistics of its own. Rather, the chain depends on the suppliers you deal with.
Usually, suppliers on the platform use mainstream courier services such as FedEx, ePacket, and UPS for delivery.
The shipping part does need Automizely's attention, but then again, it's still worth relying upon.
To sum it up, we believe Automizely is another platform you should consider giving a shot, especially if you're a beginner and dislike complexities.
Key Features
Enables users to quickly import bulk products to their Shopify store
Gives branding and certain customization options
Offers excellent product management and tracking
Product Categories
Fashion
Electronics
Toys and games
Beauty products
Home improvement
9) Syncee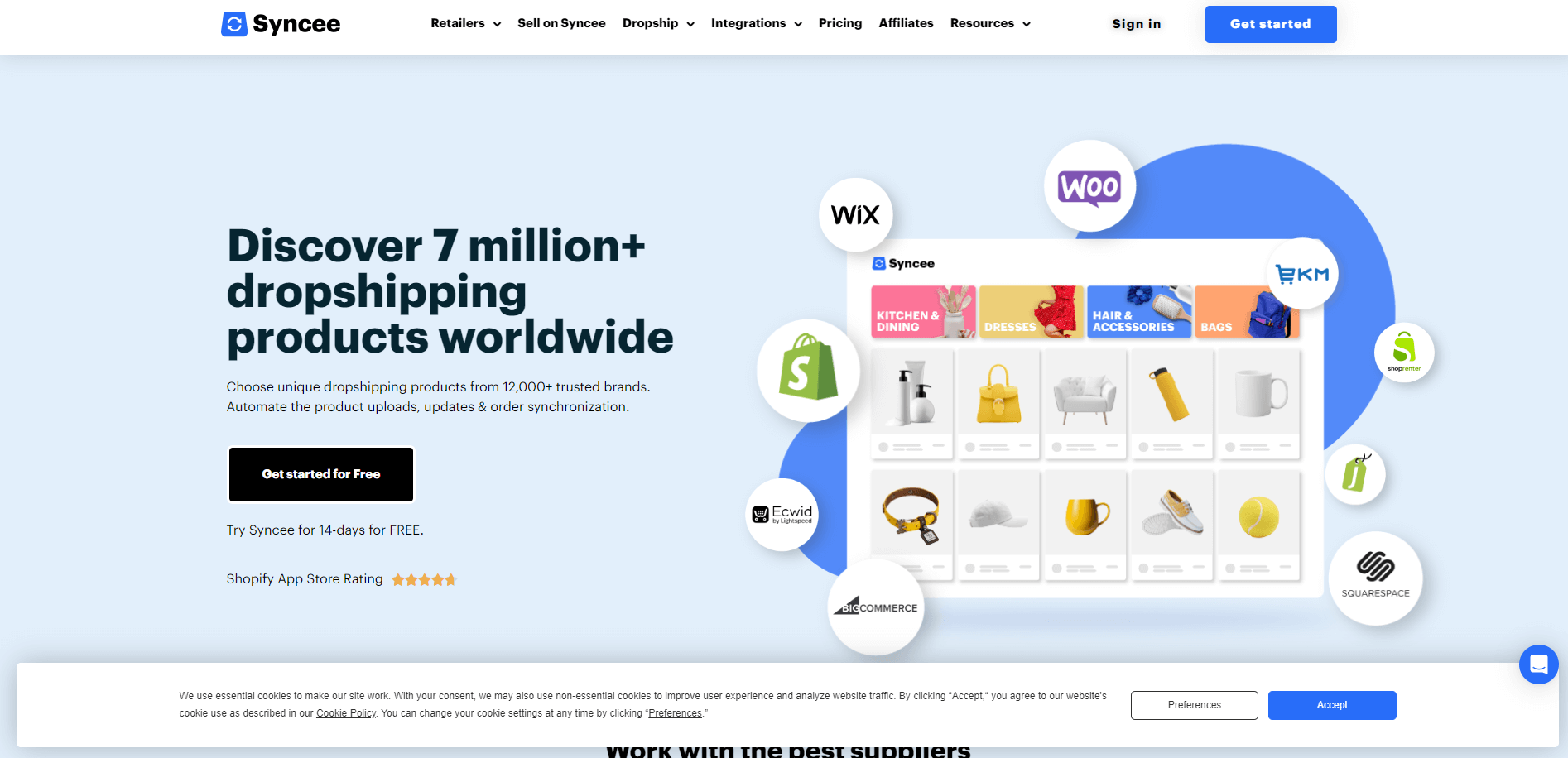 Syncee is a B2B platform designed to help dropshippers make the most out of their business.
Syncee is not a supplier, rather it connects you to some of the best suppliers to take your dropshipping store to the next level.
It demands suppliers to pass a stringent test before they're let on board, so quality issues should be the last of your worries.
Boasting over 12,000 brands and a massive variety of products that go beyond six million, Syncee incorporates products from all over the planet.
The primary aim of Syncee is to simplify dropshipping and eradicate some of the most common hurdles a dropshipper faces.
As a result, the platform offers efficient order fulfillment, fast shipping periods, quality suppliers, and integrations with several eCommerce platforms.
Furthermore, Syncee prioritizes top-notch customer support through both live chat and email.
They also have a vast array of resources to assist newbie dropshippers.
Syncee's standard plan is free and covers many features, such as access to suppliers, products, and order fulfillment services.
Considering its gigantic product catalogue, if your store demands a diverse range of products, Syncee can be a great way to cater to this need.
Key Features
Access to six million unique products spread across 400 categories
Offers a confined group of A-grade suppliers
Integrates with Shopify, WooCommerce, Wix, and more
Product Categories
Syncee covers almost any product category you can think of. Some of them are below:
Furniture and home décor
Gardening
Electronics
Fashion
Clothing
Pet products
10) Inventory Source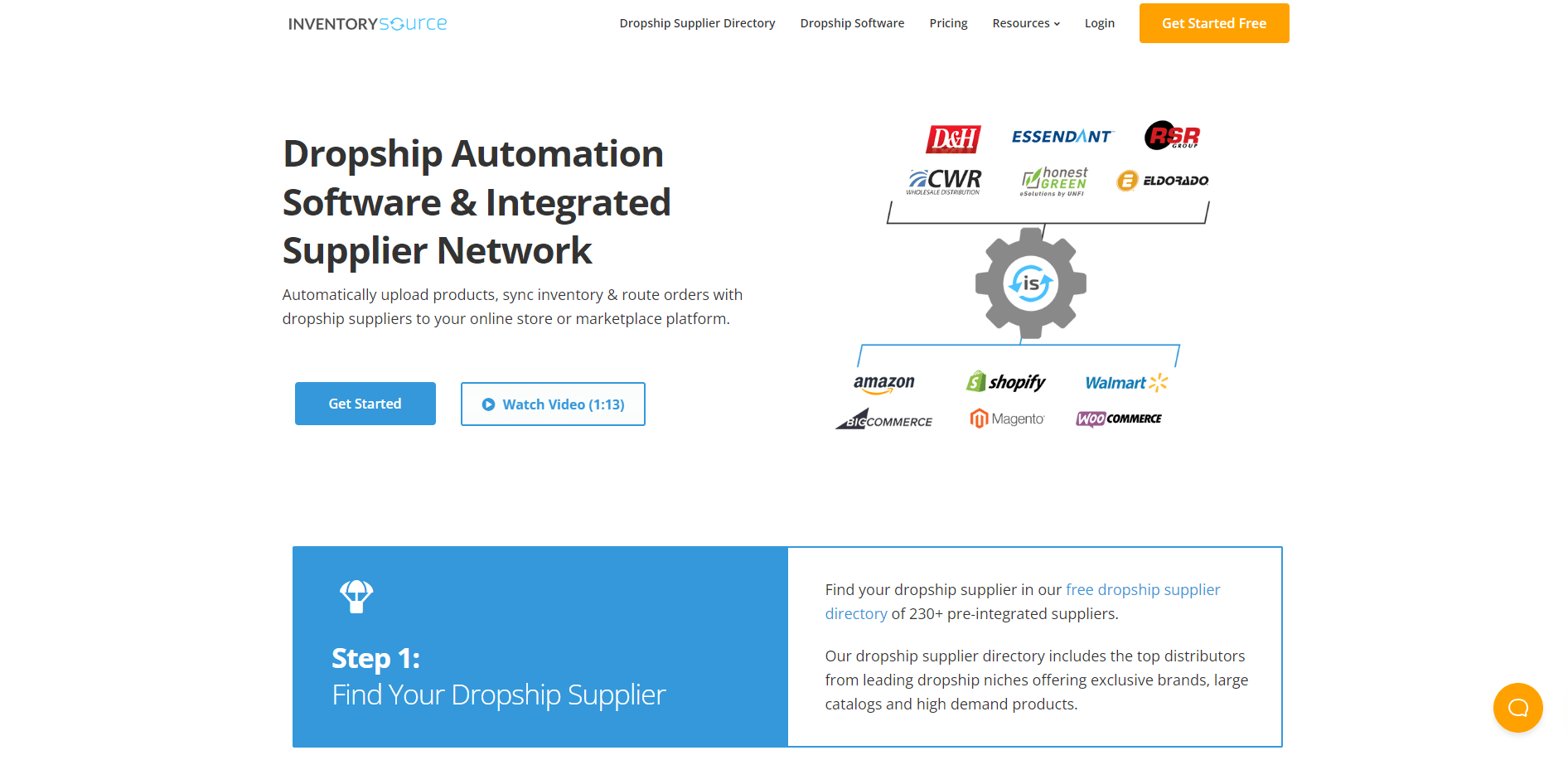 Launched in 2003, Inventory Source is one of the main players in the dropshipping scene.
As the name suggests, it facilitates supplier discovery, inventory management, and order fulfillment.
Inventory Source connects you with a restricted group of 230+ handpicked suppliers by their team.
These suppliers are at the top of the mountain in their respective niches and offer the best deals.
With thousands of products at your service now, you list them on your eCommerce website and wait for orders.
Once you receive one, Inventory Source handles the order fulfillment and charges you according to the value of goods delivered, while you keep a cut.
Inventory Source is a dropship automation software that also happens to connect you to suppliers.
Their primary focus is automation and – we cannot stress how great they are at it.
Their software is known to switch your eCommerce online store on autopilot mode.
It is worth noting that their automation services come at a cost; however, their supplier directory is free to be accessed.
Basically, their goal is to get dropshippers to sign up for the supplier directory and eventually buy their automation software.
Key Features
Connects you to 230+ suppliers of various niches
Product catalog hosts over 30,000 products
Integrates with various eCommerce platforms including Shopify
Product Categories
Bags
Apparel
Smartphone accessories
Beauty and Fashion
Healthcare
Home decor
11) BryBelly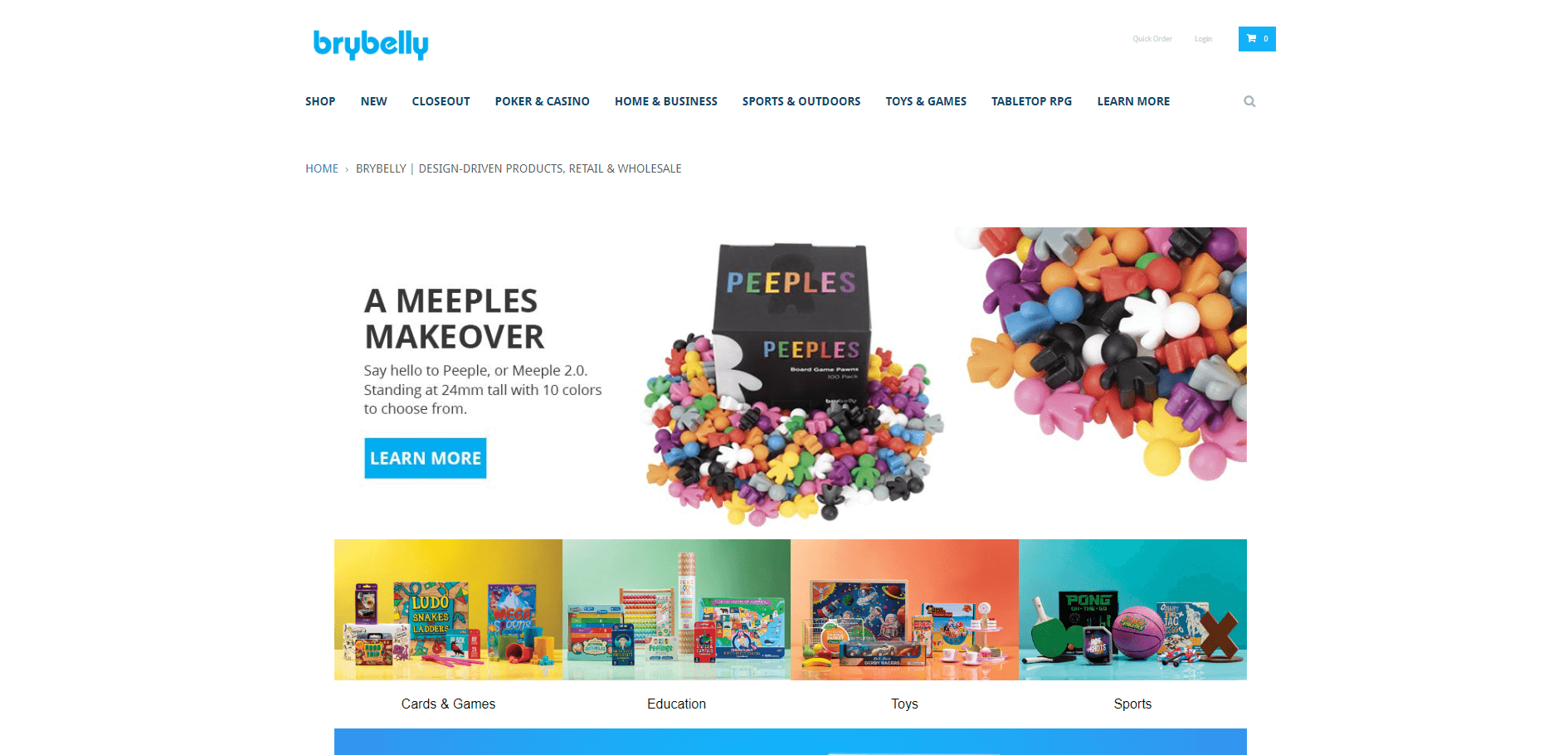 Specializing in the toys and games niche, Brybelly is another dropshipping supplier in the US that offers products in niches such as beauty, sports, kitchenware, and more.
The dropshipping process with Brybelly is quite straightforward. It does all the work from packaging to shipping and timely product delivery.
Since there aren't any hidden charges or extra sign-up fees, retailers only have to pay for the products they sell.
Like most dropshipping suppliers, Brybelly ships products without mentioning the supplier. You are even given the option to create your own custom designs and packaging.
The best feature provided by Brybelly is fast shipping. They offer same-day shipping for all web orders in the US.
Considering their flexible return policy, it is apparent that Brybelly puts their customers first.
Users are given 45 days to return any product, which is quite flexible compared to other dropshipping suppliers.
Free dropshipping is made easy as Brybelly neither charges any joining fees nor allots minimum order value for resellers.
Unfortunately, dropshipping with Brybelly requires some manual effort. Once you receive orders, you have to manually forward them to the supplier and they'll handle the rest.
Key Features
Charges no extra costs other than the product price
Customer-oriented and flexible return policy
Super-fast delivery in the US
Product Categories
Games and Puzzles
Toys
Beauty products
Kitchenware
Pet Supplies
Sporting goods
12) Eprolo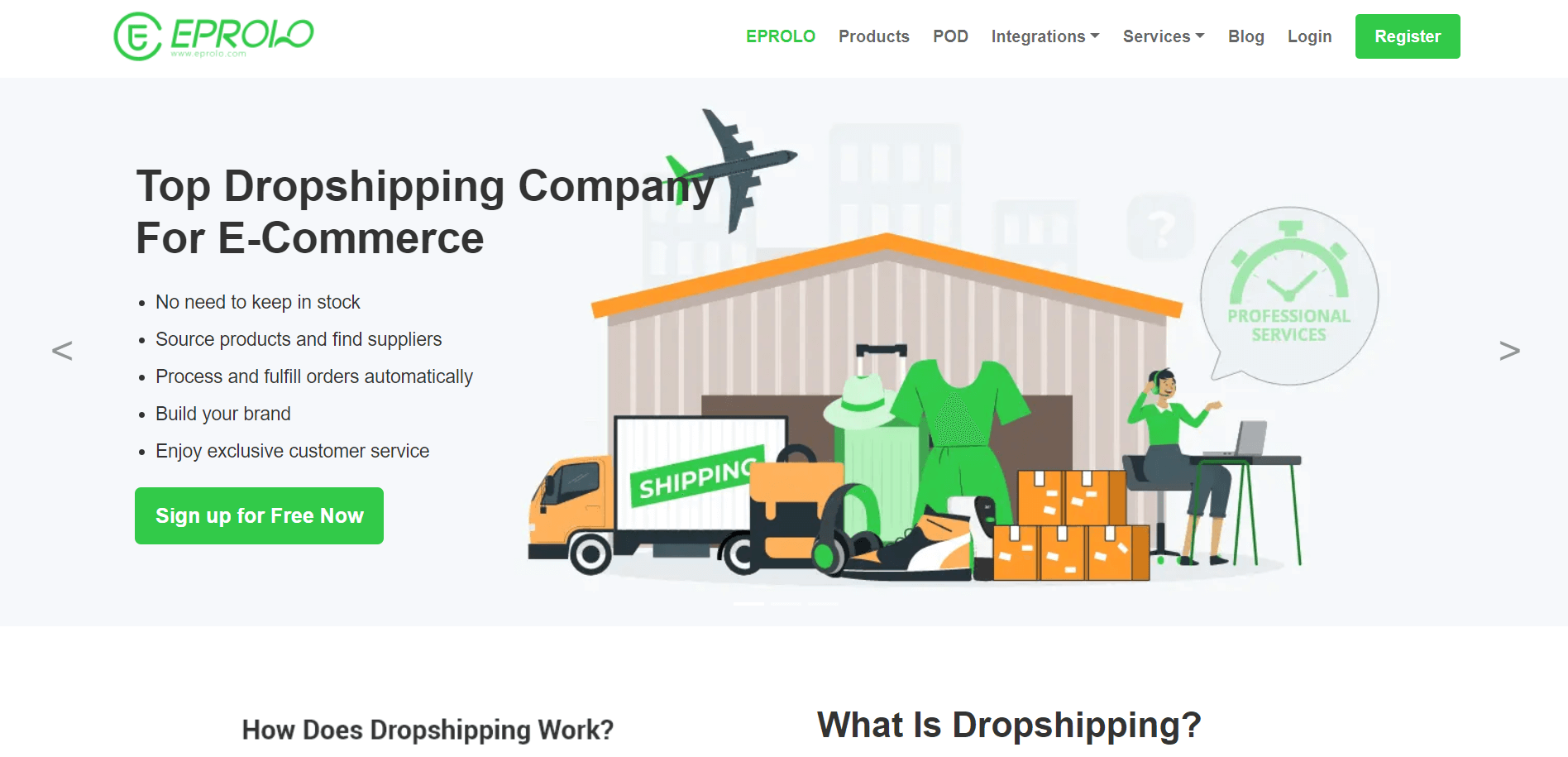 Up next on our list of the best free dropshipping suppliers is Eprolo. As you guessed, it is another platform dedicated to taking the headaches out of the dropshipping business model.
With over 300,000 dropshippers relying on Eprolo, it's fair to state the platform has done an excellent job fulfilling its purpose.
First things first, Eprolo offers an automated solution to order fulfillment. This minimizes the time and effort needed by dropshippers to regulate orders.
Secondly, Eprolo takes quality assurance seriously. Their warehouses have agents dedicated to conducting quality checks before the package heads out of there.
Eprolo offers millions of products from 107 niches in total. If you cannot find a product on their website, Eprolo can source it for you.
The platform only has trustworthy supply chains in the network, so it makes sense to rely on them for your sourcing needs.
The cherry on top must be Eprolo's product customization. Not only do they offer private labeling and branding, but they also offer print-on-demand services!
Key Features
Offers automated order fulfillment and quality checks
Ships worldwide through warehouses in the US, UK, and China
Enables you to build a brand through custom packaging, private labeling, and POD services
24/7 customer support
Product Categories
Footwear
Phones and accessories
Automobile parts and accessories
Jewelry
Electronics
Home improvement
13) Pet Stores USA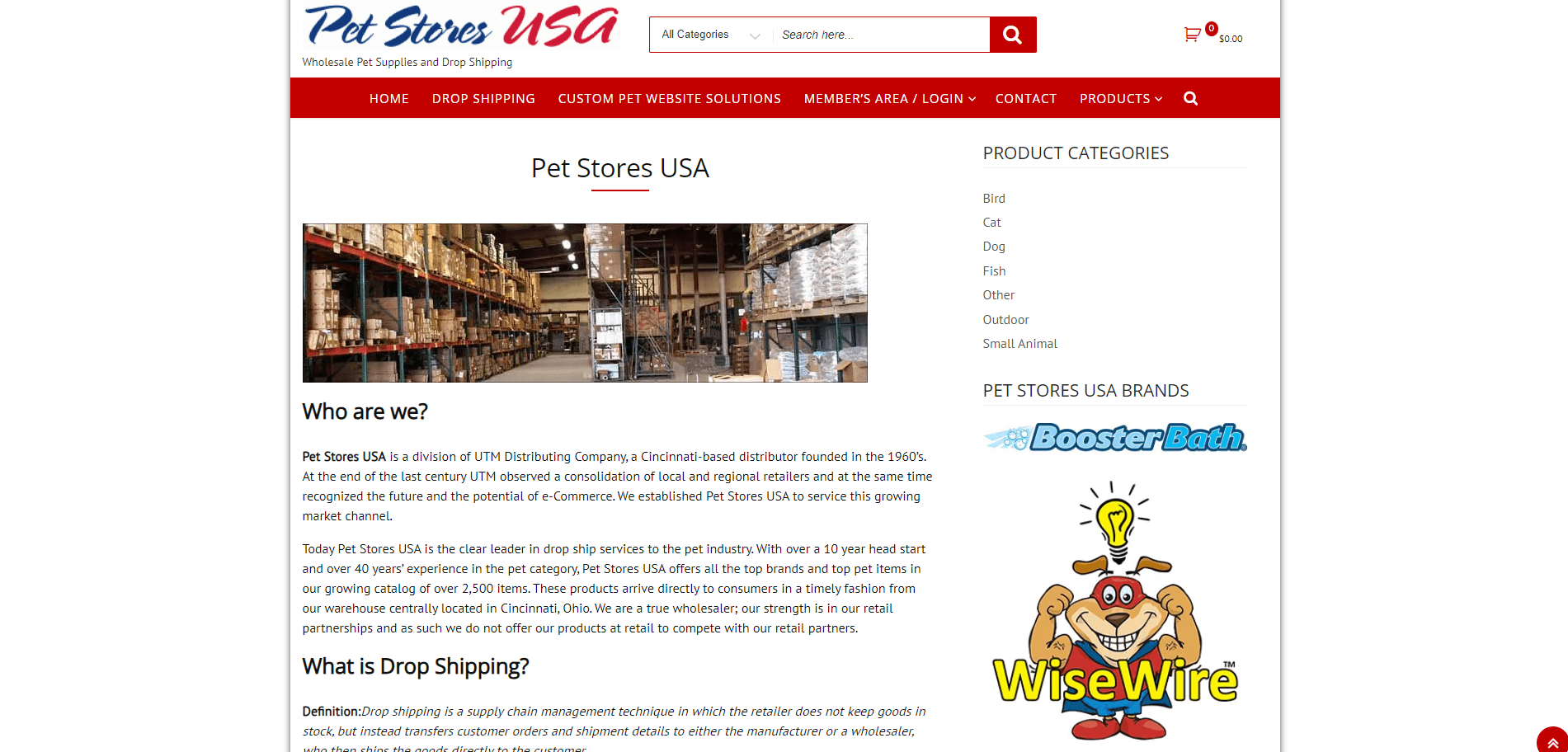 It was during the pandemic that dropshippers realized that some niches are always profitable, even during pandemics!
One of the most profitable niches is pet products. To hook you up with a pet products supplier, we've included Pet Stores USA in this list.
Pet Stores USA is perhaps the oldest and the most reputable pet supplies dealer in the US.
Having a catalog of 2500+ items, Pet Stores USA offers its goods from a far-reaching range of renowned brands in the pet industry.
Headquartered in Cincinnati, Ohio, this expert supplier fulfills orders on behalf of dropshippers.
Pet Stores USA prioritizes customer support and never leaves their clients in the dark.
They offer customer support through a dedicated team of representatives willing to answer your queries 1-on-1.
Moreover, Pet Stores USA provides a comprehensive spreadsheet with every detail about the products, making integration easy.
To begin, dropshippers must reach out to the supplier through email/phone, fill out a form to gain access to their product spreadsheet, and start selling pet supplies.
Key Features
Veteran pet products supplier offering 2500+ products directly from manufacturers
Eases the integration process by providing you with a spreadsheet with product details
Allows you to set favorable profit margins due to competitive product prices
Product Categories
Pet food
Cages
Collars and leashes
Clothing
Watering and feeding equipment
14) Wholesale Central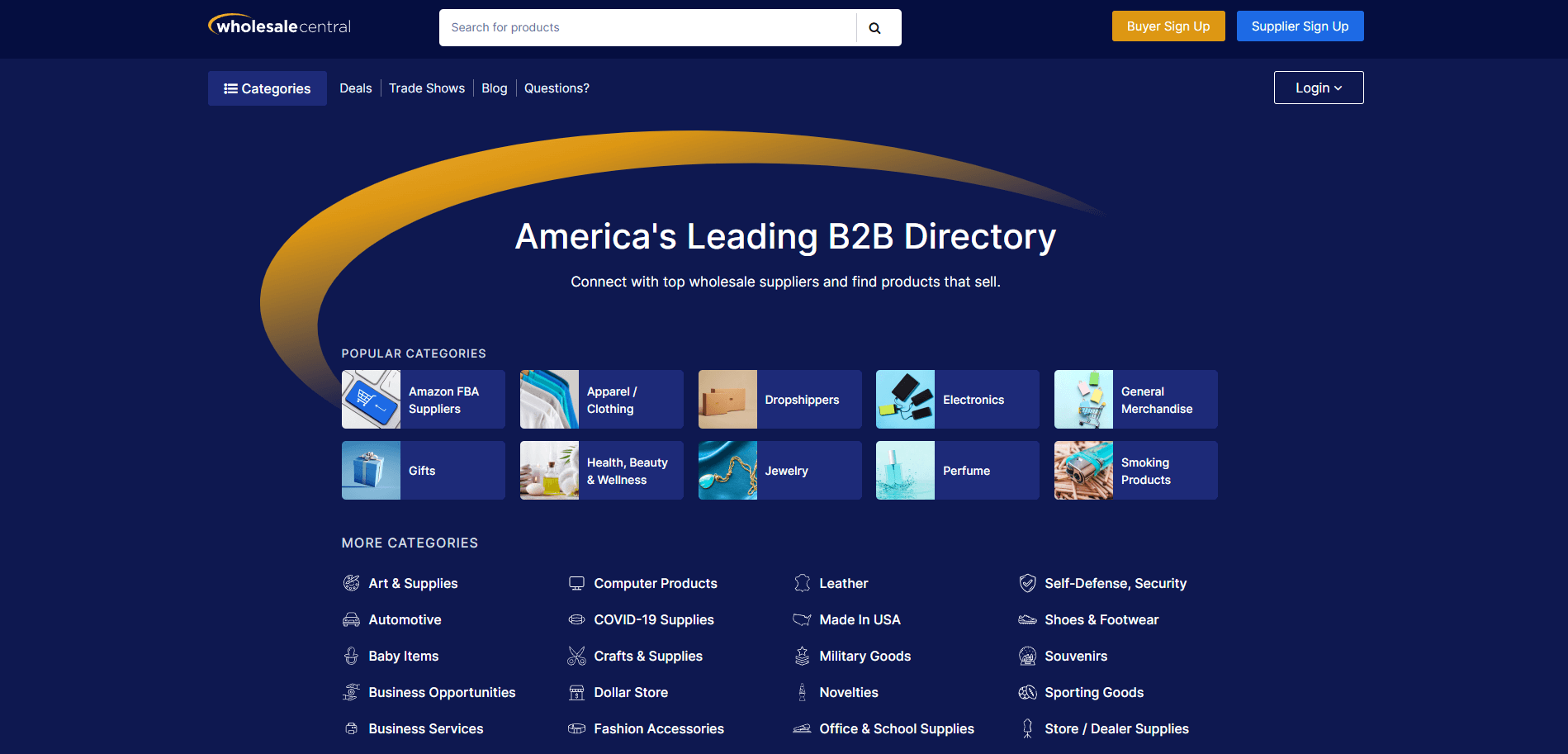 Wholesale Central is a B2B directory that goes back to 1996.
Here you'll find both manufacturers and wholesalers offering a wide range of products from any niche you can think of.
Wholesale Central, although it has hundreds of suppliers, conducts rigorous checks and tests before including anyone in the directory.
The catch, however, is that not all suppliers on Wholesale Central deal with dropshippers.
Some might have an MOQ, while others are more than happy to dropship without such requirements.
Therefore, some research might be required from your side to get a good deal going.
Unfortunately, Wholesale Central does not offer integration, but its supplier directory, entirely free usage, and user-friendly navigation make it worthy of being included in our list.
Wholesale Central also has over 400,000 products ready to be sold. Upon your request, the platform can assist you with sourcing services as well.
While some features of Wholesale Central are somewhat below average, other aspects make it a platform worth giving a chance.
Key Features
Offers 400,000 products from 1000+ suppliers
Only lets trustworthy and reliable suppliers on board
Easy to use
Product Categories
Jewelry
Phone accessories
Clothing
Toys
Beverages and candy
Car accessories
15) AliExpress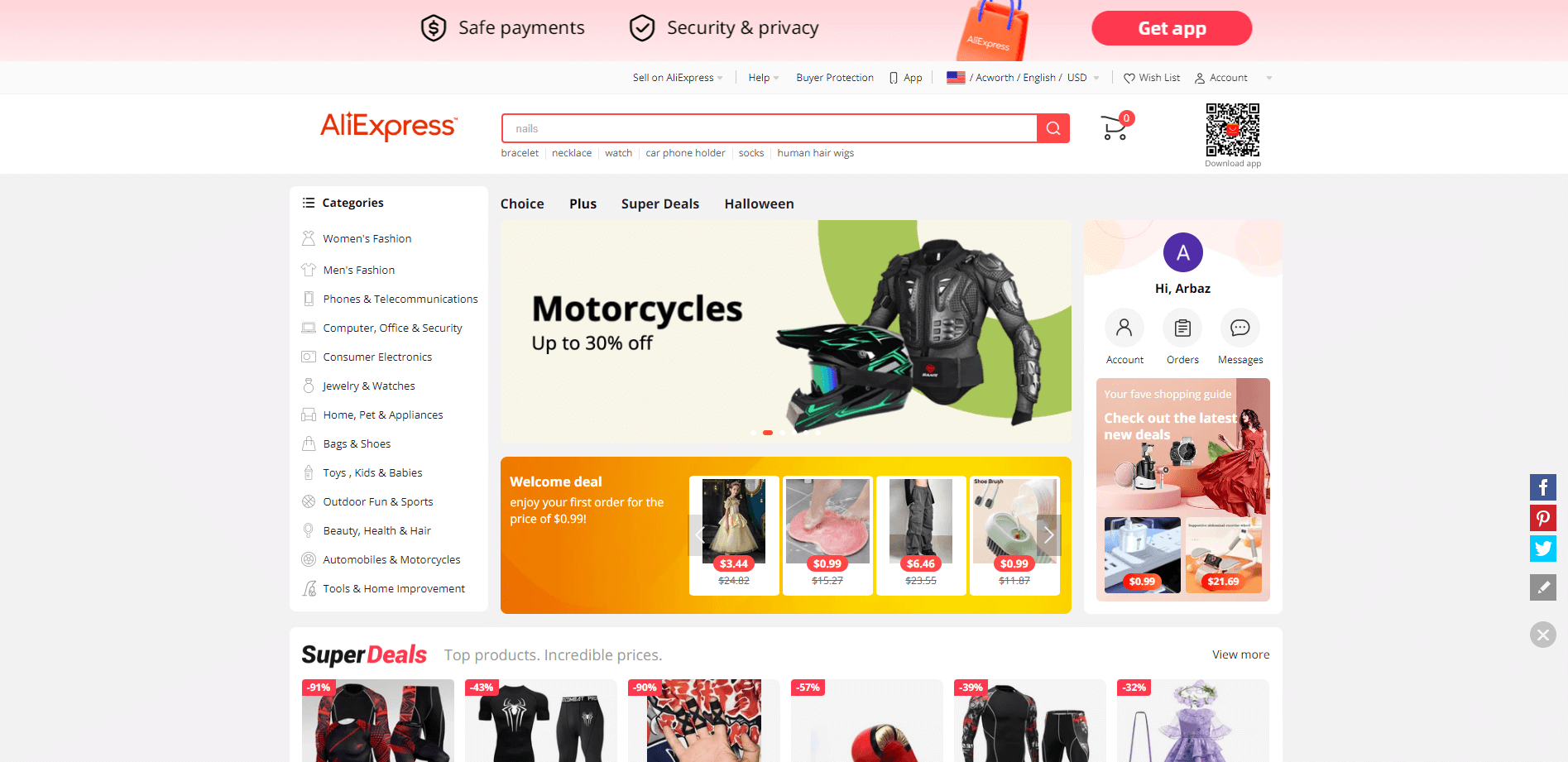 Our final pick had to be none other than the Chinese eCommerce giant AliExpress.
AliExpress is where you should head if none of the above picks work out for you.
Since it's filled with thousands of suppliers and agents offering their dropshipping services for free, it's definitely worth giving a shot.
AliExpress is home to millions of products with super low prices. It's like a buried treasure of gold waiting for retailers to benefit from it.
However, the tricky part lies in getting the gold out of the ground. You see, a significant fraction of AliExpress sellers are not professional and can scam you.
But this can be overcome by conducting a supplier hunt based on high ratings, seller experience, customer reviews, etc.
Regardless, it can take a lot of time and effort to scavenge through suppliers and find the good ones.
It is worth noting that the end result is usually worth it.
AliExpress can land you mind-blowing profit margins if you utilize the platform correctly.
So, we'd definitely recommend AliExpress to experienced dropshippers with a low budget for their sourcing needs.
For more details, check out how to find a good dropshipping supplier on AliExpress.
Key Features
Gigantic global marketplace with millions of products and thousands of suppliers
Sorting and filtering options make research easy
Highly competitive prices
Offers translation into numerous languages and currency conversion
Product Categories
Furniture
Clothing
Electronics
Toys
Watches
Shoes
Are Free Dropshipping Suppliers Better or Paid Ones?
Free dropshipping suppliers are generally better since you only pay them based on the orders they fulfill for you.
However, in certain situations, suppliers that charge you a membership fee can be better.
Most of the time, free dropshipping suppliers only give access to basic features and perks.
Benefits such as private labeling, custom packaging, and automated fulfillment come from paid suppliers and a dropshipper may miss out on these by sticking to the free plan.
Regardless, if you're starting out as a dropshipper and are tight on funds, it would be wise to stick to free dropshipping suppliers for now.
However, to take your business to the next level, it's essential to upgrade your investment and focus on long-term profitability.
FAQs about Free Dropshipping Suppliers
How Do I Find High-Quality Dropshipping Products?
Start by searching for reputable suppliers if you want high-quality dropshipping products.
Give priority to suppliers that conduct quality checks before dispatching products.
You can also order samples of products and check the product's quality yourself before finalizing a deal.
Can I Dropship for Free?
Dropshipping can be done for free, but it would be incredibly difficult to stand out from your competitors.
Therefore, it's not recommended to begin your dropshipping journey for free.
Instead, spend at least $100 on building a presentable website, supplier/product research, and marketing.
Which Dropshipping Website Is Free?
Websites such as NicheDropshipping and CJDropshipping do not charge a signup or monthly fee from dropshippers.
Instead, they charge you for the value of every order you receive from customers.
Choosing products and importing them to your online store is free.
Which Dropshipping Supplier Offers the Cheapest Products?
Platforms such as AliExpress, Wholesale Central, and Doba offer products at wholesale prices from reputable suppliers.
To find independent suppliers, look for those directly dealing with manufacturers.
The smaller the chain of middlemen, the more significant profit you earn through sales.
Do Free Dropshipping Suppliers Have a MOQ?
It varies from supplier to supplier, but in most cases, a free dropshipping supplier will have a minimum order quantity unless your store shows potential for long-term success. Most Chinese suppliers are also open to negotiating the MOQ.
Final Thoughts
Despite charging no fee for their services, the above-mentioned suppliers/platforms deliver a great deal of benefits to their clients.
Wrapping up, we went through a list of the best free dropshipping suppliers, discussed their features and product catalogs, and reviewed the pros and cons of choosing a free supplier over a paid one.
We hope our list helps you land a supplier you can count on for quality products, fast shipping times, and good communication.
Lastly, if supplier analysis seems too much homework for you, we here at NicheDropshipping are always here to help source products for you.
Simply contact us or send us a sourcing request and our agents will hook you up with the best deal on any hot product you wish to sell.