China is an industrialized country, leading the fray in many industries, including eCommerce.
Products from China are cheap compared to any other country, allowing merchants to earn profit with a healthy and competitive margin.
That is also why a growing number of digital entrepreneurs are searching for China dropshipping suppliers. They have a large variety, with most trending products readily available.
But the problem is – with thousands of suppliers to choose from, it's hard to tell who to trust.
Well, let's make that easier for you through this list of the best dropshipping suppliers in China.
Let's dive straight into it!
Is It Good to Dropship from China?
Dropshipping from China is indeed worth it because Chinese products are cheap compared to any other country.
This allows dropshippers to keep a healthy profit margin.
The only problem you may face is that some Chinese suppliers sell poor-quality products. Thus, you have to be extra cautious.
Learning how to resolve quality issues is necessary before you start working with any supplier.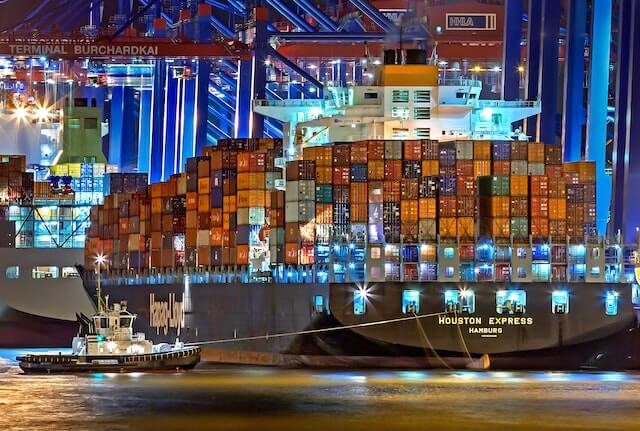 What to Look for When Choosing Reliable China Dropshipping Suppliers?
The Chinese market not only possesses a large variety of products but also has many dropshipping suppliers.
In this competitive market, a good supplier gives you the edge your online business needs.
Finding reliable suppliers in China can be frustrating, with so many options.
Let's go over a couple of things to consider when you're searching for a dropshipping supplier in China.
1) Timely Communication
Your dropshipping business is only as good as your supplier.
Keeping that in mind, the response rate of a supplier is enough to determine whether they're trustable or not.
The supplier should ideally respond to your queries within 12 to 15 hours on working days.
If they take a long time to respond to basic queries, then don't expect them to provide a premium after-sales service either.
Even if you have to slightly stretch your budget, you should only work with suppliers that offer premium quality products.
Selling inferior products might make you some bucks at the start, but in the long run, it's a recipe for disaster.
Sooner or later, your customers will notice that you're cutting corners and they will stop buying from you.
This will also waste all the money you've invested in marketing, so you don't really earn much anyway.
3) Reliable and Fast Shipping
One of the biggest issues with dropshipping is long shipping times.
If you're working with a supplier from AliExpress, then shipping to some countries can even take up to 60 days.
Customers don't want to wait that long, so if that happens, then say goodbye to recurring sales.
Opting for faster shipping methods normally comes at the cost of paying higher shipping fees, which will slash your profits.
The only solution is to search for suppliers who have warehouses in major countries like the EU and U.S.
You can then store the products in their warehouses to significantly reduce the delivery time.
4) Custom Packaging
Dropshipping suppliers often use random packaging, which honestly, won't contribute much to building a brand.
If you want your business to grow, you have to consider private labeling sooner or later.
Although not necessary, it's advisable to prioritize suppliers that offer custom packaging.
Otherwise, you'd have to look for a new supplier down the lane, which can potentially disrupt the flow of your business.
5) Competitive Pricing
It's true that pricing isn't a core factor when choosing a supplier; quality should always be your top priority.
But that doesn't mean pricing shouldn't matter at all.
Don't settle too early, and try negotiating with the sellers. Avoid making decisions based on the listing price alone.
Most suppliers are often ready for negotiations in private messages, especially if your business shows potential for bulk orders.
6) Integration
This is a bonus, but if your dropshipping supplier offers integrations, then that can save a huge chunk of your time.
You won't have to micromanage your business as you can automate basic day-to-day tasks such as importing new products and forwarding customer details.
Manually doing these things won't bother you much at the start, but as your business grows, it can become a nightmare.
That's the reason we offer an automated dropshipping solution, so you can streamline your business.
The 7 Best Dropshipping Suppliers in China
Here are some of the top dropshipping suppliers in the world. We've discussed their key features and compared their advantages and disadvantages in detail below.
Pick the one that suits you best and start dropshipping!
1) NicheDropshipping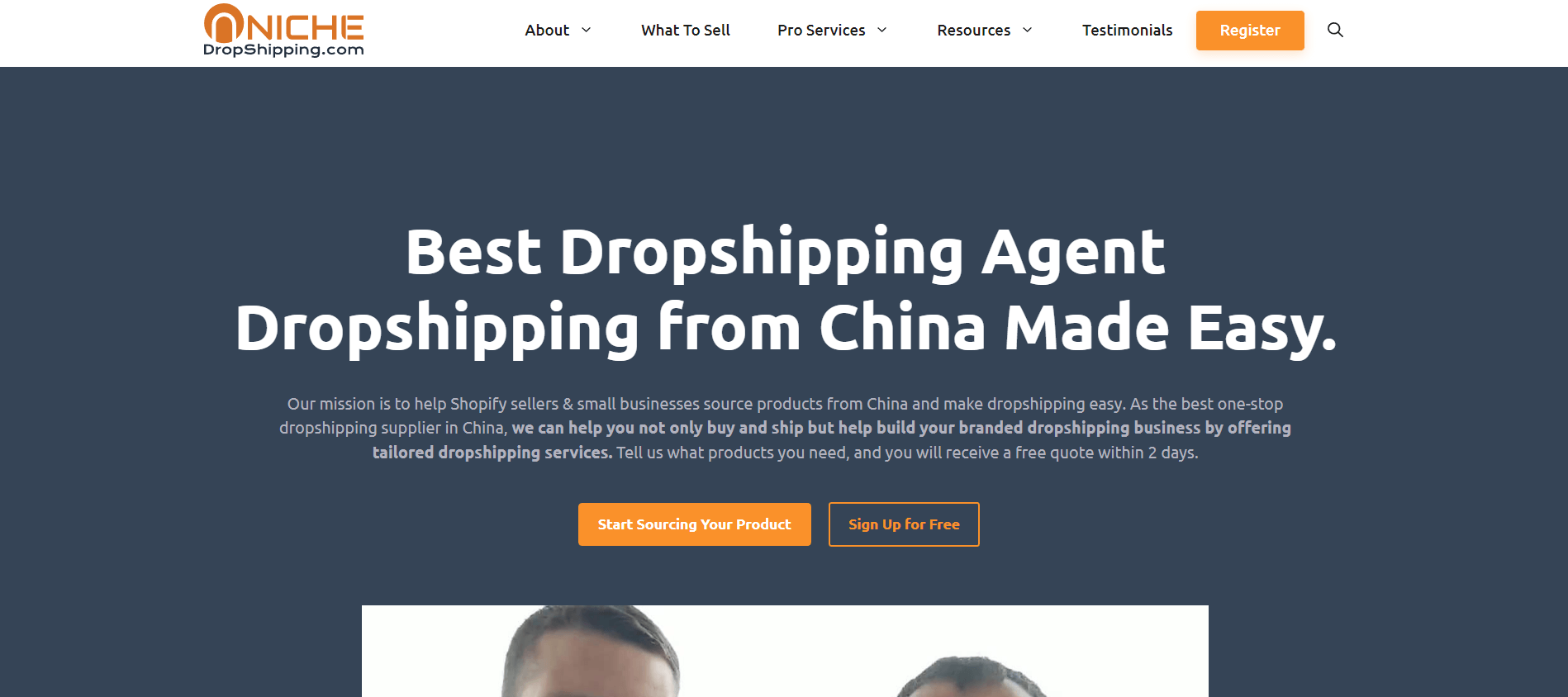 NicheDropshipping provides everything you may need and more to help you launch and expand your dropshipping business.
Their dedicated agents take care of everything from supply management and quality check to lightning-fast product delivery.
Key Features
Product Sourcing Service – Free product sourcing service, allowing you to acquire products listed on various websites for a better price while maintaining the products' quality.
Product Development – NicheDropshipping has a unique product development service that follows four core steps: Research, Sourcing, Prototyping, and Manufacturing.
US Warehouses – Despite having its hub in China, NicheDropshipping has two warehouses in the USA, allowing pre-stocking and faster delivery.
White & Private Labeling – Complete customer service providing custom packaging, logo printing, and insert cards catering to your unique brand identity.
Complete Integration – Full automatic integration with all big eCommerce sites, including Shopify and AliExpress.
Pros
Delivery – Focuses on fast delivery so that all packages reach on time.
Quality Control – Every product goes through strenuous quality checks before it's shipped, and all factory tags are removed before the product leaves the warehouse.
Small Business Friendly – NicheDropshipping requires no MOQ or upfront fee, which is perfect for a business start-up and a small-scale product launch.
Dedicated Agent – An experienced agent is assigned to answer all your queries and to help you along your business journey.
Cons
Best for Established Businesses – Some advanced services of NicheDropshipping like U.S warehousing are only available for businesses that are set on expanding.
Summary
NicheDropshipping is a leading supplier that can help you source your desired products at competitive prices. Their abundance of pros and the lack of cons indisputably make them your ideal dropshipping partner.
2) Wiio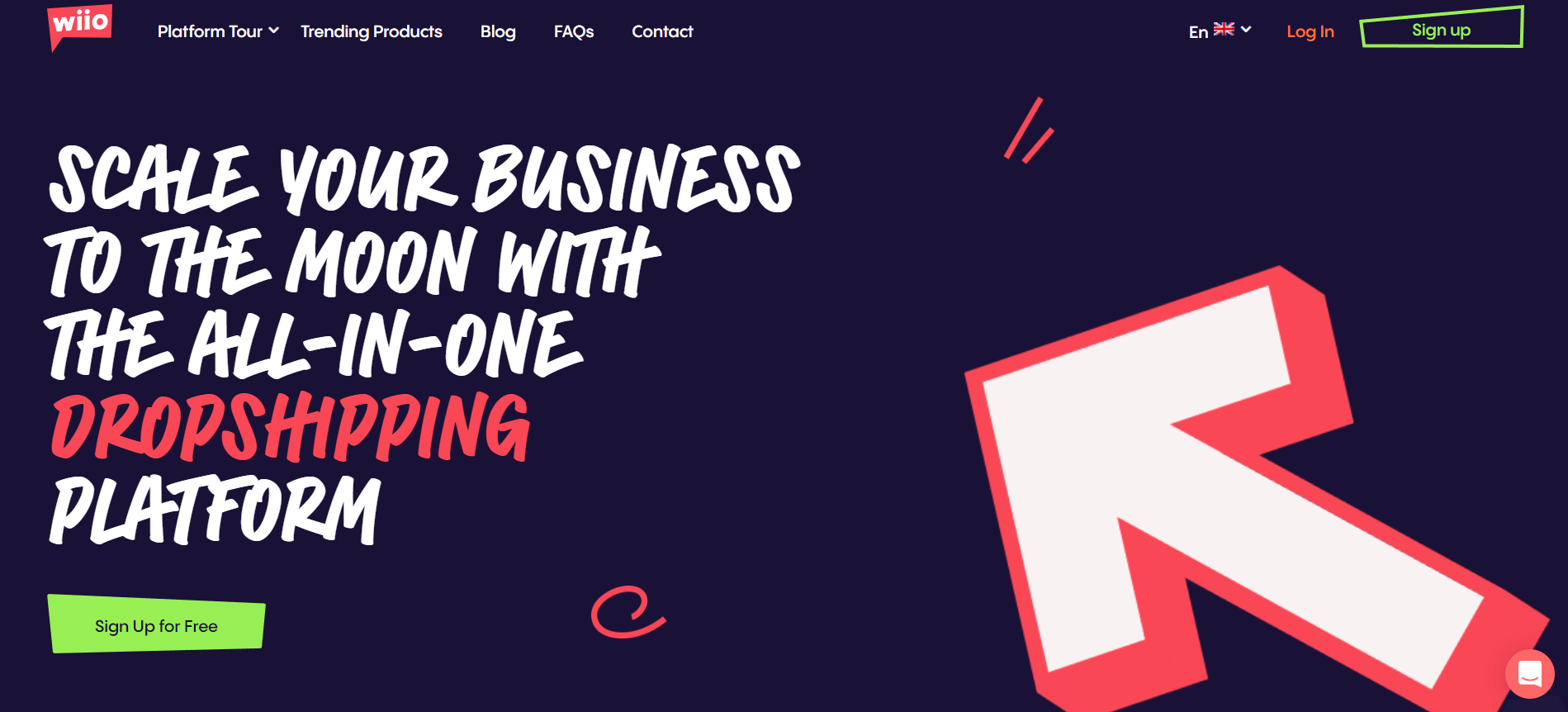 Wiio has a friendly approach toward its clients, and its official website plays with colorful designs and bright fonts to attract customers.
Despite starting as a small-scale company in 2015, Wiio has grown exponentially and expanded globally, exerting influence in foreign markets.
Wiio is a client-trusted all-time favorite in the dropshipping scene, providing services like product development, customization, and procurement.
Key Features
Trending Products – Keeps up with the trending products on the market, having them almost always available and publishing a weekly list of the best product and product categories.
Product Sourcing – Over 10,000 vendors, making it easy to source a wide variety of products.
Free Warehousing – Wiio has a warehouse in the US and 2 in China, allowing you to store products for up to 90 days.
Custom Videos – Provides custom photography and video service to help you stand out from competitors.
Fast Delivery – Known to provide fast delivery, even when handling bulk, heavy or fragile items.
Pros
Affordable Pricing – Competitive pricing that allows you to keep a better profit margin.
No Membership Fees – You only pay for the product price, Wiio doesn't additionally charge for membership.
Cons
Low Storage – Free warehousing, but the quantity you can store and their duration is lackluster.
Shipping Cost – Wiio charges high shipping rates which can slash your profit.
Summary
Wiio is a perfect choice if you want to stay updated with all the trending products, be unique in your representation, and enjoy various free services. You just need to compromise on the higher shipping fees.
3) HyperSKU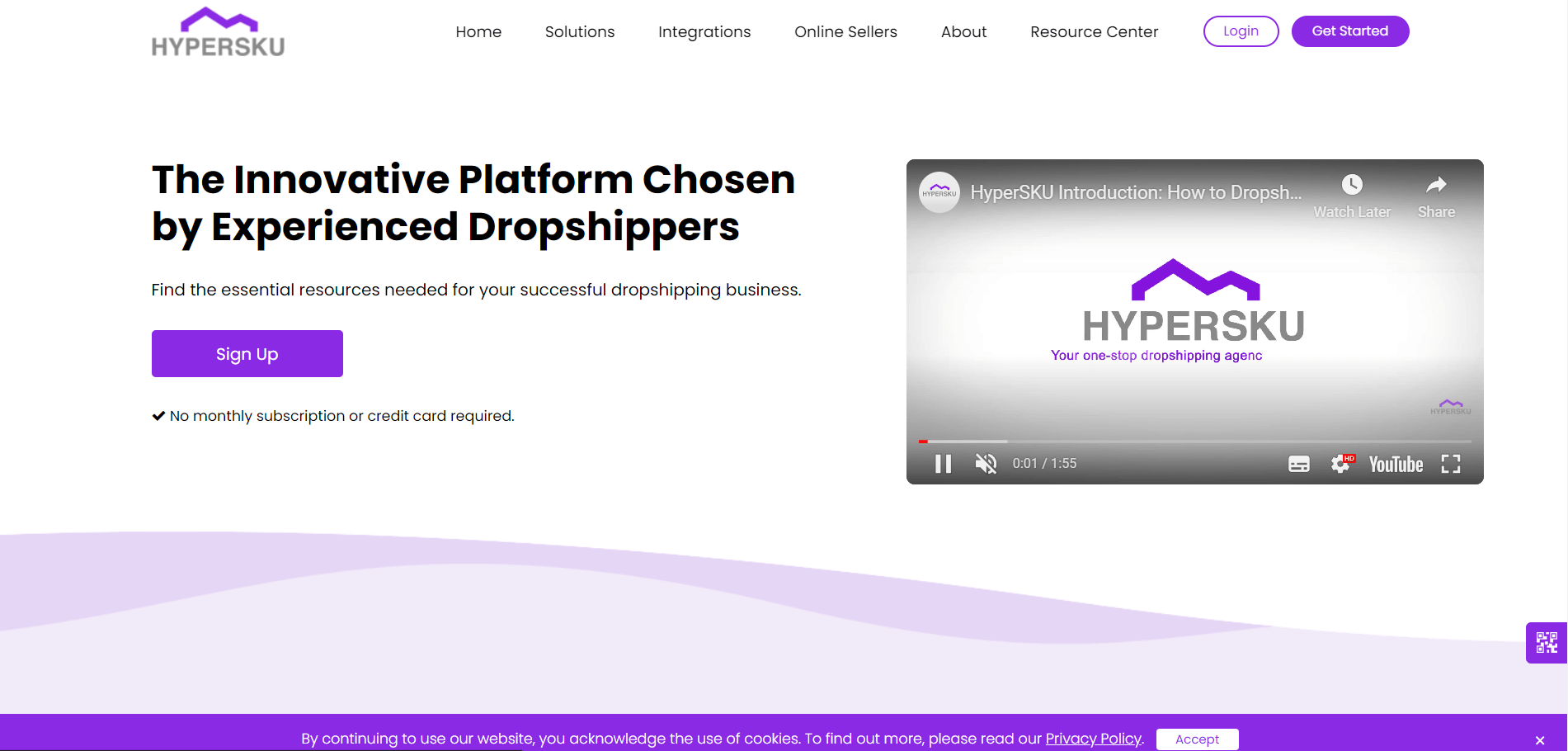 HyperSKU was launched in 2018 by Shawn Zhao, making it a relatively new eCommerce platform.
The site aims to provide a one-stop dropshipping solution by offering various services like product sourcing, fulfillment, and full Shopify and WooCommerce integration.
HyperSKU has garnered positive feedback over the years, and at the time of writing this review, the platform is free to use.
Key Features
Smart Sourcing – HyperSKU offers a completely free sourcing service. You can submit up to 3 sourcing requests a day, and the team of HyperSKU will look for suppliers on your behalf to secure the best price. Before finalizing the deal, the seller can look at the product image, shipping cost, and more.
Warehousing Solutions – If you're afraid of out-of-stock issues, you can place a bulk order and store the products in HyperSKUs warehouse. This will keep your business rolling regardless of product availability.
Easy to Import – You can import products to your Shopify or WooCommerce store with a single click. This will copy all the product information, including the title, images, description, and price.
Full Automation – Micromanaging the business would become the least of your worries with HyperSKU. Once a customer places an order, the details will be forwarded to your HyperSKU account. You don't have to worry about preparing spreadsheets with the customer's info.
Bulk Transactions – As your business grows, individually paying for each order can become a nightmare. HyperSKU lets you save time through bulk payments. You can pay for up to 50 orders simultaneously using several payment methods.
Pros
Free to Use – HyperSKU is free to use, they used to charge a 2% handling fee, but that has also been waived.
Fast Delivery – HyperSKU ships U.S and E.U orders within seven days.
Custom Packaging – Customize your product packaging with the help of HyperSKU to easily launch white-label brands.
Various Features – Plenty of features to save time, such as order syncing, quick product imports, and integrations.
Great UI – Clean and intuitive UI, making the site easily navigable even for beginners.
Cons
Product Price – The products on HyperSKU are slightly more expensive than other platforms. That's because the platform doesn't charge a monthly fee for its services.
Summary
HyperSKU is a great platform that provides a top-notch dropshipping solution. They can source premium quality products and save you from the hassle of finding a supplier.
The only real drawback is that their products are slightly more expensive.
4) Banggood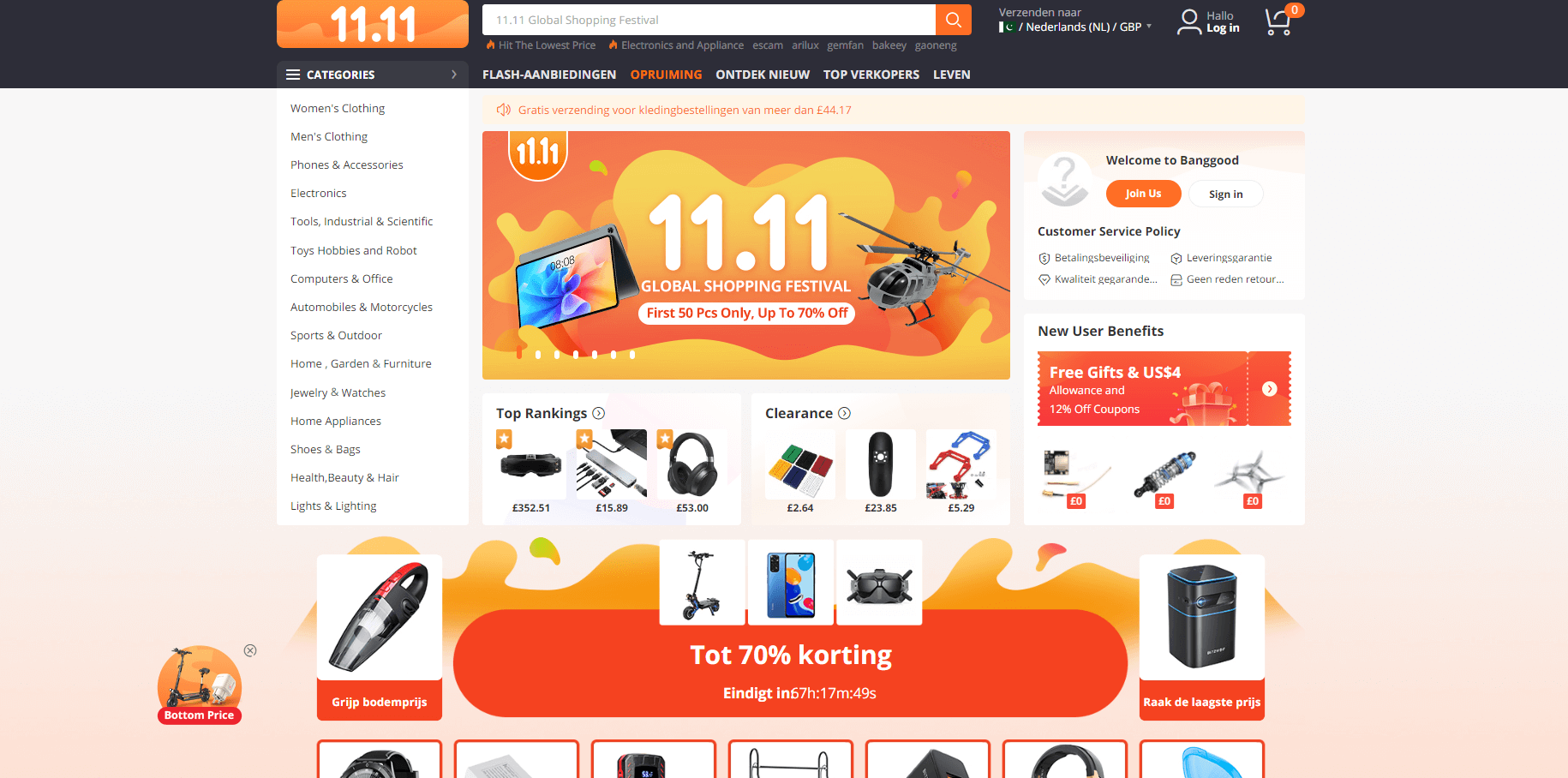 Founded in 2006, Banggood is a company experiencing constant growth. It first gained popularity by providing high-quality and cheaper than standard market products.
However, its influence continues to spread throughout the globe, with the company owning warehouses in America, the Middle East, Europe, and Asia.
There are more than 100,000+ Suppliers under Banggood, and the company only continues to expand and build a solid reputation and relationship within the market.
Key Features
Extensive Product Selection – Banggood offers a tremendous variety with 1,000,000+ dropshipping products in every category.
Availability and Procurement – Due to a large inventory and numerous workers, products are almost always available under normal circumstances. The products they procure are also cheaper than most of their competitors.
Customer Support – They provide their clients with professional agents 24/7. Their customer support is highly appreciated, and they continue to develop it, forming a logistic and fulfillment system.
Unique Discount for Dropshipping – Multiple discounts for various products, with discounts going up to 20% flat for some categories. They also have an event and time-based discounts.
Product Policies – Customer-friendly product policies ranging from order cancellation and day-based returns to broken screen policy (for some electronics) and standard product warranty.
Pros
Banggood Dropshipping Program – Free dropshipping program that offers exclusive discounts, personalized product recommendations, coupons, and more.
Affiliate Programs – Banggood also offers an affiliate program such as "befrugal", offering you up to an additional 9% cashback.
No MOQ – You don't have to worry about a minimum order quantity, making them perfect for product testing and small-scale launches.
Cons
Low-Quality Electronics – The comments in the Banggood review section are not good. Complaints about broken and quickly malfunctioning electronics are rampant.
Poor Service – Despite having good customer support, the company's behind-the-scenes problems are numerous. Products sent for repairs take a long time to come back, and if they do come back, you find them in the same or even worse condition.
Policy Issues – The warranty and return policy are very well received, but requests are not always heeded, and clients have even complained of being ignored after requesting the policy use.
Summary
If you want less personalized options but cheaper products with a better profit margin, Banggood could be the right choice. But you must be cautious while choosing a supplier as Banggood suppliers are infamous for selling low-quality products.
5) DHgate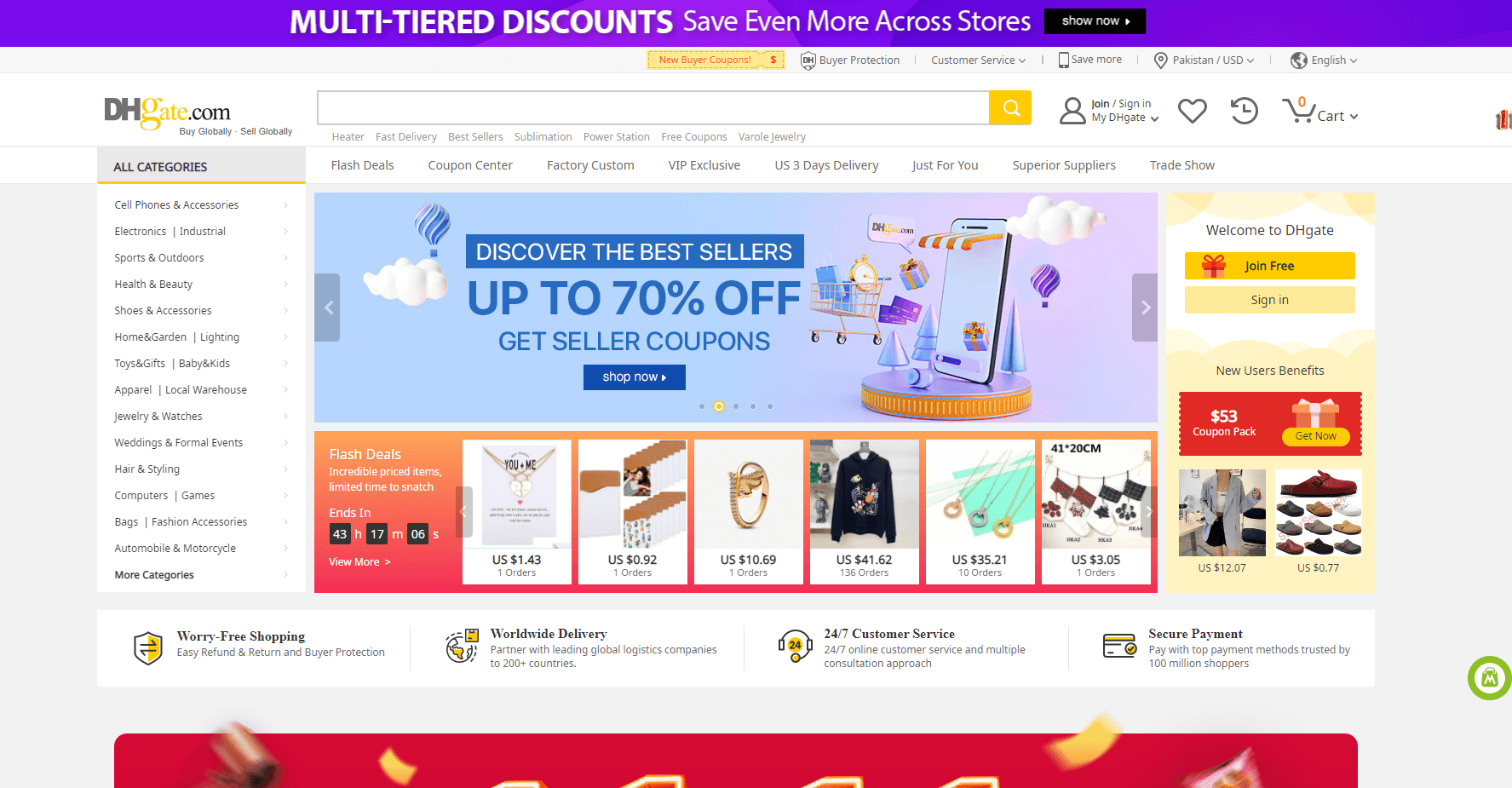 Founded in 2004, DHgate continues to experience growth, and as a B2B cross-border platform, it offers a plethora of services to its clients.
The company is a good competitor for Alibaba, and both are expanding across the Chinese border, providing small business owners with better opportunities and more significant profits.
Key Features
Product Monitor – This feature lets you monitor the change in the product price and available quantity to help you make the right business decisions. You can set a maximum cost on the products to avoid suffering a loss if the price shoots up abruptly.
Order Tracking – DHgate offers the service of always knowing where your cargo is. You can track the shipment every minute of the way.
Quick Order Fulfillment – Auto-assigns track numbers to customers so that you don't have to do it manually. With DHgate's system, orders are delivered safely without you having to worry about the process too much.
Pros
Growing eCommerce Hub – DHgate keeps developing new products and ideas. There are already 13,000,000 products on DHgate, and the number keeps increasing. It is expected to increase by 24% in the coming years, benefiting everyone involved.
DHgate Chrome Extension – DHgate extension on your chrome browser allows you to multitask.
Sound Business Model – DHgate acts as a middleman between buyers and sellers, minimizing unnecessary expenses and increasing the profit margin. It outcompetes many big names in this aspect, including Amazon and AliExpress.
Inexpensive – DHgate is very cheap. It does have its issues, but it is undoubtedly one of the cheapest dropshipping suppliers. You can find items way below their original market prices.
Cons
Difference in Profit Margin — Due to numerous suppliers huddled together in DHgate, the profit margins can significantly vary and confuse clients.
Requires Product Knowledge – You should grasp the best suppliers of your product, or you'll send your customers a different quality product for every purchase. This can easily harm any online presence that you're trying to establish.
No Real Control – You have no control over product sourcing as you don't directly work with the suppliers.
Poor Reputation – DHgate has earned a terrible reputation in the online industry, attributed to the large variety of knock-offs and closely pirated designs.
Summary
This is one of the most feature-rich apps on the market; DHgate's obsession with automating everything is a welcome advancement for those with little time and multiple priorities. While it may not be the best place to build a market reputation, it does have its charms.
6) AliExpress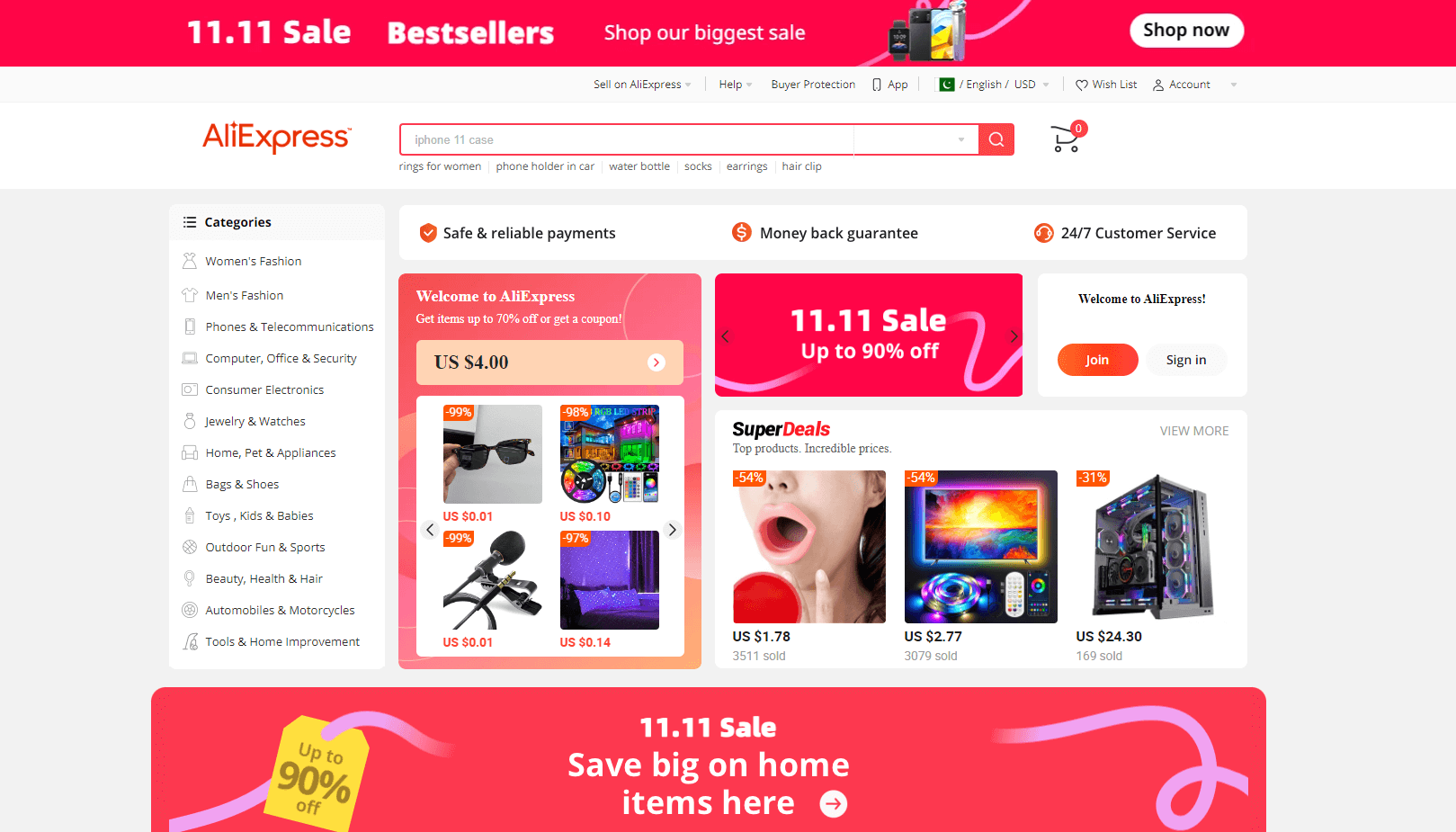 AliExpress is a Chinese website that brings together thousands of small and big-scale producers. There are millions of items on AliExpress, ranging from clothes to electronics and heavy equipment.
AliExpress has gained fame for providing a massive variety of products while being affordable. This is why it's considered one of the best China dropshipping websites.
Key Features
Languages – AliExpress works with multiple languages, including Italian, Dutch, Turkish, Japanese, Korean, Thai, Vietnamese, Arabic, Hebrew, Polish, Russian, Portuguese, Spanish, French, German, and English. This makes the sight comfortable for clients of all nationalities.
AliExpress Dropshipping Program – This program offers automatic tools like DHgate, allowing a smooth business experience.
Warehouses – AliExpress has dozens of local warehouses spread over an elaborate network throughout the globe. Not only do you benefit from low, if not no, shipping fees, but you also benefit from the large storage capacity that AliExpress has to offer.
Logistic Information Tracking – This allows you to track your shipment and estimate delivery time.
AliExpress Affiliate Program – AliExpress works with multiple affiliate platforms, and purchasing from these links offers you up to 5% cashback, which is helpful.
VIP service – The VIP price of a product is lower than its standard price, and negotiating for a VIP price with a supplier can be very helpful when dropshipping. It allows you a better profit margin and price flexibility.
AliExpress DropShipping Center – The AliExpress Dropshipping Center has multiple features, including product recommendations, supplier rank, and product analysis to aid dropshippers.
Hot DS items – AliExpress showcases recent trending items to its clients. This process is automatic and is done by an algorithm per most views and ratings.
Supplier Rank – An alternative to the DS item section, the supplier rank list allows you to scroll through top-ranked suppliers, getting insight into their product choices and progress.
Warranties – After endless complaints about broken items, AliExpress cut back on its product policies, making warranties the law of the land. AliExpress provides its customers with warranties on most items. This service is being improved; however, the quality of service depends on the suppliers from whom you buy your products.
Pros
Discounts – Who hasn't bought from AliExpress and doesn't know about their discounts? AliExpress offers multiple discounts, which can even go up to 50%!
Low Start-Up – Minimum order quantity can be frightening for new sellers. However, this is not an issue on AliExpress. No MOQ means you have to pay only for what you sell, which further secures your business.
Unlimited Inventory – AliExpress charges no warehouse cost as inventory management is their responsibility. You get essentially unlimited inventory with no minimum requirements and risks.
Large Variety – AliExpress can be considered an Amazon alternative based in Asia. The sheer quantity of products available on AliExpress can be overwhelming for anyone opening the app for the first time.
Product Flexibility – On AliExpress, you can diversify your products easily compared to other sites. As you hold no stock, nothing can prevent you from changing your product portfolios completely or diversifying with multiple products from various niches.
Cons
Extremely Competitive – AliExpress is cut-throat to newcomers, as everything you want to sell is already being sold on the market. Whenever a product starts trending, its supply chain gets quickly saturated.
Lack of Control – You don't know what is being sent to your customers and AliExpress receives its fair share of complaints for sending low-quality products. You'll have to ensure that you're working with a supplier with high ratings.
Shipping Times and Fees – It can take 12-60 days for a product to reach its destination, depending on your chosen method. This shipping time is considerably higher than most drop shipping sites.
Bad Reputation – AliExpress has become an infamous hub for knock-off items. For example, you can find Gucci, Adidas, and Louis Vuitton knockoffs. You must carefully choose your product supplier on AliExpress to avoid copyright issues.
Slim Profit Margin – The market of AliExpress follows the "Race To The Bottom" format. The market saturation and the highly competitive rates make AliExpress a non-lucrative supplier.
Summary
AliExpress has both good and bad sides. It has a bad reputation for slow delivery time and lack of quality control.
However, it does have low risk due to minimal investment. AliExpress is suitable for beginners learning the ropes with low risk but is not recommended for sellers wanting market recognition.
7) CJDropshipping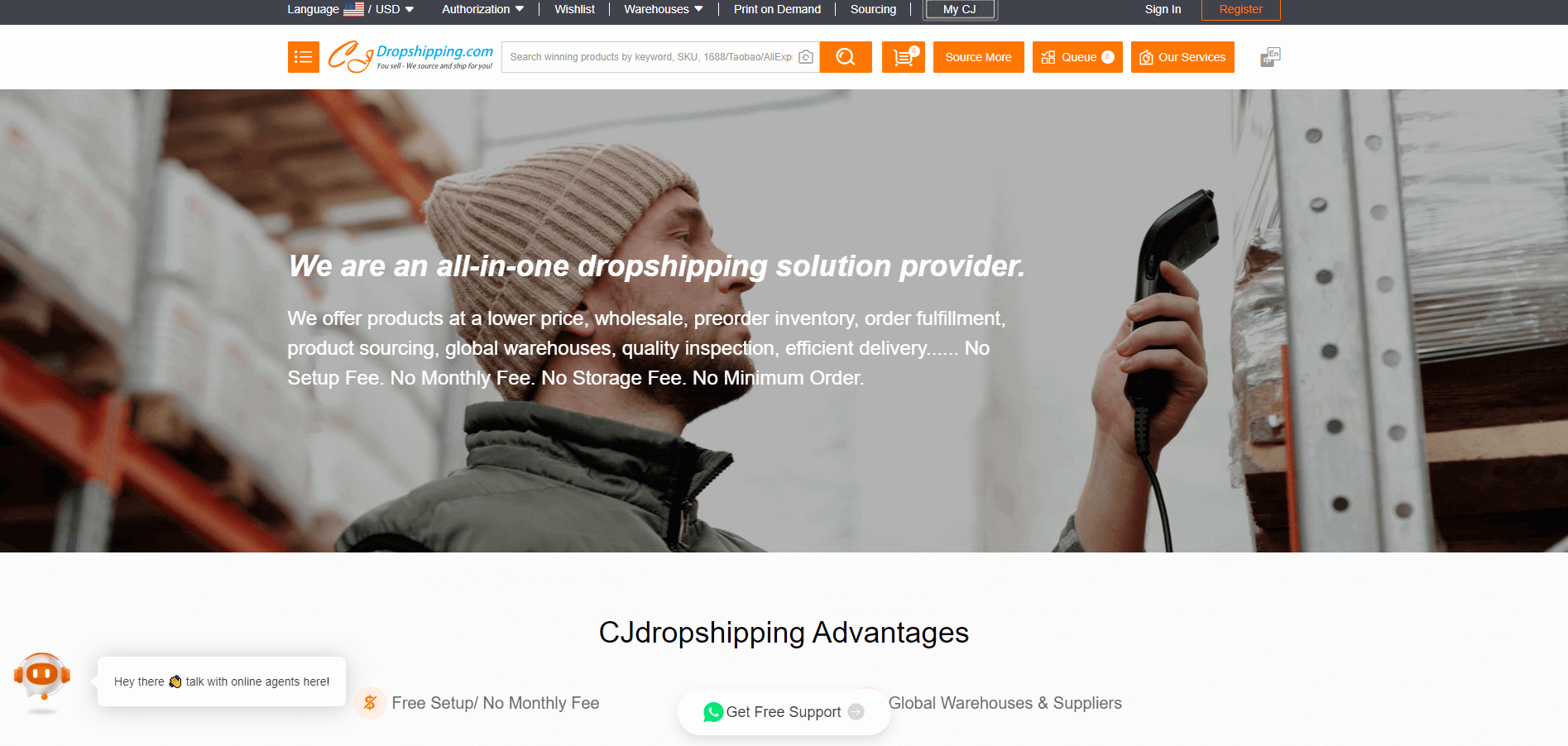 CJDropshipping was established in 2014 by Andy Chou. The company started by selling jewelry, which garnered its fame and made it a leading dropshipping company.
Today, CJDropshipping is a high-standard dropshipping supplier, fully integrated with product sourcing, becoming a one-stop solution.
Key Features
Large Inventory – Having more than 400,000+ items, CJDropshipping provides multiple investment opportunities. The products are skillfully organized into appropriate sections, allowing easy handling of large amounts.
Video/Photo Production/Editing – You can edit any number of videos/photos in CJDropshipping's studio. Studio usage is also completely free.
Print On Demand – Print on demand function allows customers to customize the design of their products. No MOQ or upfront fees allows for easy access to everyone.
Warehousing – Like many other dropshipping Suppliers, CJDropshipping has warehouses worldwide, including the USA, Germany, Indonesia, Thailand, and China, for convenient storage and faster delivery.
Shipping Time – CJDropshipping has a unique personal shipping service known as CJPakcet. It offers multiple shipping options with varying costs and times. Using their foreign warehouses, you can ship locally if your country has a warehouse.
Customer Service – They have experienced agents to guide you 24/7.
Pros
Cheaper Price – Products on CJ are cheaper than AliExpress and DHgate for the same items. CJDropshipping sources from the factories/manufacturers directly, allowing for better prices.
Inventory Management – The inventory management service makes it much easier to sort your products.
Complete Integration – CJDropshipping fully integrates with online eCommerce sites such as Shopify.
Cons
Paid Warehousing – You'll have to pay warehousing fees for items sold in the U.S. This can affect your overall profit margin.
Clunky Design – The site of CJDropshipping often feels cluttered with information and can get confusing, especially for beginners.
Summary
CJDropshipping may not be the best choice for beginners as there are few options initially, but as you invest and upgrade your account, you can use the full potential of CJDropshipping.
CJDropshipping is the perfect choice for veterans and beginners with a decent amount of capital.
FAQs about China Dropshipping Suppliers
Why Do You Need A Dropshipping Supplier In China?
China offers cheaper goods than most of the world, as there's a surplus of workers, and average wages are lower. These conditions make it less expensive for the manufacturer, which reduces their product cost.
In addition, with the tremendous amount of dedicated industrial infrastructure and supportive government policies, Chinese suppliers have flexible prices for the same quality product.
All of this makes Chinese suppliers a clear choice for dropshippers trying to make lucrative profits.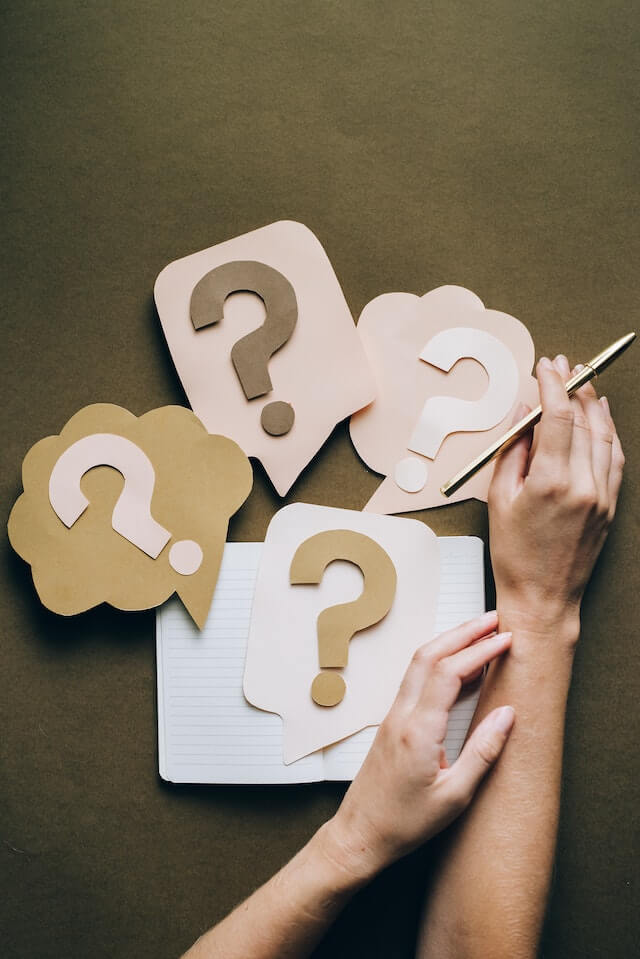 What Are Some Ways to Find Reliable Suppliers for Dropshipping?
There are multiple ways to search for a dropshipping supplier.
One of them is to sort the suppliers based on their ratings on AliExpress and then evaluate their response time, shipping, and pricing.
Other than that, you can also search on dropshipping directories, or by directly entering the keywords on a search engine with dropshipping supplier + the product's name.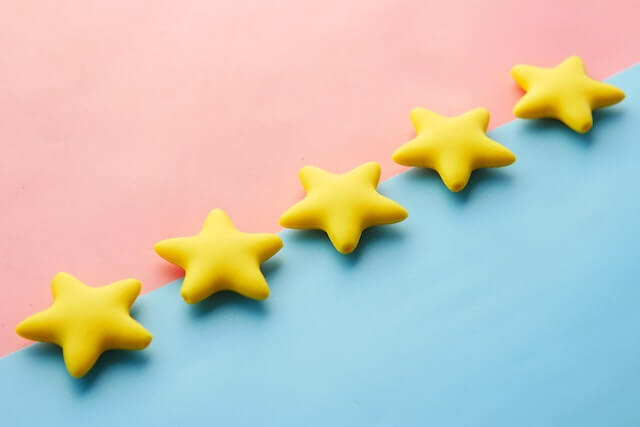 How Can I Dropship from Taobao?
First, sign up for your account and choose a niche. Try scouting the competition to get a better overview.
After finding the best supplier in your chosen niche, work closely with the Taobao professional agents, so you don't make any mistakes and always stay on point.
Taobao has an excessive inventory and enormous potential for starting any eCommerce business.
How to Stop Fake Wholesale Dropshipping Suppliers?
Many retailers disguise themselves as wholesale suppliers.
Wholesale suppliers don't sell to the general public without submission of a formality or some other proof.
There's no real way to identify fake suppliers other than by checking online reviews. If a supplier doesn't have too many reviews, then it's more of a gamble and we wouldn't recommend placing a bulk order.
Some fake suppliers also often send low-quality products and usually have bad management, leading to issues mid-business.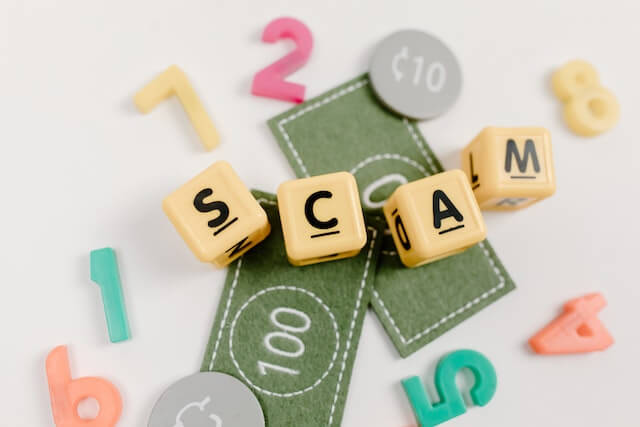 Final Thoughts
Each dropshipping supplier has its strengths and weaknesses. Even pitted against each other, they come out on top in different areas.
You should be looking for the area/specialization you expect to benefit from most.
Some dropshipping platforms provide an extensive inventory option; some have broader warehousing networks, while others have lower prices.
You can find sites that allow you to perform very specialized product analysis, while others may offer automated services. Ultimately, the choice is yours.
You need to consider your needs and what company can meet them most. However, always check the credibility and customer reviews of the site you're interested in.
If you're looking for a company that checks all of these boxes, then NicheDropshipping is a viable option. Our services are tailored to support you through each step of your dropshipping journey.
All you have to do is give us a call and communicate your requirements and our dedicated agents will guide you.