Dropshipping automation software refers to computer programs designed to help dropshippers perform various dropshipping tasks.
If you are not a techie, this can sound complicated but it truly isn't. It is like having a diligent assistant that handles all the exhausting repetitive work and frees up your time to run other aspects of your business.
Have you been drowning in endless dropshipping management tasks? Then get comfortable and read on as we review top dropshipping automation software options and how they could help you out.
Inventory Source
Managing inventory is one of the most challenging aspects of running a dropshipping business. Suppliers' inventory levels change rather often and you need to adjust such details in your store accordingly.
Inventory management can also get complex if you are dealing with many suppliers. Errors can easily occur as you are updating each of their inventory details or as you share orders with them.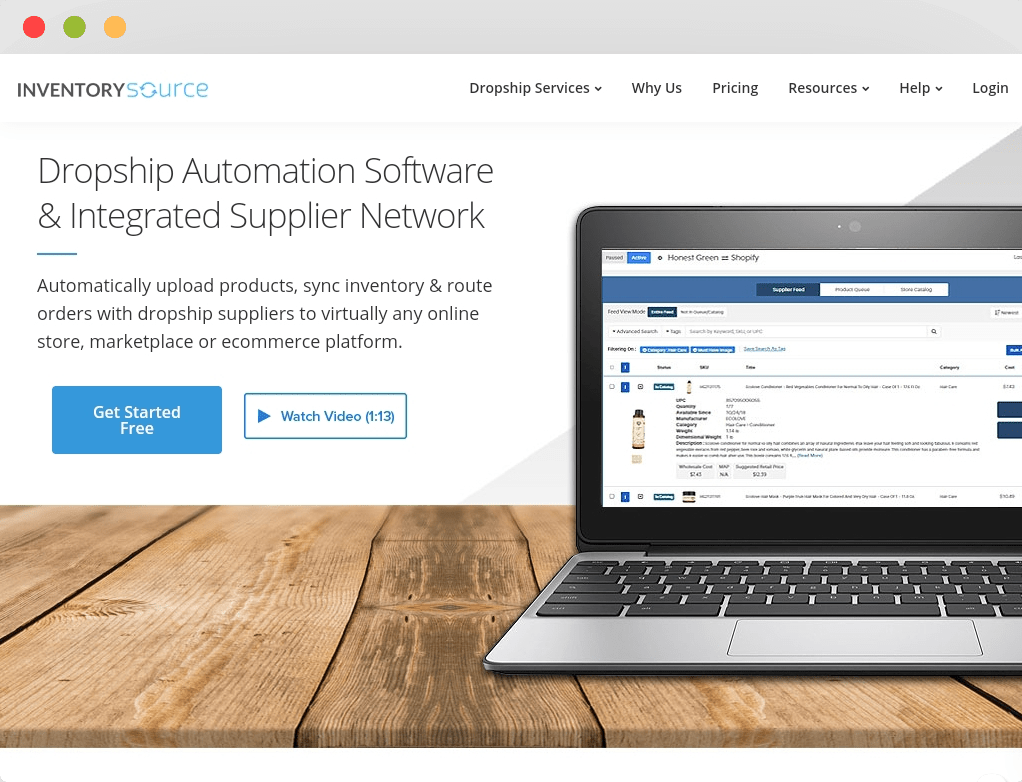 Inventory Source is a software that is particularly designed to address these challenges. It enables you to:
Automatically import products from dropshipping supplier platforms
Sync inventory listings with suppliers that offer dropshipping automation
Automatically share orders with the specific supplier of the product listed in your online store
Sync shipment tracking between your store and your suppliers' platforms
Inventory Source offers customer support on multiple communication channels. It, additionally, provides online training resources to help you get acquainted with how the system works.
Pricing
You will have access to a free trial period upon registration
Paid membership starts at $99 and $199 for partial and full automation respectively
Importify
Importify would be quite helpful if you are in the early days of your dropshipping journey. It helps you manage basic processes but also provides learning material that helps you learn more about dropshipping.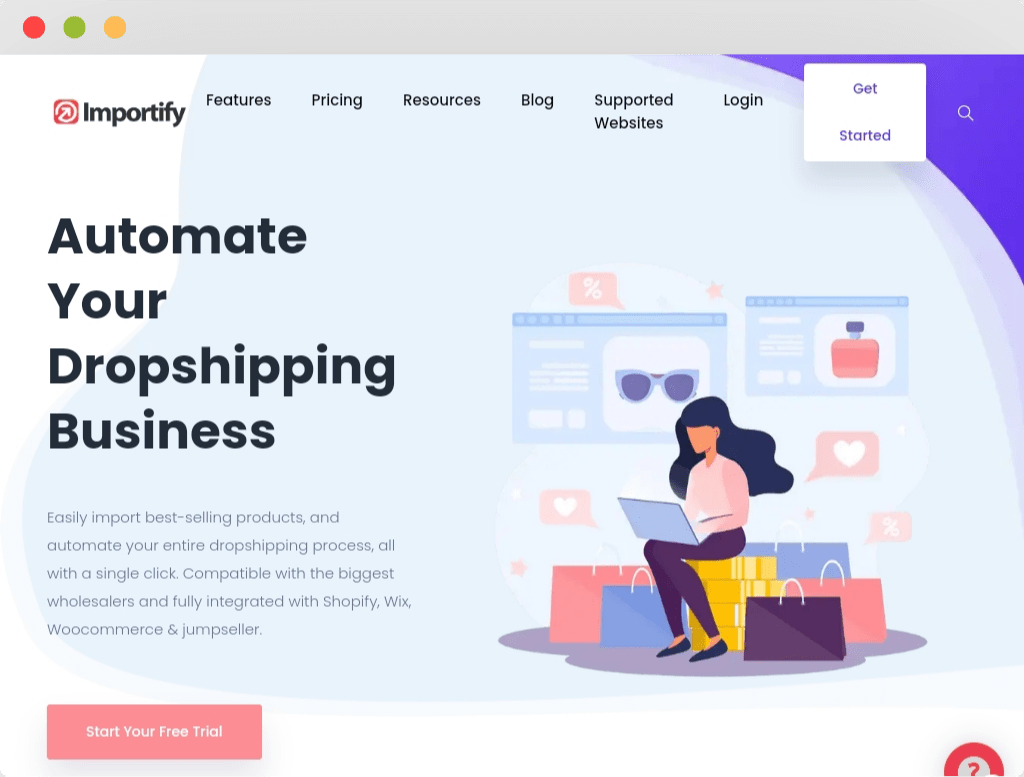 Once you set up your Importify account, you would be able to:
Import products from hundreds of supplier platforms. Notably, the software allows you to filter product listings, edit product descriptions, and check out what other stores are selling.
Automatically substitute the product suppliers indicated in your store when one supplier runs out of stock
Automatically share orders with suppliers
Share buyer stats in your online store
This is a rather broad overview of how Importify can help you source and manage inventory. However, it has lots of little salient features that make the software worth your while whether you are a veteran or a newbie.
Importify integrates with Shopify, Wix, WooCommerce, and Jumpseller. You will have access to round-the-clock customer support via email.
Pricing:
You will receive a one-day free trial
The Basic, Premium, and Gold packages are priced at $14.95, $27.95, and $37.95 per month respectively
DSM Tool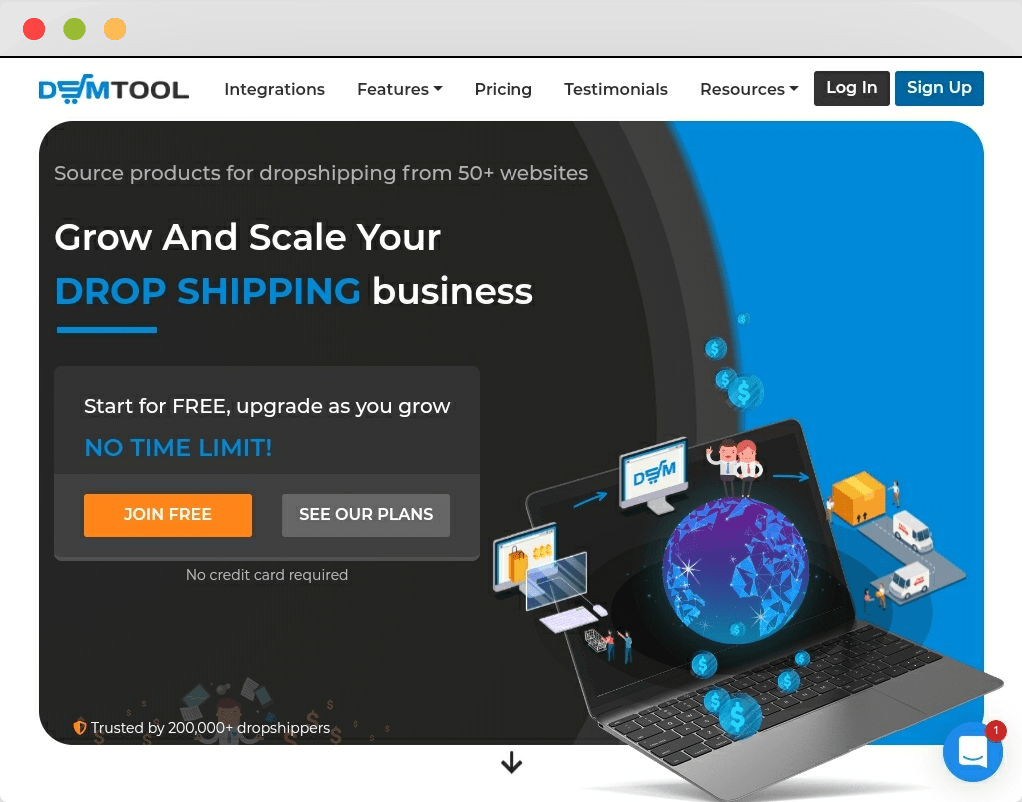 DSM Tool assists in the sourcing and management of inventory. Some of its features that you can look forward to include:
The chrome auto-paste extension allows you to view product listings from over 50 dropshipping suppliers
One-click bulk product importation
A product image and description editor
The 'Repricer' tool keeps you up to date on price changes from suppliers
A chrome extension automates sharing of orders with suppliers
In addition to inventory management, DSM Tool offers a unique communication feature. You can receive messages from your customers in your designated DSM Messages Center.
You can choose to handle messages directly or develop custom automated responses.
DSM Tool integrates with eBay and Shopify.
Pricing:
The free plan offers minimal features that could be helpful in your early dropshipping days or if your setup budget is tight
Paid plans are priced at $19.97, $79.97, and $399.97 per month
AutoDS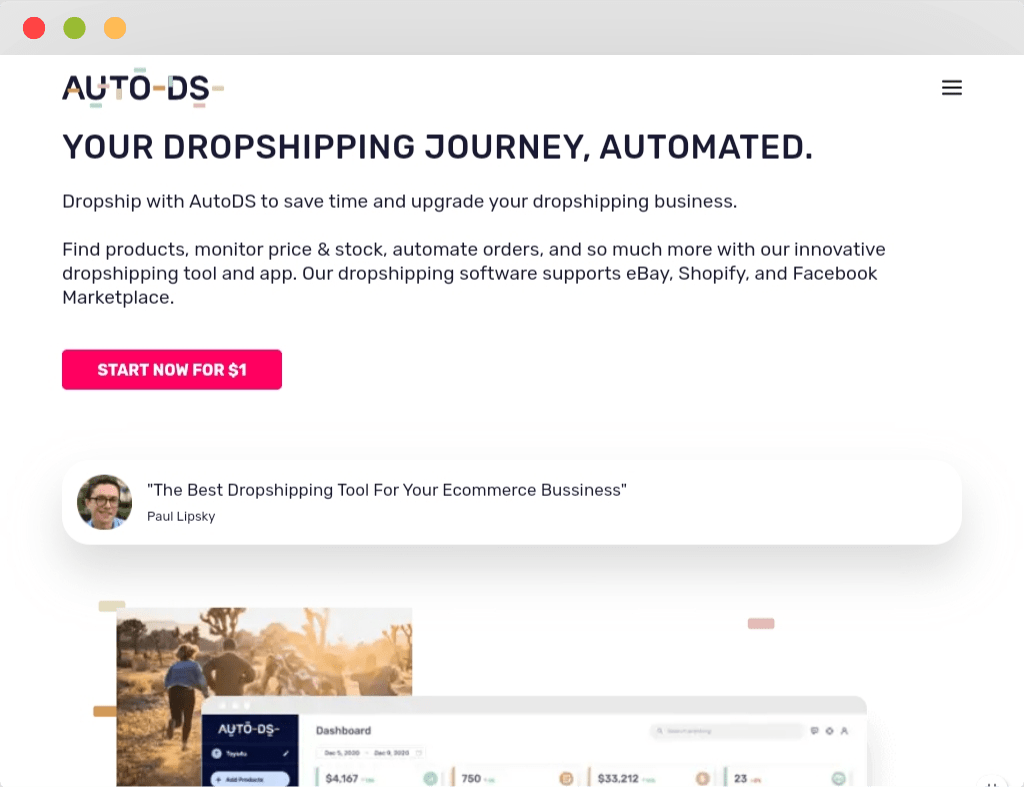 AutoDS is equally an inventory-focused dropshipping software. It makes it easy for you to :
Source products from over 25 suppliers in Europe, China, or the US
Import products to list in your store in one click using their URL
Monitor your suppliers' inventory levels and keep track of any price changes
Accept and process orders automatically and even remotely
In an interesting twist, AutoDS order handling automation not only shares your orders with suppliers. It also manages customer service messages and return requests.
AutoDS offers targeted software versions for dropshippers on eBay, Shopify, and Facebook. As you sign up, ensure that you choose the right version for your store.
Pricing:
It costs $1 to access the 7-day AutoDS trial
Fully paid memberships are priced at $16.79 and $151.99 per month
For $327.99/month, you can custom-pick the features you prefer in your AutoDS software
Ecomdash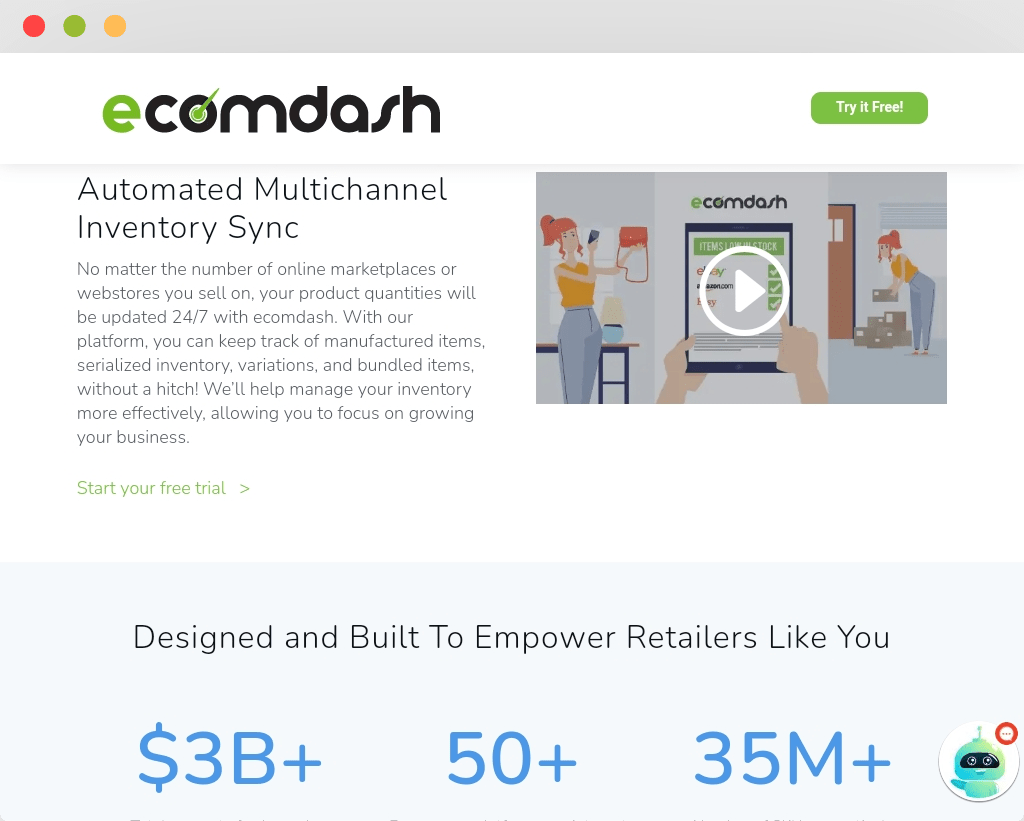 Do you run dropshipping stores on multiple platforms? Then Ecomdash would be an ideal inventory management software for you.
Ecomdash updates inventory changes across all your dropshipping platforms in real-time. It additionally enables you to:
Import products and organize them before listing them on different platforms
Keep track of different types of products (manufactured, print-on-demand et al) in all their variations
Create settings to route customer orders to respective suppliers
Share order status and tracking details with customers
Ecomdash integrated with Shopify, Amazon, eBay, BigCommerce, and dozens of other platforms.
Pricing:
The free plan allows you to handle 30 a month on multiple dropshipping platforms, gives you access to a free onboarding call, and customer support
The free trial lasts 15 days
The paid Pro plan starts at $25 and up depending on the features you would like access to
Ordoro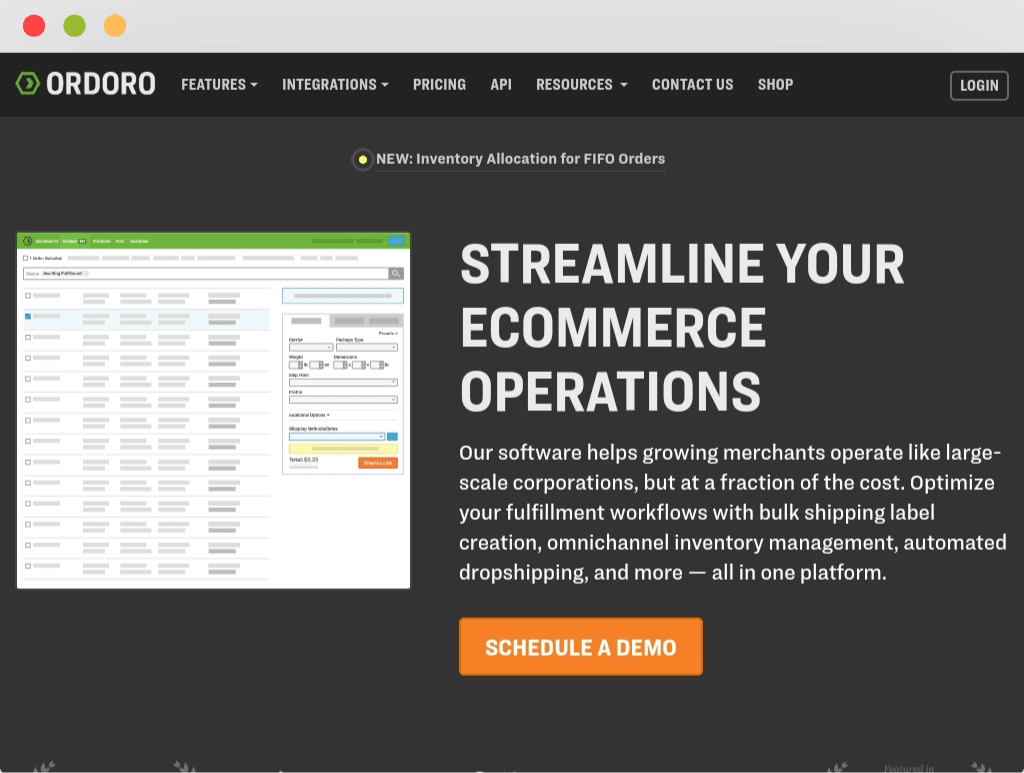 At the onset, Ordoro helps you navigate setting up your dropshipping store. You can select suppliers, import products, and designate them to the relevant supplier.
With set up out of the way, you can advance to the management features of the software. The order routing feature allows you to set up automatic order sharing.
Given as you designated products to their specific suppliers in phase one, you can set orders to be shared with product-specific suppliers too. This will also automatically split orders if a customer orders from multiple suppliers.
Furthermore, Ordoro has a Vendor Portal that is like a shared dashboard that facilitates communication between you and suppliers. On it you can:
Keep track of active and processed orders
Share custom printed labels with suppliers
Obtain tracking information from suppliers
Ordoro integrates with Shopify and many other dropshipping tools.
Pricing:
Dropshipping features are accessible in the PRO package which is priced at $499
Wallet Monitor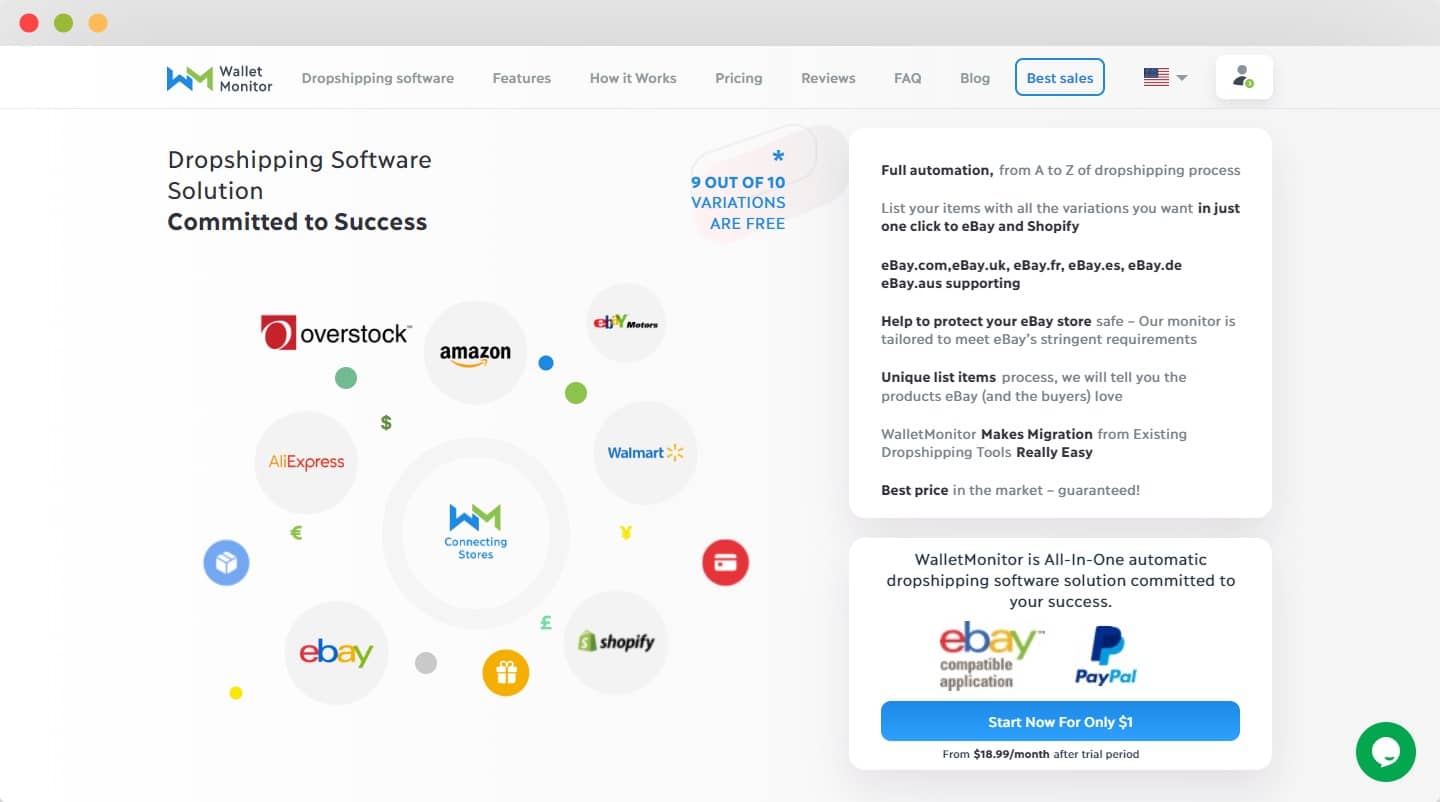 Wallet Monitor is a dropshipping software designed for dropshippers on eBay and Shopify. It is designed to help you find the most profitable products on different dropshipping supplier platforms and reprice them too.
How does it do this?
The first step requires you to set up a Wallet Monitor account and install its extension on your Google browser. The rest of the operations unfold as follows:
The Wallet Monitor product locator finds you high-demand products based on the dropshipping niche you specify
Import your preferred products and all their variations in one click
After you import the products, Wallet Monitor reprices them and updates inventory data based on supplier info
You can run multiple online stores using one Wallet Monitor account.
Pricing:
Free trial access for any package is priced at $1
Packages are tailored based on features and the number of items you intend to sell
The starter plan is priced at $18.99/month but you can select features and pay for them individually based on what you prefer to use
Easync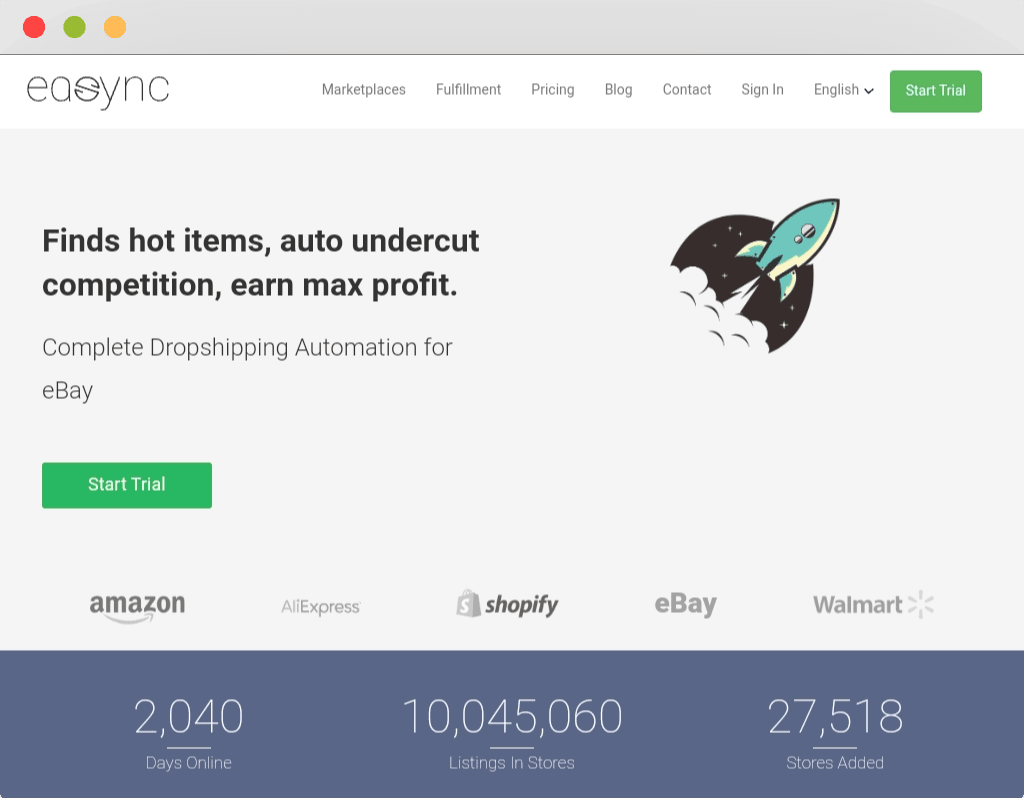 Originally designed for eBay, Easync offers some solutions that other software on this list may not. Fortunately, it has now been updated and is compatible with Shopify too.
With Easync you can:
Find top-ranking products to sell using a specially optimized research tool
Create and curate product listings to import to your store
Set repricing preferences
Once you import the products to your store, Easync still adjust the price to reflect your chosen mark-up
The automatic order processing feature shares orders with suppliers and processes returns. It also fetches and uploads the order tracking details on your website for buyers to see.
The analytical feature on Easync will help you keep track of your sales and possibly Identify areas where you can do better.
The customer ticketing tool, on the other hand, will assist in keeping track of complaints and inquiries.
Pricing:
The free trial lasts 10 days
The plans range between $15 for a starter package and $299 for more advanced features
Zik Analytics
Zik Analytics is solely for dropshippers on eBay. It gathers data through research on eBay and AliExpress and advises you accordingly.
For example, if you are product sourcing, Zik Analytics will give you stats on the different products you select. These stats indicate the popularity/demand and profitability of the product for you to make an informed choice.
However, you will require a separate software or app to import the product you select.
Pricing:
$1 for trial access to any plan for 1 day
$29.99 month to month or $20/month on an annual plan
Zapier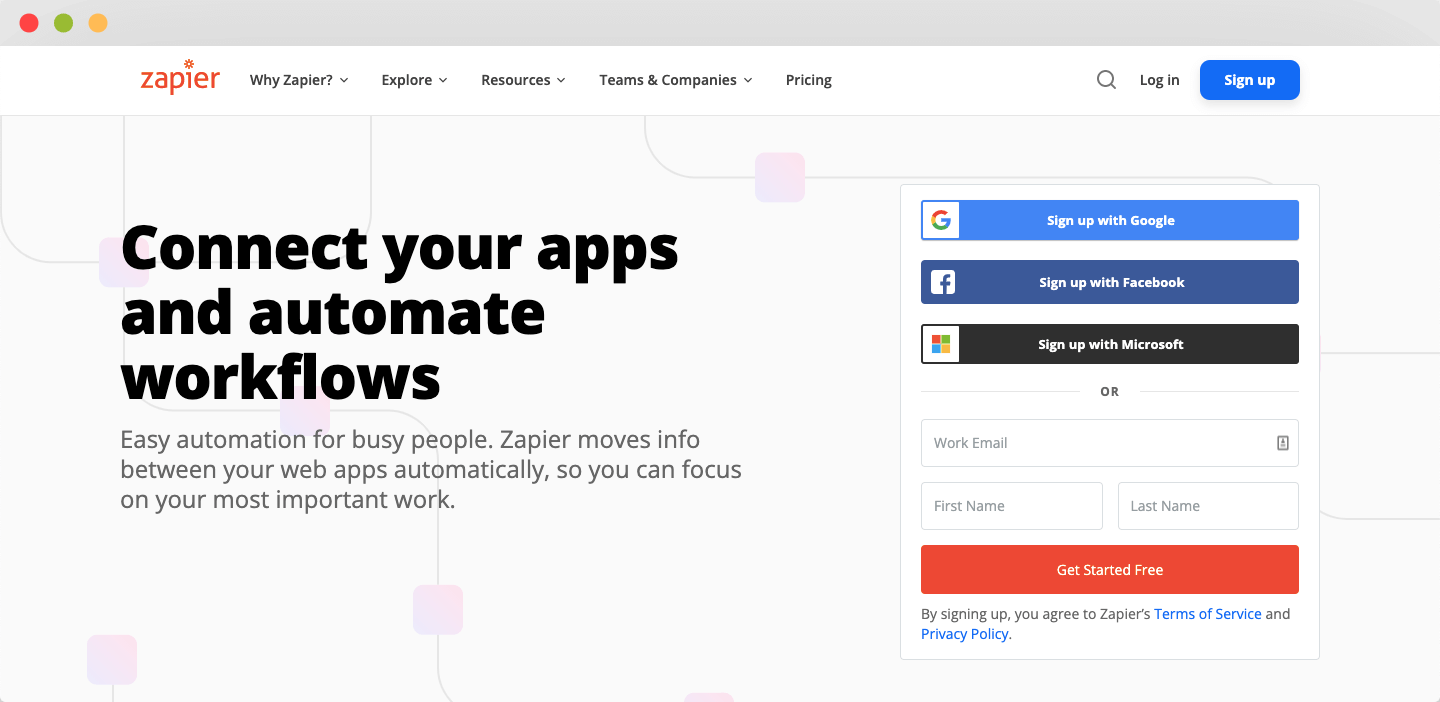 When it comes to dropshipping automation software, Zapier is the cord that ties everything together. As you may have already learned from this list, you may need more than one software solution. If so, you need them to all work harmoniously to achieve smooth automation.
This is where Zapier comes in. It is a unique software used to create workflows in a system by syncing different software to work together seamlessly.
Take, for example, that you use Zik Analytics to find profitable products to sell and have Importify for inventory management. You can use Zapier to ensure that the two coordinate their individual tasks in a logical and productive order.
Pricing:
The free plan is free forever but is limited to 100 tasks a month
The paid plans are priced at $19.99 to $49.50p per month
Dropified
Dropified comprises multiple tools that can help you fully automate your dropshipping processes. It equips you to automatically fulfill tasks like:
Finding products to sell on AliExpress and Alibaba using research data
Import the products in a single click
Note: it is worth mentioning that Dropified allows you to import product reviews as well.
Reprice products based on your desired mark-up
Share orders with your suppliers
Keep track of your transactions and your earnings on the Profit Dashboard
Dropified is also one of a handful of software types that cater to private label dropshipping. This would be a key factor to consider if you intend to scale your business in that direction as it continues to grow.
It integrated with Shopify, CommerceHQ, WooCommerce, eBay, and more.
Pricing:
The free plan is recommended if all you need is product research and basic importation and repricing functions.
The paid plans are priced at $19 and $47 per month
My Supplier Plug-in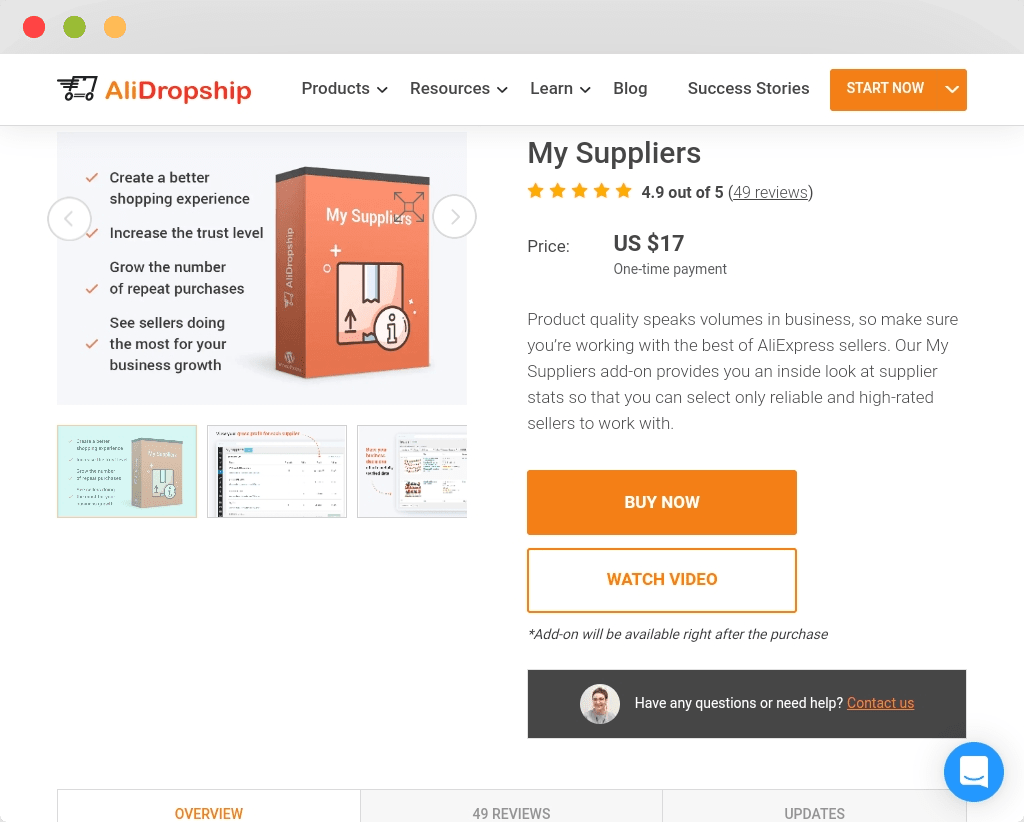 My Supplier Plug-in is an honorary mention. Still, it is essential as most people start dropshipping on AliExpress. Not only is it a vast platform that can be tricky to navigate, identifying the right supplier can be very tricky. 
This plug-in gives you an inside track by sharing supplier reviews and stats that you would ordinarily see on the site. You can, subsequently, have a better understanding of which suppliers to partner with.
Given the countless AliExpress challenges and scams reported over the years, My Supplier Plug-in might just be worth it.
Pricing:
FAQs about Dropshipping Automation Software
How Do I Identify the Right Dropshipping Automation Software?
Begin by evaluating the dropshipping tasks that you have on a day-to-day basis. Which of them do you find most time-consuming, difficult, or prone to errors?
The answer to this question will give you a good idea of which dropshipping processes you ought to consider automating.
What Qualities Should I Look For in a Dropshipping Automation Software?
Aside from being a good fit to meet your automation requirements, a dropshipping automation software should ideally:
Smoothly integrate with your online store's platform – if your store's platform is not listed as compatible with the software try and find another option. Consider other options too if you test a software and there are too many performance glitches.
Be Affordable- can you afford the pricing options set by the software company? More importantly, is the price you are paying offering you value for money?
Be Easy to Install – the easier a software is to install the better. It will save you time and money because it means you can perform the installation yourself.
Be Easy to Use- it's one thing for software to have all the right features and be priced fairly. However, if it requires advanced tech skills to navigate, it may make your work harder than it ought to be.
What is the Difference Between a Software and a Dropshipping App?
Technically they are both types of software. However, software solutions are often web-based while apps are downloaded and installed on a device.
Dropshipping Automation Software options tend to sometimes also offer a broader range of functions than an app.
Is Investing in a Dropshipping Automation Software Worth It?
As the saying goes, time truly is money. It may be possible for you to manage every task manually on your own in the early phases of your business. Nevertheless, as it grows, you may start to get overwhelmed.
Some signs that you may need some help from automation include:
Frequent errors when handling orders
Falling behind on sharing orders due to their sheer volume
Having a hard time balancing the running of your dropshipping business and marketing it
In a nutshell, automation software may seem expensive but they are worth the investment because they keep your business running smoothly.
Closing Thoughts
In almost every sector, automation opens up new frontiers for a business. It offers room for growth and can even go a long way in streamlining costs and improving profits. It is no different in dropshipping.
Dropshipping automation software takes up repetitive and mundane tasks so that you can work towards growing your venture. The accuracy it brings also improves service delivery and boosts customer satisfaction.
The NicheDropshipping platform is automated and integrates flawlessly with Shopify and many other dropshipping store platforms.
Reach out to us and we will help you incorporate dropshipping automation into your business.