Online clothing stores are a highly profitable business. More so in these times when customers can easily shop for trending designs on their devices at any time.
Nonetheless, competition is stiff. If you own or are planning to set up a clothing store it is important that you create a store concept that buyers can not resist.
So, in this article, we examine the best Shopify clothing stores, their stand-out features, and valuable lessons to borrow as you set up your own store.
Let's get into it, shall we?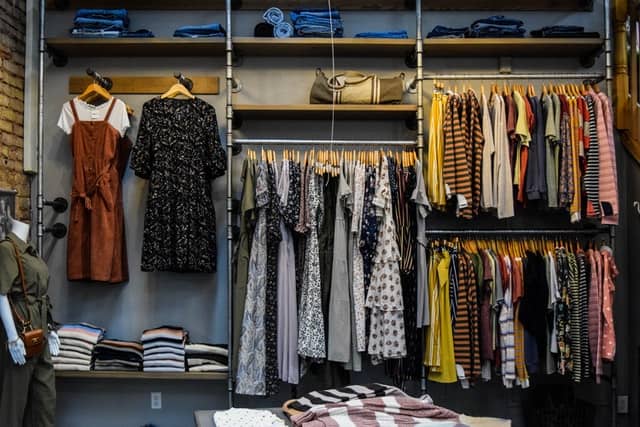 Khara Kapas
Khara Kapas is a clothing company based in India. It makes clothing for women, men, and children using high-quality Indian fabrics.
There are many remarkable attributes to this store. The pieces displayed on the landing page, for instance, give you a true representation of the brand. They are fashionable and pay homage to the Indian heritage that the company prides itself on.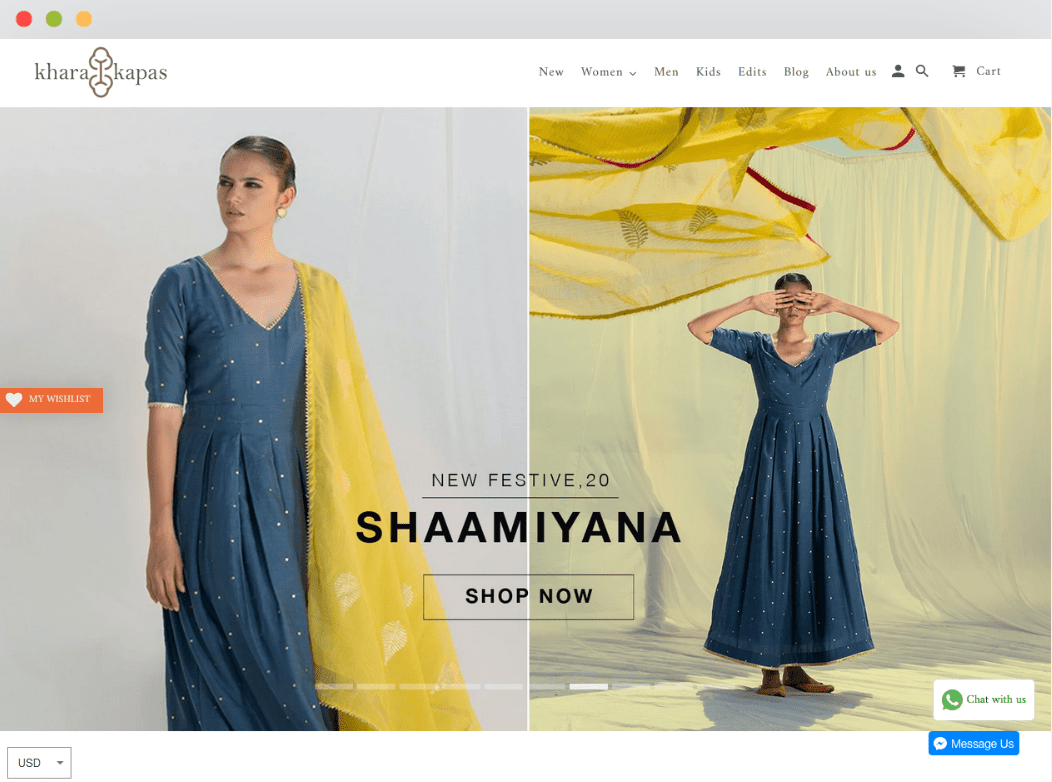 The classy minimalist store layout makes for a delightful shopping experience. It is clear to see that there is a whole banquet of clothing variety to choose from but everything is well categorized to make navigation easy.
What's Their Secret?
Quality products- online shopping can be deceptive but the quality of Khara Kapas' attire is undeniable. Between their designs and their commitment to using fabrics such as high-grade cotton, as a shopper, you are easily drawn in.
Product photography– all the photos on the site have high resolution and are tastefully taken. They make you want to buy the dress or shirt to enjoy it in the great outdoors as much as the model.
Multiple payment options– you can pay for your items via Visa, Mastercard, Amex, Discover, PayPal, or Bank transfer. This accommodates the preferences of a wide range of shoppers.
Accessibility- you can shop on the Khara Kapas online store from wherever you are in the world. It accommodates multiple currencies and offers international shipping.
Faherty
Faherty is a family-owned clothing venture. It offers clothing and accessories for men, women, and kids.
The designs displayed in the store lean more towards casual and smart casual styles. However, you can tell based on the fabric and the stitchwork displayed that they are high-quality pieces.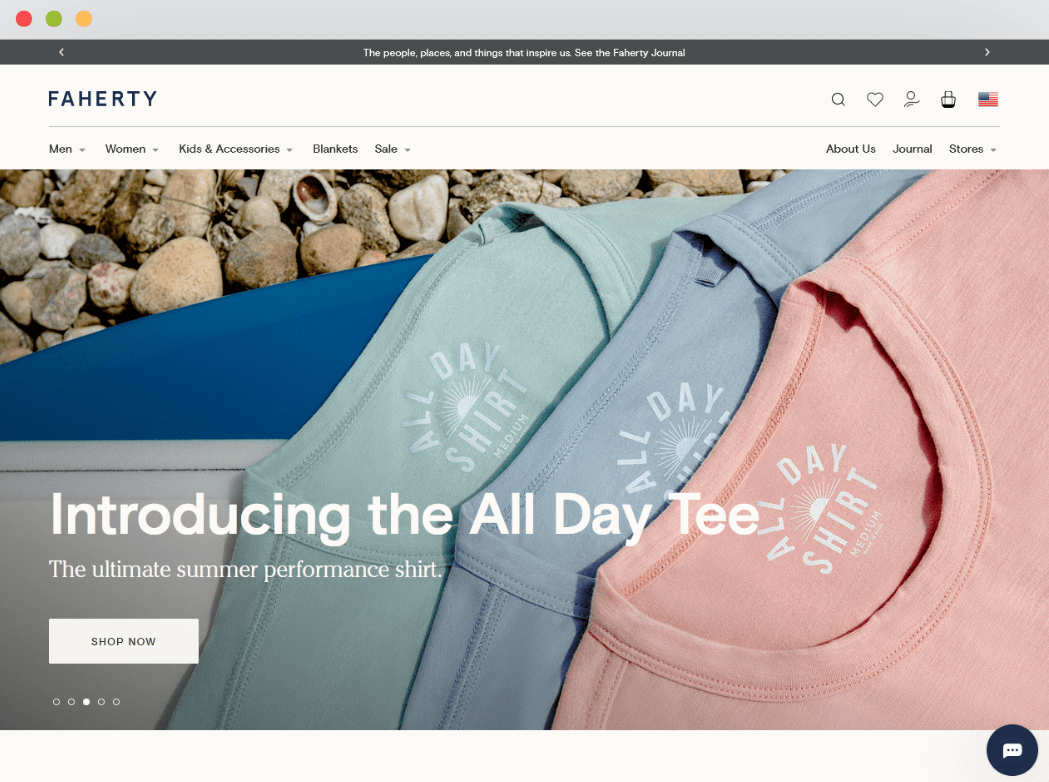 The Faherty online store is very informative. It almost makes you feel like you are having a chat with the store owners. Nevertheless, it remains cluttered and refined all through.
It is also a treat that you get a 15% discount as a first-time shopper.
What's Their Secret?
A friendly relatable vibe- the information on the site fully introduces you to the brand and draws you in to join the family. It's a great way to build customer relationships.
Product description– upon clicking on a clothing item, the Faherty site redirects to a full display of the piece with an informative product description. It includes size, fabric, design detailing to help shoppers make an informed choice.
Well-curated suggestions– ever tried to buy a dress and gotten alternative suggestions for a parachute? Not on the Faherty site; its alternative suggestions are relevant and within a similar price range.
Loyalty points– if you register an account on Faherty, you can opt into the rewards program and gain discount reward codes.
Under 5'10
Under 5'10 is a niche clothing store that sells clothing for men whose height measures below 5'10". The clothing variety includes:
Swimwear

Casual wear; chinos, shorts, jeans, joggers

Formal wear; dress pants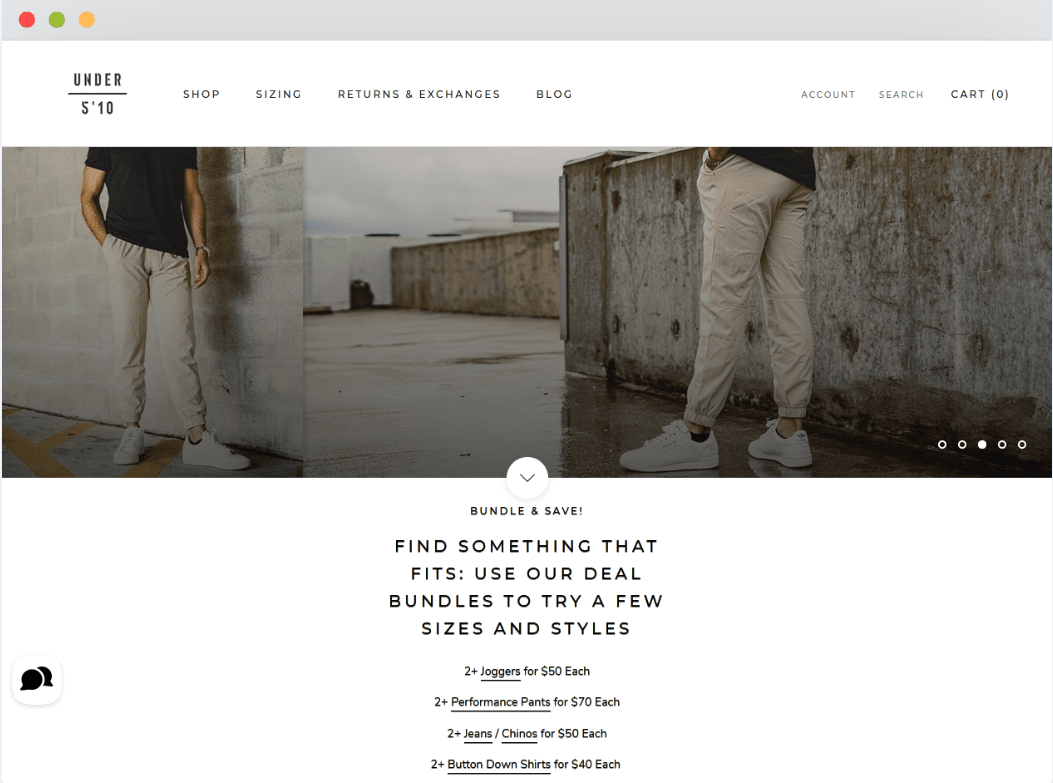 The Under 5'10 online store strikes a great balance between detailed and informative. Navigating the site feels like walking through a very well-organized closet.
Notably, even with it being a niche store, Under 5'10 offers rather reasonable prices. Plus, there are multiple payment options including a military discount.
Orders are processed within 2 days but delivery times depend on a recipient's location. The store also offers international shipping.
What's Their Secret?
Finding an unattended niche– Under 5'10 caters to a market segment that not many clothing designers pay attention to. They saw the gap and rose to the occasion.
Attention to detail– fit is the cornerstone of this clothing store and they do not leave anything to chance. From height to in-seams, the sizing chart and specifications provided by this online store are outstanding.
Bundles– Under 5'10 offers bundle deals where you can buy two or more items at a great discount.
Edifying content– shoppers can transform their dress sense using fashion tips provided on the Under 5'10 blog and podcast. This makes shopping not just a mere purchase but a value-adding experience.
PinkBlush
PinkBlush discards the notion that pregnancy can't be fashionable. It is a maternity wear clothing store that sells original designs of maternity:
Dresses

Swimwear

Loungewear

Intimates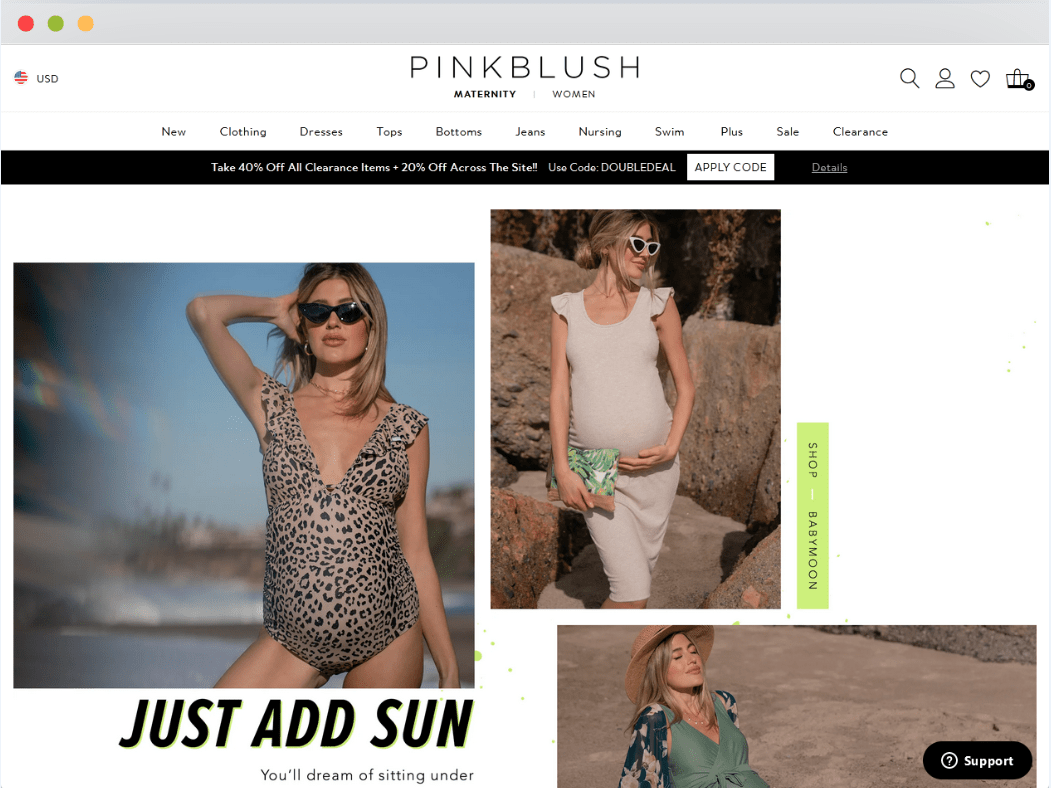 All the clothing offered on this site is not just stylish but also quite vibrant and focused on comfort. Additionally, besides maternity wear, PinkBlush offers non-maternity standard size and plus-size attire for women.
What's Their Secret?
It is a brand for all seasons– women find suitable clothing on PinkBlush before, during, and after their pregnancy. If you love the brand, you never have to wander elsewhere because you are in a different phase in life.
Thoughtfulness- PinkBlush offers thoughtful items like delivery robes and postpartum compression socks. They do not just stop at fashionable clothing, they pay attention to customers' needs too.
Gift cards- gift cards are a great way to drive sales because they open up the store to all customers and not just women. The gift cards can be bought by life partners, friends, or family for the women in their lives.
Pour Moi
Contrary to its French name, Pour Moi is a UK-based lingerie company. The store name translates to 'for me' which aligns with the brand's goal to help women feel more comfortable in what they wear.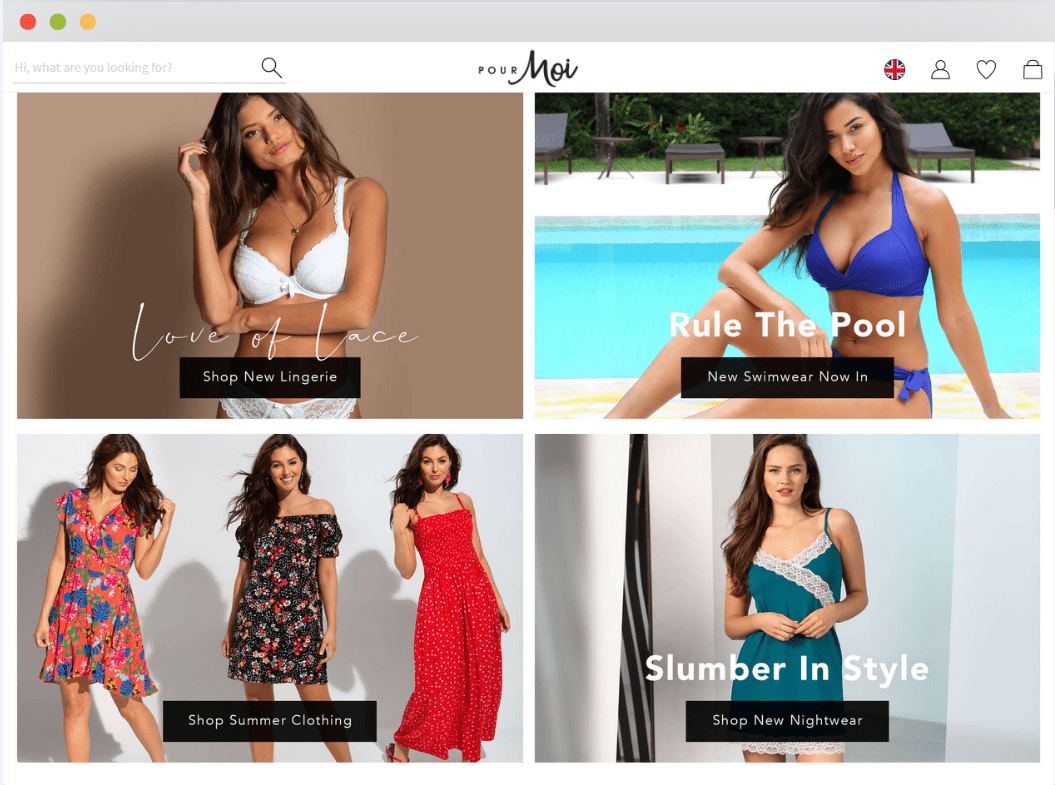 The highlight of this store is in how it embraces all body shapes and sizes. Its lingerie bra sizes, for instance, go all the way to a J cup. You also can't fault Pour Moi for lacking variety as the brand offers:
Hosiery

Nightwear

Swimwear

Activewear

Clothing; summer dresses and loungewear
Pour Moi offers shipping within the UK and internationally. All clothing items are itemized in categories and if you like to keep up with trends, it has a 'New In' p for just that.
What's Their Secret?
They found a neglected niche- for countless years, lingerie was reserved for a specific size range of women. Pour Moi burned that ancient rule book by selling stylish lingerie for women of all sizes.
A virtual fitting room– approximately 80% of women wear the wrong bra size. Having a virtual fitting room with a professional consultant helps Pour Moi shoppers avoid such errors and subsequently, enjoy their purchases more.
Milk Fashion
Milk Fashion has its roots in Perth, Australia. It, however, ships internationally and thereby caters to a broad market.
Unlike the stores mentioned above, Milk Fashion stocks multiple brands of clothing. They include Arnhem, Barefoot, Elle, among other leading names in fashion.
Each brand is categorized separately to help you find what you need. Alternatively, you could choose to shop based on the type of clothing item you are looking for. This flexibility and variety is certainly a pillar of the store's success.
What's Their Secret?
Variety– a general niche approach can sometimes be more profitable. In this instance, stocking different brands is likely to boost sales because the store caters to diverse customer preferences.
Flexible payment options- if you are not able to make a full payment, you can opt for the 'Afterpay' option that allows you to pay in 4 staggered installments with no interest. This makes items more accessible to buyers in all income brackets.
Goodfair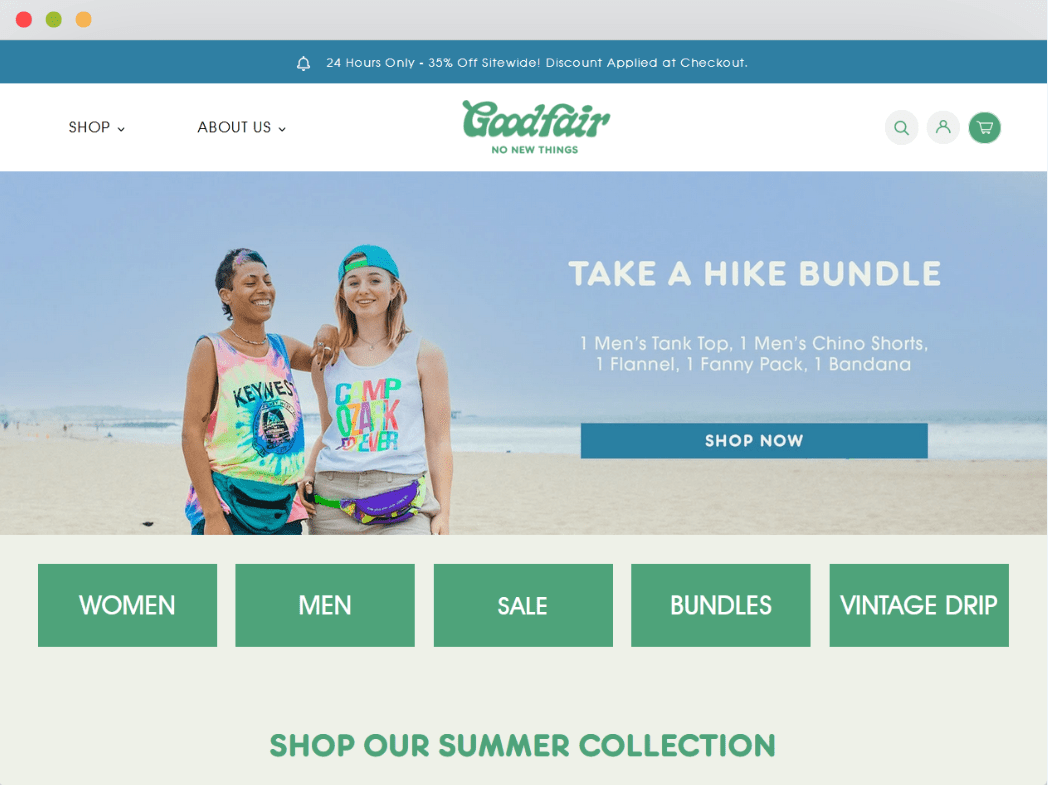 'No New Things', is Goodfair's mantra. The store sells thrifted clothing for men and women at a great bargain.
"Why thrifted?", you might ask. Well, for every new item of clothing that is made, natural resources are required and carbon emissions likely go up. To minimize this, Goodfair encourages buying preloved clothing in good condition.
The highlight of this store is the ethical approach it takes. The site is easy to navigate and there is full disclosure on everything.
What's Their Secret?
Keeping up with the times- this is a business that is keeping up with pertinent issues in society. No wonder it is so popular among eco-conscious customers that prefer eco-friendly and ethical businesses.
Affordable clothing- not everyone can afford new clothing. By offering affordable pre-loved clothing in good condition, Goodfair provides a dignified way for them to access clothing.
Negative Underwear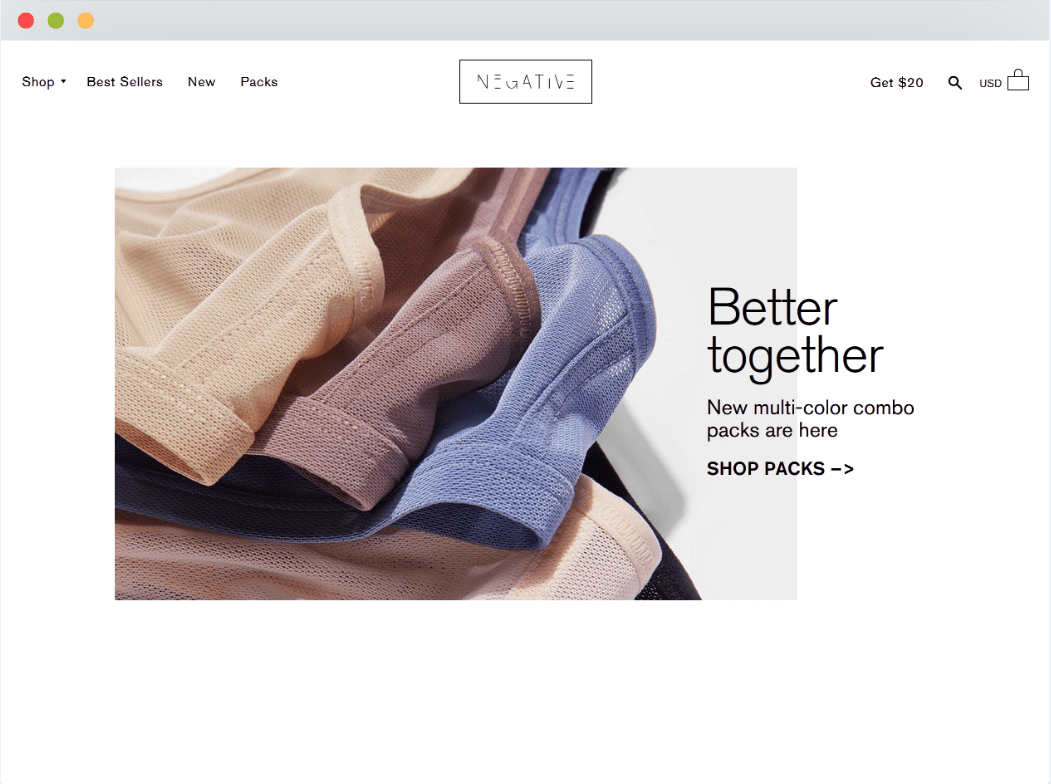 Negative Underwear's origin story is quite interesting. It was founded by 2 college mates who identified a market gap in the supply of comfortable, affordable, everyday intimate wear.
The Negative Underwear store makes buying intimates feel comfortable and fun. The models portray the shapes and sizes of all women and not the unattainable size zero previously favored in the industry.
The site is classy, organized and the communication is friendly and conversational. You would also be spoiled for choice regardless of whether you are looking for luxury lingerie or spanks.
What's Their Secret?
A fresh approach to lingerie- for a long time, comfort and classy seemed to be mutually exclusive terms when it comes to women's underwear, Negative Underwear found a way to merge them perfectly.
A delightful shopping experience- for many women shopping for underwear was a nerve-wracking experience riddled with shame. The Negative Underwear online store champions self-love and promotes discreet delightful shopping.
Catchy marketing- Negative Underwear brings its girl-next-door approach to email marketing. Shoppers that sign up for it get updates on products and other informative tidbits.
Big Bud Press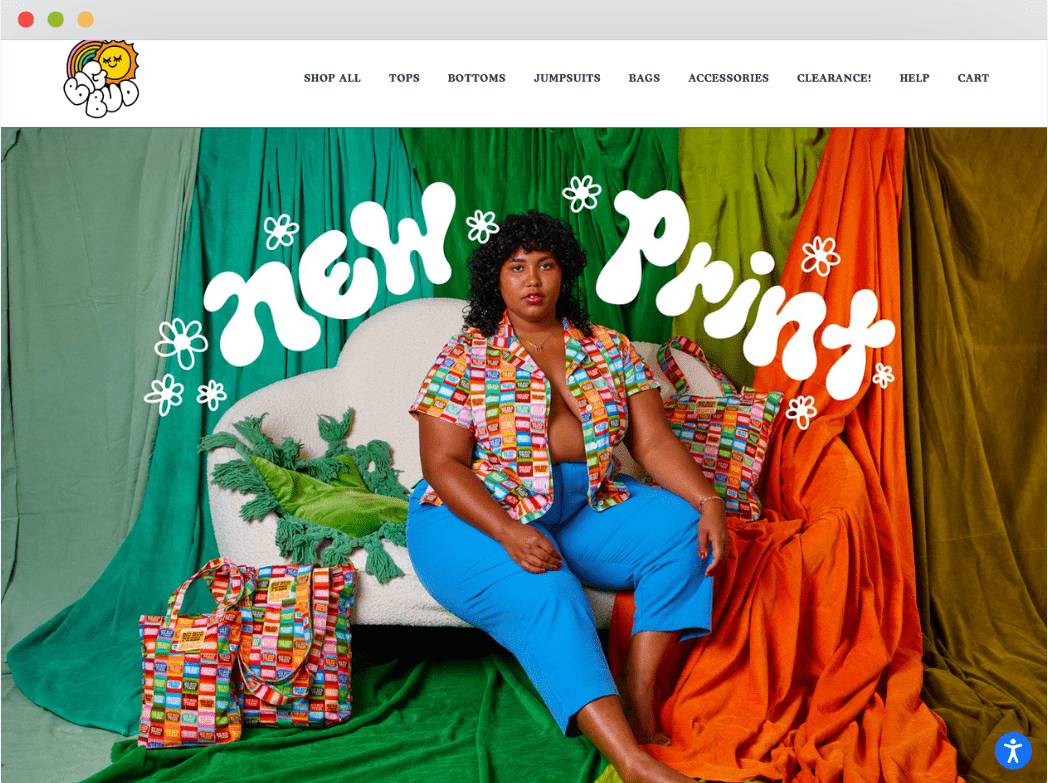 Big Bud Press is another friendly online clothing store that wins you over with its charm and cheery theme. The font, in particular, is quite quirky and immediately shakes off the stiff formal appearance most stores have.
The Big Bud Press' clothing catalog caters to unisex buyers. It is mainly focused on casual tops, bottoms, jumpsuits, and even bags. The fabrics are uniquely colorful and the sizing is inclusive.
What's Their Secret?
Detailed product descriptions- this isn't the kind of store that gives you just one product angle. Every clothing item has multiple pictures in multiple angles and a product description with comprehensive details.
Organized navigation- every clothing category is very specific and this makes it easy to find items and saves shoppers time. Tops, for instance, are differentiated further into polos, long-sleeves, and such.
A clearance p – want a Big Bud Press clothing item that's above your budget? Cross your fingers and keep checking the clearance sale p to buy it at a considerable discount.
Unconditional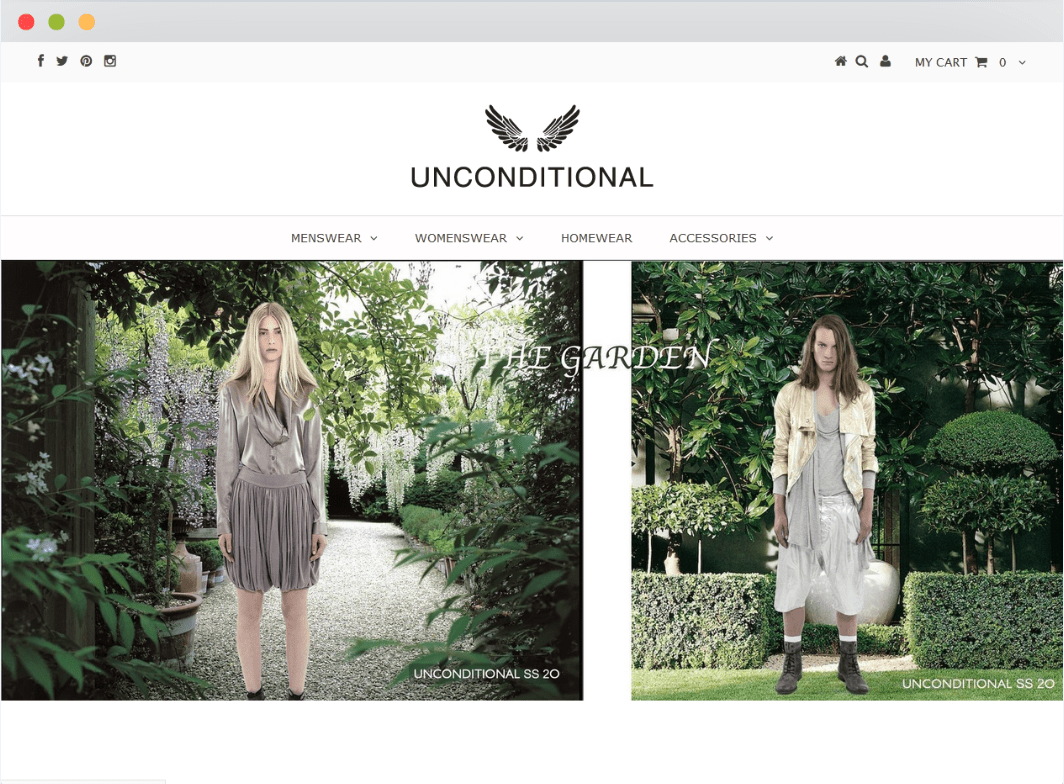 Unconditional is a UK brand and this shows in its product catalog and the layout of the Shopify store.
The overall feel of the site screams refinement and class. The clothing, on the other hand, fits right in with the grey weather that London is known for. Some of the listed items include:
Merino wool scarves

Woven cardigans

Hooded coats

Formal jackets

Casual wear; tees, wrap dresses, harem pants
Unconditional offers clothing for both men and women including some maternity pieces.
What's Their Secret?
Quality product photography – the store's mood is that of a high-brow fashion entity. It achieves this using professional fashion photography that is crisp and displays the products at their best.
Taylor Stitch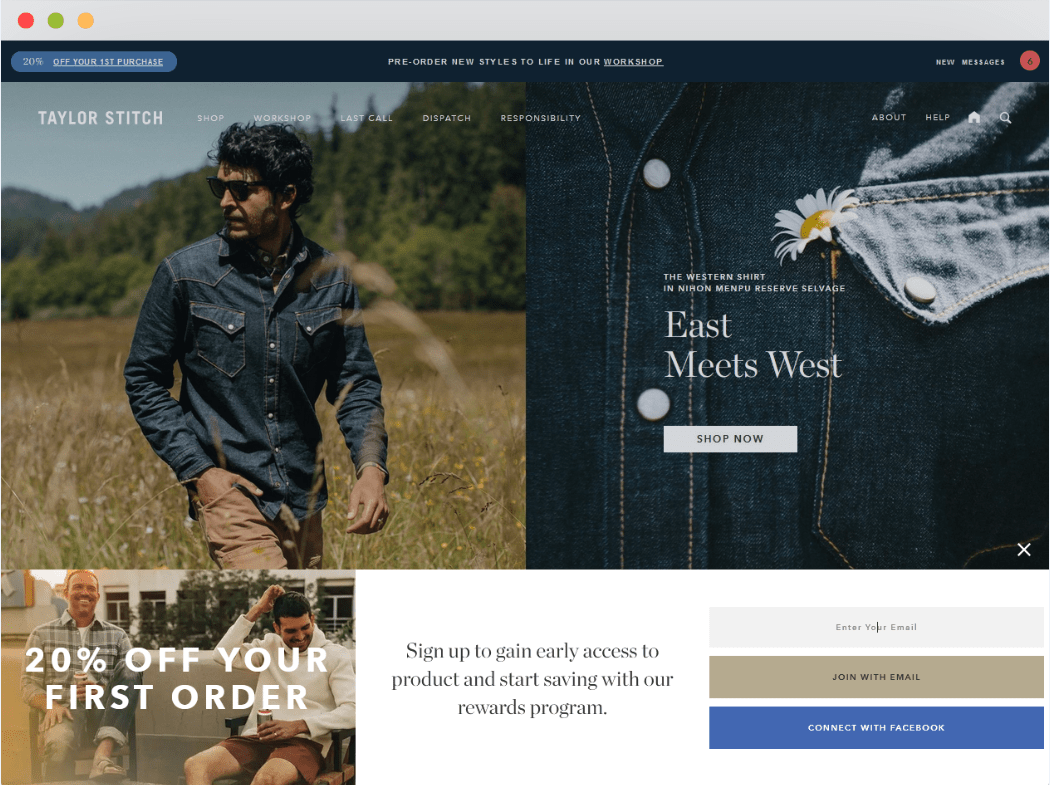 Logging into the Taylor Stitch online store instantly feels like walking into a masculine space. This goes to show just how well the store is designed because it is, after all, a men's wear store.
The clothing catalog covers everything a gentleman would need in his closet. From shirts, bottoms, knitwear, to accessories, this is easily a one-stop shopping venue. The fabrics are equally diverse and indisputably stylish.
What's Their Secret?
Outstanding product images– the product images in this online store are so clear you can see the texture of the fabric. The images are also exquisitely tasteful.
Graphics and transitions- as you browse the site, you notice how the information and images are made conversational using smooth transitions and creative Shopify theme backgrounds.
Business ethics- Taylor Stitch sources and manufactures its clothing while adhering to environmental best practices. It invites customers to join in and own the production process through their workshop initiative.
Argent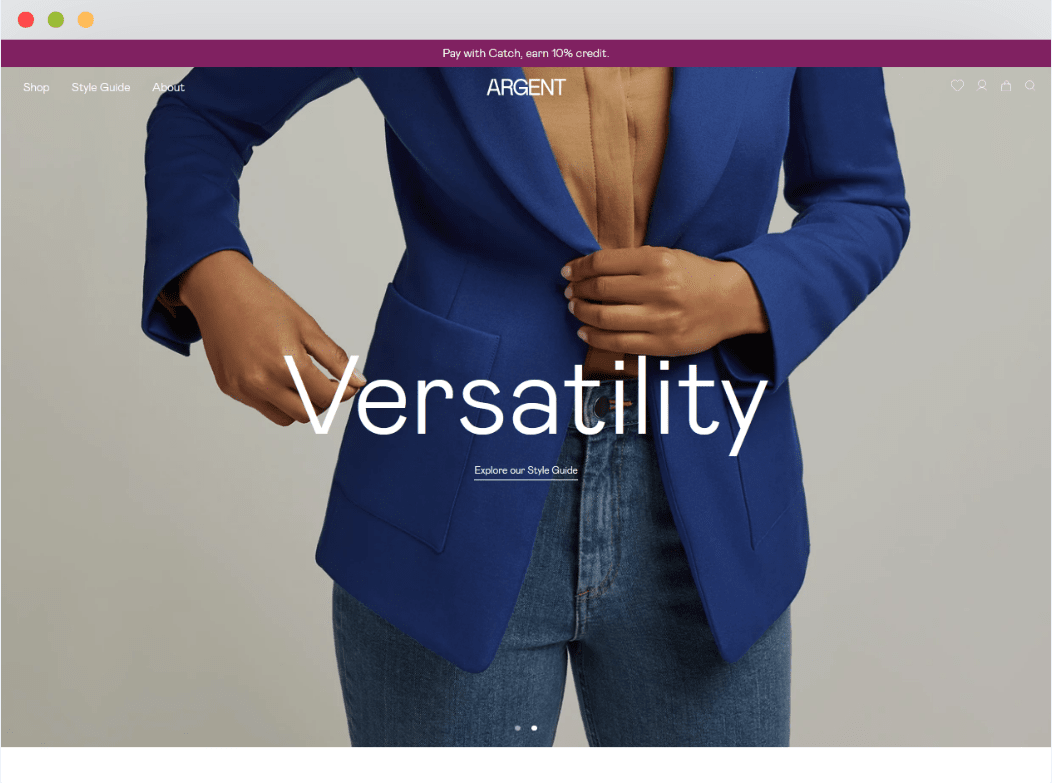 Argent sets itself apart by bringing fresh modern style ideas to women's workwear. The pieces are comfortable, unique, and offer functionalities like pockets that are overlooked in women's clothing.
This online store has a beautiful layout that showcases different outfit looks that buyers could try. It is also quite simple to find individual items like sweaters, vests, pants, or blazers.
On the downside, Argent only ships within the USA but plans are underway to broaden its horizons.
What's Their Secret?
Attention to niche details- workwear clothing stores are a dime a dozen but Argent distinguishes itself by offering stylish, unique designs with pockets and refined finishes.
Complete outfit suggestions- the complete outfit looks presented by Argent gives shoppers some style insights and makes shopping easy for some. The style guide on the site is also a lifesaver.
Gift cards and a wishlist- the combination of these two provisions make it a great store for gift shoppers. This is a key marketing point and source of more sales.
FAQs on Shopify Clothing Stores
Is Shopify Good for Selling Clothes?
Yes, it is.
For starters, Shopify provides a wide selection of layouts that are easy to navigate. This is imperative as complex or disorganized sites lead to cart abandonment.
Other reasons that make Shopify an ideal platform include:
It provides a wide variety of lovely themes that elevate the look and feel of your Shopify clothing store.

It supports multiple payment options and offers top-notch security on your transactions.

Shopify is accessible to online clothing store owners around the world.

Shopify stores display remarkably on mobile devices which are a major gateway for a significant number of online shoppers.
How Do I Set Up My Clothing Store on Shopify?
The first step would be to get your business documentation and concept in order then create a Shopify account. Take advantage of the brief trial period to set up the basic details of your store and understand how the system works.
Once the trial period is over, you can upgrade to a paid membership and complete your store's setup. Shopify provides many tools to help you and the setup steps are organized in a user-friendly way.
Look out for helpful Shopify guides too; they offer lots of helpful tips.
Which is the Best Theme For a Shopify Clothing Store?
This depends on the general vibe and image you would like to portray. Would you like something quirky and fun or are you hoping for a minimalist refined look?
Further, aim for a theme that will blend well with your product images. When they are juxtaposed, they should create a harmonious inviting setup that does not clash.
Shopify offers free and paid theme options. The truth is a great theme is a game-changer. If you can afford it, invest in the best you can find. If not, choose the best free option and save up to upgrade when you can.
Takeaways From Leading Shopify Clothing Stores
If you are thinking of starting a Shopify clothing store, here are some lessons you could borrow from these leading stores.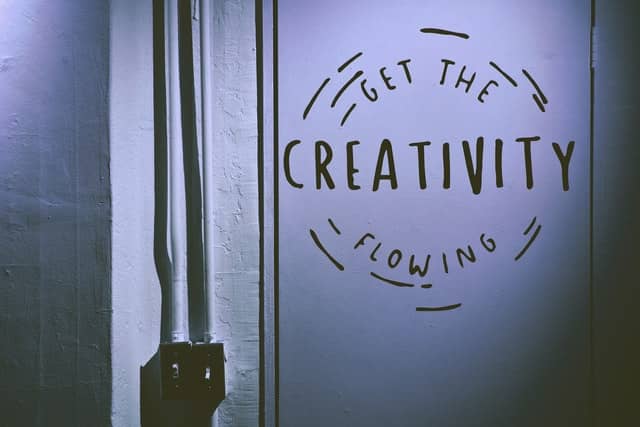 1.Define and Distinguish Your Brand
Each of these leading stores offers something unique that draws customers in. So, as you develop your branding concept, aim for something that's original but also remains relatable to your target audience. Consider:
The core values of your business

An easy-going communication style

A style identity for your fashion store
2.Create a Shopping Experience
The appearance, site navigation, and general feel of your store determine the type of shopping experience that your customers will have. Aim for:
Easy to find product organization on the site

Multiple payment options

Streamlined processes; if a buyer has to go through too many hoops, the visit is less likely to convert to a sale

Product descriptions- keep them detailed with concise wording and images. Include helpful tools like size charts
3.Practice Inclusivity
Be it gender, size, language, or currency, make an effort to keep your store inclusive as possible. It opens your store up to a larger market and boosts sales as you will have addressed the needs of a wider net of customers.
4. Gifting Options
Consider introducing gift cards and wishlists. They are a major profit point for festive season shopping and as registries for life events like baby showers.
Final Word
Whether you are dropshipping or selling original clothing designs, it is clear that Shopify is a great platform. Granted, you may not master running your clothing store in the first week. However, the success stories on this list are proof that you too can excel.
At NicheDropshipping, we are well-experienced in sourcing a wide selection of clothing for different types of clothing stores. Simply present us with your requirements and we will get back to you with a quote in 2 business days.
Additionally, we provide value-adding services like warehousing, quality control, and worldwide fulfillment. Our NicheDropshipping platform syncs flawlessly with the Shopify app and it is, therefore, very easy to work with us through all these dropshipping processes.
Contact us today and we can help you realize your online clothing store goals.