Building an online store is one of the most crucial aspects of starting a dropshipping business. This makes choosing a website builder an important decision. 
The features of your online store will be dependent upon the available ones from the builder you chose.
So, which ecommerce website builder is the best out there?
The top choices are Wix and Shopify. These two platforms each have impressive ecommerce features you'll need for your store—sometimes, they even seem to offer the same ones.
In this comparative article, we'll take a look at the similarities and differences of each platform. We'll also dive deep into the pros and cons of each to help you decide.
If you want to choose the best builder for your store, definitely read on to know which one resonates best with your current and future needs.
Let's begin.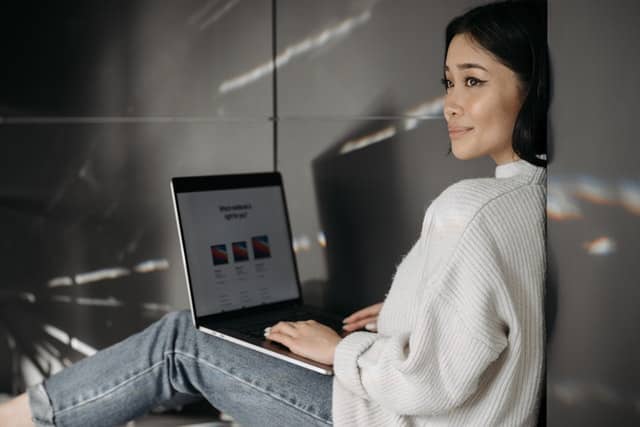 Overview of Wix and Shopify
Wix and Shopify have always been the go-to choices of dropshippers. Each platform has its winning factors which make it a bit more difficult to choose.
But before we scrutinize each one's features, let's first look at the overview for each.
Moving forward, it's good to note that while Wix comes first in discussions, it doesn't represent superiority over Shopify. Going back, here are the overviews for each.
Wix
Founded in 2006, Wix was originally created for people who had zero knowledge about website building—coding, designing, etc.
It came to life after founders Avishai Abrahami, Nadav Abrahami, and Giora Kaplan struggled to build a website for their start-up idea.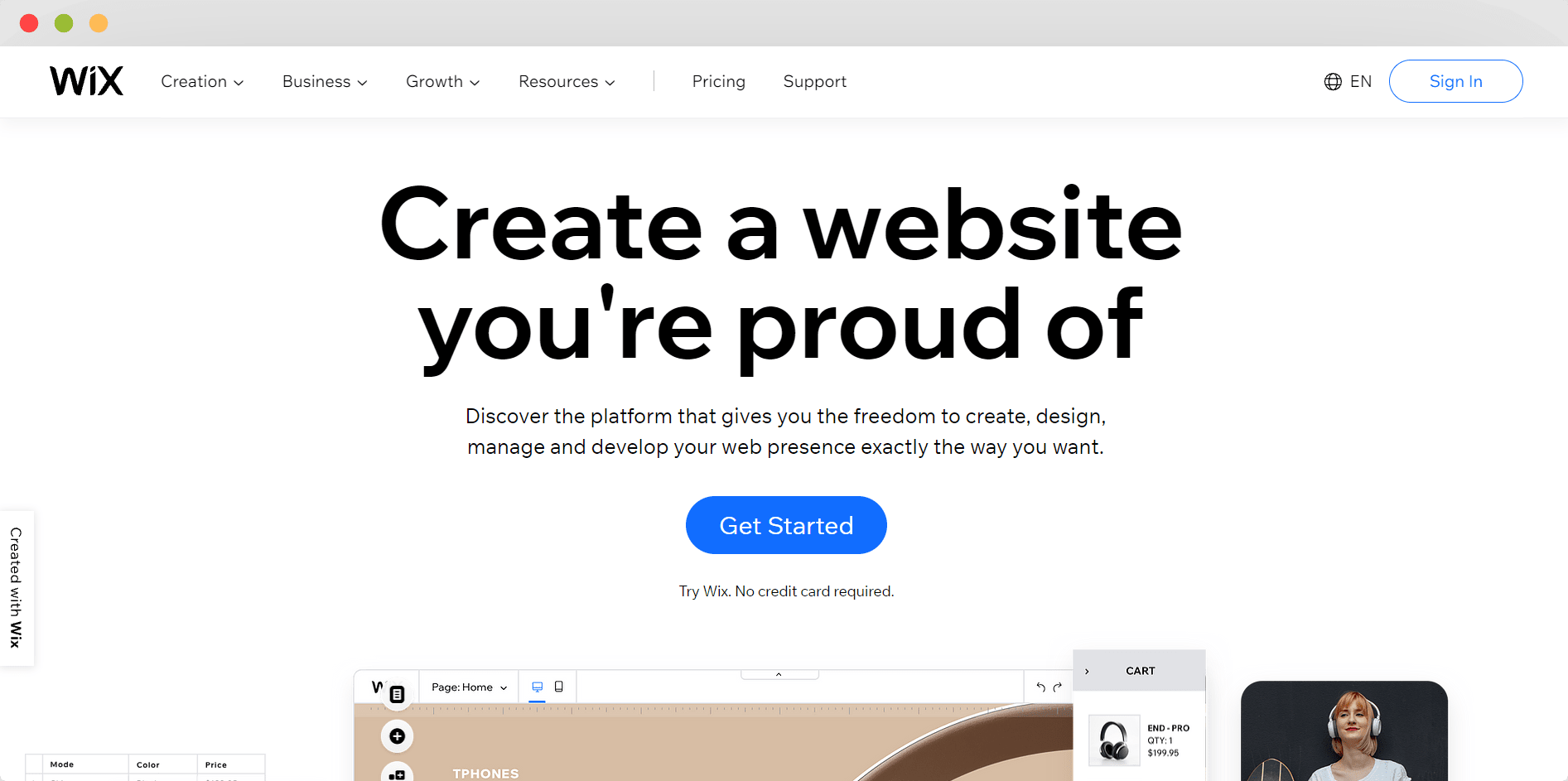 It also attracted freelancers and service-based businesses because it was initially inclined to content-based websites. News websites and blogs were mostly built on the platform.
But as the company and its user-base grew, it has since explored other opportunities and added features that will cater to more needs.
As written on their website, Wix is ideally a website builder that allows a user to build a website exactly to what they envisioned it to be.
Because of this, Wix is usually considered because of its website building features with options to add ecommerce features.
Hundreds of features are now available for users to automate their workflow, design logos and websites, conduct SEO, and even create promotional videos.
With all these features, the platform currently has more than 200 million users around the world.
Shopify
Shopify was also officially launched in 2006 as an ecommerce software solution platform.
Before launching, Shopify was an online store that sold snowboards—it was then called Snowdevil.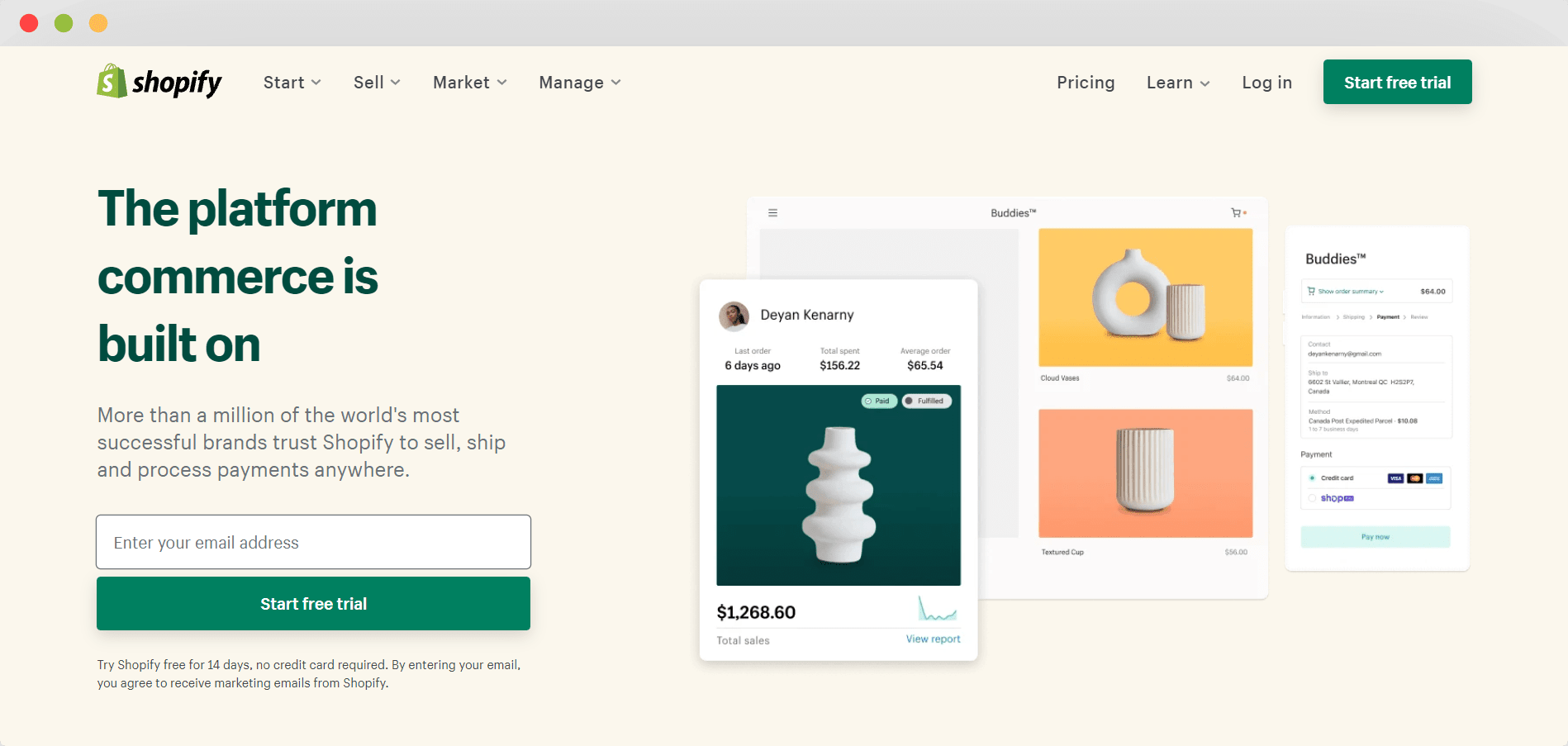 Founders Tobias Lütke, Daniel Weinand, and Scott Lake weren't satisfied with the current ecommerce solutions, leading them to create one of their own.
One advantage of this startup team was that Lütke was born to become a coder. Although the platform's journey was not seamless, it was definitely their leverage over other startups.
Since the platform started as a solution for businesses to gain more control over their own online stores, entrepreneurs, business owners, and dropshippers were the first types of users.
Generally, Shopify is more focused on providing business solutions to its users.
Now, more than 1.7 million businesses use Shopify as their ecommerce website builder. The platform constantly adds features that help cater to users' needs and has also started exploring ways to become more sustainable as a company.
Wix vs Shopify: Comparison of Features
Both Shopify and Wix have their pros and cons. Having gone through their general overviews, it's time we set them side-by-side and start comparing their features.
In this part, we'll focus on the main features that dropshippers usually consider. Similarities and differences will be discussed, along with their pros and cons.
Templates and Customizability
The first factor on the list is the templates and customizability. It's one of the main reasons why dropshippers even opt for website builders. Typically, you want to use a platform that allows you to create and manage the website you envision.
Wix and Shopify are generally user-friendly, but they vary with how you can edit your store.
Wix's Templates and Customizability
Wix provides three options to build a website: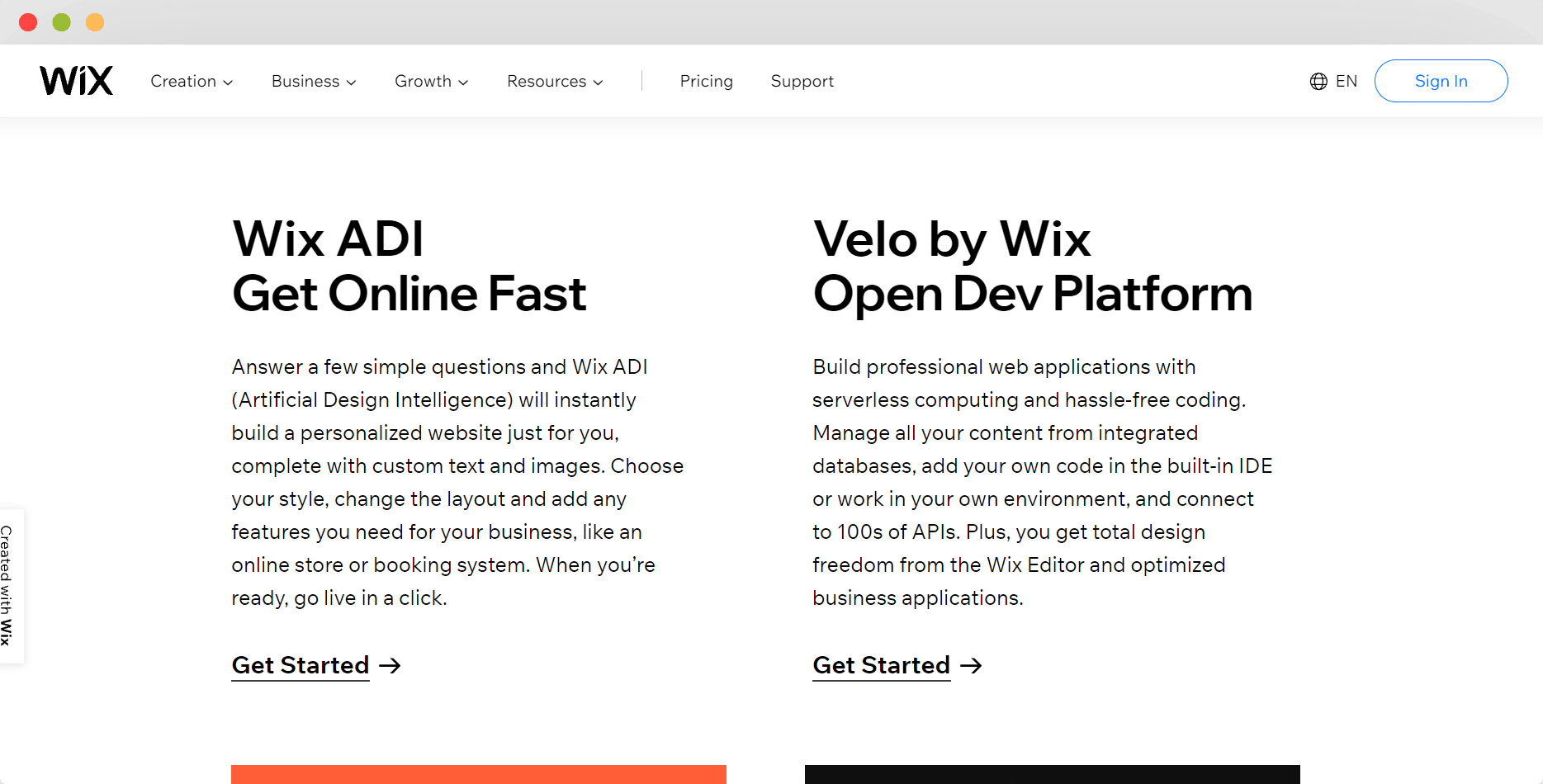 All these options allow you to see what your website looks like as you create it. Wix uses a drag-and-drop creator that lets you click on any feature and drag it to any point on the page.
For users who don't know how to code at all, this makes website building a breeze.
Using Wix Editor, you can select a template, structure your website, and fill it with content. It's beginner-friendly and the top option among most users.
Wix ADI—short for Artificial Design Intelligence—is designed to create a website within minutes. It was the first of its kind when it was released in 2016.
This tool uses questions to learn about a user's preferences to create their envisioned website. Using available information, it builds a customizable website you can edit.
Finally, Velo allows you to add more functionality to your website rather than just the templates available. However, you'll need coding skills to be able to maximize it.
It's quite convenient for any user to have three options to choose from when building a website. It presents flexibility and immediate results, making it a great option for those in a rush.
As far as templates are concerned, Wix has over 800 free templates to choose from. This is both a blessing and a curse because while there's possibly one theme that captures everything you desire, you'd have to sift through a huge lot before you find it.
The Wix tools also have their pain points. For one, the drag-and-drop feature can be a bit complicated since you have to literally drag features across the page, sometimes disrupting your progress.
The Wix ADI options also won't get it right the first time, requiring more editing along the way. You also have to work on the mobile version separately, requiring you to do another round of editing.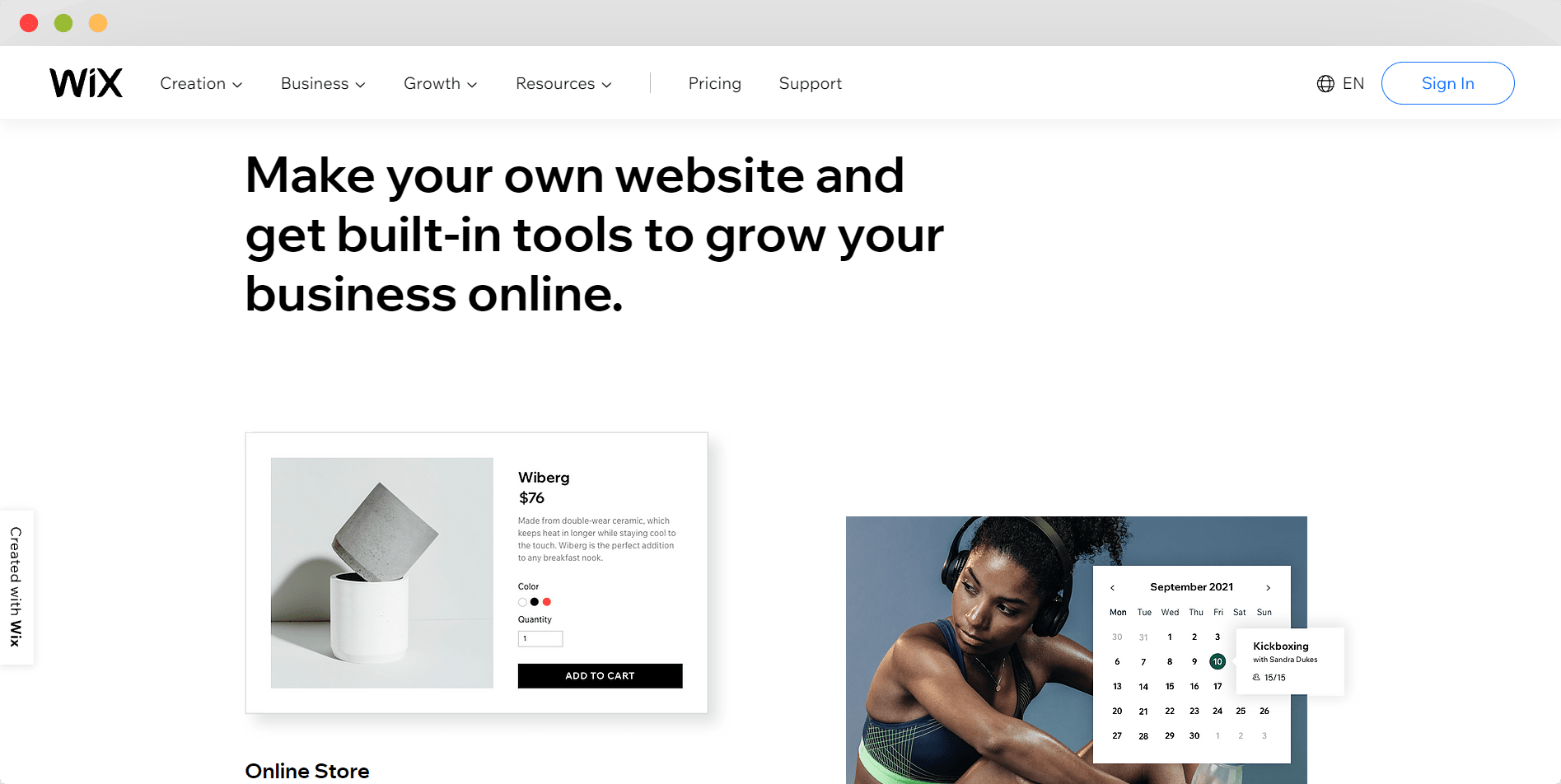 The template you choose at the beginning will also be your website's template until the end. So rebranding your store will need massive editing.
So while Wix does seem flexible, you need to be patient at times to get the result you want.
Shopify's Templates and Customizability
Shopify also has a similar drag-and-drop feature—Shopify Online Store 2.0. It was recently released and now allows users to choose from available themes and design the online store in real-time.
Its main difference from Wix is that Shopify has predefined blocks and ps that limit where you can move things. It's not that flexible, but it's the platform's way of ensuring it's still suitable for mobile viewing.
Prior to the release of this tool, users could only edit their websites at the back-end then preview the results of their work after they've finished editing.
This meant that users had to move back and forth between previews and their dashboards. You would have to carefully take note of the things you want to change just so you can achieve your envisioned website immediately.
On the bright side, Shopify already has templates pre-made and optimized for a professional and eye-catching look.
In a nutshell, Shopify's restrictiveness presents a more straightforward way of editing a website. It's also convenient for those who don't want to do another set of edits for the mobile version of their store.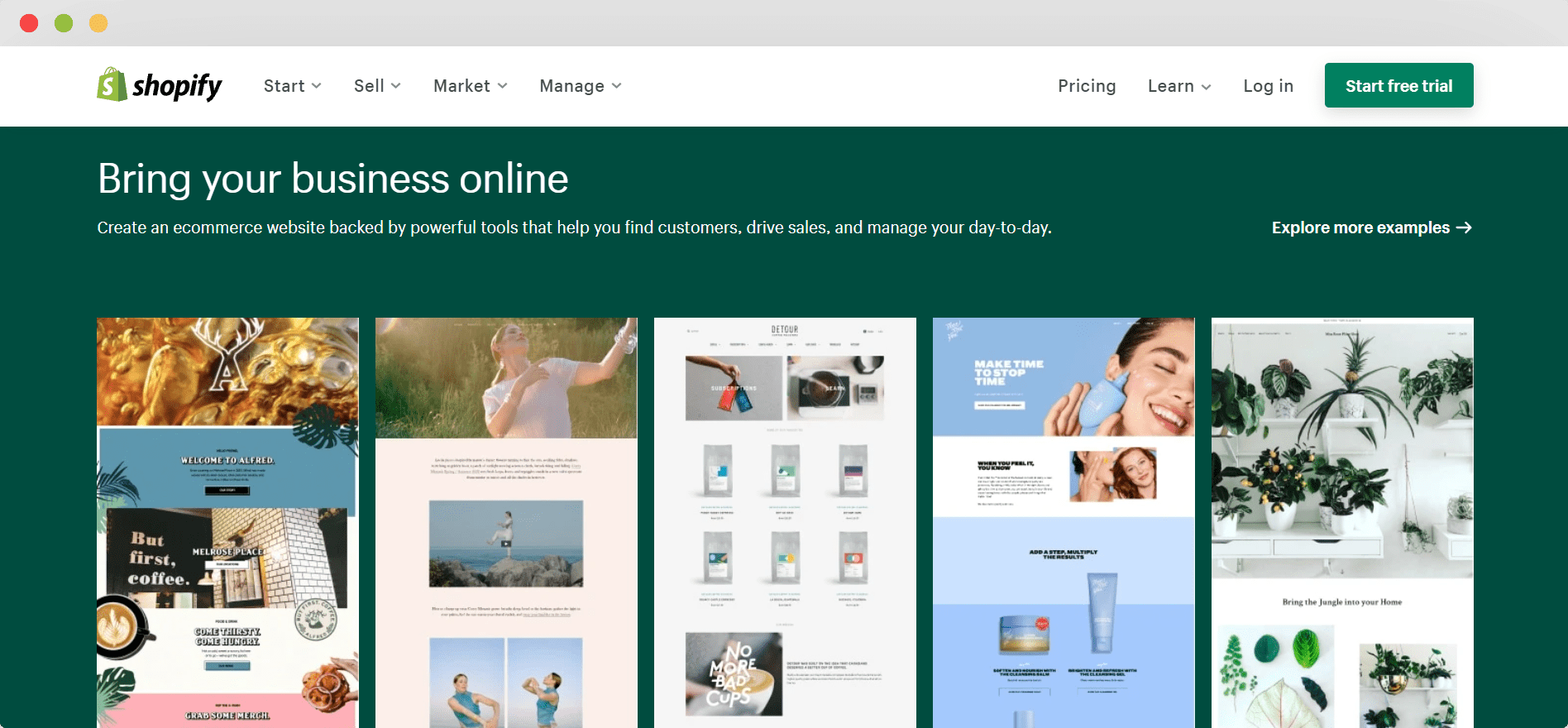 However, it does limit creativity, especially when it comes to placements. You won't have much freedom moving things around compared to Wix.
But overall, Shopify can be convenient for those who prefer pre-decided features and placements for optimization.
Themes and Customizability—Verdict
It's really just a matter of how creative you want to be. If you prefer more freedom, definitely opt for Wix given its flexibility in designing.
But if you want to think less about where things should go, Shopify sounds like the perfect editor for you.
Point-Of-Sale (POS) Solutions
Dropshippers should know that having a great POS solution is essential, especially if you want a stress-free process later on. This functionality allows you to link your website to in-person sales.
So if you have a physical store, or have a separate face-to-face business, this should be taken more seriously.
Both Wix and Shopify currently offer POS solutions, but they do have key differences. More of these will be discussed in the ps below.
Wix's POS Solutions
Wix POS includes some unique features like local delivery, unlimited staff accounts, and curbside pickup. It's currently available for retail stores, services, and events.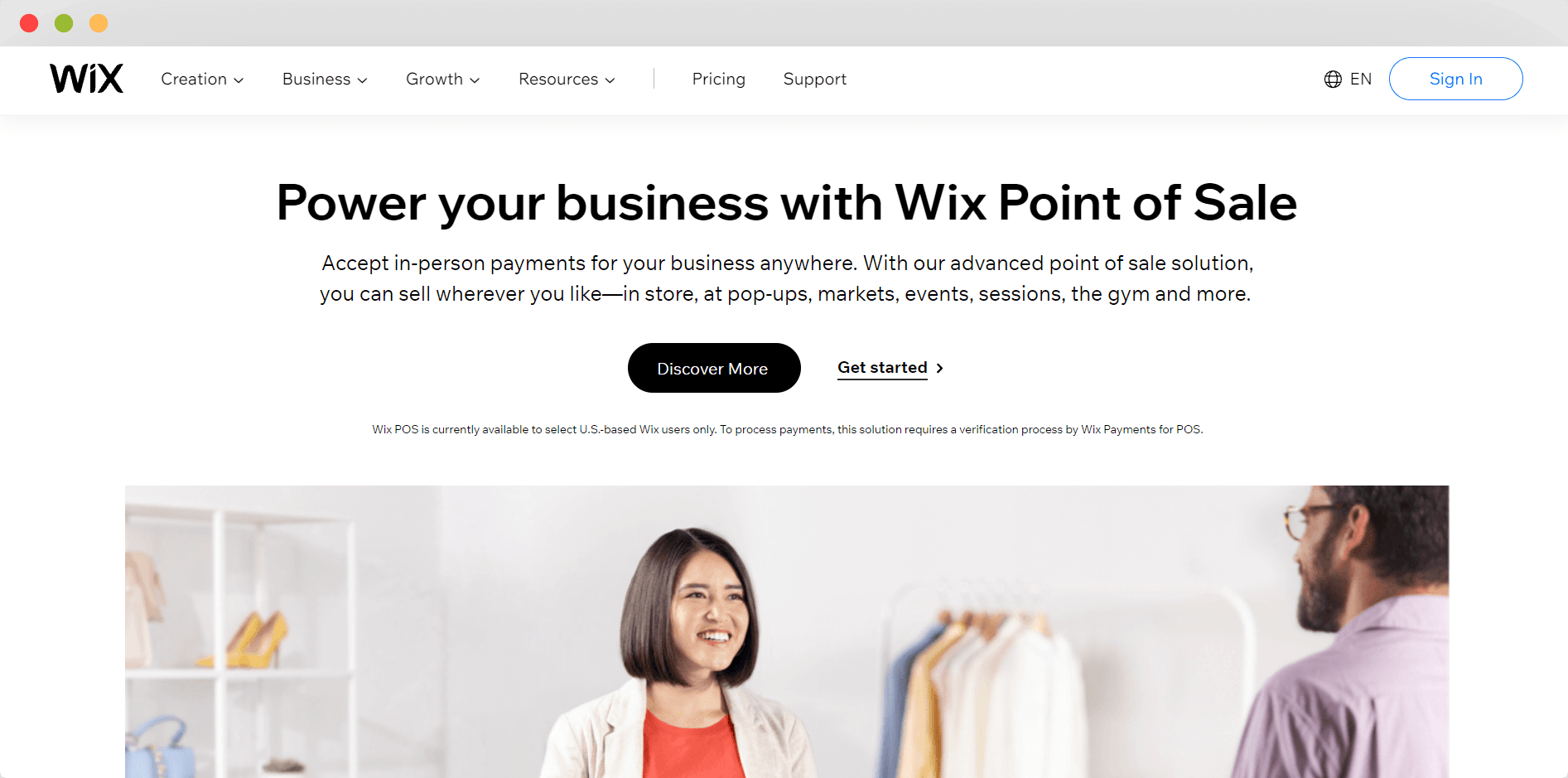 However, Wix just launched this solution in June 2021, and has only made it available for US-based merchants until now in 2022. If you live outside the United States, you need to use an integration service such as Square or SumUp.
Only supported business types also have access to this solution, as well. You would also need to purchase a $550 POS kit since it's only the current hardware being supported.
Shopify's POS Solutions
Shopify's POS is of its own and is included in all of its plans, even in Shopify Lite. The platform's POS lets you connect in-person sales to your store, accept payments, sync and track online and offline inventory, manage sales and customer data and update reporting.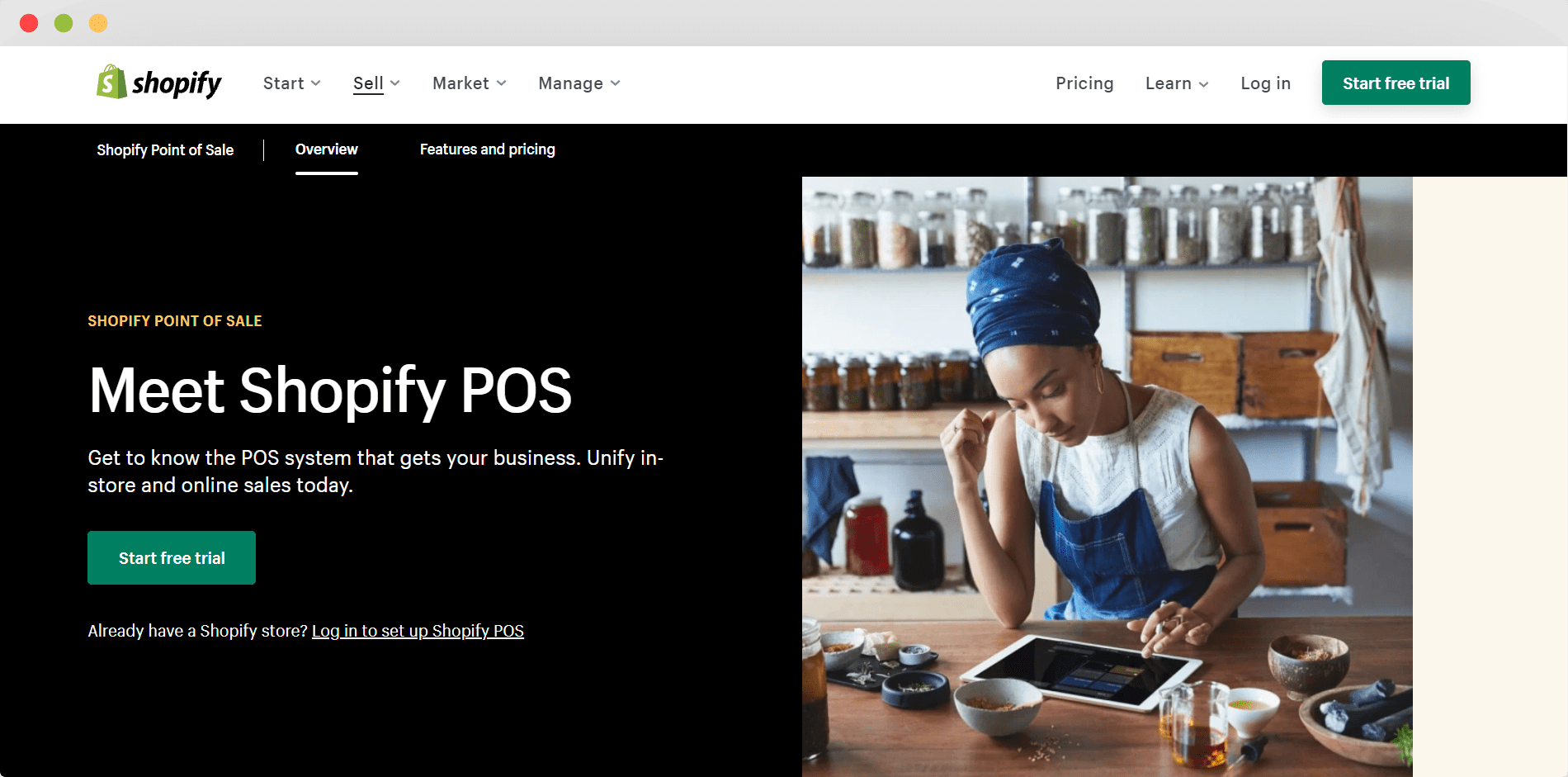 Moreover, the POS can be used in any country where credit card payment providers are supported by Shopify.
For Shopify, you can even sell in-store and purchase card readers and receipt printers if you're in Canada, UK, or Ireland. With just an iPhone or an iPad, this can be your physical store's POS solution for seamless integration.
You can also customize the checkout screens of your customers and get support from Shopify if things go haywire.
If you opt for a Shopify Plus plan at $89 per month, you can also enjoy advanced features like store pick-up, staff logins, and smart inventory management.
POS Solution—Verdict
There's no denying that Shopify is the clear winner for this round. The solution is more accessible and friendly for new users, and it definitely isn't limited to a specific location.
Given the importance of having a great POS, you should consider the points discussed above especially if you're not a US-based business.
Shipping Options
Another important aspect of any dropshipping business is its shipping options. For some dropshippers, they consider this the lifeline of a business.
After all, a customer only really pushes through an online transaction if they guarantee they will receive their order.
Wix and Shopify both have customization options you can choose from. From free shipping to shipping by product, these platforms made sure business owners offer options for their customers.
Wix's Shipping Options
Wix allows you to set rates from your dashboard depending on where your customer is from and what they ordered. Tax and shipping are automatically factored in the final price when they checkout.
Wix offers real-time carrier discounts which are only, currently, available in the USA. You can get as much as 70% off your USPS shipping depending on your chosen plan.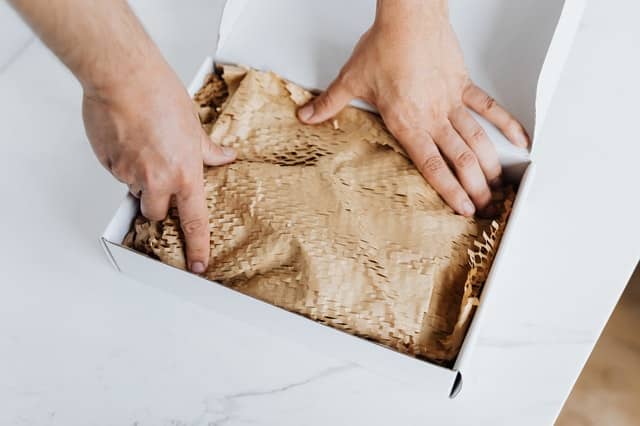 You will still need to use other applications to help with global shipping payments as Wix doesn't currently support this.
If you do opt for a different carrier for real-time shipping, you can use ShipStation, which is app integration, and add it to your store. This integration streamlines the process of sending products to your customers.
This paid app has plans that start from $9 per month.
You can follow a step-by-step guide from Wix to help you with shipping.
Shopify's Shipping Options
From free shipping to providing alternative shipping providers, Shopify has got you covered every step of the way. It also has more options like local delivery and curbside pick-up.
The platform offers real-time shipping quotes for preferred carriers if customers order from the US, Canada, and Australia.
Discounts, some reaching up to 74%, and negotiated shipping rates with third-party carriers are available for those who opt for the Advanced Shopify plan, or higher.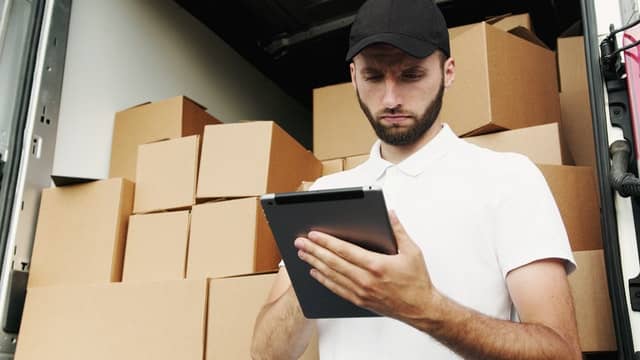 You can simplify your workflow by creating a shipping setup you prefer and tracking packages through Shopify. What's even better is you can enjoy all these by just paying a bit more on top of your subscription.
Shipping Options—Verdict
Clearly, Shopify offers more options for its users. As of the moment, Wix is still currently dependent on apps which makes it a bit challenging if you want to find everything in one place.
While Wix needs to catch up, Shopify seems to be the better option if you want more shipping options for you and your customers.
Marketing Features
Marketing will always be an integral part of any business. This is one of the most effective ways to reach the right customers and convince them to support your products or services.
While having a great website looks appealing to customers, you first need to have an audience to appreciate it.
With that, it's clear why this should also be a factor you should consider. Both applications offer different marketing solutions for their users.
Wix's Marketing Features
Email marketing is one of Wix's top marketing features. Users can send up to three email newsletters to 5,000 subscribers monthly and free of charge.
Wix also offers an all-in-one marketing solution for its users, although this comes at a separate subscription. This subscription is called Wix Ascend and it allows users to manage all marketing campaigns and initiatives in one place.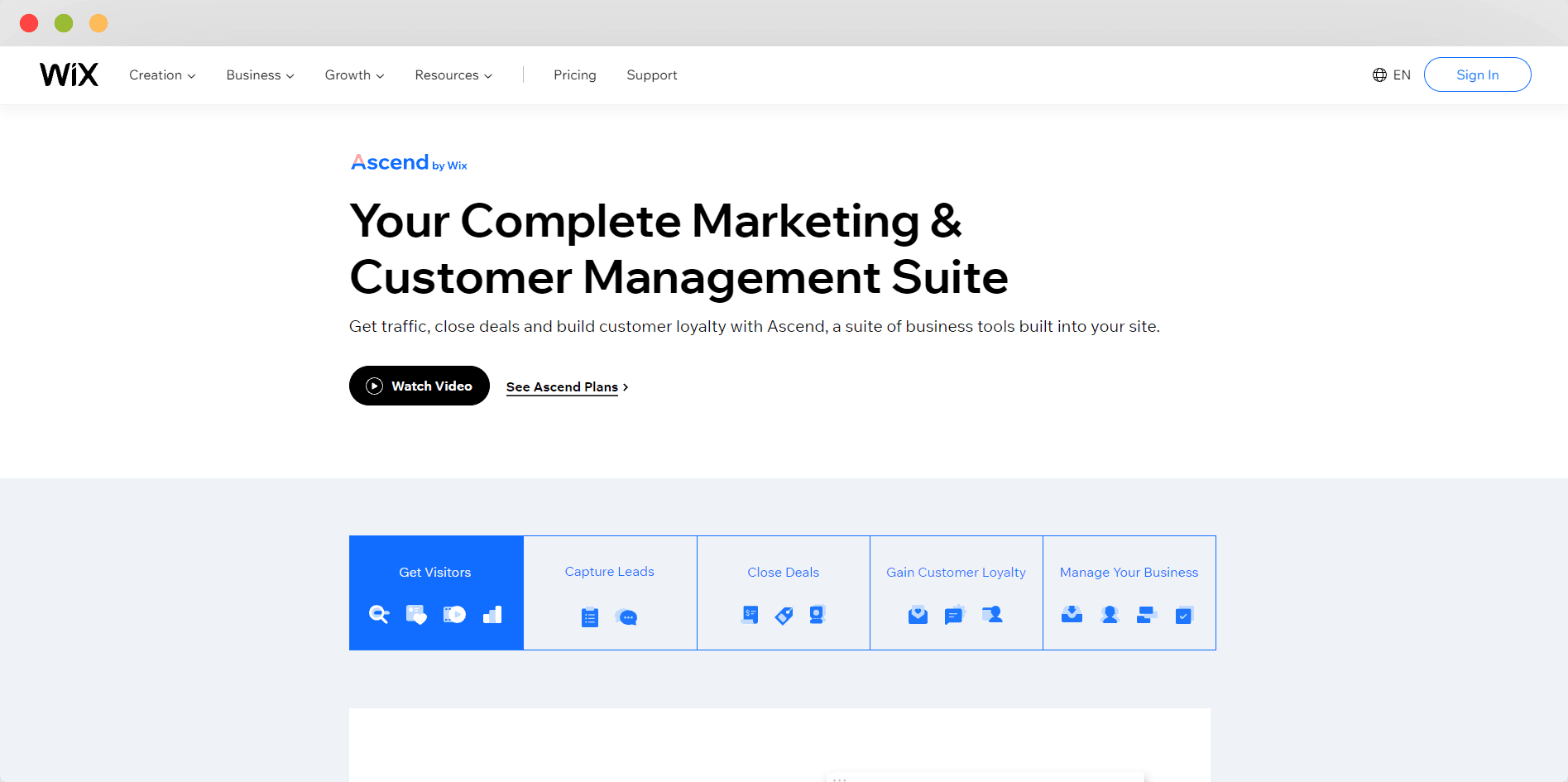 You can use Wix Ascend to create and support email campaigns for sales and customer nurturing.
SEO settings are also built into Wix which is why it's popular among content creators and bloggers. It has a system that allows you to create metadata yourself, or have it generated automatically.
With these in place, search engines are notified whenever new content is released. Since search engine optimization is crucial for dropshipping businesses, this is a huge plus for Wix users.
Shopify's Marketing Features
Shopify, on the other hand, currently relies on third-party services for its marketing features.
There are plenty of choices when it comes to these third-party services, but that does become a blocker if you want it already integrated into the platform.
Shopify does have an email marketing tool that can send up to 2,500 free emails monthly for free. There are free templates you can choose from, although you can edit them to add your personal touch.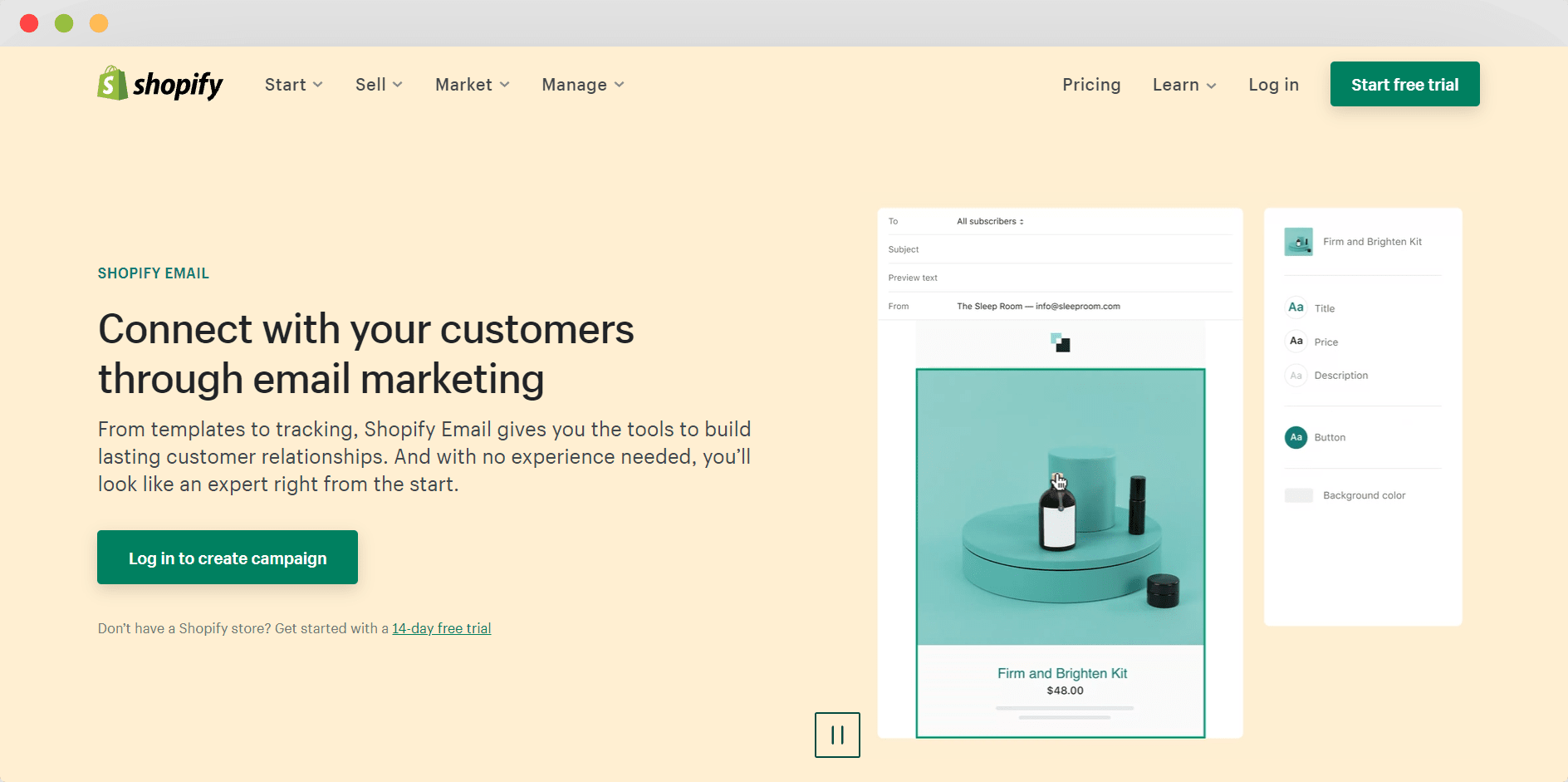 If you want to increase the number, you have to pay $1 for every 1,000 emails.
Shopify also has adequate SEO settings to help you rank your website when you know how to use it well. The theme used will also allow social media linking and sharing options for better reach.
Marketing Features—Verdict
Looking at the features of each platform, we can say that both provide the bare minimum when it comes to marketing features. But if you want to have it built-in to the platform, Wix definitely wins this round.
Shopify still needs to create its own application to support marketing other than email marketing.
Subscription Plans
Dropshipping has always been dubbed as a business you can start with a low capital cost. But that doesn't mean you won't spend a bit of money building your website.
Both Wix and Shopify offer different plans, with each plan having additional features and advantages. Since cost plays a huge part in business operations, we'll carefully scrutinize each platform's plans.
Wix's Subscription Plans
In terms of plans, Wi offers a completely free subscription plan. It comes with hundreds of free templates, unlimited pages, and top-grade hosting.
Although, it has limited functionality and comes with Wix advertising.
The good thing about that is you can explore the platform to see which features are great for you before you subscribe.
Because we're talking about building a dropshipping website, let's focus more on the platform's Business and eCommerce Plans. These plans are suitable for websites that need to accept online payments.
Currently, Wix offers four pricing plans: Connect Domain, Combo, Unlimited, and VIP. All these plans have a free SSL Certificate, customer care, and a custom domain.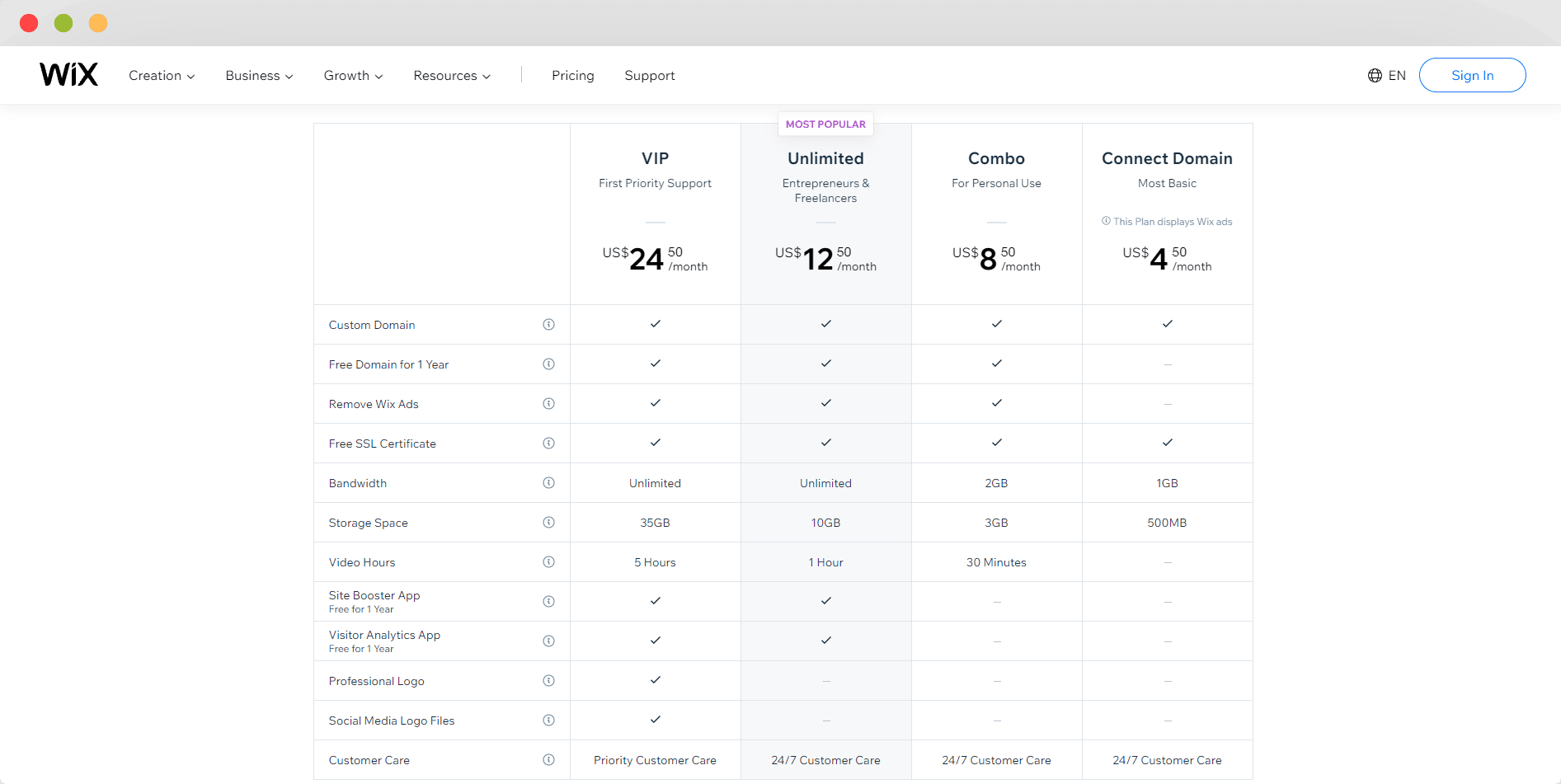 However, only Combo, Unlimited, and VIP plans come with a free domain for 1 year and an ad-free website.
In terms of bandwidth, both VIP and Unlimited plans have unlimited bandwidth and only 1GB and 2GB bandwidth for Connect Domain and Combo, respectively.
If you're looking to start small, you can explore using Combo and Connect Domain plans that start less than $10 per month.
However, if you have a bit more room in your budget, you can opt for the Unlimited plan because it already comes with a Site Booster App and Visitor Analytics App for only $12.50 per month.
Shopify's Subscription Plans
Compared to Wix, Shopify doesn't have a free plan—only a 14-day free trial. On a good note, you don't need to link your credit card just yet.
Shopify currently offers three different subscription plans for its users: Basic Shopify, Shopify, and Advanced Shopify.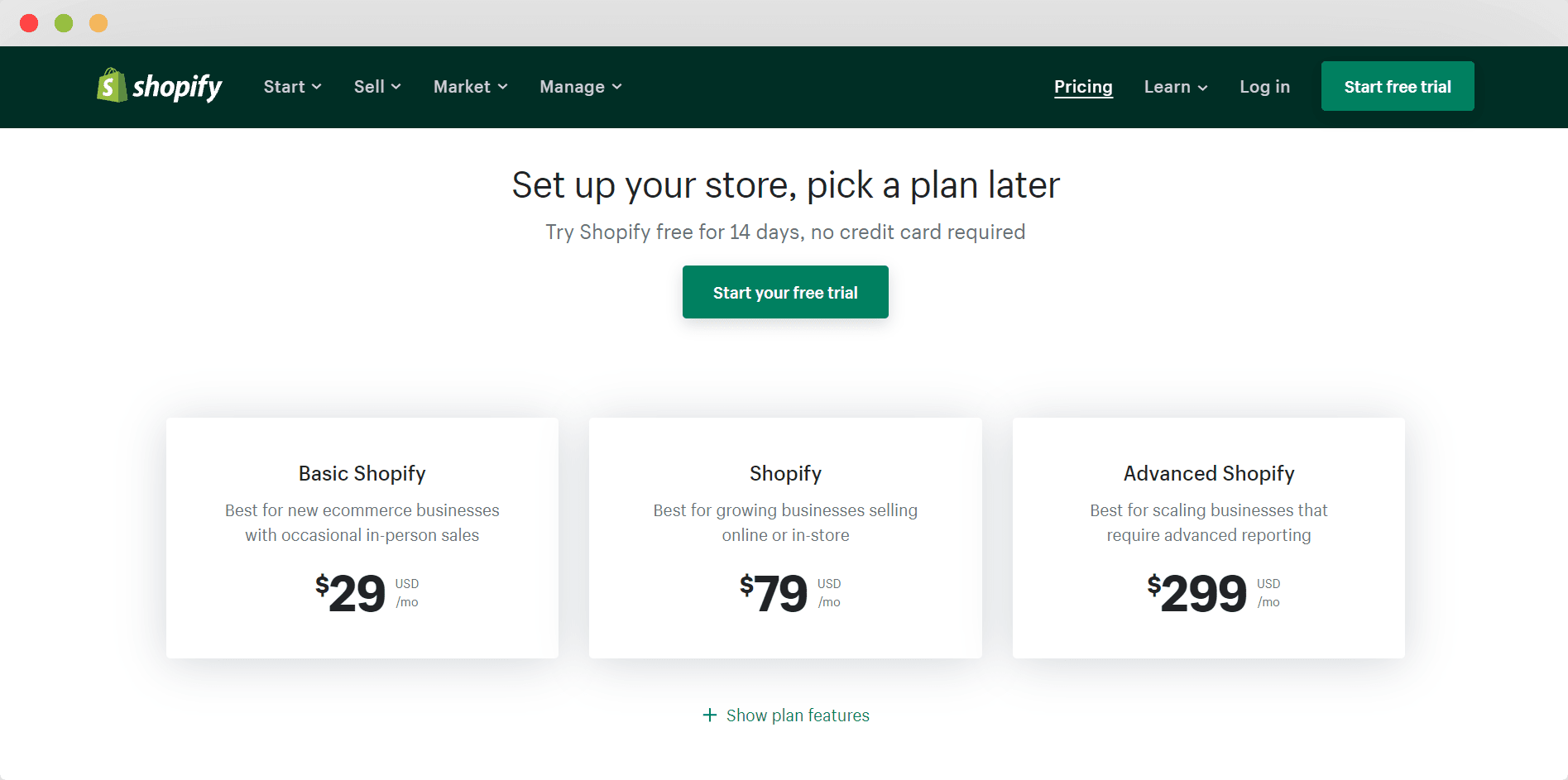 All plans include the following:
Online Store
Unlimited Products
24/7 support
Sales Channels
Manual Order Creation
Discount Codes
Free SSL Certificate
Abandoned Cart Recovery
Gift Cards
Transaction Fees
Basic Shopify comes at $29 per month and is ideal for new dropshippers looking to explore the occasional in-person sales.
However, you can only have up to 4 warehouses, retail stores, or storage locations. Only two staff accounts are also allowed for this plan. The transaction fees are also at 2%.
The Shopify plan jumps a bit higher to $79 per month. It has the same features as Basic Shopify but you can now have 5 staff accounts and up to 5 different locations.
You get standard reports for your store and the transaction fees go down to 1%.
The Advanced plan goes a couple of notches higher, at $299 per month. You can have up to 15 staff accounts, 8 locations, advanced reports, and only 0.5% transaction fees.
Subscription Plans—Verdict
It really depends on your current budget, especially that these costs will be incurred monthly.
It's easy to see which platforms offer the cheaper plans, and that would be Wix. For dropshippers who have yet to increase their budget on these types of plans, Wix looks like a better option.
It already has great built-in features and will already be a high-functioning website.
But if you have the budget, Shopify offers great features at a price. It can be expensive but this platform won't disappoint in terms of its features.
Frequently Asked Questions
Are Wix and Shopify Free?
Currently, you can enjoy Wix and Shopify for free on different terms.
Wix
As a free user, Wix gives you access to plenty of tools and features to build your website. That includes customizable templates, free and secure web hosting, 500MB storage and 1GB bandwidth, and a free Wix domain name.
However, you will have a Wix banner on your website and you won't have your own name with "Wix" on it.
The cheapest plan that gives you a custom domain starts at $4.50 per month.
Shopify
On the other hand, Shopify only offers a 14-day free trial where you can already use their tools and features, and make your website available to the public.
After that trial, plans start at $29 per month where you can continue using your website with additional features.
Can You Move Wix to Shopify—and Vice Versa?
It's quite common for people to switch between websites, especially if they see the other one offering better features. However, migrating between websites isn't that easy.
Right now, one of the ways to do this is by using third-party services like Cart2Cart. This automated shopping cart migration allows you to migrate all store data like customers, orders, categories, products, images, and many more.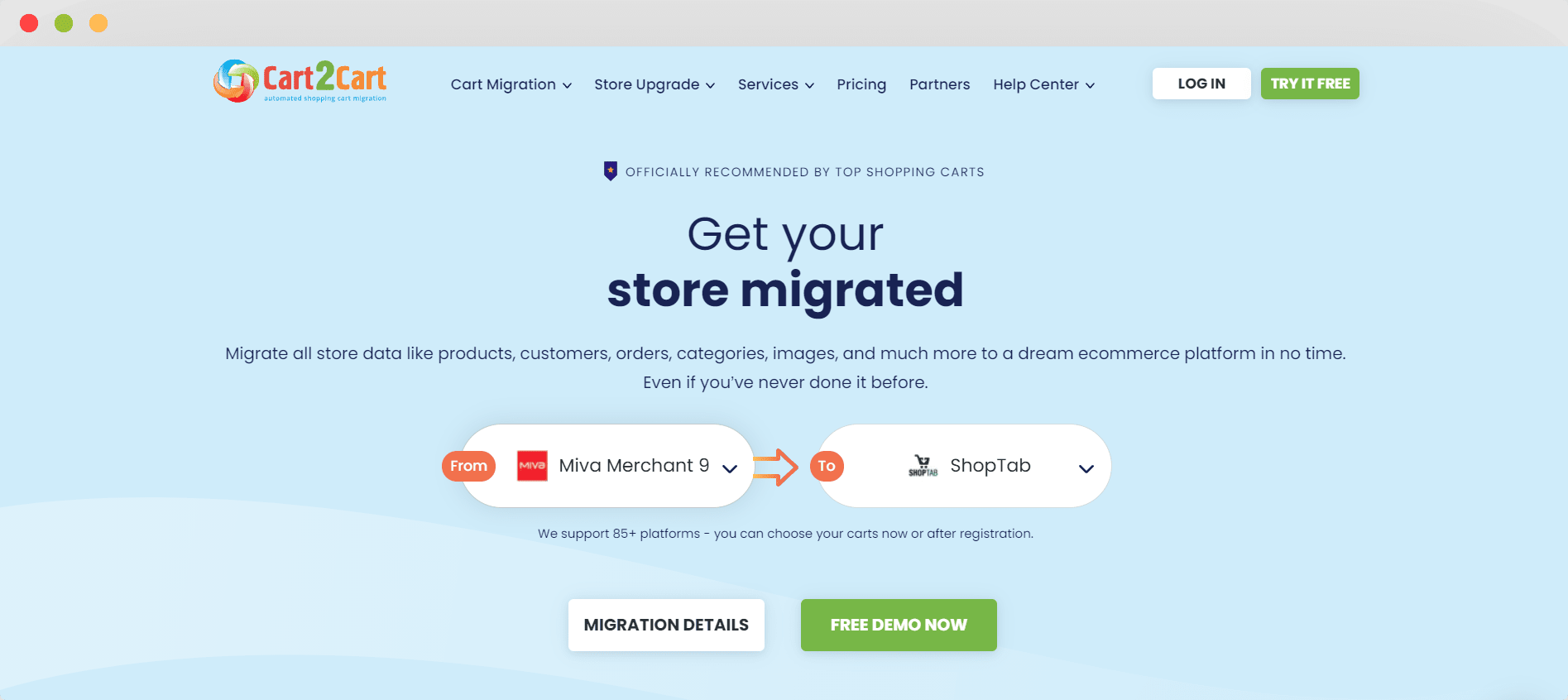 You can migrate the contents of your Wix or Shopify store at a price. The website provides a step-by-step process that you can easily follow.
If you want to take all the dirty work off your hands, you can simply find professionals who can do the job for you.
Is Shopify Cheaper than Wix?
Comparing their pricing plans, Wix is cheaper than Shopify at their basic plans.
Wix currently has plans that go as cheap as $4.5 per month, but with ads. Shopify's cheapest plan is $29 per month. These websites offer different features per plan, so it's really up to you to decide if one or the other is worth your money.
Verdict—Wix or Shopify?
We're now at a point to decide which platform is best for you. Wix and Shopify both have great features, and each offers its own unique value proposition.
Wix has great built-in marketing features that are useful to gain more customers in the long run and offer many affordable plans.
But visibly, it still needs to cast a wider net for its POS solutions and shipping options. This is quite limiting for those living in other countries.
Shopify, on the other hand, already has great built-in POS solutions and shipping options, but these come at a steep cost. It's clearly more expensive and might seem a bit intimidating, even for veteran dropshippers.
However, Shopify is more dropshipping-friendly. By that, it means it has more apps facilitating dropshipping and integration with dropshipping companies.
In the end, we can say that Wix is a better option for you if you prefer an affordable and customizable platform with great marketing solutions, and cater mostly to customers within the United States.
Opt for Shopify if you can afford to invest in a platform with excellent POS solutions and shipping options, especially if you cater to customers worldwide.
We all know starting a dropshipping business can be challenging. Luckily, NicheDropshipping works seamlessly with Shopify, making it easier for you to set up your store website.
Contact us for more details about our services and a dedicated agent will be at your disposal.