AdSpy is often referred to as the King of ad intelligence tools.
This title is well-suited to AdSpy, however, there are also other platforms having a share in the crown.
Of course, none of these tools are entirely as good as AdSpy, but they're still worthy of consideration.
And they might even leave AdSpy behind in certain aspects.
So, in this article, we'll go over some of the best AdSpy alternatives, and discuss their features, pros, cons, and pricing.
Let's get right into it.
What Is AdSpy?
AdSpy is a tool for analyzing marketing campaigns, specifically ads running on Facebook and Instagram.
AdSpy allows you to assess trends, track successful campaigns, and give an in-depth analysis of what your competitors are up to.
The best part about AdSpy is its massive collection of data that extends worldwide.
However, not only do you get access to this data, but you're also able to quantify it easily.
AdSpy's interface, filters, search functionality, and ability to display complex data in its simplest form are unparalleled.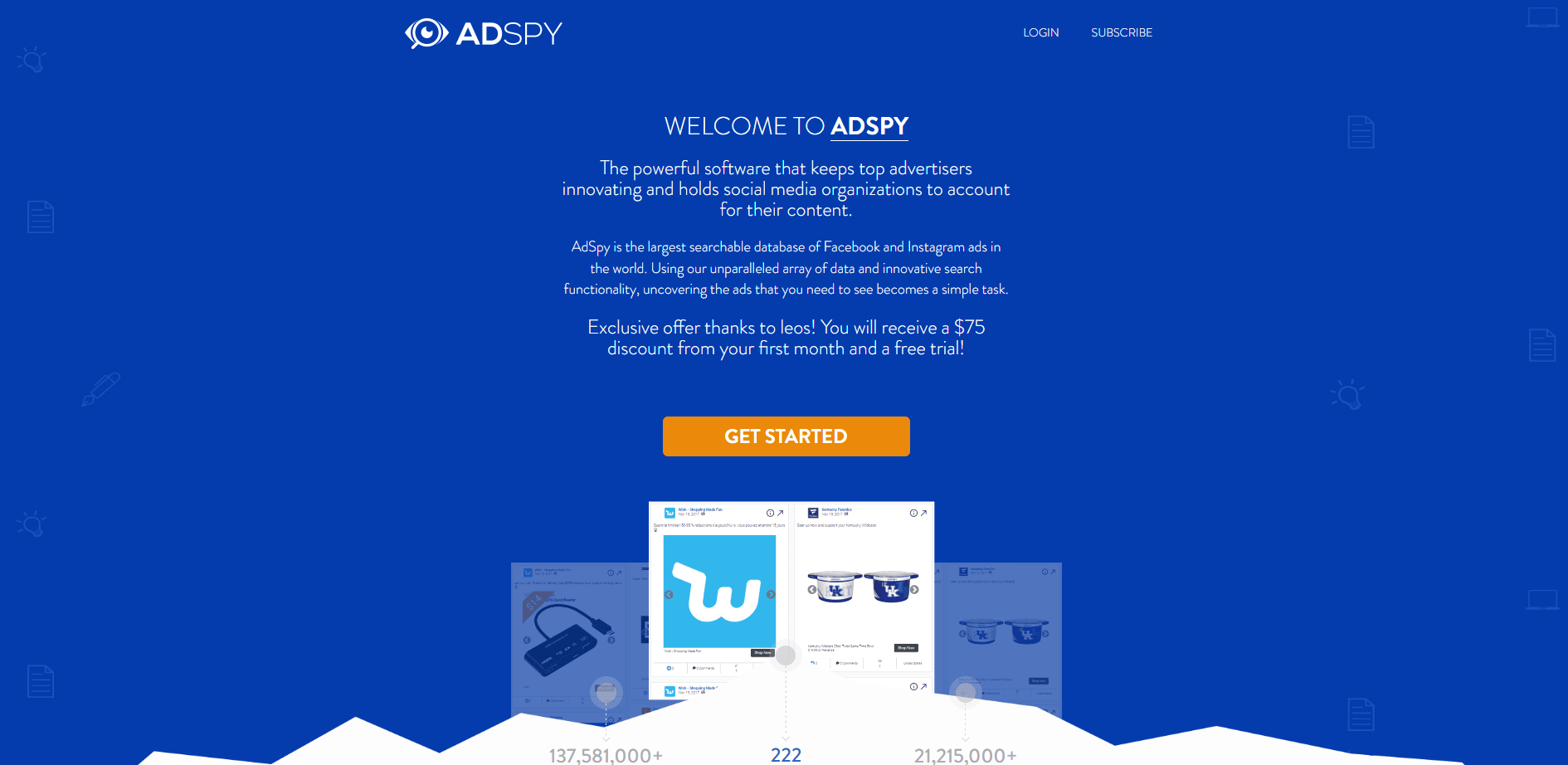 The 6 Best AdSpy Alternatives
If you're looking for a spy tool for other platforms or simply can't find your desired features in AdSpy, here's a list of some great alternatives.
1. PowerAdSpy
PowerAdSpy is a big name in the world of social media marketing.
The feature that makes PowerAdSpy stand out is its coverage extending beyond the borders of just Facebook and Instagram.
Much like AdSpy, PowerAdSpy focuses on giving you a competitive advantage by giving you insights into the world of social media ads.
The tool has a wide range of filters to narrow your search results.
You can find ads from various industries by keywords, country, demographics, and more.
PowerAdSpy even has a unique tool that finds text written on visual ads, giving meme marketing a whole new meaning.
Although PowerAdSpy does not have a database as big as AdSpy, it still comes pretty close.
This deficiency is also compensated by its inclusion of platforms other than Facebook and Instagram.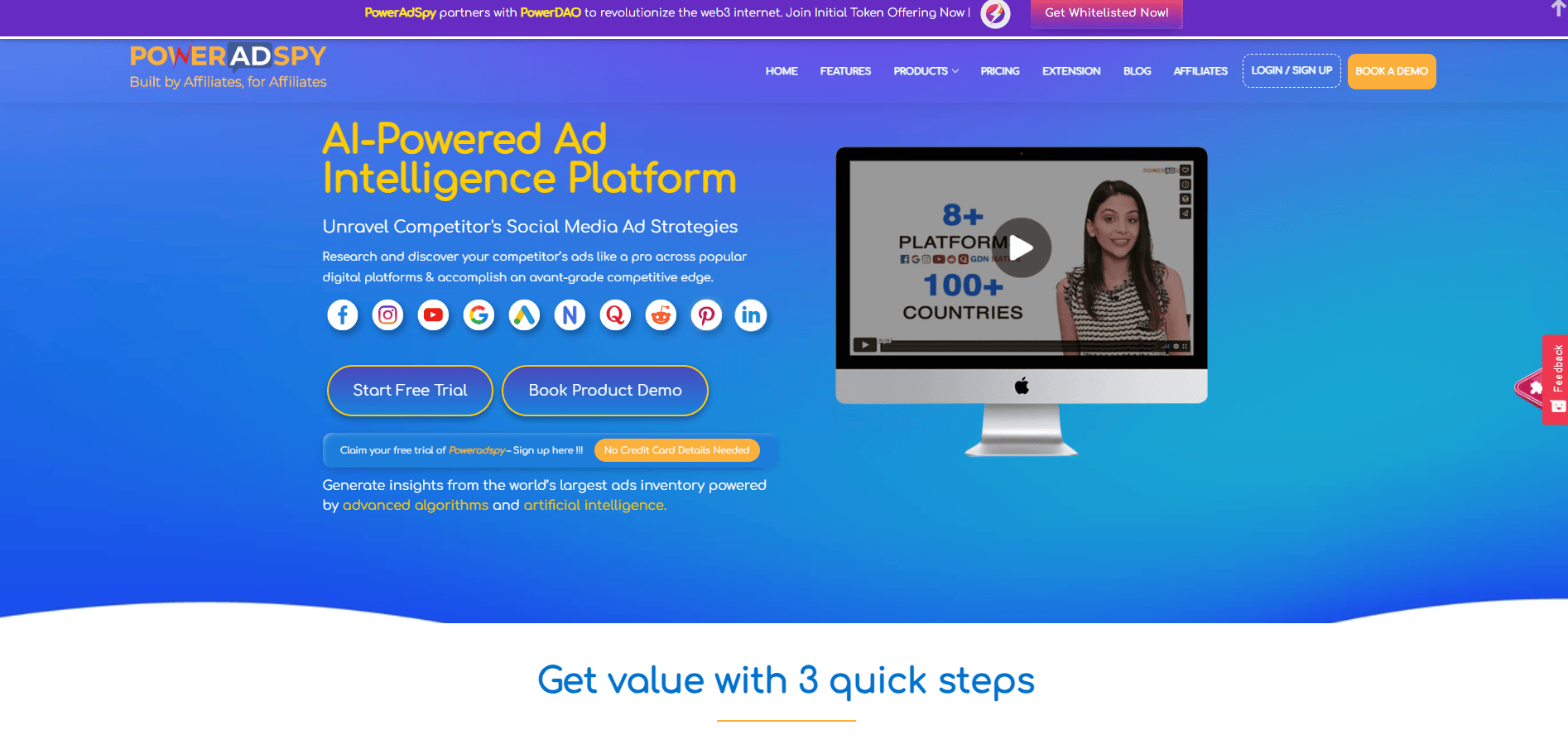 Key Features
110+ Million ads from 100+ countries
Database covers ads on Google, Reddit, Pinterest, Quora, YouTube, Facebook, Instagram, and more.
Text-in-image feature
Pricing
10-day free trial (full access)
Basic $49/month
Standard $99/month
Premium $149/month
Pros
Covers ads on several platforms
Allows you to display/hide specific ad data
Available as a Chrome Extension
Unique search features focused on both ads and audience
Offers various affordable pricing plans
Cons
Substandard interface
Can be complicated for newbies
2. Dropispy
Dropispy is another tool that gives AdSpy a run for its money.
As the name suggests, Dropispy is specifically targeted at dropshippers and resellers.
The primary reason behind Dropispy's advent was to create a platform that neither compromises on spying features nor breaks the bank.
Much like AdSpy, Dropispy's specialty lies in bringing you a plethora of Facebook ad data to marketers.
In terms of features, Dropispy offers various filters to apply to your searches. It also gives you some leverage in accessing the targeted audience.
The best part, however, is that Dropispy brings you almost the same features as AdSpy but at lower rates.
Though the tool lacks coverage of Instagram, Facebook alone is a medium that can take your marketing goals to the next level.
Other than the basics, Dropispy incorporates a Shop Search feature. It gives you valuable insights into what your competitors are selling and how successful they are at it.
If you dive a bit deeper, you can even spy on the ads these specific online stores are using to promote themselves.
Another cool feature you get from Dropispy is sorting ads by the amount of engagement, i.e., shares, likes, and comments.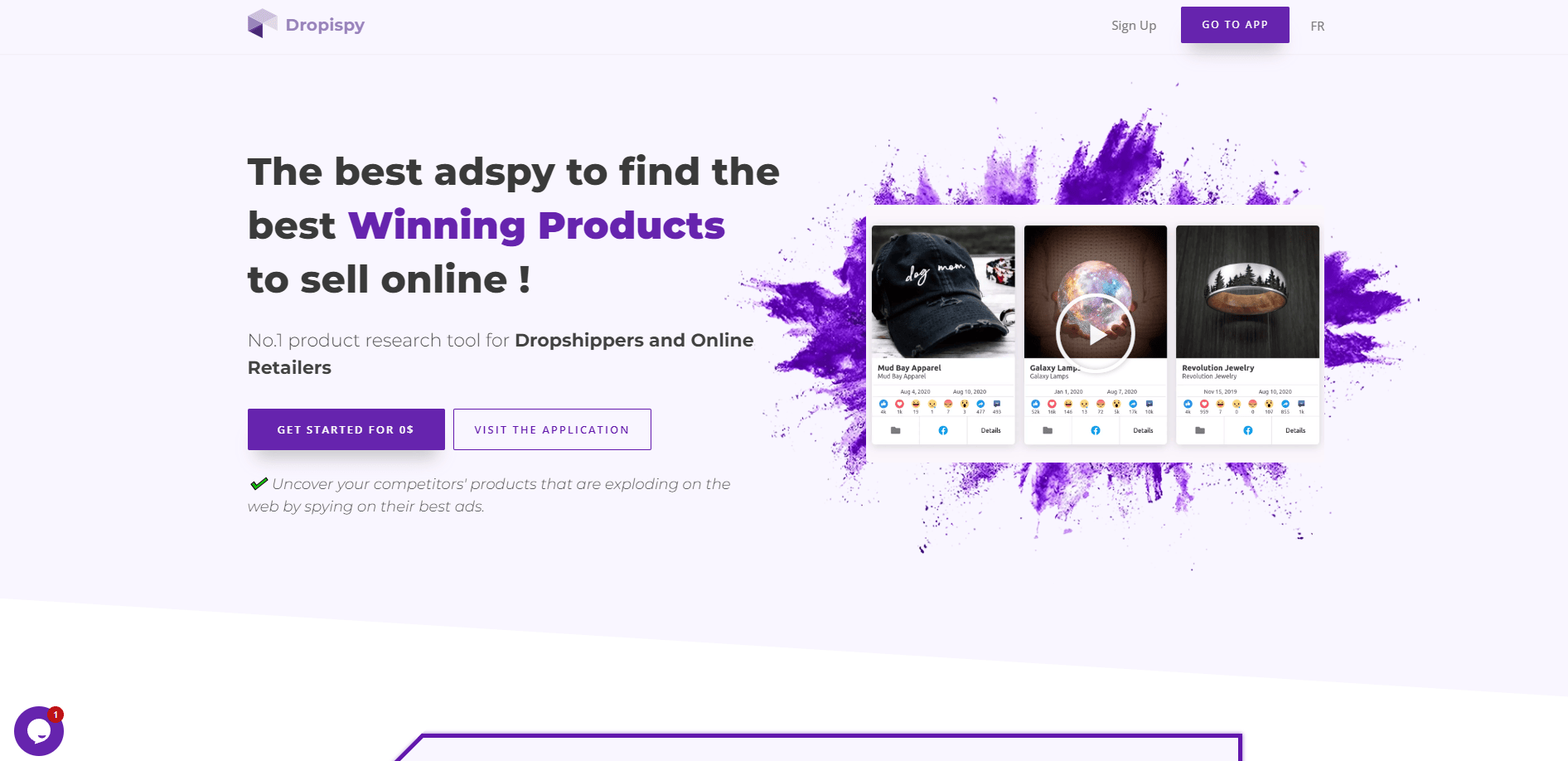 Key Features
Helps you find and analyze Facebook ads
Primarily designed for dropshippers
Numerous sorting features e.g. sorting by engagement on ads
Pricing
Free (basic features)
Premium $29/month
Business $250/month
Pros
One of the cheapest and best ad spying tools
Lets you do more than just spy on your competition
Numerous sorting features
Impressively large database
Ideal spying tool for dropshippers
Cons
Only covers Facebook ads
Only compatible with Google Chrome
3. BigSpy
Up next on our list of best alternatives for AdSpy is none other than BigSpy.
Much like the rest of our picks, BigSpy is a tool for marketers to take a sneak peek at their rival businesses, particularly the advertisements they run.
One of BigSpy's specialties is its database extending to the big three social media platforms i.e., Facebook, Insta, and Twitter. The inclusion of Twitter in the platform mix is appreciated.
BigSpy even offers a panel for trending ads where digital marketers can observe trending products in the market.
This particular feature allows them to stay ahead of their competition and become the first to offer in-demand products to consumers.
Despite the tool offering its basic features for free, you'll need to upgrade to a paid subscription if you're serious about crafting an effective promotion strategy.
Regardless of all the features BigSpy offers, much of the homework needed to improve your marketing tactics would be done by you.
The tool, although it gives you lots of valuable insights, doesn't exactly show you how you can be better at marketing than your opponents.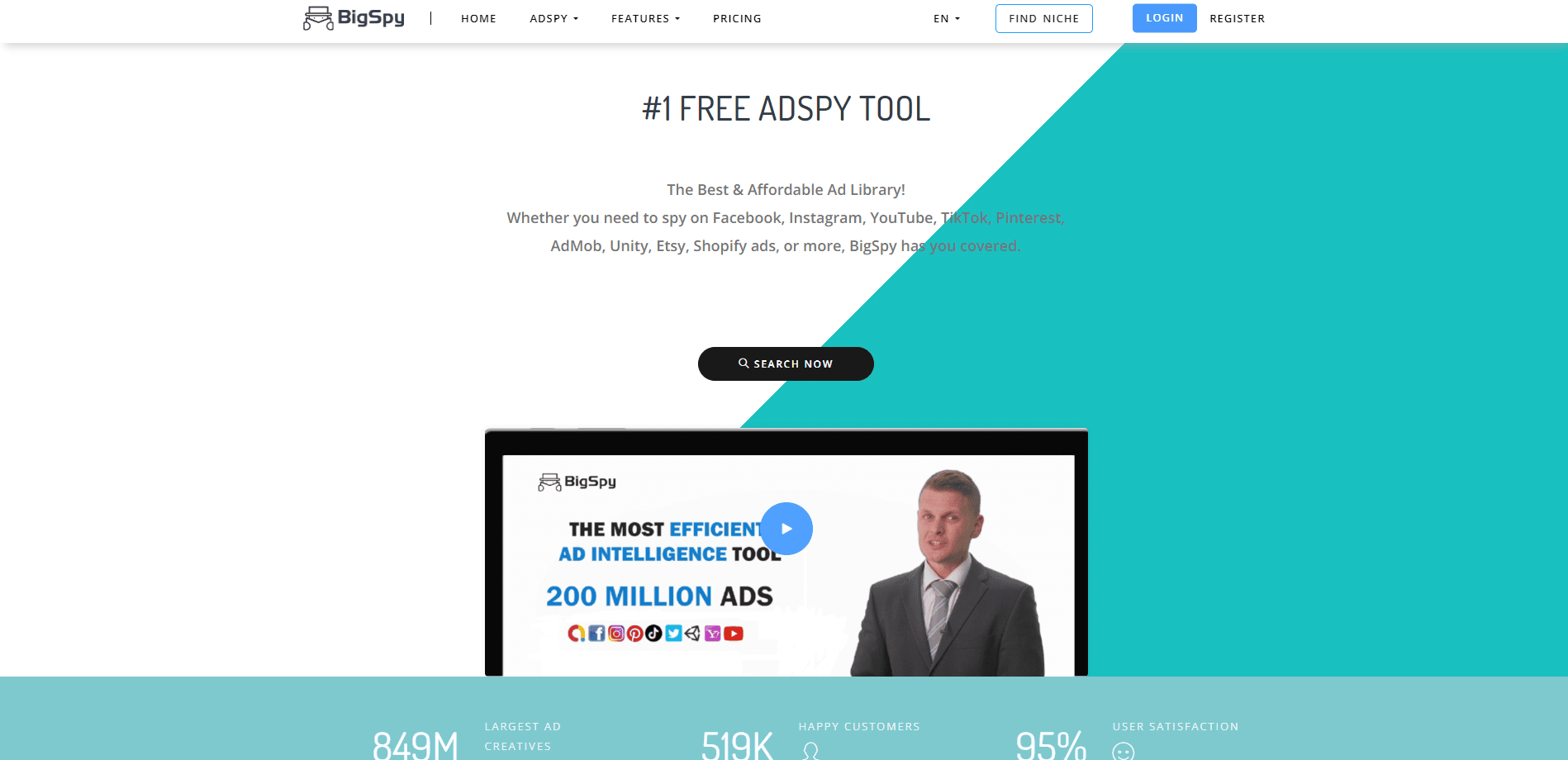 Key Features
Allows you to search ads on Facebook, Insta, Twitter, YouTube, and Google
Trending ads section lets you find winning products in real-time
Can sort ads by demographics, engagement, and location
Pricing
Free
Basic $9/month
Pro $99/month
Group $249/month
Pros
Presents a ton of valuable information about ads
Covers all mainstream social media platforms
Lets you stay up-to-date with current-day trends and hot products
Fairly priced
Data is updated every 24 hours
Cons
Can be hard to determine why a certain campaign is successful
Loads of data displayed can be overwhelming for a beginner
If you were tired of all the 'spys' on our list, our next pick is SocialPeta.
Although SocialPeta is not precisely like our above-mentioned options, it still counts as a spying tool and an alternative to AdSpy.
So, what's so special about this one? Trusted by big names like Google and Alibaba, SocialPeta takes spying to the next level through its massive database.
With a whopping 70 platforms under its eagle eye, SocialPeta puts other spying tools to shame.
Think of any industry, any product, any online store, and it's almost impossible that SocialPeta doesn't cover it.
Thanks to its almost worldwide coverage, you get access to the strategies of your competitors worldwide through a single dashboard.
Also, did we mention that SocialPeta doesn't only give you loads of data but keeps it updated in real-time?
Most review websites have given SocialPeta at least a 4.5 rating out of 5, making it one of the best spying tools you can use.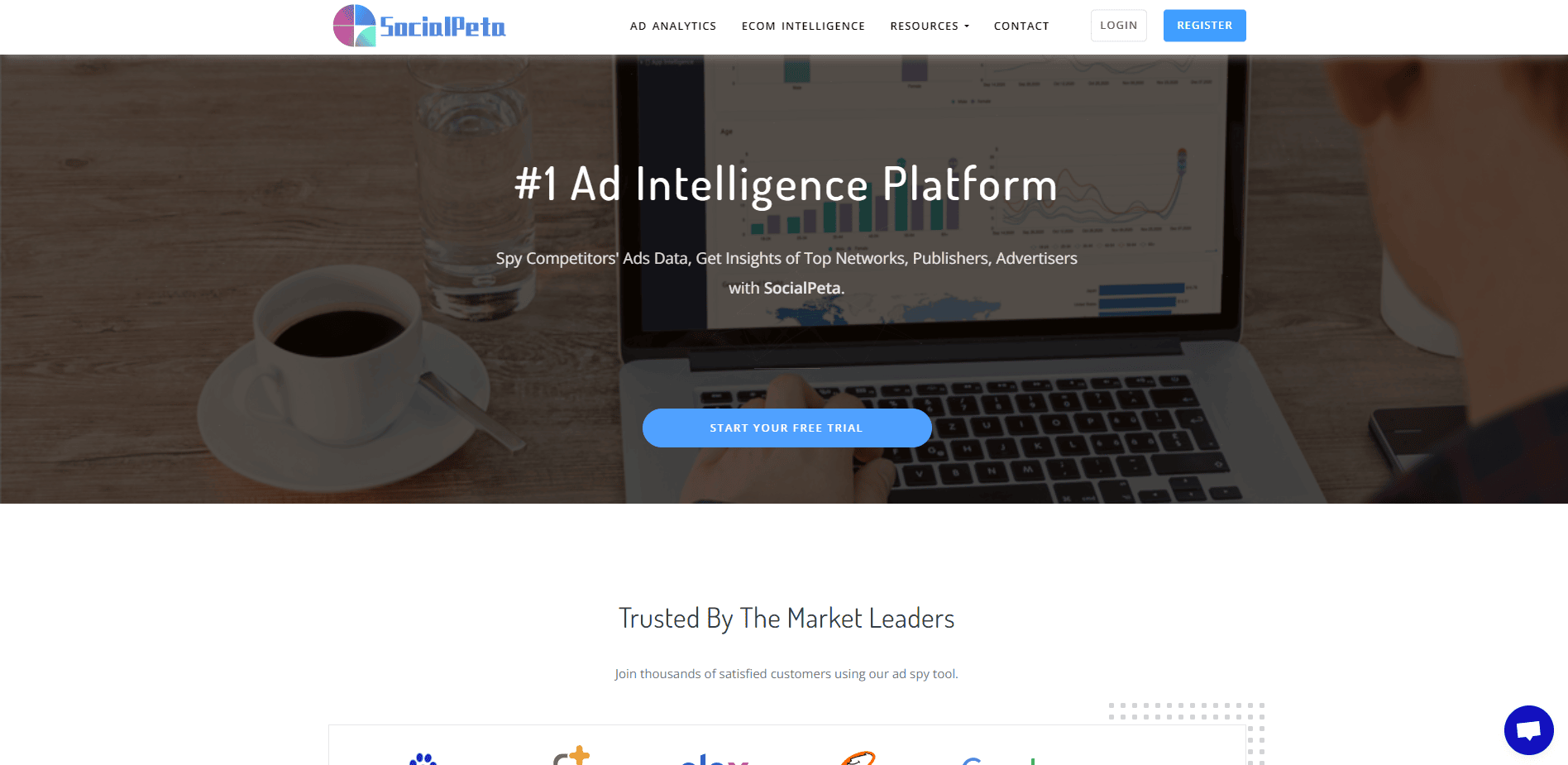 Key Features
Lets you analyze your competitors' data
Covers 70 channels, 69 countries, and 1.3 billion ads
Provides product data from well-known e-com websites
Provides insights into costs incurred on ads
Pricing
Unfortunately, SocialPeta's pricing plans are not available to the public. You'll have to request a quote on their website after mentioning what features you need.
Pros
Hands down one of the best marketing tools in the market
An all-in-one tool for improving marketing campaigns
Offers advanced keyword search and bidding analysis
Provides incredibly accurate and well-updated data in graphics
Cons
Can be very expensive depending on the use
5. Spyfu
Although Spyfu is not exactly a tool for finding and measuring the success of visual ads, it's still useful to spy on your competitors' marketing strategies.
The tool primarily incorporates a database where you can access SEO tactics being implemented by other online businesses.
You can enter a keyword into Spyfu's search bar and gain insights into websites where it's serving as a magnet for traffic.
Moreover, you can also track website backlinks, see where they rank on Google, and how they're standing out in the digital world.
Spyfu's legitimacy as a valuable tool is unquestionable. It's trusted by renowned companies such as Microsoft and Adobe.
We understand that spying on visual ads differs from spying on keywords, but if you're looking for a tool that offers keyword analysis in AdSpy's style, look no further.
In summary, Spyfu can help you learn from leading businesses without making the mistakes they made.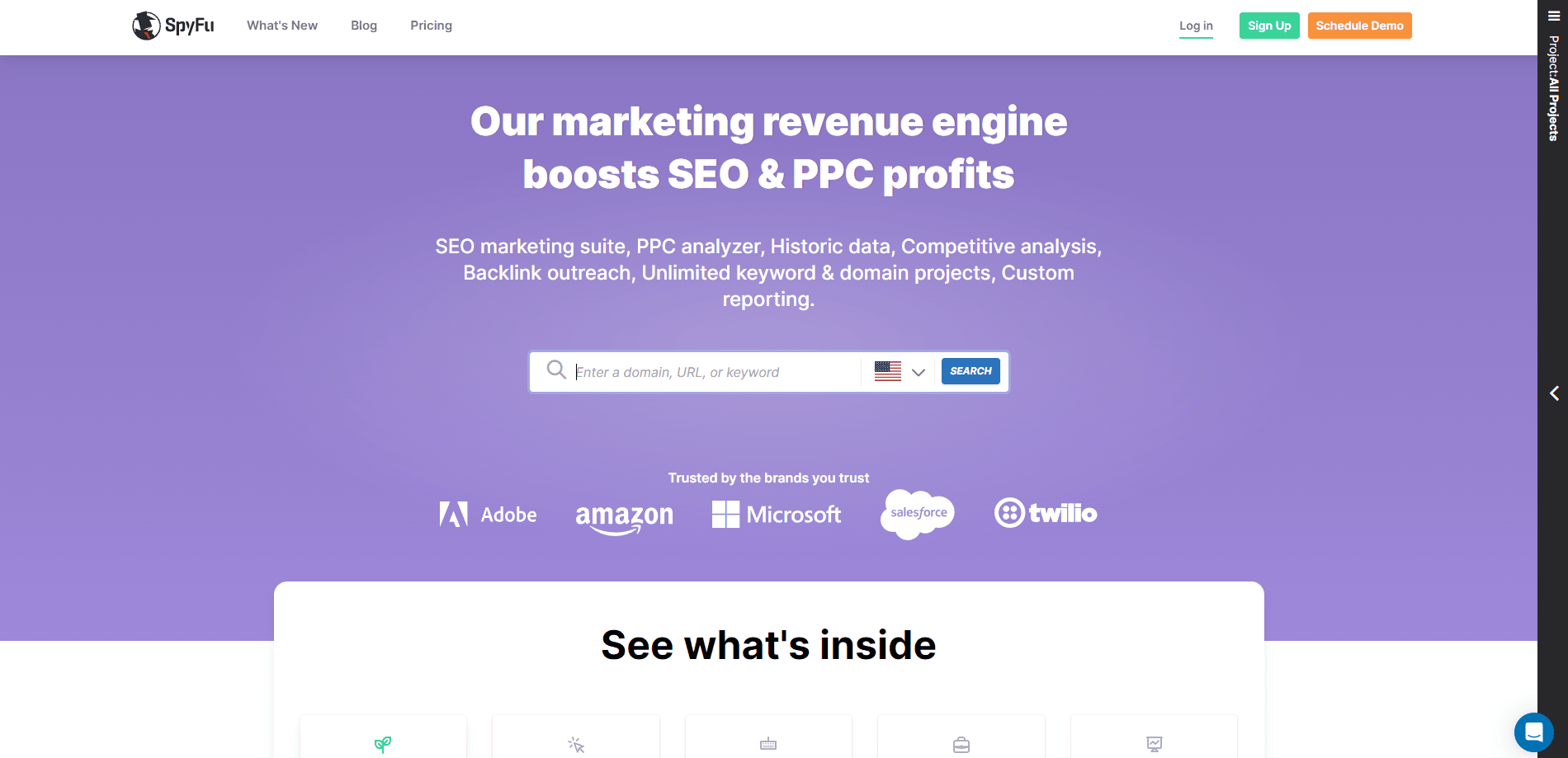 Key Features
Gives insights into SEO tactics implemented by the best in the industry
Keep track of domain bidding on Google Ads
Spot deficiencies in your strategies and rectify them
Advanced keyword research
Domain analysis
Pricing
Basic $39/month
Professional $79/month
Team $299/month
Pros
Ability to utilize the hottest keywords in the best possible way
Access to SEO tactics of the industry's finest
Access to all data, regardless of the membership plan
Intuitive and easy-to-use interface
Relatively affordable
Cons
Can be difficult to understand for beginners due to outdated tutorials
Database does not dive that deep
6. AdPlexity
AdPlexity is another tool we would recommend as an alternative to AdSpy.
It has a solid comprehensive ad database mainly targeted at affiliate marketers.
However, AdPlexity stands out due to its unique categorization of Facebook ads.
AdPlexity offers you 7 different products: Desktop, Mobile, Native, Push, Carriers, and E-com.
The most-used products are Desktop and Mobile. This division is based on ads displayed on Desktop computers and mobile phones.
If you want to dive deeper into ad campaigns and discover push notification ads, going for Push would be a good option.
AdPlexity E-com lets you observe which products of your competitors are performing the best, how fast they're selling, the last time they were promoted, and much more.
With AdPlexity's API, you can easily incorporate the improvements in your marketing campaigns.
So, you don't just get to see areas of improvement, but AdPlexity helps you fill those gaps out too.
Some other cool perks of using AdPlexity include access to a 24/7 customer support team ready to answer your queries.
To sum it up, AdPlexity is also another great tool for marketers looking to go above and beyond. It is a bit expensive, but it sure is worth the price.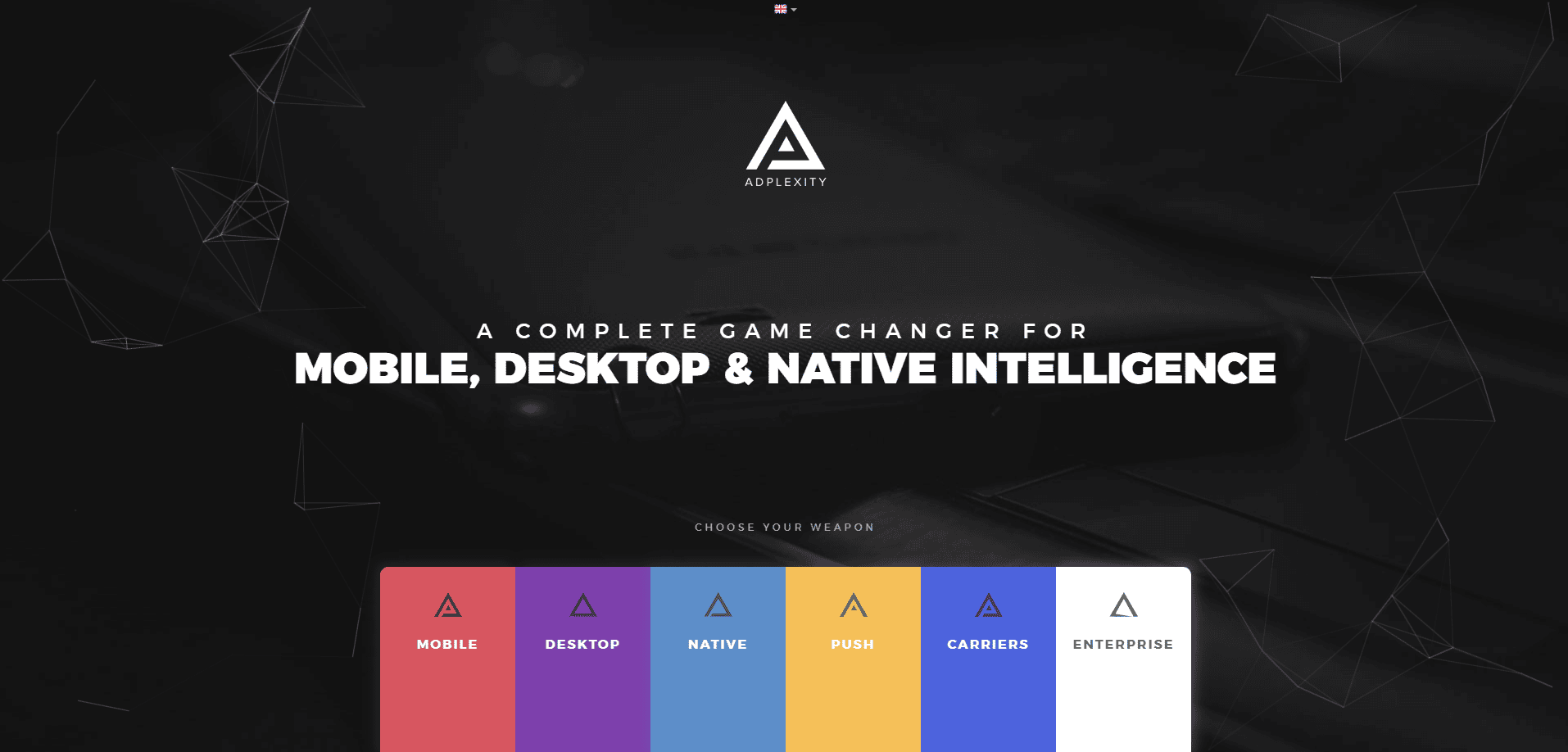 Key Features
Helps find effective campaigns by keywords, affiliate network, publisher, etc.
Monitors data from 70+ countries
Advanced ad research
Offers API
Pricing
Push, Native, and Carriers $149/month
Desktop, Mobile, and E-com $199/month
Pros
Extensive and in-depth database
Offers 7 different tools for obtaining data from different device types
Divides desktop, mobile, push, and native ads for monitoring specific campaigns
Real-time data
Easy to use
Download and clone landing pages
Cons
No free trials allowed
Expensive
FAQs about AdSpy Alternatives
Is There a Free Version of AdSpy?
Unfortunately, AdSpy does not offer a free version to its users. The subscription cost of AdSpy costs $149/month.
Users are allowed to utilize all of the features in this membership plan.
If this plan is out of your budget, consider opting for alternatives such as Dropispy or PowerAdSpy.
What Is the Best Ads Spying Tool?
The best ads spying tools are:
PowerAdSpy
SpyFu
Dropispy
AdSpy
Anstrex
AdFlex
All of these tools come with various features to help you with competitor analysis and learning about your target audience.
Is Dropispy Worth it?
Dropispy is a highly recommended tool for dropshippers looking to stand out from their competition.
The tool allows you to analyze Facebook ad data of rival brands and businesses.
Not only is it priced fairly, but it also offers various spying features helpful to dropshippers in scaling their business.
Final Thoughts
It can be overwhelming to see your competitors outperforming you in business.
Fortunately, these spy tools can help you eavesdrop on your competitors' marketing strategies to give you the edge you need.
AdSpy truly excels at this, but if you're tight on a budget or find it too complicated, then you can opt for the AdSpy alternatives listed above.
Lastly, you can spy on your competitors all you want, but all that info is useless if you can't capitalize on it by sourcing quality products.
This is where NicheDropshipping has got you covered. Our expert agents can help you source premium quality products at competitive prices.
So let's team up and create value for your customers!