While AliExpress has emerged as one of the top platforms to source products for dropshipping, sites like DHgate have always been there to give dropshippers a benefit of options to choose a different platform for their dropshipping pursuits.
In this article, you will find everything you need to know about the pros and cons of AliExpress and DHgate so that you are in a better position to select the right platform to start or continue your dropshipping business.
Let's start with a brief introduction to both sites. You will read about tons of analysis and suggestions regarding both websites as you move along with this article. So stay put!
What Is DHgate?
DHgate is a Chinese-based international online shopping platform that equally works for B2B and B2C industries.
Launched in 2005, this platform served as a medium to offer cheaper products mainly from China and some other countries and get them shipped to your desired locations.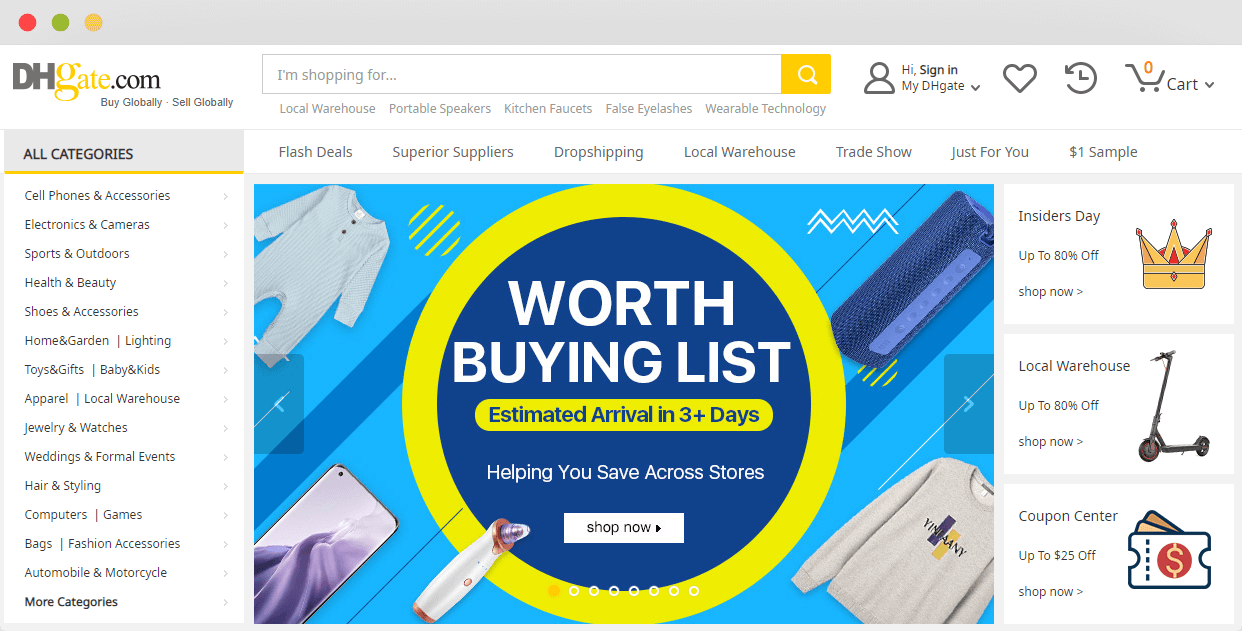 With over 2 million Chinese and global sellers, above 25 million cross-border buyers from multiple countries, and a collection of over 20 million products, DHgate is definitely serving as a big e-commerce solution for the world.
It supports 9 different languages to be operated in. With its low cost of products as compared to other established international platforms like Amazon and eBay, online retailers and dropshippers use DHgate to source products for their online businesses.
What Is AliExpress?
AliExpress is a sister company of Alibaba that mainly serves as an international e-commerce conglomerate. Launched in 2010, it has been serving as one of the largest sources of online shopping in the world.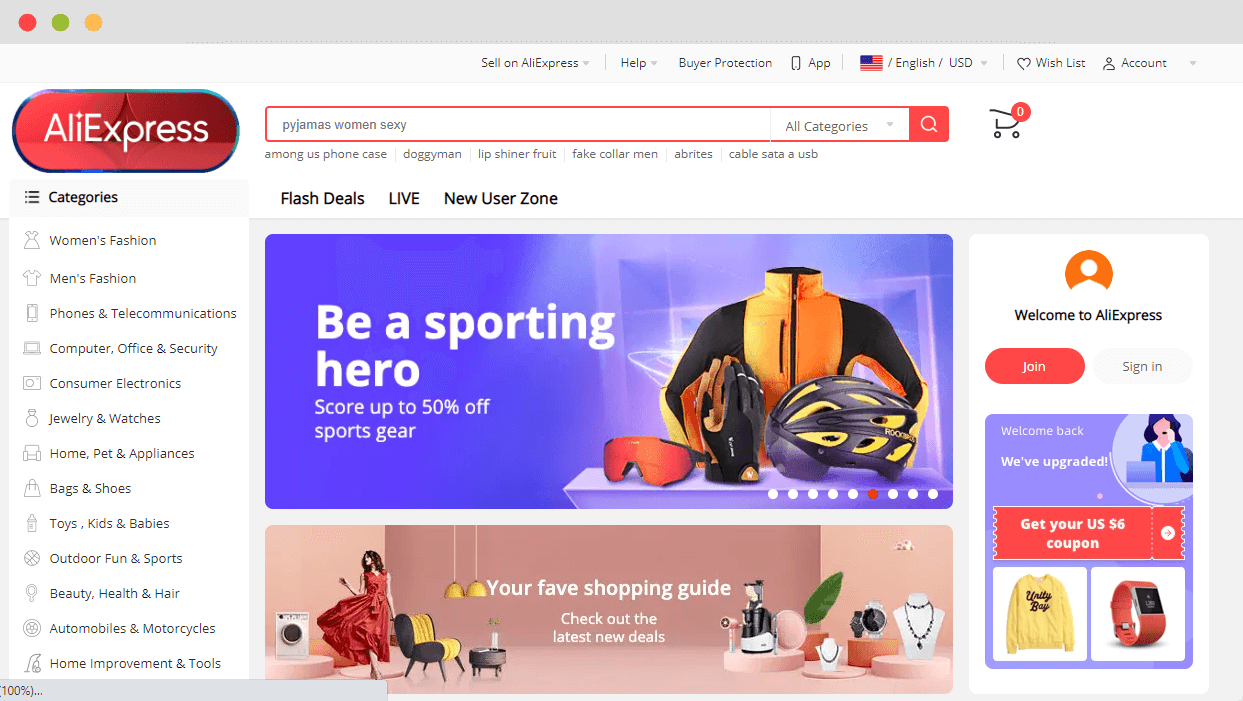 AliExpress hosts over 5 million Chinese and international sellers, above 150 million overseas active buyers, and offers a variety of above 100 million products in different niches. It supports and operates in 12 different languages.
It has been one of the most favorite dropshipping platforms for online businessmen to source products for dropshipping due to the low costs of the products with international shipping facilities.
DHgate vs AliExpress: Which Is Cheaper?
The cost of the products is one of the prime factors in choosing your sources to arrange products.
That is the reason why smart online retailers started marketing products via their online stores by using sites like DHgate and AliExpress to source their products due to the high-profit margins on the products.
As DHgate and AliExpress are both backed by Chinese manufacturers, wholesalers, and suppliers, we consider it important to tell you about which is cheaper among them.
The prices are always subject to variation due to many factors including the cost of manufacturing, quality, and special offers by manufacturers or wholesalers to either grab volume by decreasing price or to grab profit by increasing the price.
Both are different approaches to run a business. Such factors may be taken into account but we keep things simple and easy for you in terms of prices.
If you are a dropshipper or you have ever bought anything online from a big e-commerce platform like AliExpress or Amazon, you must have noticed that the prices of the products are not the ultimate criteria for the product selection.
While the cheapest price of the product is always the most desired criteria for a buyer, you would agree that the prices can be misleading when there are a lot of sellers for the same product on the same platform.
That is why we have analyzed the prices of 5 different dropshipping items that have been in vogue recently. We have set the filters for a general keyword and sorted the results with the number of orders for better transparency.
The analysis of the 5 dropshipping items has been provided below.
1. Posture Corrector
We have recently seen the dropshipping trend to shift from the famous "Muscle Stimulators" to "Posture Correctors" when all the social media platforms were bombarded with advertisements of posture correctors.
So, we have analyzed this product in both DHgate and AliExpress.
As many products are shown on both platforms when we search for a specific keyword, so we have chosen the products that had a reasonable number of orders along with the lowest prices on both websites.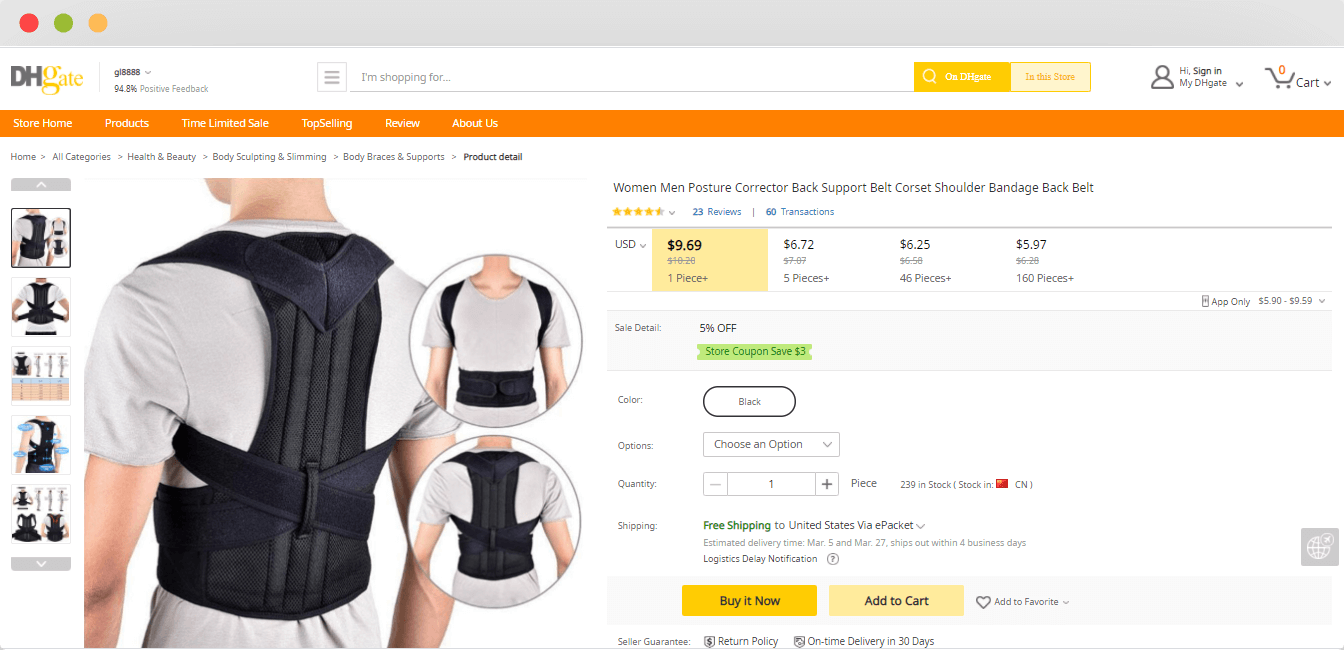 As you can see in the figure shown above, the Back Support Posture Corrector is available for $9.69 per piece at DHgate.
This price is with free shipping from China. All other specifications of this product are the same as the product offered by AliExpress.
AliExpress offers this product for $9.62 which is almost the same as the price on DHgate but if you see the price for 5 pieces on DHgate, you would notice a substantial decrease in price down towards $6.72 per piece.
That is where we see the focus of DHgate.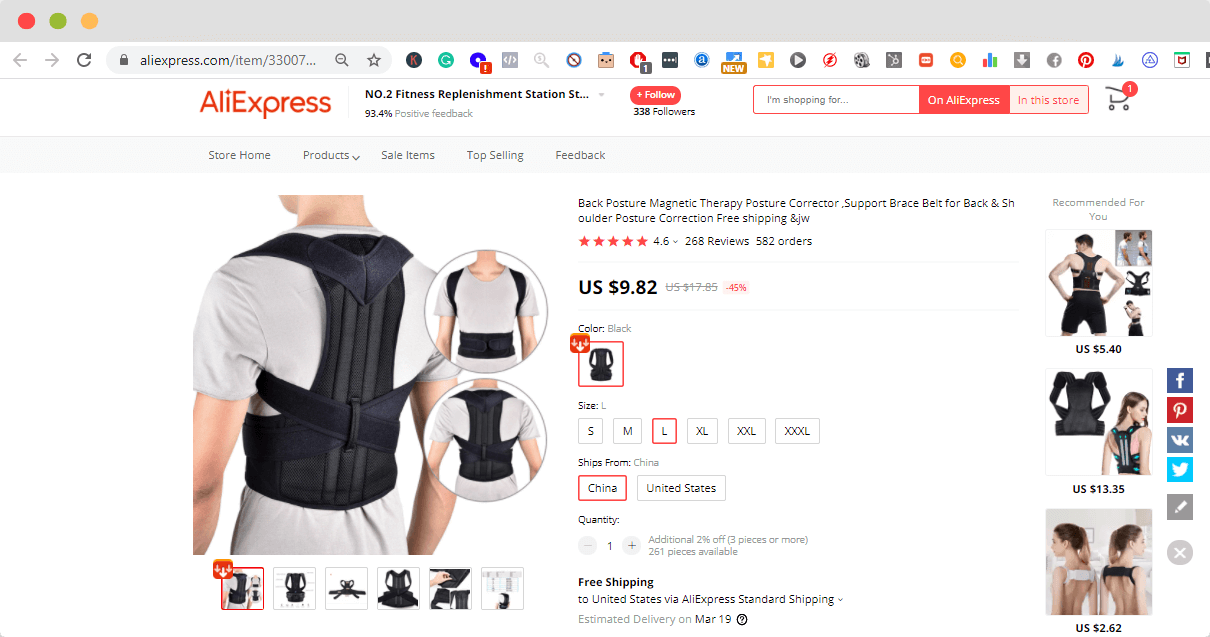 It looks like DHgate is more inclined towards promoting their B2B p i.e. they want customers to buy in bulk quantities.
So, apparently, it seems that DHgate is a winner in the price of Posture Corrector because DHgate is offering a single piece of Posture Corrector in Large size at $9.69 while AliExpress is offering the same Large size Posture Corrector at $9.82.
The additional discount on 5 and more pieces offered by DHgate discussed above is another factor that makes it a better choice against AliExpress.
But there is more to it. AliExpress offers two options for shipping this product. If we select the shipment of the product from the United States, the price goes significantly down to $4.10 per piece.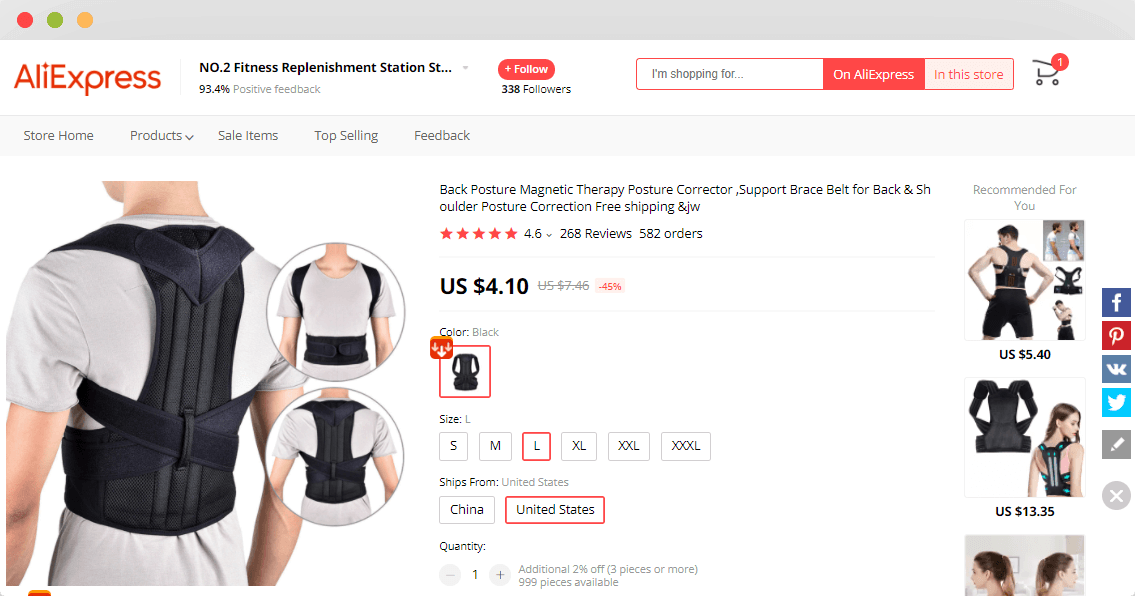 So overall, AliExpress wins in pricing for Posture Corrector.
2. LED Moon Lamp
If you are into dropshipping for the last 2 to 3 years, then LED Moon Lamps must have graced your product research at some point in time.
Although these lamps have been offered in multiple sizes and colors, we have chosen the example of the bestselling LED Moon Lamps from DHgate and AliExpress.
As you can see in the picture shown below, the price for a single piece LED Moon Lamp at DHgate is $9.9 plus a $5.71 shipping cost. This makes the total price of this product at $15.6 from DHgate.
With this cost of the product, dropshippers are left with a squeezed profit margin of around $15 (The general retail price of these LED Moon Lamps is around $29.95).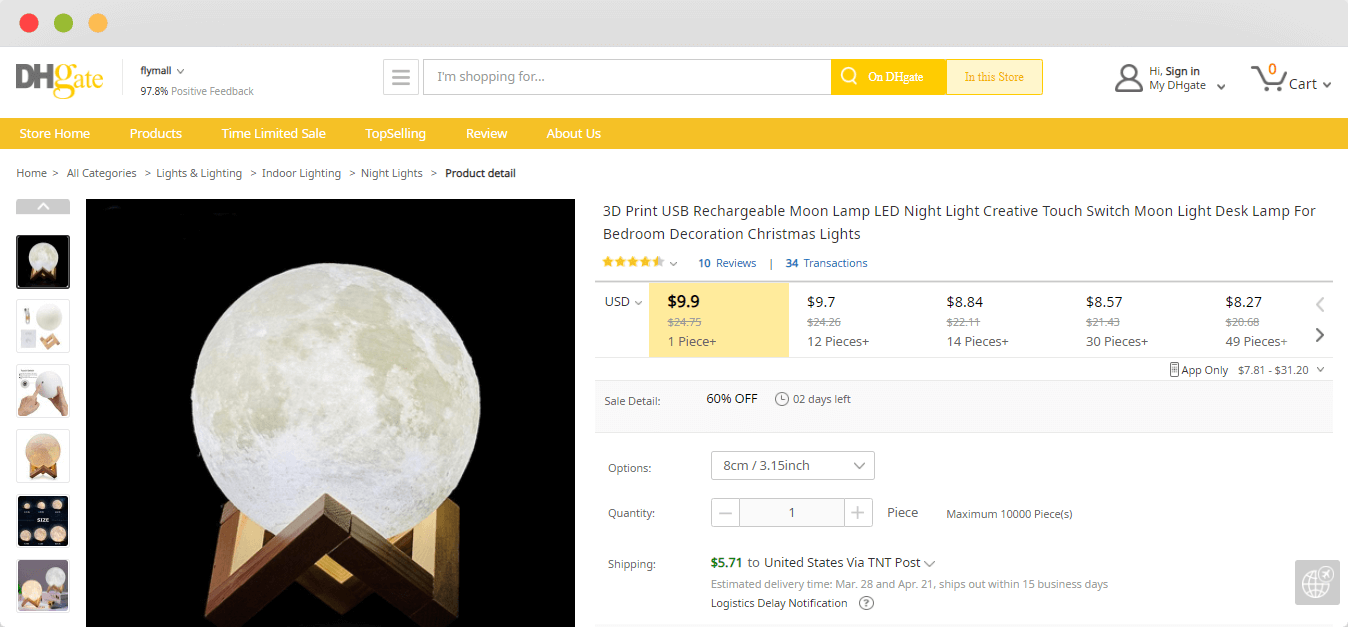 AliExpress offers the same 8cm LED Moon Lamp for a cost of $10.12 with free shipping. You can look at the number of orders and reviews for the same product in the screenshot below.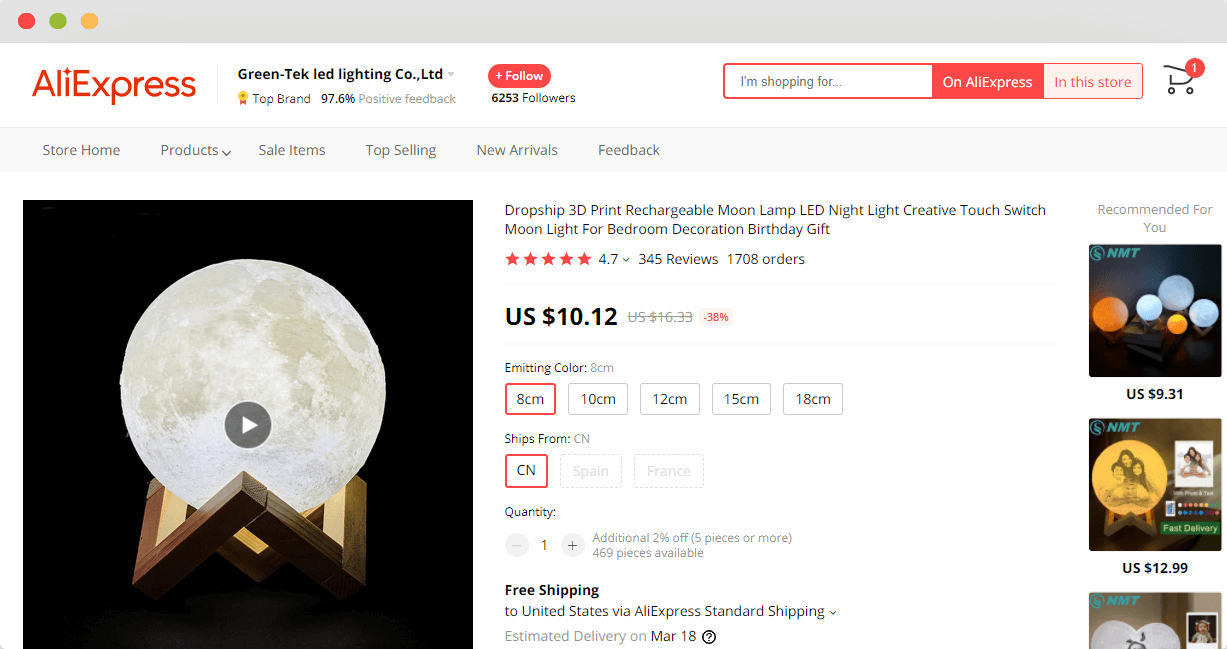 This price difference of around $5.48 is roughly the cost of running a single day Facebook advertisement for most beginners in the dropshipping field.
So, AliExpress clearly knocks out DHgate in terms of pricing for an 8cm LED Moon Lamp.
3. Bulb Humidifiers
When we searched for the famous Bulb Humidifiers on DHgate, we did not find many results as compared to AliExpress.
The product that is available at DHgate as Bulb Humidifier has a price of $22.86 per piece but also has a whopping shipping cost of $67.39 to the USA via ePacket.
So, such a costly product is itself not feasible to be selected as a dropshipping product.
If we look into the prices for bulk quantities, even then the case does not seem workable.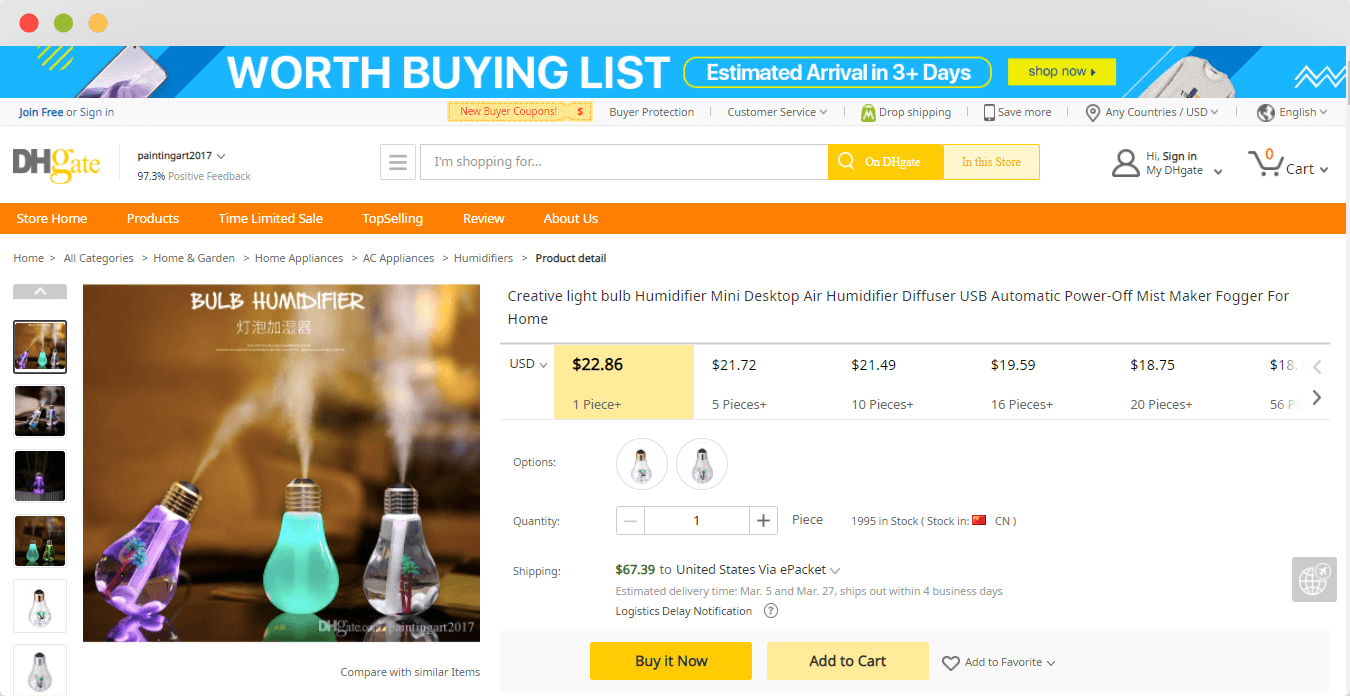 While on AliExpress, it is available at a maximum price of $8.55 per piece with a shipping cost of $1.52.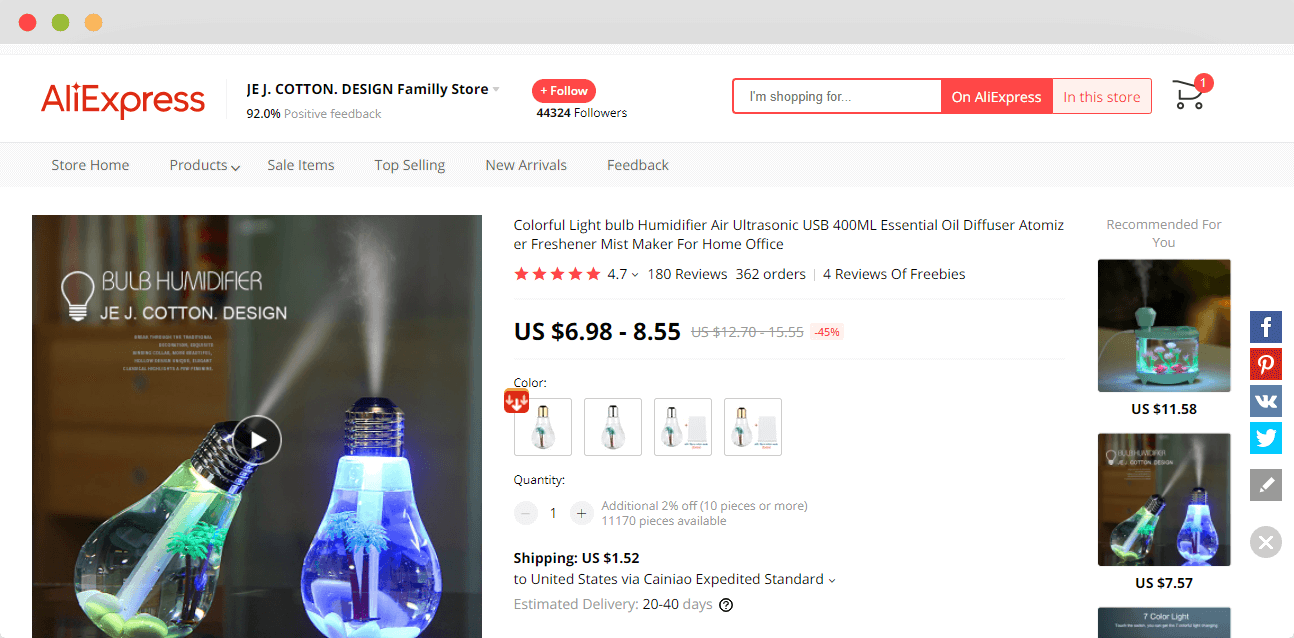 That makes AliExpress far superior to DHgate in terms of pricing.
4. Acupuncture Yoga Mat
Acupuncture Yoga Mats have been one of the leading dropshipping products in the recent past. When we compared the prices of Yoga Mats from DHgate and AliExpress, we found a huge difference between both.
At DHgate, a single-piece of Yoga Mat is available for $34.93. The price does not go much lower even if we increase the quantity of this product.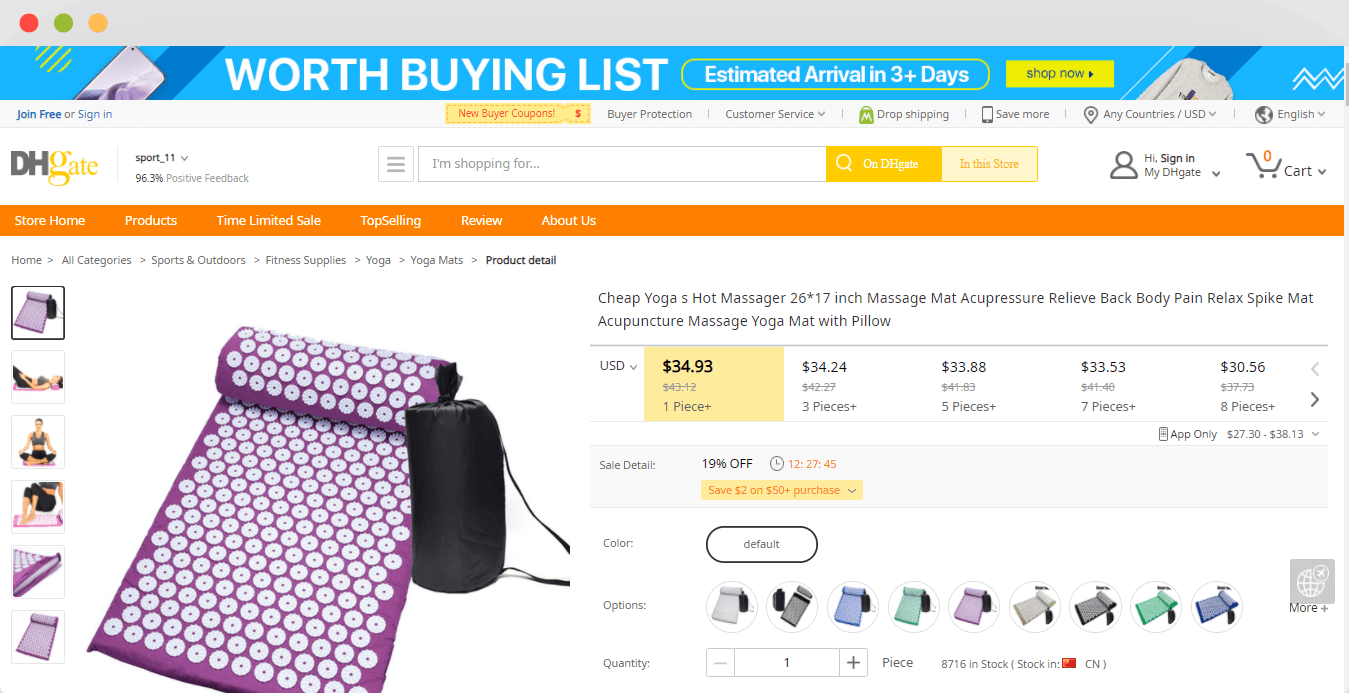 AliExpress offers these Yoga Mats at a maximum price of $18.28. So, even the price for the maximum size of these Yoga Mats on AliExpress is lower than that of DHgate.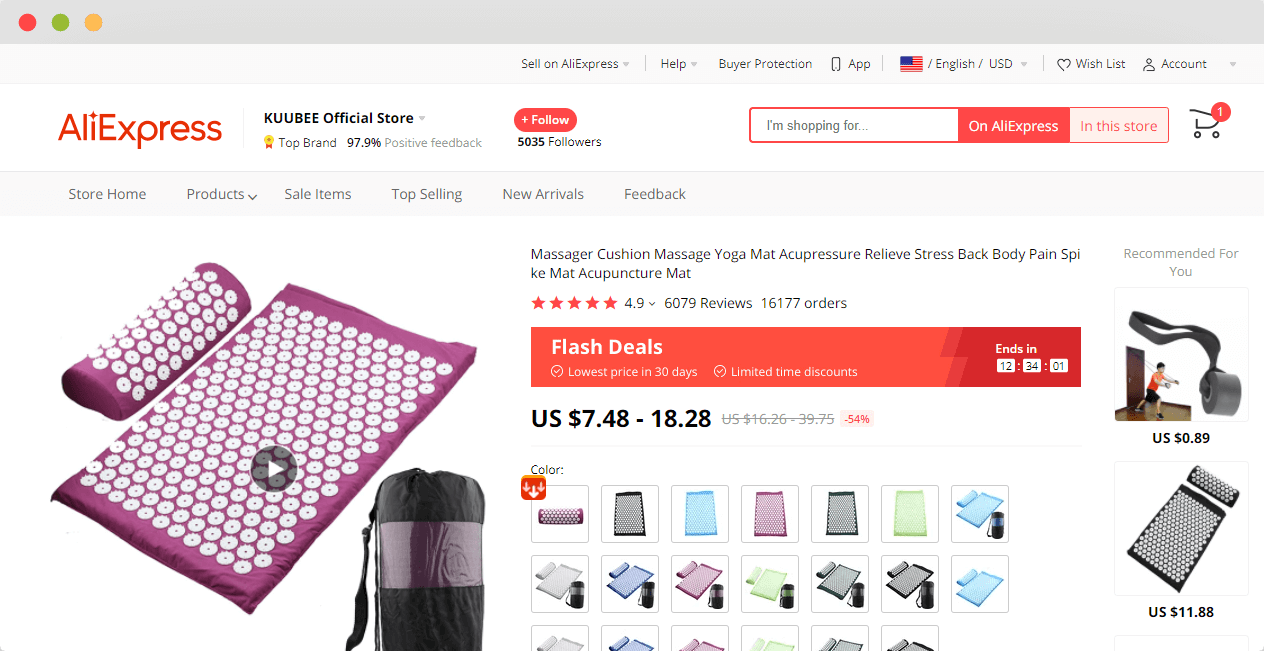 5. Mini LED Projector
The last product for the price comparison is the Mini LED Projector. We thought to include a higher ticket item for a fair comparison.
The YG300 LED Mini Projector is not available for a single-piece order on DHgate. The minimum order quantity for this product at DHgate is 10 pieces and is available for $41.67 per piece with free shipping to the United States via DHL.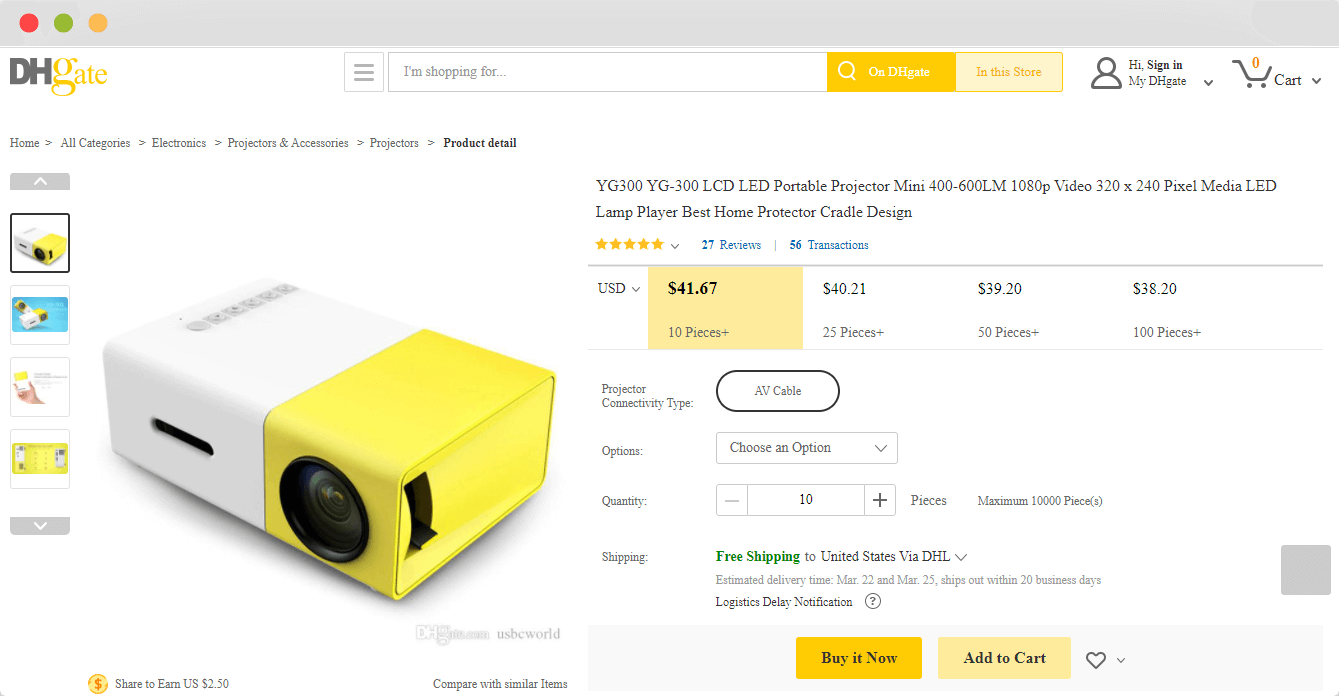 The same YG300 LED Mini Projector is available on AliExpress for $32.99 with free shipping to the United States.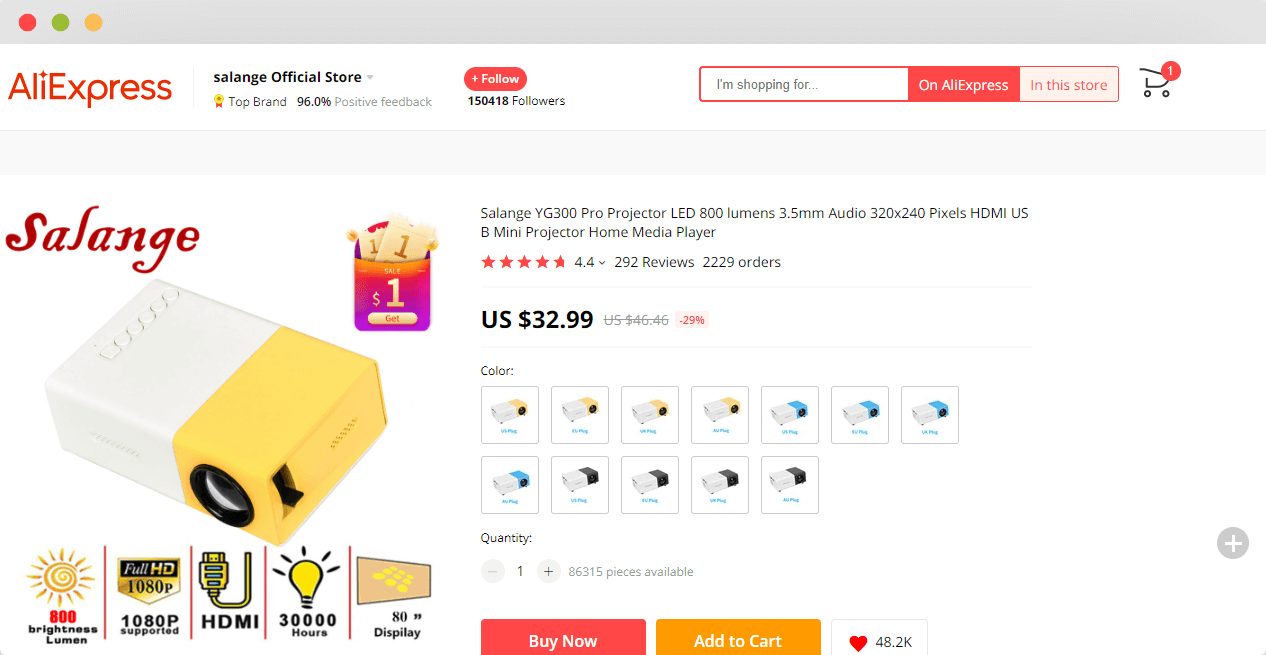 So, this marginal difference of $8.68 also makes AliExpress a cheaper forum to source this LED Mini Projector.
Overall, AliExpress seems to be a cheaper option than DHgate hence it has a higher number of orders too.
DHgate vs AliExpress: Which Has Better Shipping Options?
It really depends upon the seller to seller and the shipping method you choose on both websites to decide when your parcels will arrive at your desired locations.
So, there is no thumb rule to decide which of the online marketplaces offers better shipping options between DHgate and AliExpress.
However, there are certain factors upon which we can have a general idea of which dropshipping website is better in terms of shipping methods. These factors are discussed below:
Order Processing Time:
The suppliers on AliExpress generally ship the orders within 3 to 5 business days. Most suppliers on AliExpress do not take more than 7 business days to ship your order.
The processing time at DHgate is similar to AliExpress but it generally processes orders faster than AliExpress.
The prime reason behind earlier processing of the orders at DHgate may be the less amount of orders that the sellers are handling at DHgate as compared to sellers on AliExpress.
Free Shipping:
Both AliExpress and DHgate offer free shipping on certain items but you will notice that the price of the products with free shipping is generally higher than the price of the products with shipping costs.
In most cases, the shipping costs have already been included in the prices of the products in case of free shipping offers. So, the so-called term "free shipping" may be a hook in some cases.
General Shipping Costs:
Generally, AliExpress offers cheaper shipping costs as there are multiple items to be shipped via AliExpress sellers. The established sellers on AliExpress are shipping in bulk quantities so they have a margin to offer lower shipping costs as compared to other dropshipping platforms like DHgate.
ePacket:
Both AliExpress and DHgate offer ePacket services. AliExpress has a dedicated p over the product preface that mentions whether the product is covered with ePacket or not.
In the case of DHgate, you have to manually check if the product is covered with ePacket or not by clicking on the product and going through its details or adopting a pseudo-ordering process.
Tracking of Shipment:
Both AliExpress and DHgate offer tracking services but that depends on the type of shipment that you chose while ordering your products.
Generally, it is mentioned right beside the shipping carrier if the tracking is available for that option or not. Almost all ePacket and relatively expensive shipping methods offer tracking services on AliExpress and DHgate.
The services of locating your parcel during its transit are pretty much the same on AiExpress and DHgate because both work with 3rd party shipping carriers.
Variation in Estimated Time of Arrival:
This is an issue that is very difficult to resolve in the e-commerce field. No one can be pretty sure about when exactly the products will arrive at the desired location.
This is because there are so many factors that play their role in making the products deliver earlier or later than your expectations.
From the medium of shipment to the custom clearance issues, the products are delivered as early as they pass through different stages of delivery in their way.
That is why the e-commerce platforms always rely on giving you a tentative date of delivery. AliExpress offers a clear Estimated Time of Arrival while DHgate gives a range of days in which you can expect your order.
Both platforms offer some kind of buyer protection in the form of refund claims or free returns to make sure the orders of their customers are secure.
Fun Fact: You will be surprised to know that your parcel has arrived much earlier than the estimated date of arrival shown on the website because of its adjustment in faster shipping methods by chance.
DHgate vs AliExpress: Which Has Better Buyer Protection?
Both DHgate and AliExpress offer buyer protection with certain conditions but AliExpress offers buyer protection with relatively greater detail and clarity. Let's briefly analyze the buyer protection offered by DHgate and AliExpress.
According to the official buyer protection page of AliExpress, the buyer can be sure of being protected in the following categories:
The buyer's privacy and personal information are protected by AliExpress.
AliExpress keeps your payment with itself until you confirm the received order is satisfactory.
You are eligible for a full refund if you do not receive your orders after 60 days of your order.
AliExpress refunds you the full amount or even more than the full amount excluding shipping charges If a seller sends counterfeit or fake products even after claiming the products to be genuine.
But if a seller does not claim to sell genuine products, he can sell replicas and fake products with no refund claims.
AliExpress also mediates and gives you a partial or a full refund if the products you received are not as described by the sellers.
On the other hand, DHgate seems a little lenient towards its sellers. It does not seem to encourage buyers to ask for a full refund every time. If something goes wrong, DHgate asks the buyer to contact the seller so that both can reach a point of mutual agreement.
If nothing is sorted between buyer and seller in cases of dispute, DHgate jumps in to mediate.
There is no clear policy of DHgate to offer a full or partial refund for the products being non-genuine even if the seller claimed them to be genuine products.
Hence, AliExpress takes the lead in this factor also. After all, buyer protection is one of the main differentiators when it comes to shopping online securely with the confidence that your money is in safe hands.
DHgate vs AliExpress: Which Has Better Customer Service?
There is no clear demarcation between both websites in terms of customer service. As most of the suppliers at DHgate and AliExpress are Chinese, they are not very good at communicating in other languages.
In terms of customer cooperation, special discount requests, and customizations, you can contact sellers directly on both websites. Apart from language issues, both websites offer good customer services.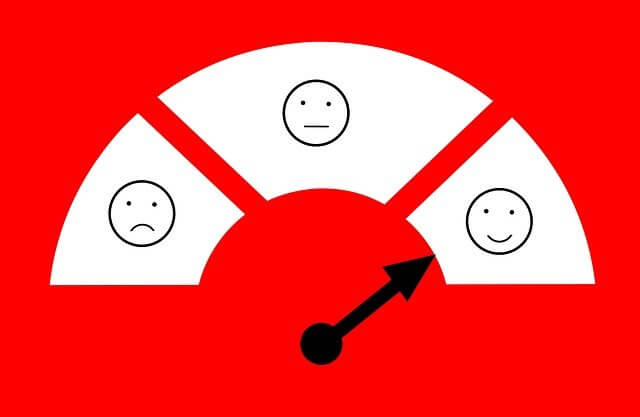 DHgate and AliExpress Customer Support options include:
24/7 Online Live Chat
Facebook Page
DHgate Messaging
Direct Seller Contact
Email Correspondence
A General FAQ Guide
Both websites don't respond much during the Chinese new year holidays because most of them are on vacation.
Generally, both platforms offer similar customer support but there is a slight delay in response from AliExpress suppliers. This may be because they are dealing with larger amounts of queries on a daily basis.
DHgate vs AliExpress: Which Has Better Payment Methods?
The ease of paying for what you have bought is also an important factor when it comes to shopping or making mass payments in case of doing a business.
AliExpress and DHgate allow the most convenient payment methods like Visa and MasterCard for the payments but noth platforms do not accept one of the highly used payment methods worldwide I.e. PayPal.
DHgate accepts the following payment options. With the following payment methods, you can buy anything from DHgate from anywhere in the world.
Visa
Credit Card
MasterCard
American Express
Skrill Moneybookers (Ewallet)
Diners Club
UnionPay (SecurePlus)
Maestro Card
Maestro Card (Ewallet)
Caution: Payment services including Bank Transfer and Visa Checkout are discontinued on DHgate.
There are some other payment services that are only offered for specific countries. For example, Apple Pay is available for some countries including the USA but that feature only works with mobile applications.
AliExpress accepts payments via the following methods:
PayPal (Accepted by a few vendors on AliExpress)
Visa
Credit Card
MasterCard
American Express
QIWI
Discover
JCB
MNP
Troy
Western Union
Bank Transfers
Fun Fact: Established dropshippers develop a healthy working relationship with their suppliers on websites like AliExpress and DHgate. So, when they start receiving bulk orders on their online store, they do not order products individually.
Instead, they make an excel sheet and put all the details of orders to be shipped to different locations in the world. They make the payment to the seller once for all to save time.
But as this practice takes you outside AliExpress, such kinds of payment methods are not covered and protected by AliExpress.
So, both DHgate and AliExpress offer multiple payment gateways but PayPal lovers might get attracted towards AliExpress because PayPal users are not much comfortable in using other payment methods.
At the same time, DHgate also offers the highly anticipated payment method of ApplePay to keep the balance of exclusivity intact.
DHgate vs AliExpress: Which Is Better for Product Sourcing?
Product sourcing is the key to a dropshipping or any kind of online retail business.
To address this question, you need to understand the differences and similarities between these two websites because sourcing a product requires overall experience with working on a product sourcing platform.
Despite a lot of similarities in both dropshipping suppliers, there are a few differences between both also. These differences are highlighted below:
The main highlights of both websites are briefly explained below.
Type of Business
AliExpress is purely meant for B2C (Business to Consumer) while DHgate works on a mix of B2B (Business to Business) and B2C business models.
AliExpress has a parent company named Alibaba for the B2B model while DHgate provides both facilities under one roof. You can say that DHgate is a mix of Alibaba and AliExpress.
So, if your business needs a mix of single-piece and higher quantities, DHgate can be a better choice for you.
You can also use a mix of both websites to fulfill your product needs.
Minimum Order Quantity
There is no MOQ on AliExpress because of its working model of B2C. Customers don't have to be bothered about a product that has a compulsion to be bought in higher quantities.
DHgate, on the other hand, offers a few products with MOQ. So, the prices on some products in DHgate can be deceptive because of its MOQ. It is advised that you divide the price of a product by 12 in case of a dozen MOQ in order to get the real price of one unit.
Discounts on Bulk Orders
As DHgate is also meant for B2B, wholesalers, stockists, and big dropshippers have an edge of availing huge discounts on DHgate.
Although some sellers on AliExpress also offer discounts on higher quantities but most of the time you have to negotiate with the sellers for a discount on higher prices.
Mobile Experience of Websites
Both websites are available on mobile phones including Android and iOS devices. The apps of both websites are very convenient and easy to use. Some products offer "Mobile-only" discounts too.
Dedicated Dropshipping Centers
AliExpress and DHgate have dedicated dropshipping centers where both platforms recommend products that are best suited for dropshipping.
DHgate carries a dedicated p at two places on its websites that are specifically meant for dropshipping. These ps have been highlighted in the screenshot below.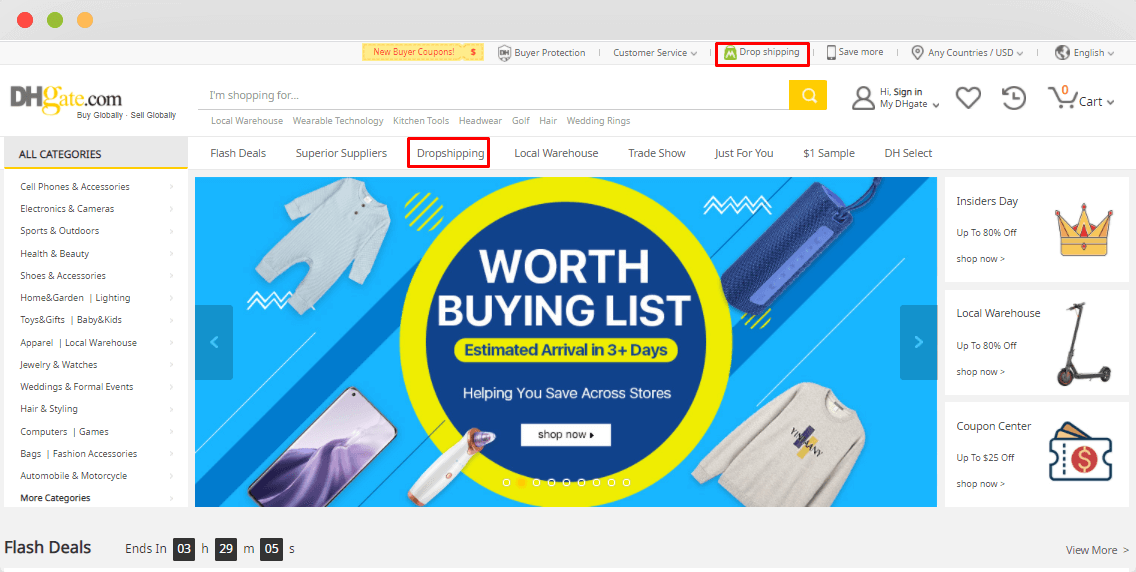 AliExpress offers a detailed breakup and ordering trend of a specific product so that you are in a better position to decide if you should select that product on a regular-order basis for your dropshipping pursuits.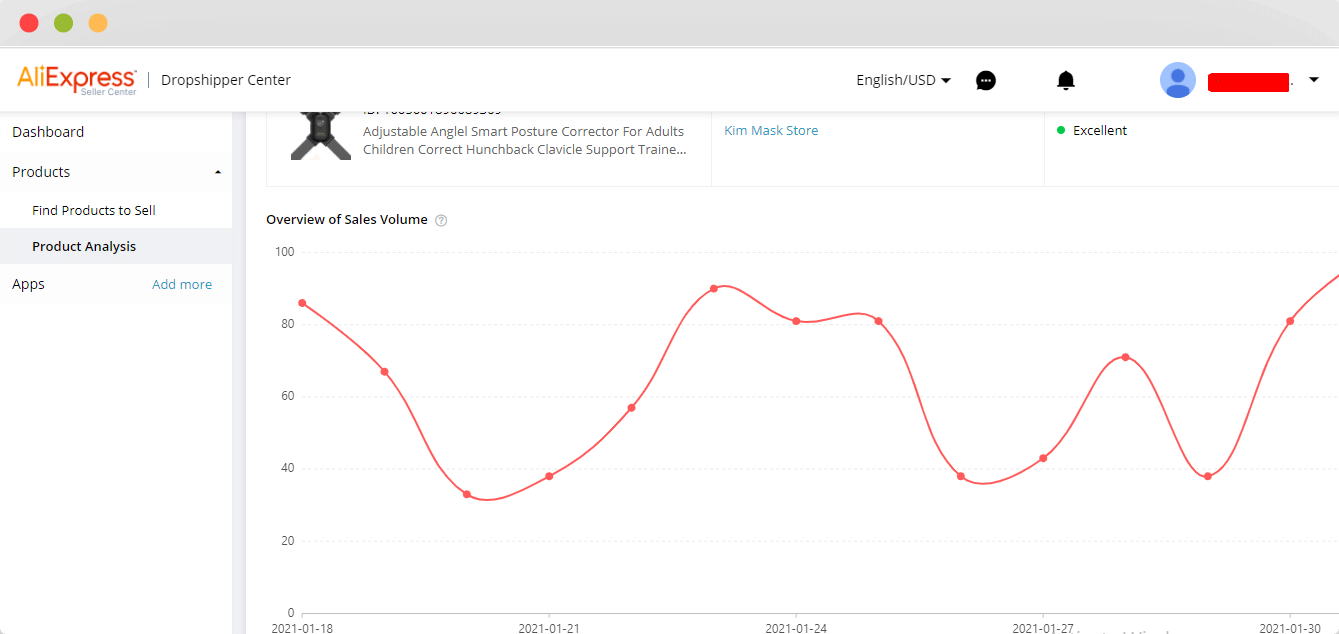 Both AliExpress and DHgate offer discounts and sale on almost every item on different occasions around the year.
While some observers may claim that most of these sale prices are artificially created just to attract new buyers, it is an established fact that items are really on sale if we keep a track record of prices for certain selected items.
Discount coupons are also offered by both websites to attract and retain customers.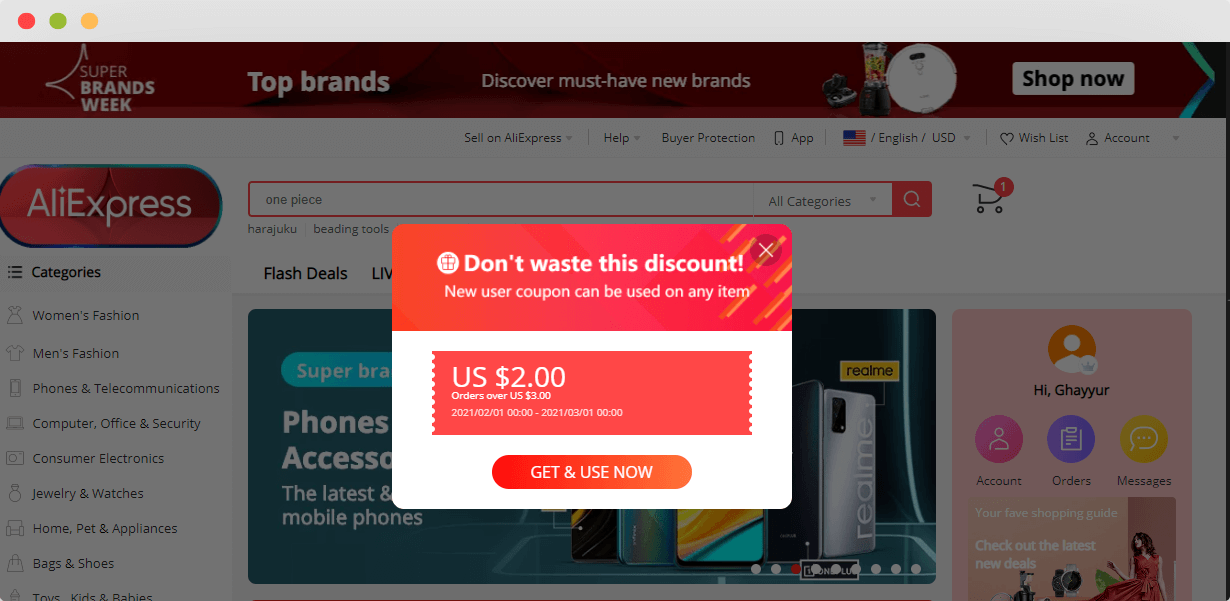 You can claim these coupons when you are making a purchase and the price of your product will be adjusted accordingly. The same kind of coupon is also offered by DHgate.
Additionally, AliExpress offers crazy discounts in an international shopping festival called "11.11 Sale" It is also called "Single's Day" and is celebrated on 11th November every year.
According to an estimate, Alibaba group generated a revenue of around $84.5 billion for an eleven-day shopping festival of 11.11 in 2021.
Shopify and Woocommerce Integrations:
Both DHgate and AliExpress have sufficient integrations with dropshipping platforms including Shopify and Woocommerce but AliExpress has more apps and features than DHgate to support the process like automated dropshipping.
AliExpress enjoys some exclusive integrations and apps like Oberlo, Alidropship, and Ali Reviews, etc that give AliExpress a competitive edge over DHgate.
Summary
China is the hub of online and offline international trade. As DHgate and AliExpress are the two mainstream choices for online international buyers, both websites contribute to a major portion of online Chinese foreign trade.
We have discussed all the major advantages and disadvantages of both websites. Both websites offer competitive rates of products because of the presence of Chinese businesses and manufacturers.
So AliExpress or DHgate, which is the best option for a dropshipper? It is up to you to decide which online platform suits your business needs more.
Overall, in a nutshell, AliExpress maintains the lead in terms of pricing, product diversity, shipping options, quality control, and ease of choice for online store integration, etc.
If you have anything else to inquire or share about this topic, do let us know in the comment p and we will get back to you in no time.