Dropshipping podcasts are gaining rapid popularity recently due to their convenience and easier learning curve.
Watching a video or reading online can be a huge chore, especially after a long day.
This is where podcasts come in, as you can listen to one while multi-tasking or even resting.
There are multiple podcasts with talented hosts to equip you with more knowledge for your dropshipping journey.
In this article, we'll go over a list of the 15 best dropshipping podcasts so you can learn directly from the industry experts.
Let's get straight into it!
1) Dropshipping – Talks from Dropshippers to Dropshippers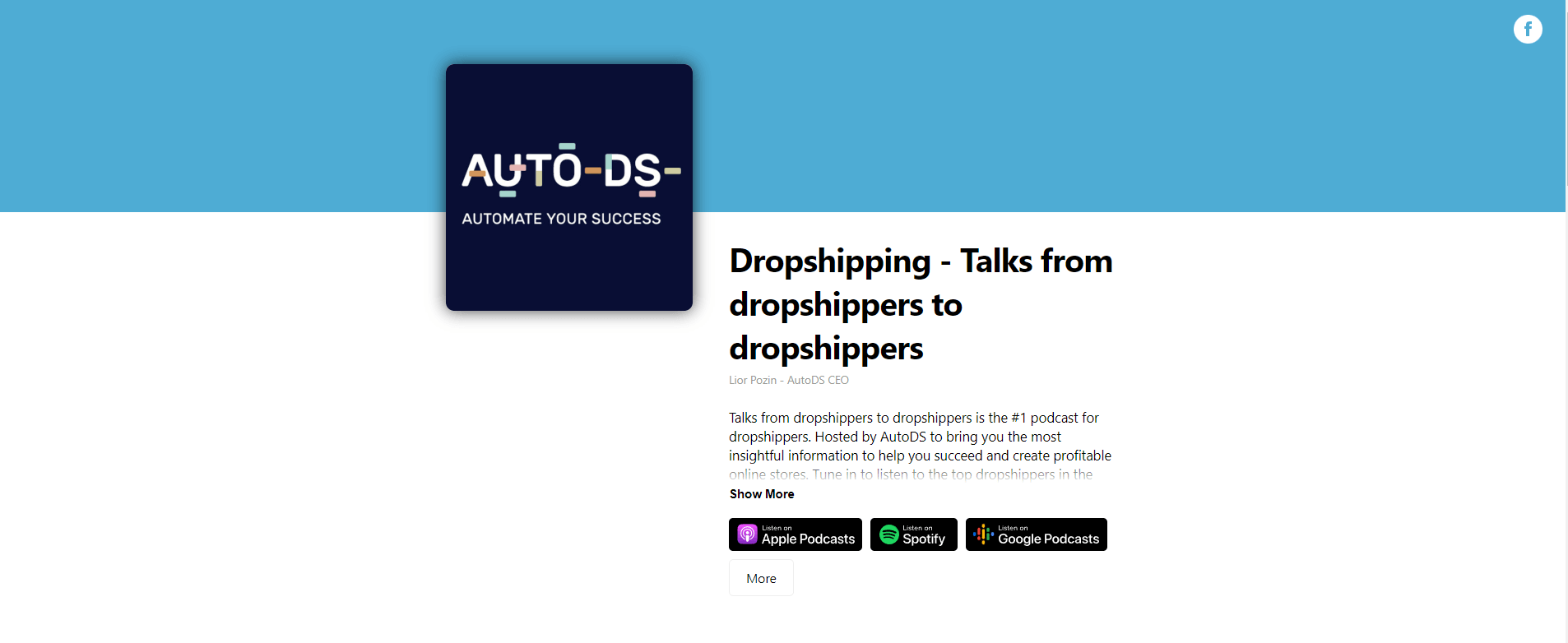 This is the No.1 podcast to listen to if you're starting a dropshipping business. It has both free and exclusive types of content.
Additionally, instead of the same experts every time, you can listen to various voices from the most successful individuals in the industry.
AutoDS, the host of these podcasts, has a policy of exclusivity for dropshipping.
These podcasts graze every subject, from pets, gardening, and toys, to tools, clothes, etc. However, everything ultimately links to dropshipping.
For example, instead of discussing the recent clothes trends with a general expert, leave it to AutoDS to always bring manufacturers into the mix.
You'll learn everything from up-to-date trends to industry insights and an unending diverse knowledge of the dropshipping industry.
Start listening to the experts who've fought and won before you.
Why Should You Listen to It?
Price – Both free and exclusive content is available.
Frequent Uploads – They upload religiously, with uploads sometimes coming barely a day apart.
Diversity – The amount of variety this podcast offers is astounding; you could hear from multiple entrepreneurs from all walks of life who've made it big with dropshipping.
Experience – AutoDs has been hosting podcasts for over a decade, and they know exactly who to invite for what topic.
Tone – The tone of any general discussion in the podcast is kept energetic and charged, ensuring you don't fall asleep even when the talk gets complicated.
2) Drop-Shipping Secrets

Drop-Shipping Secrets' host is Jesse Lopez, and it features incredible dropshipping techniques and industry insights.
The podcast also features avenues like Instagram marketing and other eCommerce industries, but their dropshipping-related content is pure gold.
It covers basics like increasing your store with the most sales, winning dropshipping products, doubling sales profits, and keeping customers interested with the best discount strategies.
Drop-Shipping Secrets is a must-listen podcast whether you're a newbie starting a store or a veteran looking to improve yourself.
Why Should You Listen to It?
Price – Almost all the content is free.
Diversity – Despite being free, every dropshipping sub-topic is discussed carefully, keeping the listener's requirement in mind.
Tone – It isn't a stern professional podcast, and the style is light and joyful.
Focused – The speaker specializes in dropshipping.
The Larger Impact – You are told the tips, tricks, and hacks to get a lifestyle routine for a successful business.
3) eCommerce Lifestyle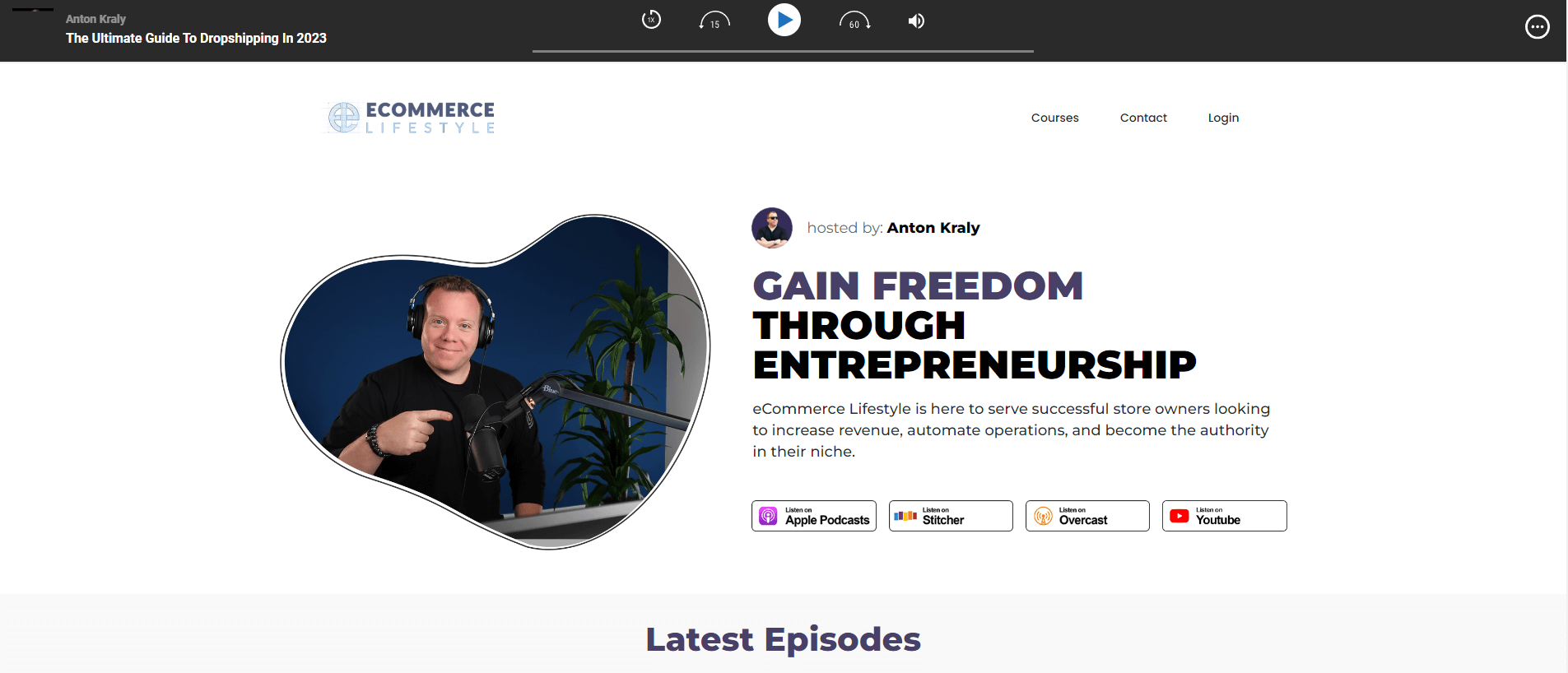 The CEO of eCommerce Lifestyle, Anton Kraly, personally hosts all podcasts, having trained 8000+ students on successfully navigating the eCommerce world.
There are dozens of uploads featuring dropshipping main and sub-topics, offering you industry insights and on-hand helpful knowledge.
They offer an exclusive 'Inner Circle" membership worth $10,000/year, with an extended waiting list and a standard membership for free.
Despite how it may seem, eCommerce Lifestyle isn't a paywall-blocked site, and the standard membership offers all the help you need. However, the "Inner Circle" content is secret to the public.
There are 340+ podcast uploads, with new updates coming every day. Anton Kraly has a friendly and boyish voice, ensuring you don't feel bored during the podcast.
eCommerce Lifestyle was voted the "best eCommerce course" on Spotify in 2018, which proves its usefulness and popularity.
Why Should You Listen to It?
Portfolio – Anton Kraly has a loyal student base, having taught 8000+ students, and many can testify to his credibility.
Price – Despite Inner Circle being full for most of the year, standard membership offers everything you could need for free.
Tone – The tone is charged and excited and holds your attention.
Diversity – In those 340+ uploads, Anton Kraly focuses on dropshipping and various eCommerce aspects.
4) Shopify Masters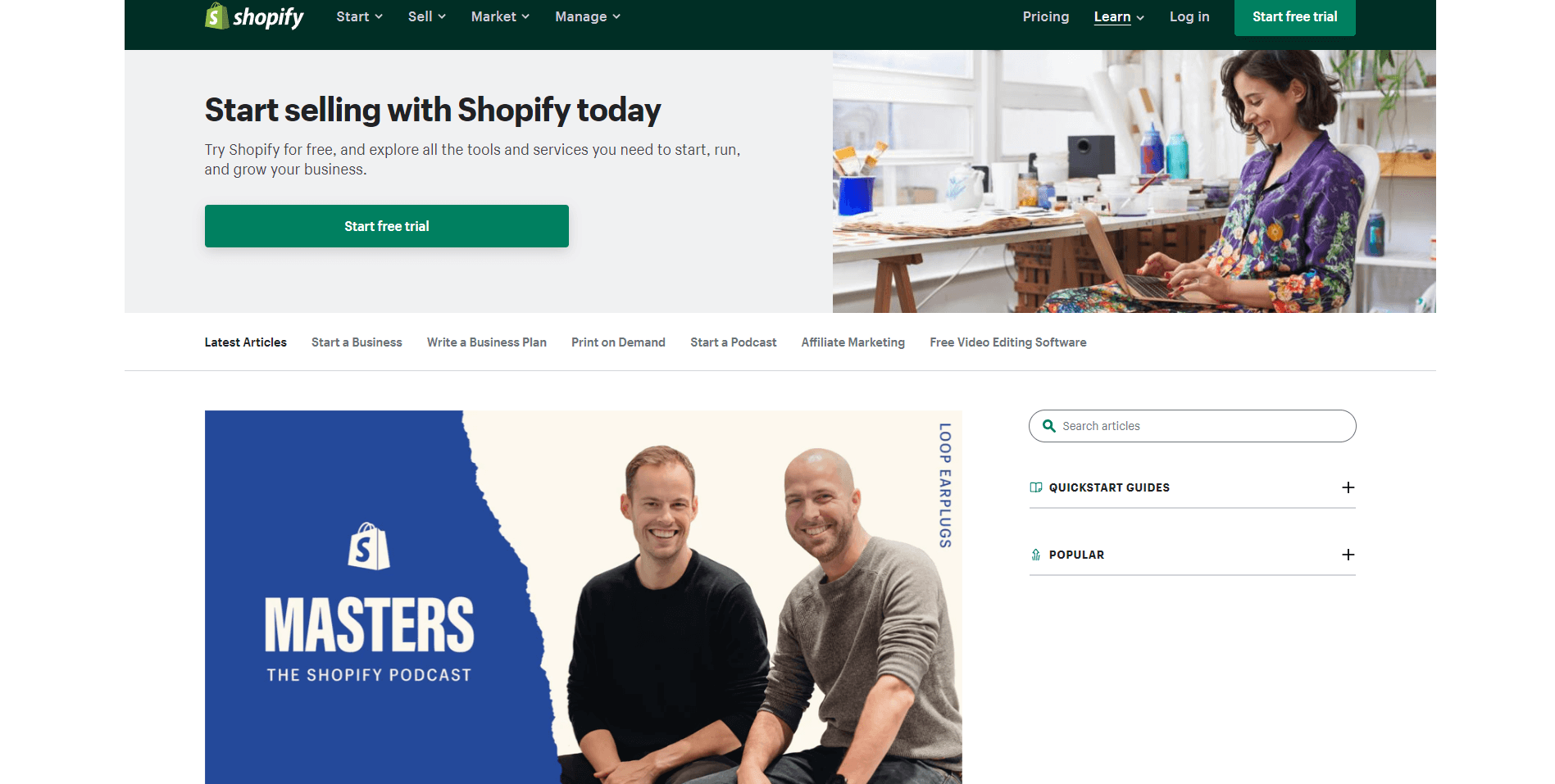 Another top-rated dropshipping podcast, Shopify Master, is an eCommerce marketing podcast that covers a variety of subjects and genres in the eCommerce industry.
Their dropshipping episodes provide enlightening information, making you rethink your decisions and adjust your strategies.
Additionally, their website provides a comprehensive compilation for newbies just entering the field, so you must check it before starting a dropshipping business.
While they charge a monthly subscription fee, the advantages are incredible, with successful individuals sharing their experiences and the host, Felix Thea, asking essential and helpful questions along the way.
Why Should You Listen to It?
Diversity – Multiple topics are discussed comprehensively during the podcast.
Tone – The host is always interested to know more, asking a wealth of questions for the listeners.
5) The Dropship Podcast

The Dropship Podcast is co-hosted by Ben and Jon, both uploading the occasional solo podcast.
This podcast not only highlights the problem with basic approaches within the eCommerce industry but also motivates and informs its listeners about what to do about them.
They offer a much smaller portfolio of uploads and an even smaller one on dropshipping. However, their uploads are top-quality, and the content is free.
Why Should You Listen to It?
Price – It's 100% free of cost.
Tone – Both hosts are highly motivational and relatable in their style.
Quality – Despite having fewer uploads on the dropshipping topic, they provide high-quality content in every podcast.
6) Ecom Era – #1 Dropshipping & eCommerce Podcast

This podcast is informal and feels more like a daily vlog than a business learning class. The host sometimes talks about his asset management and everyday life in the business world.
Additionally, the podcast features supplier comparisons, analysis, and improvement criteria.
The impressive questions and their answers in these podcasts allow you to learn and reflect upon yourself and improve your business.
Why Should You Listen to It?
Price – You can find these episodes 100% free on all mp3 sites.
Tone – The host sounds confident and friendly to connect more with its listeners.
Diversity – Covers everything dropshipping related with a good touch-up on other business models.
Time – The podcast is concise and informative, with episodes averaging 9 minutes, with well-scripted information with a tinge of humor.
7) Start Yours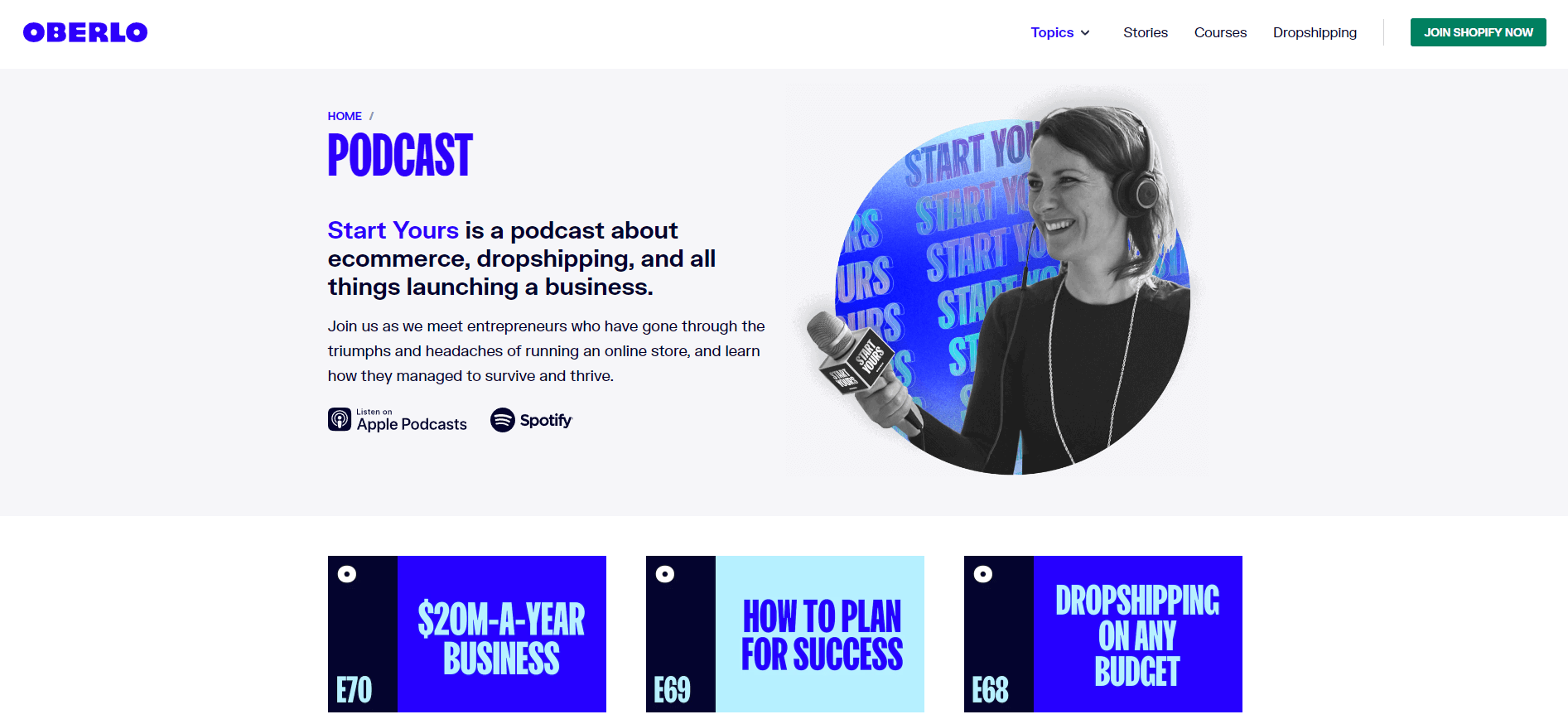 A podcast project by the former eCommerce giant Oberlo, Start Yours features guests from all over the world.
It is a motivational and how-to podcast, where the host's primary focus is getting the most information out of successful people in business for the listeners.
There are jokes and casual conversations between the crumbs of information, making the long podcasts easy to follow.
However, you learn much just by listening to successful people's life stories and mistakes, so in this case, longer podcasts are beneficial.
There are 100+ uploads covering all aspects of the business world.
Dropshipping isn't the main focus of these podcasts, but you shouldn't miss the episodes dedicated to the dropshipping business model.
Why Should You Listen to It?
Price – The content is 100% free.
Credibility – Even if you don't know the guest appearing personally or have never seen them on the internet, you can be sure that Start Yours only brings people of importance.
Tone – Although hosts do switch, Aleisha hosts most of the episodes and has an encouraging and sweet style.
8) Mixergy

Mixergy is all over the place, and they cover everything and everyone. The most significant entrepreneurs and founders they've invited are owners of Linkedin, Wikipedia, PIXAR, Sun, etc.
The co-host and owners, Michael and Andrew, are relaxed, friendly, and credible.
Having interviewed more than 1500+ entrepreneurs, they have enough dropshipping episodes to keep you occupied till you get ready to start your own business or expand an existing one.
Why Should You Listen to It?
Price – It is 100% free.
Duration – An average episode is 45-50 minutes long, with a lengthy discussion on the essential points of the topic.
Diversity – The content is very diverse, which is not necessarily good, but all relevant dropshipping uploads are present.
Tone – Depends on the situation, but the hosts usually talk very casually, which makes them easy to follow.
9) Build Assets Online Podcast

Mike and Joe Brusca host the Build Assets Online Podcast. They talk about building and maintaining an online business before you make your grand exit from the market with a heavy wallet.
They joke around and use easy examples for their listeners to grasp the general idea. Dropshipping debates and discoveries are one of their most common episodes.
Why Should You Listen to It?
Price – It is 100% free.
Diversity – They talk about everything from dropshipping to general eCommerce, affiliate marketing, and more.
Tone – Very humorous and easy to listen to without getting bored.
10) eCommerce Fuel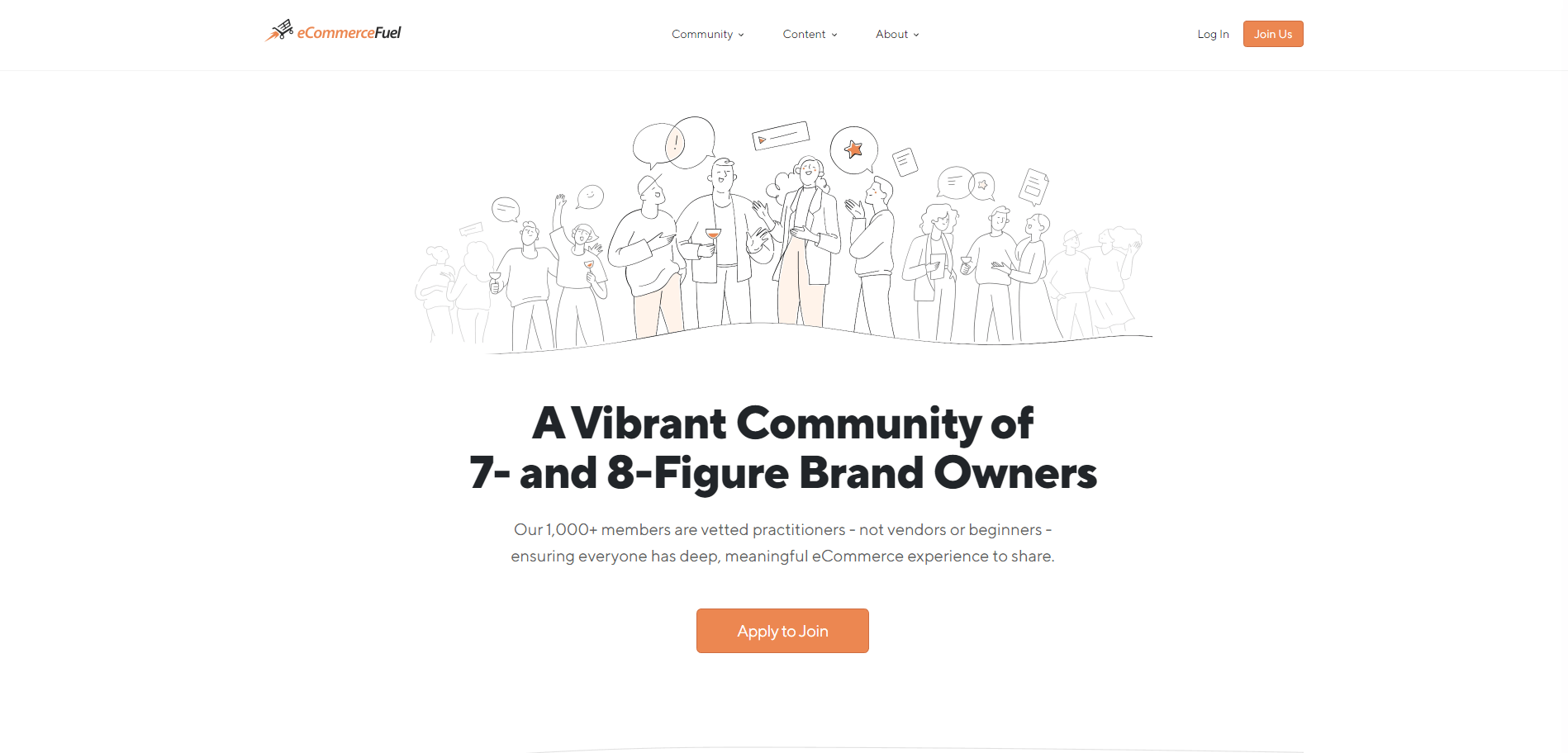 eCommerce Fuel is all about exclusivity. The standard podcasts are excellent, but they reserve the best content for their exclusive members. Membership fees start from $149/month, but you can get a "trial" membership for $1.
eCommerce Fuel's podcasts are hosted by Andrew Youderian, with his thoughtful questions and stable uploads making the podcast a listener's favorite.
The podcast is a big player in the industry with millions of listeners, covering many topics and trends and doing podcasts on brand-specific reports. As for the guests: you'll find multiple 7 and 8 figures experts on eCommerce Fuel.
Why Should You Listen to It?
Price – You can find free episodes, but the best content is reserved for exclusive memberships.
Tone – Professional and informative.
Diversity – Multiple experts discussing a wide array of topics.
11) Tech Money Talks
The host Brian McCumber talks about the more controversial sides of eCommerce, specializing in Crypto, NFTs, and all new eCommerce up-and-coming avenues.
His episodes are more accommodating than most, and he keeps his shows very precise. One of these episodes could be 10 minutes, and another could be an hour.
Dropshipping isn't his top priority, and there are multiple episodes on metaverse, NFTs, Crypto, etc. However, he tends to connect different eCommerce models for better results.
Why Should You Listen to It?
Price – 100% free, you get everything he has to offer.

The Hidden Hustler podcast was last updated 3 years ago, but the host does post clips and crumbs of knowledge on his social media.
However, it is wise to remember that Hidden Hustler already has 100+ relevant episodes archived, and you can listen to those whenever you want.
Hidden Hustler's host has humble beginnings, which allows his listeners to relate to him, and makes him quite the motivational figure.
Why Should You Listen to It?
Price – It is 100% free.
Creative – His tips for boosting your dropshipping business are very creative and helpful.
Tone – Very friendly and relatable.
Time – Concise episodes with on-hand, step-by-step guidance.
13) Dropshipping Accelerator

Adil Ouchrif hosts the show as part of his "Dropshipping Accelerator 2.0" program. Adil's podcasts are more like a class than a casual discussion; even though it can get boring fast, there is much to be gained.
On most of the eCommerce and Dropshipping podcasts, Adil talks about his way of approaching the market and its benefits compared to the conventional method.
Adil knows what he's talking about with dropshipping. Some of his students and religious listeners have even grown $200,000 into an enormous sum of $600,000! That's a 3x increase.
Why Should You Listen to It?
Information – Adil Ouchrif brings you market secrets and hacks that only a few know. Listening to even a portion of his podcast teaches a lot.
14) eCommerce Paradise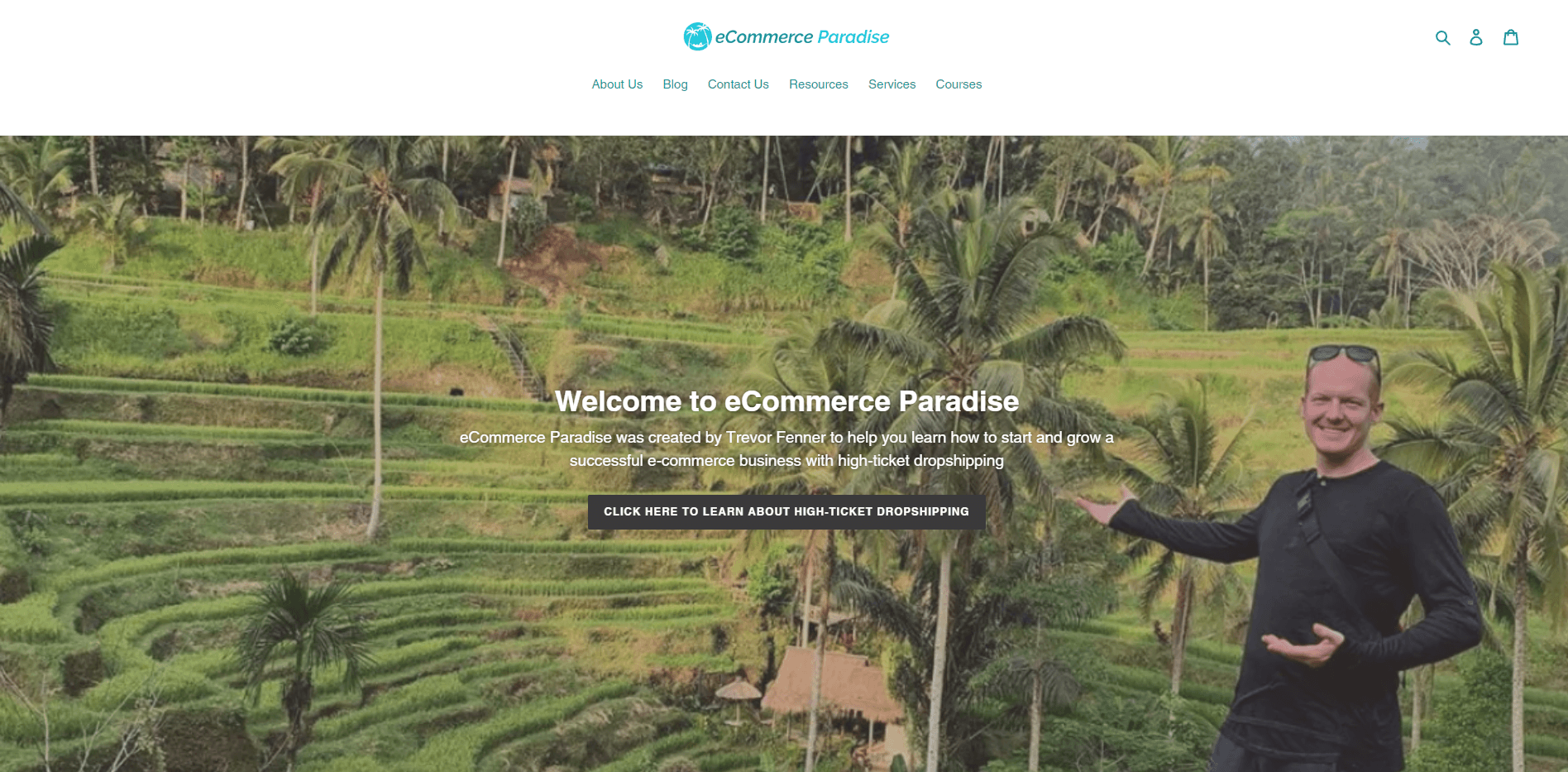 The owner and host, Trevor, started eCommerce Paradise in 2015. His podcasts are very informative and cover a wide variety of topics.
eCommerce Paradise offers complete training programs, which are very expensive but provide better guidance than most other podcasts.
As the host, Trevor is a nomad businessman who often discusses new things and ways to dropship. His ideas are out of the norm and can inspire people to create and expand.
Why Should You Listen to It?
Diversity – The topics are very diverse, with the host, Trevor, traveling the world and creating podcasts along the way.
Tone – Extremely friendly and boyish, which keeps you hooked.
Uniqueness – Unlike other dropshipping podcasts, eCommerce Paradise focuses on high-ticket dropshipping.
15) eCommerce Boost

Hosted by Julie Fjeldgaard, eCommerce boost helps with all things eCommerce, including drop shipping; however, their main specialization is SEO and social media ads.
Every week, a new eCommerce guru is brought to the podcast for listeners to learn. However, their conversation can be challenging to comprehend unless you have basic eCommerce knowledge.
Why Should You Listen to It?
Tone – Highly professional and feels like a business debate, which it is.
Dropshipping Podcasts FAQs
What Is A Dropshipping Podcast?
Podcasts can last from 4-5 minutes to even 1-2 hours and are typically released in episodes, covering various topics in eCommerce, such as dropshipping.
Dropshipping podcasts are simply podcasts where the host(s) discuss dropshipping. However, which areas of dropshipping they cover is entirely up to them.
Why Should You Listen to a Dropshipping Podcast?
Dropshipping podcasts are an excellent way to increase your knowledge and stay with the industry's pace, ensuring your business is competitive and profitable over time.
They're also a viable resource for beginners to learn more about dropshipping so they can launch their own businesses over time.
Are Dropshipping and eCommerce Podcasts the Same?
Dropshipping and eCommerce podcasts have a close parent-to-child relationship; eCommerce is the mother genre where dropshipping is just one of its branches.
eCommerce podcasts focus on all the phases of the business world, whereas dropshipping podcasts focus solely on the dropshipping aspect of the business market.
Final Thoughts
Are you looking to learn more and expand your dropshipping knowledge while multi-tasking through life? Do you want to soak up knowledge like a sponge without sacrificing your time?
If yes, then dropshipping podcasts are what you need to help you surpass your limits.
All the above podcasts have one thing in common: You can listen to them anywhere and anytime.
They inspire you to sharpen your skills and build or expand your dropshipping business into a success.
Lastly, if you're ready to use the knowledge you've gained, NicheDropshipping can further assist you.
Whether it's product sourcing, warehousing or private labelling – we can help you through each step of your dropshipping journey.
All you have to do is drop us a call and discuss your business goals with one of our dedicated agents.