If you're a Shopify store owner and use AliExpress for product sourcing, you've probably heard of Oberlo. So, why would you need an Oberlo alternative?
Due to its simplified features, Oberlo has been the 'holy grail' for dropshippers for quite some time now. However, it also has several limitations:
Is only compatible with Shopify stores;
Product sourcing from AliExpress only;
Less control over suppliers' shipping solutions;
Overcrowded with other dropshippers;
Same product offering as many other dropshippers;
But there's more to these limitations why you need to start finding Oberlo alternatives as soon as possible. Oberlo has recently announced that they will be sunsetting the app on June 15th, 2022.
So, keep reading to find out what happened to Oberlo and as we also share the ultimate Oberlo alternatives for dropshipping this year.
Let's dive in!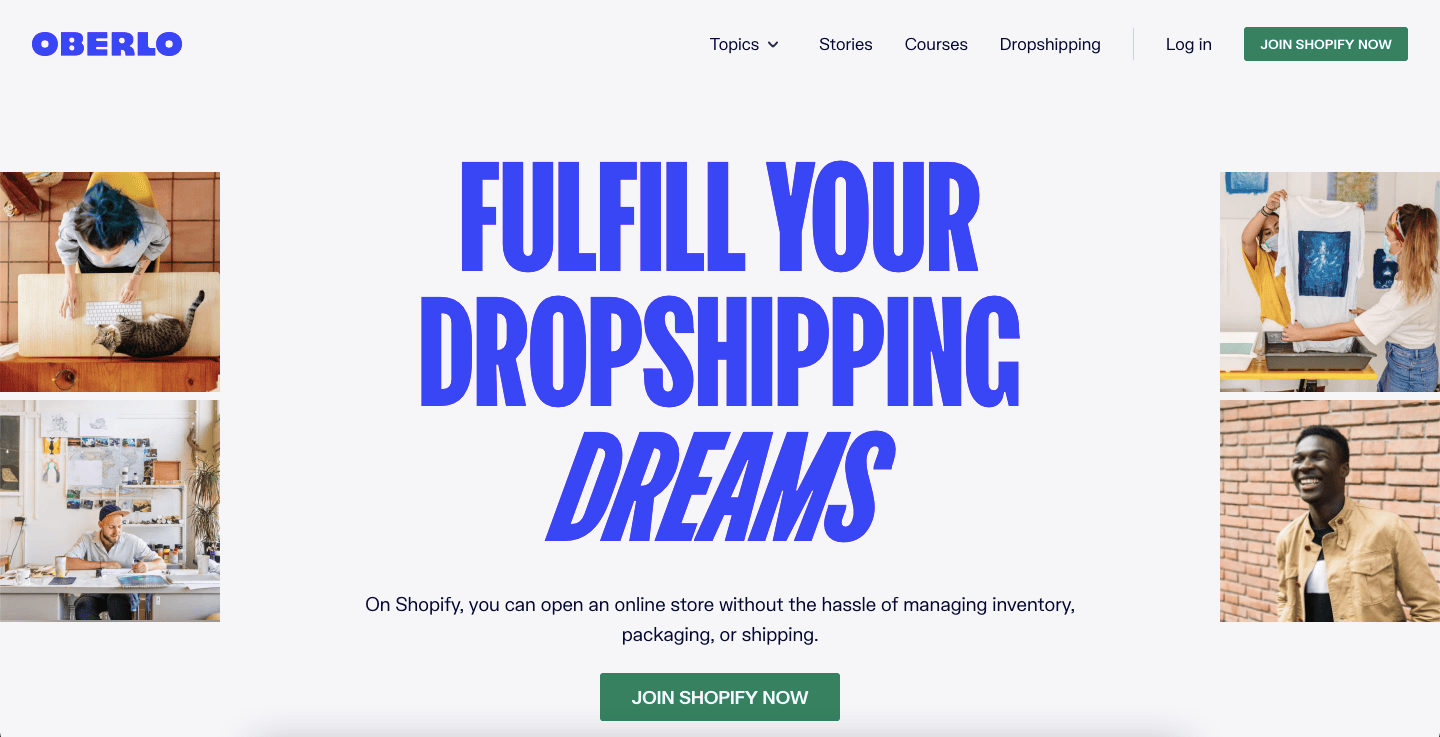 What Happened to Oberlo
Oberlo has just spilled a heartbreaking news to its users worldwide. Its dropshipping app is shutting down on June 15th, 2022 and consequently, users can no longer access their Oberlo accounts.
There is no concrete reason regarding the Oberlo app sunset but the team has made it clear that the decision was based on various factors mainly including what's in the best interest of Shopify merchants.
Additionally, Oberlo has left two options for its users if they wish to continue dropshipping after the app sunset. These are the following:
Automatic migration of historical data from Oberlo to the DSers app (more on this later)
Manual migration to any other dropshipping app
The first option seems like the easiest way to go but still, there's no harm in trying out other dropshipping apps available in the eCommerce world.
So, we've created a list of Oberlo alternatives with their key features for you to decide which one to use.
Have you ever wanted to buy products from Taobao or 1688 but couldn't because of the language? We've got you!
If you're interested in scaling your eCommerce businesses quickly and want to find products that are even cheaper than AliExpress, NicheDropshipping is the perfect choice for you.
Working with a dropshipping agent in China is the best and easiest way to grow your online store.
With warehouses in China and the USA, NicheDropshipping fulfills orders worldwide. If you have a stable number of daily orders, you can take advantage of their bulk order service, which can save you many costs in the long run.
On top of that, your designated dropshipping agent can help you dropship white-label or private label products directly from Chinese manufacturers or marketplaces such as Taobao or 1688.
The NicheDropshipping app integrates not just with your Shopify store but also with other platforms such as WooCommerce.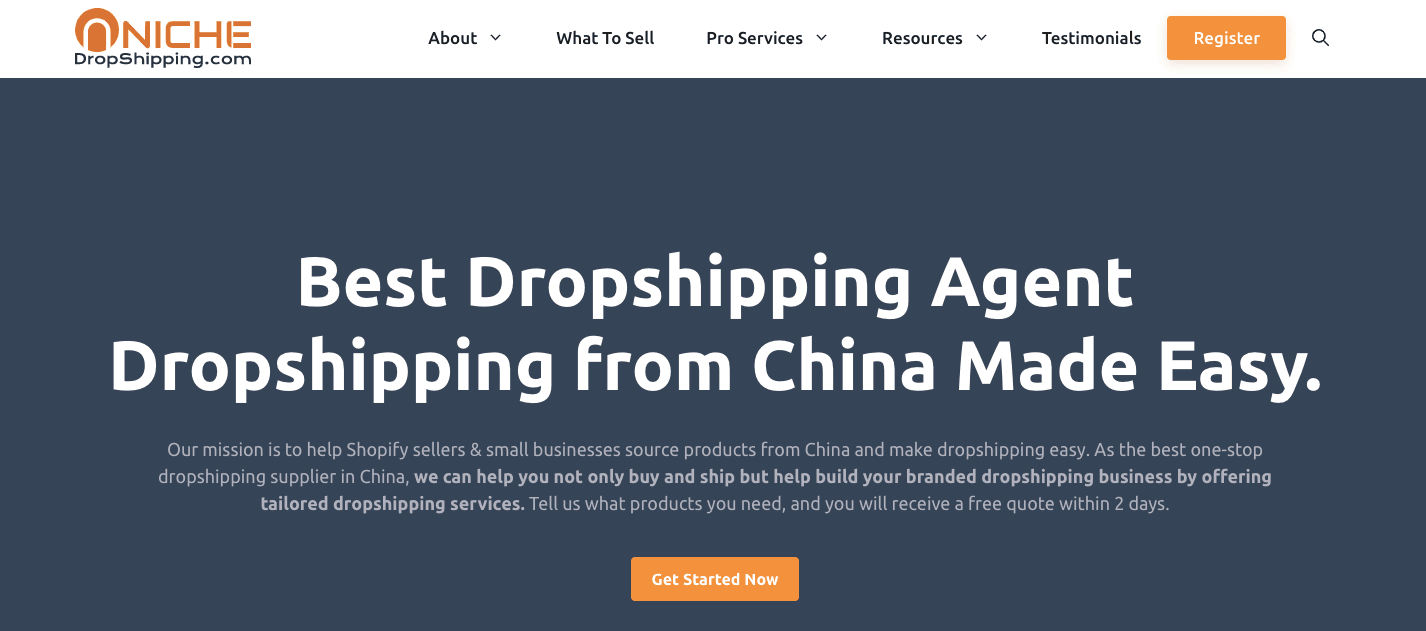 Main Features of NicheDropshipping
Purchasing and quality inspection of your products;
Multiple shipping methods;
When choosing a dropshipping agent in China, ensure that they offer a full dropshipping service, from product sourcing to order fulfillment, such as NicheDropshipping.
Ecommerce Platforms Supported
Shopify
WordPress + WooCommerce
Other platforms (upload excel files or place orders manually)
Pricing
Free to create an account and use the app;
Individual pricing depending on the services needed and products sourced;
Small business-friendly;
Free product sourcing quote;
90-day free inventory storage in the NicheDropshipping warehouses;
As an official AliExpress dropshipping partner app, DSers is a great Oberlo alternative for AliExpress dropshipping. Not only that, DSers is officially recommended by Oberlo as its replacement by encouraging users to automatically migrate their historical data to the DSers app.
Oberlo added that DSers has all the features the users need to scale their dropshipping business. The DSers app has tight integration with AliExpress, can fulfill bulk orders, and currently has 150,000+ merchants.
In case you wonder how to migrate from Oberlo to the DSers app automatically, follow the steps provided on the Oberlo FAQ page.
The advantage of DSers is that it doesn't only integrate with Shopify, but WooCommerce as well.
Another great thing about DSers is that its free plan offers an import of 3000 products, which is excellent for any beginner in the eCommerce business.
Plus, even with the free plan, you can manage three different online stores.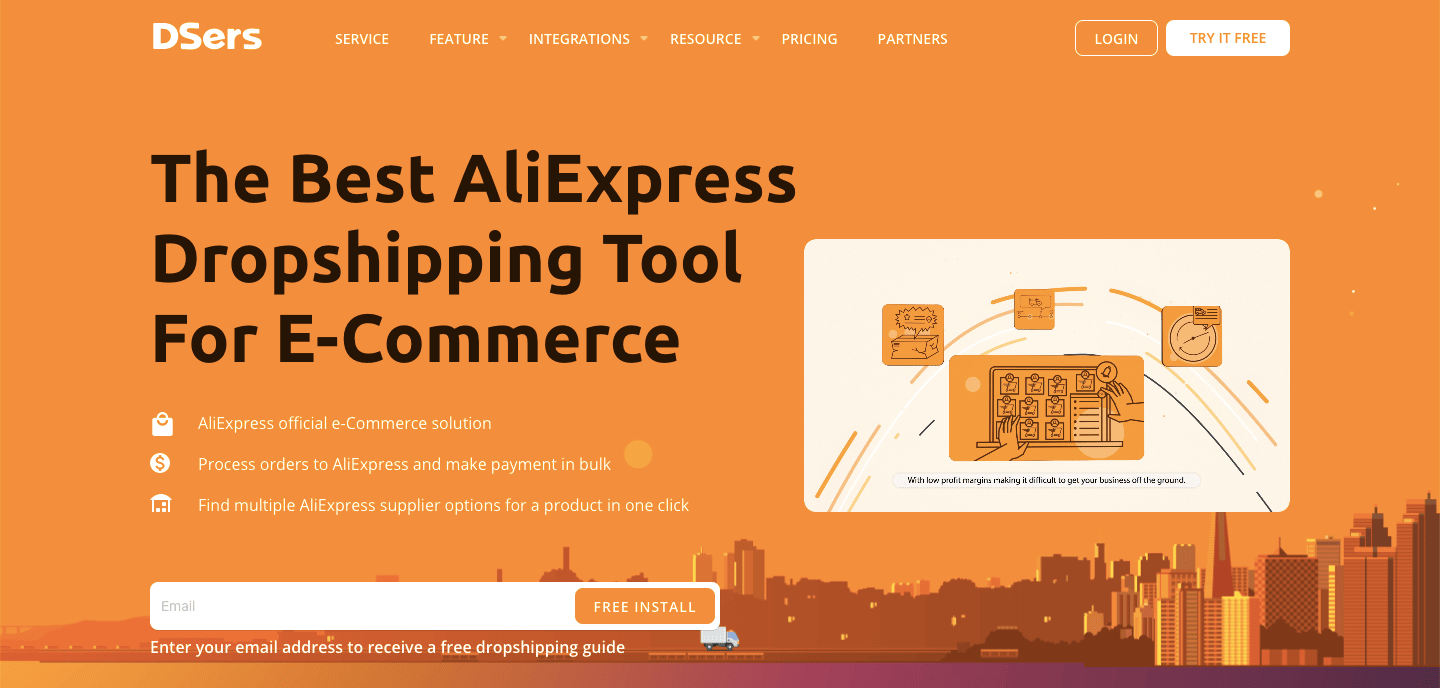 Main Features of DSers
Chrome extension;
Great free plan;
Bulk and multiple orders management;
Ecommerce Platforms Supported
Pricing
Basic plan – free;
Advanced plan – $19.9/month;
Pro plan – $49.9/month;
Enterprise plan – $499/month
As one of the best-rated Oberlo alternatives on the market, Spocket is an excellent option for eCommerce platforms such as Shopify, WooCommerce, BigCommerce, and Wix.
When it comes to dropshipping suppliers, Spocket is recognizable for its high quality of products since its suppliers are mainly from the US or EU.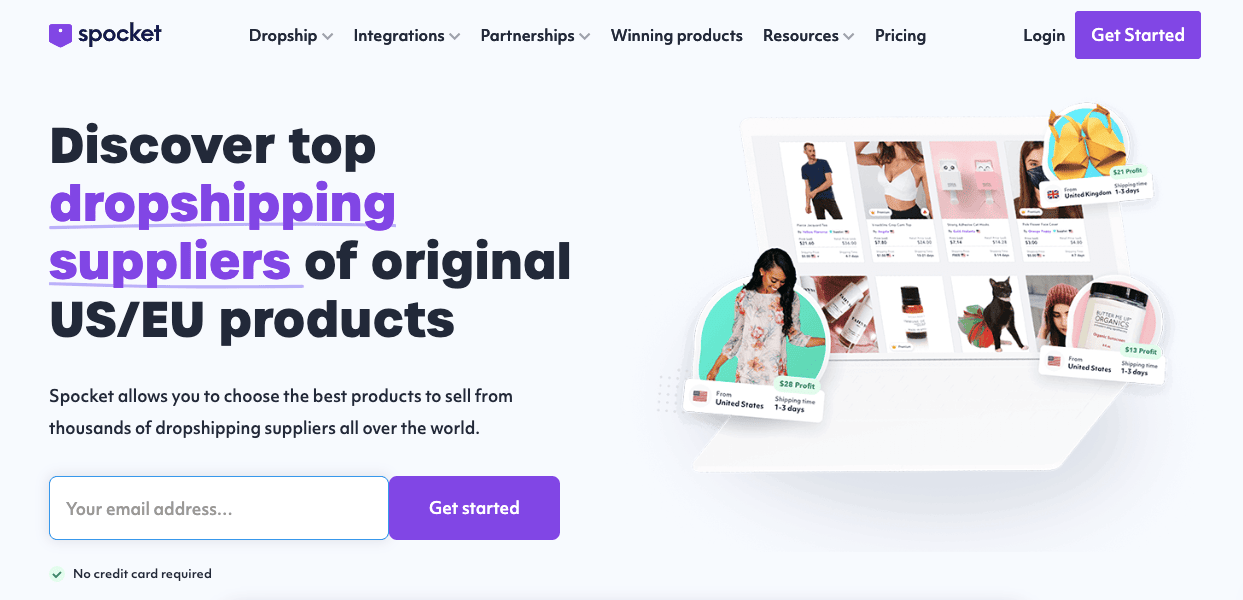 Like this, your customers will not have to wait for their products to arrive from China. Fast shipping is a large factor contributing to the success of your online store.
Main Features of Spocket
Suppliers from the EU and the US;
Fast shipping methods;
Products of high quality;
Affordable pricing models;
Branded packaging;
Ecommerce Platforms Supported
Shopify
BigCommerce
WooCommerce
Wix
Pricing
Free plan available for browsing products;
Free 14-day trial;
$24/month for the Starter package and up to $99/month for their Empire package;
Dropified is a fantastic Oberlo alternative since it integrates with more than just Shopify, and it lets you source from more than just AliExpress.
Namely, you can use Dropified for different online stores: Shopify, WooCommerce, BigCommerce, gearbubblePRO, and CommerceHQ.
With Oberlo, you can only source your products from AliExpress. On the other hand, with Dropified, you can source your products from several different platforms such as AliExpress, Alibaba, Amazon, Etsy, eBay, DHGate, Walmart, Wish, etc.
As a platform, Dropified might look a bit more complicated than Oberlo at first. However, this is just because Dropified offers many more options and possibilities for automation than Oberlo.

Main Features of Dropified
One-click adding of products;
Niche products dashboards for different categories;
Option to manage multiple online stores;
Integration with several platforms;
A broader choice of dropshipping suppliers
Ecommerce Platforms Supported
Shopify
WooCommerce
BigCommerce
CommerceHQ
GrooveKart
Pricing
Free trial of 14 days to test their service;
'Import' package (for dropshippers who source products from AliExpress and eBay) costs $17/month + 8% of product cost;
'Private Label on Demand' package costs $197/month + 3% of product cost;
For everyone that prefers WordPress + WooCommerce instead of Shopify, AliDropship is the perfect plugin for you.
AliExpress dropshipping is one of the most popular ways to start in the eCommerce world, and AliDropship is the perfect plugin for this purpose.
Even though it's a premium plugin, AliDropship can be a terrific Oberlo alternative since it offers a free forever plan for importing 25 products. As such, it can be pretty worthwhile for one-product online stores.
With the AliDropship plugin, you can import any AliExpress product together with all of its details, shipping info, and even product pictures.
*Tip: try to use the AliDropship plugin on your Google Chrome browser for the best one-click import results.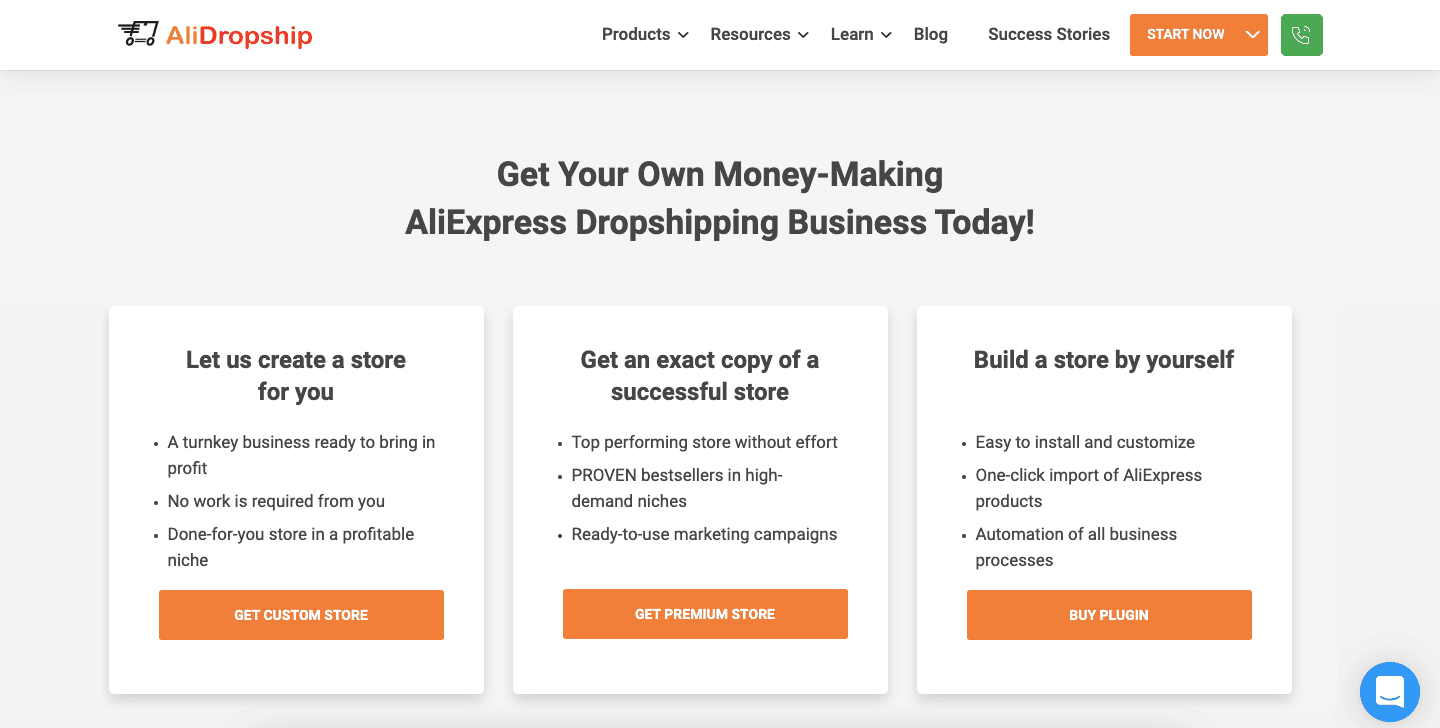 Main Features of AliDropship
Premium plugin for WordPress+WooCommerce online stores;
Automatic integration with AliExpress;
Easy to import products from AliExpress to your website;
Very convenient to edit product details;
Ecommerce Platforms Supported
Pricing
Free forever plan for up to 25 products;
$35/month for up to 250 products imported;
$89 as a one-time payment for full access to all features;
Modalyst is slightly different from the rest of this list since it's mainly focused on more expensive branded clothing and accessories.
However, since it integrates with Shopify seamlessly, we have to mention it as a good Oberlo alternative.
Modalyst has an intuitive interface that's easy to navigate and features for order fulfillment and tracking your inventory storage.
Even though the prices of products found on Modalyst are higher than your usual AliExpress prices, it's still an excellent option for one-product shops that market their products using exclusivity and scarcity techniques.
But don't worry! It's not just brand names that you can source through Modalyst. You can also find many affordable and low-cost items that have a high-profit margin.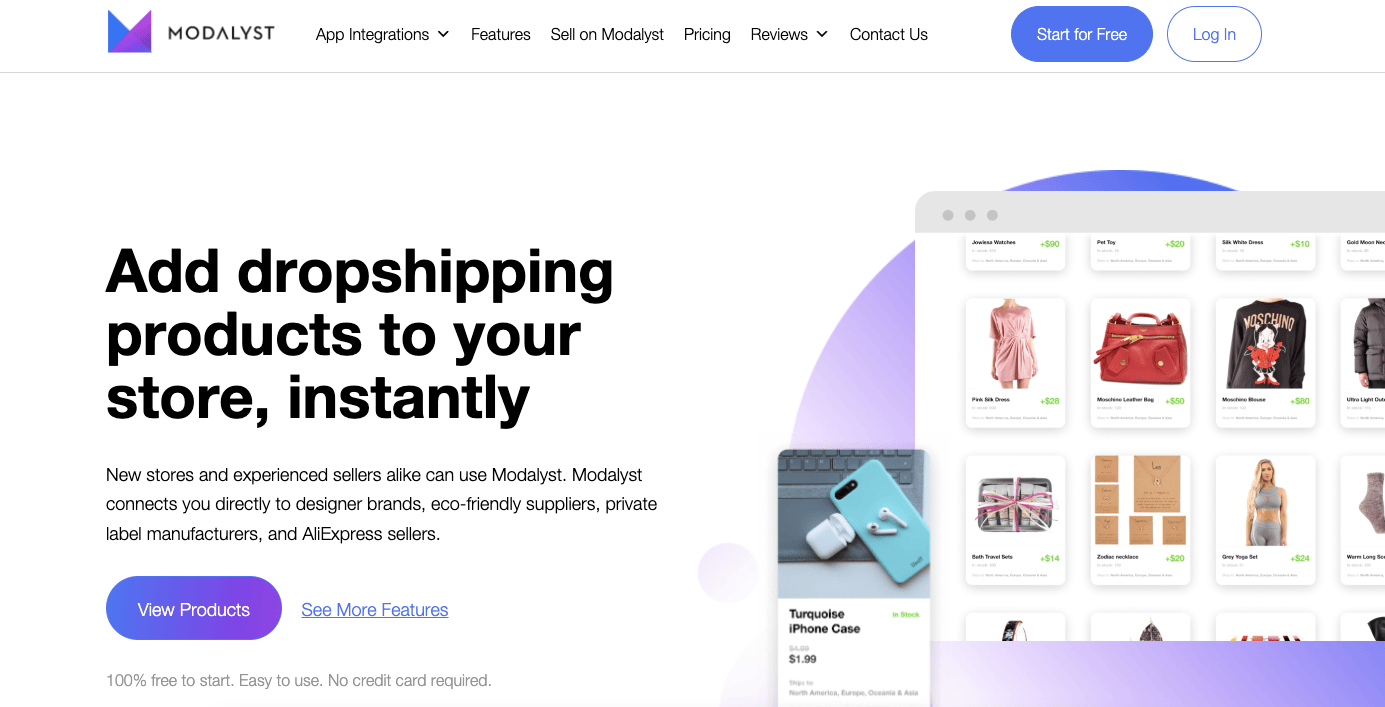 Main Features of Modalyst
No MOQs;
High-end brand products available;
There are no upfront expenses for inventory;
Tracking your orders;
Automatic updates of different product changes;
Ecommerce Platforms Supported
Pricing
Free plan – up to 25 products;
Start Up plan – $35/month – up to 250 products;
Pro plan – $90/month – unlimited;
Another incredible Oberlo alternative is Importify.
Importify integrates with Shopify, WooCommerce, and Jumpseller eCommerce stores.
One of the most prominent features of Importify is their large number of wholesale websites available for product sourcing: Alibaba, AliExpress, DHgate, Amazon, Etsy, Chinabrands, Wish, Costco, Taobao, CJDropshipping, 1688, Walmart, and many more.
Importify has a Google Chrome extension, which will allow you to easily import products from any of the suppliers to your own online store.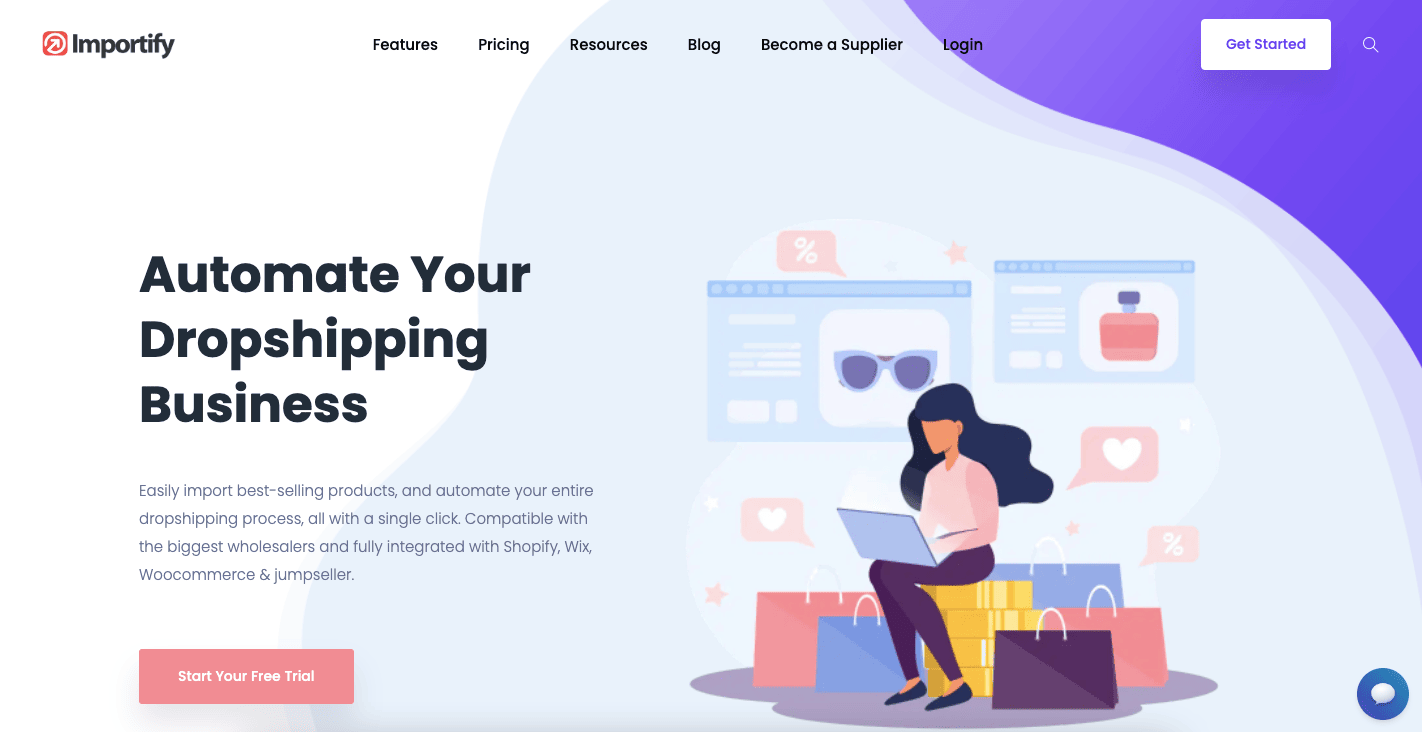 Main Features of Importify
Unlimited import of products;
Google Chrome extension;
Cheaper than Oberlo;
Extensive database of supplier websites available;
Semi-automatic order fulfillment;
Ecommerce Platforms Supported
Shopify
WooCommerce
Jumpseller
Pricing
Basic plan – $14.95/month;
Premium plan – $27.95/month;
Gold plan – $37.95/month;
8. ShopMaster (Shut down on April 30, 2021)
ShopMaster has quickly become one of the most sought-after tools in the eCommerce world. It allows its customers to sell not just on Shopify but also on WooCommerce, eBay, Wish, and 3dcart.
On top of that, it also supports suppliers and product imports from AliExpress, Bang Good, CJDropshipping, GogoMail, 1688, Alibaba, Taobao, Walmart, DHGate, Amazon, etc.
In their forever free basic plan, ShopMaster allows for 800 product listings from 2 different channels.
Main Features of ShopMaster
One-click import of products;
An excellent basic plan that's free forever;
Bulk product import;
30+ product suppliers;
Free extension for 1-click import;
Ecommerce Platforms Supported
Shopify
WooCommerce
3dcart
eBay
Wish
Pricing
Free forever starter plan – one online store and 2 supplier platforms allowed;
Basic plan – $19.90/month;
Business plan – $39.90/month;
Enterprise plan – $79.90/month;
However, ShopMaster has been unavailable since April 30, 2021. According to ShopMaster, they decided to shut down because they were not able to maintain a successful service that meets their customers' expectations.
If you've been exploring the possibility of launching a dropshipping business for a while, for sure, you've heard of something called print on demand.
The print on demand (POD) dropshipping model entails selling custom merchandise with your designs, which gets printed on the desired product only after a customer places an order.
As such, the print on demand dropshipping model is ideal for beginners who still haven't found their niche market.
One of the most well-known print-on-demand platforms is Printful.
Although the types of products you can print your design on are limited, the high quality reported successfully compensates for this lack.
It's crucial to mention that with Printful, you won't need any external suppliers. Printful themselves is the provider of each product you see for sale on their website.
So, first, you create your design. Then, you place your design on different products provided by Printful (it's a drag and drop editor, you don't need much technical knowledge). Next, someone places an order for a product with your design.
And finally, as soon as somebody buys a product, Printful prints your design and fulfills the order and shipment.
Printful integrates well with Shopify, WooCommerce, Wix, Etsy, eBay, Wish, Amazon, and many more. That's why it can be a great Oberlo alternative.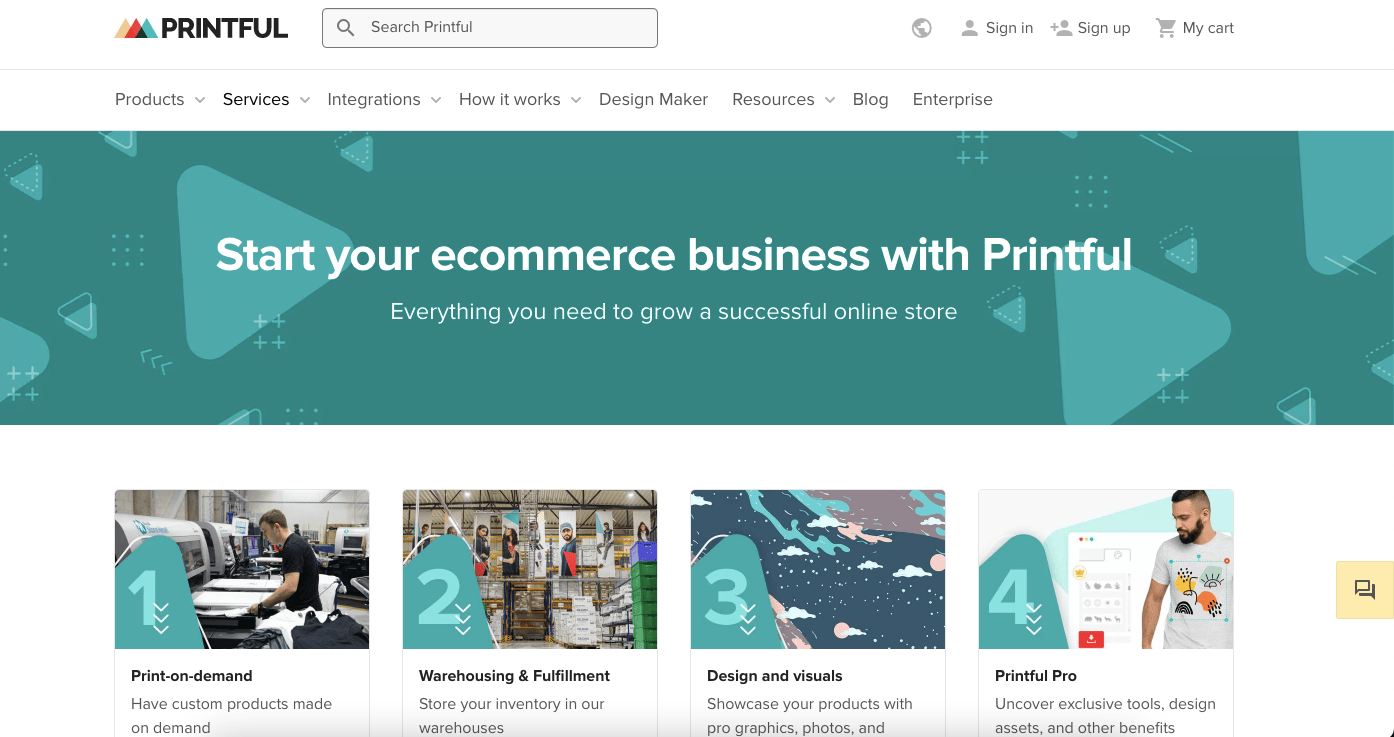 Main Features of Printful
Print on demand dropshipping model;
Completely free to join and use;
Integrates with many eCommerce platforms;
High quality of products;
Ecommerce Platforms Supported
Shopify
WooCommerce
Wix
Etsy
eBay
Wish
Amazon
BigCommerce
Weebly
And many others
Pricing
Completely free to join and use;
You pay for product manufacturing and shipping only after someone places an order;
Another print on demand service that integrates with Shopify and can serve as a great Oberlo alternative is Printify.
Same as Printful, Printify can also be used free of charge. The free package allows for unlimited products and up to five connected stores.
What's more, Printify doesn't just integrate with Shopify, but also with Etsy, WooCommerce, eBay, BigCommerce, Wix, etc.
With their simple mockup generator and 24/7 merchant support, many dropshippers have started their careers with Printify.
Printify offers over 200 different products such as mugs, T-shirts, socks, home accessories, hoodies, shoes, and many more.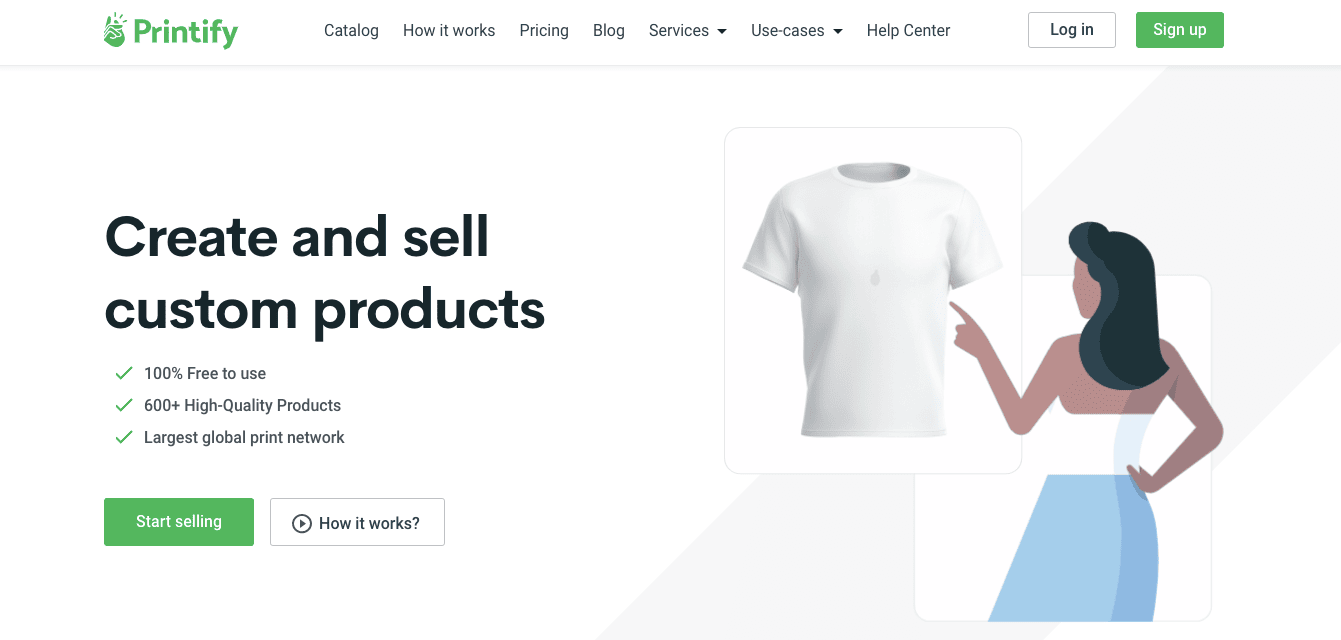 Main Features of Printify
Print-on-demand service offering full order fulfillment;
Free to join and easy to use;
Lots of products to choose from;
Simple, drag-and-drop editor and mockup generator;
Ecommerce Platforms Supported
Shopify
WooCommerce
eBay
Etsy
BigCommerce
Wix
PrestaShop
Pricing
A free plan that allows for up to 5 online stores and unlimited product designs;
Premium plan – $29/month – 10 online stores per account, unlimited product designs, and up to 20% discount on all products;
Enterprise – custom pricing – unlimited stores, unlimited designs, and up to 20% discount;
With their advanced features, CJDropshipping will let you dropship from worldwide to worldwide seamlessly.
Established in 2014, CJDropshipping now fulfills orders for over 500,000 sellers around the globe.
They have warehouses in China, the USA, Germany, Thailand, Indonesia, and a whole lot more in other countries to make it easy for their merchants to source and stock their products.
The CJDropshipping platform is easy to use and offers 24/7 online support.
Upon signing up, you'll get access to tons of products and a listing feature that helps import product details, descriptions, and photos from the CJ platform to your store automatically.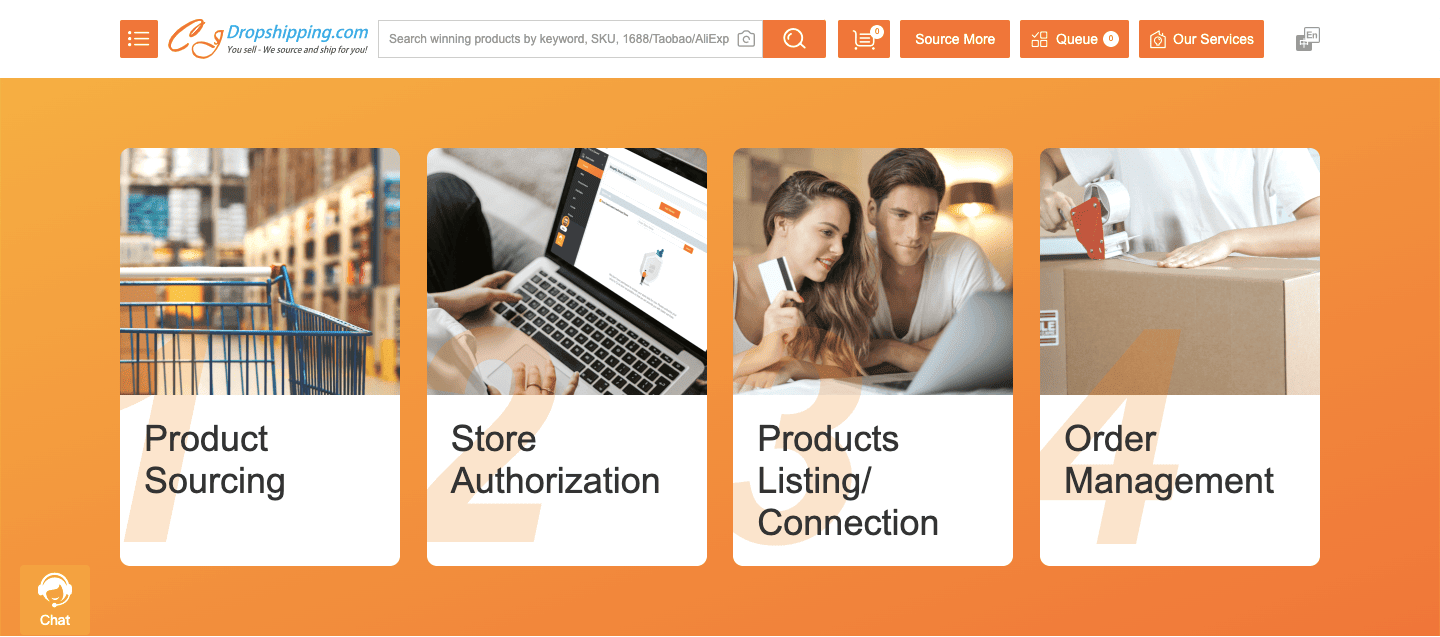 Main Features of CJDropshipping
Supports integration with a lot of eCommerce platforms;
Can source your products within 48 hours;
Offers automatic product connection feature;
With more than 800K+ products to choose from;
Ecommerce Platforms Supported
Shopify
WooCommerce
eBay
Squarespace
Shopee
Lazada
BigCommerce
Magento
Wix
PrestaShop
Pricing
How to Choose the Right Oberlo Alternative?
Choosing an Oberlo alternative that fits your business needs is crucial for success. For this reason, you have to know what's the criteria and how to make your decision.
When choosing the best Oberlo alternative for you, pay attention to the following aspects:
Integration with eCommerce Platforms
Does the tool you've chosen integrate with your eCommerce online store?
For example, if you have a Shopify store, the AliDropship plugin won't do you much good since it's for WordPress + WooCommerce shops.
Integration with Supplier Platforms
Does the tool you've chosen support product sourcing from your desired suppliers?
Specific platforms support AliExpress product import, while others work with Wish, Alibaba, Taobao, 1688, and many others.
Look for tools that have a user-friendly interface and are easy to use and navigate.
Many services have a fully automated integration with Shopify or WooCommerce stores, which allows for an easy product import and an automated order fulfillment process.
Fast Shipping Times
Always make sure to check the shipping method of your chosen tool or service.
Fast shipping is crucial for customer satisfaction and retention.
Consistent Product Quality
The suppliers available through your chosen Oberlo alternative should offer a consistent product quality. To ensure that the products are of high quality, always order a sample first.
By ordering a sample, you can check the product quality, shipping times and communication with the seller.
Key Features of the Tool
The tool or service you decide to use should have the features your online store needs.
For example, order tracking and management, automatic price updates, etc., are just some of the many features available for eCommerce businesses nowadays.
Cost vs. Value
Always ensure that you calculate all your expenses when determining your income vs. profit.
For example, don't just calculate the base product price but also add shipping costs, handling costs, or any other expenses that might occur.
Getting more value for your money is best done through a dropshipping agent who will directly purchase bulk orders from manufacturers in China and then deliver them to your end-customers.
Oberlo Alternatives FAQs
What Are the Best Oberlo Alternatives?
If you are an Oberlo user and have priceless historical data, seamless migration from Oberlo to DSers would be reasonable.
However, depending on what phase your business is in, you might benefit from other different Oberlo alternatives.
For example, if you're a beginner in the eCommerce business, you could use Dropified, Sprocket, or AliDropship as an Oberlo alternative.
However, if you already have a stable number of daily orders and your next step is scaling your business, a dropshipping agent in China such as NicheDropshipping is a better Oberlo alternative.
Are There Any Oberlo Alternatives for Shopify?
Yes! As we've mentioned above, NicheDropshipping could be an excellent choice if you wish to scale your business since they integrate flawlessly with Shopify online stores.
Other good Oberlo alternatives you could try for your Shopify store are Spocket, Dropified, Modalyst, Importify, DSers, etc.
Are There Oberlo Alternatives for Platforms Other than Shopify?
Absolutely! For example, NicheDropshipping integrates not just with Shopify but also WooCommerce online stores.
AliDropship is a plugin that you can also use on your WordPress + WooCommerce shop.
Generally speaking, most of the above-mentioned Oberlo alternatives support multiple platforms, not just Shopify.
Are There Any Free Oberlo Alternatives?
Many of our chosen Oberlo alternatives offer a free version or at least, free services included.
For example, NicheDropshipping offers a free sourcing quote service and free inventory storage for bulk orders.
Other Oberlo alternatives that can jumpstart your dropshipping business for free are:
AliDropship plugin: free forever plan for up to 25 products;
Modalyst: free forever plan for up to 25 products;
DSers: basic plan free;
Printful: completely free to join and use;
Printify: free plan for up to 5 online stores and unlimited product designs;
Are There Some Other Dropshipping Tools I Could Use?
Aside from the above-mentioned Oberlo alternatives, many other tools can simplify and automate your dropshipping business.
For example, you could start using Google Trends for product and market research to ensure you find your best selling product.
Next, you could take advantage of Google's Keyword Planner to search for your product term and see how many times people looked it up in the past few months. That can give you a pretty good idea of the market demand for your product.
While we're on the topic of Google tools, ensure that you connect your online store to Google Analytics to understand how visitors behave on your website.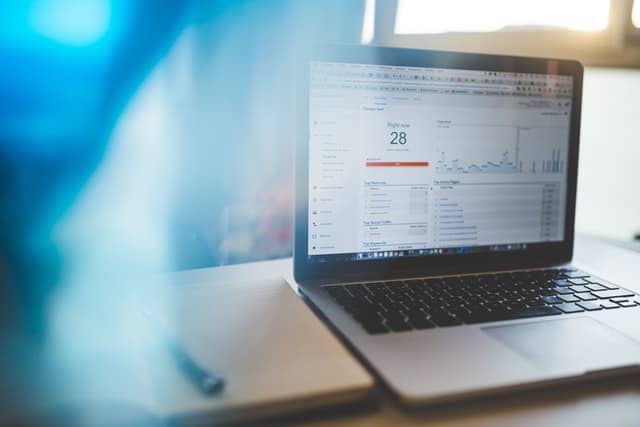 Analyzing your user behavior will allow you to find your online store's weaknesses and improve them to get a better conversion or sales.
Another great idea is checking Amazon's Best Sellers page! You'll be able to see which products are in demand and learn more about your competition. In turn, this will help you position yourself better on the market.
On a different note, if you're looking to improve your product pictures, Canva is a great drag-and-drop design tool that doesn't require any technical knowledge.
In Conclusion
Looking for an Oberlo alternative can be a lengthy and confusing process. Hopefully, our guide will help you make the correct decision without going through a process of trial and error.
All of the above platforms and apps are perfect Oberlo alternatives, but each has its pros and cons.
While tools similar to Oberlo work well for new online stores, the situation is different for the ones that are ready to scale.
Generally speaking, eCommerce businesses that have a bestseller would benefit most from collaborating with a dropshipping agent in China who'll be able to source products for cheap and in bulk and offer branding services like white labeling and private labeling.
So, if you're on the lookout for a dropshipping agent that can work with you to build and grow your own brand, feel free to reach out.
Which Oberlo alternative is your favorite? What are you using for your dropshipping business? Get in touch, and let us grow together!