As dropshipping is becoming more and more in vogue with the passage of time, some dropshipping platforms have emerged to cost dropshippers a monthly fixed or recurring fee to offer items for dropshipping.
That is why we have brought this article for you that includes every piece of information that you need to know about all the major dropshipping platforms in general and niche-specific categories that do not cost you a penny.
Read this article carefully as you will find exciting information that might be new and useful to your dropshipping businesses. Let's start.
Top Free Dropshipping Suppliers for General Items
The following list contains the best dropshipping platforms that are totally free of cost. These platforms can be used to dropship items to almost every part of the world. Just stay connected to know about the exclusive features of each dropshipping supplier.
If you are a potential or an existing dropshipper, it is virtually impossible for you not to know about AliExpress. It is one of the most used and trusted platforms for dropshippers from all around the world.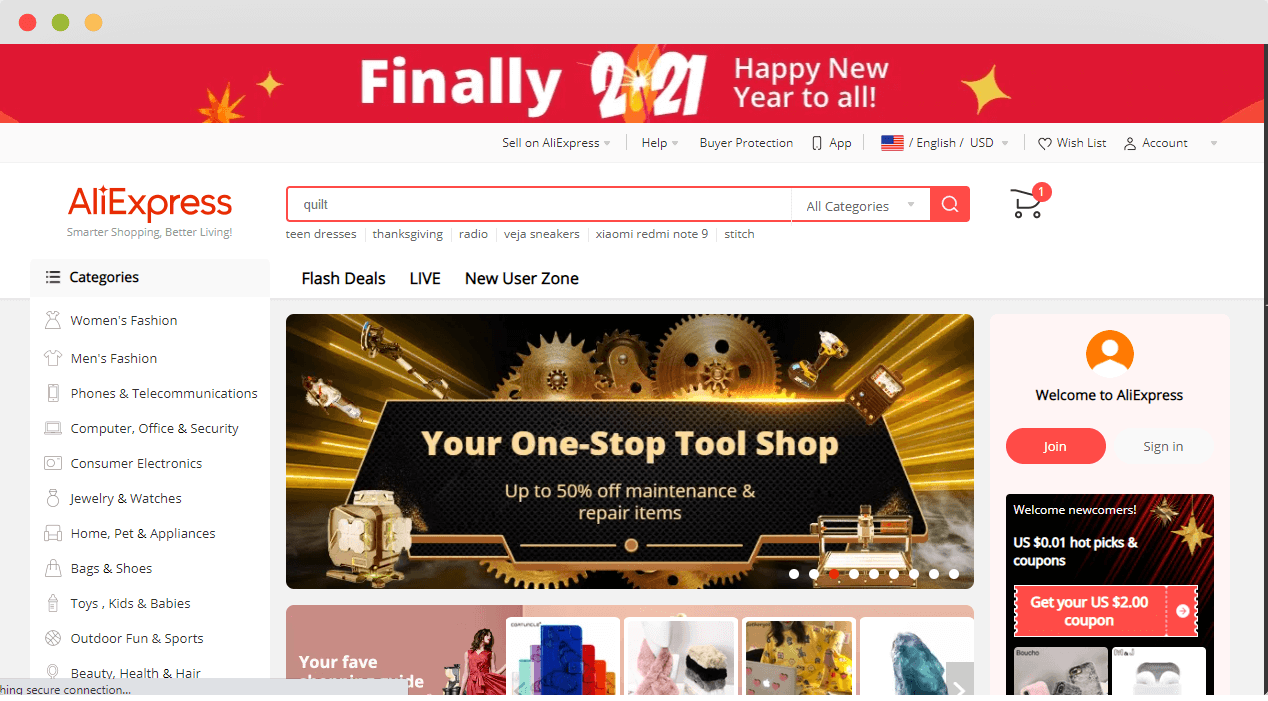 Just to reiterate, AliExpress is a Chinese e-commerce platform. It is basically a website meant for online shopping. Online shoppers from all around the world shop for their favorite items from this website.
What makes AliExpress stand out is its low pricing and a very high range of products that it offers to its customers.
As you can order anything on any price range and get it shipped to anywhere in the world, smart dropshippers use this platform to run their online businesses.
Pros of AliExpress Dropshipping
A huge number of products to choose from.
Pioneer and leader in kick-starting dropshipping.
Products are available at extremely low prices.
Direct integration methods, along with relevant apps are available at the majority of dropshipping platforms including Shopify and WooCommerce.
Seller ratings and customer feedback are mostly genuine.
A wide network of shipping to almost every part of the world.
Cons of AliExpress Dropshipping
Longer delivery times are possible going above 45 to 60 days and even more in some cases.
Chinese clients don't speak good English.
PayPal is not acceptable.
Alibaba is the parent company of AliExpress and few other e-commerce companies like Taobao and 1688 which we will discuss later in this article. It is well-known for its diversity of products and extremely low prices.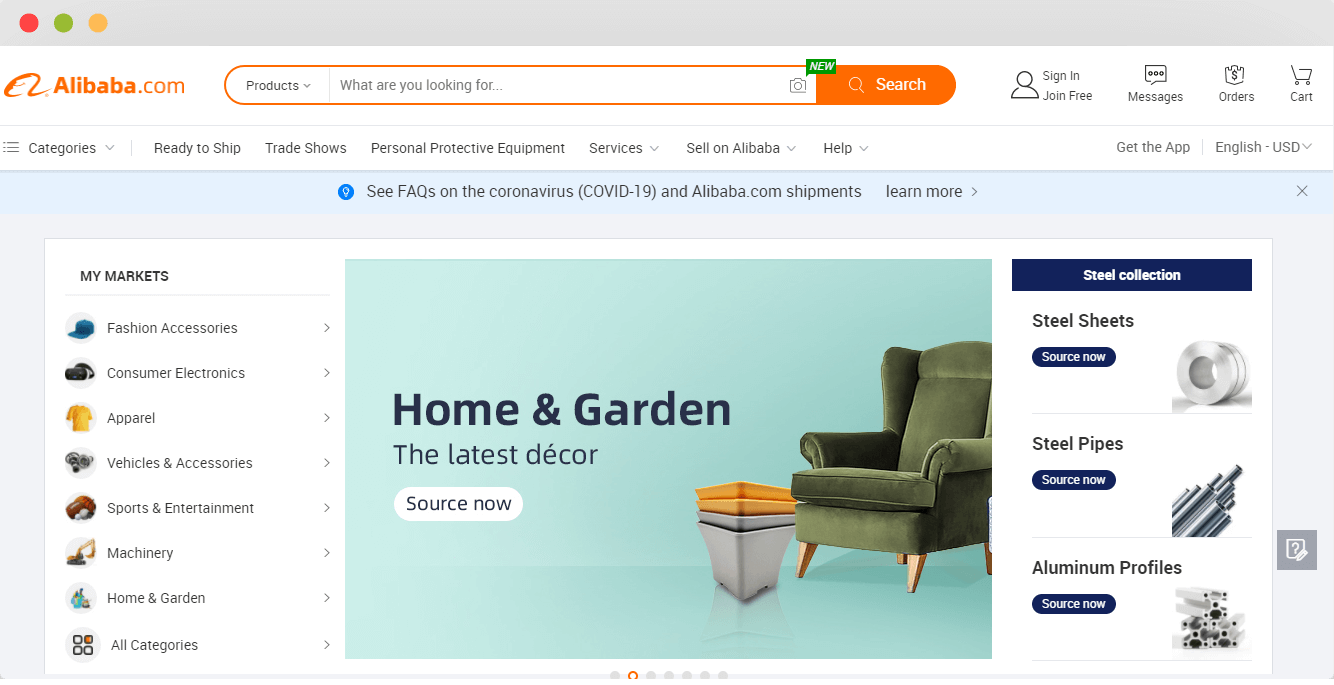 The major advantage of Alibaba over AliExpress is that you can get your products customized at Alibaba.
Another major factor that differentiates Alibaba from AliExpress is that AliExpress works on the Business to Consumer (B2C) model as opposed to Alibaba which operates on B2B (Business to Business) model.
Nevertheless, Alibaba is a trusted platform to be used as a free dropshipping source to arrange and manage dropshipping products for your online business.
Pros of Alibaba Dropshipping
It is an e-commerce giant that has made millions of businesses profitable all around the world.
Although running on a B2B model, some products or SKUs can be ordered in single quantities as well.
Product customization can be requested along with revisions.
You can also negotiate pricing with the suppliers on Alibaba. A feature that is not observed by most of the suppliers on AliExpress.
An excellent option to establish your own brand in dropshipping or running a private label store.
You can also ask the suppliers to manufacture the product of your own choice. So, you can lead the market with your own product made out of your unique idea.
Cons of Alibaba Dropshipping
A majority of products have to bear the MOQ policy.
Talking to some of the Chinese suppliers in the English language may be difficult.
No rating of products on Alibaba. Only suppliers are rated.
Most suppliers do not accept PayPal as a payment method.
Dx is another great free dropshipping platform that you can use as an alternative or an additional source for dropshipping products.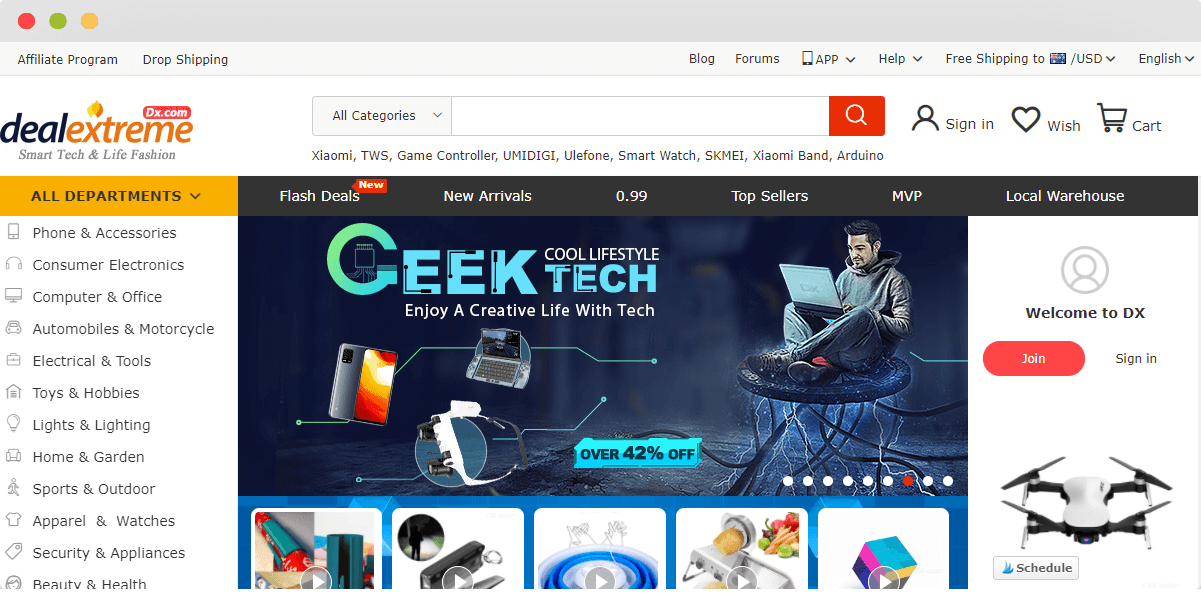 The good thing about Dx is that it supports dropshipping itself. It has a dedicated p on its website that elaborates more about how DX supports dropshippers by not including a receipt or a DX logo with the orders shipped.
If you have ever dropshipped via AliExpress then you will find many similarities in the design and handling of this website in terms of selecting a product, ordering, and using filters, etc.
Pros of DX Dropshipping:
The shipping methods adopted at DX are clearly defined.
It accepts all the major payment methods including PayPal.
A wide range of products to choose from is available on this platform.
About 14 main categories are featured on the website that is divided into multiple subcategories.
The website interface and user experience are almost the same as that of AliExpress.
It has a dedicated app to provide you the ease of accessing products.
Cons of DX Dropshipping:
Not many warehouses in the Western part of the world. Shipment might be delayed for some countries.
The relatively lower number of orders as compared to AliExpress.
Products are difficult to be selected on the basis of orders.
DHGate is yet another great platform for dropshipping products. It is basically a Chinese dropship wholesalers free marketplace.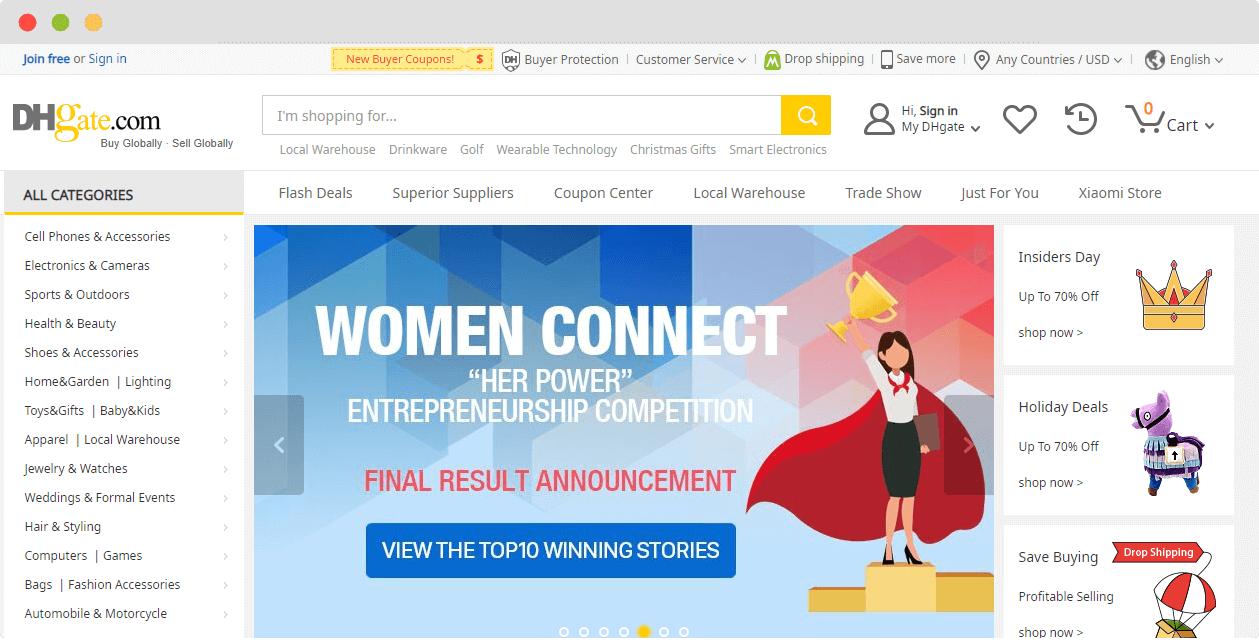 In addition to its simple features, this website is full of general and specific products that are trending in the dropshipping business.
Although it is quite an under-explored website, it is still a strong contender in the list of free dropshipping companies as there are absolutely no charges to its subscription.
Being a Chinese-owned website, it provides promising products at competitive rates and reasonable services.
Its mobile app further supports its easy to handle features and enhances user experience. As a drop shipper, you would love to add this website to your dropshipping sources.
Pros of DHGate Dropshipping
A wide range of products divided into more than 20 categories on this website.
A lot of coupons, site offers, and promotions and sale offers on a variety of products.
Its mobile app comes in handy and gives you easier access to this website.
A large number of Chinese reliable suppliers support your dropshipping business in every possible way.
It is one of the highly organized e-commerce websites that have a great number of filters to refine your search.
Cons of DHGate Dropshipping
The product database is not as high as that of AliExpress.
Some buyers complain about the quality of the product they receive.
Not all payment methods are accepted at DHGate. PayPal is not listed in their accepted payment methods.
1688 is a subsidiary of the Alibaba group. It is an e-commerce website that is specifically designed to accommodate local Chinese shoppers. That is why it is in the Chinese language.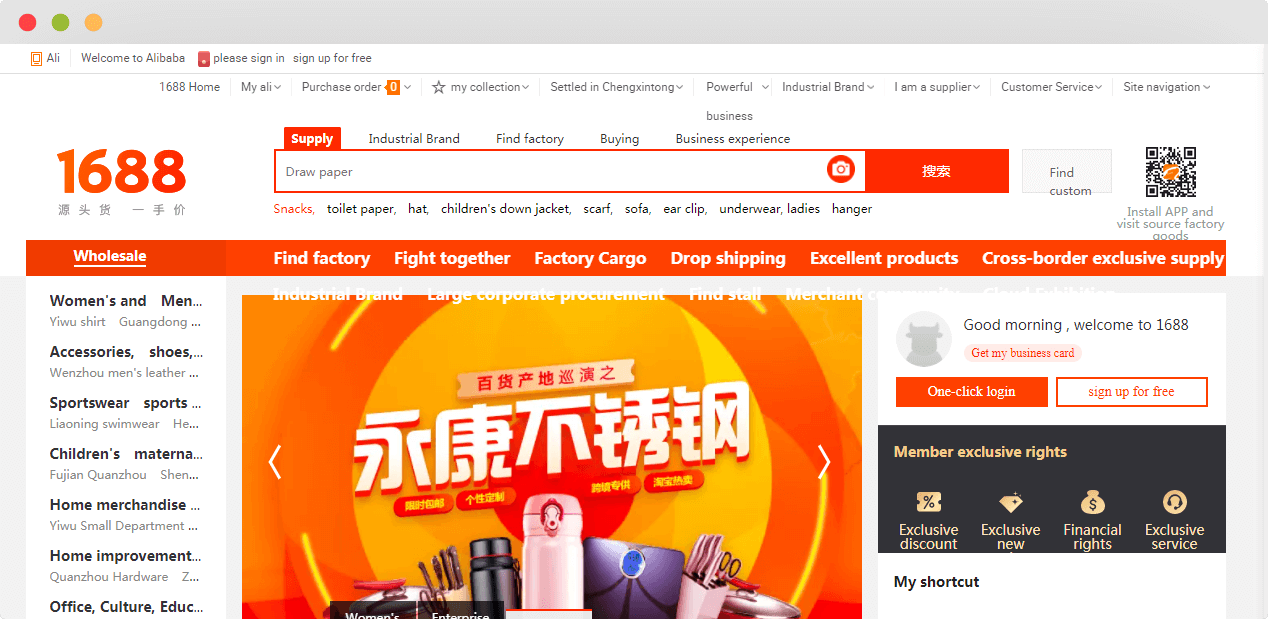 But don't be intimidated by the website's interface. You can easily access it in the English language by translating the website via Google translator.
It works on a B2B model and is considered as one of the most popular and highly used marketplaces in the world for online shopping in terms of daily customer base and quantity of products and suppliers.
So, you must consider 1688 as one of the major suppliers of your dropshipping products. We have written an in-depth article on 1688 dropshipping.
Pros of 1688 Dropshipping
Extremely low prices of the products that can be explored at 1688.
Direct contact with manufacturers and big Chinese wholesale suppliers.
Advanced features also work with 1688 just like that of AliExpress including image search.
You can talk to suppliers at 1688 for international shipping in various parts of the world.
You can also request the suppliers to make changes to the products if you're interested in going for branded dropshipping.
Cons of 1688 Dropshipping
Although you can take help from Google translator, language remains a barrier to some extent while using 1688.
No app to access 1688 on your mobile phones.
No direct integration techniques to link your store dropshipping platforms like Shopify and woocommerce.
Lightinthebox has grown enough to be considered as one of the highly desired dropshipping sources.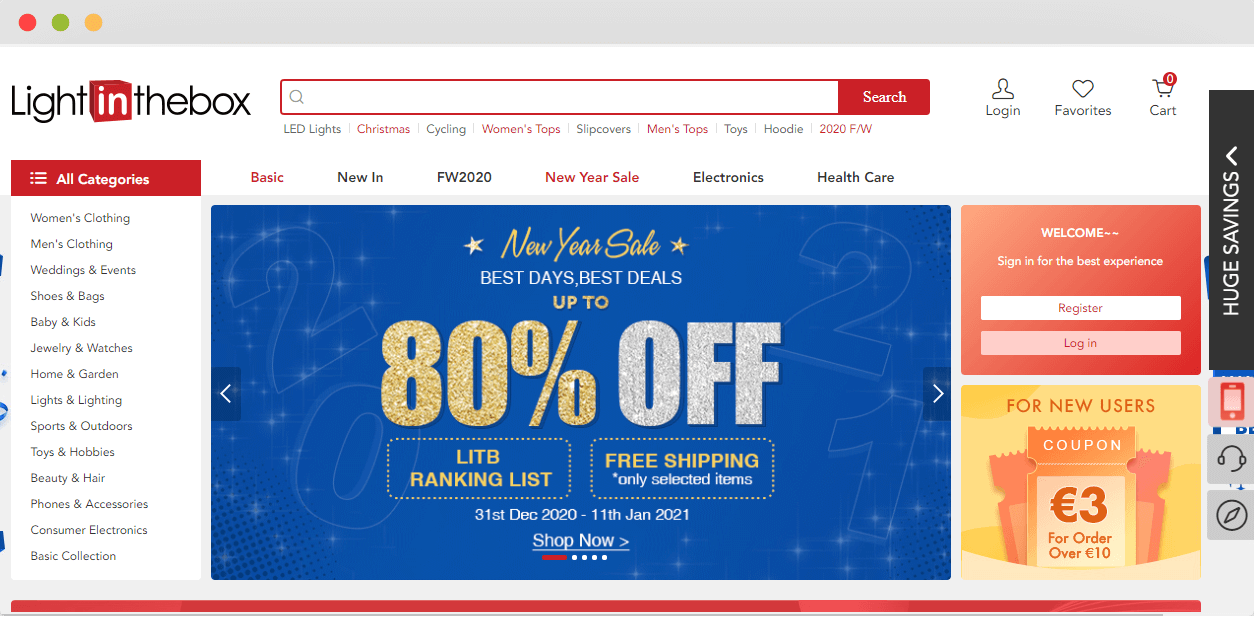 If you look at its main categories, you would find a few of them. But if you scroll the mouse to any category, you would find tons of sub-categories which is a sign of its product versatility.
As AliExpress is mainly the first choice for most of the dropshippers, Lightinthebox is striving hard to compete with regards to product diversity, costs, and services including shipment and returns, etc.
It has a few of its warehouses in Western countries as well. This could help dropshippers who intend to sell their products in Western or European countries in terms of faster deliveries and speedy returns.
It has a decent mobile app that gives it an upper edge in terms of ease of use. Moreover, it is listed on the New York stock exchange that shows its business aspirations, and increases its trust factor by manifolds.
Lightinthebox is absolutely free to use with no upfront or recurring charges. It surely could make a place in the list of your free dropshipping suppliers.
Pros of Lightinthebox Dropshipping
Big sales are offered at this dropshipping platform.
Around 15 main categories of the products are there to be explored while you are doing your product research on this platform.
A huge variety of products with a special focus on dropshipping related items.
Decent search filters in the website to narrow down your choices for specific keywords.
Cons of Lightinthebox Dropshipping
No direct integration methods or apps to link your store to Lightinthebox.
Shopify, woocommerce, and other famous dropshipping platforms have not yet developed supporting apps for Lightinthebox.
The number of orders is not mentioned on the homepage or search results as opposed to the feature offered by other major dropshipping platforms like AliExpress.
Miniinthebox is a subsidiary of Lightinthebox. Its website preview, interface, and features are almost the same. But Miniinthebox is actually more compact and less confusing with the products.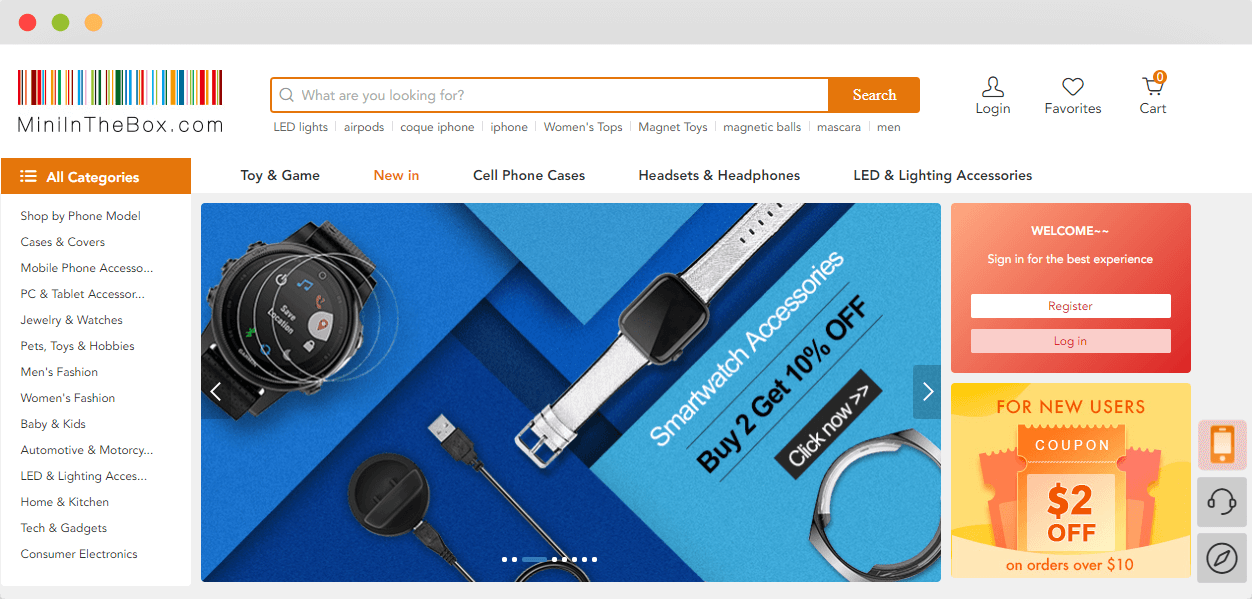 Just like we have two apps for Facebook with Facebook and Facebook Lite, you can say that Miniinthebox is a lighter version of LightintheBox. Hence, the name "Mini".
Nevertheless, it has everything that a website needs to be considered as a source to become a dropshipping supplier. Rather, Miniinthebox has relatively greater features than its parent company: Lightinthebox.
It also has a mobile app with the same name which is very convenient to use. You can safely include this website for consulting about products that you need to sell in your dropshipping business.
Pros of Miniinthebox Dropshipping
The chosen amount of products reduces the hassle of selecting from a large range of products that are not related to your dropshipping needs.
It started working in 2007 which means that they are interested in doing a long term business.
Multiple languages are supported.
Ships products to major parts of the world.
Simple, user friendly, and easy to use.
A decent amount of filters to narrow form your searches in order to save your time.
All major payment methods are accepted including PayPal.
Cons of Miniinthebox Dropshipping
The limited scope of products.
Being a sister company of Lightinthebox, it is lighter and crisper in almost every feature including the number of products and suppliers.
Taobao is another awesome wholesale online market platform to arrange your products for dropshipping. Taobao is one of the subsidiaries of Alibaba Group.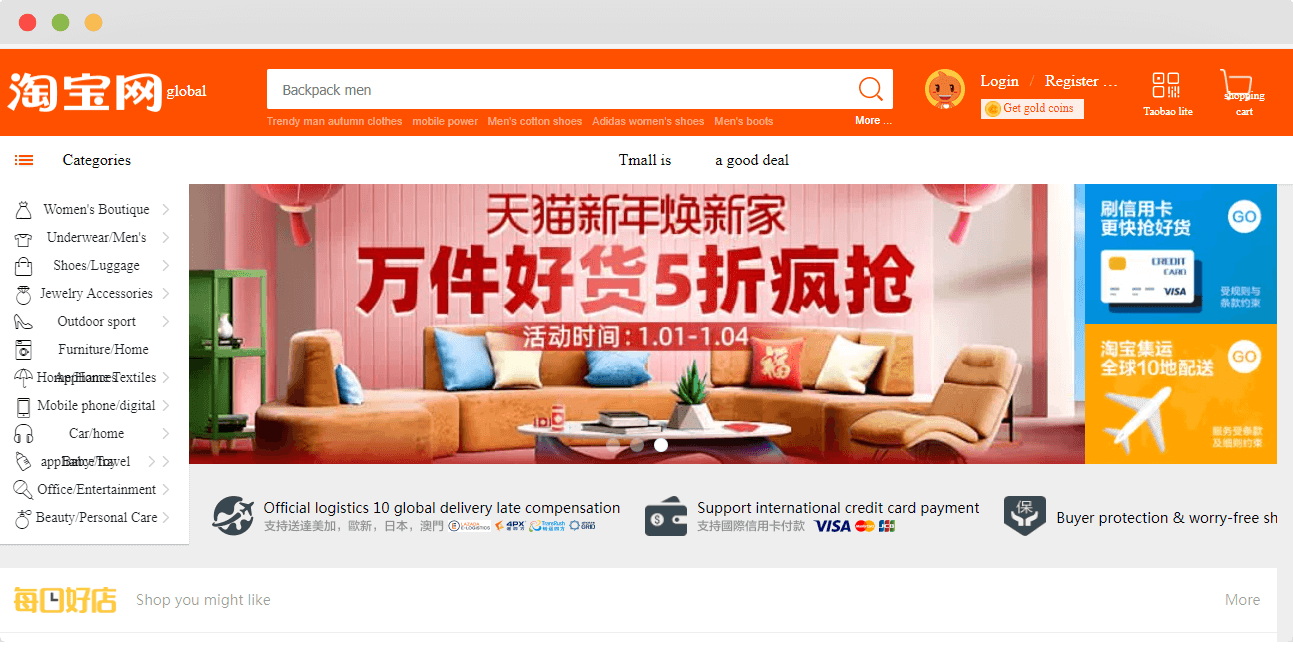 It works on a B2C or C2C model but is primarily meant for Chinese consumers. That is why it is operated in the Chinese language.
Don't worry about the language of this website as we have already elaborated that you can use Google translator to translate the language into English.
So, what makes Taobao special when we also have Alibaba's own website for international businesses in the English language?
There are a few factors that get Taobao preferable over Alibaba and vice versa these factors in the following pros and cons p.
Pros of Taobao Dropshipping
Taobao has a more user friendly design and multiple features as compared to other platforms including that of Alibaba.
Some Chinese suppliers who only work at Taobao launch their products at this platform first. So, you can be ahead in competition until the products reach international platforms like Alibaba and AliExpress.
More customer reviews on product pages of Taobao as compared to other platforms.
You can also take advantage of their deals and promotions.
Cons of Taobao Dropshipping
Shipping to different parts of the world might be challenging depending upon case to case.
Language remains a barrier to communicate with the Chinese suppliers as you might want to hire the services of a translator or an agent.
Taobao is not free of scams.
If you are a regular dropshipper, you must have heard of Banggood. It is a website that sells Chinese products in an extremely organized manner. It works on a B2C model that suits all dropshippers.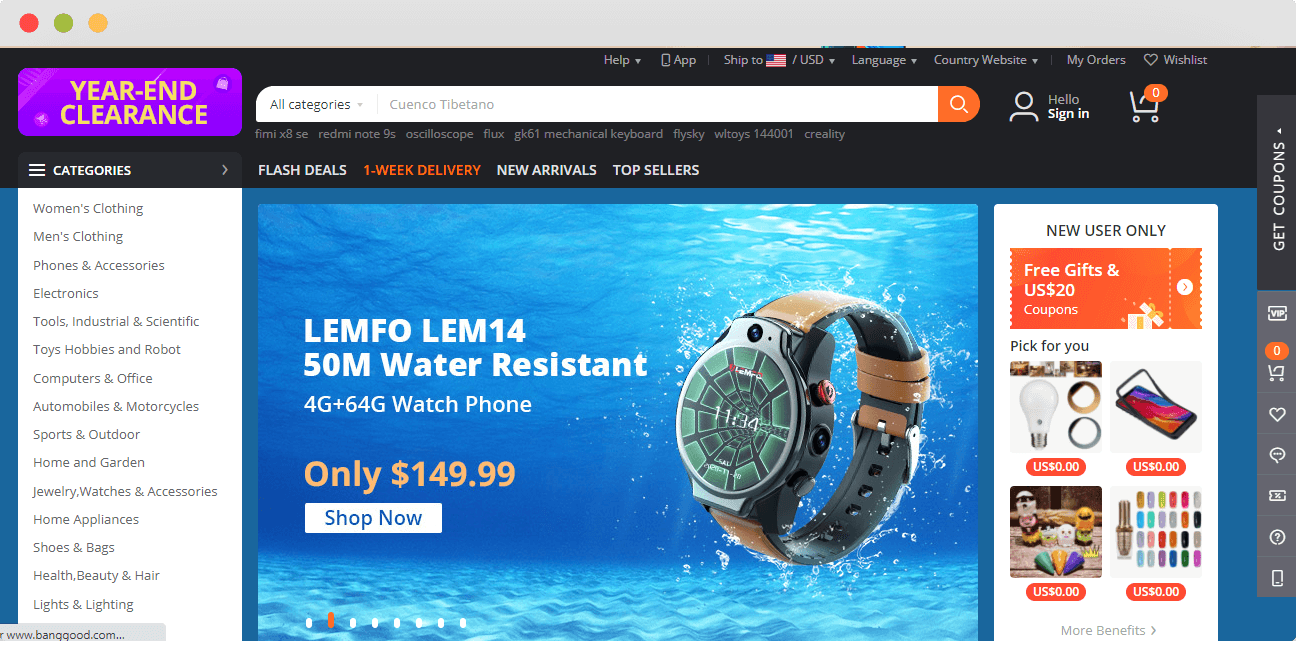 The key benefits of dropshipping via Banggood is that apart from being free of cost, it provides a huge range of products that can be advertised by any kind of general or niche store.
It also incorporates regular discounts on the products (as high as 20% and even more on some products).
Its website clearly mentions that it has a rigorous selection of suppliers, that is why you would find the suppliers on this website amicable, cooperative, and professional.
In addition to that, there are specific other benefits that you can enjoy while dropshipping via Banggood. We have listed them down for your convenience.
Pros of Banggood Dropshipping
It has a special feature of 7 days delivery commitment known as a DOA guarantee.
It offers a money-back guarantee of 30 days with no reason or questions asked from the customers about the return or exchange of products.
High quality products guarantee as long as 6 months for a majority of items sold through Banggood.
A very exclusive feature of free repair of the selected items for 1 year. A kind of warranty service that most customers love.
It has an outstanding mobile app.
It has a wide range of overseas warehousing and experience in delivering products to over 200+ countries.
It also supports almost every other payment method including PayPal.
You can take advantage of these exclusive features by offering the same on your online store. These will definitely provide your business an edge over your competitors and earn a loyal customer base in the long run.
Cons of Banggood Dropshipping
Not all suppliers are reliable. You have to be wary about selecting a supplier.
Shipping and return policies might be confusing at some times.
If any dropshipper is working with AliExpress and Shopify, Oberlo is not a new name to him. It is a platform that is specifically meant for dropshipping. But the medium or platform that it uses to arrange products is AliExpress.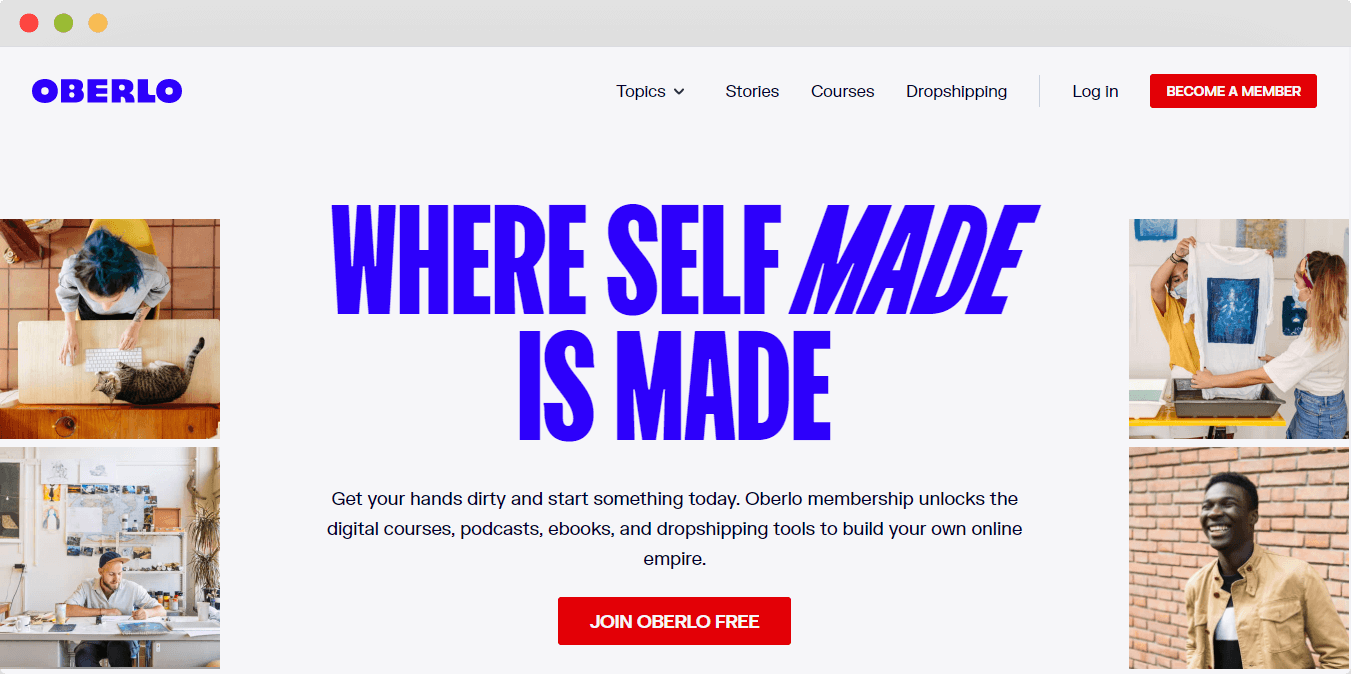 So, you might ask yourself why working with Oberlo is important when you have the option of working directly with AliExpress?
Oberlo answers this question itself. It makes the overall dropshipping process easier for Shopify store owners.
While AliExpress is not specifically meant for dropshipping, Oberlo steps in to squeeze the range of products from AliExpress to make them easier for the dropshippers on Shopify to choose from.
It has its own marketplace where you can do the research easily. It also helps you import products from AliExpress and uploads them to your Shopify store with a matter of a few clicks.
Its exclusive feature of offering a suggested price for products helps dropshippers get an idea of the dropshipping market.
Other exclusive features and benefits that dropshippers get while working with Oberlo are summarized below for your assistance.
Pros of Oberlo Dropshipping
Works as a guiding assistant and a relief for Shopify dropshippers.
It regularly guides on winning products from the dropshipping trend that is studied over a specific period of time.
The basic plan of Oberlo is absolutely free to use.
It reduces the process of importing products from AliExpress along with its pictures and descriptions a lot easier.
Its auto-fulfillment feature helps you semi-automate the process of dropshipping.
It accepts PayPal as a payment method. A feature that is not available at AliExpress.
Cons of Oberlo Dropshipping
Only works with Shopify.
Limited to having AliExpress suppliers only.
Advanced features on Oberlo are paid.
So, you can confidently keep Oberlo in the list of your free dropshipping websites especially if you are running your online store on Shopify.
If you have been frustrated enough from the Chinese products and suppliers, embrace yourself with Spocket. It is a platform that is specifically meant to host products from the suppliers that are present in the US, UK, and EU, etc.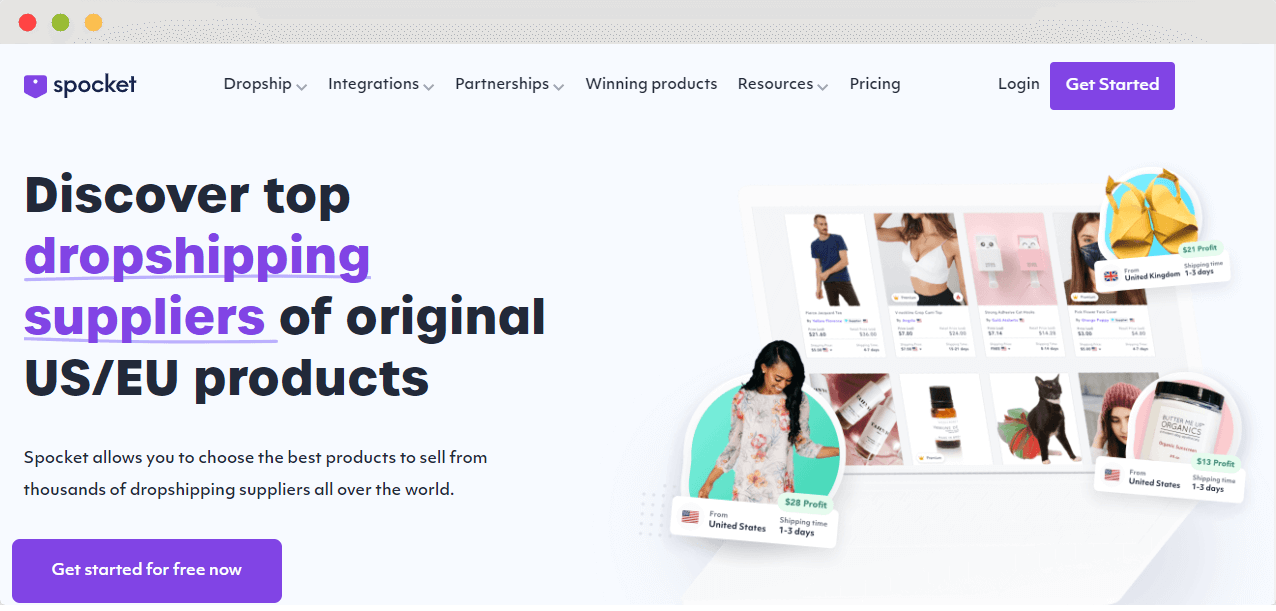 While Oberlo only works with AliExpress, Spocket gives Oberlo tough competition in terms of product quality, diversity, and service.
Moreover, it also works with multiple dropshipping platforms including Shopify, WooCommerce, Wix, BigCommerce, and AliScraper unlike Oberlo that only works with Shopify.
Spocket has multiple features and benefits that are not easy to summarize but we have covered most of them for you in the list below.
Pros of Spocket Dropshipping
A huge range of products that are different and more intense than that of AliExpress and other Chinese suppliers.
A full analysis of the products is provided to help dropshippers calculate the profit margins while deciding to select a product for launch.
It has added features for special guidance of dropshippers that include the winning products recommendations but those features are paid.
Although there may be a difference in the price range and margin calculations of the products as compared to the Chinese products, you can easily manage and increase sales to balance out your profit margins with Spocket.
Nice and clean pictures of the products that do not require you to do the editing part.
Easy indirect communication with the suppliers via Spocket.
Tested and guaranteed quality products from Western suppliers as opposed to low-quality products from Chinese suppliers.
Branded invoicing is available to uplift the image of your business.
Cons of Spocket Dropshipping
Does not accept PayPal.
Delivering to customers outside Western countries may cost higher.
Branded dropshipping features are not available.
So, with those features, we can easily deduce that if you have been striving to get your online store rolling and haven't received your first exciting sale yet, go Spocketing.
Dropshipping via Wholesale2b is altogether a different experience. It is not a general website or a marketplace that is meant for general online shopping. You can say that it is specially designed to take your dropshipping needs to the next level.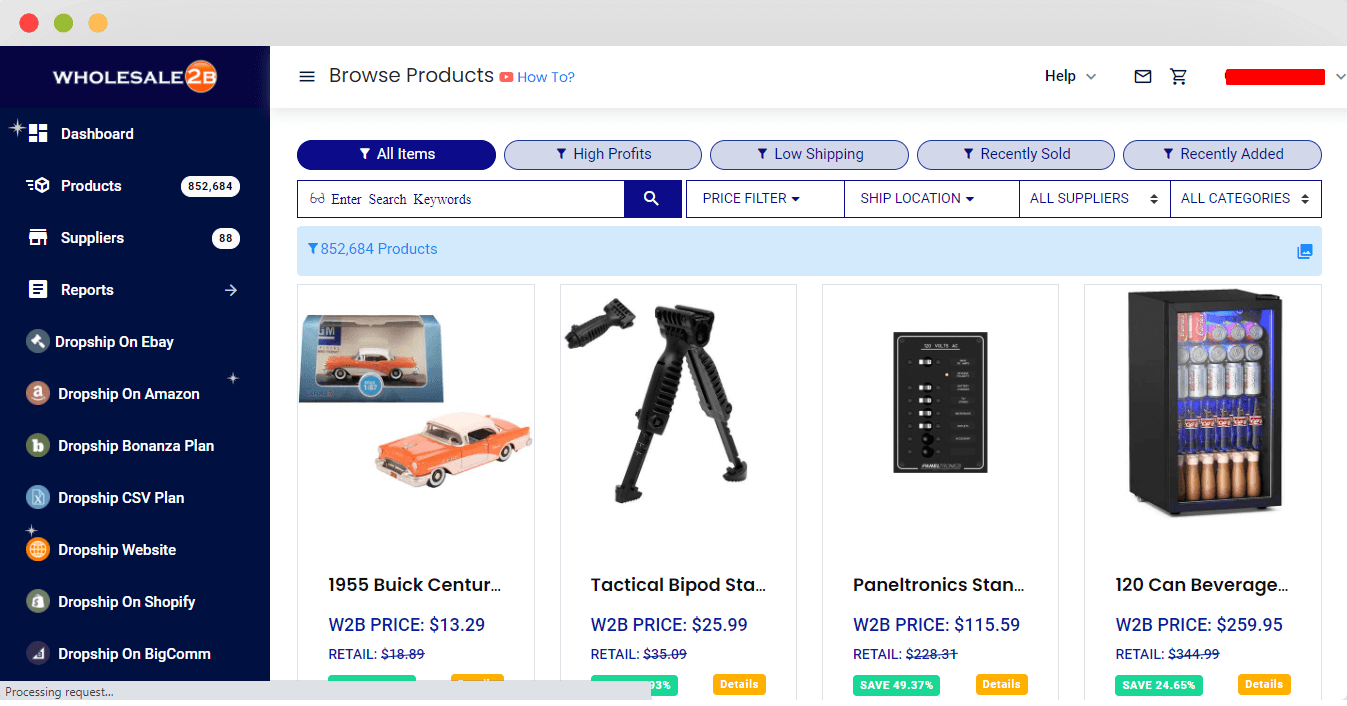 As opposed to the platforms that work with only Chinese or Western suppliers, Wholesale2b creates a difference by bringing all the best suppliers to a single platform.
It amalgamates Chinese, European, and American suppliers to offer you a single platform to source products from them at competitive rates.
When we said that Wholesale2b is altogether a different experience, we really meant it. Its website interface, its way of selecting products, and integrating with your e-commerce platforms is really different and unique.
In addition to that, you will find tons of options to explore your dropshipping avenues and take them to new horizons with Wholesale2b.
To have an idea of its exclusiveness, we have shortlisted its major points in the following list.
Pros of Wholesale2b Dropshipping
It integrates with almost all of the dropshipping platforms including Shopify, WooCommerce, and BigCommerce, etc.
It has a dedicated p to dropship products directly on Amazon and eBay.
It has a lot of filters to narrow down your search of products and suppliers to save your time and increase your dropshipping efficiencies.
It gives you all the necessary guidelines in the reports generated carefully by the Wholesale2b team to explore the current trends and future dropshipping prospects.
It incorporates a range of millions of products from carefully selected suppliers in 100s of numbers.
Accepts all the major payment channels including PayPal.
Contains unique items that are not easily found on other platforms online or in local stores.
Cons of Wholesale2b Dropshipping
While it has a free to use plan, some advanced plans are paid.
Returning or exchanging products involves a difficult and costly process.
Modalyst is another great free online products supplier that is specialized in the field of dropshipping.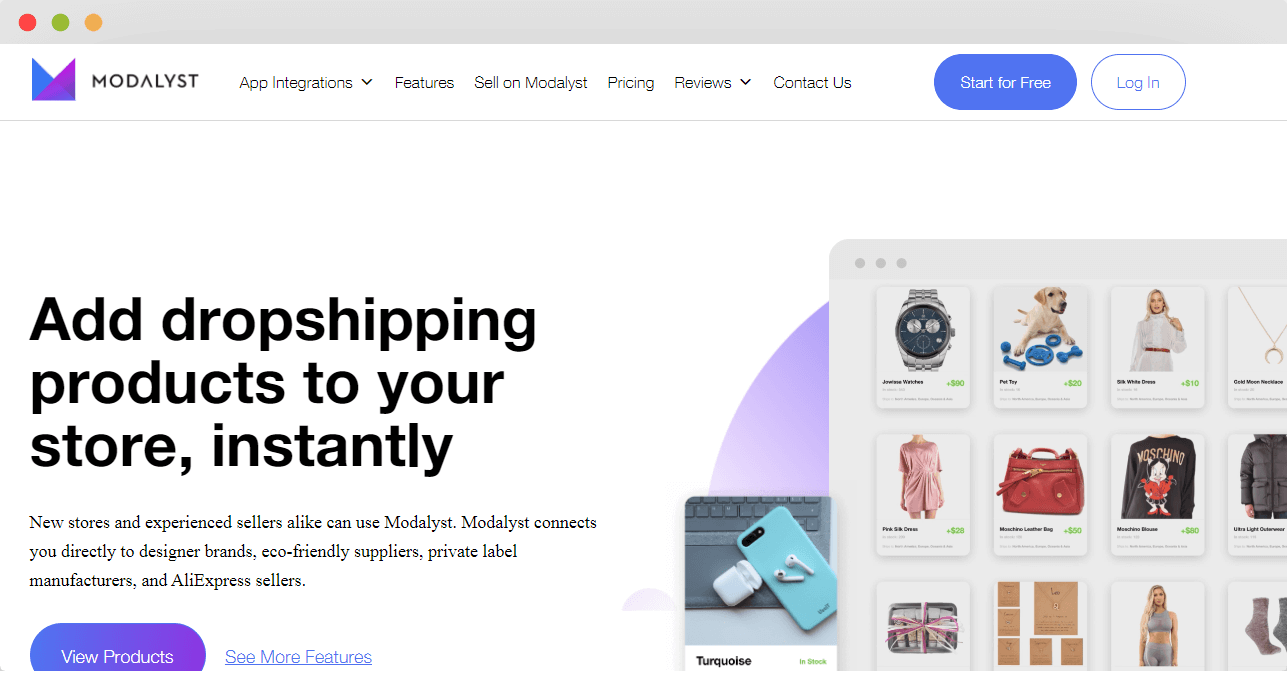 It gives you access to over 10 million products that have been added to multiple e-commerce stores from a huge range of suppliers. All merged into one grand marketplace called Modalyst.
It is basically a dropshipping platform to be integrated into your online store. It works on the models adopted by Oberlo or Spocket that we discussed earlier in this article.
Modalyst claims to have served over 300K online stores with its products and services most of which would obviously be dropshipping stores as this platform specializes in dropshipping.
It brings together some of the best and chosen Chinese, US, and other international suppliers from all around the world.
The website also claims that over 50 million online shoppers have benefited from this platform in terms of buying products online.
So, it can be safely stated as one of the best and leading dropshipping suppliers that do not cost you anything in its free plan.
The salient features or pros and cons of Modalyst have been listed below for your reference and guidance.
Pros of Modalyst Dropshipping
It carefully summarizes all the analytics of the products it offers including costs, selling products price suggestions, and margins, etc.
It helps you integrate your store with itself for better management of your products and orders.
It allows easy integration with major dropshipping platforms including Shopify, Wix, and BigCommerce.
Apart from integration with other suppliers, it has a dedicated option to integrate your store with the dropshipping giant: AliExpress.
Faster delivery of the shipments by using optimum ways to deliver the products.
Cons of Modalyst Dropshipping
No direct integration option with WooCommerce.
No option of private label dropshipping or branded invoicing.
A 5% transaction fee is charged with every transaction in the free plan.
Limited products (25 products) can be served in the free plan.
The tagline of MadeinChina says it all, "Connecting buyers with Chinese suppliers". It is a huge platform that works on a B2B model just like Alibaba. It offers millions of products that you can utilize for your dropshipping pursuits.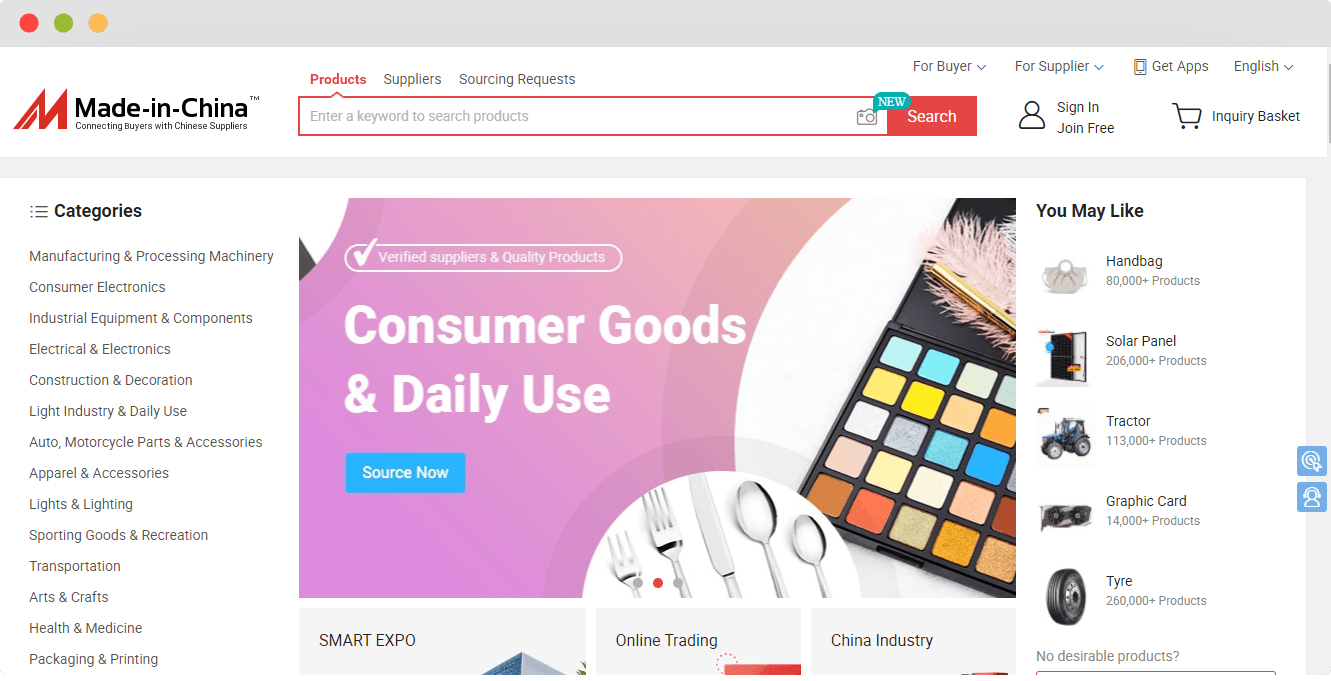 This platform claims to have over 6 million registered Chinese suppliers and over 12 million online buyers who have benefitted from this platform.
The stats tell us that it has definitely over millions of products to offer to international customers and dropshippers can make use of them.
It operates in multiple languages and has been up and running for more than two decades. This shows a sign of being an established brand in the online field. Moreover, it brings the Chinese manufacturers and wholesalers to the front.
So, you can trust the prices of this platform and can move forward to choosing MadeinChina as one of your free dropshipping suppliers.
Pros of MadeinChina Dropshipping
It hosts more than 3600 product categories which make it one of the most diverse and organized platforms for building up your dropshipping store.
It provides multiple business opportunities to take your dropshipping business to new heights by providing a huge list of items and suppliers.
Can be used as a medium to source products with any store building platform.
It has a good mobile app that can give an advantage to you while searching for products in a handy mode.
Excellent for dropshipping to your business clients including factory owners.
An ideal choice for private label dropshipping as the suppliers are convenient with making customized products.
Cons of MadeinChina Dropshipping
Not many convenient search filters to facilitate product research for dropshipping. No sorting options by orders, etc.
It suits established dropshippers or retailers with aggressive and long-term dropshipping plans.
Does not accept PayPal for payment.
SaleYee is a relatively smaller platform as compared to the e-commerce giants like AliExpress. It is a dropshipping platform that works on a B2C model and seems to be developed solely for fulfilling the dropshipping needs.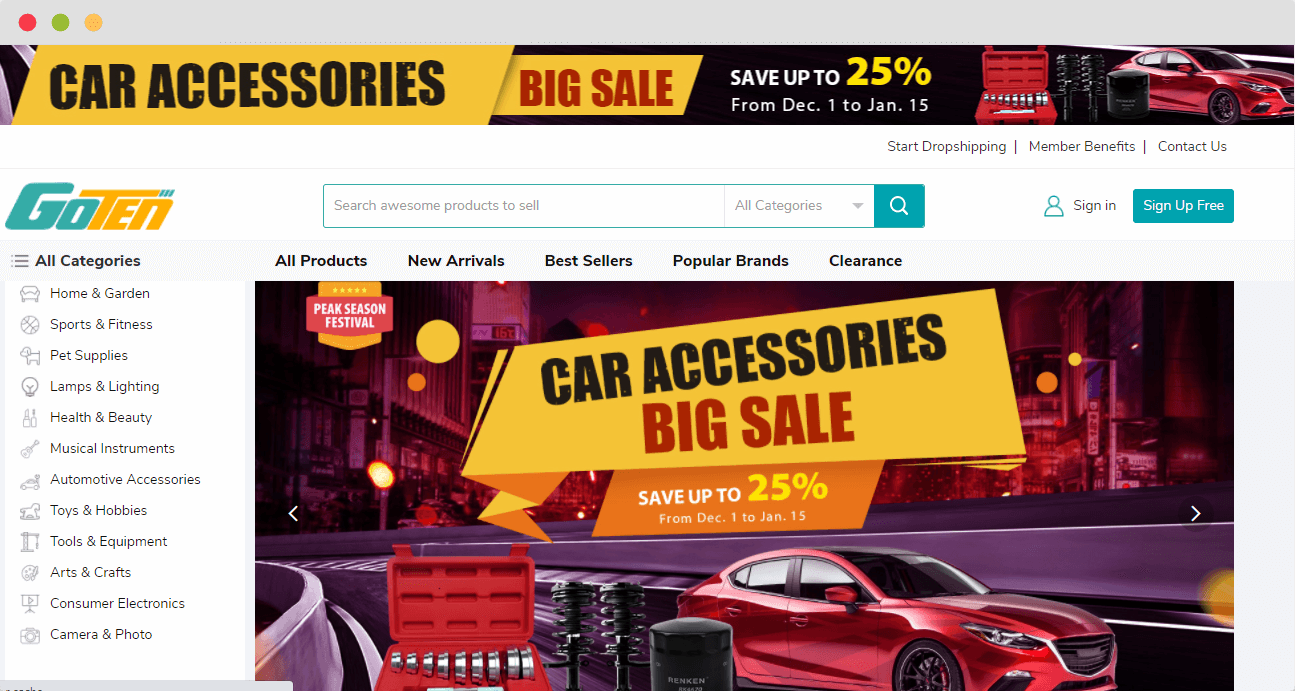 It has a range of over 20,000 products that are strictly selected after carrying out the quality inspections as per the claims of its website.
It has more than 500 suppliers that are also handpicked by the SaleYee team to deliver quality products and services.
It has a category list of 12 ps that are further divided into subcategories. You can find the relevant category by searching for an item in the search bar too.
Pros of SaleYee Dropshipping
Good range of filters to choose your product in no time.
Great profit margins on the products leading up to 50%.
Strict selection of SKUs rules out the confusion and shortens the time to select the product along with the supplier.
Faster delivery methods used that are as low as 2-day delivery.
All major payment methods are accepted including PayPal, Visa, and MasterCard, etc.
Cons of SaleYee Dropshipping
Login is required every time for product information like prices, etc.
No mobile application.
No direct integration methods with Shopify or WoCommerce, etc.
So, you have read about all the major free dropshipping suppliers for the general category. These are the free membership dropshipping wholesalers with no membership fee.
These top 15 dropshipping suppliers can very well increase your business prospects and can definitely take your dropshipping online store to new levels.
We have also brought a carefully researched list of some of the best niche-specific dropshipping suppliers in this article.
You must explore these dropshipping marketplaces if you are currently working in the following niches or you plan to do so in the future.
Free Dropshipping Suppliers for Fashion and Jewelry Products
The following is the list of free drop shipping wholesalers or suppliers that are related to fashion and jewelry. These suppliers hail from a mix of Chinese and other origins.
We are listing these dropship companies or suppliers for you to explore their platforms and shortlist fashion and jewelry products to be sold on your online stores with decent margins.
Free Dropshipping Suppliers for Clothing and Apparel Products
The following is the list of free clothing and apparel related websites that are popular and can be used to dropship clothing and apparel items on your Shopify store or any other store.
Free Dropshipping Suppliers for Electronics and Gadgets Products
As electronics and gadgets have become quite popular in recent times, there are stores that are only offering the products from these niches.
If you have moved on to a gadget store, or you are planning to do so in the future, you can check out the products at these stores.
Free Dropshipping Suppliers for Gift Products
Special occasions like Christmas, new year, Easter, independence, and Valentine's day call for gifts.
Dropshippers know very well how to make use of these events to generate sales and increase margins.
Check out the following stores that are meant for gifts on different occasions, festivals, and personal events like birthdays, anniversaries, and marriages, etc.
Free Dropshipping Suppliers for Home Decor Products
Home decor is a never-ending process and its real beauty is that it keeps changing time and time again.
To make use of this permanent but varying habit of changing home decorations, we are advising you to explore the following stores in true letter and spirit.
The above-mentioned lists of niche related suppliers have been listed because they do not charge you any kind of subscription charges.
If you select any product from these stores, don't forget to carry out a quick price comparison check at the top 15 general stores mentioned earlier in this article.
FAQs about Free Dropshipping Suppliers
1. Where Can I Dropship for Free?
Dropshipping doesn't have to cost you anything. The fact that successful dropshippers have invested money in their business is because they wanted to get the desired results earlier.
If you can be patient enough to import products manually on a free website by promoting the products in your circle and getting sales, you would be making profits free of cost.
The drop shipping free sites that do not cost you any kind of hidden charges will help you in this regard. In that case, you can make it up to the list of cost-free dropshippers.
2. Can I Start Dropshipping without Money?
Technically, yes. You can start dropshipping without money. It is just that the dropshipping process would be a little harder and slower than usual.
What involves you investing money in the dropshipping business are the marketing costs and store optimization costs to expedite the process of generating sales and profits.
3. Where Can I Find Dropshipping Suppliers?
There are plenty of dropshipping suppliers out there on the internet. This article is meant to suggest to you the dropshipping suppliers that do not charge you any fees.
Dropshipping can be done via any online store that is meant to deliver products to any address that you provide them.
You just benefit from this concept to promote their products via your store and earn profits by asking the real stores to deliver the products to your customers.
4. How Do I Find the Best Dropshipping Supplier?
The best dropshipping supplier is the one who offers you the best quality products at the lowest possible rates to choose from.
What makes a dropshipping supplier best for your business is a factor that you have to decide for yourself.
Most people think of AliExpress as the best dropshipping supplier because of its rates and profit margins.
But you may have different business priorities. If you want to have an all-in-one package, you must go for a professional dropshipping agent like NicheDropshipping.
5. How Do I Find US Suppliers for Dropshipping?
There are various dropshipping platforms that work with US suppliers. This article lists down the US suppliers in the list of general and niche-specific dropshipping suppliers.
When you are on a mission to explore US suppliers dispensing dropshipping services, you must read the About Us page of a dropshipping store website. It should clearly state which suppliers the store is working with.
Summary
We have covered everything that it needs to find free dropshipping sites in general and niche categories. We hope that this article would have broadened your knowledge regarding dropshipping suppliers that do not charge you anything.
Currently, we have come up with a list of top free dropshipping suppliers in general and niche-specific categories. We will add more to our current lists of suppliers to keep helping our readers who are striving to make their dropshipping dreams come true.
In the meantime, if you have anything else to ask about the topic, you are requested to leave a comment in the comment box. We read each and every comment and we love to respond to every query or suggestion.